I first visited the Table Bay Hotel at least 12 years ago, probably even longer ago. I was a little unsure about going back as obviously, your tastes and standards in hotels change over the years. However, the one thing that doesn't ever change is the location which is fantastic for this hotel. So I decided to base our Cape Town stay at the Table Bay. After this stay, we headed to the Franschhoek wine region and the wonderful Maison Cabriere which I have stayed at multiple times. You can read the review here.
If you want to find out more about my visit to Cape Town and Franschhoek, you can watch my Youtube video here:
Location
Location, Location, Location, as they say, is important on a city break. We wanted somewhere fairly central and safe with car parking and easy access to get out to explore the Cape and Camps Bay.
The hotel is situated in the Victoria and Alfred Waterfront, which is an extensive area full of shops and restaurants, as well as offering various boat tours. It is also close to the stop for the hop on hop off buses that serve various routes in and around Cape Town.
It was very handy just being able to pop out if you needed something, and useful for the boat tour we did as well. I also liked that we did not have to drive through the centre of town if we just wanted to go to Camps Bay or the Twelve Apostles. We definitely felt very safe walking around this area. It was also very easy to get Uber's from the hotel, which were usually available in about 5-7 minutes or less.
Check-in at The Table Bay Hotel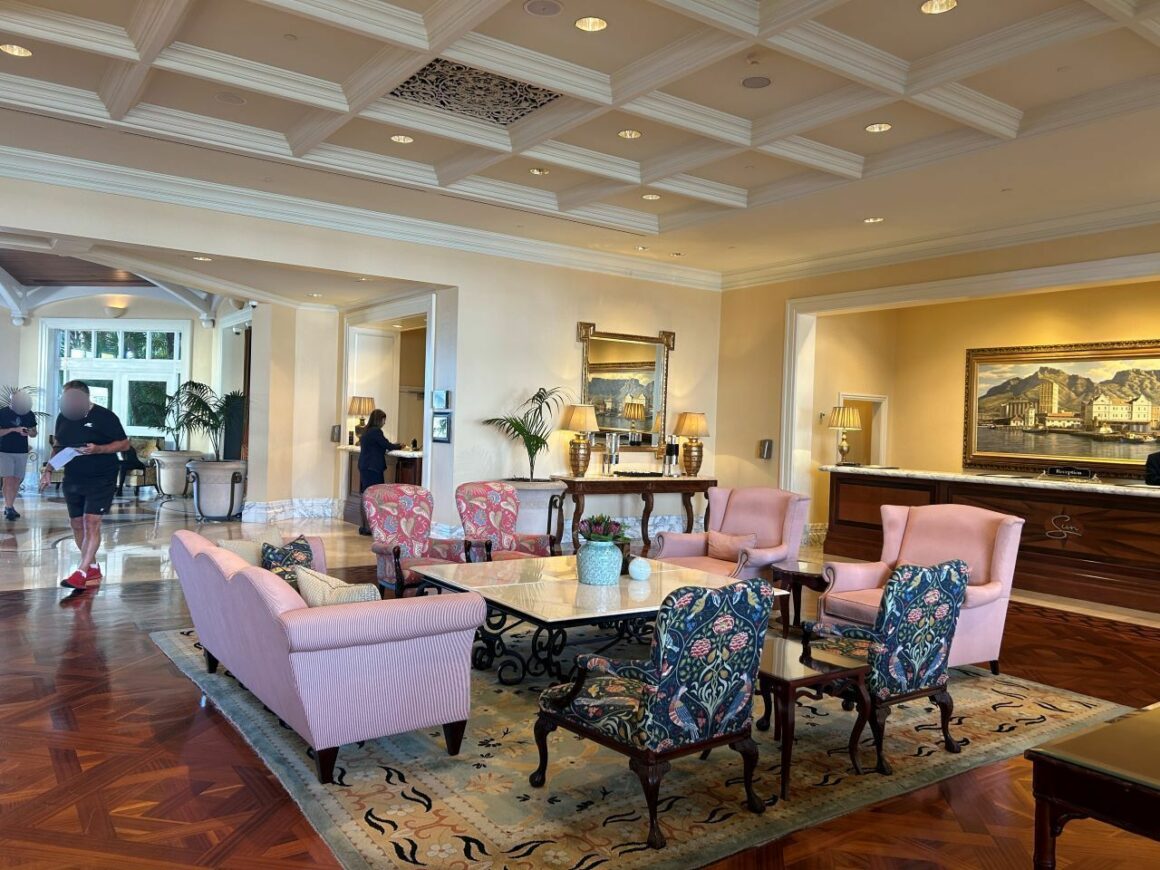 We arrived very early as we had been on an overnight flight. We were not expecting to be able to check in that early but we did hope they would make some effort to get the room ready for us a bit earlier than usual since check-out was 12pm and check in 3pm. They did not make any effort at all, and when we got back at 2.50pm they still had not told us that the rooms were ready. We had to push them to get our rooms then, which I thought was pretty poor since both were pretty standard room categories. We were there in peak season, which meant the hotel was pretty busy.
Once we eventually got our rooms, we were offered a welcome drink and given information about the hotel. For me, the reception was the weakest link at the hotel as their attitude could be unfriendly at times. It was surprising since, on the rest of our trip, we found everyone very friendly in hotels and restaurants.
A particular example was that the key cards seemed particularly susceptible to losing their effectiveness compared to other hotels. When we needed to get them recoded, the first thing they would do would be accuse you of breaking it by keeping it close to your phone. Well, there's only so far away you can keep them if you have both of them on you!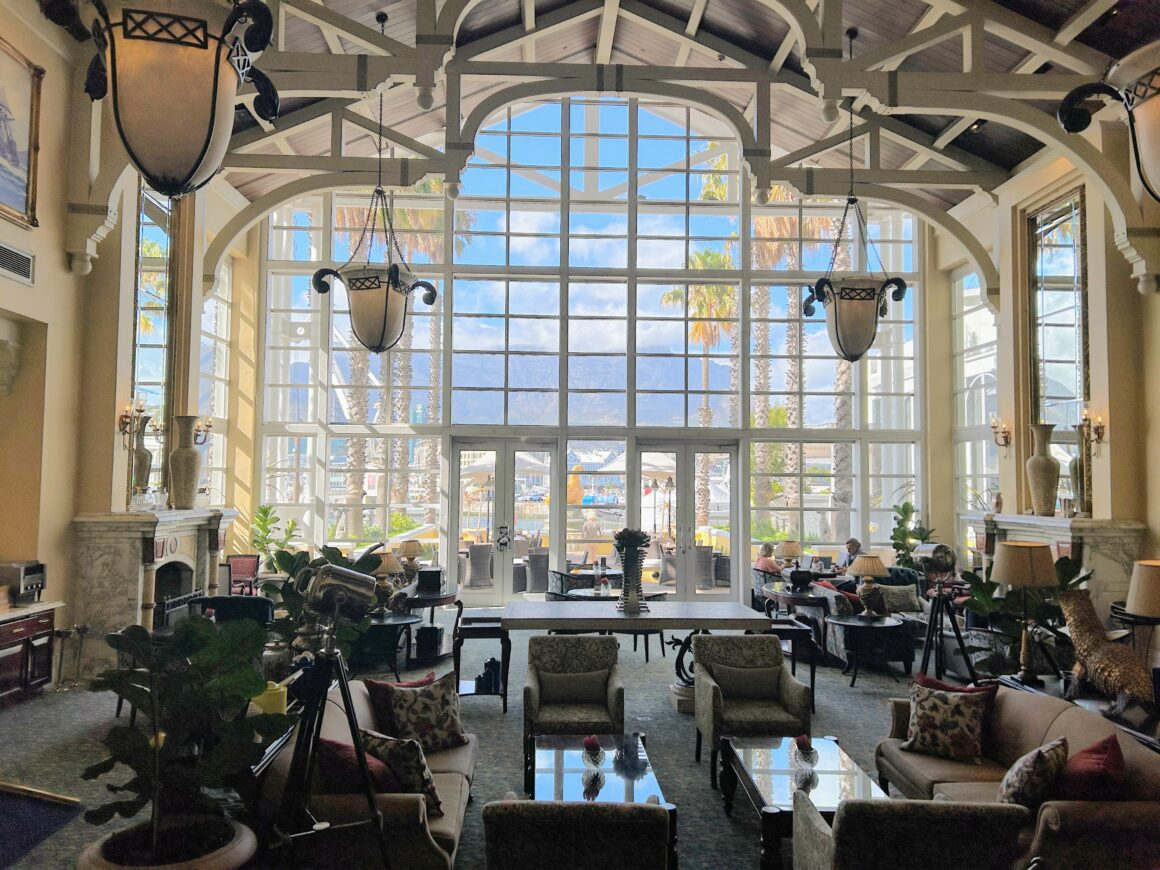 The main area of the hotel from the entrance was lovely though. It had very high ceilings and lots of glass with lovely views of the waterfront behind.
The Table Bay Hotel room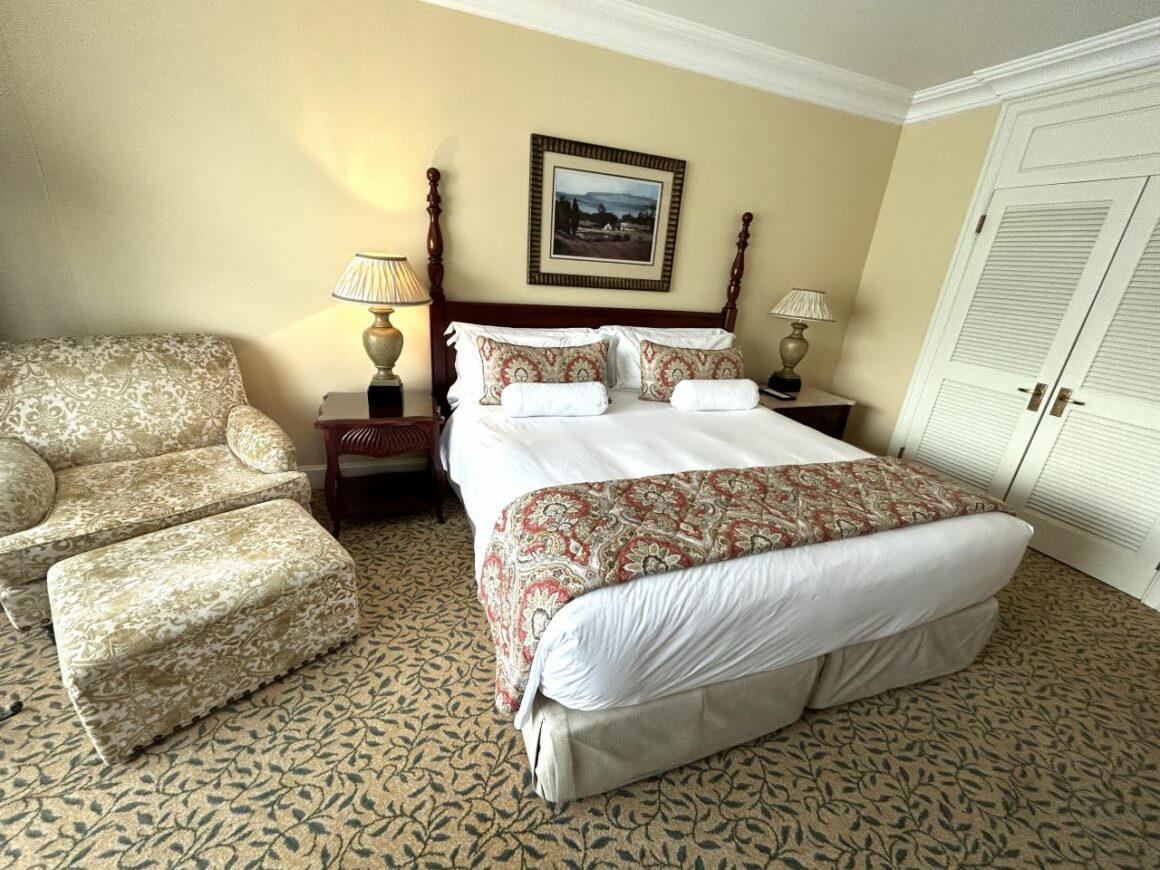 We had booked the luxury king mountain-facing rooms which were well worth the extra money for the magnificent views of table mountain (see featured photo).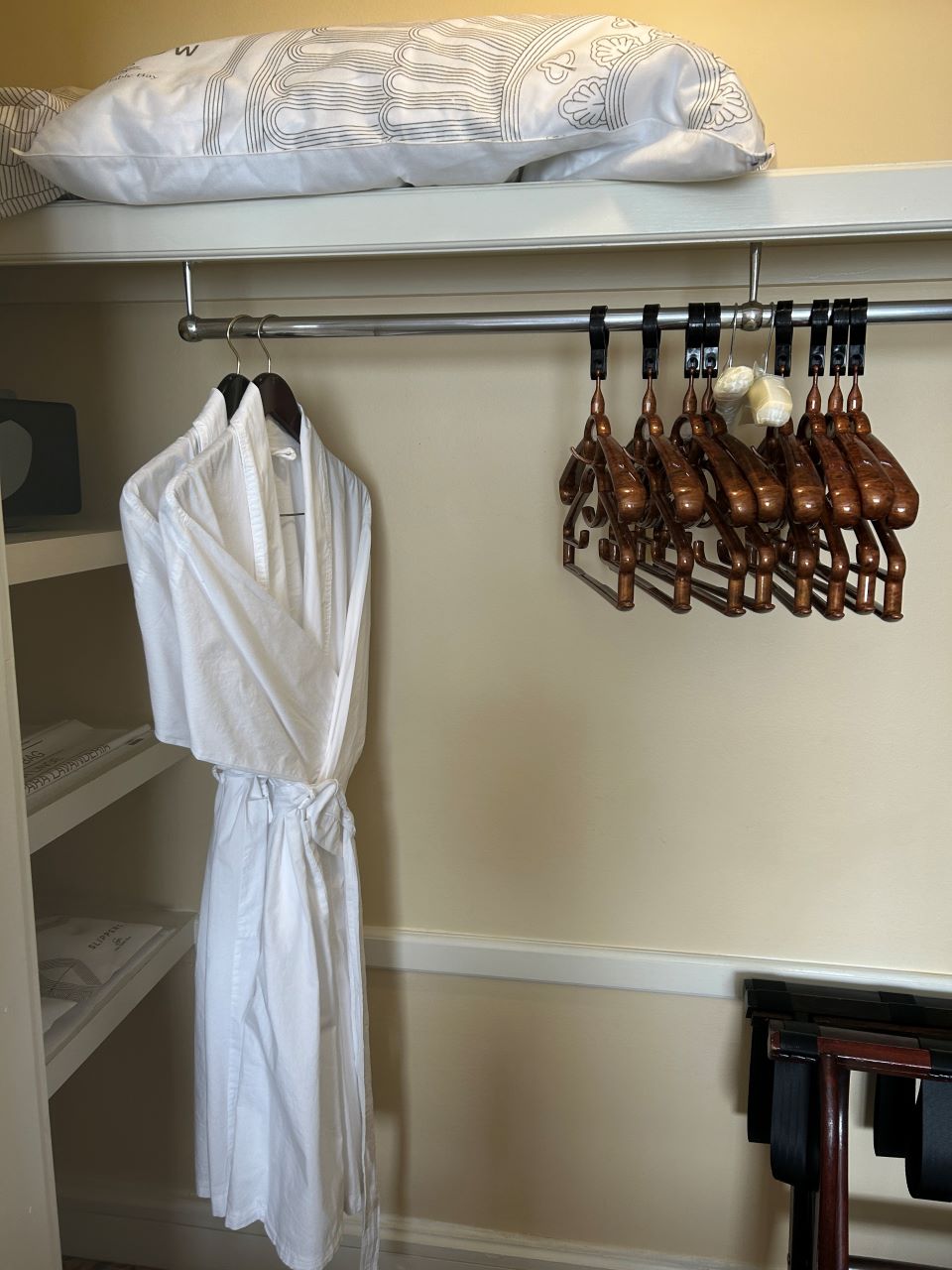 I had some misgivings about booking as the rooms looked a little old-fashioned (pretty sure they haven't changed much since I last stayed), but actually, we both really liked our rooms. With a very comfy bed, huge closets and a lovely welcome gift with wine and nibbles, there was little to complain about.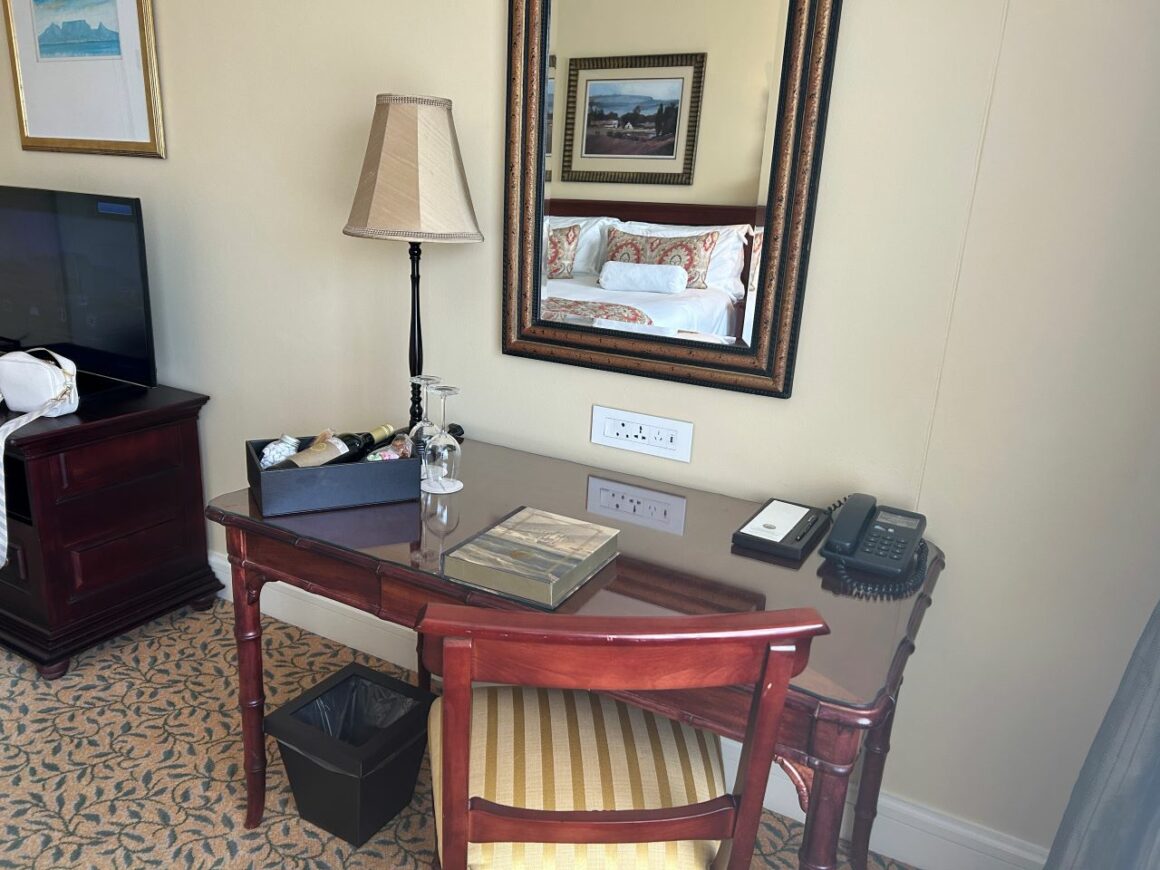 The room had a desk for working or doing your hair with a large mirror by it and plenty of sockets, including a UK one. However, there were no easily accessible sockets by the bed which I think at this price point is not acceptable. It does not even require putting in a special socket, you can simply have one of the alarm clocks that has a USB socket, for example.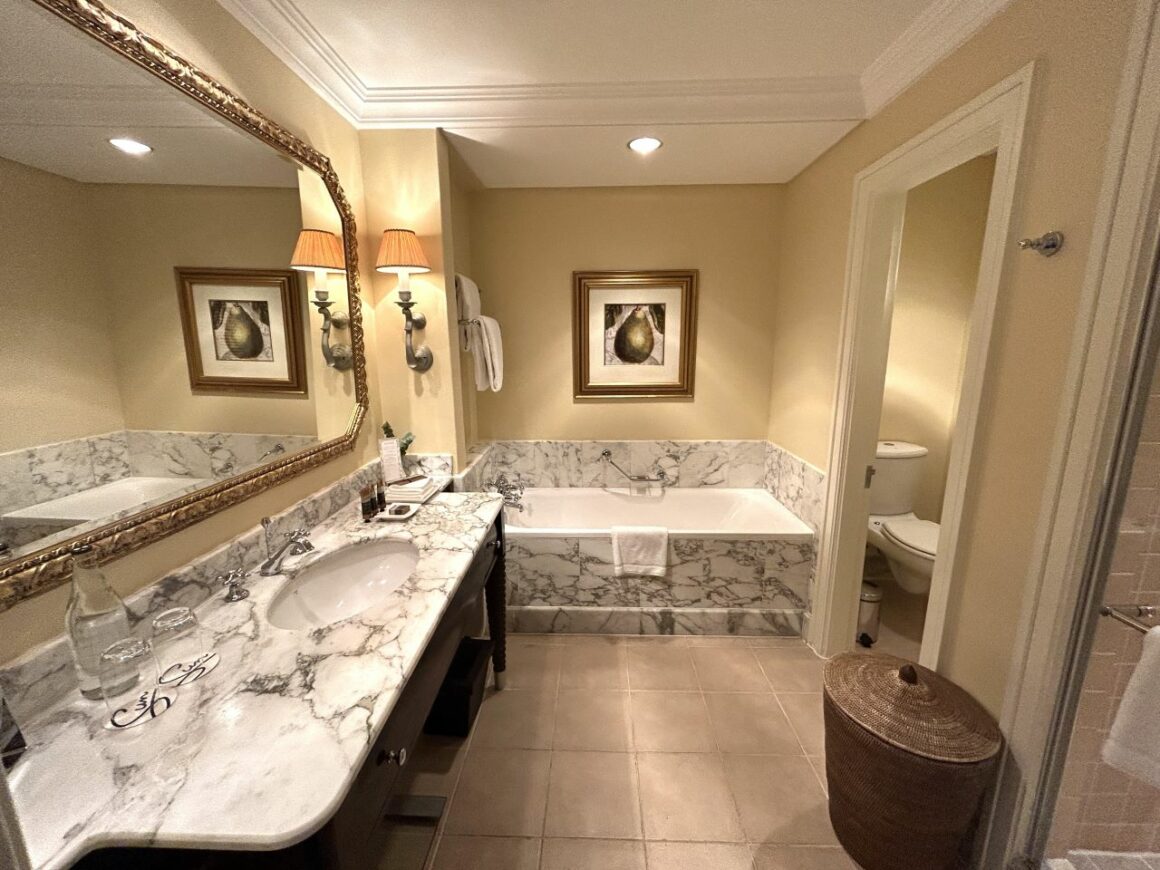 The bathroom was large and looked luxurious with its marble and gold framed mirror. The bath was a large eniygh size for a decent soak and there was also a separate walk-in shower. The showers could do with being upgraded as there was a knack to actually getting the shower to a bearable temperature. Although once you'd worked it out it wasn't too bad.
The toiletries were not a brand I had heard of before, but I liked their neutral scent, and they felt good quality. I also like that they were in aluminium tubes and that they even provided hand sanitiser which was useful to pop in your bag.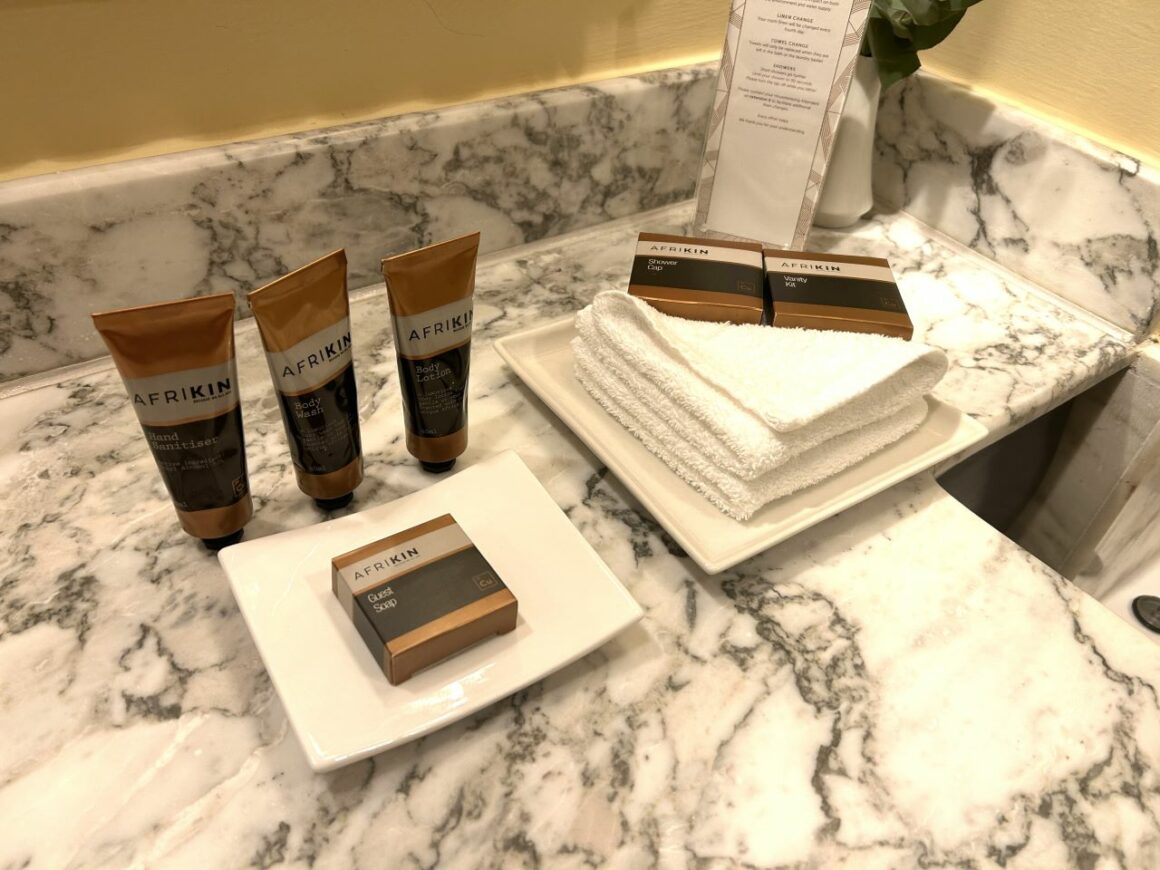 The rooms were serviced twice a day as well with large bottles of water provided, although they did seem to vary in number from day to day. There were also tea and coffee facilities.
Food and drink at The Table Bay Hotel

Breakfast here was quite magnificent, with a fantastic spread of everything from sushi and oysters to sparkling wine and omelettes. It was quite windy when we were there, but there was a lovely terrace outside where you could enjoy your breakfast with views of Tabke Mountain and the waterfront.
The service could be a little variable in terms of speed, but to be honest, that's South Africa. Even in fine dining restaurants, they could be very slow.
The fruit selection was great and changed slightly every day. It was always of great quality and often had more exotic fruit such as lychees. The yoghurts were also good, particularly the cape fruit version with local produce.
There was a great selection of local cheese, as you may expect, and also mashed avocado for making my usual avocado on toast. As well as the usual cooked breakfast options, there was an egg station for omelettes and eggs to order, a good choice of juices, pancakes and waffles in different flavours and some nice flaky croissants as well as other pastries. The coffee was also great, so no complaints about the breakfast at all.
There is a restaurant in the hotel which we didn't choose this time, but I did eat there previously, and it was pretty good. They also offer afternoon tea in the lounge. However, with so many restaurants in Cape Town, I probably wouldn't choose that unless I wanted a night where I didn't have to leave the hotel.
We did pop into the bar, the Union bar, which was a lovely place for an after-dinner drink. With its wood-panelled walls, framed maps and copper finishings, the Union Bar has a bit of a nautical feel like an old cruise ship. It is billed as a cocktail bar but has a good selection of other drinks at reasonable prices. It was named after the Union-Castle shipping line, a British company that operated a fleet of passenger liners and cargo ships from 1900 to 1977, which explains the nautical feel.
The Table Bay Hotel Pool and facilities

The pool was a good size for a city centre hotel and had plenty of comfortable loungers around it. It could have been heated a bit better for my liking, as the wind made it feel colder than it was. However, it was an acceptable temperature rather than freezing cold.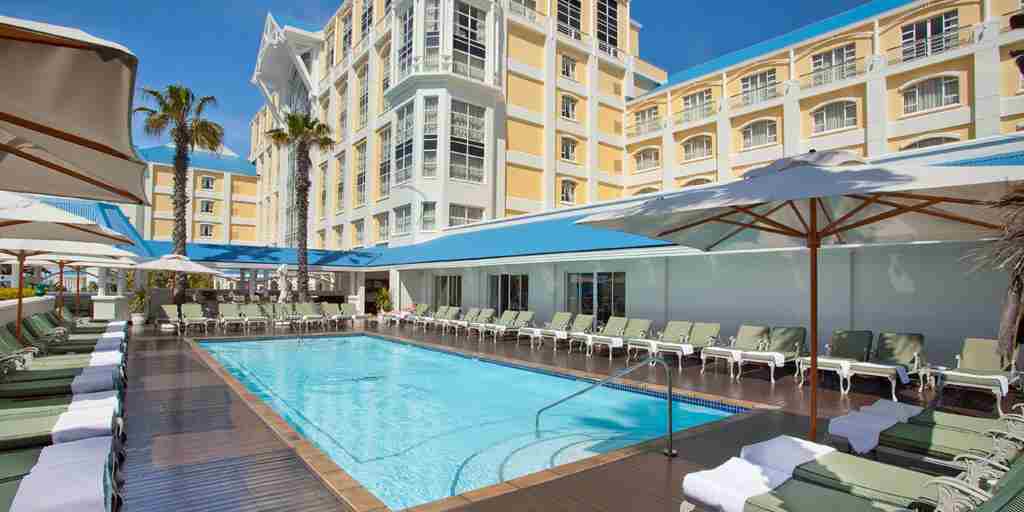 If you wanted to escape the wind, there was a covered hot tub which was nice to warm up in, or if you had a few rain showers you could still use it.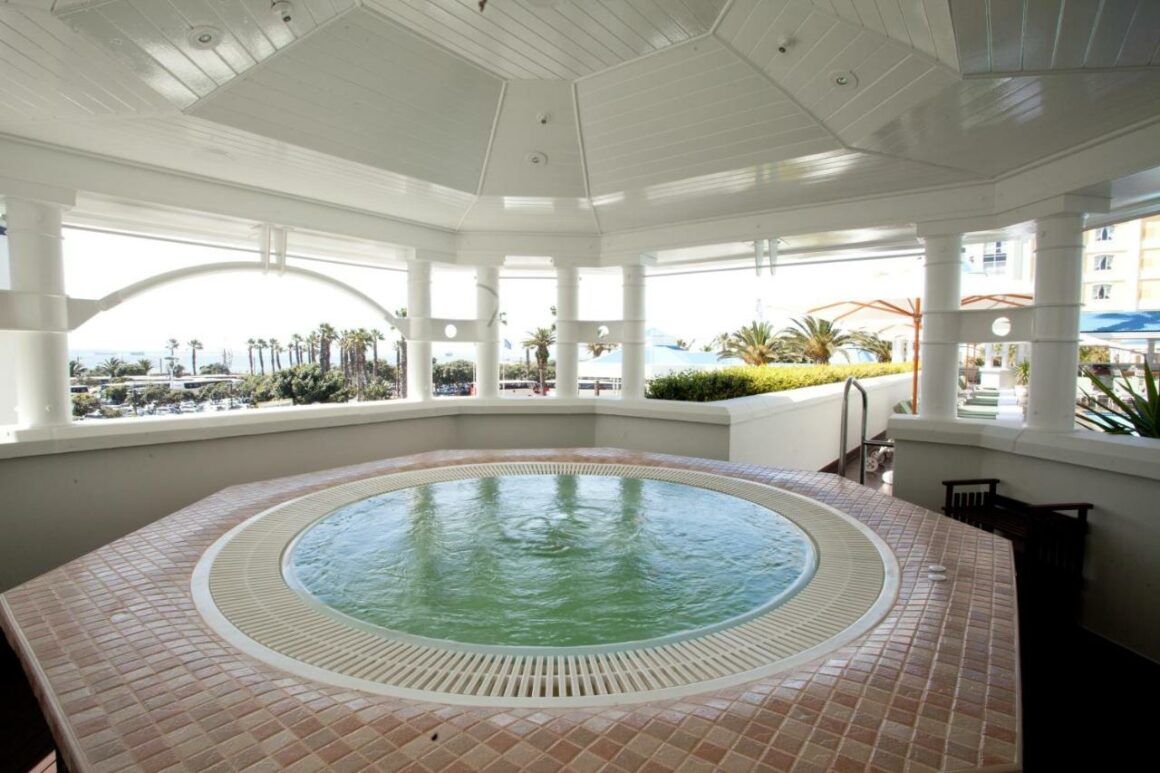 As well as the pool, there was a slightly old-fashioned gym, but it had most of the equipment that you would need, and a spa.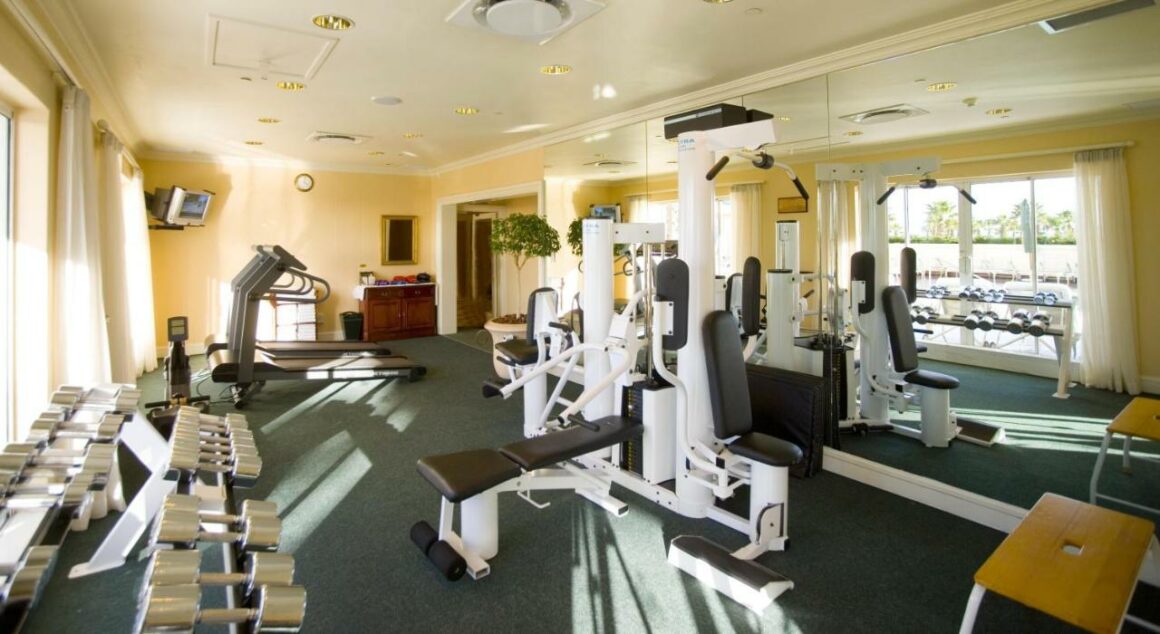 There is also a spa that has six treatment rooms as well as a mani/pedi room. If you arrive early or have a late checkout, the changing rooms have a shower and hairdryer as well as lockers if you wanted to freshen up or change, which we found useful.
Booking The Table Bay Hotel
Unlike food and drink, hotels are generally very expensive in Cape Town. I'd say they are on a par with London which seems ridiculous given the cost of most other things. I'd guess it's because they are not many new hotels from the last few years and demand is high after Covid.
The Table Bay is not part of any particular loyalty programs and does not offer any extra perks for booking with an agent. If you are booking flights with British Airways, I would suggest looking at booking with them as a holiday as this will often give the best price. You can find the British Airways Table Bay page here.
Prices per night start from £250 in low season up to around £550 in high season. Having had a look at the prices, it appears that Booking.com is currently offering one of the best prices for the Table Bay hotel.
Conclusion
Overall I liked the Table Bay, particularly the views and location. The room may have been a little old-fashioned, but it was generally in good condition and well-proportioned and comfortable. My friend who was with me has also rebooked for next year, so it must have been good!
Like The Table Bay Hotel review? You can read more hotel reviews here.