This was my third visit to Maison Cabrière in Franschhoek, so I thought it was high time I wrote a review. It's one of my favourite places to stay in the world as it is one of those places where you can feel the effort the owners put into the place and how much they value their guests. The hotel was made from two village houses and opened in 2018. It's the perfect place for peace and quiet as they only accept children aged 12 or above (and I've never seen any there).
I was given one night free of charge but paid for the other two myself. If you want to find out more about why Franschhoek should be on every Cape Town visitor's list, you can read my Forbes article here.
Location
The location is definitely one of the big selling points for me. The hotel is situated about three minutes walk from the start of the main row of shops and restaurants in the upmarket wine region town of Franschhoek. It takes around an hour to drive from Cape Town, and it is about 35 minutes to Stellenbosch.
Check-in at Maison Cabrière boutique hotel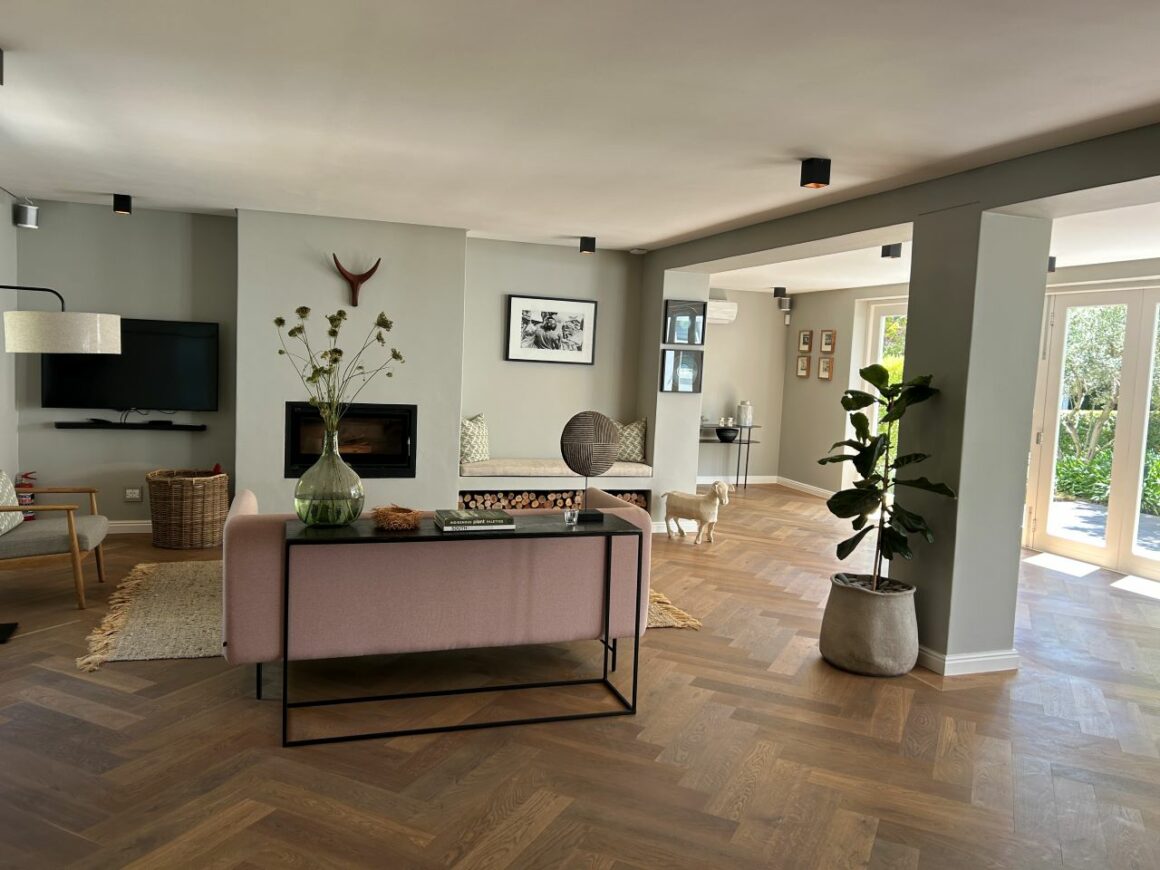 The day before you arrive you will receive details on how to do an online check-in to save time when you arrive. You then receive details on where to leave your car and how to reach the property. There is plenty of safe parking outside the property.
On arrival, we were greeted by owner Eveline who does most of the check-ins herself, and were offered a cold "magic" towel to refresh ourselves. She showed us where everything was, guided us to the rooms and then gave us a personal welcome letter that had everything we needed to know, including recommended breakfast places.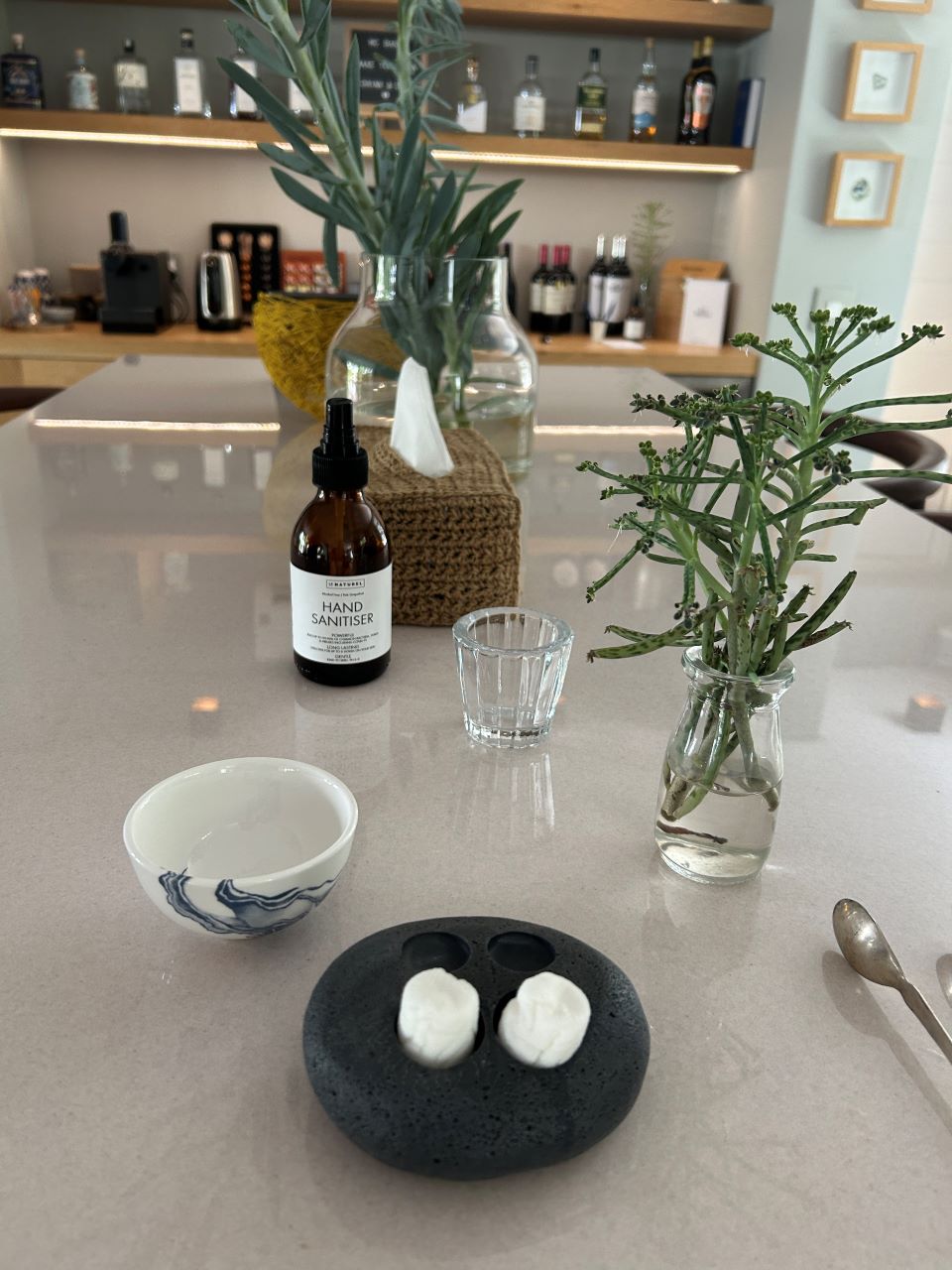 You enter into the main shared area of the house, which has an honesty bar with a variety of high-quality wines, beers, spirits and soft drinks at very reasonable prices to enjoy in the lounge, your room or by the pool. You simply make a note in the book.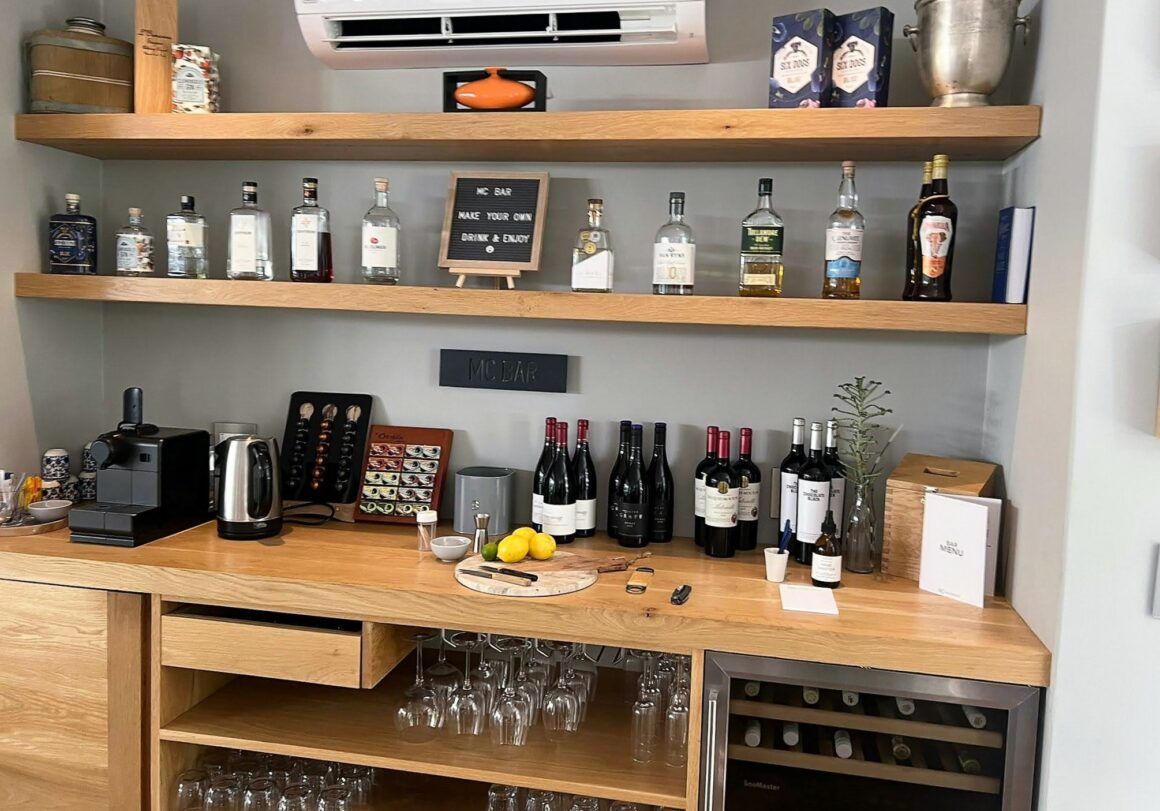 You can also purchase the toiletries from the hotel as well as the pool towels and a selection of hats if you forgot yours.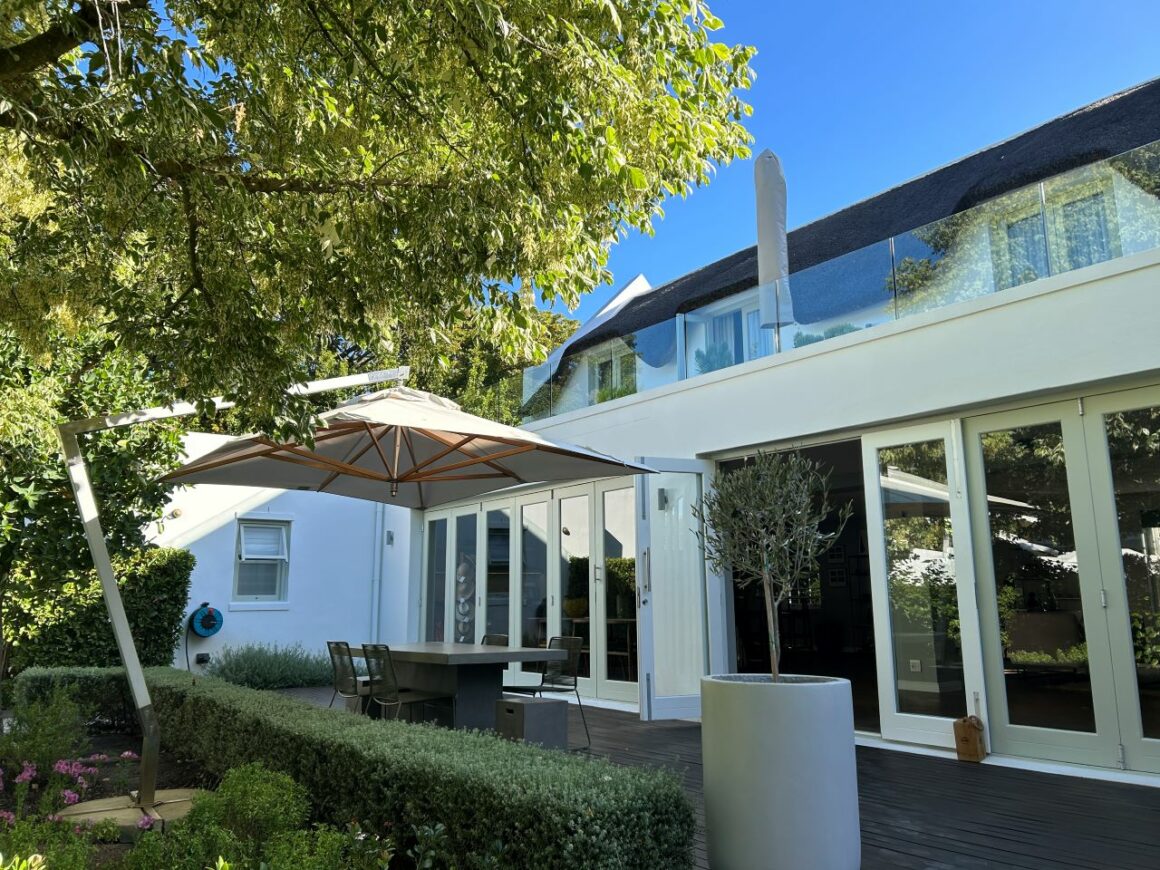 Maison Cabrière boutique hotel rooms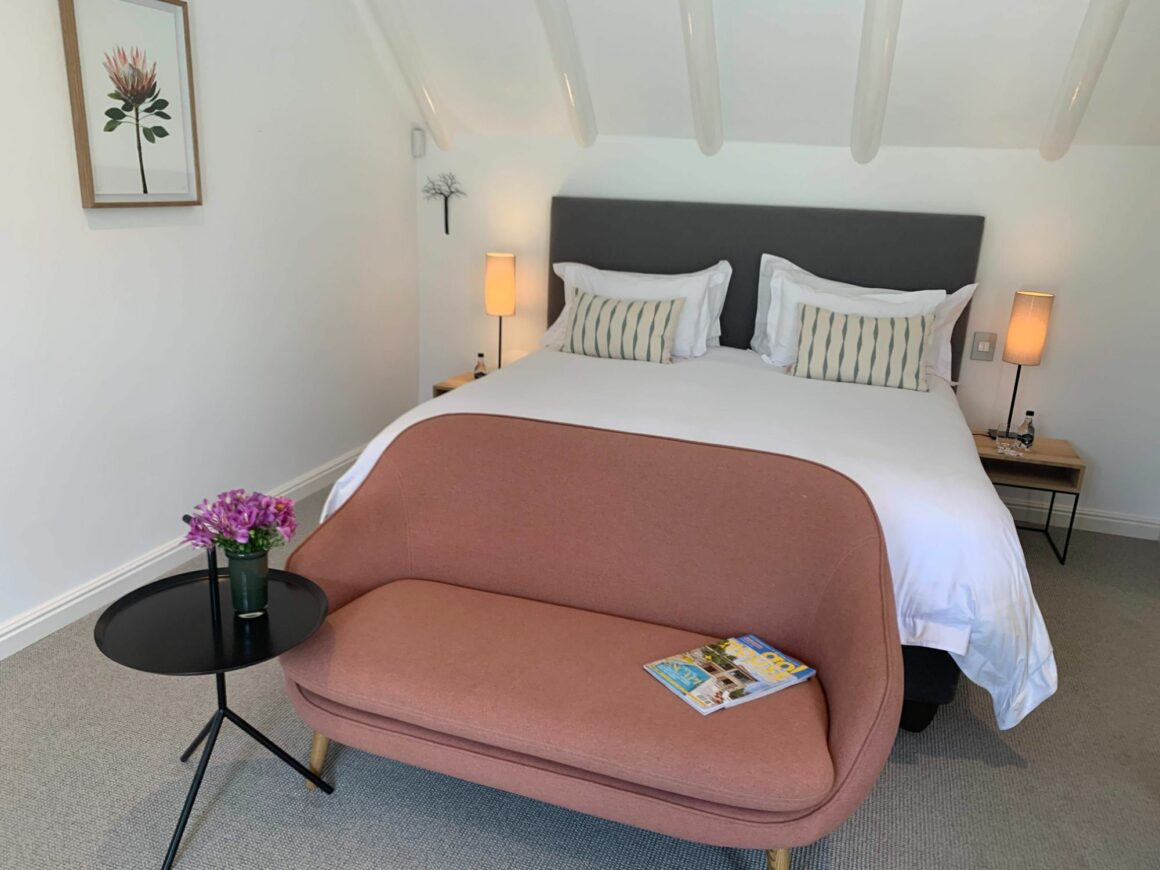 There are only six rooms in the hotel which are nearly all different, and I have either stayed in or been in 5 of them. The top floor ones definitely have the best views but are slightly less convenient for lugging those wine purchases upstairs or popping to the pool. Upstairs, I have stayed in Balcony Suite La Vivienne, which has a large balcony but is the smaller of the rooms upstairs but still felt a good size at 35m². Superior Suite Le Godin is much larger inside and has a separate fireplace with wood burning fire. Outside, there is a huge terrace with two sunloungers and a table and chairs. There is a second suite large suite upstairs as well.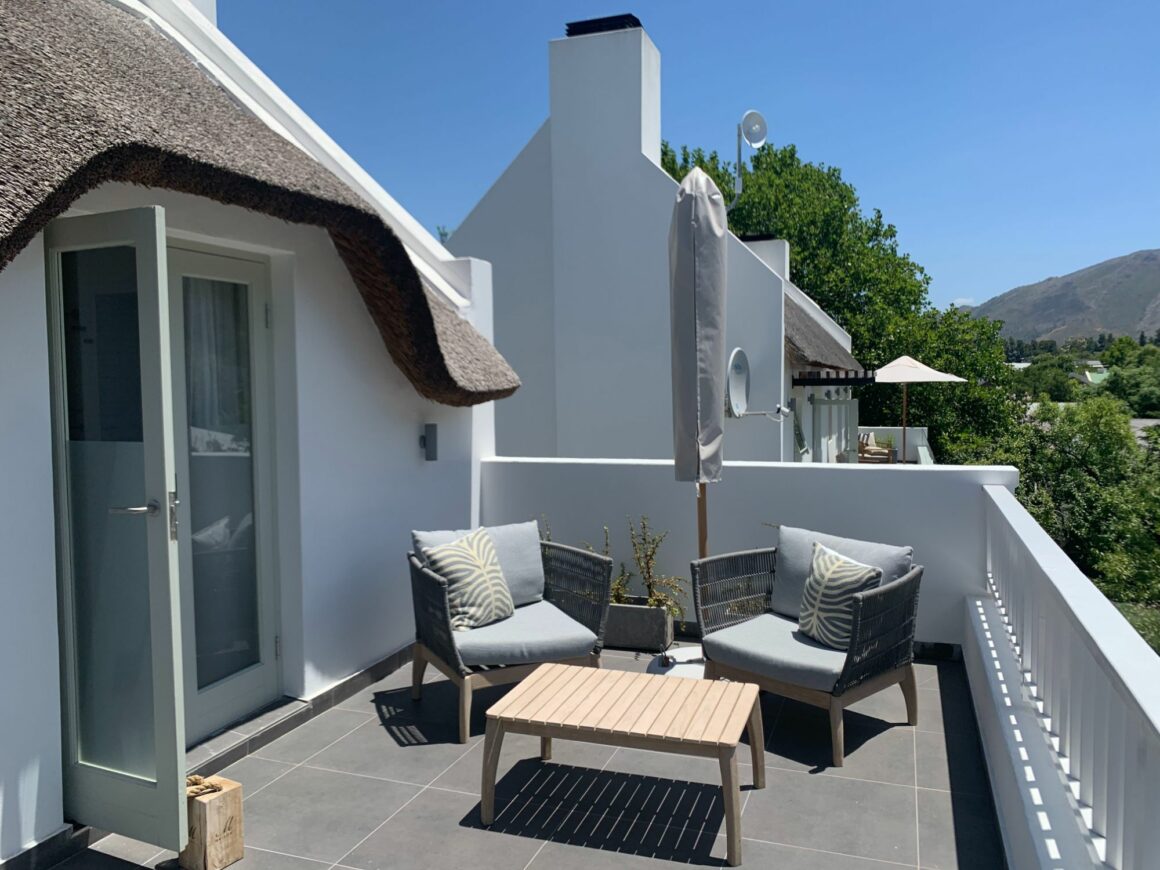 Downstairs my favourite of the rooms is the romantic Deluxe Garden Suite Le Penseur which is a 45m2 ground-floor suite with its own private terrace and views into the garden. It also has a lovely fireplace for cosy winter evenings. I loved the extra space in this room and the four-poster bed. This was also better for those that are very light sensitive as the bathroom let in less light in the morning than the other garden suites.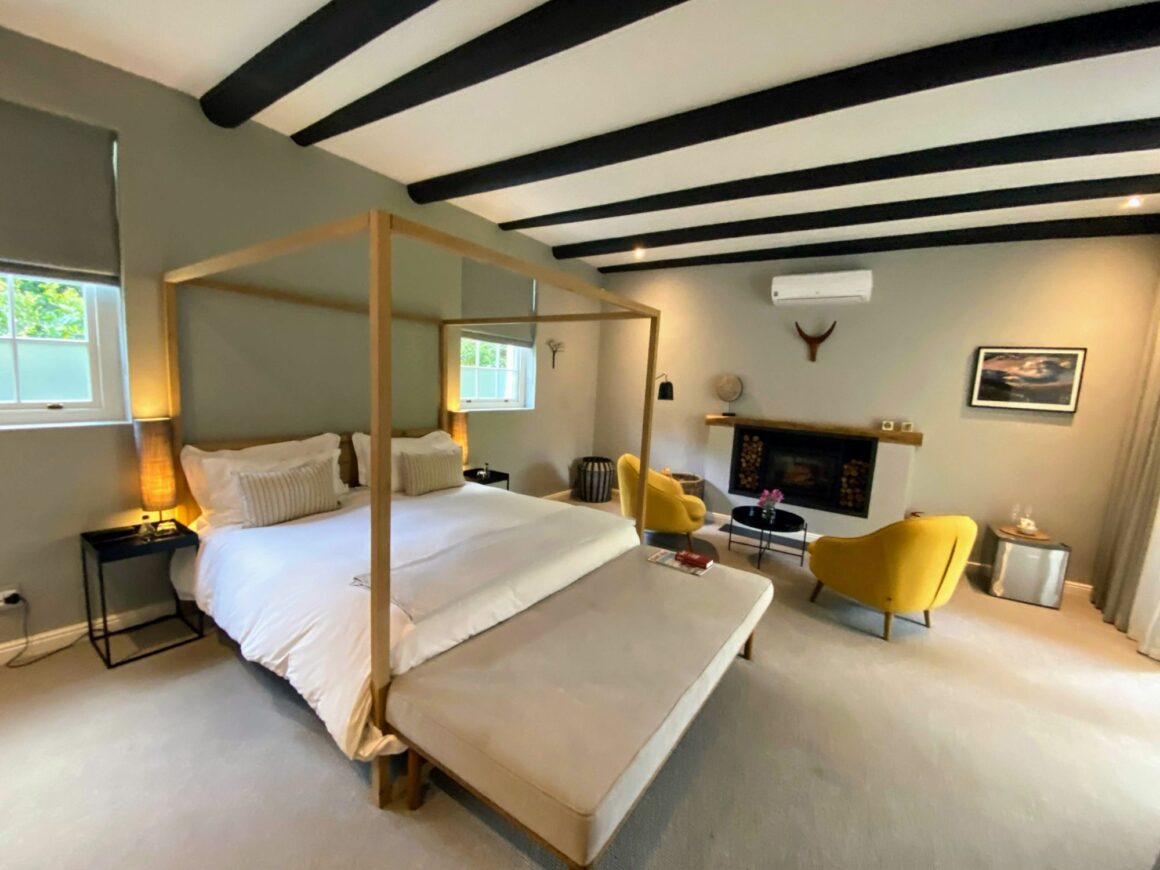 This time we stayed in the twin garden suites of Le Marais And La Madelein. These are both mirror images of each other but with slightly different colour schemes. Le Marais is a 35m2 ground floor suite with a private terrace, fireplace and views of the garden and mountains beyond. These two rooms feel slightly more private than the Le Penseur being more set back from the pool.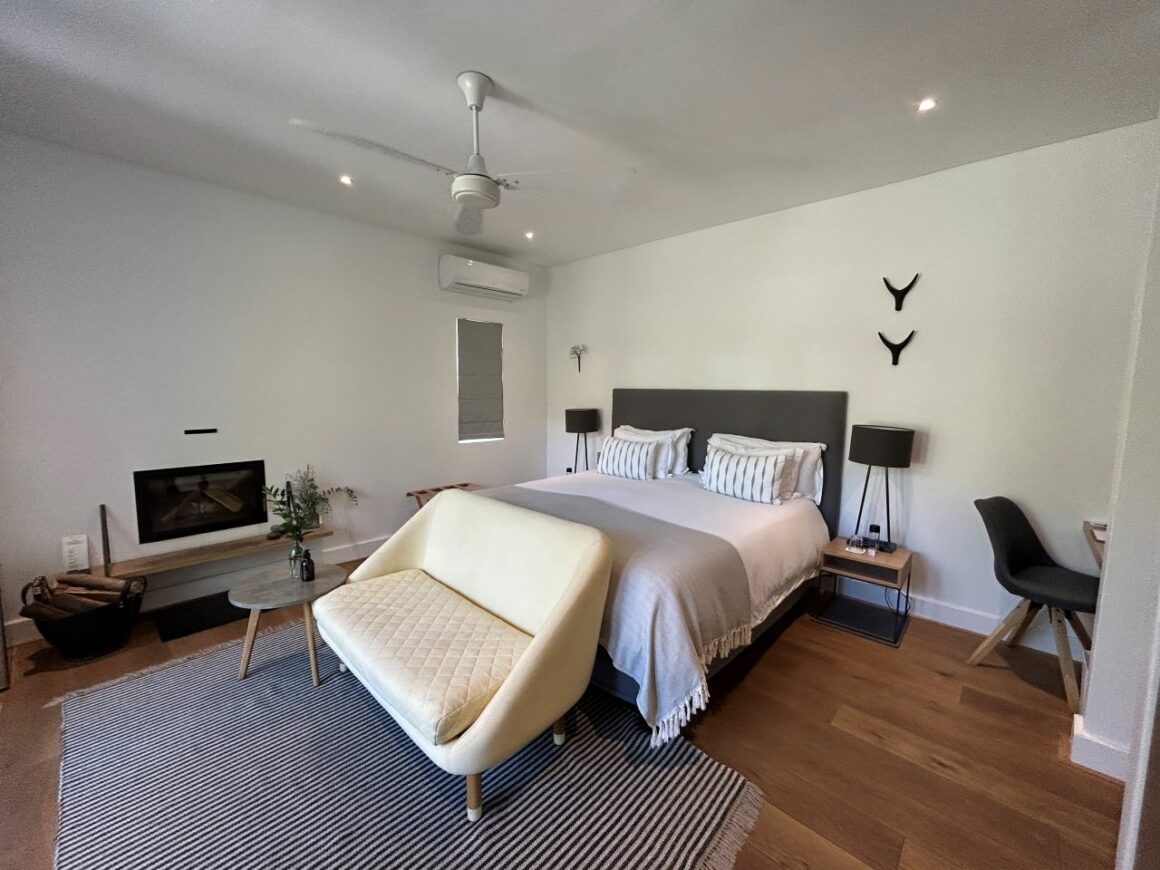 You get given a special key fob that allows you to enter either through reception or via the doors to the street by your room. You can also cut past the pool to get out closer to the village.
As you enter the room up a couple of steps, there is a handy hallway for any luggage and coats/shoes etc. This was perfect for storing any wine purchases out of the way, and the rack was handy for steaming my linen clothes into submission.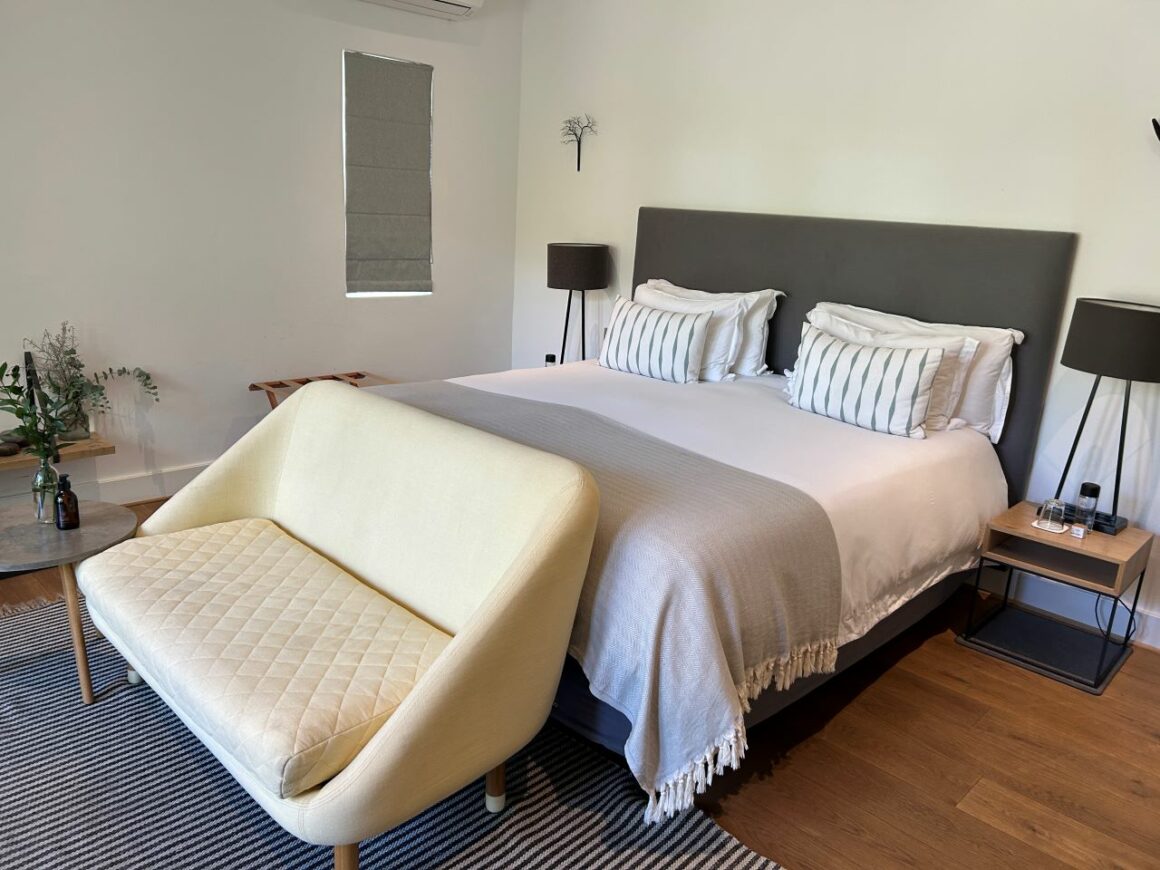 Then the main bedroom has a large bed which is probably slightly firm but was absolutely fine for my princess and the pea sensitivities! There are power points at the side of the bed so charging your devices is not a problem. (just remember that most adaptors do not feature one for South Africa but you can get them very cheaply on Amazon.
One of the things I love so much about Maison Cabriere is the style and attention to detail. There are fresh flowers everywhere in the room and everything you could want is provided. From a complimentary bottle of wine and snacks when you arrive to the marshmallows and biscotti to accompany your tea or coffee, it's the little touches that stand out.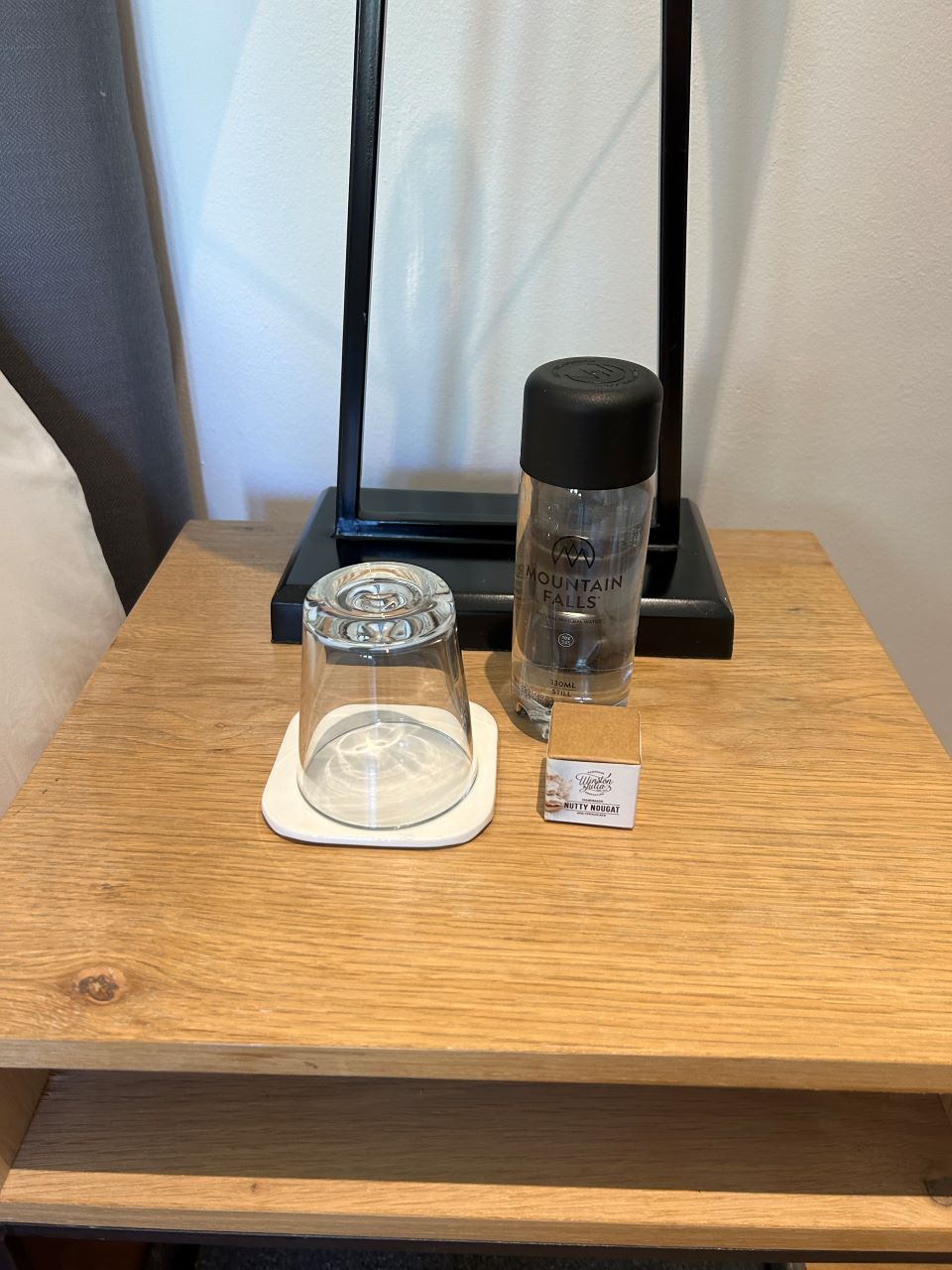 The large fridge houses a large bottle of water, but there is room for your own wine or drinks too. You also get two small bottles of water by the bed perfect for taking out and about with you. You also got a little sweet treat every day by the bed.
The small desk features a Nespresso machine, a selection of high quality teas and is large enough if you need to work.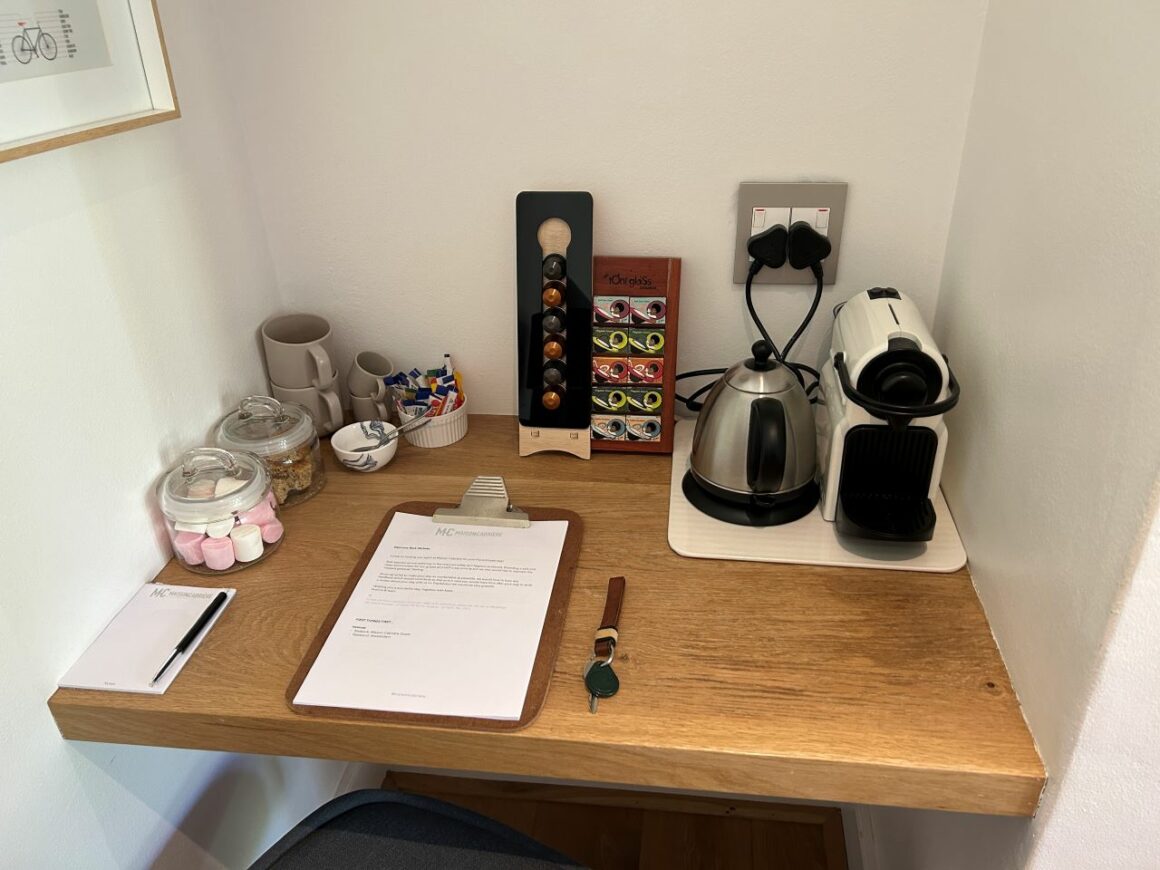 As well as the rack in the hall, there is a wardrobe with a safe, iron and ironing board and soft bathrobes.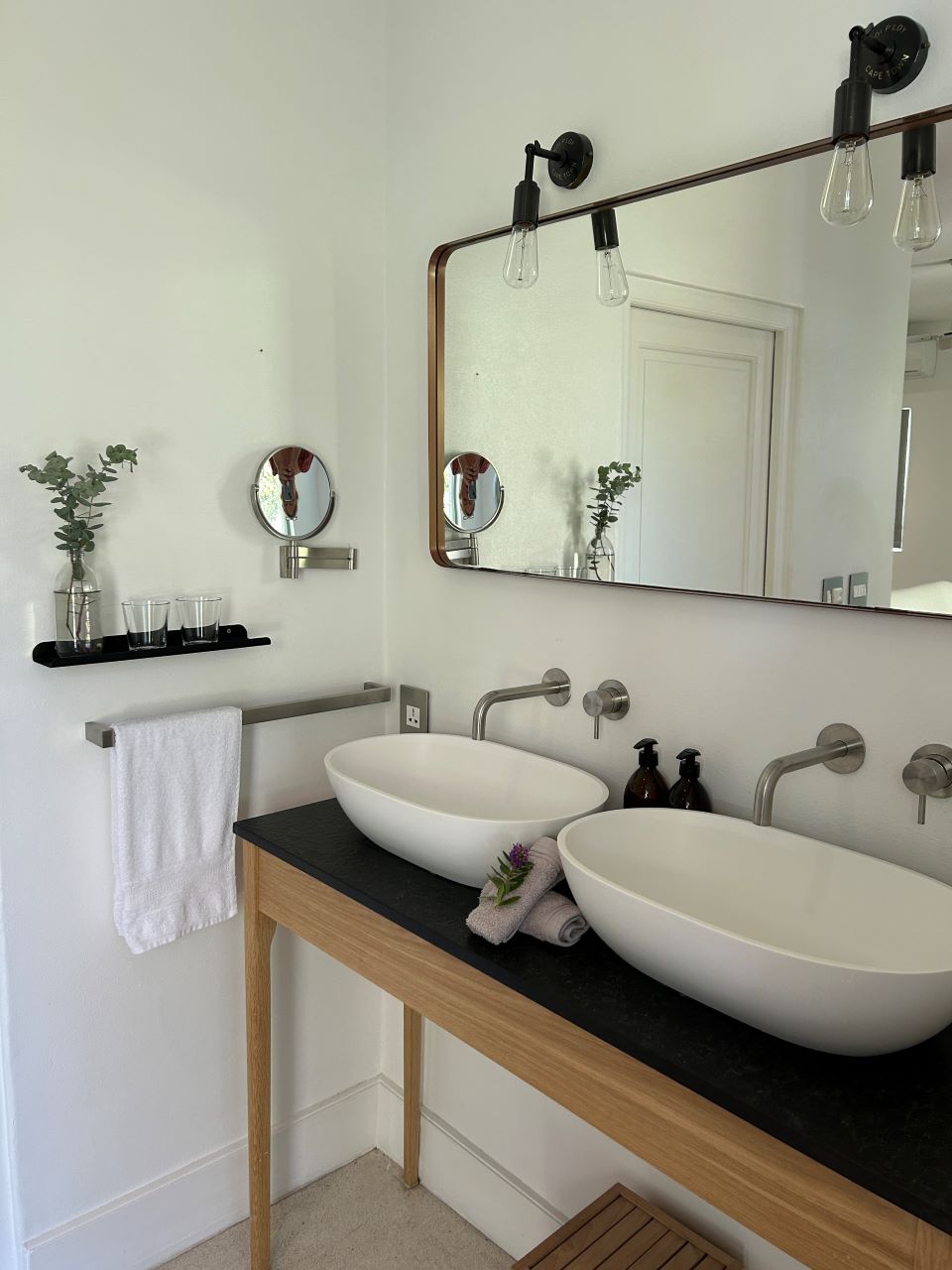 The bathroom is fairly open plan but with the toilet in a separate room with a proper door. They even provide a room spray for the toilet – I've never seen that before.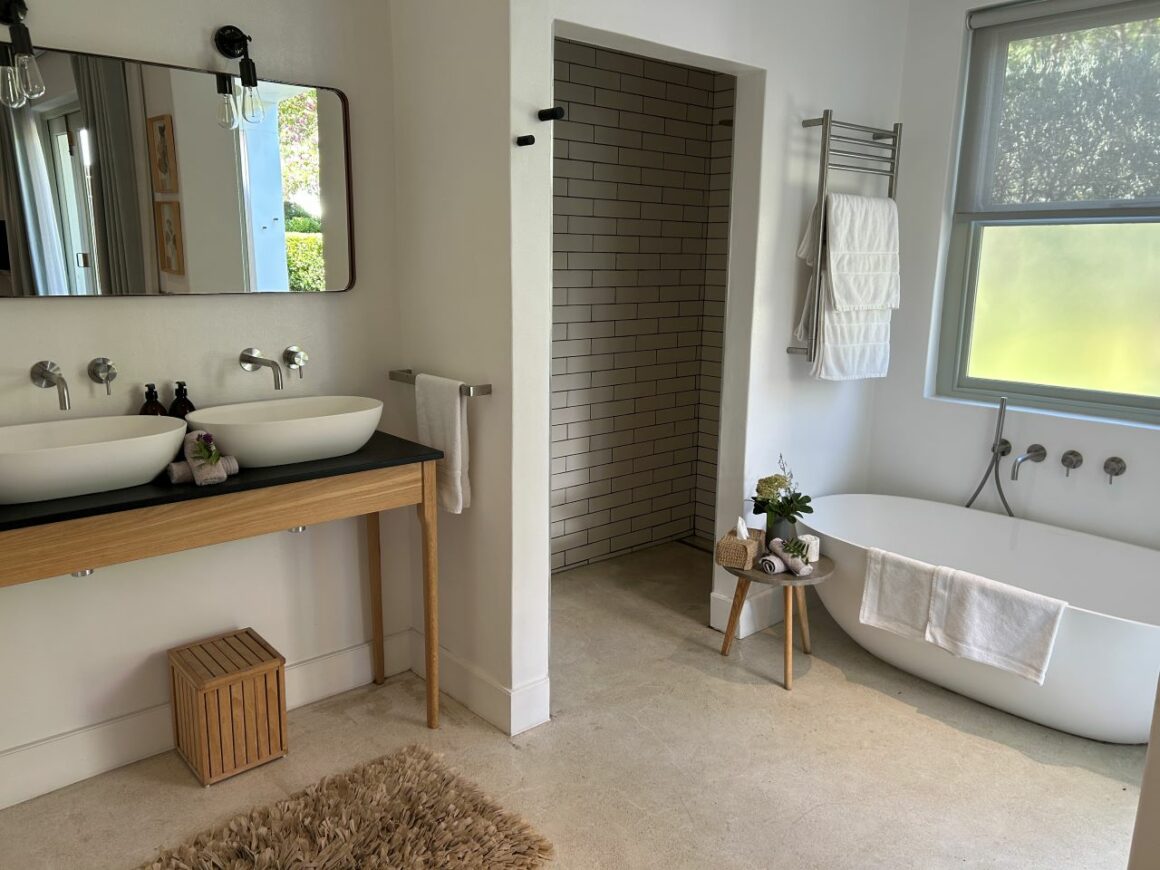 The bathroom has twin sinks, a large walk-in shower and one of the biggest bathtubs I have seen in a hotel room. The toiletries are by spa brand Healing Earth and smell divine. They come in environmentally conscious large glass pump bottles. I loved it so much that I bought some of the shower gel to bring home! The only criticism is that there are so many extras, if you have a lot of make-up or toiletries with you, there could be a little more room around the sink.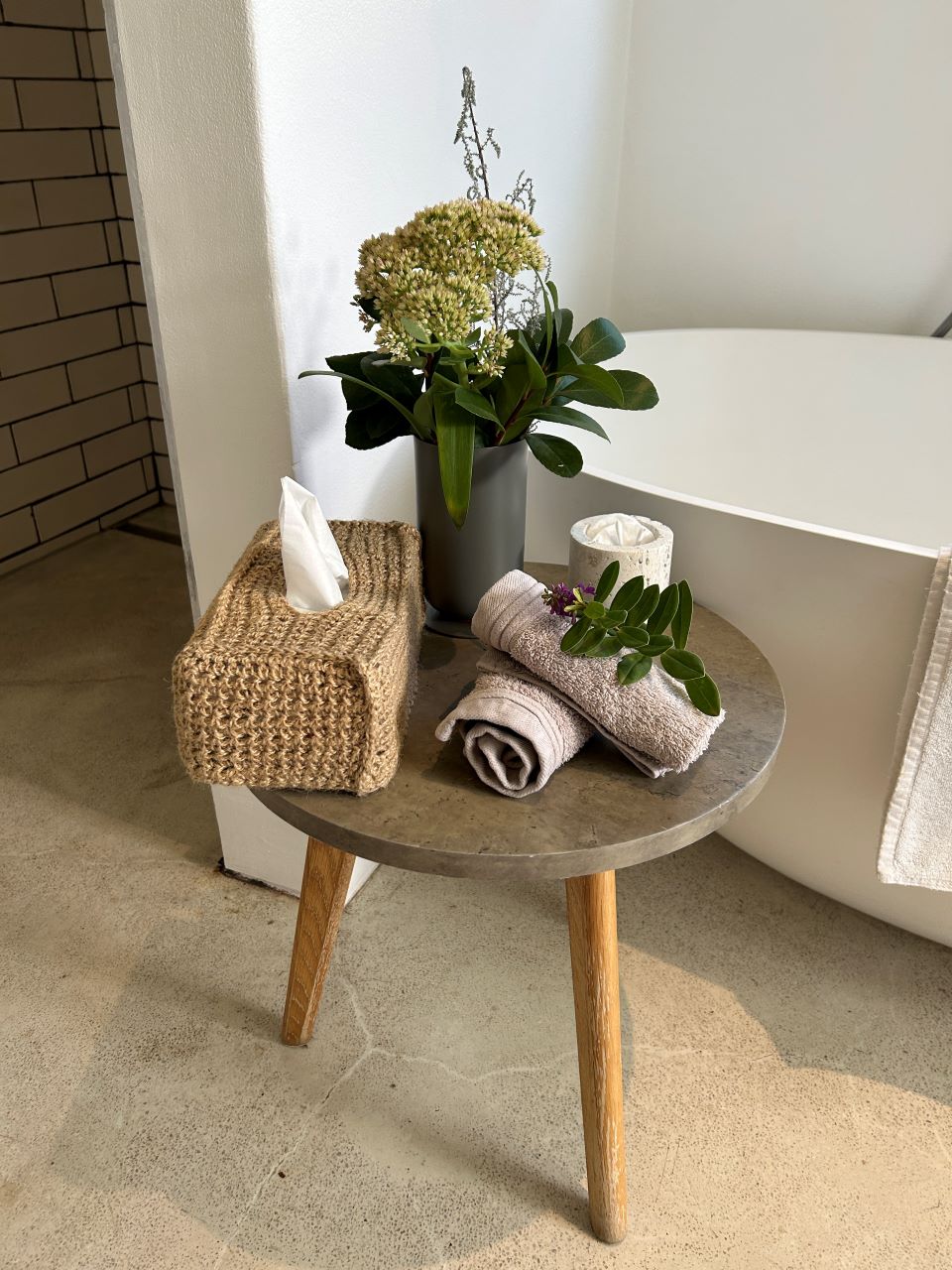 Outside I had a terrace with seats that opens straight into the garden – perfect when you come back dripping wet from the pool and want to hop straight from the terrace to the shower.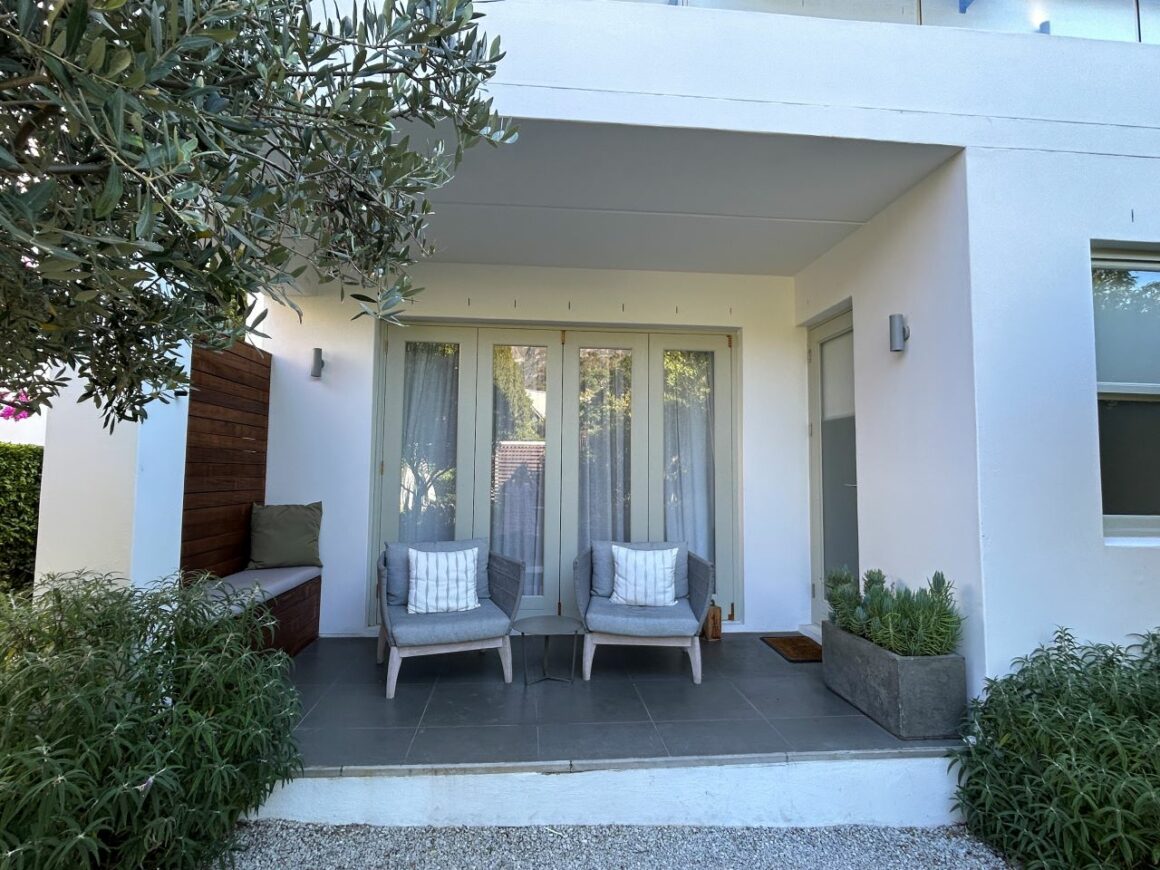 There were a couple of handy hooks to the side for your wet costumes to dry and the terrace had a lovely view of the gardens with the mountains beyond for our nightly glass of wine before dinner.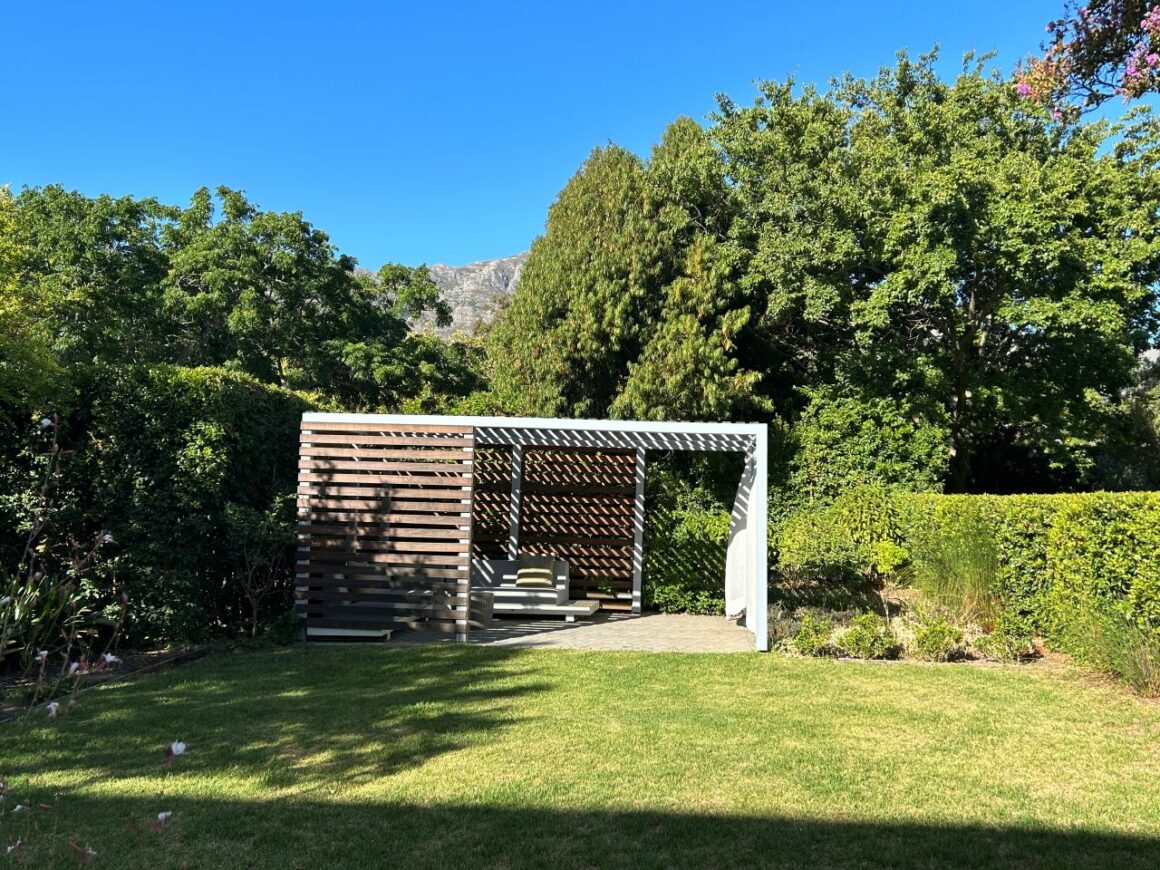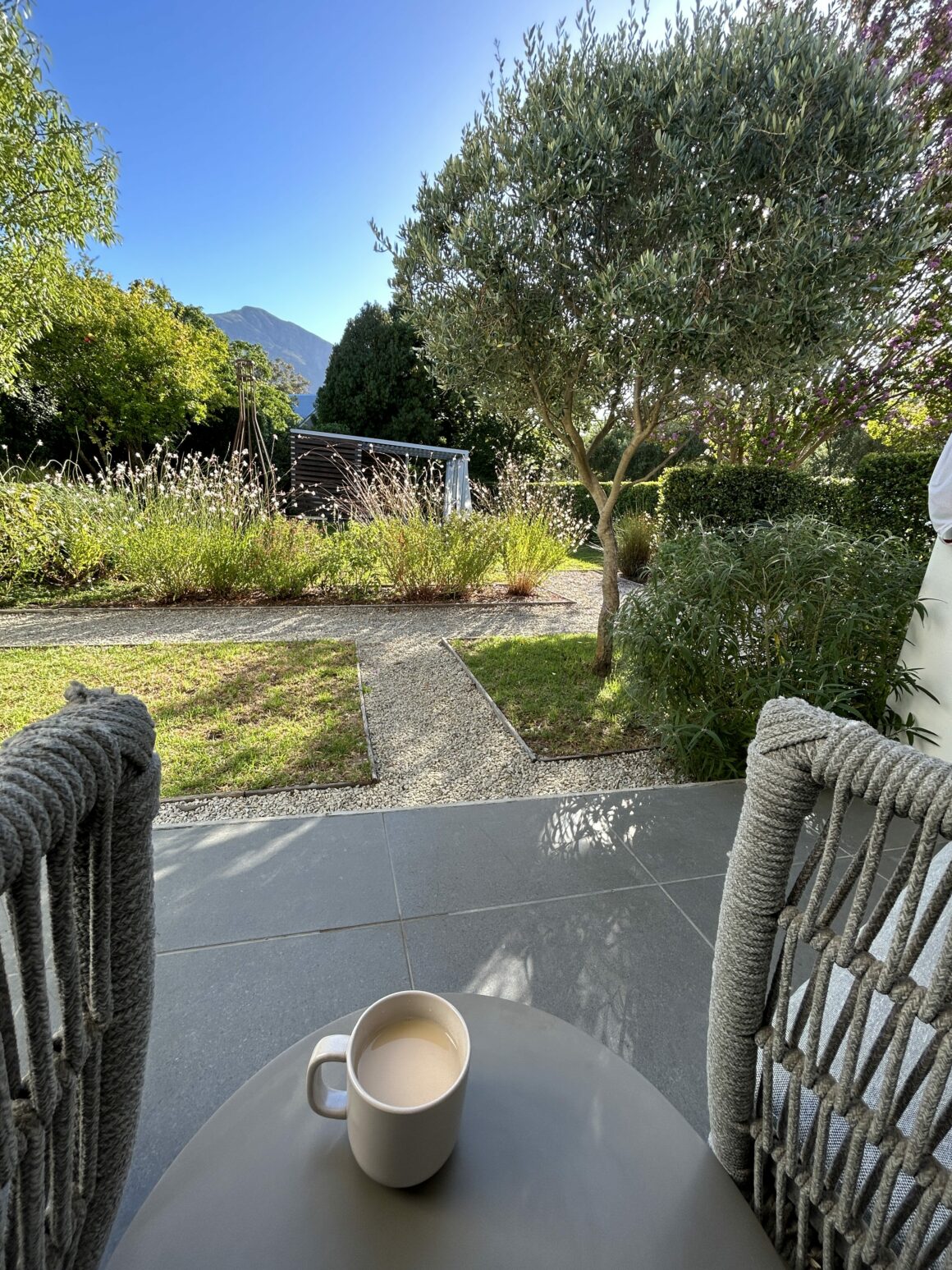 Maison Cabrière boutique hotel Facilities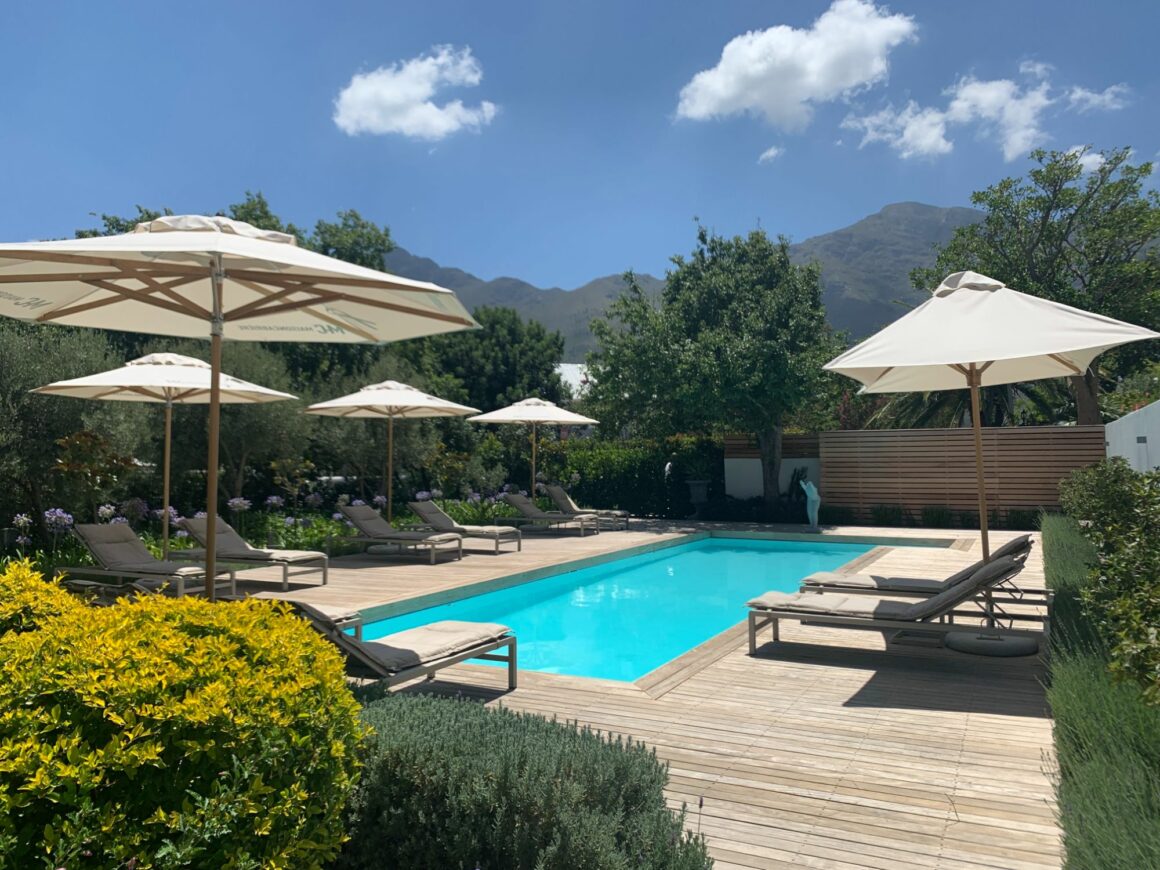 There is a decent size pool which, although not heated, is warm enough to swim in during the summer. Towels are provided by the pool, and you can help yourself to a drink from the honesty bar. Next to the pool are toilets and a shower.
It's only small so there are not lots of facilities. There is a croquet set, but there is no restaurant or breakfast. However, with a multitude of cafes and restaurants within 3-10 minutes walk, you will be spoiled for choice. For breakfast, I recommend Terbodore, which has its own coffee roastery and a fantastic menu. I also really like La Petite Manoir for breakfast (especially the posh mushrooms on toast and the iced coffees).
There is also a small kitchen area in the main house.
Power cuts 2023
You may have read about the power outages in South Africa which happen several times a day. It should not have too much effect other than the occasional traffic light being out as most places have generators and solar power. There is usually a minute or two delay to proceedings in restaurants as they switch over to the generators.
At Maison Cabrière, we were given a sheet every day with the times for the outages over the next 48 hours. When the power was out the essentials were available – overhead lights, TV, wi-fi and the fan worked. There was no air conditioning available, and the sockets did not work. Most outages were usually 2 hours and happened in the early morning and mid-afternoon then overnight.
Only on the first day was it a problem as we hadn't quite got used to it, and it was a longer outage. Then we got used to making sure we cooled the room before we went out in the evening, which meant the fan was sufficient. Often the overnight temperatures are lower than you would expect in the Cape Town area, so it did not cause issues. Also, making sure we had a spare battery to charge our phones was useful.
Booking Maison Cabrière boutique hotel
You can book direct with Maison Cabriere here, and rooms start from 5000 Rand (~£253). They tend to get booked up months in advance so if you are interested in staying you need to book sooner rather than later. It's probably thanks to their 5/5 reviews on TripAdvisor.
You can also book via Booking.com here.
Youtube Video
If you're interested to look further into the Maison Cabriere hotel, I have recorded a Youtube video where you can see the hotel entirely.
Like our Maison Cabrière boutique hotel review? You can read more hotel reviews here.