If you have been saving your Avios to get that dream trip in First or perhaps found a sale bargain to the US, this article will help you get the most out of flying British Airways First class from which seat type your aircraft will have, to understanding how the onboard service works and who to contact.
Contacting BA about your First class flight – You First
If you have a query before flying British Airways First class, or want to perhaps book your seats and are having trouble, you can contact You First, which is exclusively for First class passengers. It can also be useful if something goes wrong such as a cancellation, lost bags or time change if you need to speak to someone.
You can either using this online form or call them on 0800 408 7667. You first helpline is open 24 hours per day, seven days a week. You can call from overseas using +44 (0) 207 949 3055
They can also send you a copy of the onboard menu, but sometimes this is only available a few days before your flight when the menus are due to change at the start of a month.
The First Wing and First check-in at Gatwick and JFK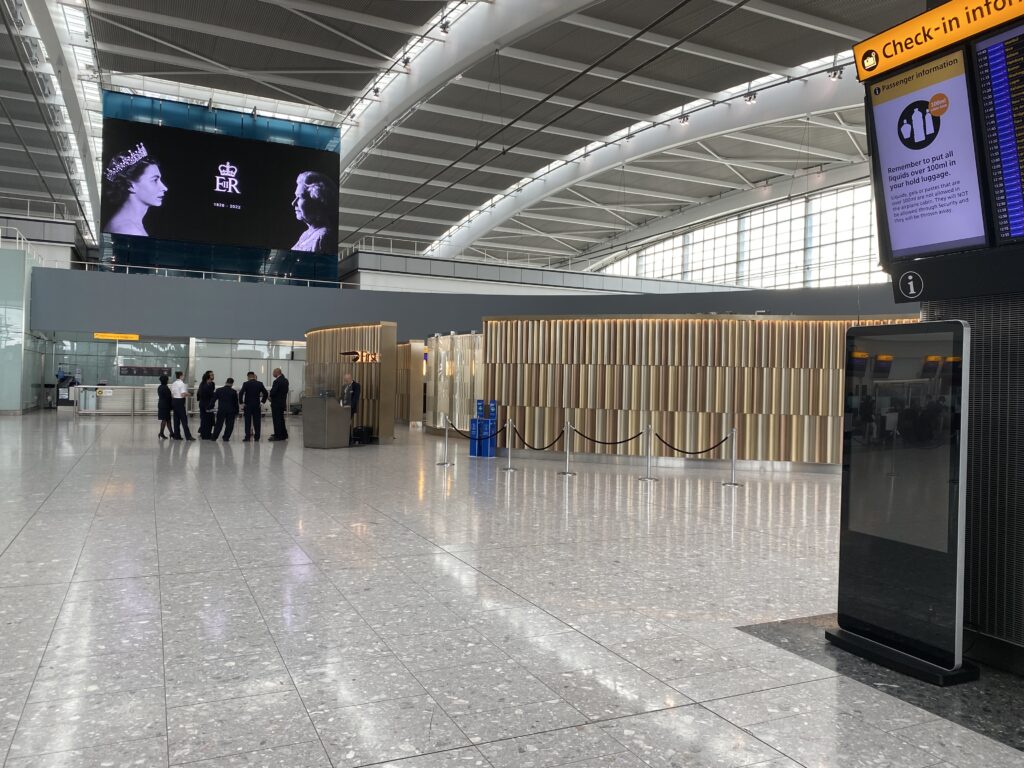 If you are flying British Airways first class you can access the First Wing for check-in and security (although it is sometimes closed during the Heathrow T5 security strikes). This is only available at T5 and is at the far end of the terminal.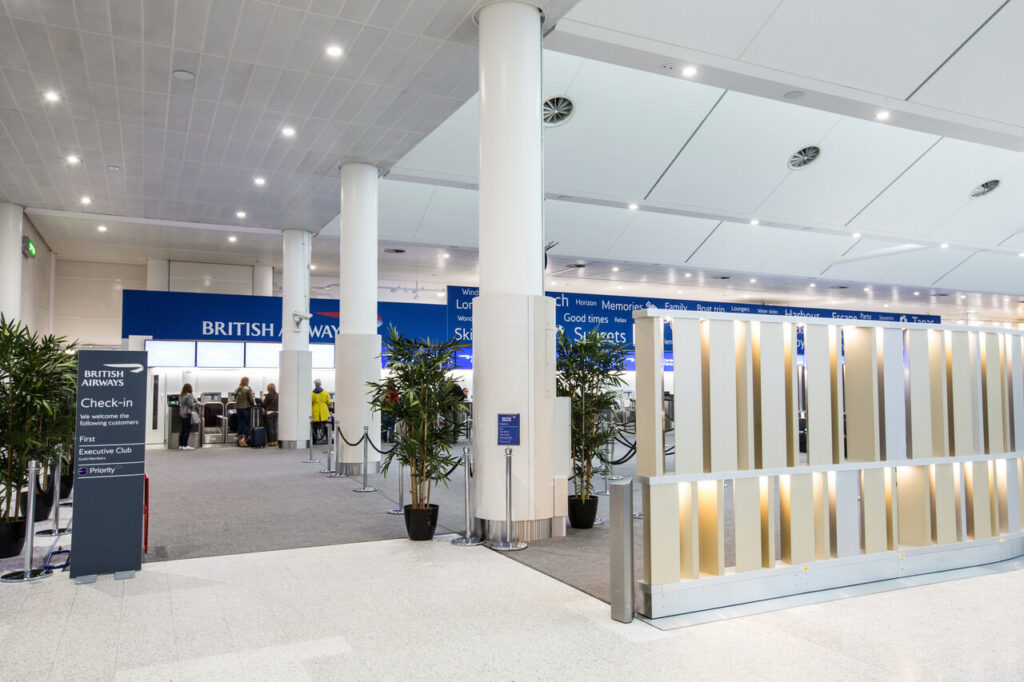 At T3, there is only a first class desk and then Fast Track security. This is the same at Gatwick too.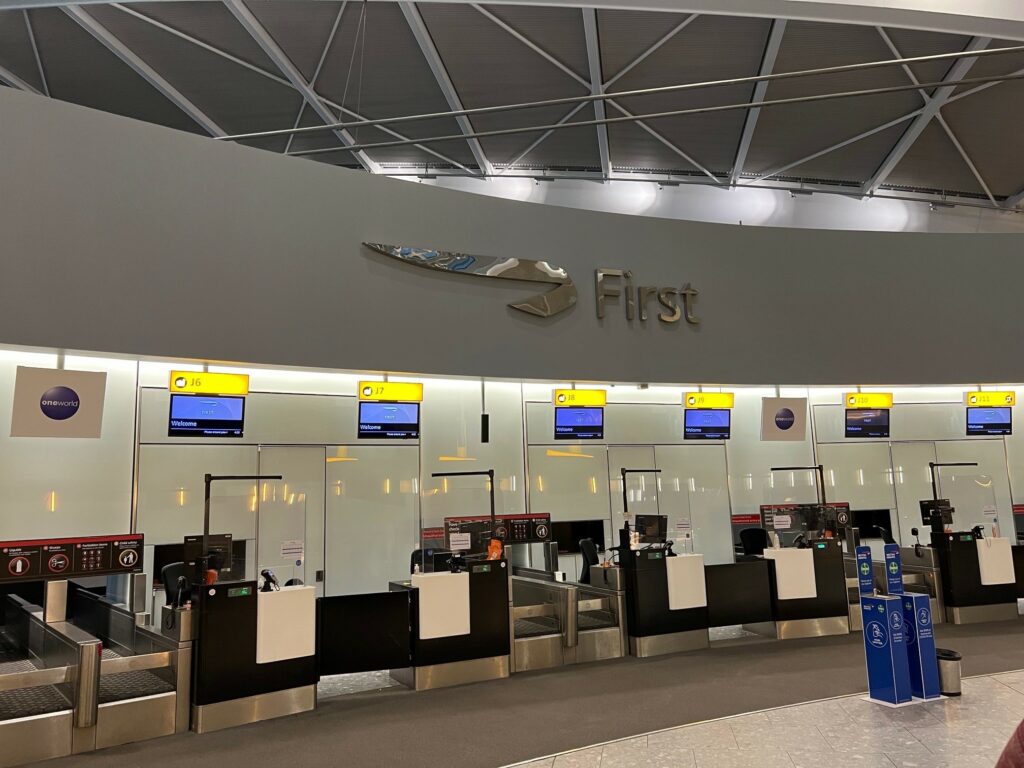 In the First Wing, they usually have some cold drinks available, either being handed out or on the table. If you need to rearrange your luggage there is also a small seating area.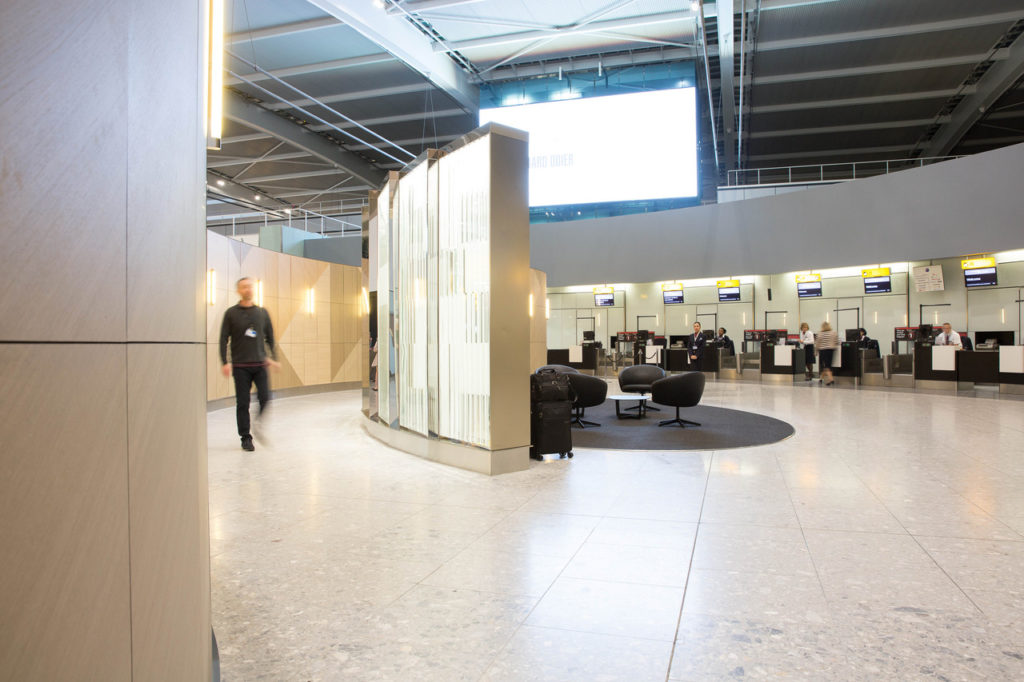 Once you have gone through security which is generally very quick, there is a repacking area to get yourself organised.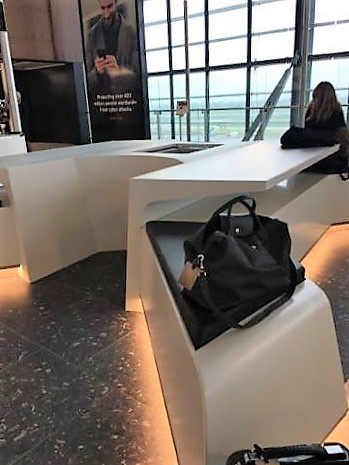 JFK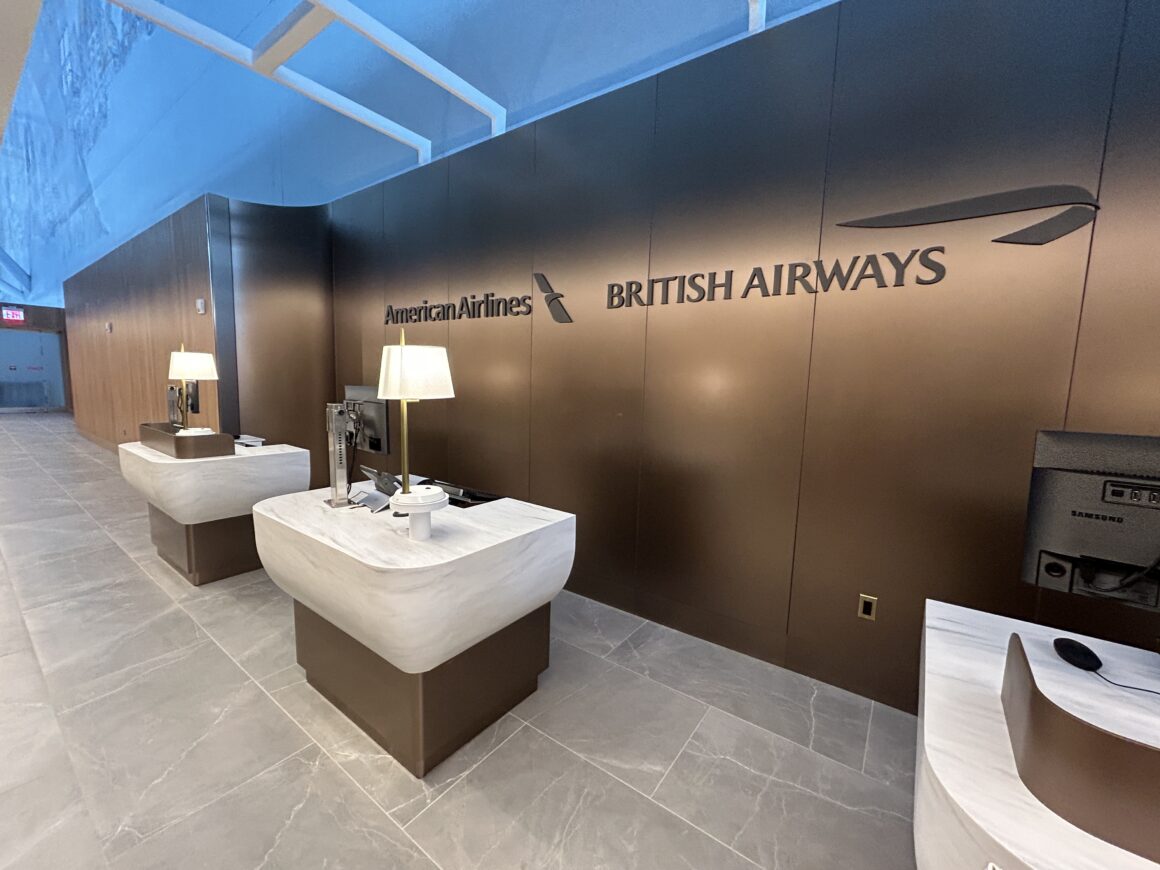 Since BA moved to terminal 8, they have a very nice exclusive first and high-status check-in area.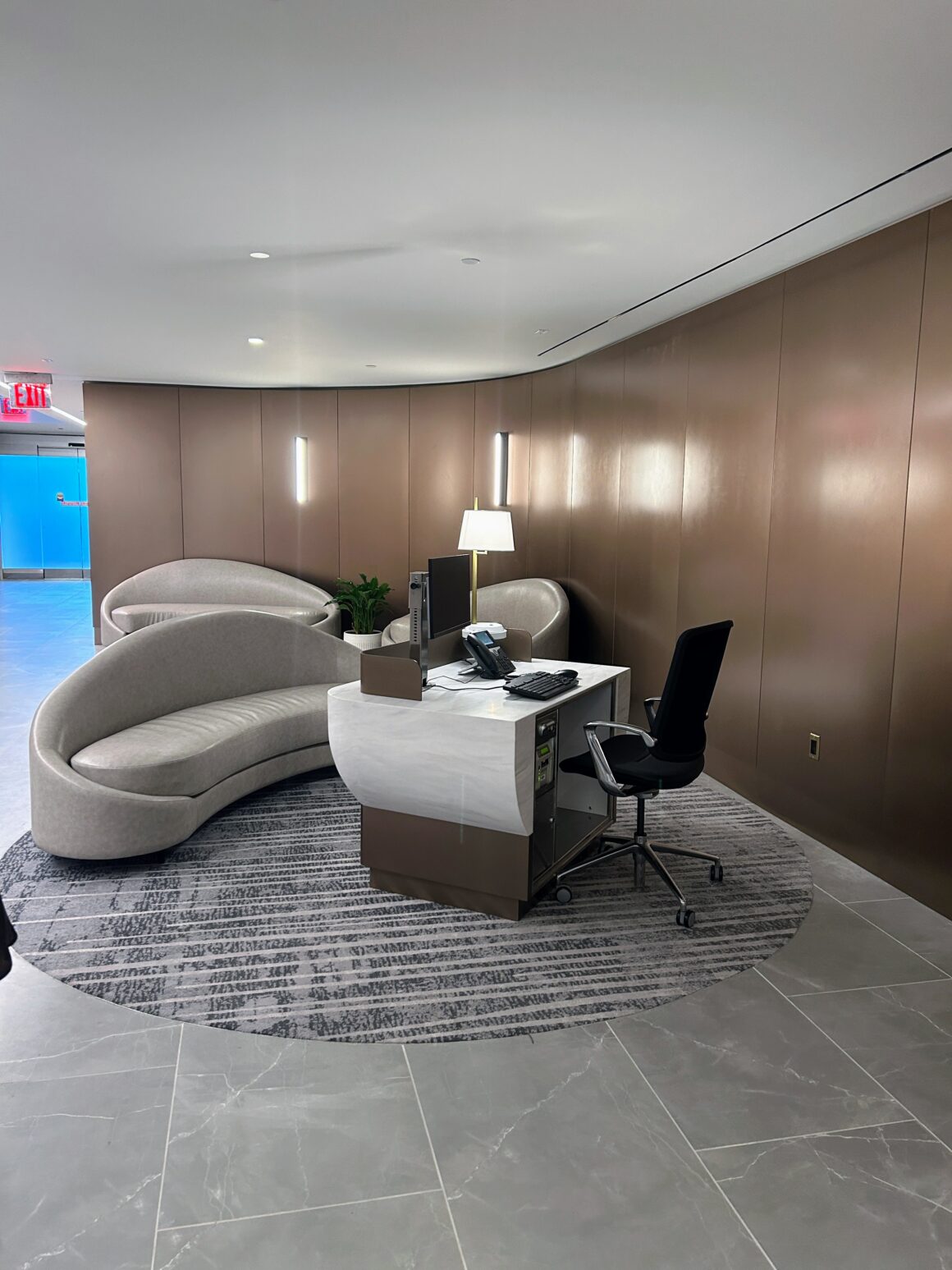 Lounges
You then walk down a corridor to the back entrance of the First Lounge, where you will be greeted by the horse (often known as Susan). You will need to walk through the First Lounge and exit to get to the Concorde Room, which is just across the way.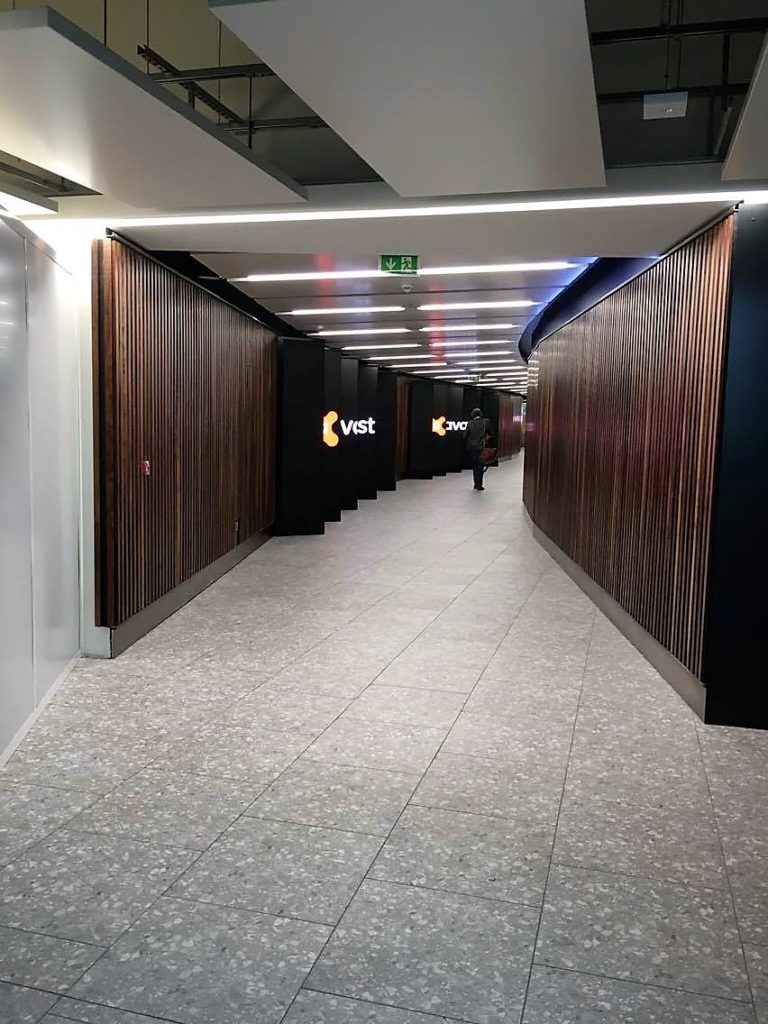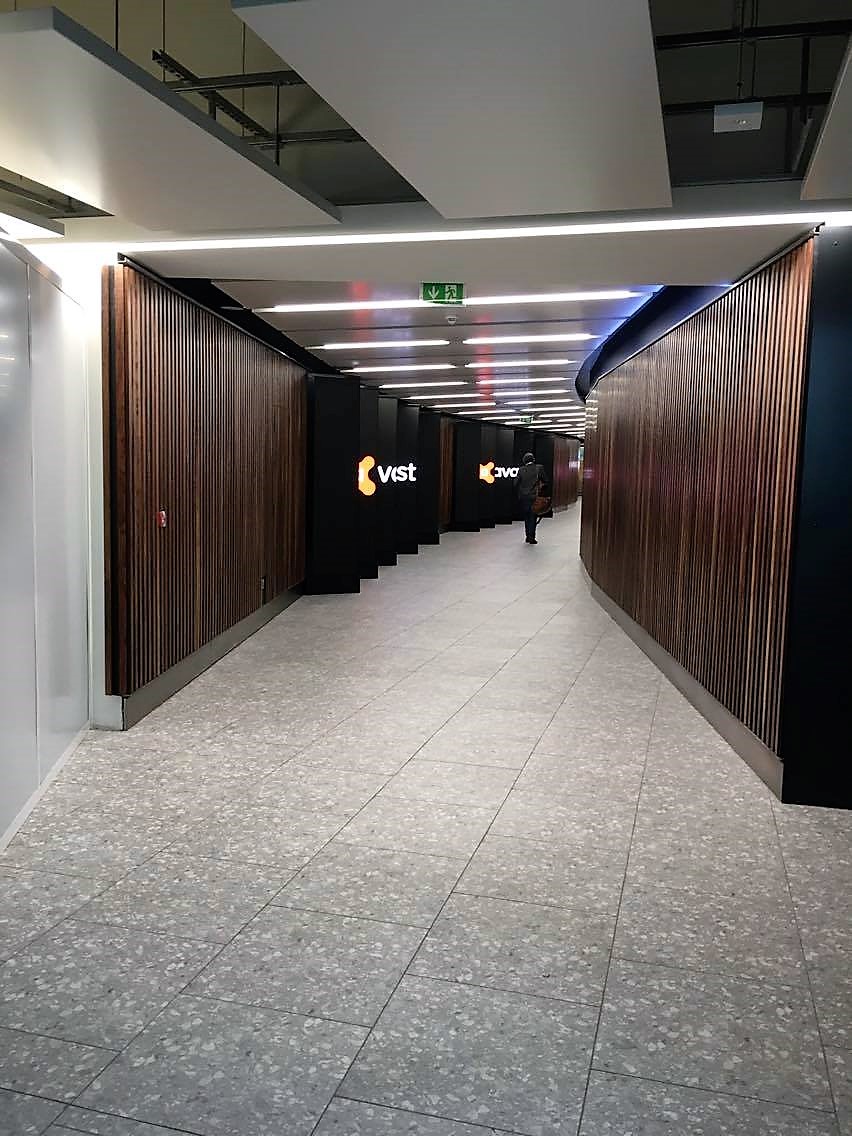 You may want to check out the food in the First Lounge in case there is nothing you fancy in the Concorde Room. If you just want a snack, the First lounge has a better selection with a salad bar, cheese selection and sandwiches.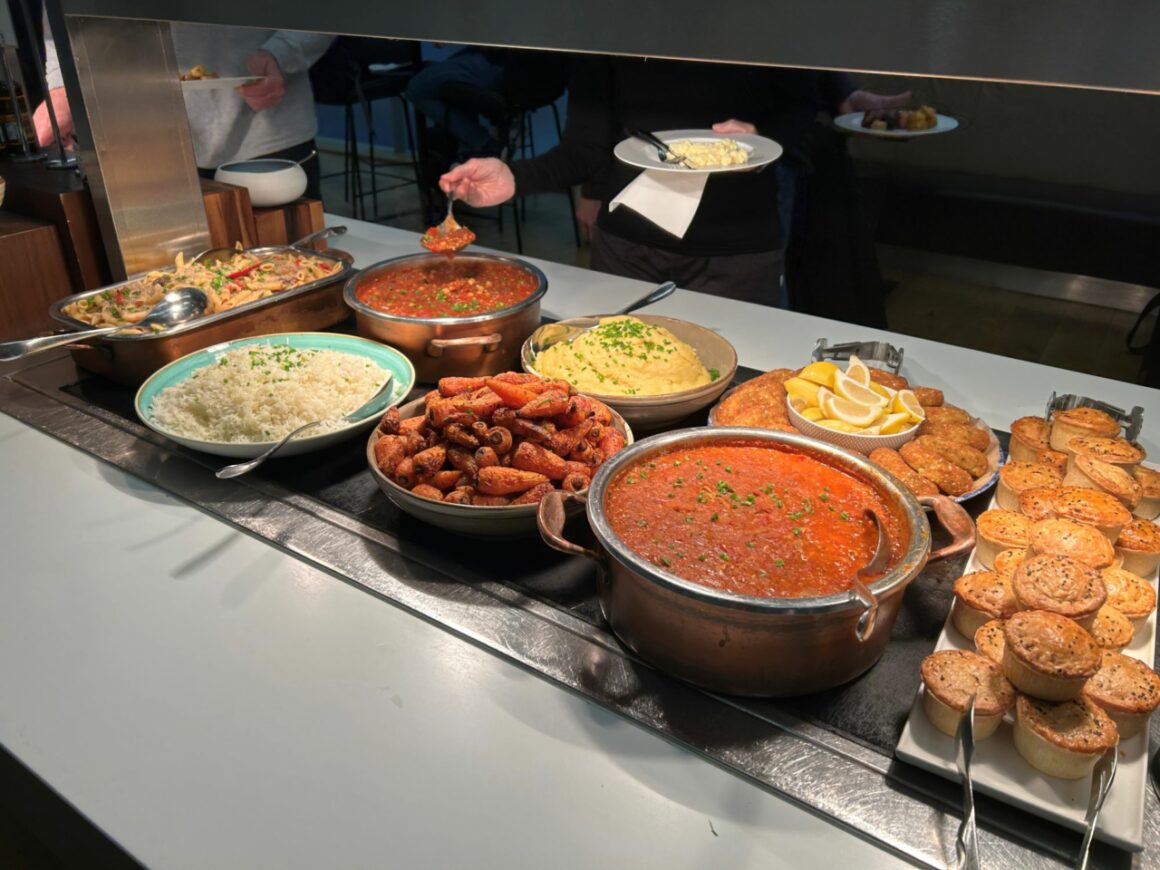 Among the hot food selection there is usually a vegan or vegetarian option, something with rice or pasta and a pie or fishcake. They also have cake and biscuits.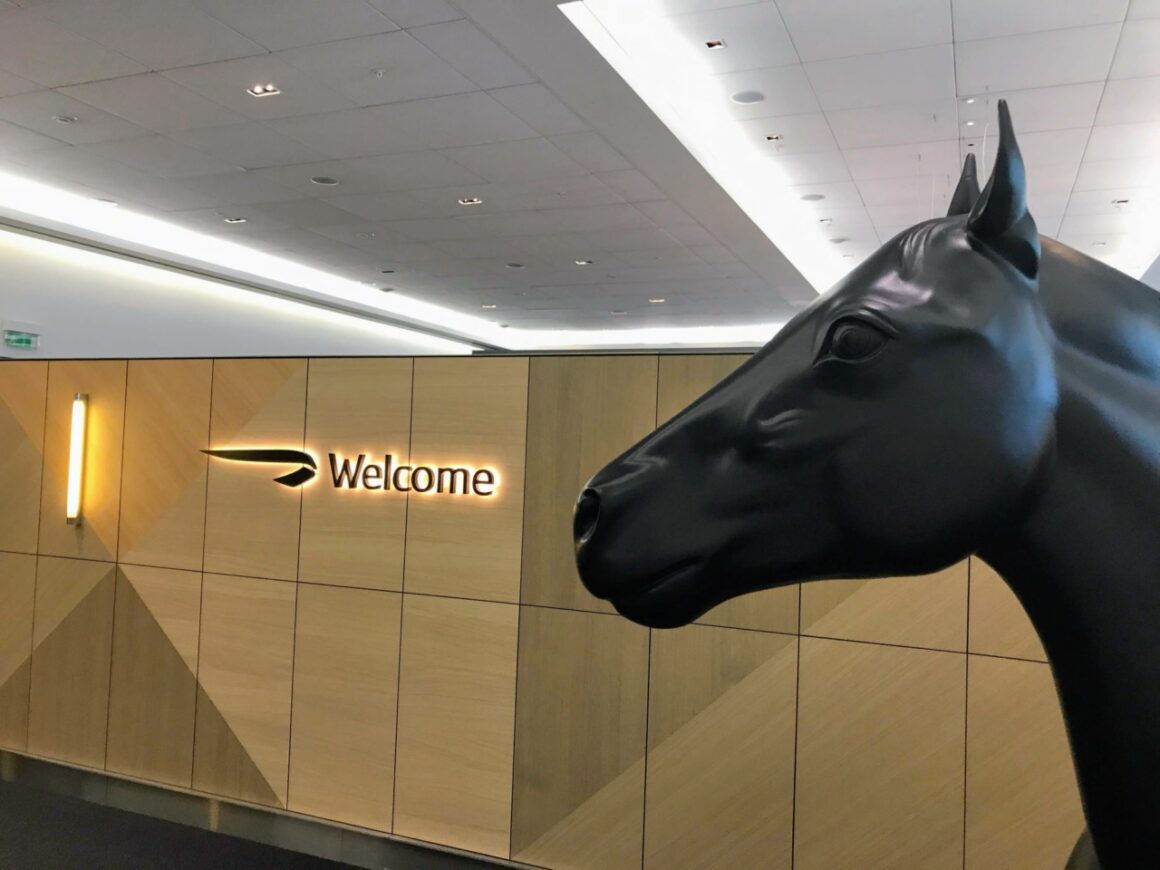 The Concorde Room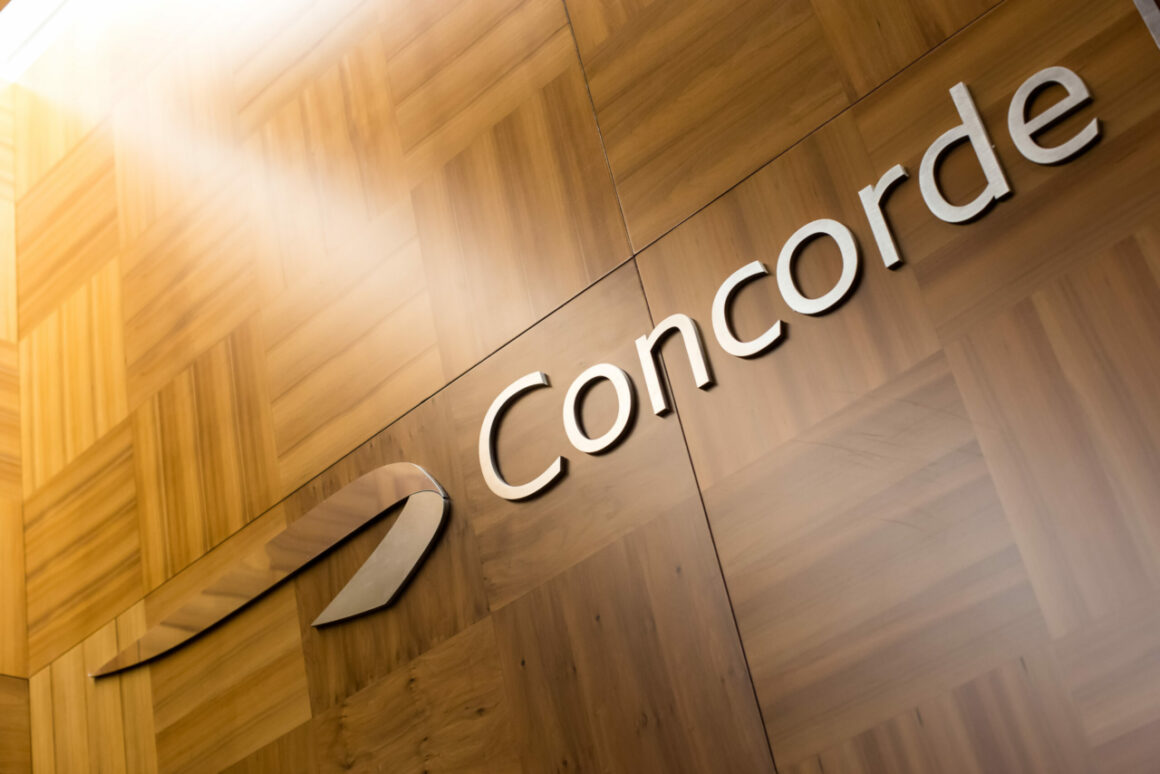 Just before the entrance of the Concorde Room are the showers in case you need to freshen up. Sadly the spa is permanently closed.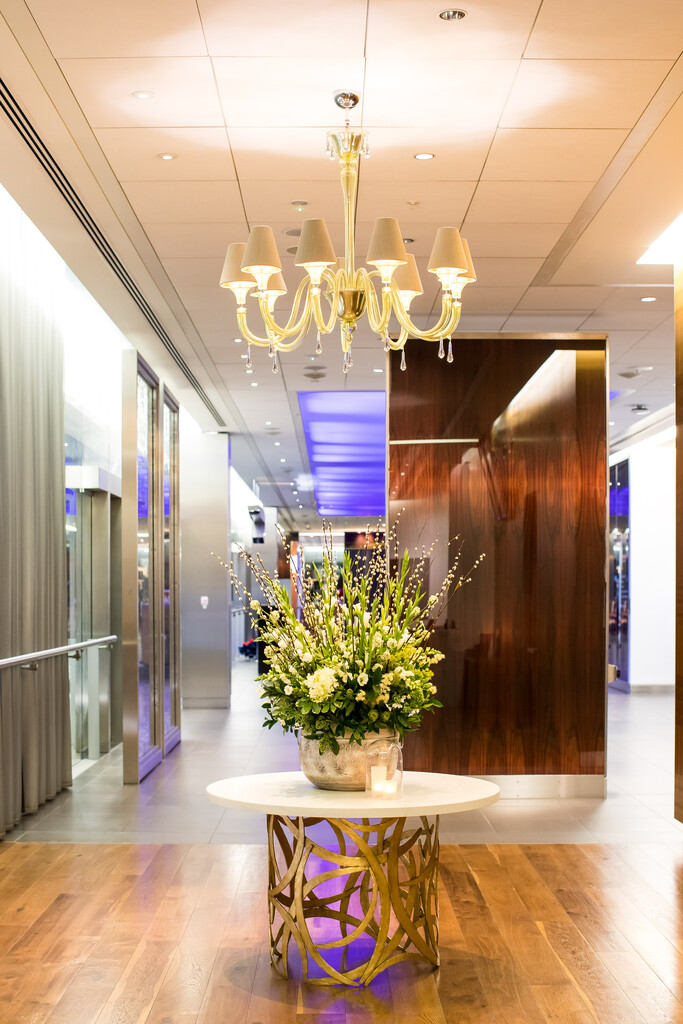 The Concorde Room at London Heathrow Terminal 5 is available for customers who are:
Flying on a scheduled British Airways flight in First
Over the age of 18 years, or if under 18 years you are accompanied by a responsible adult. (Local laws relating to the consumption of alcohol will apply.)
You can take one guest with you who is flying British Airways that day.
As you enter the Concorde Room, there is a luggage storage area. Next, you will find a desk where there is usually a BA staff member who can help if you have a flight query or issue.
There are four main areas in the lounge:
The Forty Winks nap area in what used to be the Boardroom
The bar and lounge area which also has a very small work area near the terrace
The restaurant
The terrace
If you like a bit of aviation nostalgia, there are cabinets in the lounge full of memorabilia and there is a nose cone from Concorde on the terrace.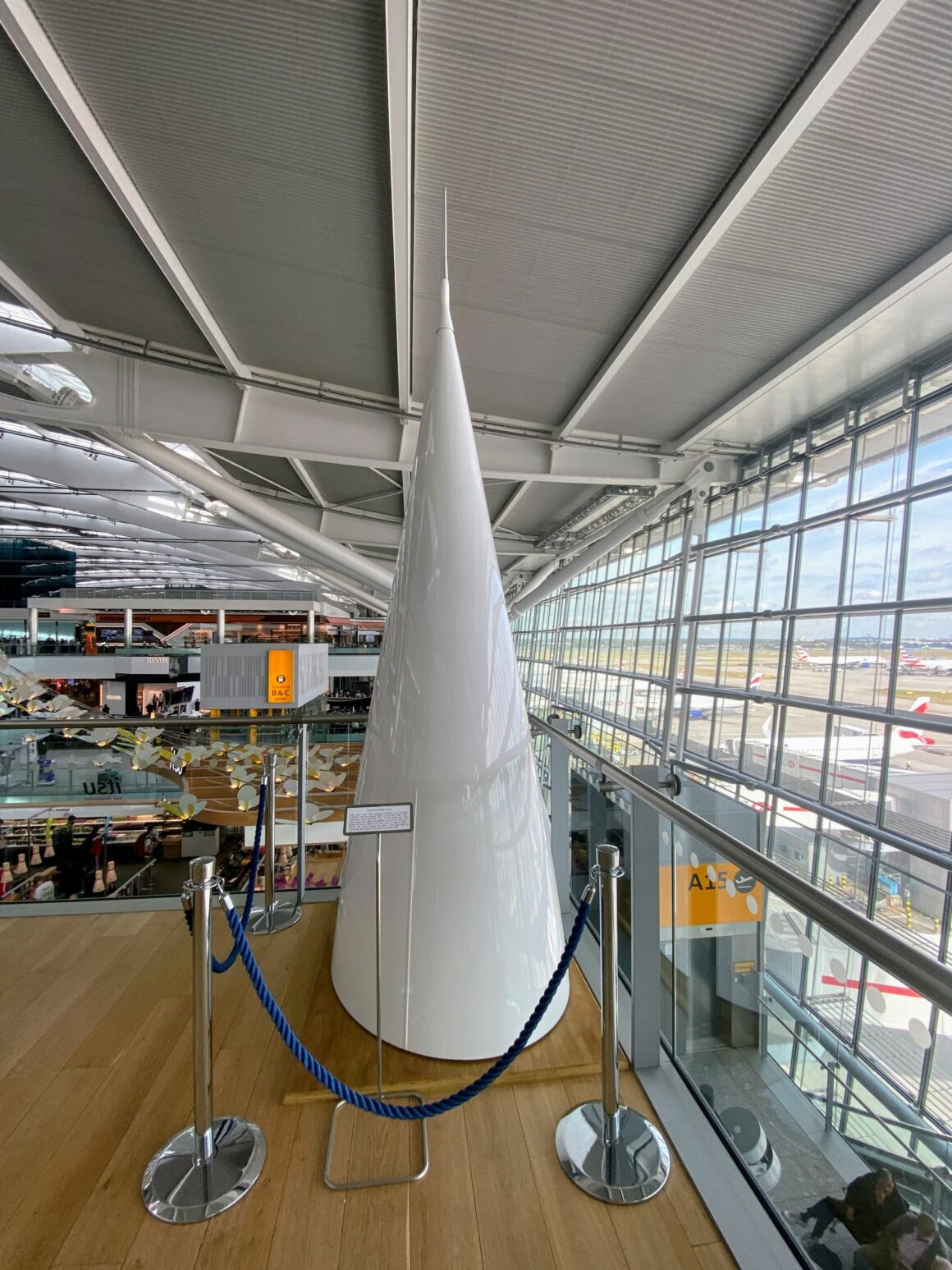 Bar and lounge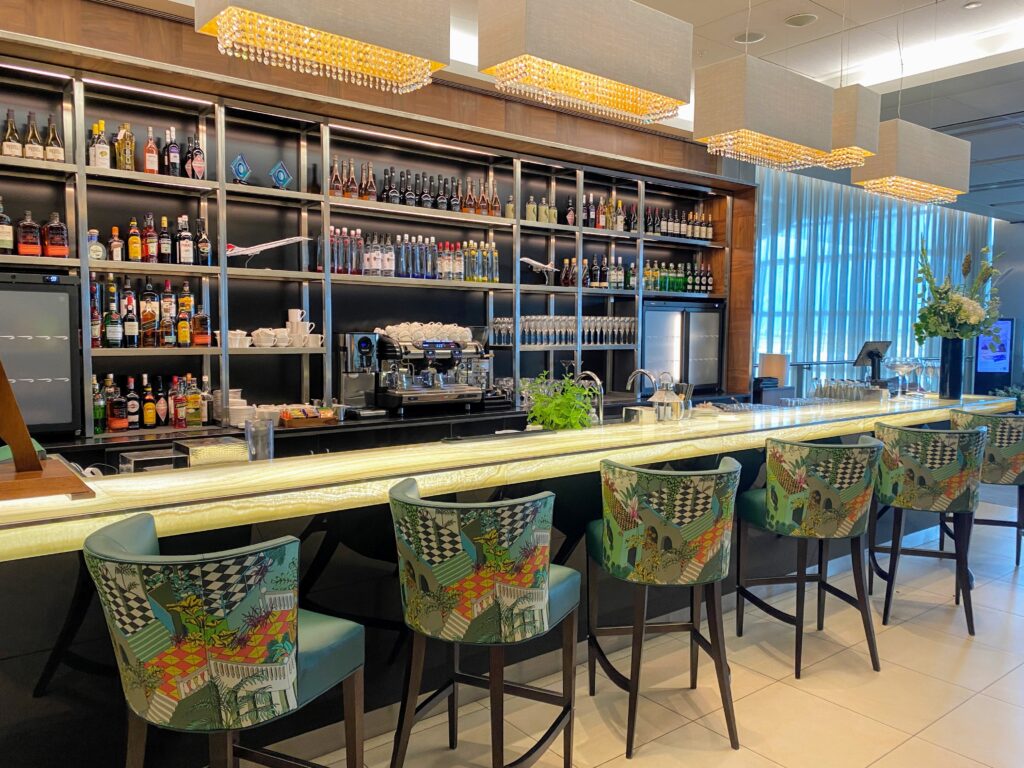 There is table service throughout the lounge, but you can also approach the bar to order. There are several different menus for food and drink. A cocktail menu, a wine menu, a lounge menu and a restaurant menu.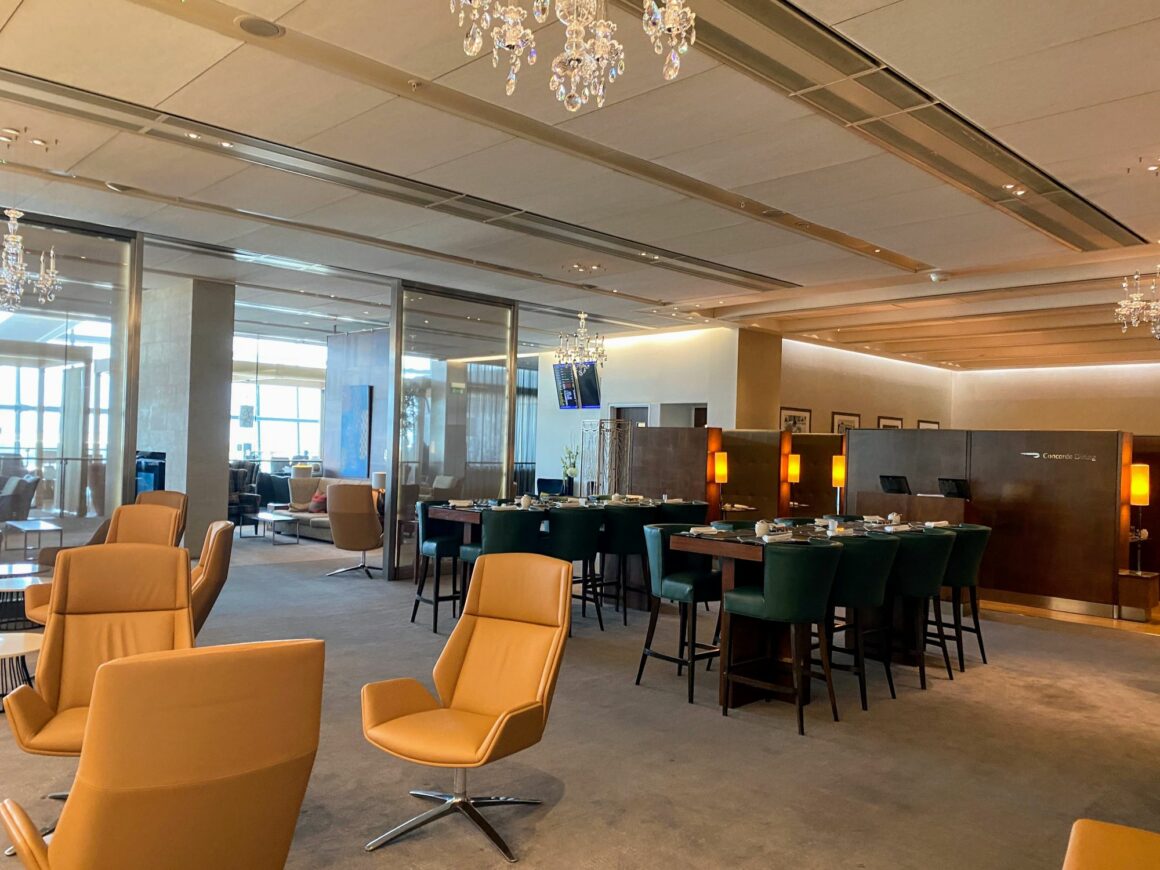 If you fancy a nibble with your drink, they have a selection of nibbles, such as nuts and olives. The truffled nuts are particularly good. They do a number of cocktails, including the BA175, which is champagne based and my personal favourite, and a selection of alcoholic and non-alcoholic cocktails by mixologist Mr Lyan. There is also a selection of special cocktails for events such as Christmas and the Coronation, so keep a lookout for the special menus or ask the bar staff. They even have some breakfast cocktails, such as a Marmite Martini and a Breakfast Martini, as well as a range of Bloody Marys.
If you enjoy good champagne, be sure to try the Laurent Perrier Grand Siecle. This is the same champagne they serve on board. You can get your money's worth from your ticket as a bottle of this champagne costs from £130 retail.
The lounge menu is different from the restaurant menu, but usually, you can order anything for anywhere in the lounge.
Here is a typical lounge menu: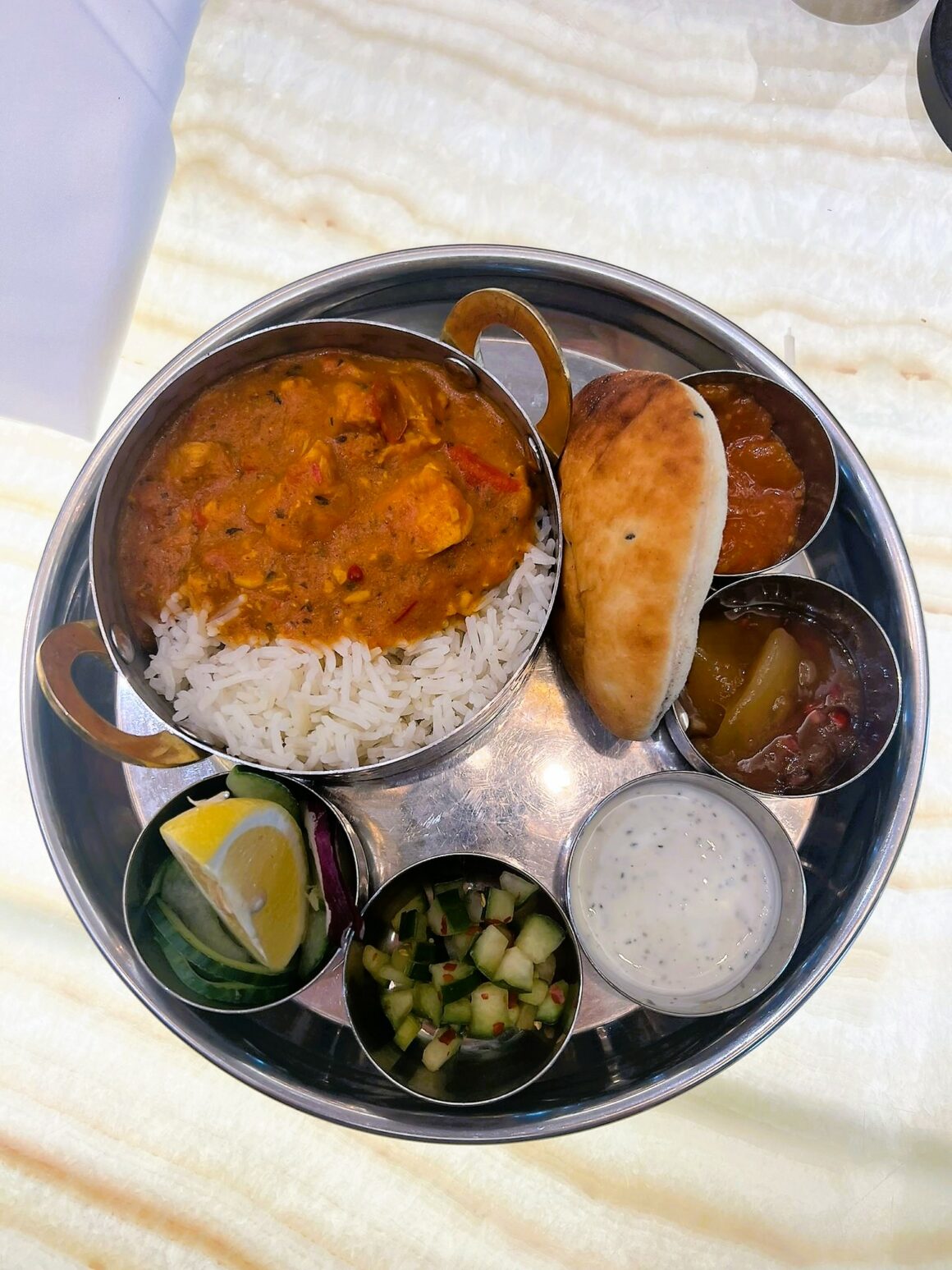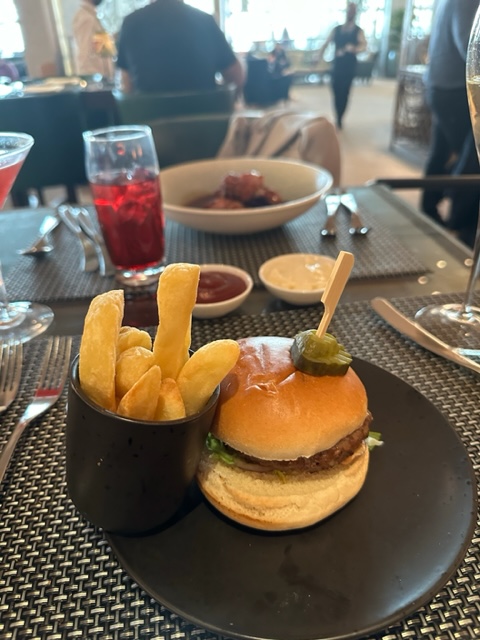 If you want to do some shopping, you can exit the Concorde Room at the "Millionaire's door" near Forty Winks which brings you out by the exit of South security.
Terrace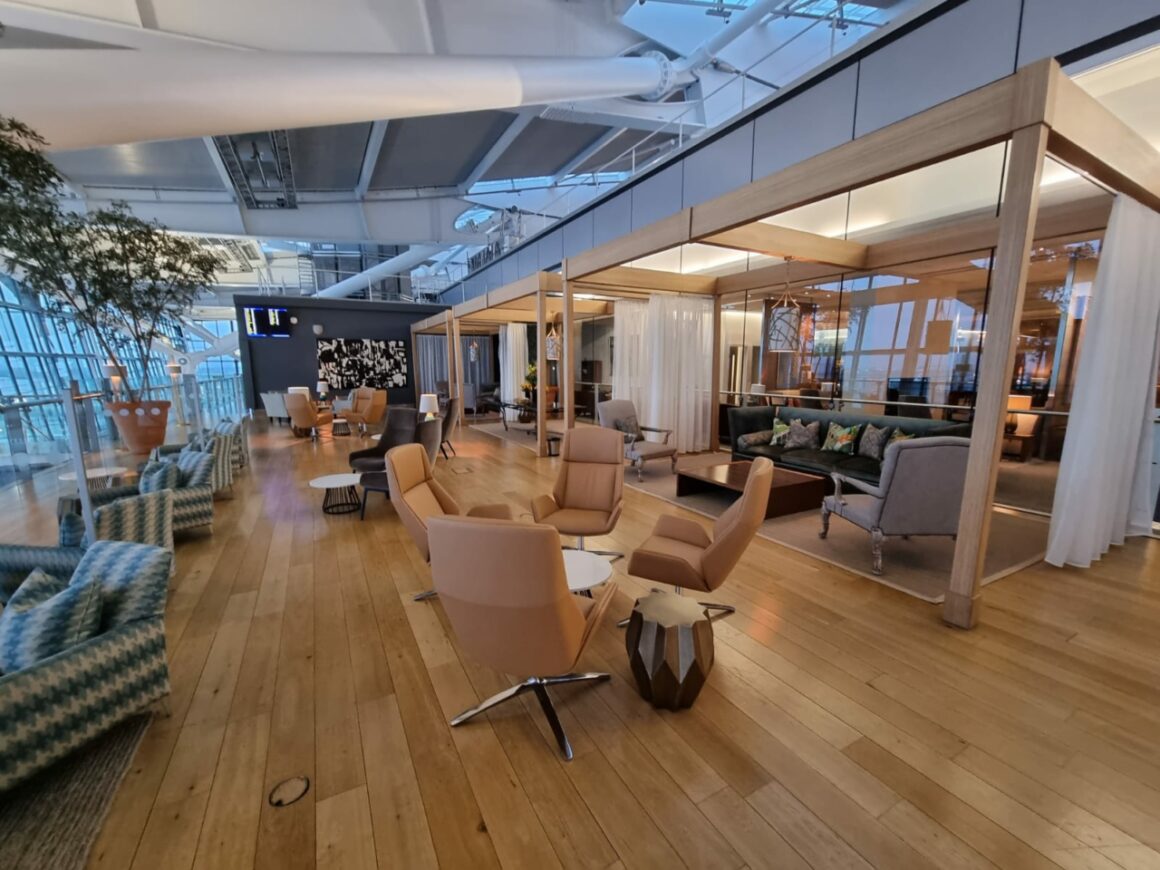 This is probably one of the nicest places to sit and can be a bit cooler than the lounge, and you can see the airport as well. It's also a good place for a group with the "cabanas" which are the curtained off areas that offer a bit more privacy and have sofas.
Forty Winks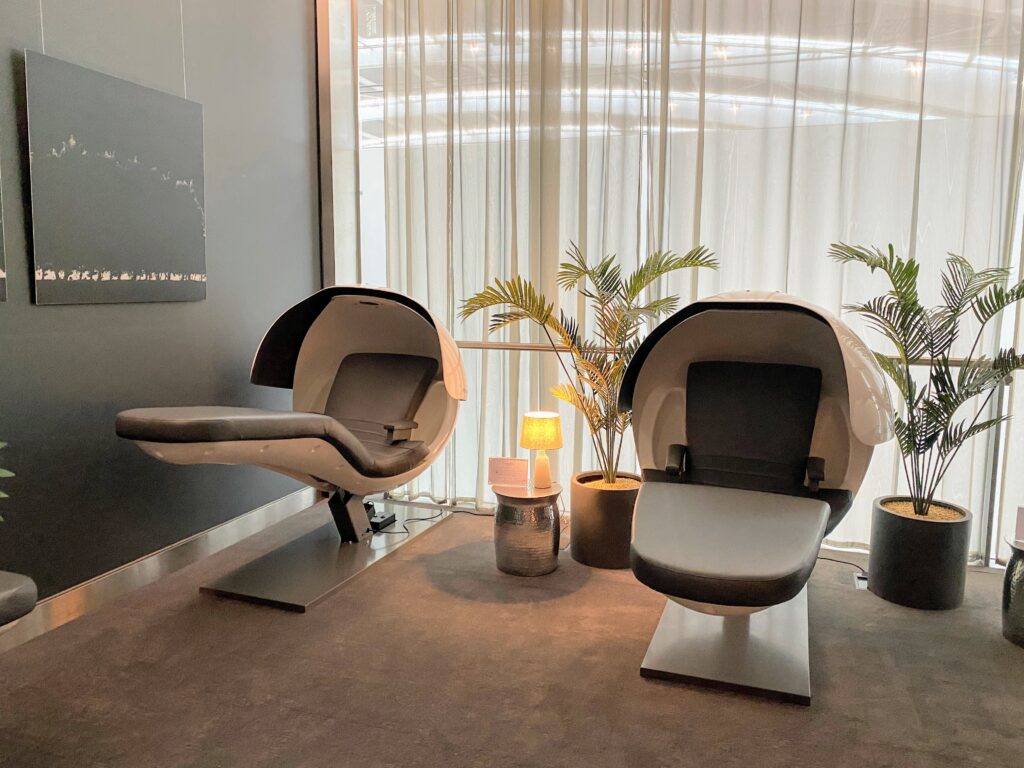 This is a quiet room where they have rest pods to catch "forty winks". You can adjust them to several positions such as zero gravity but they do not go completely flat.
The restaurant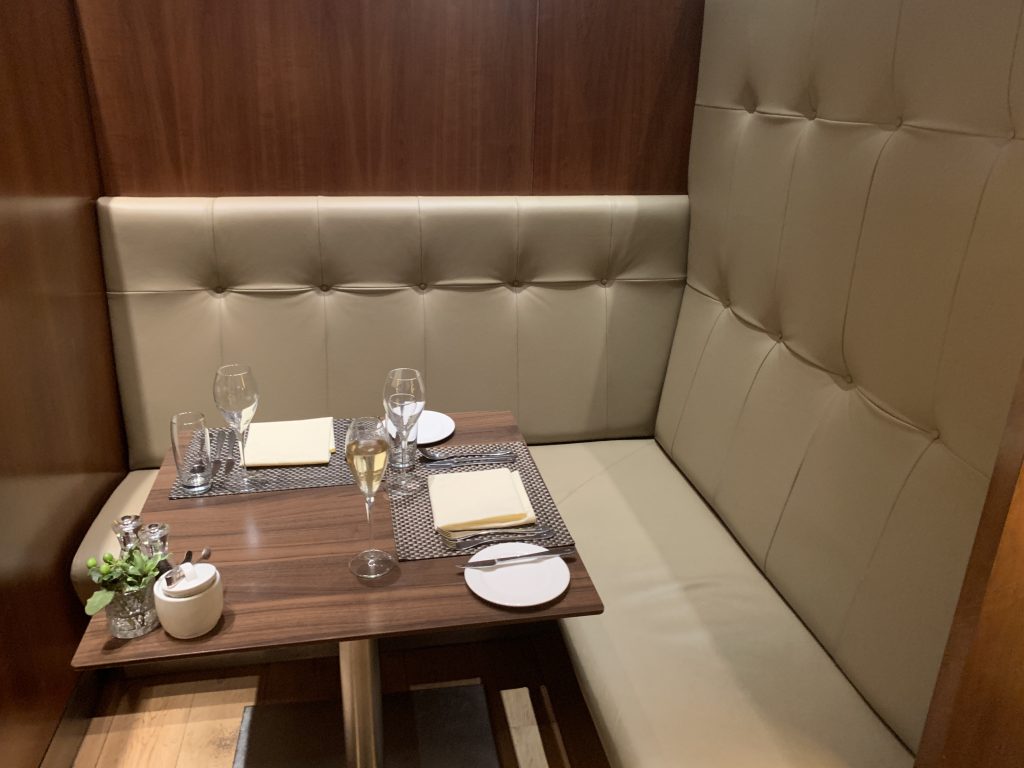 You will be shown to a table in the restaurant. Service can be a bit inconsistent here as they seem to forget things, such as bringing you olive oil and butter but no bread. So don't be afraid to ask if you want something. There is a separate breakfast menu until 11.30am and then an all-day dining menu for the rest of the day.
Here is a recent menu: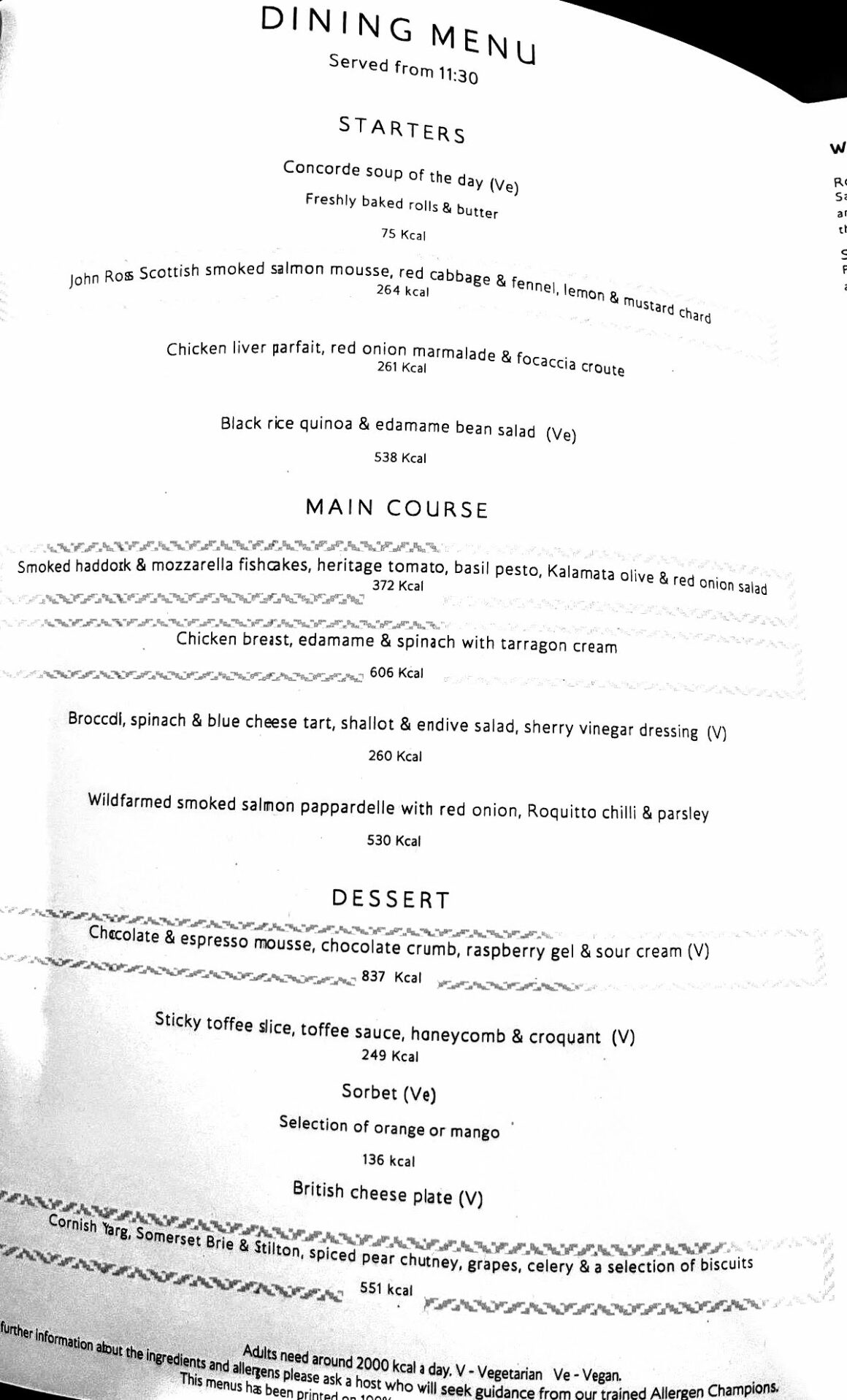 Here is an example of the salmon mousse and a recent pasta dish:
On the breakfast menu, there is everything from croissants to a full English.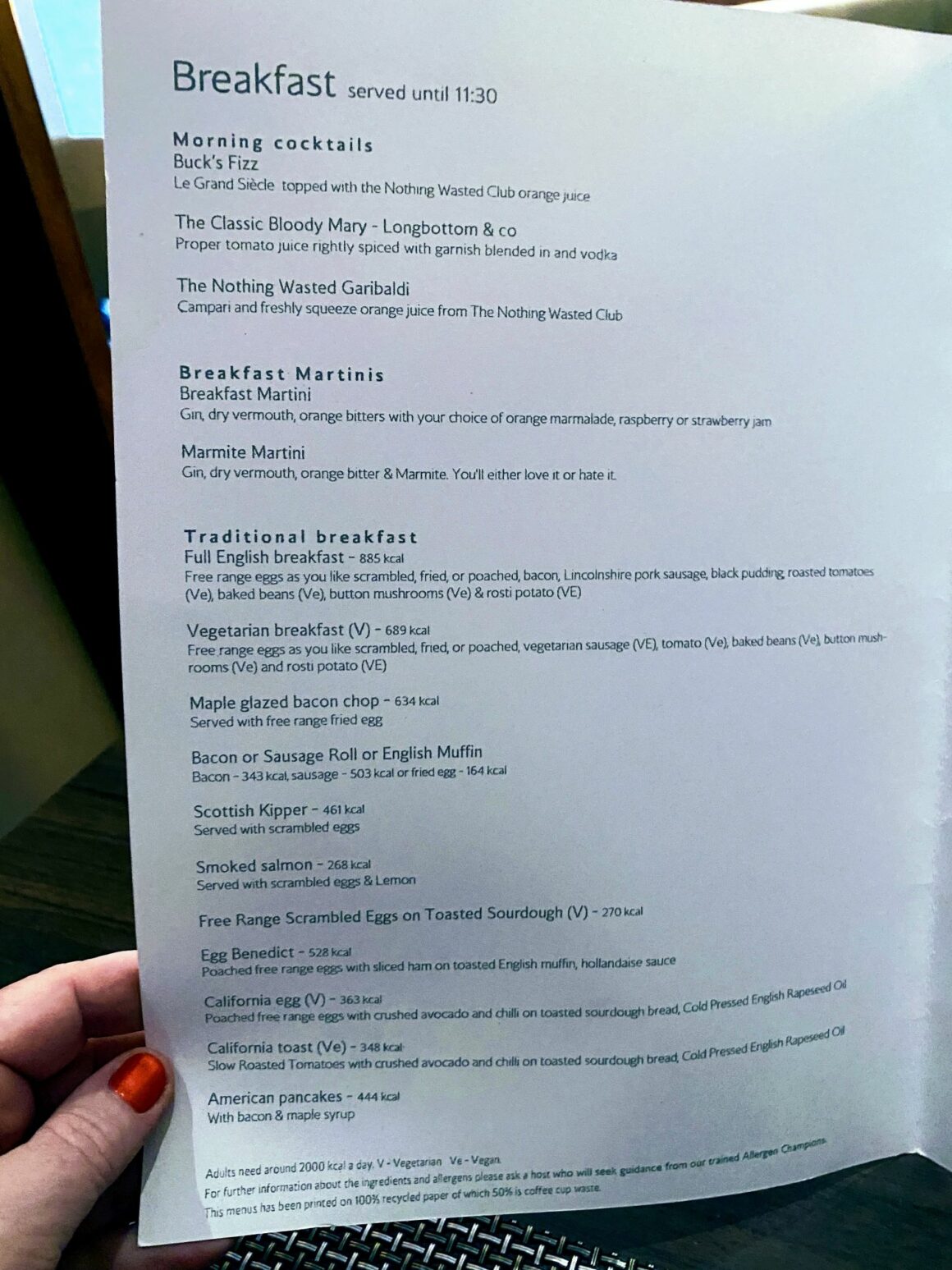 My two favourite dishes are the bacon chop (15-20 minute wait usually) and the avocado (California) toast. The Union brand coffee here is also pretty good.
Other lounges
There is now only one Concorde room since BA joined AA at JFK's terminal 8. There are Concorde Bars in Singapore and Dubai.
The Singapore one offers table service with champagne, drinks and food.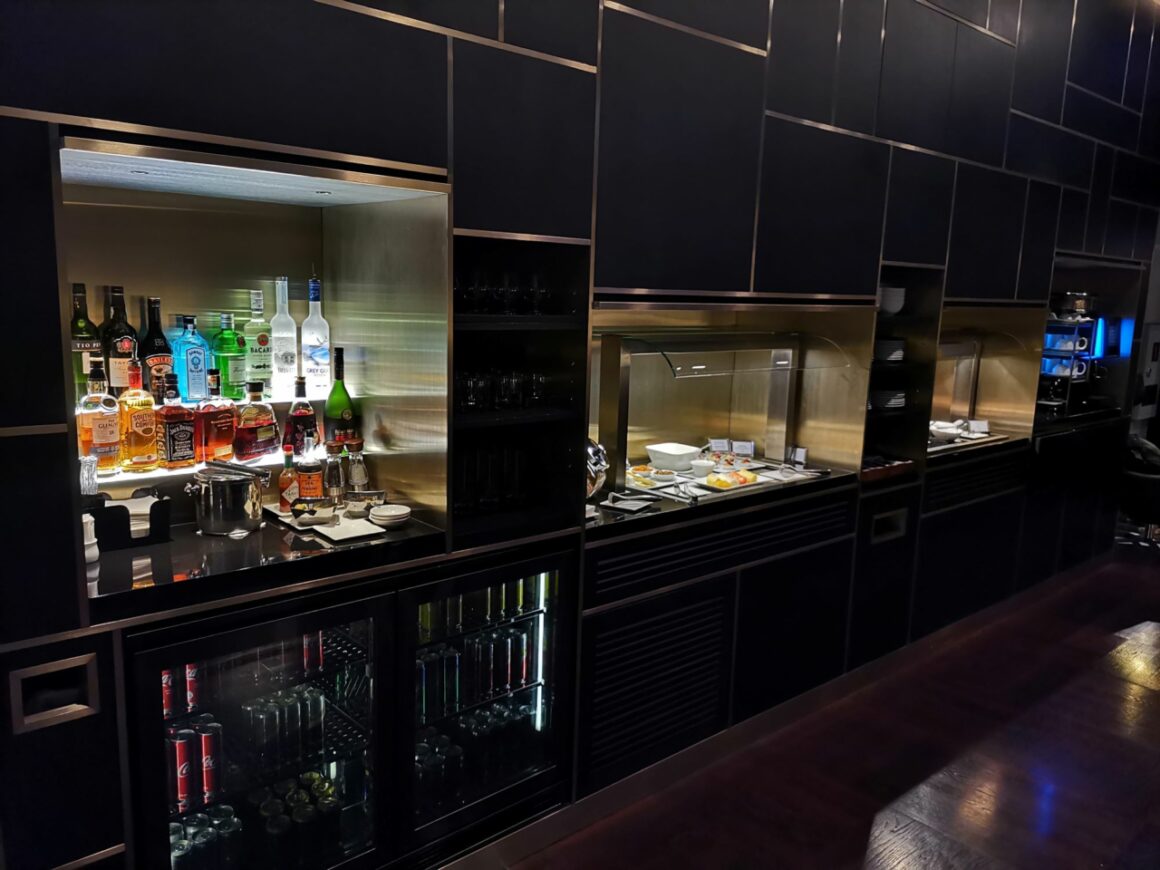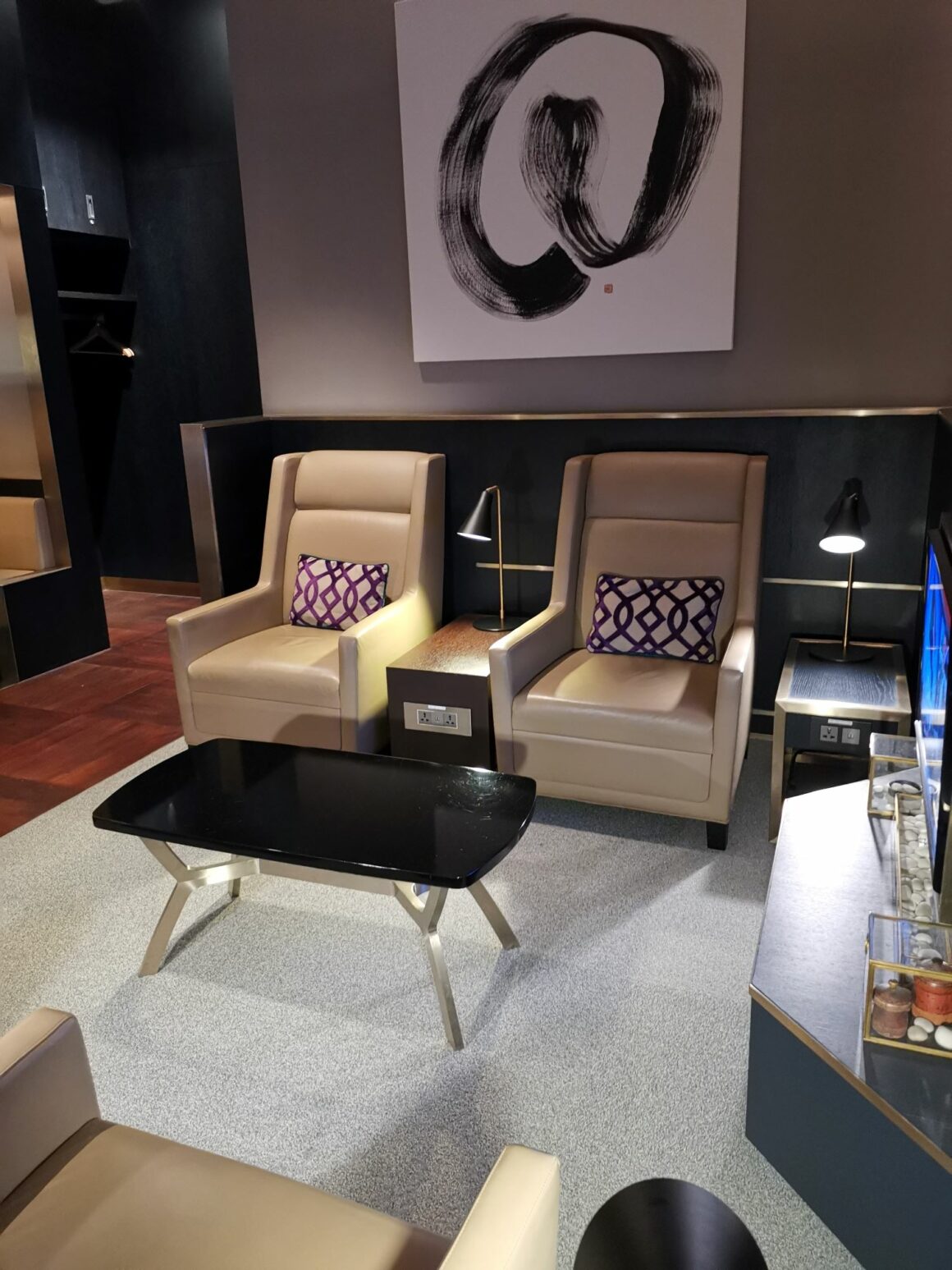 The Dubai lounge is bigger and has a buffet as well as champagne.

JFK Terminal 8 – Chelsea Lounge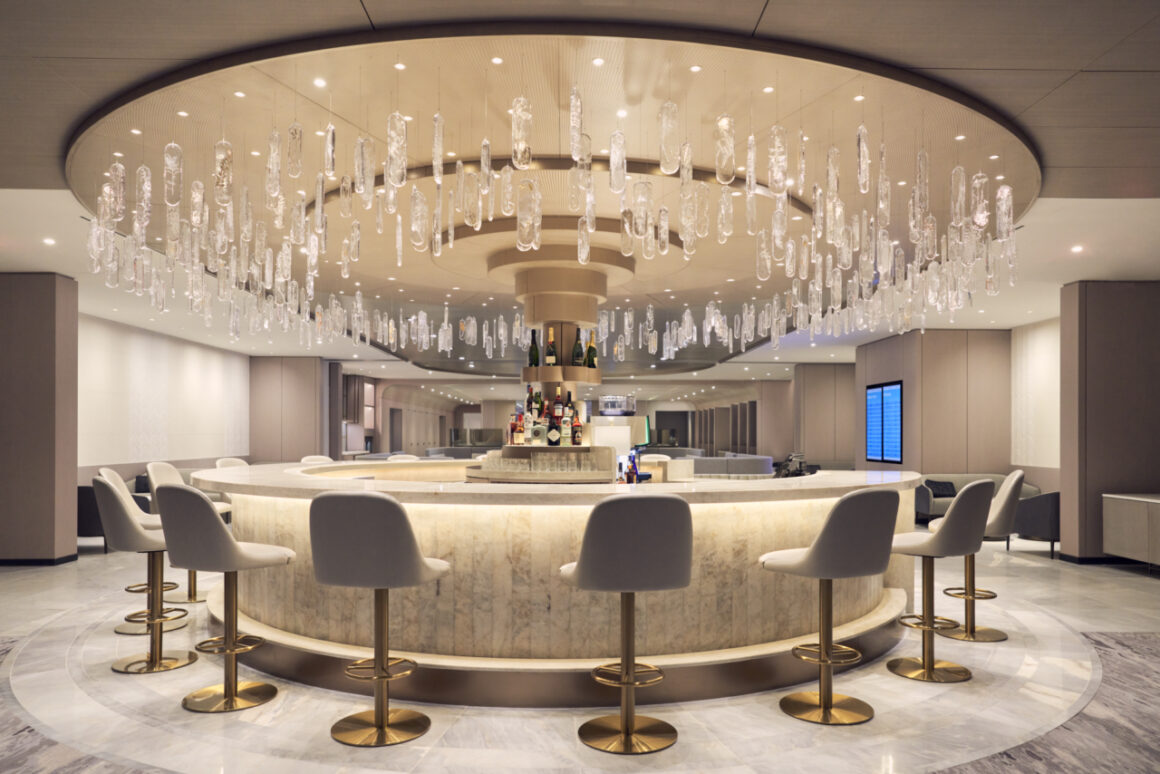 JFK now has the very elegant Chelsea Lounge, which features showers, champagne flights and a restaurant.
The Chelsea lounge at New York JFK Terminal 8 is available for customers who are:
Flying on a scheduled long haul or Transcontinental flight with British Airways or American Airlines in First
Gold Members with 5000 Tier points (and 3,000 Tier Points each year thereafter), flying on a scheduled long haul, or Transcontinental flight with British Airways or American Airlines
Over the age of 18 years, or if under 18 years you are accompanied by a responsible adult. (Local laws relating to the consumption of alcohol will apply.)
American Airlines Transcontinental routes include:
New York (JFK) – Los Angeles (LAX)
New York (JFK) – San Francisco (SFO)
New York (JFK) – Orange County (SNA)
Customers flying with other oneworld airlines are unable to access the Chelsea lounge.
You can read about it in this article.
On board
As you board, you will often be shown to your seat, but it doesn't always happen if you arrive just after someone else in first. You will be offered a welcome drink of champagne (or a soft drink such as water or juice if you'd rather). This is accompanied by nuts. Sadly the warm nuts of pre-covid are gone, and it's now a packet of the Club Europe nuts, which sometimes they will put in a dish. Unlike Club, you will often be offered a top-up of your welcome drink if there is time.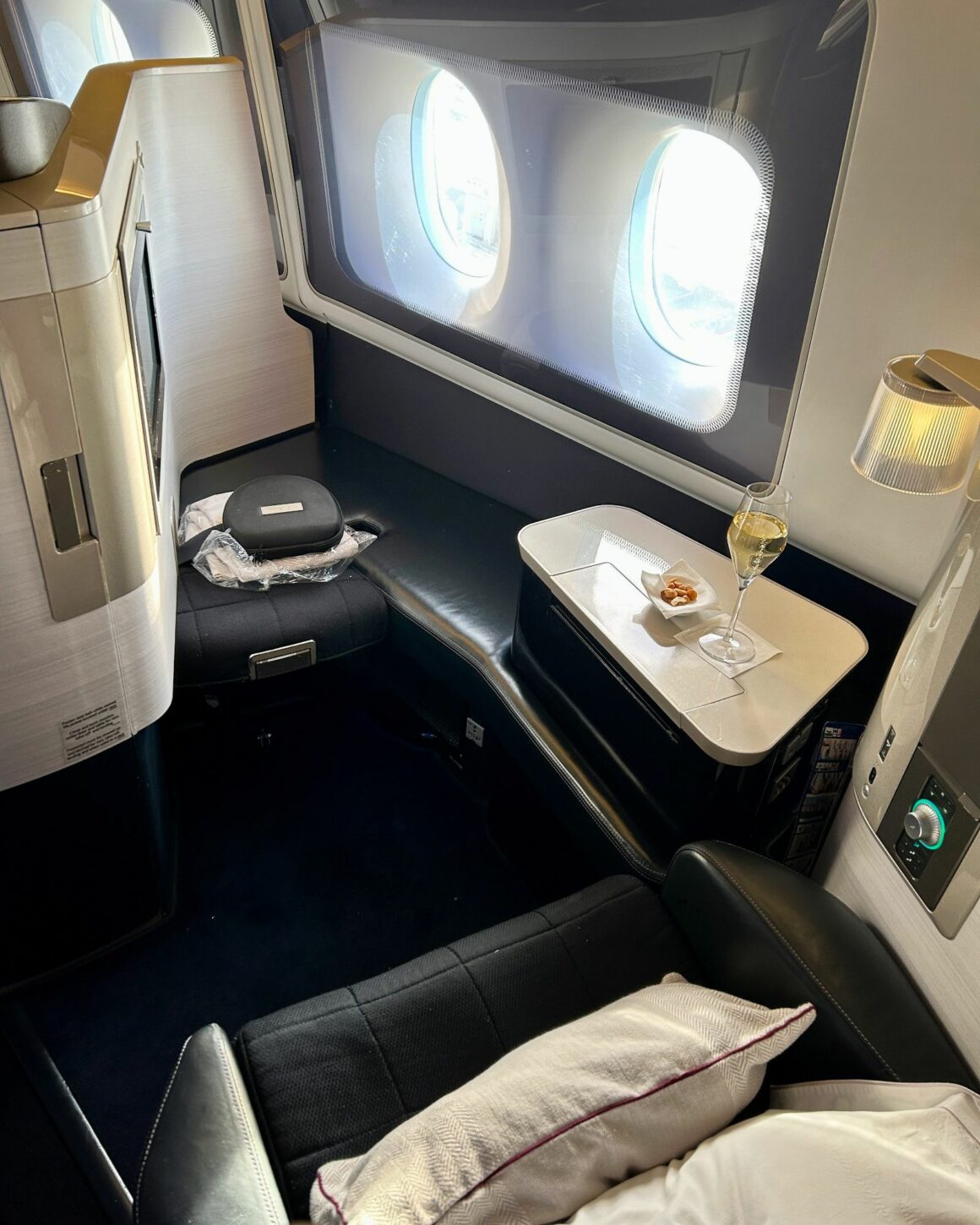 Next, you will be presented with an amenity kit, either a men's or women's version. You should also be offered pyjamas. Sometimes they will just hand you a set in what they think is the right size, sometimes, they ask what you would like. Slippers are also available but often on request.
The Ladies kit contains:
Elemis Frangipani Monoi hand and nail balm
Elemis Rehydrating Ginseng Facial wipe
Elemis cleansing micellar wipe
Elemis lip balm
Elemis Pro-Collagen facial mist
Elemis Deodorant
Elemis Ultra Smart Pro-Collagen Serum
Elemis Ultra Smart Pro-Collagen eye balm
Eye mask
Ear plugs
Socks
First branded pen
Mirror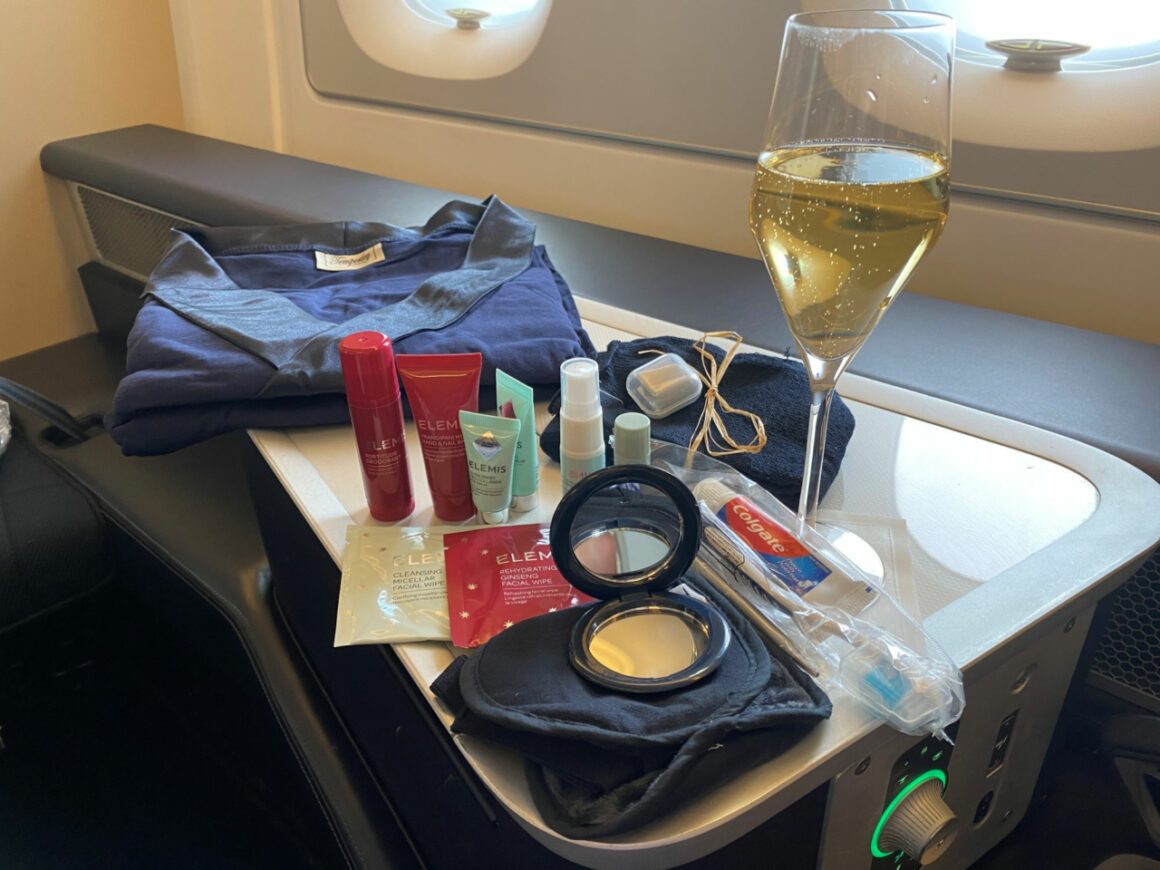 Finally, you will also be given the menus. Sometimes the crew will take your order while still on the ground, so it is worth looking at as soon as they give it to you.
You can dine whenever you like, so don't feel obliged to eat straight away if you don't want to. However, they will need to take your order at the start along with a rough time to eat so they can keep your choices for you. Here is a sample menu of what you can expect on a longer flight such as US West Coast. On a shorter flight, you will usually get afternoon as the second meal, and the snacks will be things more like popcorn or chocolate.
They do not have enough for everyone to have what they want if they all choose the same, so it is always worth having a back-up in mind. Sadly pre-ordering has not returned (apart from as a trial) since Covid.
Next, you will be offered a choice of desserts and/or cheese. If you enjoy wine, there is always a dessert wine such as Sauternes which you only get in First Class, so save room for that and some Port with your cheese!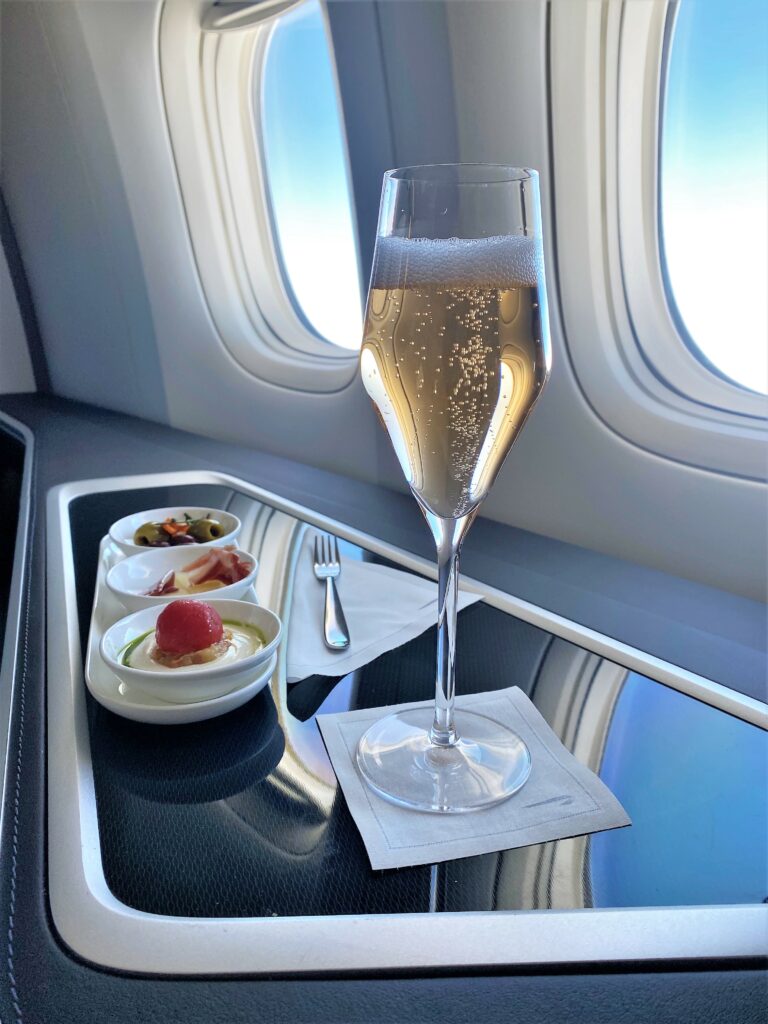 Finally, if you fancy a coffee, they have a Nespresso machine on board so you can enjoy a proper coffee such as espresso, cappuccino or latte, and it should come with some Lindt chocolates. Ask if they don't offer them.
There will also be a second lighter meal served close to arrival if you wish. On the way back, this will be breakfast on night flights.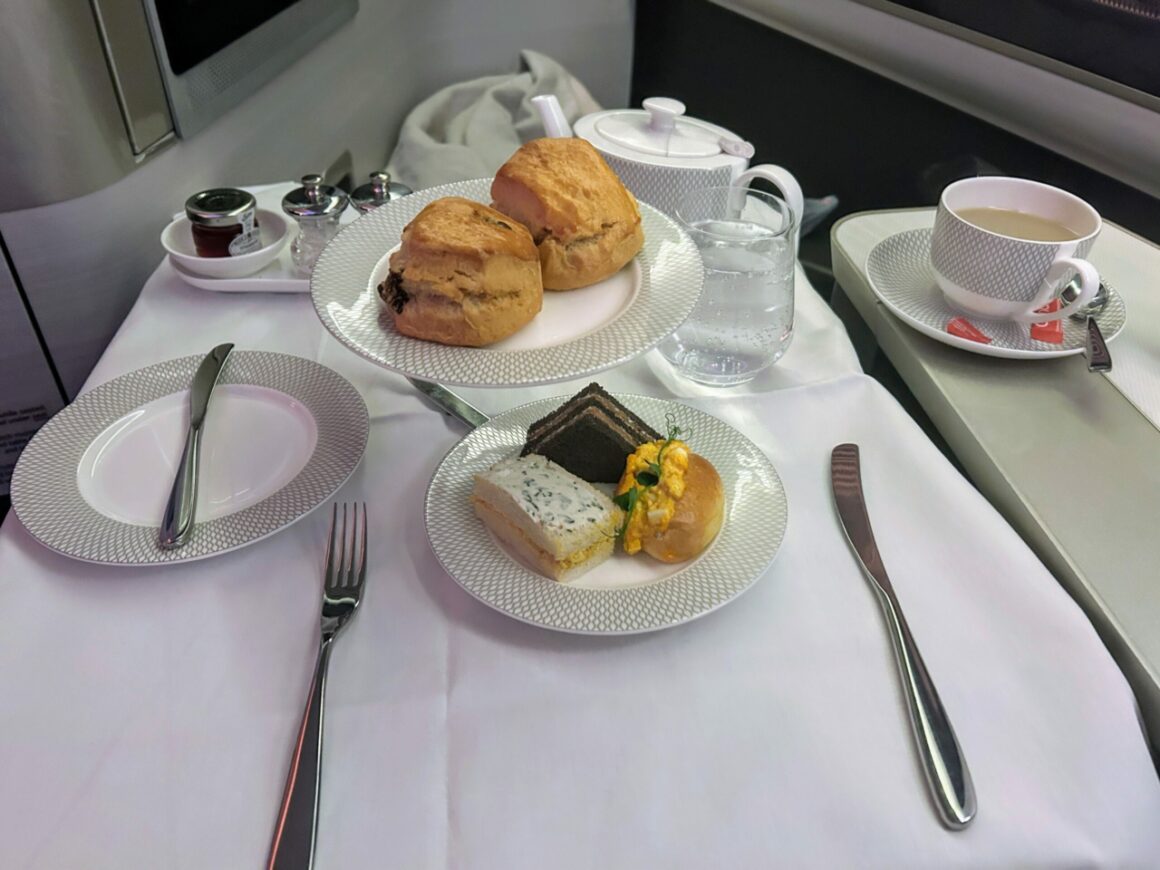 Good noise-cancelling headphones by Meridian are provided for you to use on board.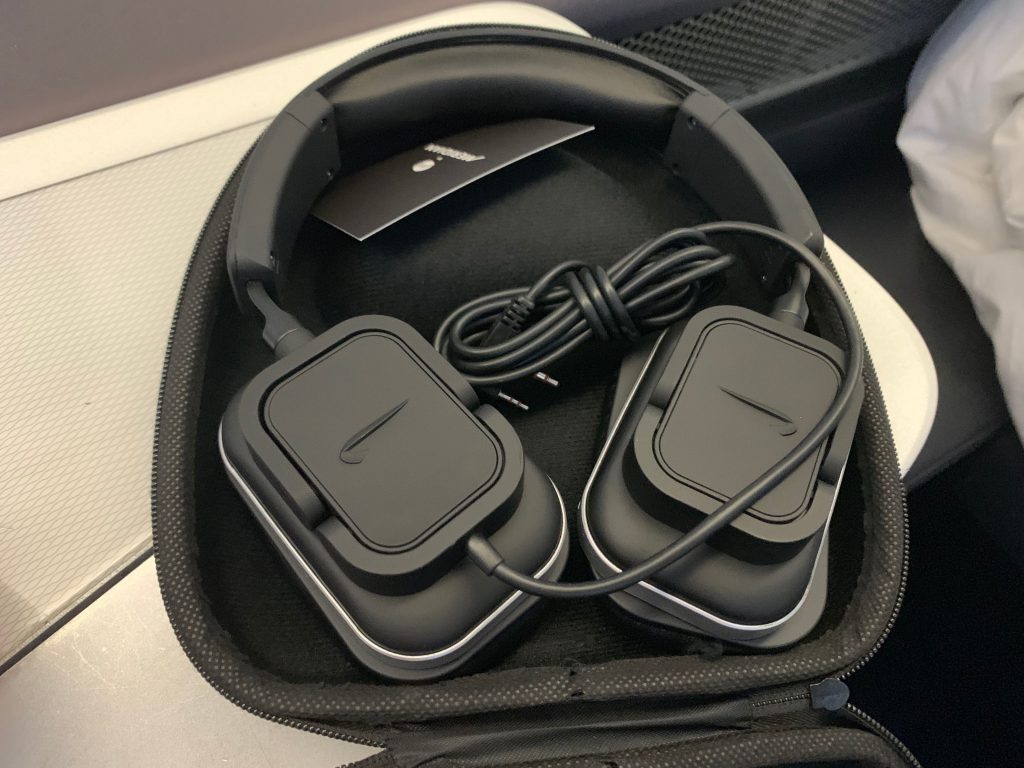 When you are ready to sleep, the crew will make up your bed for you with a mattress topper, pillow and duvet. Don't be afraid to ask them to do this for you. At your seat there will be a pillow, day pillow and large pillow. The rest of the bedding is stored in the locker overhead.
Types of seats
Each aircraft has a slightly different type of seat, although the layout is the same with a 1-2-1 layout. For couples, if you want to talk you would be best with the middle seats. However, on the older B777s and the A380s you can do "buddy dining" as there is a seat for your travel companion to sit on. The other aircraft and the new first suites do not have this.
All the seats operate in the same way, and you can't control individual elements of the seat, which is a shame. You adjust it by using a dial which simply lowers it into the bed position, although you can stop it at any position.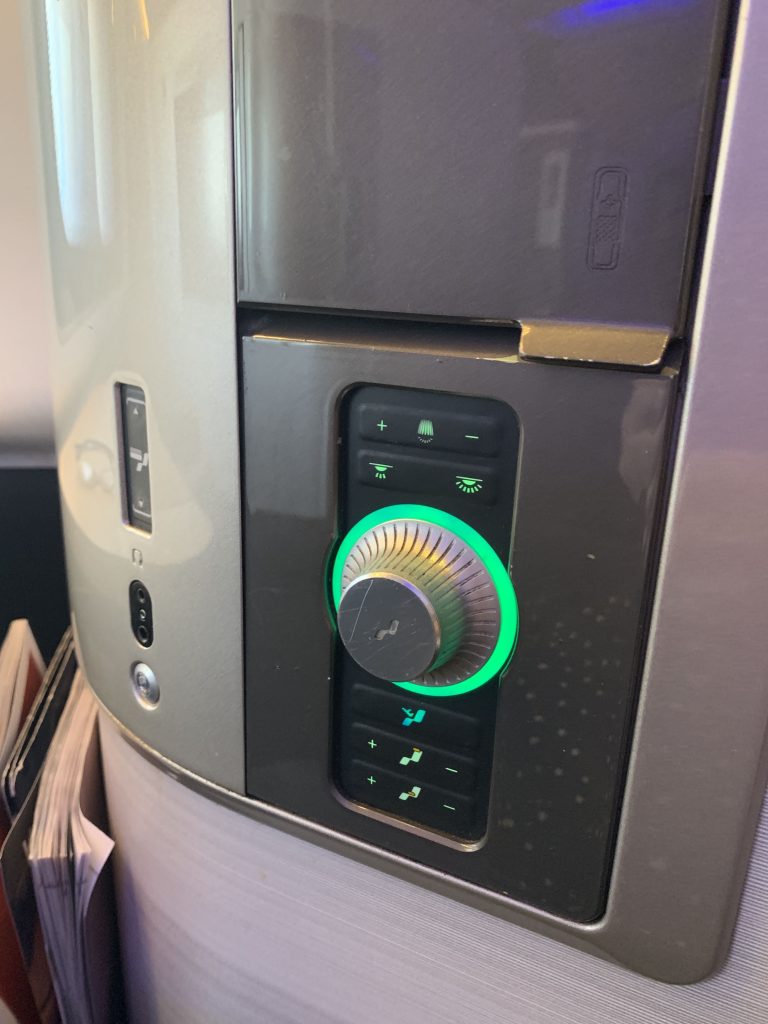 B777 new suite with doors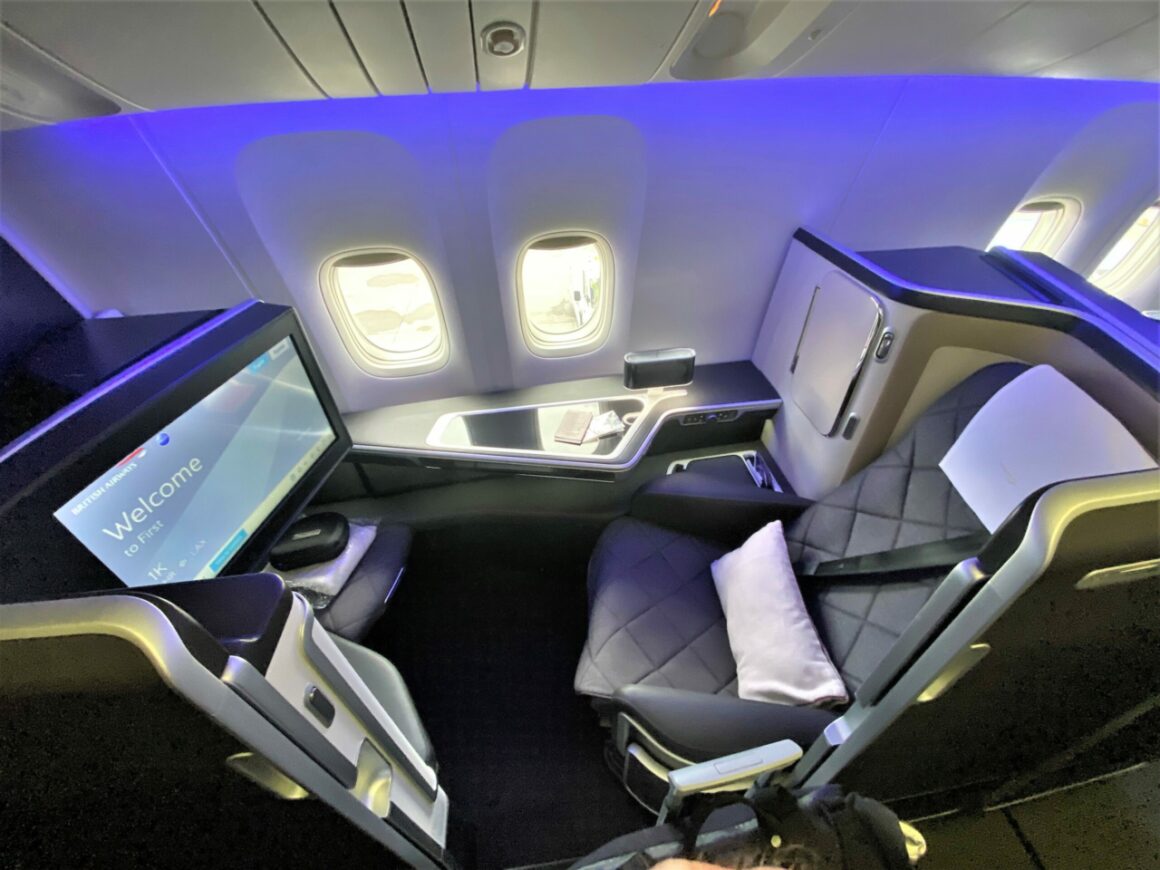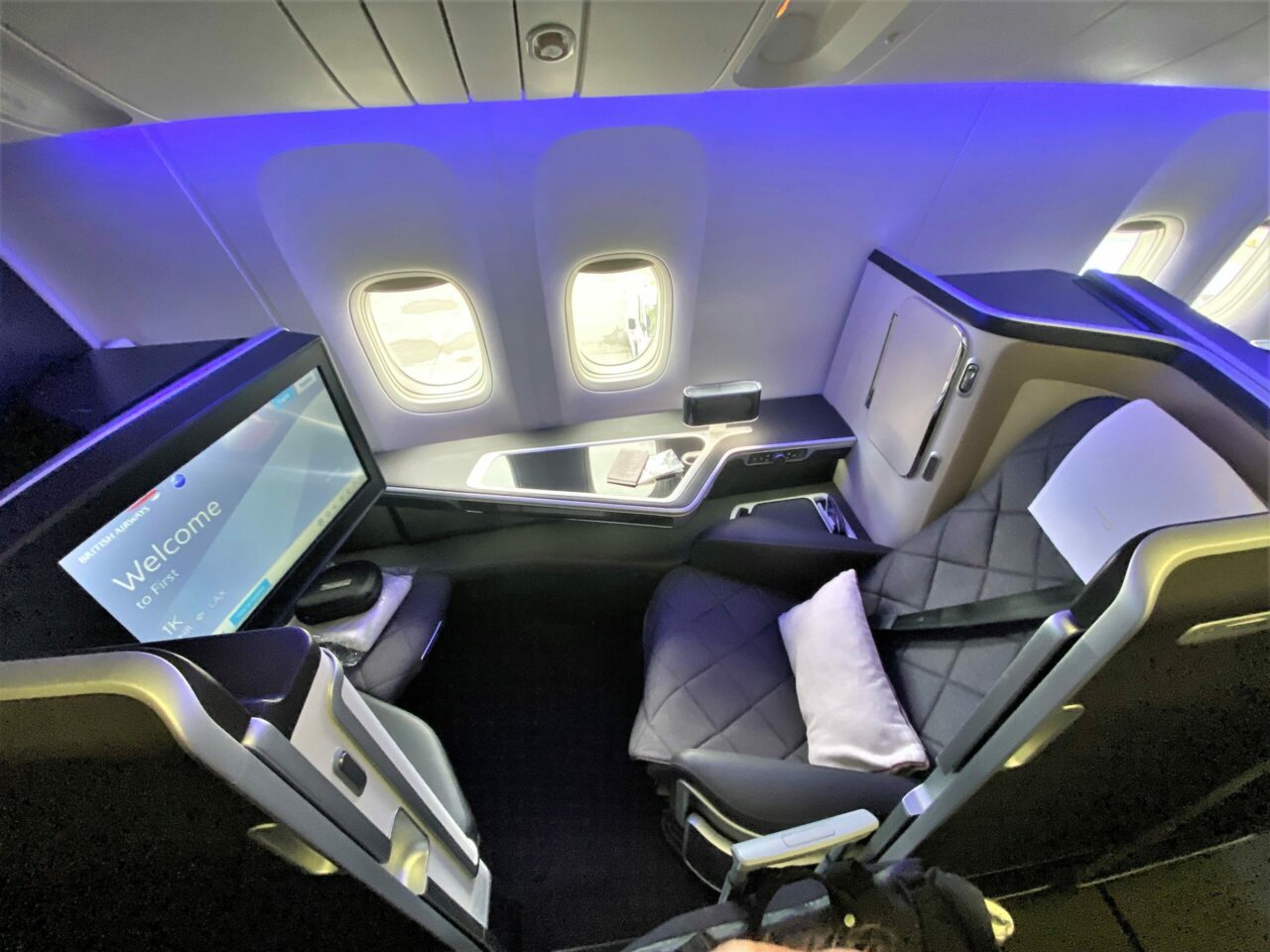 This seat is only available on new B777-300s, and you can partly tell by the seat map as there will only be 8 seats. However, there are some older B777-200s that also have eight seats which have been partially refurbished but have the old seats. If you look for your flight on Google Maps it will show you if it is an "individual suite" meaning it has the door like these do. There is a useful guide to working out which BA B777 you are on from Aerolopa here.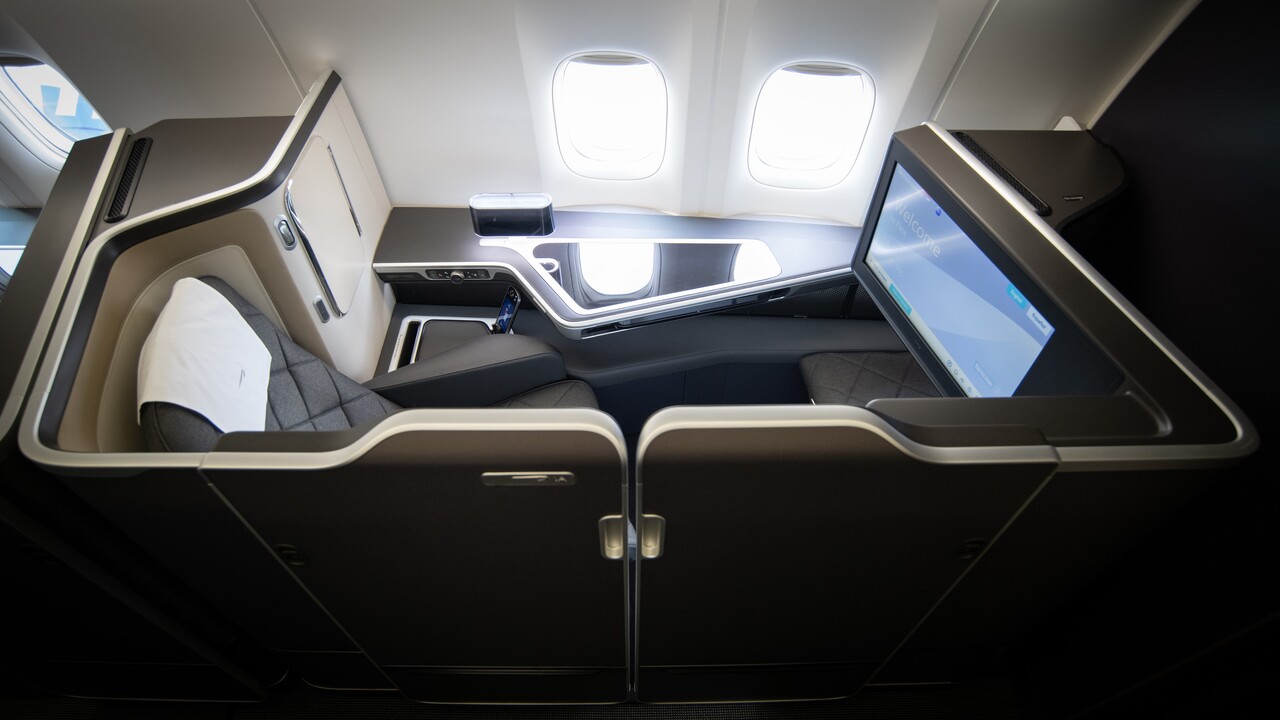 Like the B787s, the TV screen is fixed so you can watch it as soon as you get on, rather than having to fold it away for take-off and landing.
Other than the door, they are pretty much the same as the B787 seats. You can read my full review here.
B777 old seats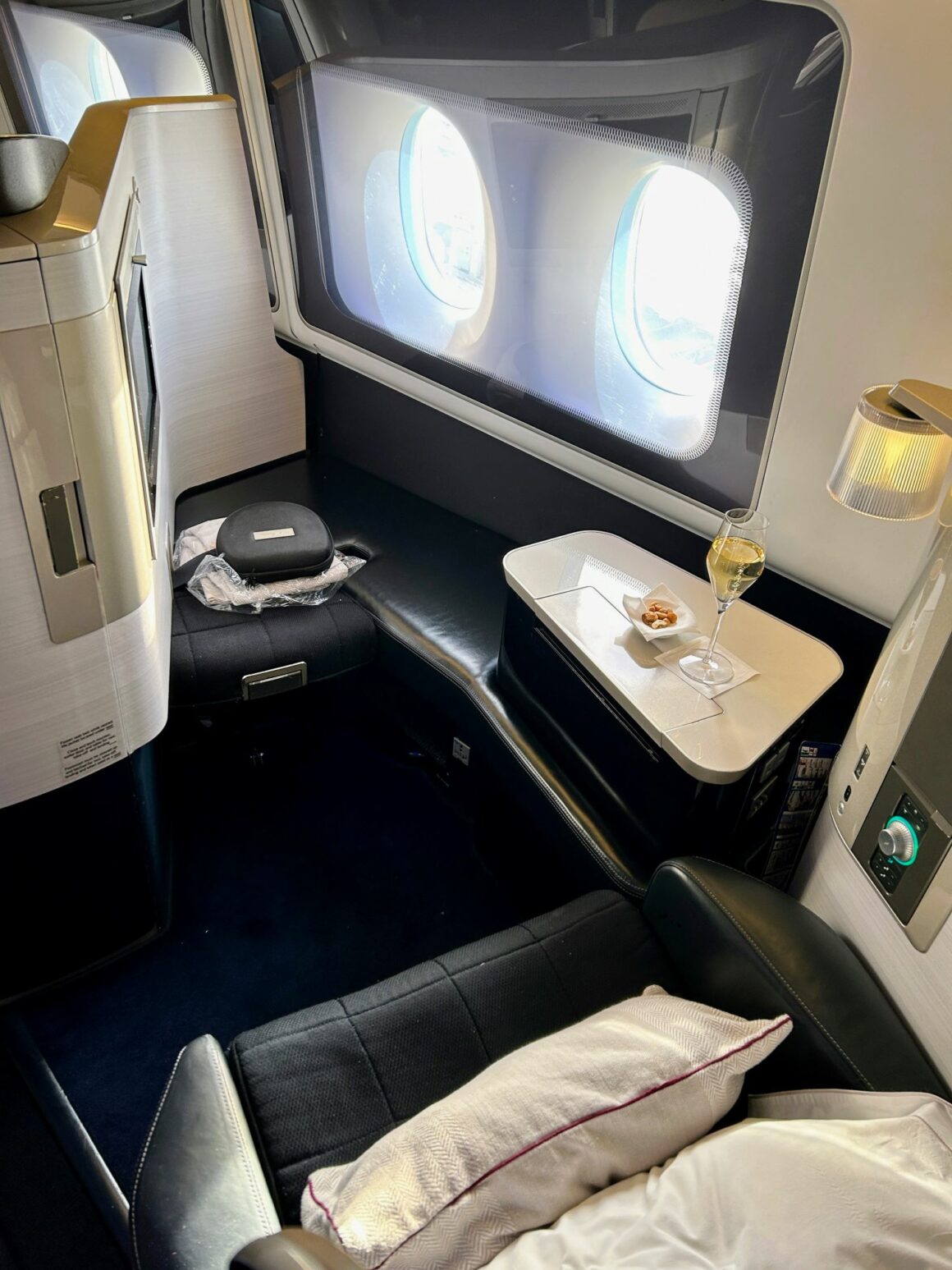 There are sometimes 8 seats on the aircraft that have been updated and 14 seats on those that have not.
Along with the A380, these have dark window frames with blinds that come down to cover both windows completely, which I think looks very elegant.
There is a personal wardrobe, but it is pretty small, so you will not get much more than a small handbag and coat in there.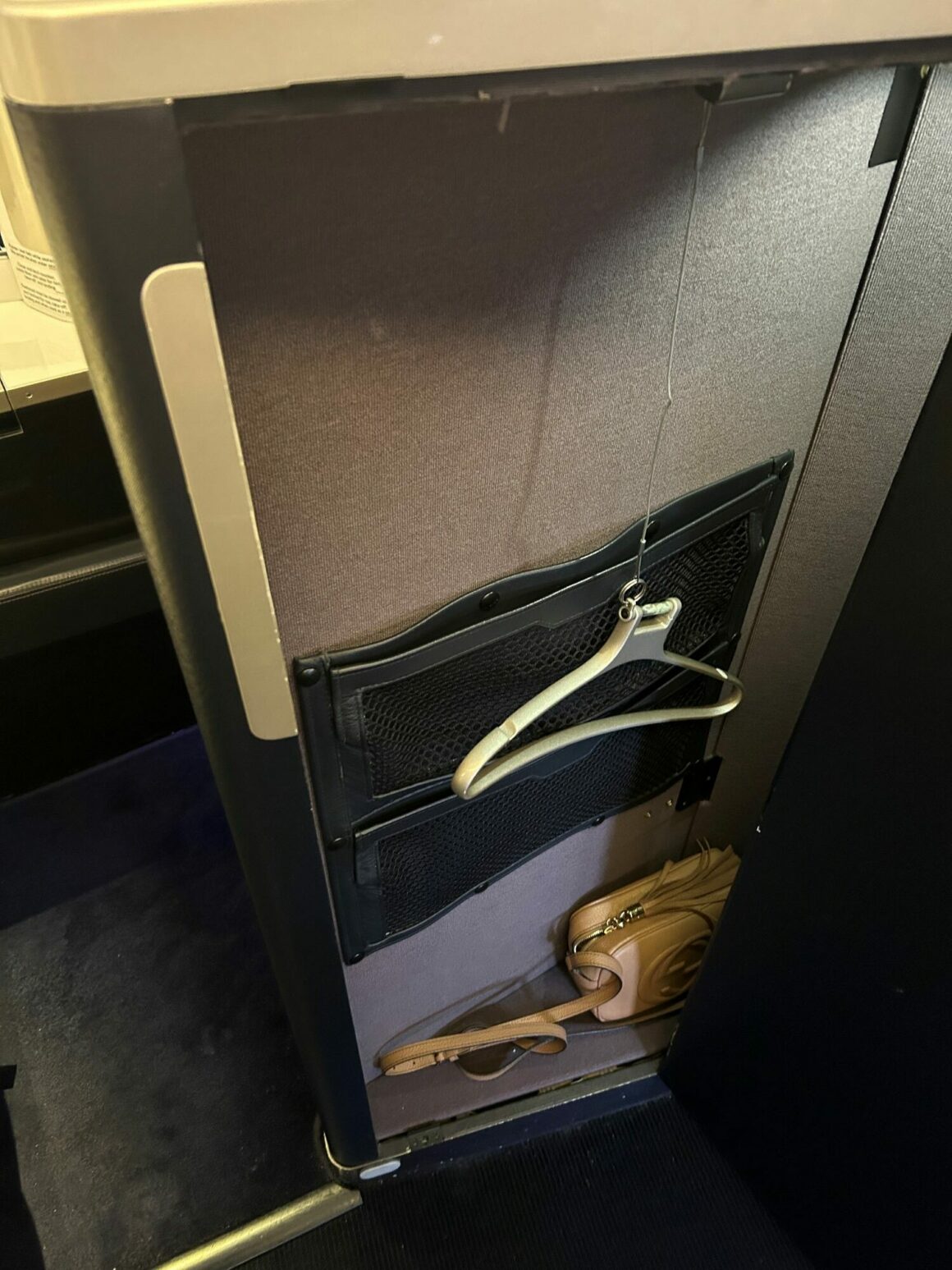 The TV screens swivel out, so you can't watch it until after take-off. The screens are much smaller than the other aircraft types. This is my least favourite seat type for first.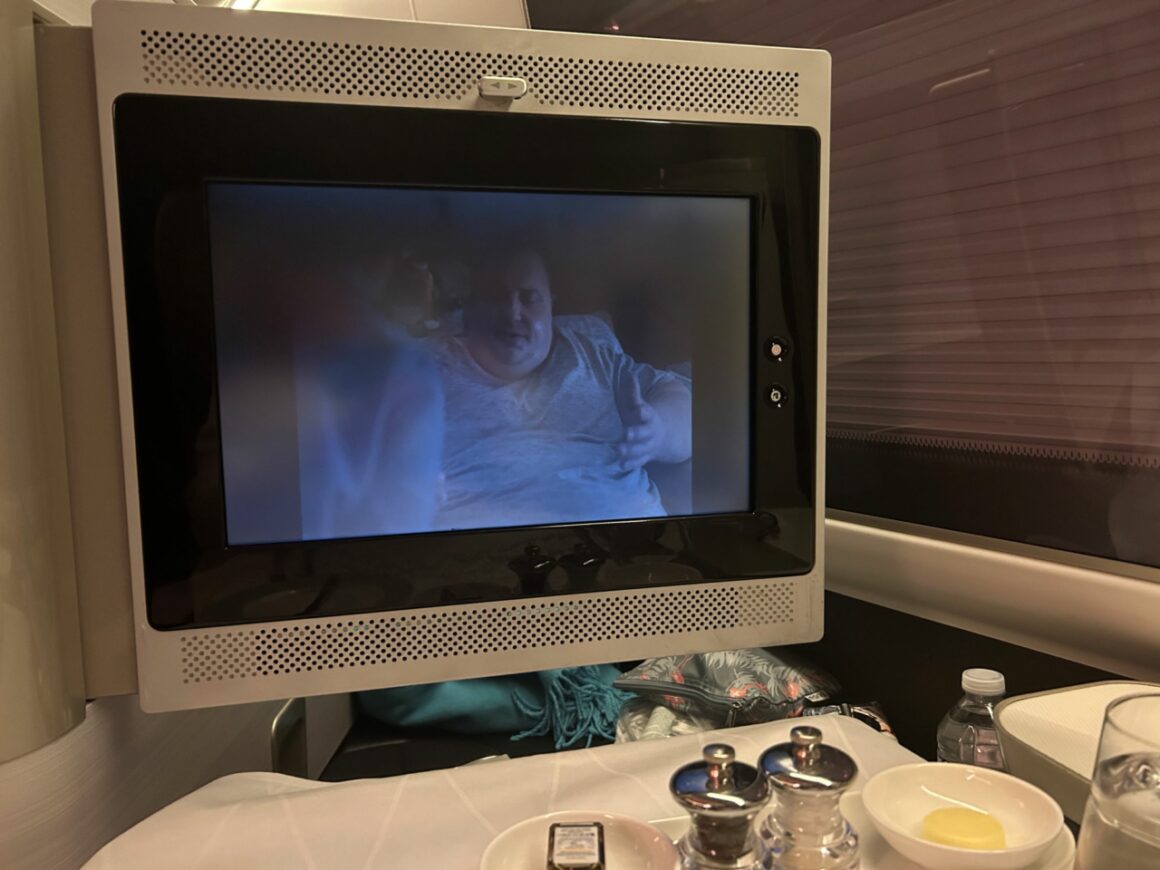 I would usually pick row 2 for the B777s with 14 seats as this is generally quieter, but you get served a bit quicker than being in row 3.
B787 First Suite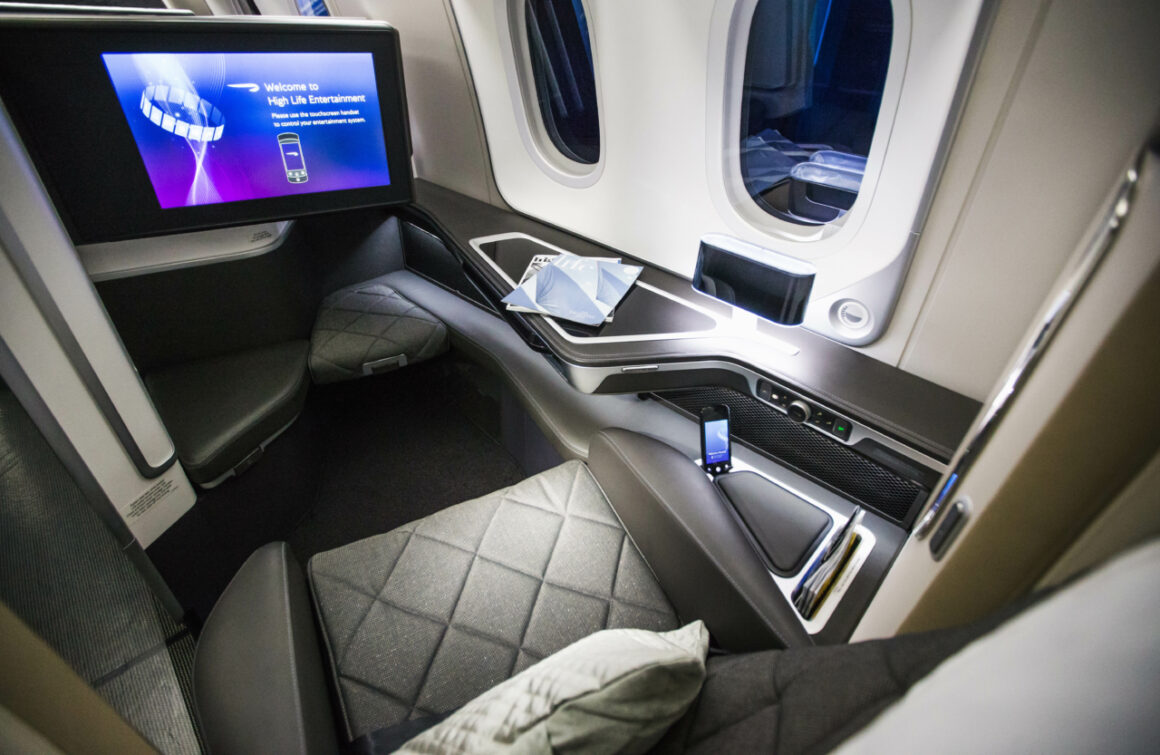 This is the second newest design from 2015 and very similar to the new suite with doors. Again there are only 8 seats in the cabin. The seats are the same on the B787-9 and 10.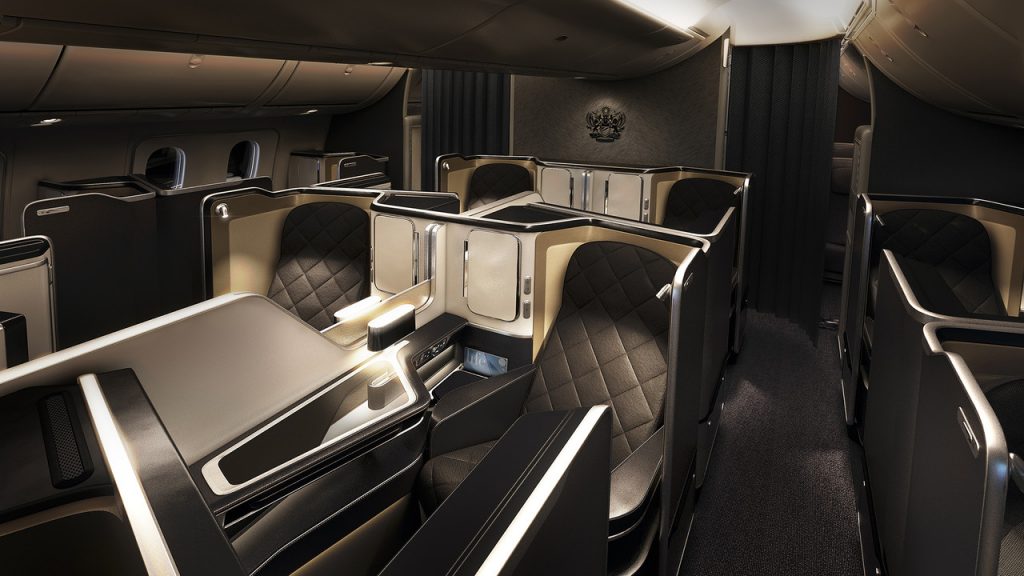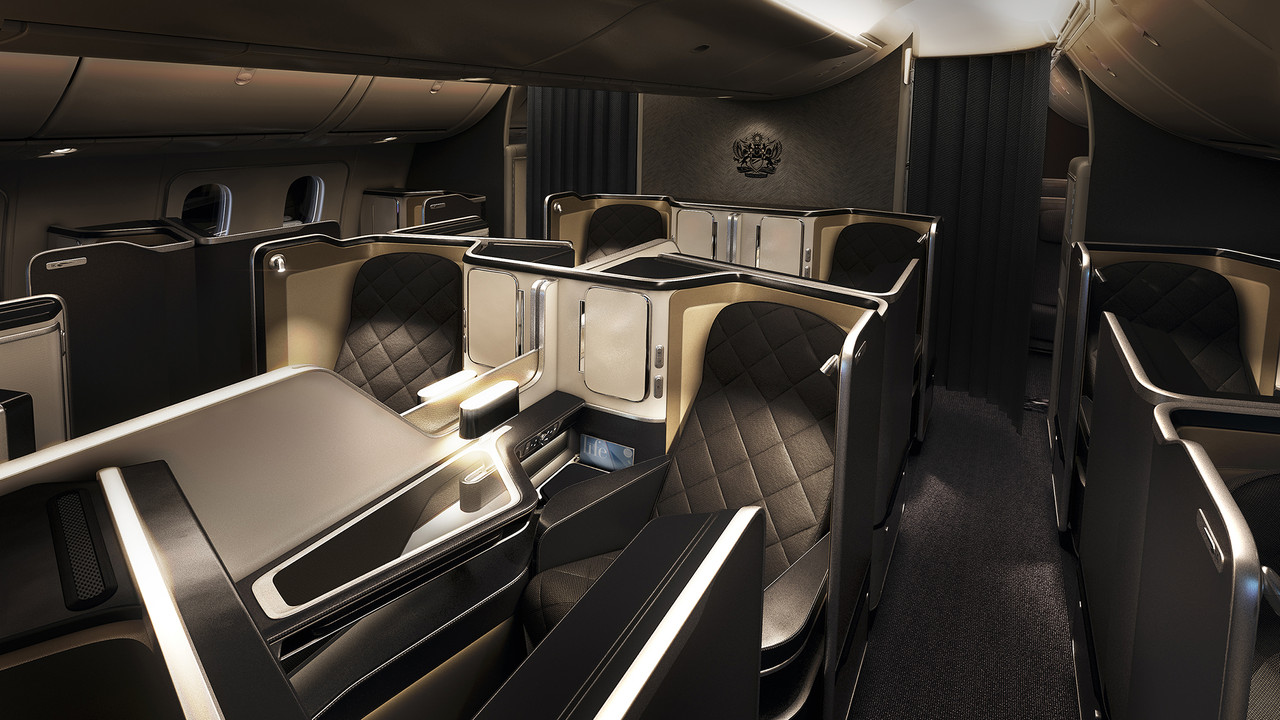 8 suites convert to fully flat beds, 79″ long, 22″ width (between armrests)
23″ HD touch screen display that does not need to be folded away
Personal locker
Vanity unit and mirror
USB and universal socket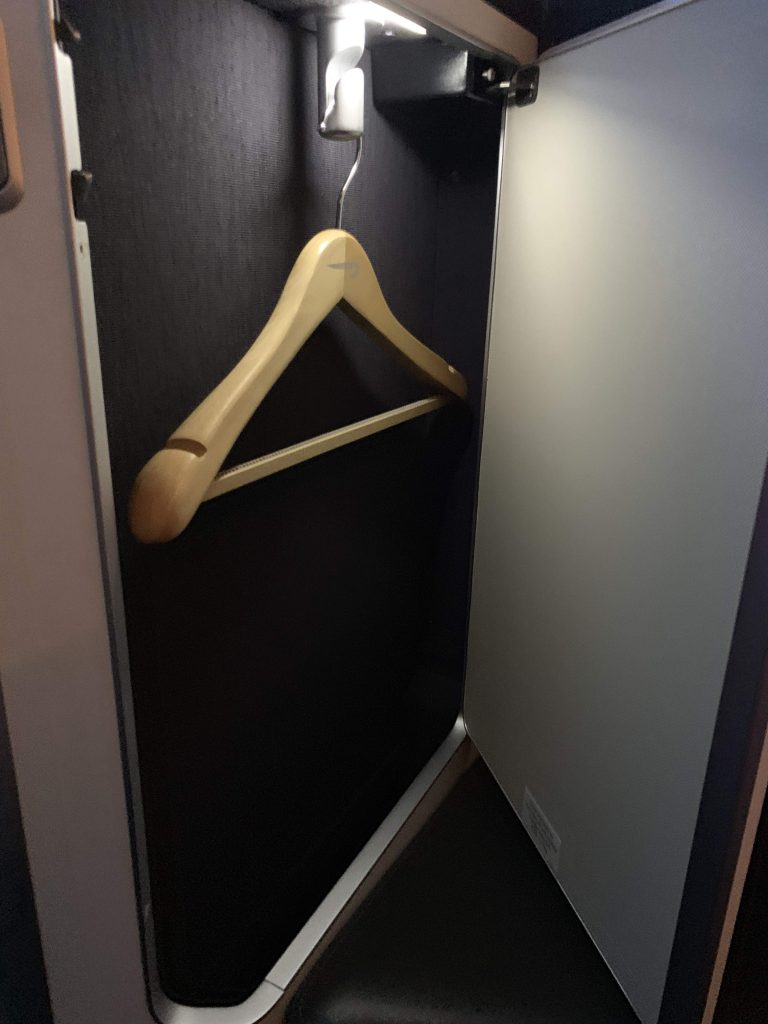 In terms of seat choice, there is not really a better seat as the front row is by the galley on the B787-10, and the second row has a bassinet, there is a chance you may get a baby. On the B787-9, I would probably go for the front row since there is no galley at the front.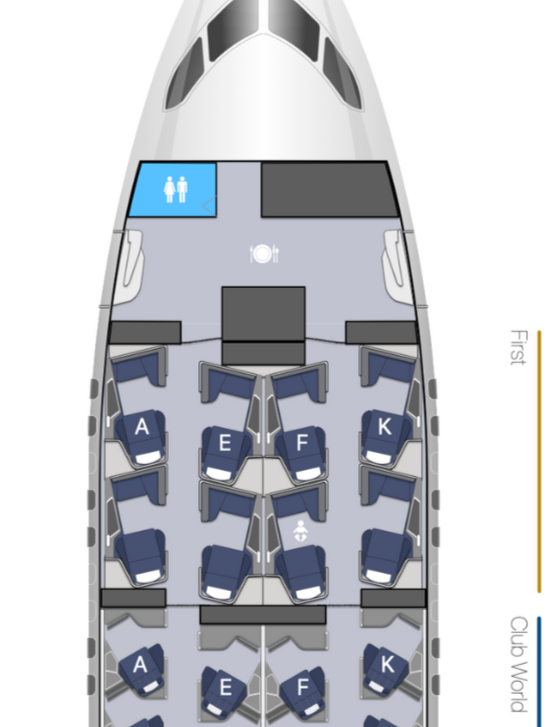 You can read my full review here.
A380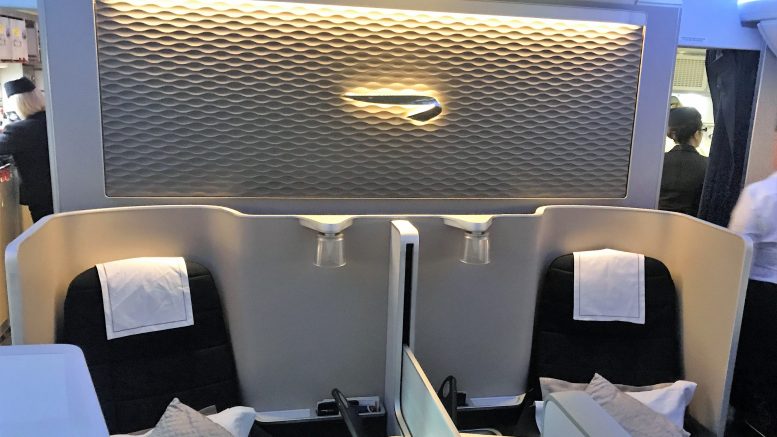 After the newest suites, this is probably my next favourite as I love the huge wardrobe that means you do not have to lift your bag into the overhead locker as it will fit most wheelie cabin bags.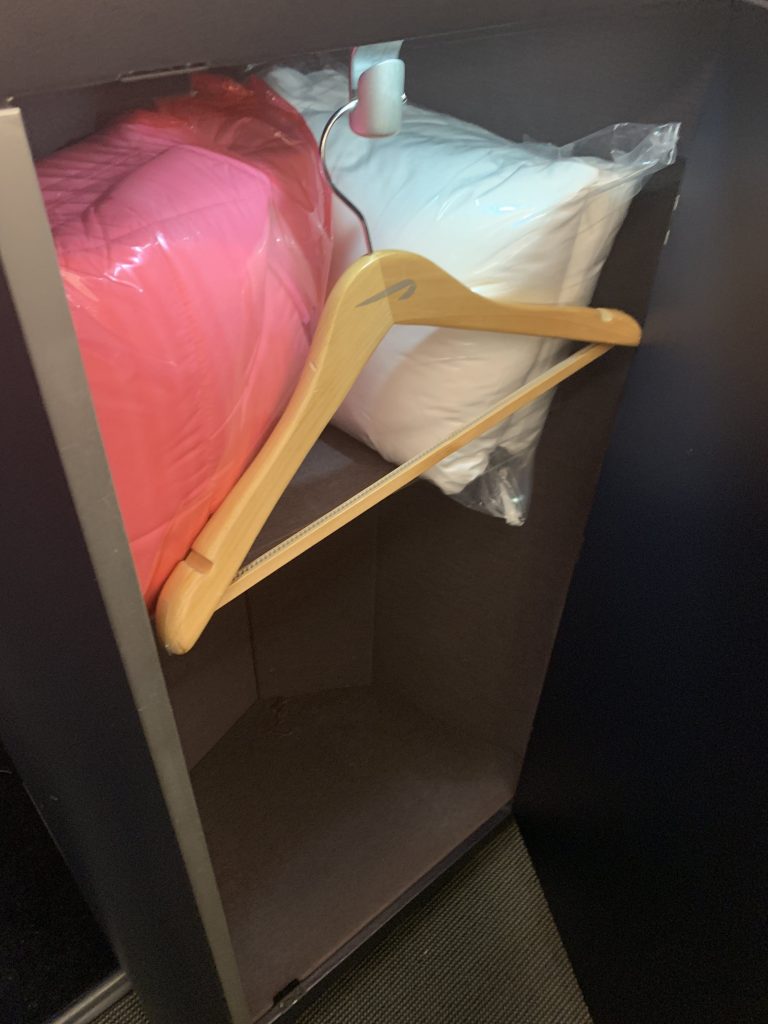 These suites are bigger than the other aircraft types with 30% more personal space and 60% more storage space than the old Boeing 777 suites.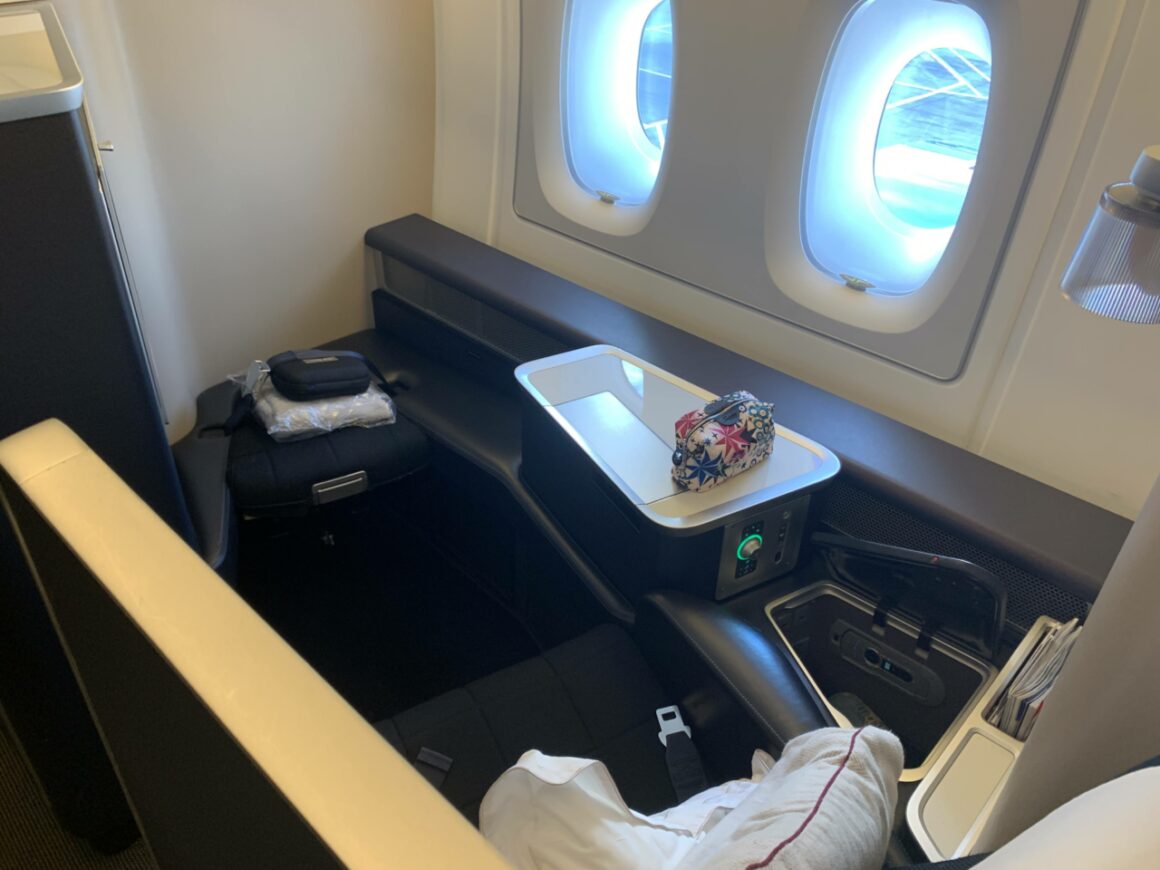 There are 14 seats in the cabin.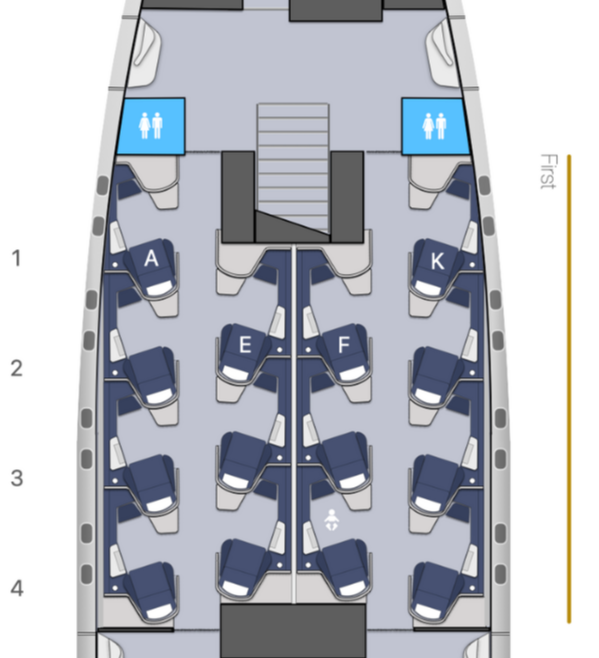 Although row 1 is very private, I would avoid 1K on a night flight as the crew's cupboard is by this seat, and you will most likely get disturbed during the night as they retrieve handbags from the storage area. I would avoid row 4 due to the proximity to the galley and bassinet position.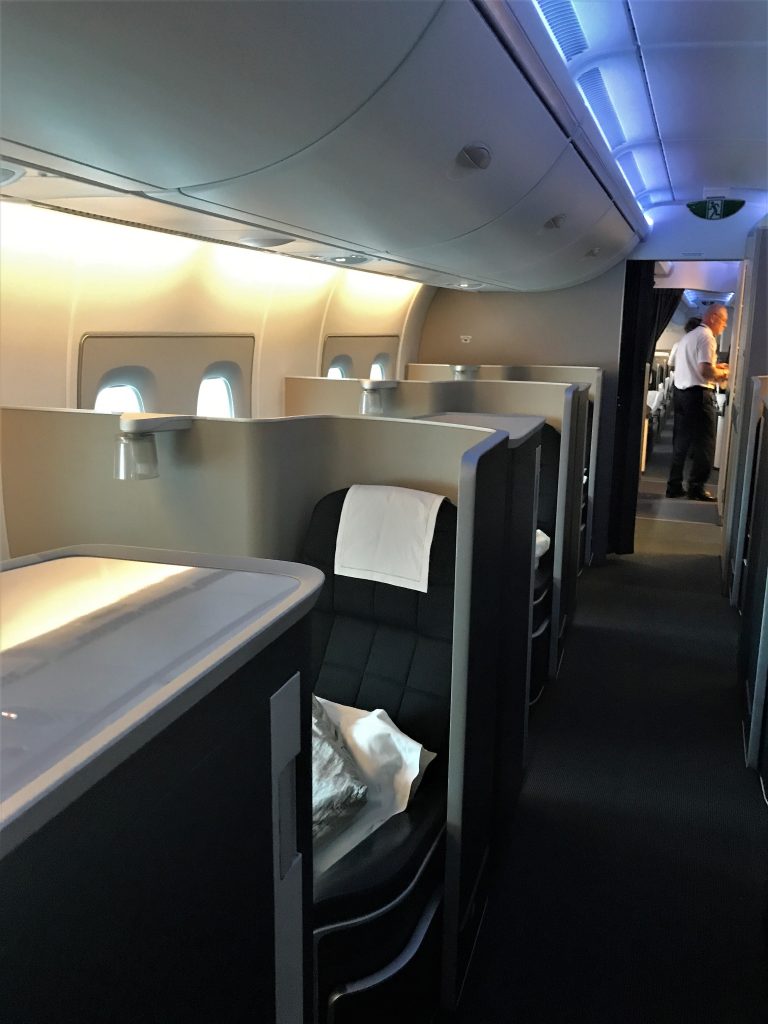 You can read my full review here.
Concorde Breakfast room and Arrivals lounge Heathrow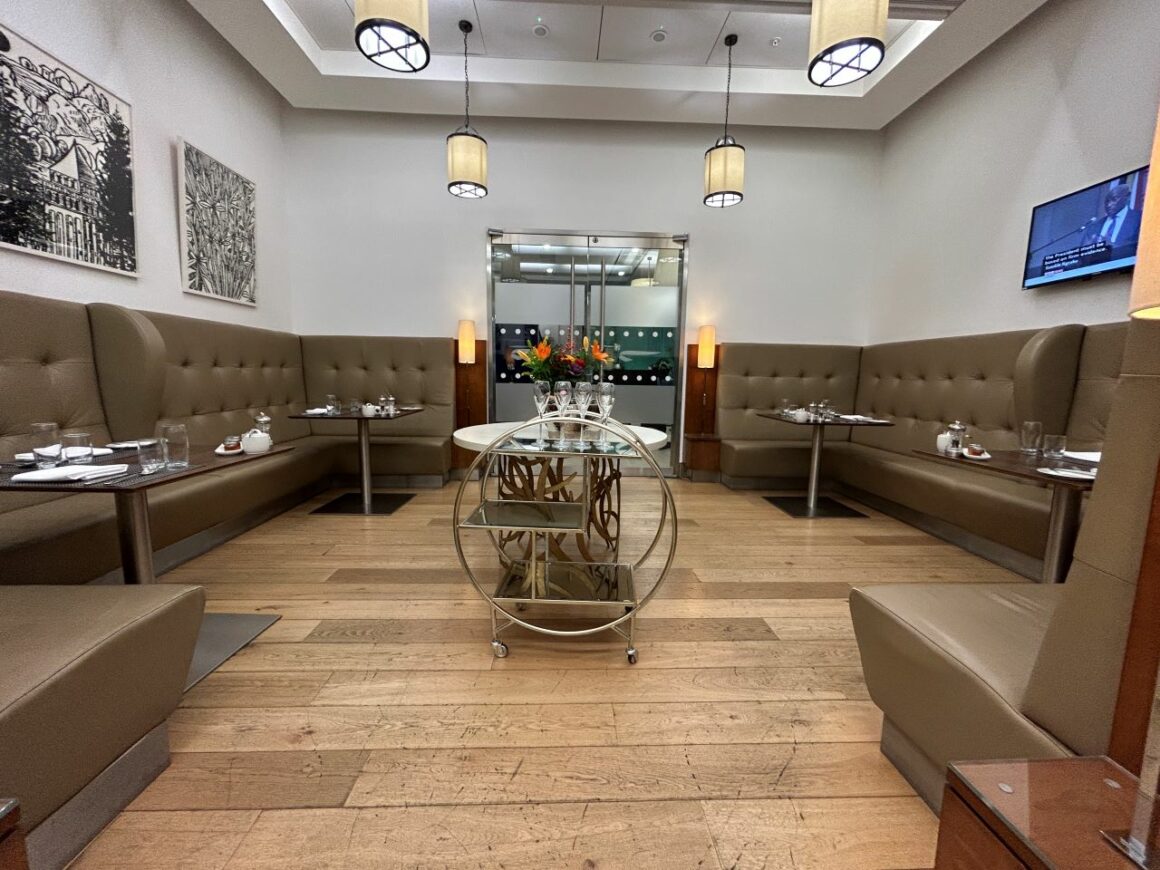 On the way back, if you don't want to eat on the plane, you will have access to the BA Arrivals lounge and Concorde dining area.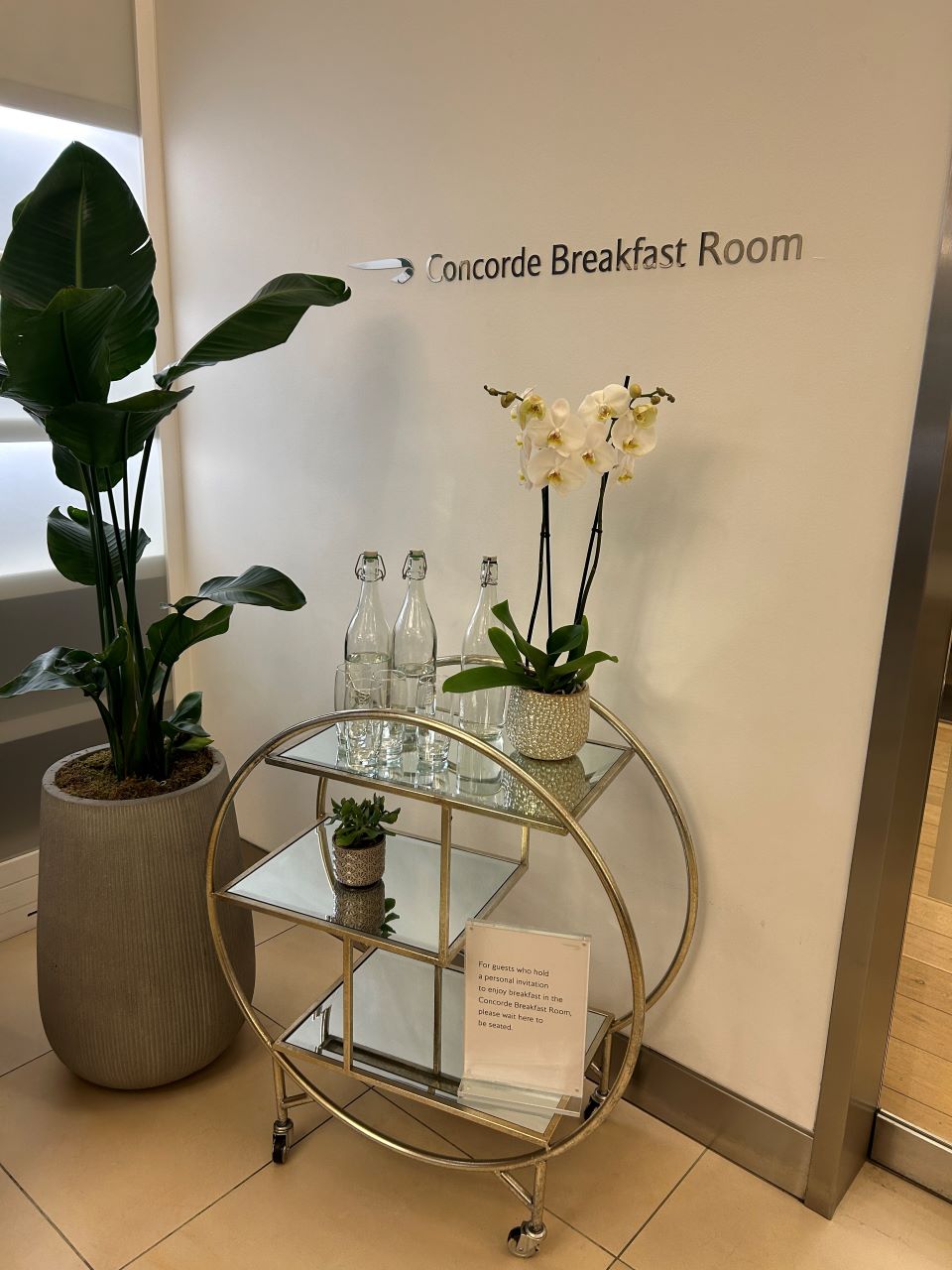 If you would like to have some breakfast, head to the Concorde dining area where they have breakfast to order. There is usually full English with eggs to order, smoked salmon and scrambled eggs, eggs benedict and kippers.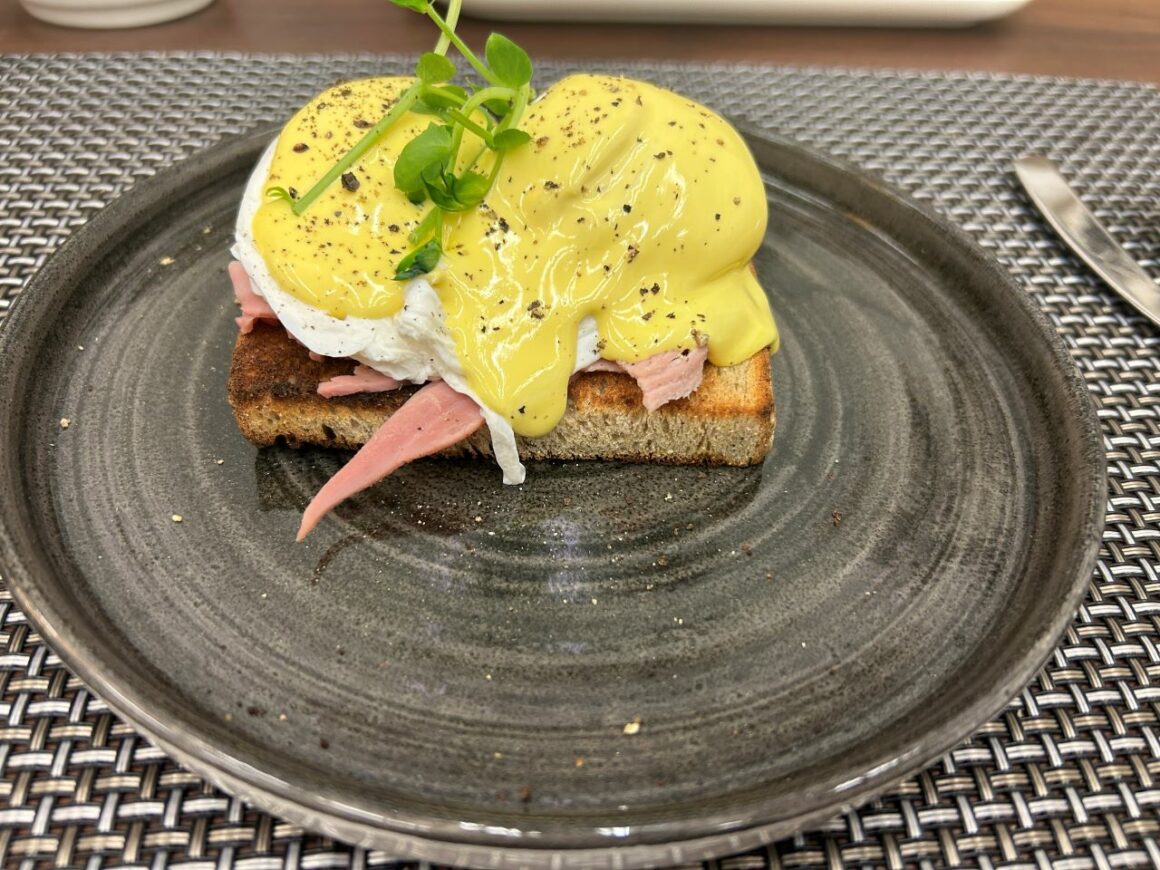 The rest of the menu is mainly what is already on the buffet in the main area.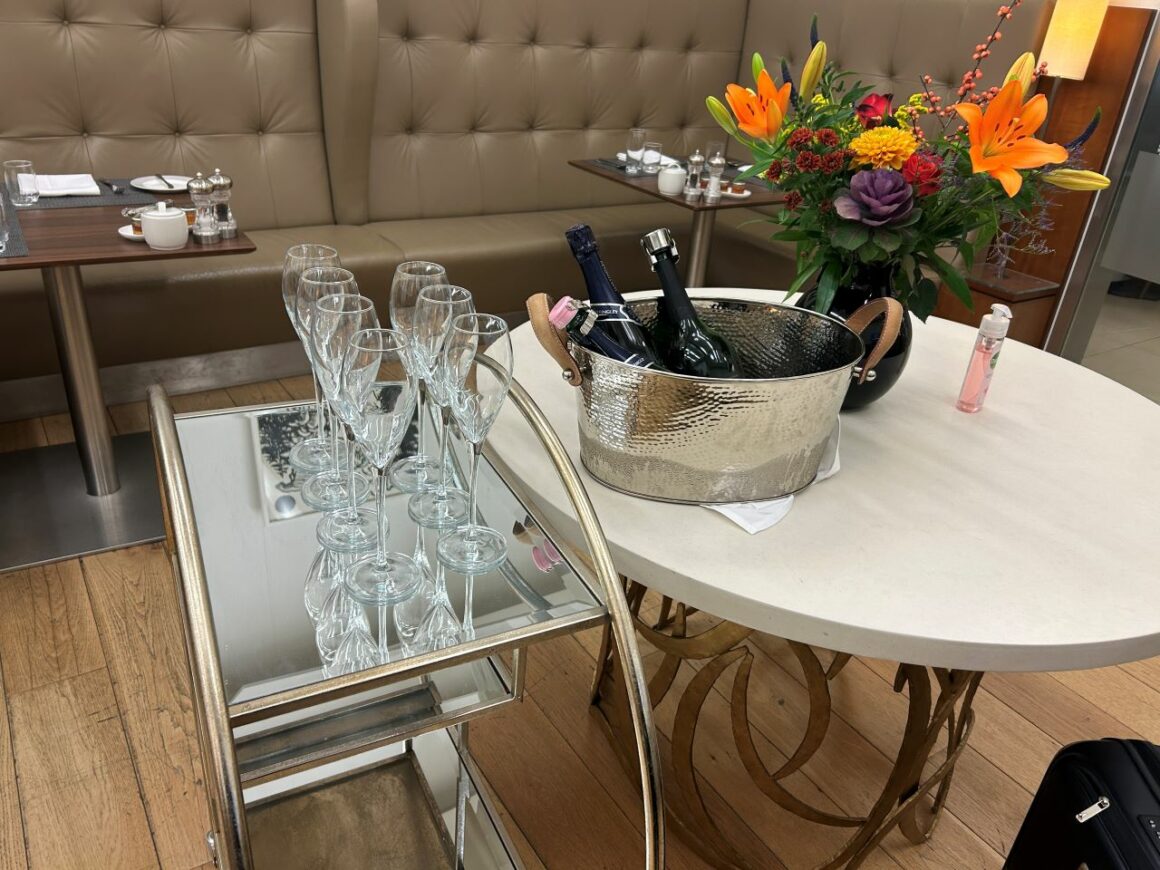 They now also have champagne and sparkling wine, including Laurent Perrier Grand Siecle.
You can read a full review of the Concorde Breakfast room experience here.
You can also have a shower or get your own cabana with an infinity bath. You check in with shower reception, and if there is a wait, they will give you a buzzer. Towels and Elemis Toiletries are provided.
One handy service is the pressing service. Whilst in the shower room, you can open a special two-way door to hang your clothes and they will come back pressed in around 10 minutes.
The shower rooms have a built-in sound system, with pre-set news and music channels.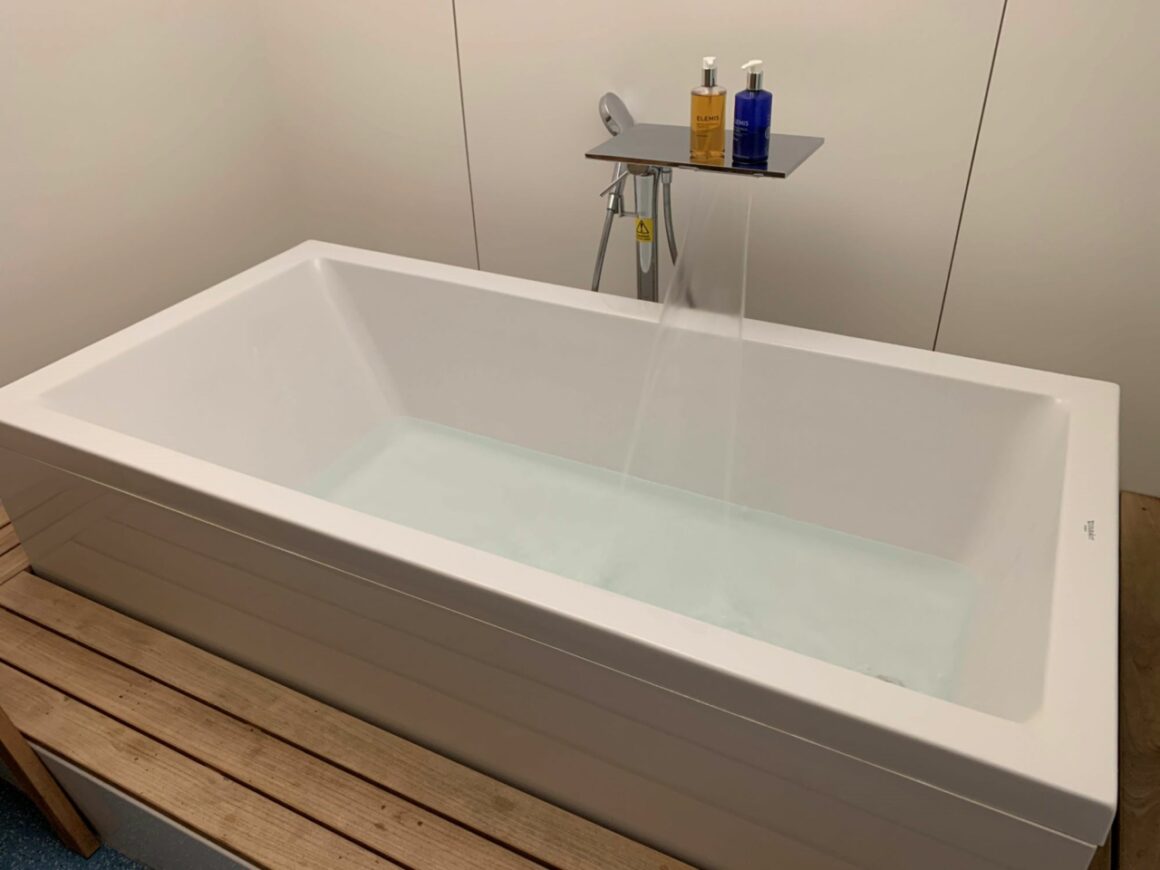 You may prefer to have a bath, in which case you should see if there is a cabana available. Priority for these is given to First passengers. The cabanas are larger than the shower rooms. They have a dressing area, a large bath, and a chair.
What are your top tips or questions for flying BA First? Let us know in the comments below
Like our review of Flying British Airways First Class? You can read more flight reviews here.