Hilton Hotels offered this stay to review the Waldorf Astoria in Edinburgh. TLFL paid for the travel to and from the hotel and the spa treatment. Hilton did not see or approve the review before publication.
This was part of a week-long trip around Scotland. I will also be reviewing hotels in Glasgow, Isle of Skye and a destination hotel in the coming weeks. It was my second stay at the Waldorf. I stayed quite a few years ago prior to Covid, and let's just say things did not go well, so they had some making up to do!
Location of The Waldorf Astoria Edinburgh – The Caledonian
The Waldorf has a great location opposite the castle and Princes Street Gardens in central Edinburgh on Princes Street. The Royal Mile and Edinburgh Old Town, a UNESCO World Heritage Site, are within a mile. If you wanted to do a hop-on, hop off tour, many of the buses have a stop right by the hotel.
Check-in at The Waldorf Astoria Edinburgh – The Caledonian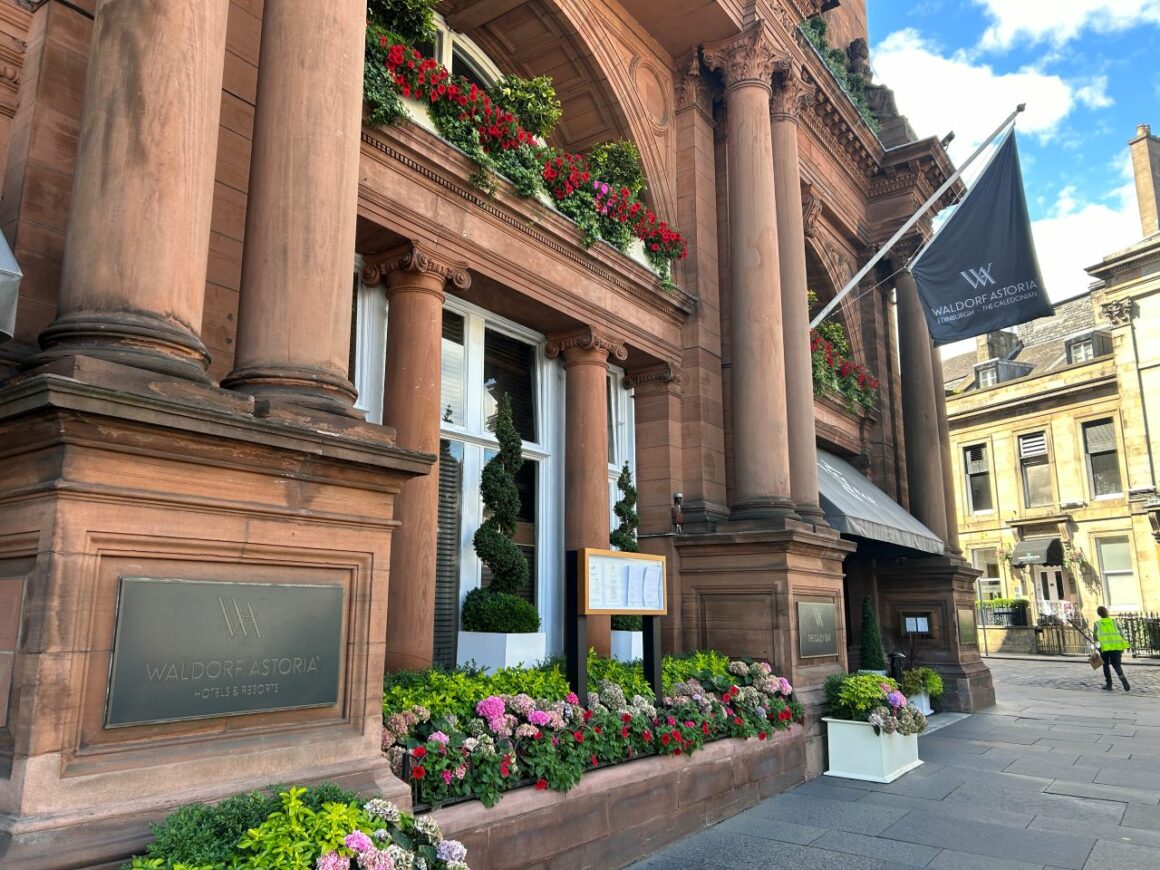 The The Waldorf Astoria Edinburgh – The Caledonian hotel is something of an icon in Scotland and has been around since 1903. It was previously a railway station. They have a doorman who escorts you inside initially, which is a nice touch. I get the impression he is something of an institution himself!
I had already checked in online, so it was a quick process to pick up my keys and have a few nuggets of information about the The Waldorf Astoria Edinburgh – The Caledonian. I was then escorted to my room. I recommend trying the yummy fudge that they keep on the front desk too!
The Waldorf Astoria Edinburgh – The Caledonian Room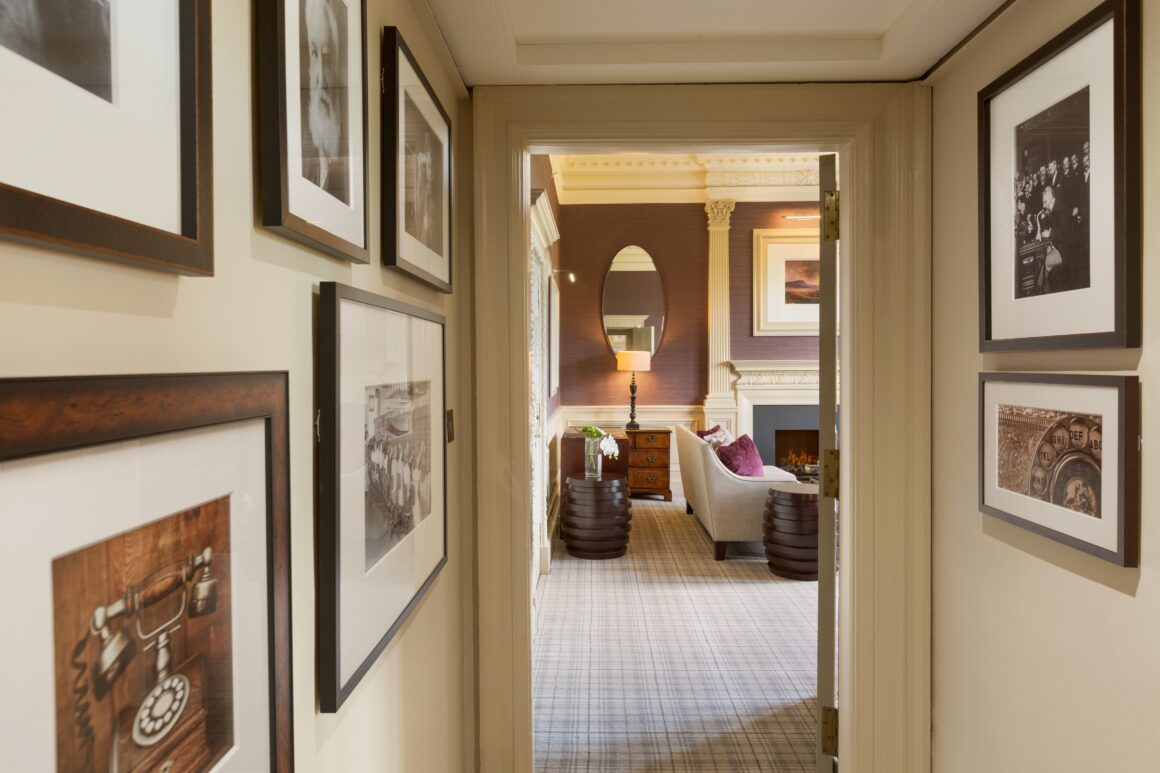 I was lucky enough to be upgraded to the Alexander Graham Bell suite, but I will also be talking about some of the lower categories of room as I did a tour around a few.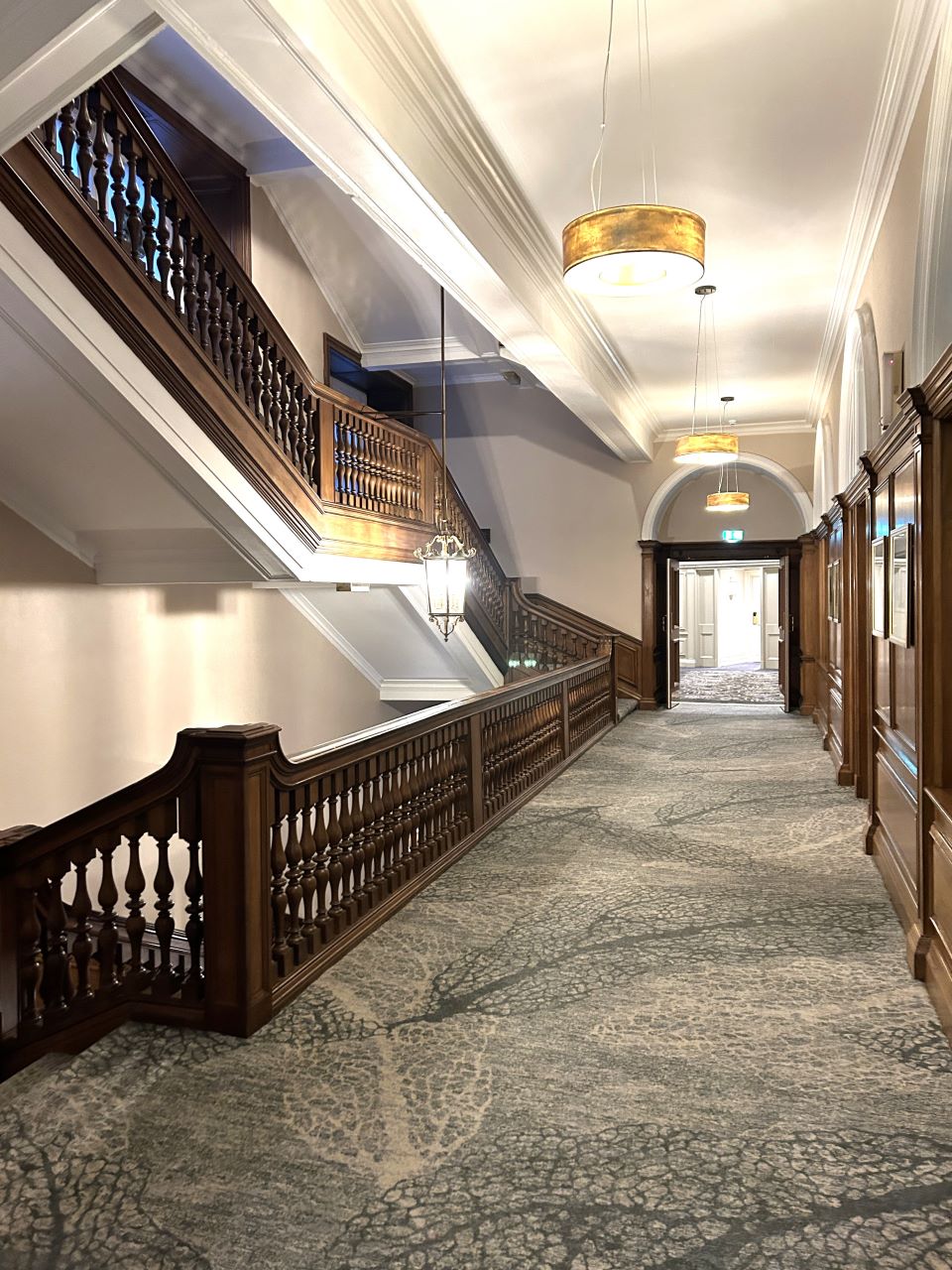 The The Waldorf Astoria Edinburgh – The Caledonian hotel is very long with a central grand wooden staircase. I like that the hotel retains its original style but with modern touches.
The The Waldorf Astoria Edinburgh – The Caledonian suite consisted of a bedroom, large living and dining area and a huge bathroom. All of which had great views of the castle. It was definitely a loo with a view (though hopefully not of me the other way!).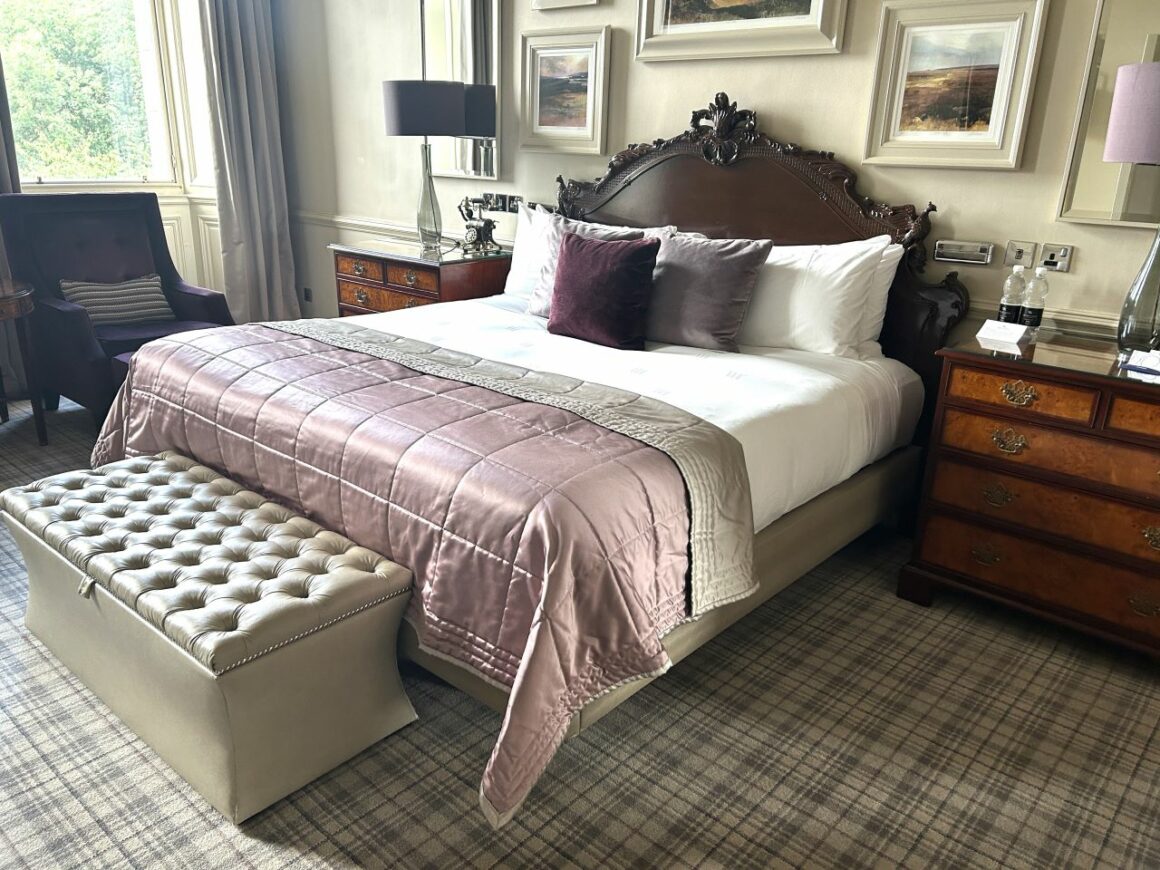 The The Waldorf Astoria Edinburgh – The Caledonian room itself was very quiet and of course, felt very luxurious with its huge footprint and opulent fittings. It also felt like there was a sense of place with the plaid carpet and local paintings. It felt like the lilac and purple hues reflected the countryside I had been driving round with its wild heather and thistles.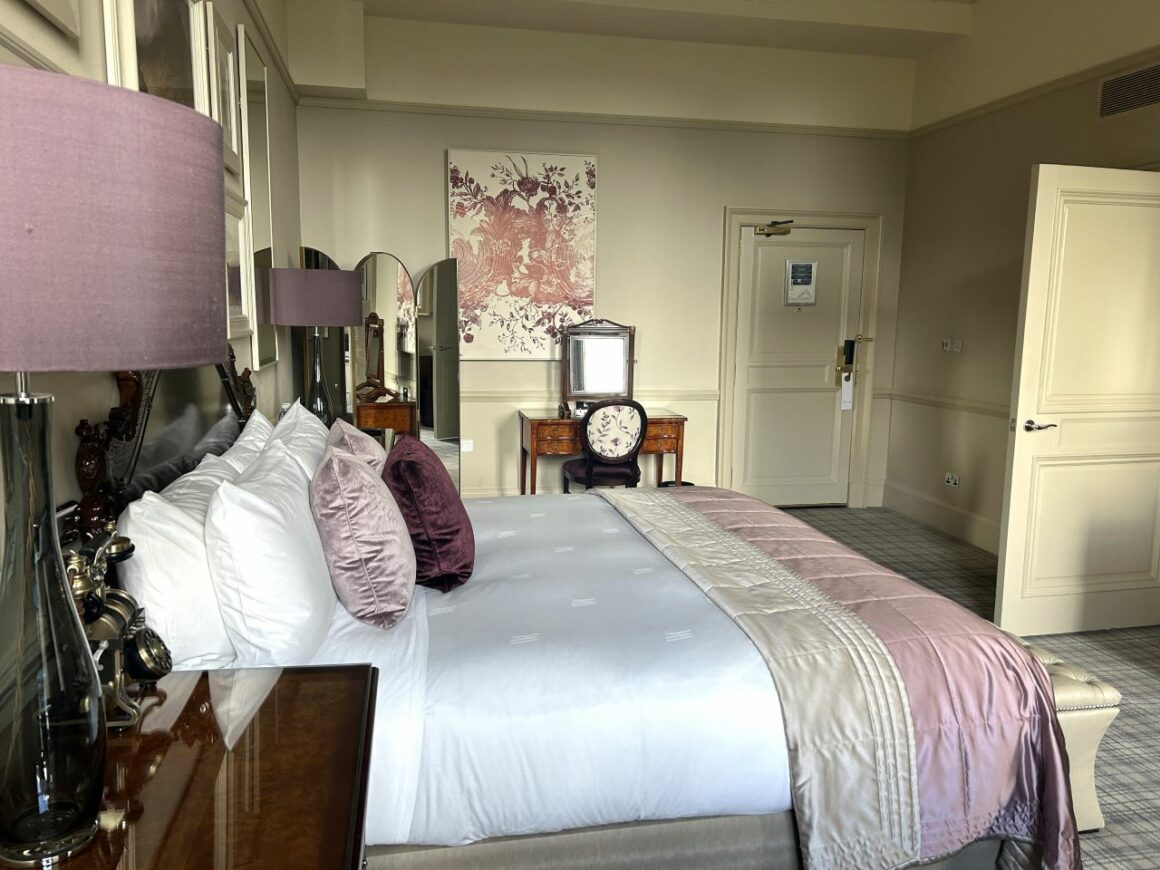 The bed was very comfortable and soft enough for me. Despite the historic look of the room, there were modern conveniences like sockets by the bedside and reading lights that flipped out from the wall. I liked that there was a proper dressing table and mirror with a socket nearby for drying your hair, and a Dyson hair dryer was provided. The triple full-length mirror was something I'd not seen in a hotel room before. I'm not sure I want to see myself from every angle, but at least I could make sure my skirt wasn't tucked into my knickers!
In the hallway was a large wardrobe for hanging as well as plenty of drawer space in the bedroom itself. Turn down service was offered, which included a small box of excellent chocolates.
I loved the washstand with its twin sinks and the fact that it had a bottle of Aesop handwash. I much prefer handwash to soap, and it is much less wasteful too. Plenty of amenities were provided, such as a vanity kit, dental kit and mouthwash.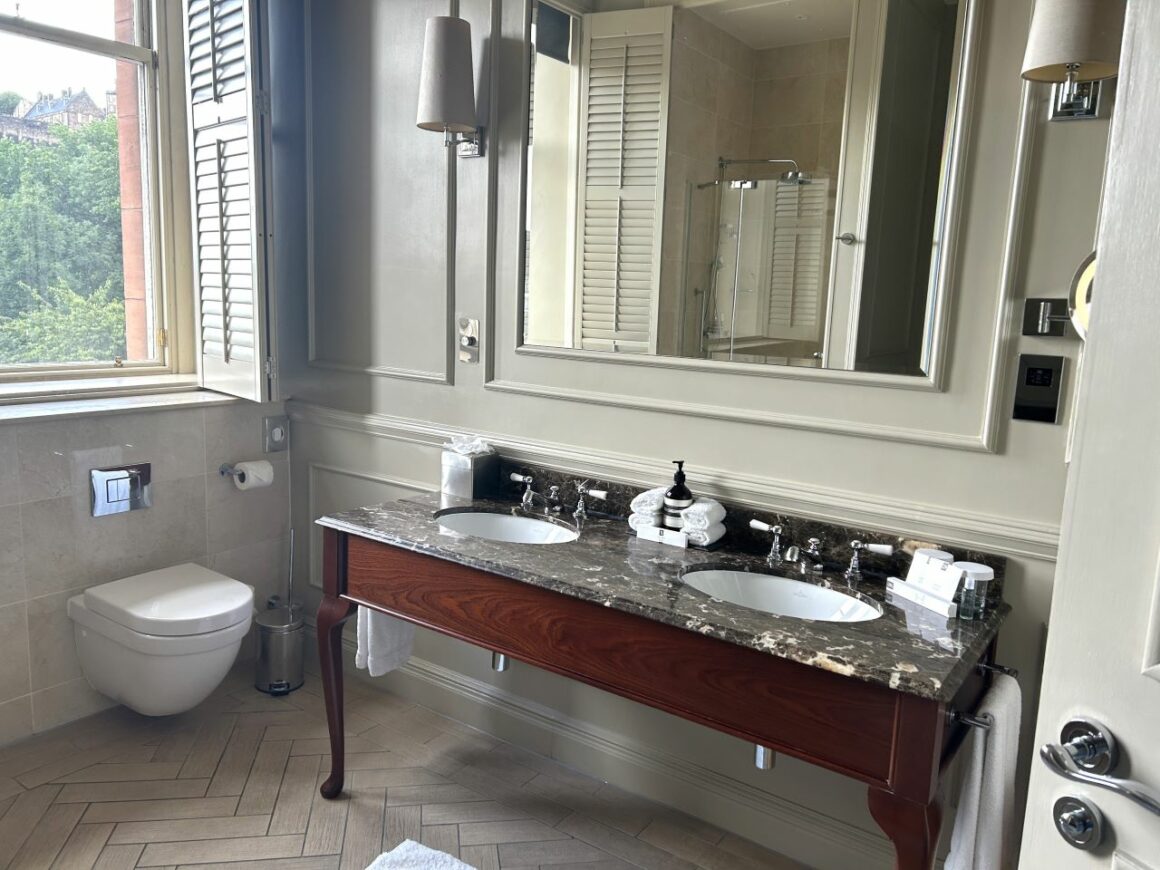 By the bath was the full set of large Aesop toiletries that Waldorf have switched over to. It did seem rather odd having the body lotion here, but I liked that the large bottle was not attached to the wall if you wanted to keep it on your bedside table.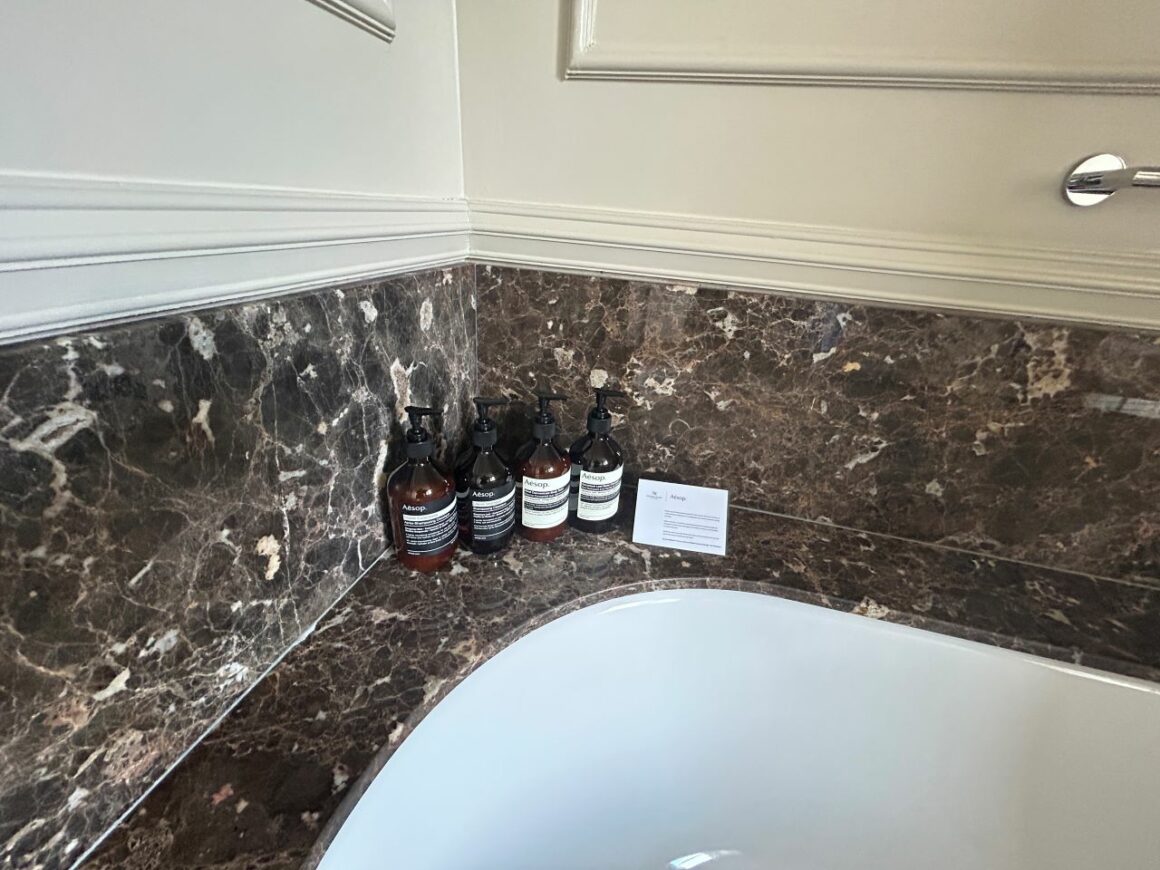 There was a separate walk-in shower with a large powerful showerhead, though I am not sure I would call it rainfall. Not being a fan of rainfall showers particularly, this was fine by me. I would have liked more room for putting toiletries on a shelf though, given the size of the bottles.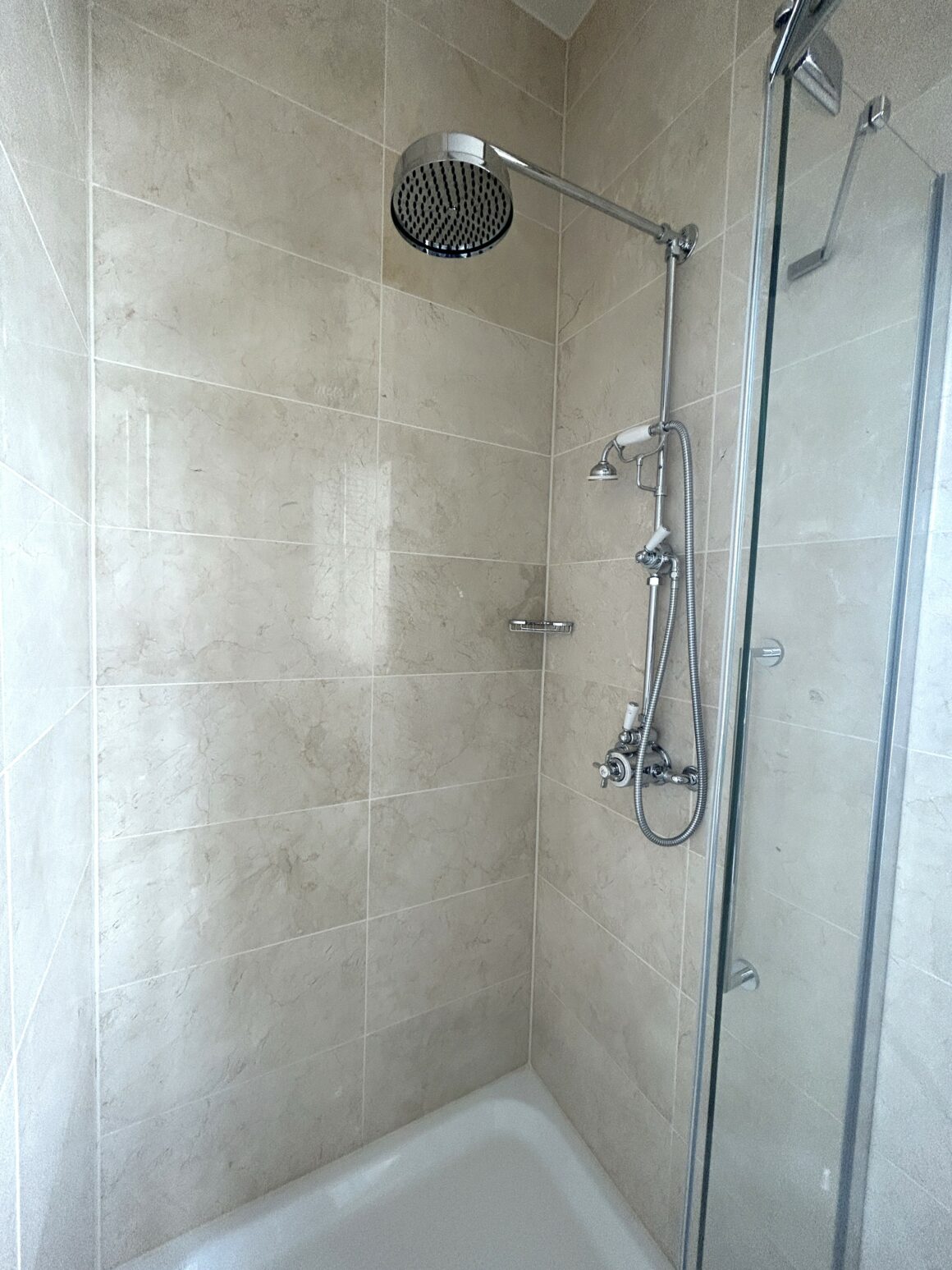 The bath was huge and perfect for a long soak after some serious sightseeing.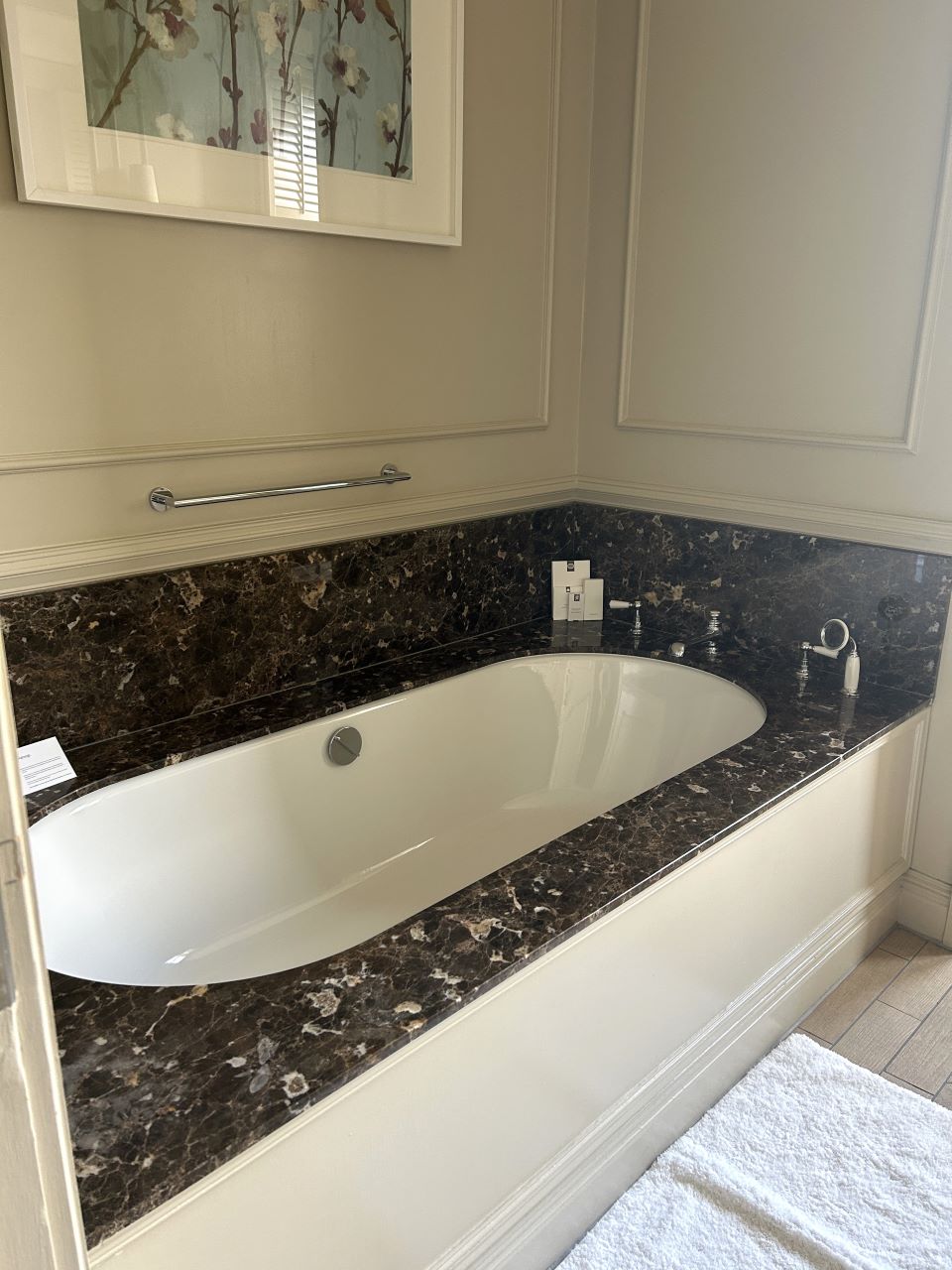 The living area felt very grand and I enjoyed sitting just watching the castle as darkness fell. They even provide a set of binoculars so you can see more of the castle's detail.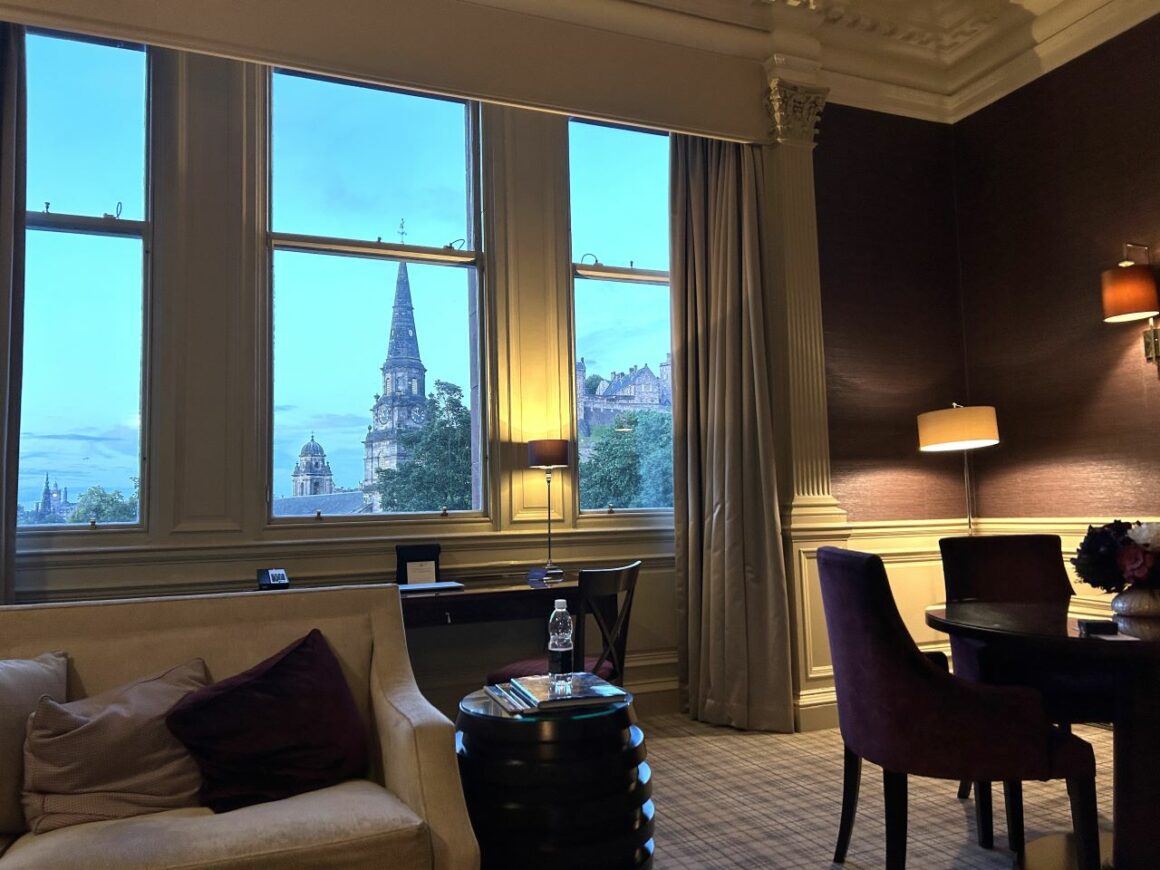 It was quite an extensive room with a dining table and chairs, desk, sofas and a grand fireplace.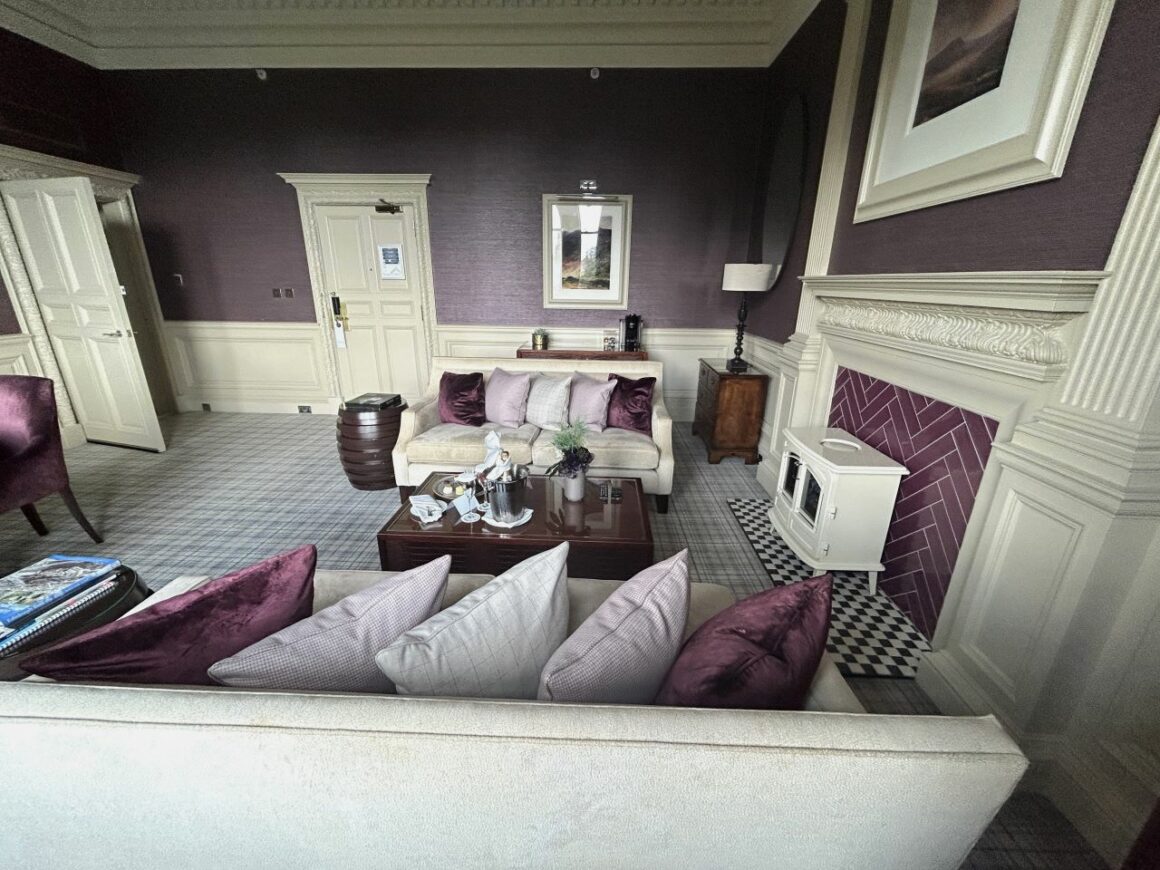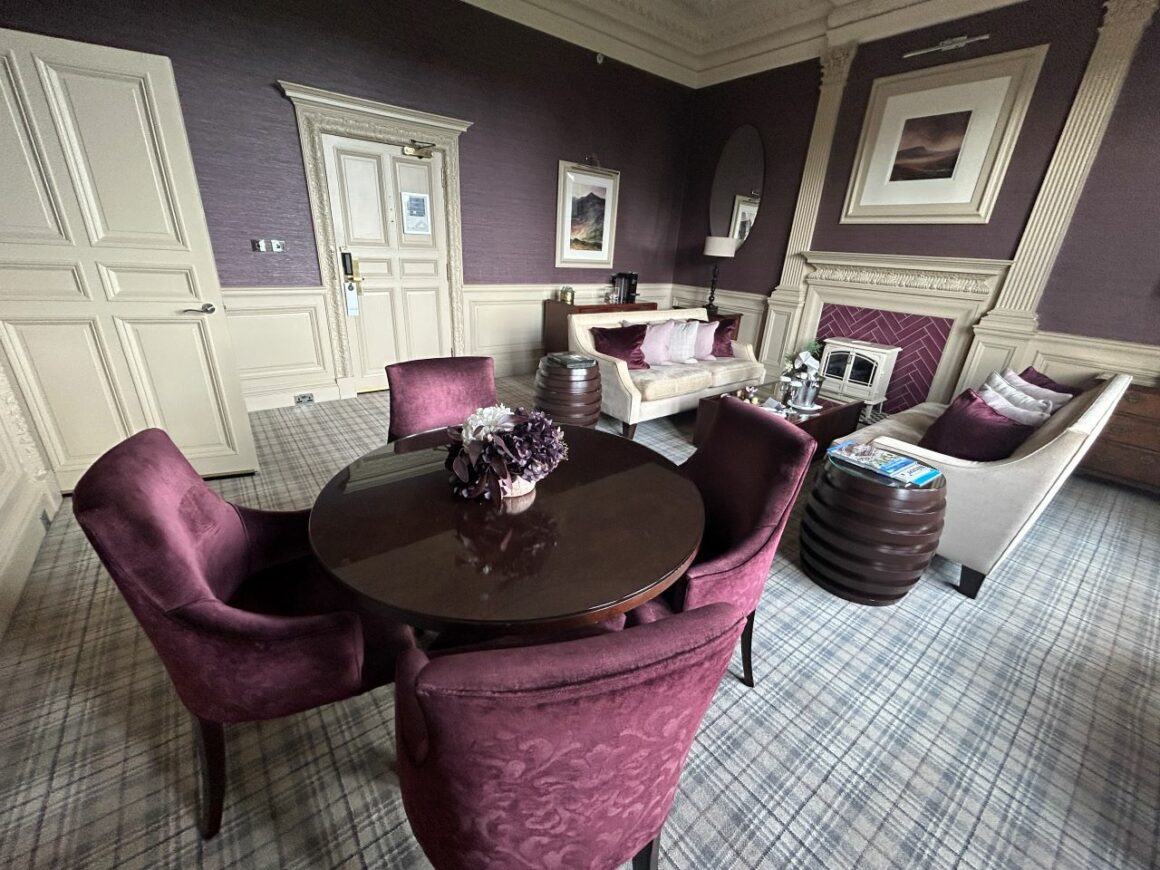 Within the sitting area was an empty fridge and tea and coffee-making facilities. It was the first time I have seen a Nespresso Vertuo machine in a hotel. There was also a tray hidden away with a kettle, tea, shortbread and hot chocolate.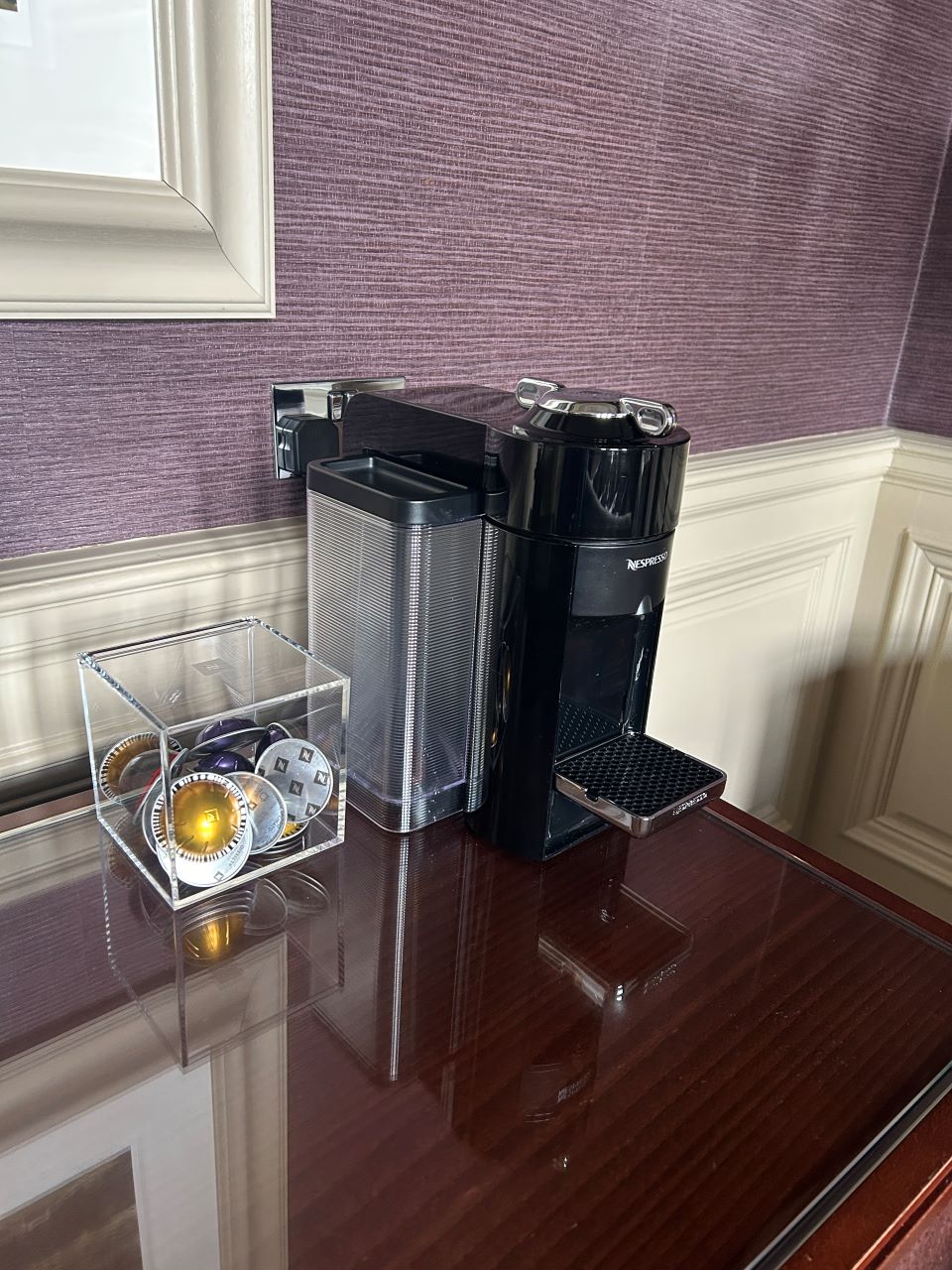 Other room types at The Waldorf Astoria Edinburgh – The Caledonian
I looked at a Castle View Premium King room and a Non-Castle View. These felt a little more modern than my suite in terms of design and were well-equipped as well as spacious. All rooms have a Serta mattress, Egyptian cotton sheets and Nespresso machines.
This is the non-Castle view Premium King: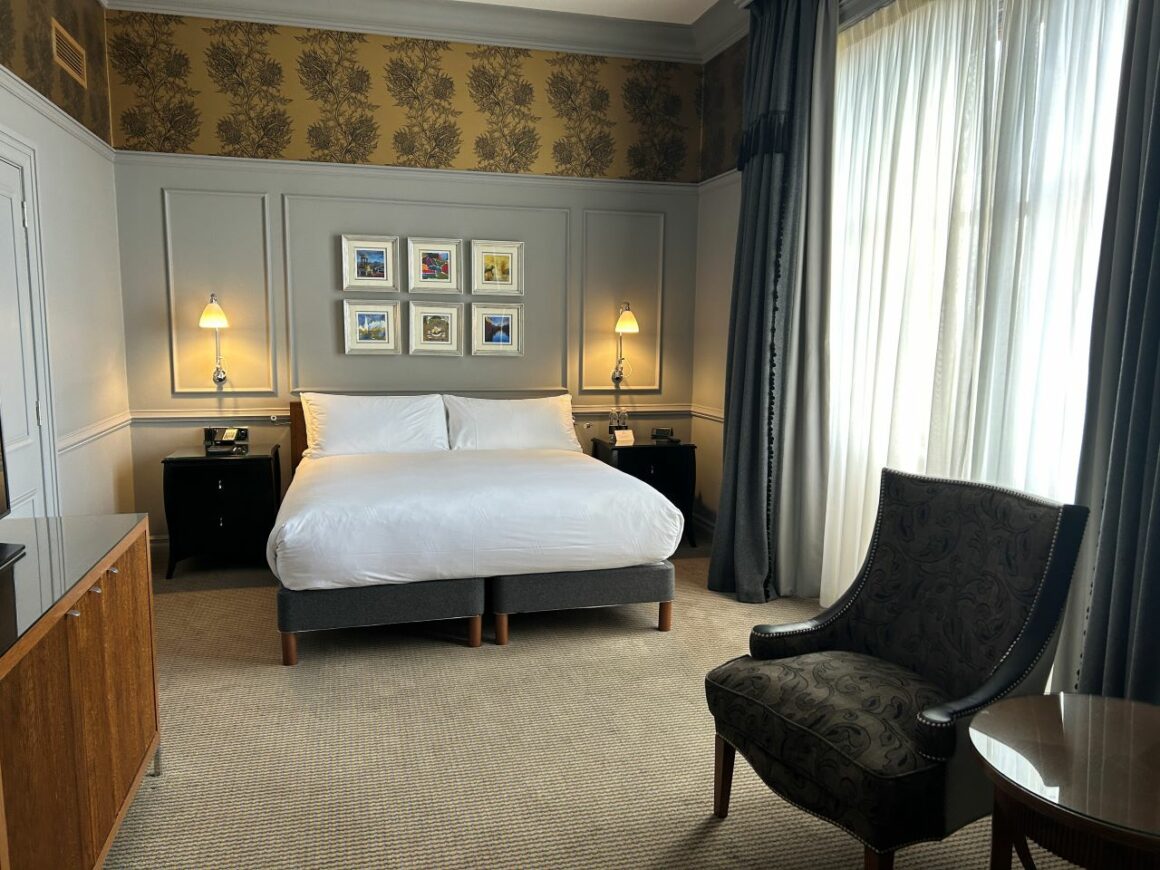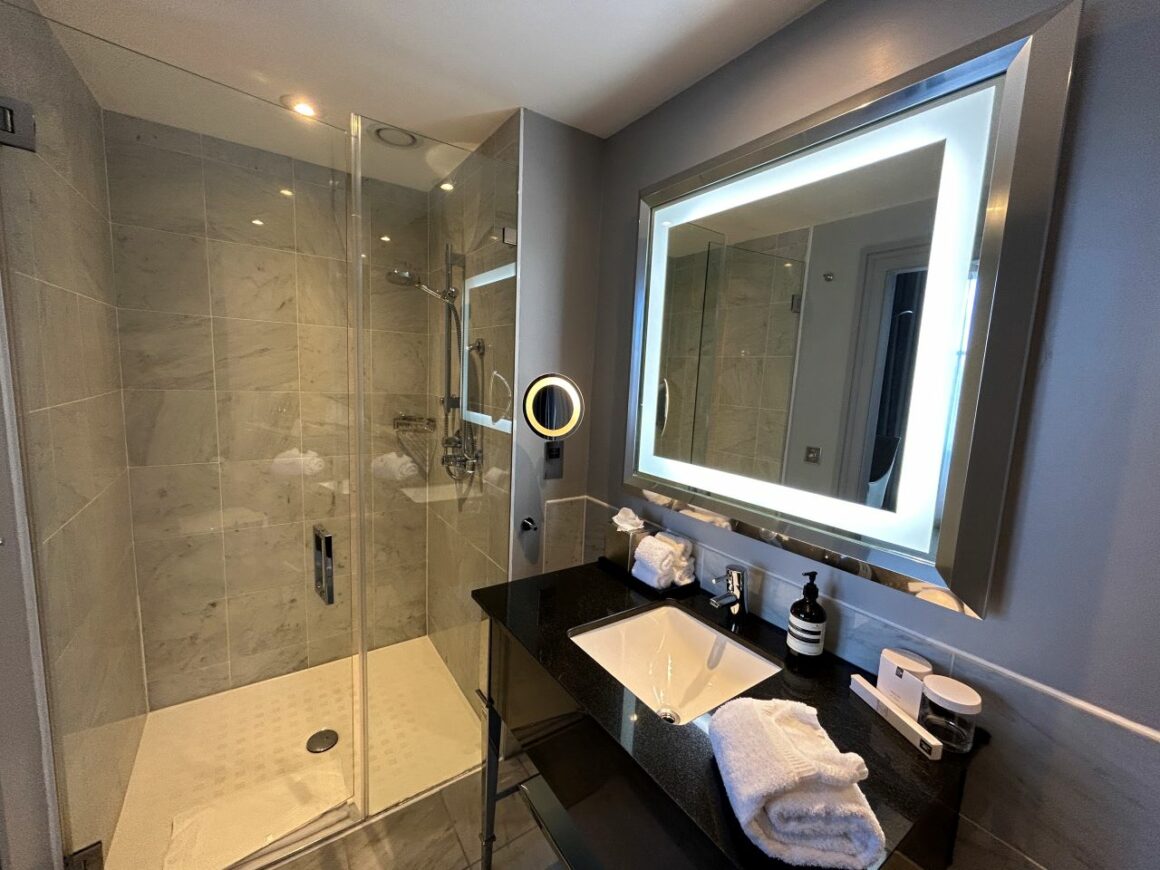 This was the Castle View Premium King, which came with a bath with shower.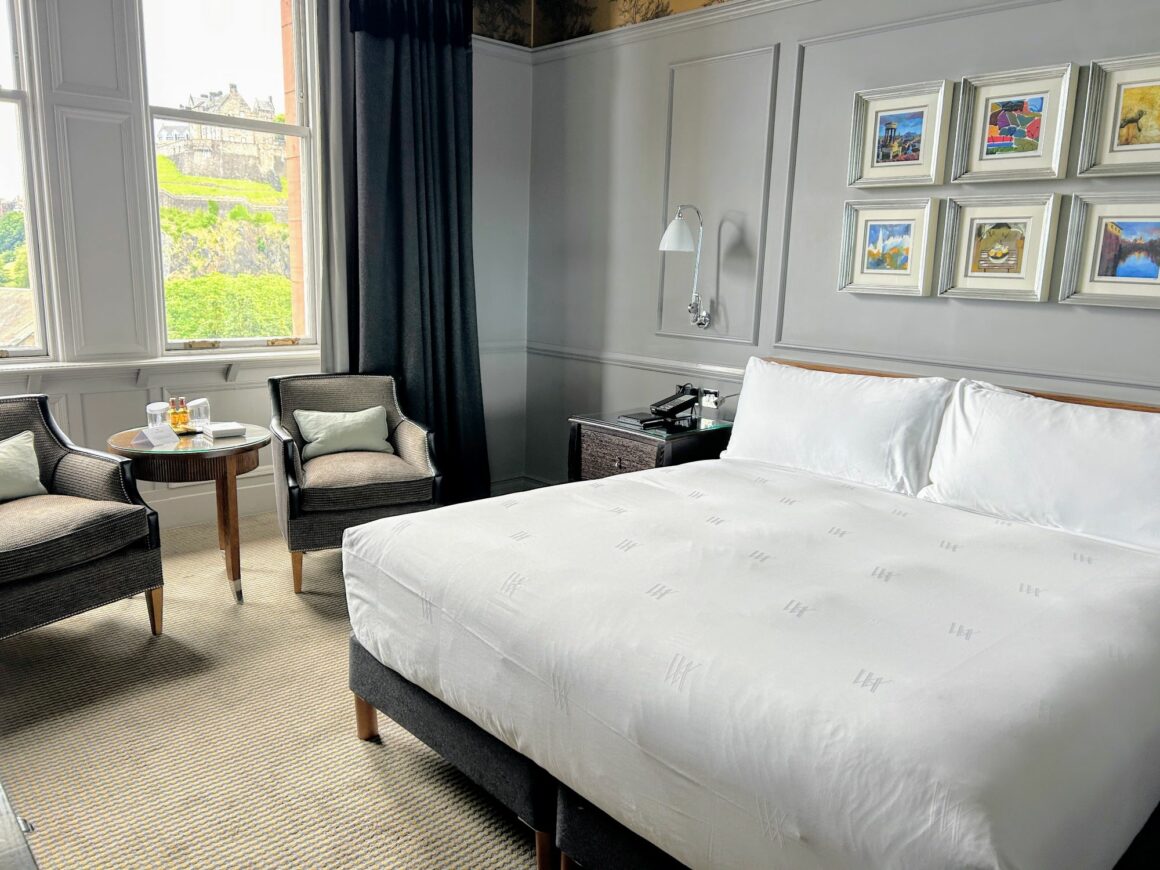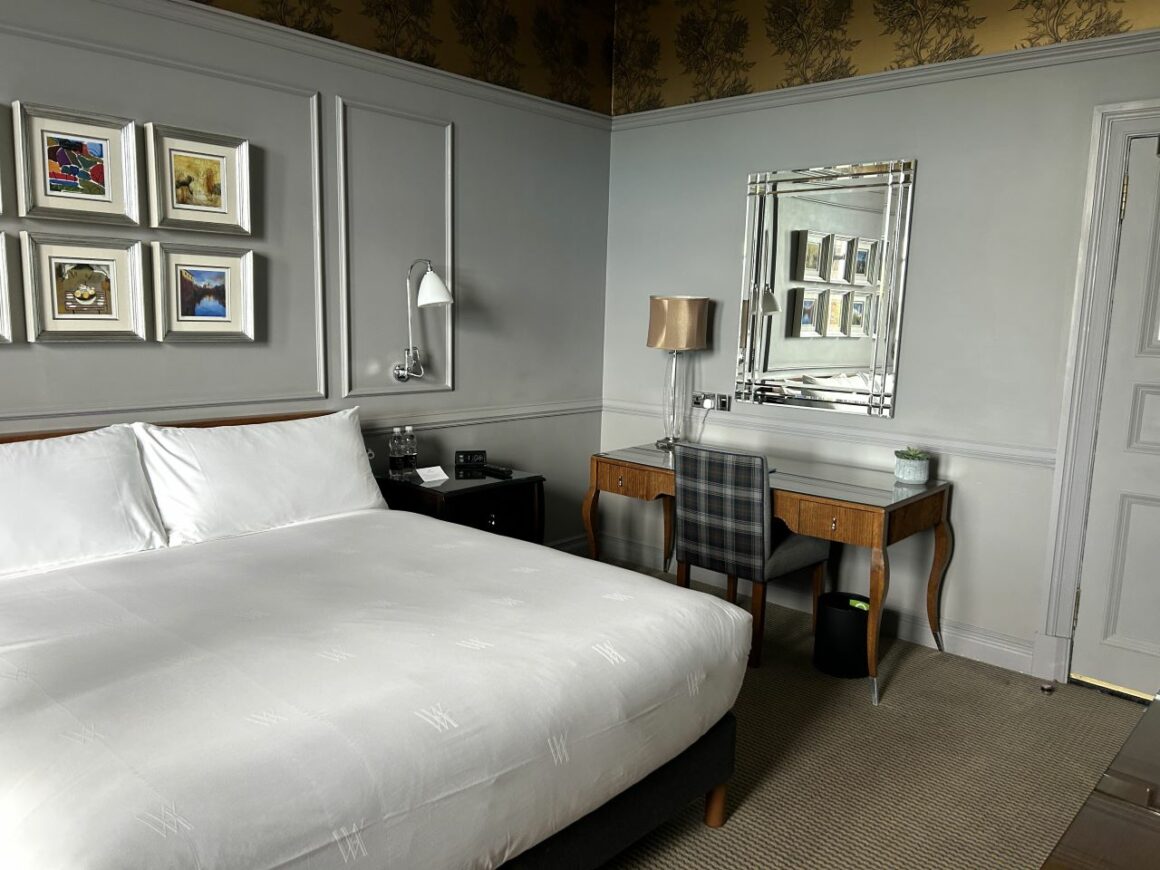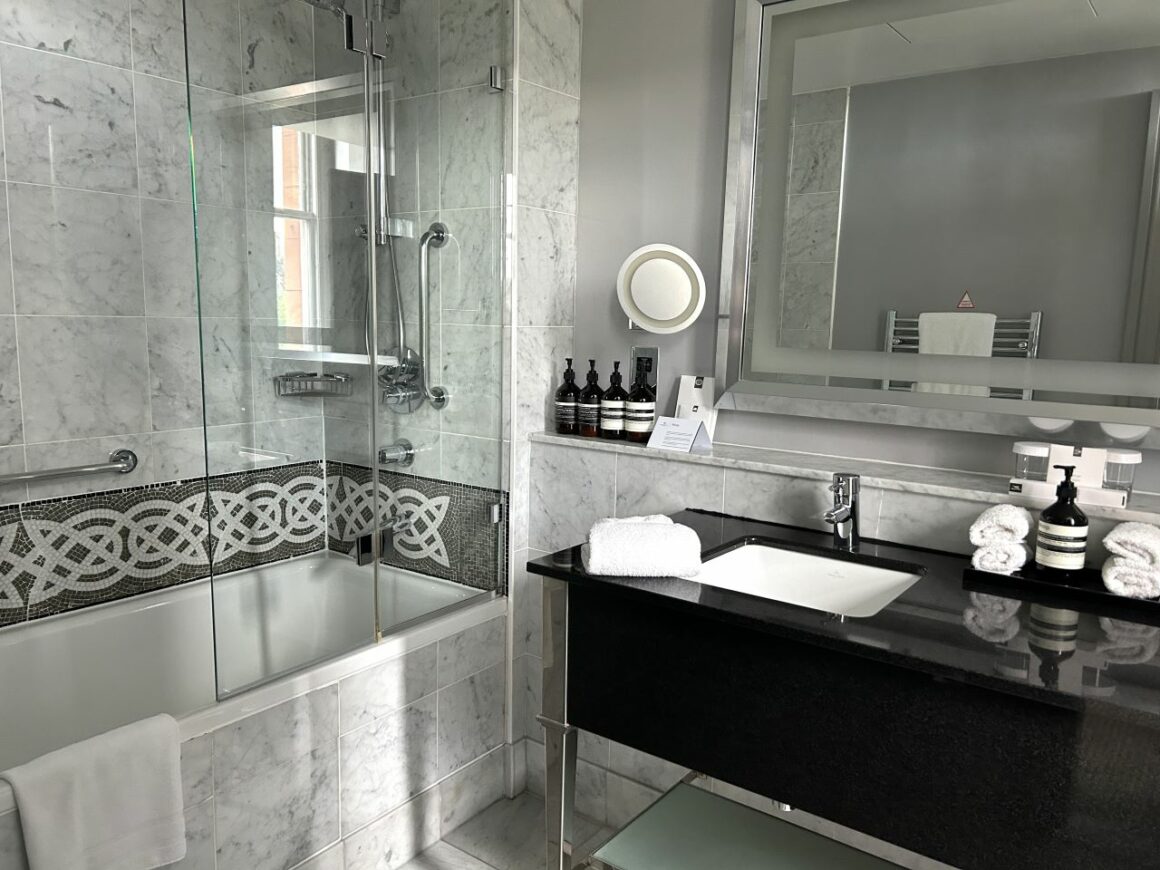 Diamond members can expect a bottle of wine as their welcome amenity.
The Waldorf Astoria Edinburgh – The Caledonian Food and drink
The Waldorf Astoria Edinburgh – The Caledonian has plenty of options on-site if you want a quiet evening at the hotel without compromising. The Peacock Alley, which is a Waldorf signature space, serves everything from breakfast, light lunch or afternoon tea to drinks. The space was formerly the station concourse and ticket office.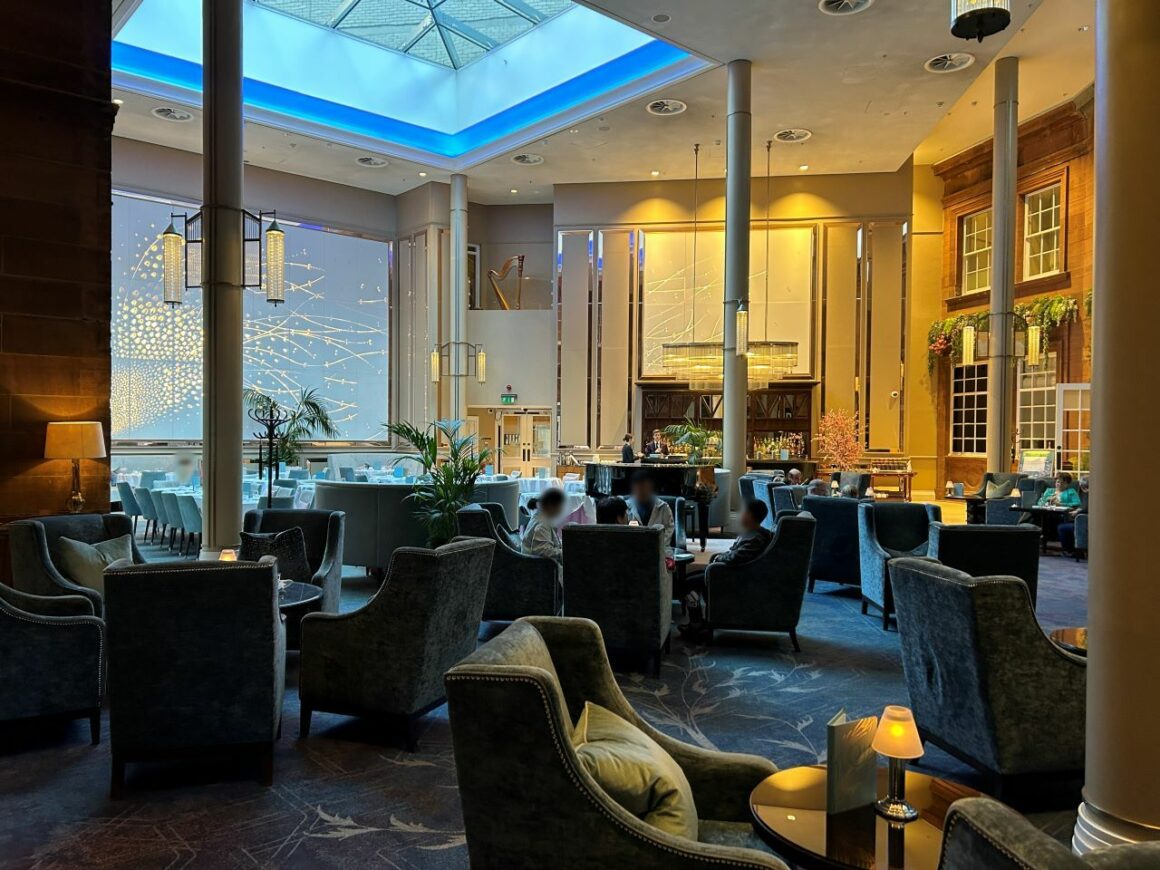 If you fancy a drink, there is also the Caley bar, which, of course, serves a wide range of whisky.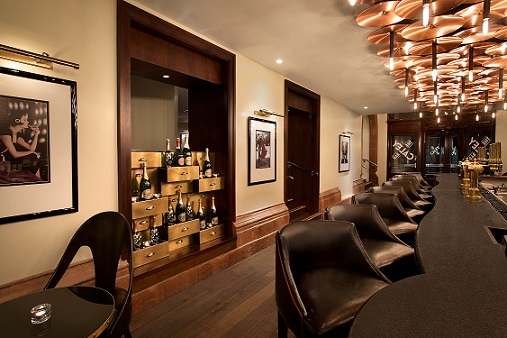 The most formal restaurant is the modern fine dining restaurant, Dean Banks at The Pompadour, with its signature 7-course tasting menu showcasing the best Scottish produce. There is a strong emphasis on seafood.
Chef Proprietor Dean Banks is a Masterchef The Professionals finalist. Despite being a relatively new venture, the restaurant already features in the 2023 MICHELIN Guide United Kingdom. It is worth a visit even if you don't stay at the hotel.
Grazing by Mark Greenaway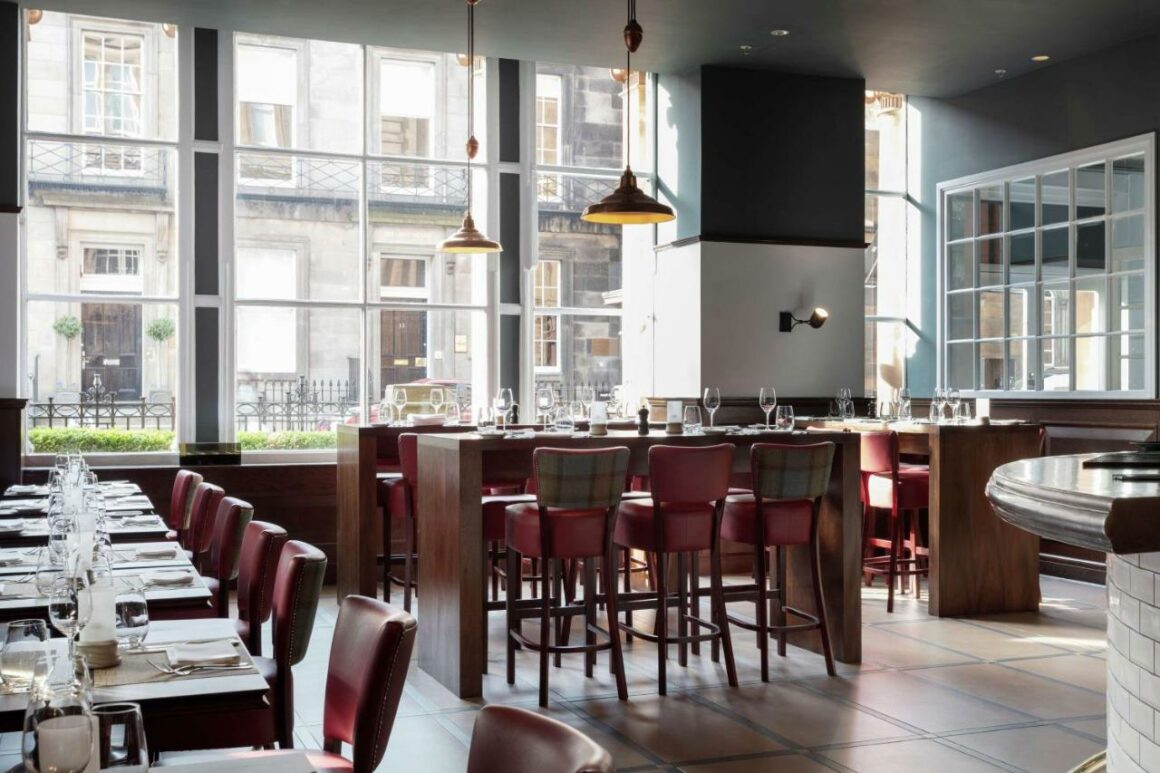 This is where I had dinner. The restaurant feels like a bistro and offers classics such as Beef Wellington, battered haddock and steaks. There is a great range on the main menu, which should suit all eaters, from those who like something simple to those who are more adventurous with starters like soft shell crab.
There is also a great value tasting menu for £75pp. This is known as the Hundred-Mile menu as the ingredients are from within 100 miles of the restaurant's front door.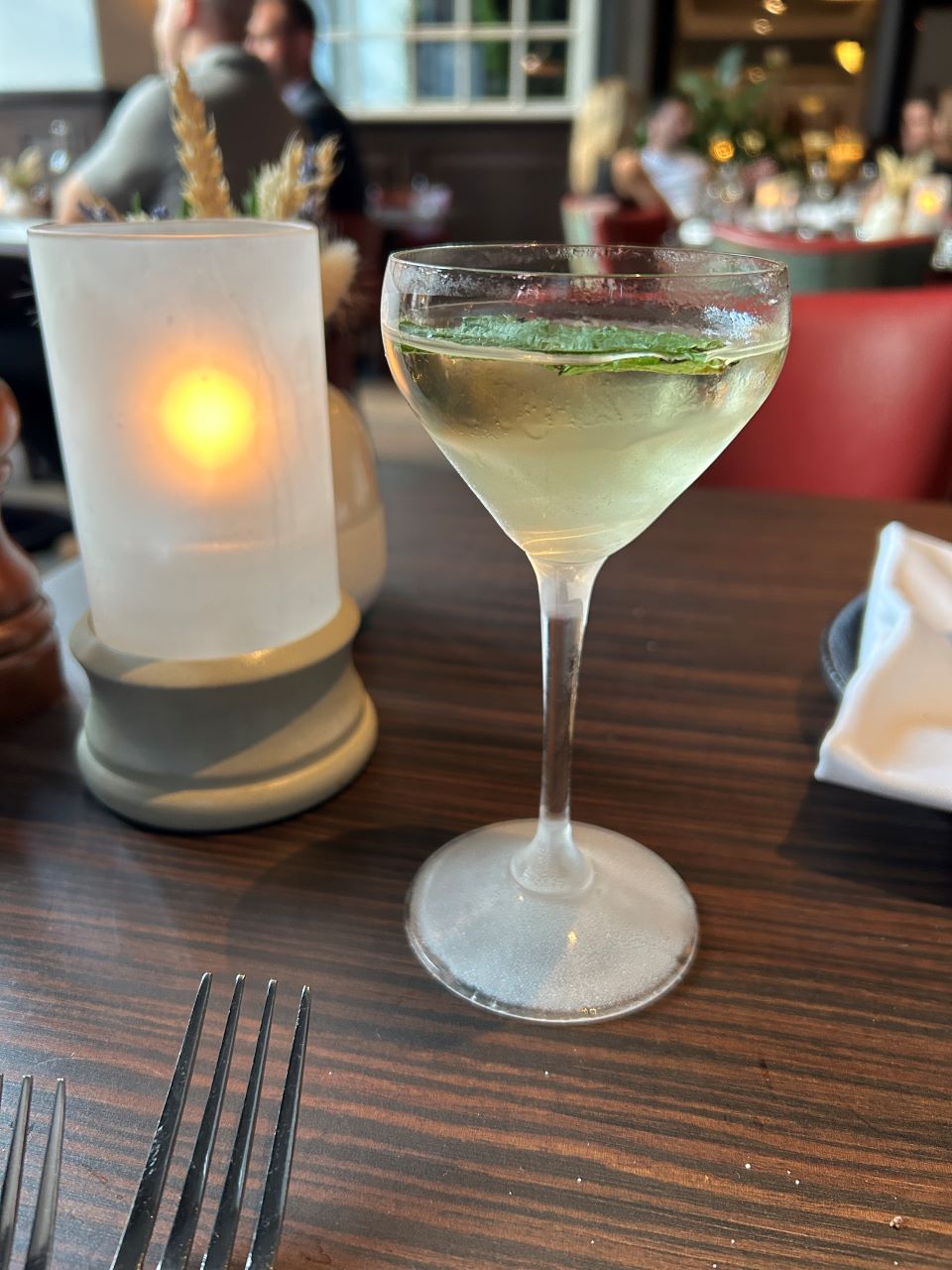 Instead of having a wine pairing, they did a cocktail pairing, which was fun.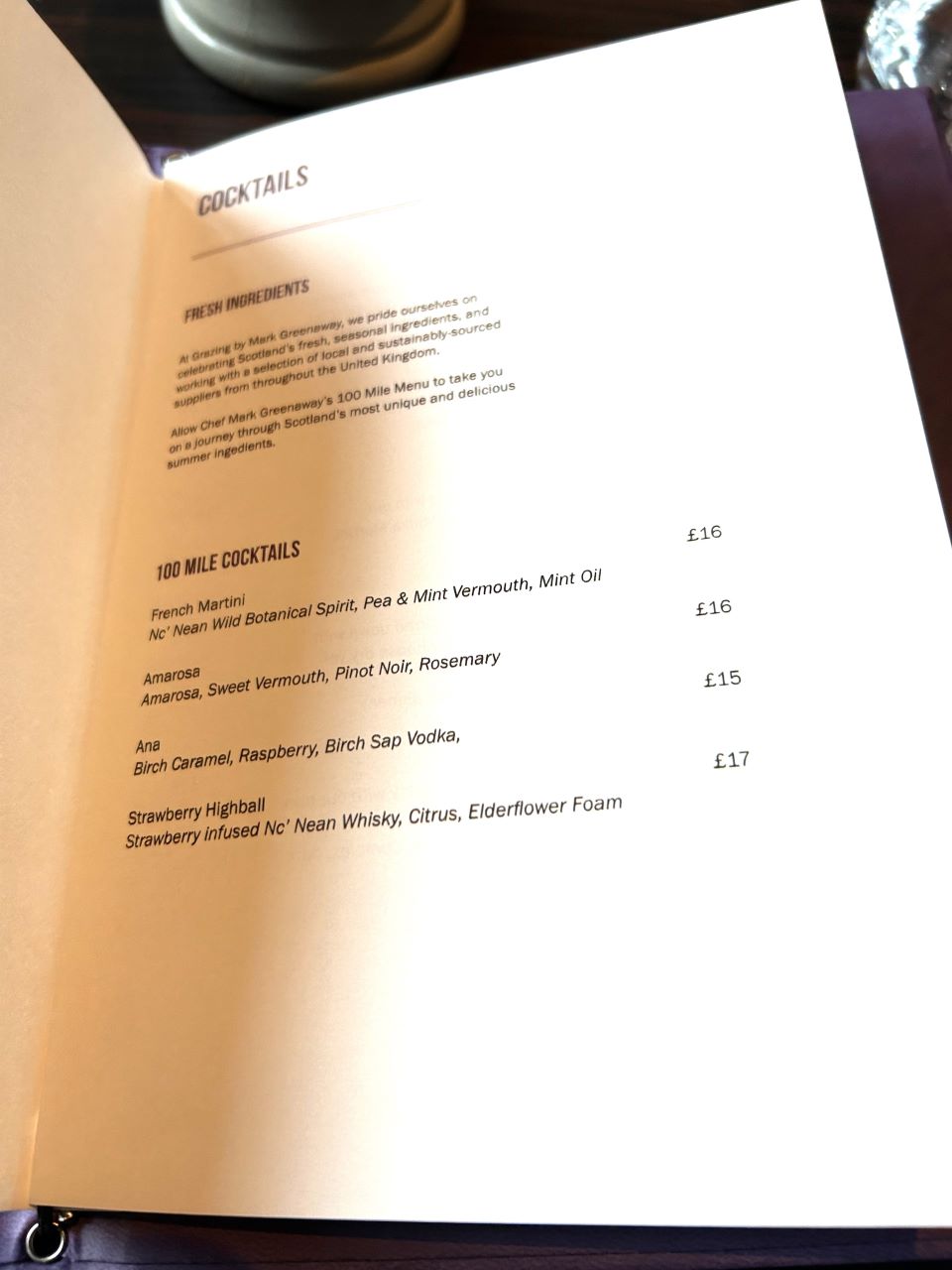 I tried the French martini with pea and mint, which sounded odd but was a taste sensation with the peas adding a slight hint of sweetness to this refreshing version of a martini.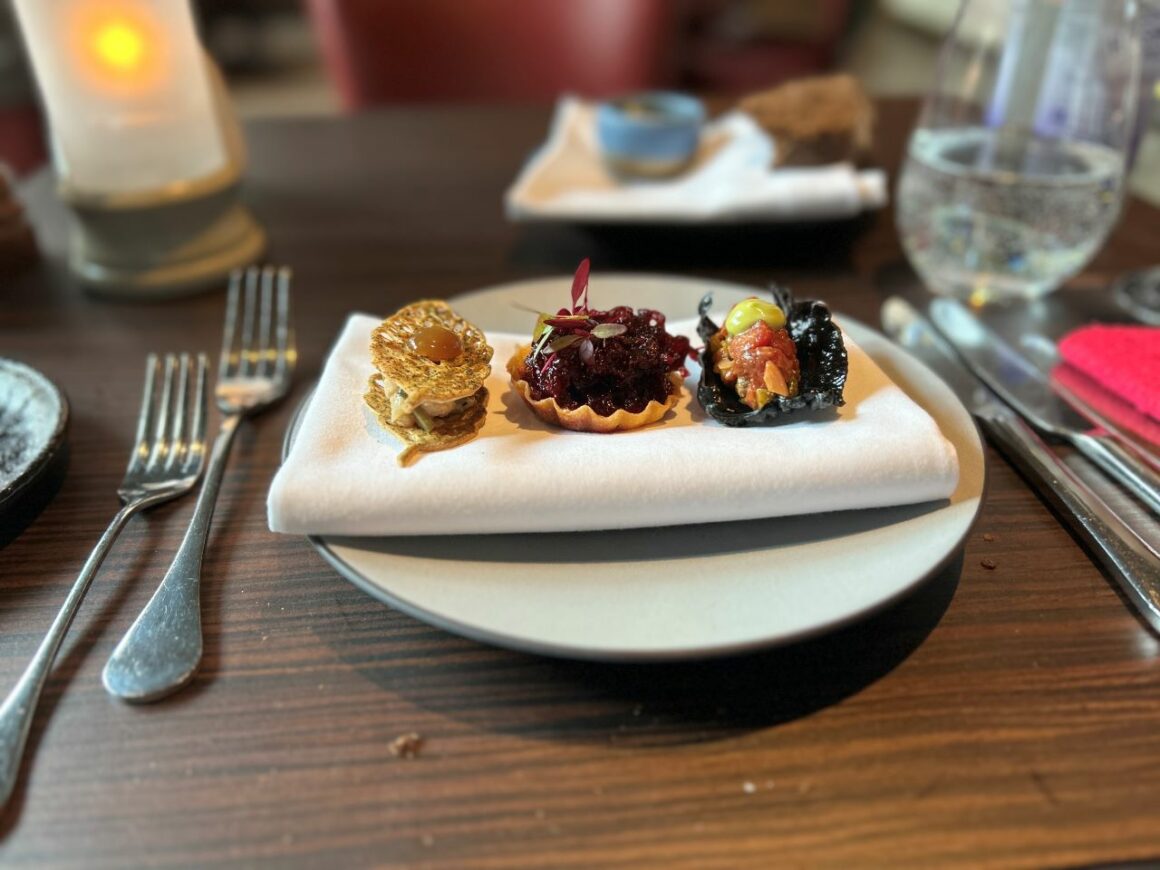 As I planned to skip the main dessert, I also tried the "Mark's snacks" selection which was beef tartare on cracker, tarragon
tartlet with beetroot and whipped goat curd, and a mackerel tartare. My favourite was probably the beetroot with its wafer-thin crispy pastry tart, earthy but sweet beetroot and creamy goats' curd.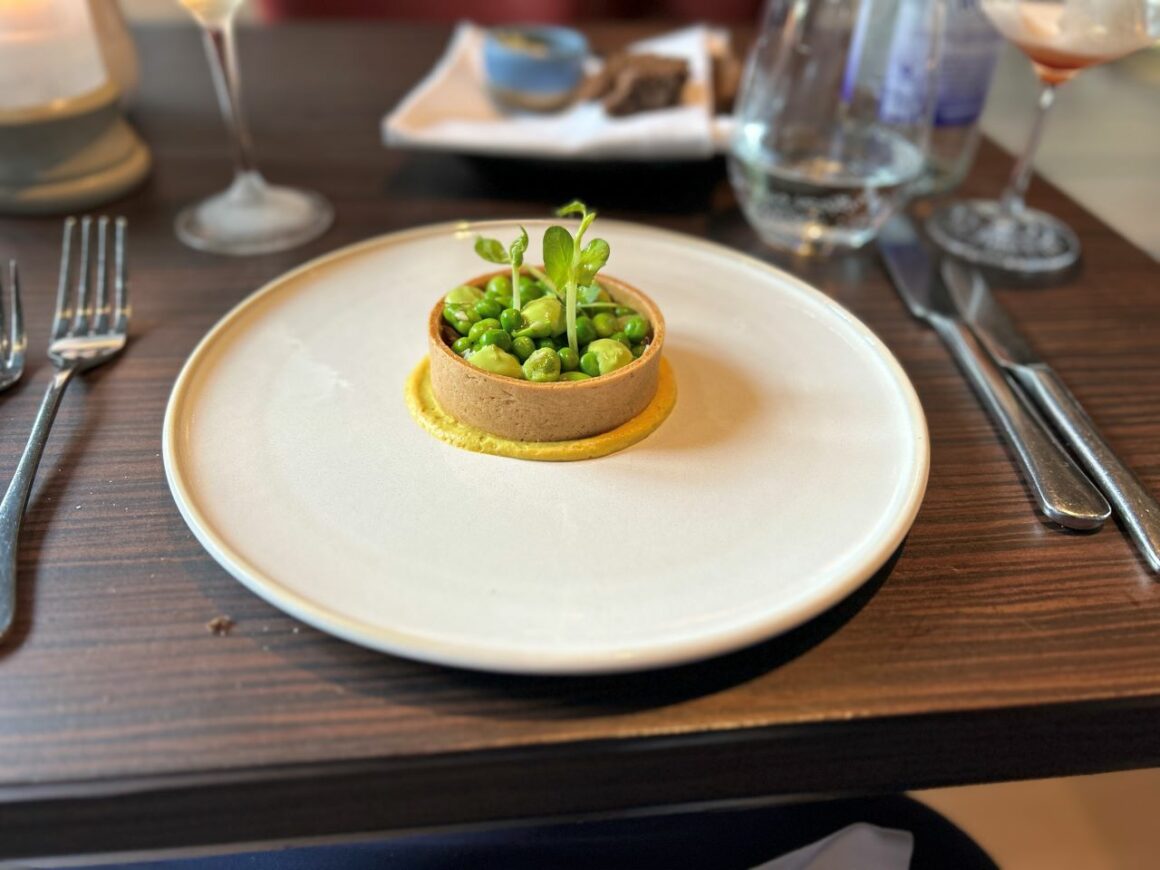 Next came the Arbroath smokie, which I have never had before. I was expecting it to be a bit overpowering, but the broad beans, peas and curried cauliflower custard perfectly balanced out the smokiness of the fish.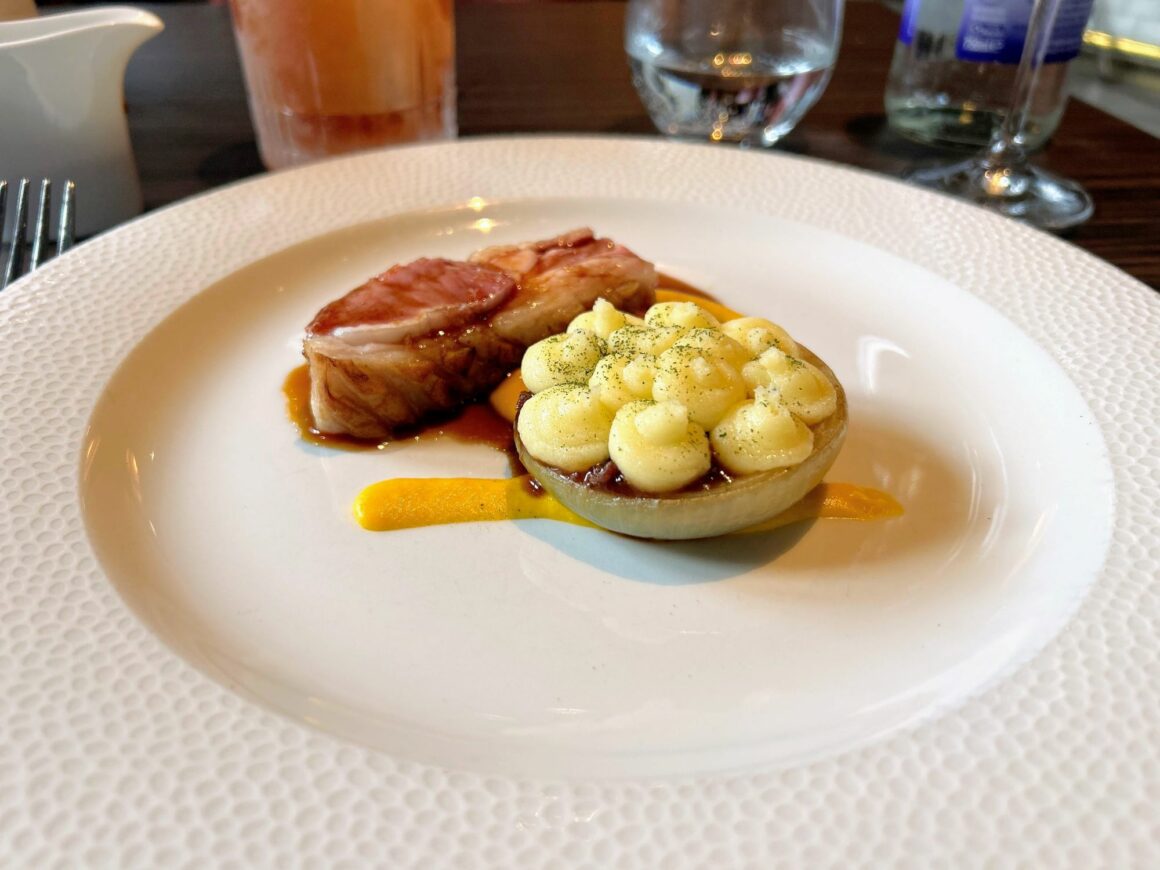 I particularly enjoyed the Perthshire Lamb Loin with Shepherd's Pie Stuffed Onion and Carrot Purée. The onion stuffed with shepherd's pie was genius. It could be a little rich, but having the onion with it cut through that richness of beautifully tender lamb mince. I enjoyed the lamb loin itself but would have liked the fat to be rendered substantially more.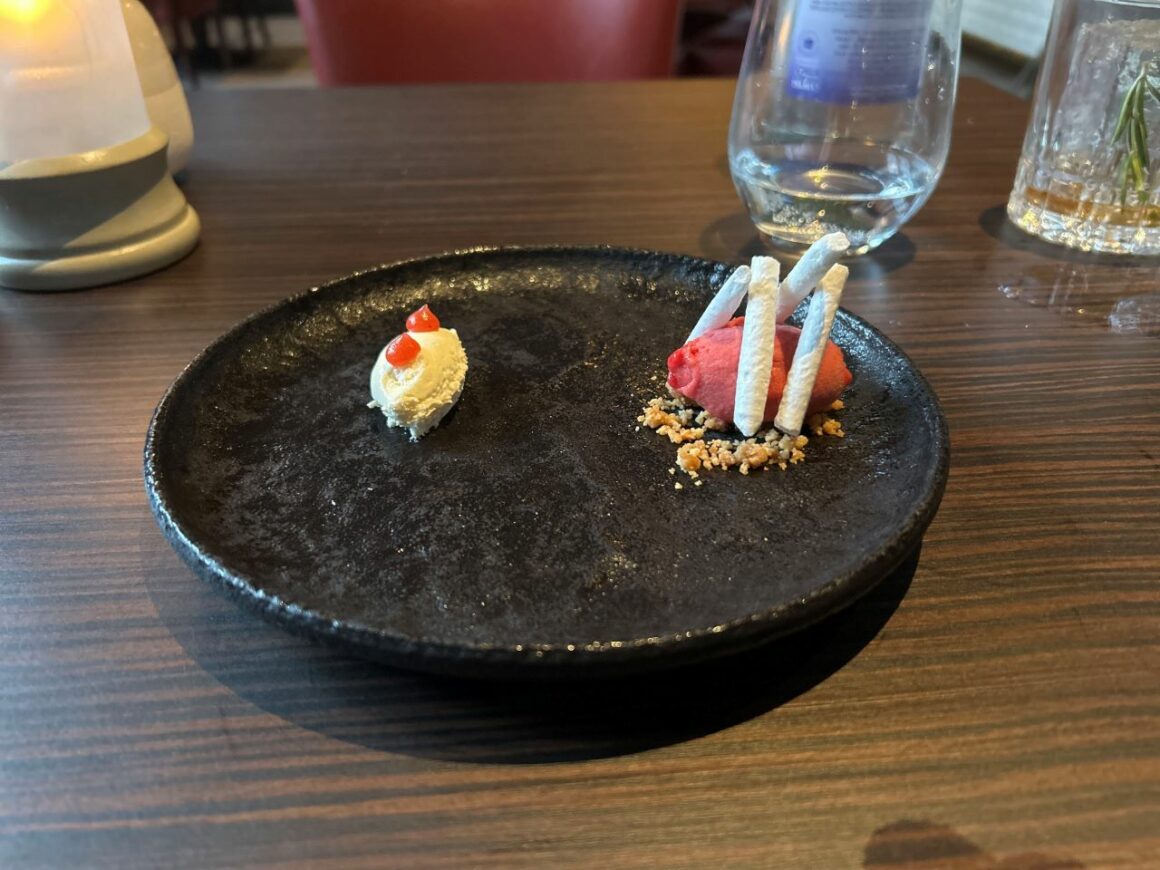 Not having a sweet tooth, I only went for the pre-dessert, which was raspberry sorbet-scented with Kingsbarns whisky, Edinburgh honey meringues and Perthshire cream. This felt like a play on a pavlova and was refreshing, as a pre-dessert should be. There was only a hint of whisky, so it did not overpower the raspberries.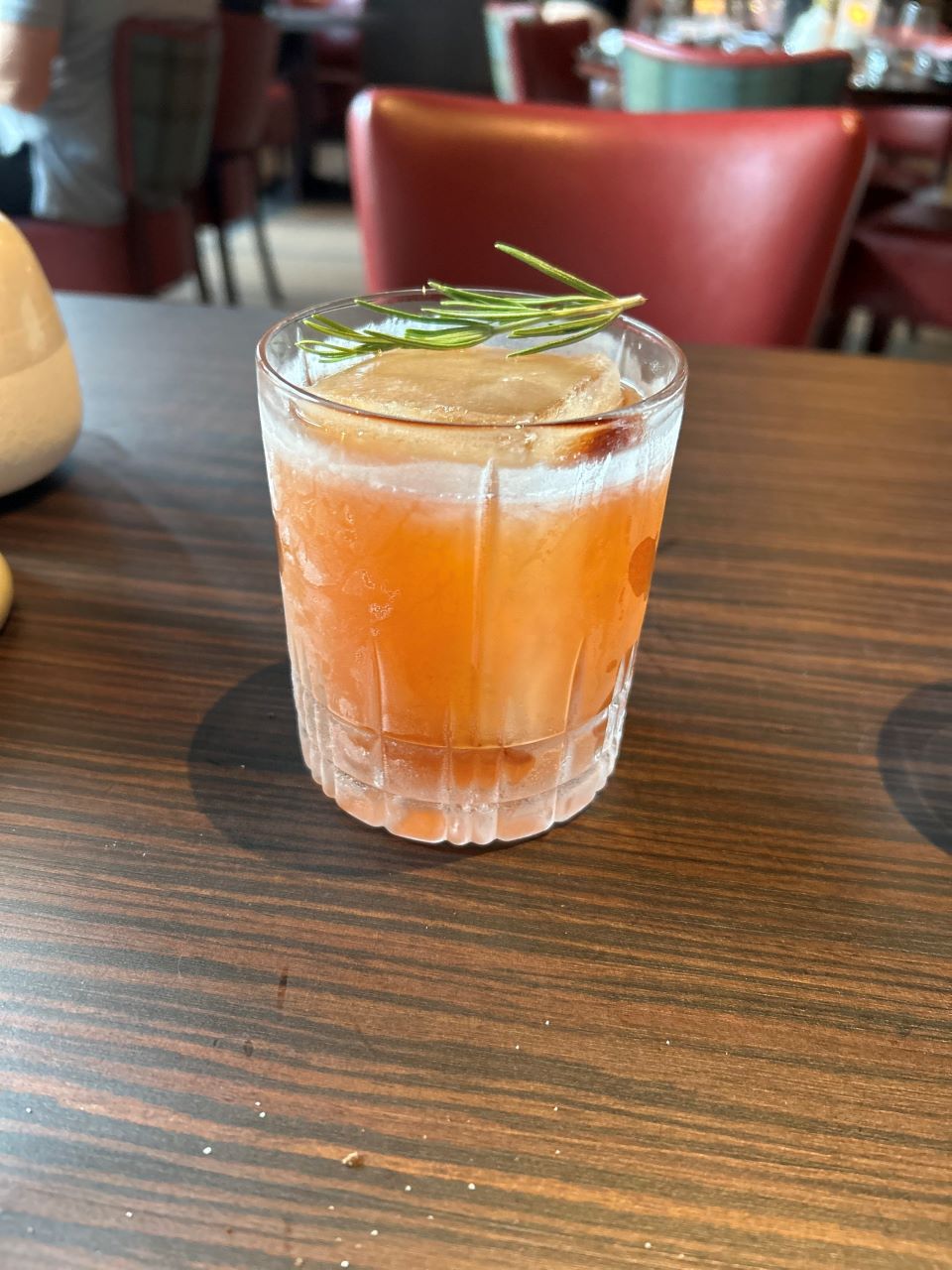 Overall, I really enjoyed the experience and the opportunity to try some innovative cocktails and local food. I'd like to return to try some of the bistro classics.
Breakfast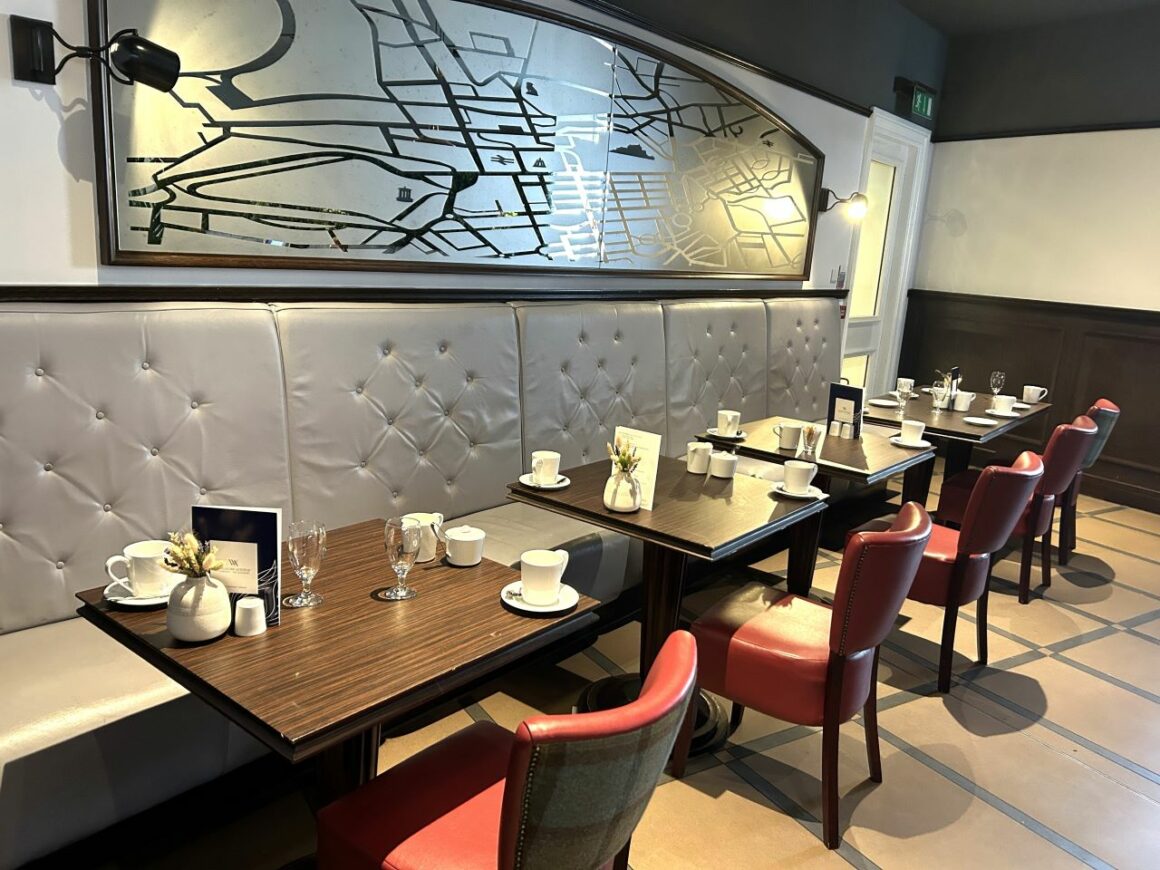 This was also served at Grazing. There was a good-sized buffet, but I did like that there was an a la carte menu, too, which was included.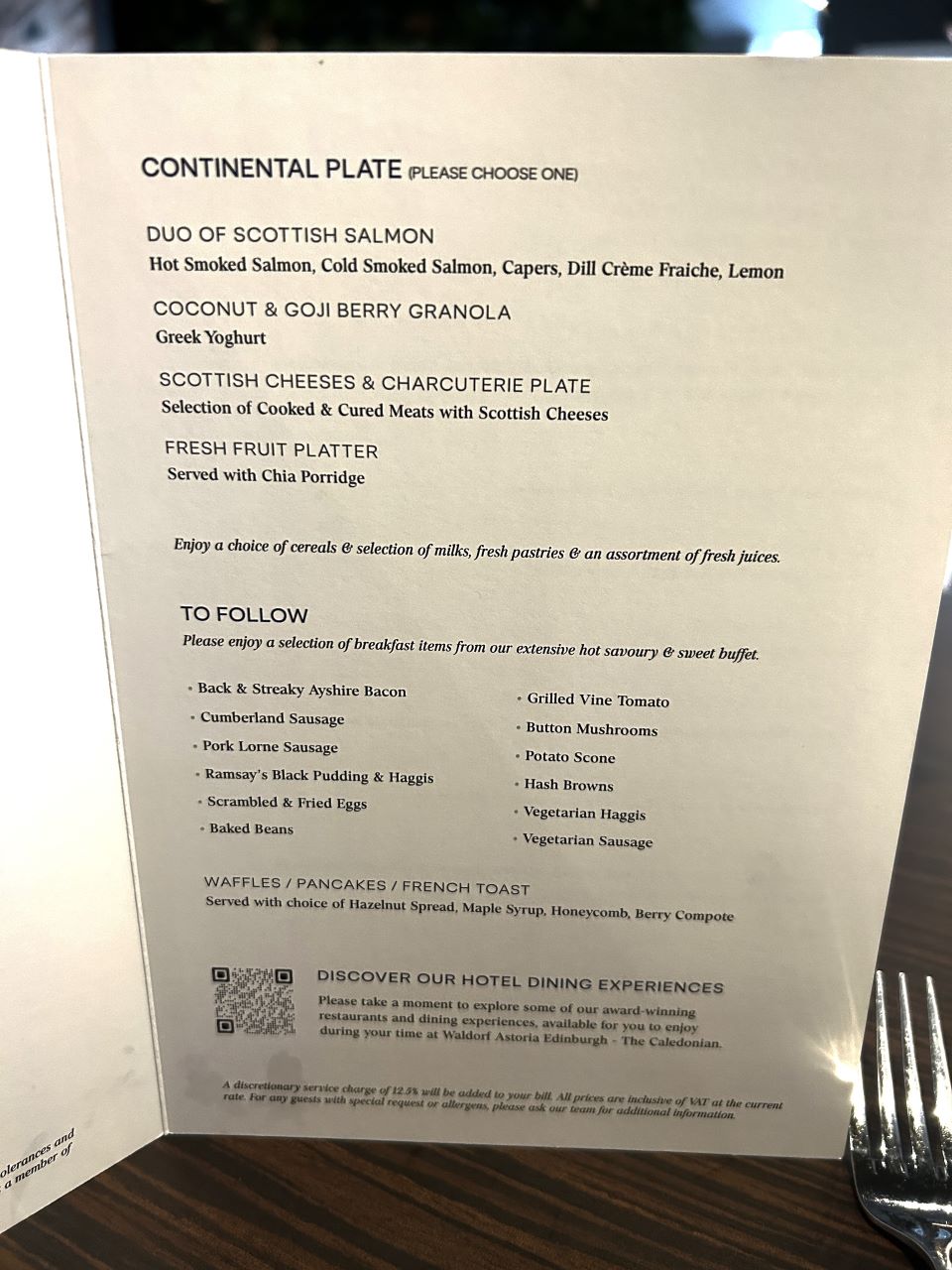 I went with the smoked salmon plate, which was generous but could have done with a little more of the delicious creme fraiche for the amount of salmon.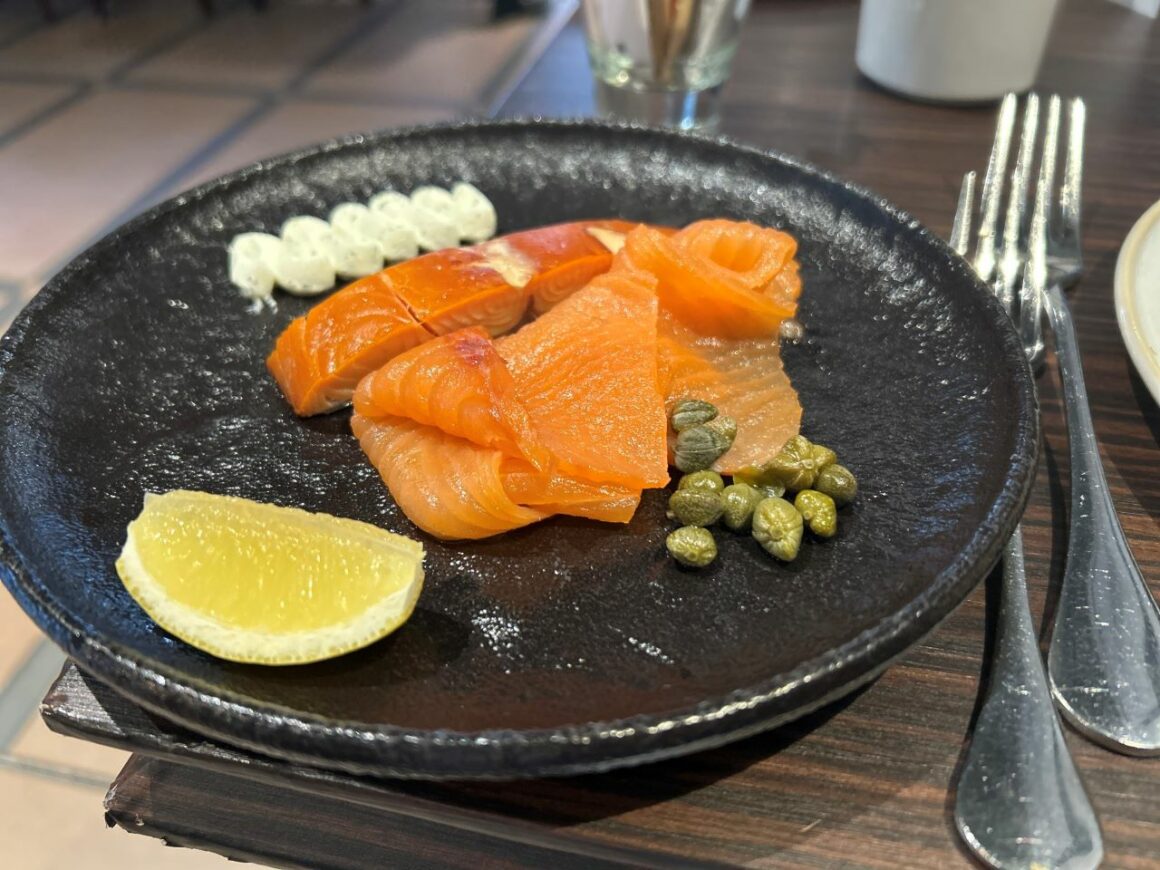 There were also main course options you could choose from as well.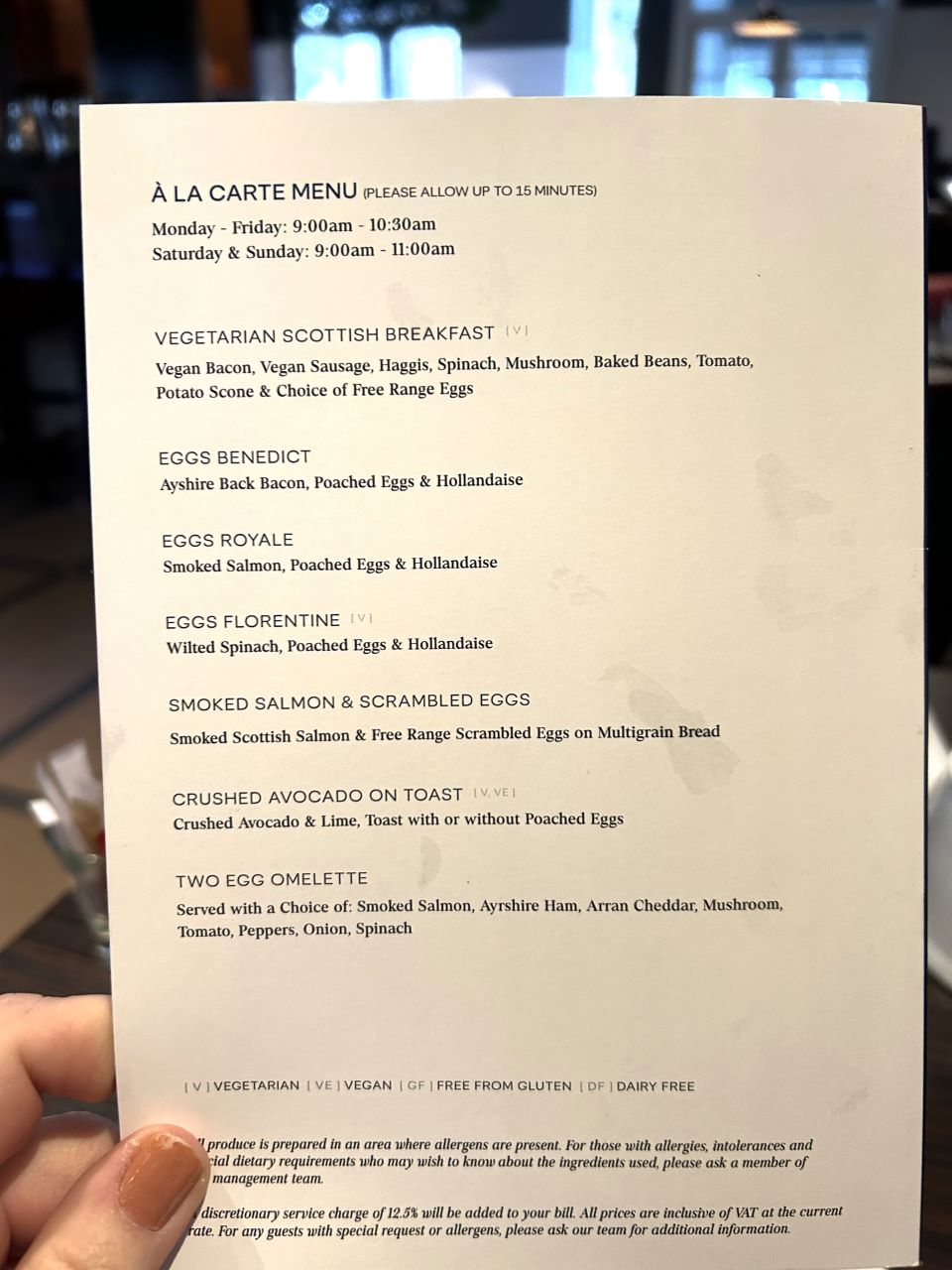 I ordered the eggs benedict. I tried asking for them to be medium since most hotels serve the eggs very runny, but these were a bit overdone. Other than that, they were tasty with good quality bacon.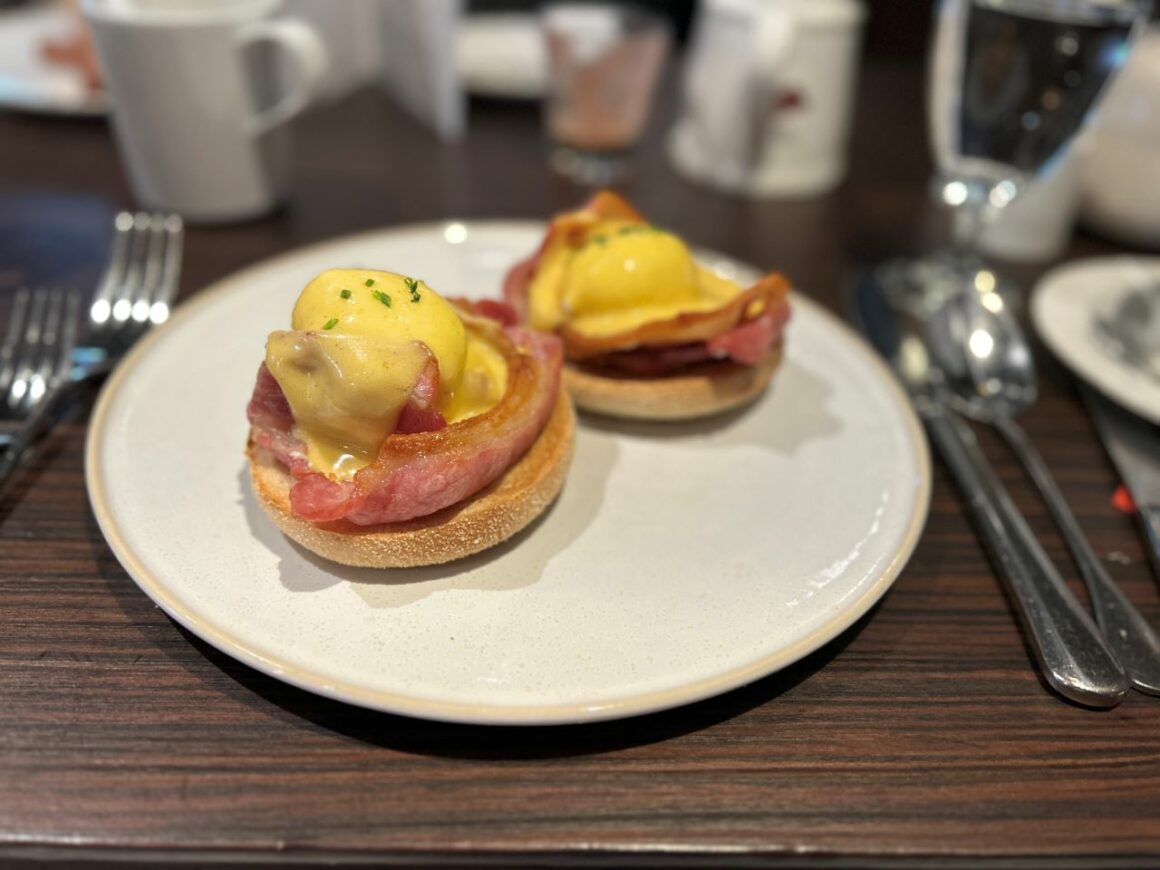 The buffet was also tempting. In terms of a cooked breakfast, this was one of the best selections I had seen with vegan haggis and sausages, square and normal sausage, potato scone (you must try it if you haven't!), normal haggis, black pudding and more. The scrambled eggs were still rich and creamy, which is rare for a buffet.
Spa and facilities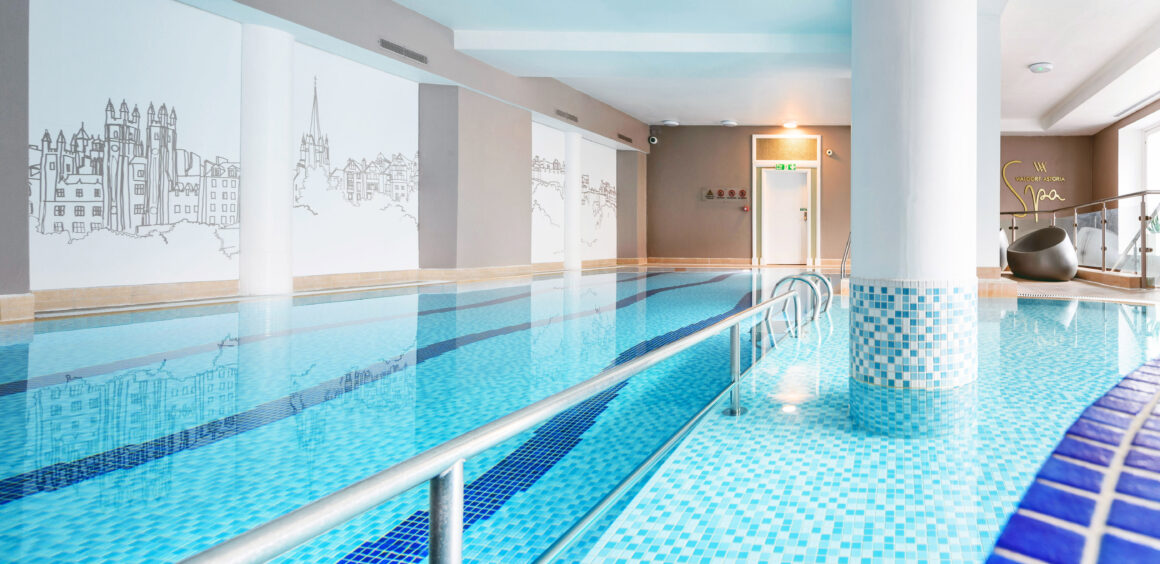 Within the spa, there is a good-sized pool, hot tub, Sauna and Steam Room. Any children under the age of 16 must be accompanied by an adult in the water at all times, and it must be a ratio of one adult supervising per two children in the Swimming Pool. Children under 12 years old can use the swimming pool facilities between the hours of 8am-10am and 3pm-6pm daily. I was there about 4pm and there were quite a lot of children there. The layout is a little odd as you go down to the changing rooms via steps and then go back up again to access the pool.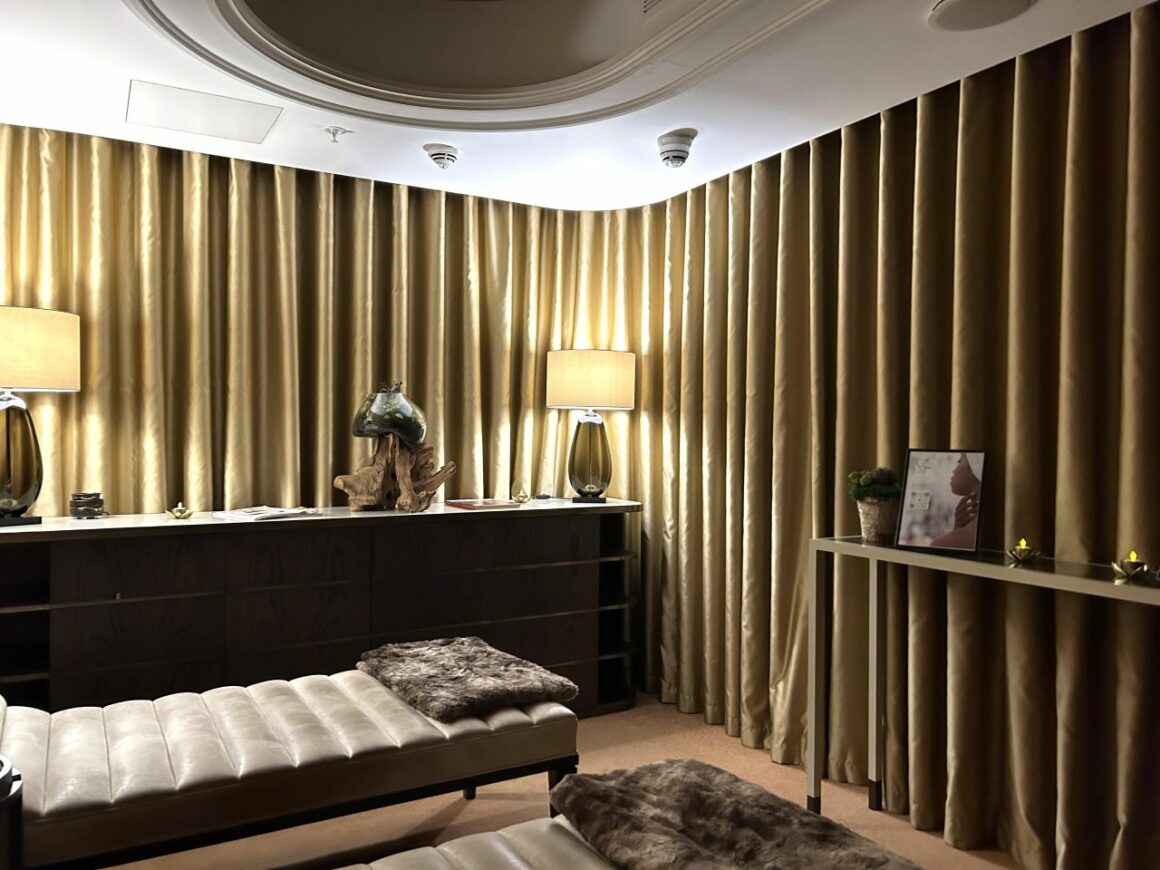 I booked a treatment at the spa to try it out as well as using the facilities there. I went for the Margaret Dabbs Luxurious Foot and Lower Leg Massage (30 minutes) which cost £60. I have had this somewhere else before, and I would say this was better. The therapist was lovely and very helpful.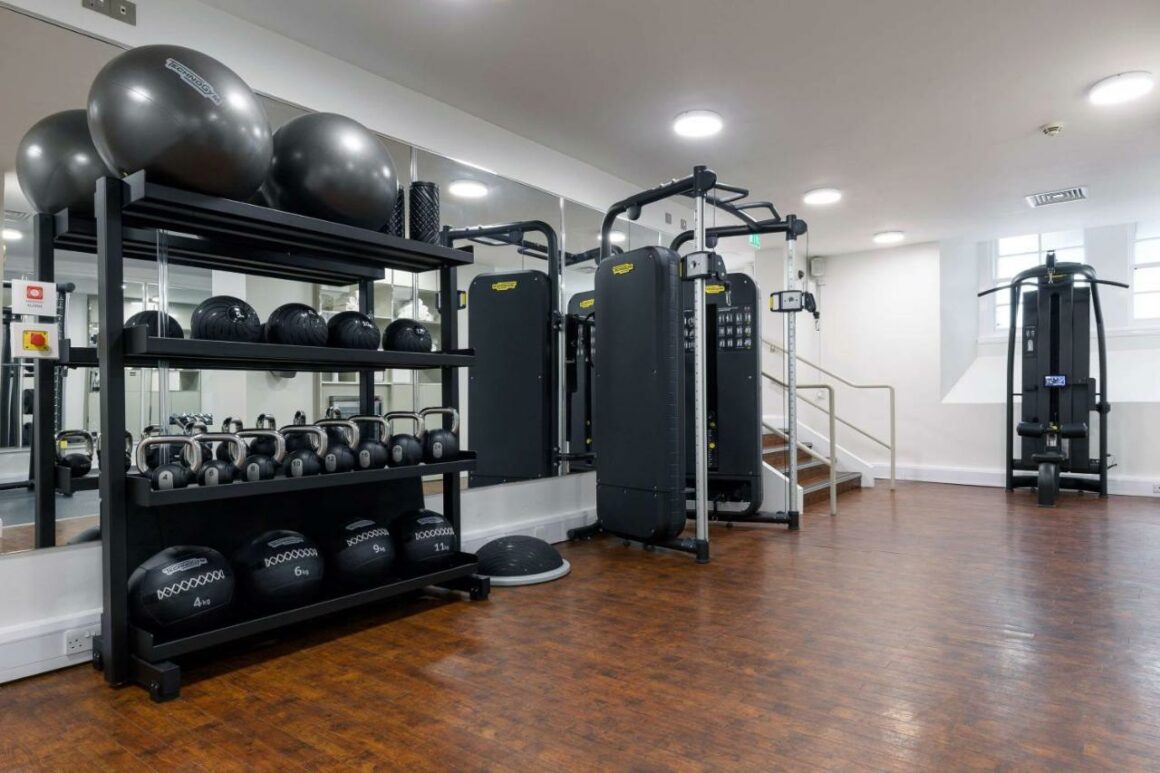 There is also a two floor gym.
Pricing
If you want to use Hilton Honors points, prices start from 95,000 points or, for cash, around £225, which I think is reasonable for Edinburgh, which can be very expensive. You can check prices on the official website here.
If you book through our luxury travel agents GTC, you get your usual Hilton Honors perks and points plus the Hilton Impressario perks which are:
Upgrade on arrival, subject to availability
Complimentary breakfast for two
$100 equivalent food & beverage credit
Double Hilton Honors points
At the moment, they are offering three nights for the price of two for stays booked and completed by 31st March 2024.
Conclusion
This certainly restored my faith in the Waldorf, and it was obvious that the rooms had been upgraded since my last stay. For a special occasion, the Alexander Graham Bell Suite is a remarkable room with stunning views. However, even the lower-category rooms feel luxurious and are well-equipped. The Waldorf Astoria Edinburgh – The Caledonian hotel has a lot to offer on site, with the spa and multiple restaurants making it a haven to return to from the bustling city outside. Despite that, it has a central location near public transport and access to taxis outside for getting around.
I would also recommend the Grazing menu even if you don't stay at the hotel but would like to try a great value fine dining menu with local produce.
Like our review of The Waldorf Astoria Edinburgh – The Caledonian? You can read more hotel reviews here.
If you're interested with other reviews such as what other tourist destinations to go to on holidays, you can check our review of Ras Al Khaimah here.