Brazil is very much on the hot list for destinations at the moment and had been featured in a number of publications recently such as the Sunday Times Travel Magazine. Finally we are also seeing some reasonable deals to Brazil for business class flights too. Our resident Brazilian Claudio shares his recent trip with a friend new to Brazil to help whet your appetite. 
Introduction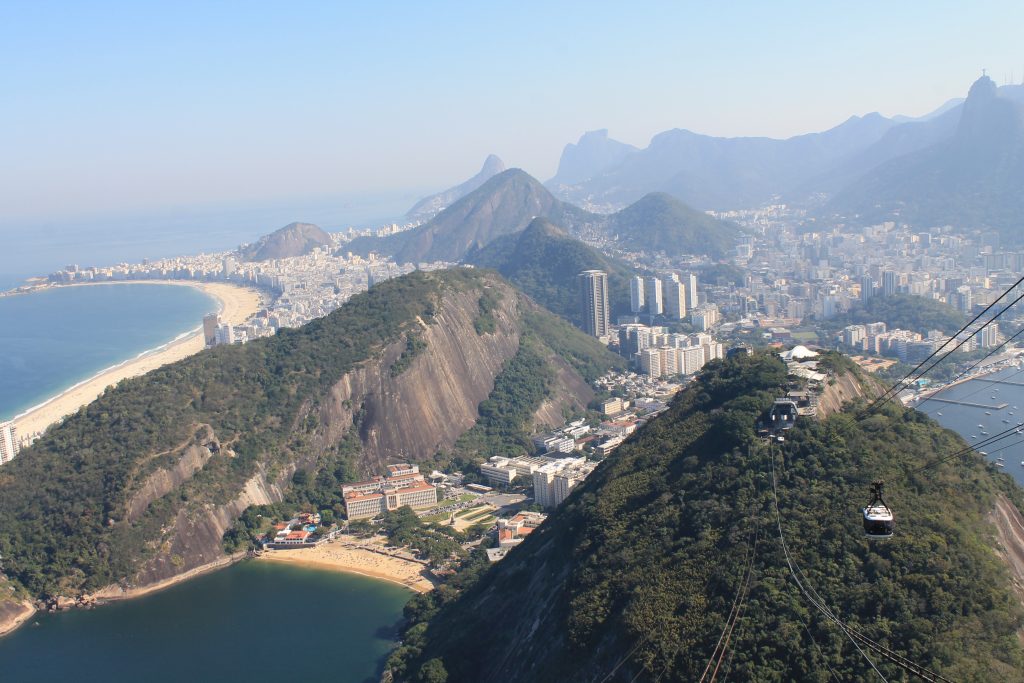 Olá! Seja bem-vindo à cidade maravilhosa! Rio de Janeiro has far more to offer than the beautiful bodies on display in Ipanema beach, believe me! In this review, I will share with you how a friend and I spent four days in Rio and still left with a list of things that we could not fit in, which I guess is a perfect excuse for another trip. Actually, after leaving Rio my friend said: "Can we skip São Paulo and go back to Rio?". Needless to say that I was not amused, given that I am from São Paulo!
British Airways (direct and via São Paulo), Iberia (via Madrid) and LATAM (via São Paulo) offer more than 30 flights per week to Rio de Janeiro. Have a look at this article  for some ideas on how to maximize the use of your Avios on a visit to South America. For this trip, my friend and I flew British Airways first class via São Paulo and used a 2-4-1 Amex voucher.
A final word before we start. Obviously, there are lots of other things to do not only in Rio de Janeiro, but also in places like Paraty and Angra dos Reis which are both a trip in themselves worth exploration at some point. What I will cover below are things we did, but I understand some people might prefer spending as much time as possible on the beach, which is equally good fun. In any case, I hope you enjoy reading it!
Day 1 – Ipanema, Arpoador, Urca and Cobal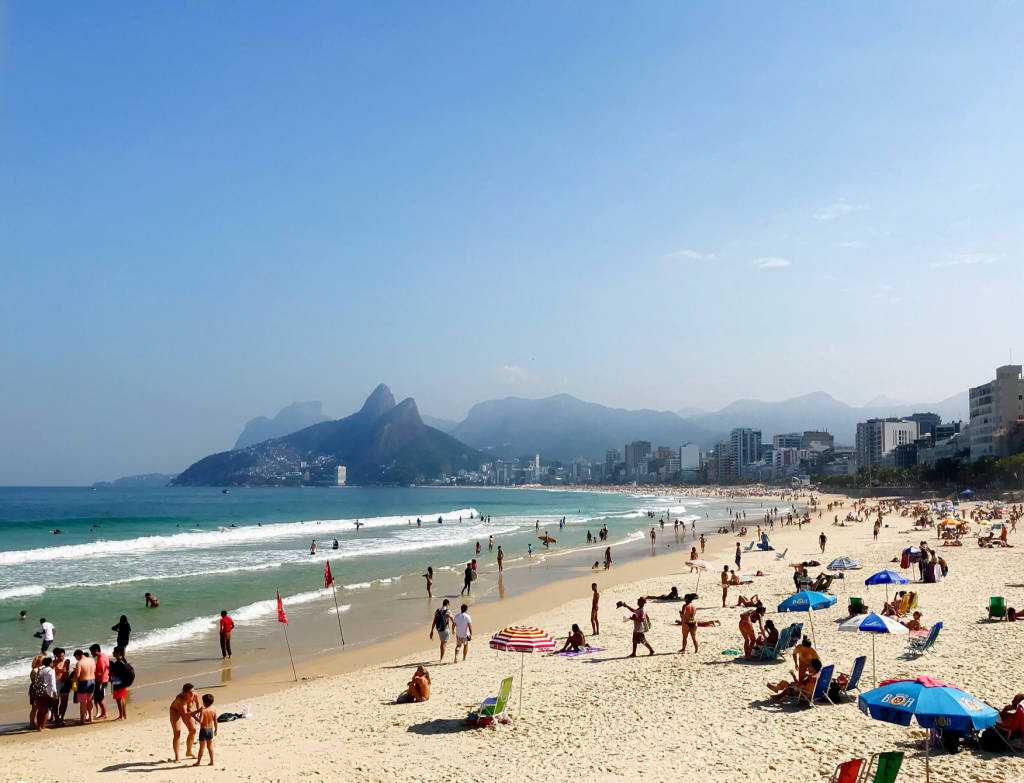 We landed in São Paulo at 6:00 in the morning and then took a Gol Airlines flight to Santos Dumont Airport, the domestic terminal in Rio de Janeiro. This was not without a bit of drama as I miscalculated the connecting time and we had to frantically run from terminal 3 to terminal 2 and were the last ones to board the plane. Therefore, I would suggest allowing something like 3h between one flight and the next.  Anyway, by 11:00am we were in our hotel – the Sofitel Ipanema (I am also doing a review about it in another article – watch this space).
I know … I started the article saying that Rio has more to offer than Ipanema beach and guess the first thing we did … ermmm … Ipanema!!! As our hotel was in Ipanema, facing the beach, immediately after checking in we found ourselves having a walk on Vieira Souto, the avenue by the beach, which some say was the inspiration for the famous Ipanema Girl (Garota de Ipanema) song. A walk on Vieira Souto is a must if you are in Rio. If you do it either early in the morning or late afternoon your attention will be split between the beautiful skyline and the sculpted bodies either exercising on the beach or running on the pedestrian pavement. It is easy to be carried away by the sculpted bodies skyline and get hit by a bike! You have been warned!!!
After hanging around in Arpoador for a while and enjoying the view of Ipanema and Leblon, we decided it was time to head back to the hotel and find some food. We jumped in an Uber and headed to Cobal (a type of fruits and vegetables market with a large number of restaurants) in Botafogo, to have lunch in a place called Espírito do Chopp,  recommended by a friend of mine. We had picanha (a premium cut of beef very popular in Brazil), which seems to be one of their specialities and while we waited for it we enjoyed some cold local draft beers. The place was very relaxed, and a majority of the clientele were locals, which is always a good sign when looking for food overseas. Menus were only in Portuguese, but easy to follow as it had pictures, and ultimately one can always use Google translate to scan the words.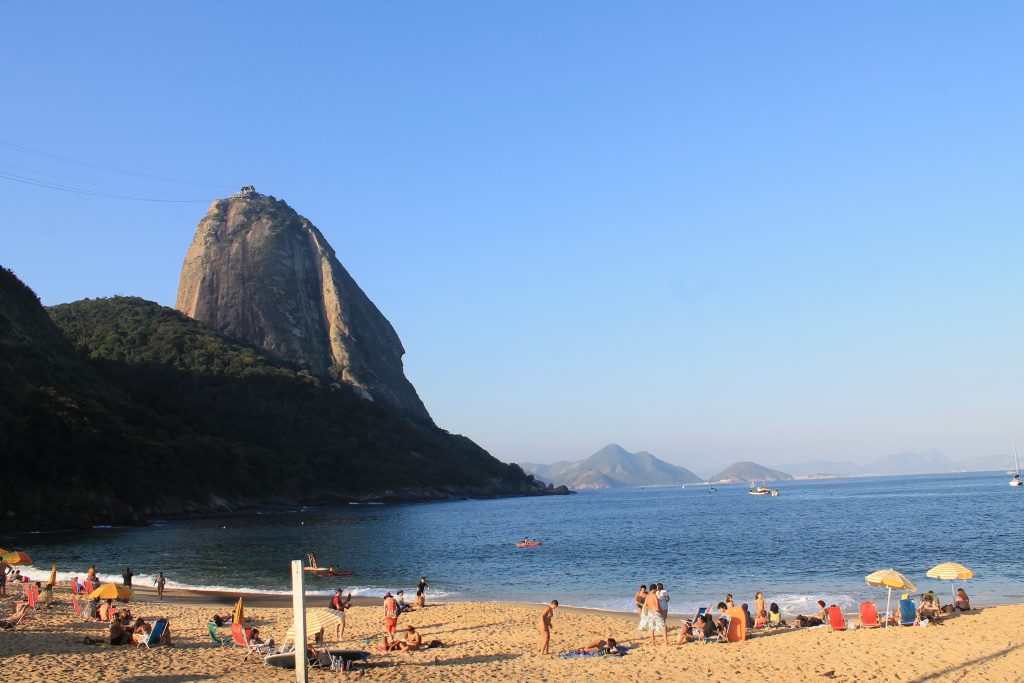 Our next stop after lunch was Urca, which is where people take the cable cars to go to the Sugar Loaf. Once at Urca, instead of taking the cable cars, we had a walk on "Caminho Claudio Coutinho" that goes around the Sugar Loaf. It was a lovely choice as it gave us the opportunity the appreciate some good views, birds and the marmosets. One thing to keep an eye on is the opening hours as the Claudio Coutinho walk is gated and it closes at 18:00h. I guess the best times to be there are either early morning or late afternoon.
Once done with "Caminho Claudio Coutinho" we walked to "mureta da Urca" to watch the sunset … and what a sunset! We had clear skies on that day and it was just amazing to watch the sun going down with Christ the Redeeming on its left and the Sugar Loaf on its right with the bay just in front of us! This seems to be very popular with the cariocas (locals born in Rio de Janeiro city) as people were seating on the "muretas", listening to music with cold beers on their hands just having a good time, oblivious to the amazing show the sun was delivering! Certainly, it was a remarkable way to finish our first day in Rio de Janeiro.
Day 2 – Tijuca Forest, Pedra Bonita, Vista Chinesa & Pedra de Gavea
Day two started on a more civilized note with a proper breakfast in the hotel and then we were under our friends Julio and Italo's care for the entire day. They picked us up at the hotel promising to do something different … and yes …. it was nothing that someone would expect for an ordinary Sunday, even when you are on holidays!
We drove to Tijuca Forest, a national park in Rio de Janeiro, and went up to Pedra Bonita with stops at the Vista Chinesa (Chinese View) and Pedra da Gavea. It was very easy and comfy getting to the Chinese View by car with air conditioning. Well … that was as far as our civilized day went! After the Chinese View, we drove a bit further and had to park the car and continue by foot. To put things into perspective, I am a fairly good walker and I struggled going up, having to stop a few times to catch some air.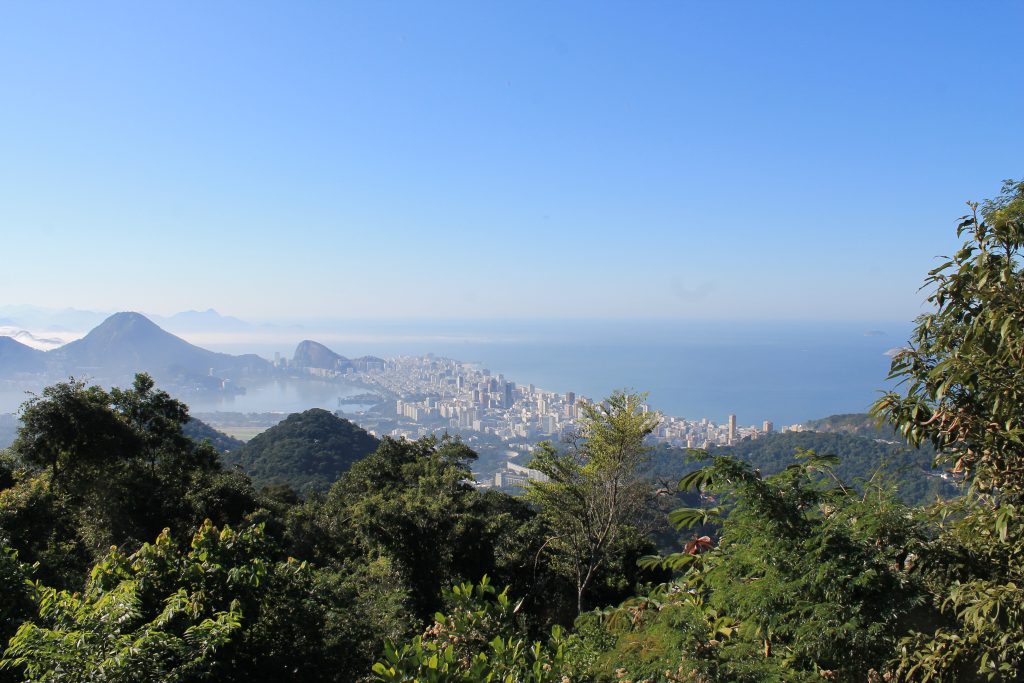 Anyhow, leaving the drama aside the walk was amazing as we were tracking in the middle of a tropical forest with excellent views of Rio de Janeiro, surrounded by exquisite birds and monkeys which was a welcome bonus!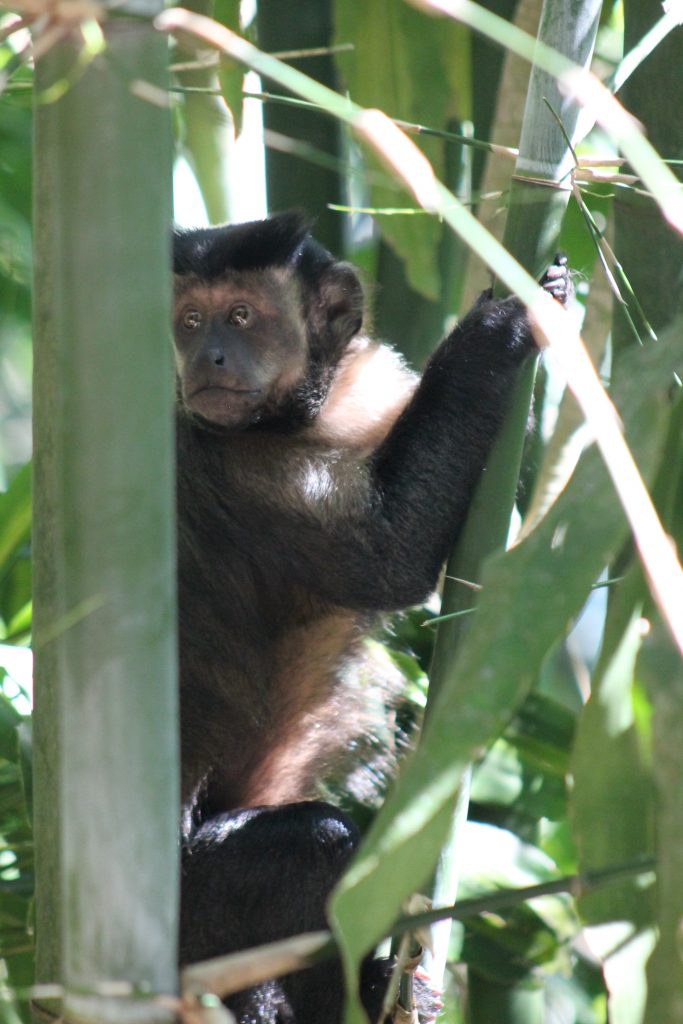 Our first stop was at Pedra da Gavea where we spent some time just watching people paragliding and hang gliding. I like flying, but that looked quite extreme for my health and safety standards!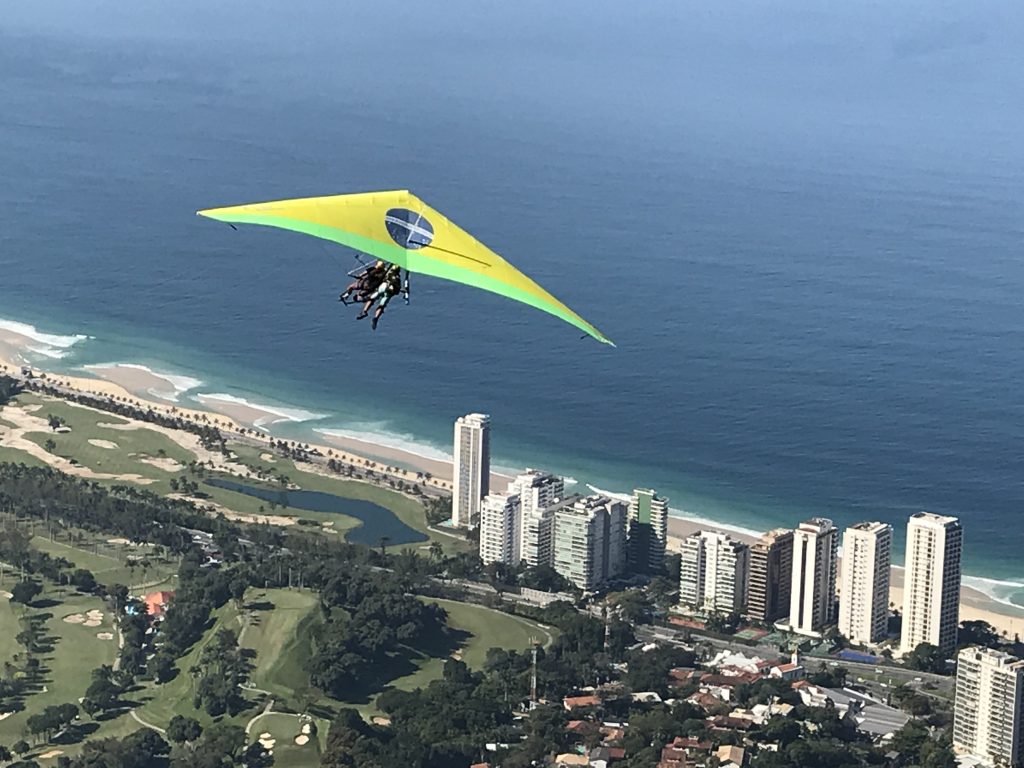 Next stop was Pedra Bonita and all the walking and sweating paid off as we could see parts of Rio de Janeiro, Barra da Tijuca neighbourhood and a large favela from there! If you decide to do this track while in Rio you would need to book with a tour in advance or make friends with locals very quickly as I would not advise you to do it on your own.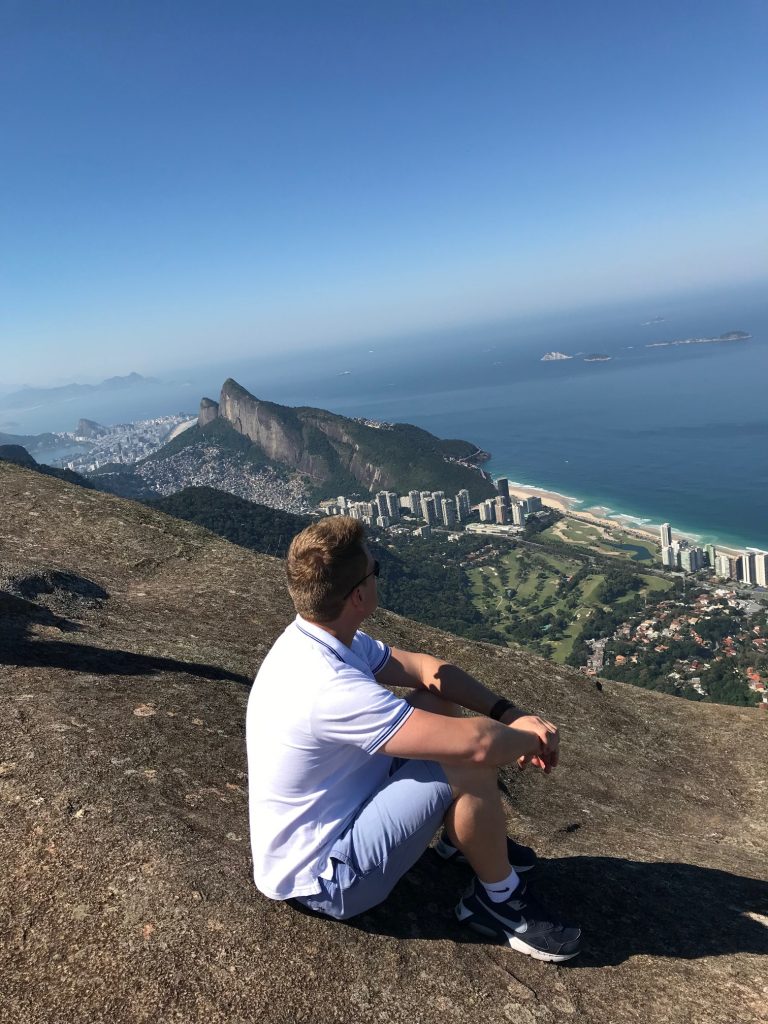 Once done with the walking, we drove to Barra da Tijuca for lunch and had a beautiful afternoon visiting the local beaches. We finished the day with some drinks at one of the many kiosks watching the sun sink over a mountain. Back in Ipanema, we went for dinner in a restaurant next to our hotel called Via Sete which was lovely as we could sit outside to drink and eat with a fairly international crowd interspersed by well-knowing locals. During the meal, we were treated to a street show of capoeira which is an Afro-Brazilian martial art that combines elements of dance, acrobatics, and music. It was clearly done for the tourists, but it was still an enjoyable experience.
The second day was perfect, thanks to Julio and Italo!
Day 3 – Christ the Redeemer, Sugar Loaf & the library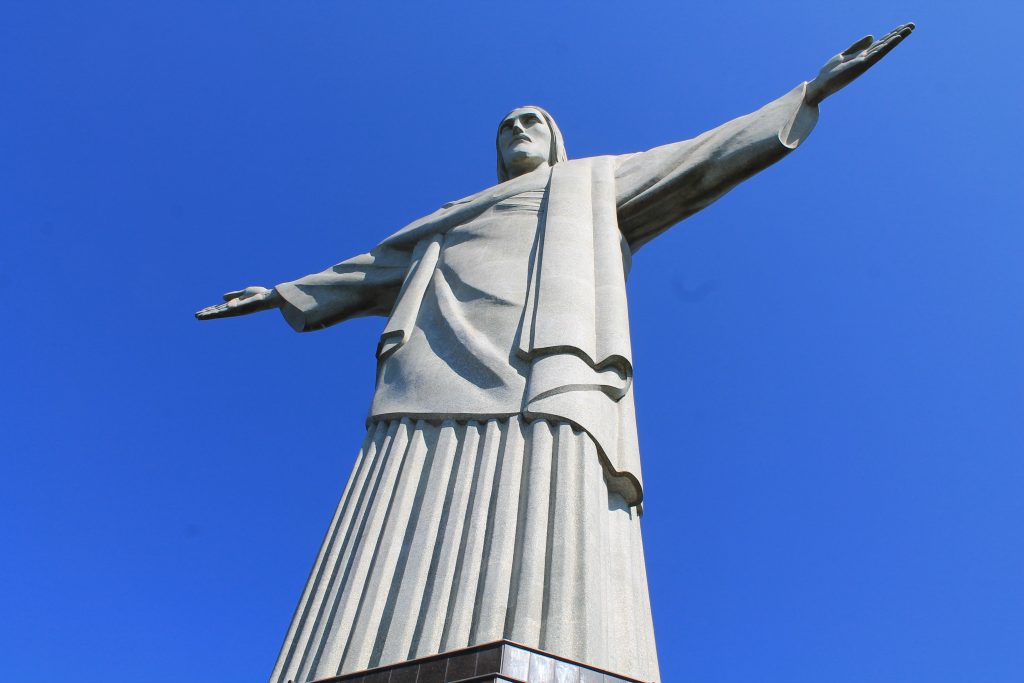 On our third day we did the more usual tourist things when visiting Rio de Janeiro for the first time. It started with a visit to Christ the Redeemer to appreciate the views and take a couple of pictures.
Instead of wasting your time by telling you how good it was, I will focus on some suggestions to make better use of your time. Firstly, book your ticket online and in advance at Trem do Corcovado, which in my opinion is the best way up. Second, plan to visit it early in the morning, ideally be on the first trip up as it gets really busy and people with their smartphones and selfie sticks are all over the place. On the way up, although you will be travelling backwards, sit on the right side of the train as you will have very good views after a certain point.
Next, we jumped in an Uber and went to the Sugar Loaf. Again, my advice is to do it as early in the day as you can, which means combining the Christ the Redeemer and the Sugar Loaf on the same day might not work. To avoid queues, book on line.
With these two "must dos" out of the way, we started doing more cultural things. We visited the Real Gabinete Português Leitura, which appears in a number of dedicated lists as one of the most beautiful libraries in the world. The place is very small, but yes, it is beautiful and very much like it appears in the pictures. Next to it we came across a church called São Francisco de Paula, which had an impressive interior – worth a quick visit given that you will be in the area.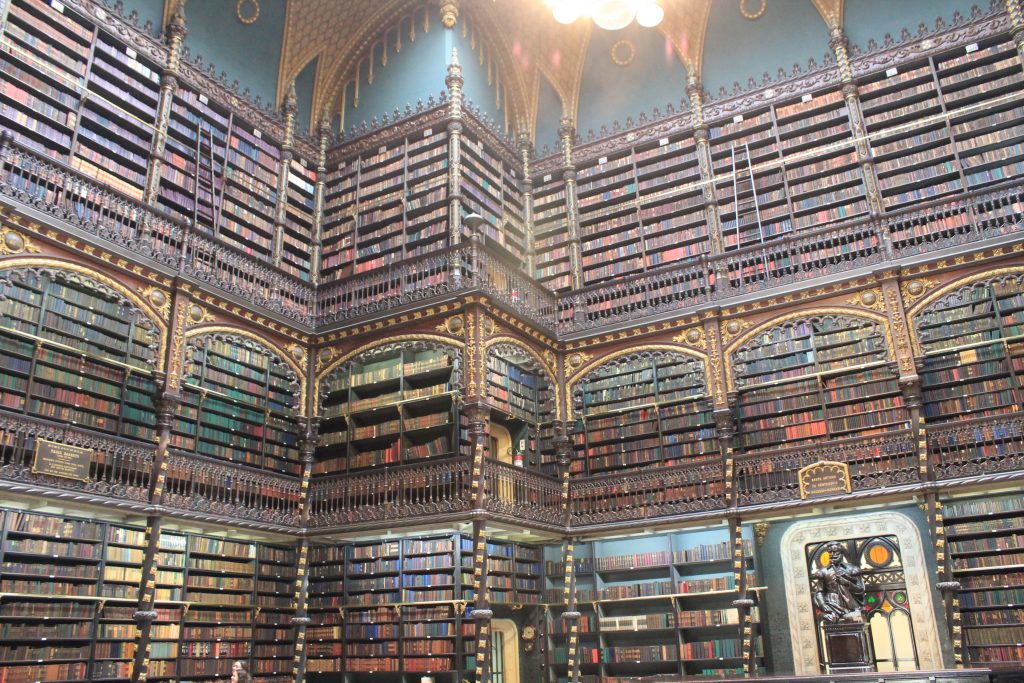 After this visit, we took the underground back to the hotel and went for another walk in Ipanema as we wanted to appreciate the … views … in the area one more time. This time we went from Ipanema to Copacabana on a long walk by the beach watching another beautiful sunset, appreciating the sea and watching people. We got carried away with the views and when we realized we were more than 3km away from our hotel! Just look at the pavement in Ipanema and Copacabana … I know, with so many better things to look at I am suggesting you to look down … but you will notice the stones have a different design which are famous in their own right and mimicked across the world whenever there is an attempt to evoke an air of Rio, but never quite achieving it.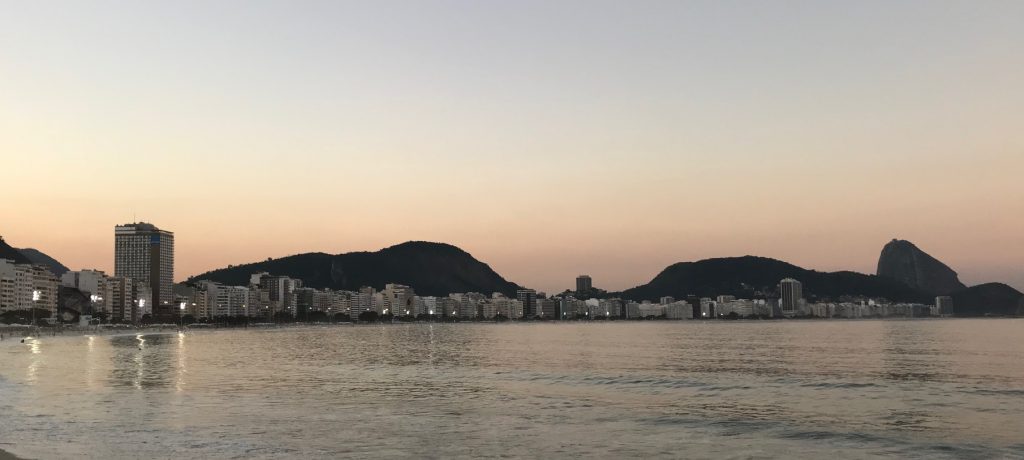 Back at our hotel, we decided to have a drink at the roof-top bar before dinner, which was a good idea as we had a lovely time there. To finish the day we went for dinner in a traditional restaurant in Ipanema called Garota de Ipanema, where apparently the composer of Ipanema Girl used to be a regular. We had something very similar to what we had at Espírito to Chop, and to be honest, we were a bit disappointed with the overall experience. Probably because it is a place full of tourists, we did not receive the same attention and service as in Espírito do Chopp, but the food was equally good.
Day 4 – Museu Histórico Nacional, National Library & Teatro Municipal
Our last day in Rio de Janeiro! Our day started with breakfast in a very traditional place called Confeitaria Colombo, which was established in 1894 and a must for the affluent cariocas at the time. I would recommend a visit as food is good and the place is beautiful. Either book a table or arrive early, otherwise you might have to queue. After having been properly fed we went to the Teatro Municipal for a guided visit in English, which was cancelled and we had to wait for the next one (only in Portuguese). While we waited, we visited the National Library where the most beautiful thing is the entrance hall and then the Museu National de Belas Artes that had a mixed range of both classical and contemporary art, which while promising, did not necessarily leave a lasting impression. These two buildings are not a must, but if you are in the area and have a couple of hours to spare, they are worth a visit.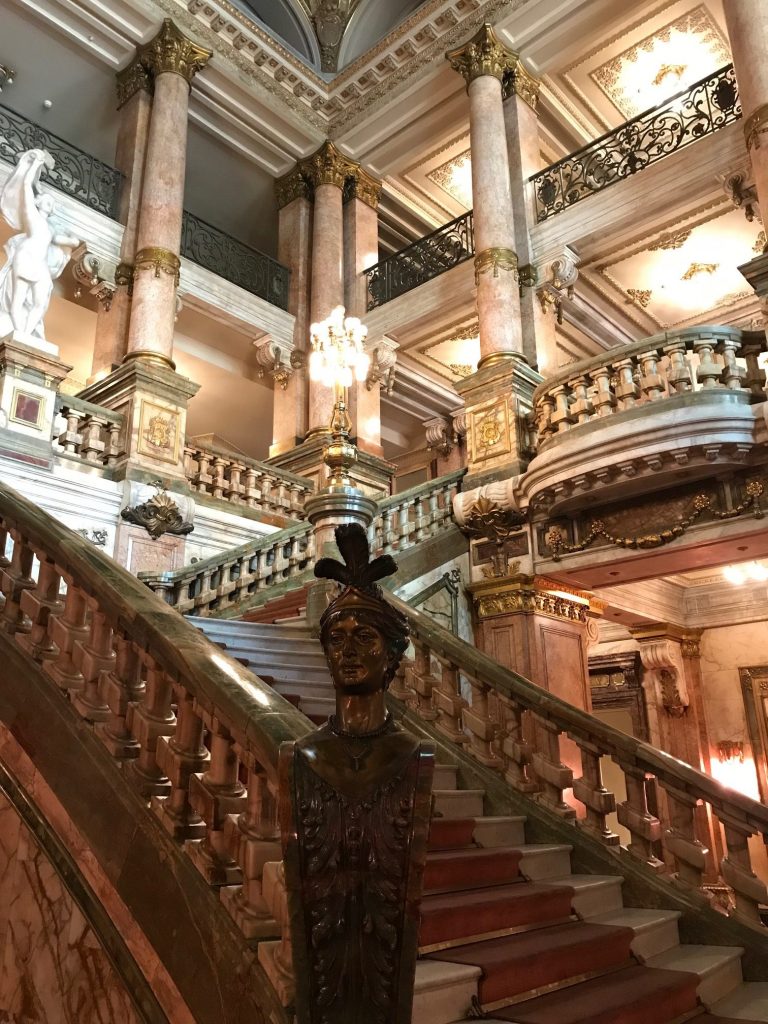 The highlight of our last day was definitely the Museu Histórico Nacional, which covers the history of the Brazilian civilization starting with the native Indians, passing to the colonization through to the contemporary period. I will just re-enforce, it was definitely a fascinating visit and I strongly recommend this museum on an itinerary to Rio.
Finally, we went to the Boulevard Olímpico for a walk and then to visit the Museu to Amanhã (Tomorrow's Museum). While we were successful with the first, we failed to get into the museum, which was clearly very popular. On Tuesdays, the day we were there, it is free, and by the time we got there the queue was massive and people were being turned away. Back in Ipanema, we finished the day with drinks in a lovely buteco (pub) close to our hotel and then dinner in a nice small restaurant serving typical Brazilian food.
Conclusion
We had a fantastic time in Rio de Janeiro and will definitely go back as there are a number of things we didn't see. Next time we will certainly give the usual spots a miss, with the exception of Ipanema, and look at other areas to explore. The city has a lot to offer and one just needs to plan what to do. If you are a beach person, you definitely must go between October and end of March, but if not, I would suggest you to go during the southern hemisphere winter as things are a bit quieter, just avoid July – it's school holidays in Brazil.
People always ask me questions about security when Rio de Janeiro is the subject, so I wanted to share some thoughts about it. We didn't feel unsafe anytime during our four day trip and just took the normal precautions one must always do when visiting some developing countries regardless of where it is. Use common sense all the time and you will be fine.
Ah! Before I go, in case you are wondering, cidade maravilhosa means wonderful city. This is a how the cariocas call their city! Até logo!