This is the third part of regular contributor Gus' trip to Santiago, Ritz-Carlton Hotel Santiago review. You can read about his BA First and Club flights to Santiago here and his lounges experiences here.
Ritz vibes
The Ritz-Carlton has always conjured up vivid feelings of grandeur, luxury and service for me since I first stayed in one in Tokyo about a decade ago. So I was curious to see if these nostalgic feelings would be matched when I checked in to the Ritz in Santiago for a few nights as part of my trip to Chile's thriving capital Santiago.
The Ritz-Carlton Santiago is one of a decent number of international 5-star hotels, with 205 rooms, located in the smart El Golf area, not far from both the financial and 'downtown' districts, and only a stone's throw from both the W, and the Hyatt Centric. It's a lovely-looking building, with a distinctive domed roof that houses the spa, pool and gym.
Booking Ritz-Carlton Hotel Santiago and pre-arrival comms
But before I got inside I did have some correspondence with the hotel after I'd seen the rate dropped down after my booking. I'd booked through the AmEx Platinum FHR programme, which gave free breakfast, wifi, guaranteed late checkout and the possibility of an upgrade (and which also let me earn points through my membership of the Marriott Bonvoy scheme, which cardholders also get Gold status in).
I asked them if they could reduce my room rate – some £300+ per night for an Executive Suite, one of their top rooms – to match the new rate. Initially, they declined, citing that was the locked AmEx rate, which felt a little uncool given it was also a flexible room I'd booked, so in theory I could have cancelled and then rebooked the whole thing anyway, but when I asked the Platinum Concierge team they got the (mainly symbolic) discount applied.
Arrival and getting comfortable
Either way, it didn't leave the greatest feeling prior to travelling out there. That, however, did change on arrival, as the hotel was as lovely and welcoming as it looked prior to arrival in person. While masks were still required, you could still detect that Ritz Carlton 'signature scent', which nicely complemented the atrium decorations and the friendly door and reception staff.
On the morning of check-in, before I arrived, they messaged to confirm the room was already ready, which was welcome news after the long flight over, and when I did arrive there, I was well looked after and quickly upstairs to unpack and refresh and explore. (There was also a welcome amenity of some delicious sugary evil, but it didn't actually come until about 5pm for some reason).
Room – Executive Suite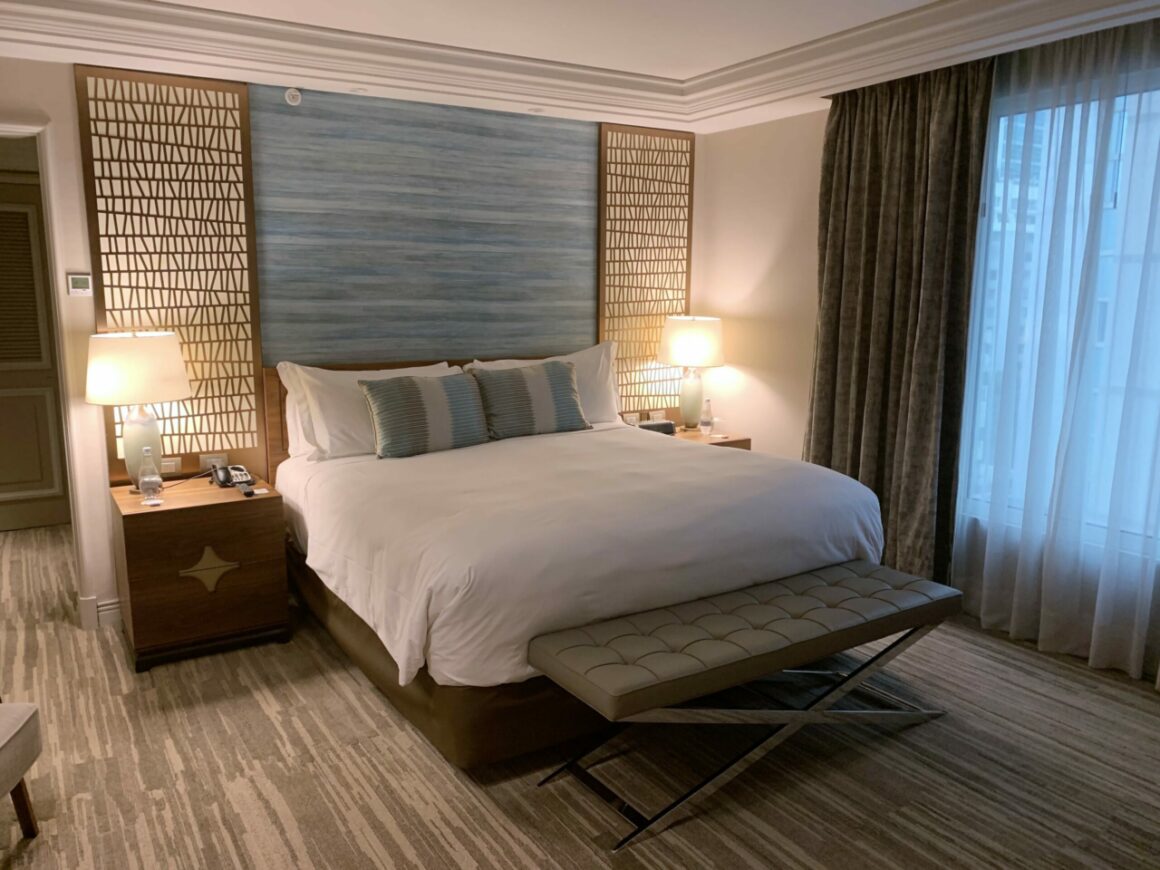 The room itself was seriously comfortable, though I think I'd timed the visit well as pre-pandemic reports showed it was in need of a refresh, which it has now had relatively recently. That said I didn't get any upgrade, which is most likely down to having failed to book a lower room rate, in the hope of the auto-upgrade.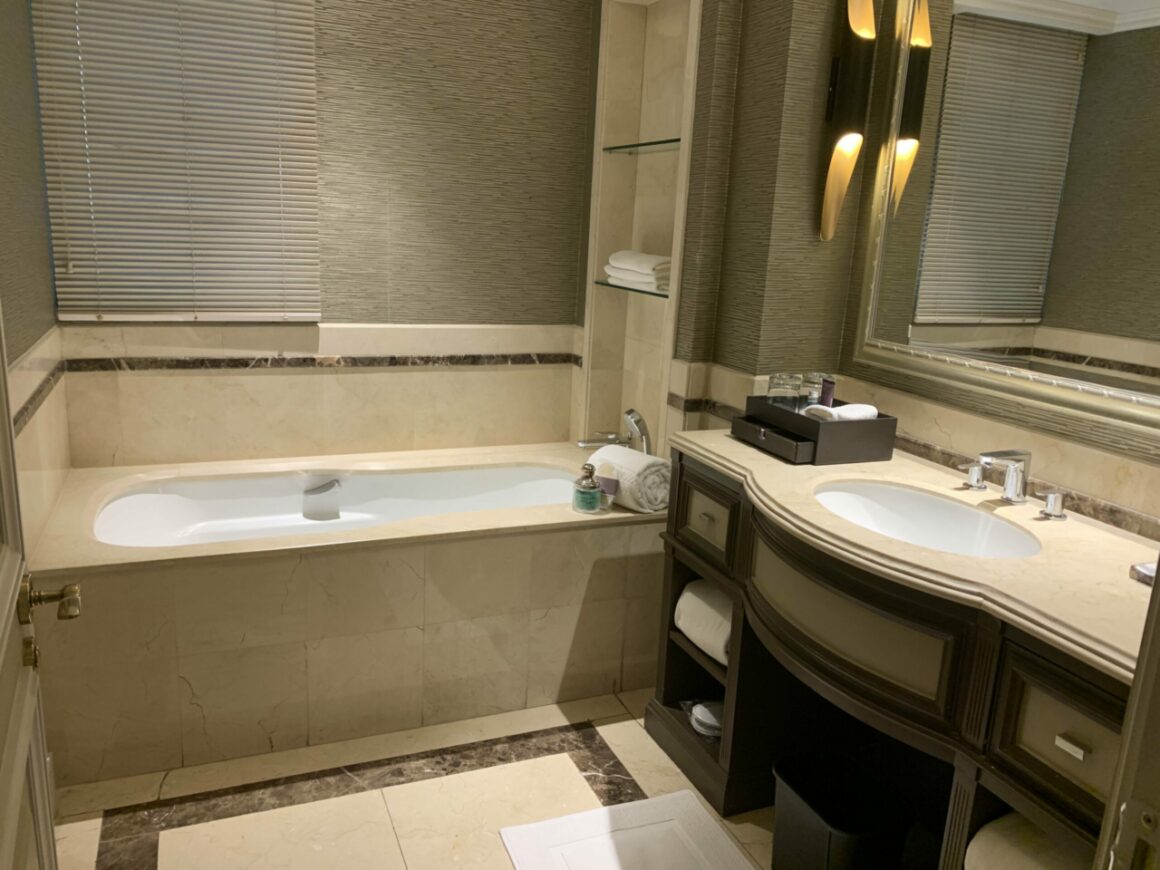 Anyway, the room was great, with everything you'd want and expect from a hotel and room at this level. The lounge area, in particular, had various seating options and fun art on the walls, while the bathroom was marble-tastic and well kitted out with amenities galore.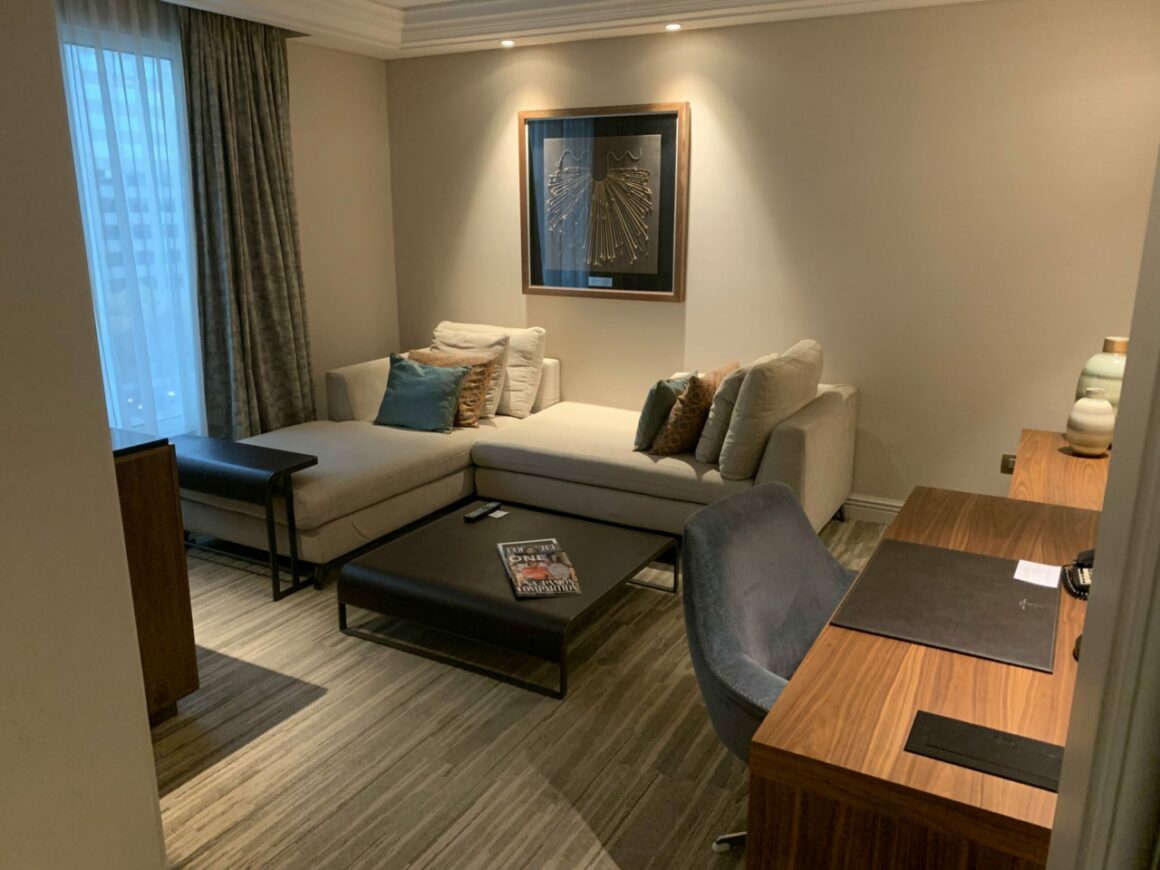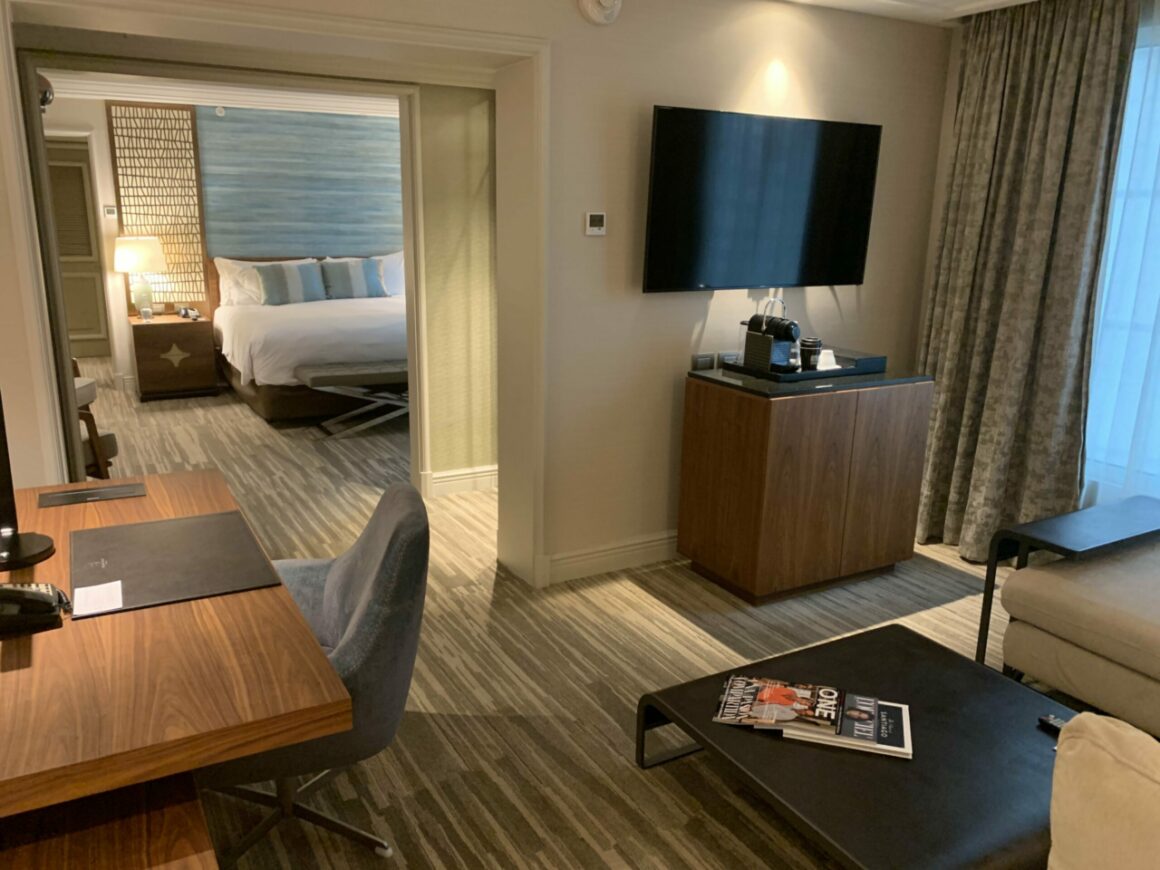 Relaxing at the pool and spa at Ritz-Carlton Hotel Santiago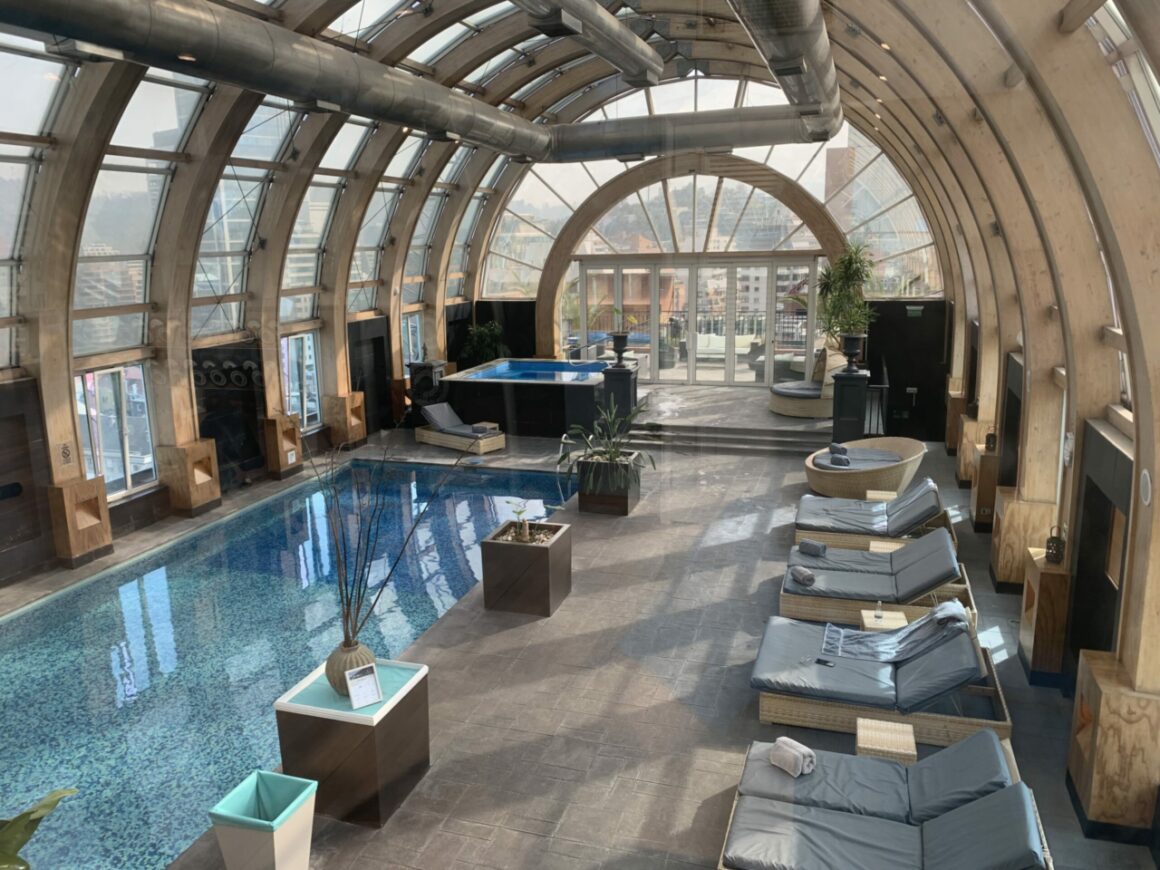 It didn't take long for me to get out to the pool and spa, which occupied the whole mostly-enclosed upper level and roof of the hotel building. The set-up gave it a real feeling of space and light, although I have to say that you could tell the curved glass panes hadn't been cleaned for years, which was a pity as it could have been so much more of a dramatic space if it had that level of TLC.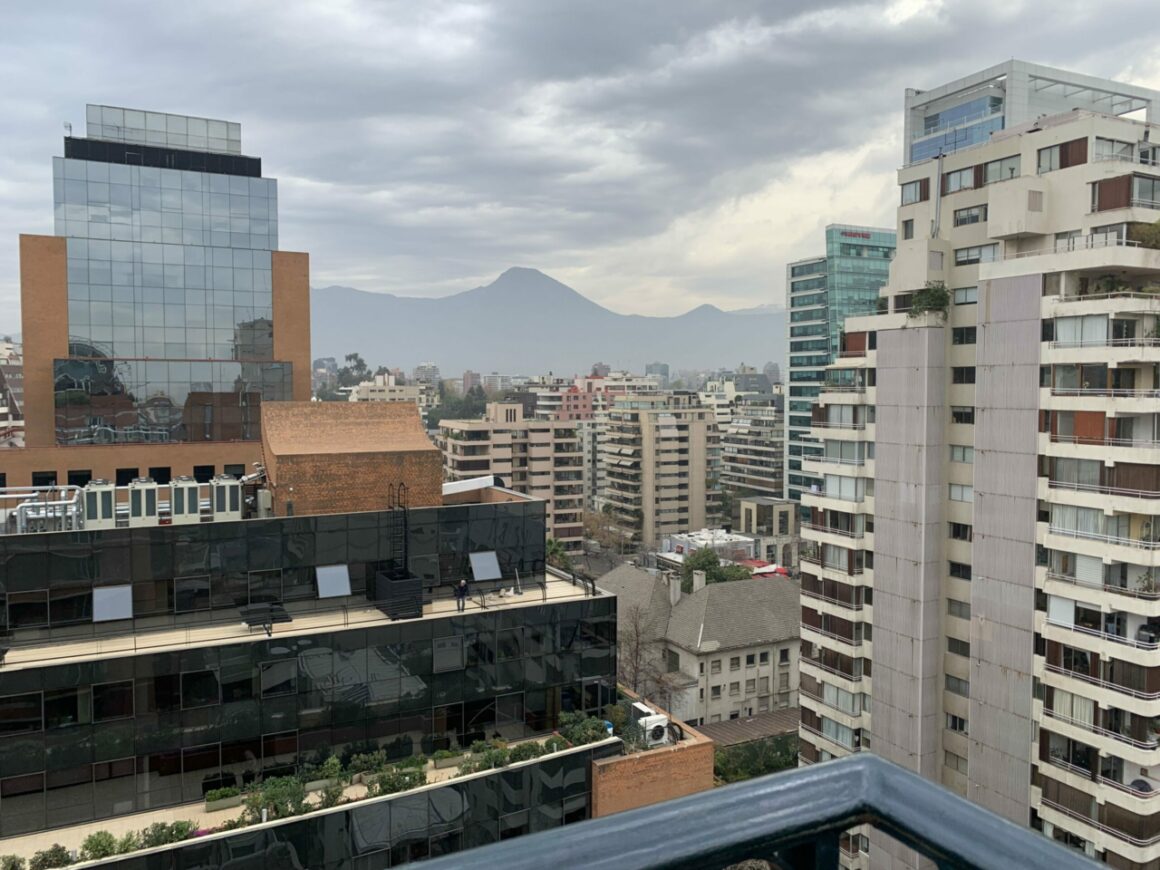 The pool itself was a great temperature, and the cabana-style loungers were comfy and relaxing. (I may or may not have had a daytime doze there on more than one occasion..). There was also a nice jacuzzi, from which you had a little extra elevation to enjoy those rooftop views, and to gaze at the cityscape.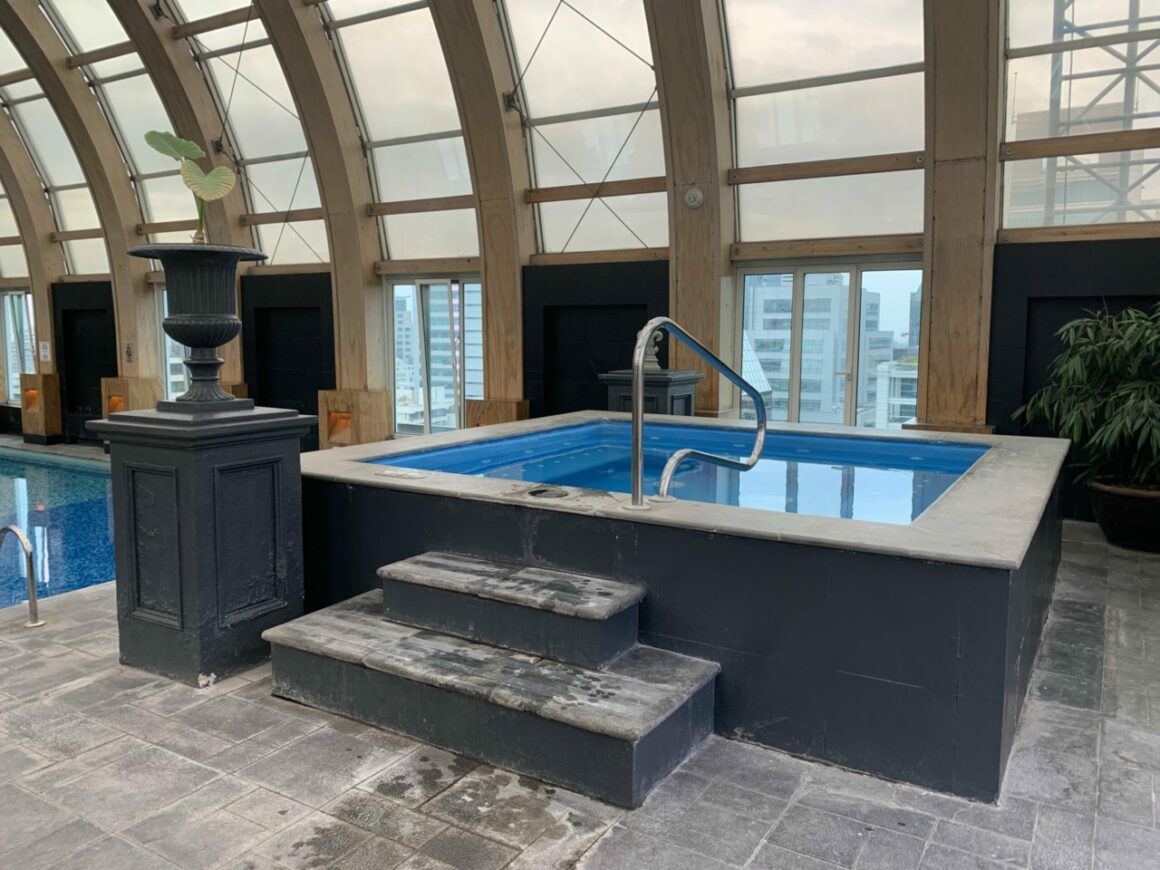 Interestingly while Santiago does have this wonderful backdrop of being in the valley between the mountains, that same geology traps much of the city's pollution, meaning that very often there is a smog, which is a bit of a shame.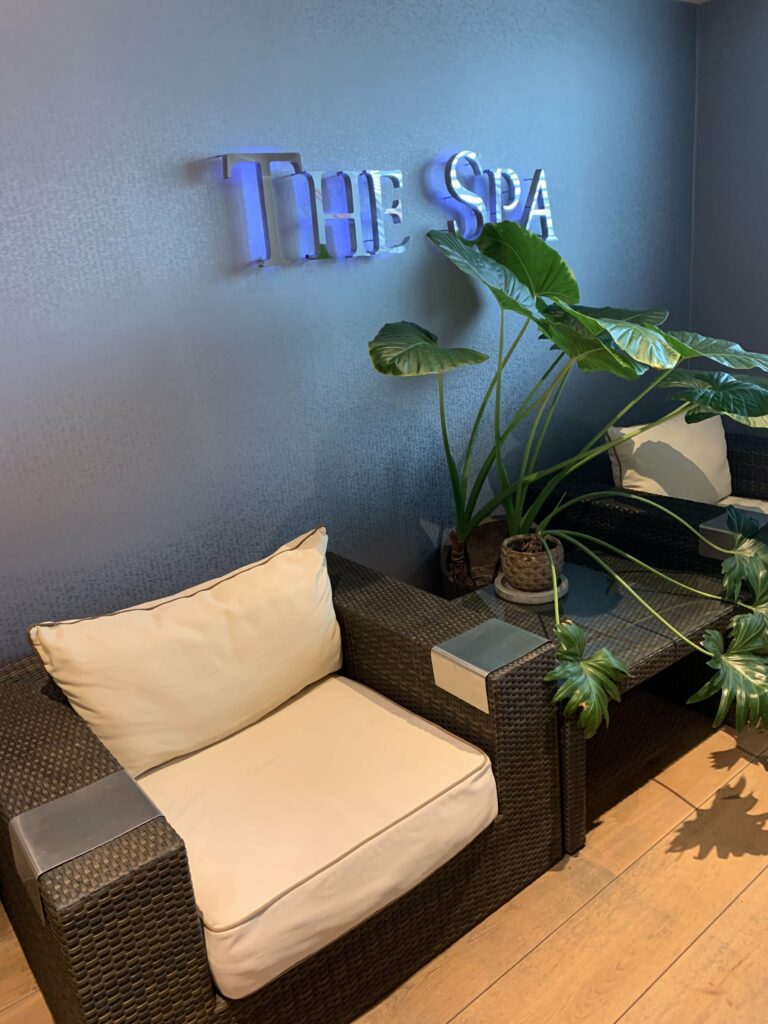 Gym and Club Lounge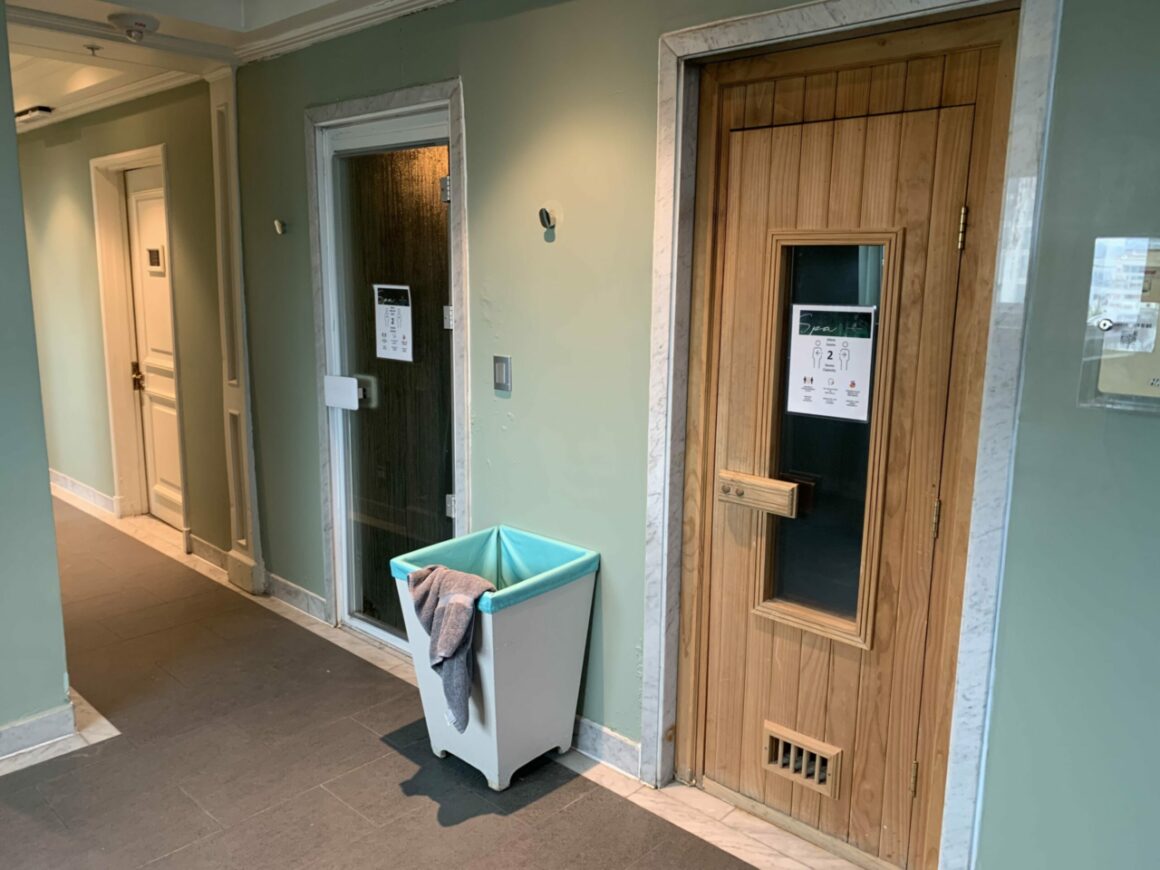 The gym had a mezzanine-style view over the hills and the pool, and was kitted out pretty well It was actually a fair bit busier than the spa and pool during my stay. There were small sauna and steam rooms too, which were good to spend a few minutes in. I didn't have a proper massage, but the 'menu' looked good, and the set-up would have been pleasant I'm sure.
My room also gave me access to the hotel's Club Lounge. I have to say I was impressed with the range and generosity of the food spread there each evening. It also had good opening hours, and if you wanted you could pay around $25 to bring in a guest if you wanted. There was absolutely tonnes of food, and it was beautifully presented, and incredibly more-ish.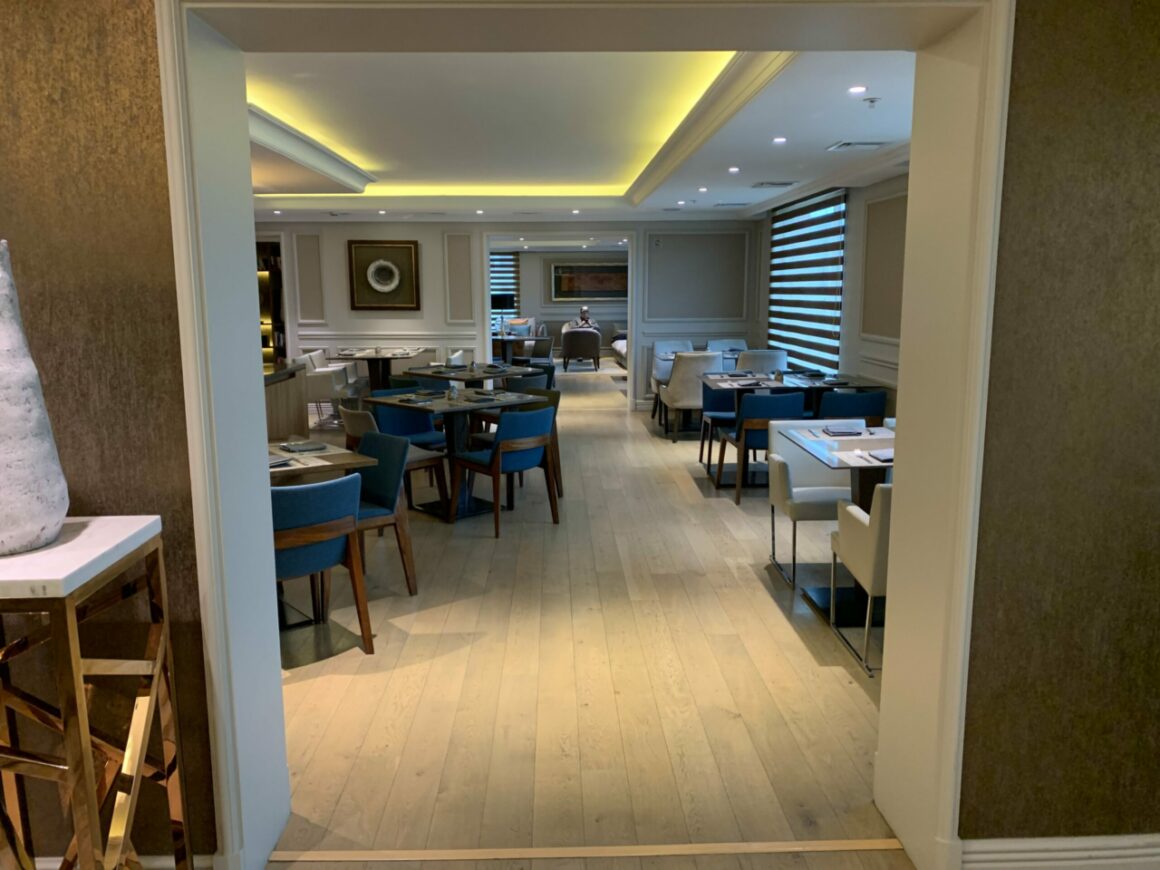 Beyond the munch, however, the lounge was a little dry in atmosphere, and for me the oddest decision was that all the windows had heavy blinds over them, obscuring the views, which surely would otherwise be one of the main attractions of the space?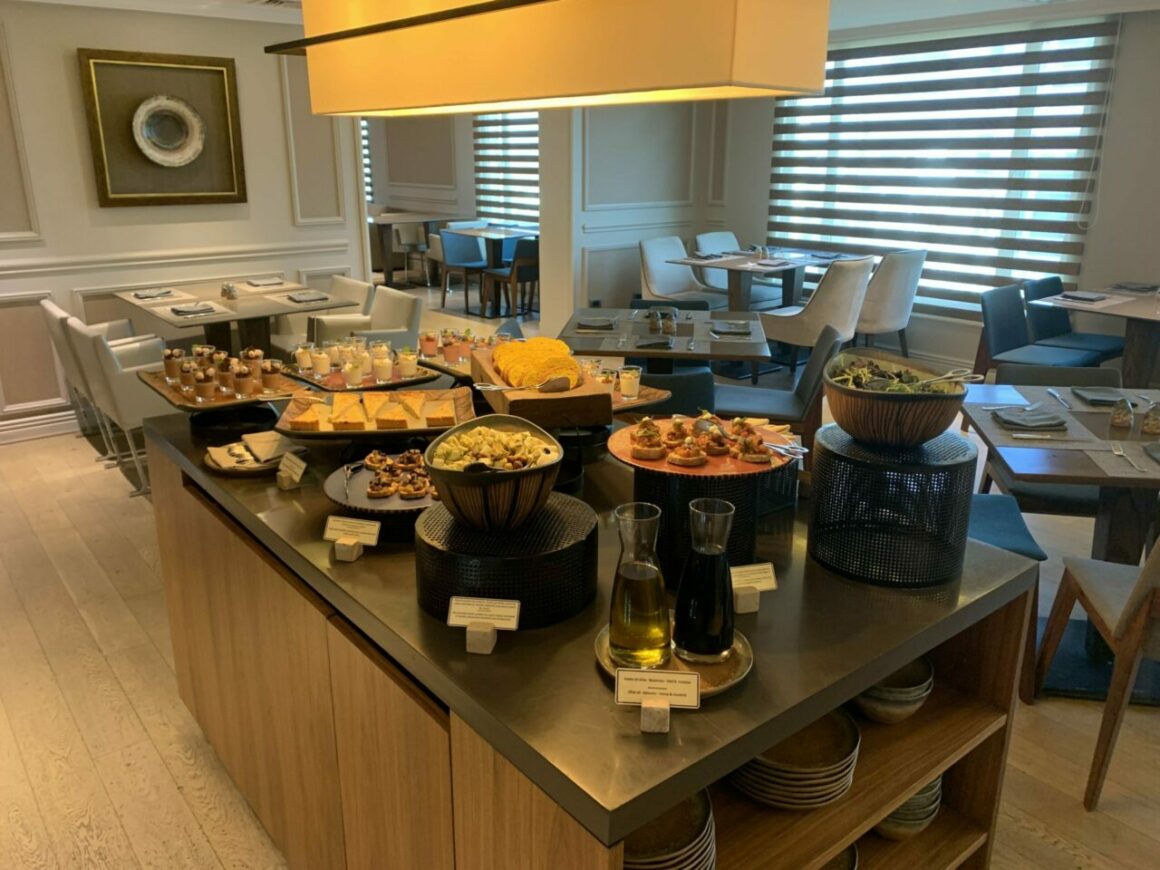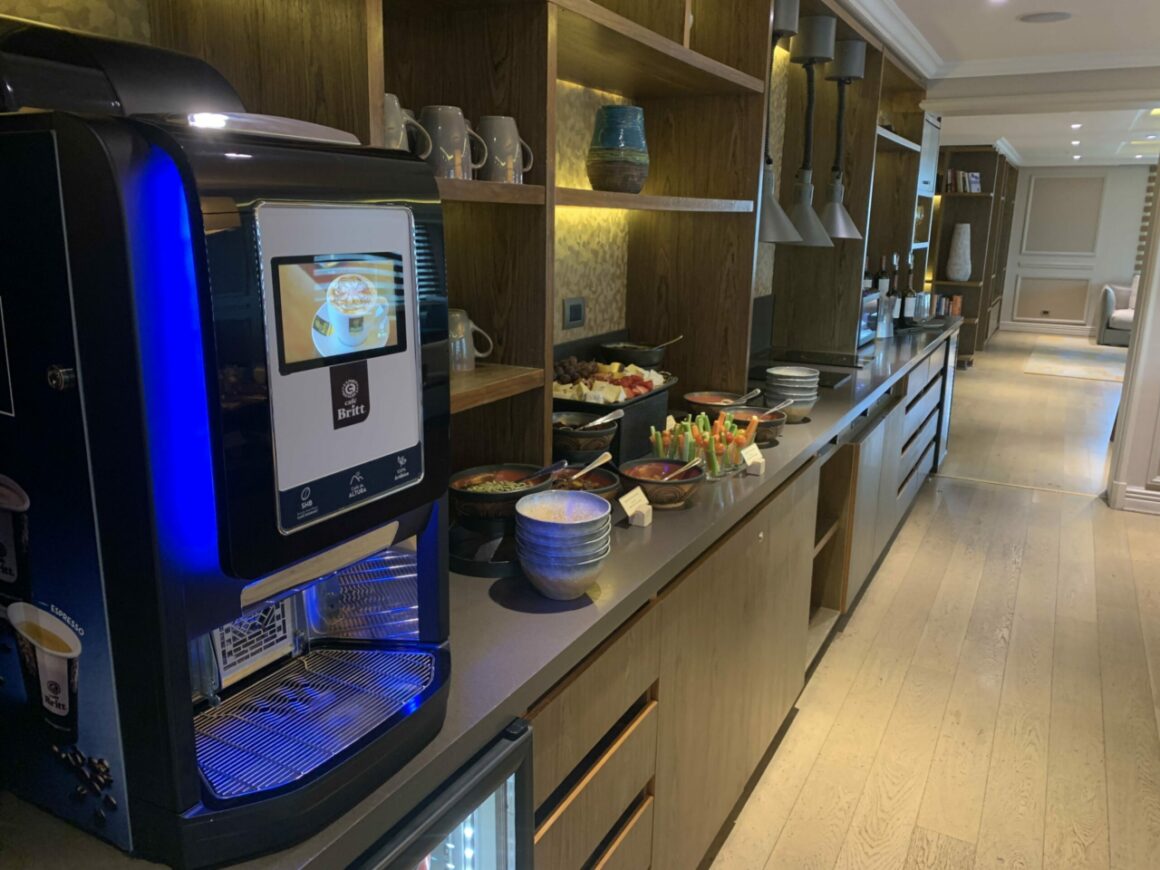 Ritz-Carlton Hotel Santiago Food – yum
The food generally throughout the hotel was top-notch. Breakfast alone, for example, had a huge array of beautifully presented self-serve option (even with three types of salmon!), with chefs knocking out all the usual egg or pancake type options. There was also an a la carte option which had the usuals on too. But the best thing about this particular restaurant – the Estro – was the staff generally, and one waiter in particular. He is Isiasis (I hope he won't mind being name-checked here, even if I may be spelling his name incorrectly!) and he did those little things like proactively offering eggs benedict (yes, please) and replacing cutlery unprompted.
The one time I did have dinner in the hotel was also a thoroughly enjoyable affair, with a delicious palate cleaner being dished up before an even more delicious plate of finely cooked tuna and an array of accompanying flavours.
Final thoughts for Ritz-Carlton Hotel Santiago
Overall I really enjoyed my stay in the Ritz Carlton Santiago, and while it didn't have all the polish of some of its sister sites in the 'top 10 cities' of the world, it felt like Santiago punched above its weight, and I'd go back there very happily. Also it has to be said that Santiago itself is a delight, with an unrushed vibe, general high levels of safety, and interesting tourist sites – from the tallest tower in South America, to San Cristobel Hill – and everything in between.
You can check prices and learn more here or contact our partners GTC to find out the extra benefits they can offer with Ritz Carlton. These are similar to the Amex FHR scheme but open to anyone.
Like our Ritz-Carlton Hotel Santiago review? You can read more hotel reviews here.