BA Heathrow T5 Arrivals lounge AND Santiago airport Priority Pass lounge reviews. This is part 2 of regular contributor Gus' trip to Chile. You can read about his First and Club World flights here.
Chilean Lounge woes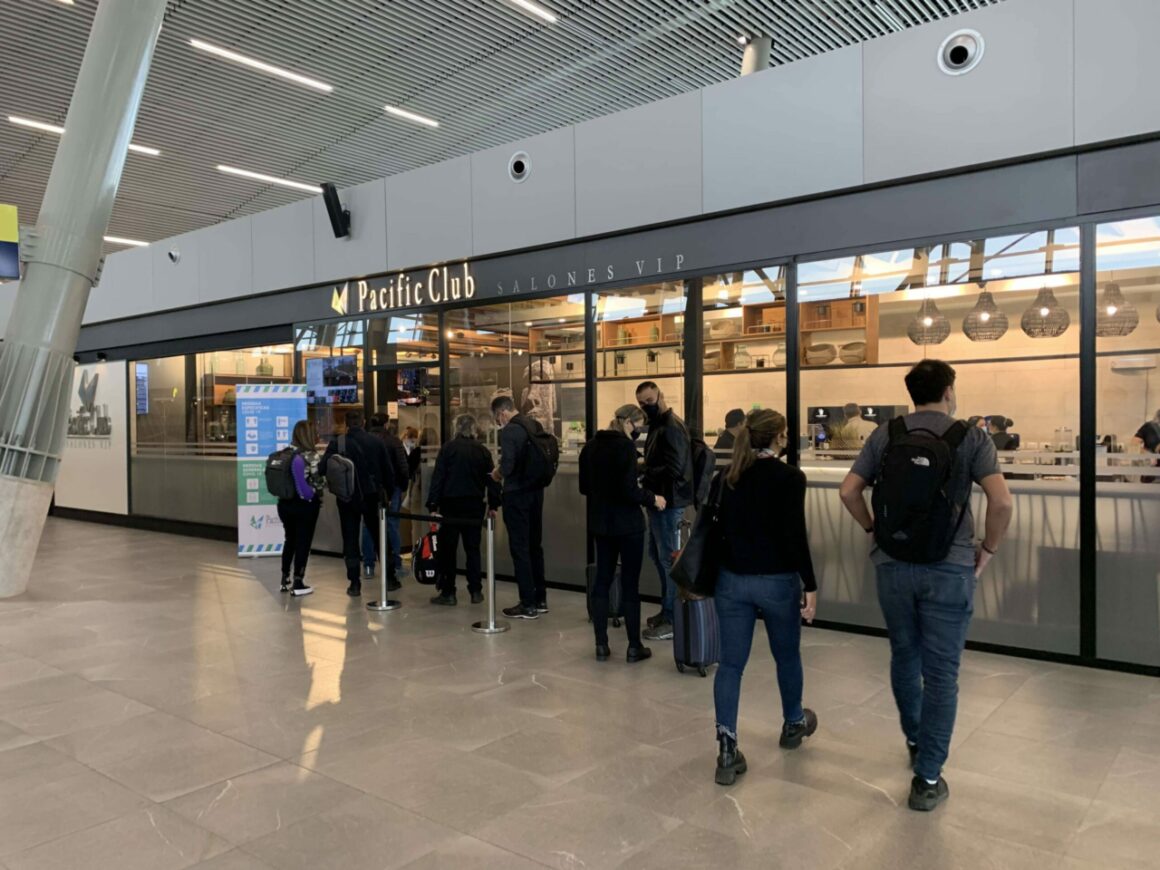 Following a few very indulgent and relaxing days being a casual tourist in Santiago (and staying in the Santiago Ritz-Carlton, which you can read about this week), I packed my bag and headed for the Comodoro Arturo Merino Benítez International Airport of Santiago.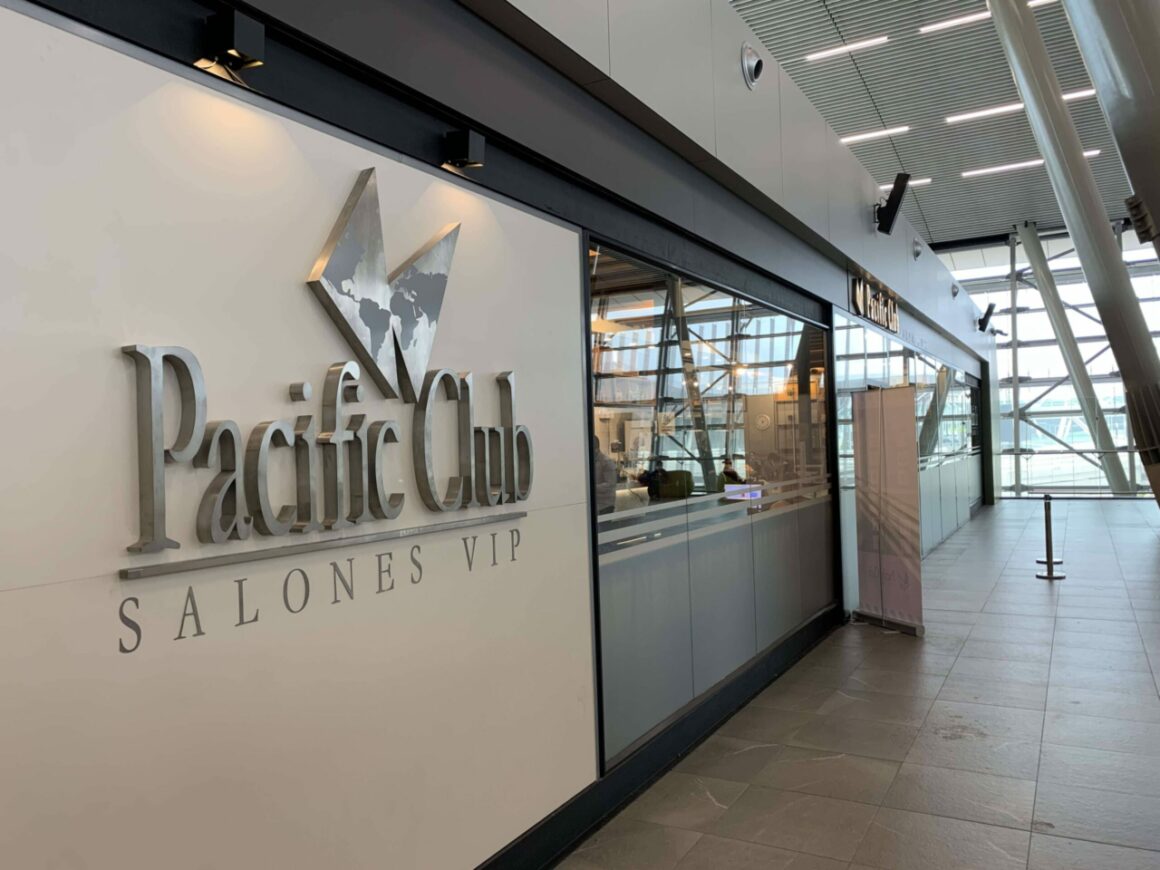 The name of the airport might be a bit of a mouthful, but that's all that'll be full of if you rely on this lounge to eat, drink or be merry. As at the time of travel the only lounge option facing you as a BA/OneWorld flyer, or even as an American Express Platinum card (and therefore Priority Pass) cardholder, was The Pacific Club, and it was a very poor experience.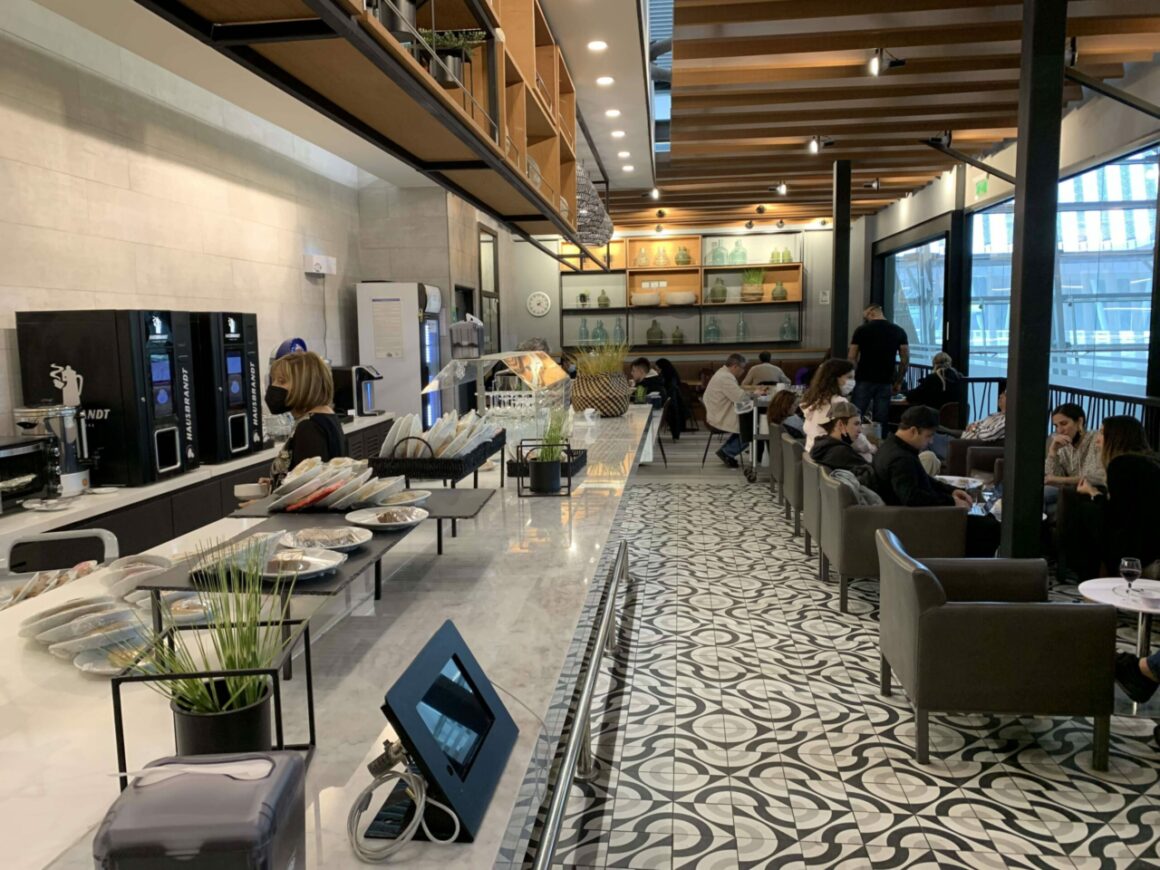 The lounge is an absolutely tiny L-shaped space, crammed with rickety chairs, and the combination of travellers returning to the skies – along with another lounge being closed for refurbishment until September 2022 – meant that it featured a very lengthy queue outside, and a very hectic vibe inside. Checking online before I travelled it simply said "Buffet service [is] suspended still for covid and 'pre packaged' meals only", but this was definitely an understatement to my experience. The desk clerk was doing the best they could, but even this seems more labour intensive (and therefore slow) than it needed to be.
Pacific Club food and drink
Once inside, and thanks to a one-in one-out policy, when sat down wherever you could find an (unsoiled) spot, it was more fun and games to get anything to eat or drink. The self-serve food options seemed to consist mostly of random baked items, with hardly anything soft in the fridges. There was one white and one red, and hardly any power point sockets. Wifi was at least fast, and at the end of the day a place to sit down is still a place to sit down, but it wasn't the look I was going for before a 14 hour flight back to London (which you can read about here).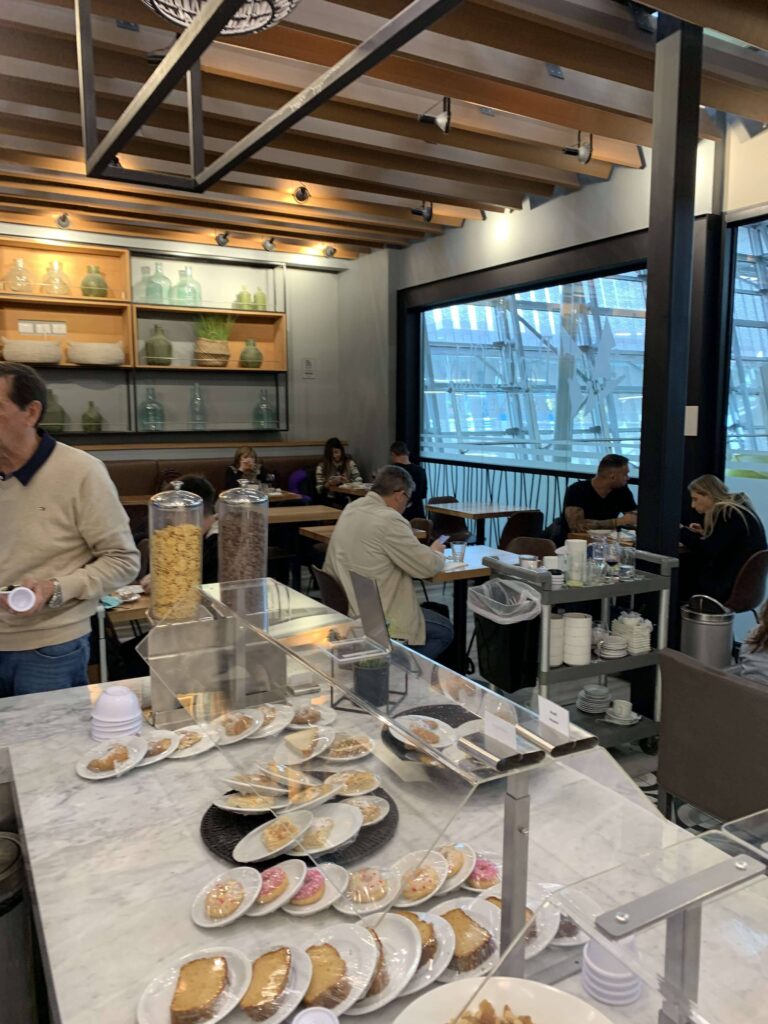 There were signs for the well-rated LATAM lounge, but as they exited OneWorld in 2020 it wasn't meant to be for this particular post-pandemic trip. What's interesting to me is that it seems more and more people are using lounges, and this pace of demand seems frequently to be over-whelming any lounge that would have been fit-for-purpose just 4 or 5 years ago. So the more pre-planned, and frankly flexible on the ground, that you Road Warriors can be, the better!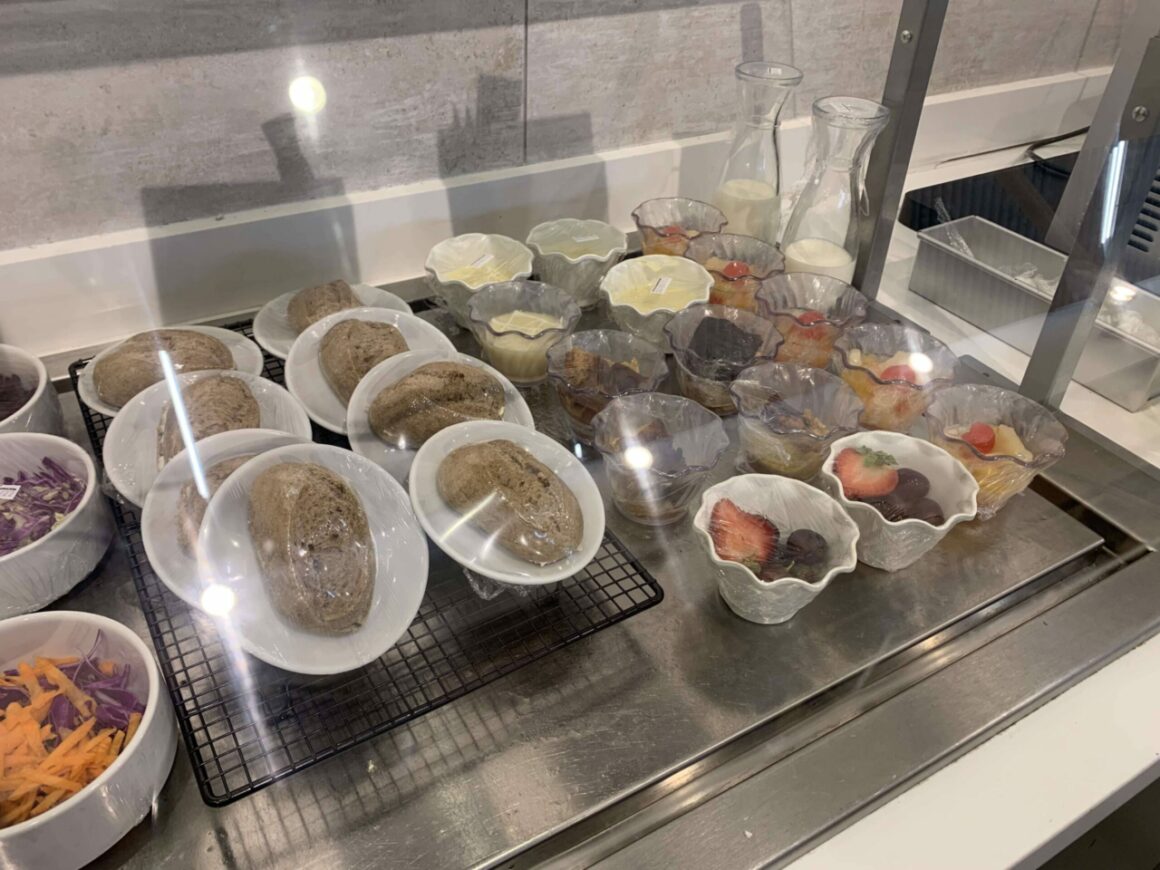 Happily, after a comfortable and uneventful flight back to London, I had a much better experience in the LHR T5 Arrivals lounge. It has been a few years since I used it, and I was curious to see whether it had changed at all, and indeed how it was wearing its relative age.
British Airways Heathrow T5 Arrivals lounge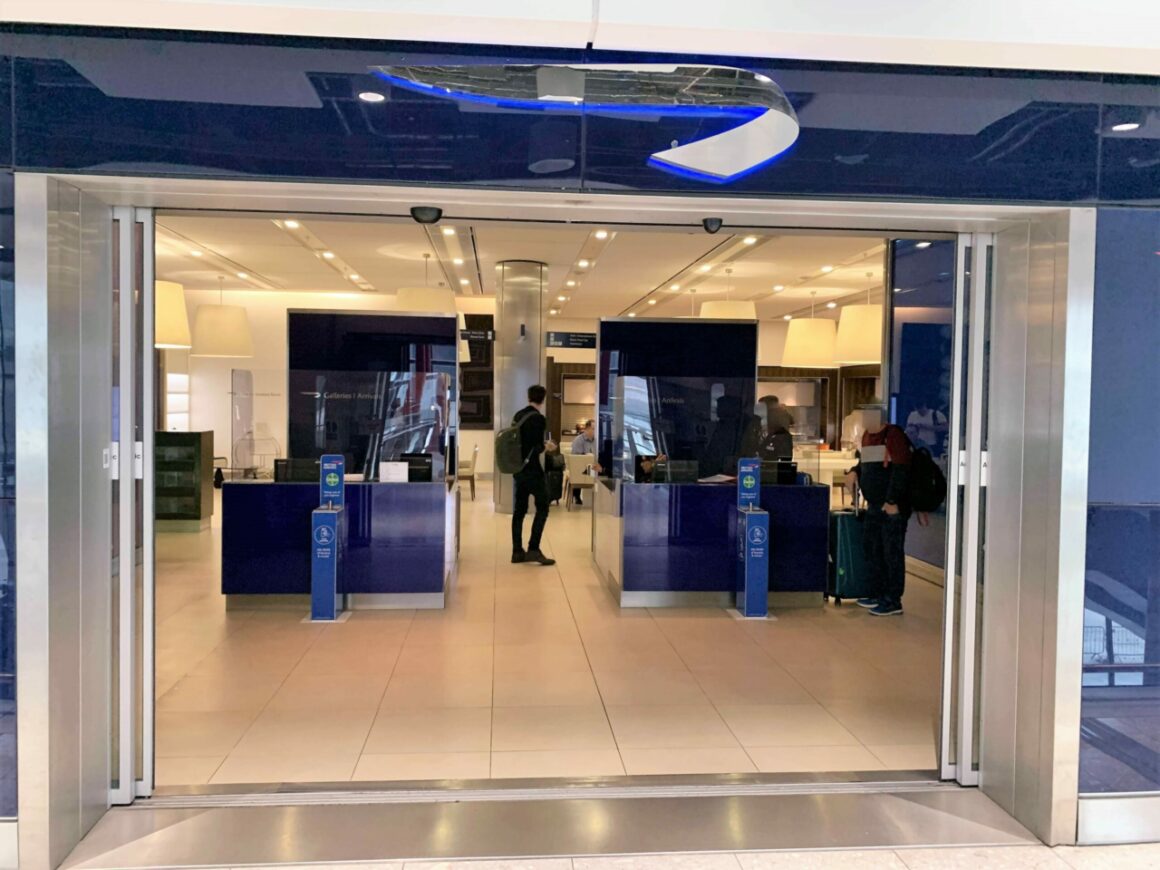 I find the concept of an Arrivals lounge a funny one, as unlike a departure lounge where you're counting down time to taking off and heading somewhere new (for either work or pleasure), on paper, an arrivals lounge is much more functional; simply a pit-stop to freshen up and address any long-haul comfort factors.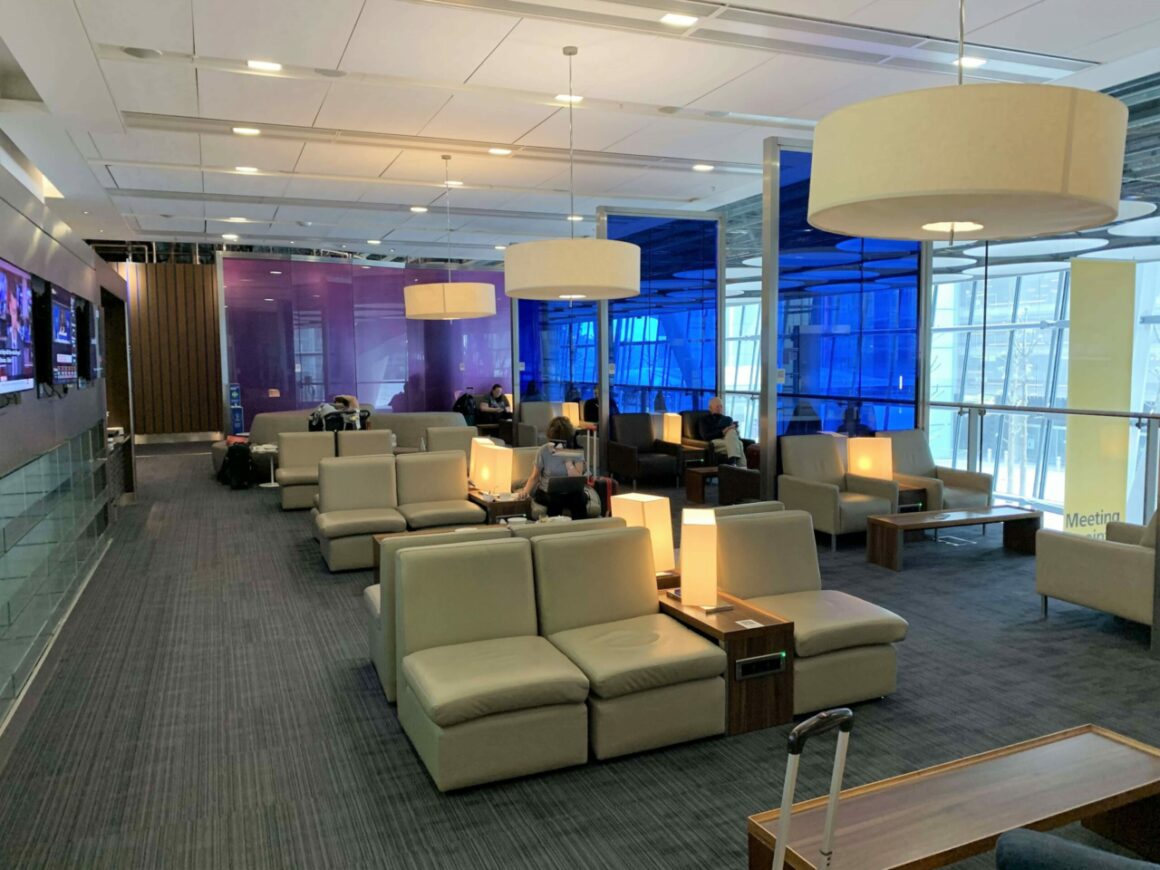 In this context, BA's T5 option does a good job of providing a relaxing and comfortable space, that also really nails the functional necessities. The main focus of the lounge is the enormous number of shower units that it has. The set-up and aesthetics are a little 'industrial chic', but I suspect no-one has ever have to wait for a shower slot given the sheer number of pods available, so for those in a rush you'd have no problem (and no need to pre-book or anything).
Hot and steamy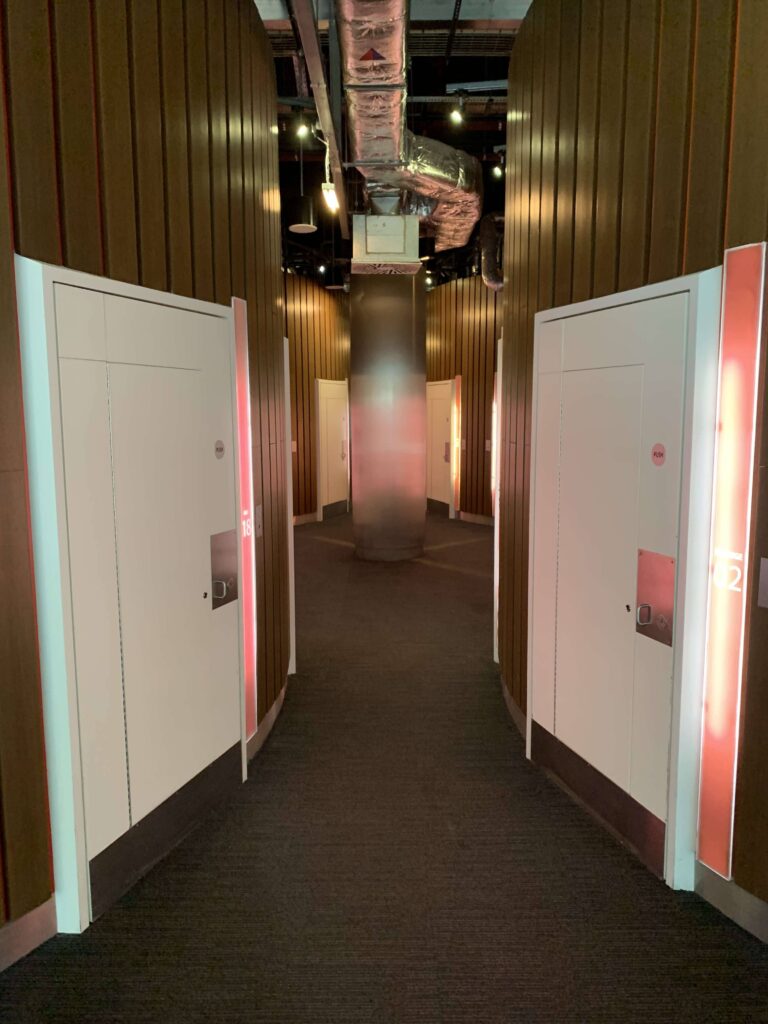 That said, the shower area – a maze of colour-coded corridors – was showing some signs of wear and tear, especially where floors and the plastic water guards were concerned. In addition, in the shower unit I was assigned, when the water ran there was such a noise from the pump that initially, I thought something had broken!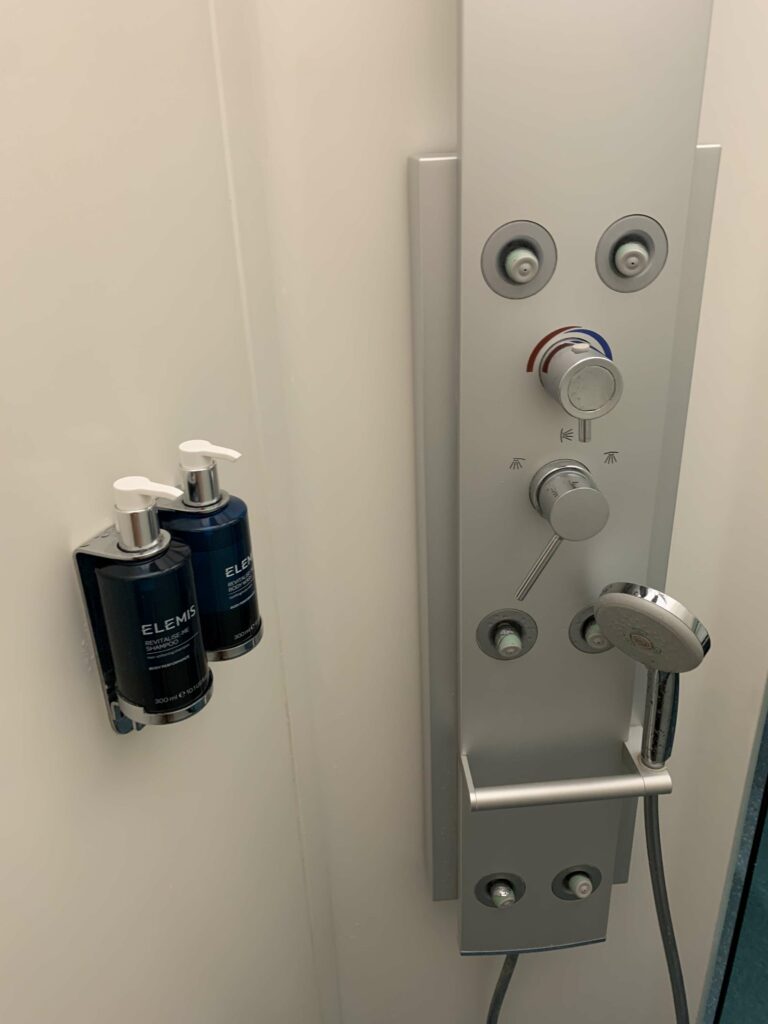 However, the main issue I have with the pods (unchanged from my last visit a few years ago) is that they all seem to be both very hot, and very humid, even if there hadn't been anyone in it for quite a while beforehand.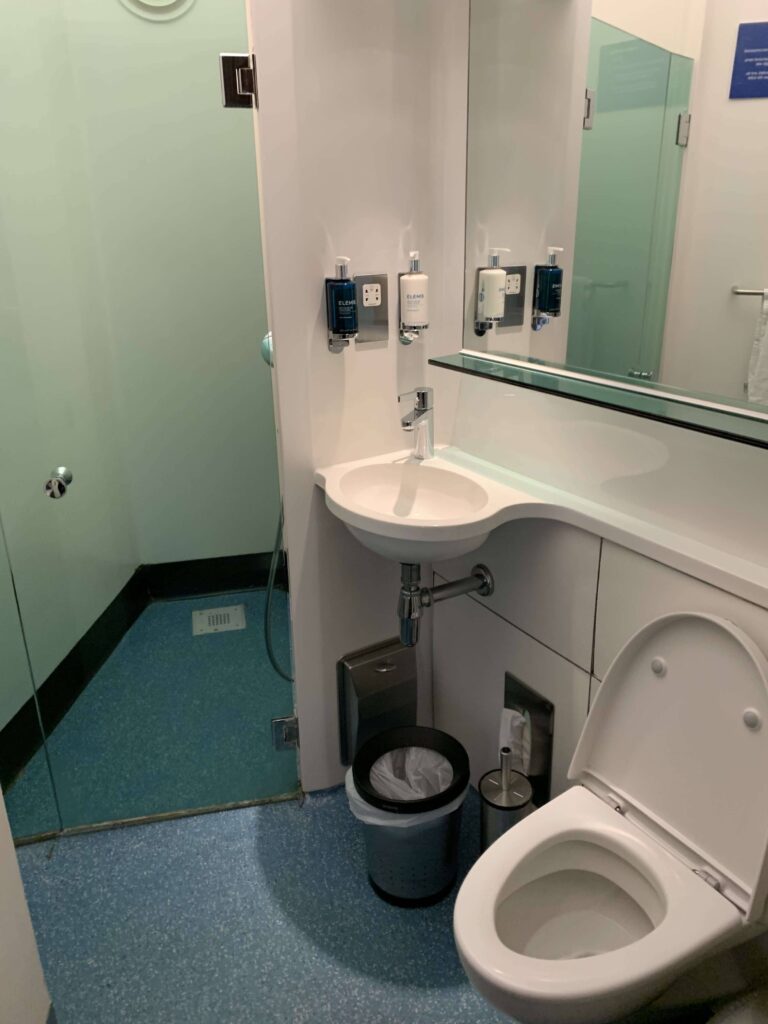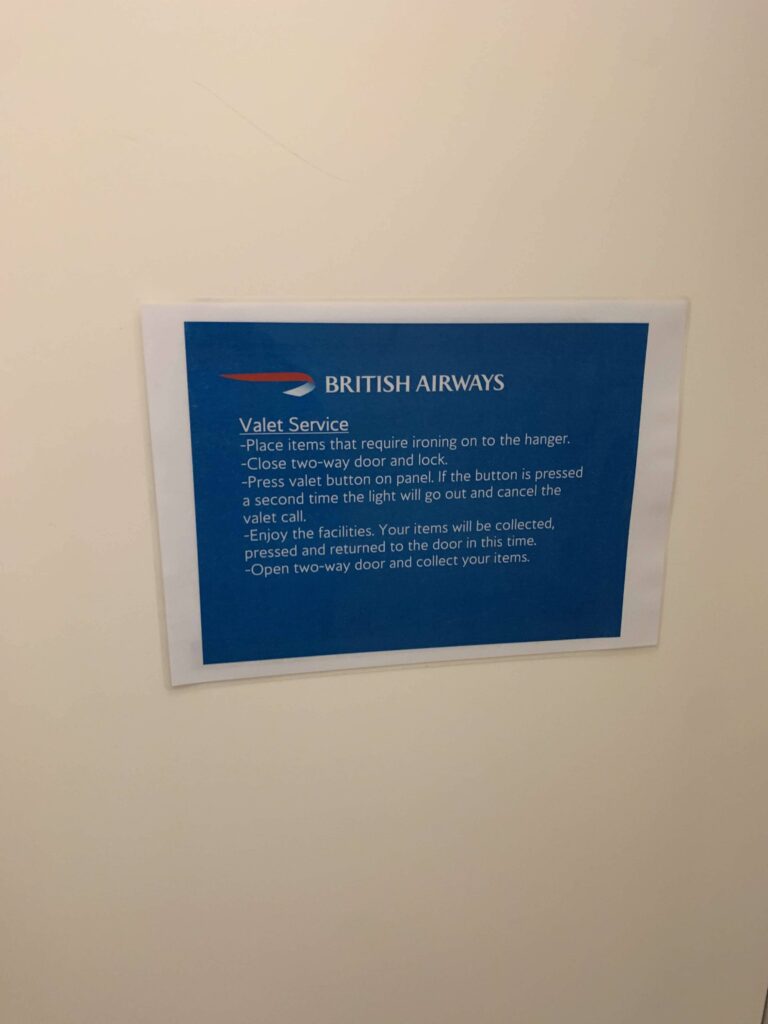 I did also have a chance to look at one of the small number of cabanas which are now in use at the arrivals lounge.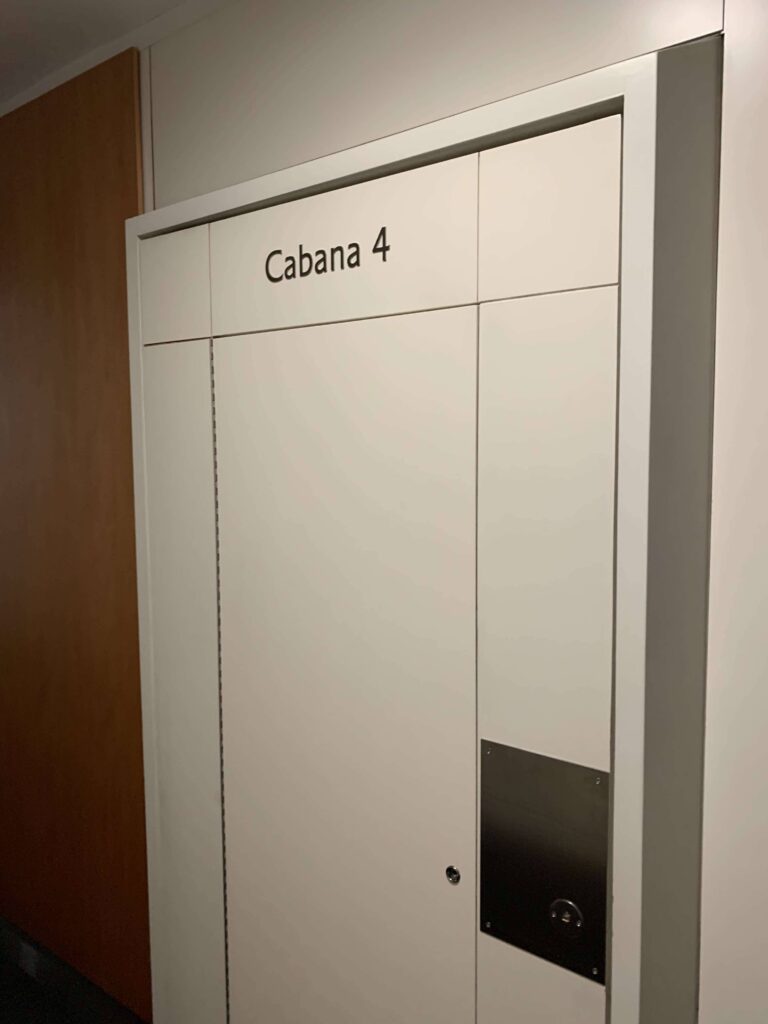 They are similar to the Concorde lounge cabanas in size, and have none of the mugginess issues of the shower pods, and my guess is that these are now being offered to guests since the Elemis part of the spa was closed (like elsewhere in T5).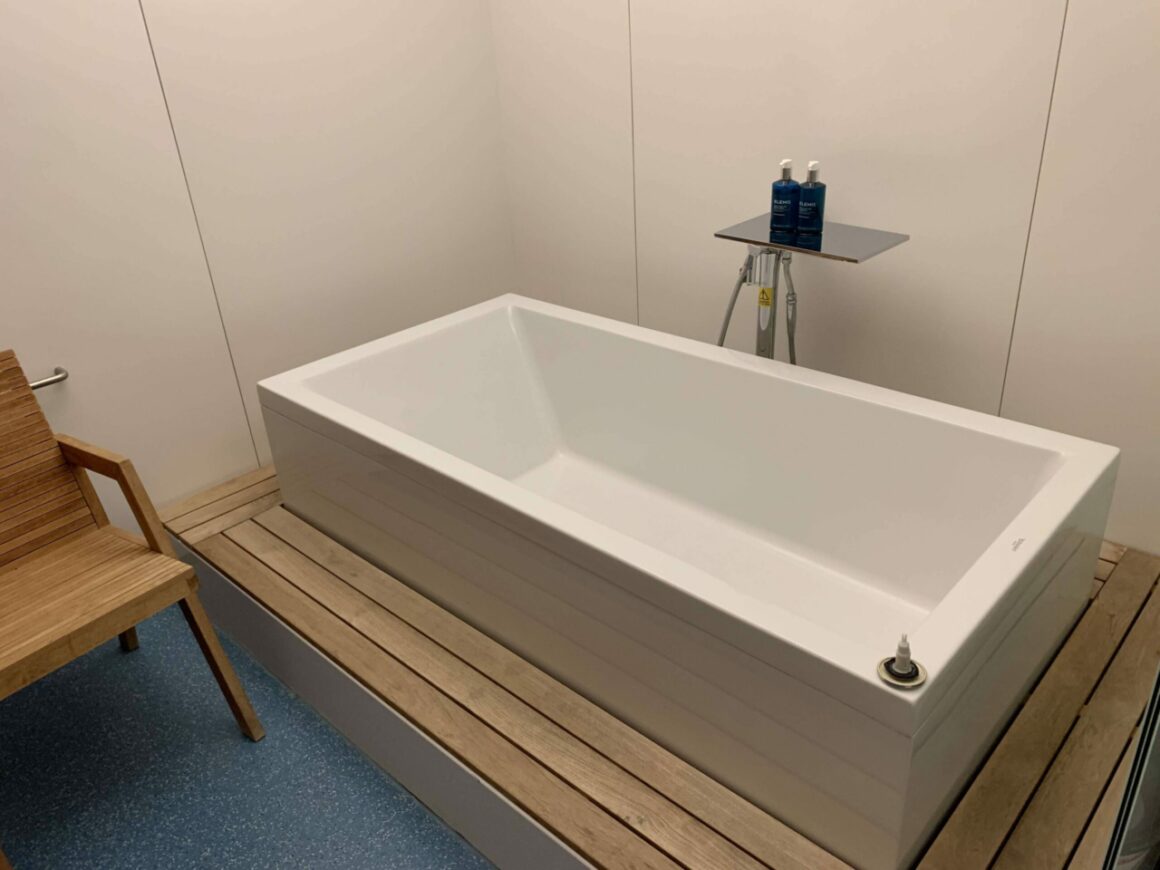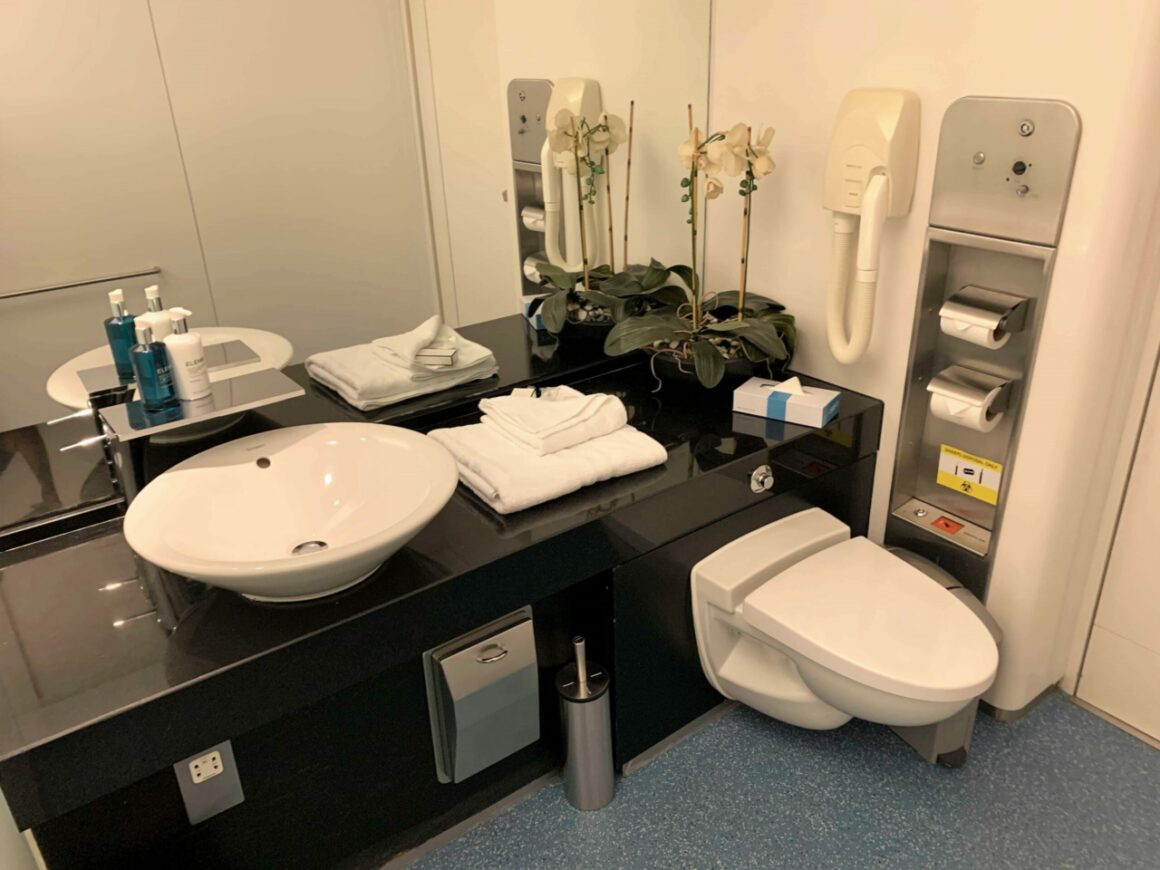 There was no stand-up shower option for the bathtub, but if you had longer and fancied a roomier space to properly have a soak and unwind, then those are worth being in mind.
(Michele – technically these are infinity baths but I have never been brave enough to try it and it seems a waste of water!)
Regular and reliable food and service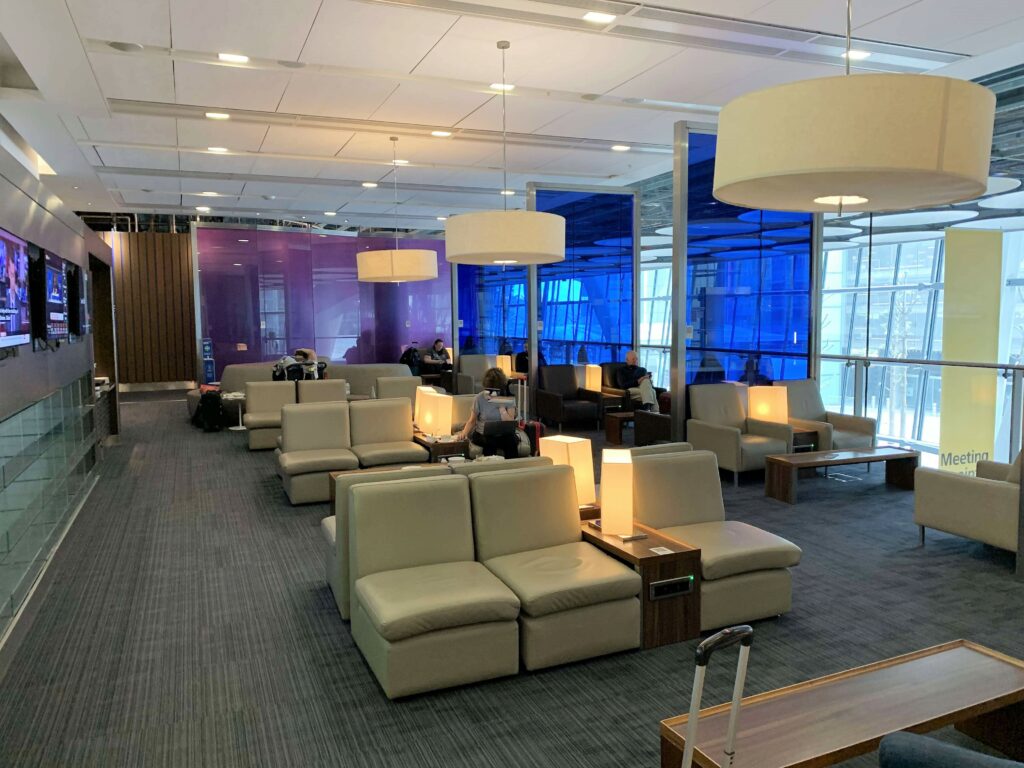 Outside of 'the hydrotherapy area' (as it is called, according to the signage), things were totally great, with the now-not-so-new app ordering and table service being a speedy dream.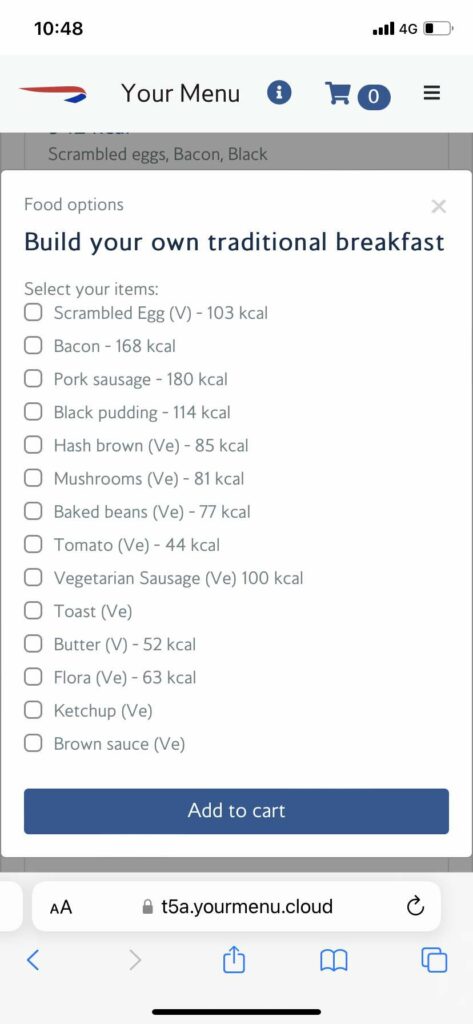 I like how the menu website 'remembers you' and welcomes you back, as well as the 'make your own' breakfast option.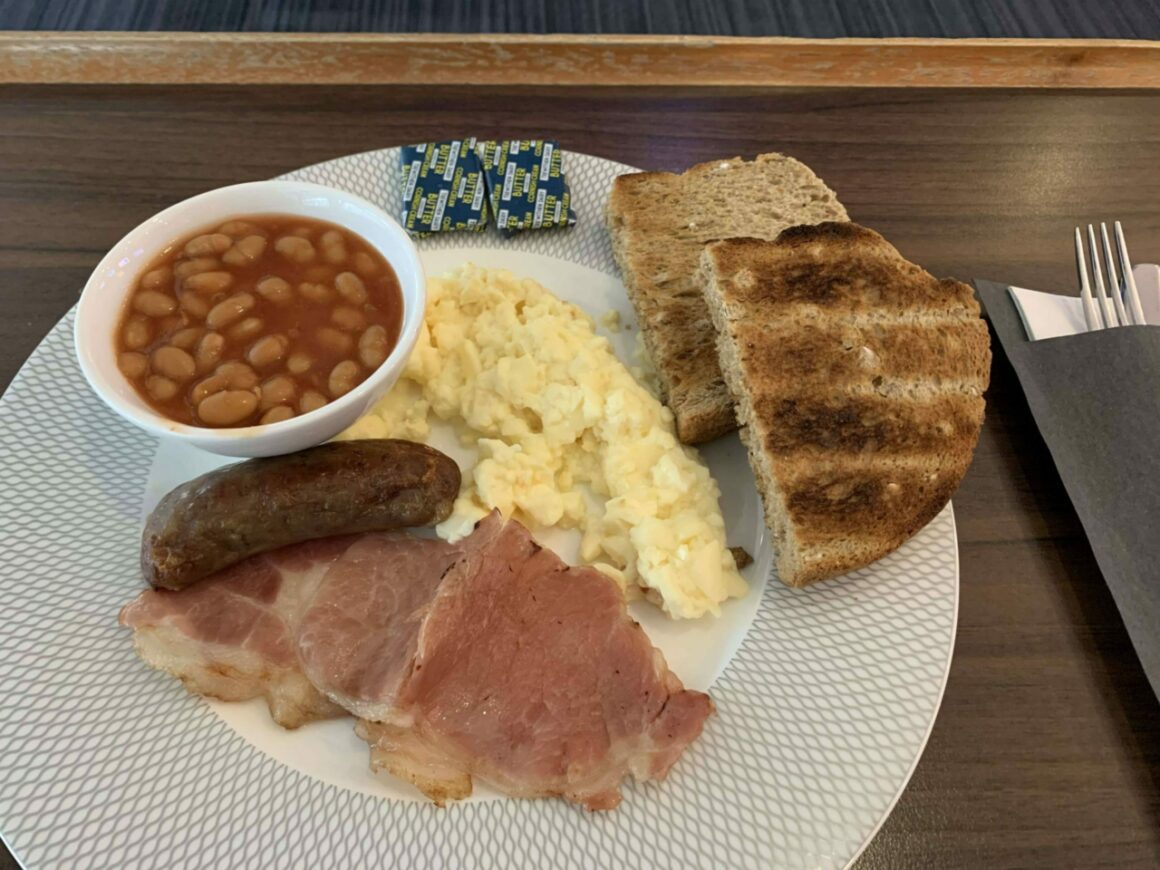 And it was interesting that on the last few times I've been in BA lounges I've also been asked to fill in a survey asking what other food options might be preferred in the future (e.g. street food, vegan food, snacking food etc).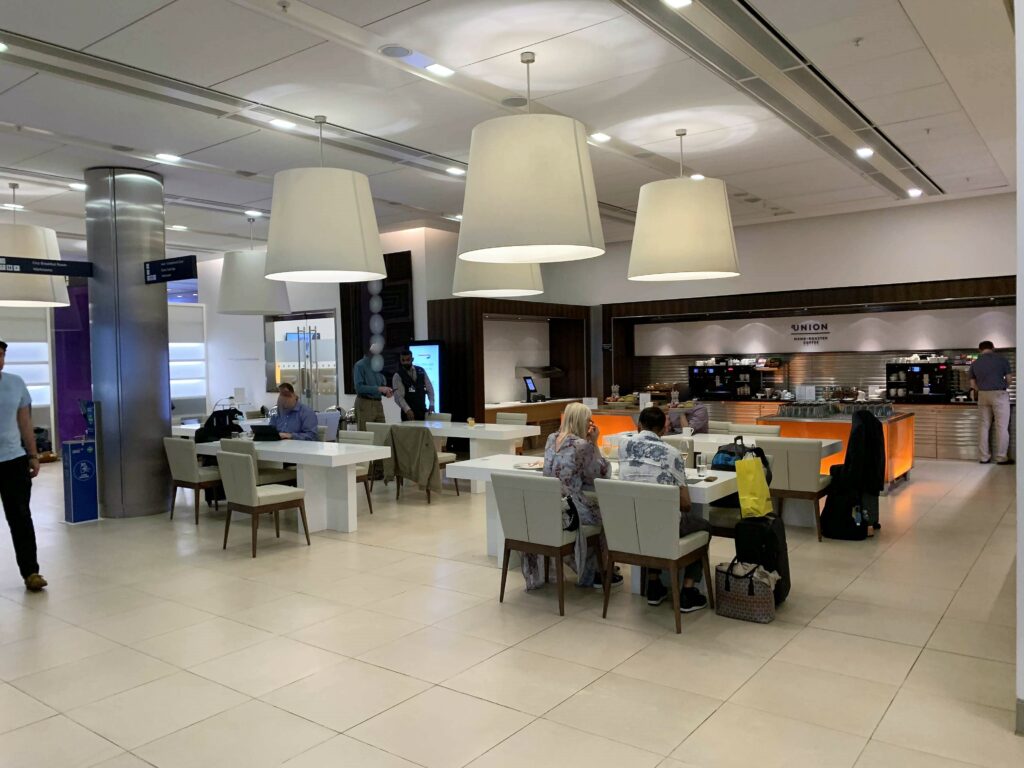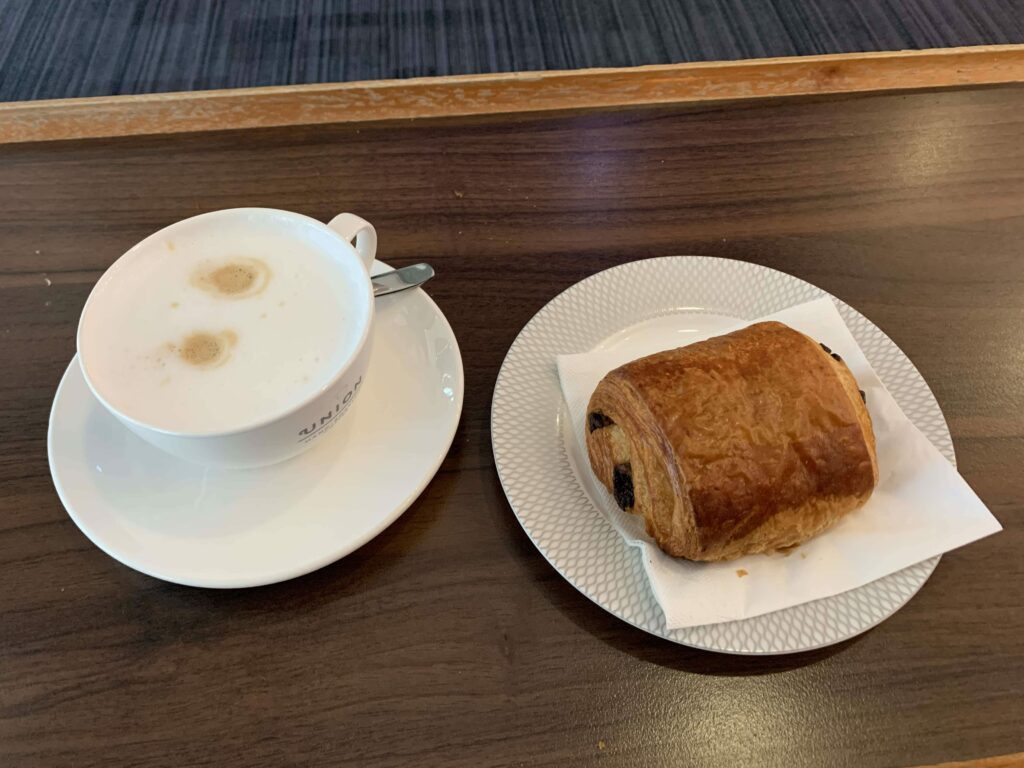 All in all, I enjoyed coming back to the arrivals lounge, and if anything, the space (and general calmness) of the lounge was a great way to prepare for the rest of the day. There was also a 'Concorde Breakfast Room' tucked away in the corner, but other than a little more privacy, the lounge was worth the pit-stop, and you certainly step out of there with a little more energy and freshness than if you whizz past on your way to the rest of the world.
Like our BA Heathrow T5 Arrivals lounge and Santiago airport Priority Pass lounge reviews? You can read more lounge reviews here.