When I was attending the Loyalty 2017 awards in London (article here), I stayed at the 5* Royal Garden Hotel in Kensington. Given that it was hosting the conference, I was surprised at how reasonable the hotel was on the first night. I had a queen room which I booked via ebookers for £142 (£123 after cashback) on a Sunday night and £202 a night for the other 2 nights.
With ebookers, I got 13% cashback which brought the average nightly rate down to £158 a night. Bearing in mind that the hotel was running at full occupancy for the second 2 nights, you can't really complain. On top of this I also earned £16 in ebookers bonus+ rewards. This a review of what that price gets you in London.
The Hotel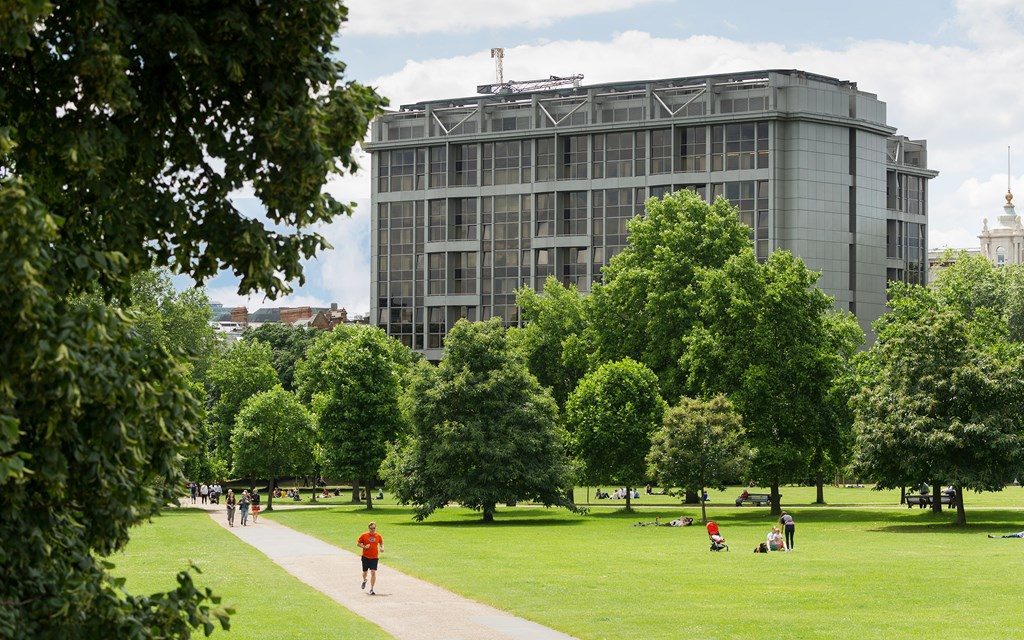 The hotel has been open since 1965 and is well located, situated on Kensington High street and right next to Kensington Gardens in Hyde Park. About a third of the bedrooms have magnificent views of the gardens with the London skyline in the distance. You can walk to a number of local restaurants, from fine dining Indian to the usual high street suspects like Cote Brasserie. It is also a 5 minute walk from High Street Kensington tube station on the Piccadilly line. This makes it well placed for exploring London by tube, and much better value than some of the more touristy locations. The hotel does not have a pool but does offer fitness facilities with trainers and a full service spa.
The hotel is the largest independently owned hotel in London. It is, however, part of the World Hotels program which means that you can collect miles with some airlines whilst staying at the hotel. Sadly, BA is not among them, but there are a variety of oneworld and Star Alliance partners as well as Virgin Atlantic. The hotel is a favourite with pop stars, world leaders and sports stars. Apparently I just missed the England rugby team but since it wasn't going to beat the afternoon I spent in a hot tub with them at Pennyhill Hotel, I wasn't too worried. One Direction, Dolly Parton and Justin Bieber have all stayed at the hotel as well.
The room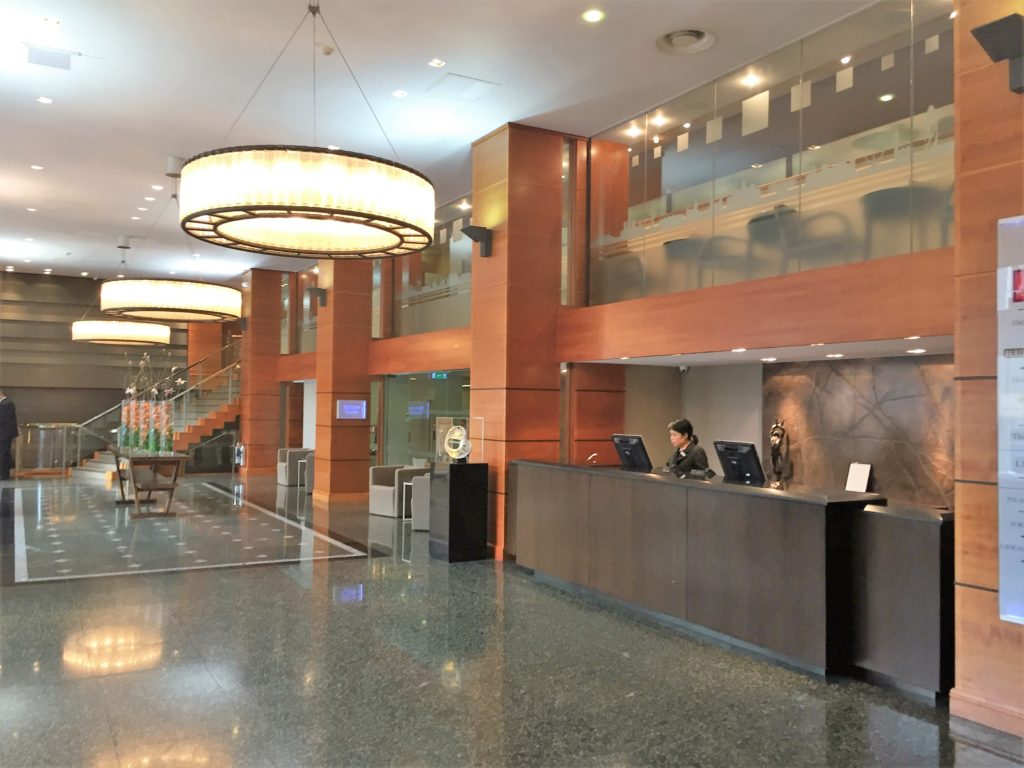 I was greeted warmly at reception and was checked in very quickly as there was no queue. I made my way up to the 8th floor to my Queen room. The first thing I would say about the room is that it would be probably be too small for 2 people. However, seeing as it was just me, it was absolutely fine for 1 person. The room was stylish, spotlessly clean and well maintained. It always amazes me how many 5 star hotels have maintenance issues with their rooms, but this was not the case here.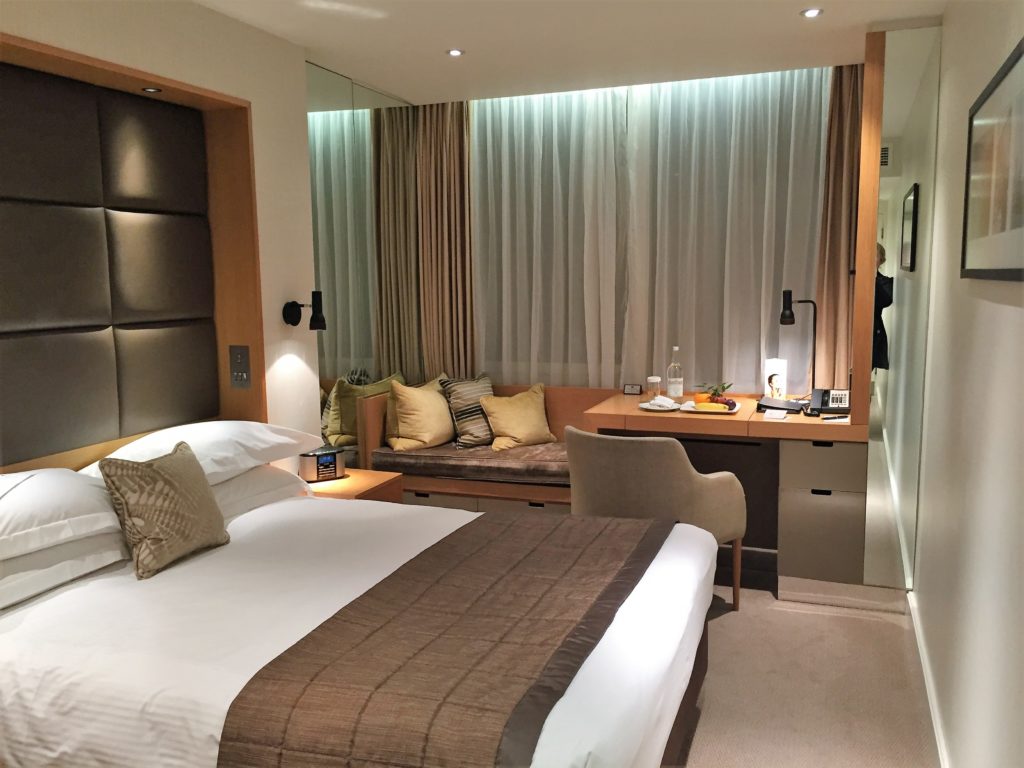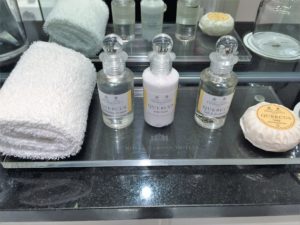 Despite the reasonable price, the room was equipped to a 5* standard with a nice window seat to look out at the view, a desk for working with inbuilt sockets and media hub, plus the usual safe and iron etc. There was a mini bar (without the wretched sensors) and a tea tray with Hampstead tea and some rather moreish biscuits. Bathrobes and slippers were also provided.
The bathroom was again pretty small but it was modern and well lit. My only grumble about the whole stay was the slightly haphazard housekeeping in terms of face cloths. I started with 2, then there were none. The toiletries were Penhaligons Quercus. Rather strangely for a 5 star hotel, there was no hair conditioner. I am not a huge fan of this brand of toiletries but they are decent quality and did the job.
In the evening a turndown service was offered with bottled water, which I really appreciate in hotels.
The bed was comfortable with high quality bed linens and I slept well during the time I was there.
Other rooms
King room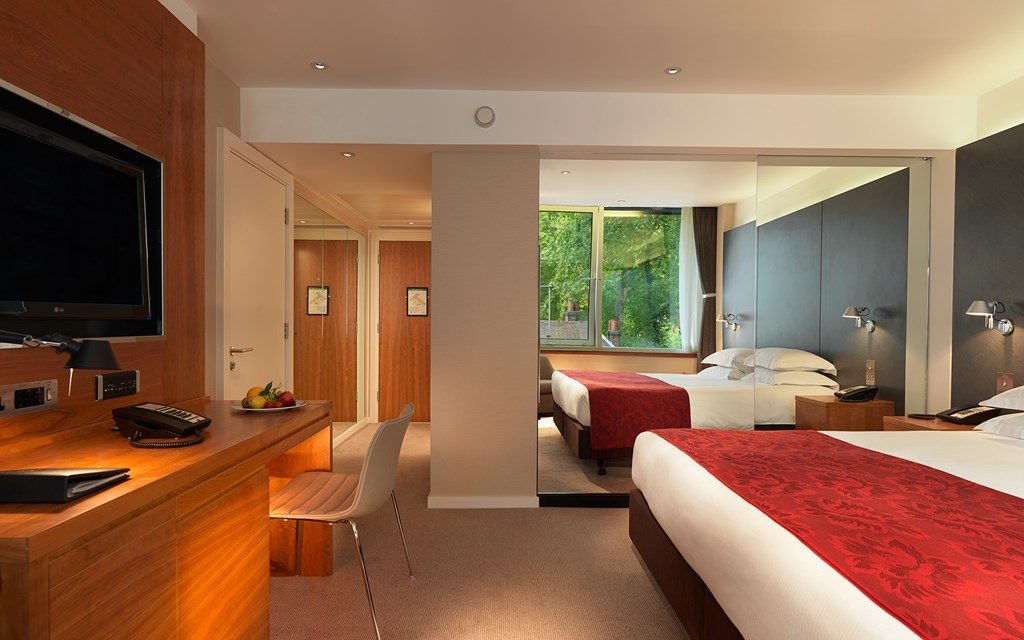 This would be the room category I would suggest for a couple. It is similarly equipped as the Queen room but a more manageable size with 2 people.
Park room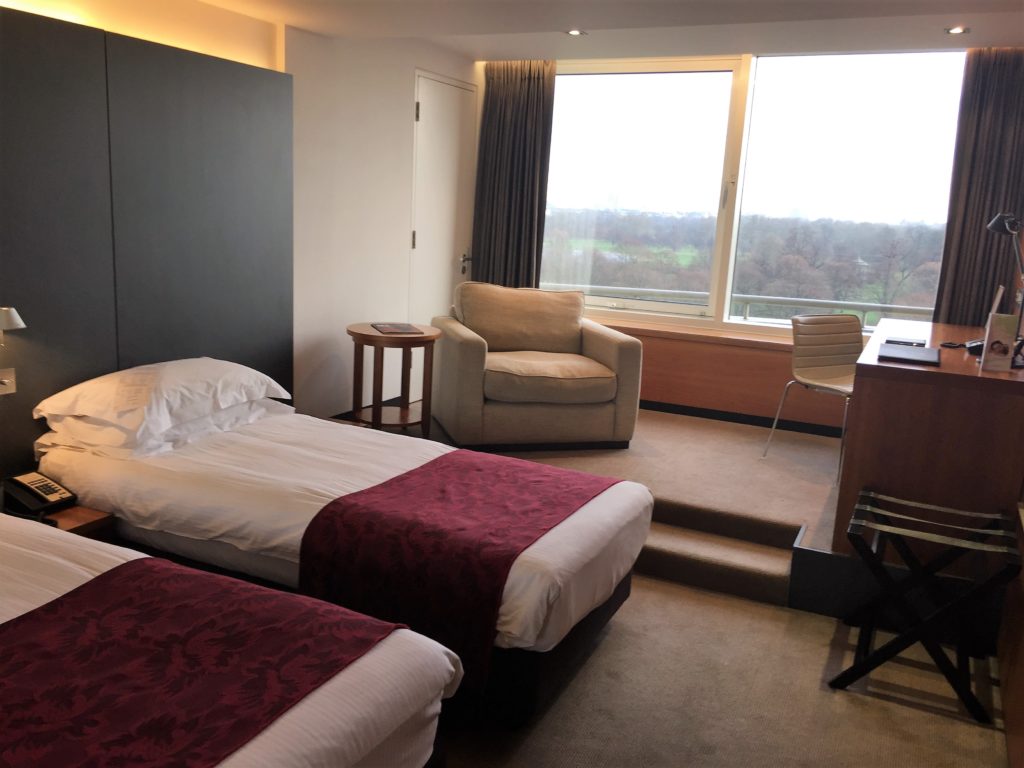 If you want the best view, a Park room is the next category up from the King room and offers panoramic view over Kensington gardens and Hyde Park.
Suites
The hotel has an impressive selection of suites for its more well heeled and celebrity guests. The Park Suite (pictured below) has a separate guest bathroom, dining area and can have adjoining bedrooms added for families.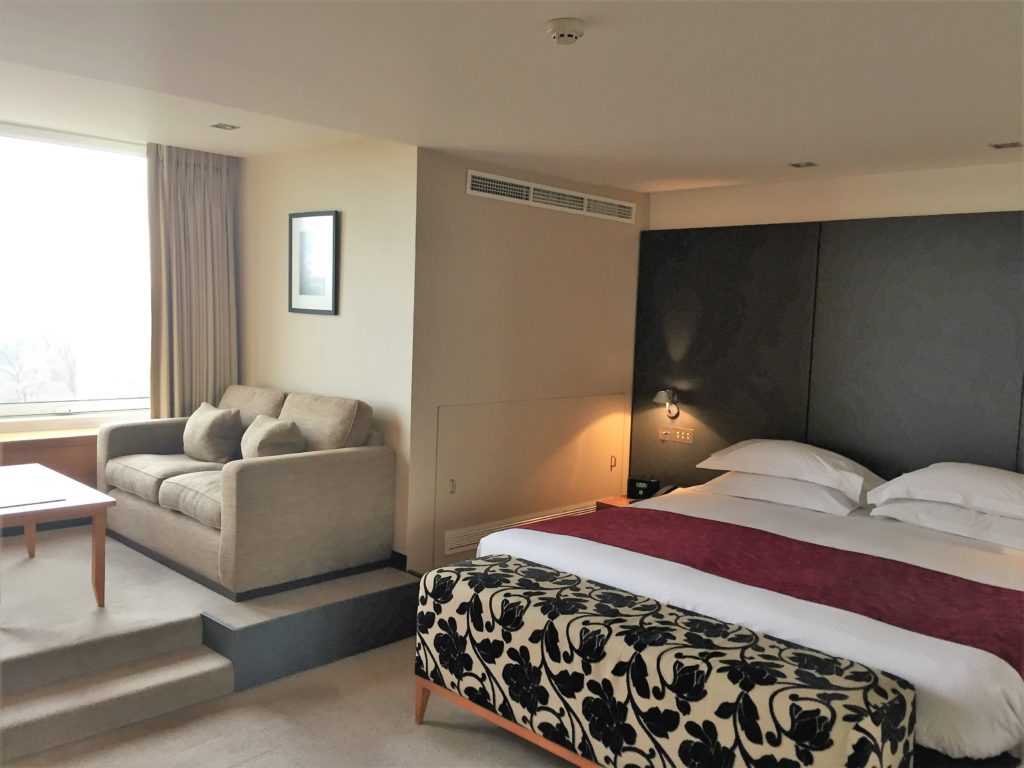 Dining and bars
The hotel has 2 restaurants including Min Jiang, an authentic Chinese restaurant. Min Jiang is located on the tenth floor and offers great views of Hyde Park and the London skyline. Park Terrace is the all day dining restaurant where you have breakfast, but it also offers a bar and lounge area where you can have afternoon tea.
There is a further bar, Bertie's which has been known to host the odd celebrity. It is a stylish but relaxed bar with comfy armchairs and sofas plus a good range of cocktails, wines and spirits.
Breakfast
Breakfast was a mix of cold buffet and hot items cooked to order. This is my preferred style of breakfast unless I am in hurry. The service was friendly as well as being quick which I appreciated as I was due at a meeting. The breakfast buffet was a bit chaotic as it was crammed onto such a small table. It made it difficult to get to the items you wanted when there were a few people around the table. the selection of cold meats and cheeses wasn't very exciting and I would have expected smoked salmon at a 5* hotel. There was a good selection of fruit, bread, pastries and cereals though.
I ordered the English breakfast with poached eggs. Everything was high quality and perfectly cooked. It never fails to amaze me how many hotels can't poach an egg properly!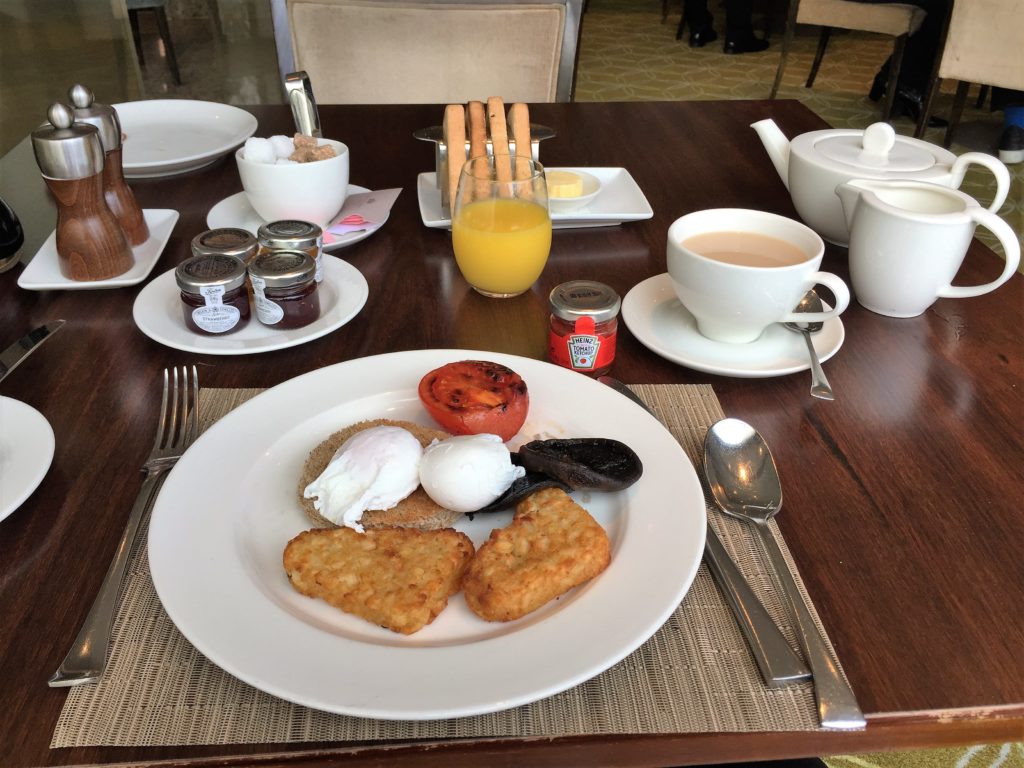 Conclusion
The hotel does not have the glamour or bling or some of London's more well known 5 star hotels, but I would certainly have no hesitation in staying again. If you time it right, the hotel can offer excellent value for money and there was very little to fault. You can find more information on their website here.