A reader, M, contacted me asking if I would like to have a review of his recent Qatar Ex-EU trip to Auckland. He had managed to get the flight for an amazing £1125. Given that I am planning a similar trip early next year with Roving Reporter, I readily agreed. It is also unique on the Doha to Auckland leg for being one of the longest commercial flights in the world. I am sure you will agree, it is a really great account of his journey. We are unlikely to see quite such a good deal again with the fall of the pound and the fact that these fares were about when the Auckland route was announced. Saying that, we have regularly seen Auckland for around £1400 from Scandinavia in the recent sales.
I would now like to make this a regular feature. If you would like to submit a flight report to be featured please email me at [email protected] before preparing your report. I will need as many good quality photos as you can provide and it will need to be a flight that has not been featured recently.
Qatar Business class flight review Pisa to Auckland – by reader M
Having seen the amazing deal from Pisa to Auckland some months ago, I mulled it over and eventually talked myself into booking a flight with about 2 hours left of the booking window.
With a ticket booked and a week in New Zealand I then had to decide what to do when I got there. New Zealand was always on the list of places me and Mrs M would visit in a few years when we retire, so I treated this as a fact finding mission. Having made a few flights with Qatar I knew the flight experience would be good. I managed to put together a busy week visiting some old friends and a bit of touring of the North Island.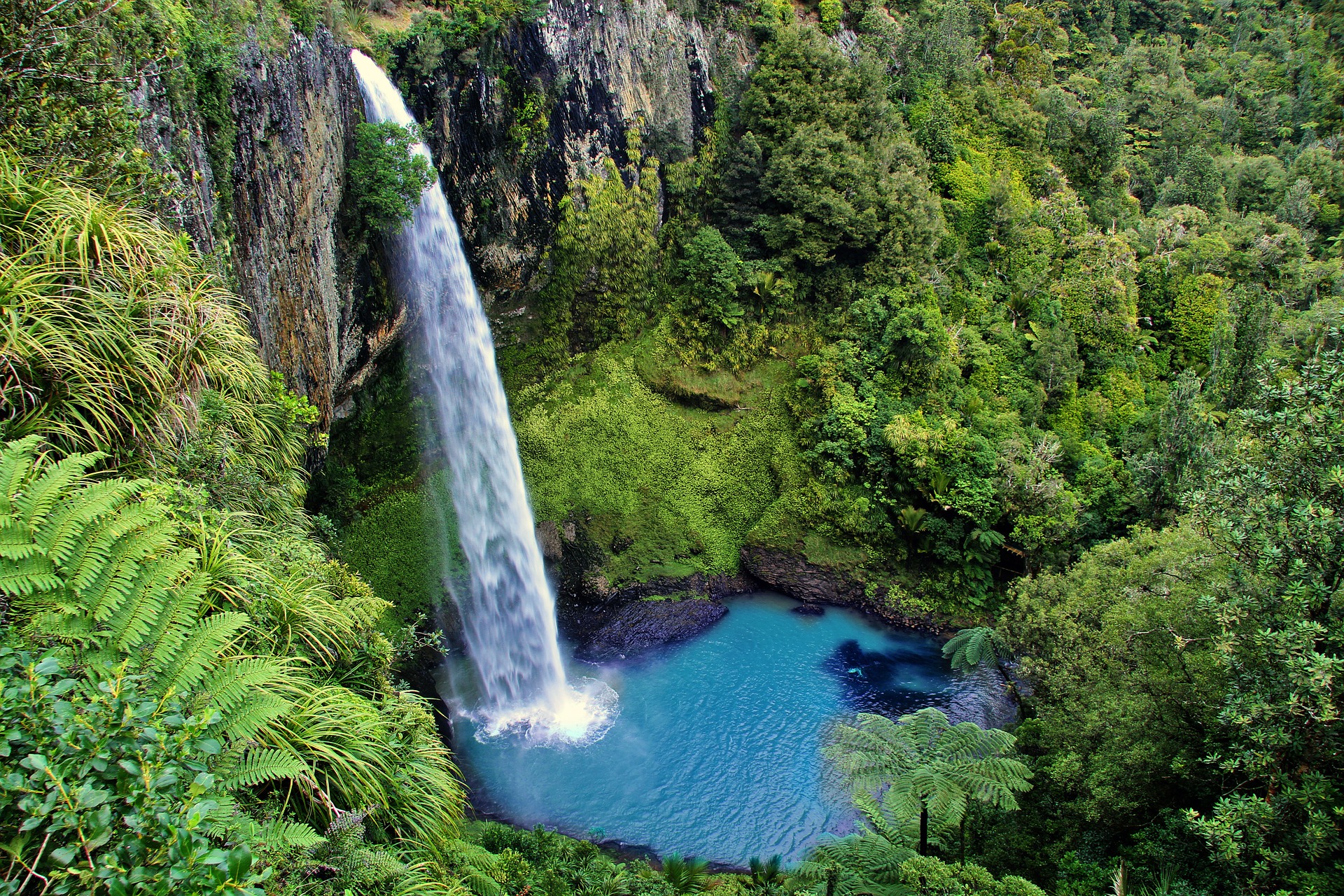 Having said that it almost started badly – from the moment I booked the flight I had assigned myself a window seat for all flights. It's something I personally like and even though I know it means stepping over someone in the B777, I like the feeling of seeing a new country from the window as we approach. Due to various aircraft changes over the months I moved my seat about a bit, but even 48 hours before the flight I was happy with the seats I had assigned.
Pisa to Doha
I flew to Pisa with British Airways the day before my Qatar flight and stayed at a hotel near the airport. Not that thrilling, the hotel was surrounded by wasteland near a major road and the rustic Italian restaurants I had imagined were nowhere to be seen, but having gone straight from working a nightshift it was good to just crash out.
I checked in online the night before the flight, to find my first leg seat had been re-assigned to an aisle and all the seats in Business Class were unavailable. Having had a window picked for months this p*ssed me off a bit!
I was on one of the early rotations to Doha, departing at 0930, so was at the airport just after 7. Check in was quiet, so I asked if there were any window seats available and was told that Business Class was not full. Luckily I was repositioned to one of my choice!
Sala VIP Galleli lounge at Pisa
Qatar has access to the Sala VIP Galleli lounge at Pisa. The lounge is fairly small but that wasn't an issue. I was the only person using it for the most of the time, other than the odd airport worker who stopped in to grab a free coffee and read the paper – not something you see at Heathrow!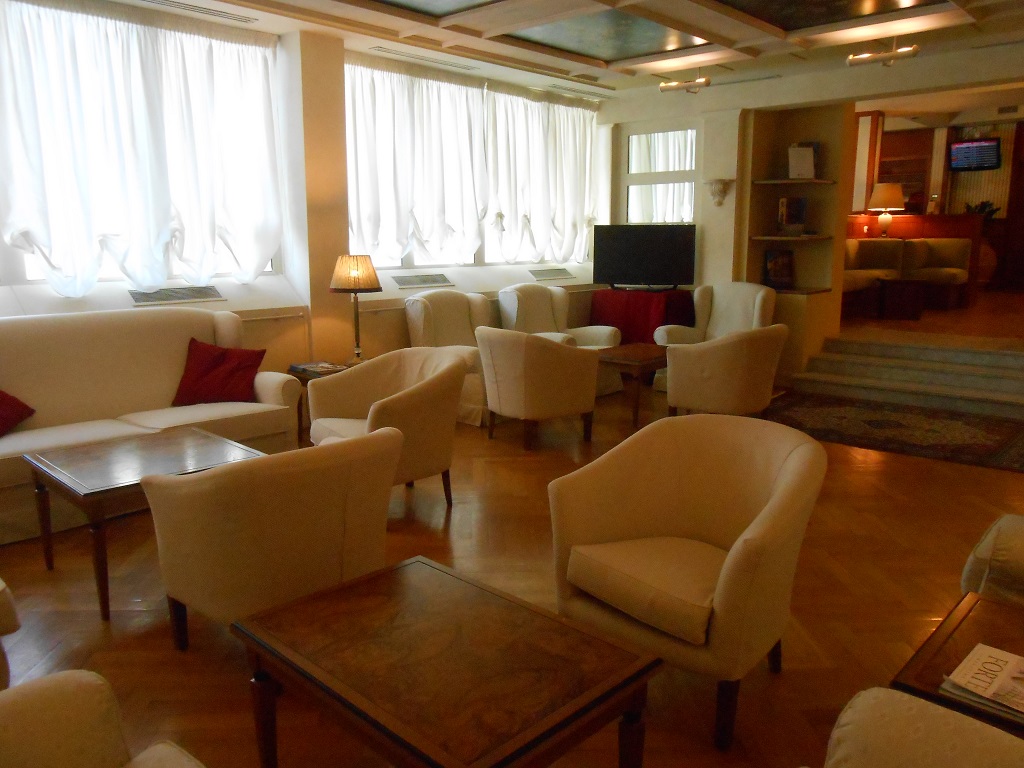 The Lounge was staffed by two ladies, and despite me being the only 'user' decided to clean the coffee area when I went to get a drink, and Hoover and dust just where I was sitting – lovely and attentive but was that really necessary?
The Lounge is between security and passport control and there is no fast track for Business passengers at either. Whilst the gate was only a two minute walk away, there were a lot of non-EU nationals on the flight and getting through passport control took a few minutes but I was soon on board the Airbus A319.
A319 business class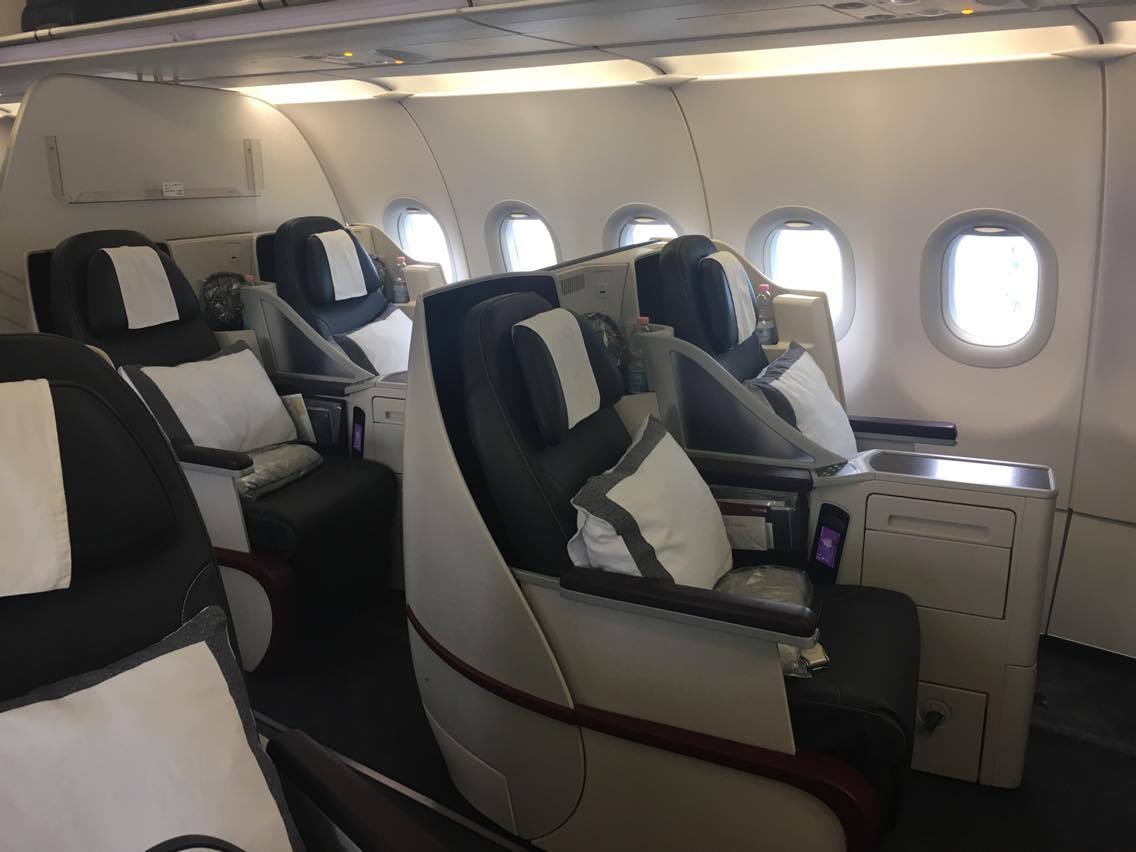 There were six Business Class passengers in the eight seat cabin. With two flight attendants servicing the cabin there was always someone on hand to help. The service was up to Qatar's usual standard. I chose to eat straight after take off whilst watching a film, then managed an hour or so sleep. I didn't eat again on the flight although I could have.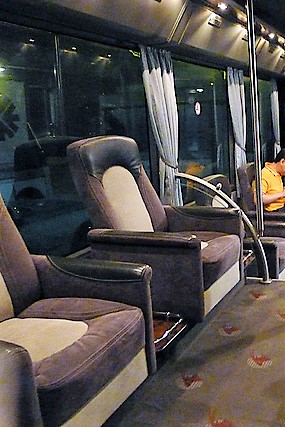 The flight pushed back 15 minutes early in Pisa and arrived in Doha 30 minutes ahead of schedule. The aircraft was parked on a remote stand and we were bussed to the terminal – the six of us having a 'Business Class' bus to ourselves with big plush seats. The timing of our flight meant we arrived in Doha late afternoon, which was a good time to get there as the airport was quiet – not many aircraft on stands and hardly anyone else arriving.
Connecting through Doha
The flight to Auckland wasn't until 3 o'clock the following morning, so I had pre-arranged a hotel stay courtesy of Qatar Airways. The transfer desk sorted this quickly for me and sent me to the Business Class Arrivals Lounge where I was processed, issued with a visa and escorted to a waiting bus to take me to the hotel. The hotel Qatar used was the Oryx Rotana, which is a 10 minute bus ride away, close to the old airport. Whilst it was a strange time to be staying, just for the evening, it was nice to get out of the airport and have a rest and a shower before facing the 16 hour flight to Auckland.
B777 to Auckland
I returned to the airport in good time for the Auckland leg, which I must admit I was facing with some trepidation as (at the time of travelling) It is currently the longest commercial flight by any operator. The flight is on one of Qatar Airways Boeing 777, and would take 16 hours on the way to New Zealand and 17 hours on the way back.
The seating in Business Class on the B777 is configured as 2-2-2 and the seats on this particular version are not totally lie flat, however the space available is such that even with their seat in the 'lay flat' position there is room to get past your neighbour. I personally found the fact that the seats did not go totally flat a bit less comfortable than on the A319, but saying that I still managed 8-9 hours sleep each way.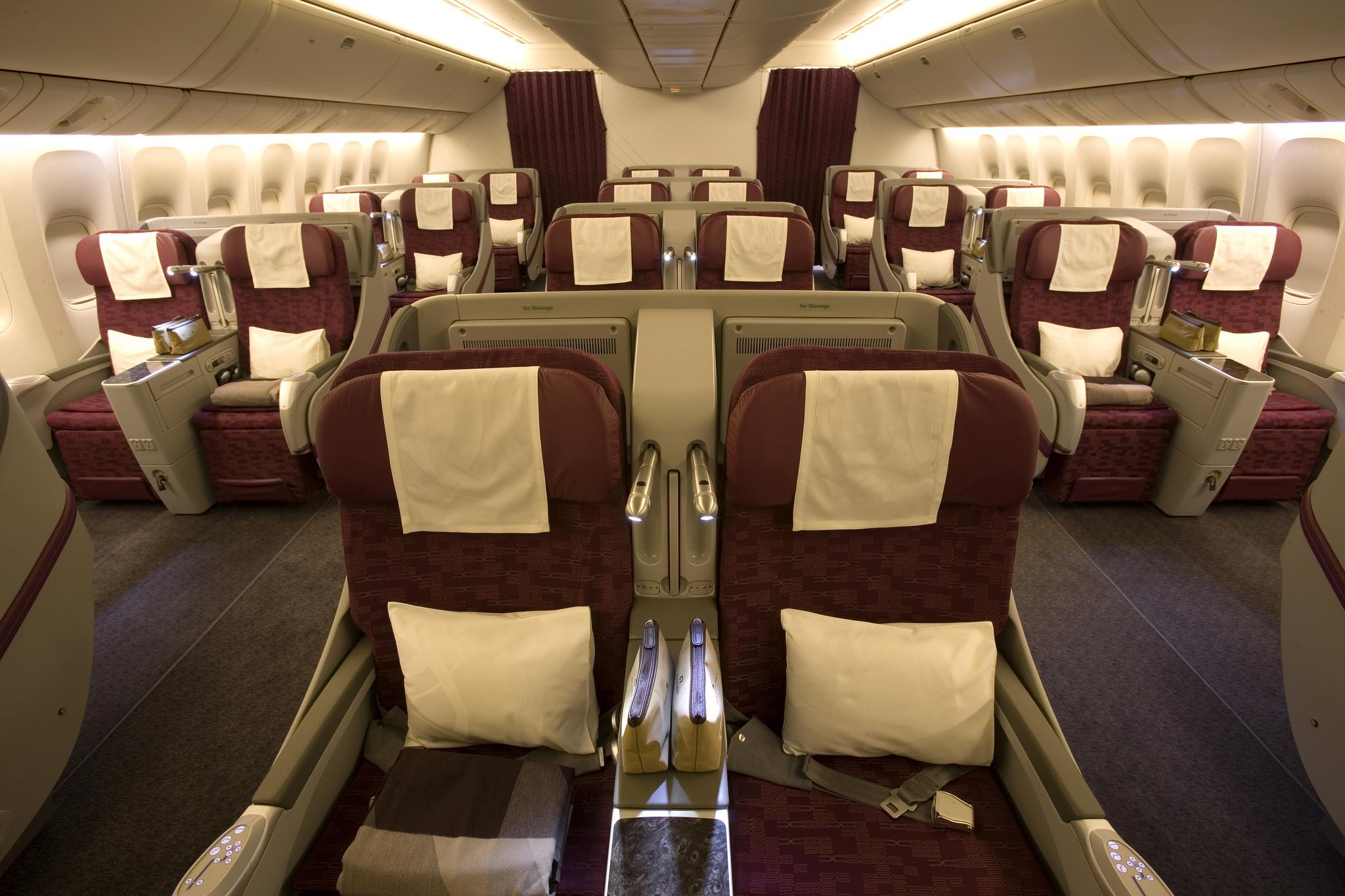 I have flown Qatar Business Class a number of times now and I always find the service to be superb – personal but not too intrusive, friendly but not to the point of being irritating. I was curious how they would handle the service for such a long flight and was slightly surprised to see the meal plan was a main meal followed by a breakfast just before arrival as served on 'shorter' 11 hour flights.
The cabin crew came around before departure with the usual welcome drinks (I'm not a champagne fan but I do like the Tattinger Rose Champagne they serve on board), hot or cold towels, amenity kits, sleep suits and slippers and to take the drinks and meal order. As it was a long flight I opted to eat after about 5 hours, although most people seemed to eat straight away (in the end I delayed this by a couple more hours, as I was about the only one awake and I didn't want to disturb my fellow travellers whilst being served).
Despite my misgivings I didn't have a problem managing the flight time between Doha and Auckland. My post-departure Gin and Tonic arrived and I settled down to watch one of the many films on the Oryx in-flight entertainment system. My drink was refreshed as needed and a couple of hours into the flight I settled down to sleep – and that pretty much formed the pattern for the rest of the journey – watch some inflight entertainment or read until tired then grab some sleep. The cabin crew made frequent discrete circuits through the cabin, so if I needed anything it was easy to grab their attention.
About 90 minutes out from Auckland the cabin lighting was increased and breakfast was served for those who wanted it. Not long after that we started our descent into the largest New Zealand city and landed just after 5am local time. Despite the long journey from Pisa, I felt refreshed enough to pick up my hire car and drive all day exploring the countryside on my first visit to New Zealand.
Auckland airport itself seemed small in comparison to Heathrow or Los Angeles but there are extensive connections from it both internally within New Zealand and further afield. The Airport has two terminals, one for the domestic market and one for International flights. The terminals are a short ten-minute walk apart, although there is a regular free bus transfer as well.
Auckland to Doha
On the return journey, after checking in with Qatar Airways I was given access to the Qantas lounge in Auckland as Qatar do not have their own dedicated lounge. Whilst this lounge was fairly busy it didn't feel over-crowded and I spent a comfortable hour or so enjoying a last local beer before boarding for the 17 hours back to Doha.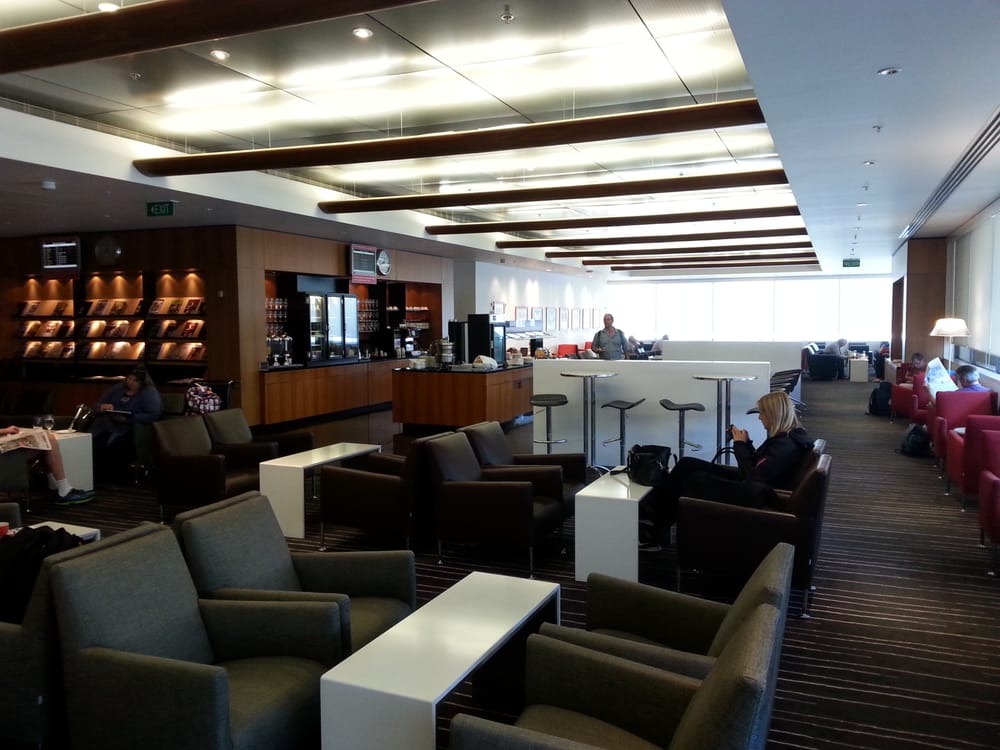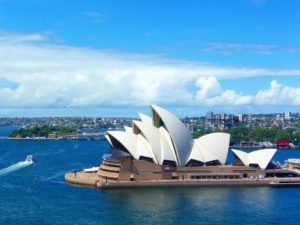 The return leg followed the same pattern as the outbound journey, and seemed to pass relatively quickly aided by the hospitality of the Qatar crew. For me it was particularly memorable as I looked out of the window just as we passed overhead Sydney and could clearly see the Sydney Harbour Bridge and Opera House – a treat as I have yet to visit Australia.
With only two and a half hours between flights in Doha I didn't have access to a hotel room, however I used the showers in the Al Mourjan Business Class Lounge to refresh and rejuvenate ready for the short hop back to Pisa and the end of my journey.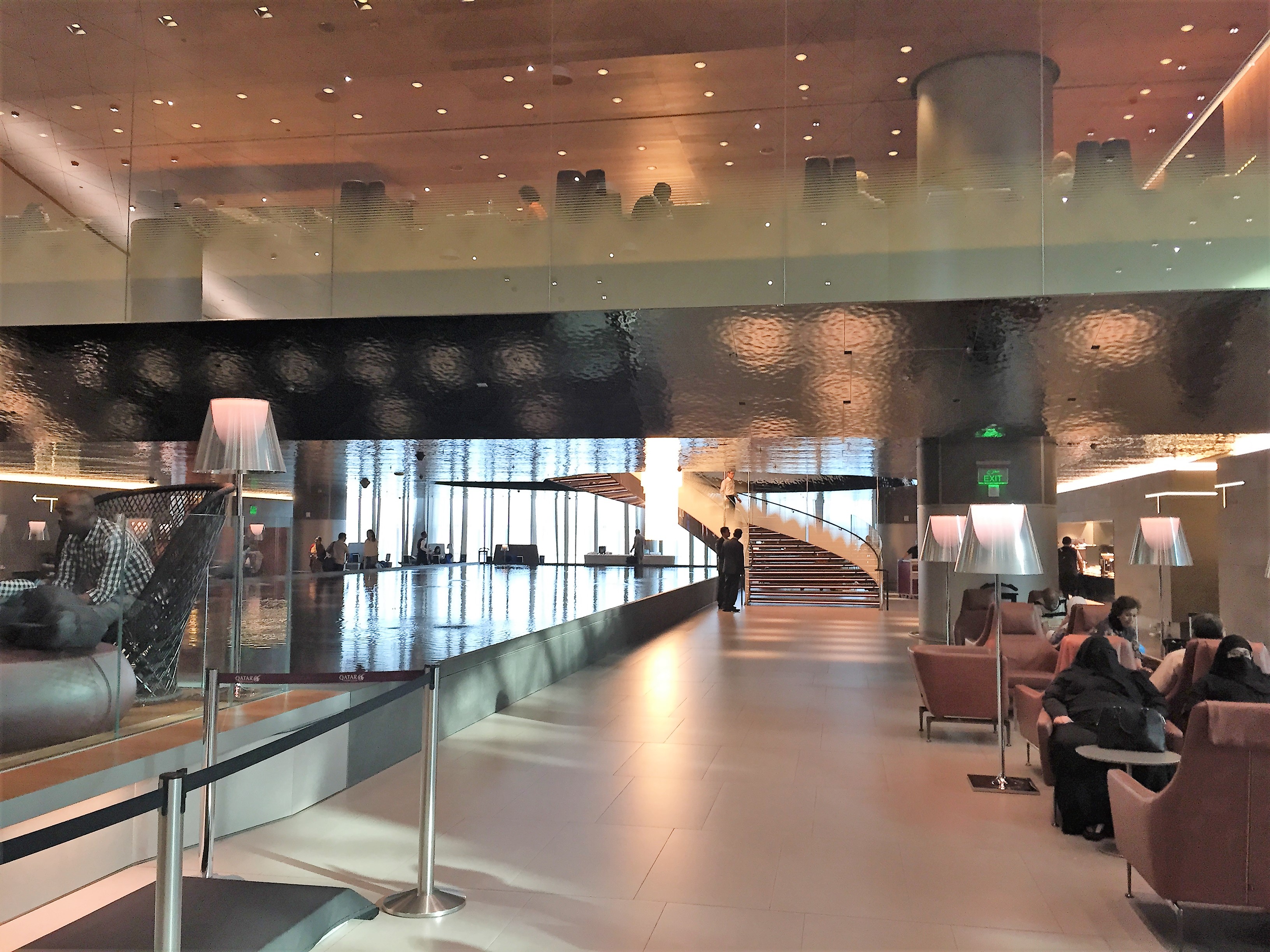 I would thoroughly recommend the Qatar Airways flight to Auckland. Whilst the length of flight is a daunting prospect, the comfort and hospitality of Qatar Airways Business Class made this a pleasant experience and allowed me my first visit to New Zealand – and I will be back.