Budget airlines like Scoot are stepping up their game in Asia, offering competitive services at attractive prices. You can read my previous review of another budget airline, Thai Smile here.
I recently flew from Krabi, Thailand, to Singapore with Scoot on one of their Airbus A320CEO aircraft. I had a very positive experience overall. Here is what you need to know about travelling with Scoot + my full review.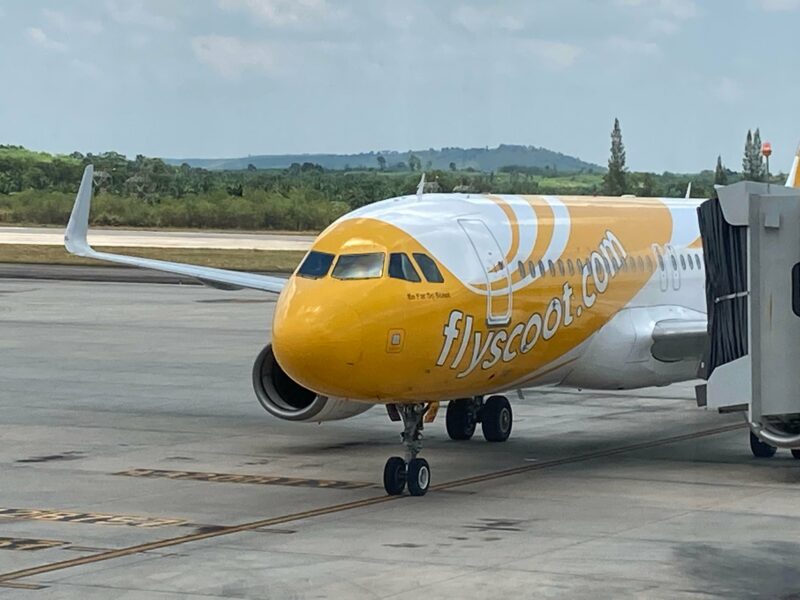 Introducing Scoot

Scoot is a low-cost airline and the 'Proud little sister of Singapore Airlines. Scoot may not have such luxury travel classes, but it is a safe airline that will get you from A to B.
It also has huge miles and points advantages as opposed to travelling with many other Asian Airlines. With Scoot, you can collect KrisFlyer miles.
As of April 2023, the Scoot fleet comprises 40 Airbus A320 aircraft and 20 widebody Boeing 787 Dreamliners.
Using Scoot to Get Around Asia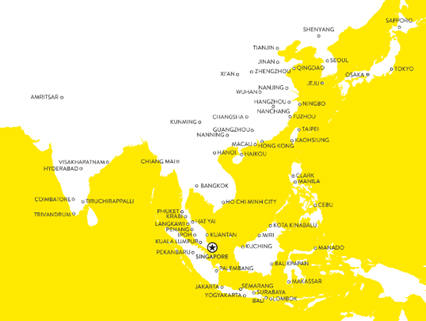 Scoot's extensive network spans various destinations in Asia and worldwide. As of April 23, Scoot operated flights to 65 destinations. Most of Scoot's destinations are short-haul routes across Asia, but few long-haul routes exist.
However, if you are looking for a convenient way to get around Asia, Scoot is a great option. Unlike many Asian-based airlines, it is one of the safest airlines available and allowed to fly into the EU.
Long Haul Flights with Scoot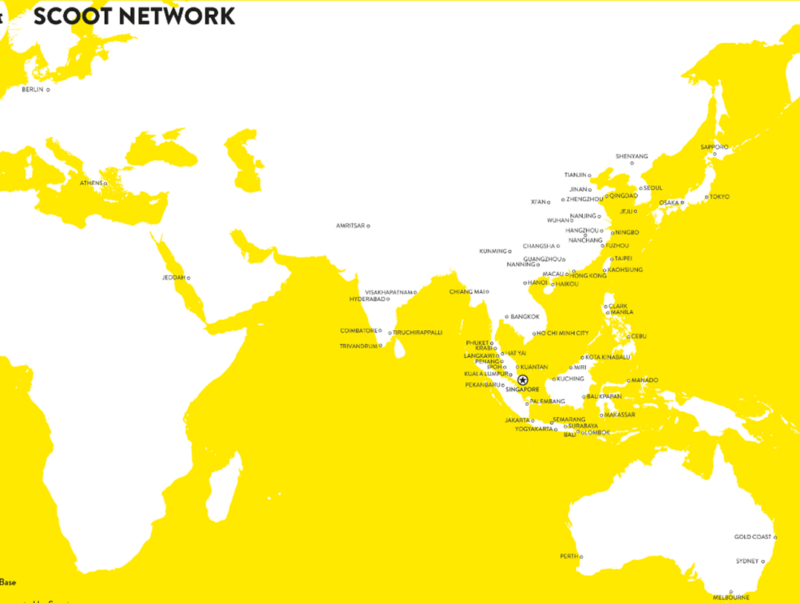 Scoot was voted the World's Best Long Haul Low-Cost Airline' by Skytrax consecutively in 2021 and 2022. Scoot is often the cheapest airline for long-haul flights, with very affordable flights starting at around £173 from Berlin to Singapore and Athens to Singapore, excluding bags, food and seat allocations. Being based in Singapore, most flights travel to or from Singapore.
I flew from Athens to Singapore with Scoot in 2018. From Singapore, Scoot flies to four major cities in Australia, making it possible to fly from Athens or Berlin to Australia on a budget.
Scoot Plus and Other Upgrades
Although Scoot does not have a business class option, various upgrades are available.
Scoot Plus
Scoot Plus is similar to what you may expect in the economy plus. Travelling in Scoot Plus works out at a similar cost to flying in economy class on another airline. You will benefit from the following:
Extra Legroom
30MB Wi-Fi Connectivity
In-seat power
15kg of hand baggage and 30kg of checked luggage (10kg for economy + payable luggage)
Complimentary food and drinks from the Scoot Cafe (a light refreshment for flights under 90 minutes).
Priority Boarding
Scoot in Silence – Only Dreamliner Flights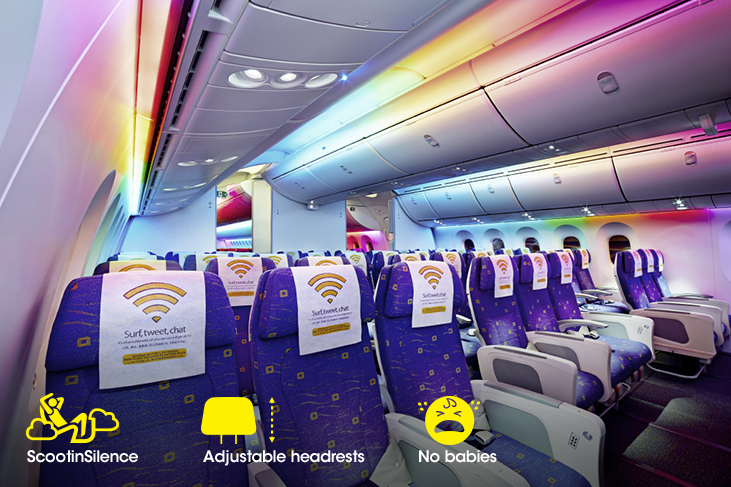 Scoot in silence is a unique concept only offered on the Dreamline aircraft. If you want a restful journey to catch up on work or to sleep before arrival, Scoot in silence is a good option.
Only travellers age 12+ can sit in the Scoot in silence cabin, and you will have adjustable headrests and a 34-inch seat pitch. Once you land, you can get to your destination quicker with early disembarkation.
Extra Seats
Scoot also offers the option to book two extra seats in a row, offering a unique lie-down experience. I was lucky to have the two seats next to me available on my flight from Athens to Singapore with Scoot in 2o18. I did lie down for some of the journeys, but because the seats were very thin, it was not very restful.
Booking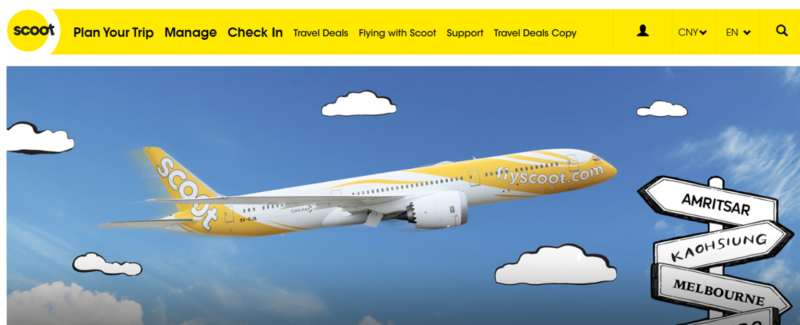 I found it very easy to book our Scoot flight from Krabi to Singapore. I chose to book online, but you can also book via the app. I always find that Scoot has a modern website layout and easy to navigate app.
We paid £191.65 for two adults, one child, and seats and bags.
A few months after booking, the flight time was changed from 15:50 to 1:25 pm. This was more convenient for us, and we were offered a refund if the new time did not fit our schedules.
Loyalty – KrisFlyer Miles
One of the best things about flying with Scoot is the ability to collect Krisflyer miles which can be redeemed for flight upgrades and more on Scoot and Singapore Airlines and partner airlines.
When you travel with Scoot, you will earn 1 mile for every SGD$1 spent. You will also receive 2.5 Elite miles for every KrisFkyer mile earnt with Scoot, which goes towards reaching the next KrisFlyer membership level.
Scoot also offers milestone rewards when collecting KrisFlyer. I was offered 20% off my next flight with Scoot after reaching 2,500 miles and a bonus of 1,000 miles on my next flight.
Check-In
Arriving at Krabi Airport was a seamless process. It is straightforward to check in via the app. This can be done 72 hours before departure. We arrived in a taxi from Ao Nang 2 hours before, and the queue for dropping bags off was only 10 minutes or so. Security was also a very seamless process.
Boarding
Krabi Airport was very small. Upstairs, there is a small selection of souvenir shops, coffee shops, and takeaway food.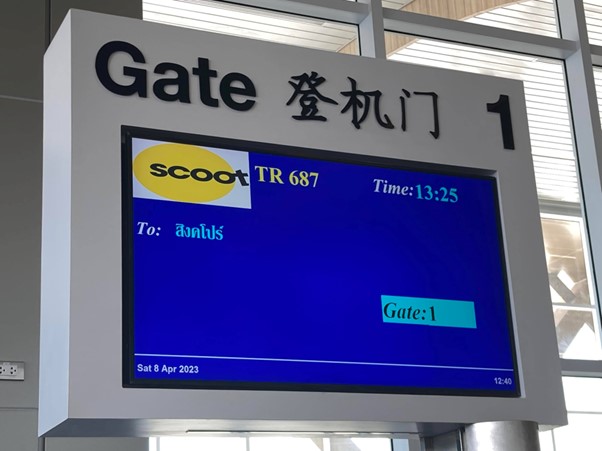 Downstairs, there is lots of seating with good views of the mountains in the Krabi Province. We started by sitting in a cafe; then we went to sit by our gate.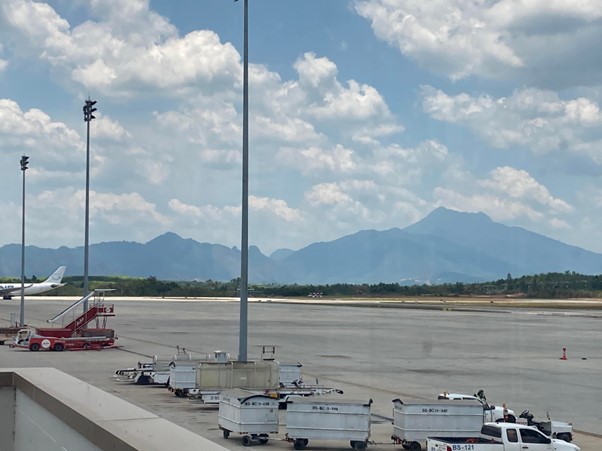 The flight arrived on time, and we were ready to go!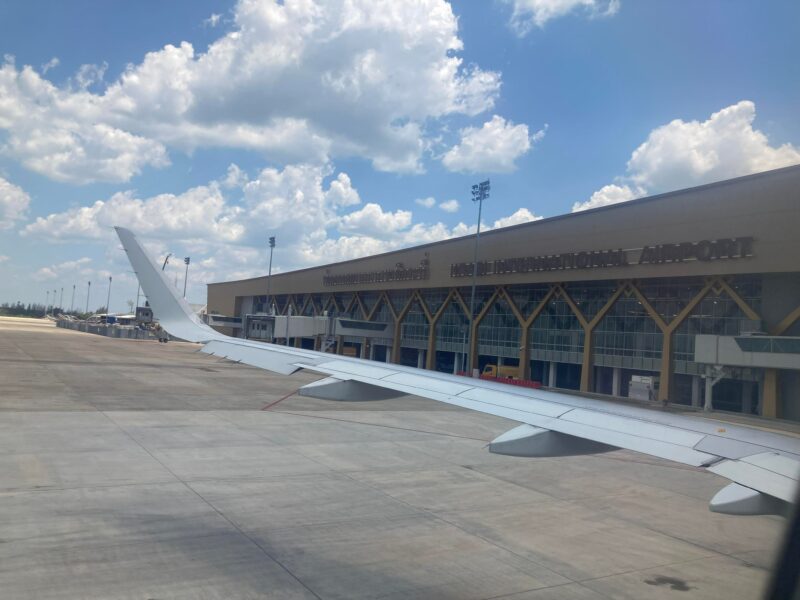 On Board
The cabin was surprisingly comfortable for a budget airline. The seats and cabin did not show signs of wear and tear like our precious flight with ThaiSmile. It was perfect for a short-haul flight, although it reminded me of when I flew long-haul with Scoot with no adjustable headrest…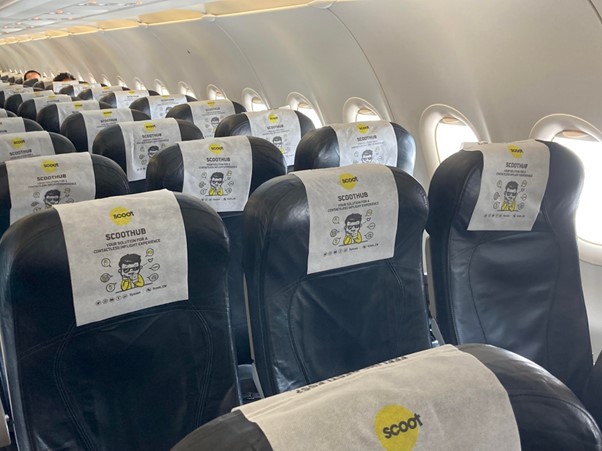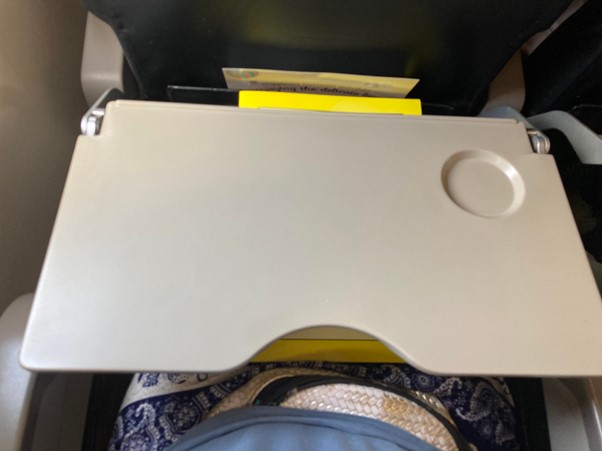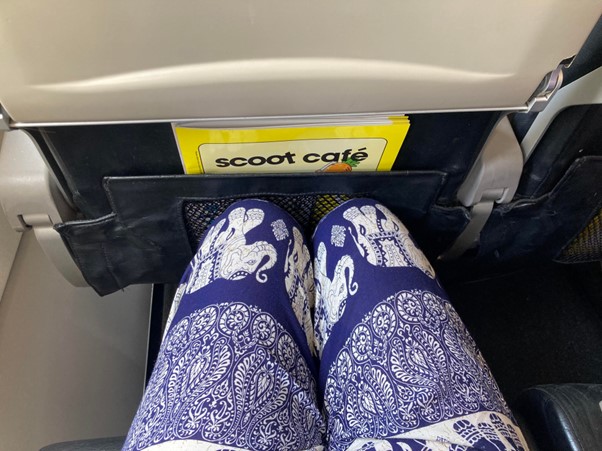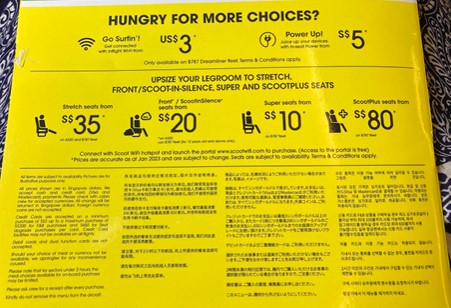 The takeoff was very bumpy. There was a thin layer of cloud, and it was very unexpected. The takeoff wasn't as smooth as other short-haul flights I have travelled on.
Food and Drink
Scoot Flights sell a vast range of hot ready meals, including noodle pots, snacks, and alcoholic/non-alcoholic drinks. I wasn't aware that you had to preorder hot food, so we did not buy anything on board.
Here are the things you can purchase on board. All prices are in Singapore dollars: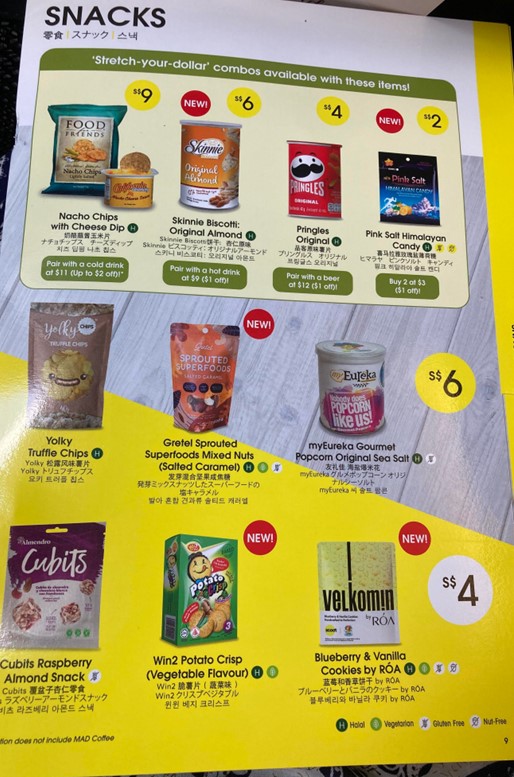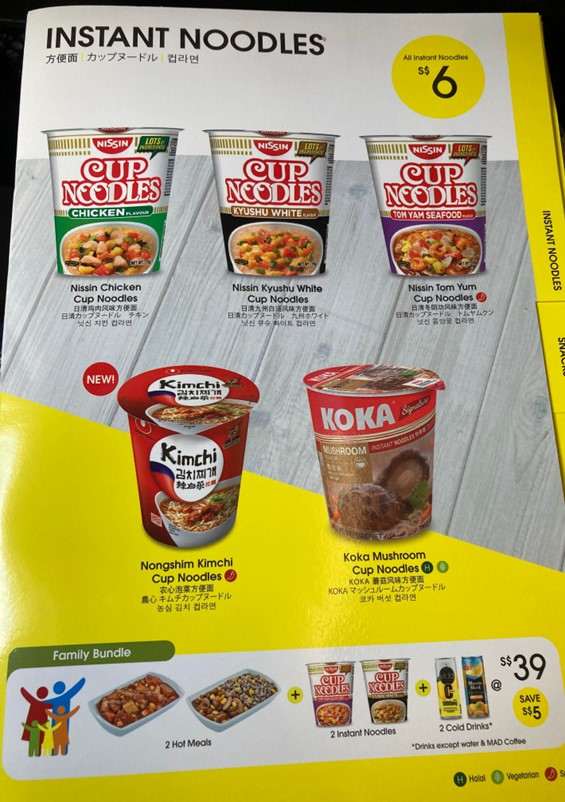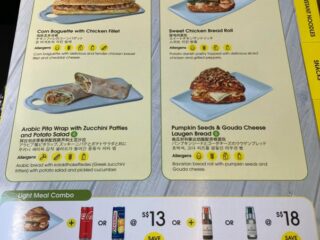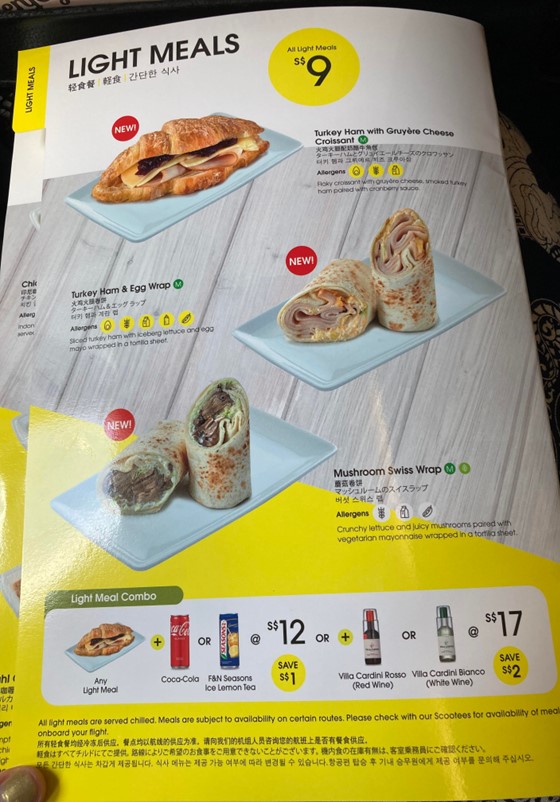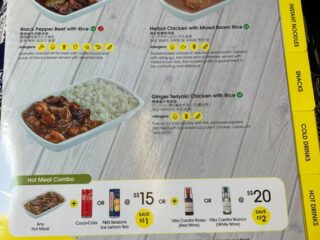 Arrival
After a short flight, we were soon in reach of Singapore! We had fantastic views of the Singapore skyline from the window – something I missed last time when I arrived at 5:00 am.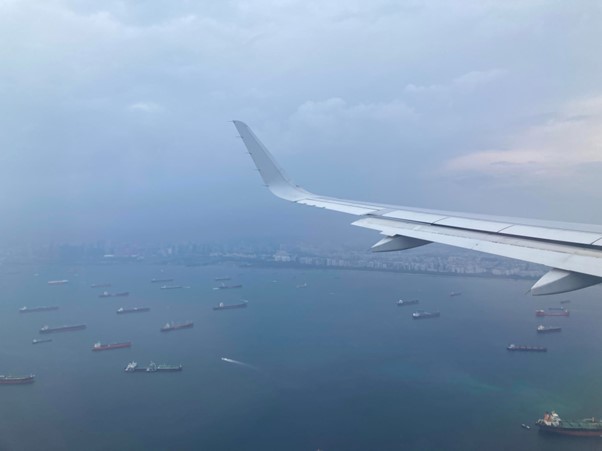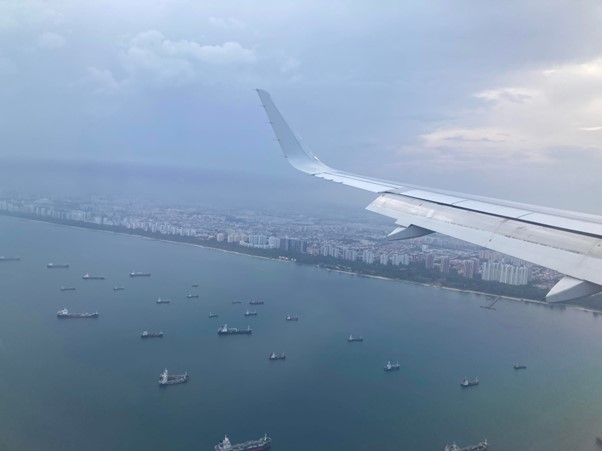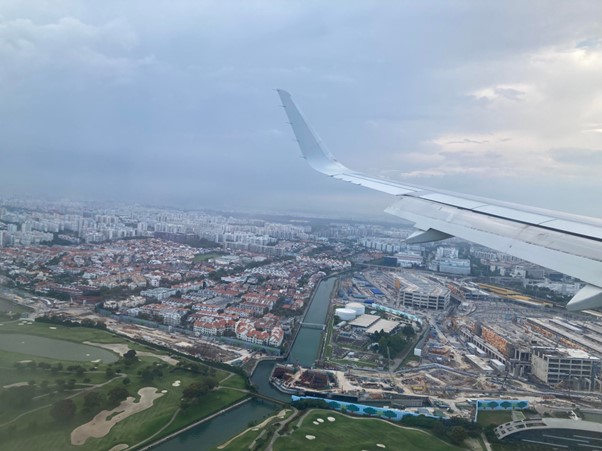 Final Words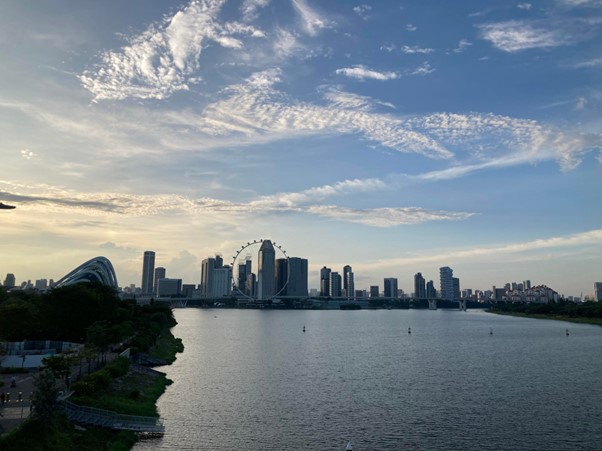 I enjoyed flying with Scoot overall. The flight was value for money and had all the amenities needed for a short-haul flight. Apart from the bumpy takeoff and the lack of the ability to purchase hot meals without preordering, everything went very well.
Scoot certainly exceeds my experiences with Ryanair, Volotea and EasyJet recently. I would recommend Scoot as a safer, more affordable alternative for getting around Asia.
If you are planning to travel with Scoot long-haul, keep in mind that the takeoff and landing times are generally awful, meaning you may have to spend extra money on hotels. A huge disadvantage is the lack of adjustable head cushions and no free in-flight meals or things like luggage included. Everything is an additional cost which can put up the airfare to a similar price of an economy class ticket with another airline.
However, if you are looking for affordability, Scoot makes travelling to Asia more accessible for more people.