This review will look at whether Secret Escapes offers a genuine saving as well as reviewing the actual hotel stay at Bishopstrow Hotel & Spa in Warminster.
Secret Escapes – value for money?
Secret Escapes, is a members only website with hand-picked hotels, holidays and exclusive offers. They guarantee to offer the best rates online during a sale. Every week they run up to 140 short 'flash sales' lasting around ten days each. It is free to join and if you use this link to sign up you will receive £15 credit off your first booking.
We booked the Bishopstrow Hotel & Spa for 1 night for 15th December 2016. The Secret Escapes booking came to a total of £223.23 including a booking fee payable to Secret Escapes of £10.00 and a payment processing fee of £4.23.
The package included:
Accommodation in a Club room

Club room twin bedroom

Full English or continental breakfast included
A £35 dinner allowance per person from the A la Carte menu
Rasul treatment per person included
Cream tea per person, per stay
Glass of fizz per person, per stay
When you work out the cost of the extras for 2 people they are:
Rasul treatment – £70
Dinner- £70
Cream tea – £19.90
Glass of fizz – £16
This totals £175.90 which means the room cost £47.33 including breakfast for 2. During the Bishopstrow's own sale featured below, the Club room can be booked for £99 excluding breakfast but the standard rate is £185. At either rate the Secret Escapes deal represents excellent value for money.
The booking process was relatively simple although you need to make sure you read all the detail about booking and payment fees to get a true price. I find with Secret Escapes it is always worth comparing them with what the hotel offers as often the prices are similar but Secret Escapes includes extra perks. This is fine if you actually would have bought those anyway. If won't use them you may be better booking direct with the hotel for a larger choice of dates.
The Hotel
The Bishopstrow Hotel & Spa is set in 27 acres of grounds alongside the River Wylye, located between Bath and Salisbury. The building dates back to 1736 when it was the Manor House and it is now a 32 room hotel. Bishopstrow is part of Longleat Hotels and at 6 miles, only a short drive from Longleat Safari Park. The nearest town is Warminster which is a picturesque place with lovely shops and cafes.
Also close by are Stonehenge, Salisbury and Stourhead House and Gardens. During our visit we visited the Thermae Spa in Bath which I would definitely recommend and is situated about 19 miles from the hotel.
The room
The Club room is 2 categories higher than the entry level small double room,.The room we received was large and generally well equipped. It had twin beds and a large seating area with a chaise longue-ended sofa. Outside was a patio with table and chairs in a secluded part of the garden which would have been lovely in the summer.
Still and sparkling water were provided along with the usual amenities such as hairdryer, bathrobes and tea and coffee making facilities with biscuits. One rather unusual and annoying aspect was the lack of a safe which was very irritating as it meant having to lock our belonging in a suitcase or carry them around with you. This really needs to be addressed by the hotel. The generous sized bathroom was a particular highlight with a free-standing bath, double shower and sinks. There was also 2 sets of Elemis toiletries.
We started our stay with the cream tea and a glass of fizz. The glass of fizz was good quality and the afternoon tea well presented with fresh strawberries. The scones were rather odd in appearance and texture. They appeared to have not have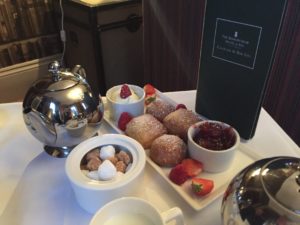 risen and were rather small. The fruit ones were spiced and very dense which was not particularly pleasant. The sitting room where it was served was elegant and modern but still in keeping with the original period of the house. Tables were laid with white table clothes which was a nice touch for afternoon tea.
The Spa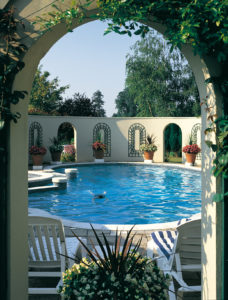 After the tea we went to the spa before our rasul treatment. The pool itself looked rather dated and the tiles around the pool were extremely slippery. Fortunately the hotel had put non-slip mats around the pool but this didn't really help with the overall appearance. The pool was a lovely warm temperature for a winter's swim and overall it was an enjoyable experience. There is also a heated outdoor pool which is open year round during daylight hours. The spa features a relaxation suite, sauna, steam room, whirlpool, monsoon shower, tennis courts, four therapy rooms plus a Life Fitness exercise suite. The rest of the spa was more modern and had a dedicated rasul treatment area.
Their therapists were very friendly and explained the treatment and the suite before leaving us to relax. The rasul treatment consists of smothering yourself in medicinal Chakra mud and then sitting in a herb-infused steam chamber. The whole process was automated and after the steam finished, a fine mist was sprayed over us. We then used the showers in the suite to get the rest of the mud off.
Dinner

The restaurant at the Bishopstrow Hotel has won 2 AA rosettes and the food did not disappoint. 2 courses normally cost £33.50 and we had a credit of £35 each. Unfortunately being the festive season the actual restaurant was being used for a function so we were in a temporary set up in one of the living rooms. As the chairs were like conference chairs it did feel very temporary and somewhat detracted from the experience. It would have been good if the hotel had forewarned us when we booked that this would be the case. The restaurant itself is much nicer and overlooks the gardens with a separate glass walled area which was a lovely place to have breakfast.
We were impressed by the food which was innovative and of a high standard for a four star hotel. I started with lighlty pickled mackerel with cucumber carpaccio, sauce vierge, pink peppercorns, pea shoots, lotus and cassis pearls. I am not normally a fan of lotus root but these were deep fried and added texture to the dish. In summary the dish was a lovely light start to the meal although I would have preferred if the skin had been removed from the mackerel. My dining companion had the thai mussels which he also enjoyed.
Both of us then had the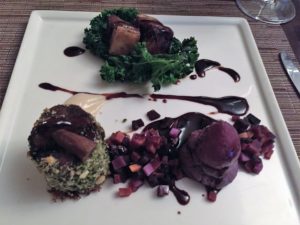 slow cooked duo of beef. This consisted of Chocolate Chilli Rib and Ox Cheek with Salsify Purée, Root Vegetable Concasse, Violette Celeriac Mash, Pear and Sauté Cepes and Black Garlic Jus. The ox cheek was tender and delicious but the rib was less successful. It was a bit fatty and the chocolate really did not work as it was far too sweet with very little chilli detectable to counteract it. The ribs would have worked better with a more bitter chocolate. The jus was full flavoured but there was only a small amount of my plate and the dish needed more. Overall it was an enjoyable and well cooked dish.
Neither of us had room for pudding. The wine list was a bit pedestrian, in particular the wines by the glass. Whilst these were well priced they could do with some higher quality wines by the glass. We had a glass of the Gourmet chardonnay from South Australia with the starter and the Cabernet Sauvignon with the beef from the same vineyard. Both were OK if a bit dull.
Service was also an area that could do with some improvement. Whilst the staff were all friendly and helpful, the language barrier with the non-native English speakers did get to the point of being ridiculous at times. We asked whether the chardonnay was oaked and the staff could not understand us. After trying 2 wait staff eventually the manager was able to answer our question (it was unoaked).
Breakfast
Breakfast was served in the main restaurant and consisted of a small continental buffet and a hot selection served to order. I had the full english breakfast with scrambled eggs. The bacon was a highlight and some of most well flavoured bacon I have tried. The only let down was the scrambled egg which tasted like it had been cooked some time ago and had a strange slightly grainy texture.
My friend had the bagel with smoked salmon and scrambled egg which had the same odd textured egg. Again we had language issues as there was no sugar or sweetener on the table. It took 2 staff before we could make them understand we wanted some sweetener and then in the end we resorted to miming. It had an air of Manuel in Fawlty Towers at times!
Would I recommend the hotel?
I enjoyed my stay at Bishopstrow house and if I was visiting somewhere in the area like Longleat I would definitely stay again if I got a decent deal. I would probably not return to the hotel as a destination in itself. Although it does have spa facilities, I have seen better in this price range.
January 2017 Sale Offer
For £99 per room per night Sunday – Thursday between 2nd January – 31st January 2017.
One night Accommodation in a Classic, Club or Superior Room
Use of the spa facilities from 3pm on your day of arrival and until 11am on your day of departure.
A £10 voucher to be used towards either Food and Beverage or the Spa
Breakfast is not included but can be pre-booked breakfast for £8 per person. (Normally £15 per person)
Book via the Bishopstrow Hotel website here.