Today's review is by Mrs B. Coconut Bay in St Lucia is not what you call a luxury hotel, more midrange, but in terms of value for money and location, it is a great resort if you stay in the adults only part. Today Mrs B looks at the newly opened, all-inclusive adults only luxury resort at Coconut Bay – Serenity.
This is a hotel that truly lives up to its name!
We have stayed at the original Coconut Bay several times (initially on Michele's recommendation of course!) so were keen to see how much better Serenity was. The hotel sets itself aside from the main Coconut Bay resort with only 36 suites and had a lot to do to live up to the self-generated hype. It really did not disappoint. Serenity at Coconut Bay is adults only and all inclusive.
Location and arrival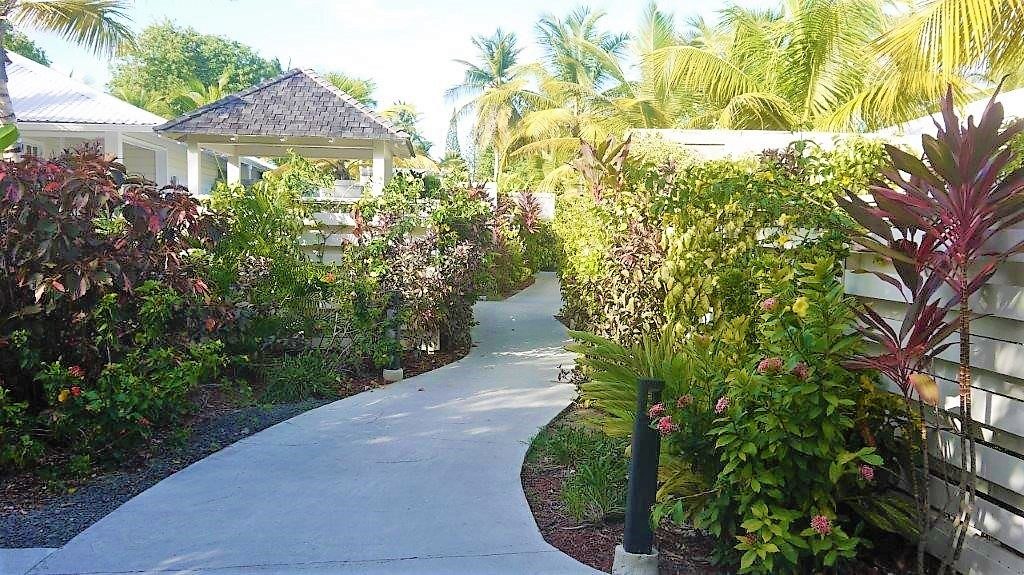 One of the main features of the resort is the 5 minute door to door free transfer from the airport. Many St Lucian resorts require a 60 – 90 minute transfer which isn't ideal after a long flight. It really is that close but that does not mean the airport is intrusive – there are few flights (single figures apart from the little 'island hoppers') each day and mainly mid-afternoon.
You enter through the main Coconut Bay Resort entrance which is not overly impressive but that all changes on entering the haven of Serenity. As you pull up at the completely separate Serenity at Coconut Bay reception you are met by staff and your butler. From that point on the service and standard is excellent. The individual check-in is done in your villa by your butler with the usual cold towels and a lovely bottle of sparkling wine and chilled glasses from your 'wet bar' fridge – more on that later!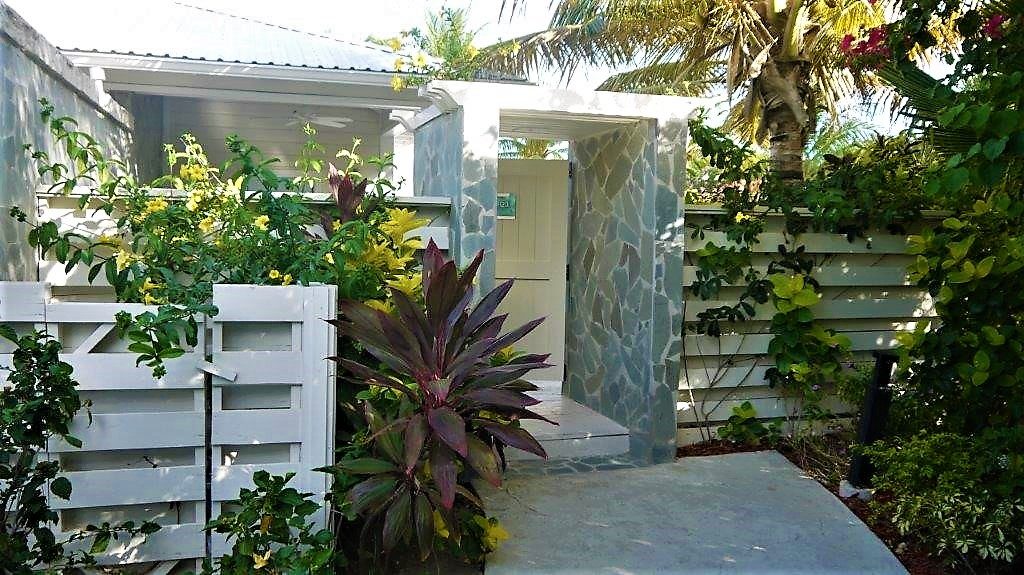 Having been familiar with the barren area of Coconut Bay that Serenity has been built on we were delighted to see that the whole complex has been beautifully landscaped and once you enter Serenity it is like entering a completely separate and individual resort.
The villa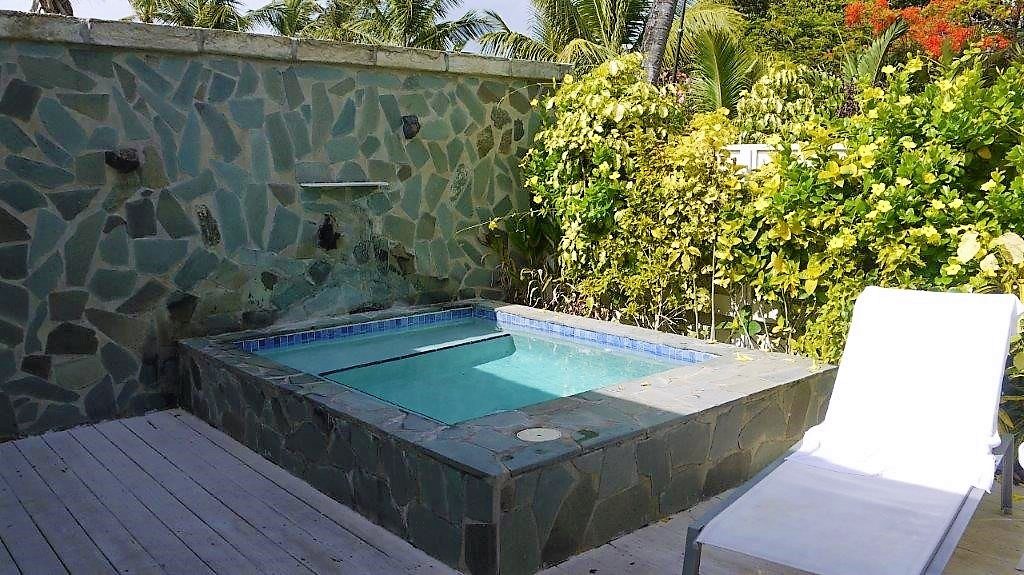 Although referred to as suites I would describe the accommodation as more 'villa'. Your villa is impressively private which is not overlooked whatsoever. If you are looking for a room with a large outside area and pool that is completely out of sight from anyone then this is the place. The pool is more of a plunge pool but perfect for lazing and cooling down. The pool is non-chlorinated and benefits from a small waterfall (which can be turned on and off as you choose) along with lovely lighting. Although we were advised that the pool was salt water, there wasn't any smell and it was always fresh and clean.
Post from RICOH THETA. – Spherical Image – RICOH THETA
There is plenty of room for the two loungers along with a two person hammock and table and chairs for outdoor dining without any feeling of being crowded at all. There's also an outdoor shower should you fancy trying that. The 'wet bar' is a nice touch with a sink, blender for cocktails, a selection of patio (plastic) glasses and a well-stocked fridge – ideal for a day spent at your villa. We didn't ask the butler to make us cocktails but the offer and equipment were there should you choose.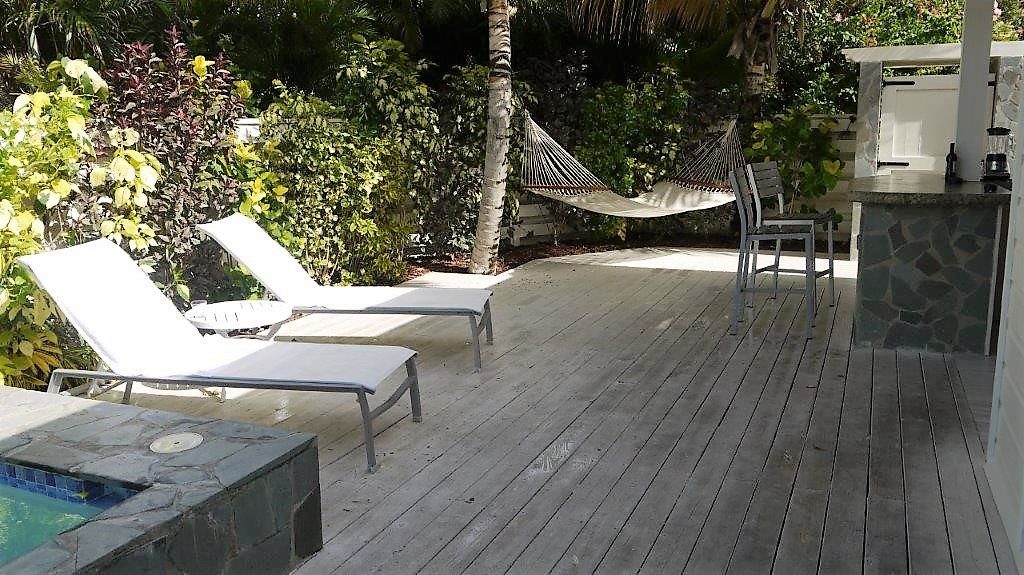 You are offered by e-mail in advance the option to fill in a pre-arrival form, where along with other bits and pieces, you are asked which two bottles of spirits you would like for your room. All of the offered spirits were high end. As gin drinkers we chose Hendricks and Tanqueray-10 which went down nicely!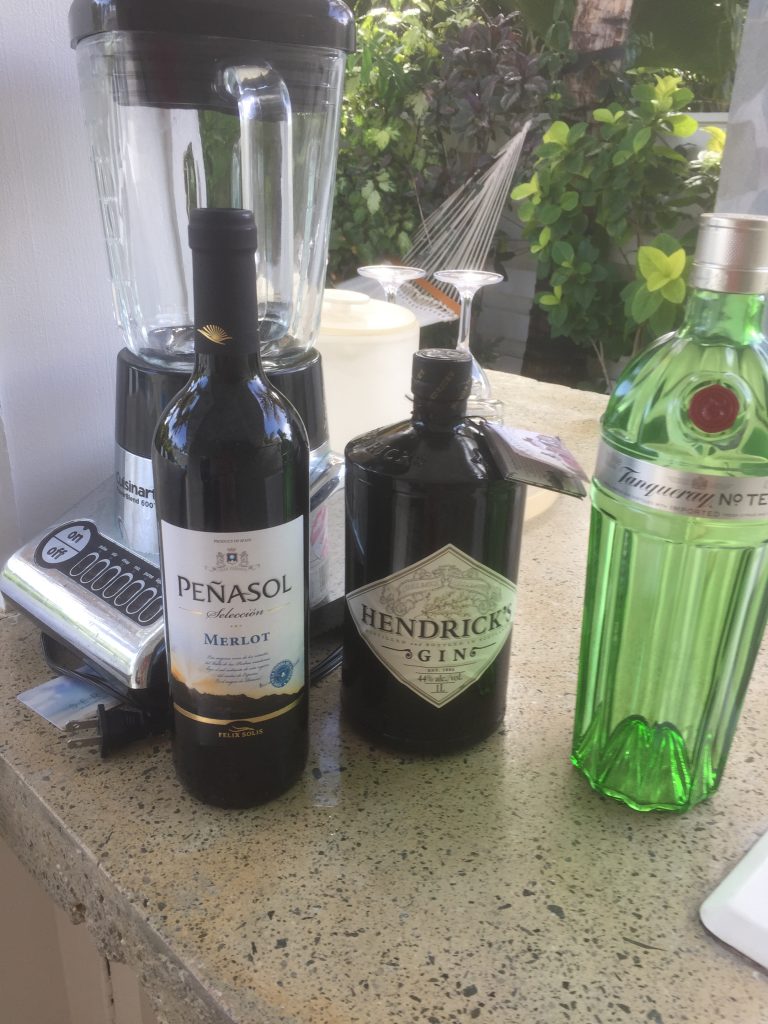 The wet bar fridge contained the usual things such as water, fruit juice, Diet Coke, mixers and beer along with any white, pink or sparkling wine you would like to have – your butler was only a phone-call away! Although the mini bar was restocked daily your butler would bring more wine etc on request. We didn't make it through our two bottles of gin but I'm sure those would have been restocked if needed.
Post from RICOH THETA. – Spherical Image – RICOH THETA
The room itself was excellent with an incredibly comfortable bed fitted with high-quality Egyptian cotton sheets along with a first class air conditioner and a ceiling fan directly over the bed. My only slight issue with the very comfortable bed was that although I'm 5'6" the mattress was level with the top of my hip requiring a most unladylike leap out of or into bed! A good size flat screen TV is provided though the quality of the cable picture was poor and the channels very limited.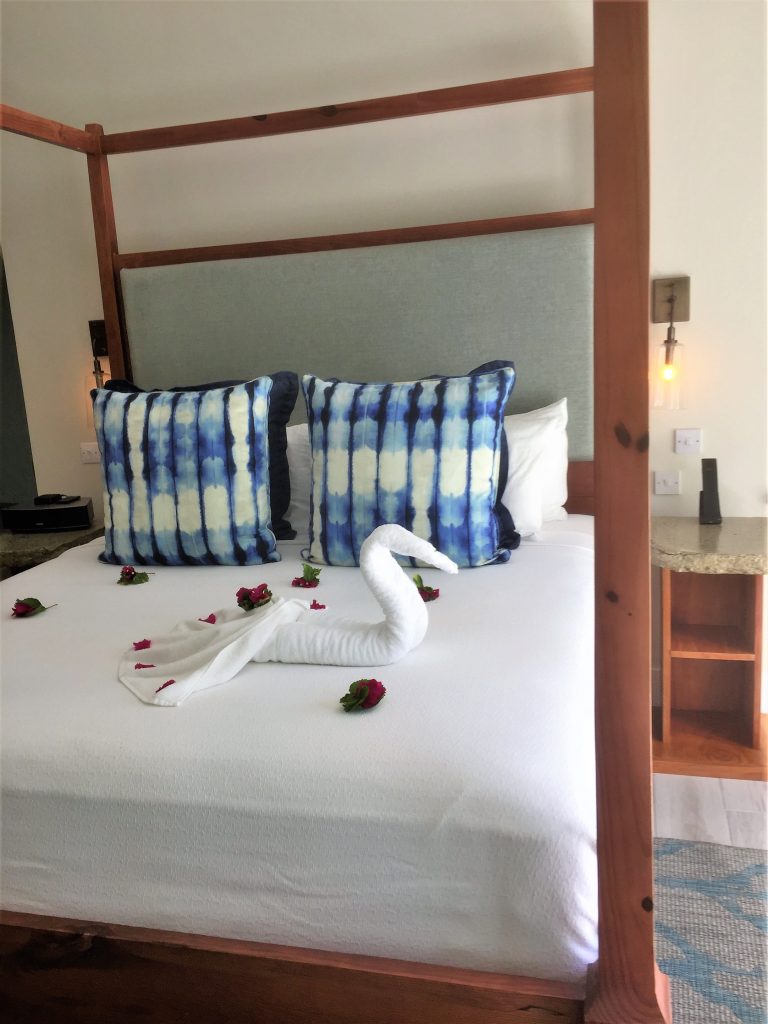 Two different coffee machines (one of which was Nespresso) provide caffeine lovers with all they need. There was also a good selection of teas along with china mugs and cups.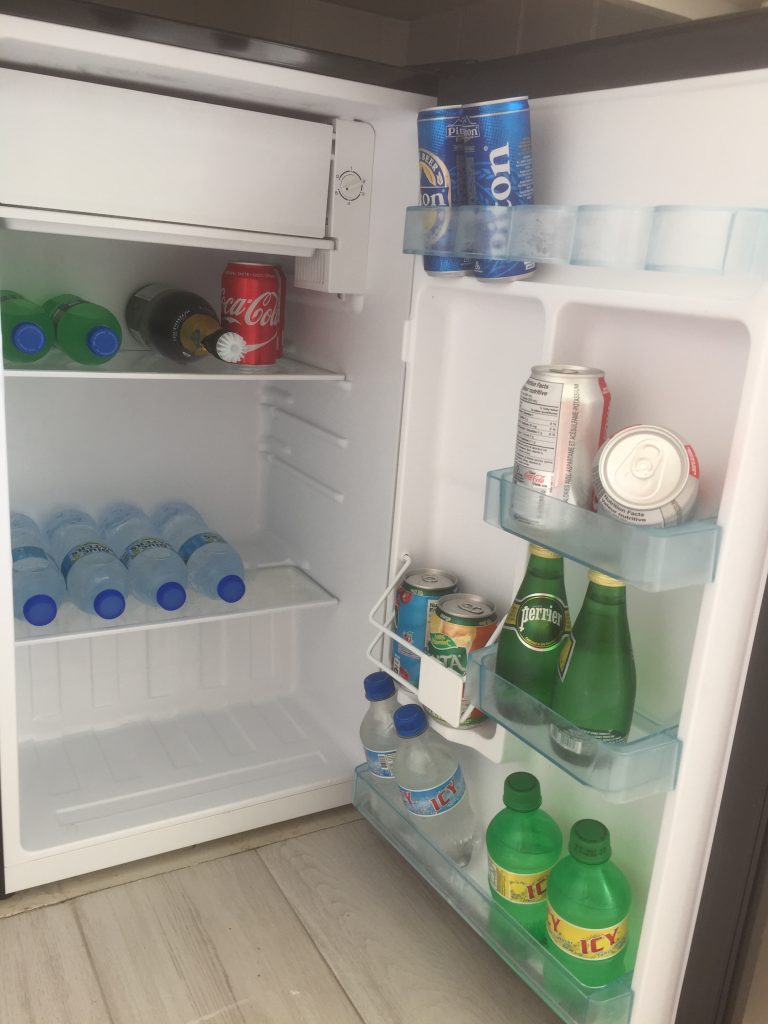 Bathroom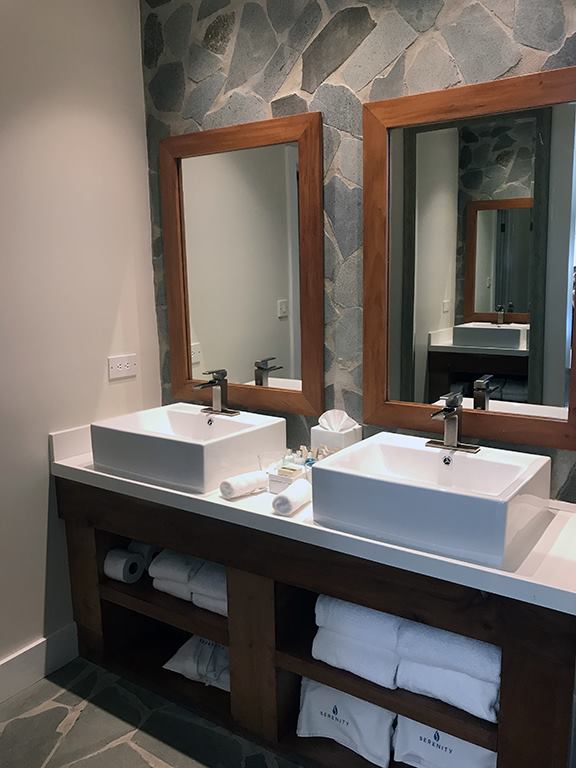 The bathroom area is separate and very well appointed. Plenty of quality towels (replaced at least twice daily) and a great selection of Molton Brown toiletries. The shower is excellent and spacious if lacking a bit of lighting.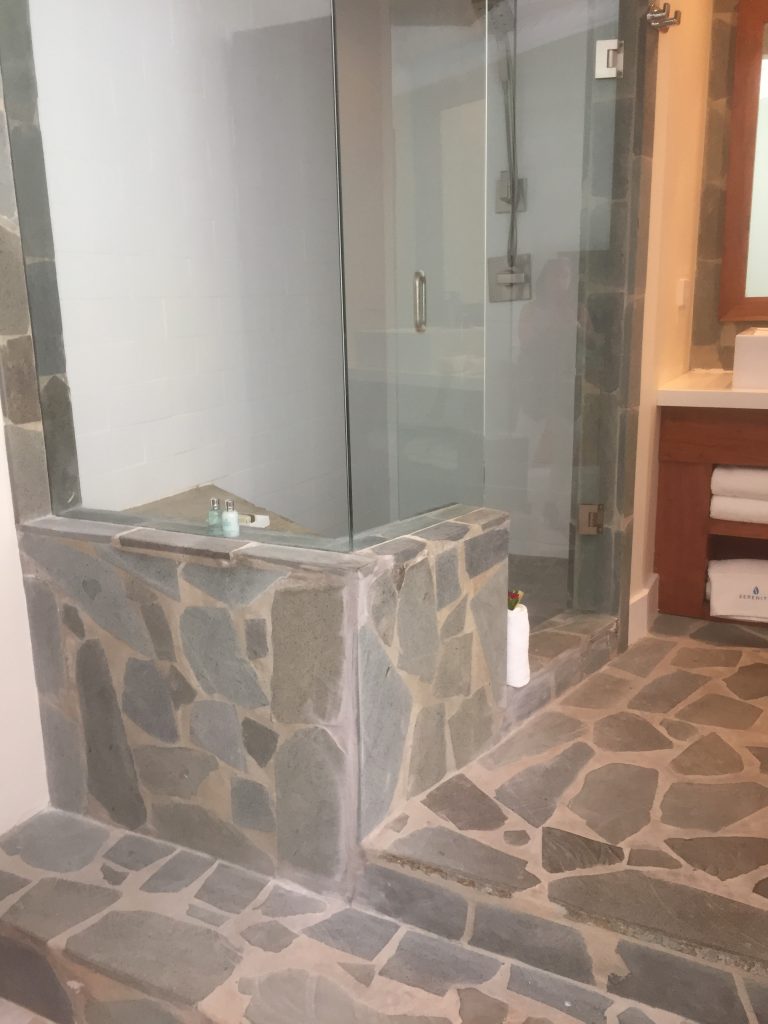 There is also a separate large bath. Your butler will run a bath for you if you wish. The villa was serviced twice daily and each time a new towel sculpture appeared along with some flowers from the garden scattered on the bed and in the bathtub with a little note from the housekeepers. Good wifi is also available throughout the villa.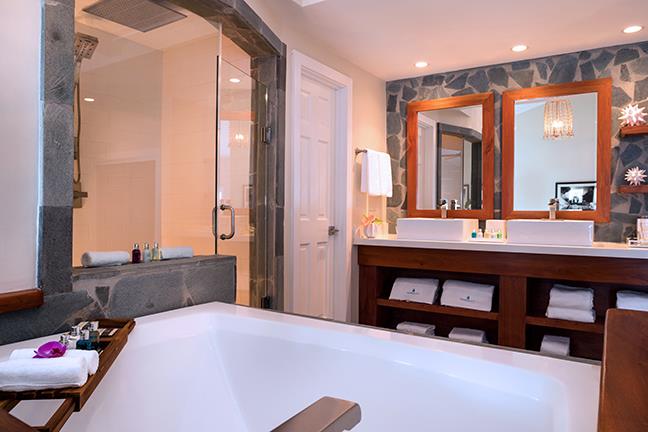 Dining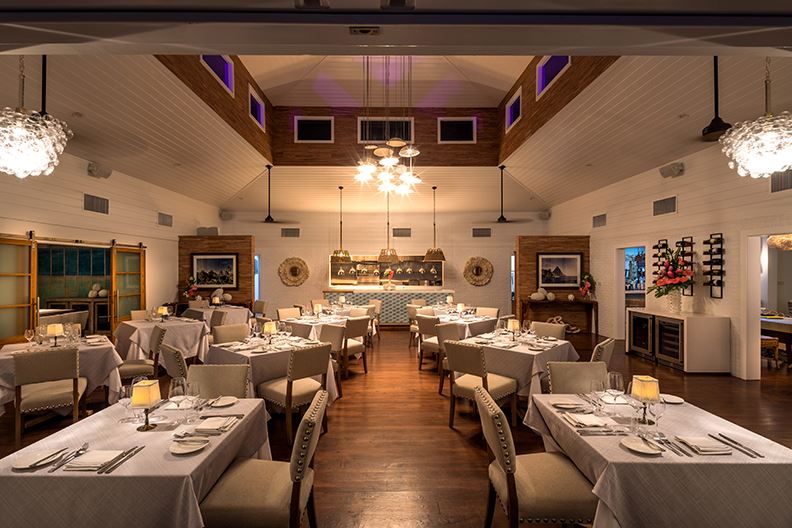 The Great House is the only restaurant at Serenity and offers both outside and inside dining. Breakfast on the terrace was a lovely start to our day. Both buffet and a la carte options were available. Standard and presentation of food is impressive as is the knowledge of the waiting staff. We had travelled to Serenity for my 'special' birthday and had asked to have a table outside the restaurant for dinner but were delighted to be led to a beautifully decorated private poolside cabana. Flowers, lights and other extra touches made this a memorable meal. We had our own designated butler who took care of everything we needed without being at all obtrusive. You can dine in the cabanas on request which the staff will set up and decorate at no extra cost.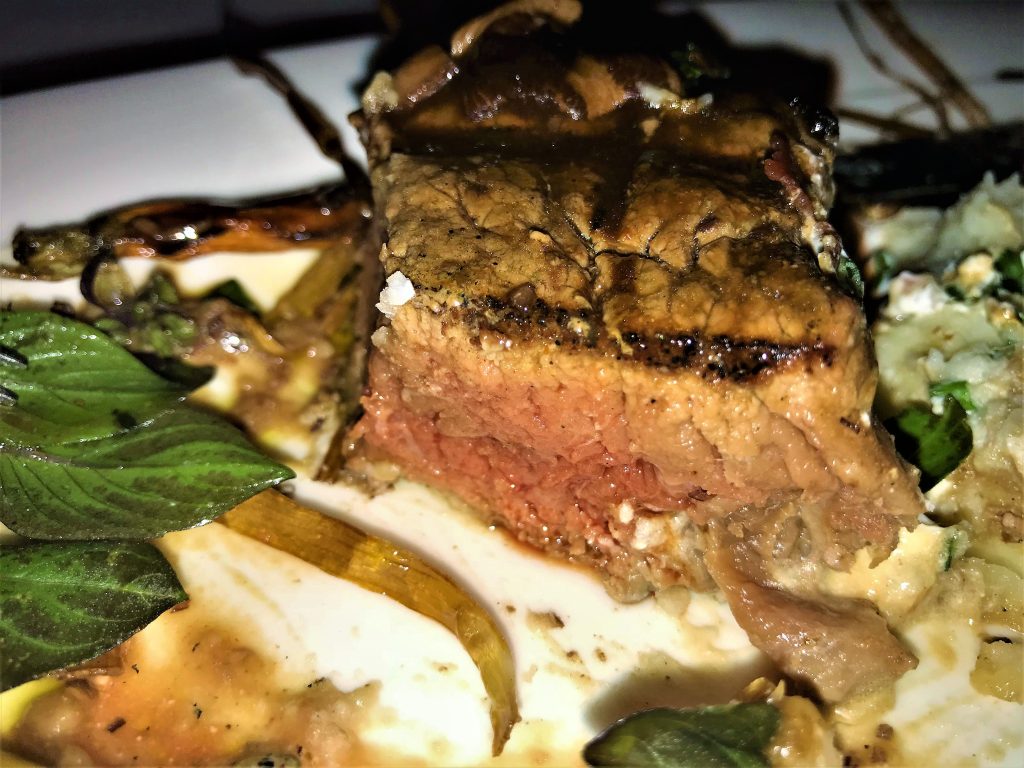 As much as we would like to have stayed entirely at Serenity as there is only one restaurant we felt the need to venture over to the Coconut Bay resort to use their restaurants. While they are not bad, they are not near the same standard as Serenity and this is the one slight criticism I have in relation to the dining options, or lack of. Perhaps an alternating menu in the Great House would increase the food choice in the single venue. Having first stayed at Coconut Bay four years ago I was amused to see that the menu in Calabash restaurant was virtually the same. That said, I had the most beautiful fillet steak, which unlike the dreaded BA fillet was incredibly tender and flavoursome.
Butler service
I must mention again the amazing private butler service which made the holiday even better than we'd hoped for. Our daytime butler, Gregg looked after our every need and really made us feel that nothing we asked for was an inconvenience. You are assigned your own team of three butlers, one of whom is available 24 hours a day.
They bring ice to your room, breakfast, lunch, dinner and snacks but never did you feel awkward about asking – a truly impressive service. A nice touch was that you were given a mobile phone to contact your butler direct from wherever you are – now that's what I call service! A packing and unpacking service was offered along with any ironing required but I didn't fancy the thought of our lovely butler unpacking my undies!
The beach and main pool
Post from RICOH THETA. – Spherical Image – RICOH THETA
I can not review this resort without mentioning the very disappointing beach which is covered in smelly seaweed. The beach is actually at the original Coconut Bay but I don't think anyone visiting the Caribbean would miss the opportunity to see the beach. This obviously is not any fault of the resort and is affecting several islands but if you are expecting bright white Caribbean sands as seen in many of the publicity photographs for all over the Caribbean you will be disappointed.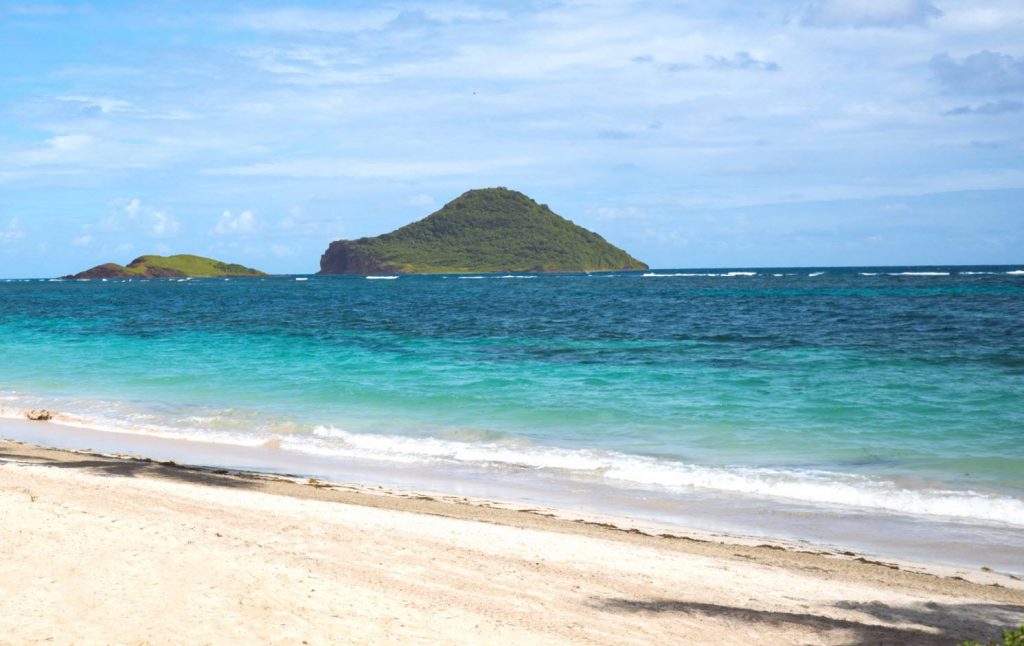 The issue has increased since my last visit fourteen months ago and now impacts on your ability to walk along the beach (it is virtually impossible) while the smell can be intrusive when close by and when disturbed by the large diggers trying to clear the beach a lot of small flies appear. None of this affects Serenity which is set back away from the beach.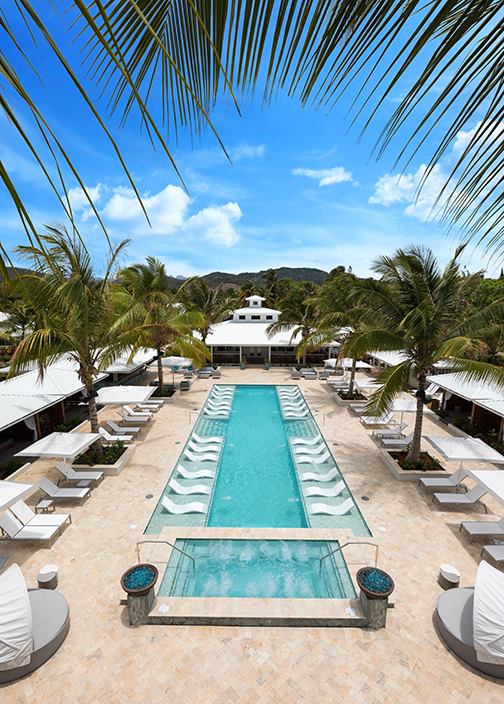 The main pool area is beautiful and never crowded so plenty of sunbathing space along with private cabanas should you want to escape the sun. It all has a high-class exclusive ambience. A well-stocked pool bar is complemented by excellent pool waiters who are very attentive to your needs. Poolside food can also be ordered and was very tasty.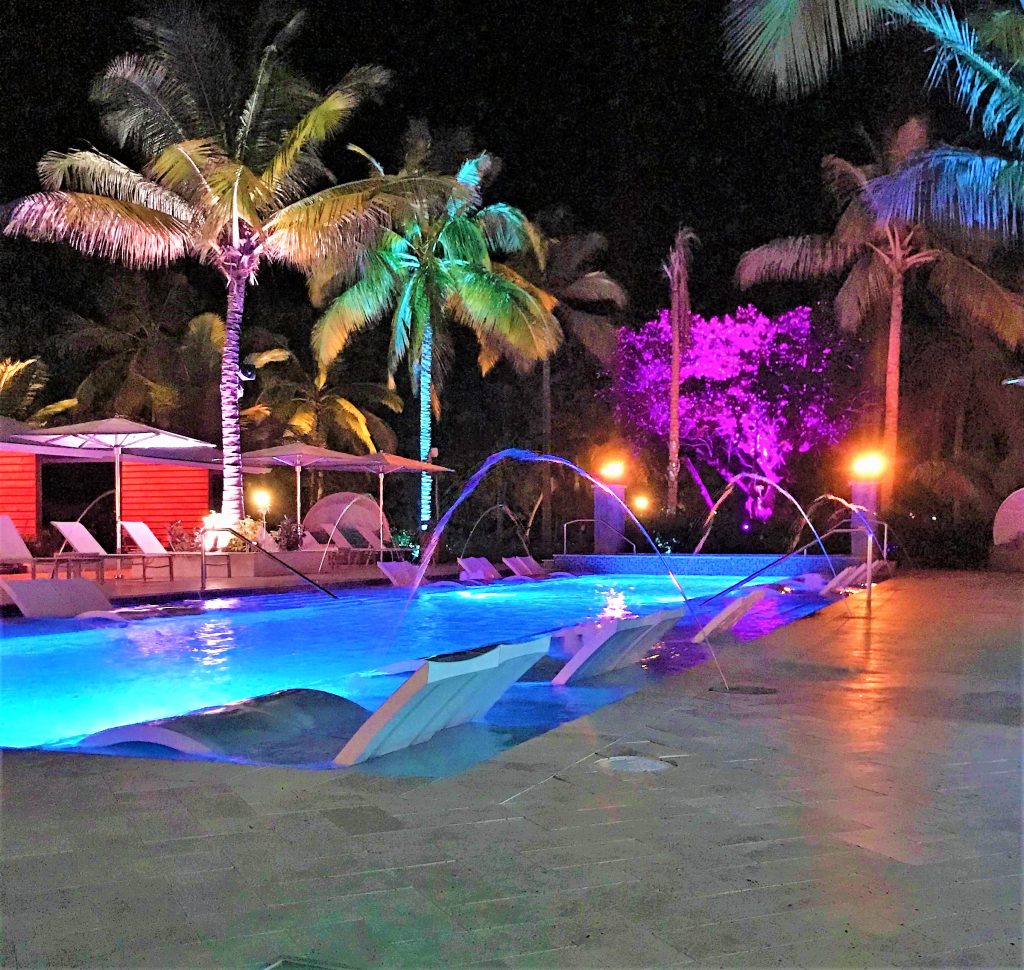 Departure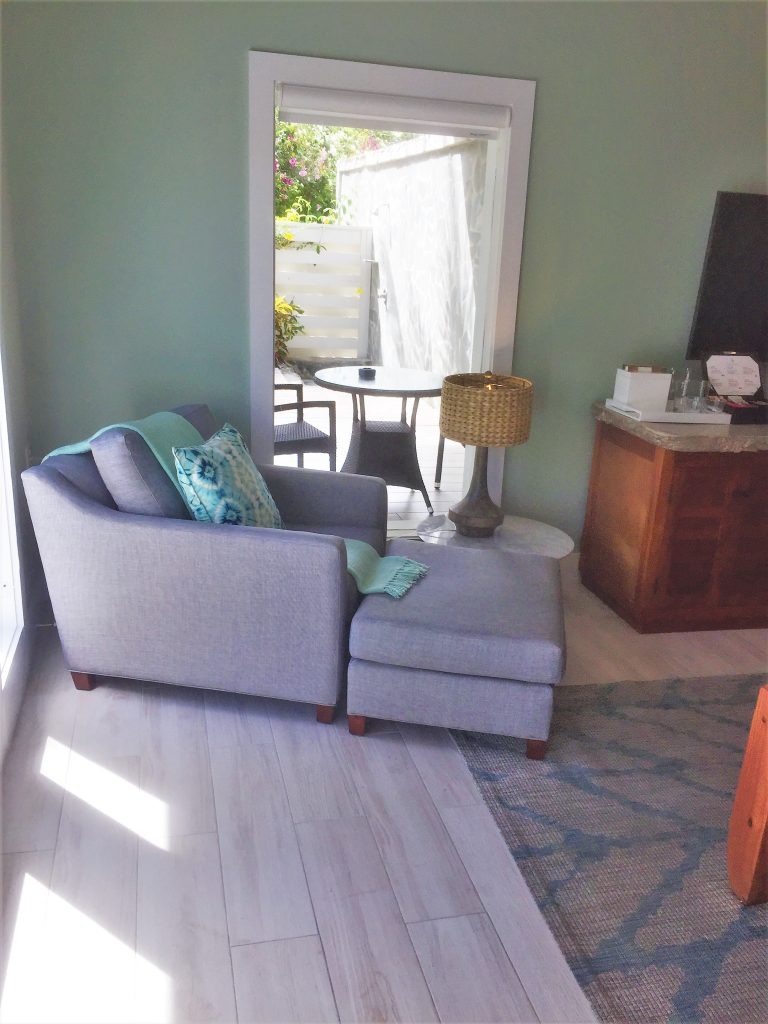 A nice touch was on the day before our departure our butler said he knew that we had an evening flight so would probably want a late checkout (I dread having to ask for this at hotels). He advised that it should be possible but if needs be they have a courtesy area equipped with showers, toiletries and anything else you'd need to freshen up before your flight. In any case, he arranged that we had our room right up until it was time to go to the airport.
Conclusion
I cannot recommend Serenity At Coconut Bay highly enough. It is an amazing place for a honeymoon, a romantic holiday or just a trip when you want to relax and enjoy everything Serenity has to offer.
The only 'downsides' I could find were the limited dining options (see below for an update) and the seaweed on the beach but we had such a good time at this wonderful resort and would most definitely recommend it. We look forward to returning. The privacy of your suites and the standard of personal service is fantastic while the landscaping makes it a truly serene experience – loved it!
I would say that, after OZEN by Atmosphere in the Maldives that I have previously reviewed, which truly is in a class of its own, this is now my second favourite hotel.
TripAdvisor agrees with a 5 out of 5 rating currently.
Update
On return to the UK we were asked about our experience. My husband mentioned the lack of dining choice requiring the use of the Coconut Bay restaurants which weren't a patch on The Great House at Serenity.
The hotel manager sent a lovely response advising that there was a daily dinner 'special' that we, unfortunately, were only made aware of on our last night and that Chef Eric would pretty much prepare whatever you want.
We tried the special on our last evening which was a beautiful steak, cooked to perfection and served with delicious mashed potato, vegetables, onion rings and salad. We could have easily shared one plate and still been incredibly full. Of course, we persevered and managed to eat quite a bit of it! This was all washed down with a bottle (or two!) of delightful merlot chosen from an extensive wine list. Being aware now of the full dining options available at The Great House I would happily eat there every night. It is hard to remember that this is an all-inclusive resort restaurant when the food is consistently better than several high-end restaurants that I have been fortunate to have visited.
You can find more information and prices for the Serenity at Coconut Bay hotel here.
You can read all our luxury hotel reviews here.