In November I ticked one item off my flying bucket list with a miles redemption for the Etihad First Class Apartment and Business Class studio. I decided to get some sunshine in Abu Dhabi whilst I was there and booked to stay at the 5* Shangri-La for 4 nights.
Location
The location was one of the things that sold the Shangri-La to me. I wasn't planning to do much in Abu Dhabi and really I just wanted somewhere fairly quiet. The hotel is situated on the banks of the river opposite the Sheikh Zayed mosque. This gave beautiful views across the river of the mosque and some fantastic sunsets too. If you are familiar with the Fairmont Bab Al Bahr, which is another of my recommended Abu Dhabi hotels, it is just south of there on the same side of the river.
The hotel is next door to The Souk which to be honest was a bit of a let down unless you just wanted a few souvenirs (I got my obligatory fridge magnet at least). I did want to go to The Souk though just to try the boat from Shangri-La so it worked out well.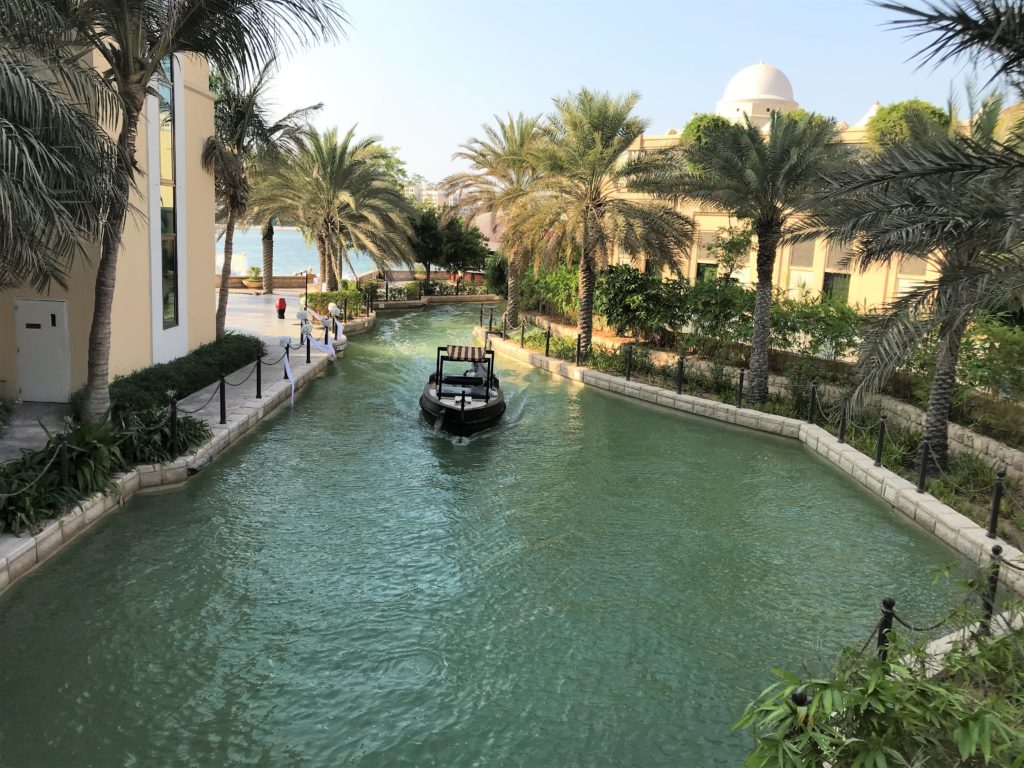 Check-in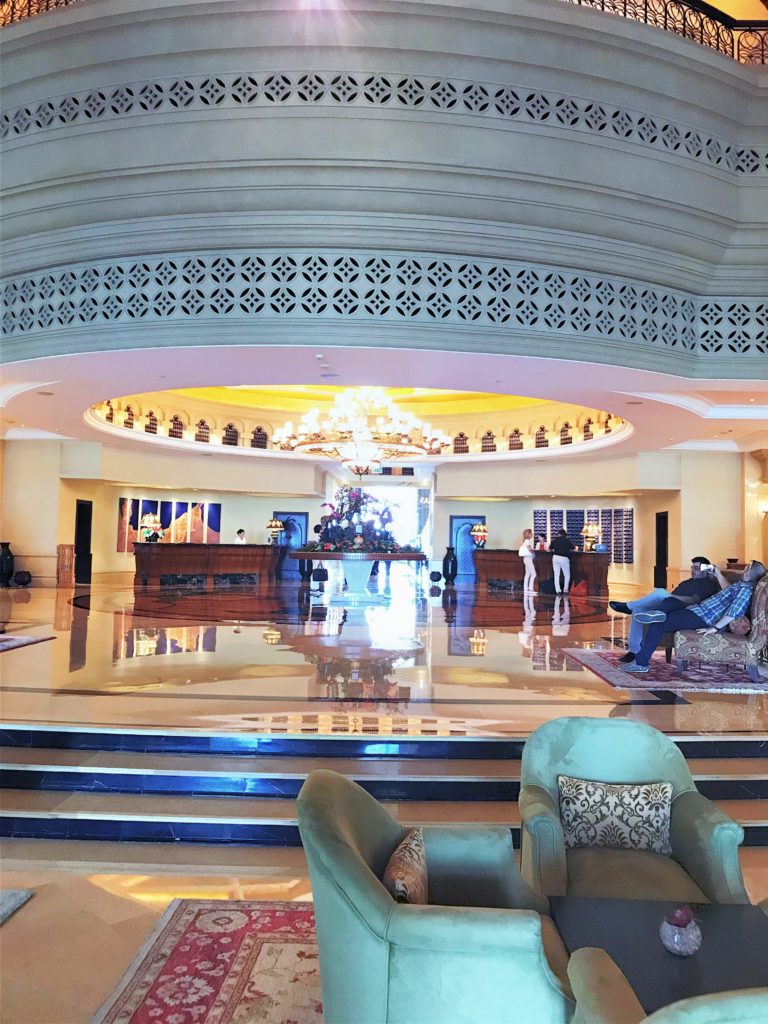 I arrived very late at about 1am but the hotel was still fully staffed. My bags were whisked away and I checked in at the main reception as obviously the Club lounge where you would normally check-in was closed.
First impressions of the hotel were good. The lobby was elegant with a domed ceiling in the entrance, chandeliers and high ceilings. It felt worthy of its 5* rating.
Room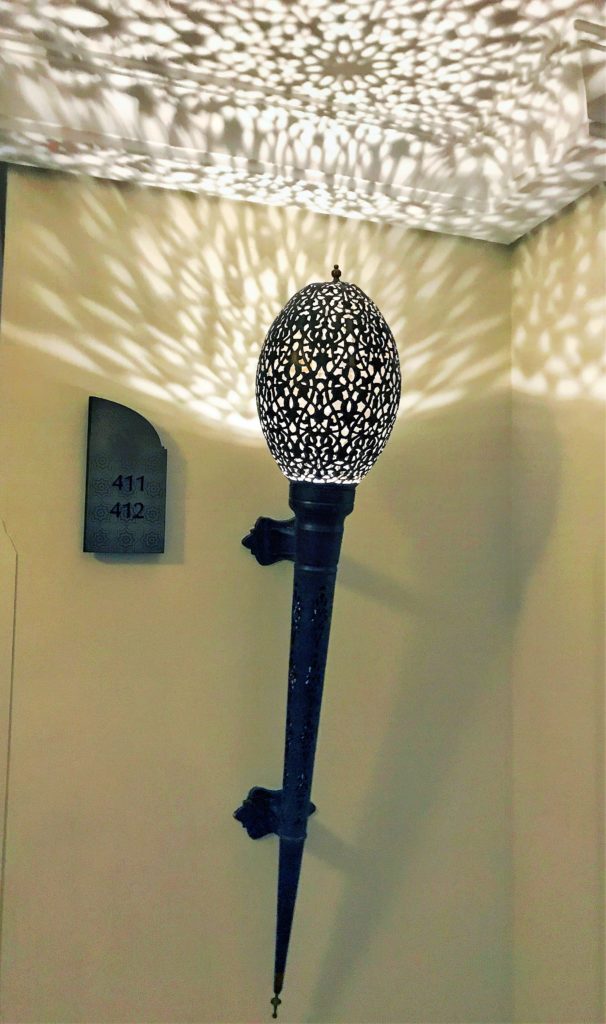 The corridors were very long and it was quite a walk to some of the rooms from the lift. I liked the Arabian lights and thick wooden doors to each room.
I was staying in a Horizon Club room which entitles you to:
The Club room felt large as I walked in and actually looked much better than the official photos that I had seen (normally it's the other way round). I had expected it to look a bit old fashioned where as it had more of an Arabian feel. The room had already been turned down with towel swans, roses and petals on the bed. A bit OTT just for me and not really my thing but it was nice that they had made an effort!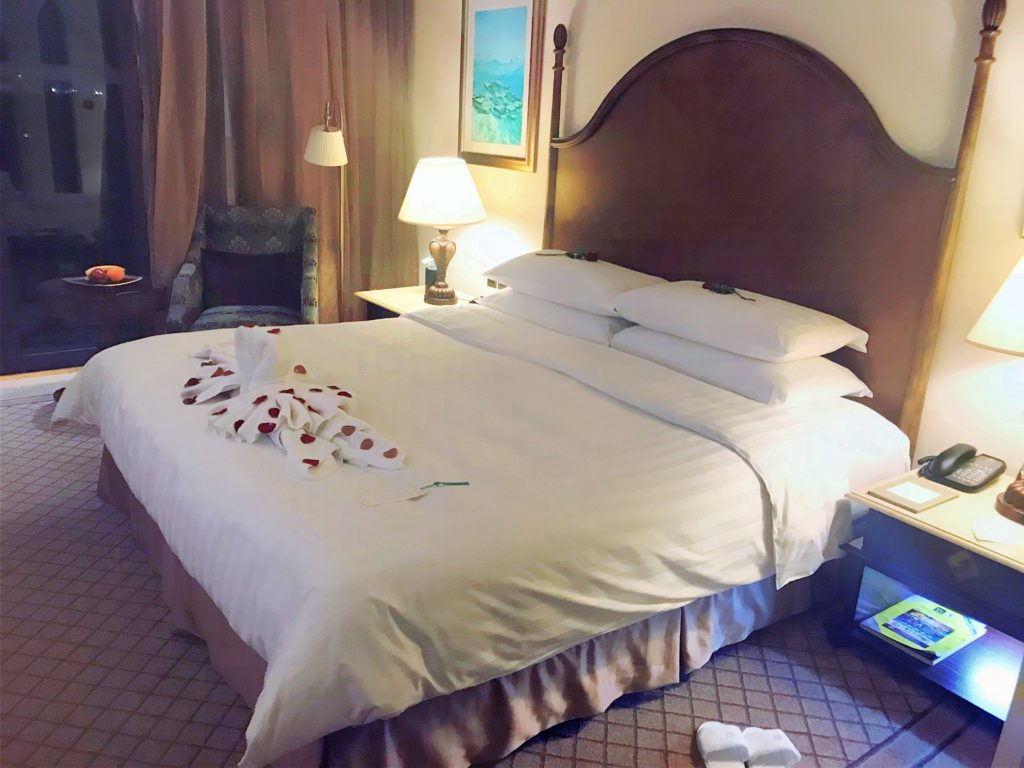 The room had a very comfortable large bed with good quality linens. Most importantly the room was very quiet and the only noise I heard was the neighbouring room leaving for breakfast in the mornings (why do people have to let their doors slam in hotels in the morning??)
Post from RICOH THETA. – Spherical Image – RICOH THETA
The bathroom was large and had a nice deep bath for soaking as well as a large shower with a mirror and plenty of room for toiletries. The toilet was also in a separate cubicle.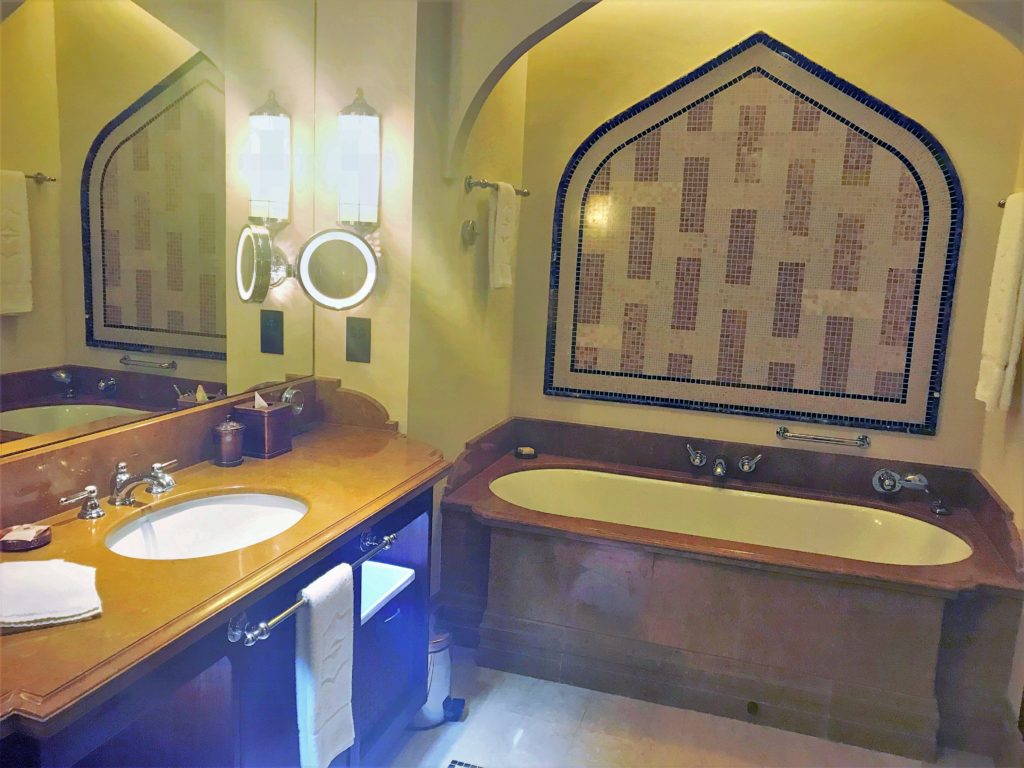 The toiletries were the L'Occitane Jasmine & Bergamot ones which I am not a huge fan of fragrance-wise but they are decent quality. There were also plenty of amenities supplied including razor, toothbrush and toothpaste and a comb.
The safe was large enough for my laptop and had a plug socket inside which is something I wish all hotels would do. In a drawer was a kettle with tea and coffee. All the glasses and china in the room were beautiful rather than the standard cheap ones you normally get.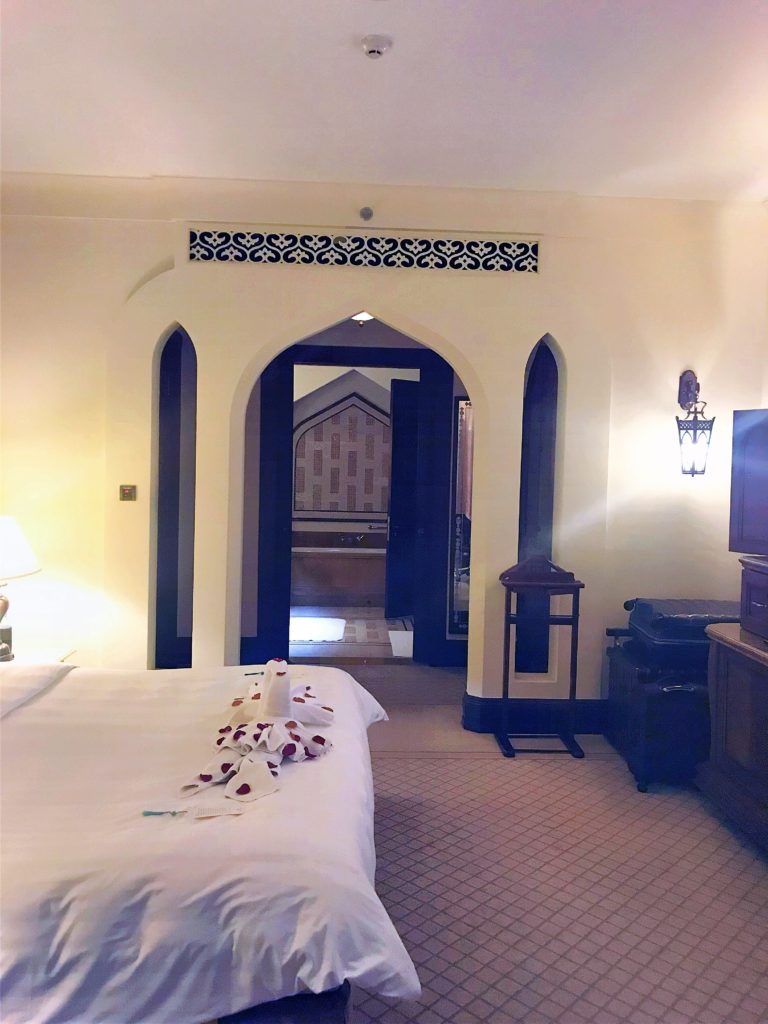 The highlight of the room for me was the balcony which was much larger than the standard rooms. I had a beautiful view of the Mosque at night and it was a lovely way to end the evening sitting in the warm night air admiring the view. The balcony had 2 sunloungers and a table and chairs.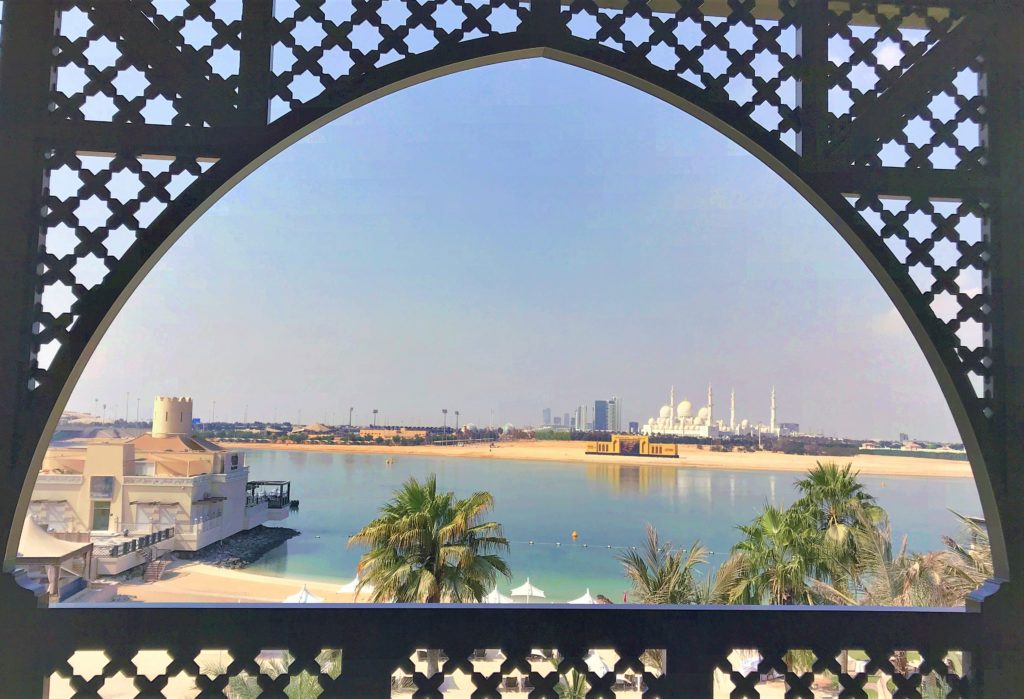 Club lounge
Post from RICOH THETA. – Spherical Image – RICOH THETA
The Horizon Club lounge offered free breakfast, evening drinks and canapés plus soft drinks throughout the day. Although the wine and drinks selection was nowhere near the selection you get in the Bangkok Horizon Club, I really enjoyed the lounge and thought it worth the extra money. The staff were superb here with the lounge manager going round to each guest in the evening and chatting with them. She remembered everyone's names and what you had been planning to do each day which was quite a feat.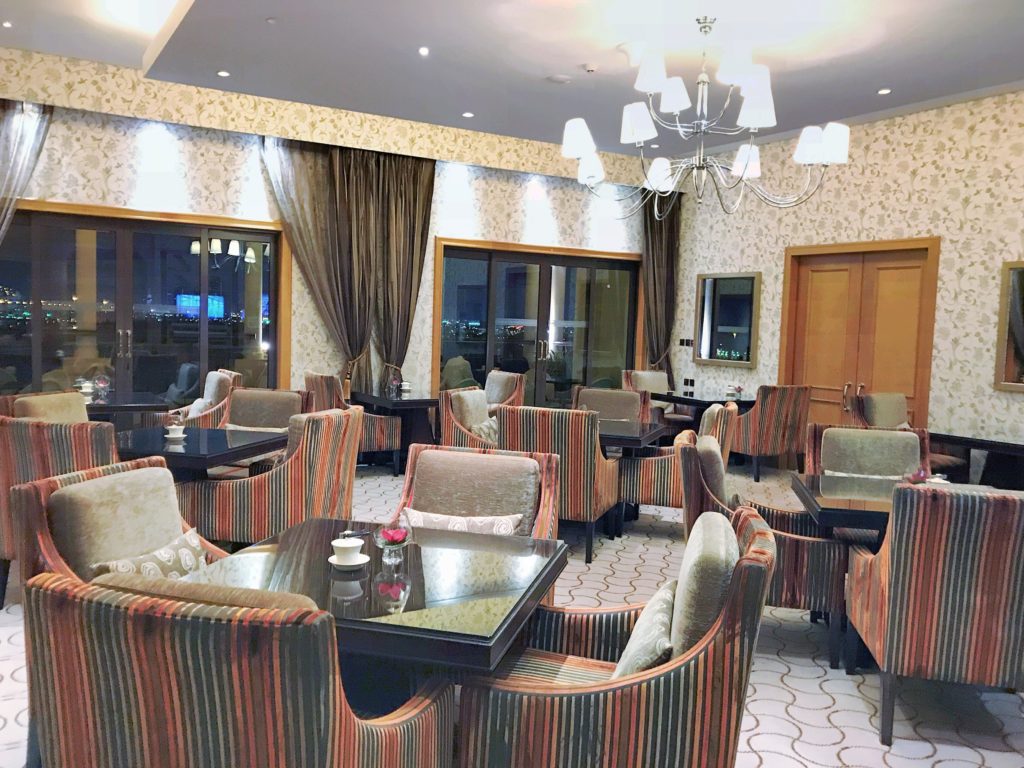 In the lounge, there was also a separate family area with a few toys as well as full shower and changing facilities which were well above the usual standard.
The first day I had decided to have breakfast in the main restaurant as I thought there would be more choice. Actually after sampling breakfast in the lounge the second day I stuck with that as it was a much more relaxed experience. I particularly enjoyed sitting out on the balcony for breakfast.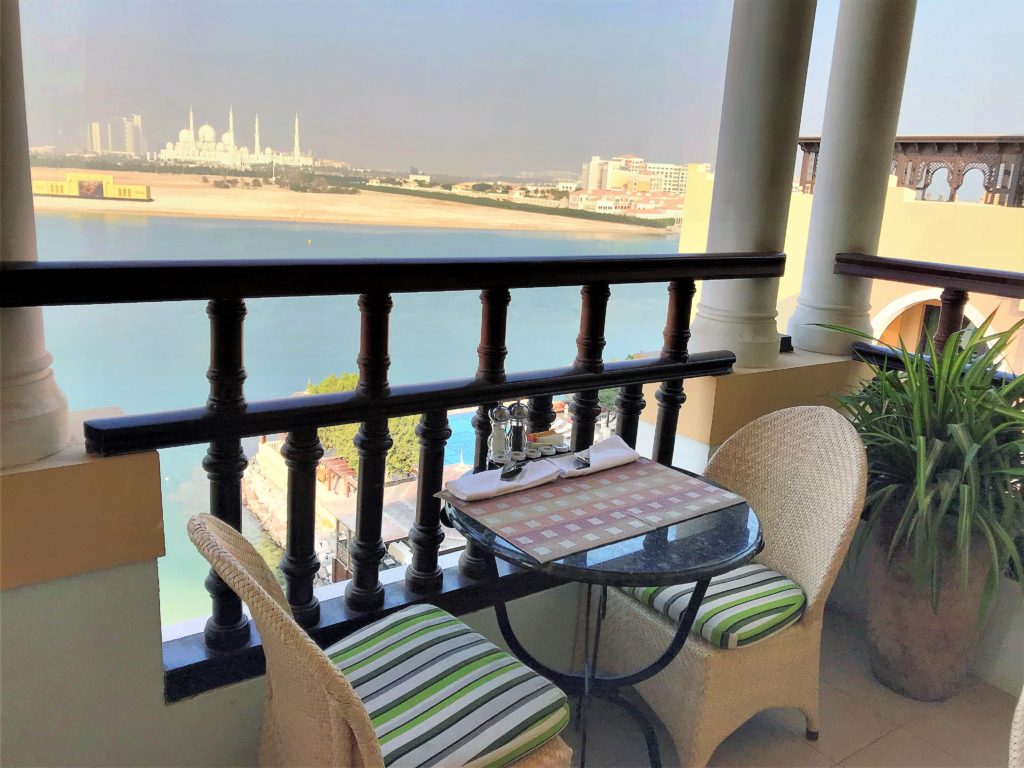 There was a small buffet at breakfast with fruit, toast, enough hot options to have a full English minus the eggs, meats, cheeses, smoked salmon as well as some salad and local dishes. Then there was an extensive menu of à la carte options. This included omelettes, eggs, french toast, waffles and porridge.
The first day I tried the dim sum which were good and the next I had the eggs benedict but with smoked salmon.
In the evening there was red, white or sparkling wine along with a small selection of spirits and beer. Drinks were brought to your table and topped up regularly. The wine was only Eaglehawk and a Hardy's Sparkling wine but they were drinkable.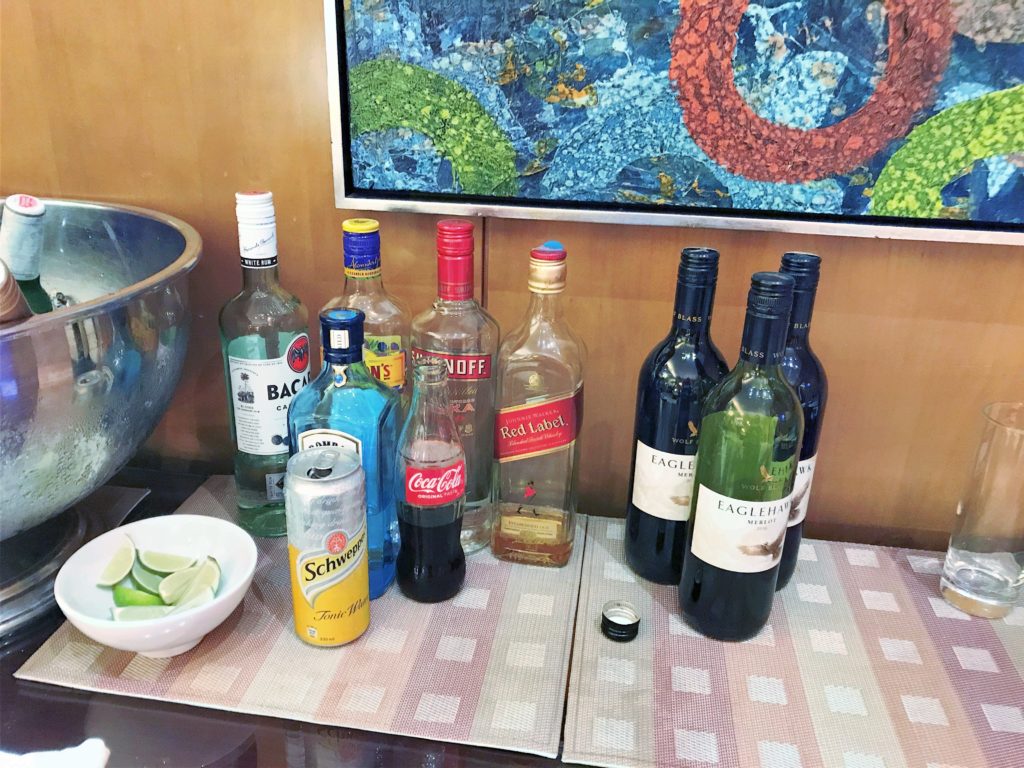 There were some nice nibbles too which you could have just about made into a full meal. There was usually salad, crudites, hummus, bread, cheese and 3 hot dishes plus nuts and olives.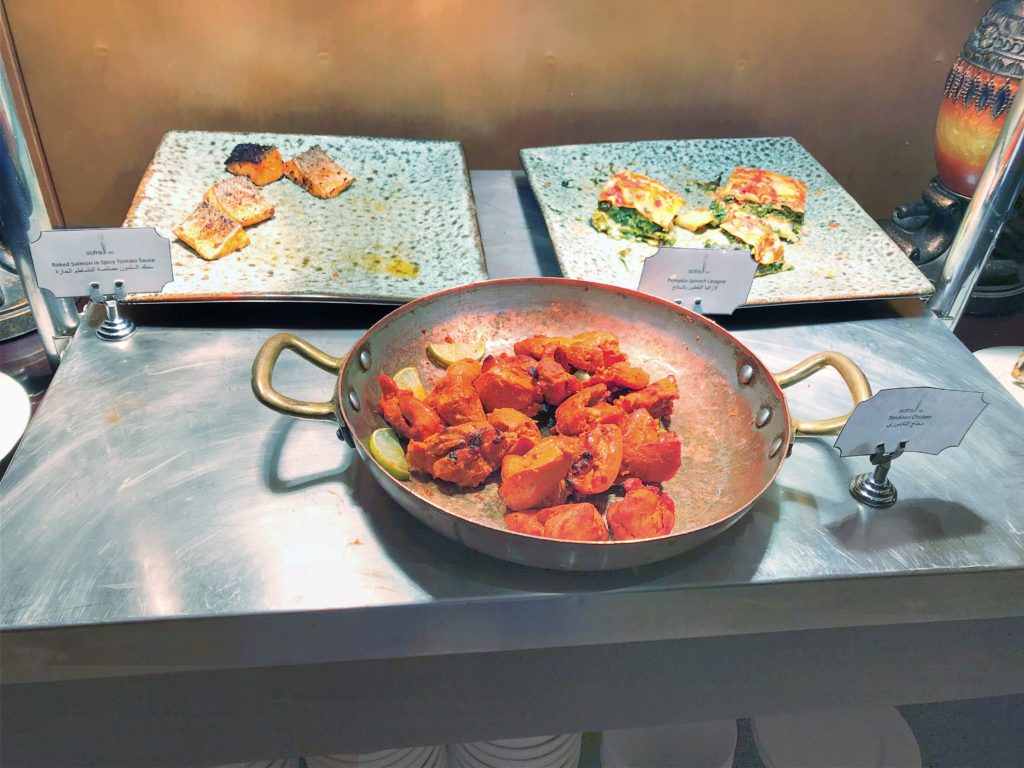 Pools and Spa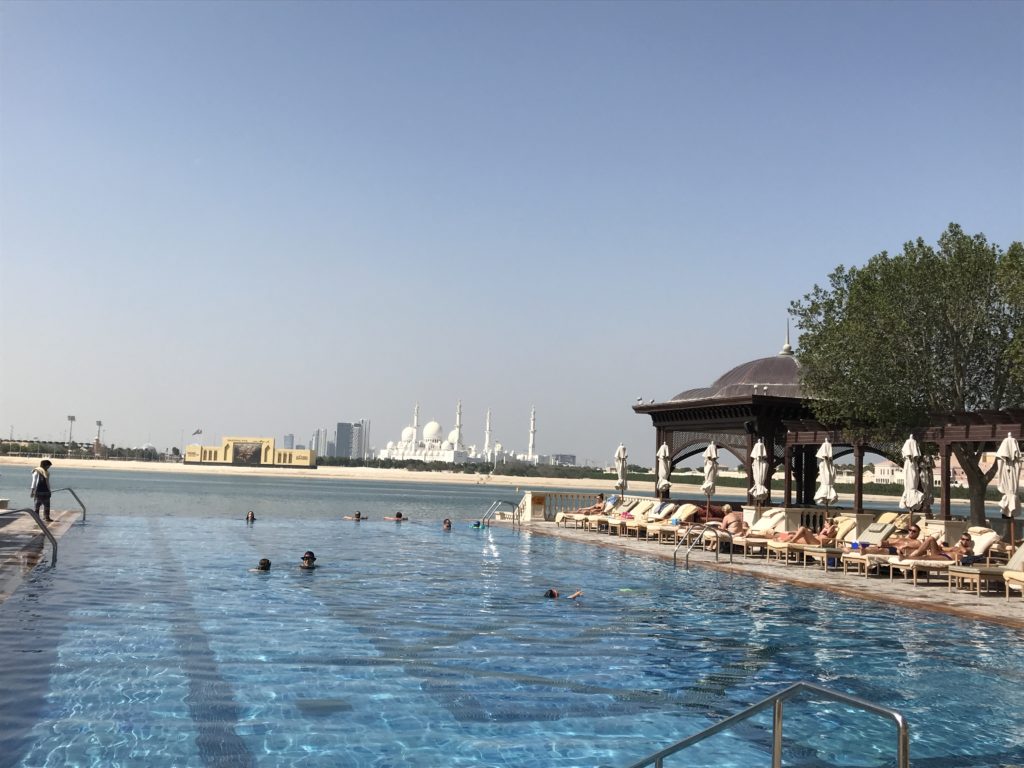 There are 3 outdoor pools to choose from with the main one being an infinity pool overlooking the mosque. There was a never an issue getting a chair at the pool and I liked the fact there were plenty of shaded areas. The staff would set up a chair for you with towels and a little icebox with some chilled water in.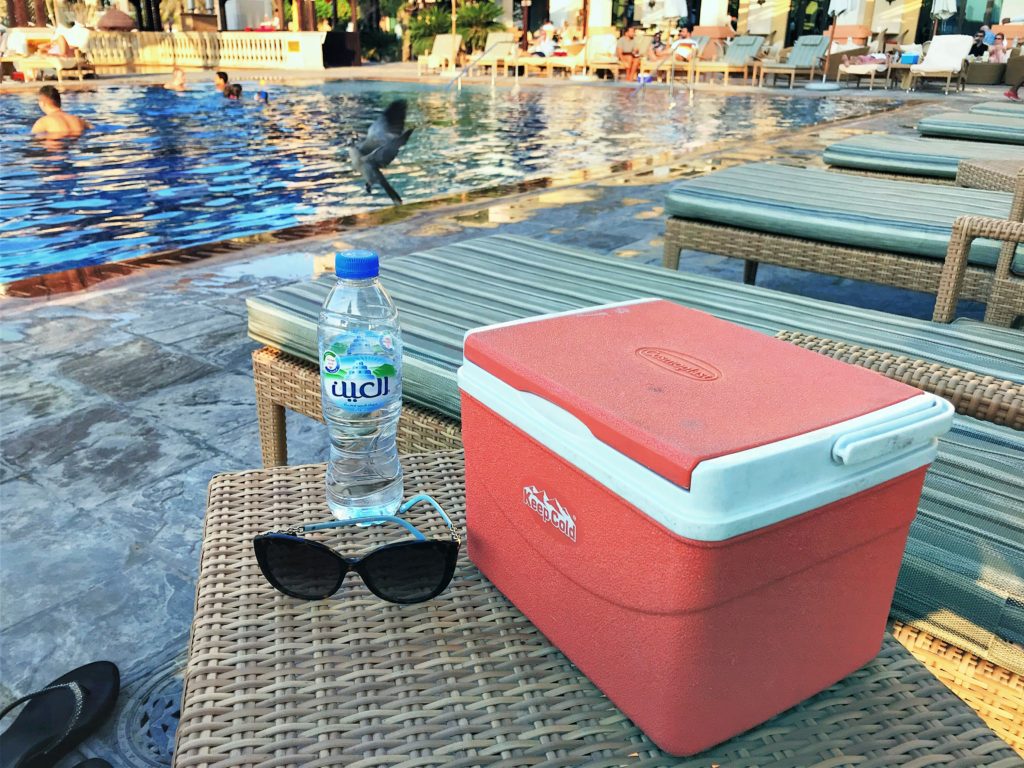 There was poolside food and drink service but they didn't come round that often so it was usually quicker to go to the poolside bar to order. The water temperature was lovely like a bath and despite it being breezy you could linger in the water without ending up feeling cold. There were rarely more than a couple of people in the pool which was great.
The other pool was quite small but would have been more convenient if you were staying in the spa end of the building. Finally, there is also a pool at the spa.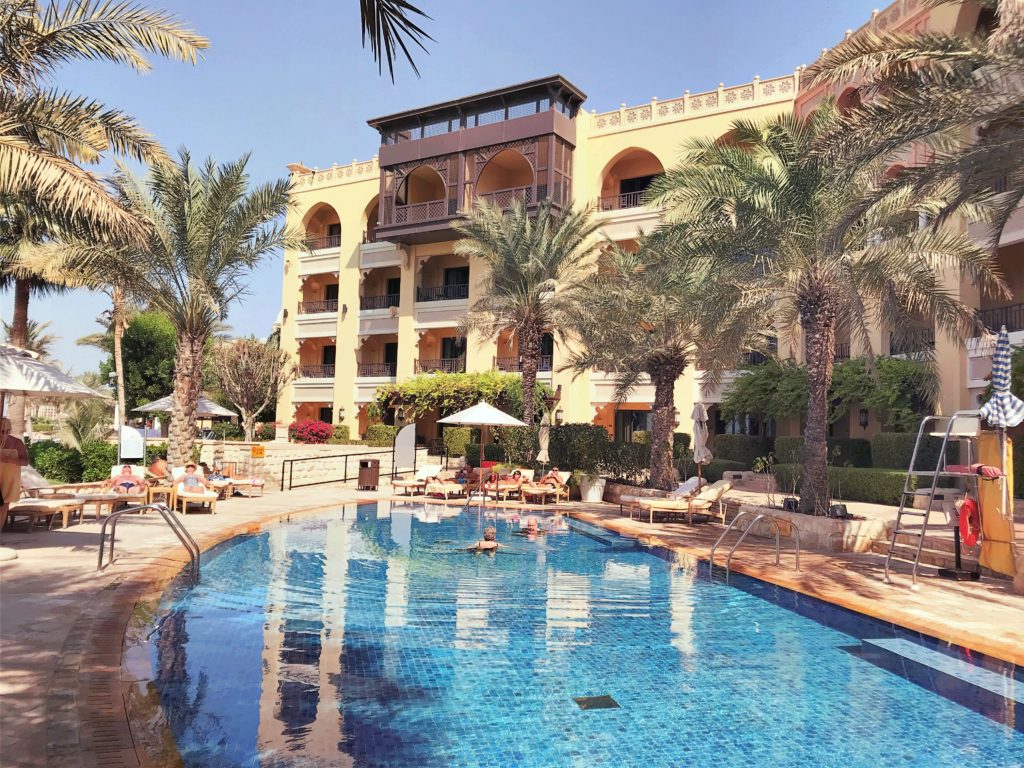 There were two beach areas, only one of which was open. I went to the beach and had a quick swim but didn't bother with the loungers. The sand was soft and white whilst the water temperature was a lot warmer than I expected so it was an enjoyable experience.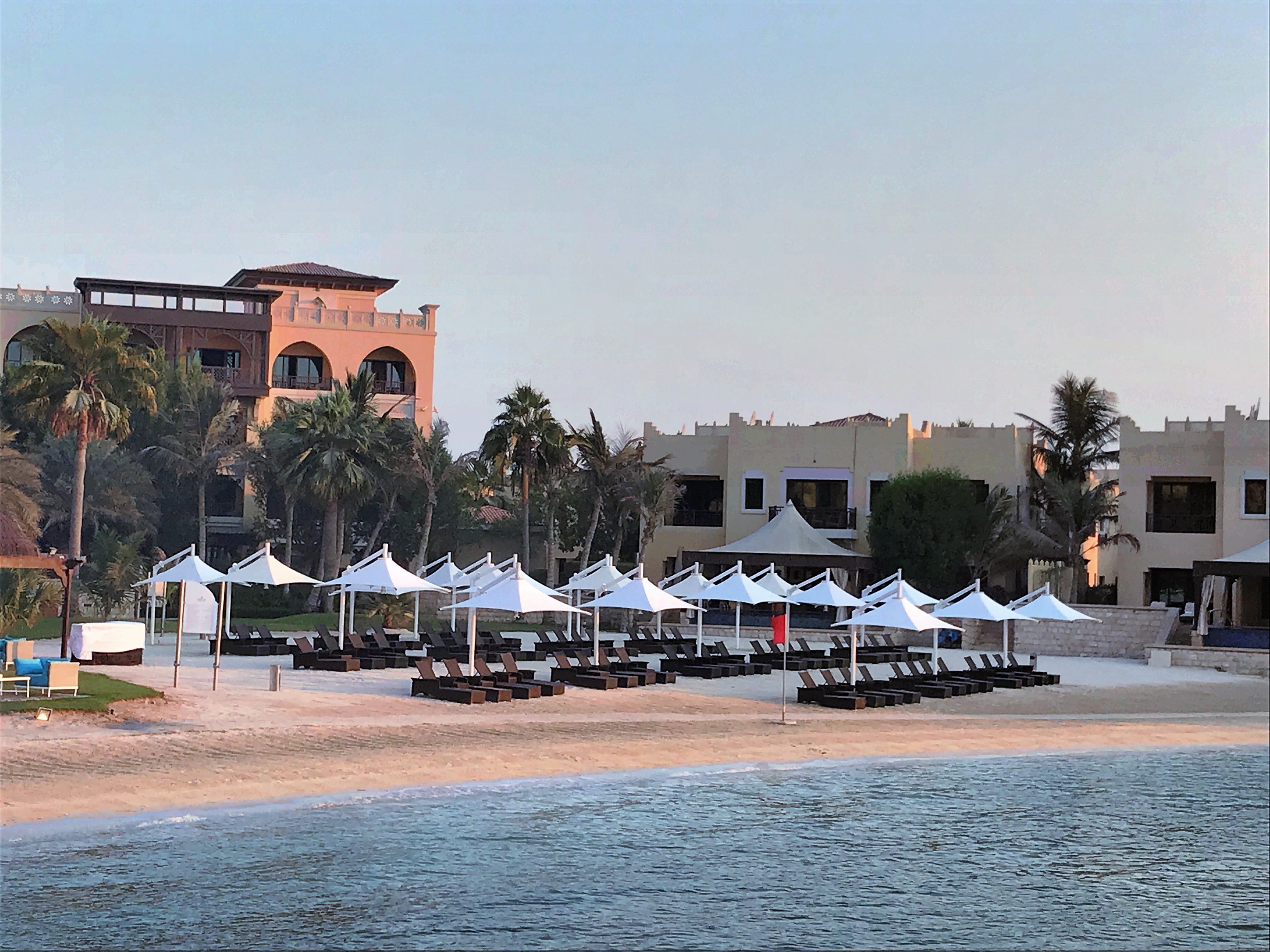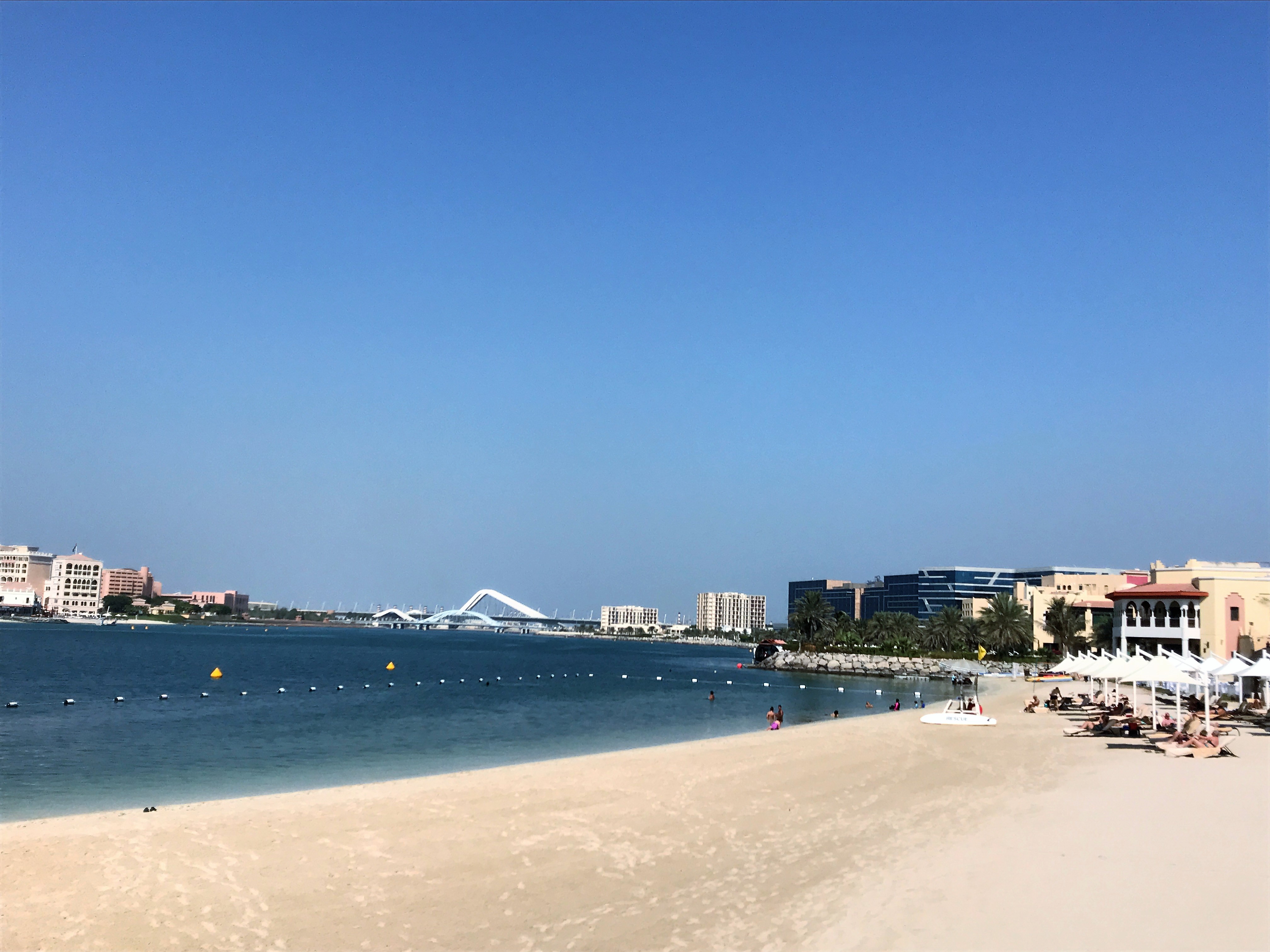 Chi Spa
I went to the spa for a couple of treatments and to try the facilities. The steam, sauna and hydrotherapy pools are obviously separate for men and women as well as being separate to the swimming pool area. There was nobody in there on either visit. The hydrotherapy pool was pretty hot compared to others I have been in, so you wouldn't want to spend too long in there. The one thing that was missing for me was a relaxation area. There were a couple of loungers by the hydrotherapy pool but it was very hot in there and not particularly relaxing with the sounds of the water jets.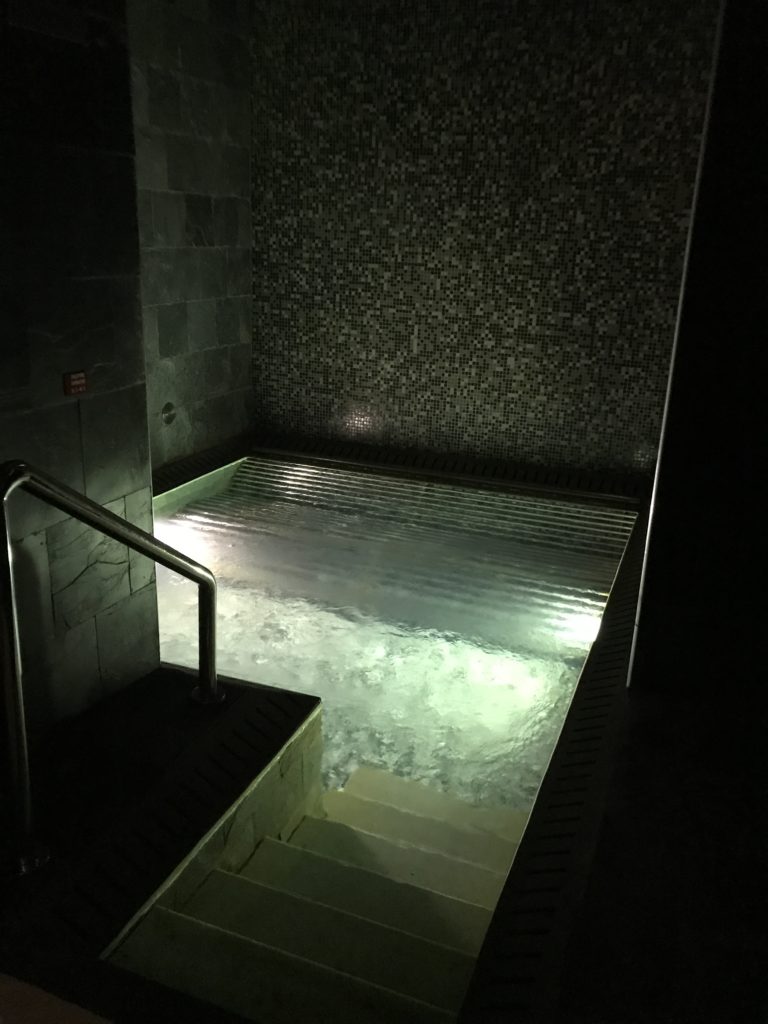 I had a Soothing foot massage treatment and a Chi-balance massage, both of which were excellent.
Food and drink
The hotel has plenty of restaurants to choose from and for a short stay you wouldn't need to leave. I tried 3 out of the 4 restaurants that were open and was very happy with all of them.
Sofra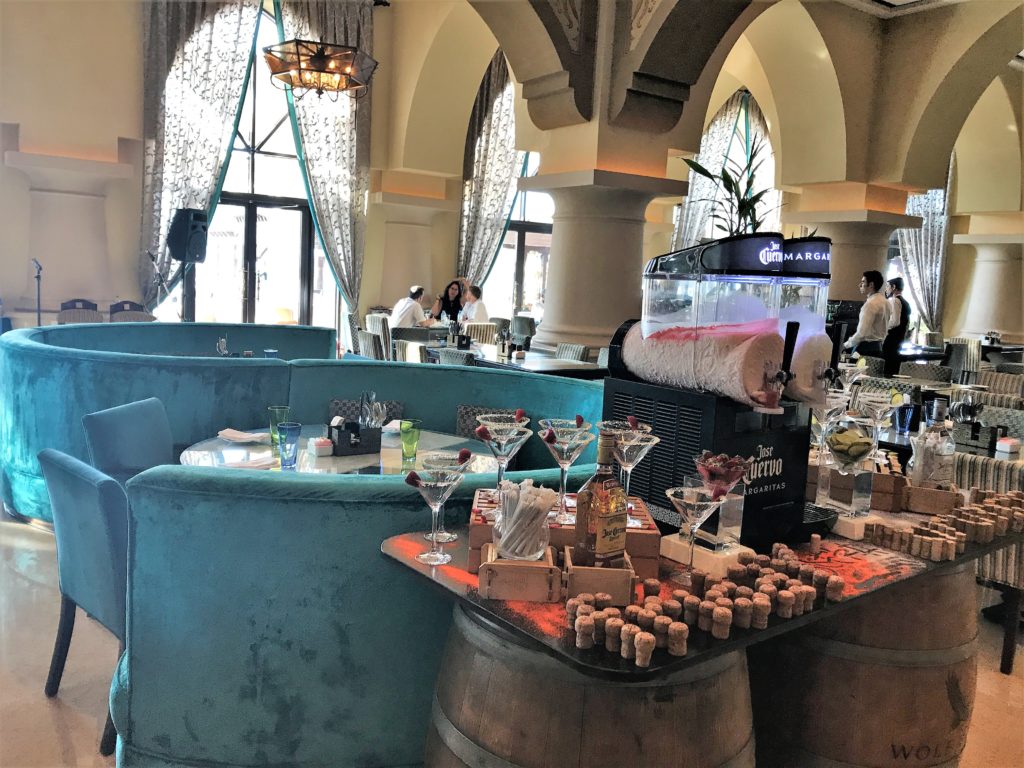 I tried this restaurant for breakfast and the Friday Brunch. The breakfast was good but nothing particularly different to what you would get in any other 5* hotel in the UAE. The brunch was pretty special if not cheap at £100 a head.
The brunch can be had in 3 ways with non-alcoholic drinks, with alcoholic drinks excluding champagne and with all the drinks including Champagne. Naturally, I chose the Champagne option and was delighted when an ice bucket with a whole bottle of Perrier Jouet champagne was placed next to the table! There were also several different cocktail stations in the restaurant which I could have had a drink from or wine and beer. You can see below a small selection of the food that was available. There were also oysters, Indian food, Chinese food including freshly made duck pancakes and lots of local dips and salads such as hummus and fattoush.
Shang Palace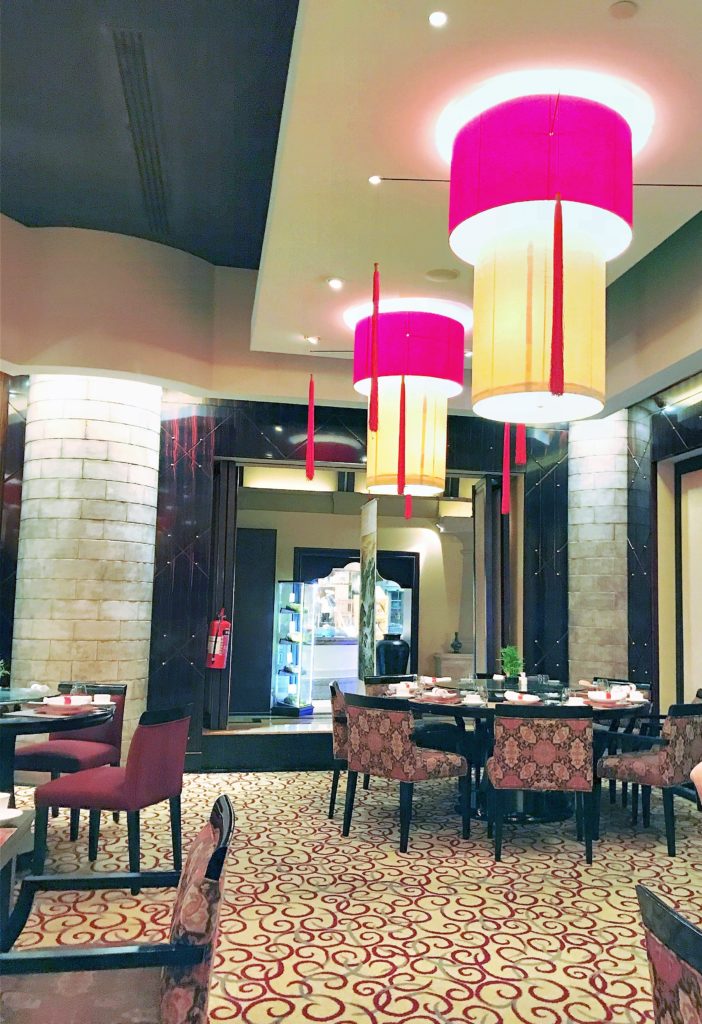 Shang Palace is Shangri-La's signature restaurant and has won several awards. It serves authentic Cantonese cuisine as well as dim sum and Beijing duck. I enjoyed my meal here and there was an interesting selection of dishes on the menu. I liked the fact there were several decent wines by the glass if you didn't want a whole bottle and they weren't ridiculously expensive for Abu Dhabi. I started with the soft shell crab which were beautifully crisp with a smattering of chilli on top and some curry leaves which added flavour.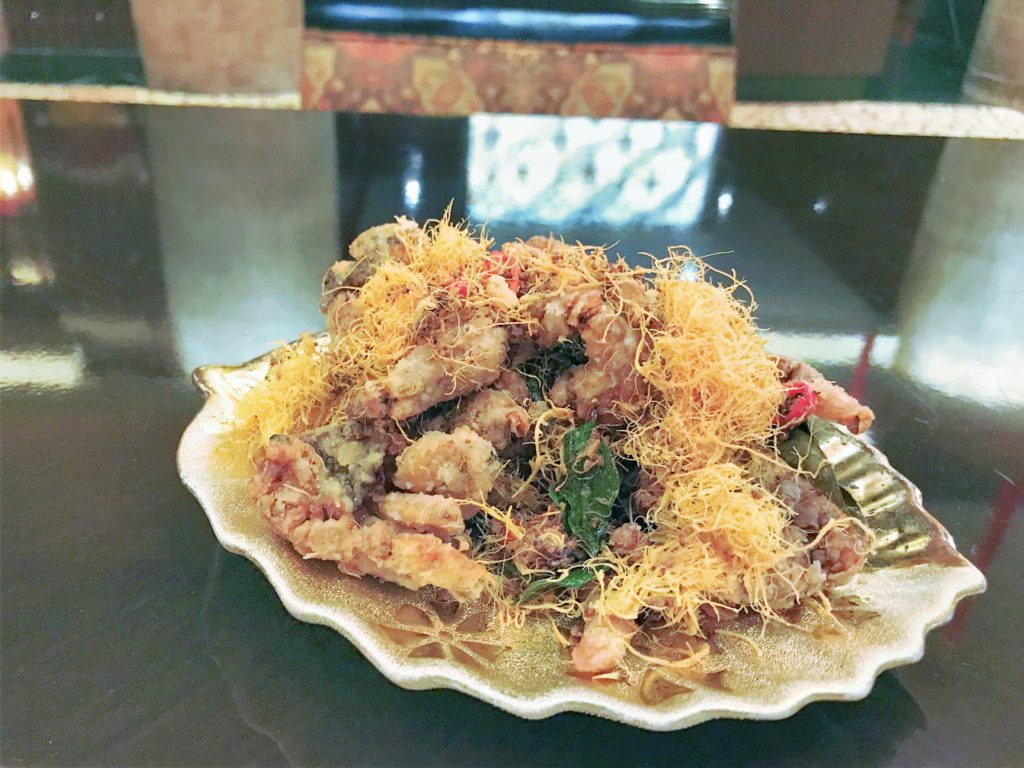 Next came Stir-fried scallops, crushed Chinese chives with XO sauce and a portion of mango rice which was also fantastic but the portions were enormous! You could easily have shared it between two.
Hoi An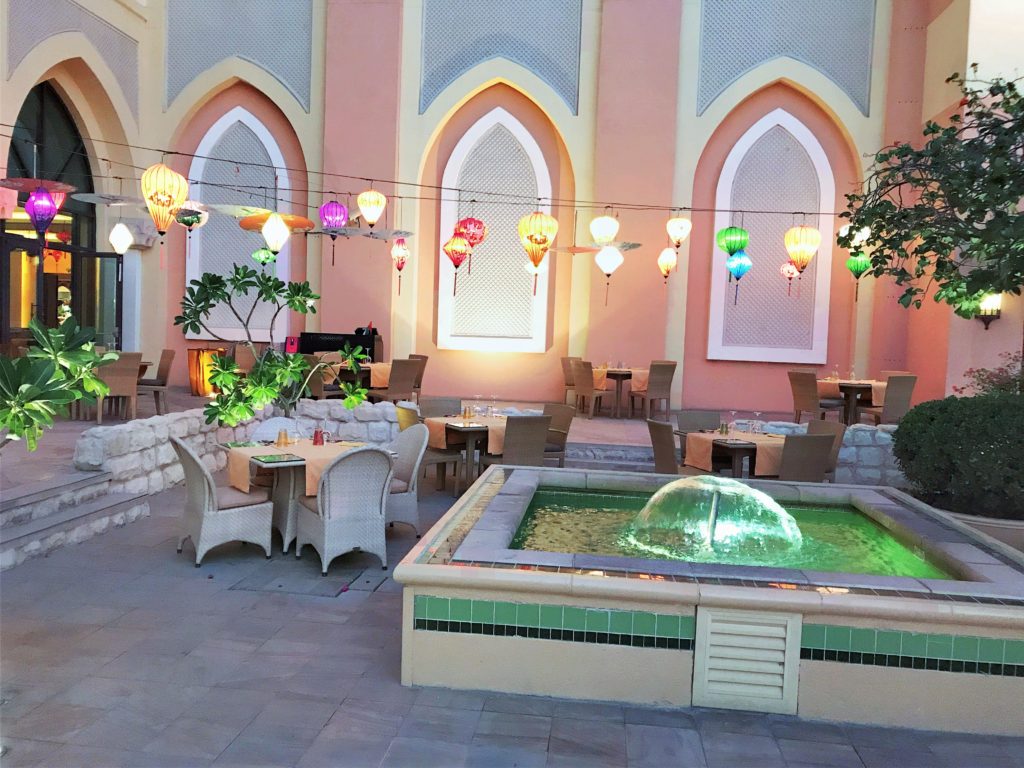 This was probably my favourite restaurant but that's partly because I don't get to eat Vietnamese food very often and it's one of my favourites. I started with some unusual beef rolls – grilled beef in pepper leaf with ginger and lemongrass served with a plum sauce. This was tasty and not too spicy but very filling.
The highlights were the main and dessert. The main course was steamed seabass in banana leaf with glass noodle, mushroom, onion, basil, spicy chilli and ginger. It was beautifully presented and was zinging with Asian flavours. It was nice and light being accompanied only with a few glass noodles so I had room for the chilled mango soup with coconut ice cream. This was a wonderfully refreshing dessert and not too filling. It was still around 27°c at night so it was nice to have something chilled!
There is also a fine dining French restaurant called Bord Eau which I didn't try. If you wanted to have a drink in the evening there were plenty of choices. You could sit by the pool for drinks until 11.30pm, there was a lobby lounge, the Al Hanah smart bar by the lobby and finally, by the beach there were chairs set out each evening. You could get Shisha pipes in both of the outdoor bars.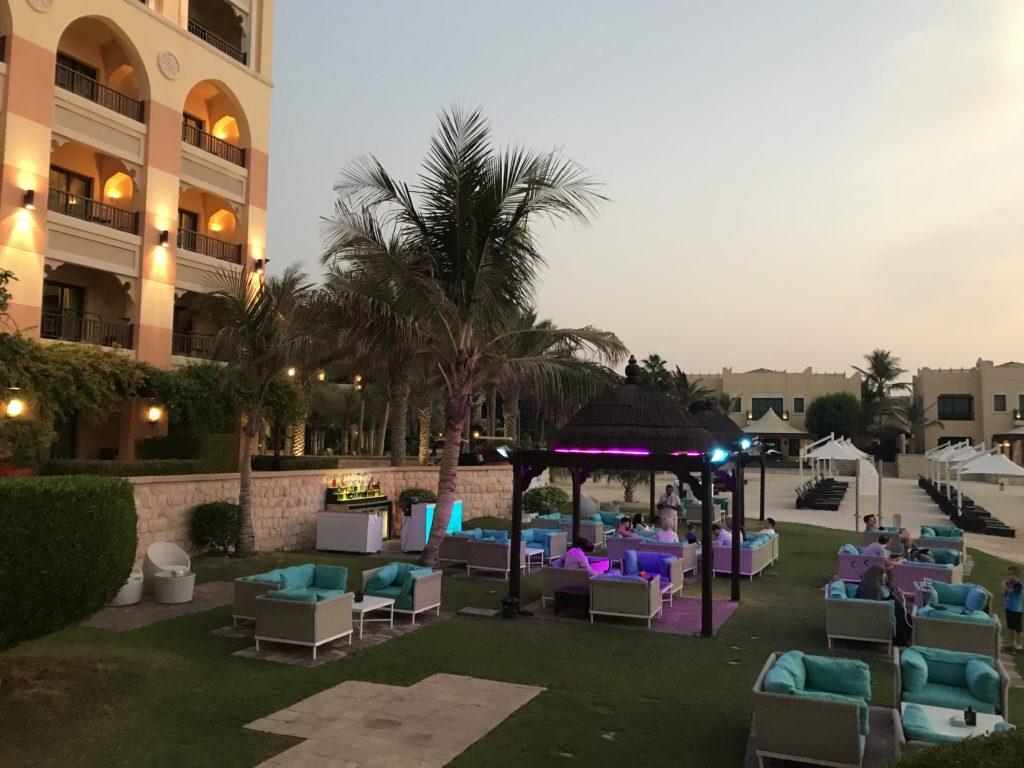 Conclusion and pricing
I booked this hotel through booking.com. Although cashback rates are normally much lower than Expedia or eBookers, I occasionally find that pricing for certain hotels on booking.com can be much cheaper. This is particularly true if you sign into booking.com first. I paid £650 for 4 nights for a Club room + tax which I thought was a reasonable price.
I really liked the hotel. It is not as modern nor as visually pleasing as the Fairmont but in this case, the price was very reasonable for what I got. I particularly enjoyed the restaurants here, which if you are into Oriental food are well worth visiting. The brunch wasn't cheap but one of the best I have visited in the Middle East. The hotel scores well on TripAdvisor too with 4.5/5.
You can find more information on the Shangri-La Abu Dhabi here.