Google Flights
This should be your starting point for researching flight prices. Google Flights has lots of interesting features that help you find the cheapest flights. You can't book directly with them but they will provide a link through to the hotels booking site which should take you to a page with your itinerary. It may be worth the bother of using a cashback site and re-entering the details if it is an airline that is included on TopCashback or Quidco.
There also several tools that allow you to look at prices over a length of time. The features are a graph of the lowest prices, a calendar view day by day of the prices based on your selected length of trip and a grid showing lowest prices by departure and return dates. Note in the new interface you get the calendar up by clicking your selected date rather than a calendar tab.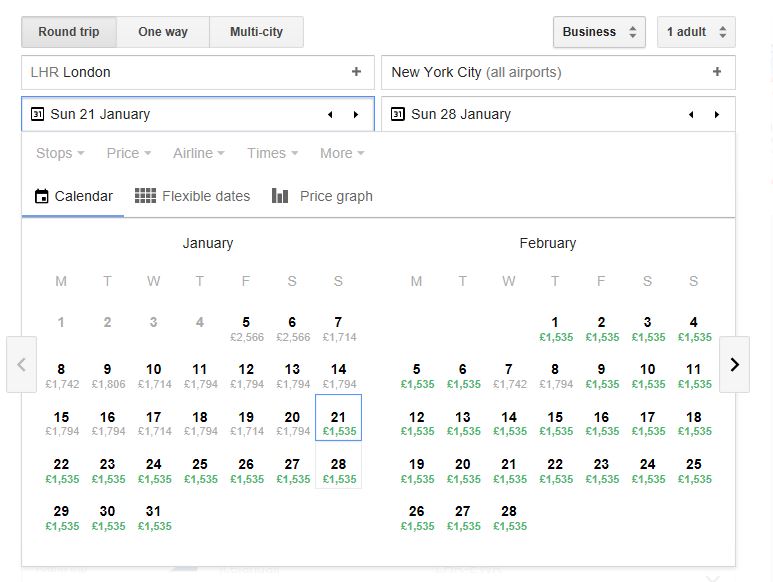 You can opt to have Google track the price for your dates and it will email you if the price goes up or down. Perfect if you know what you are looking for.
My next step after I have found a flight is to switch over to ITA matrix which powers Google Flights. This is so that I can check the fares rules which will give such things as whether stopovers are allowed, if it is refundable or changeable, whether there is a minimum stay, the airlines you can fly on and when you must book by. ITA is less simple to use and you can find out more about ITA in this article.
Direct with the airline
Is it always better to book direct with the airline? There are some reasons why it makes sense to book direct with the airline itself. Firstly if you have a credit card for that airline such as the BA or Virgin cards you get bonus miles on any spend done on their website. Secondly, some airlines, particularly the low-cost ones can charge extra for booking through a third party. BA were threatening to do this but have reached agreement with most of the main OTA (online travel agents) not to charge their customers. Finally, if there are any changes to your flights the airlines are normally quicker and more reliable at notifying you than some travel agents. I haven't had any issues with the big OTAs such as Expedia and eBookers.
You can still get reasonable rates of cashback of around 2% with some major airlines such as Qatar and Singapore. This often better than you would get with an OTA. These don't always apply to ex EU booking so it is worth checking the T&Cs.
Travel Agents
If you need to do something complex such as a multi-city or factoring in overnight stops it is sometimes difficult to book them online. If you are using ITA you could have a look at this Flyertalk thread about how to book using a special ITA power tool.  It looks fairly complex though. I haven't used it myself, but someone (thank you Reader E!) used the software for me and sent me the link to book on American.
Alternatively, you could use a travel agent. Two I use are:
Trailfinders
Trailfinders don't always come up with the cheapest prices but if you have found something on Google flights they can nearly always sell the flights to you even if they are ex EU. I recently booked one of the great Virgin ex Dublin deals to LA using Trailfinders Ireland which allowed me to add in a long stopover in London which I couldn't get to price up online. One of my readers also booked a Singapore ex Eu using them too. Their customer service is excellent including booking seats and having a dedicated business and first class department where they always recognise you by name unless you have changed your phone number!
Propellor Travel
Propeller specialises in complex itineraries and the more unusual requests such as BA Gold upgrade voucher bookings. There is a charge for bookings flights. You can simply paste in an ITA or website fare quote rather than typing it all in. Propellor book direct with the airline so your money goes direct to the airline rather than being handled by Propellor.
Online travel agents
Online travel agents are a very simple way to book direct with the airline. I would strongly advise using Google Flights first. When I bought my Virgin ex Dublin flights they were over £1000 more on eBookers than Expedia even though they are part of the same company.
momondo UK
momondo is a bit like a cross between Skyscanner, Expedia and Google Flights. You search for flights and it will show you the cheapest fares and where the cheapest place to buy them online is including the airline's website if applicable. It even includes some low-cost airlines. I like the fact that it shows a graph of prices to help you decide on dates as well as having options to sort via price, length of journey or a combination of the two (best).
I am always slightly wary of OTA's I haven't heard of but I had a quick look at some of the main ones listed on momondo and they all scored at least 4/5 on Trust Pilot. I would always advise looking at Trust Pilot before booking with a company you have never heard of.
Expedia/Ebookers
Expedia and Ebookers sometimes have fares that are difficult to find elsewhere, even direct with the airline! These include adding a hotel to the booking to lower the cost as it then becomes a different fare type. You can read more about using eBookers and Expedia in this article.