This flight review is from the start of our return journey on my trip to New Zealand. We had flown into Auckland but since we were down in Queenstown we decided to fly home from Christchurch instead. We also fitted in an overnight in Christchurch to allow for some contingency when travelling from Queenstown. I hadn't been since the last earthquake and I was pretty shocked by what I saw. It felt almost derelict in parts even after six years since the last major earthquake. The cathedral still remains boarded up. I will be doing a post about my top places to visit and things to do where I will cover an alternative to staying in Christchurch if you are headed this way.
Check-in and lounge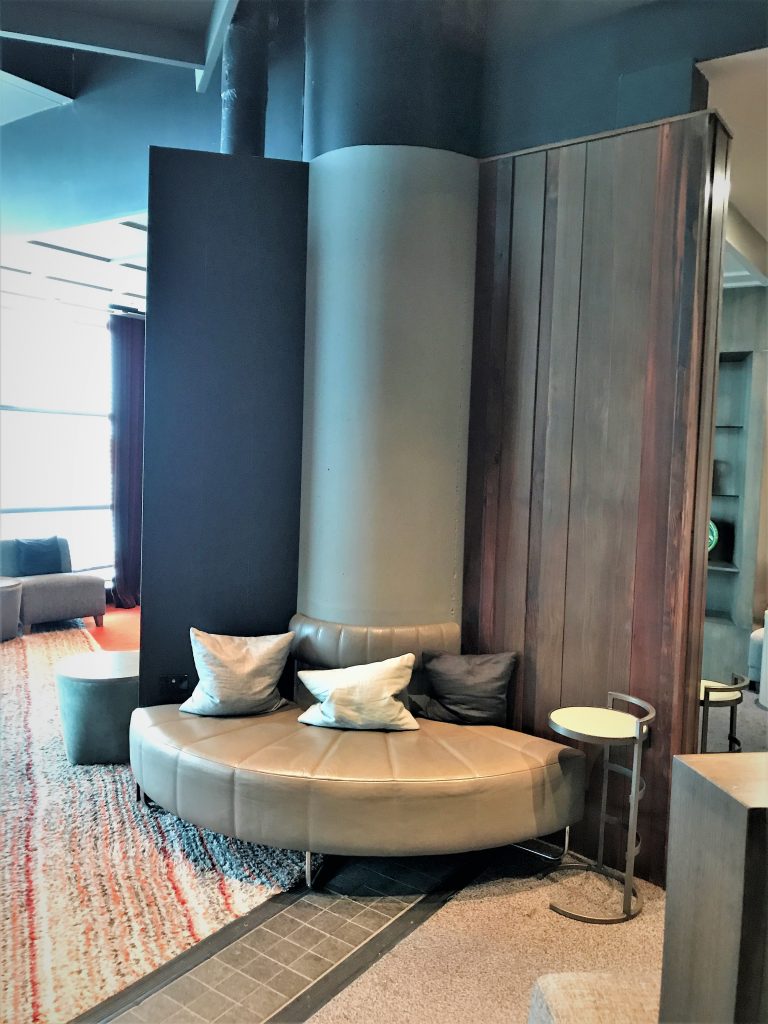 Christchurch is a fairly small airport with not a huge amount of facilities. Check-in had no queue and as you would expect in New Zealand the staff were lovely. Singapore uses the Air New Zealand lounge in Christchurch which I really liked. In typical Kiwi style, it wasn't overly fancy but it was modern, well equipped and with some nice food and drink options. When we went to the lounge it was fairly quiet. There was a business area with laptops in one corner, a buffet and help yourself wines, beers and spirits. I liked the decor with the muted colours and stone fireplace.
The range of spirits was small but well-curated with 42 Below vodka,  Tanqueray gin, Johnnie Walker Black Label, Bulleit Bourbon and Appleton Estate Rum. Not sure about the Napoleon brandy though! As you would expect there were some good quality New Zealand wines on offer. No champagne but a méthode champenoise sparkling wine. There was also a Villa Maria Cellar Selection Hawkes Bay Chardonnay, Vidal Reserve Pinot Gris, Esk Valley Gimblett Gravels blend and a Villa Maria Marlborough Pinot Noir. For beer lovers, there was Steinlager, Kirin and Stella. The food selection didn't really have much in the way of hot food but there was a wide range of salads, sandwiches, soup and snacks. It all looked quite tempting along with some delicious looking cheeses.
Boarding
I asked to get on early again so I could get some 360° photos. The boarding gate supervisor was perhaps the most unfriendly person I have met in New Zealand. However, she did gruffly say she would see what she could do and I got on a couple of minutes before the main boarding started.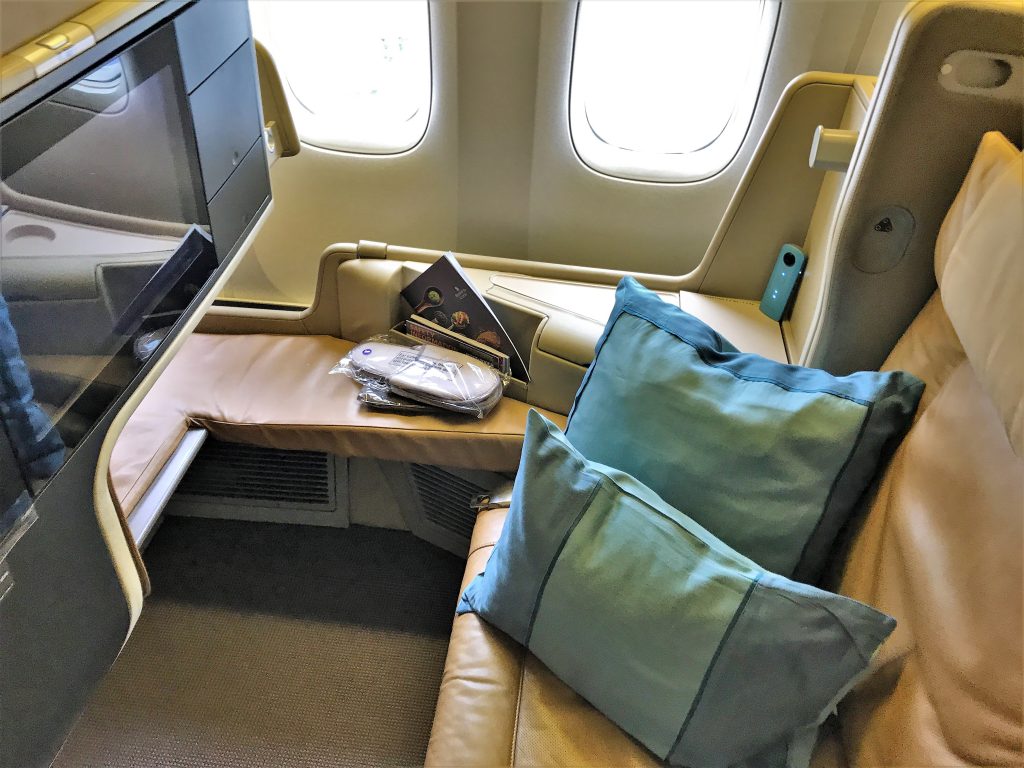 When I got on I was disappointed immediately. The aircraft looked very tired and outdated. At my seat was a pair of slippers and eyeshades, menu and two pillows, one of which was a day cushion. Before take off I was offered a pre-departure drink and naturally had a glass of the rather delicious Charles Heidsieck champagne in an elegant and practical stemless flute (plus I am sure you get more in).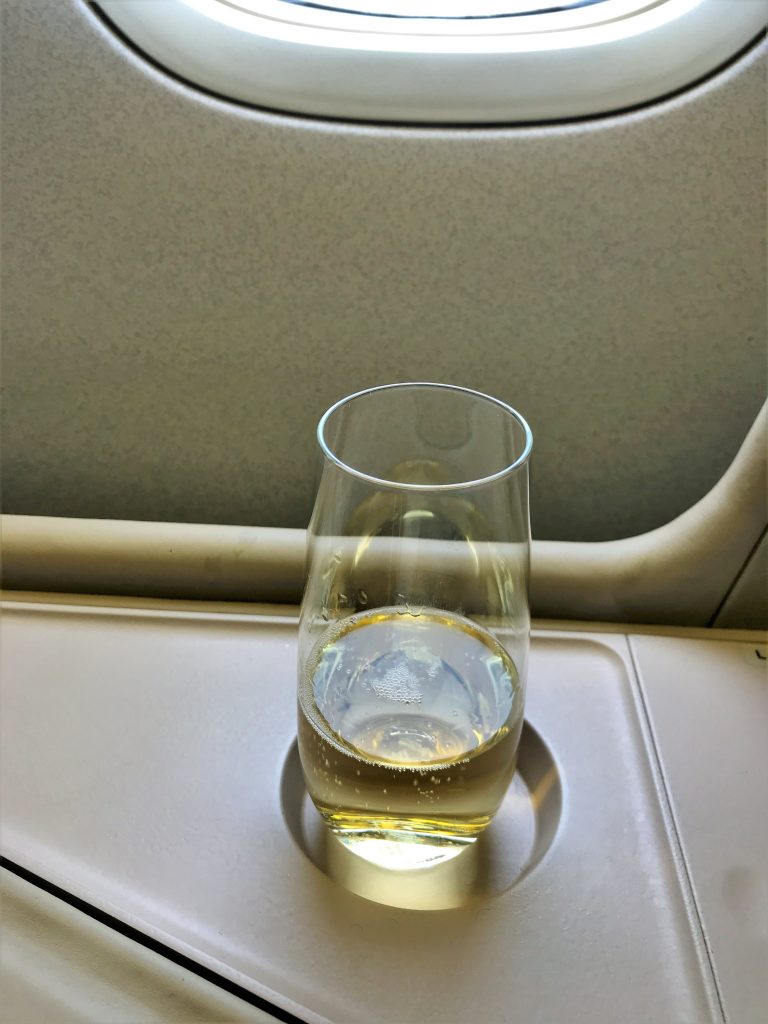 A trolley with an extensive range of newspapers and magazines was rolled through the cabin for us to choose from. I think this is a better approach than other airlines where they just carry a small collection around by hand. It allows them to offer more choice and for the passenger to see exactly what they have.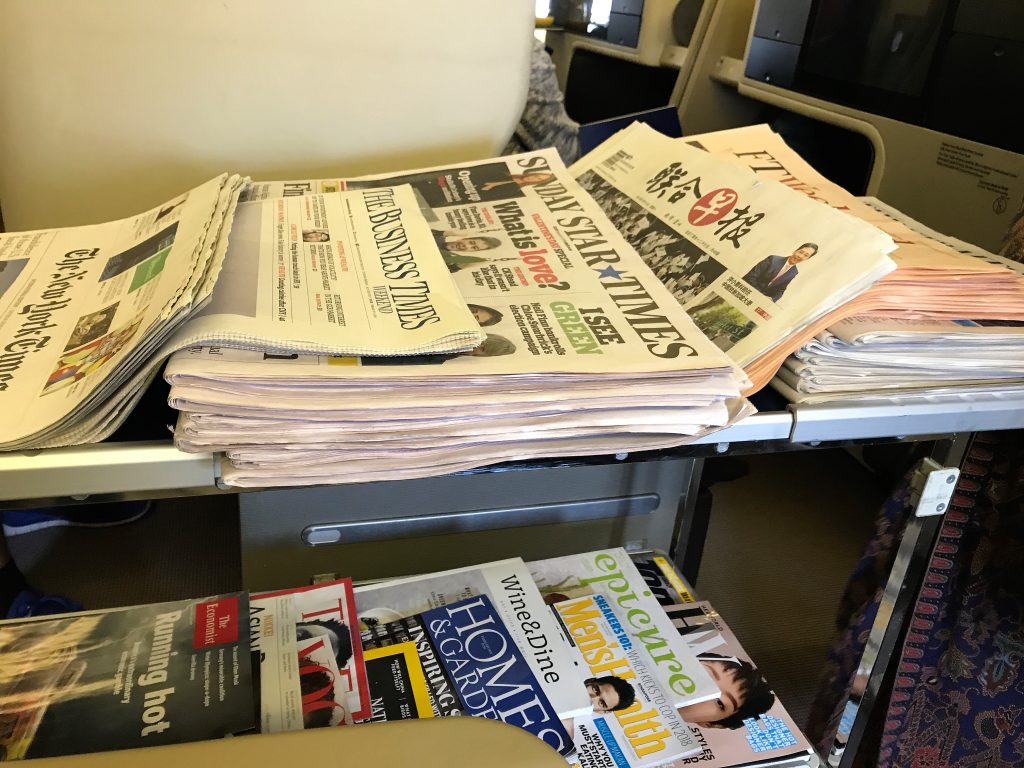 Seat and Cabin
Post from RICOH THETA. #theta360 #theta360uk – Spherical Image – RICOH THETA
On all our other flights, Roving Reporter and I were lucky enough to get the bulkhead seats but we couldn't manage it on this flight, probably due to the number of families. The flight seemed to have a disproportionately high number of babies on this route and although they were all wonderfully behaved I did feel like I was in a flying crèche at one point.
We settled on row 12 window seats with me in K and RR in A. The cabin is at the front of the aircraft and arranged in a 1-2-1 configuration. The seats are all in beige-tan or brown leather with beige plastic surrounds which gives the cabin a rather dated and downtrodden look. Even with the turquoise accents the whole effect was duller than a meeting with my accountant! (let's hope he doesn't read the blog!) It also felt quite cramped compared to the other Singapore business class cabins we flew in.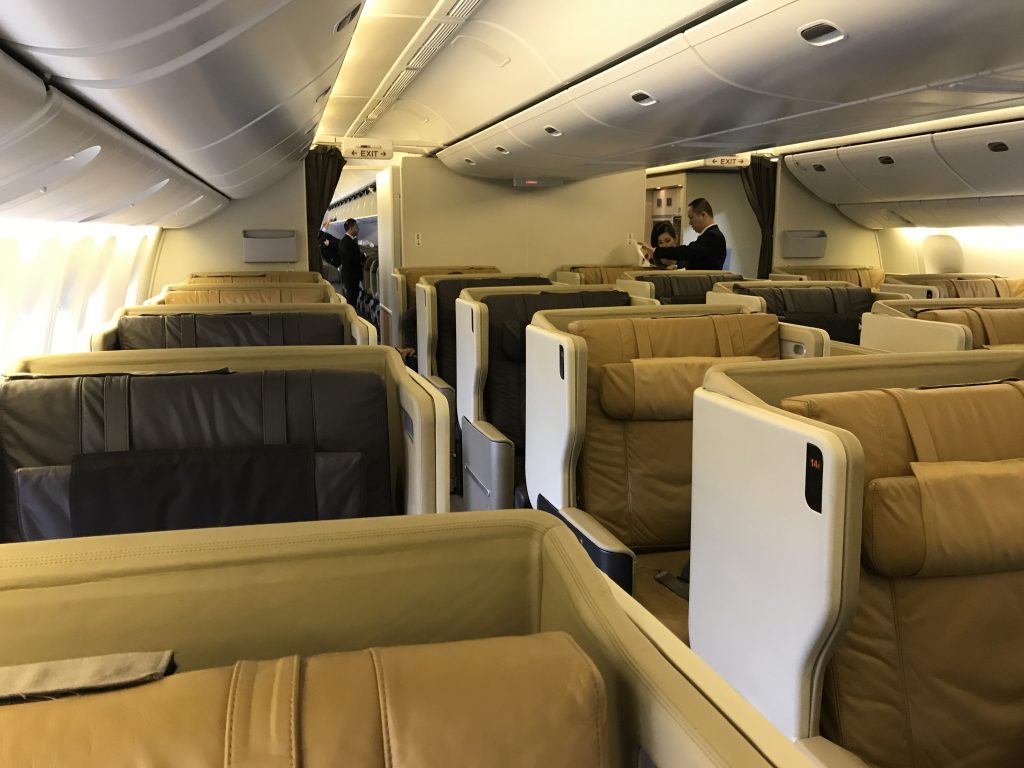 The middle seats are perfect for people travelling together but they do have a privacy screen if you ended up with one as a solo traveller. Even if you are travelling together you would have to lean forward slightly to chat. You can book seats for free in business class with Singapore Airlines.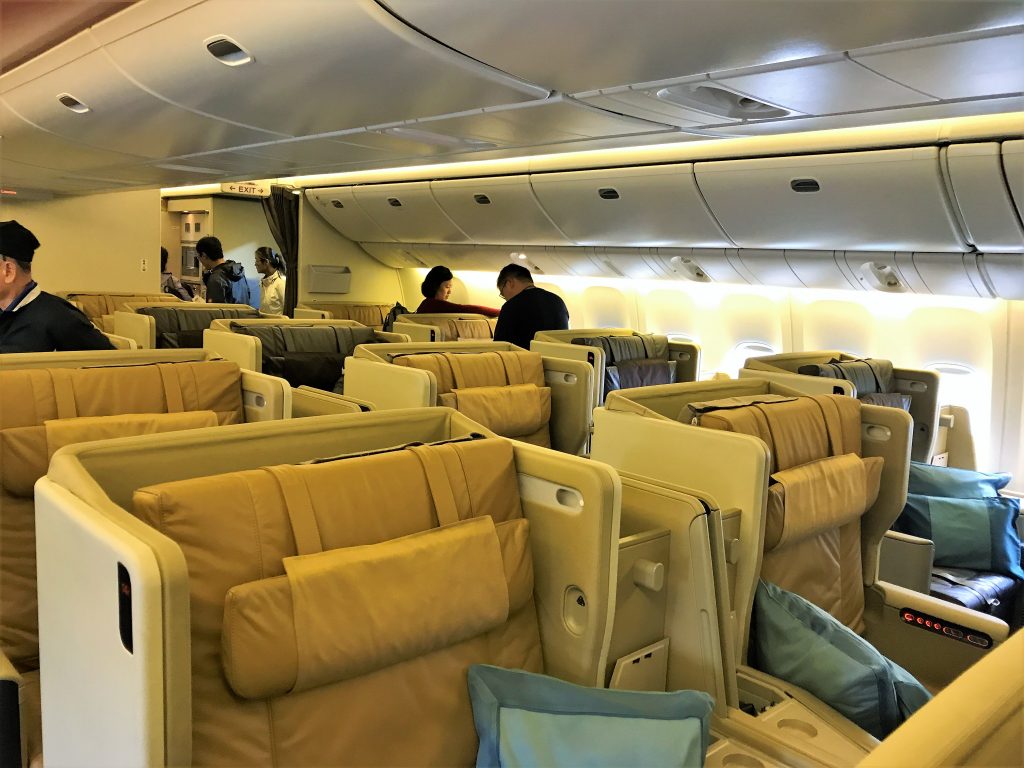 There wasn't really much storage space that you could use at the seat prior to take off. There was a very small side bin but this was taken up with the noise cancelling headset.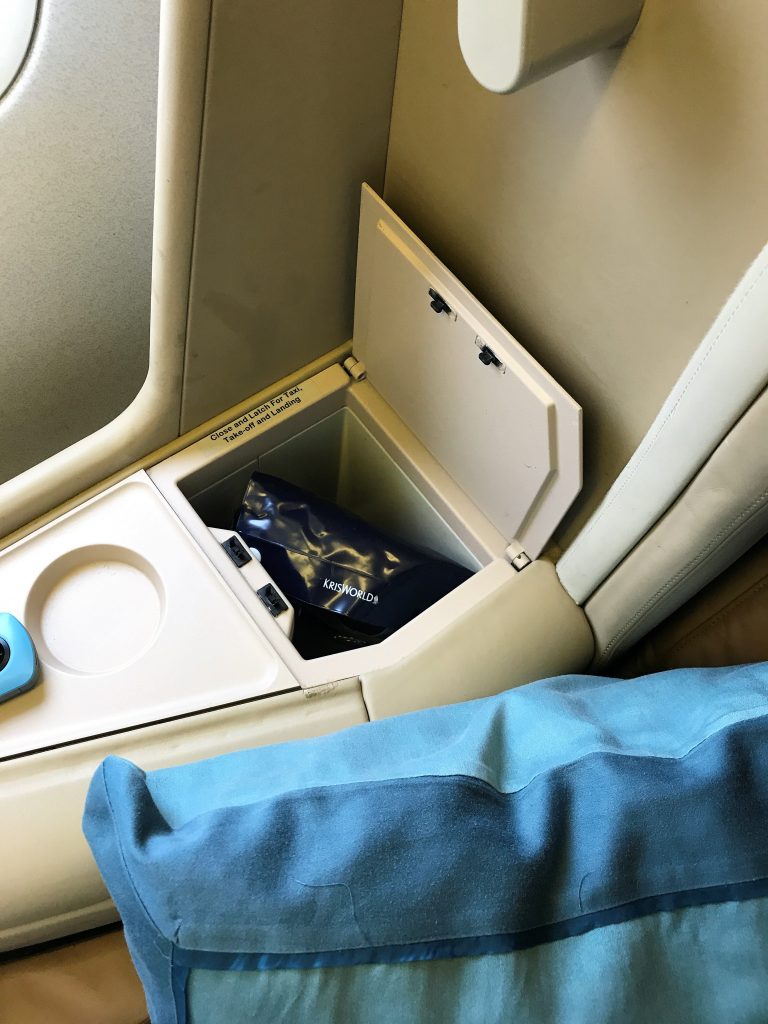 There were a couple of other options by the TV screen. I liked the handy shelf to the side of the charging points which had a USB as well as a multi-country socket. It was perfect for storing my iPad pro for charging when I wasn't using it.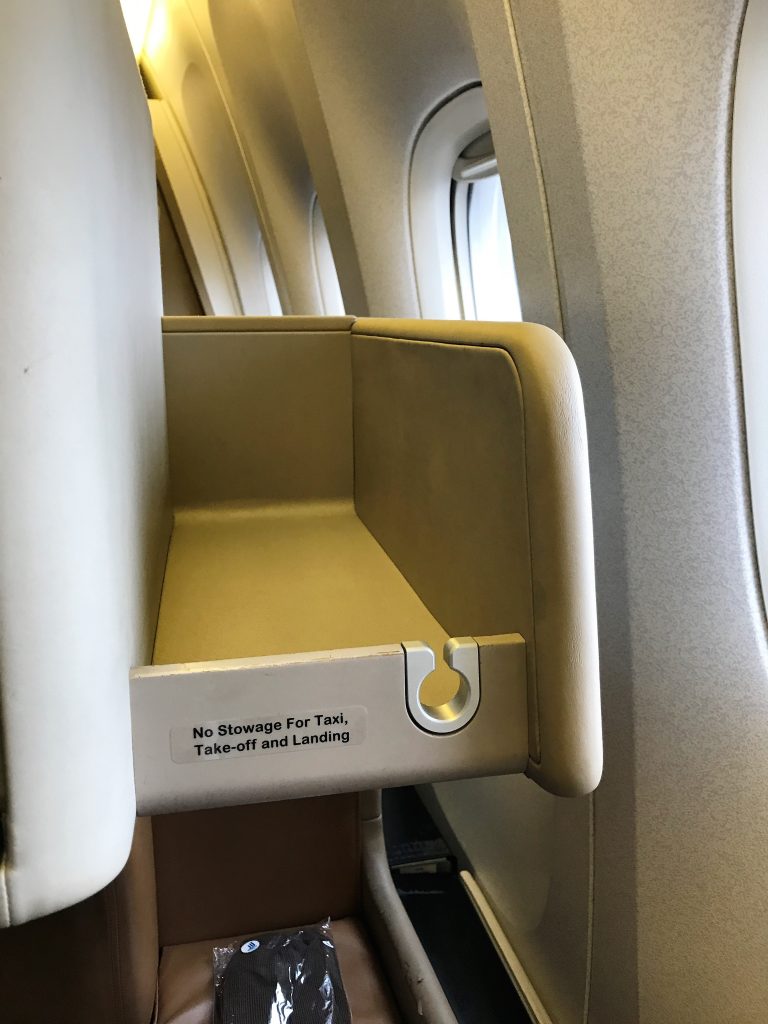 There should have been a fold-down drinks tray but it wasn't working. This was not an issue at all as I hadn't bothered to use it on any of my other flights. The sellotape over it did not really help with the slightly shabby feel of the cabin though!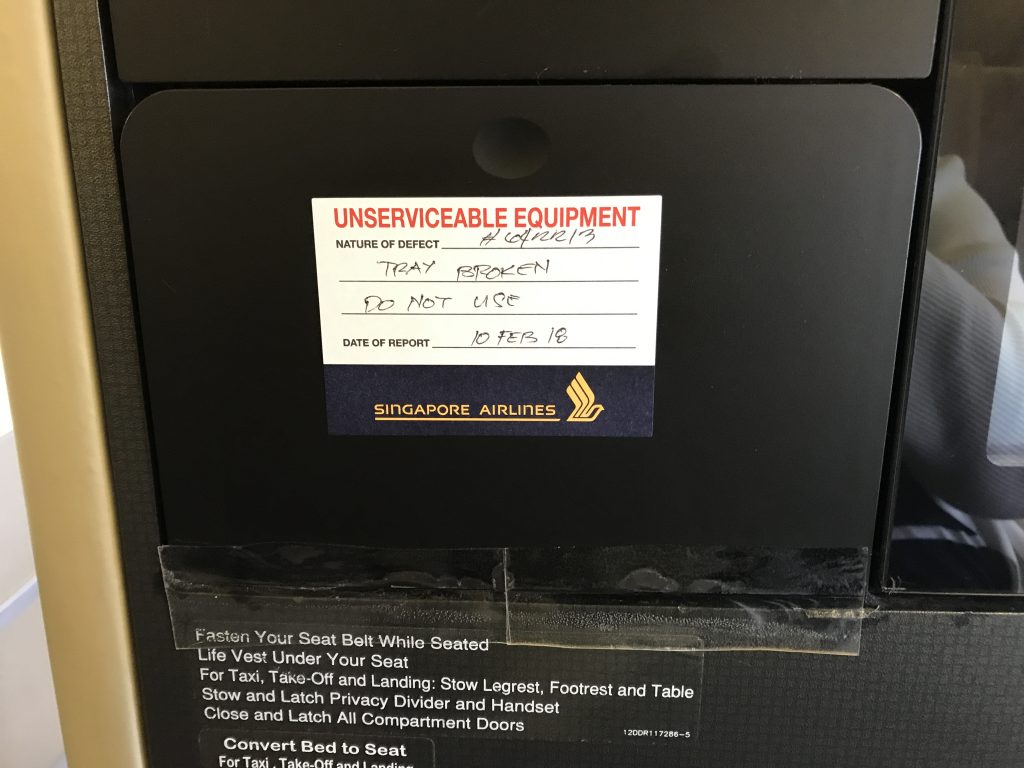 Other than the bulkhead, the seats have a funny arrangement where your feet go to one side in a cubby hole under the seat in front. This meant you had to sit and sleep at an angle which was not comfortable.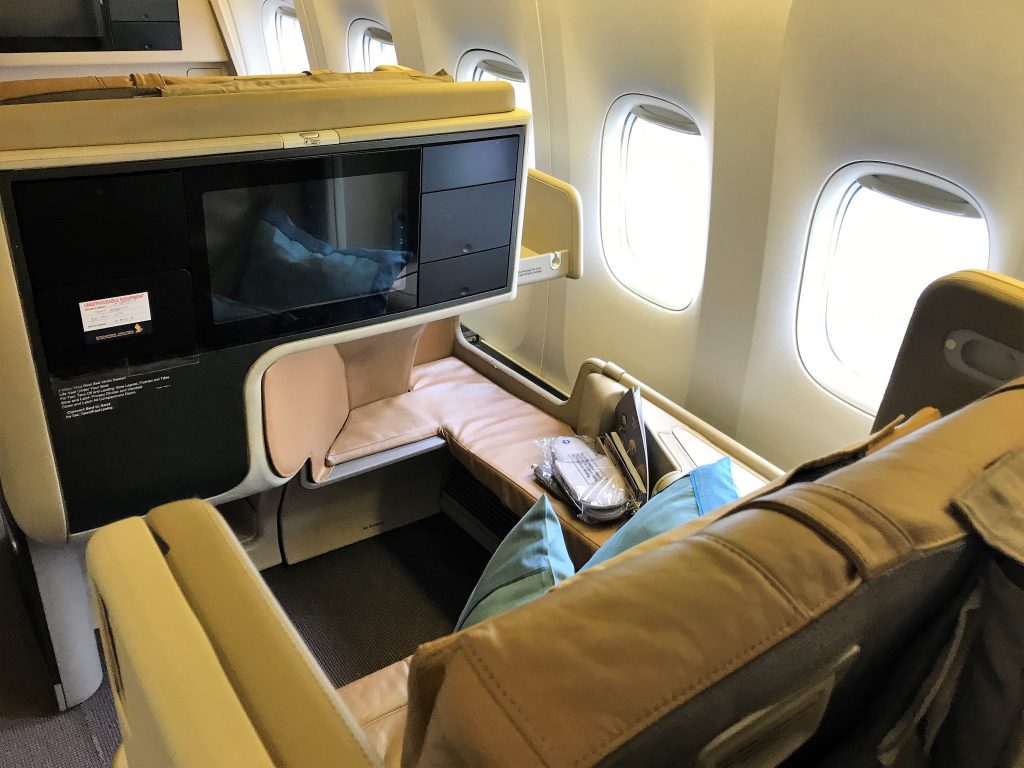 The next issue was that the leg rest did not appear to manage more than 'half-mast', and had an annoying metal extension at the bottom which I really dislike. I found the seat incredibly uncomfortable for sitting in as it didn't recline much either due to the need to flip the seat to get it into bed mode. I would take a BA Club World seat over this one any time even though this seat is much wider at 30″ versus 20″ on BA!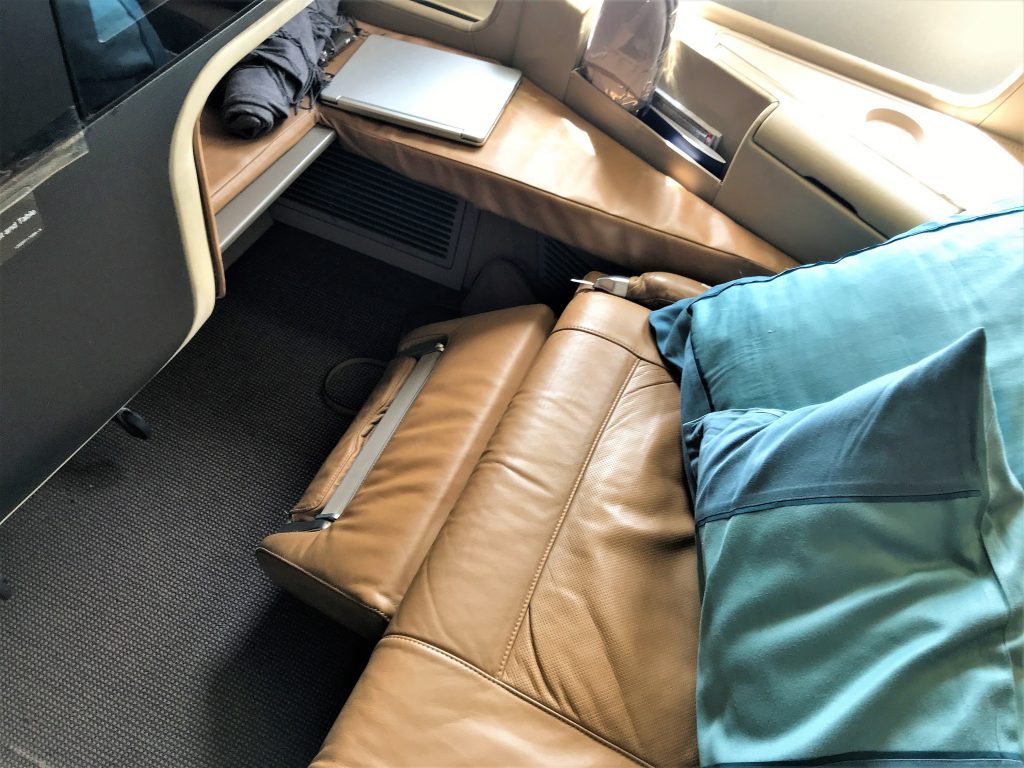 This was an afternoon flight but as it was the start of a 40 hour journey home via Singapore, Moscow and Stockholm back to London I thought I would try a short nap. Bottles of water had been handed out by the crew. The seat folded over easily into a wide but short bed with the footwell for your feet. I found this bed pretty hard for sleeping on although it did come covered with a very thin mattress topper. It was nowhere near as comfortable as the A380 or A350. The bed was at least very wide and came with a nice cotton covered duvet and I liked having two pillows/cushions. You had to sleep diagonally with your head in one corner and your feet in the other. Overall I hardly slept at all as I just couldn't really get comfortable.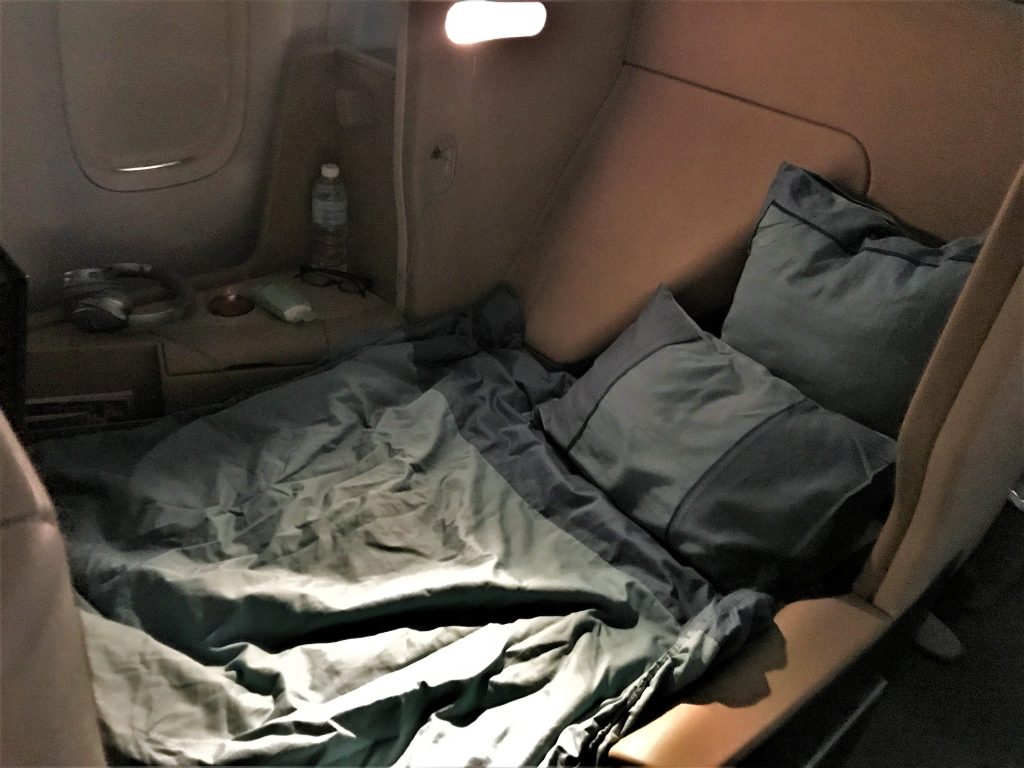 Food and drink
Unfortunately Book the Cook is not available from Christchurch which is another reason why if I did it again I would have flown up to Auckland to get our flight home rather than go from Christchurch. The menu looked quite enticing though:
Considering it wasn't that long a flight there were two proper meals and a good selection of snacks if you got hungry in between.
I started with another rather garish Singapore Sling. They are not the most authentic cocktail I have tasted but still enjoyable. The drinks were served with a small bowl of mixed nuts.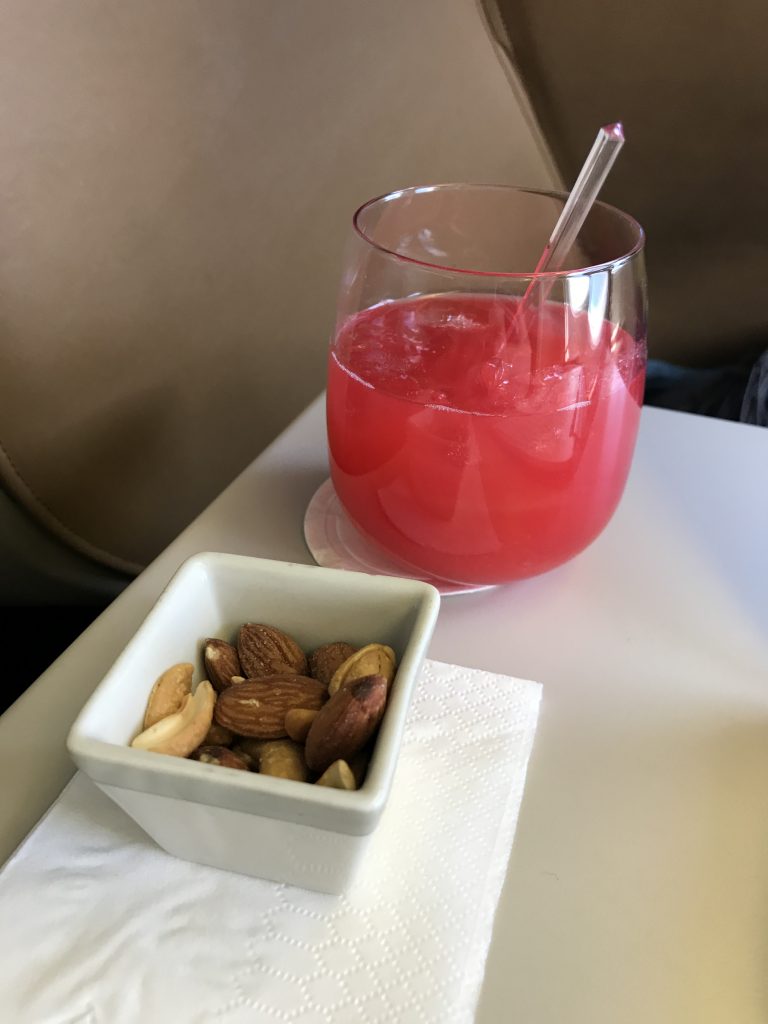 As usual with Singapore there was no choice of starter but since it was something I liked I wasn't too bothered.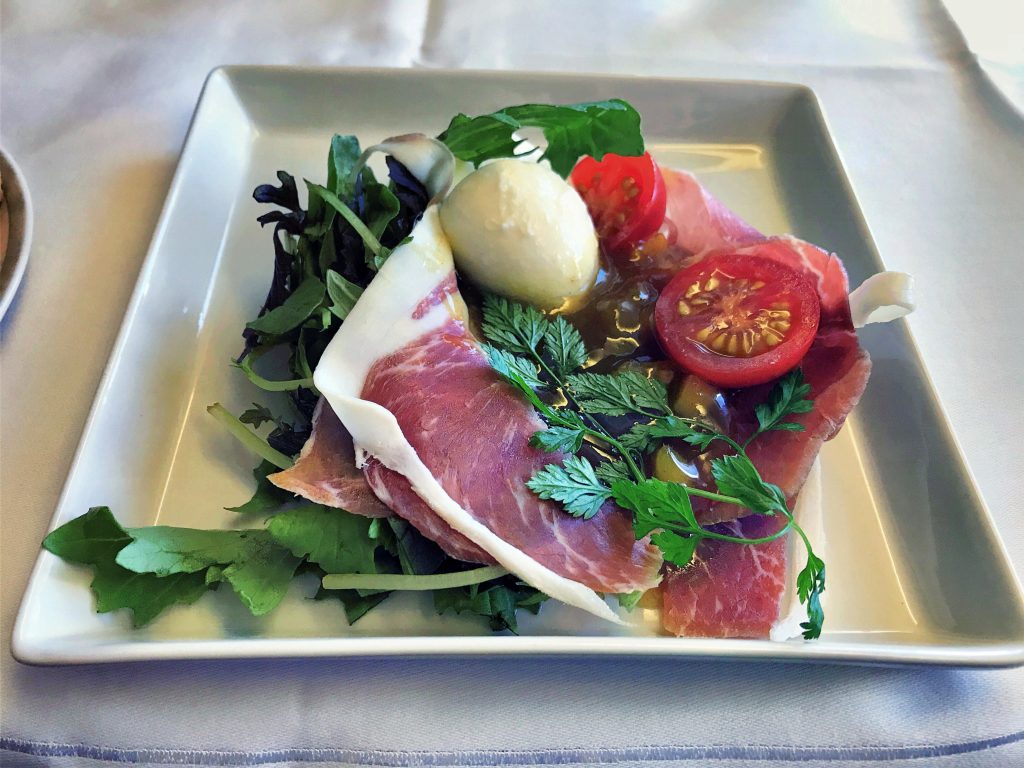 The starter was simple but tasty with the dressing served by the crew at the seat. At least if you didn't like one thing there were plenty of other elements to the dish and you could just leave it. The mozzarella tasted fresh and was lovely and soft without the rubbery texture you sometimes get.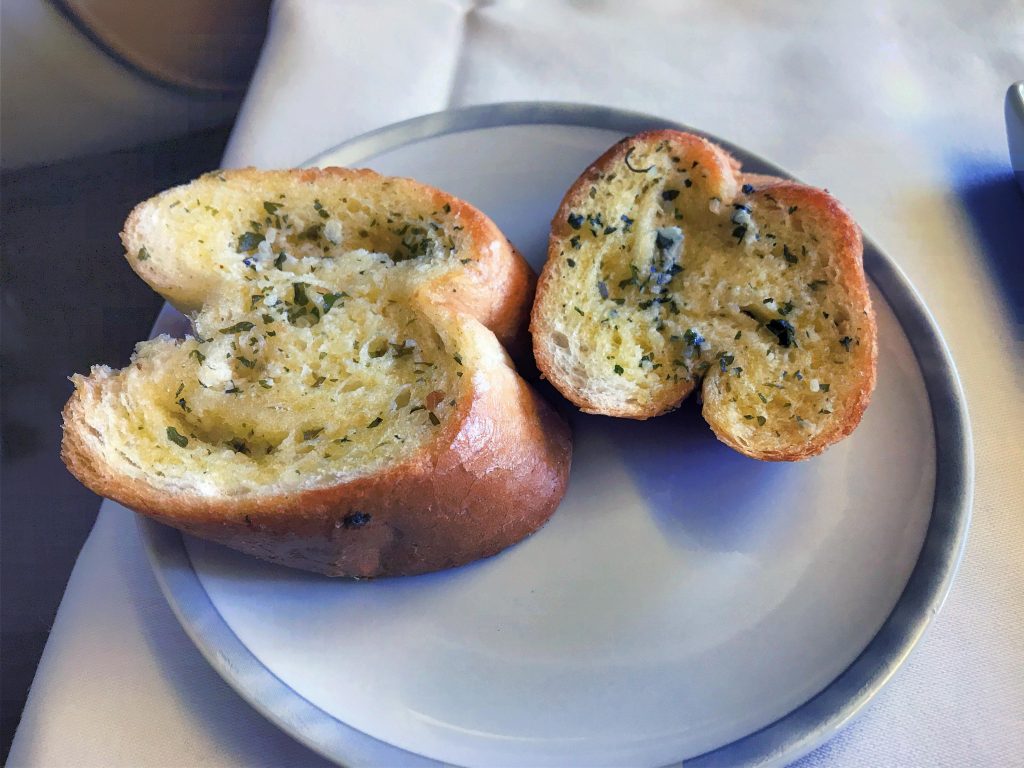 They had the usual choices of bread and I enjoyed a couple of slices of warm, slightly crisp, very garlicky bread. I wish they would do that choice on BA too outside the Far East routes.
The wine choices on Singapore do not seem to vary much even by month or route. The choices were almost identical on all our flights even though we were in a different month on the way back. I had a glass of the Sauvignon Blanc for a change which I actually really enjoyed. It wasn't too overpowering unlike a lot of New Zealand Sauvignon Blancs that almost whack you round the face with their over the top herbaceous and fruity style.
Here is the wine menu and drinks list:
For the main course, I went with the beef as my previous beef dish had been so good on Singapore. I do wish BA would learn from this and stop trying to cook a steak on a plane. Unless they are going to manage them all as well as the Do&Co one I had to New York when the new catering launched, they should stick to slow-cooked dishes which are hard to overcook and full of flavour.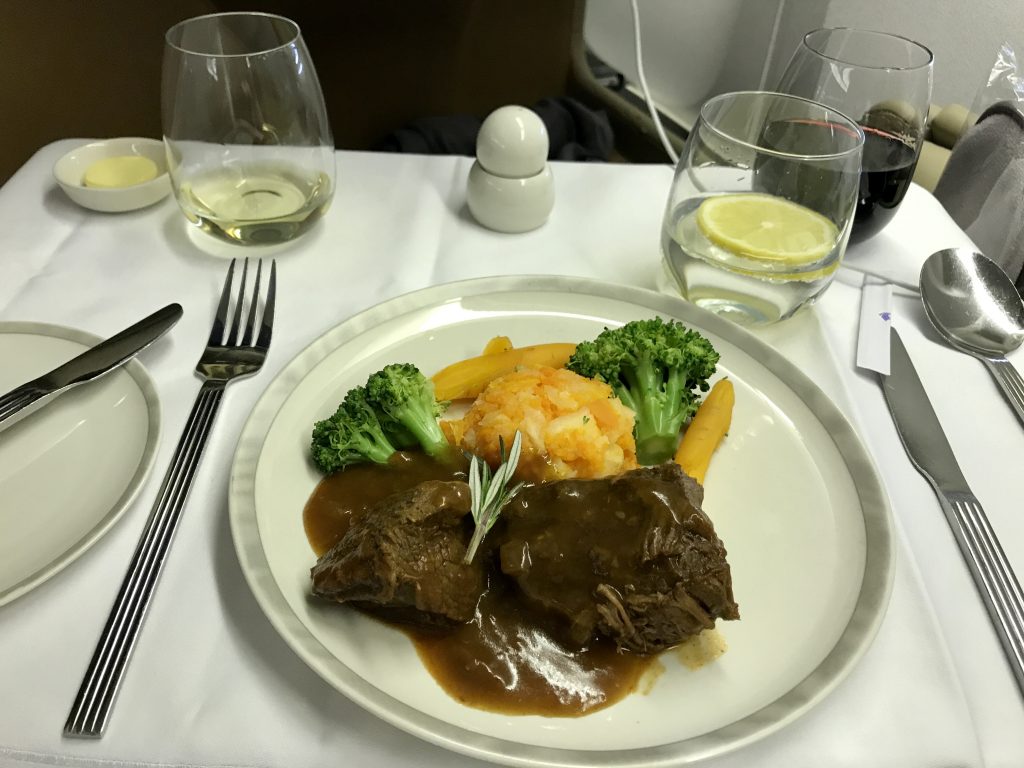 This wasn't quite as good as the previous beef dish but was still delicious and very filling with two big hunks of beef and plenty of sauce. I enjoyed the mash with it and the fact the broccoli was still green and not soggy. The Singapore main courses feel more like a restaurant dish than airline food. From the way they are plated up on normal size plates and decorated with herbs to the fresh vegetables and generous portions, there has been little to fault with Singapore's food. I accompanied this with a glass of the Shiraz which was spicy and full-bodied which went well with the beef.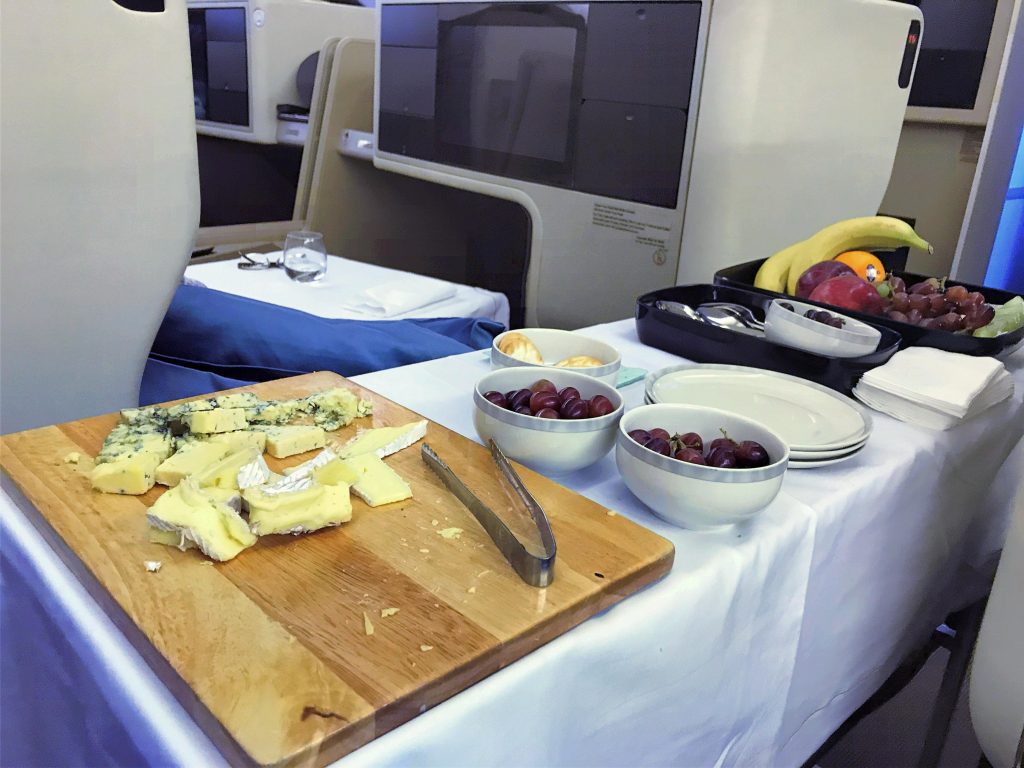 The cheese trolley looked tempting as it went past and it was nice to see some New Zealand cheeses onboard. Much as I enjoy the cheese trolley with some fruit and accompaniments I managed to resist since I still had another 3 flights to get home! Instead, I had the Kiwi classic – hokey pokey ice cream. For those who haven't visited New Zealand hokey pokey is basically a Crunchie or honeycomb! The ice cream was deliciously naughty – rich and creamy with big chunks of crunchy sweet honeycomb.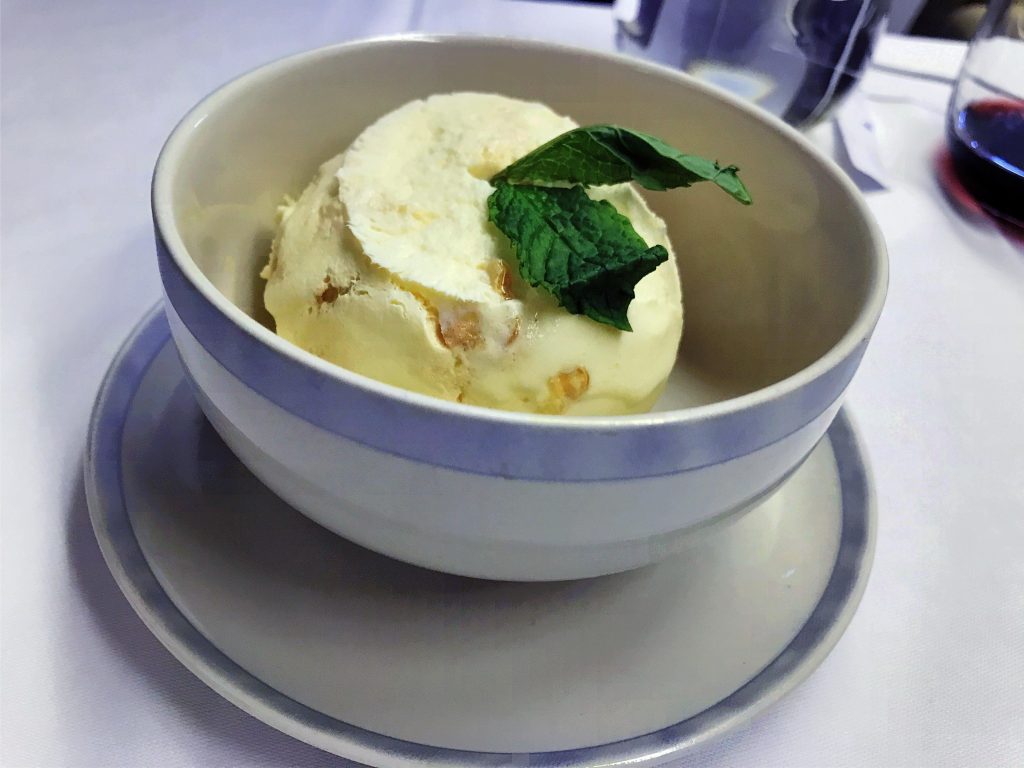 Knowing that they had an XO cognac onboard I couldn't resist ordering one along with a Mocha coffee. The other coffees I had tried were good quality coffee but the frothy milk part didn't seem to work well on board. The Mocha was a lot more successful and I would have that next time after a meal. Roving Reporter completed his conversion to a (XO only!) cognac drinker by ordering a Cafe Royale which is a shot of sweetened espresso with some XO added.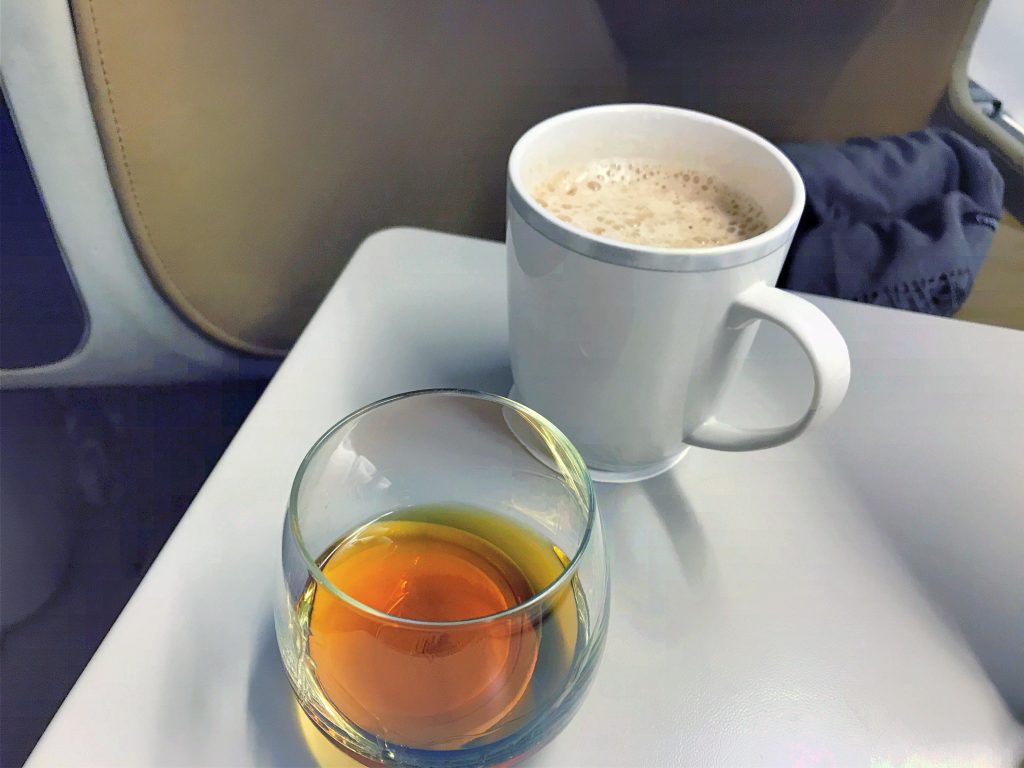 A couple of hours before landing in Singapore a second 'light meal' was served. I really enjoyed the salmon starter though I am not sure I could taste the ginger cure on it. The tart fresh apple and shaved aniseed fennel were a good offset for the rich salmon and there was plenty of dressing. It was a light refreshing way to start the second meal.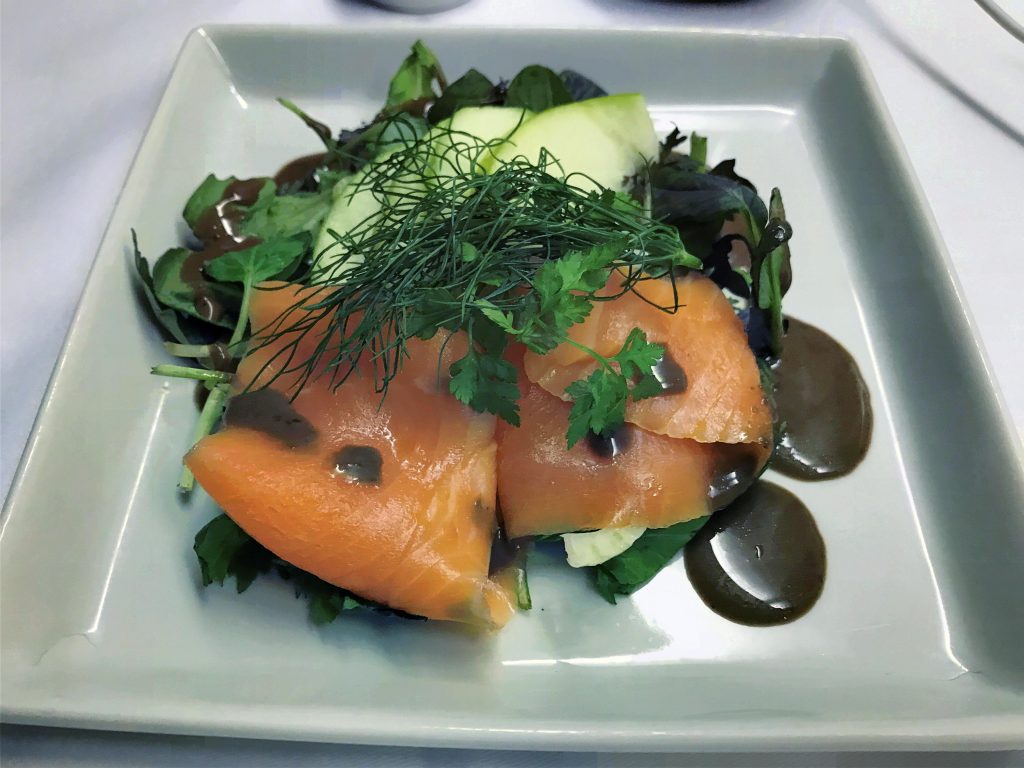 I wasn't that hungry so I decided to have the pasta main course as did Roving Reporter. I find that pasta is often a big disappointment on planes as it is usually overcooked and dried out. Not so on Singapore airlines. This tasted like someone had cooked it freshly for me and had lovely juicy prawns and a very fresh tasting tomato sauce with a little kick of chilli.  The rocket leaves and grated parmesan finished it off perfectly. One of the best pasta dishes I have had on a plane and RR agreed too.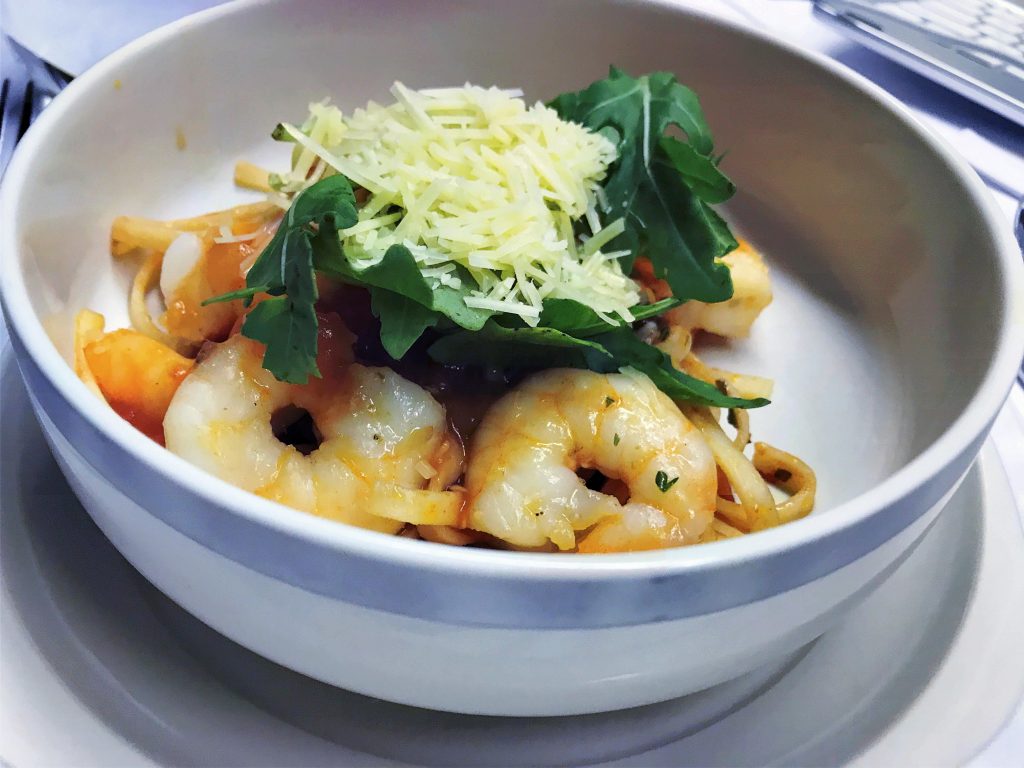 The service was fairly average on this flight. I found that across all the flights there was quite a bit of variation from excellent to very average. None of them I would call bad service though. They were a little perfunctory on this flight and not particularly friendly would be my main criticisms.
Entertainment

The TV system looked pretty antiquated and the definition was nowhere near that of the A350. It also seemed to have less selection than the newer systems. The handheld remote was quite basic and the system was quite slow to respond. They did have new films and TV series though as well as older ones.
Conclusion
This was the third aircraft type I had tried in business class with Singapore Airlines on this trip. It felt very disappointing despite the wide seats. I couldn't really get comfortable either seated or lying down which, let's face it, is one of the most important considerations when flying. They do have B777s with the more recent seats like the A380 ones so I would avoid this aircraft type in the future with Singapore unless I was sure it had been refitted.
You can read my review of the A350 and A380 Singapore Airlines business class here. You can find more information about Singapore Airlines business class here.