As part of my series of airport hotel reviews, I stayed at the Hilton Gatwick earlier this year before an early morning flight. This is my review of the stay.
Location
We picked the Hilton as it was on site at the South Terminal. We walked from the terminal as we had popped in to check our bags in with BA for the next morning. It look around 5 minutes to walk from the terminal via a covered walkway.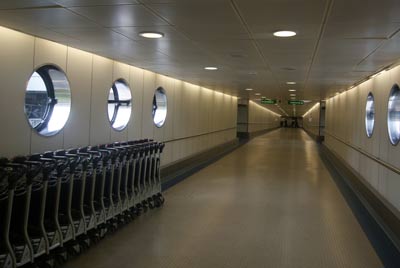 Check in
As I am a Hilton Honors Diamond member, we had already checked in on line and been upgraded to an Executive room. I used the Hilton Honors check in desk to collect my key, which was pretty quick. Complimentary mineral water is handed out at reception to take to your room.
Room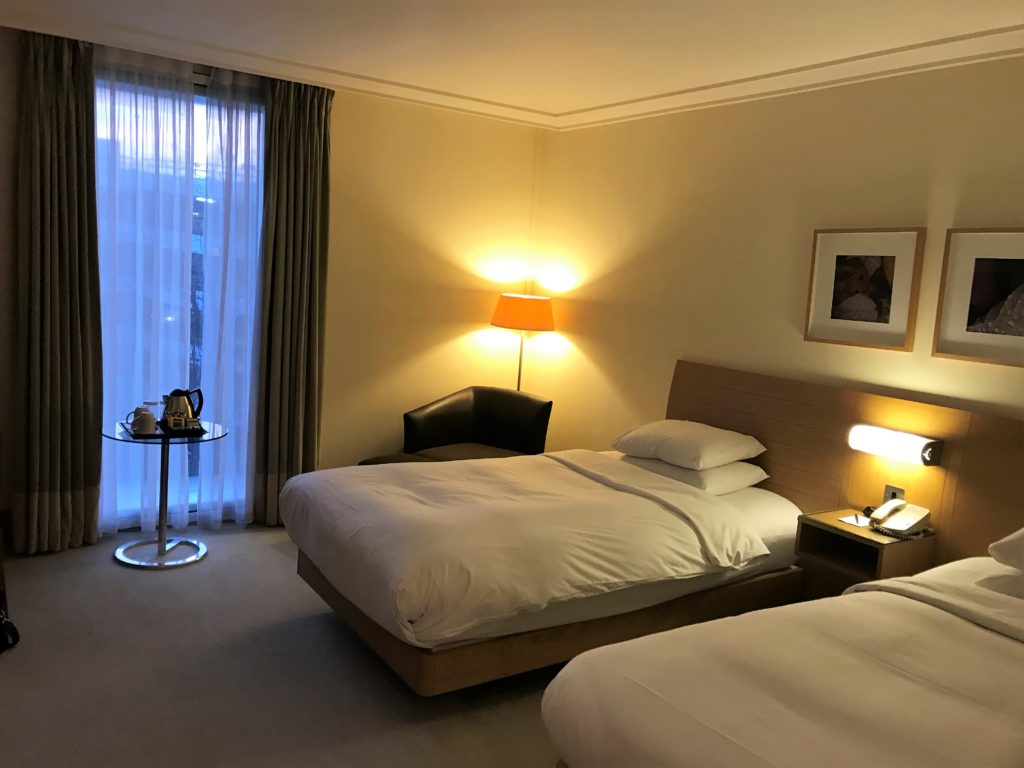 We had a Twin Executive room. These are in the slightly newer part of the Hilton Gatwick. However, it was a very long walk from the reception area, especially when you are wheeling heavy luggage along carpeted corridors. There isn't a huge difference between an Executive room and a standard room. The only difference apart from access to the Executive lounge, is the new Hilton Serenity beds, bathrobes and mineral water.
The hotel is definitely showing its age now and could do with an update. It does have soundproofing and we didn't hear any aircraft noise. The bed was definitely an improvement on the last times I stayed here. The beds are much softer now, although still not as good as some other chains such as Marriott and Hilton.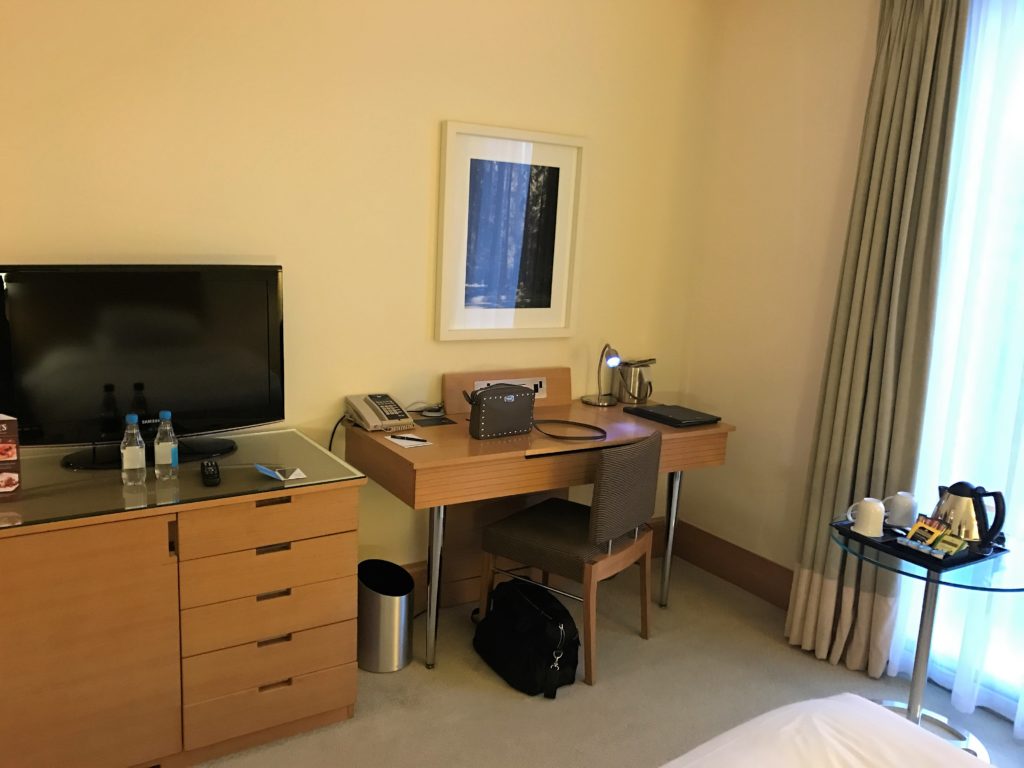 Although not the most modern decor, the room was well equipped with a tea tray, iron and ironing board and a decent size Tv with Freeview. There was a good size desk if you wanted to do some work. However, if you wanted to dry your hair, there wasn't really a convenient place to do do it with a mirror in sight. There was also a lack of sockets by the bed which was really annoying for an early morning flight when you want to both charge your phone and use its alarm.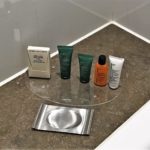 Bathroom
The Executive rooms have a bathroom with separate shower and bathtub. The bathroom was clean and reasonably modern. I would have liked a bit more room round the sink to out things, but that was my only complaint. The usual Peter Thomas Roth toiletries were provided.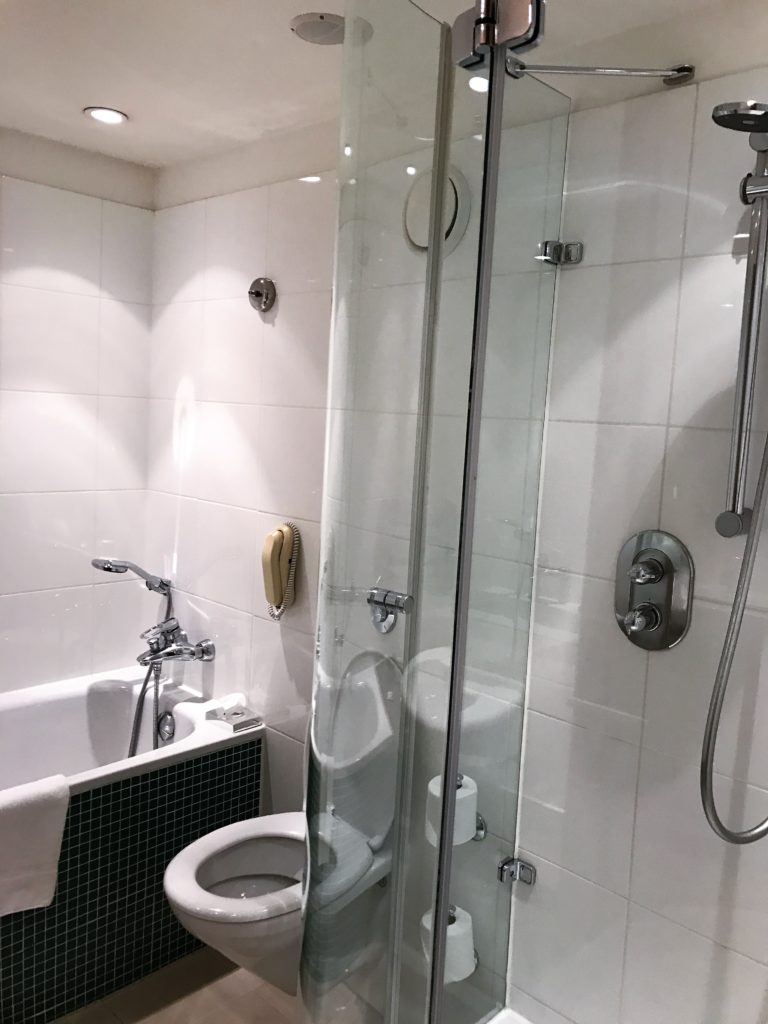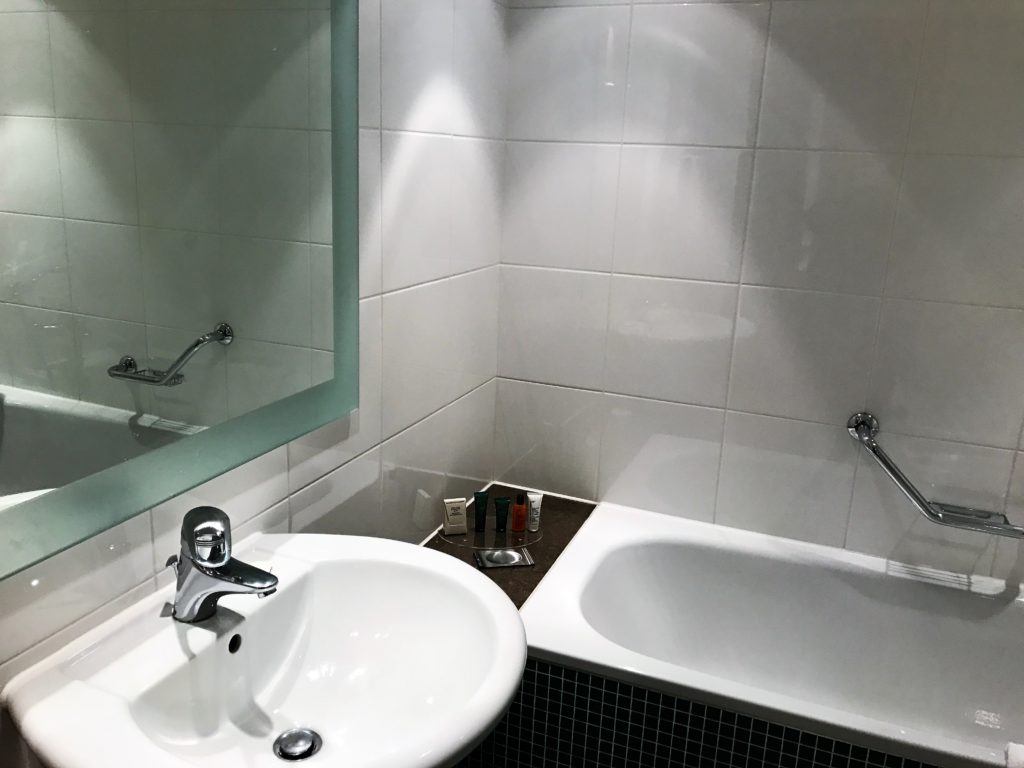 Executive lounge

The Executive lounge offers private check-in, complimentary continental breakfast and refreshments during the day, PC and Wi-Fi. There is also a shower available. It is open between 6:00 am – 11:00 pm.
Complimentary canapes and drinks are served daily between 6:30pm and 8:30pm. When we arrived for the evening drinks, the lounge was very busy, as it has been whenever I have stayed here. If you want to go for the drinks, I would suggest getting there early to get a decent seat. The atmosphere in the lounge is not great due to the amount of people there. The minute drink and food are put out people swarm over them like a hoard of locusts! It is not exactly a relaxing experience – for the first hour or so you had to queue to get some food. I certainly would not pay extra for the Executive lounge, but it is fine when it is free.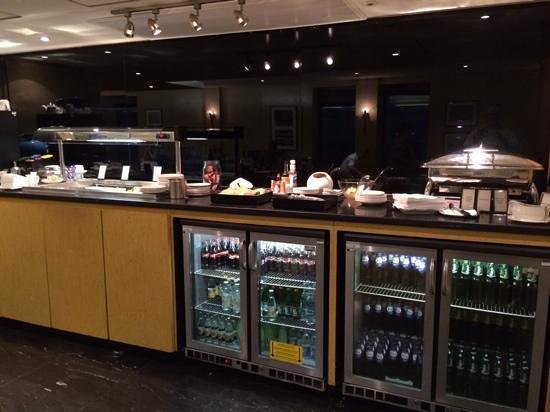 The selection of drinks was good with Cava, red, rose and white wine plus beers and a few spirits available. The food was not as good as previous visits, but the cheese selection was OK. There were also dips, salads and cold meats. The only hot item was soup. I found that the food was definitely nowhere near as good as other Hilton such as the Hilton T4 which I reviewed here. The staff worked hard to keep refilling the food, although they didn't really keep up with demand. Over time different items appeared on the buffet which was good to see some variety. There was also a decent bean to cup coffee machine.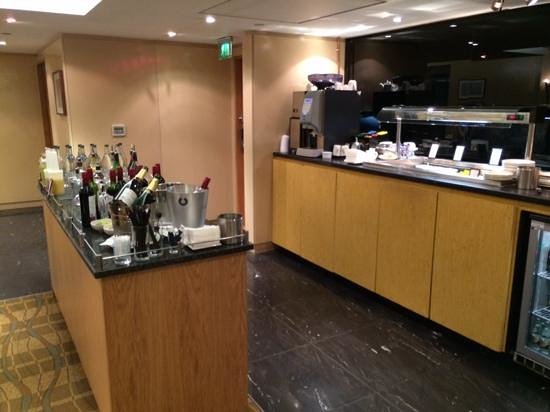 Other dining options
If you want to eat at the hotel, there are plenty of options. In the lobby is Amy's bar which is the more upmarket of the 2 bars. There is also Charlie Fry's Sports Bar which serves craft beers and simple food such as burgers.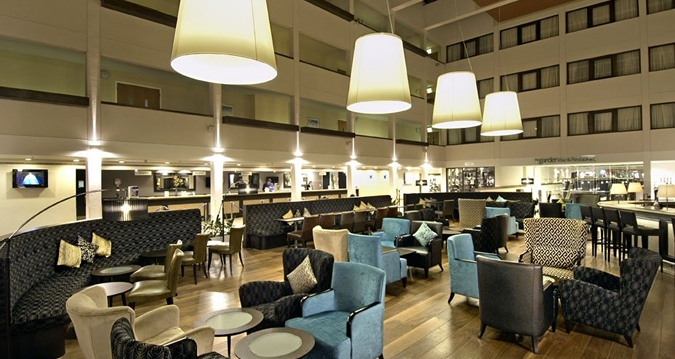 Amy's Restaurant
This is the formal restaurant in the hotel with modern British food.
Costa Coffee
There is a handy Costa just near check in if you want to grab an early morning coffee of quick breakfast. It is open 5:00 am – 7:00 pm.
Garden Restaurant
This is a buffet style restaurant with a wide array of buffet dishes including Italian style pastas, carvery and vegetarian options. If you have children with you it is a family friendly restaurant where kids aged 10 and under eat for free with a paying adult. Breakfast is served from 5:30am until 10:30am (11:00am on weekends)
As we had a 7am flight, we didn't bother with breakfast at the hotel.
Conclusion
This was a very average airport hotel. To be honest, most airport hotels aren't great, particularly when they are attached to the terminal. At least with Hilton you can earn some Avios and Hilton points as well! The room was comfortable and quiet, plus having got the hotel in a sale for around £78 it felt like good value for money. If you want to be right at the South Terminal, the only other choices are the Bloc (review coming soon) or the Yotel.
The hotel home page is here.