I had the good fortune to be upgraded on a recent flight from Club World to First at the last minute. This meant that I didn't get to use the Concorde Room (pictured above) but enjoyed the on-board product. This review will therefore only look at the on-board aspects of my First experience. You would normally check in at the First Wing for First which you can read about in this review.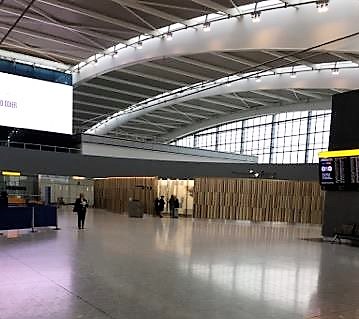 Boarding
Boarding wasn't great on this occasion. I arrived at the gate at around 40 minutes prior to departure only to find nothing was happening. As the aircraft was departing from the B gates, I usually leave the lounge reasonably early to allow time to get the train there. After waiting about 5 minutes, the gate staff made an announcement that it would be at least another 10 minutes before they would start boarding. At this point quite a few people left to go to the B gates lounge which was very near by. Eventually they began pre-boarding and then asked for First passengers.
I was greeted warmly by the CSD at the door and shown to my seat by one of the crew. As this was a full flight, the overhead bins were already full. One of the crew soon offered to put my bag in the wardrobe at the front which was a nice touch. I was then offered a glass of Laurent Perrier Grand Siecle which I readily accepted! This is a really enjoyable, high quality champagne that retails at around £120 a bottle. The crew were also very good about ensuring passengers were topped up, which you don't get in Club World.
I was also given one of the new Amenity bags designed by Liberty.
Gentlemen get a slightly less gaudy bag with Refinery contents. I really like the amenity kits and the pens are decent quality. There was also toothpaste which is not included in my photo. I really like Aromatherapy Associates and I think this is a really useful collection of products which I always use. Included in the bag is a cleanser, moisturiser, hand cream, eye serum, lip balm, deodorant, cotton pads, ear plugs, eye mask, socks, pen and hairbrush. I am not a big fan of the bag though, even if it is Liberty. It is a bit too flowery for my taste.
I didn't bother with the free First pyjamas as I wasn't planning on sleeping and I already have a large collection of them at home. These are a lightweight navy blue cotton in a simple tracksuit style with the First logo in white. You can also get a lightweight blanket and slippers if you ask for them.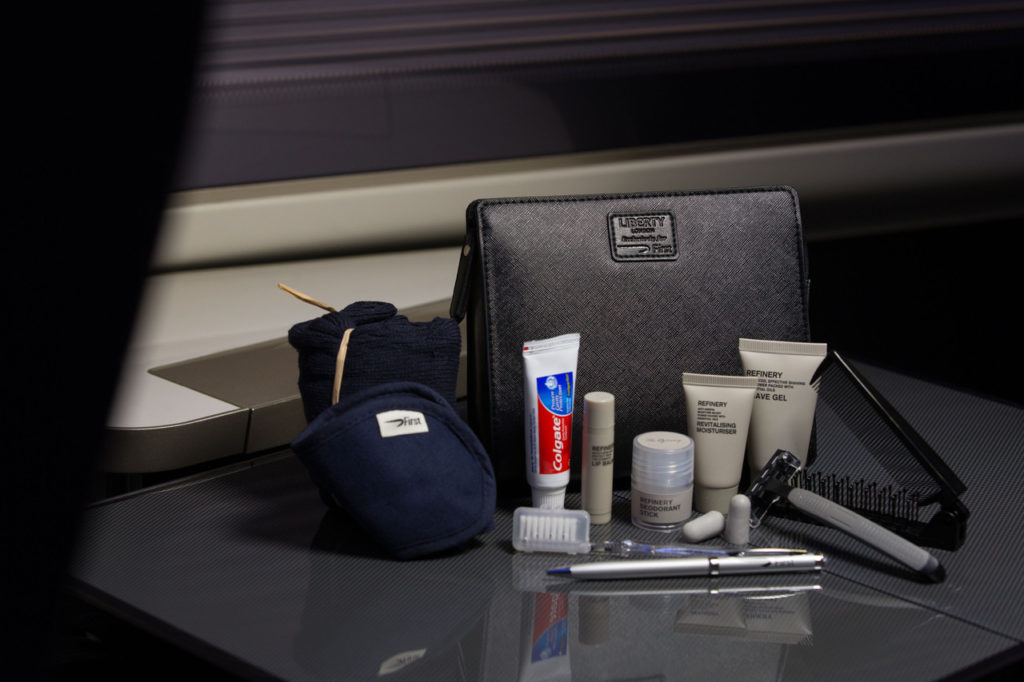 The Seat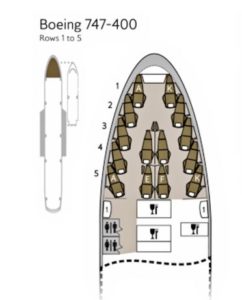 I was in 4F, one of the middle pair. I would not normally choose this seat as I prefer the window seats, but obviously I couldn't really complain on this occasion! I did not manage to get many photos as this was a very full flight, so please excuse a few official photos of the seat.
What seat to choose
The centre seats are ideal for couples if you want to talk. As a solo traveller there is a large screen you can pull across to give you privacy. If travelling solo I recommend seats 2 or 3 A and K. These are not too close to the galley, so they are nice and quiet. Seats 1A and K are reserved for Gold Card holders and are not ideal for solo travellers as they are pretty close together. If you are travelling with someone else I would either go for 1A&K for window seats if you can or if you want to chat a lot 4E&F would be better.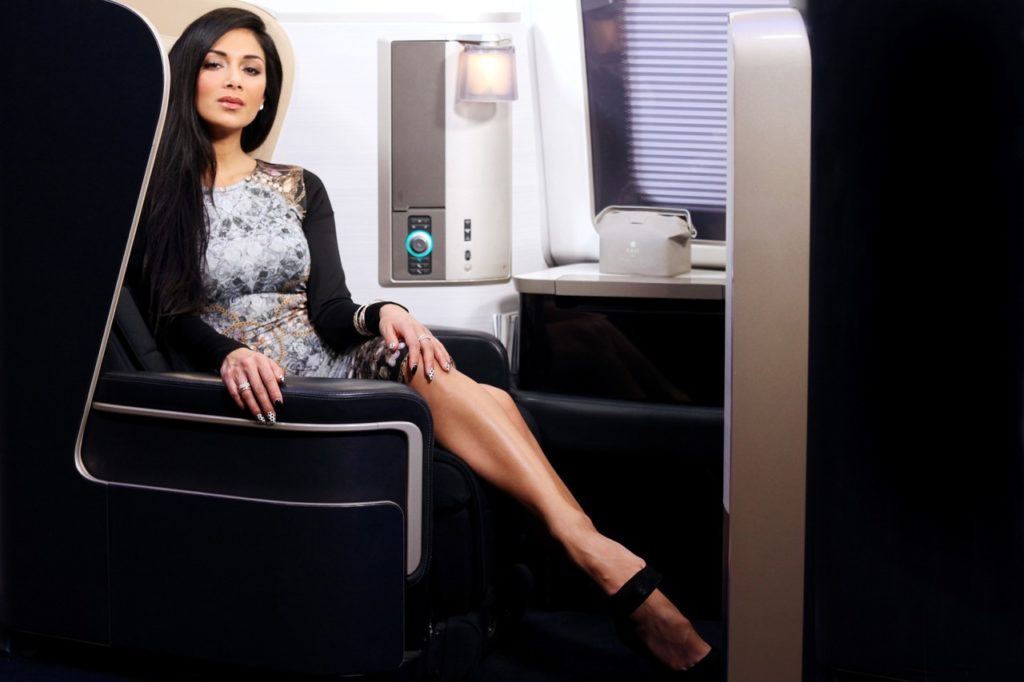 The window seats have more space with a wider shelf to the side by the window. The seat feels similar to the reverse herringbone style seating used on Qatar. Indeed there is an inside joke that BA First is the best business class in the world! For comparison the Qatar business seats are the same width as BA First at 22″ wide. However, with BA First you do get more room as your feet don't go into a cubby under the TV like they do on Qatar business class.
There is a foot stool/ottoman in First which can also be used for companion dining, plus a wardrobe with a hanger and a couple of handy netting pockets for storage. My personal wardrobe was in front of the seat.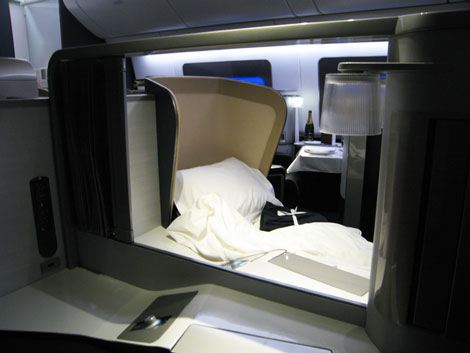 The First suite also offers
Seat turns into a 198cm (6ft 6in) fully flat bed with quilted mattress, white cotton duvet and pillow
Personal power supply for laptops and electronic devices
15in IFE screen and noise-cancelling headphones
USB port and RCA jack for using your laptop, iPod or digital camera on the bigger screen
A double window blind controlled with a button for window seats
A stylish reading light
The seat is very easy to control with a simple dial that you turn. I generally find the seats very comfortable, particularly when sleeping. The only thing I don't like is that you can't have the foot rest fully up without reclining. If you are short and can't reach the foot stool you may find it annoying. If you want to sleep, the crew will make up your bed for you with a mattress pad, duvet and large pillow. The seat is well padded as well which adds to the comfort.
Food
Shortly after take off we were offered hot towels. These are a better quality that the dishrags you get in Club World, but they are still not great quality compared to the ones you get on Qatar in business class for example. I was then offered a drink which was brought with a bowl of warm nuts. The crew were excellent on this service and even offered to top up people's nuts for them.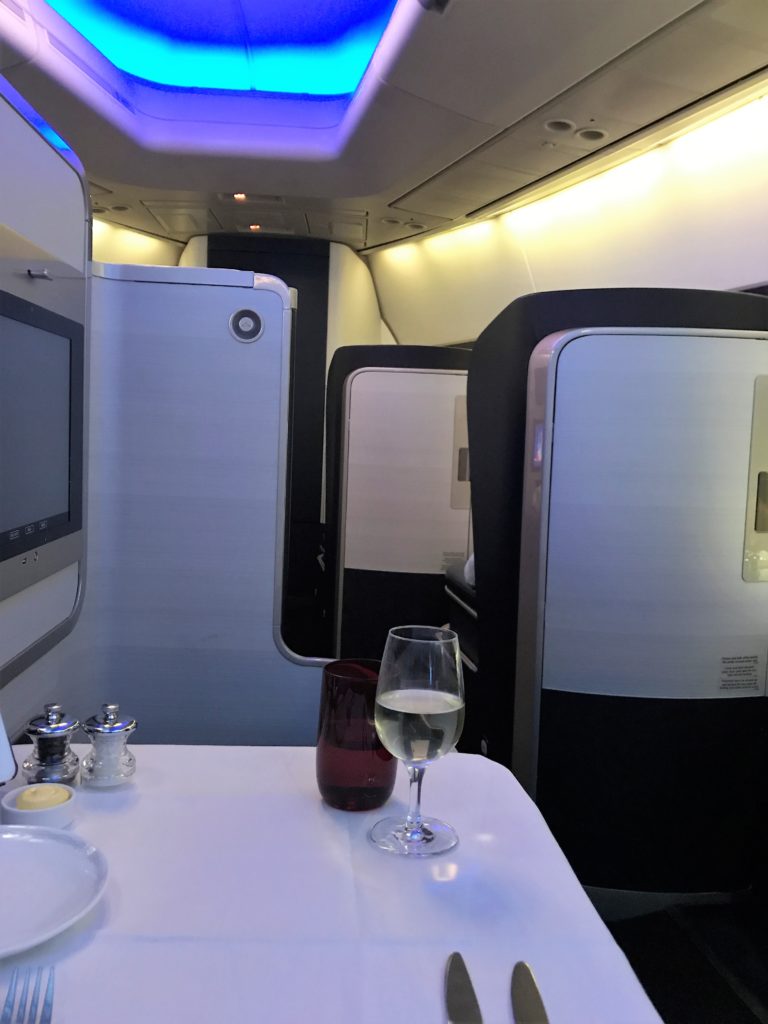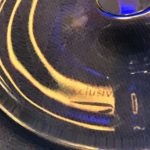 Next the table was laid up including the relatively new glassware, which all carry the BA First logo on the bottom if you look carefully. The new glassware is by Crystal specialists Dartington Crystal and was specially commissioned for customers flying in British Airways' First cabin. The range includes a tumbler, brandy glass, wine glass, champagne flute and a deep crimson red water glass. These were introduced in mid 2016.
The menu was pretty appetising on this service. I was pleased to see that they have re-instated the amuse bouche, although in a slightly different format. At the moment they are serving an Antipasti plate with Cumbrian air dried ham, Cumberland salami, Berkswell cheese, olives and sun dried tomato. This was tasty but not really what I would call an amuse bouche.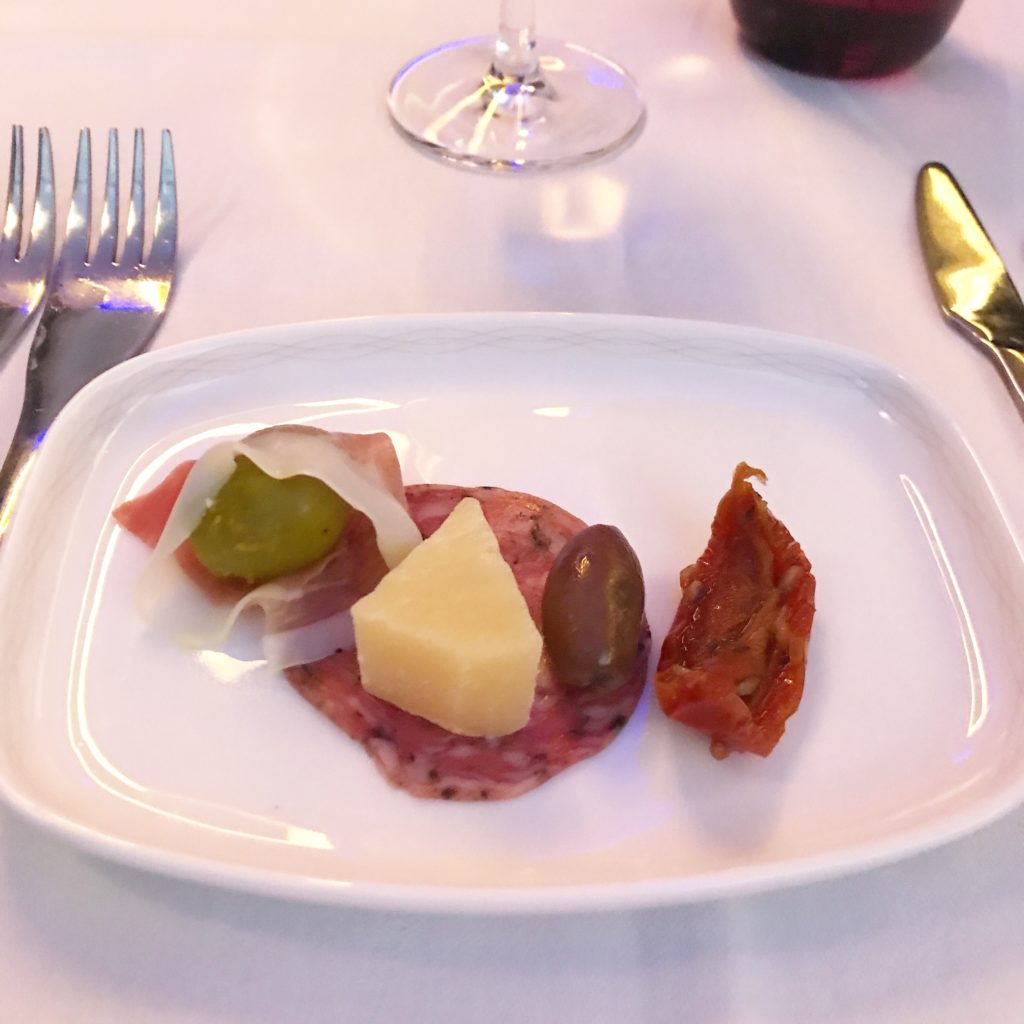 The menu choices were:
Starters
Seared scallop with smoked salmon and crab boudin blanc, salsify puree, compressed apple and Thai shallots
Baked camembert with a garlic and rosemary crust. chargrilled ciabatta, port and pear chutney
Chicken consommé with fresh mushroom tortellini
Fresh seasonal salad with a choice of dressing
I chose the seared scallop starter and was very impressed. Not only did it look beautiful, it tasted delicious too. There was a good range of flavours with a rich crab mousse nicely balanced by the acicidty of the apple and shallots. The scallop was served warm as well, which was a nice touch. I would not have complained if I had been served this in a Michelin starred restaurant.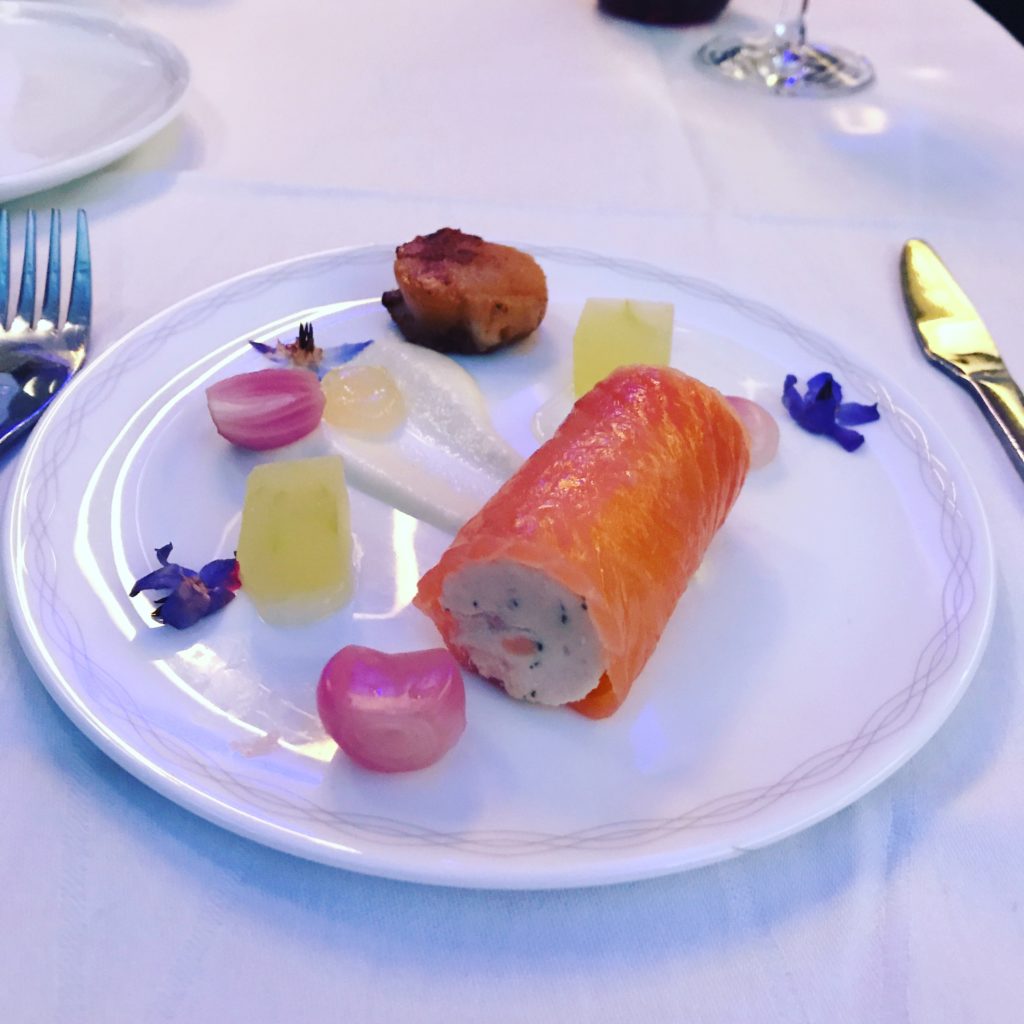 The choice of main courses were:
Seared fillet of Aberdeen beef with chervil ratte potatoes, broad bean puree, sautéed king oyster mushroom, char grilled spring onions and Bordelaise sauce
Pan fried stone bass with lightly smoked fennel and kasha salad, heirloom tomatoes
British Beef burger with chorizo, guacamole, Monterey Jack cheese and sweet potato fries
Risotto primavera with char grilled baby courgette. Parmesan and Rocket salad
Salad of Loch Fyne Kinglas smoked salmon with English Asparagus, poached Buford egg, herb roasted new potatoes and Hollandaise sauce
I normally avoid beef on planes as it is inevitably overcooked but I had such a good beef dish on my BA1 flight, I decided to brave it. This was something of a mistake. The menu was slightly incorrect and should have said Seared cremated fillet of Aberdeen beef. It was tough as shoe leather and didn't really taste of much. The accompaniments weren't overly exciting either and it could have done with a lot more sauce. I should have had the burger, as that looked good when it was served to other people.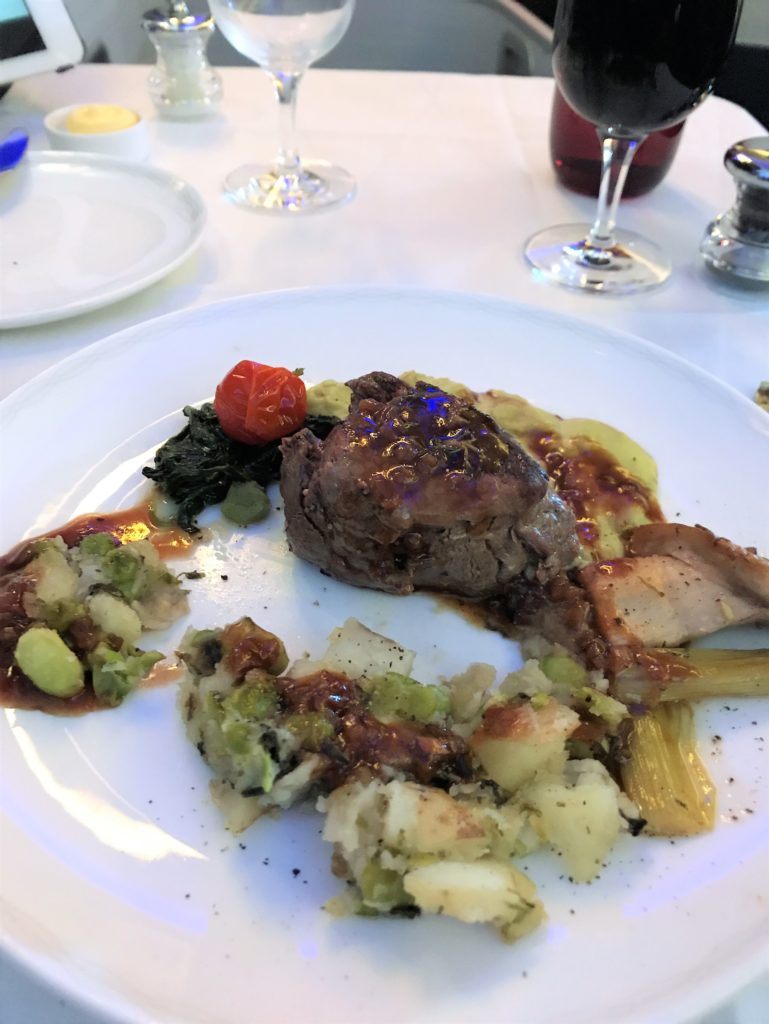 Finally for dessert there was:
Strawberry custard tart
Warm chocolate and orange croissant bread pudding with pistachio
Cheese plate with Wooky hole cheddar, Thomas Hoe red Leicester, Former D'Ambert (blue) and Sharpham brie.
I chose the cheese which was very good and I was offered a glass of the Warre's 2000 Colheita Tawny Port to go with it.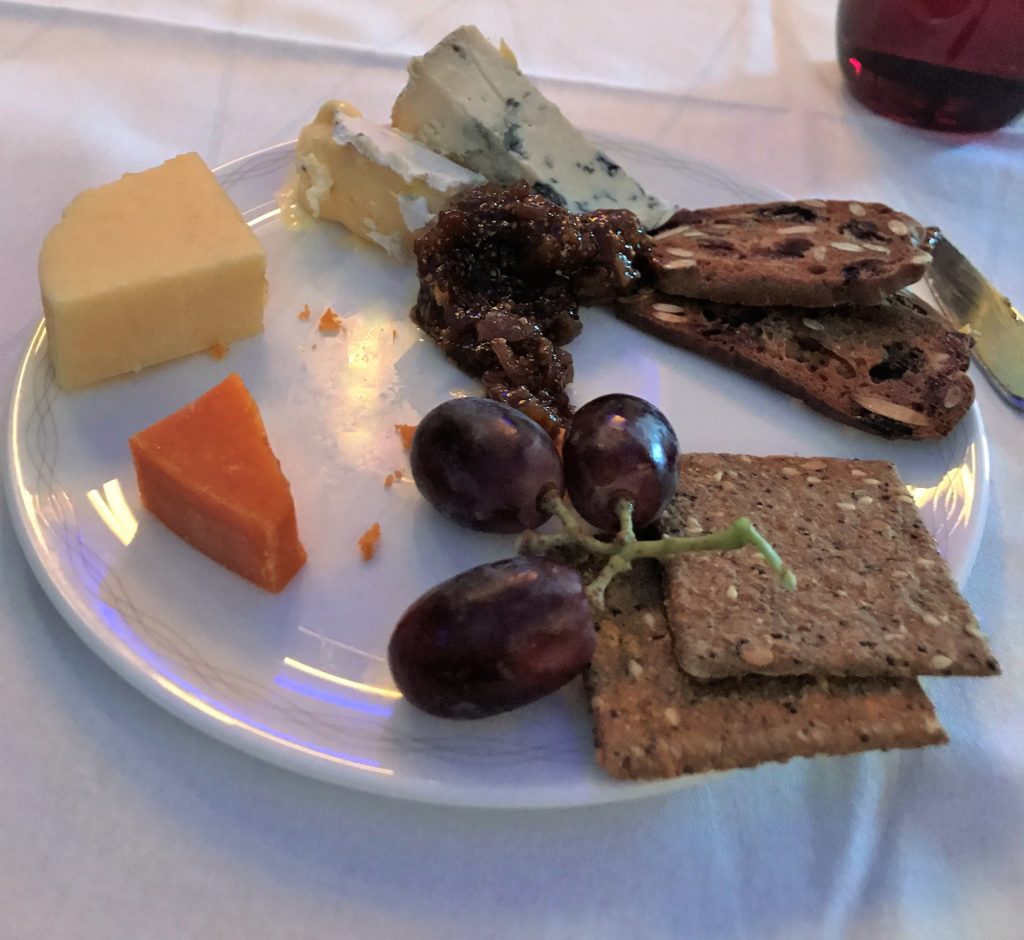 Wines
As usual, there was a good quality selection of wines to choose from. These were:
Sparkling
Bolney Estate (English) Vintage Blanc de Blanc sparkling wine
Laurent-Perirer Grand Siecle Champagne
Jaquart Rose Mosaique NV Champagne
White
Meursault Les Clous 2015, Bouchard et Fils
Pouilly Fume 2015, Domaine des Cassiers
1 Favati Fiano di Avellino, Italy
Red
Chateaux Batailley 2006 5eme Grand Cru Pauillac
Paul Culver Estate Pinot Noir South Africa
Acustic Celler Ritme, DOC Priorat, Spain
There was also a 2009, Grand Cru Sauternes dessert wine as well as the port.
I had the Meursault which I had also drunk recently in the BA First T3 lounge. It was OK but not one of the better Meursaults I have had, despite retailing for around £30 a bottle. It would seem the critics agree as it only scores 88/100 in professional reviews which is not considered particularly great. I then moved onto the Pauillac which I really enjoyed, so much so that I turned down the Port to stick with it. This retails at about £35 a bottle, so it good to see BA spending some decent money in First.
Entertainment
The screens in First are definitely better than Club World, particularly on the older B747s in terms of screen quality. As new First was introduced around 2010, the screens are newer than the older Club World ones. They are also bigger at 15″. There was the same selection of movies, films and music that you get in Club World. I think BA is normally pretty good for having a decent selection of the latest releases.
Conclusion
The crew were great on this service, attentive but friendly too. I actually mentioned this to the CSD on my way out to make sure they got some good feedback. Overall, I enjoyed my First experience. It may not be as flashy as some of the Middle East First class suites, but it is a good solid First offering. BA First is definitely a step above Club, particularly on the unrefurbished B747s. The starter was excellent and the wines were all decent quality. If you can get First on Avios or even better an BA Amex 2-4-1 voucher, it is definitely worth trying. I normally only do this one way to save on the Avios. If it is a short night flight and I won't really be eating, I don't normally bother with First. When Club World gets the new bedding later this year, this will also lessen the chance of me bothering with First on a night flight.