Sadly it looks like flying abroad could be a while off, but hopefully, once lockdown is eased and it's safe we can at least have a staycation close to home. Sometimes you don't want to spend hours travelling, but just want a change of scene. I know I am totally sick of staring at the same four walls! So I thought for my next review we would look at something that would make a great short break from London and the South East.
I visited the Hilton in mid-December while London was in tier 2. The hotel was originally a Waldorf Astoria, so it is not your usual Hilton. The hotel opened in 2011 and then was changed to a Hilton in 2013.
Price
Rooms are currently around £149 per night or from 37,000 points.
Location
I can't think of many Hilton's where you have a massive park and a stately home literally steps from the front door. The Hilton Syon Park is actually set within the grounds of Syon Park.
The hotel is around 45 minutes from central London and about 30 minutes from Terminal 5, making it also feasible for the night before a flight. The nearest train station is Syon Lane which is a 15-minute walk away and is on the line from Waterloo. The nearest tube would be Osterley or Gunnersbury around 10 minutes by car.
Arrival and check-in

I arrived on one of those winter's afternoons where the sun was still shining as the day grew to a close. Driving through the park on the way to the hotel and passing the magnificent house on the way, you feel like you have left London far behind and entered the countryside.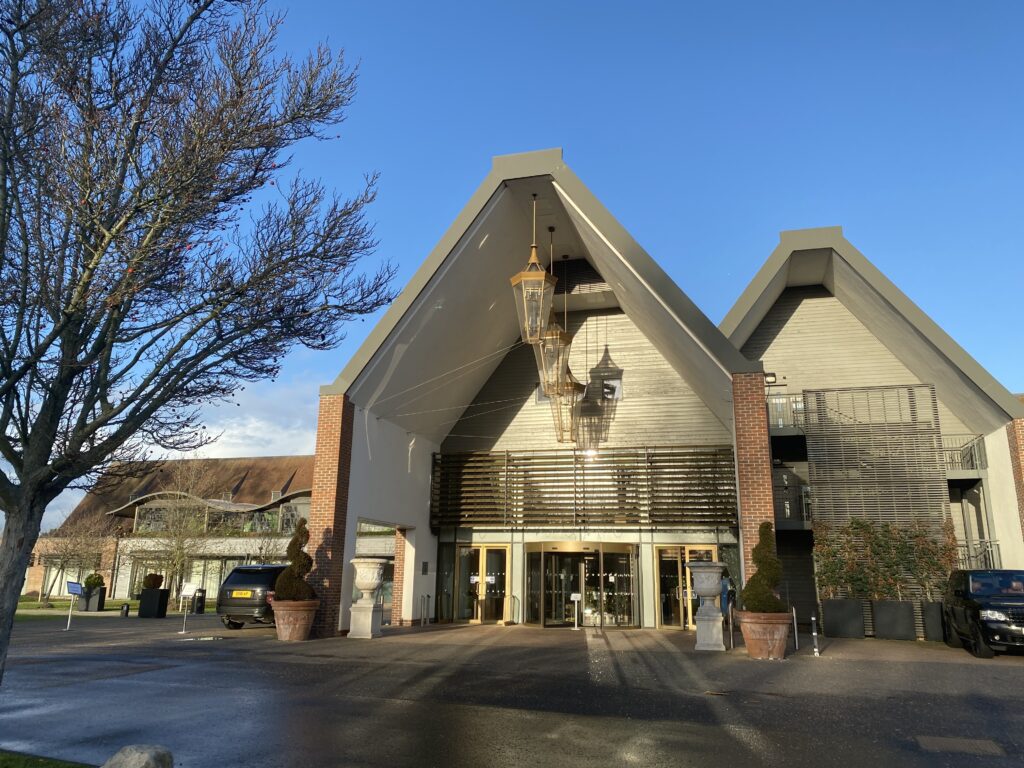 There is plenty of parking by the hotel with a few steps to the entrance. In front of the hotel, you can see the park sprawled out opposite. As I arrived at the reception I faced a bit of a wait with one of those guests that expect hotel staff to perform miracles. It was taking two staff to try to calm the man down and try to offer solutions to his issue (which were not the hotel's fault – his wife was going to miss her spa appointment as she was late arriving).
While I was waiting I had a look at the reception area and I have to say I was not a fan of the decor. The whole hotel is looking a little dated now as it is 10 years old. Sadly I think in the current climate, a refurbishment is not coming soon. However, things don't look particularly warn, just old fashioned.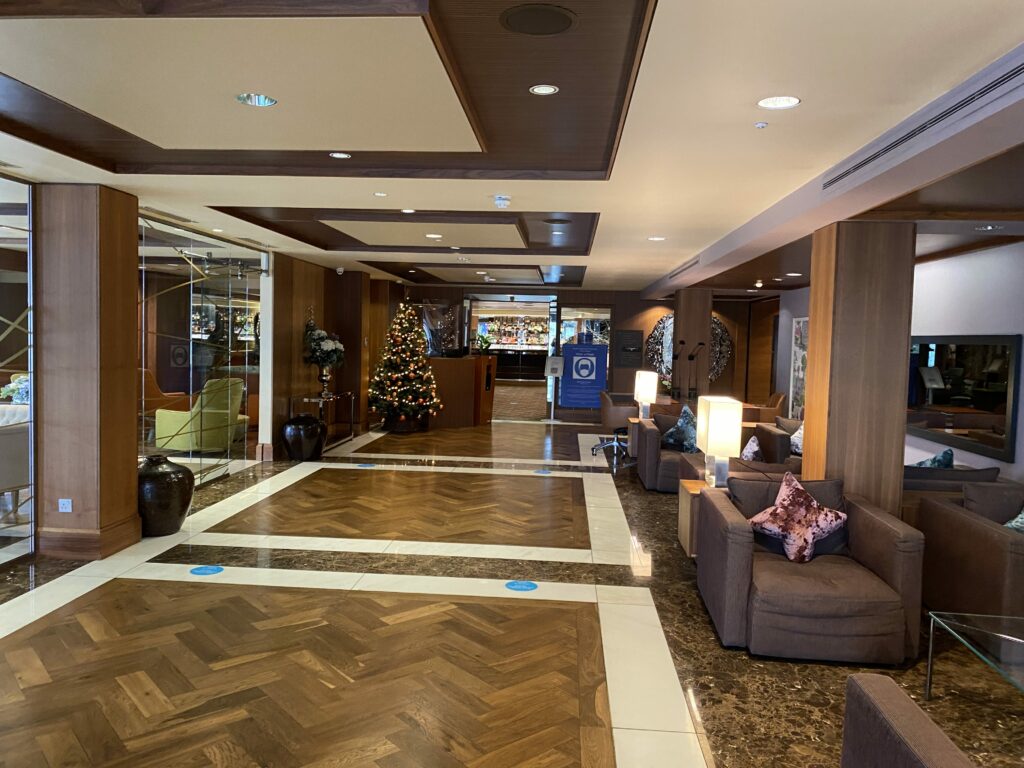 Once the guest had stomped off in a huff, it was my turn to check-in. The person I dealt with remembered me from the conversations we had on the phone when trying to sort out my spa appointments which I thought was impressive. She was very charming and helpful throughout my stay. Being a diamond member she had a look to see if she could upgrade me to a suite or at least a room with a decent view. I ended up with a Junior suite since I was not too bothered about the view as it was getting dark. She also explained what was open within the hotel and where everything was.
The room
The room was definitely unlike any Hilton I have ever stayed in and also proved to be something like an escape room while trying to find where everything was behind hidden doors!
The suite consisted of a living area with guest toilet which was attached to the bedroom. The room overlooked the outdoor terrace which I am guessing could be a little noisy in summer when people are using that space. Some rooms overlook the park and have outdoor space.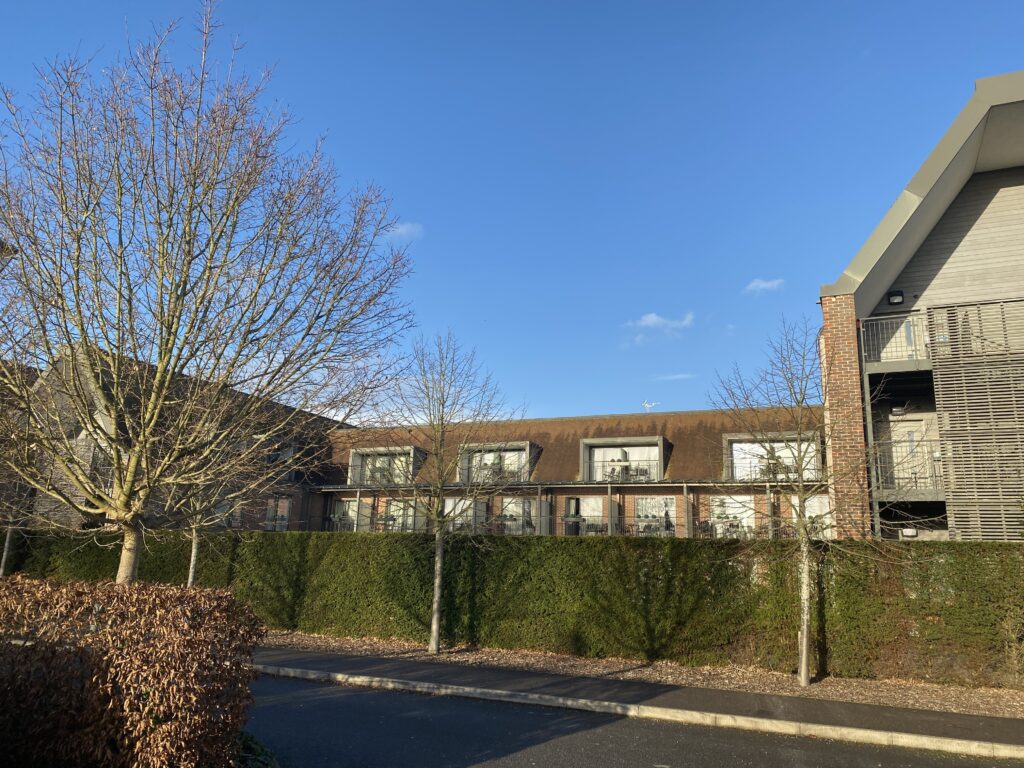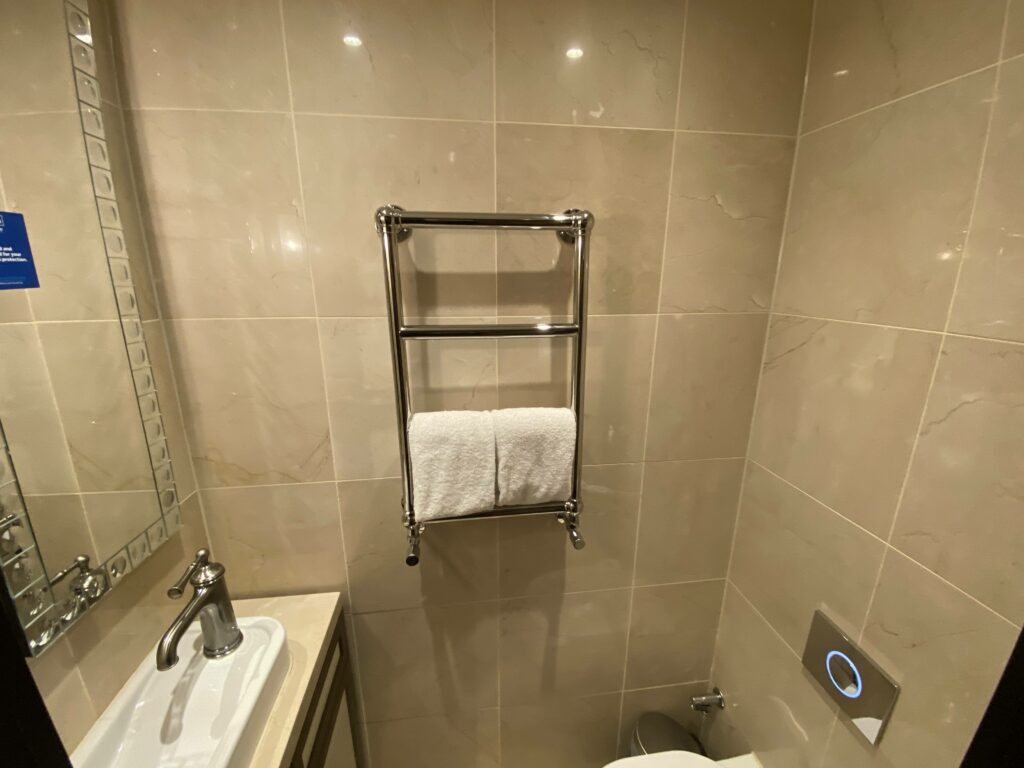 At first I was a bit confused as I could not see a TV, kettle, or anywhere to work. Then I started opening the cupboards and found pretty much everything I was looking for. If you need to work while you are here, the Junior Suite doesn't really have a particularly useful space for this. Just a vanity area with a stool. The standard rooms have a desk with a proper chair. There is only one TV and it's a long way from the bed which is a little odd.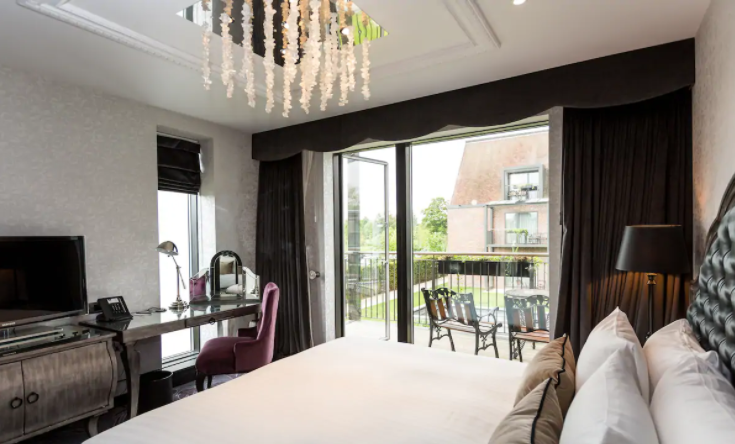 The bed was fairly comfortable and the room was quiet although I would have preferred to not be so near the lift as I could hear the "ding" when it arrived.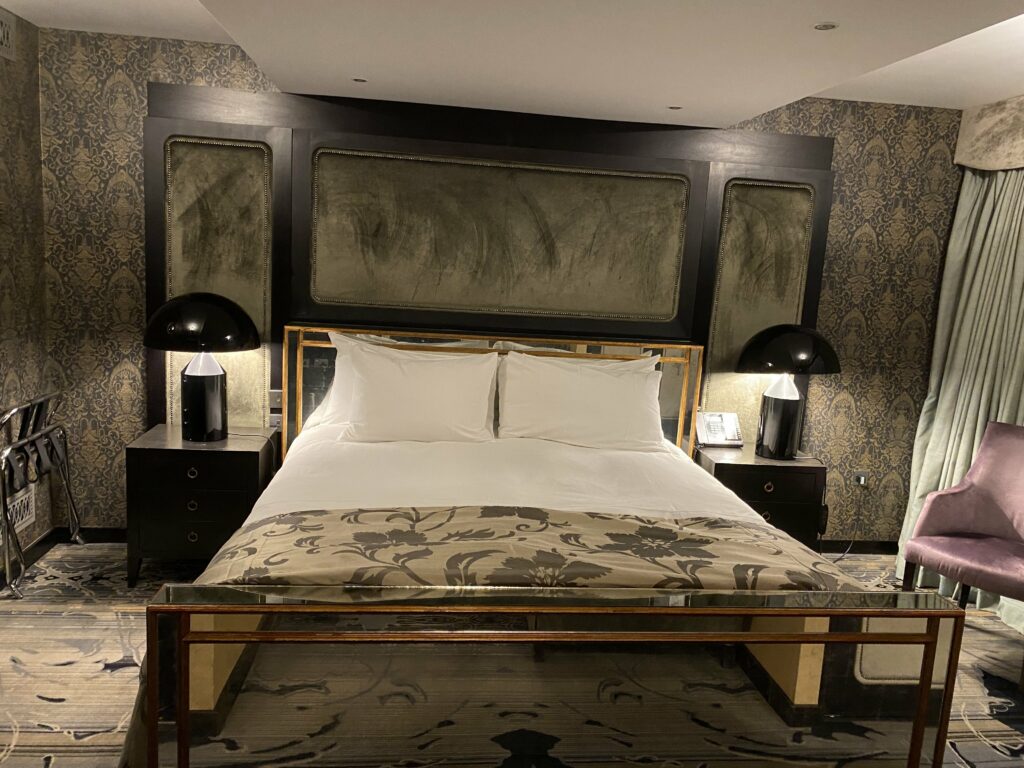 Bathroom

This was the highlight of the room for me and there was little I could fault. I loved the large modern soaking tub and the copper sink was also an usually stylish touch.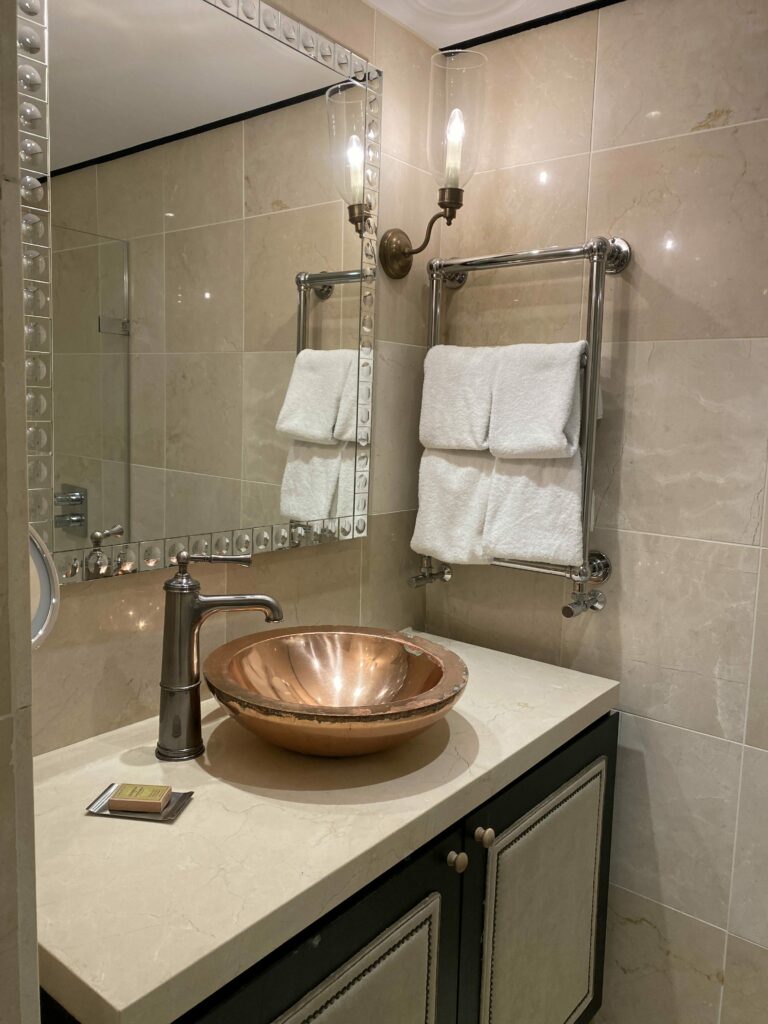 Toiletries were the standard Hilton Verbena and Lavendar from Crabtree and Evelyn.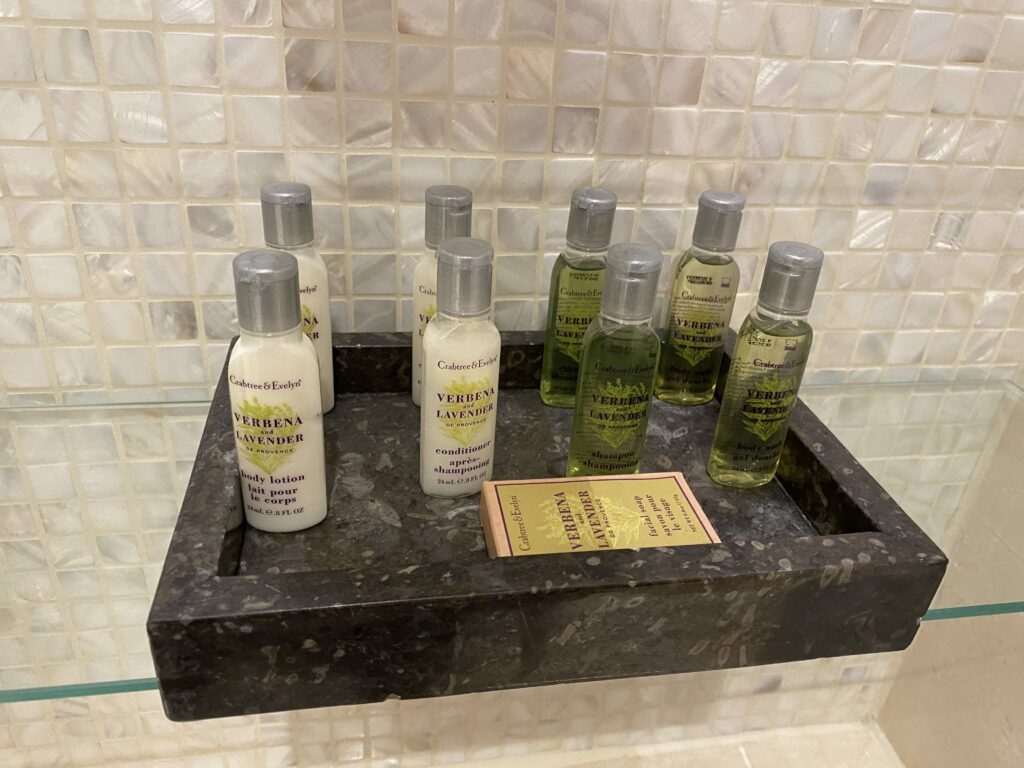 I particularly enjoyed a soak in the bath as there was even a TV in the bathroom although there appeared to be no remote but you could operate it from the wall.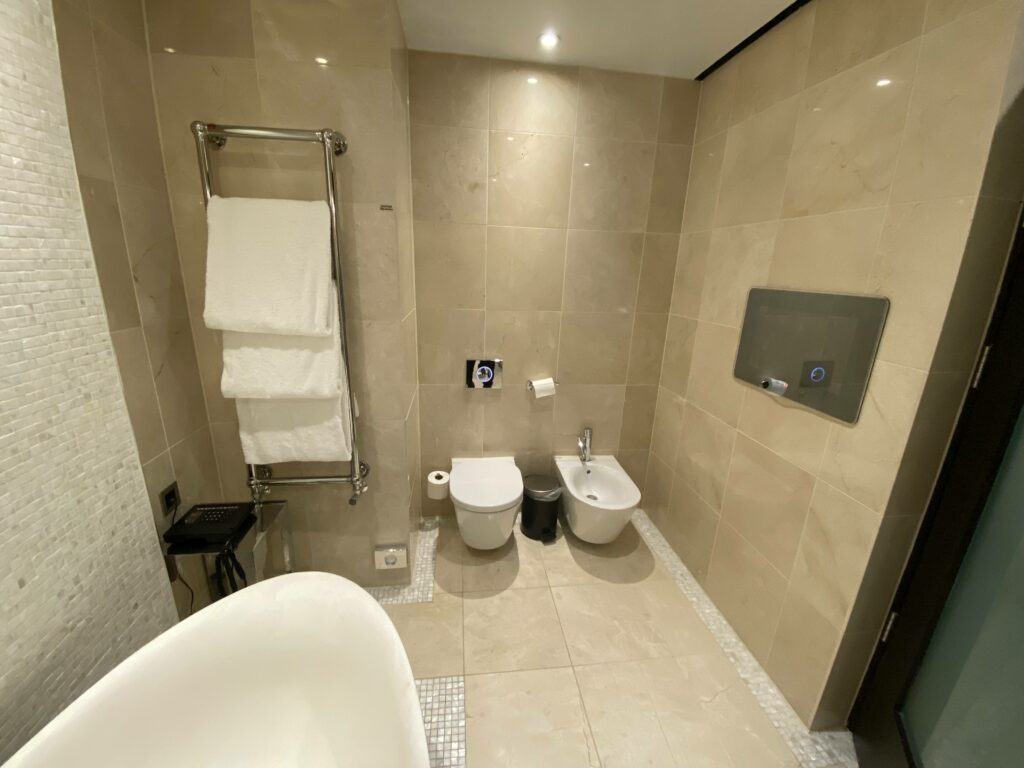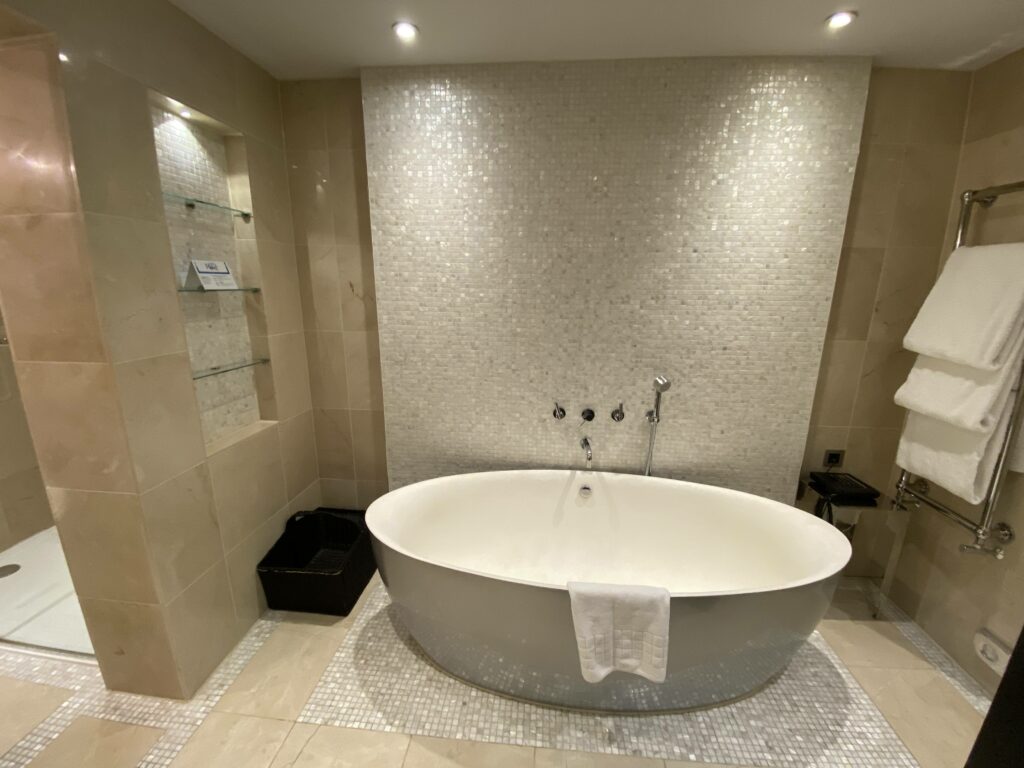 Facilties
One of the reasons most people would chose this hotel is because of the facilities. There are two main attractions – the pool and spa and Syon House and Park. Entrance to Syon House is included with your room key. Syon House is the west London residence of the Duke of Northumberland. A Grade I listed building, it lies within the 200-acre Syon Park and has been in the family for 400 years. The building has been the setting for many well-known TV programs and films such as Killing Eve, Bridgerton, Through the Looking Glass, 1994 The Madness of King George, Gwyneth Paltrow in Emma 1996, Robert Altman's Gosford Park 2001, and recently ITV's Vanity Fair.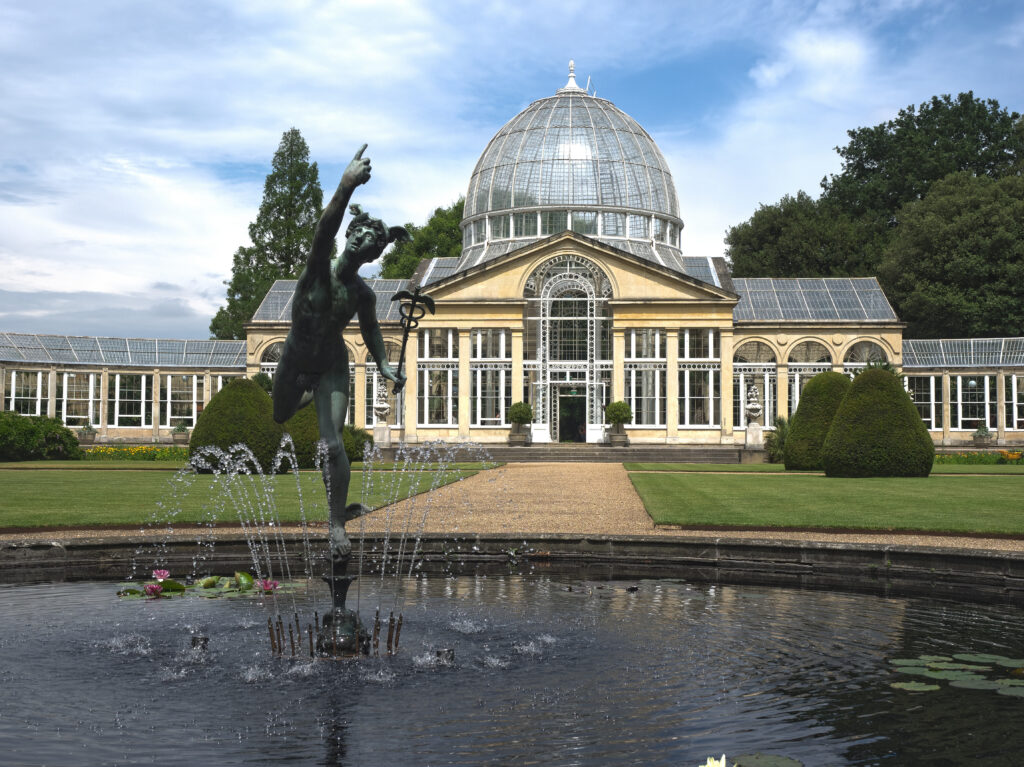 There is also a trout fishery, cafe, and garden centre within the park. If you are a bit of an aviation geek you can also do a bit of plane spotting!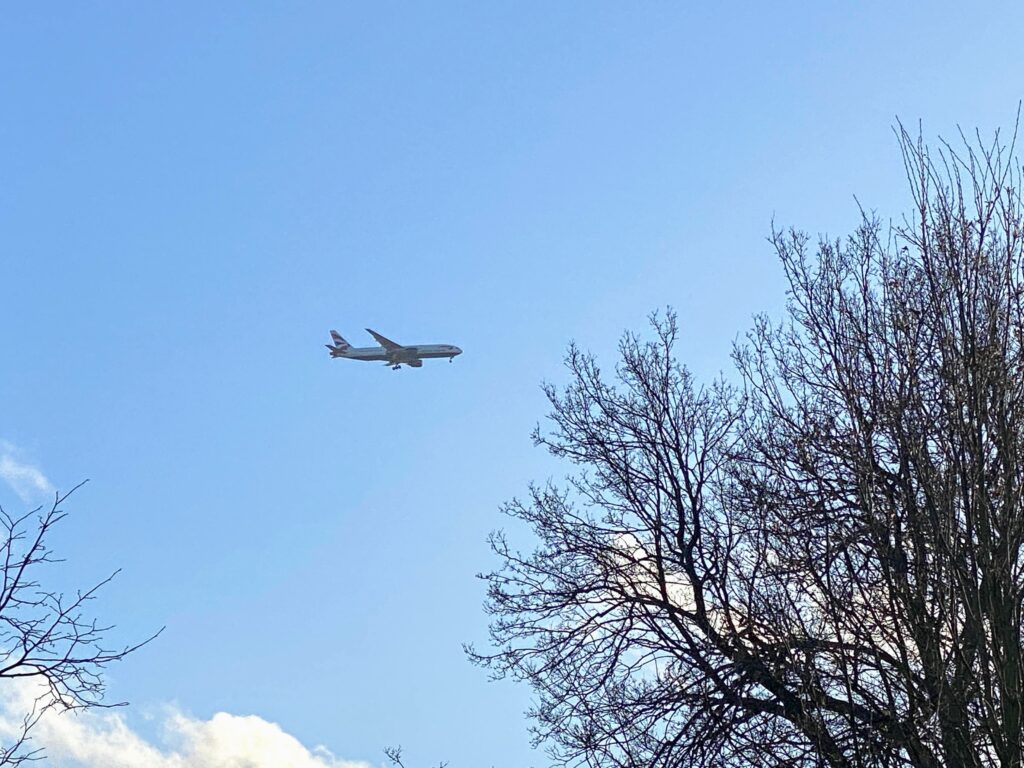 Spa
The spa is indeed a highlight of the hotel, although I did find it cheeky that they charge you for it, if you don't book a treatment. Even for Diamond members. I have not seen mention of this before so I do wonder if it is due to the current situation to keep numbers down. You had to book a time slot of an hour to use the facilities. There were several other people at there when I visited as it is also a members club.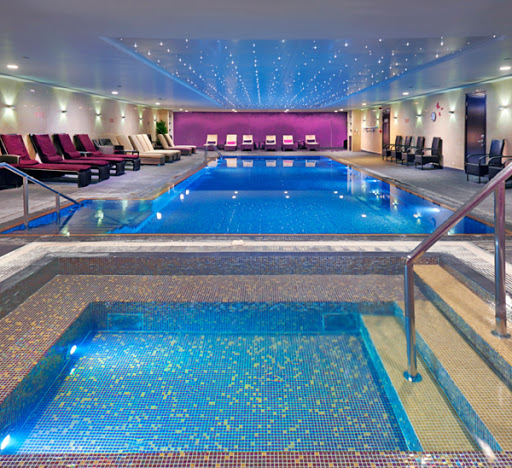 The spa has an impressive pool with a jacuzzi, steam room and sauna as well as plenty of loungers to relax on. The spa is currently adults only. I enjoyed the pool as it was heated to a pleasant temperature of around 29-30c which meant you didn't want to get out as soon as you stopped moving. The jacuzzi was cold but there was a sign saying this was temporary due to recently refilling it.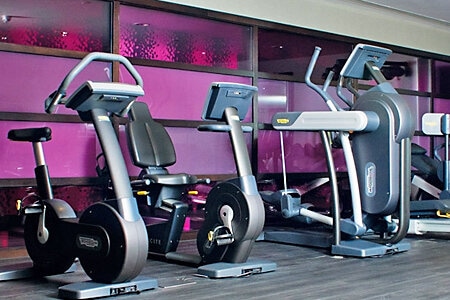 I didn't use the gym but it looked modern and well equipped. I went for two treatments – a heated lava shell massage and a mini facial which they did as one. The therapist was lovely and wearing full PPE with apron, mask and visor. I had my mask on when lying face up except during the facial part obviously. The treatment was professional and relaxing with the spa using Elemis products. Prices are pretty high though – Lava shell massage – 60 minutes £100 and Radiance Facial 30mins – £60. Given that it costs £10 to visit the spa without a treatment, then at least you are saving £10! At the moment since I have barely had any treatments in the last year, I'm happy to pay a bit more for a safe environment, but I think normally I'd find these a bit high for a Hilton outside central London.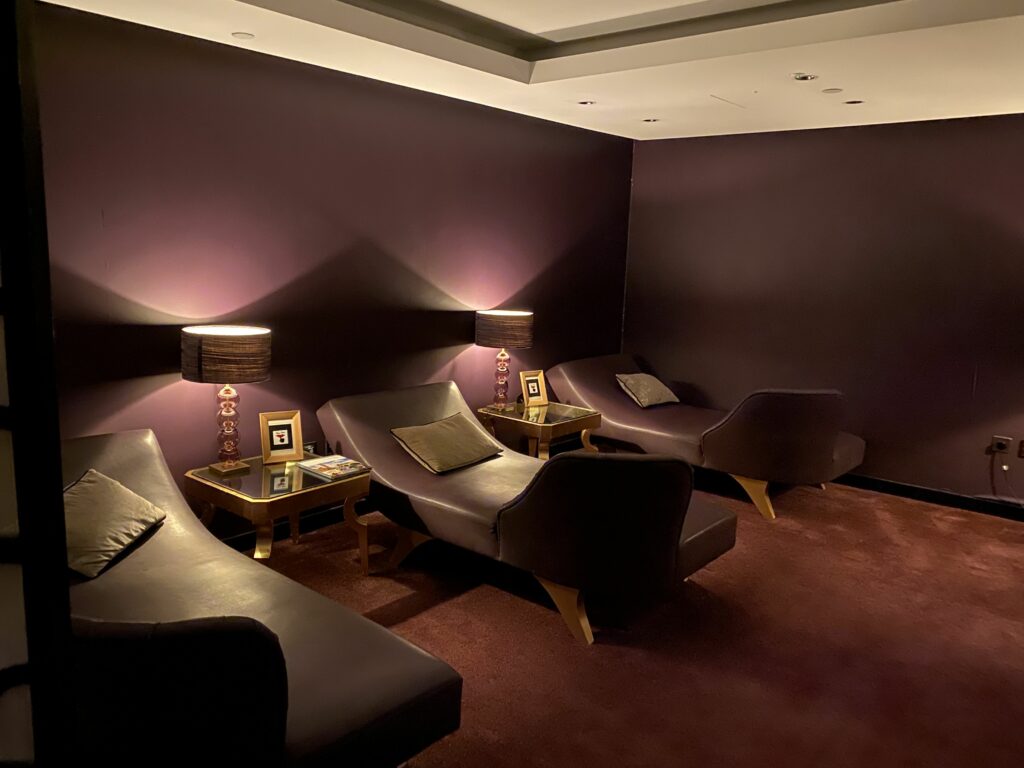 After the treatment, I was offered the chance to lounge in the relaxation area which I thought was a lovely tranquil area. There is also a small cafe which is not currently being used.
You can find out about treatments here.
Food and drink
Normally there is a bar and restaurant as well as the outdoor terrace which I imagine would be lovely during the summer. On this visit, only the bar was open for food except at breakfast where there was a high-bred buffet/a la carte offering.
Breakfast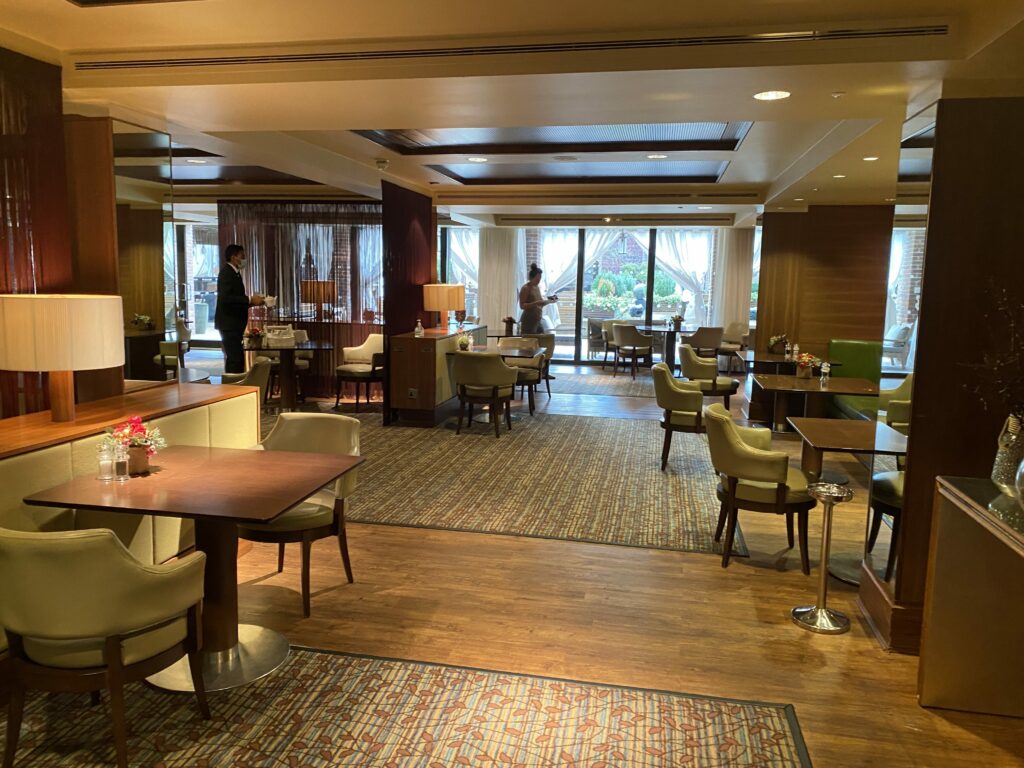 Breakfast offered a good choice of a la carte cooked options which were all included in the free Diamond breakfast plus a couple of specials you had to pay for.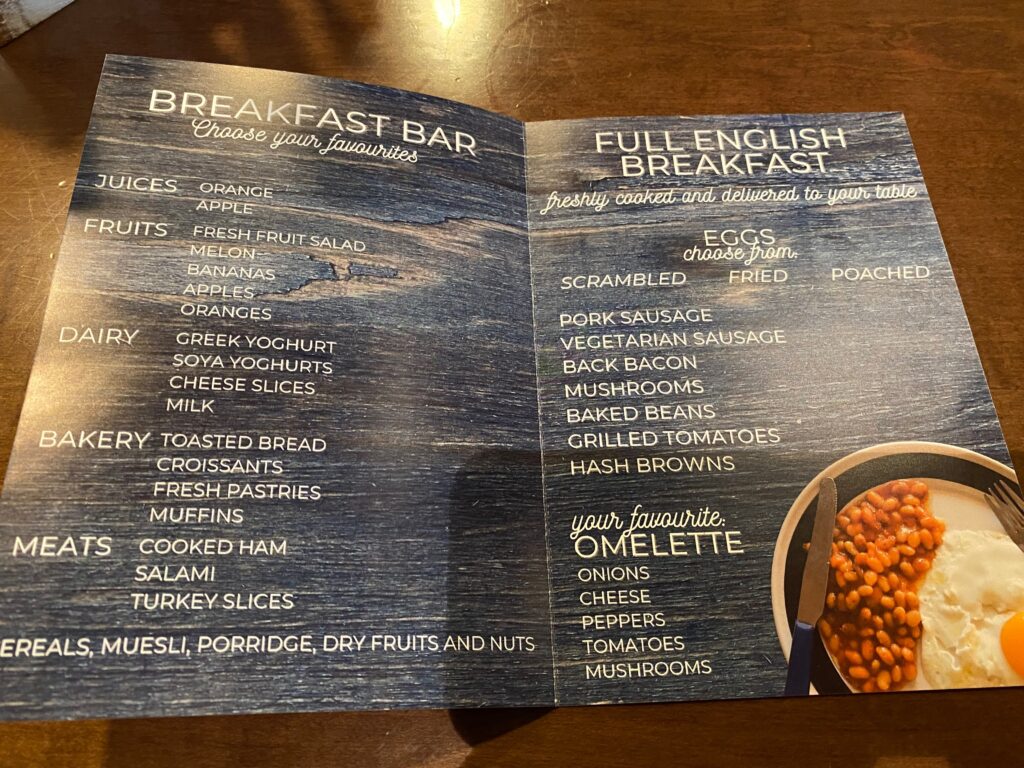 After ordering drinks, you go up to the buffet counter and order your cold items and toast. The selection has enough for most people which is often not the case at the moment. I had the cooked breakfast which was tasty and plentiful.
In the evening the only thing open was the bar where you could get food or room service.
In the warmer months, it would be a very different proposition with the huge terrace area outside. The only downside of it is that it overlooks some rather ugly housing blocks but that would not really bother me.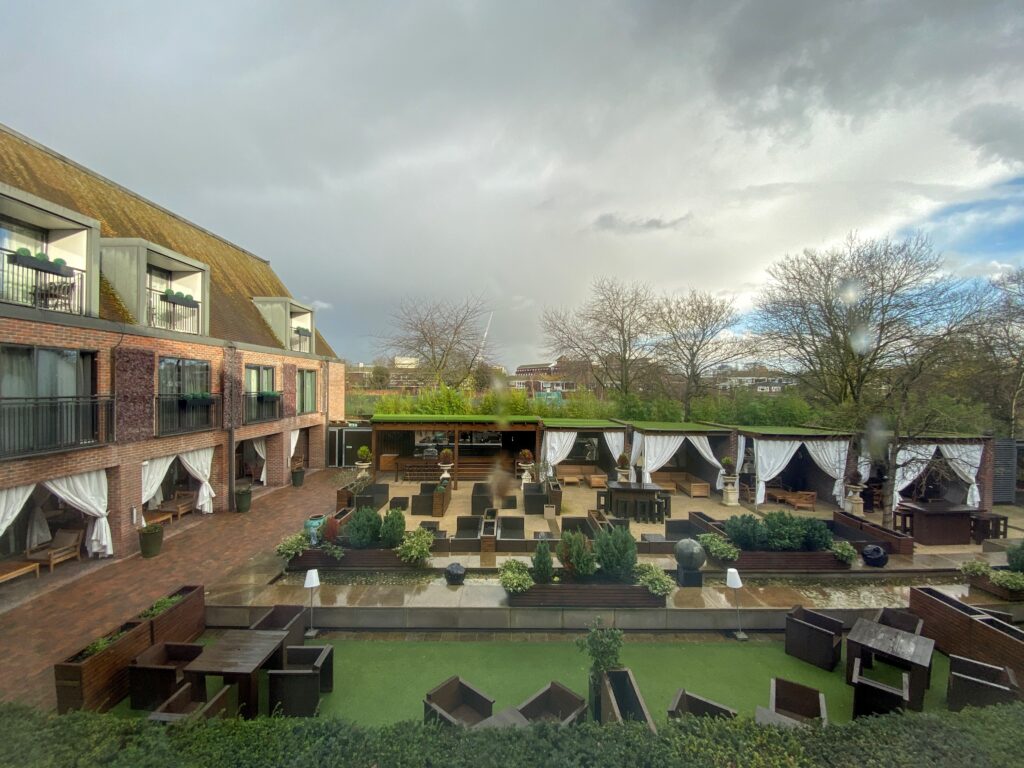 Conclusion
This is definitely an upmarket Hilton and if you have Hilton status or want to go for a short break, this could be ideal. Having the park and house right by the hotel is the main attraction along with far more upmarket rooms than you would normally expect from a Hilton. The spa has good facilities and professional staff. All in all, this could make a great relaxing break without having to break the bank or travel too far for those that live in London or the South East.