I have been working my way around the Elegant hotels group in Barbados, which were taken over by Marriott a few years ago. I have reviewed Waves which you can read here and Colony Club as well. Crystal Cove hotel Barbados was my next choice as it looked beautiful in the pictures and was on the (usually) calmer West Coast.
Location
The hotel is situated north of the capital Bridgetown between Fitts Village and Holetown. There are a couple of restaurants nearby that you can walk to including the very swanky Cliff which reopened after its closure with new owners (I was not a fan).
It takes around 30 minutes to get there from the airport.
Booking and Check-in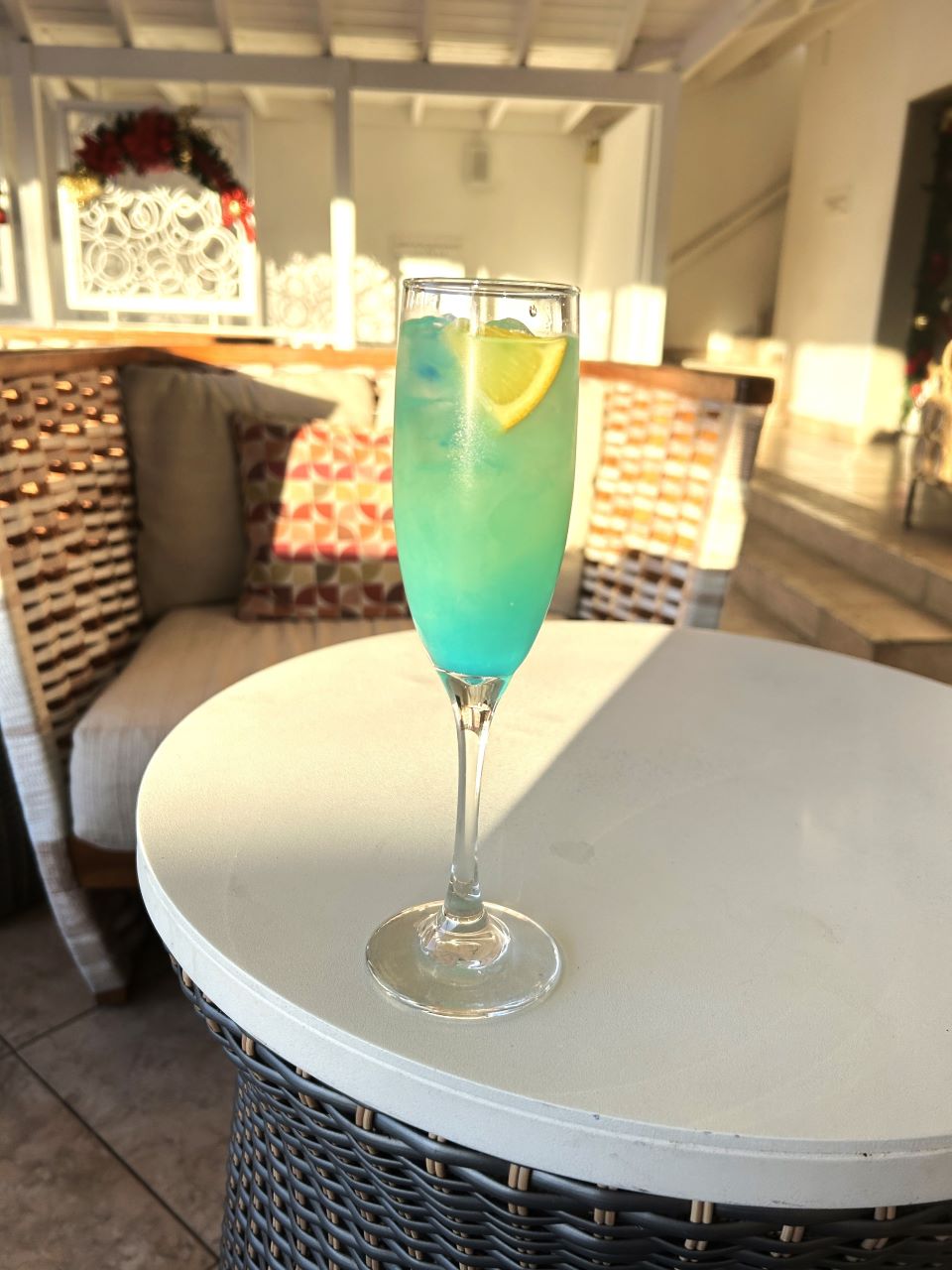 I had booked through our luxury partners GTC, but unlike most Marriott hotels, for some reason this property does not participate in the Marriott STARS and Luminous programs, so you do not get extra perks. However, they still respected my Platinum status, and I was given an upgrade to a suite which was very unexpected as, technically since I booked through a third party they shouldn't have.
Prices are reasonable for all-inclusive, starting at £317 per night or 77,500 points for two people sharing a room.
I was initially given a welcome drink and invited to sit in the area outside reception, which was a lovely place for an evening drink from the coffee shop/bar.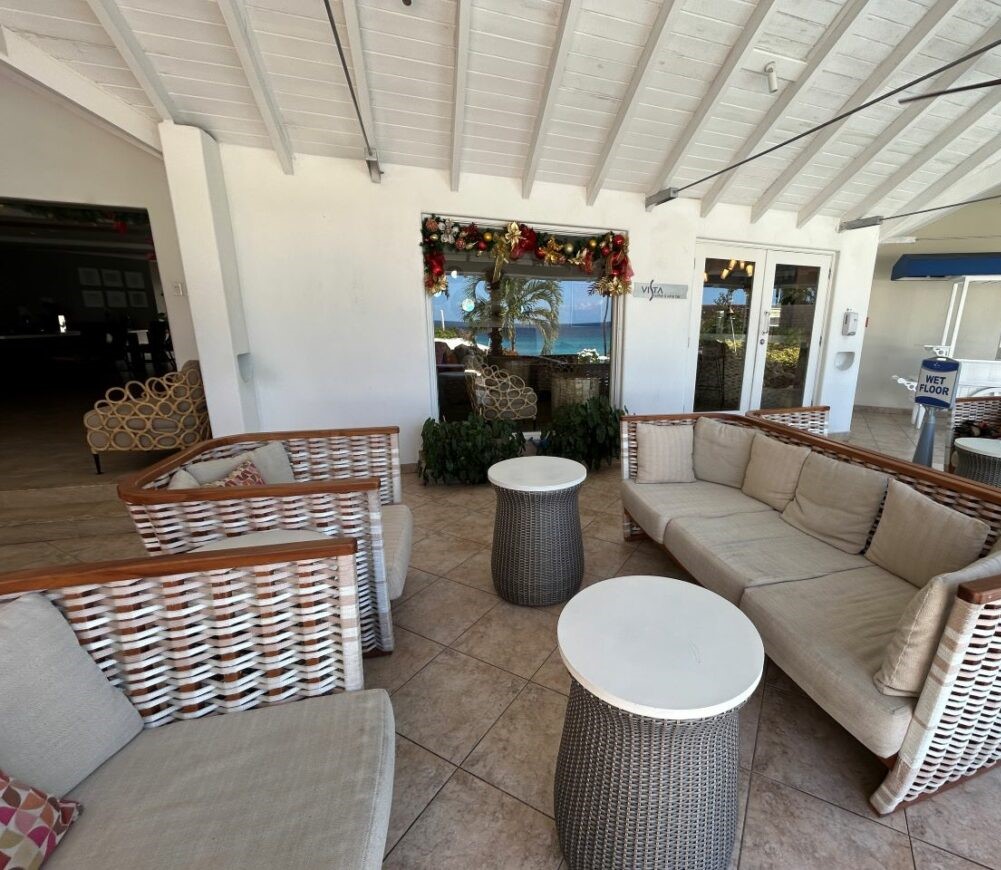 Reception was often very busy, and sometimes you would have a bit of a wait, but they were generally friendly and helpful, if a little slow. I was given plenty of information about the resort and then escorted to my suite by the receptionist, who also helped with my luggage as the porter was on a break!
I would say that if you have moderate to severe mobility problems, this may not be the place for you (as is the problem with many Barbados hotels) as there were a lot of sets of steps up and down and slopes as the resort is set cascading down to the beach. However, there were generally no more than a few steps at a time.
Crystal Cove hotel Barbados Room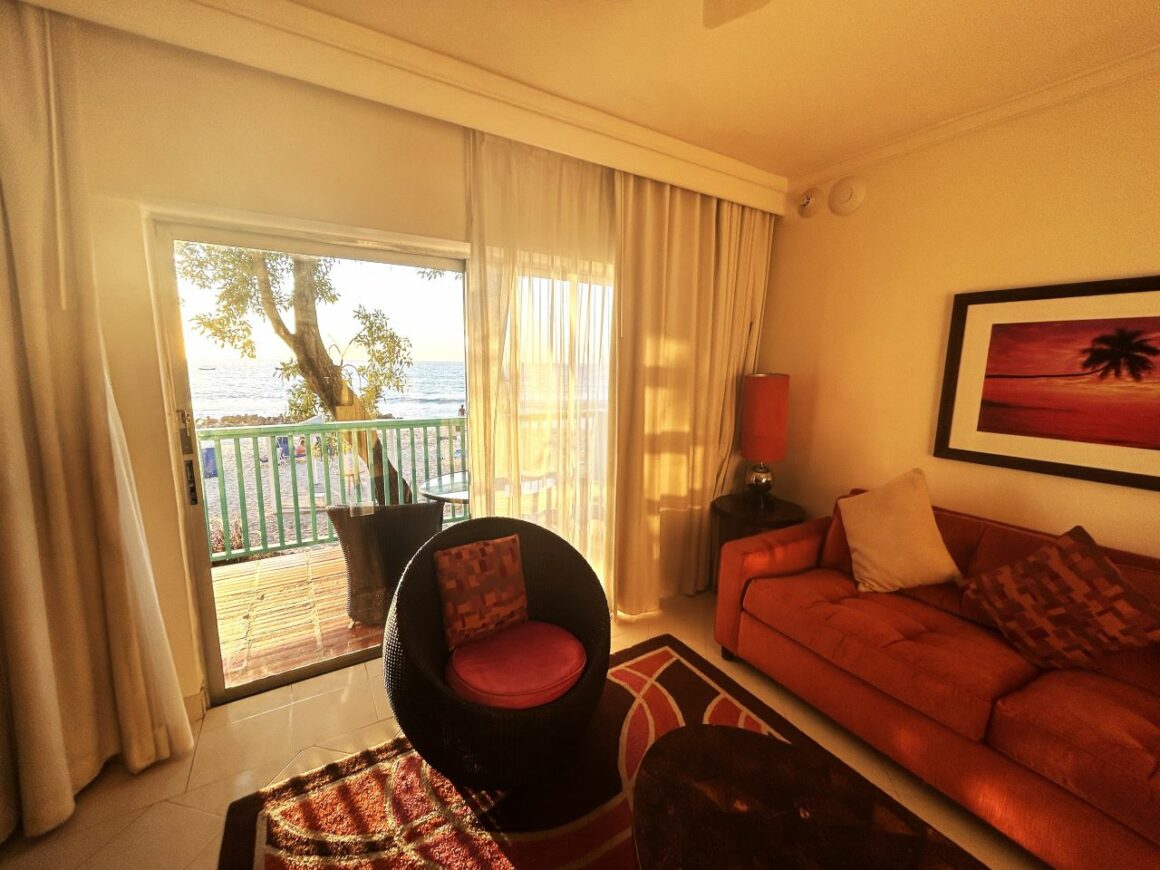 The suite was probably one of the best rooms in the hotel due to its location right on the beachfront. Many hotels in the Caribbean can feel dated or a bit worn. Although the decor in my room did feel a bit 1990s due to the colour scheme, it did feel well-maintained and up-to-date.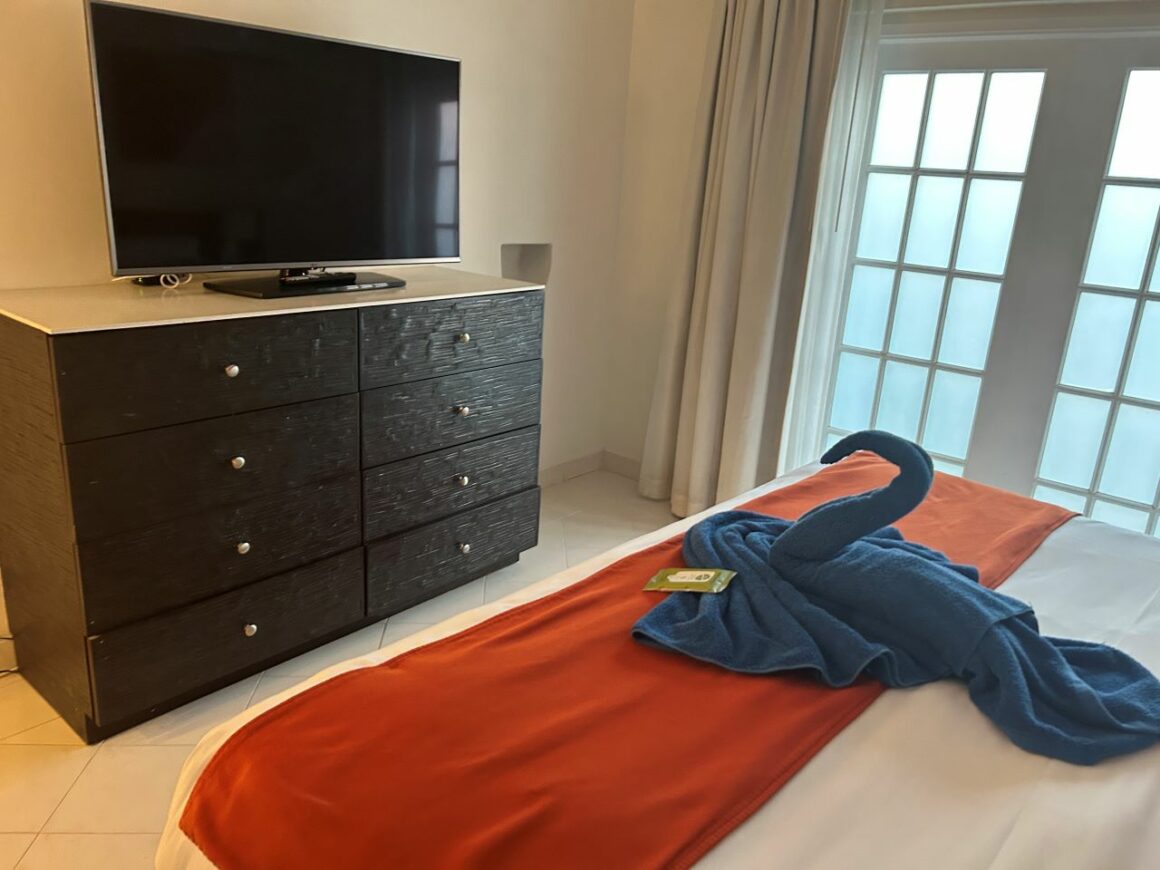 The bathrooms in particular felt very modern. The suite consisted of a guest bathroom with bath, a large living area with a desk and a balcony overlooking the beach, plus a bedroom with another bathroom with a shower.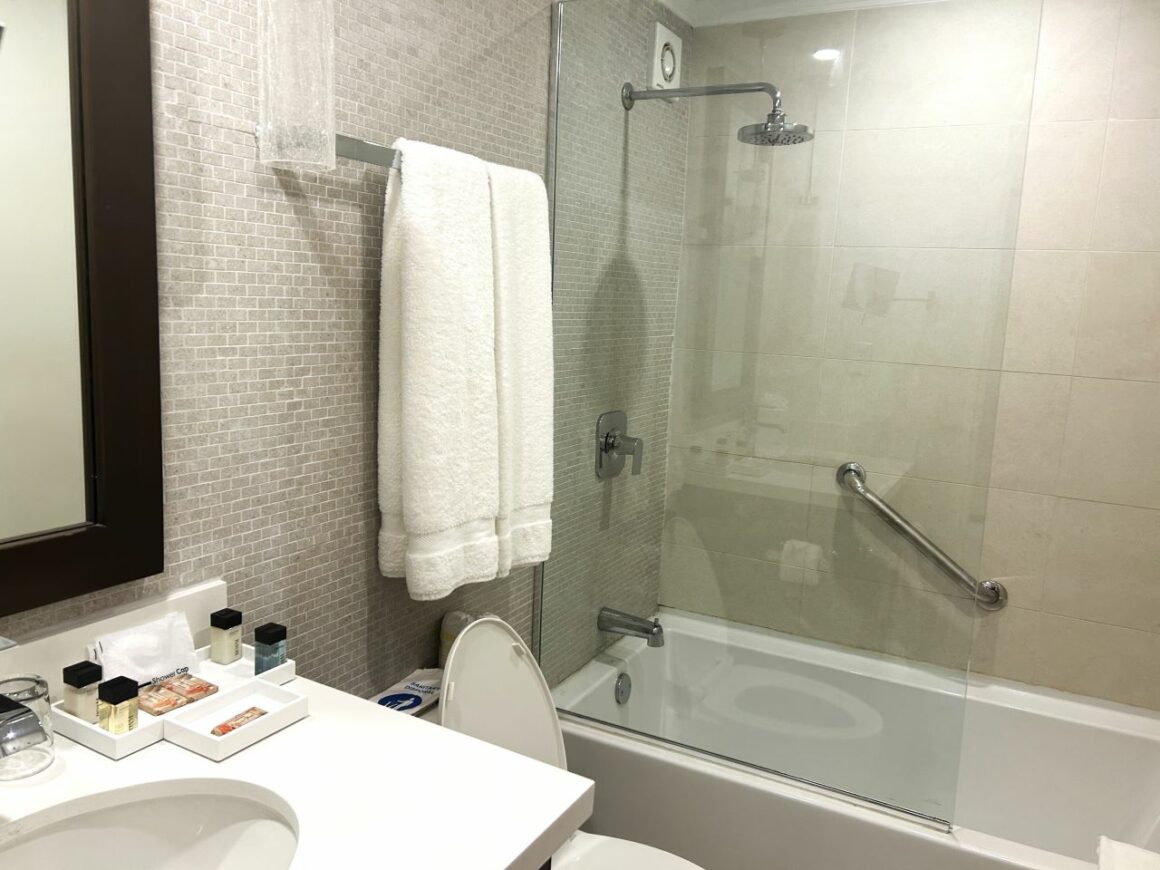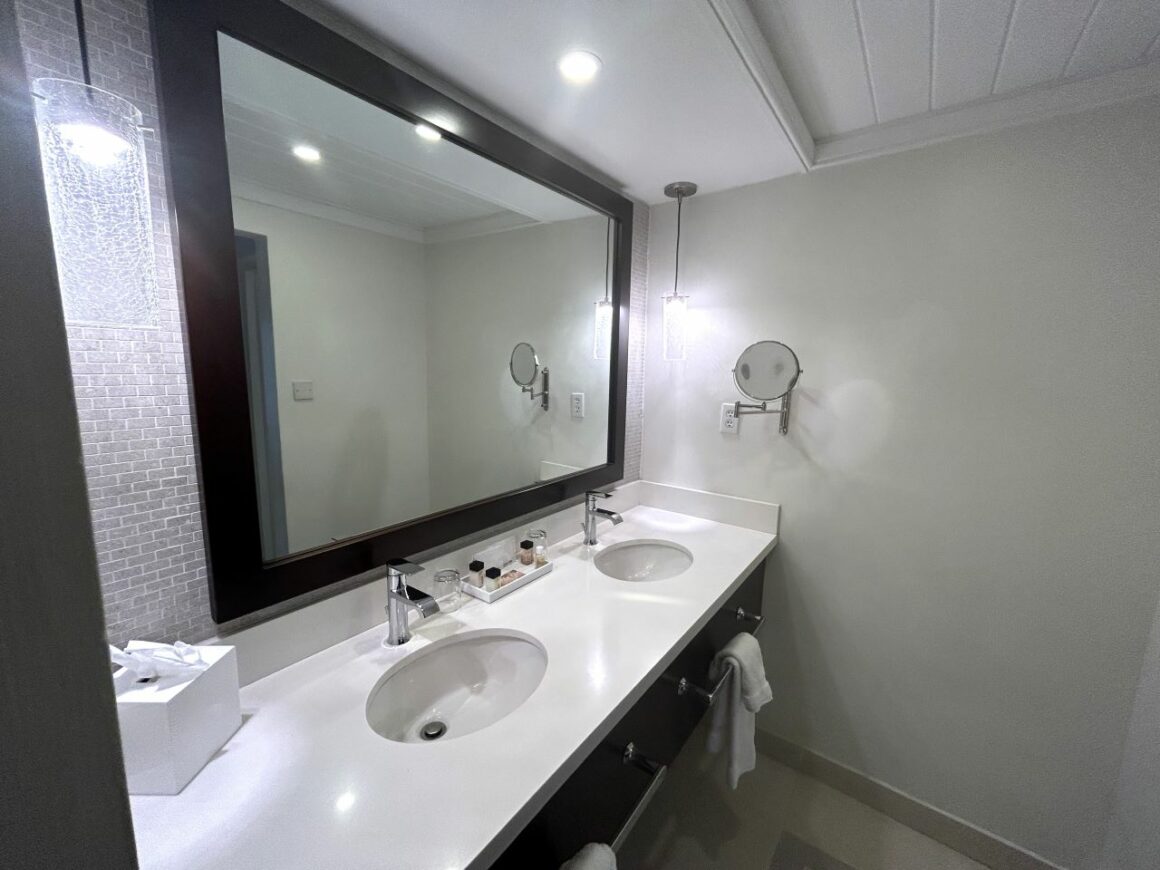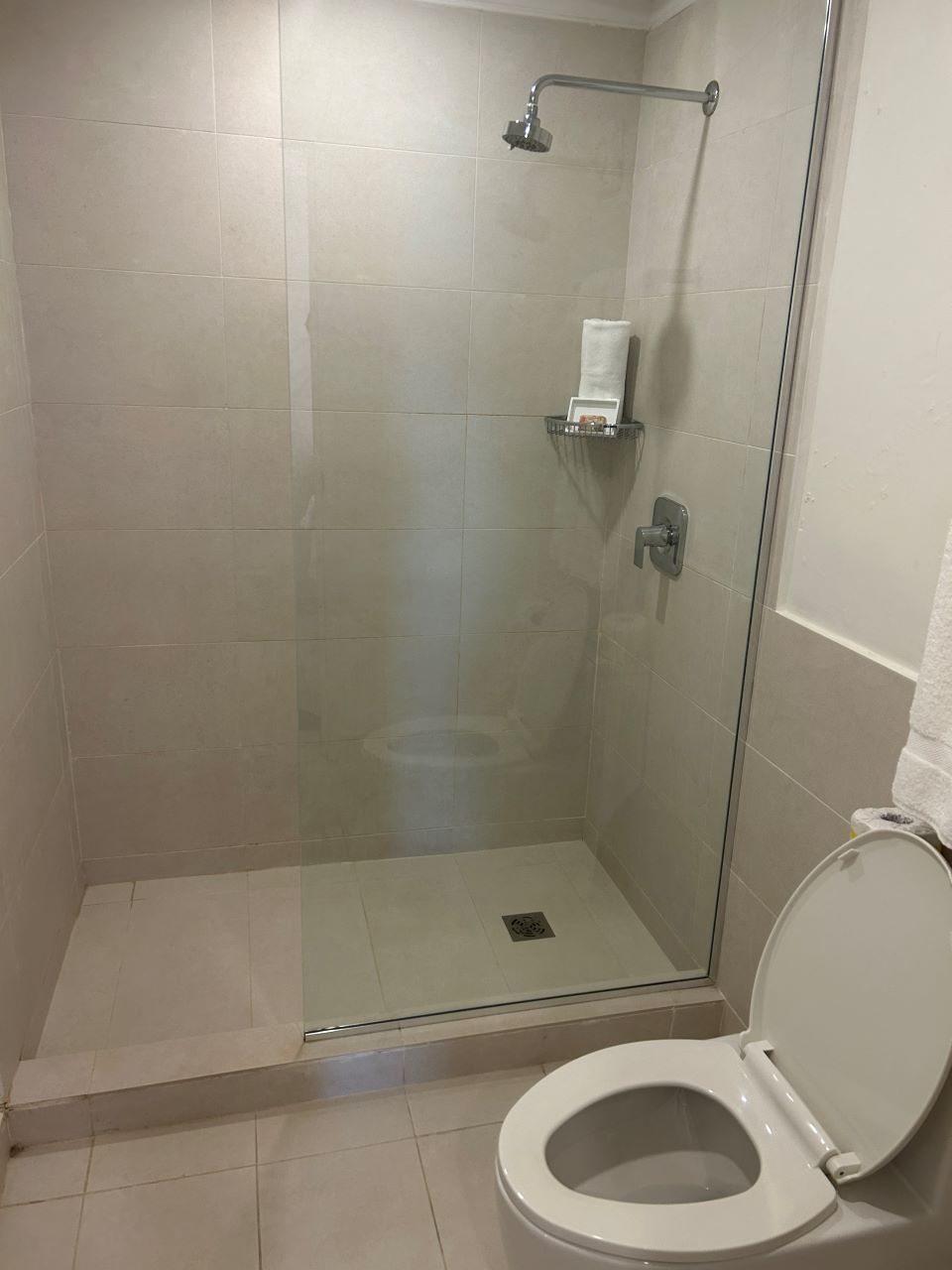 Toiletries were a brand I had never heard of and was very generic. They appear to be a US brand mainly made for hotels. Definitely not something that would be falling into my suitcase. But they were of acceptable quality and were a good size to save waste with the little containers.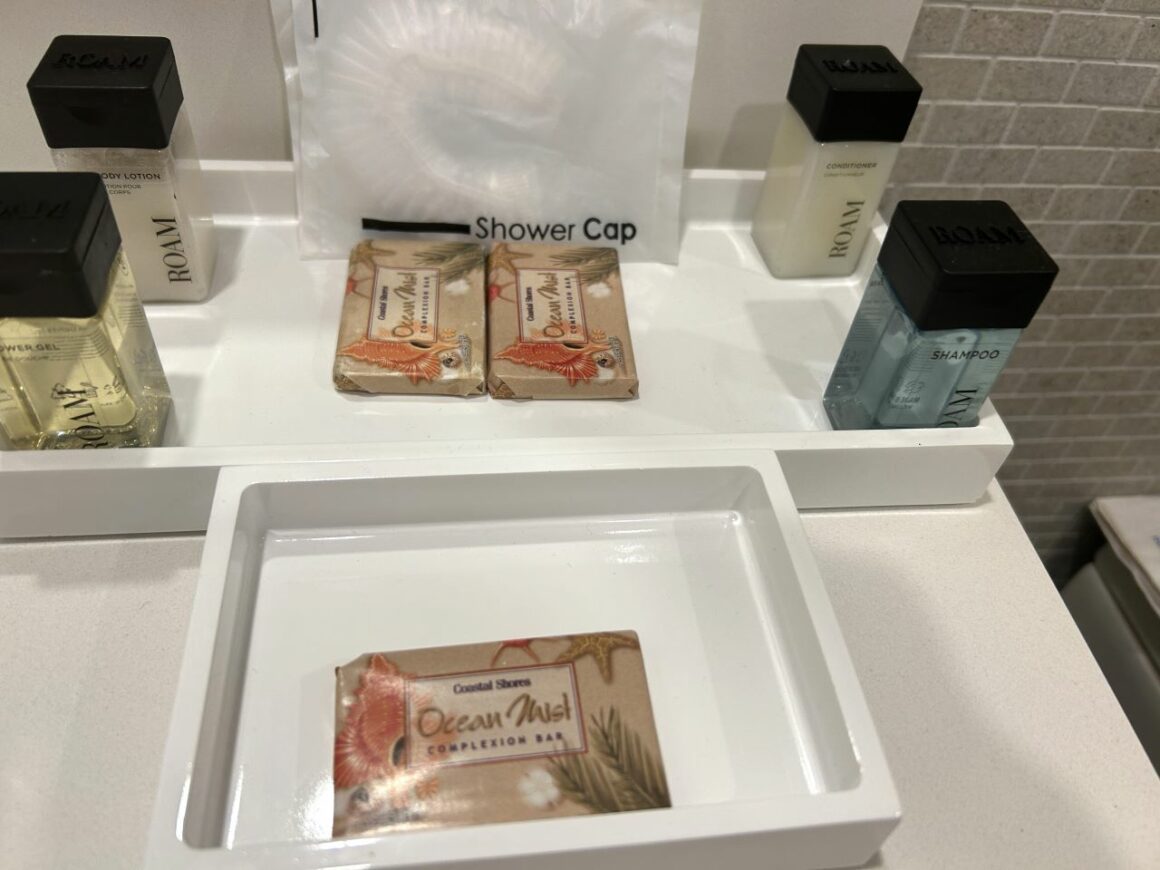 I liked that there was oodles of room in the bathroom to store your personal toiletries around the vanity and a decent size shelf in the shower as well.
The best thing about the room was the view from the terrace which was just beautiful being so close to the beach. Having my morning coffee or a sunset drink on the balcony and listening to the waves lapping at the shore, was just magical.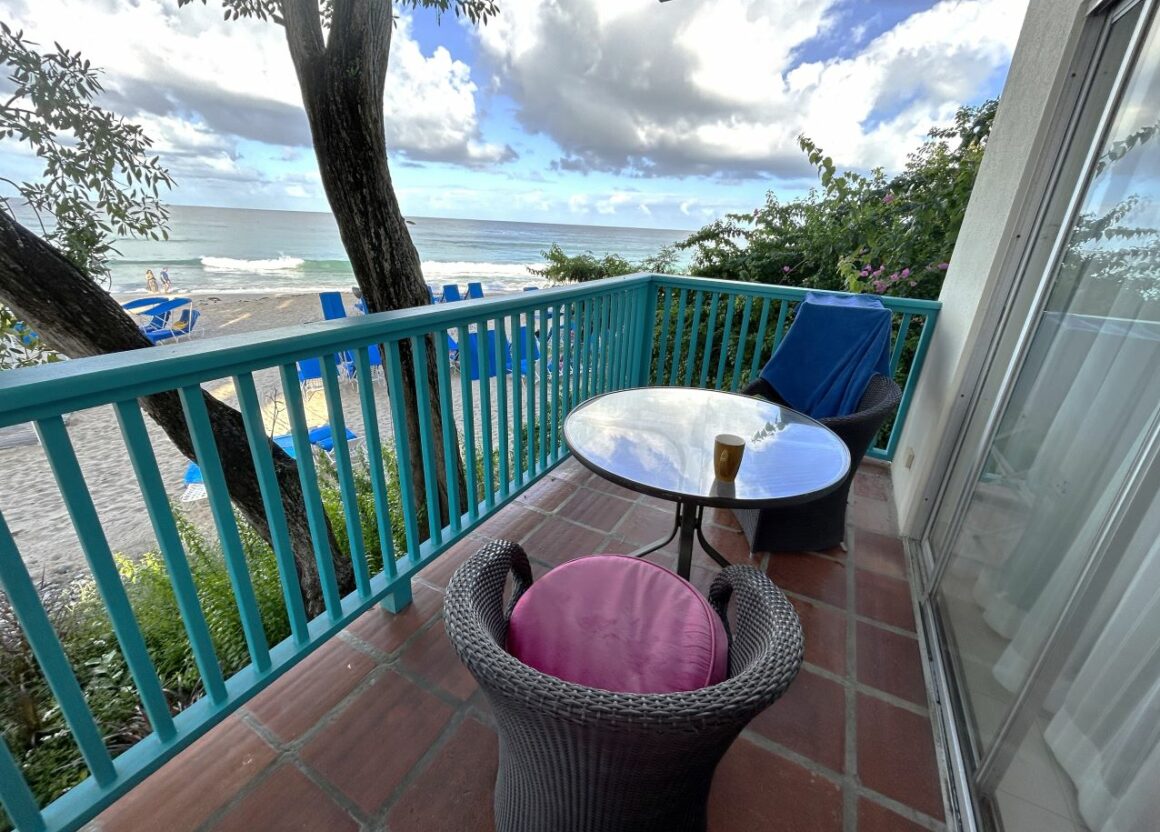 I was given a welcome gift of two platters of sweet treats and nibbles, plus a bottle of rum punch. There was a proper coffee machine which is unusual for the Caribbean as well as a kettle.
The fridge/minibar was a bit of a disappointment as usually in all-inclusive you normally get some beers in the fridge but this just had soft drinks. They were also a bit haphazard in refilling it too.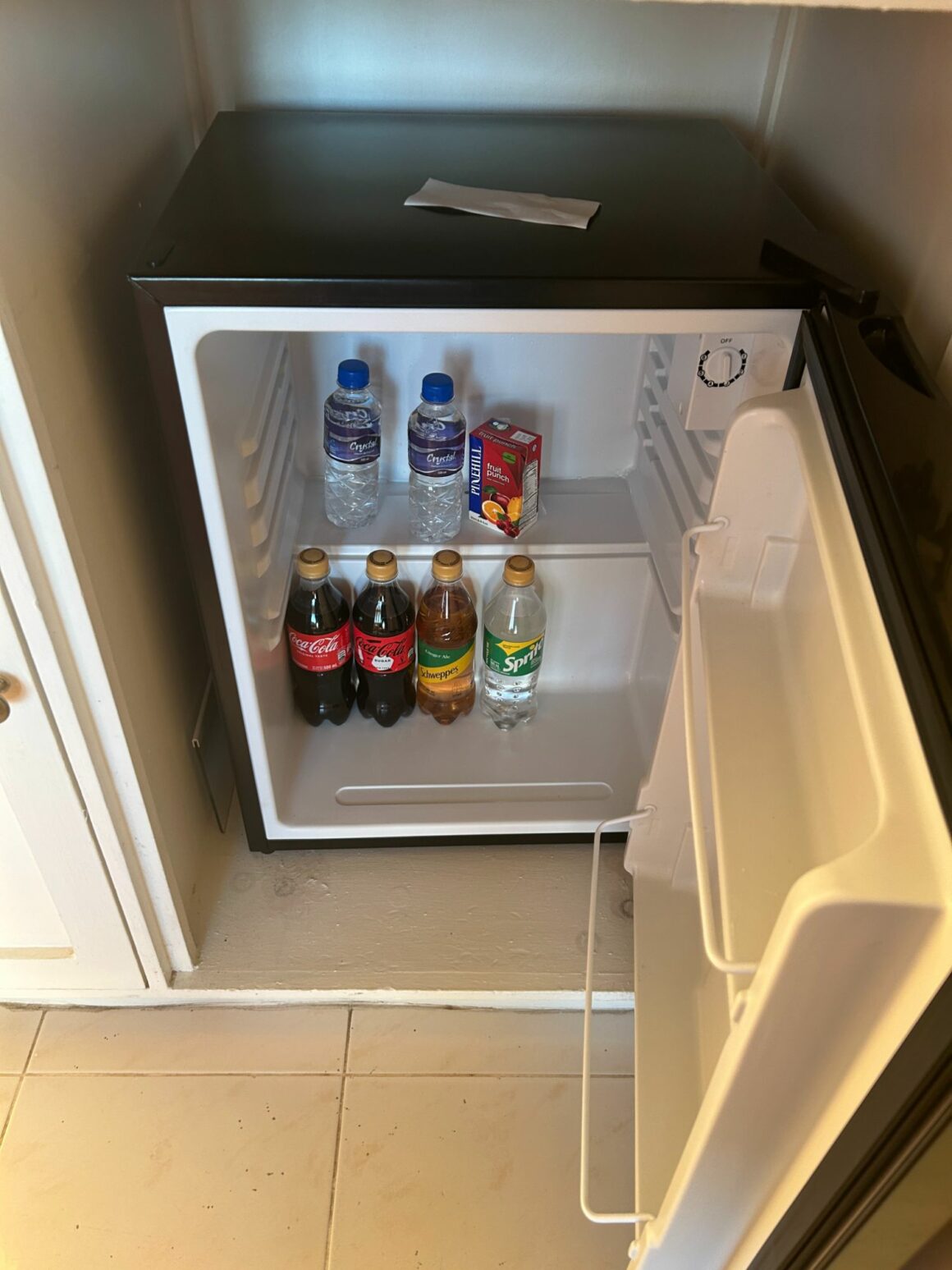 The bed was comfortable although it was very high up and I felt that I had to climb up to get into it. The room was also quiet being on the end of the resort. There was no view from the bedroom, just opaque glass patio doors but at least it meant I didn't have to worry about privacy.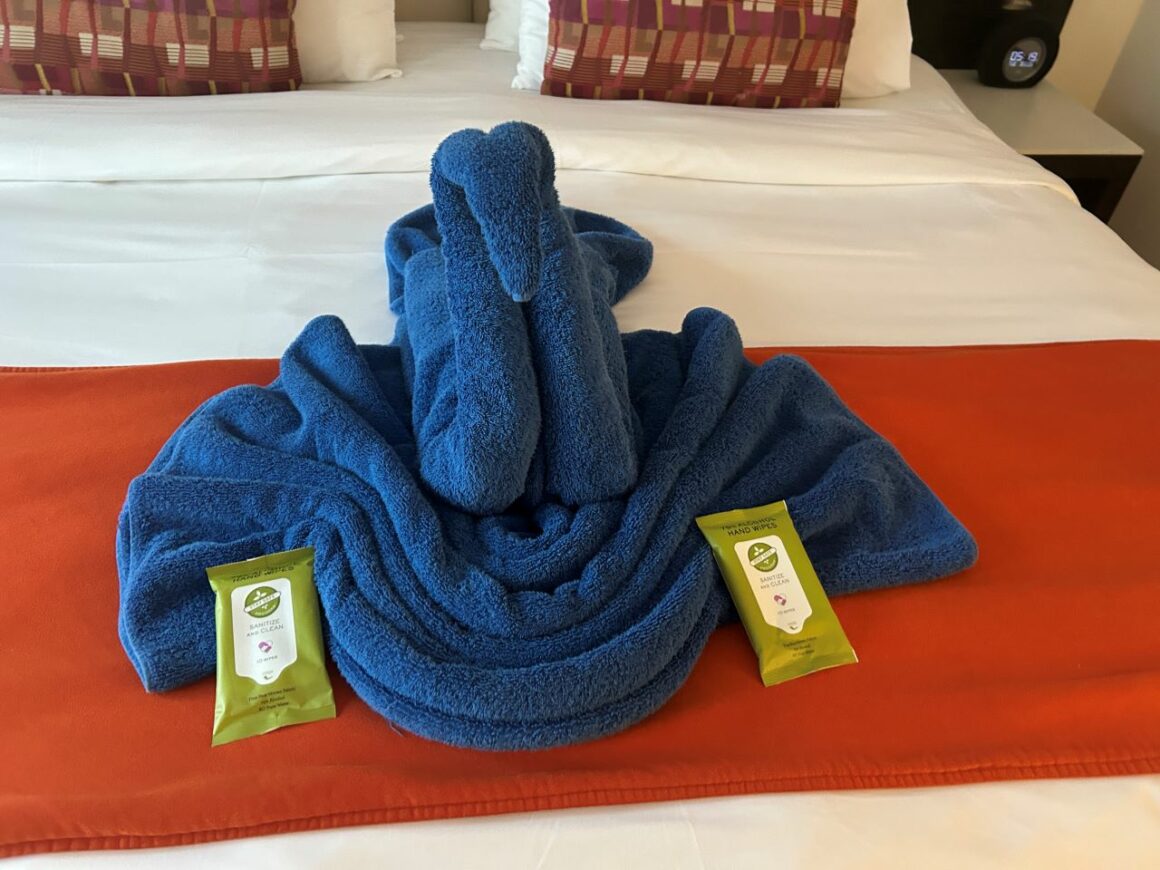 The swan towel display included two hand sanitiser wipe packs rather bizarrely!

You could charge by the bed using the USB port in the clock radio.
Crystal Cove hotel Barbados Food and drink
The resort had a cafe/bar, the Cave bar, and two restaurants, although the more casual one was not always open. It is a shame as there was a bit of a weak area in terms of food. The drinks were good with a decent list of cocktails, and the wine was drinkable too. They had sparkling wine as well as white, rose and red.
Reflections

This was the main restaurant for breakfast, lunch and dinner. It had a nice setting by the pool and was open-air but had netting to protect from insects. Lunch was a buffet, but as I often find in the Caribbean, the choices were not always to my taste. Generally, I want something light and fresh such as some local fish with some salads, but the selection was quite small, and the salad bar was pretty dull.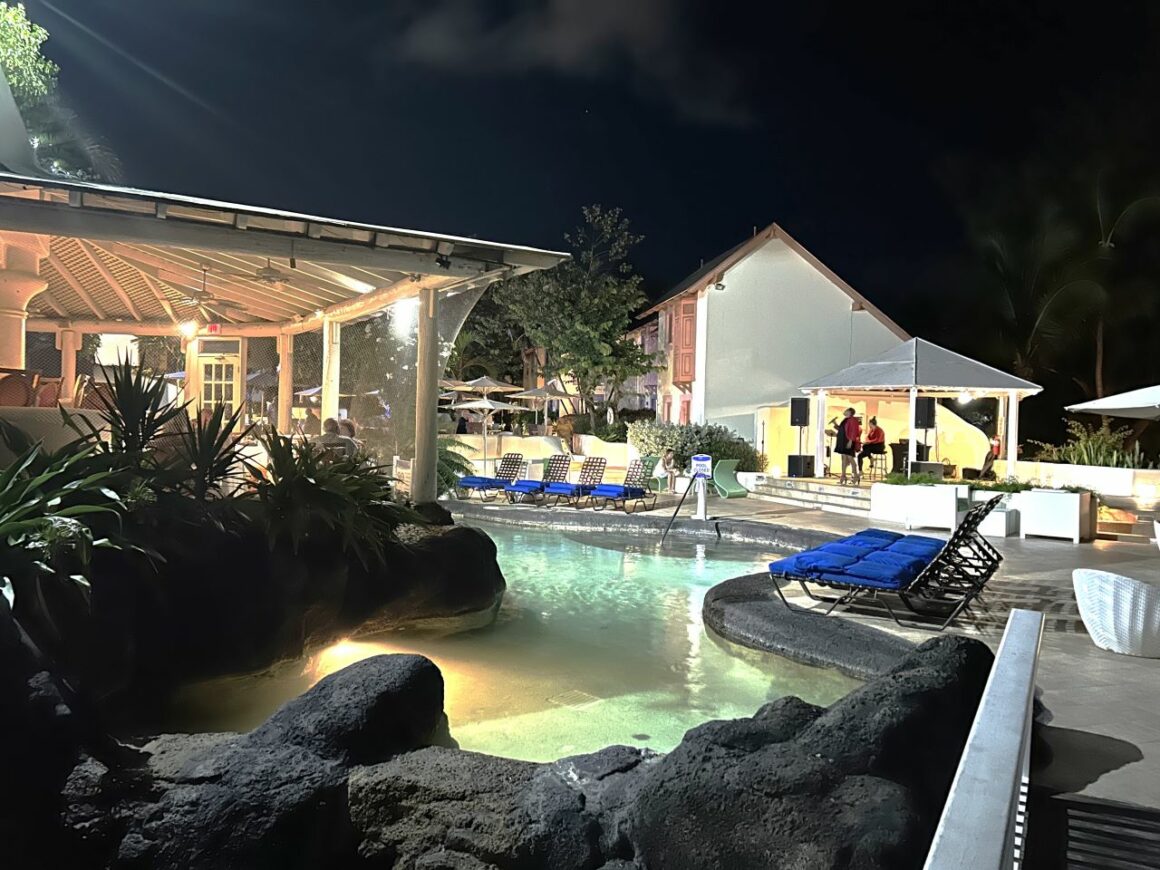 Breakfast was OK but a bit repetitive. They had the usual cooked breakfast plus some specialities, fruit, cereal, toast, yoghurt and pastries. It was typical for an average all-inclusive four-star hotel in Barbados.
The evening when it was al carte was so much nicer, but unfortunately, one of the nights, I had booked the other restaurant and then they decided not to open, so ended up with a buffet. In fact, the food was absolutely fine, I'm just not usually a fan of an evening buffet unless it's 5* Vegas style!
The evening I ate the a la carte, I thought there were decent choices: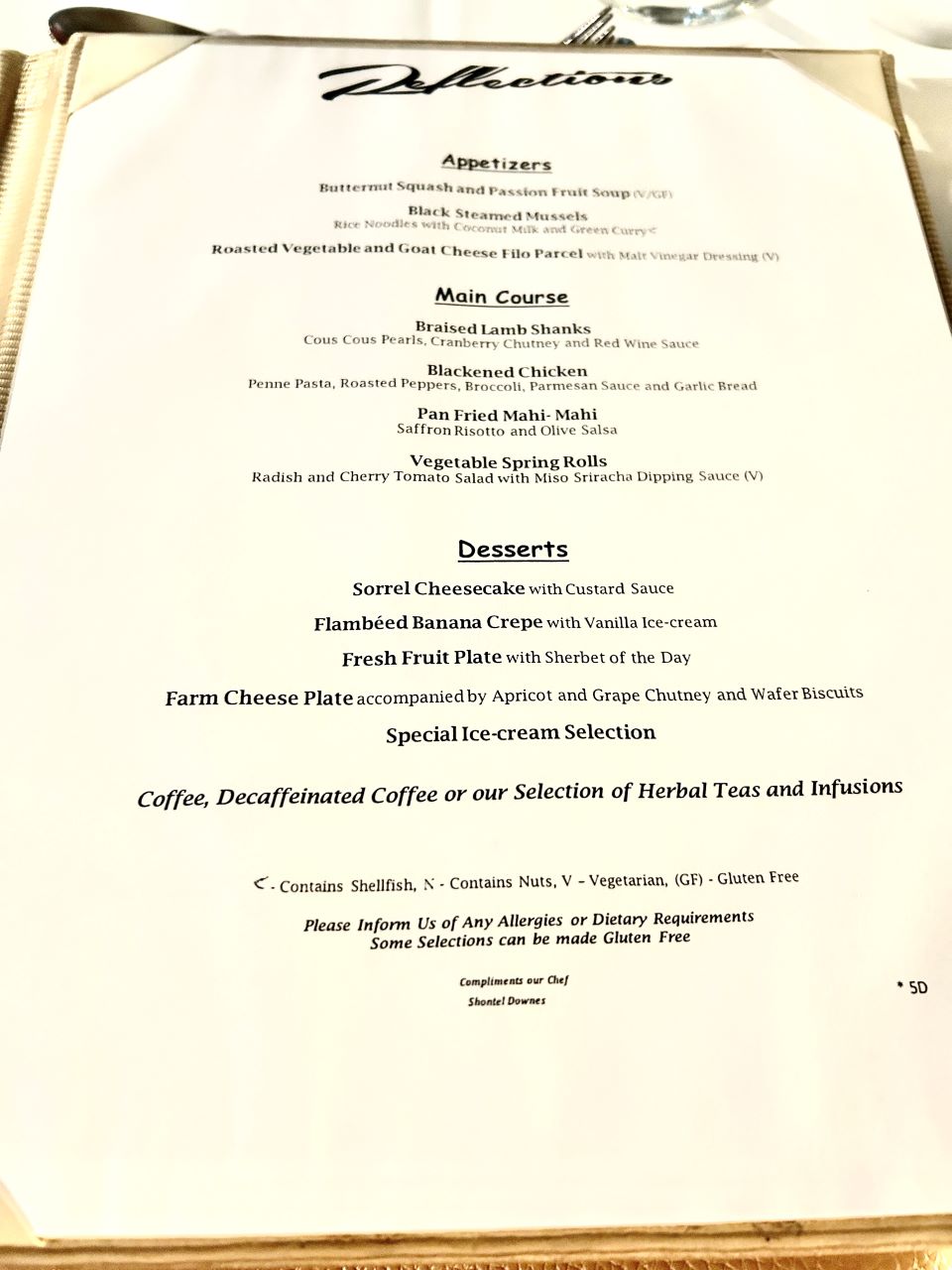 I went for the mussels, the chicken and the banana crepe. It couldn't be accused of being fine dining, but it was all tasty and well-presented. If I could have had a la carte every night, then I would have been happy.
Service was very variable, typical of the Caribbean. Some nights it was fine, others you got one drink and then never saw them again as they appeared too busy chatting! I suspect that they were also short staffed as well.
Drifters Beach Bar and Restaurant.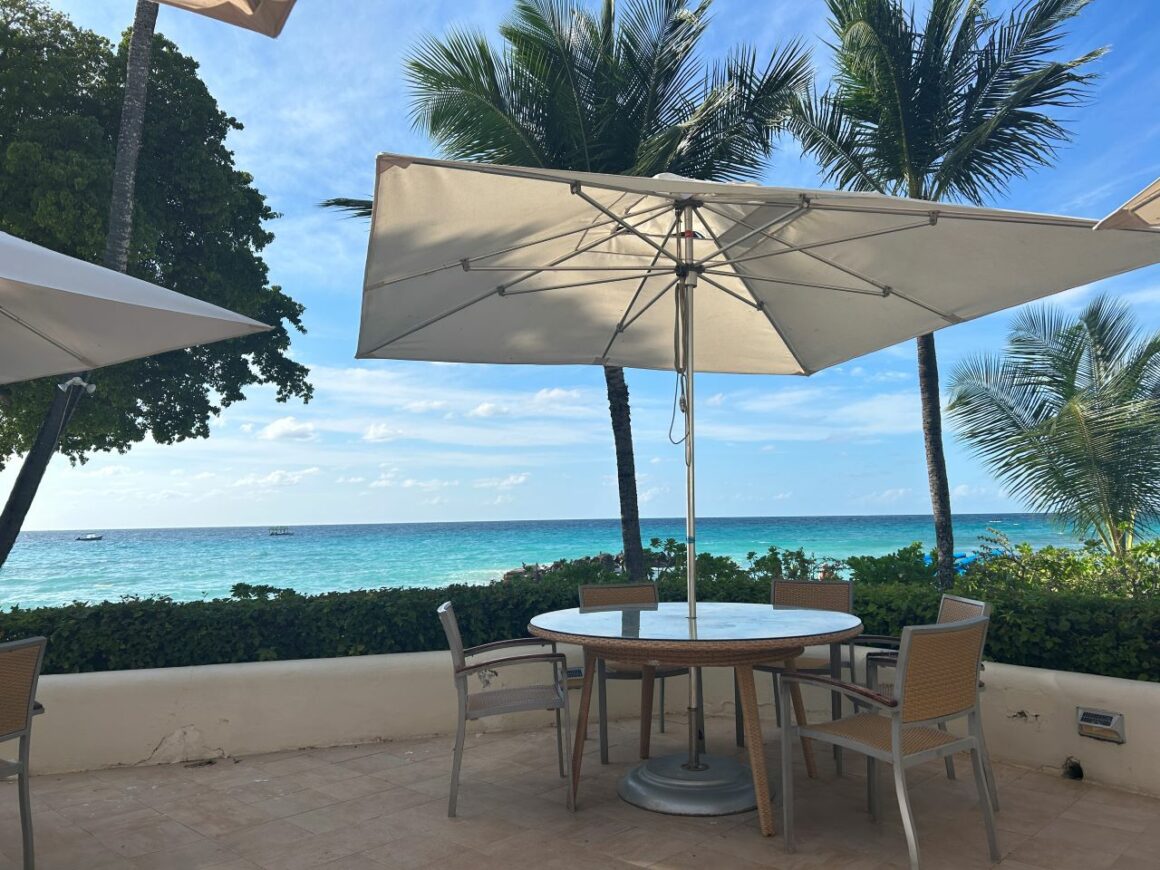 This was the more casual beach restaurant open for lunch and dinner most days. I ate lunch there, which was a buffet which was a little limited but it tasted ok. Typical fare at lunch was things such as burgers, chicken, fish and some salads. One day there was a taco bar.
Crystal Cove hotel Barbados Cave bar
This was one of my favourite places in the resort for my after-dinner drink. The cocktails were great and I developed a bit of a penchant for something called a bushwhacker which was like a stronger rum and Bailey's blended drink.
One side of the bar is in a cave, and the other side is a swim-up bar behind the waterfall which is very novel. The service here was pretty good and friendly as well.
One night I was approached by one the managers who said she liked to come and speak to all the Platinum Bonvoy members staying at the hotel. I thought this was a lovely touch considering I had not booked through Marriott. She asked for my opinion about the stay and was very receptive to feedback. I also saw the manager wondering round most days speaking to people including myself, and when I complained about something he fixed it for me right away. It is great to see a hotel staff that really care about their customers.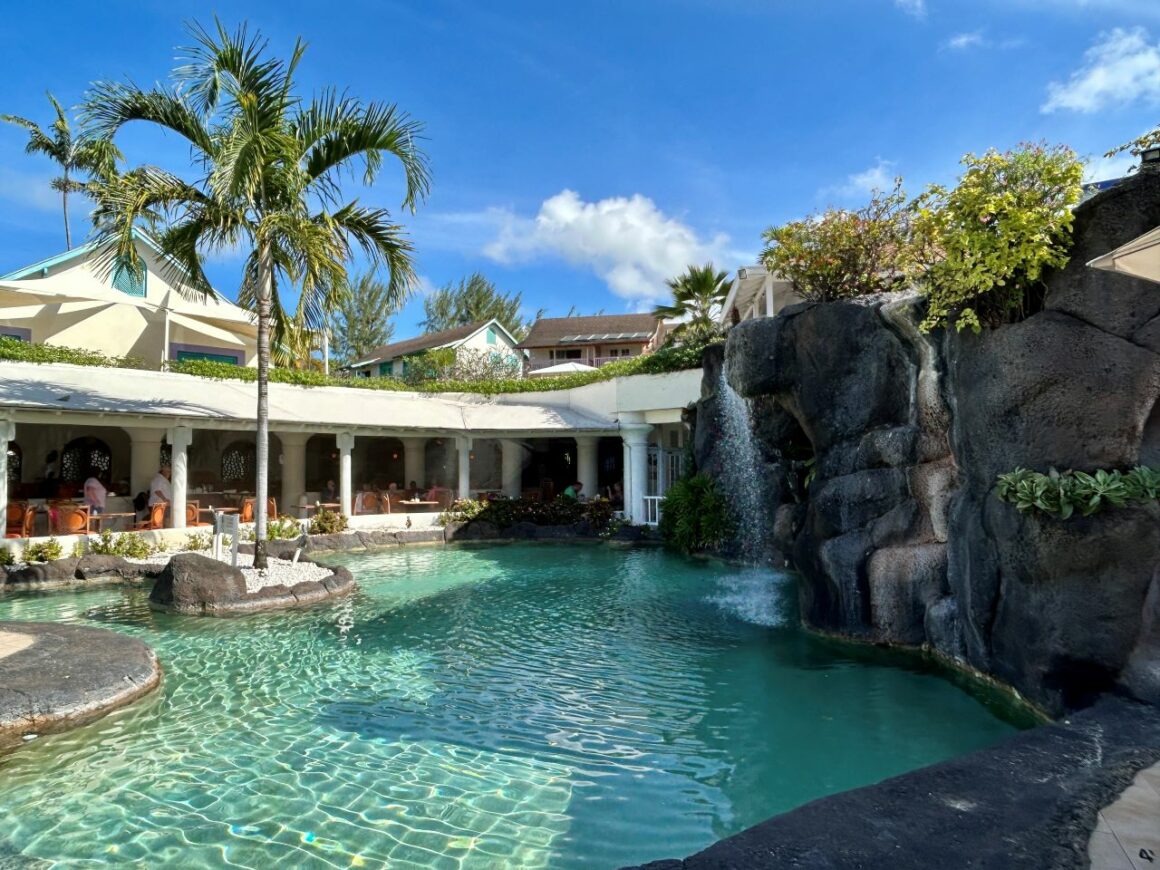 Vista Coffee & Wine Bar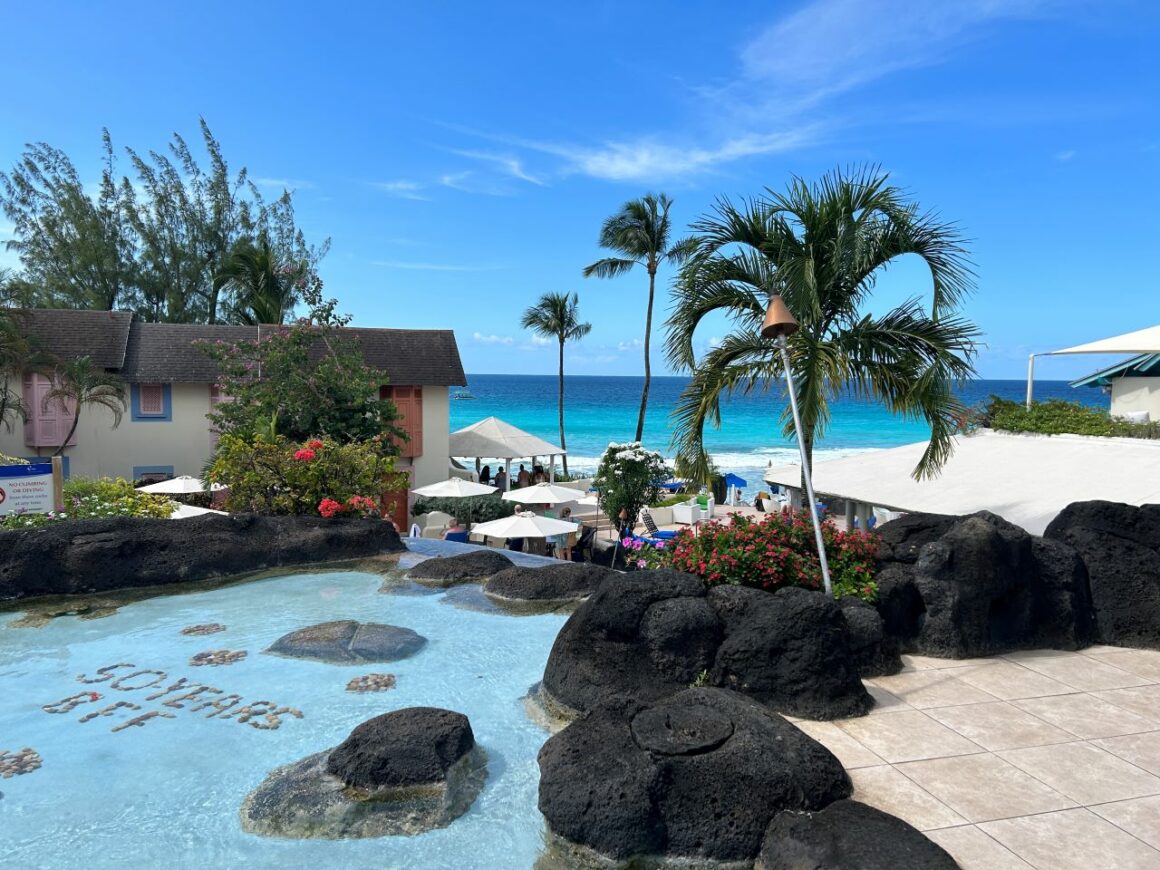 I also liked the little wine bar, which served coffee, tea and afternoon as well acting as a bar. You could sit outside overlooking the resort with a glass of bubbles for the sunset. The inside was also rather smart and modern.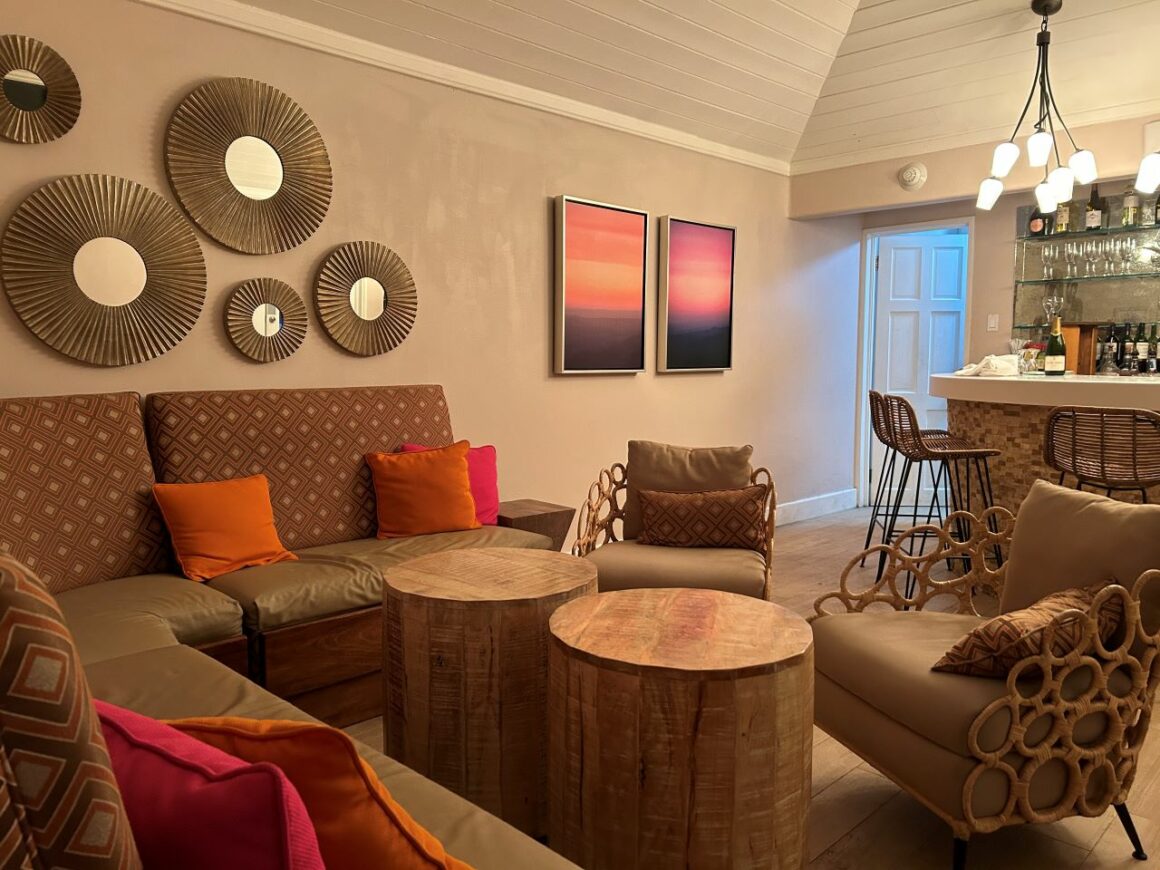 Crystal Cove hotel Barbados Dine around
The Elegant Hotels group operate a dine-around program, but as with many of these "extra" dining options that have to be booked, you needed to book well in advance, no use on a 3 day stay. I had asked for a restaurant that was not a buffet and fairly close as the water taxi only operates during the day.
Most were fully booked, but after a huge amount of effort, they managed to find space at Tamarind on one night. This was a real disappointment as it was a very poor Indian buffet with very limited choices and very loud entertainment. This is very much not my sort of thing on holiday but some people like it I guess or hotels would not offer it. It was not a pleasant experience at all for me even though the service was good at least. It was not worth the $10 taxi fare each way that's for sure.
Crystal Cove hotel Barbados Room service
You could have room service, but it was a bit of a palaver as I had been told that you could have whatever you wanted, but it turned out there was a limited choice on the form. I then had to go to or ring the restaurant to put my order in the day before. However, given I had such a beautiful terrace, it was a treat to enjoy the peace and quiet during my breakfast.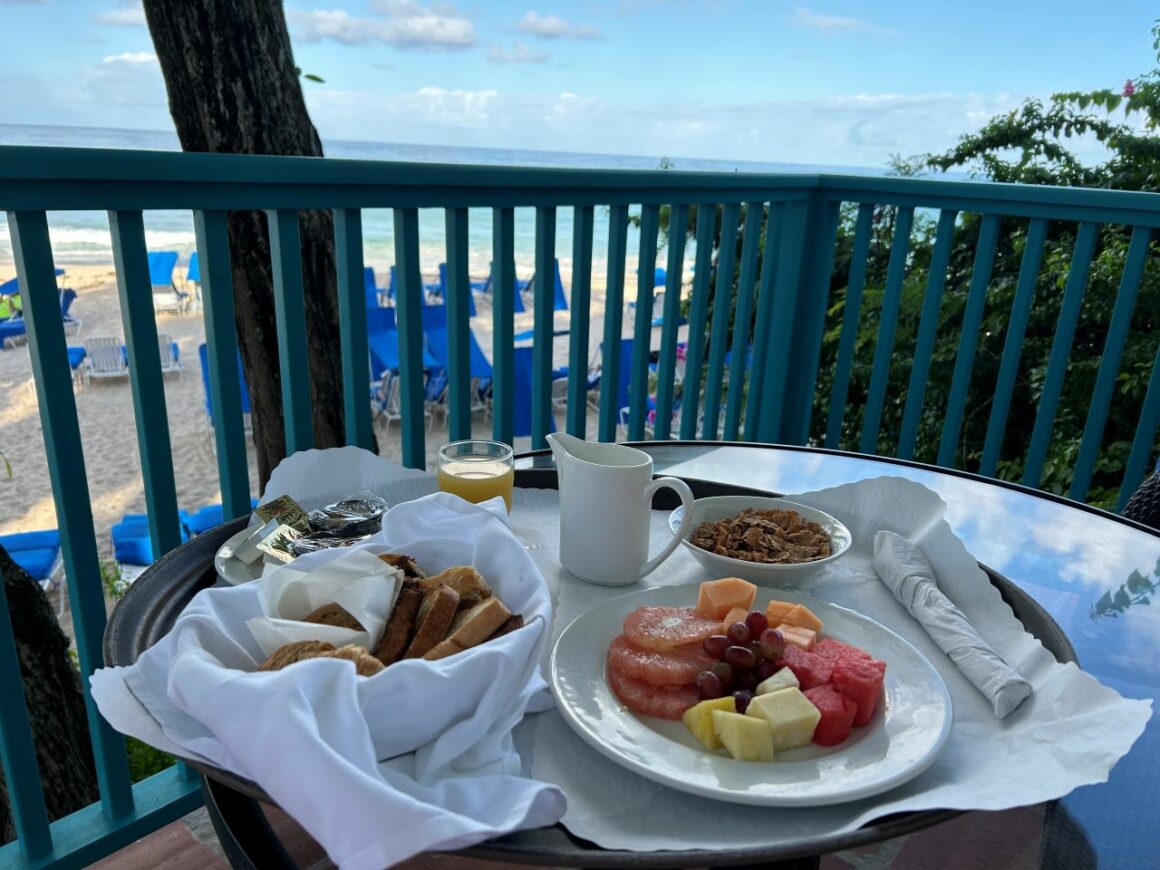 Facilities and resort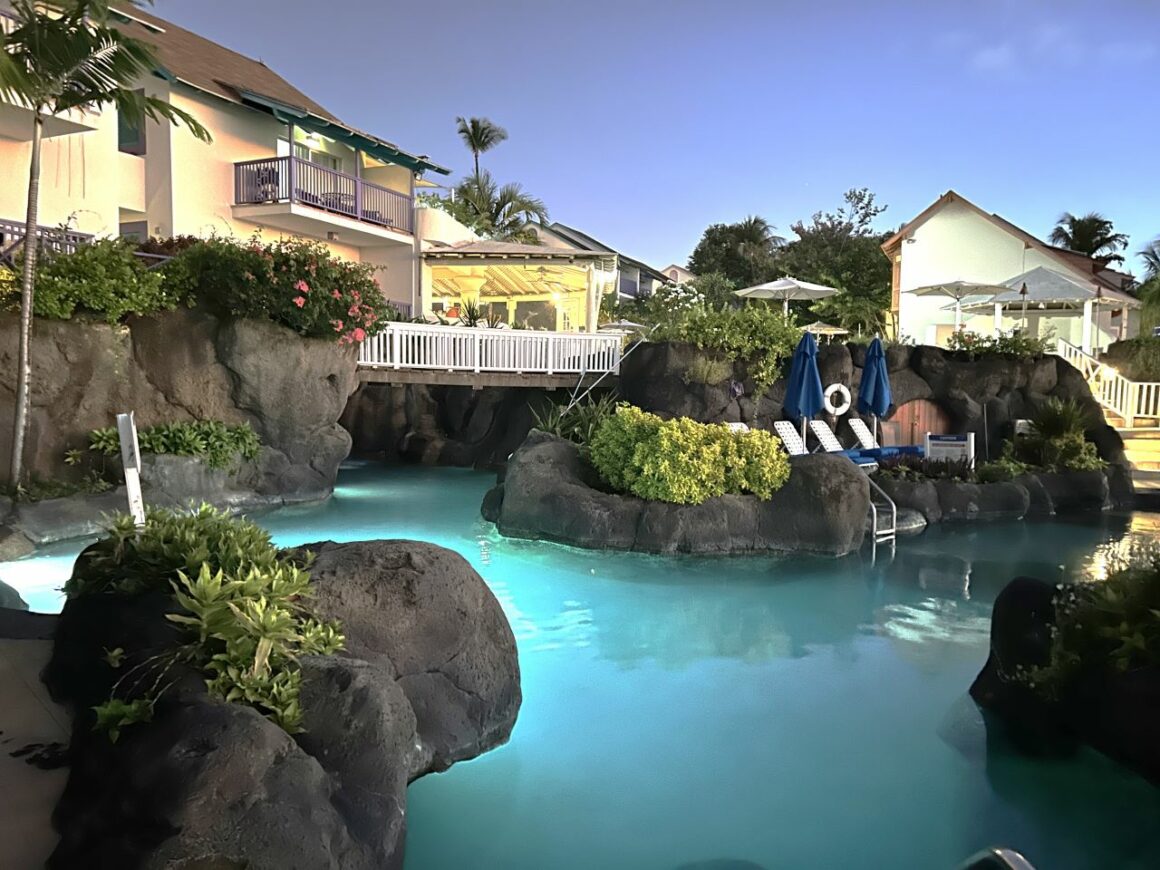 The resort itself is just as beautiful as it appears in the photos with several pools surrounded by rocks. The water was a little fresh when I was there as it was not that hot.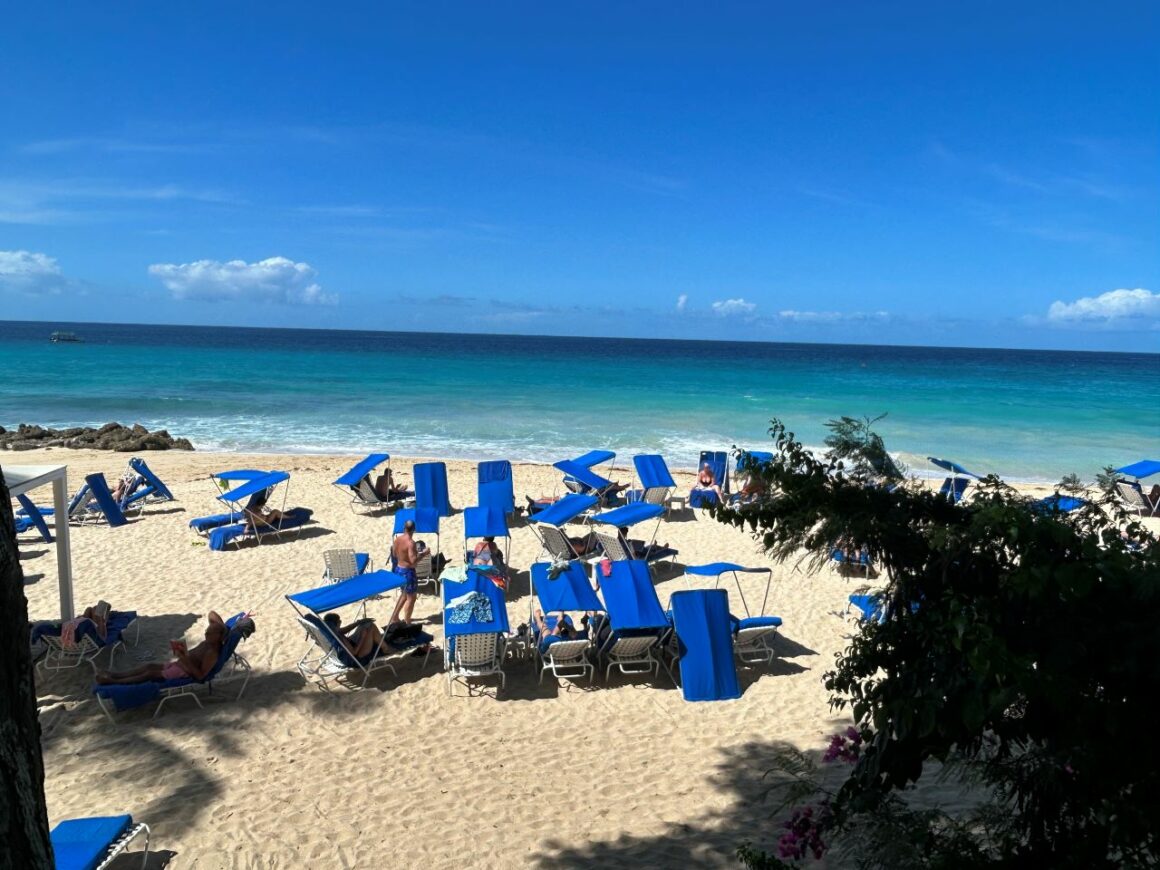 The areas around the pool are small and there was a lack of loungers in total when I was there. People were putting towels on loungers from 7am and by 9am nearly all of them had gone. The only shade on the beach was the shades built into the chairs, which were a bit temperamental with quite a few broken ones. The loungers were very comfortable though which is a big plus.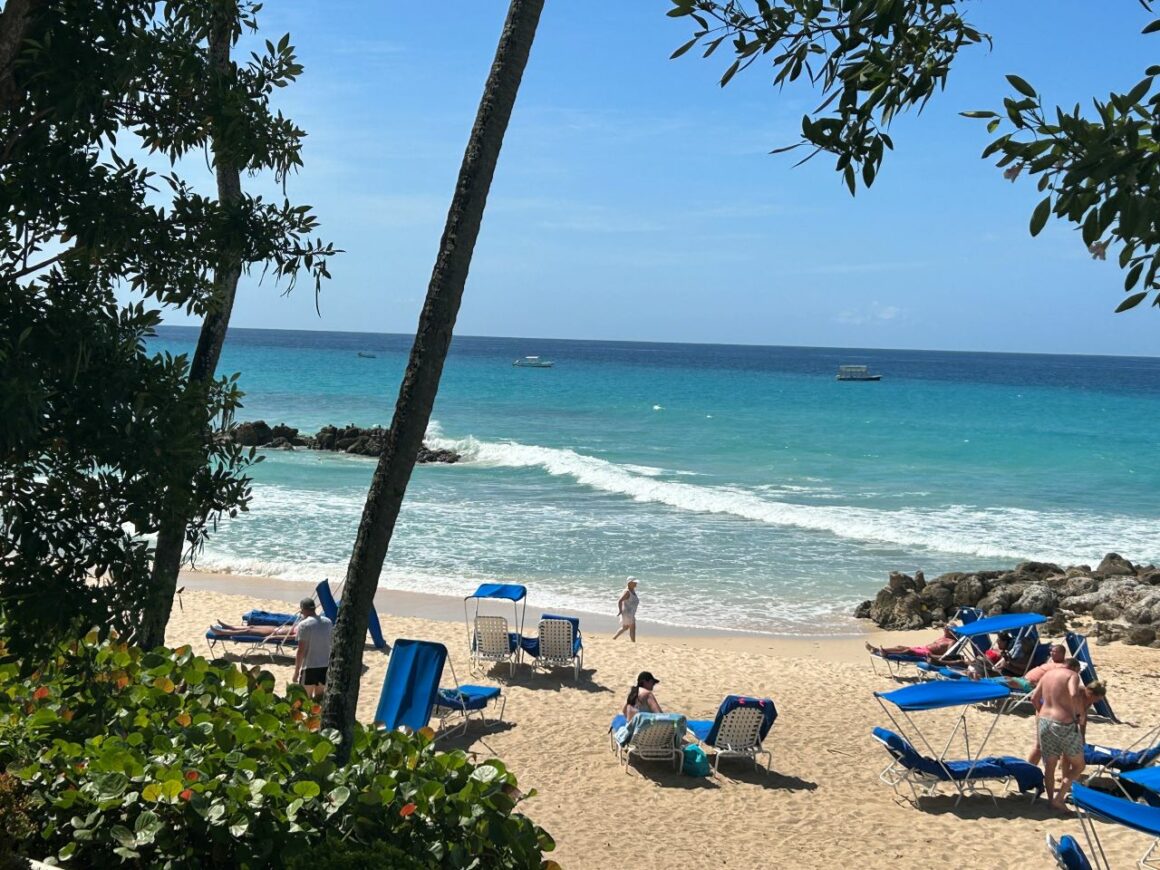 The beach service for drinks was quite odd as you were not meant to order one, they just came around about every 90 minutes with a tray of various drinks. However, he did get my preference for a drink and made sure there was some when he returned. It is quite a trek to the bar up a couple of flights of steps or a bit of a walk so I feel like they could have done a better job with being able to order drinks. But at least there was someone who came round regularly.
The sand here is fine and golden with a gentle slope into the sea. Sadly when I was there, the sea was quite rough which apparently can be the case at certain times over the winter, so it is worth investigating what the conditions are like for the time you are visiting. Usually, the west coast has very gentle waves.
You get complimentary motorised and non-motorised water sports including snorkelling, water tube rides, banana boat rides or water ski, all included in your stay.
There is no spa, but they did have a therapist set up by the pool on one day I was there, but obviously it is not very private. They also had stalls selling local crafts as well.
If you like to be active there is a gym as well as complimentary yoga and pilates classes. Beach volleyball is also a regular activity plus they have entertainment every night.
Conclusion for Crystal Cove hotel Barbados
I think when you compare hotels in the Caribbean, you have to compare it with the competition at a similar price. Standards in the Caribbean are usually slightly lower than Europe or the US. I thought it was a very pretty resort with a relaxed feel, and I liked that it is quite small. The food was not as good overall as Waves by quite some distance, but the evening meals that were a la carte were good, and I much preferred the room and resort at Crystal Cove to Waves.
I would say there is nothing fundamentally wrong with it. It is a reliable choice where you will get a modern room and great drinks in a beautiful setting on a reasonable-sized beach. Barbados can be very expensive, and I think this gives good value for money.
My favourite out of the Elegant resorts is Colony Club which, not being all-inclusive, feels a little more upmarket but is also a beautiful resort. I will still be reviewing one more hotel in Barbados, which was an independent hotel (Bougainvillea) which was not all-inclusive but that I really enjoyed and felt very upmarket.
You can find more information about Crystal Cove and check prices on their website here.
Like our Crystal Cove hotel Barbados review? You can read more hotel reviews here.