Up until around 6 or 7 years ago The Carlton Tower Jumeirah hotel used to be my go-to London hotel. Then it started to get a bit dated and in need of some renovation.
All that changed when it reopened in summer 2021 after an extensive 18-month refurbishment at the cost of $134 million (£100 million). The hotel has been rebranded as The Carlton Tower Jumeirah and there are now fewer rooms to allow for larger accommodations.
The hotel has a long history, and it originally opened in 1961 as London's first tower hotel and was celebrated for being the tallest in London at the time. It was originally designed by Henry End, also responsible for the interiors of the Plaza Hotel in New York.
I stayed late last year to check it out – so have they restored it to its former glory?
Location
The Carlton Tower has a fantastic location a few minutes walk to Knightsbridge tube, Harrods, Harvey Nichols and Hyde Park. It's also handy for Kings Road, the Natural History Museum and the Royal Albert Hall.
The rooms overlook Carlton Square making them quiet and giving a lovely outlook as well as views over London on the higher floors.
Check-in

Check-in definitely felt like a very premium experience from the staff's beautiful uniforms to the welcome drink.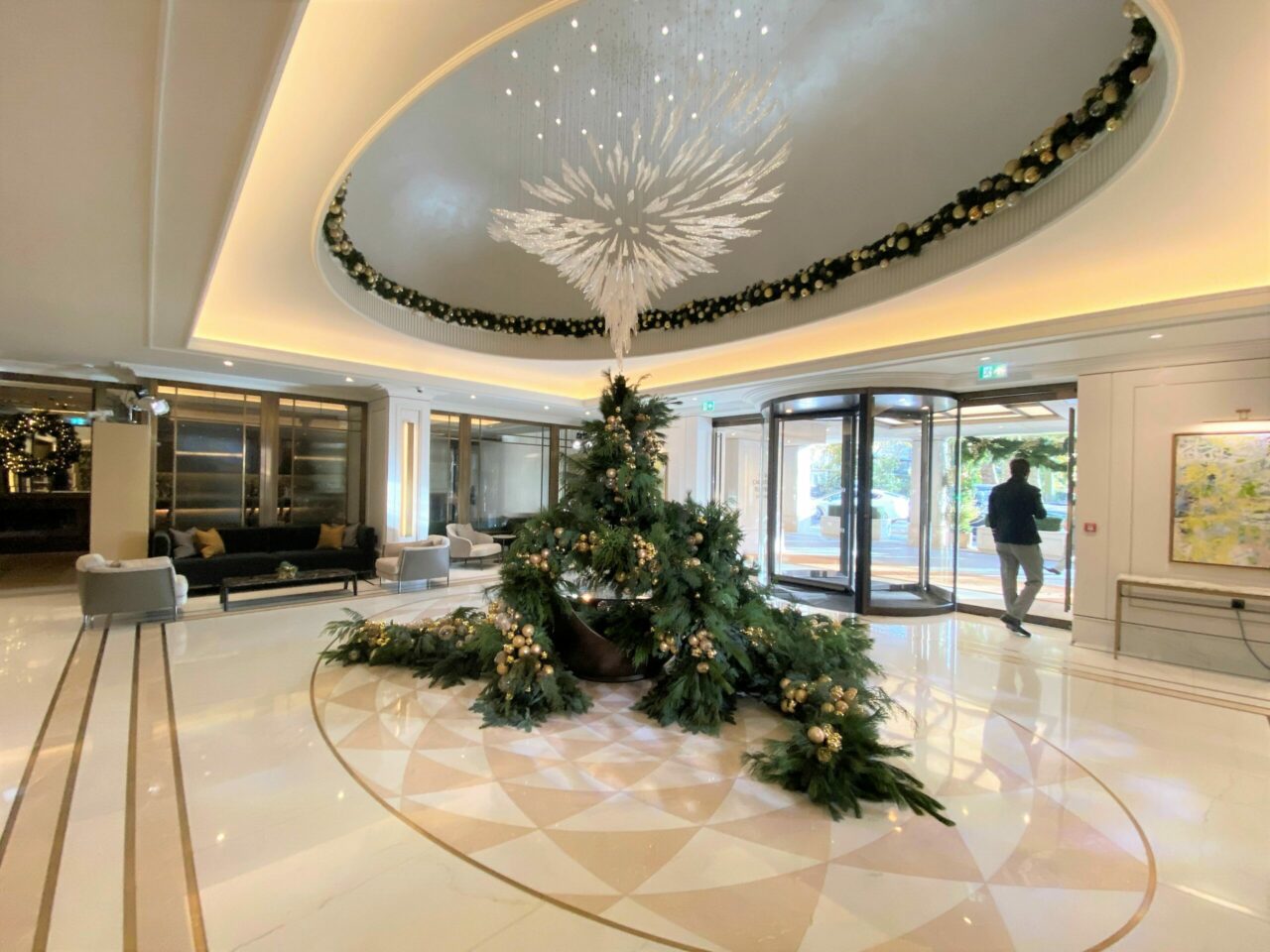 As you walk in you enter a large lobby with a stunning light fitting. Off the lobby is the bar and the all-day cafe. When I was there it was close to Christmas and the hotel was decorated for the holidays.
The reception staff were extremely welcoming and friendly. I was offered a welcome drink and an individually wrapped hand towel on a tray. With the staff' gorgeous silk print outfits as well, I felt like I was checking into a hotel in Asia. They even have separate day and nighttime uniforms, now that's attention to detail!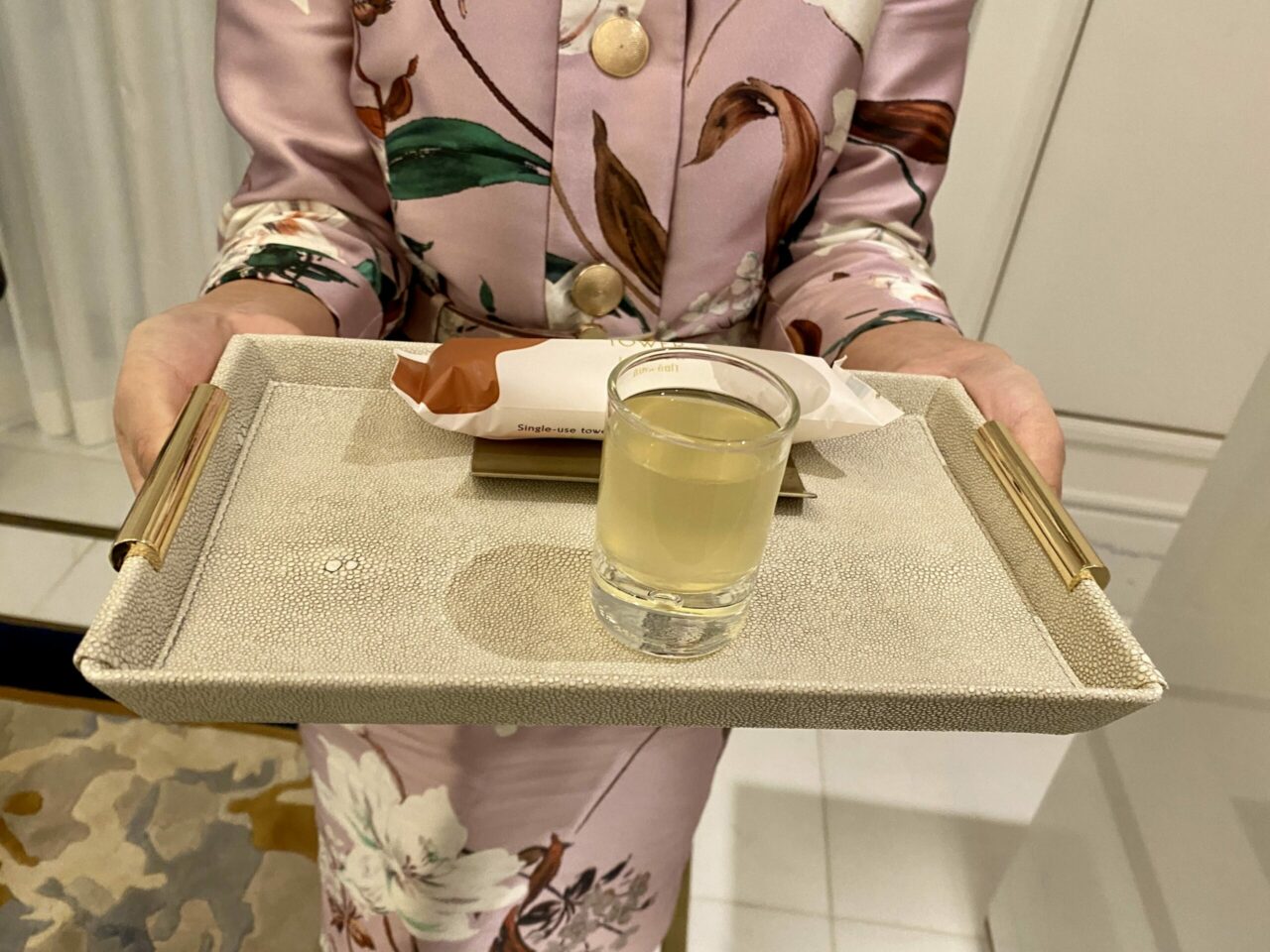 I was also given an initialled leather key to keep as well as the more normal key card for the room. A brief overview of the hotel was given along with the times of breakfast etc.
The room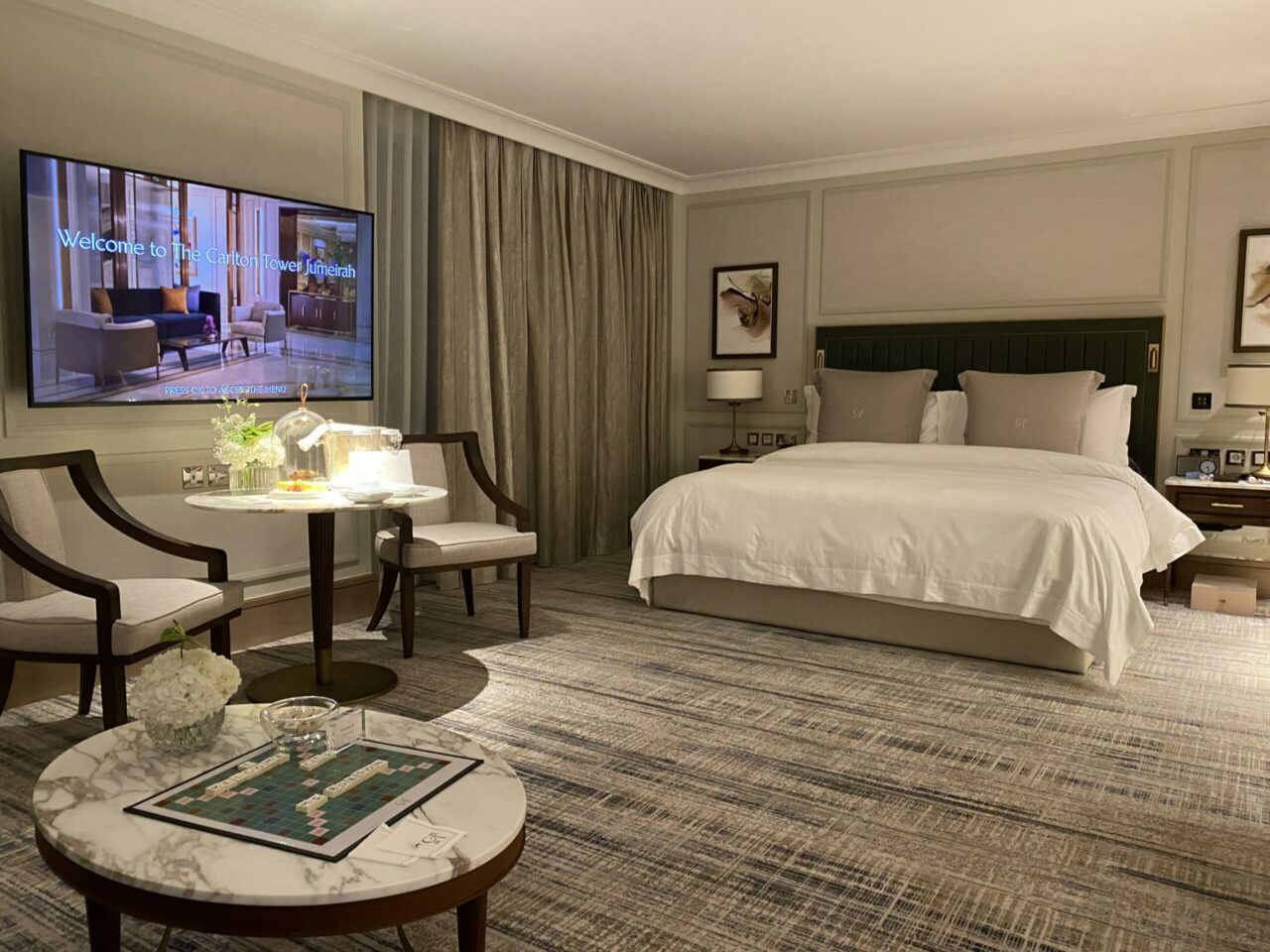 I had a Junior Suite with a balcony. You can also get a balcony with lower category rooms as well.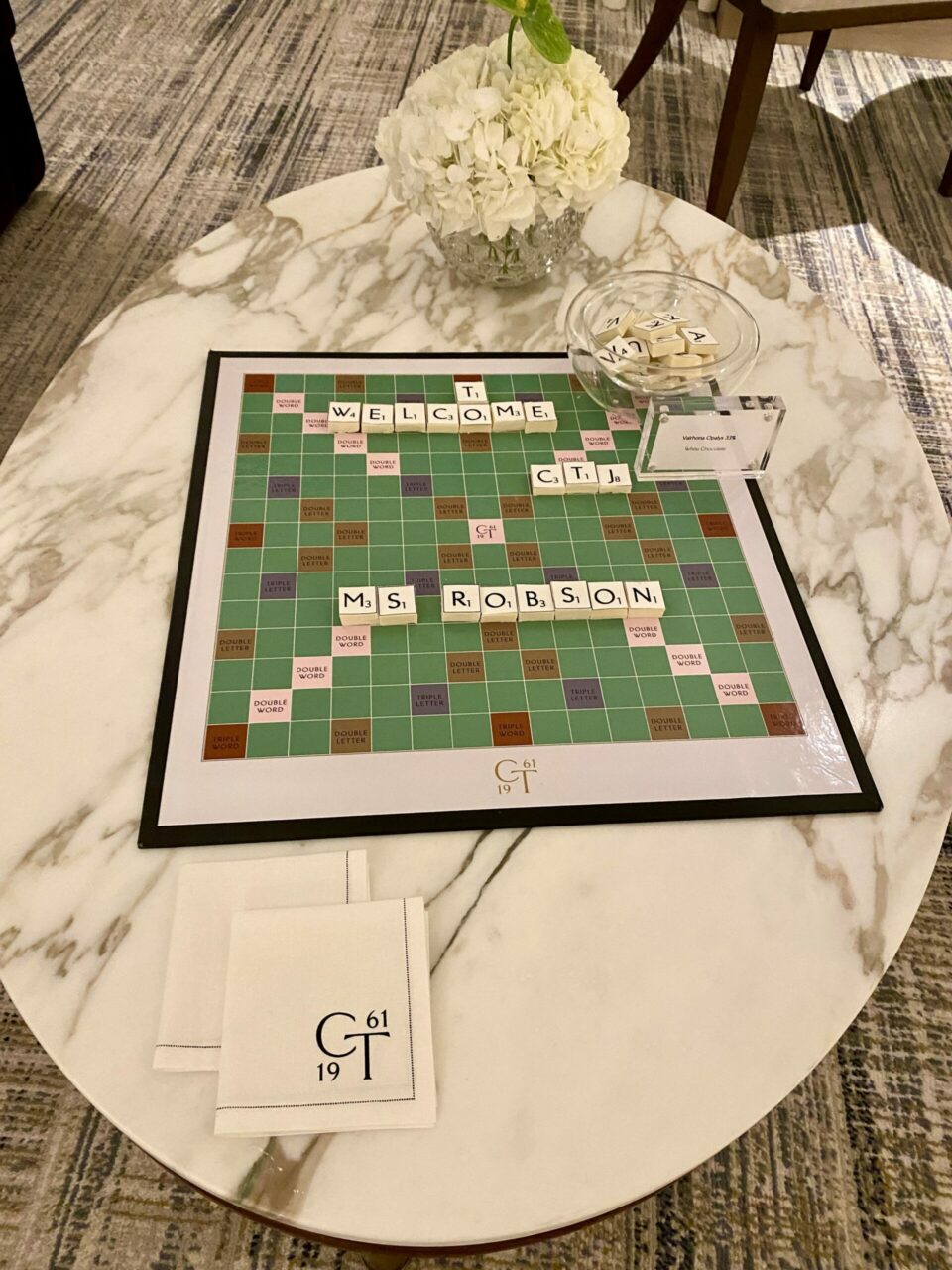 There were some lovely welcome gifts laid out for me – I particularly liked the scrabble board with my name spelt out in Valrhona chocolate letters! There was also some fruit.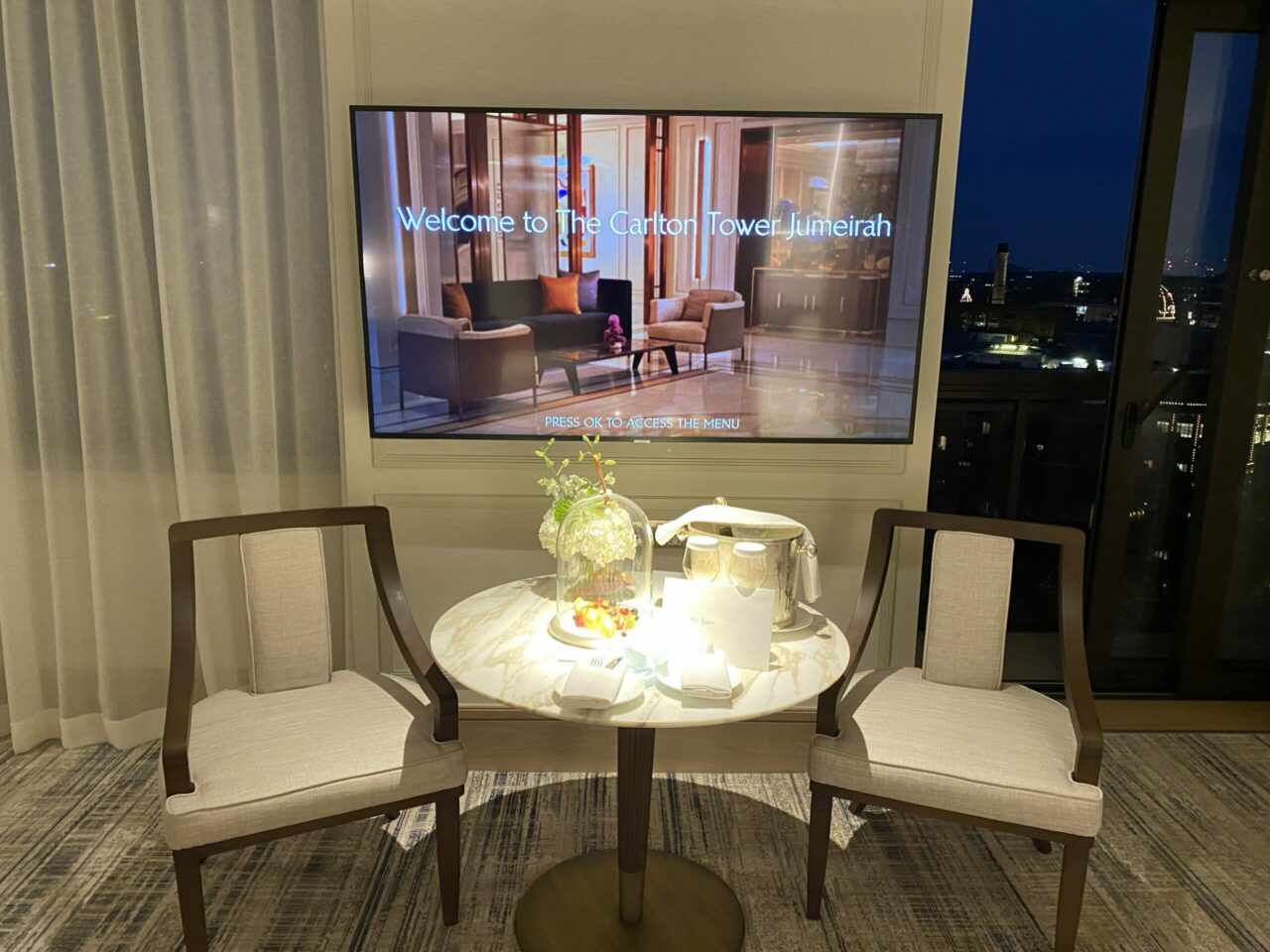 The room felt very large with a sitting area, the table and chairs and a large hall area for clothes and tea and coffee etc.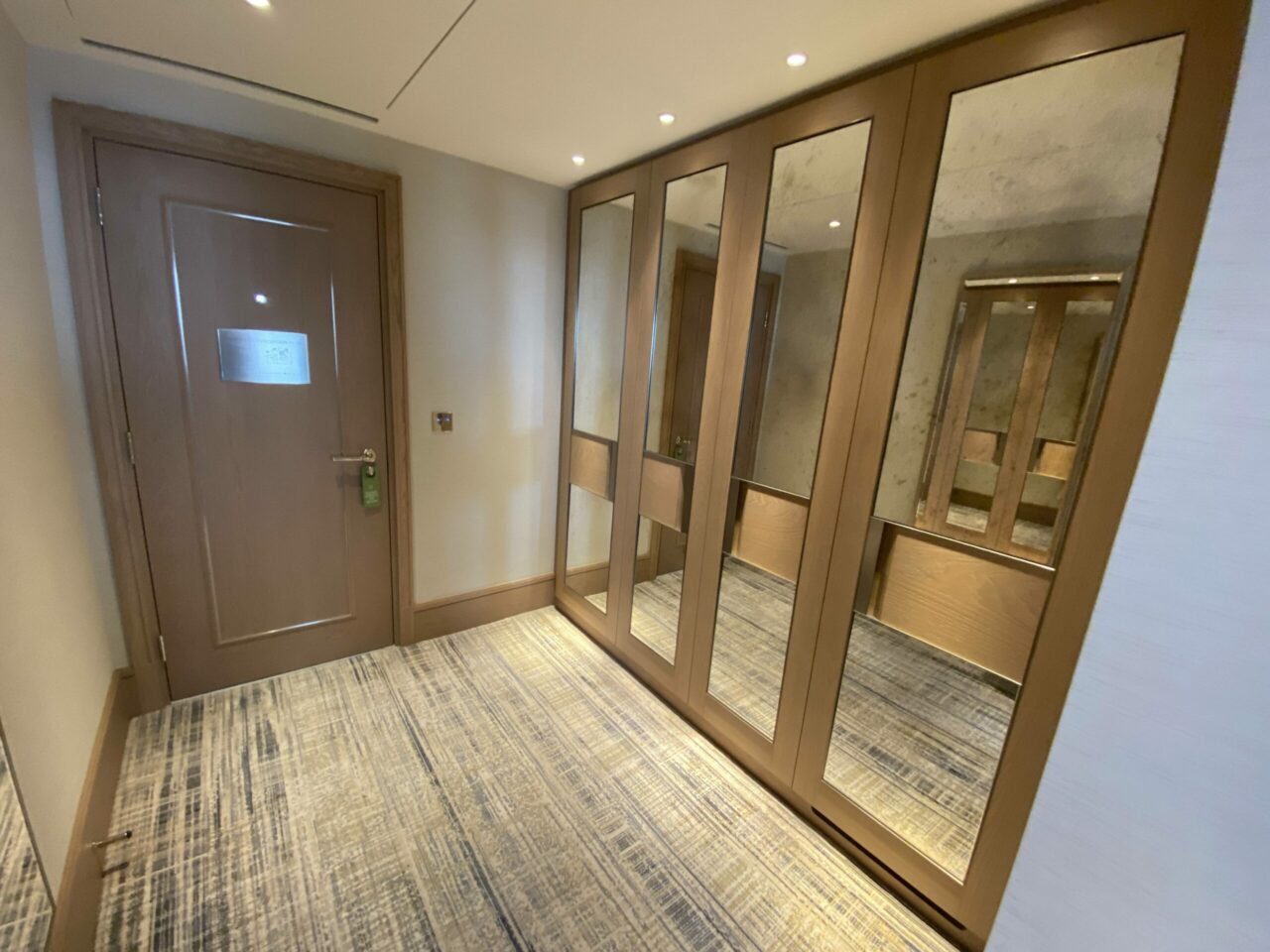 There was also a dual-purpose desk/dressing table with plenty of sockets.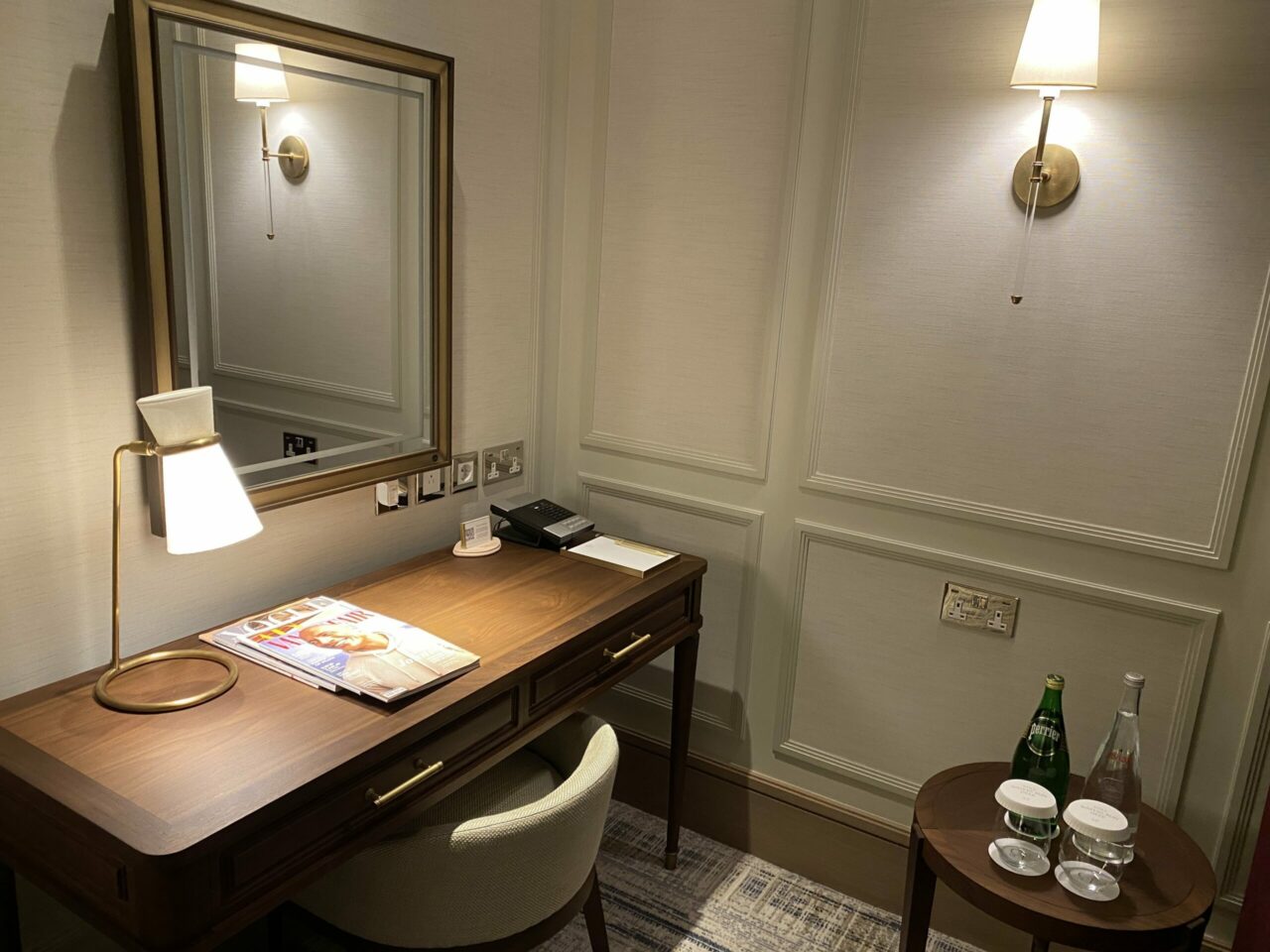 Many of the rooms have the Dyson hairdryer in the desk itself but mine was in the wardrobe. You can also request other Dyson hair accessories from reception if you wish.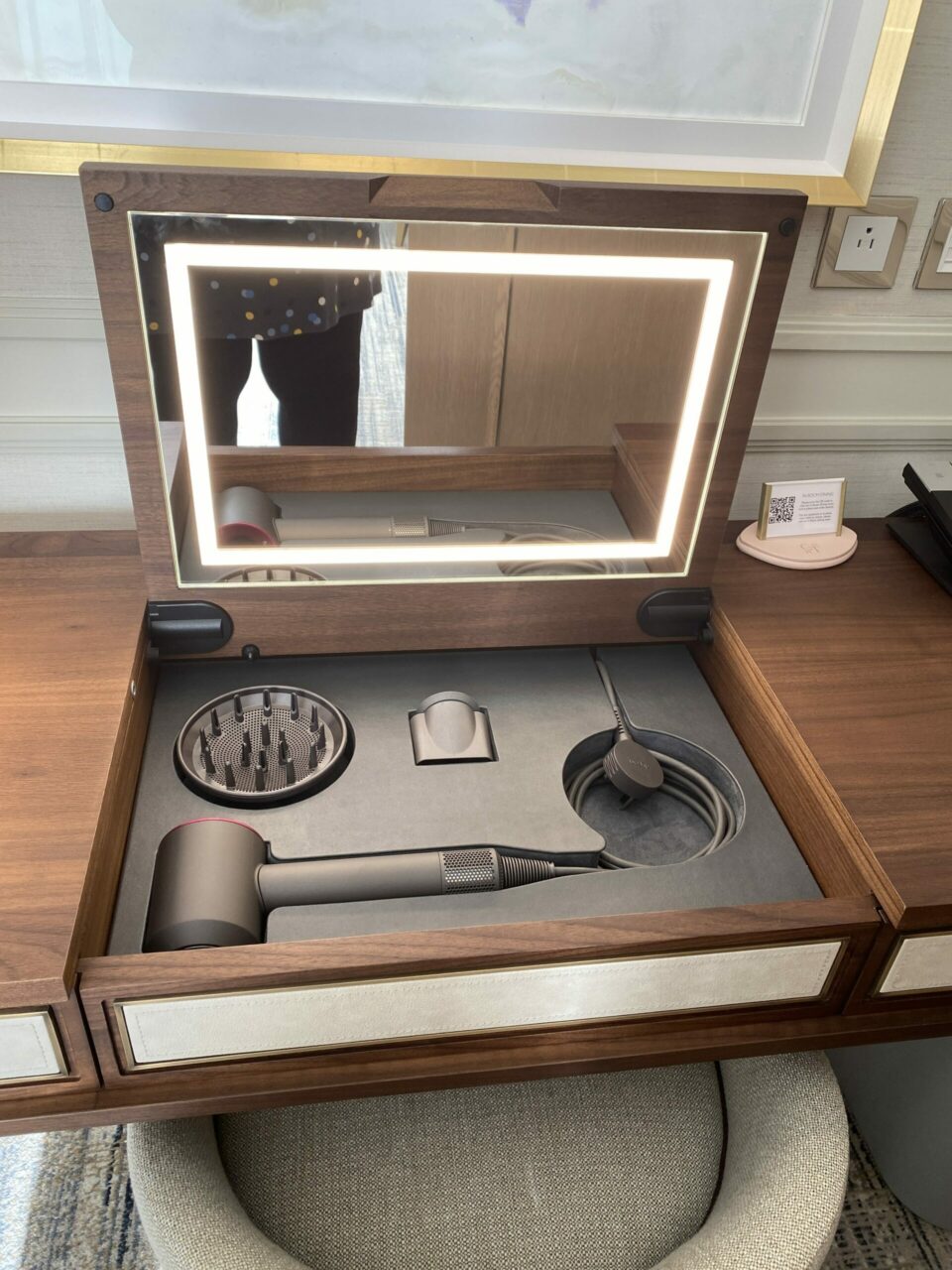 As you would expect, there was a coffee machine and a kettle with the Carlton Tower branding. I was pleased to see Jing tea which is a really high-quality brand and one of my personal favourites. I also loved the copper bar accessories which were also branded with CT.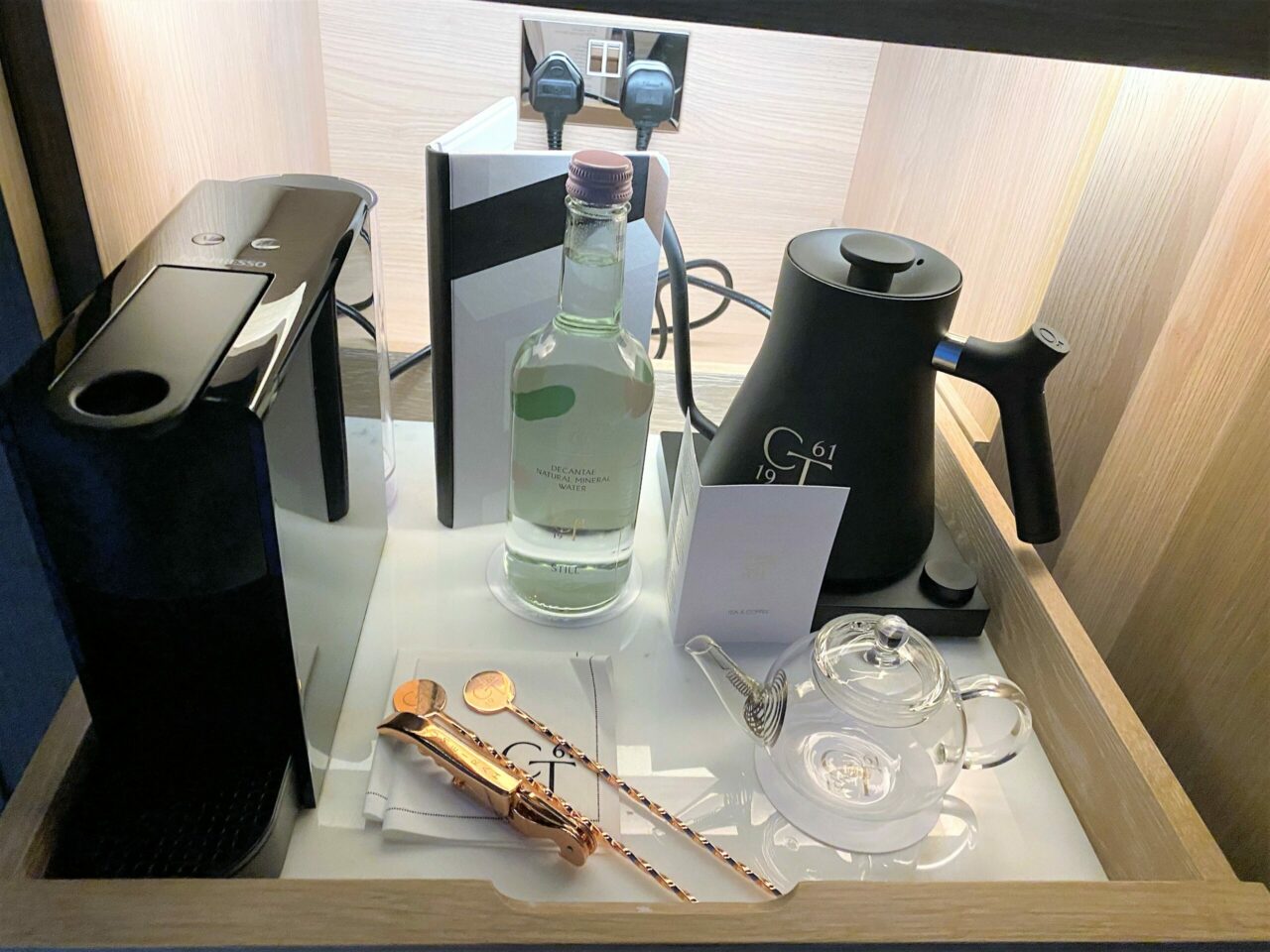 A beautiful set of fine china cups and saucers were in another drawer as well as some lovely crystal glasses.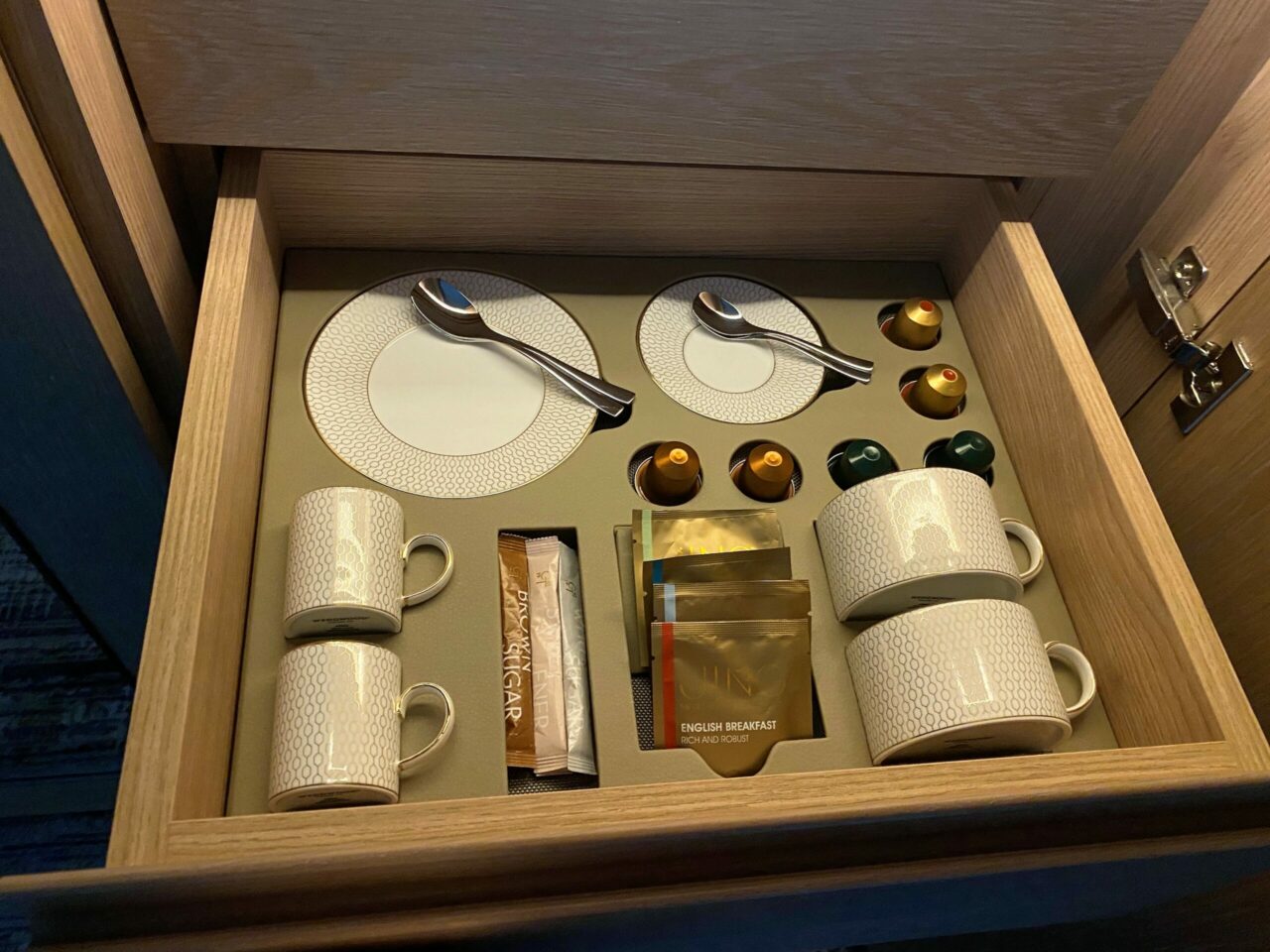 It was good to have a balcony and enjoy some great views over London. The gardens below are private but guests at the hotel can get a key to them as well as enjoying the tennis courts adjacent.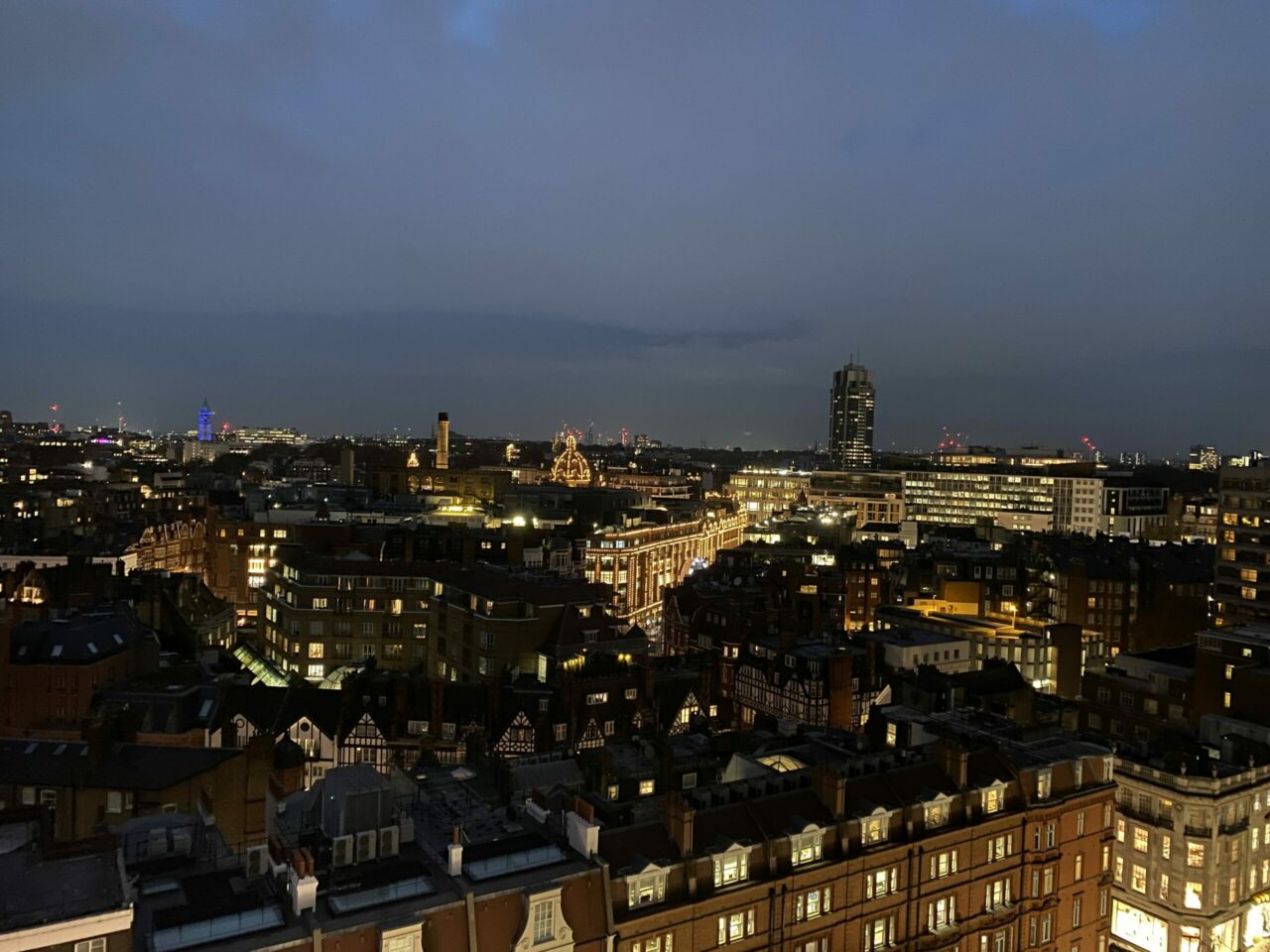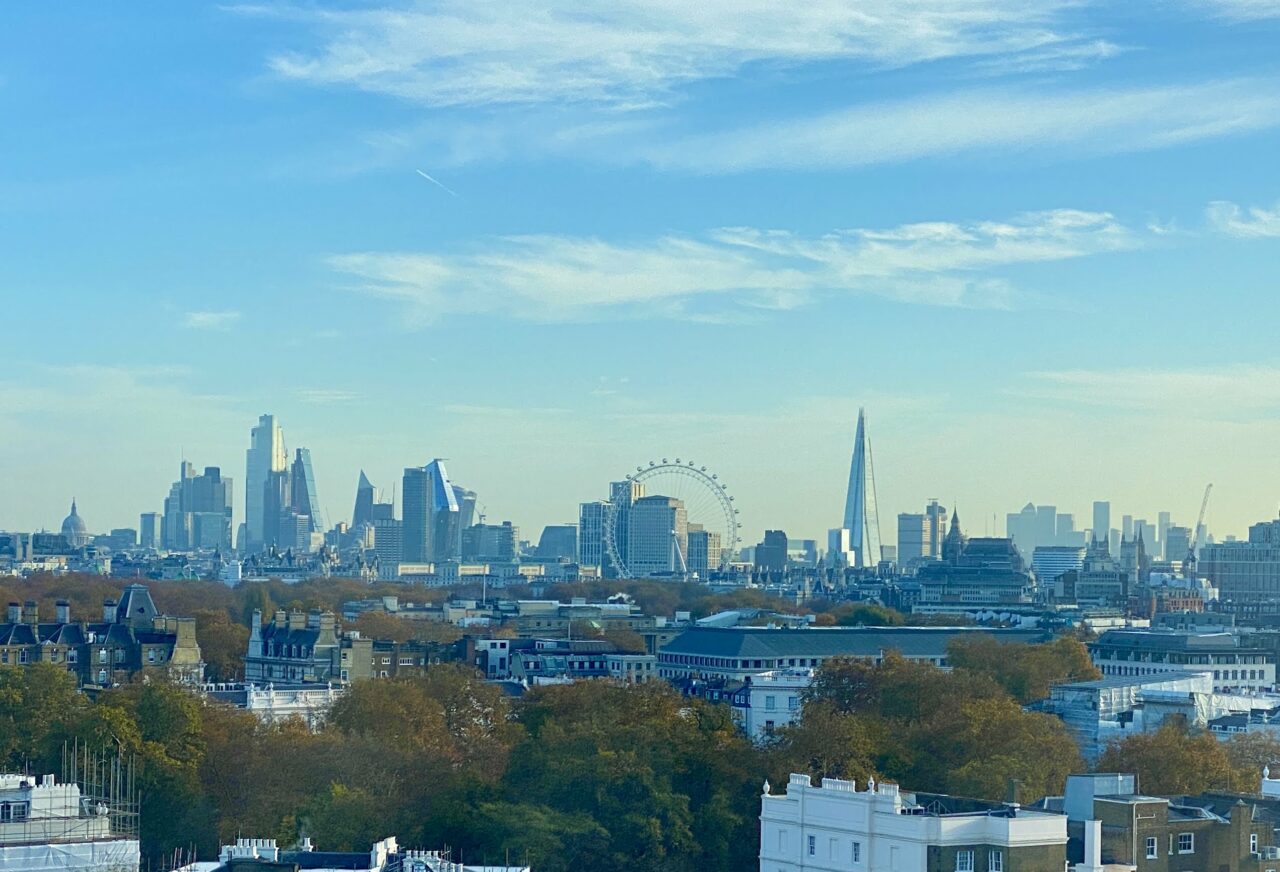 The bed was super comfortable and definitely up there with some of my favourite hotel beds such as the Corinthia. It was well equipped for charging by the bed with 2 UK sockets, an EU socket and 2 USBs. There was also a Bluetooth clock radio and simple controls to turn the lights off. You could also dim the lights at a central switch and where there was also an easy to use temperature control.
The huge 55-inch widescreen HDTV featured high-definition streaming and device pairing.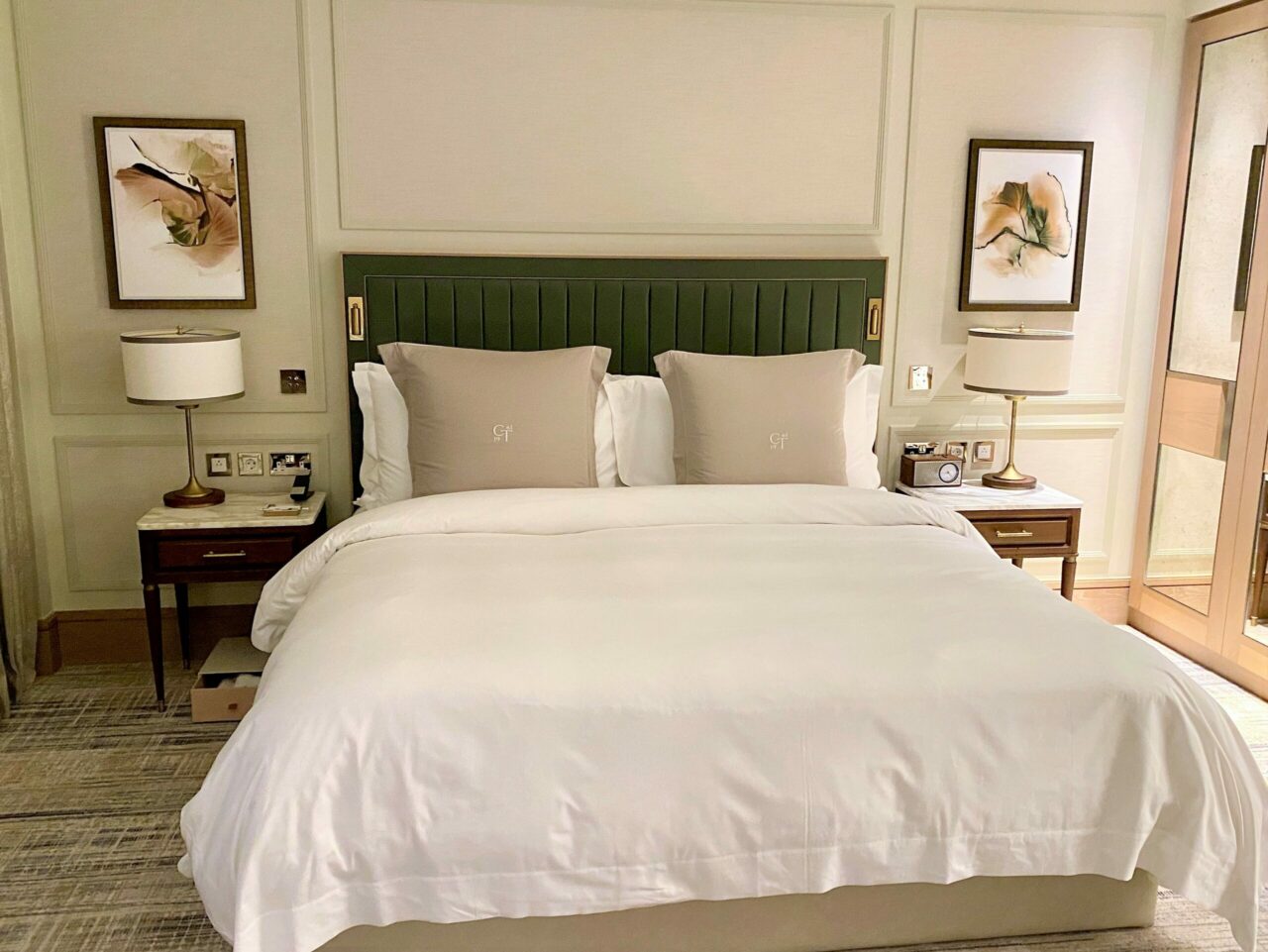 Turn down service was particularly impressive with personalised slippers being laid out by the bed. There was also a gift of a set of Grown Alchemist body cream and moisturiser to take home since you can't pinch the miniature toiletries anymore!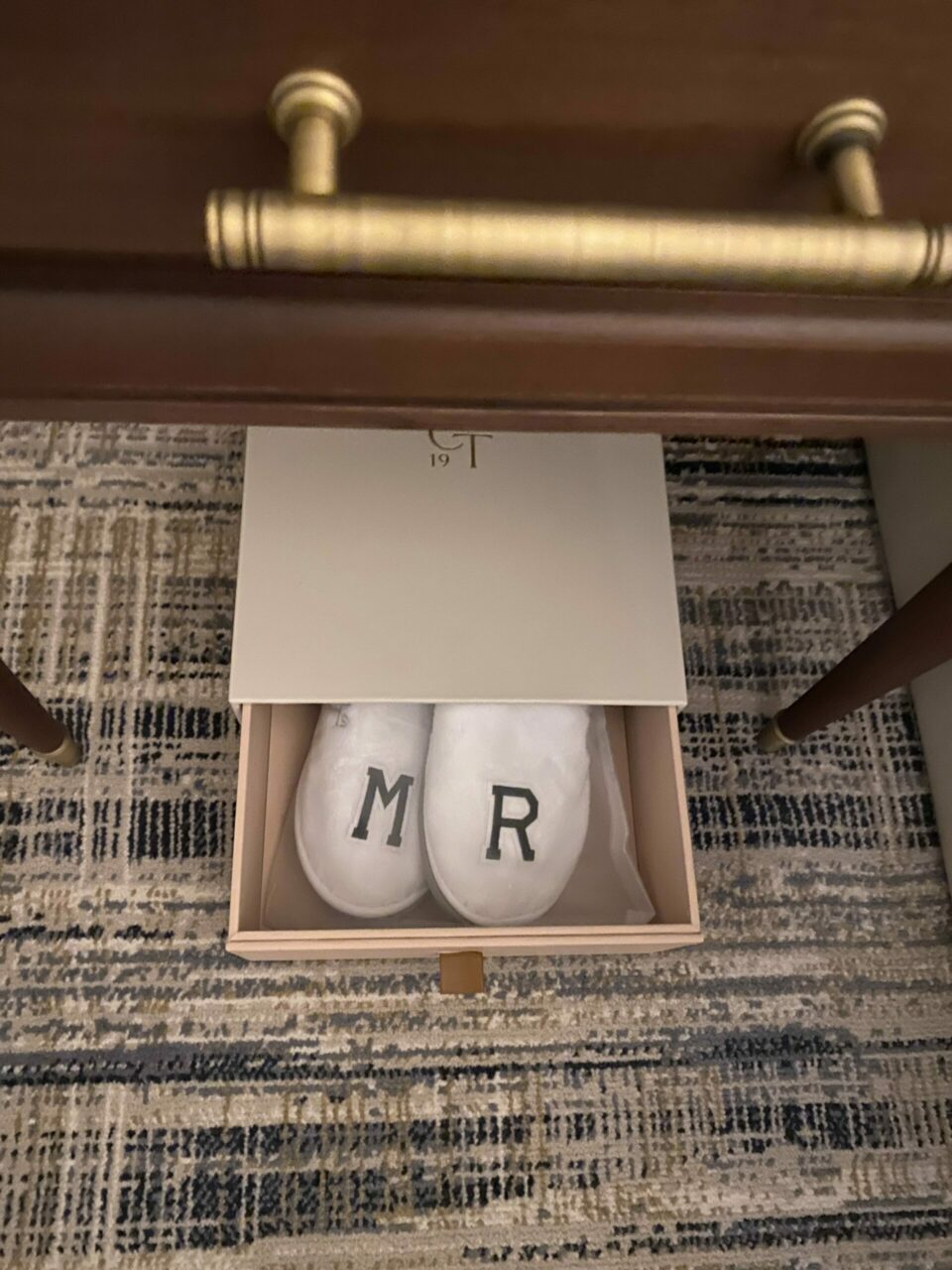 Bathroom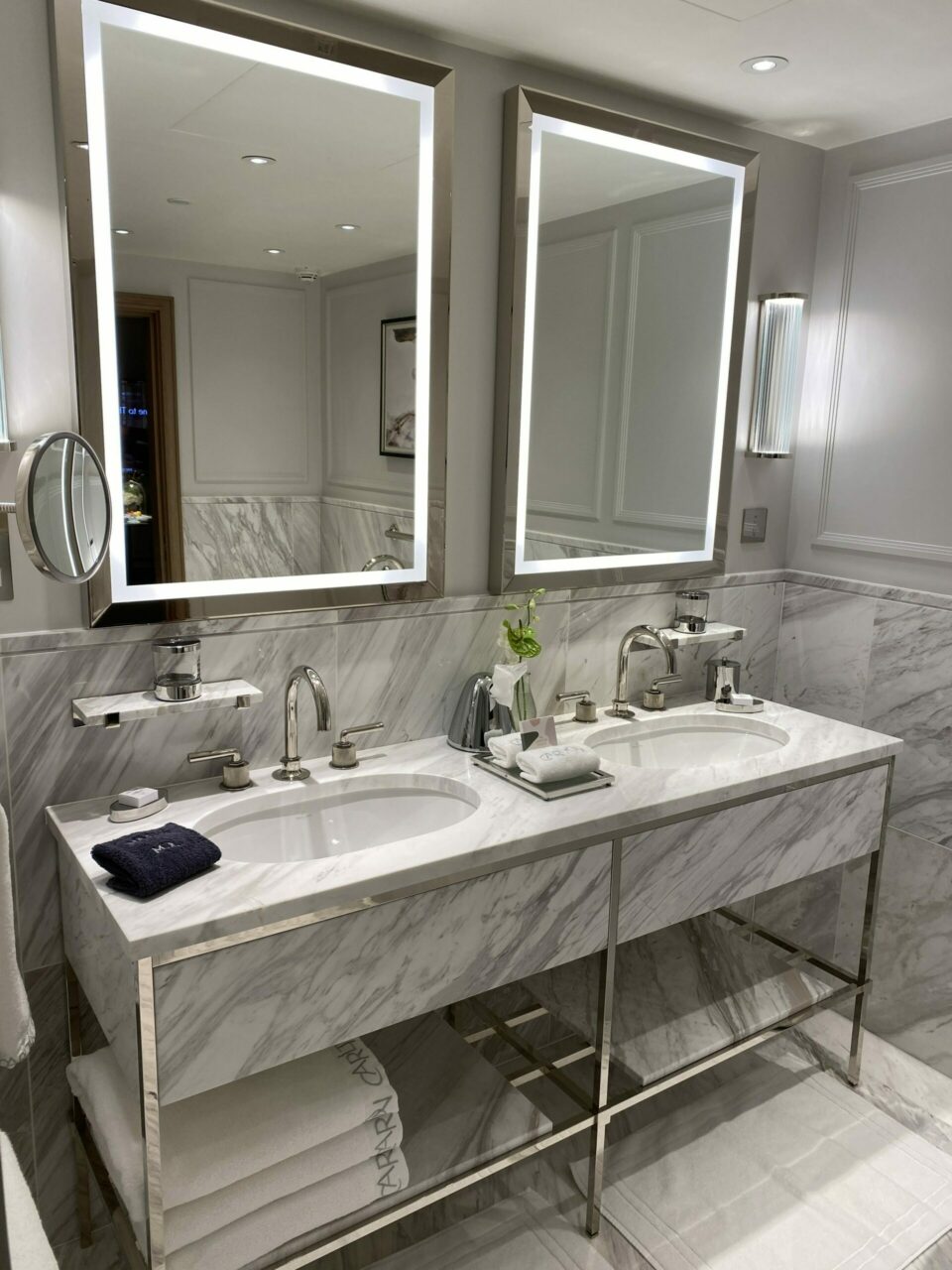 It was good to see a bath although some of the lowest categories of rooms only have a large shower.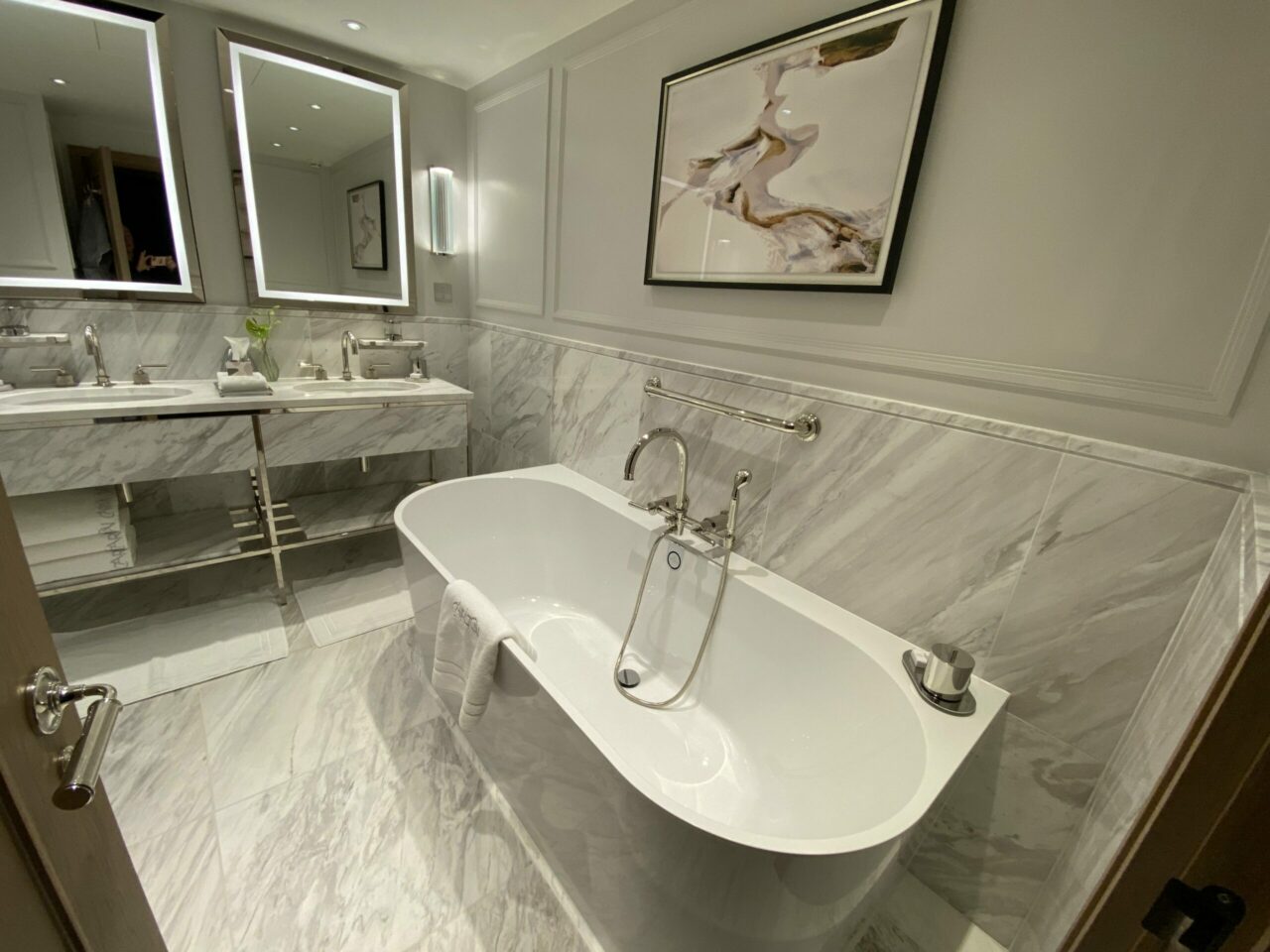 The bathroom felt very luxurious with its expansive use of marble and large soaking tub. I liked that they had large containers of shampoo, conditioner and body cleanser in the shower by cult brand Grown Alchemist, which offers high-quality all-natural products that smell great. There was also a dish or bath salts and some extras such as cotton buds and cotton wool. Soap was provided at the sink.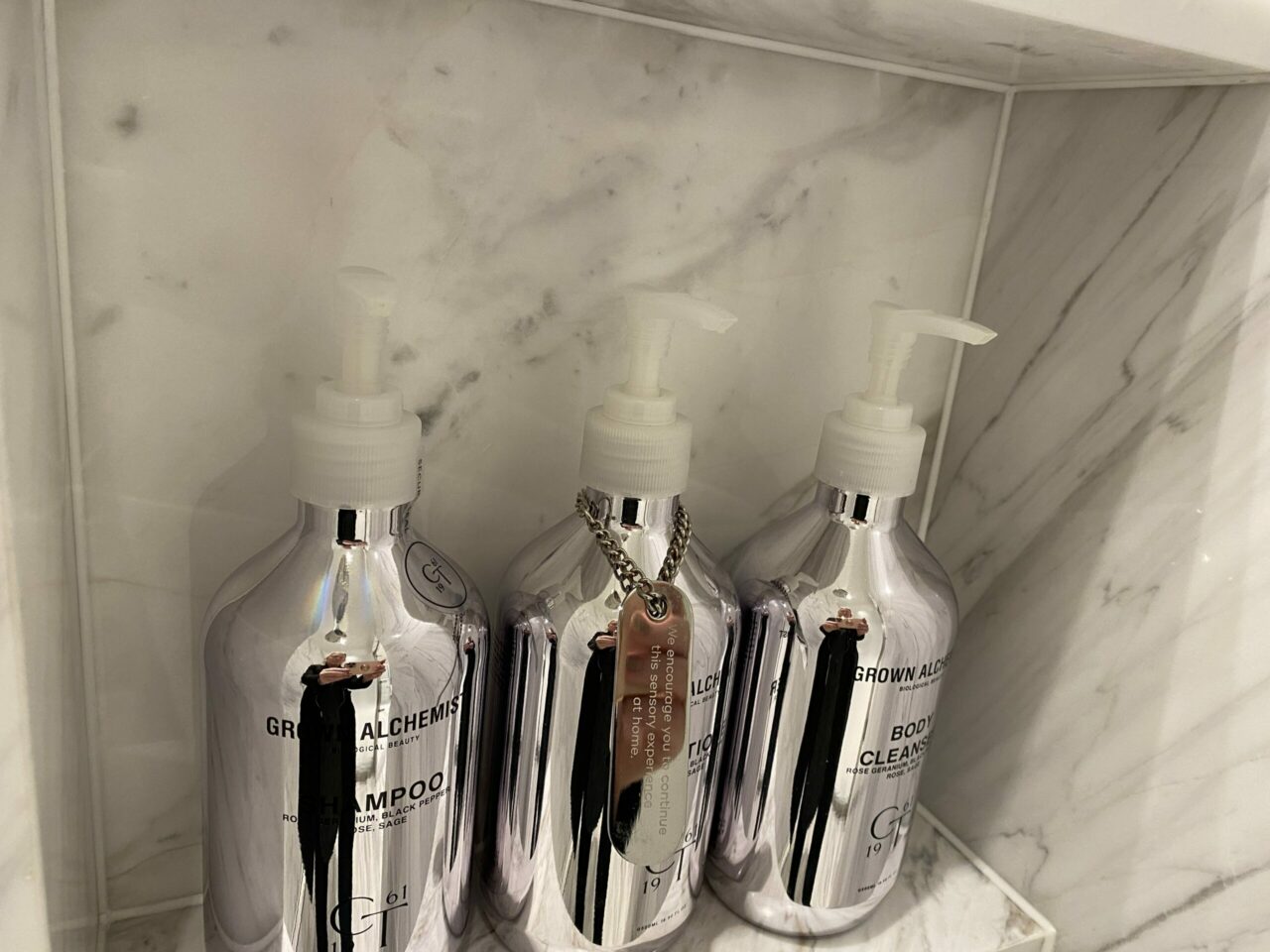 The shower was large and had good pressure.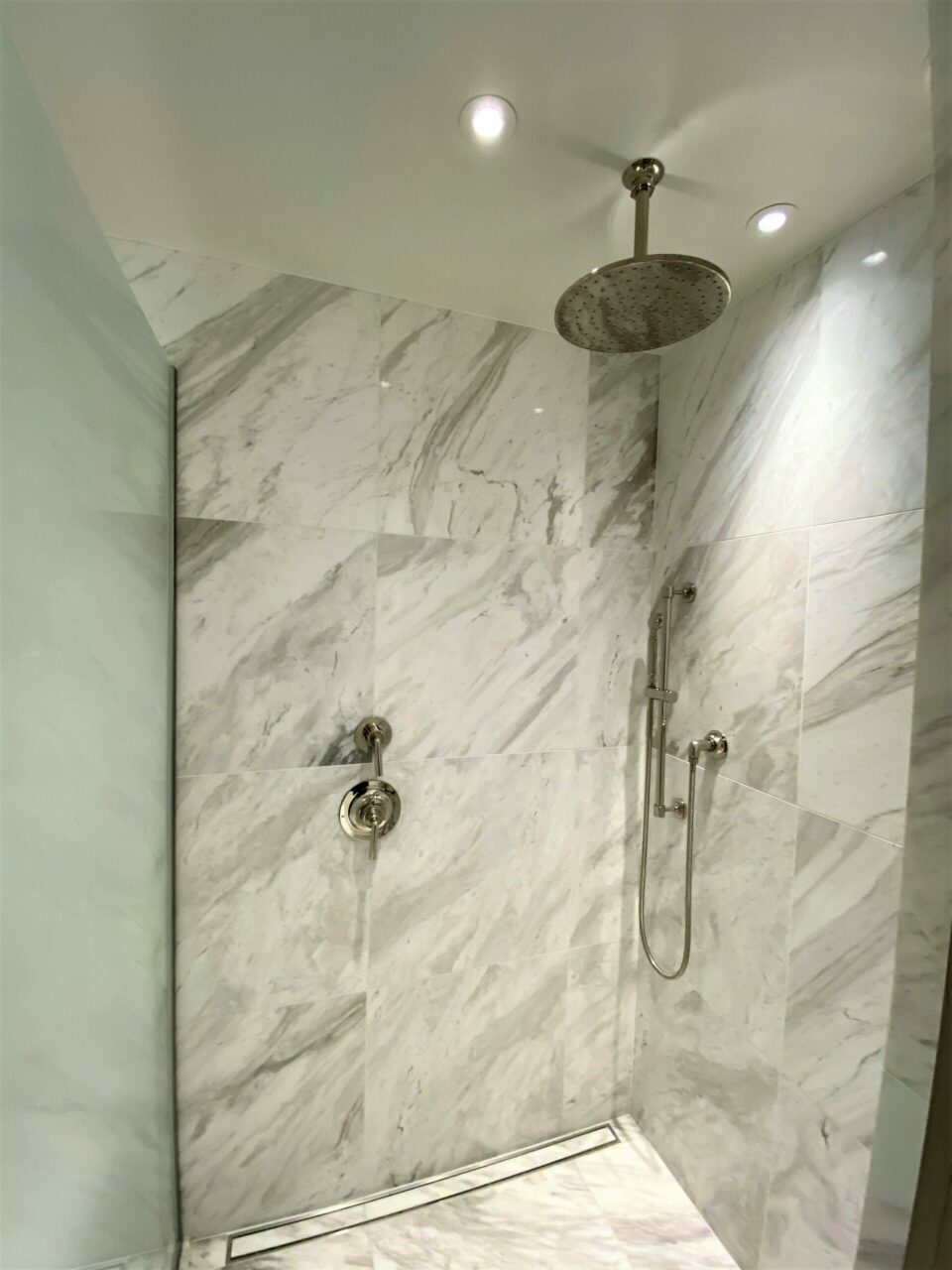 One thing that defines luxury for me is attention to detail and that was certainly something that the Carlton Tower excels in. Everything is branded with the CT logo and there are lots of thoughtful touches such as a black flannel to take your make-up off with. This was the first time I had seen that in a hotel.
Other room types
The room I would recommend below the category I was in would be the Balcony room.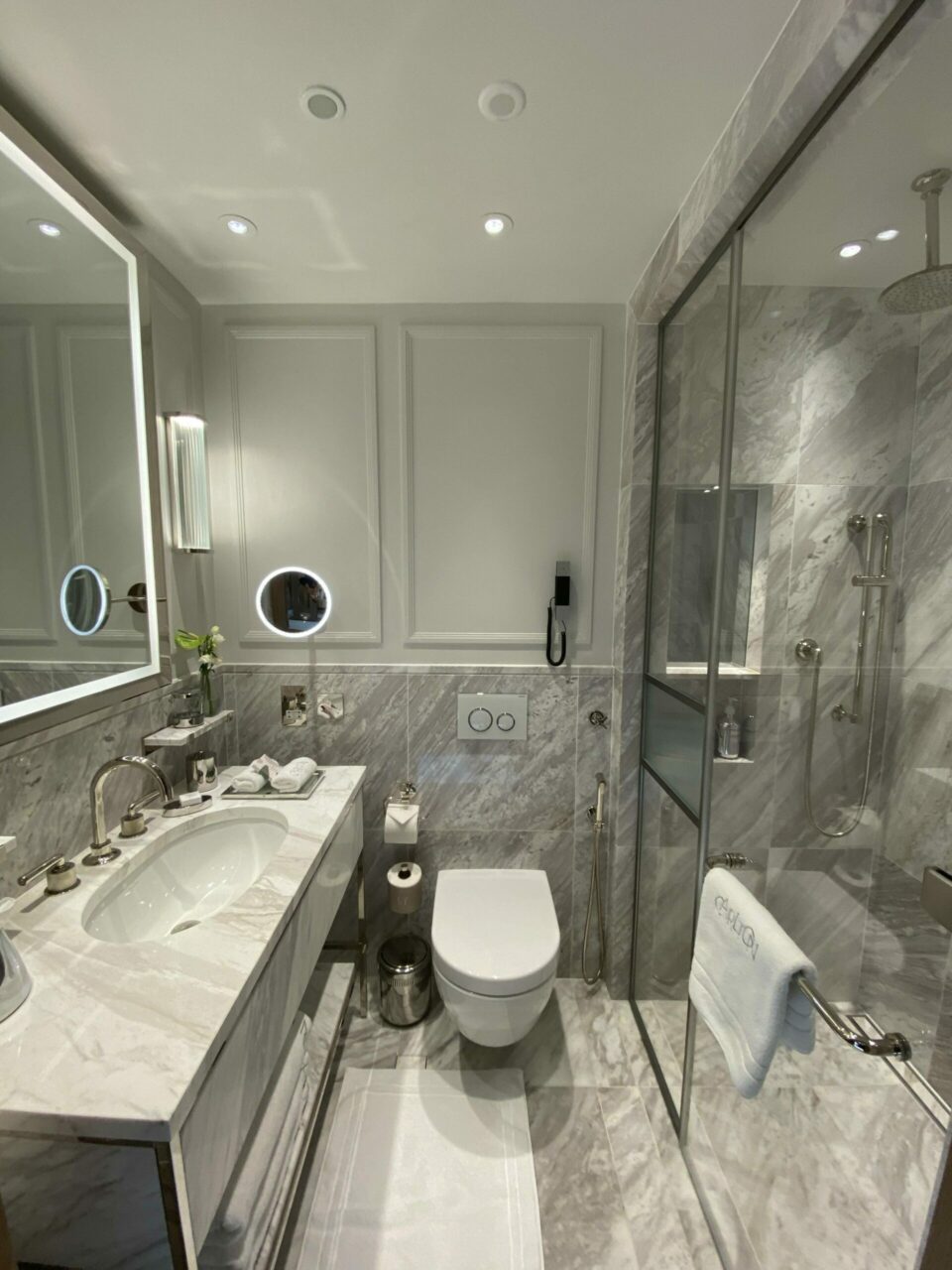 If you wanted something more spacious than a Junior Suite, there are also generously proportioned Luxury Suites with a separate living and dining area.
Food and drink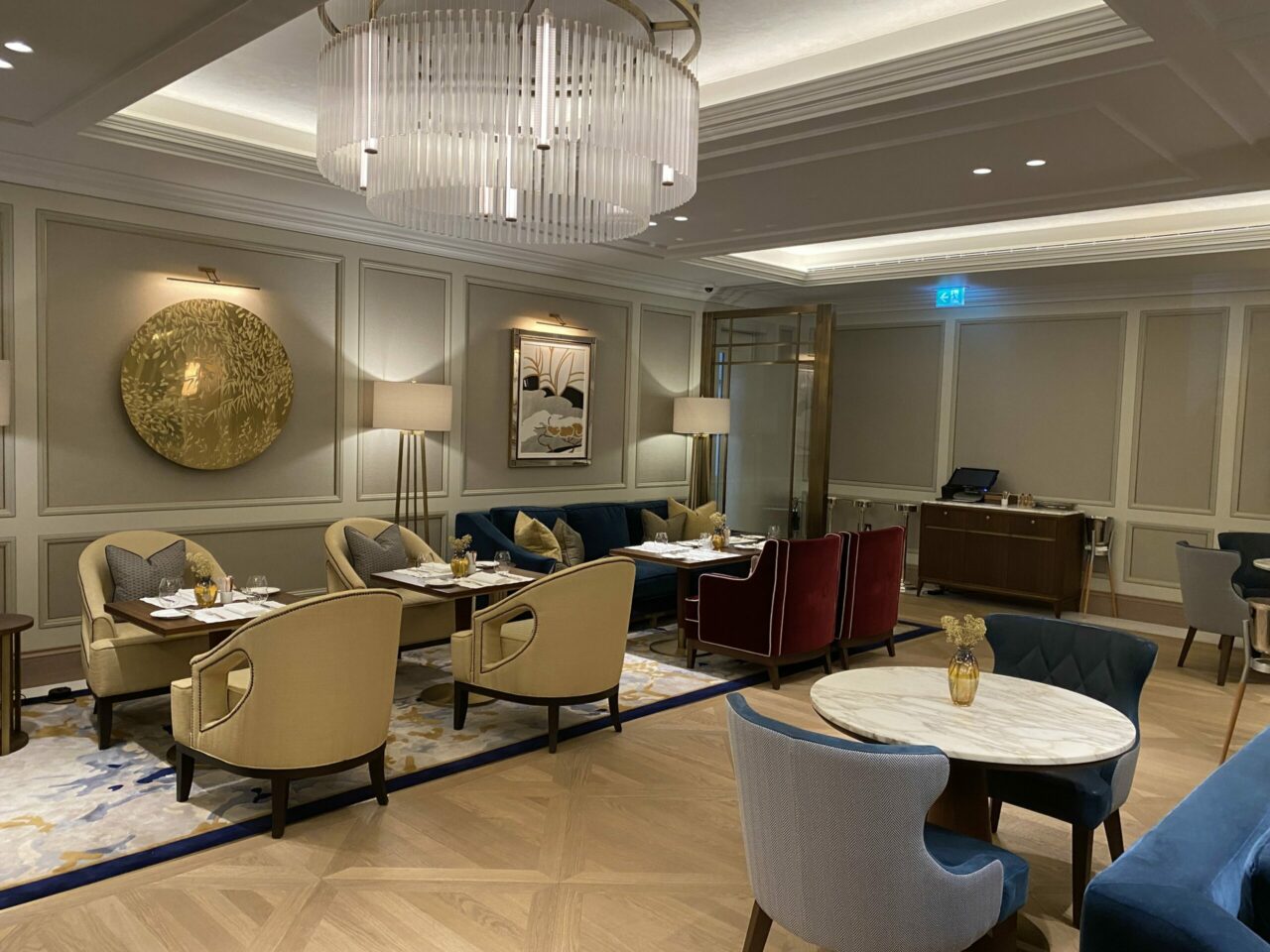 The hotel's restaurants and bars have all been updated. However, the famous 'The Chinoiserie,' all-day dining area in the lobby, has kept its essence but refreshed with an elegant and lighter design. Here you can have afternoon tea or simply grab a drink or snack.
Also, in the lobby, the bar has been given almost a modern gentleman's club feel with rich woods, including a parquet floor, a fireplace, a marble bar top, and chairs in chartreuse green hues. Their secret ingredient is the range of entirely natural aromatic sprays that they used to blend their signature cocktails from Black Pepper to lemon leaves.
Al Mare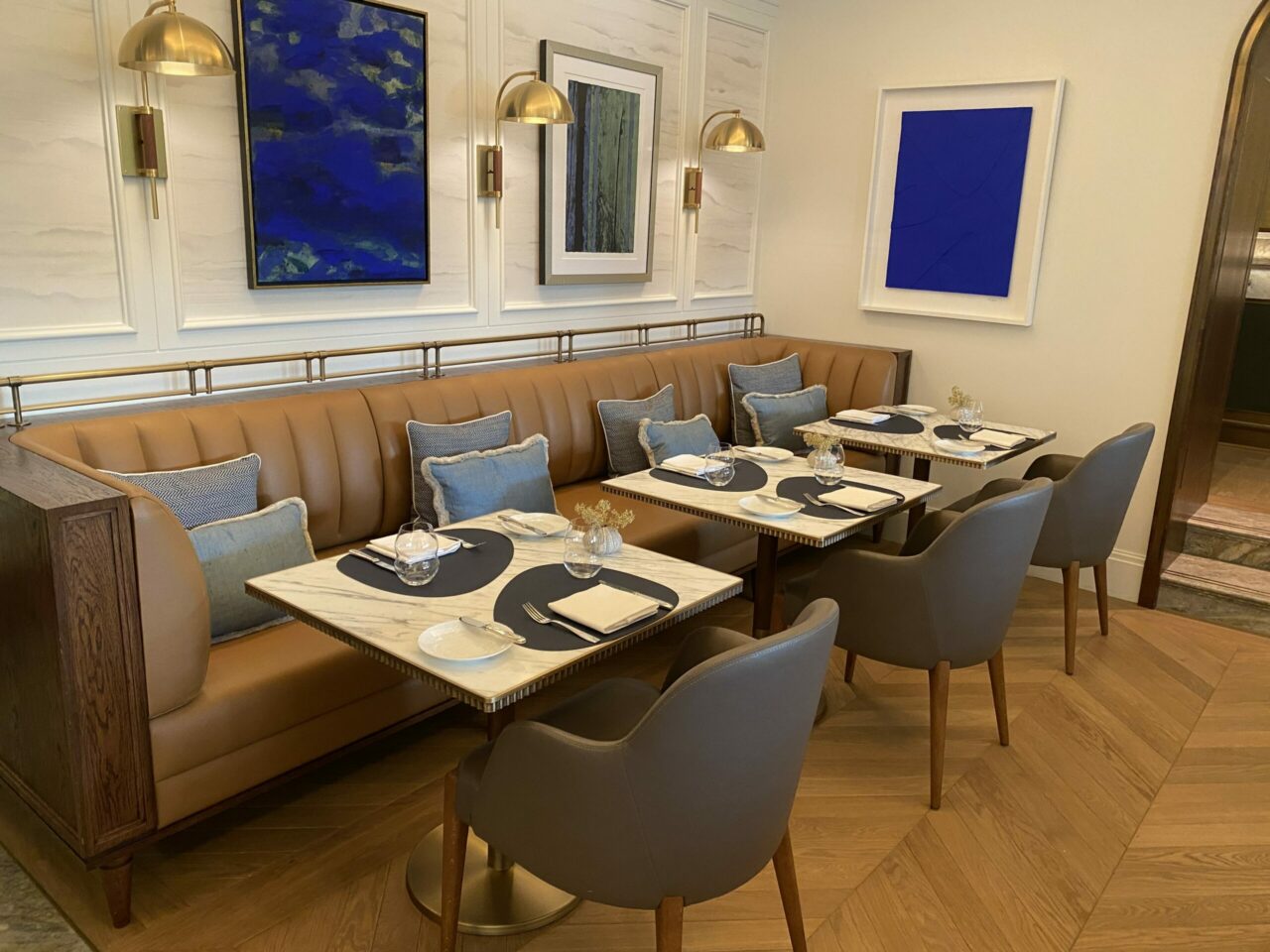 Formerly a masculine feeling steakhouse, the hotel's destination restaurant has been turned into 'Al Mare,' offering modern Italian cuisine Its terrace opposite Cadogan gardens provides a pleasant spot for lunch or dinner al fresco in the summer.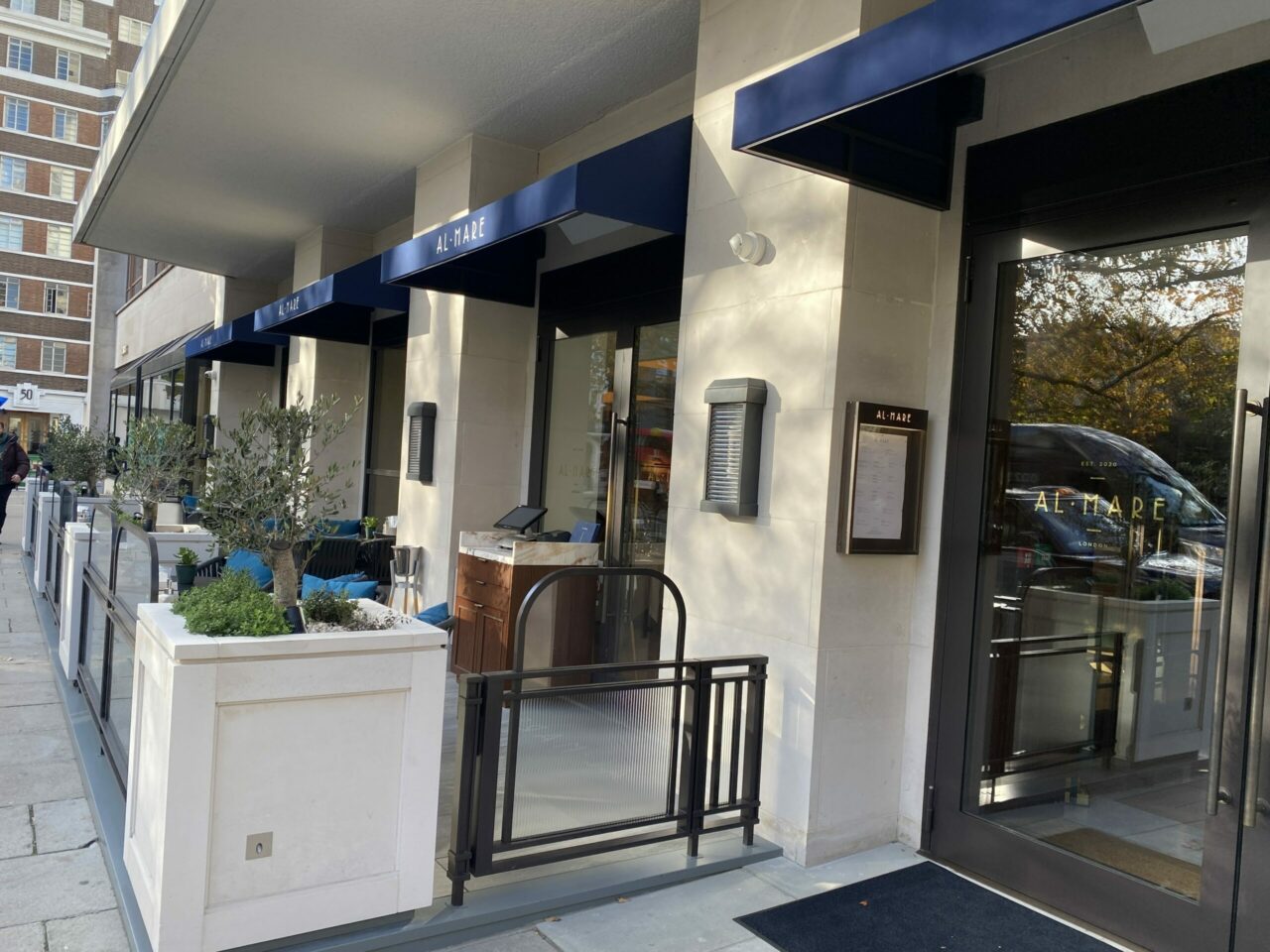 I sampled several of their signature dishes during my stay.
To start a creamy saffron and liquorice risotto which was very well balanced against two such strong flavours.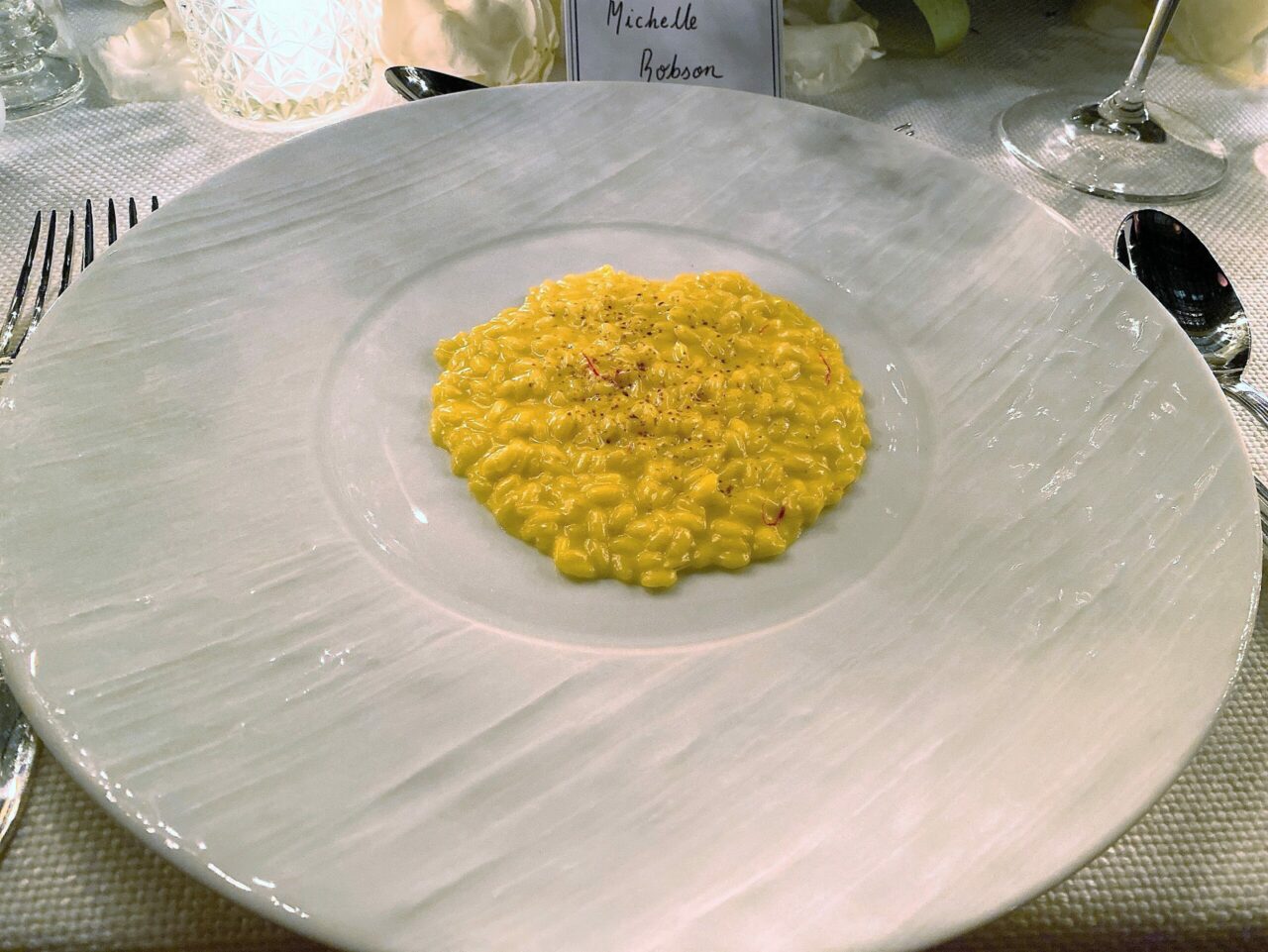 Then a crispy-skinned wild sea bass with clams and artichokes which was delicate and light but with lots of contrasting favours and textures.
Finally, of course, you have to end any good Italian meal with Tiramisu, but this was definitely a sophisticated version.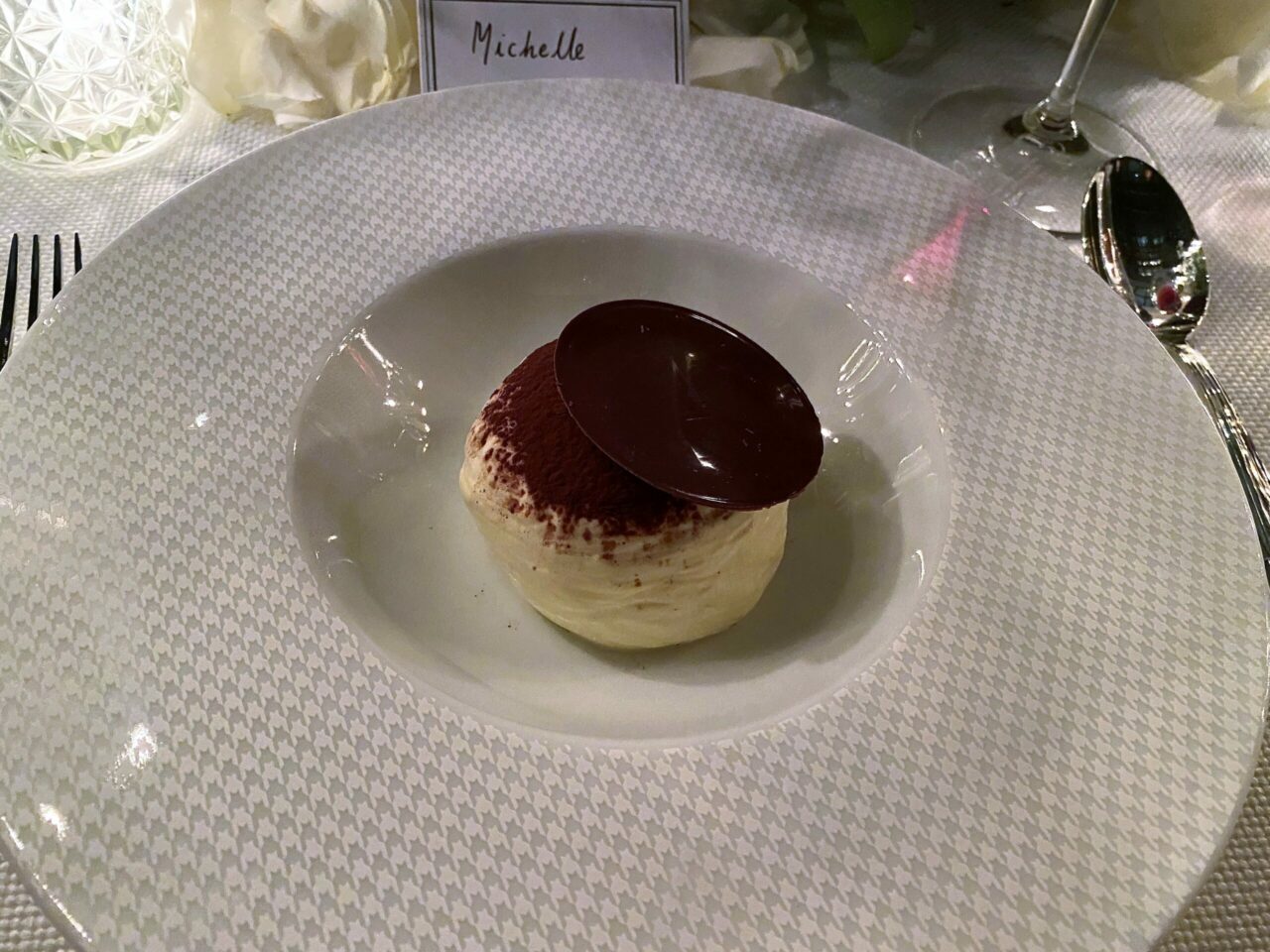 Breakfast at Al Mare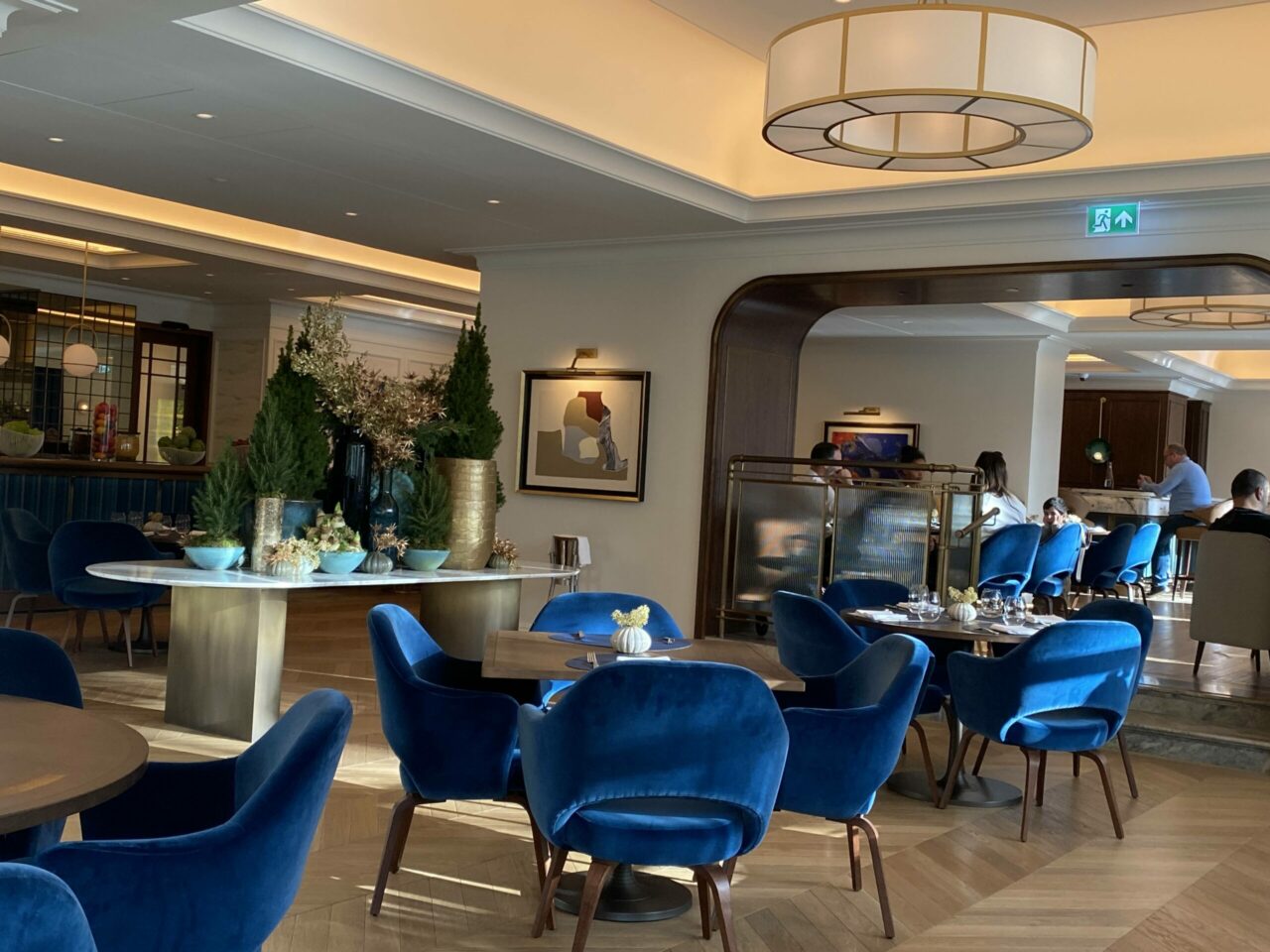 I really liked the feel of Al Mare for breakfast which had sunshine streaming through onto its parquet floors and Mediterranean coloured decor. There was a choice of several set breakfasts as well as a la carte depending on what your room package included.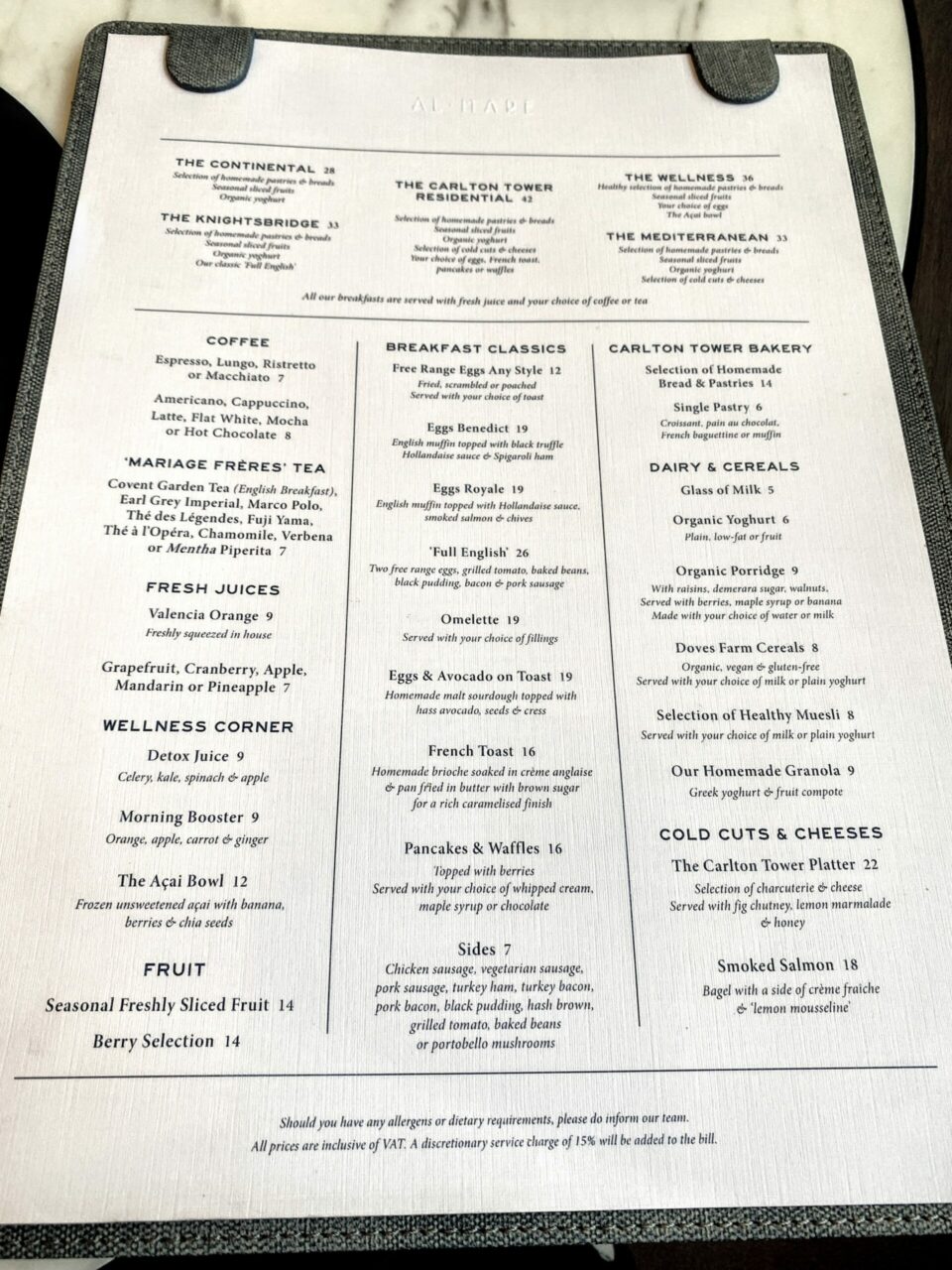 Between us, we tried the Eggs Royale and a Vegetarian version of the full English. I was torn between that and the standard Benedict with the truffle Hollandaise which sounded tasty too! The food was all excellent, but we did find the service although very friendly, a bit slow and haphazard with our veggie sausages completely forgotten even after reminding them!
The coffee came with a beautiful design on top and had a great flavour with a silky foam on top.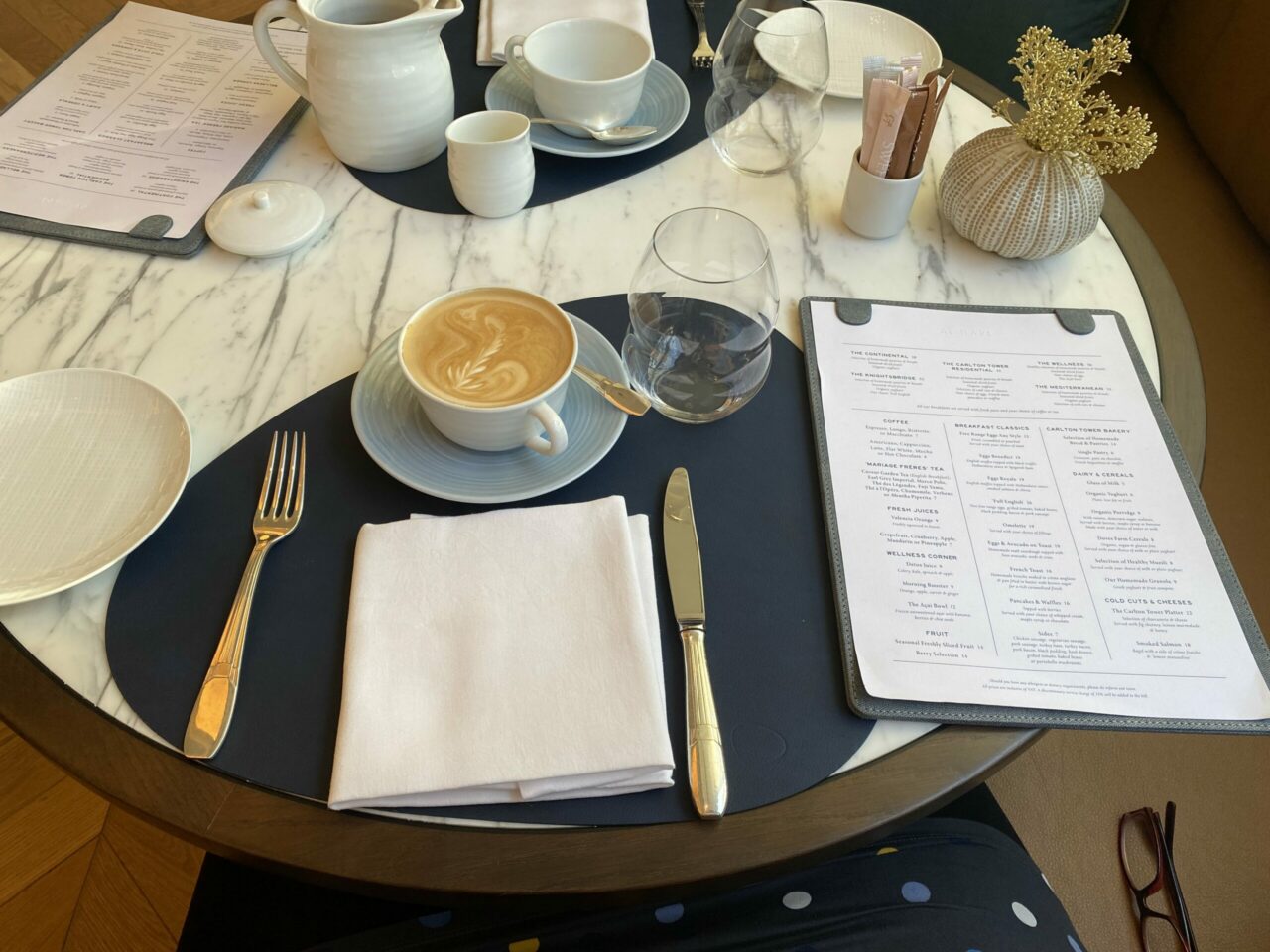 The fruit plate was also equally aesthetically pleasing.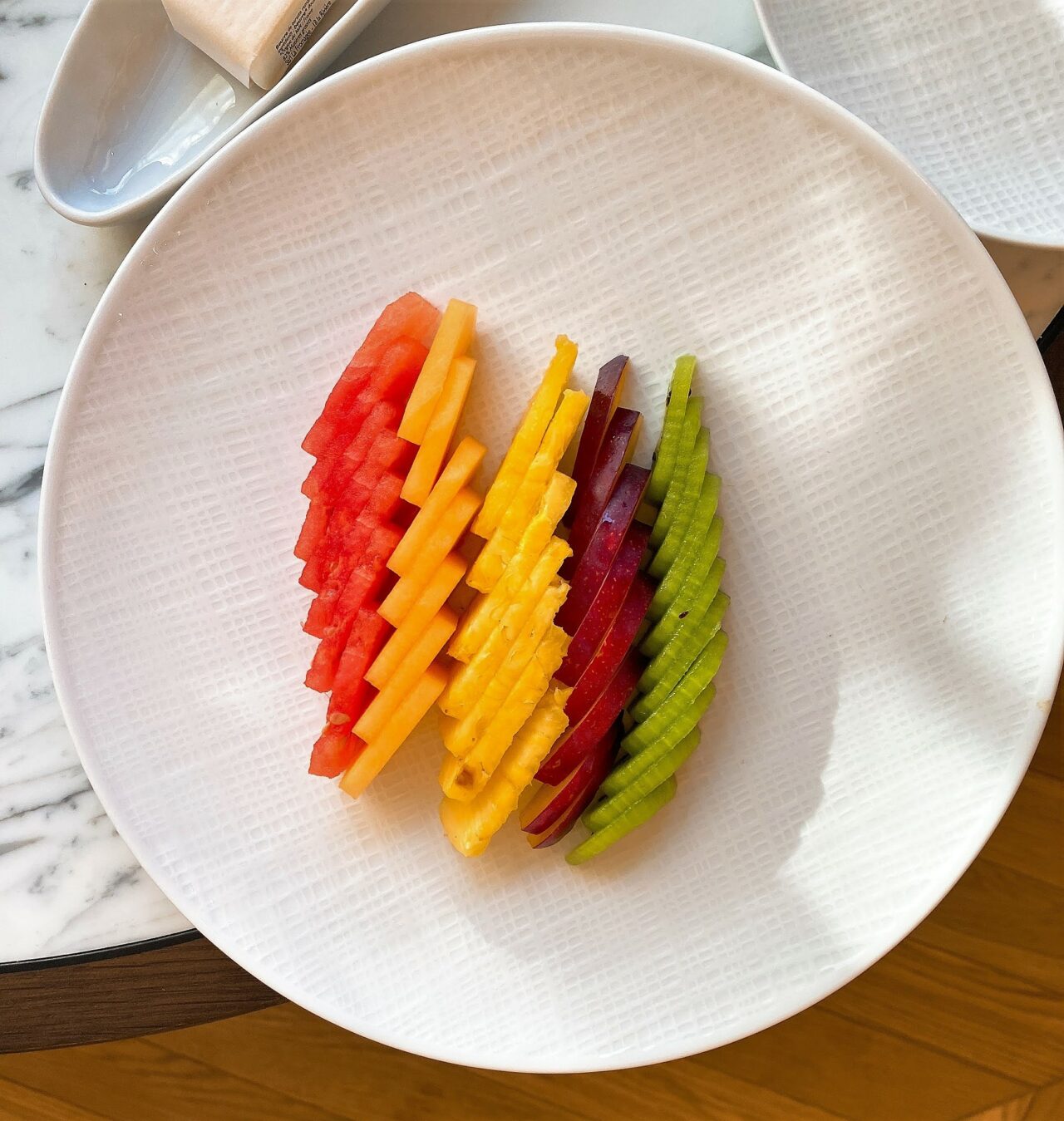 The Peak cafe
My favourite area is The Peak's light-filled cafe with panoramic views across the capital which is by the fitness area. This is only open to residents and members. They serve a buffet breakfast and then snacks and drinks.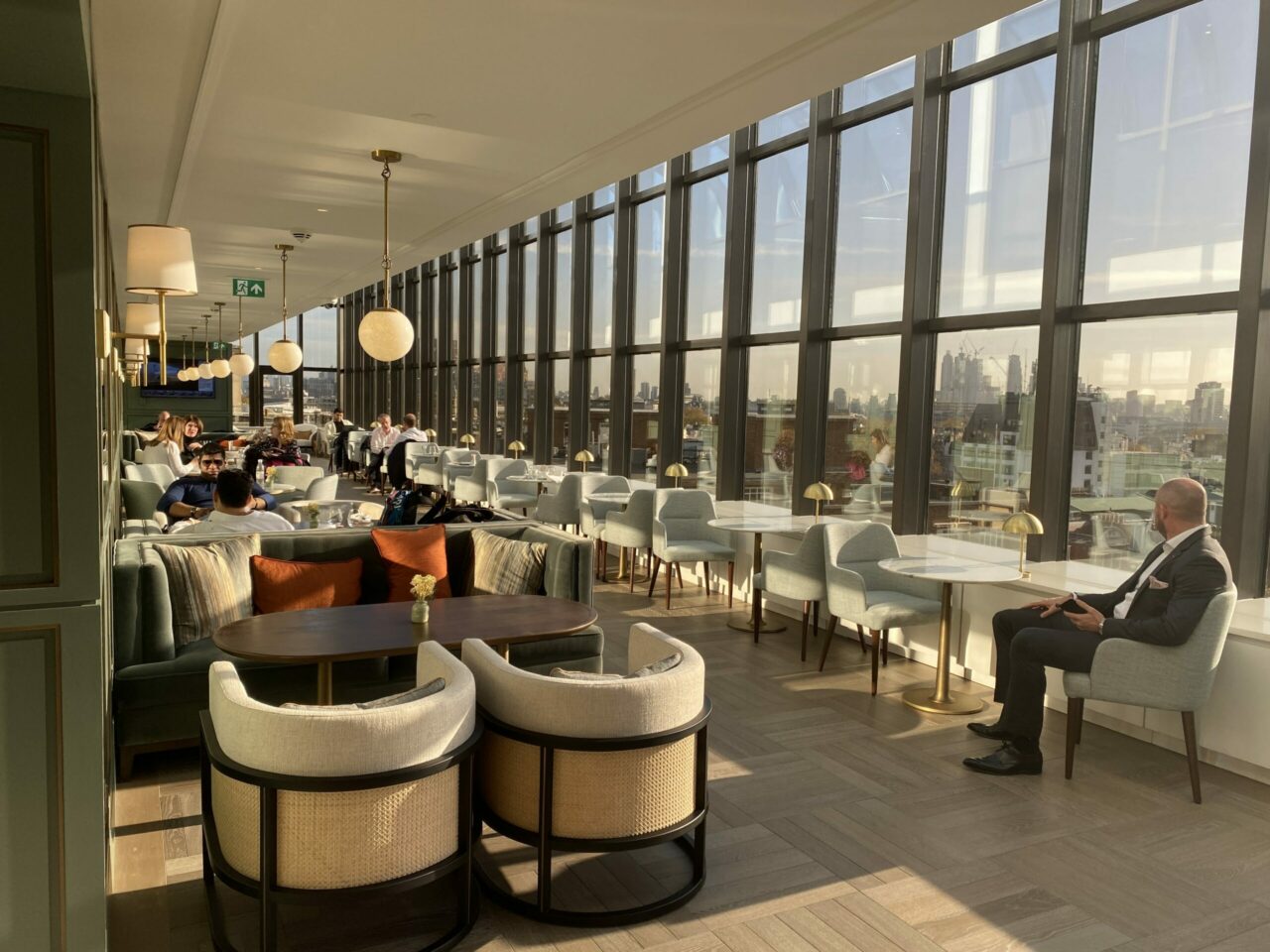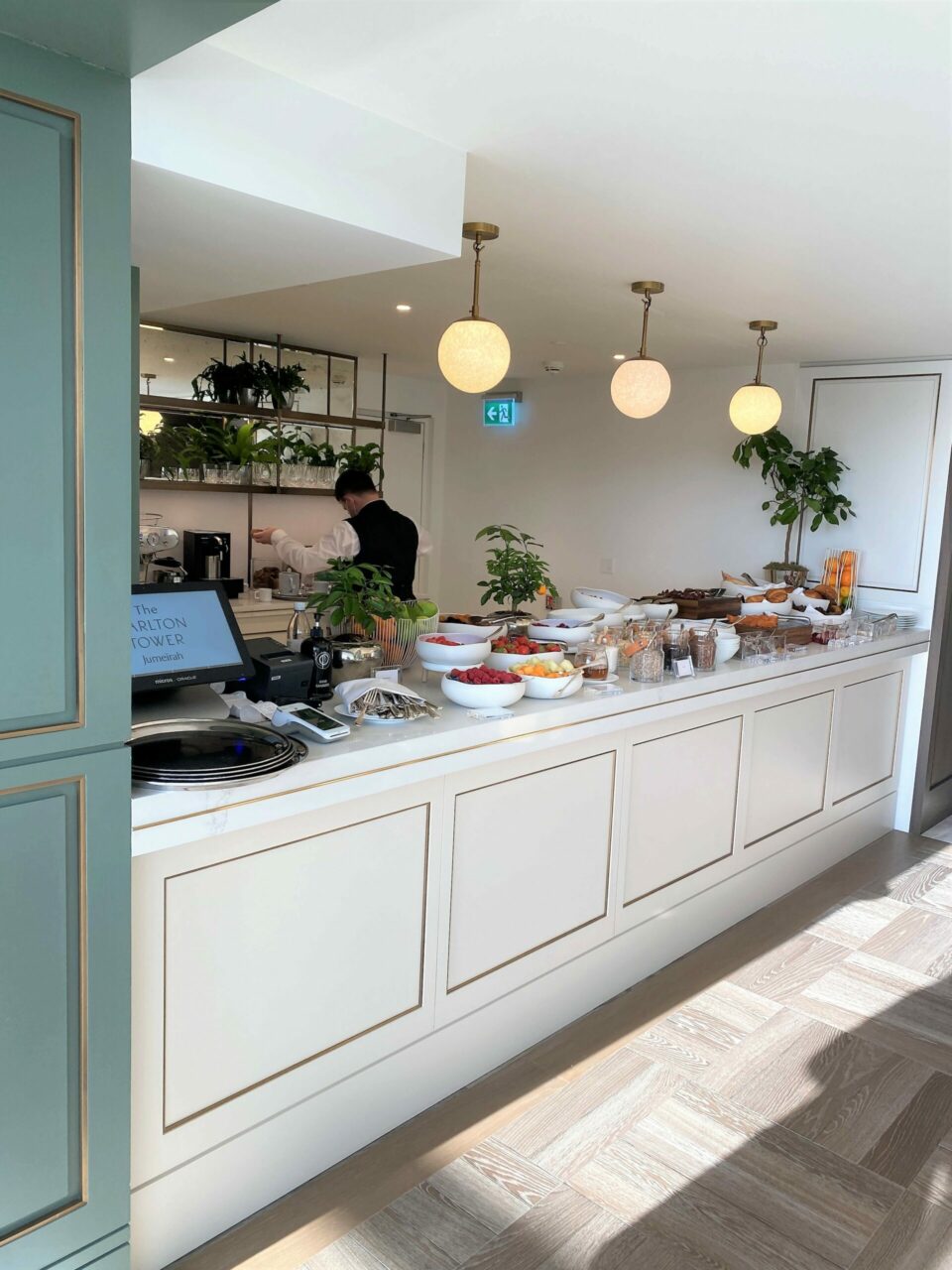 The area can also be used as an event space if you are looking for something special.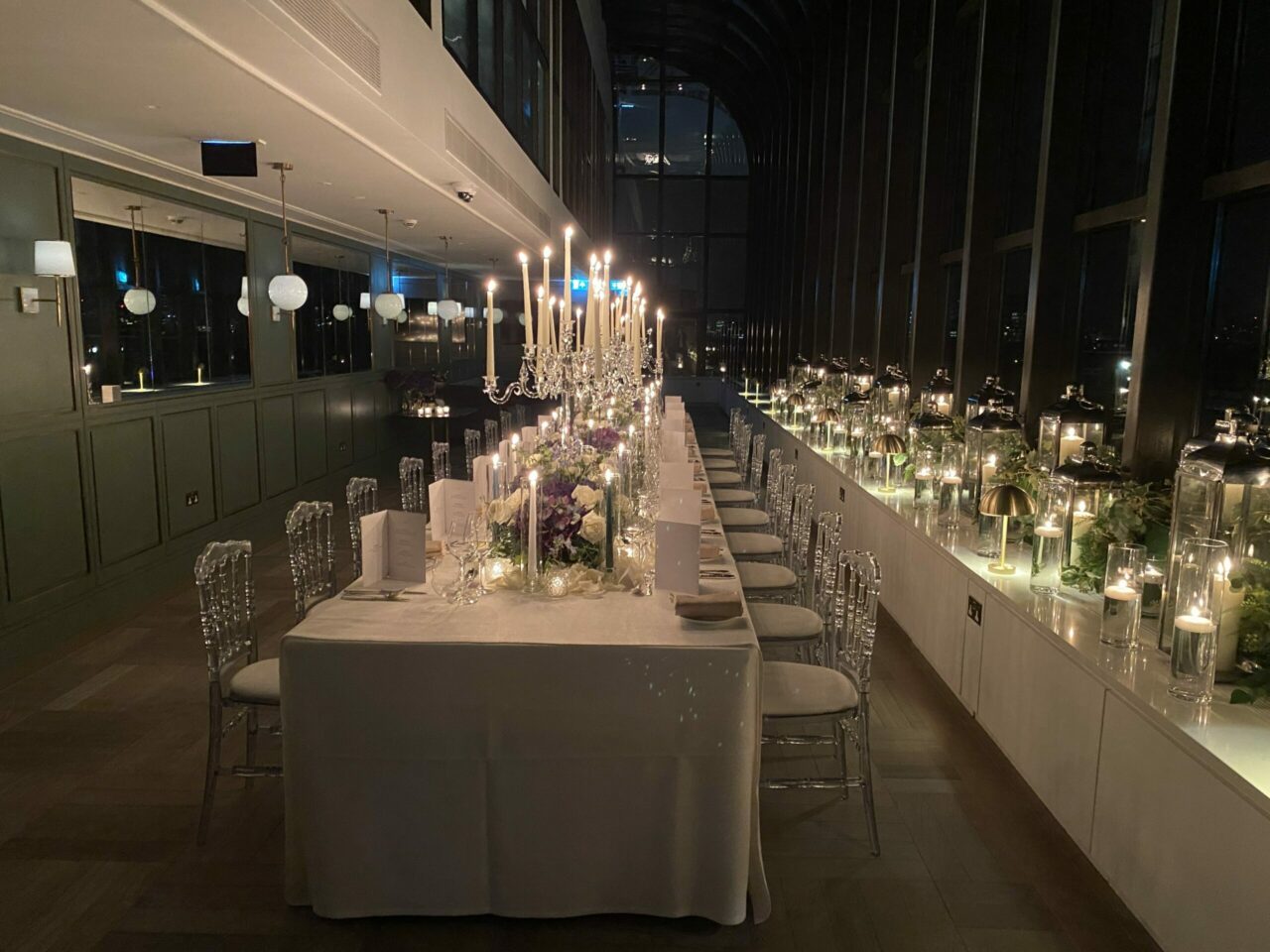 Facilties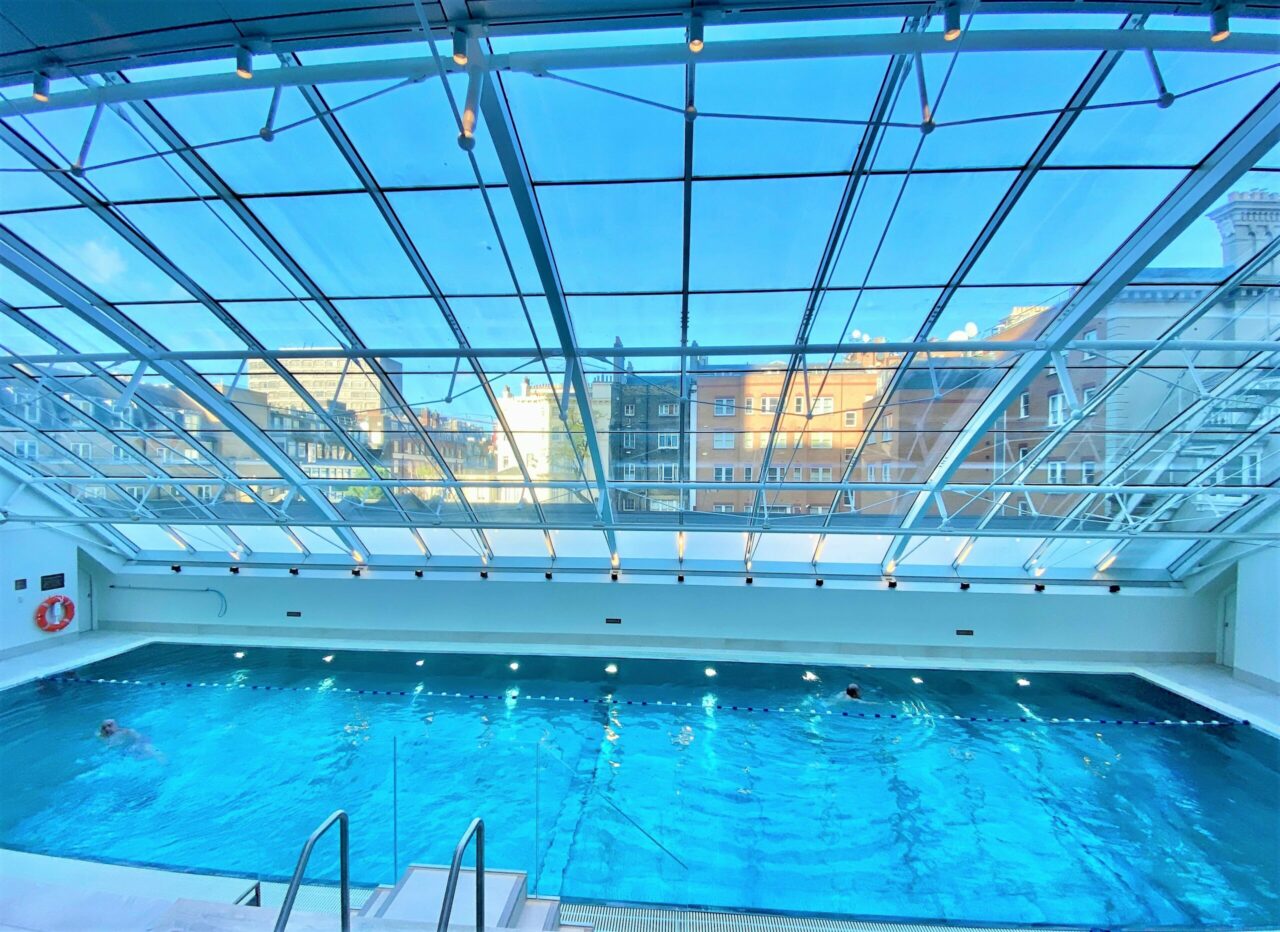 As well as enjoying the gardens and tennis courts, the hotel is well equipped for keeping fit. The 20m swimming pool was always very impressive in its light-filled position in contrast to many hotel's basement swimming pools. The swimming pool has now been revitalized with a resort feel featuring poolside day beds and cabanas. The pool is London's largest in a hotel with natural daylight and has a double-height glass ceiling and a jacuzzi next to it as well.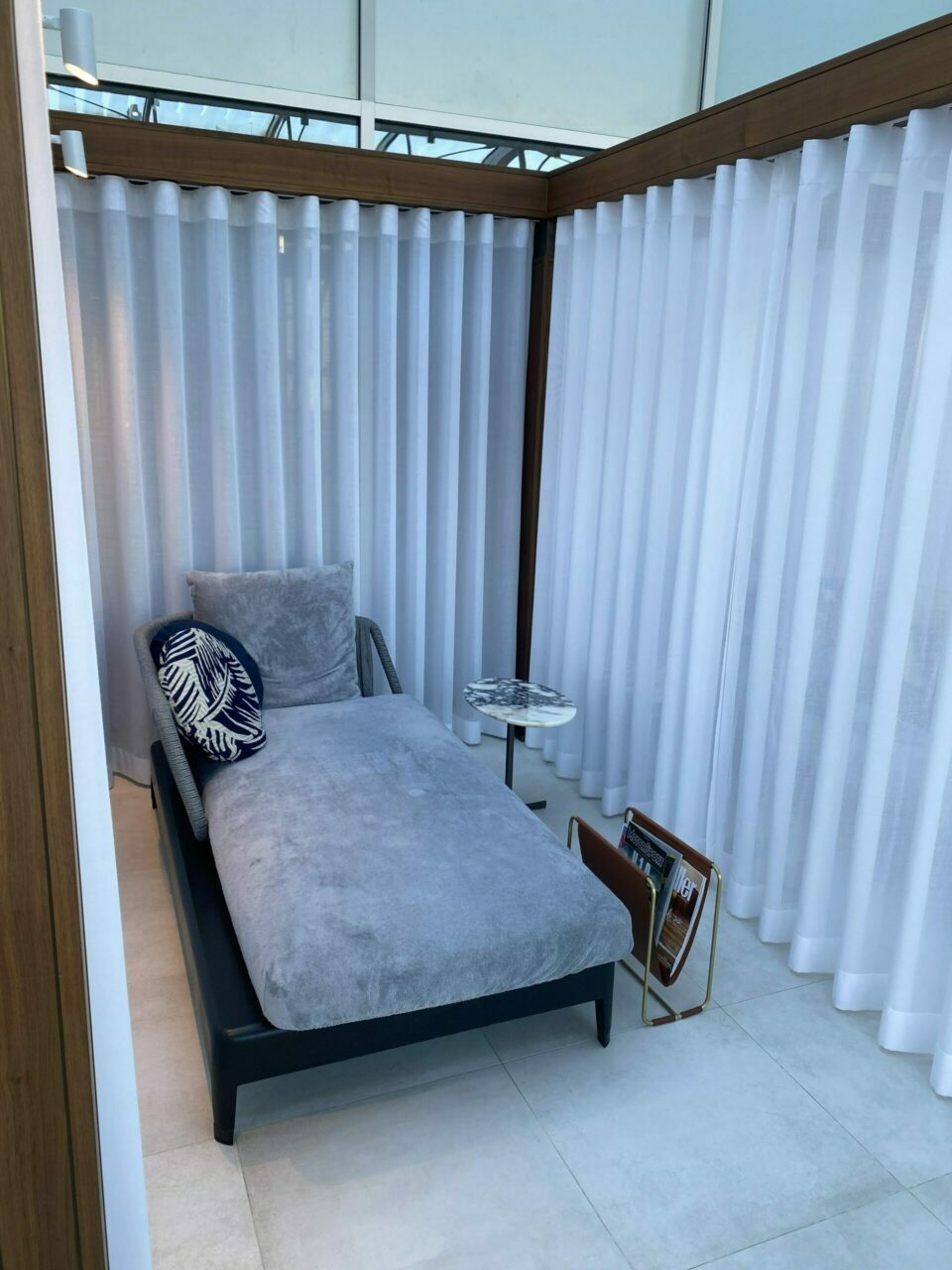 There's a spa-like feel to the pool with drinks and snacks laid out and well equipped high end changing rooms.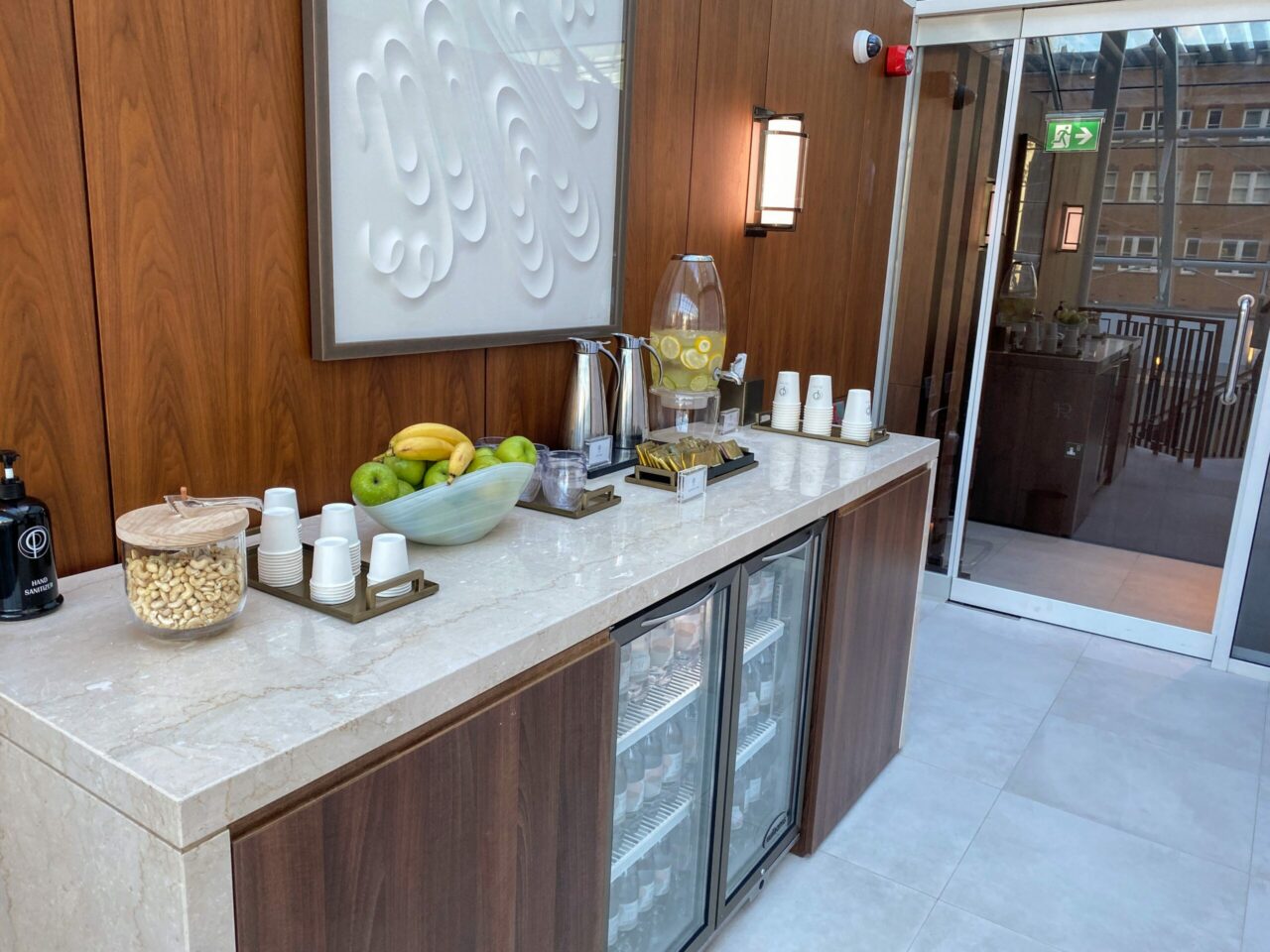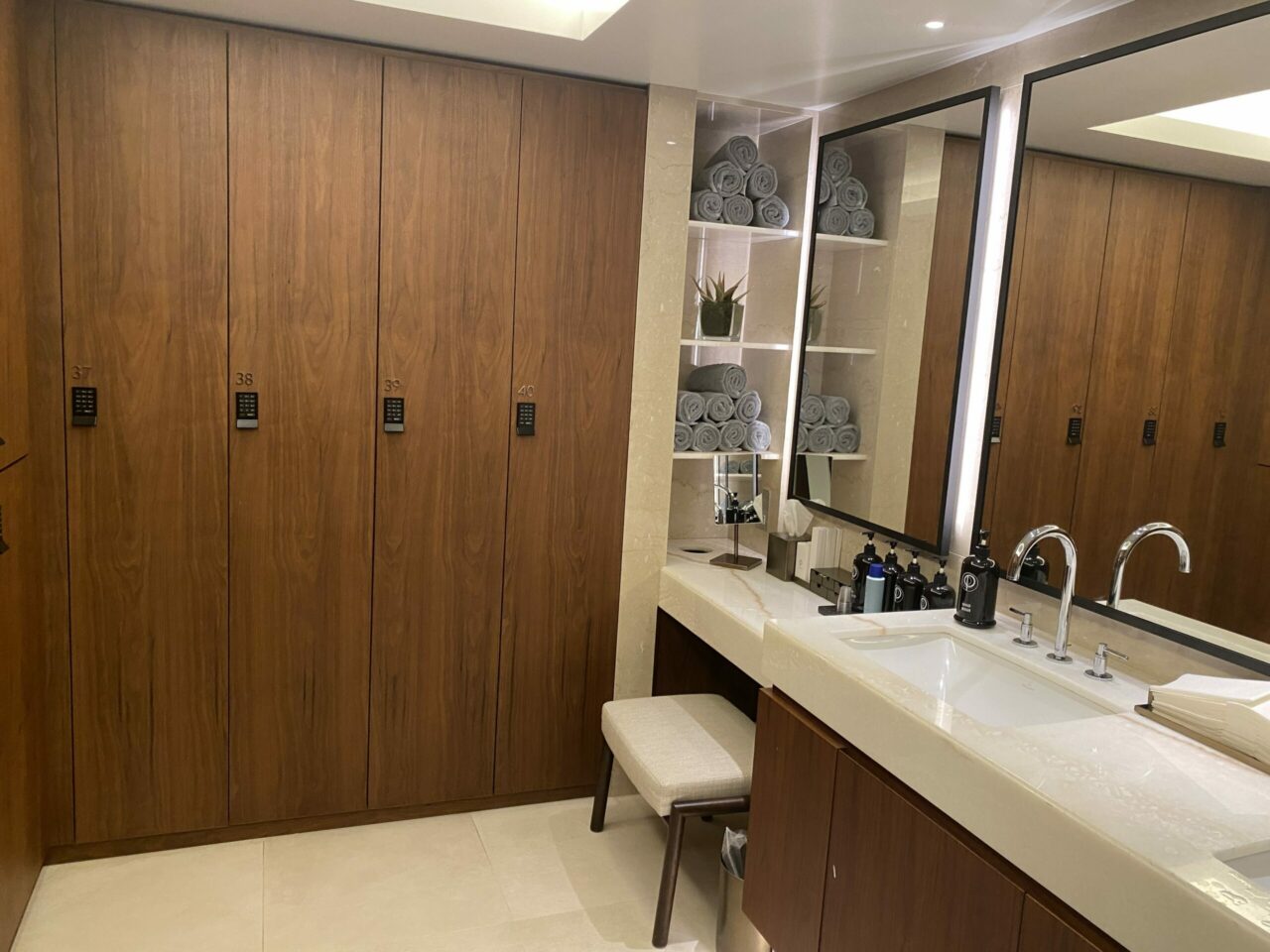 The hotel's health club 'The Peak Fitness Club & Spa' is set across three floors in total and has been completely redesigned. New treatment rooms have been created at the Talise Spa on the second floor. Treatments feature products from 11 Skin, Aromatherapy Associates and Omorovicza. There's a steam, sauna and relaxation area as well.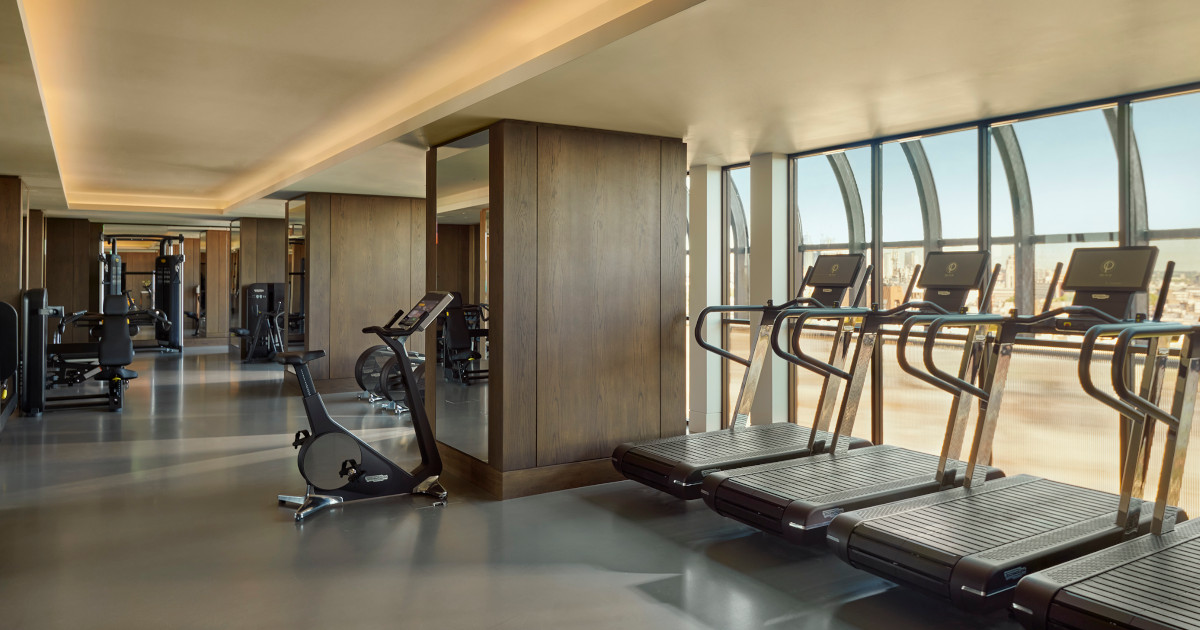 Additionally, The Peak offers studio classes and a gym featuring bespoke 'Technogym' equipment on the ninth floor.
Booking
Prices have definitely risen to a similar level as London's other top luxury hotels with rooms starting at £665. Jumeirah do have their own loyalty scheme which we will be covering in more detail very shortly.
If you want to get extra value for money, if you book through a specialist luxury agent such as GTC you get additional benefits for your stay:
Daily complimentary breakfast
Room upgrade on arrival, based on availability
$75 food & beverage or spa credit, per room, per stay
Early check-in and late check-out, based on availability
Complimentary WIFI
Complimentary 1-way airport transfer (suite guests, Europe, 2-night stay minimum)
You can enquire with GTC for prices and availability here.
Conclusion
The hotel was certainly looking very elegant and refined from top to bottom. It truly felt like a very luxurious experience which I rarely find that every detail is taken care of. Here you felt that the staff were genuinely interested in you and what you wanted. There were so many little extra touches such as the personalised welcome, the turndown gifts and slippers. I would certainly rate it on a par with The Corinthia which is my favourite London hotel. In fact, I would say the rooms and overall facilities are better although I still like the spa at the Corinthia better due to its wider range of facilities.
I liked the style of the hotel which was modern but classic and the reflection of the gardens in the botanic inspired prints used. The swimming pool has been restored to its former glory and on a sunny day, it almost feels like being on holiday lounging by the pool. All the food and drink I had was delicious and high quality, although the breakfast service was the one thing that could have been improved.
Like this review? We have more Hotel reviews here that might interest you!