Today's review of Qatar's B777-200/300 Business Class from Mahé is by regular reader reviewer Ben. You can read about the outbound portion of his flights with Qatar here and his stay at the new Mango House LXR hotel by Hilton here.
Seychelles Airport to Doha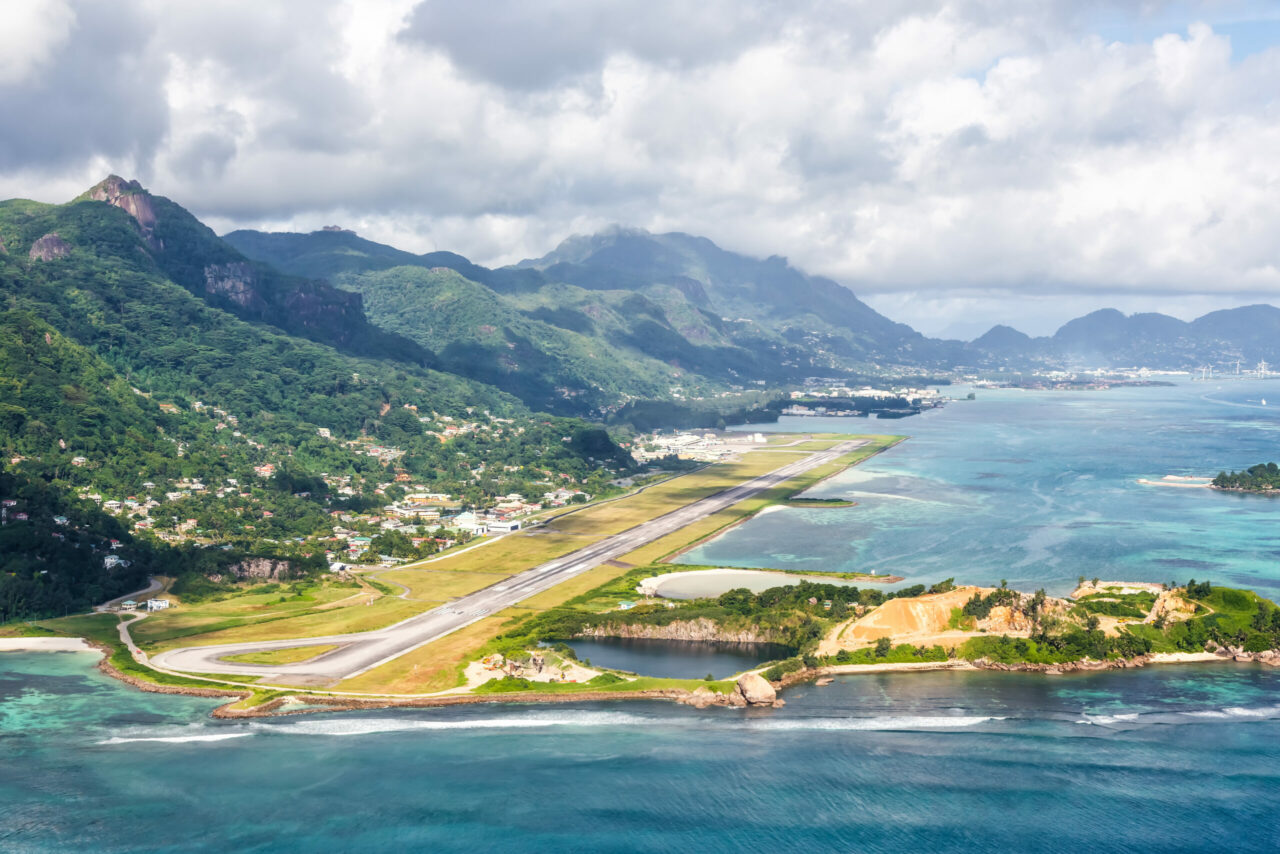 Check-in and lounge
The airport at Mahé is what I would describe as a typical Island airport, small but effective. The terminal had a business class counter which I had to visit due to being unable to get a boarding pass. I had checked in online but I guessed that they needed some kind of document check since this was before the UK scrapped its testing for travel.
At the check-in counter they wanted to see:
UK PLF
Day 2 COVID Test Booking
Vaccination Proof
Once they had seen everything, the boarding passes for both flights were issued. I only had cabin baggage but the size was checked and the cabin bags tagged to show they had been checked.
I popped into the lounge briefly which was OK. Qatar uses the Salon Vallee De Mai which is on the 1st Floor left-hand side, after immigration counters and security.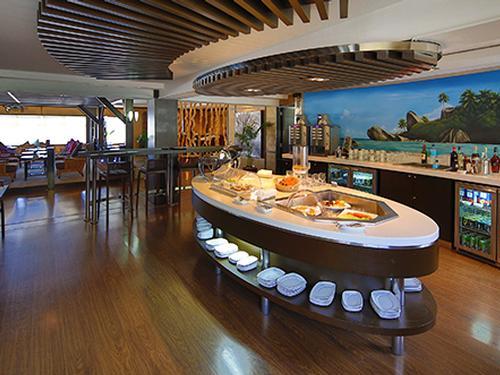 It was quite large with a fair selection of drinks including beers, wines and spirits.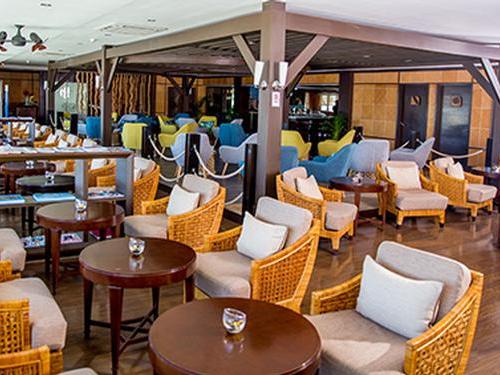 Boarding Qatar Airways B777-200 Business class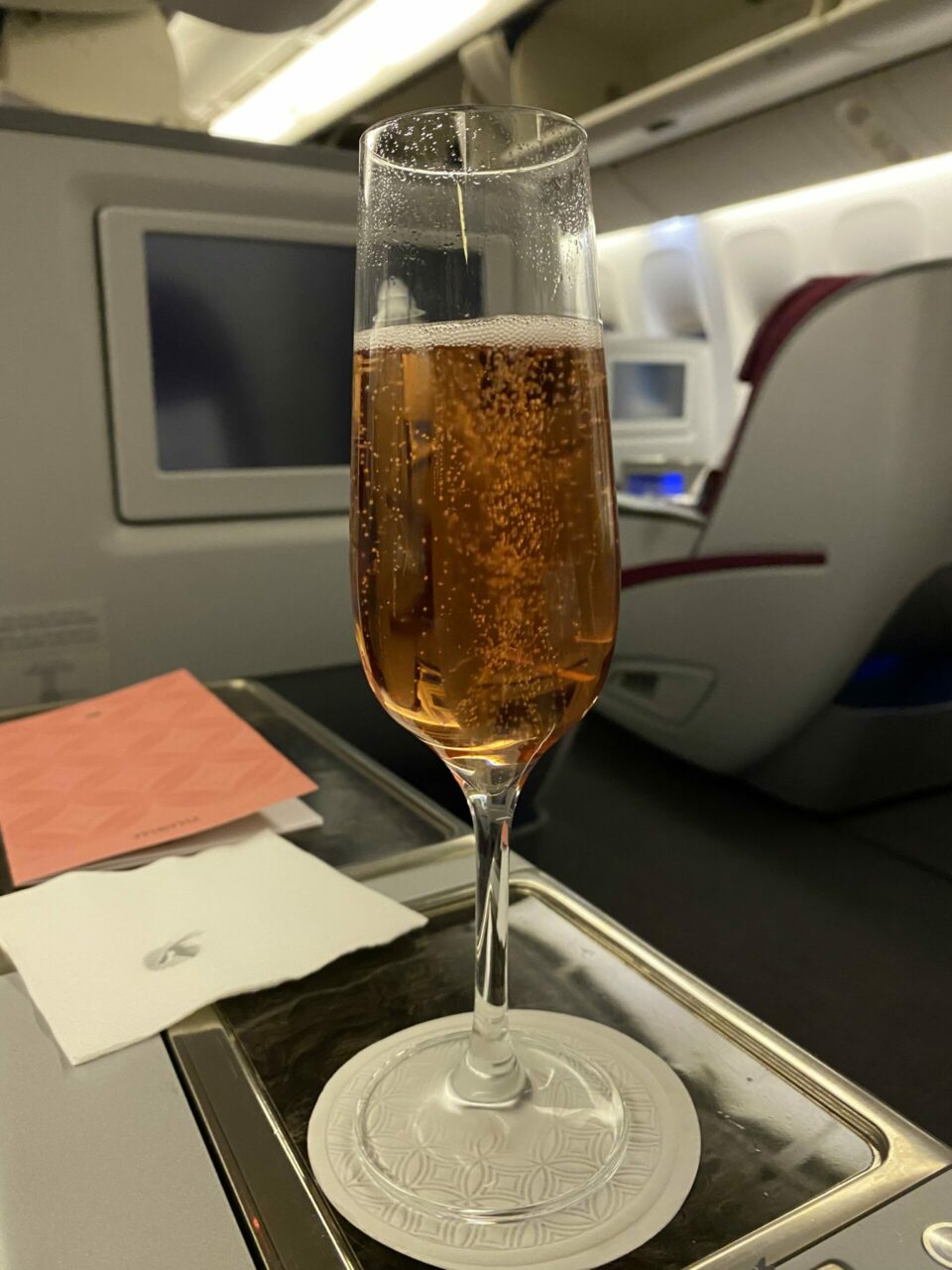 Boarding called after 5 minutes of being in the lounge. I was offered a pre-departure drink and went for the Laurent Perrier rosé champagne which is excellent. The drink was served with a prepackaged "refreshing towel".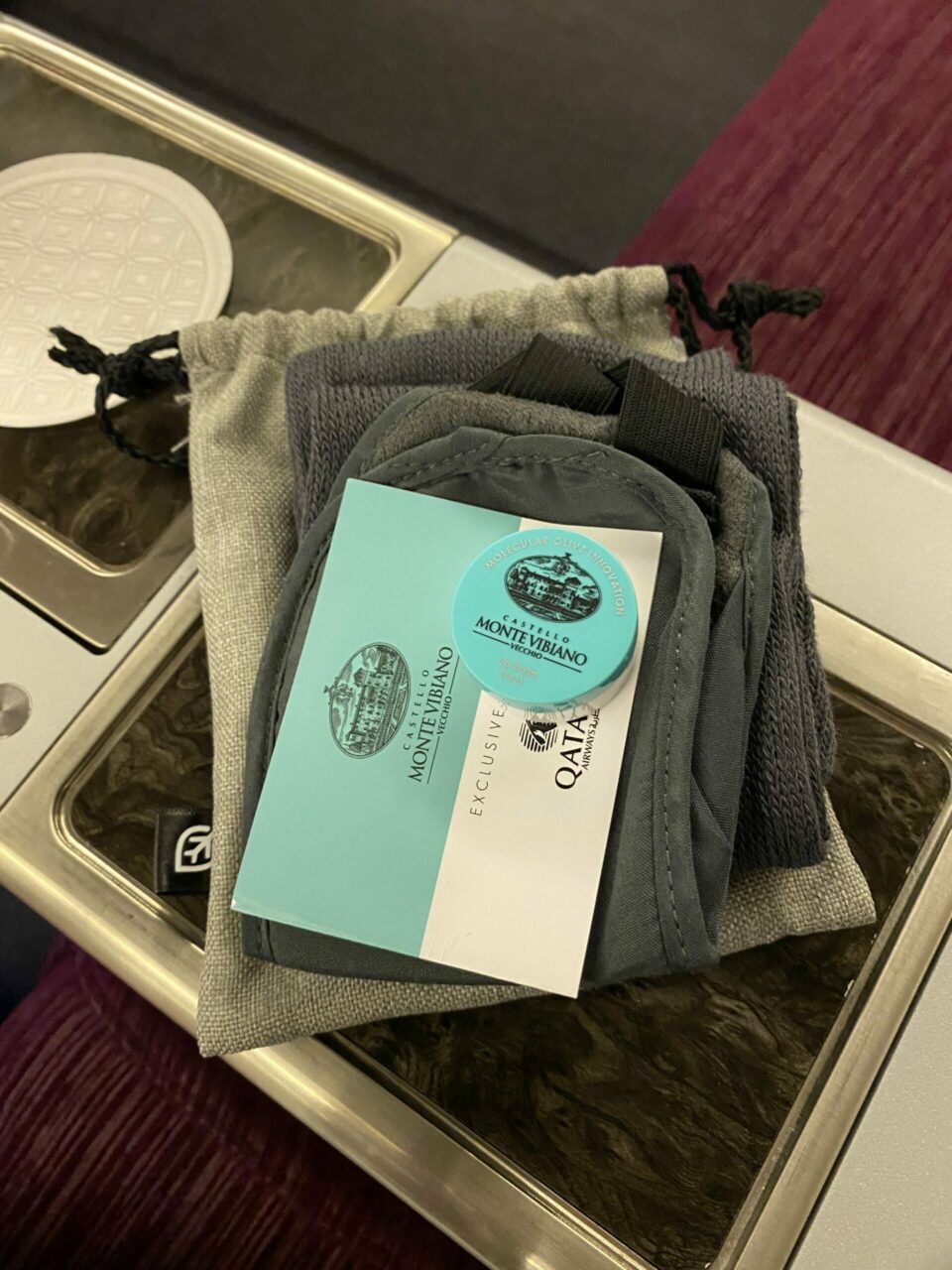 The washbag at the seat was one of the mini ones again as it's a short flight.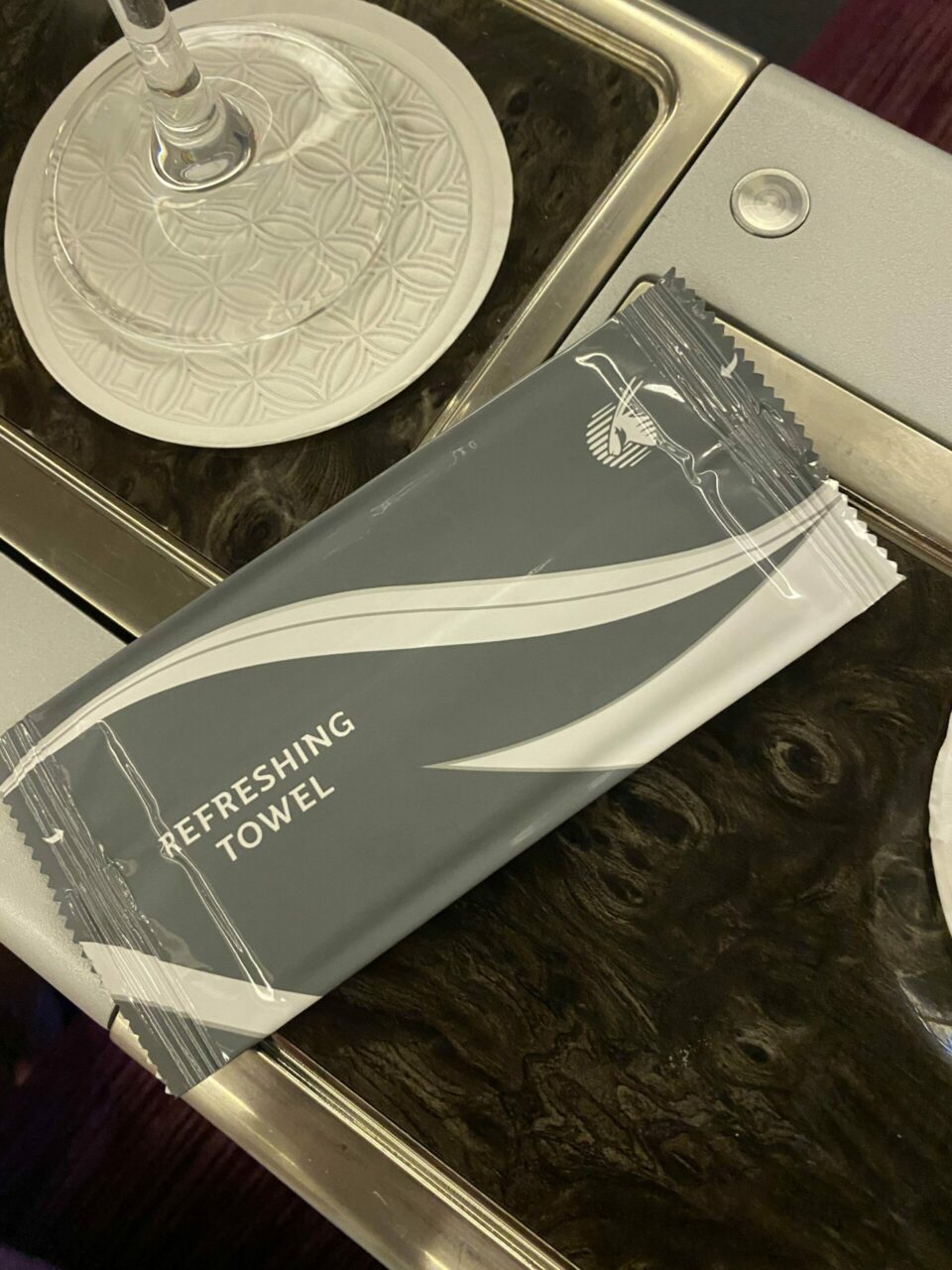 Qatar Airways B777-200 Business class Seat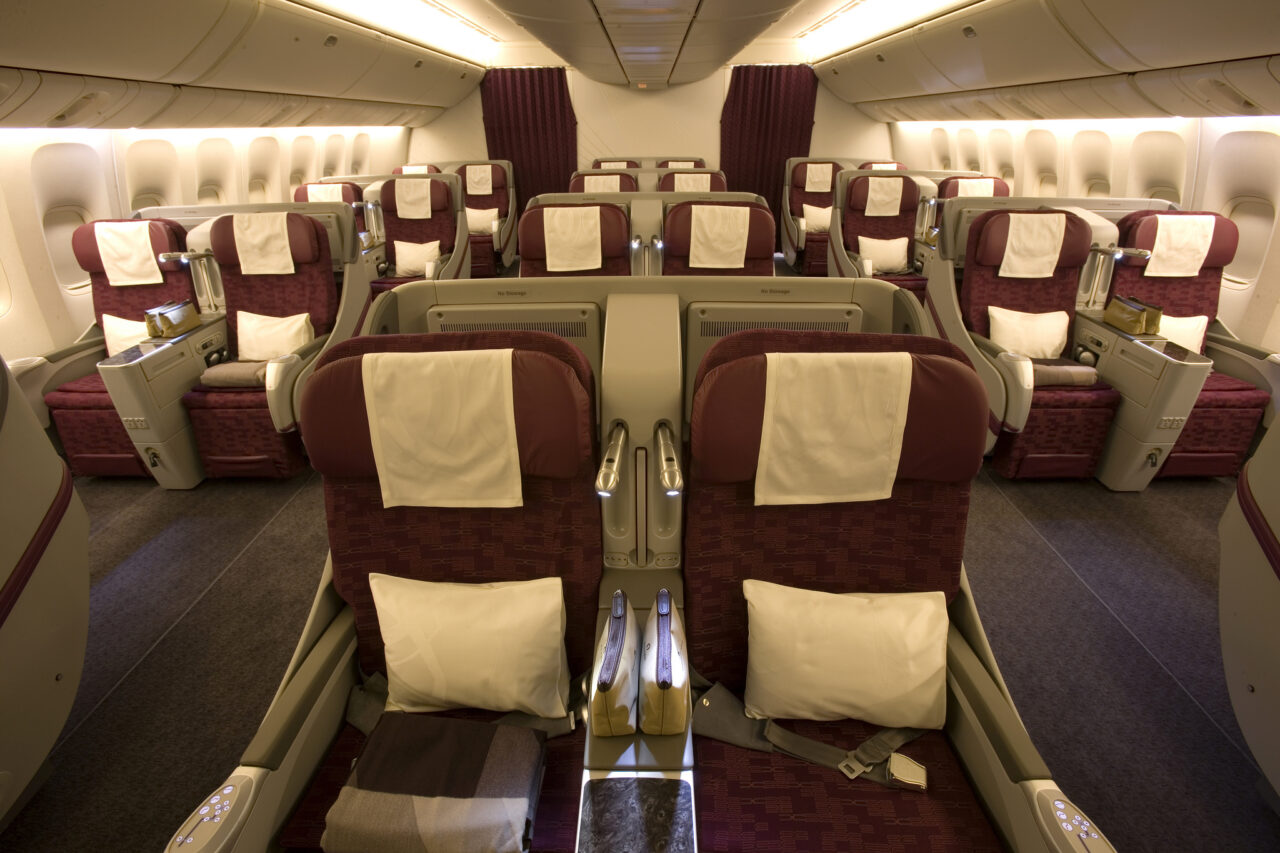 It was the B777-200 again which is the only Qatar aircraft that has old seats in a 2-2-2 configuration. These seats are very comfortable being quite wide but they do suffer from a lack of storage space and privacy.
Qatar Airways B777-200 Business class Food and drink
There was an issue with my food and drink orders not being taken. It wasn't noticed by the crew until I asked during the drinks service after take-off.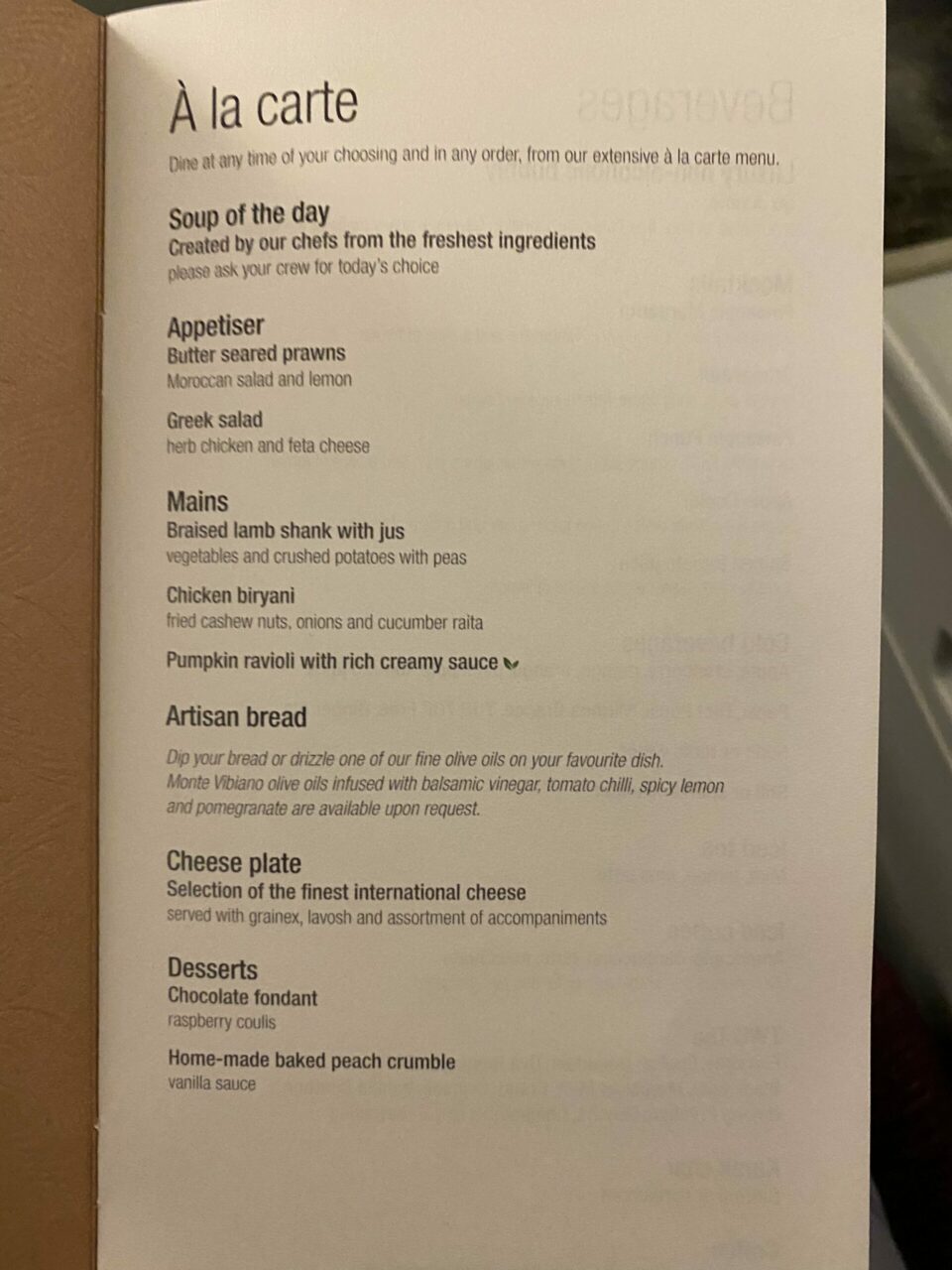 This meant that most options had already gone but they had a hunt around and managed to find some extra meals that weren't documented.
I had the prawns and chicken biryani which were both tasty.
Doha – Heathrow
This time I had more time in the airport to use the lounge owing to my flights being on-time. I saw the familiar giant tedy bear that is symbolic of Doha airport.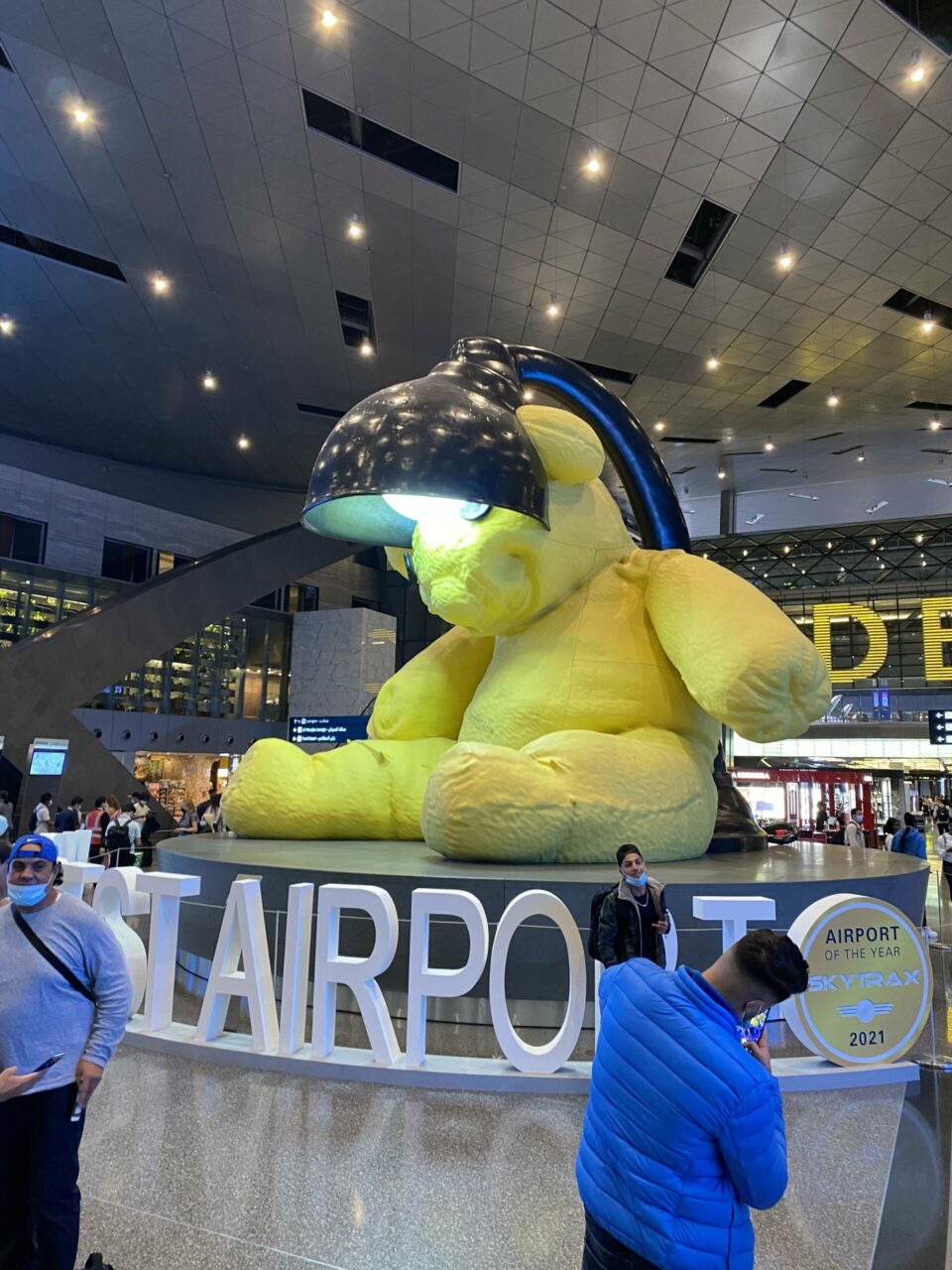 Lounge
I visited the Al Mourjan Business lounge to kill some time. Whilst the space is beautiful and functional, I never find it somewhere I want to spend long amounts of time.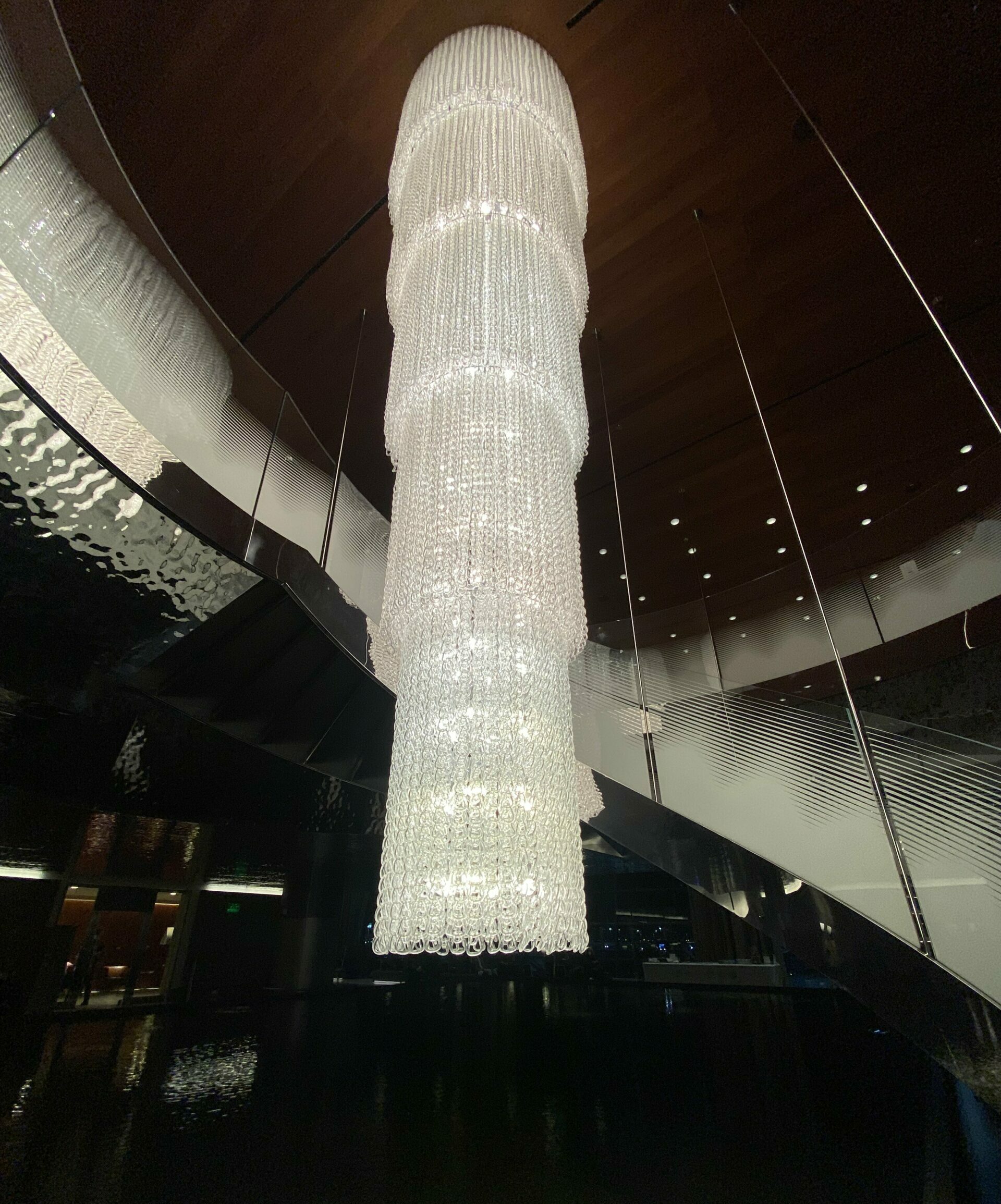 Due to Covid, dining is now capacity controlled and you put your name and the number of people down on the list and wait to be called. It only took about 5 minutes to get called which wasn't too bad at all.
There was table service for drinks and a staffed buffet service.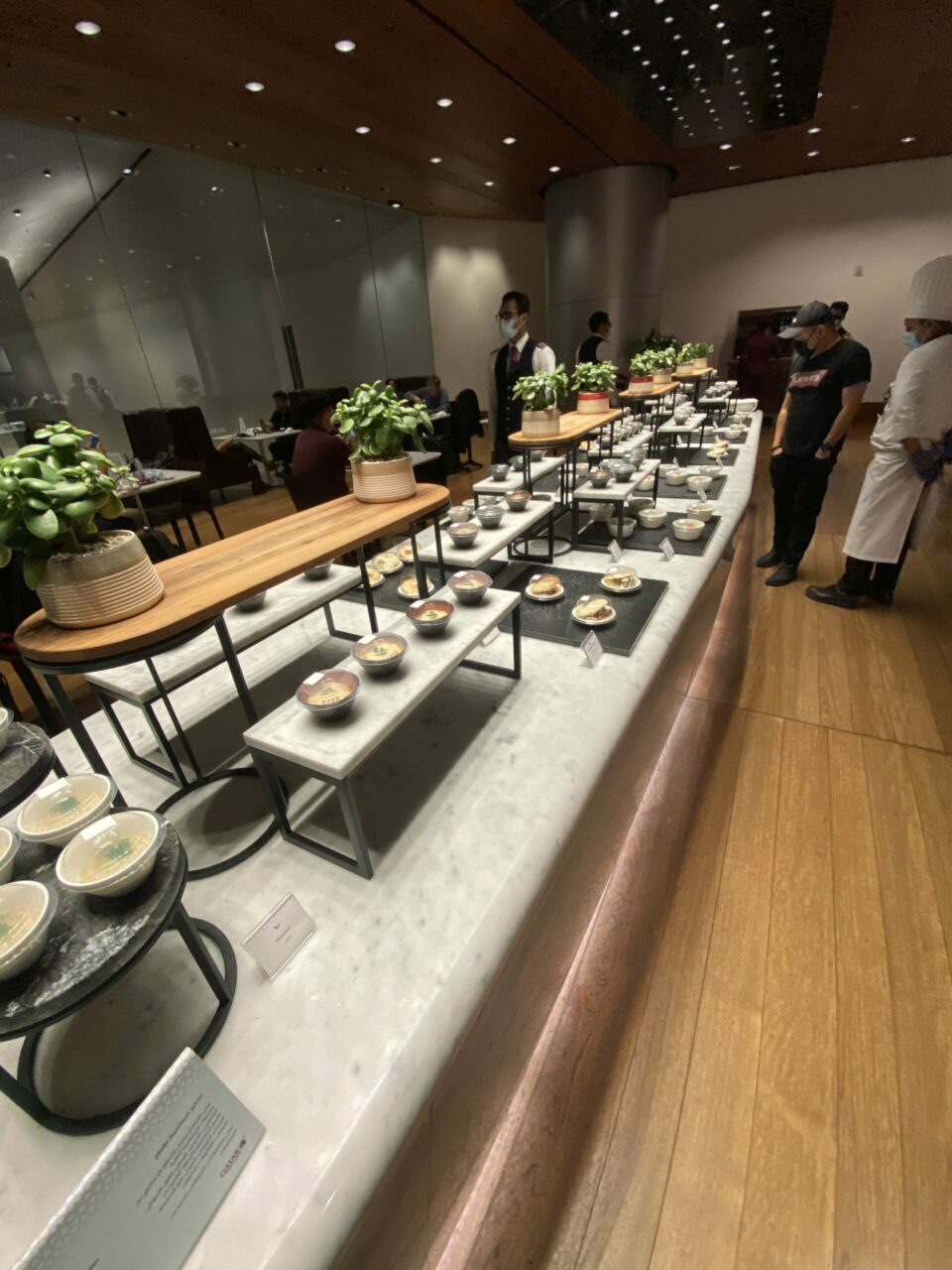 Food options included Mezze, Sushi and hot dishes. I went for a curry.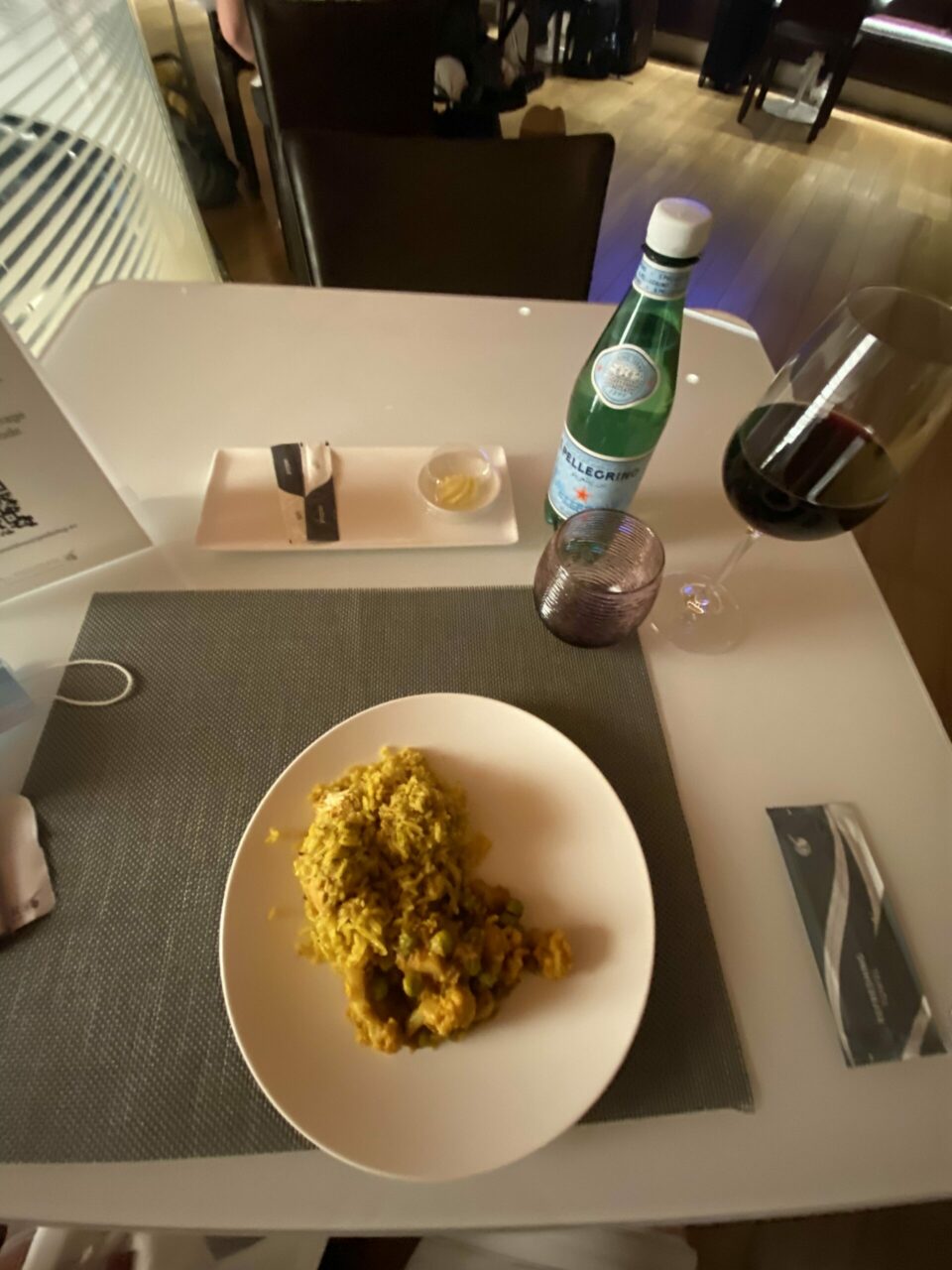 I had a peek at the sandwich bar area to see if it was open and it was. This is a good option for a snack and drink as it feels quite light and airy plus the sandwiches are normally pretty good.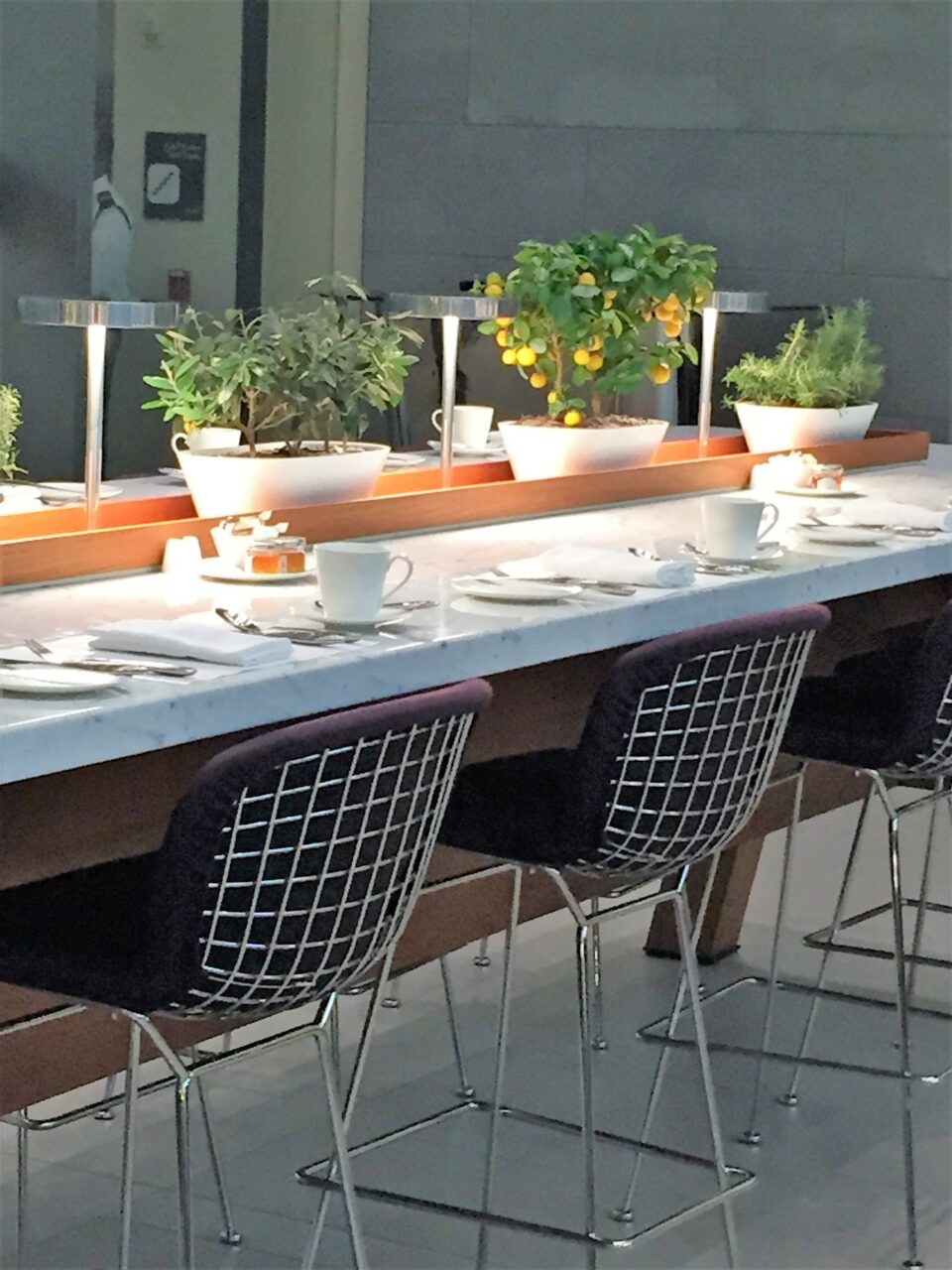 The lounge and Doha airport were busy as I was there at prime connecting time. I would have considered paying for the Al Safwa first lounge but there was not enough time to justify paying for it.
The flight
On this flight I got a full sized washbag and the White Company PJs owing to the fact that this was classed as a proper night flight. The aircraft was the B777-300 with QSuites. I went for the window seat again.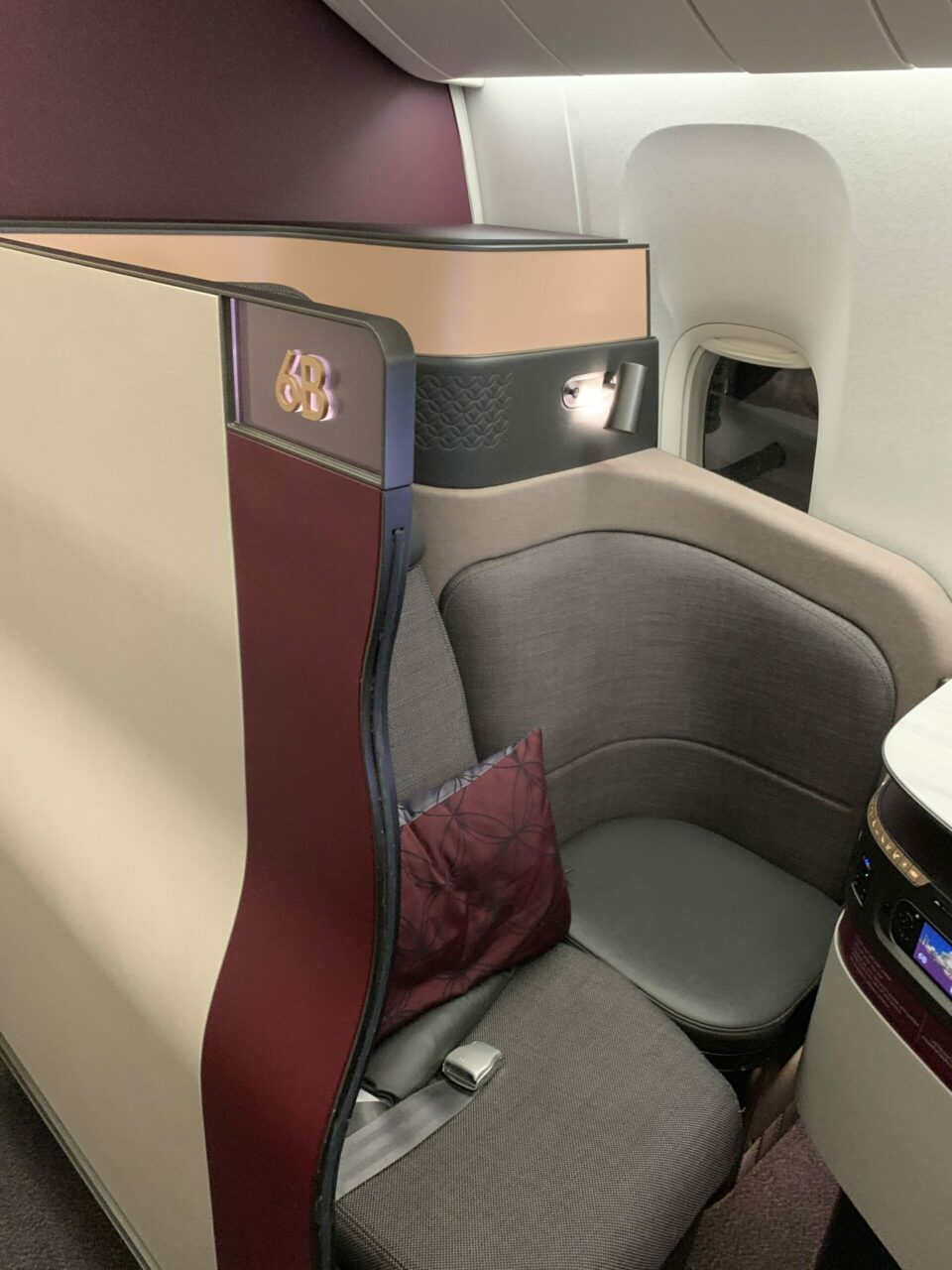 As it was an overnight flight, I did not eat on this flight as I slept most of the way. I did, of course, have some champagne and espresso on waking before landing.
Overall it was a solid flight.
We landed at the B gates again. I used the tunnel and moving walkway instead of the train. Luckily there were no queues for the e-gates.
I tried the BA T5 arrivals lounge thinking that I may be allowed in since I was on a BA 125 codeshare ticket for my Qatar flights. After some discussion, I was permitted to use the arrivals lounge but found wasn't I wasn't actually eligible. Only those travelling on flights from US on BA, AA or other joint venture carriers are permitted to use the arrivals lounge. This feels a bit of an oversight when their oneworld partner Qatar are operating from the same terminal.
Like our Qatar Airways B777-200 Business class review? You can read other Qatar blogs such as A Guide To Qatar Airways Business Class Seats – Which Are The Best? and Qatar Airways Qsuites B777-200lr Business Class Review Doha To Oslo.