I had seen photos of the new Hilton property in Cambridge, The Fellows House, Curio Collection by Hilton, and thought it looked great. I have never been to Cambridge, so I decided to have an early Autumn break there. Hilton hosted one night, and I paid for the second night.
Location
The The Fellows House Cambridge Hotel is situated just outside the city centre in a residential location near Jesus Green around 20 minutes walk from the centre. There is also a bus stop by the hotel if you don't want to walk or drive into the centre. A taxi costs around £9. The hotel was in the process of getting some bikes for guests to use when I was there, which will be perfect for touring around the beautiful university city of Cambridge. The city also has electric scooters for hire.
There is an underground car park with a lift going up to reception and the other floors.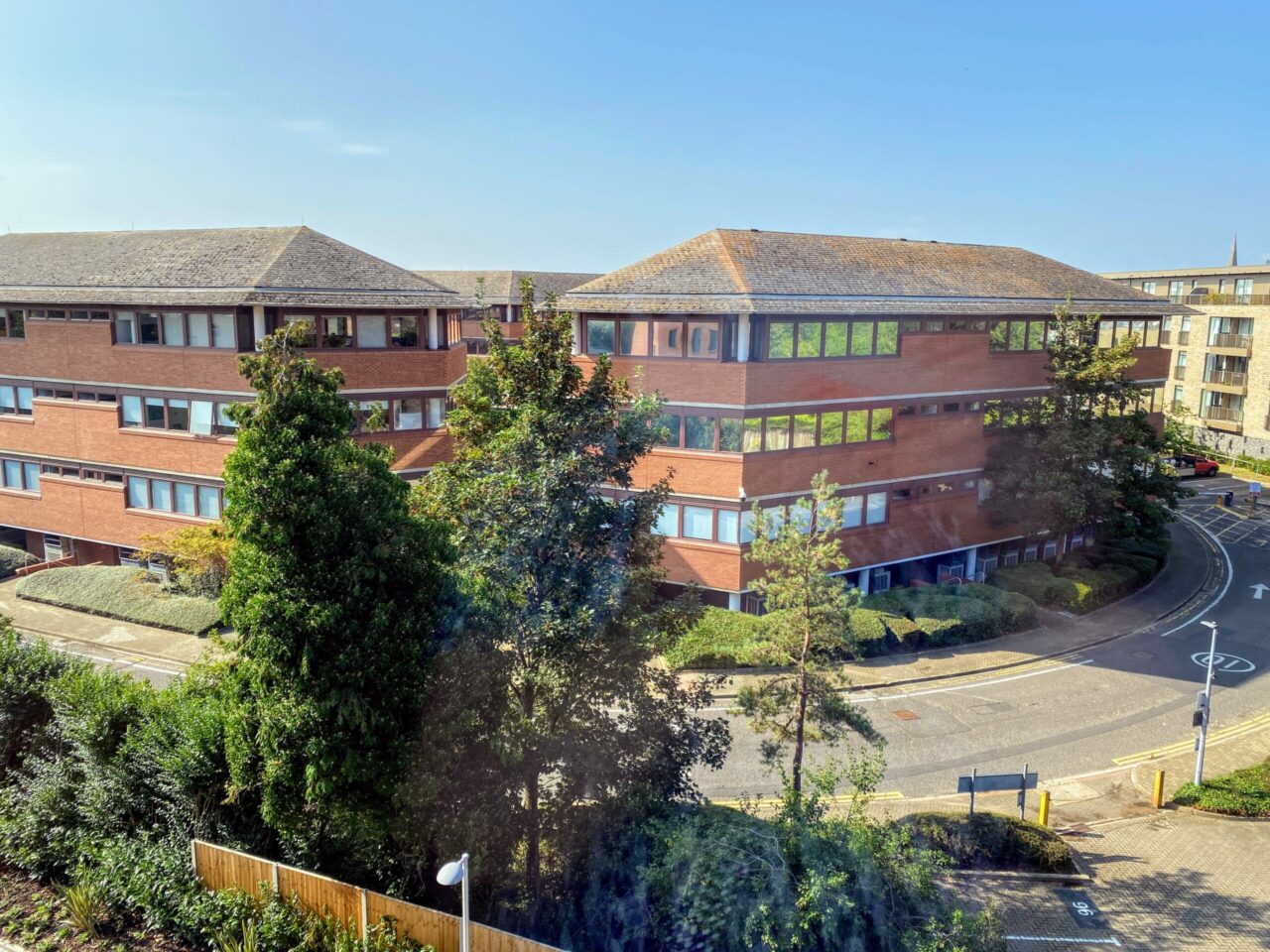 The Fellows House Cambridge hotel

The hotel first opened in August 2021 and is themed around the well-known people who have attended Cambridge University. I must admit I hadn't realised how many famous people had studied there until this visit. So the rooms are all named after them.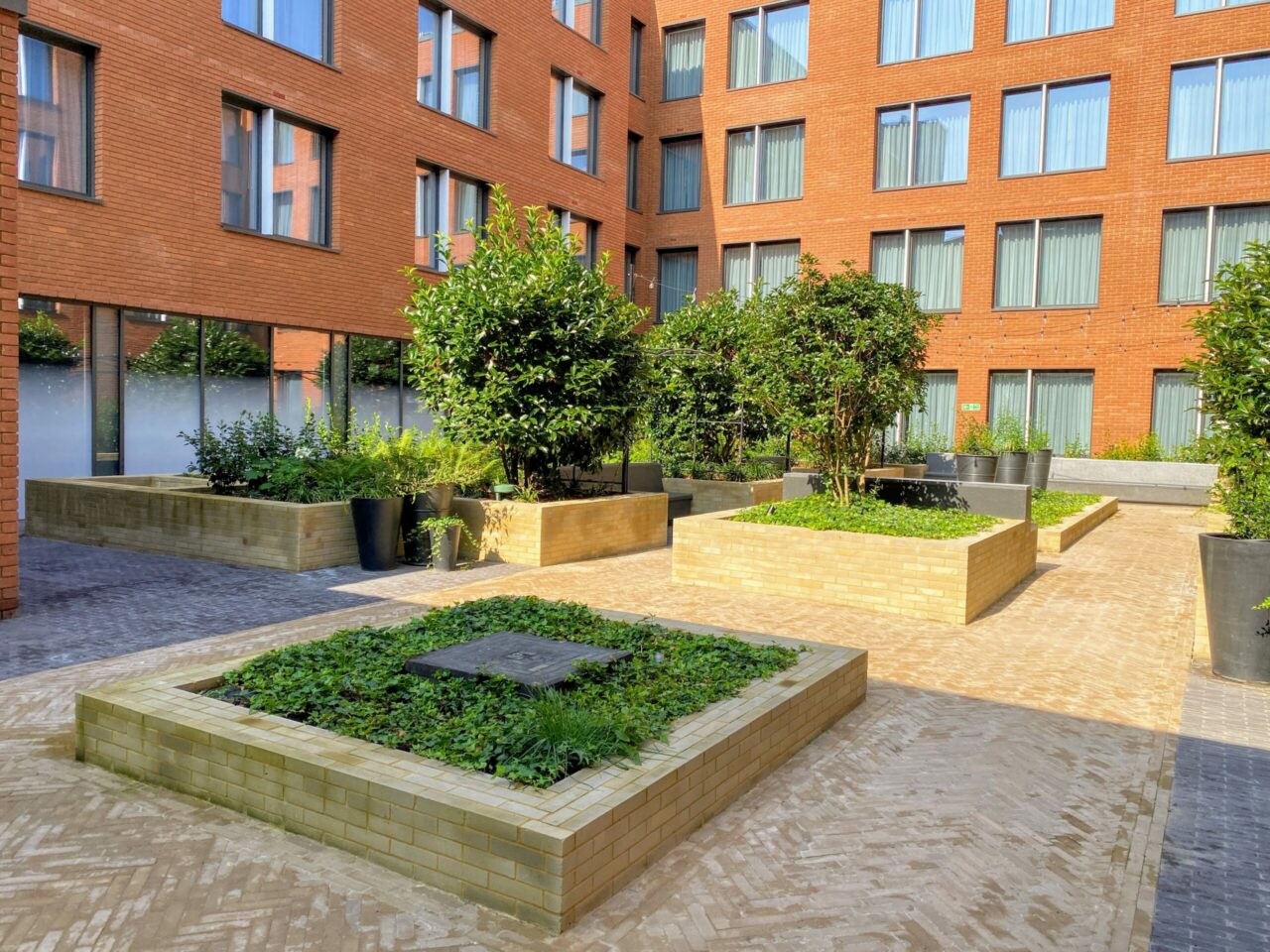 The feature I liked the most was the amount of outdoor space at the hotel, to which they are still looking to add more features. The hotel is arranged around a central courtyard that has places to sit and enjoy the sun and is also an extension of the restaurant and bar.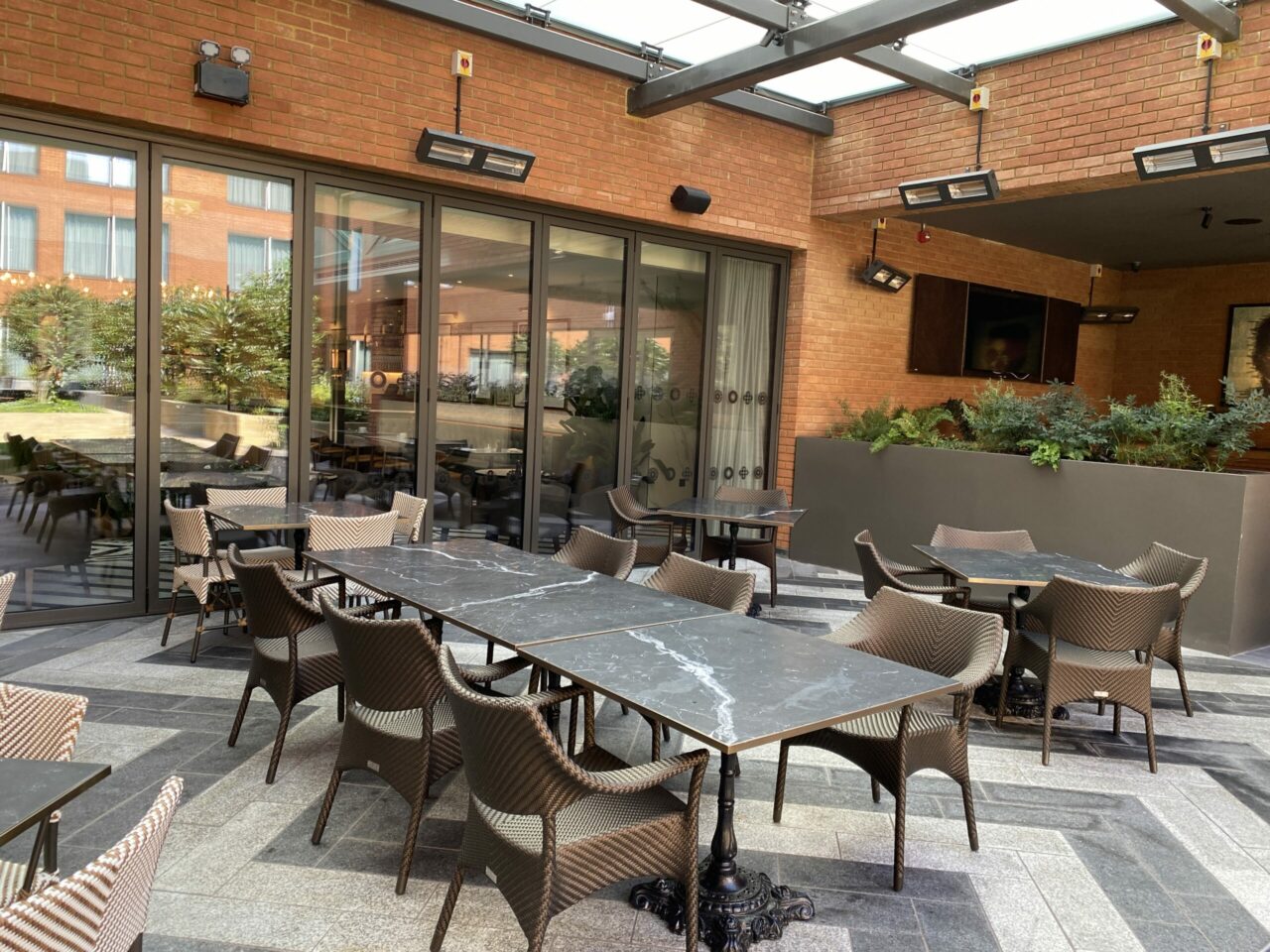 I loved the "open-air sitting room" with its fireplace and TV screen. When there's nothing on the screen, it would be great for a cosy fireside drink after dinner.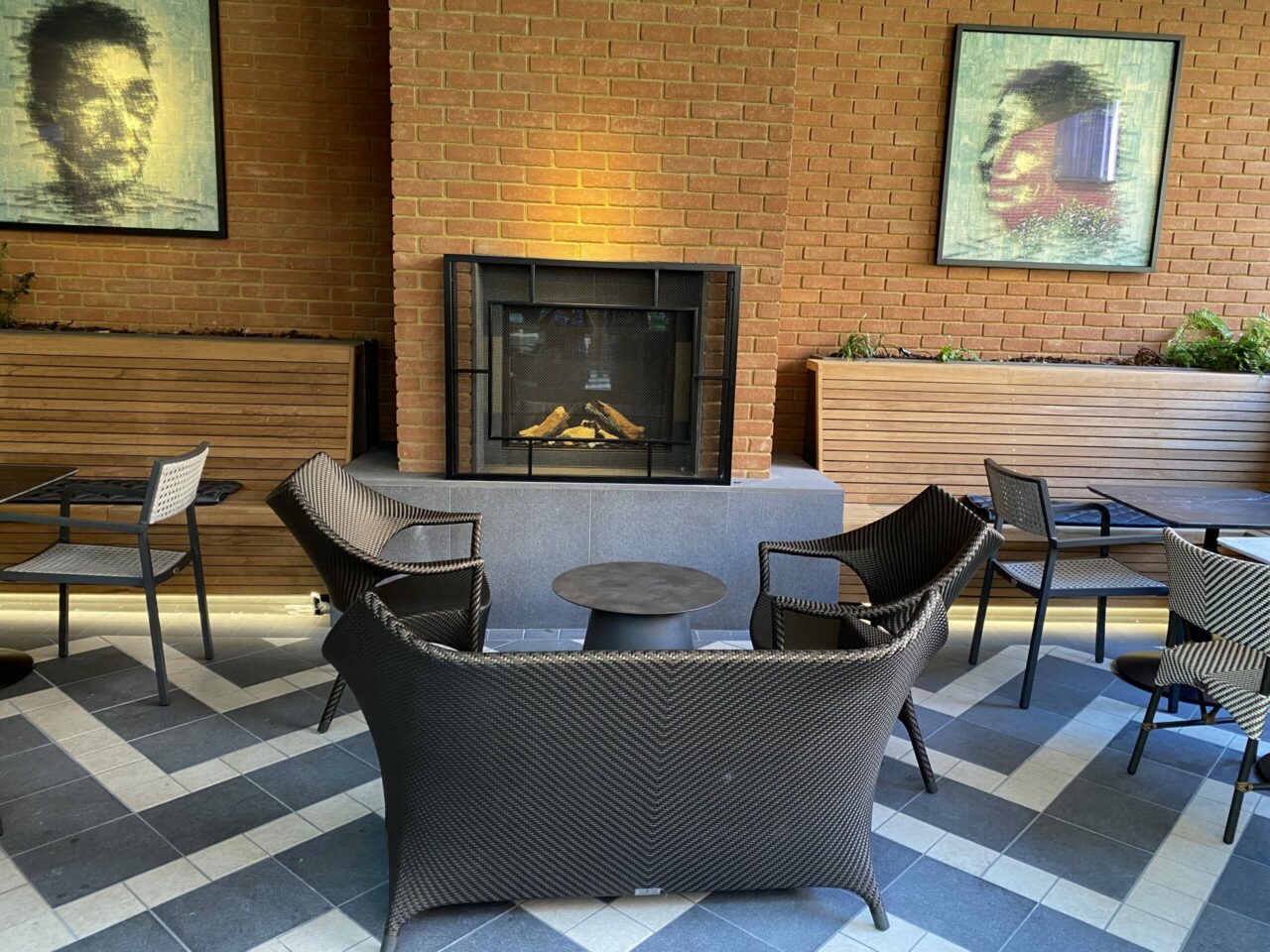 The space is based on the garden quads found in many of the city's universities. It also features sculptures dedicated to great astronomer William Hershel and planting inspired by his wife, Mary.
Check-in at The Fellows House Cambridge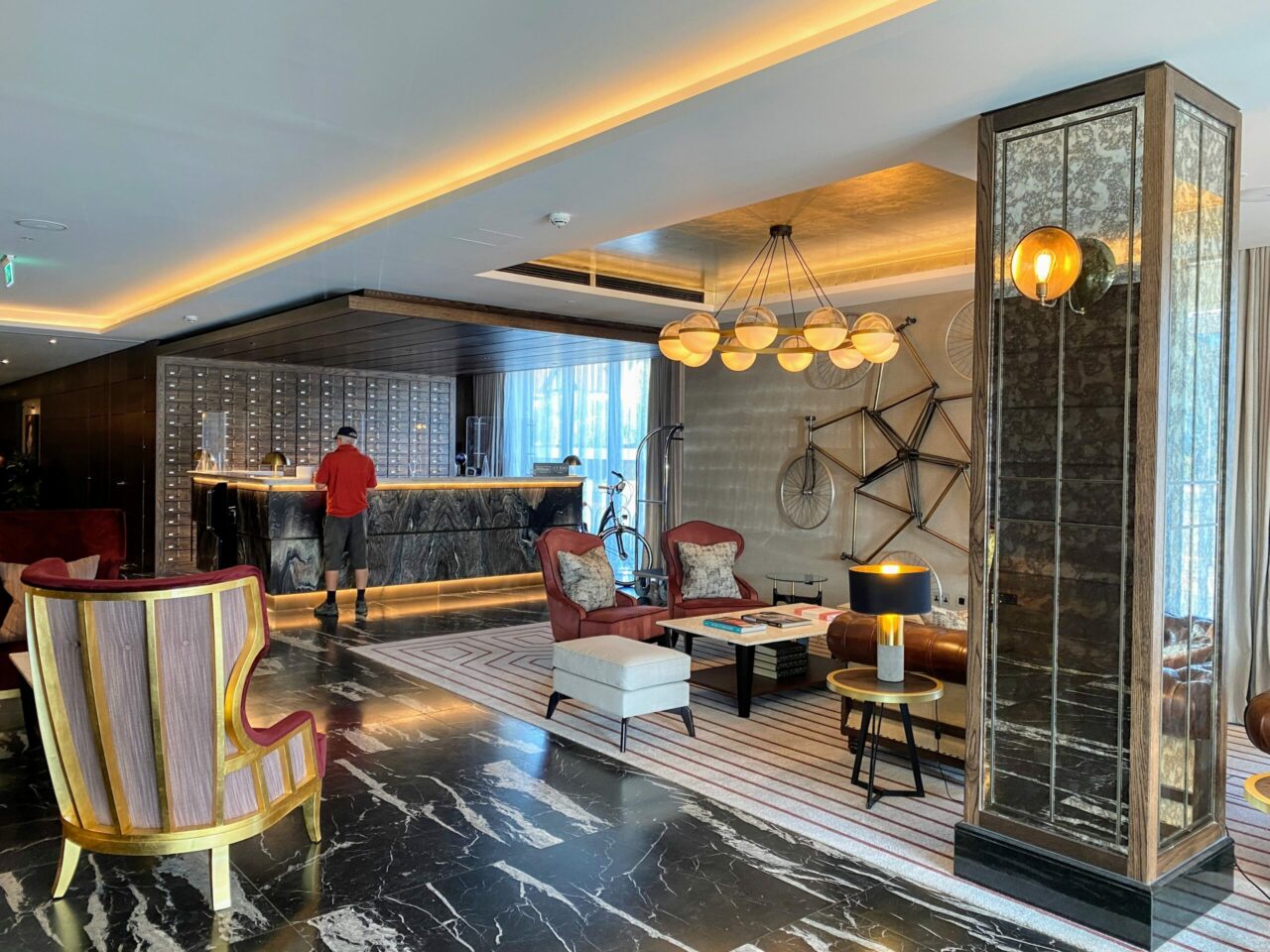 There was a short wait for check-in while the person in front dithered about what to book for room service breakfast! Why she couldn't have just gone away and come back when she had decided, I don't know!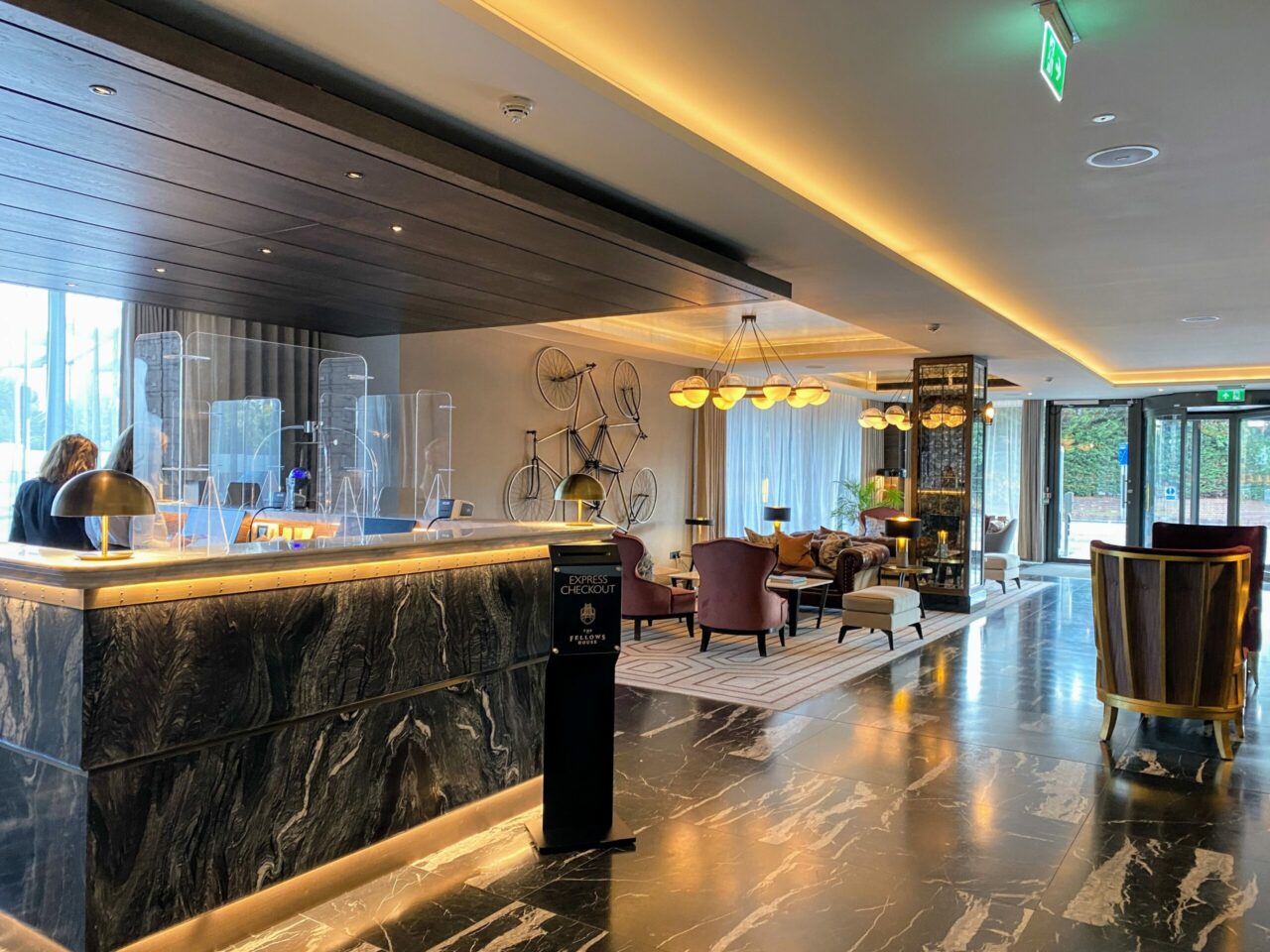 The staff were very welcoming and went through all the details I needed about the hotel. I also was given a letter from the General Manager welcoming me to the hotel as a Diamond member with more information for my stay. Later on I had issues with my charger. Reception were on hand with a wireless charger to save the day!
The rooms in the hotel consist of some standard hotel rooms and then several different types of suite/apartment, including a duplex. We got upgraded from the basic room to a one bedroom apartment on the first floor.
The Fellows House Cambridge room

If you wanted to have an extended break in Cambridge, this would be the perfect place in one of their suites. The room consisted of a kitchen area, lounge with TV, and then a separate bedroom with an ensuite shower room. The style was modern.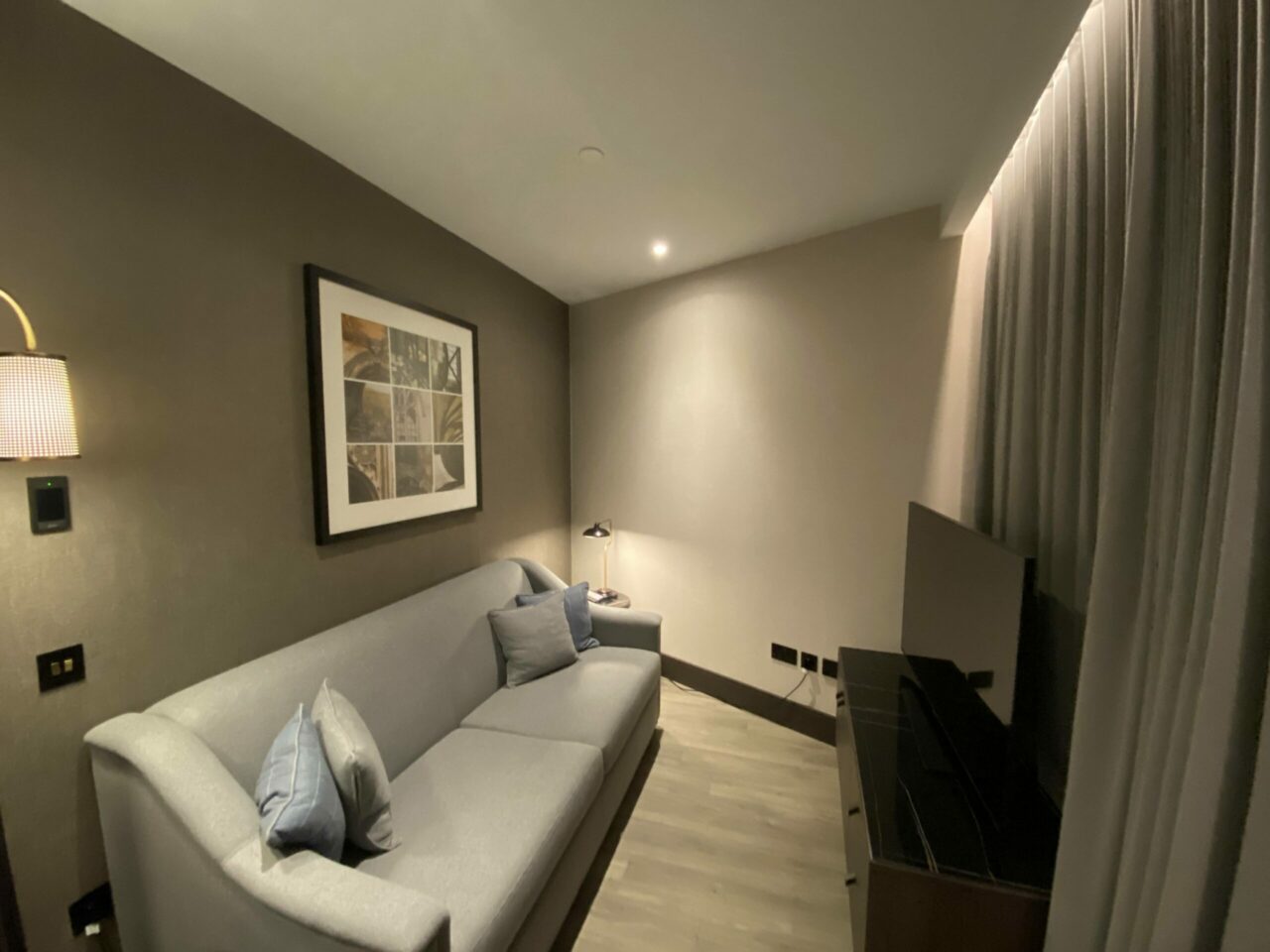 The kitchen was very well equipped with a dishwasher, fridge, toaster, microwave, and hob.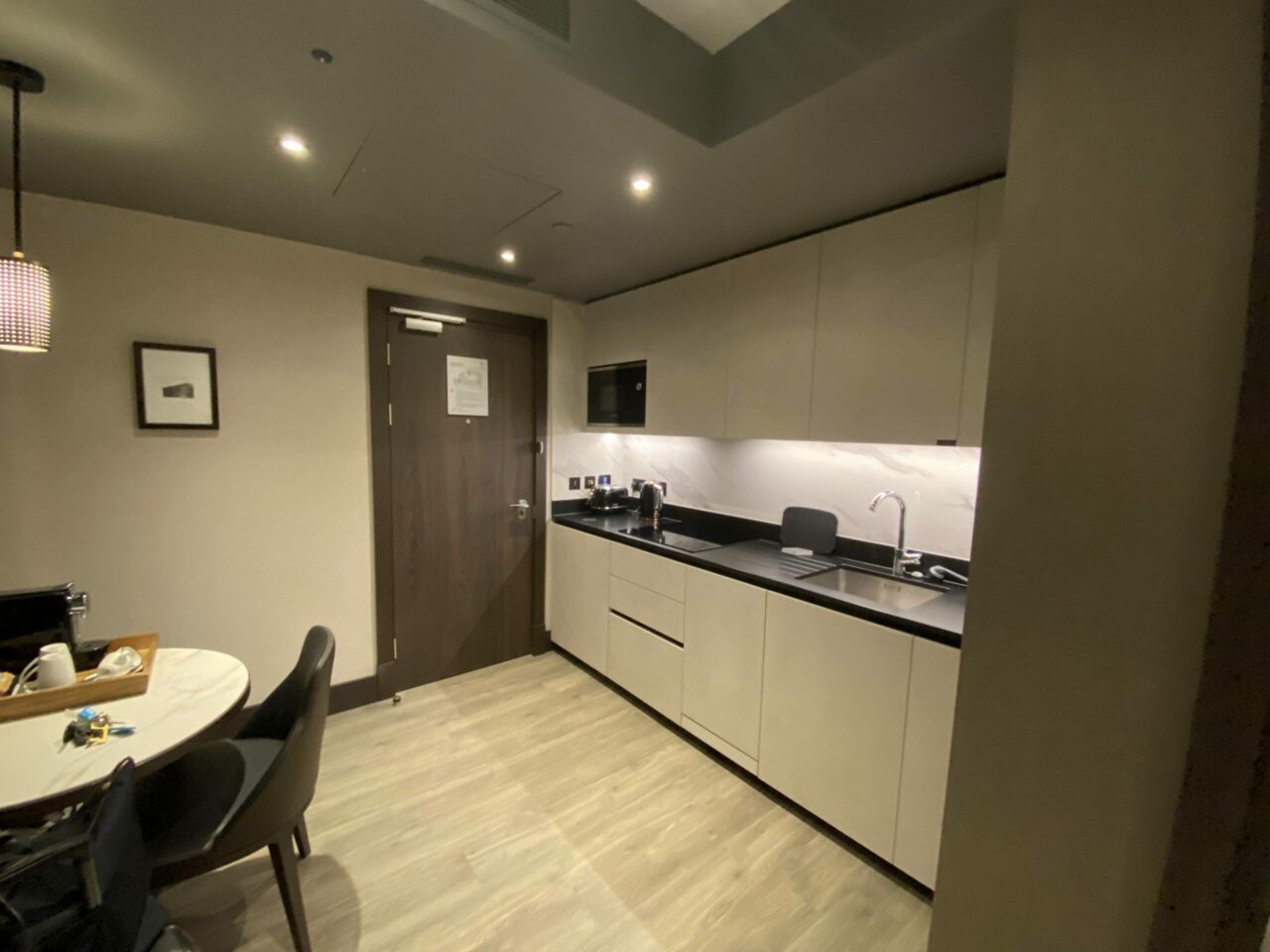 There were straightforward, easy to find instructions on how to use the appliances: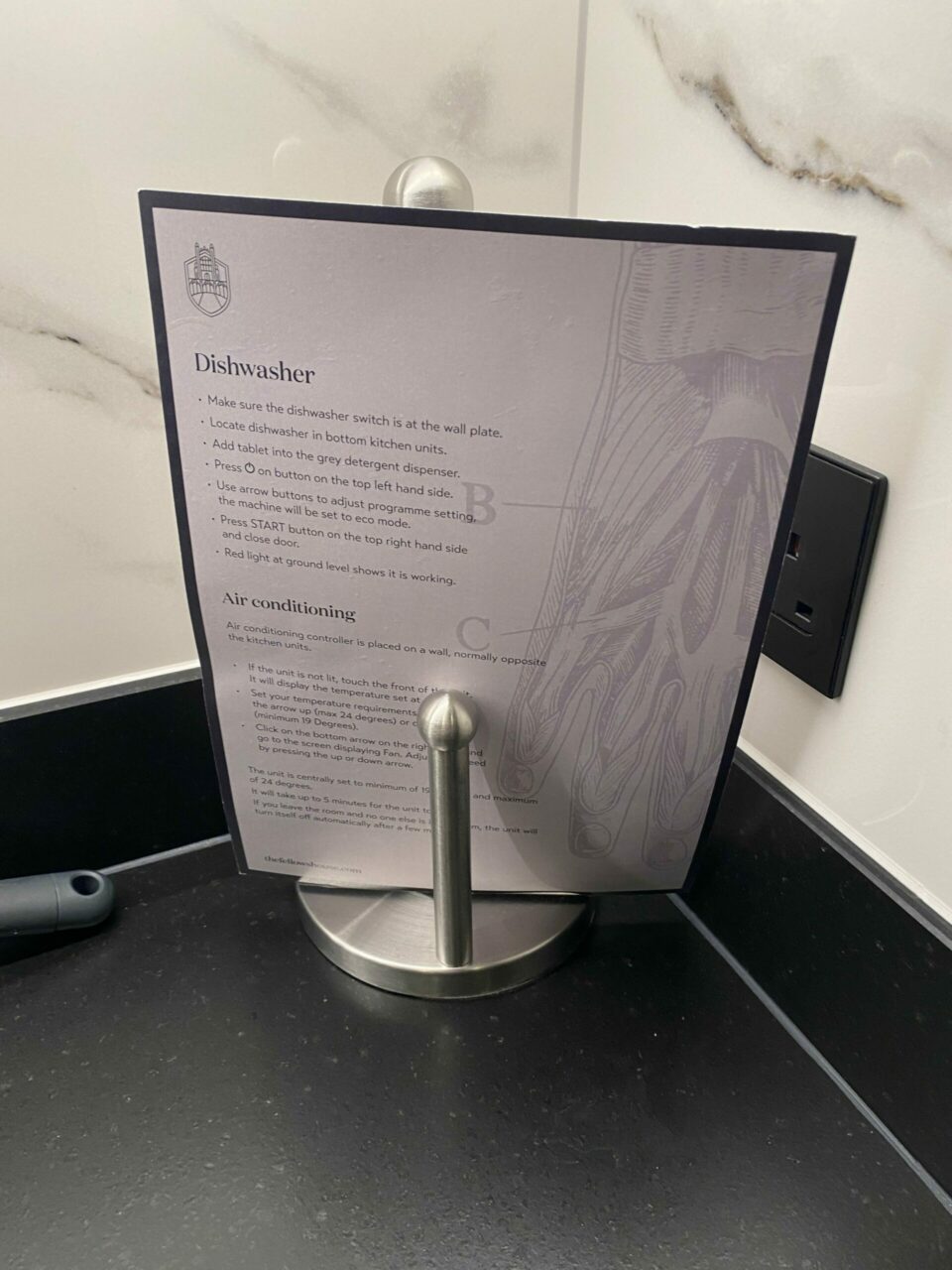 Tea and coffee were supplied with both a kettle and a coffee machine.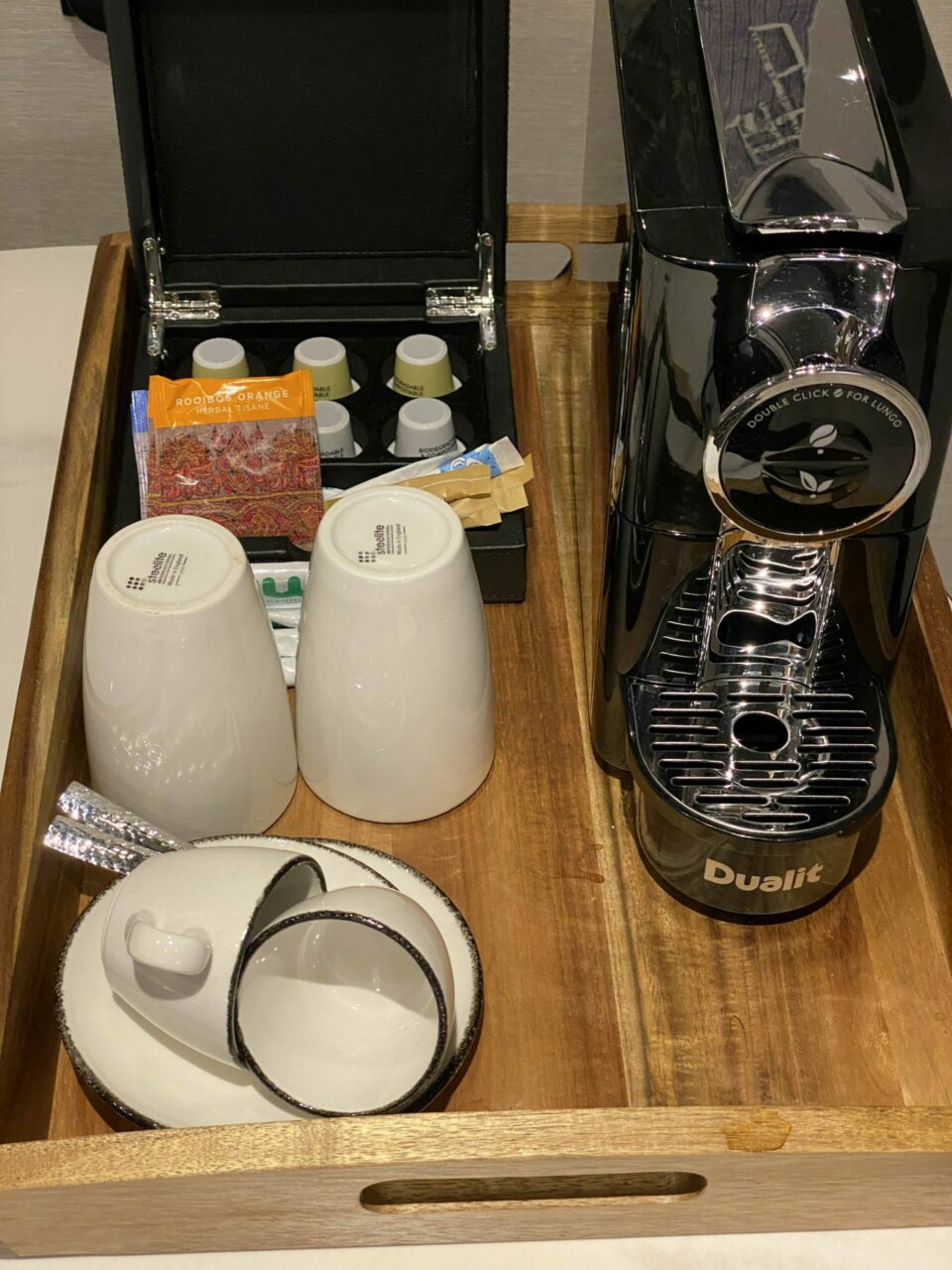 I found the bed extremely comfortable, although I only realised afterward that there were two types of pillow – firm and soft – as I struggled to get the right height between 1 – 2 pillows. The room overlooked the road that the hotel is situated on but it was well soundproofed and most of the time you could not hear anything, apart from the distant noise of a bus occasionally.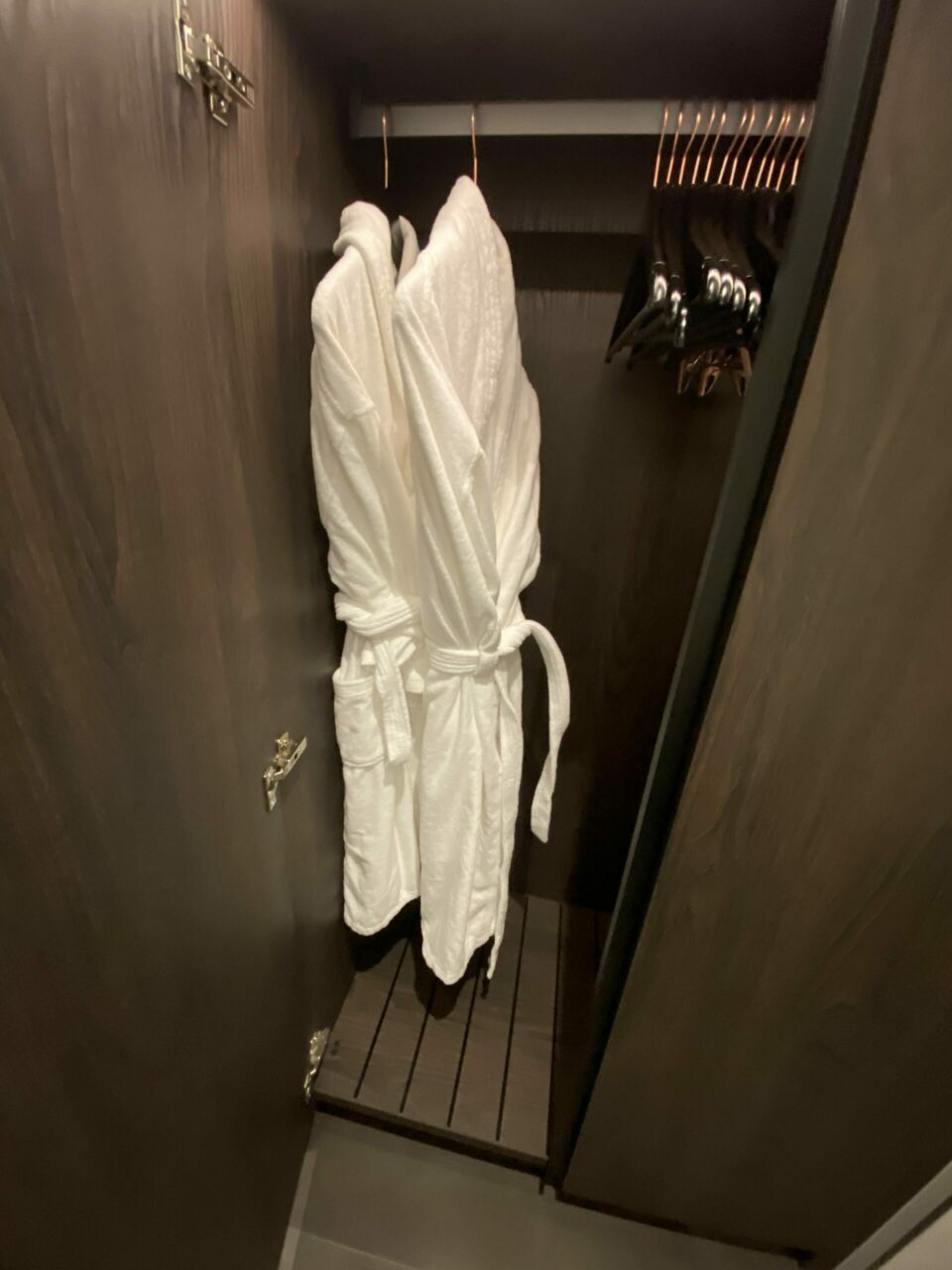 There were bathrobes and slippers in the wardrobe as well as the usual iron and ironing board.
The only things I would change about the room were that this did not have a desk area, just the kitchen table, unlike some of the other rooms. Many others do have a desk, so make sure you ask for one. There was also not really a convenient place for drying your hair next to a mirror and power point.
The Fellows House Cambridge Bathroom
The bathroom was luxurious and modern in appearance. There was plenty of room by the large vanity to store your own toiletries.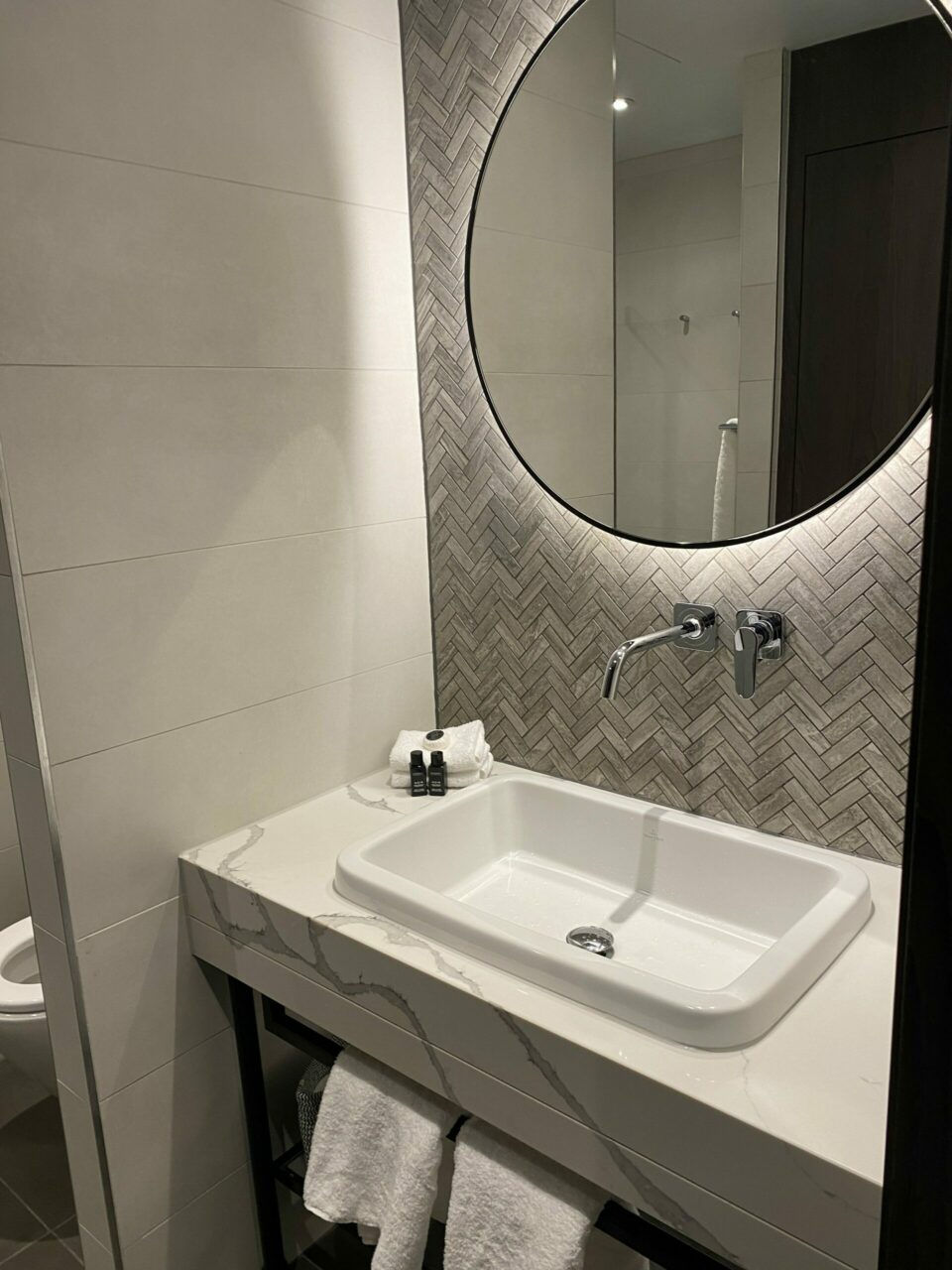 The walk-in shower had plenty of room, and I liked the recessed storage for toiletries – I hate hotels that have those wire shelves where things won't stand upright! It was a little low on pressure, but this seems to be an everyday thing for new hotels, undoubtedly related to the environment.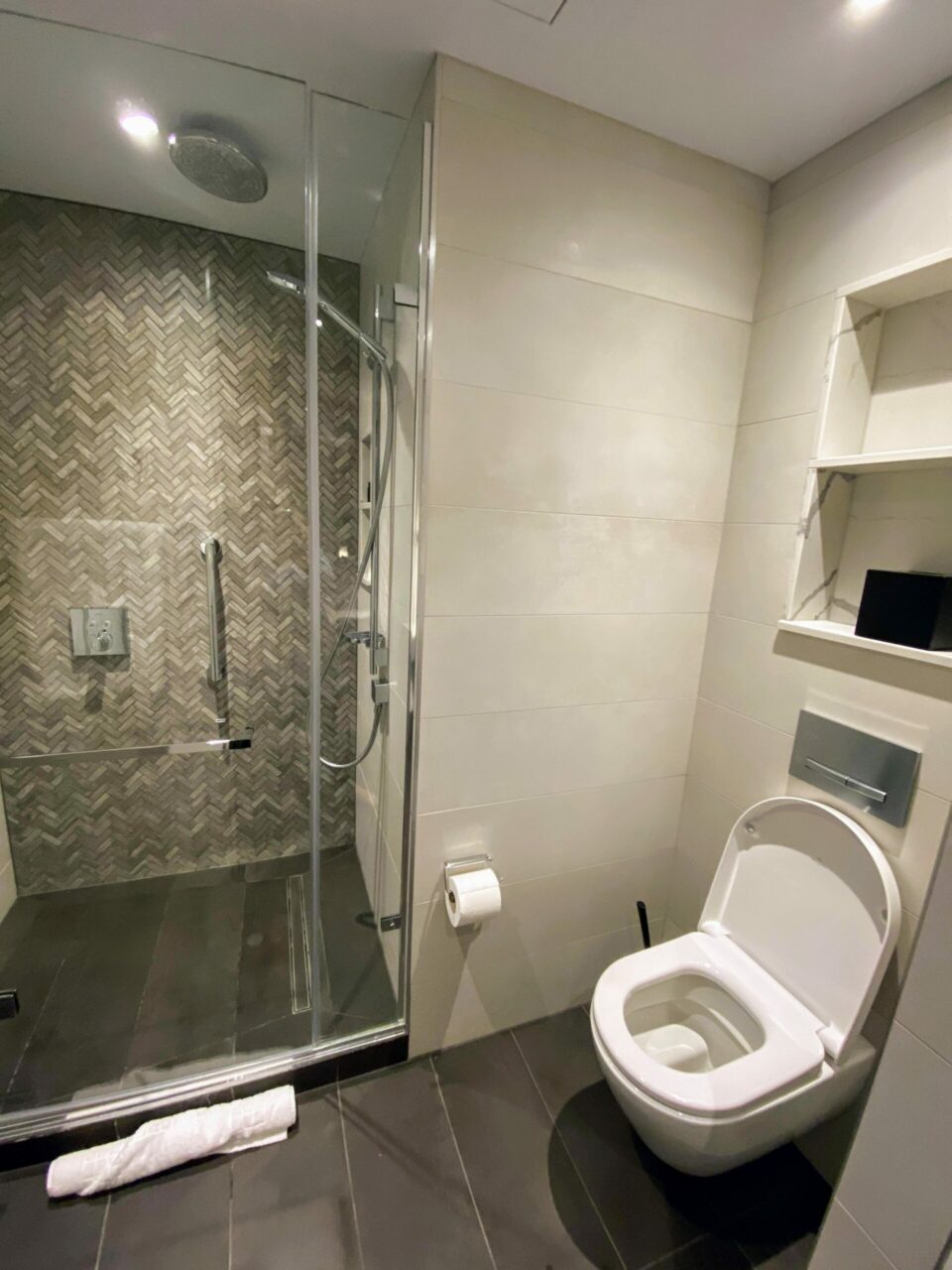 I have never tried the White Company "Noir" range before, but I absolutely loved the fragrance of the amber and sandalwood blend. There were two sets of them, and they were also decent size bottles. I may have to buy myself some for home now!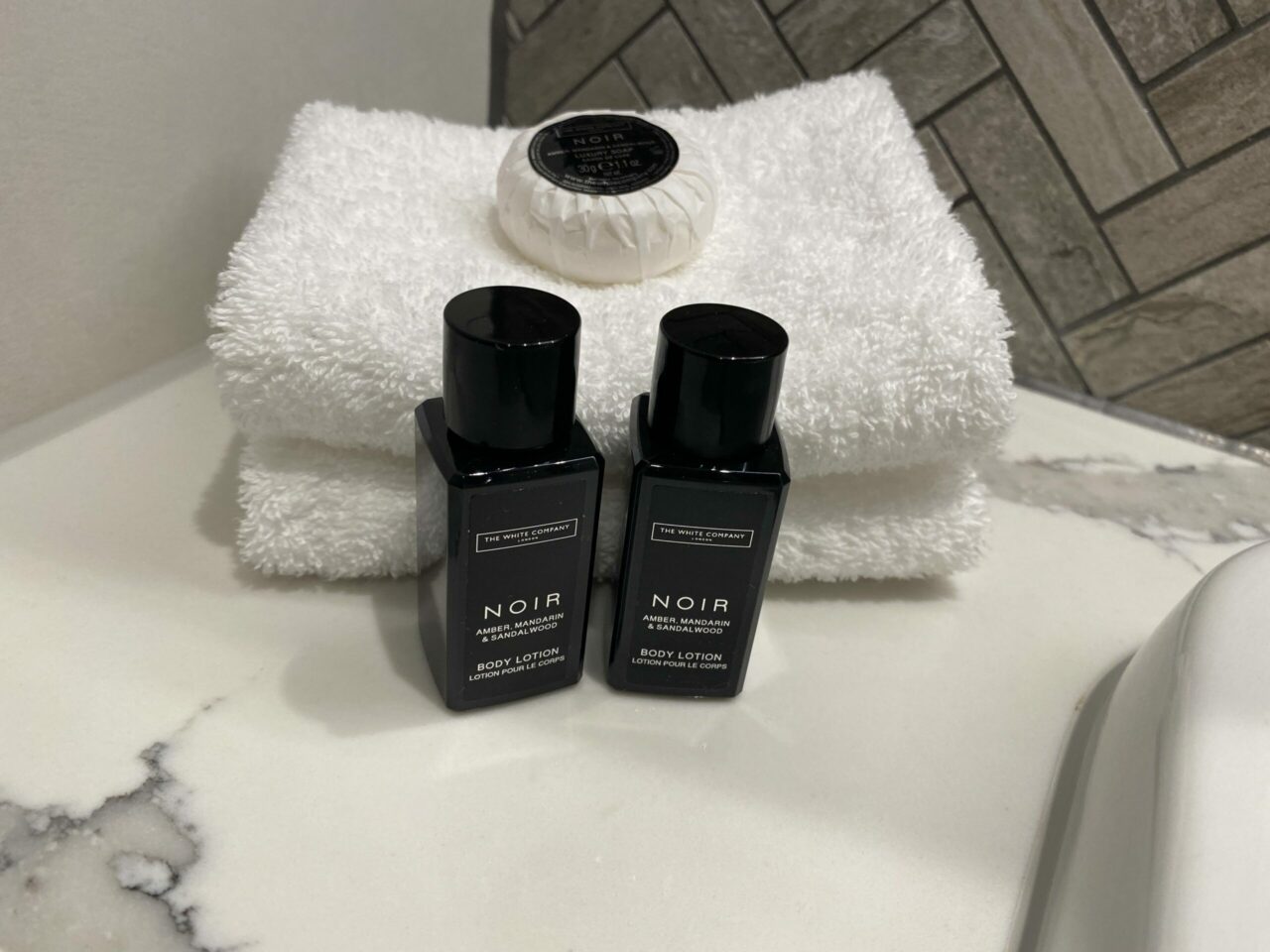 Other room types
While I was there, I had a look at a couple of other rooms types. Each room is individual, so if you want something special like a desk or bath, it's best to ask when you book.
The Duplex suite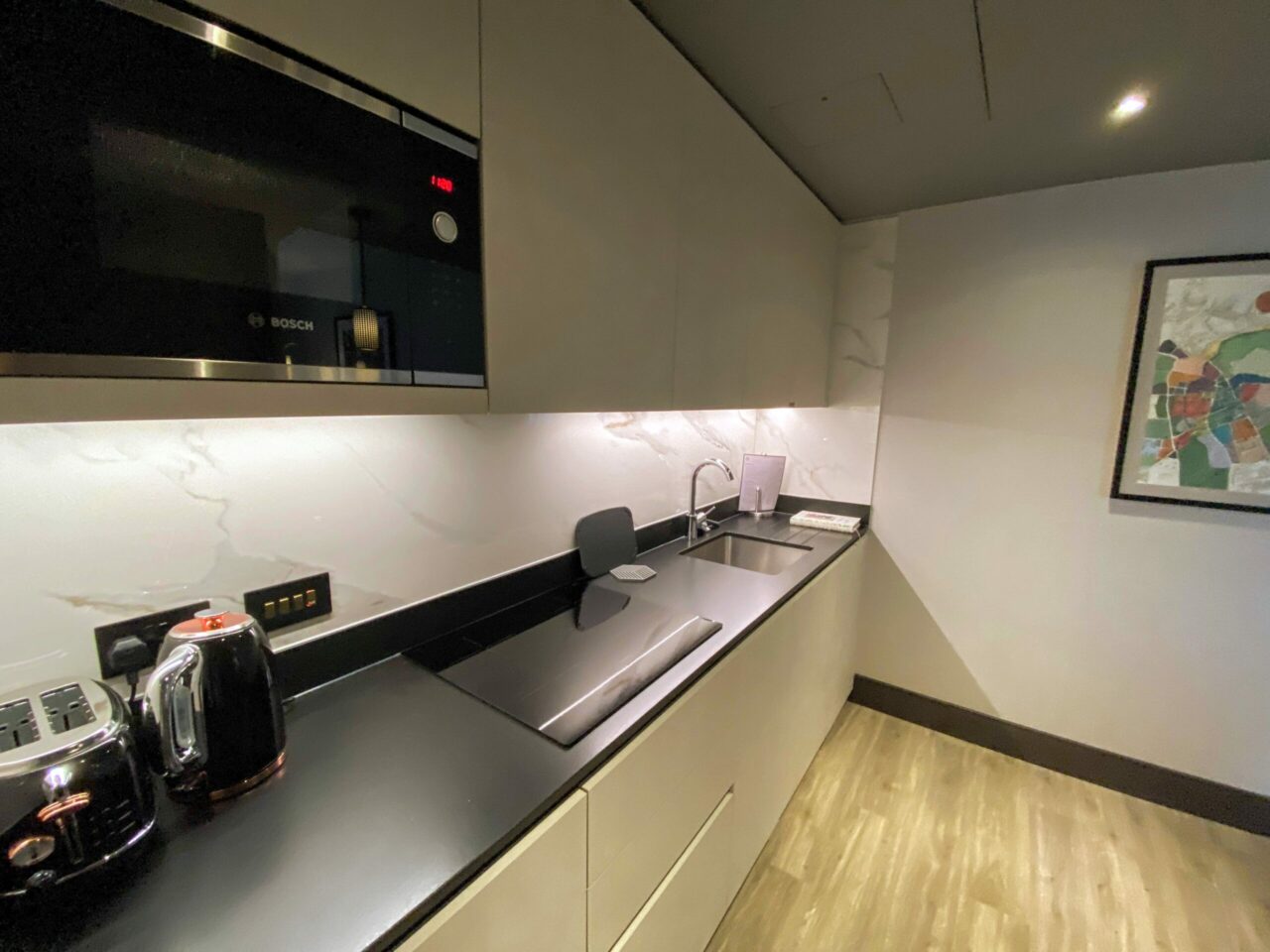 This has a large kitchen with dining area and living room on the lower floor. Up some pretty steep steps is the large bedroom and bathroom.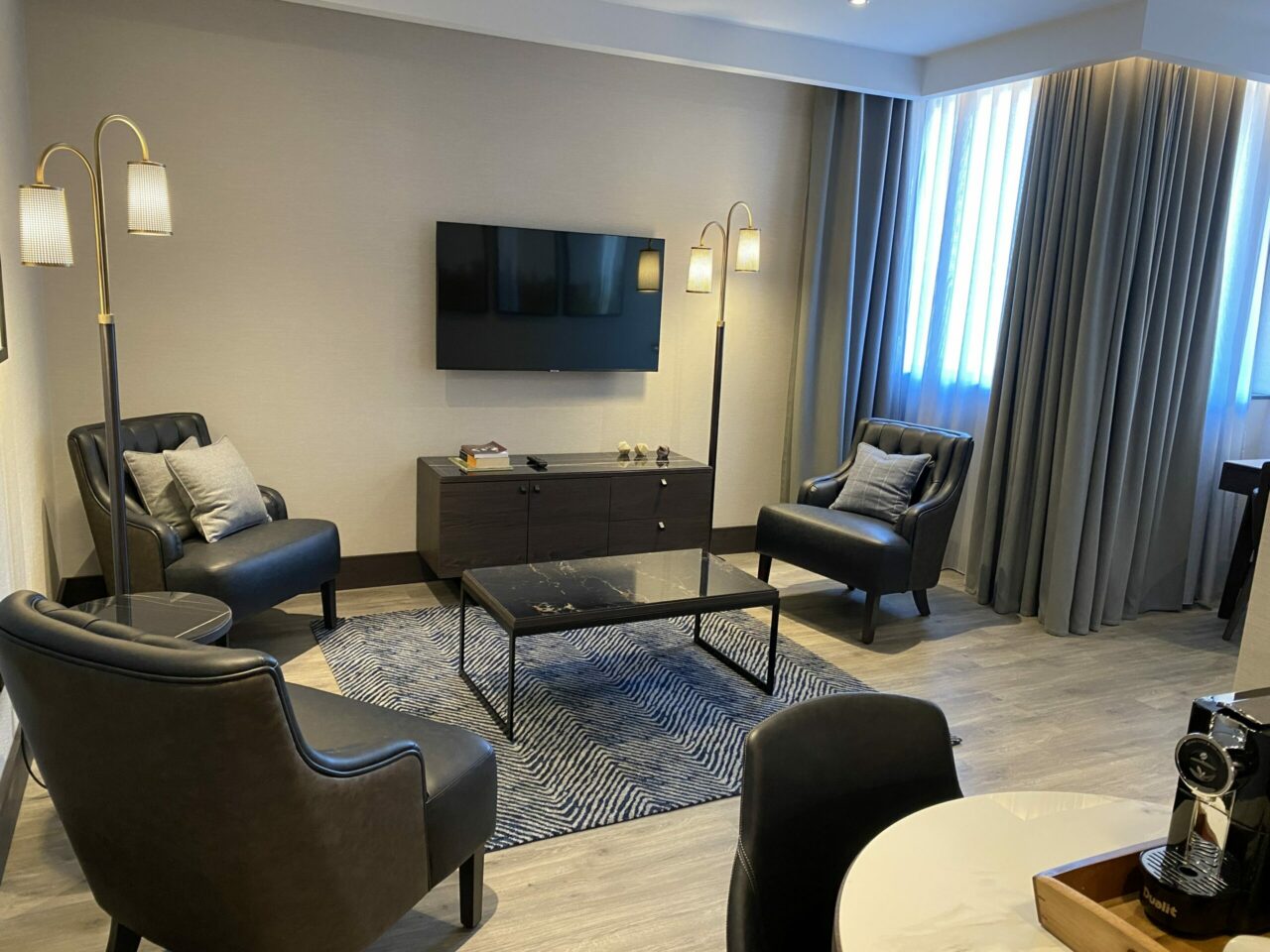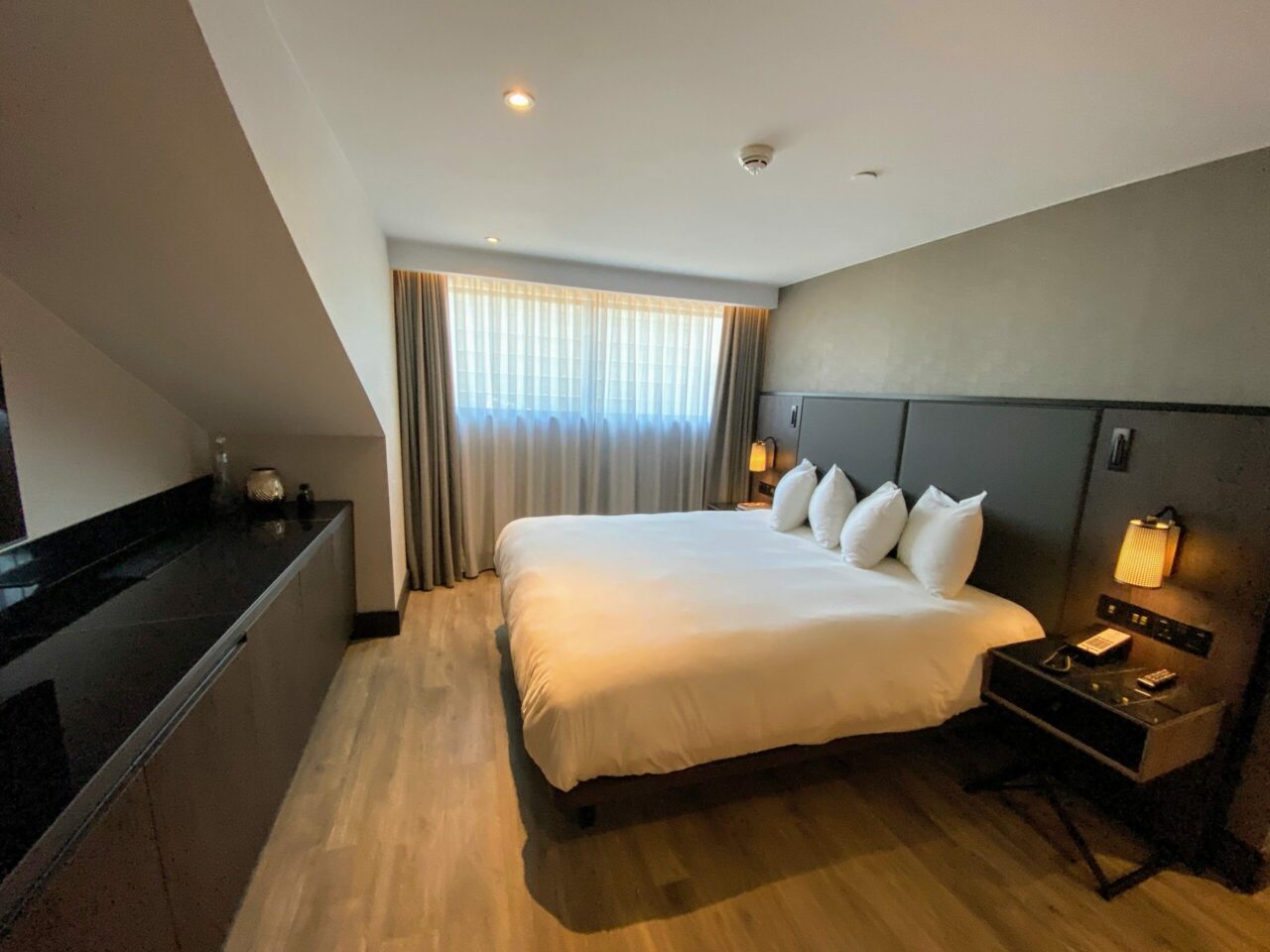 The Kipling king room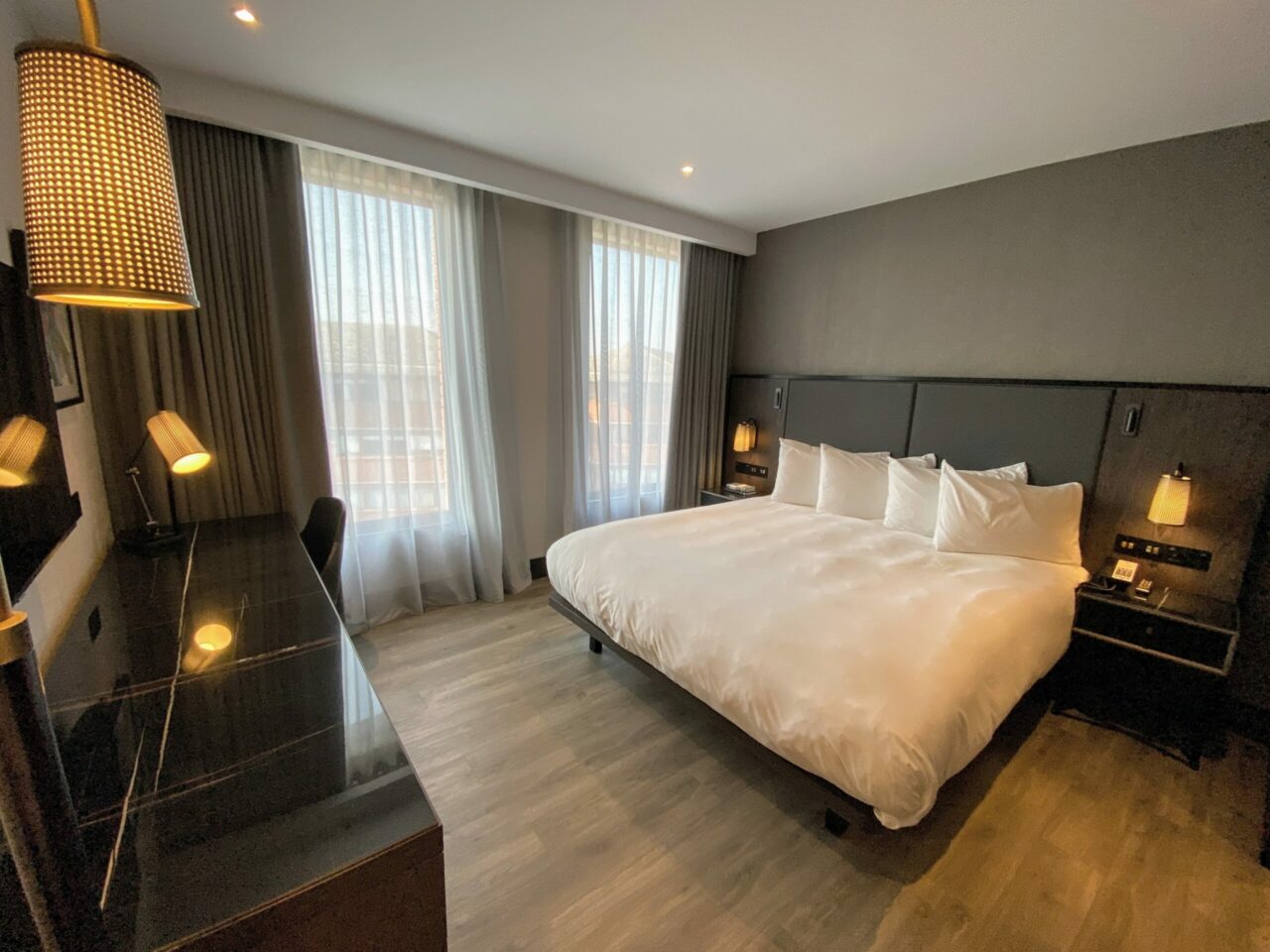 This is the entry level room and still has the same sort of bathroom and coffee machine as the suites. It also has a large desk area.
If you are travelling with family or friends you can either get a suite with a sofa bed or they also have the ability to add an extra bedroom onto some of the suites.
The Fellows House Cambridge Food and drink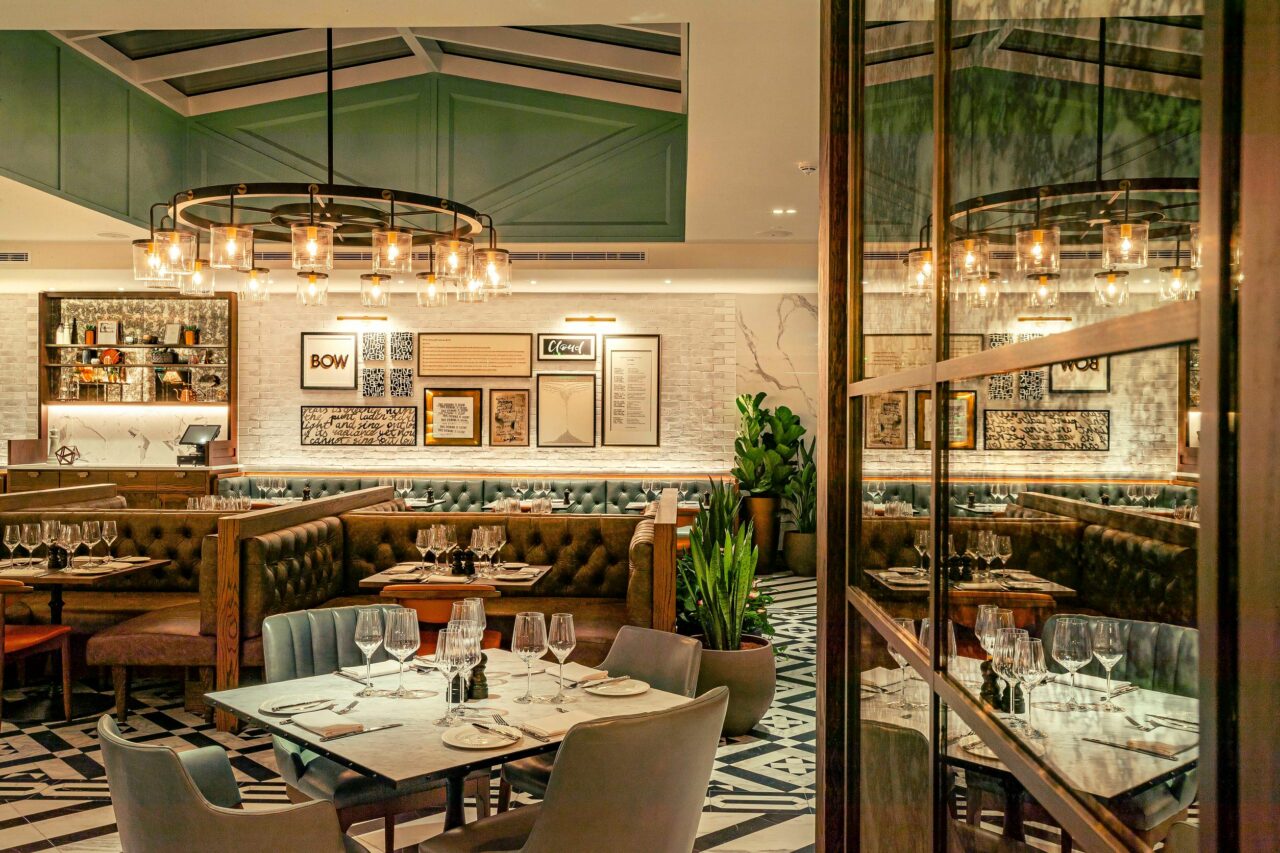 The Folio Bar and Kitchen
Due to traffic, it had been a very long drive, so we decided to eat in the hotel that night. The Folio Bar and Kitchen is on the ground floor by reception. It has an open plan layout giving a feeling of space, but each area has an individual feel. I really liked the feel of the whole ground floor with its classy but slightly quirky decor.
The Folio Kitchen menu is very modern, focusing on plant-based food, so if you are vegan or vegetarian, you will find you have lots of choices. There was a wide choice on the menu, from light snacks to more sophisticated dishes – perfect for a hotel.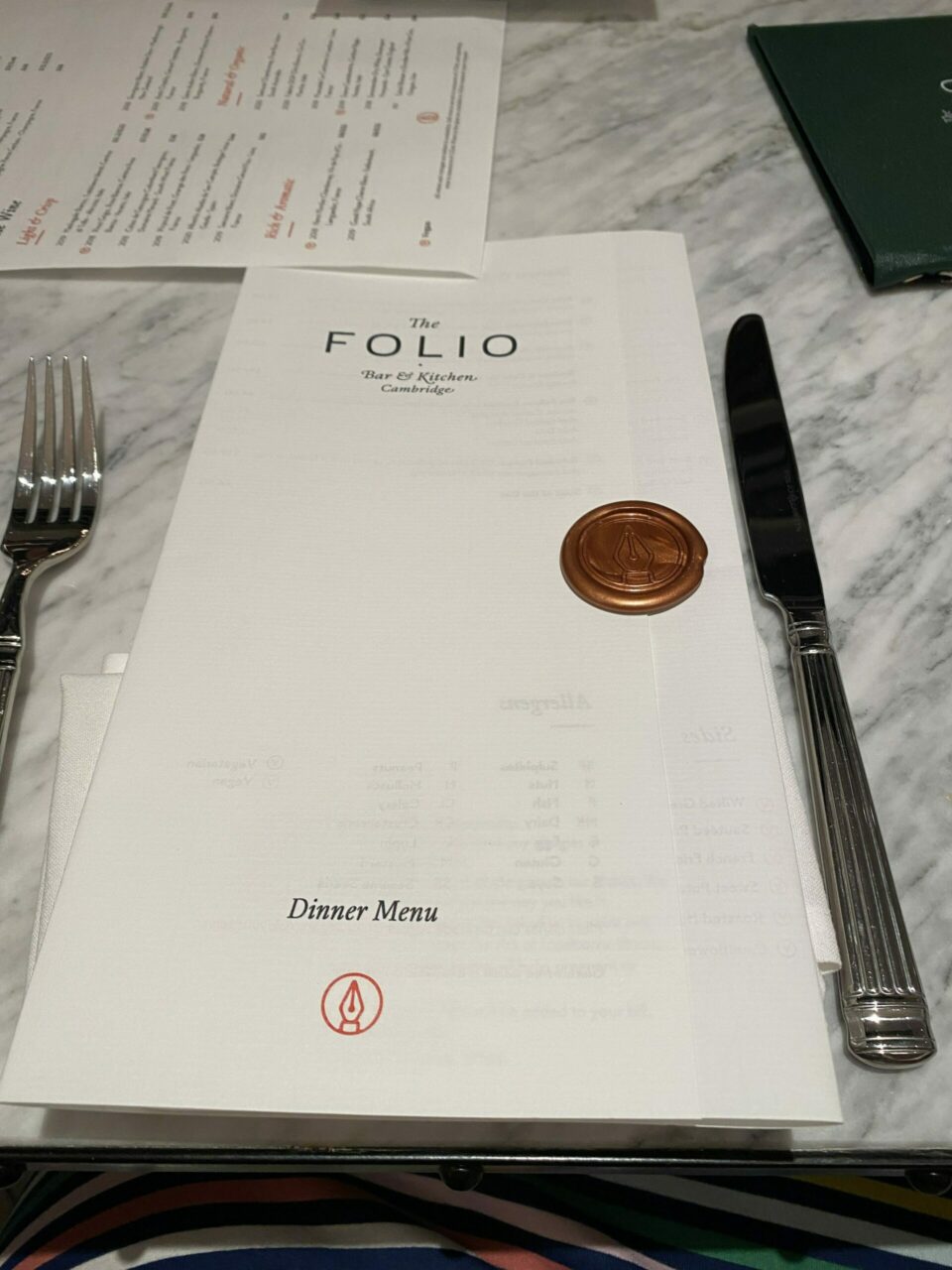 I loved the way the menu was finished with a seal!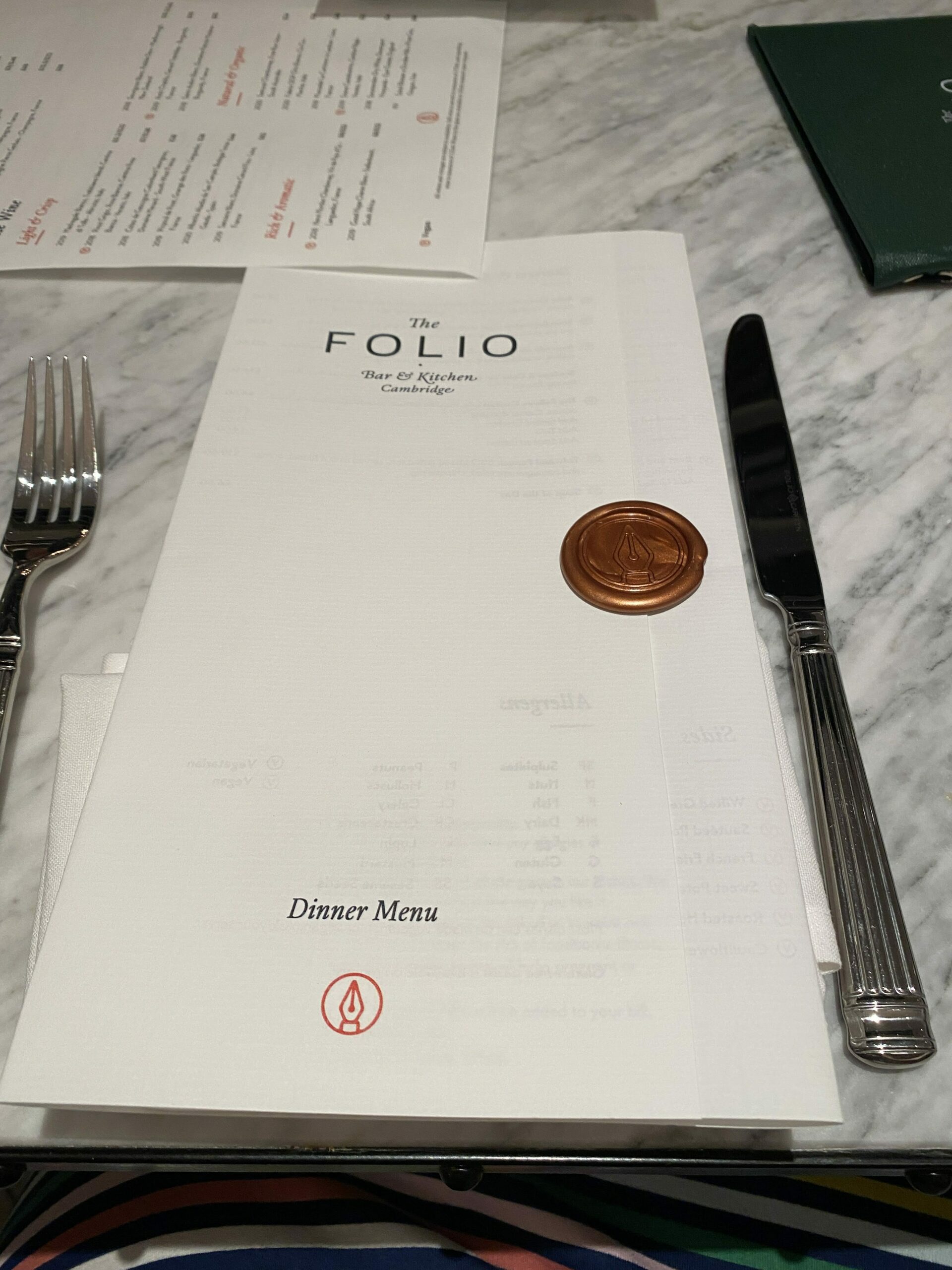 Here is the menu: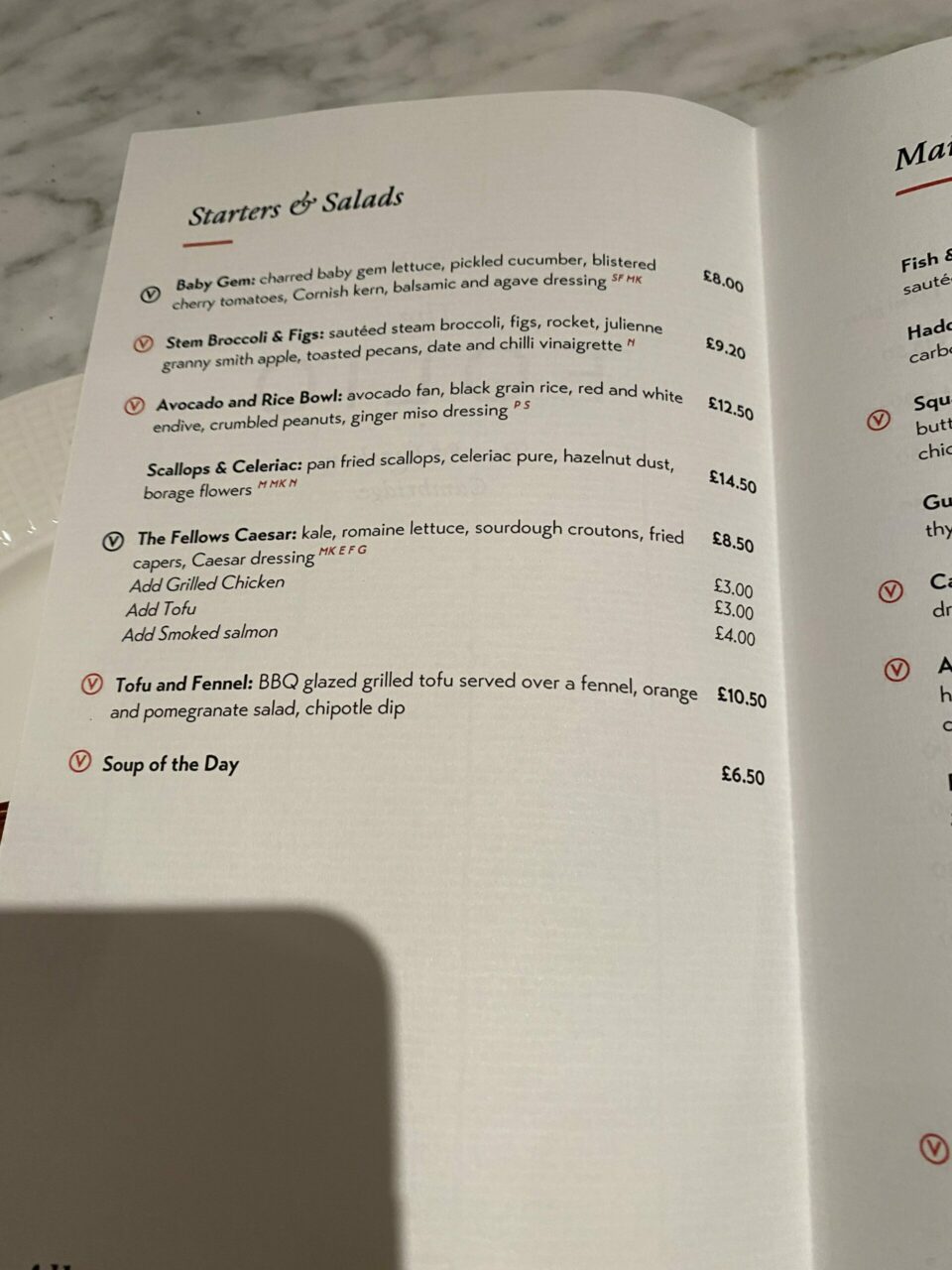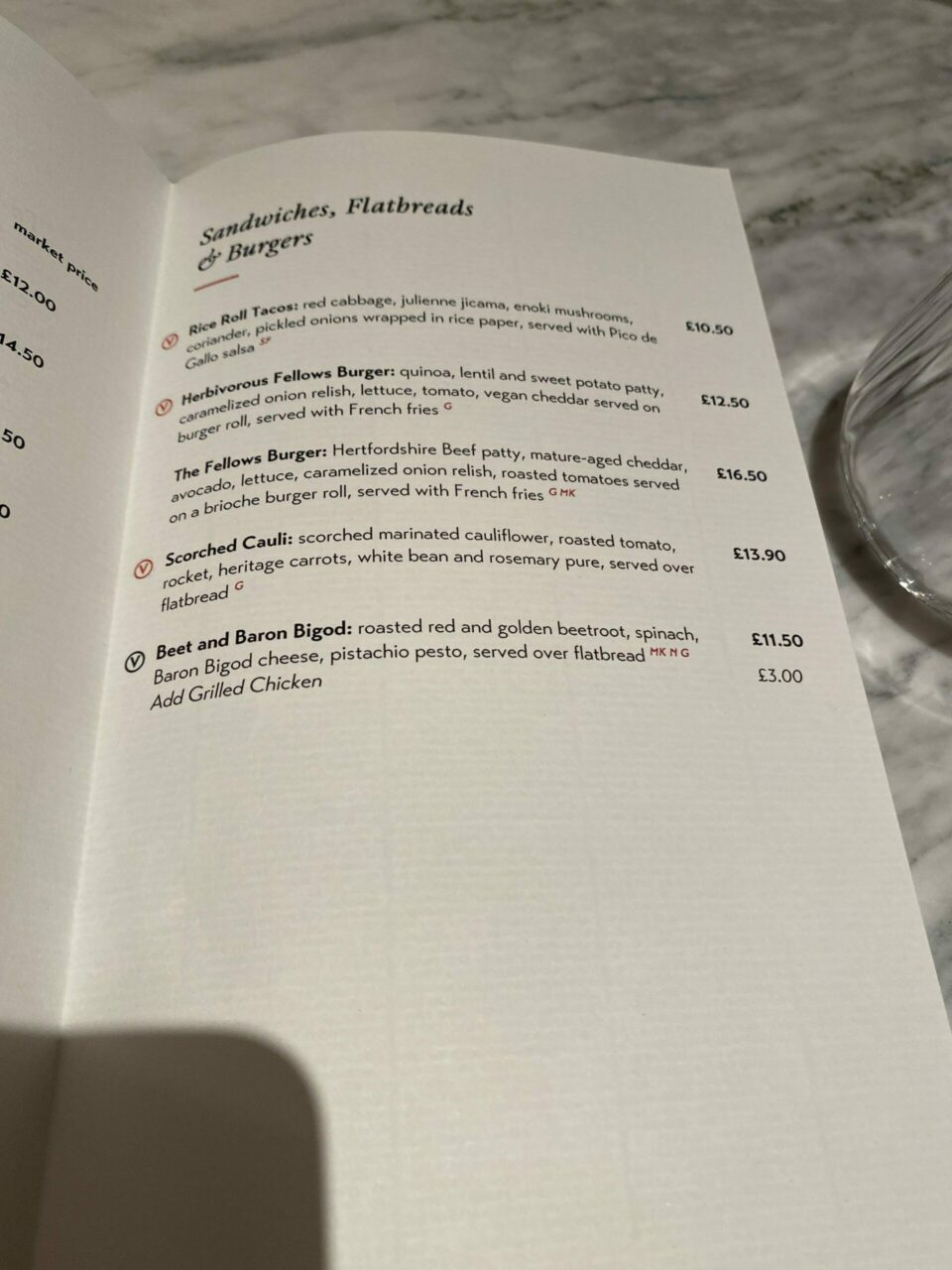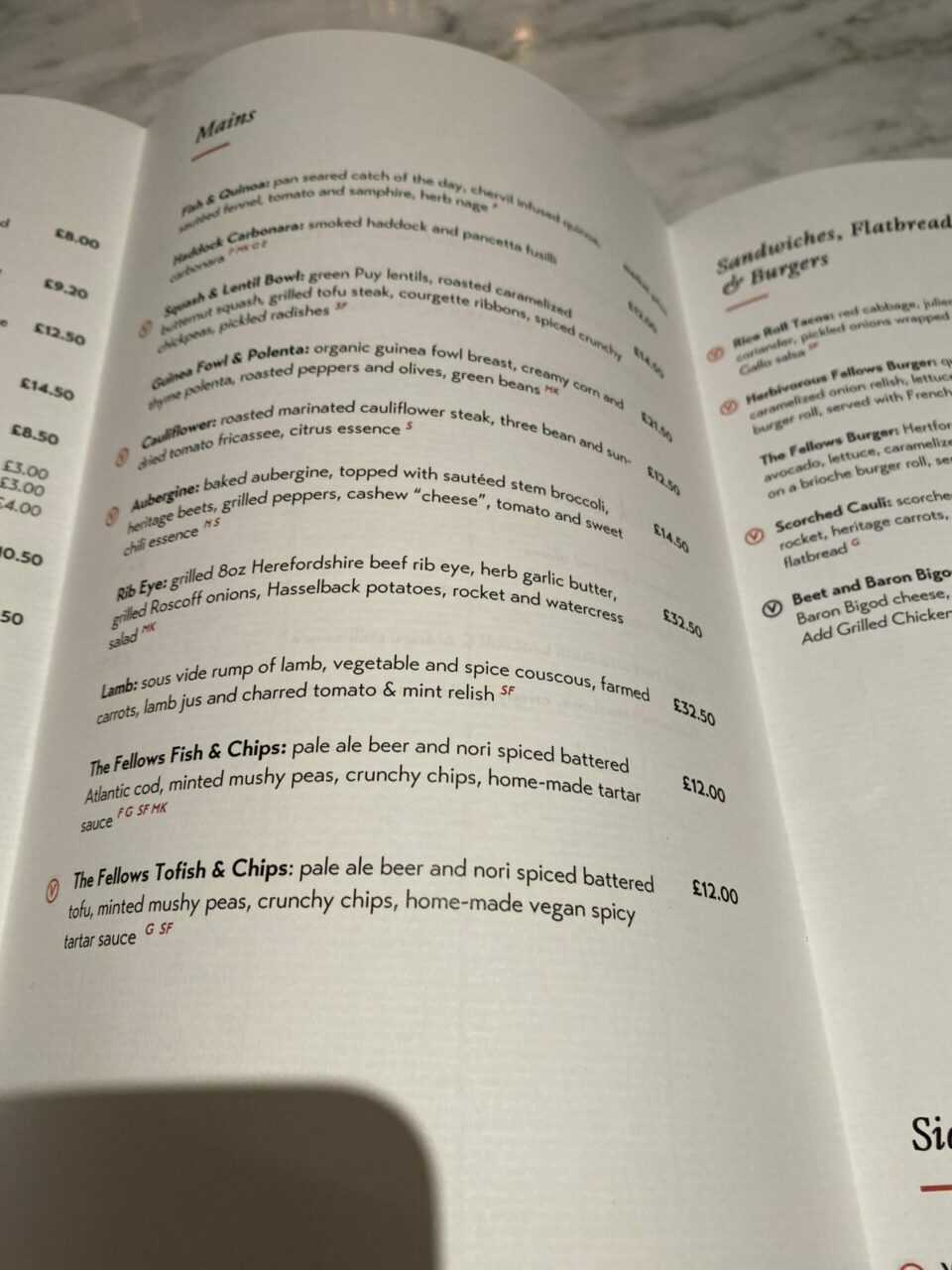 We started with a cocktail from the bar each. The cocktails are a specialty at the Folio bar with expert mixologists, and recipes are inspired ed the scientific pioneers and the past and present Fellows of The University of Cambridge. Both were modern, innovative, and well-balanced.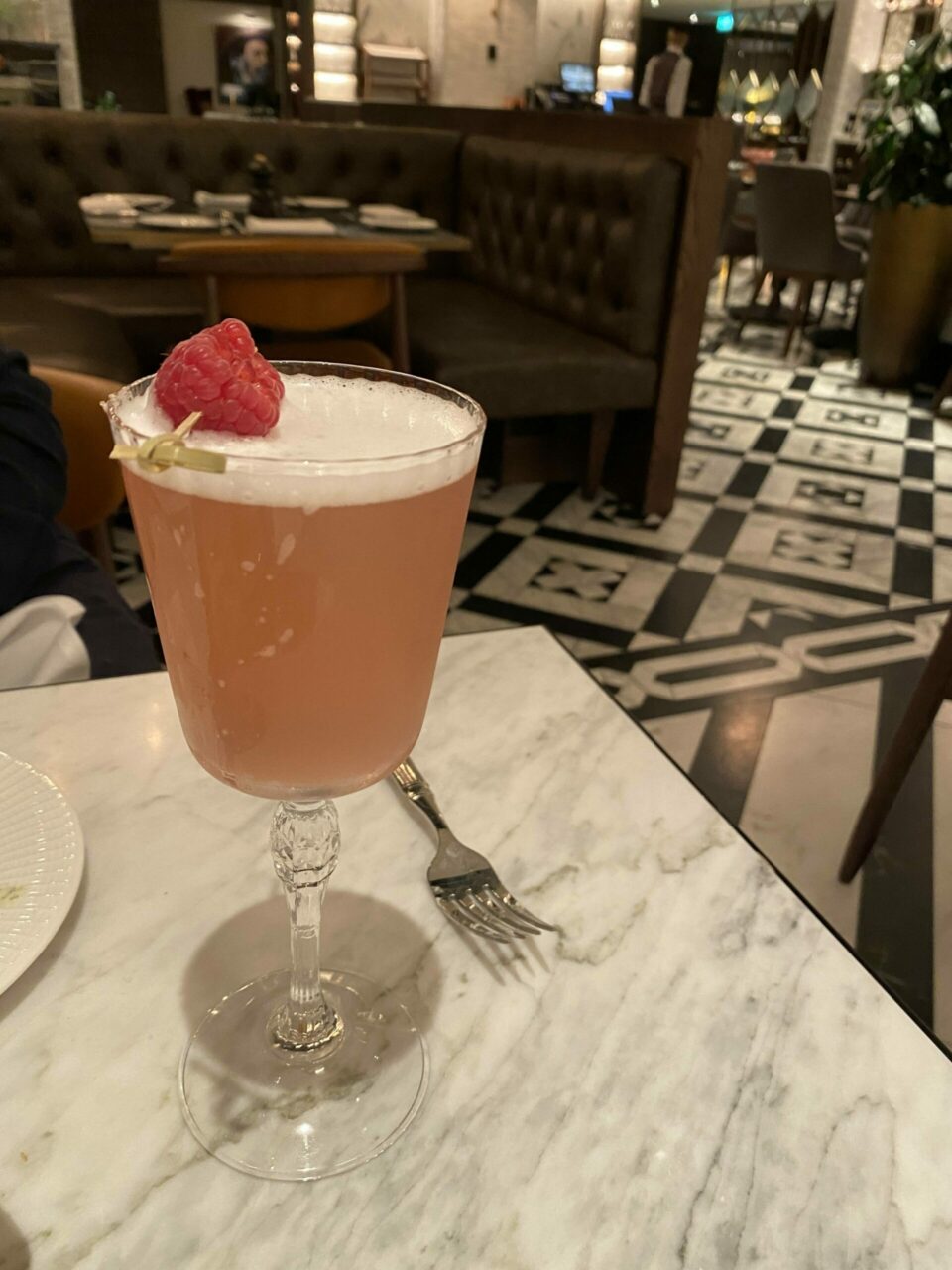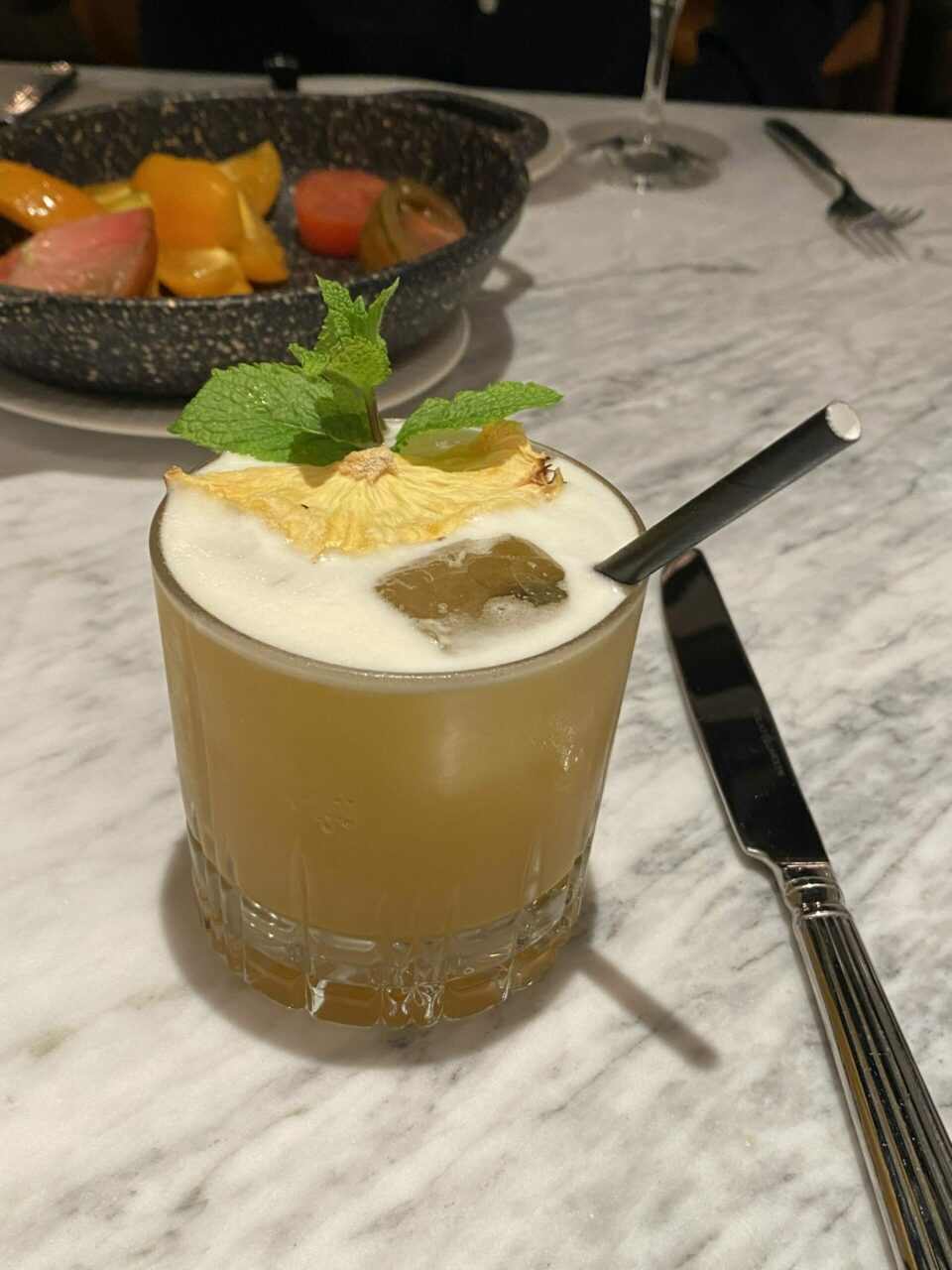 The menu consists of a snack list, then the usual starters, mains, and desserts. The bar also does some tapas-type dishes, which are similar to the snack menu.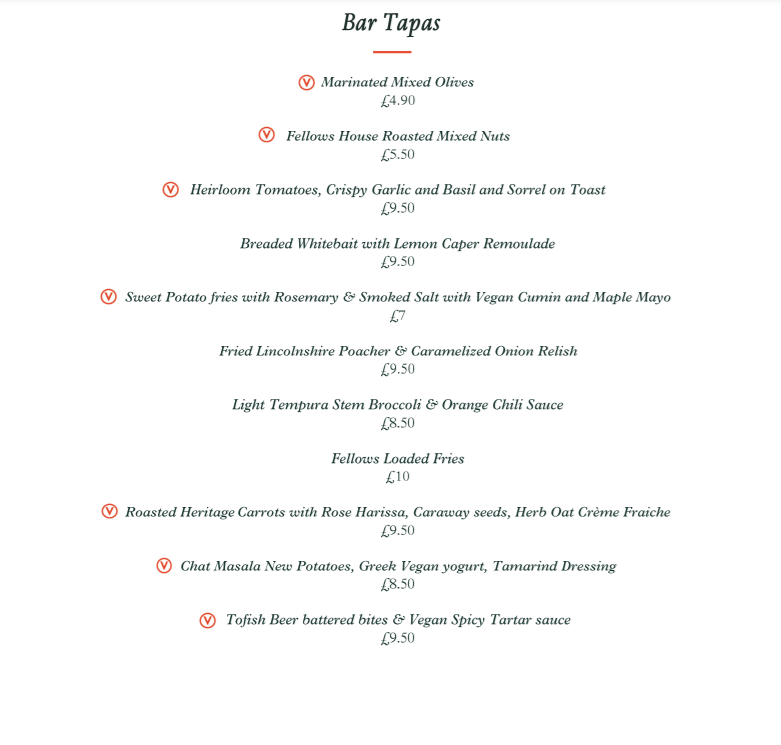 Nothing tickled my fancy from the starters, so we went with the heirloom tomato with toast and cheese as a starter. It would be easy to miss this list as it was on the back of the menu. There was a great mix of lovely fresh tomatoes, and the topping on the bread was a little like a Boursin. I thought the tomatoes could do with some sort of dressing like balsamic to make it a more complete dish. I was glad we shared, as it was a large portion.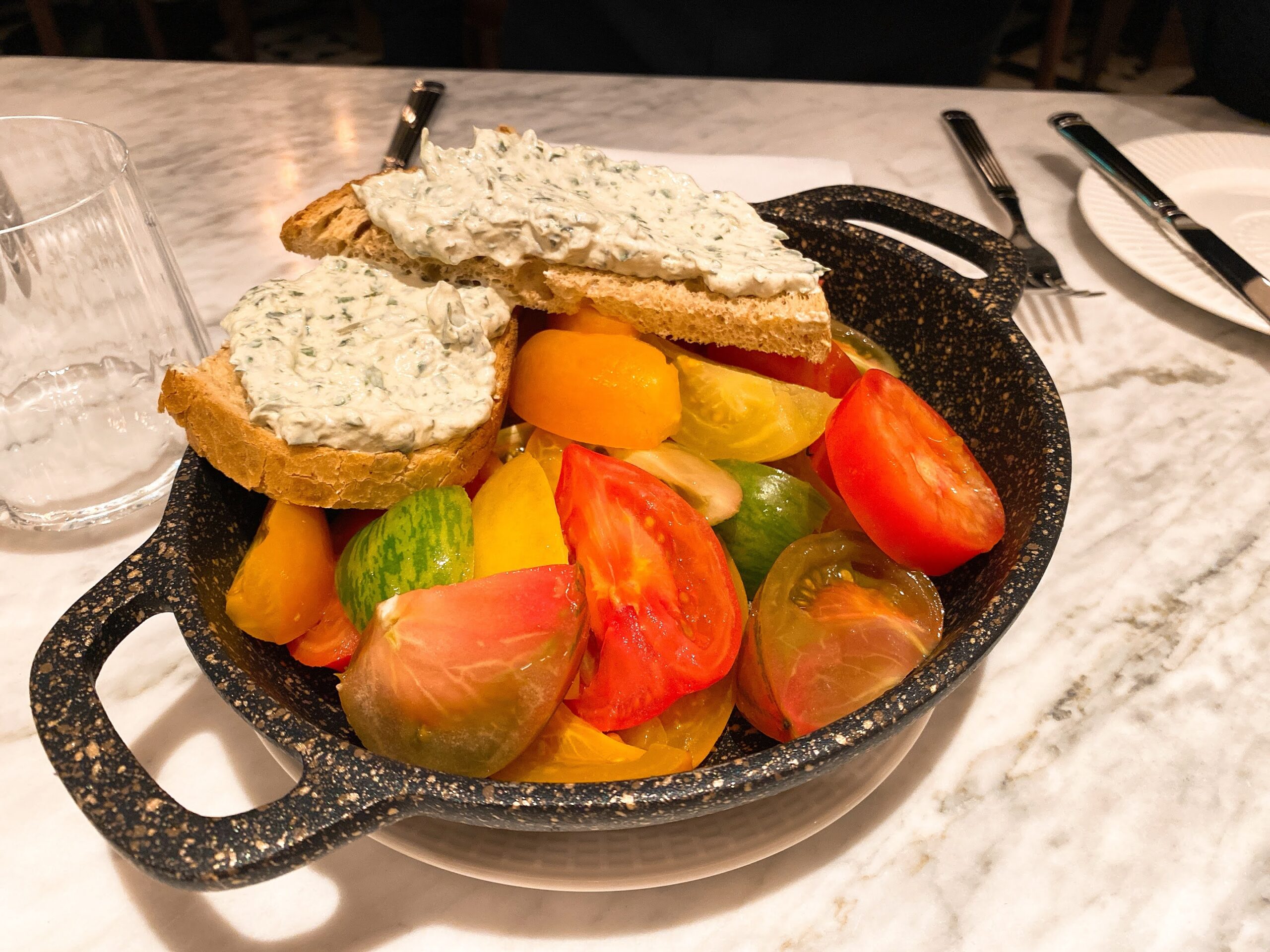 Next, I went for the complete opposite of vegan with a Ribeye steak. Steak is a simple dish, but it is often not properly cooked, so this is a good test of the kitchen. The steak was perfectly cooked medium rare with a sweet seared shallot and a hassle back potato. Some peppery fresh watercress salad added some welcome freshness to the dish.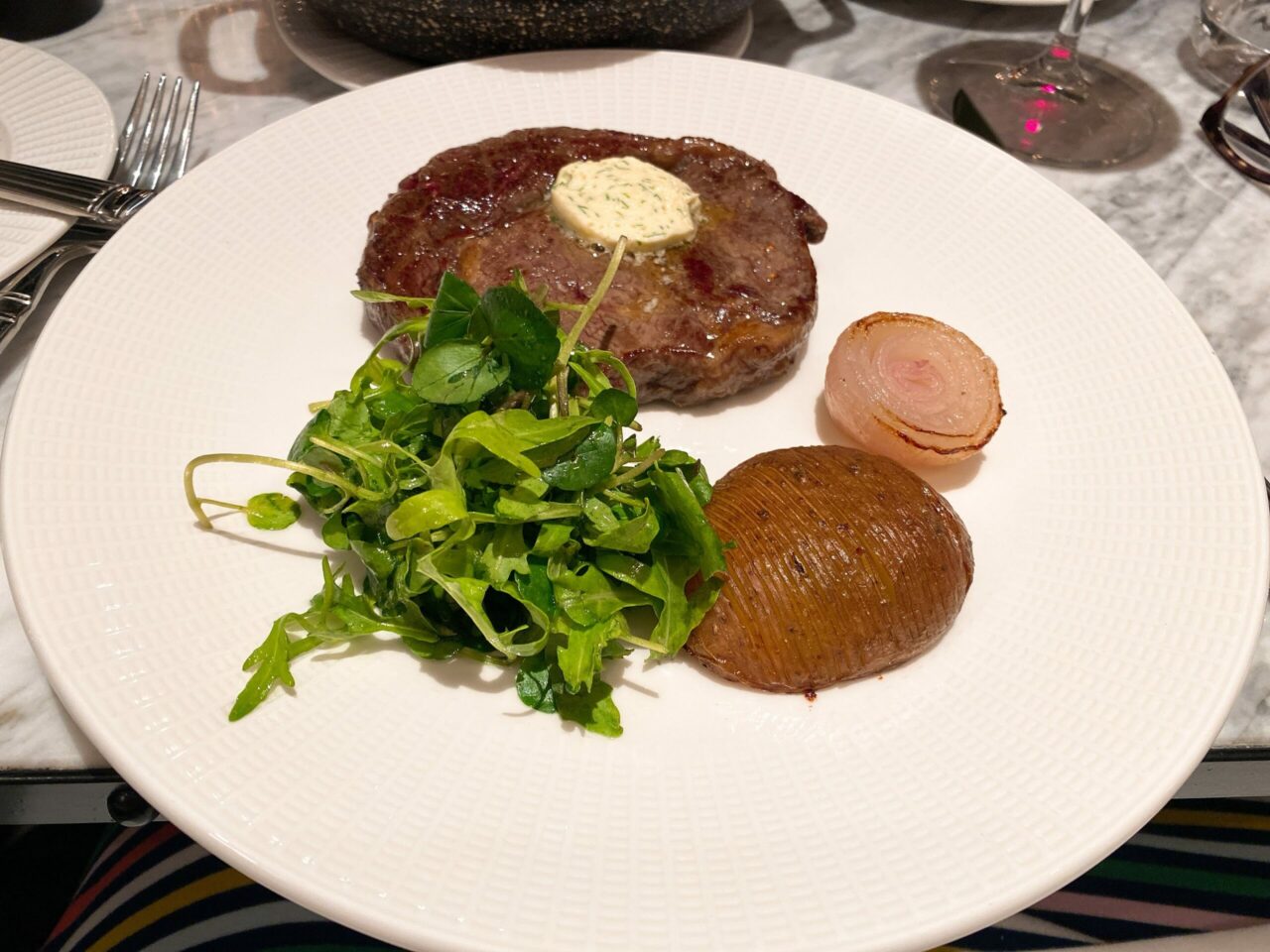 I accompanied my steak with a delicious glass of French Malbec. Sometimes hotel wines by the glass can be poor, but I enjoyed this so much I had to have another!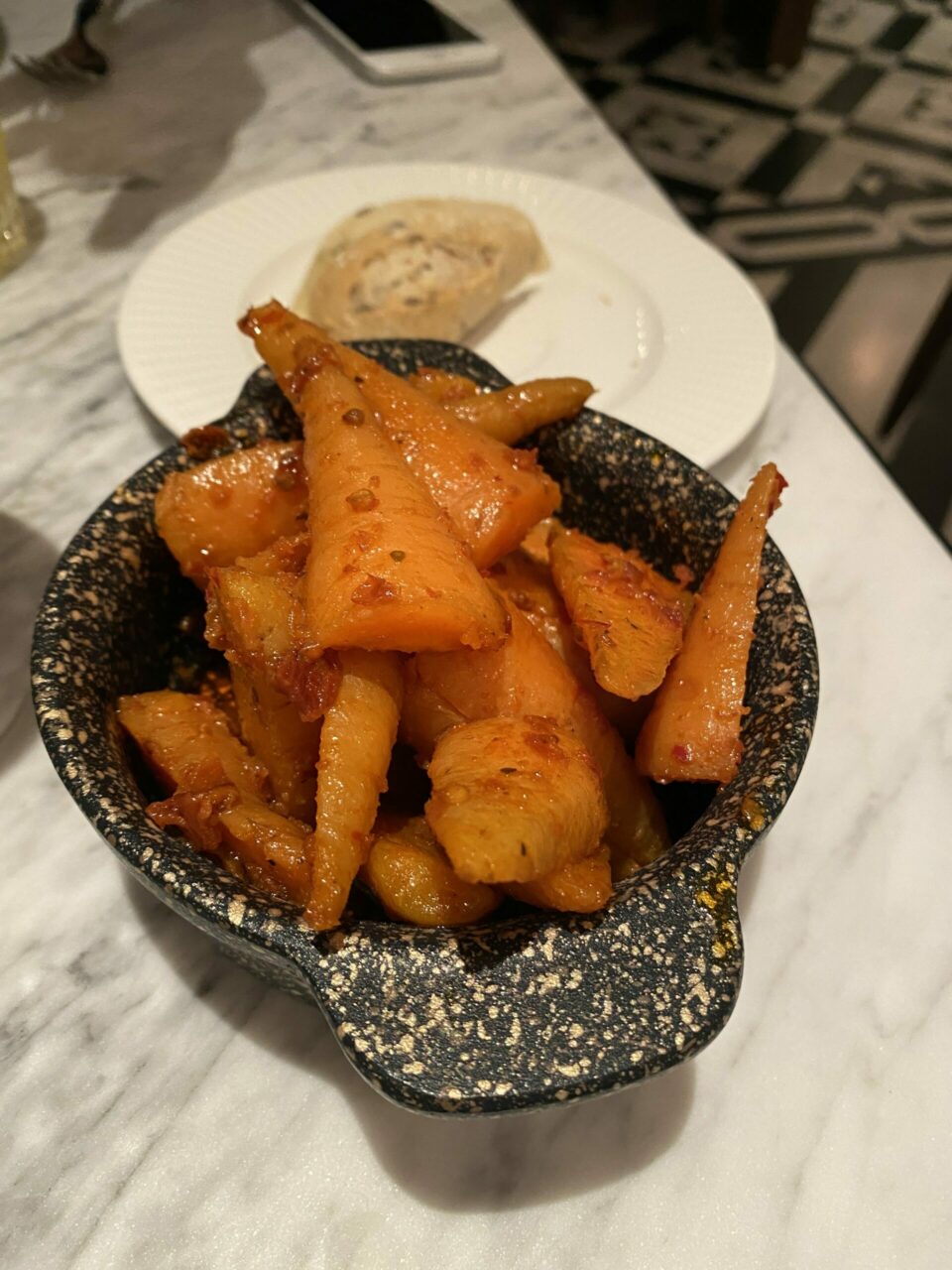 We also shared a side dish of roasted carrots with harissa that I loved. There was just the right balance of the fiery harissa to offset the sweet carrots. Definitely one I will be trying to replicate at home!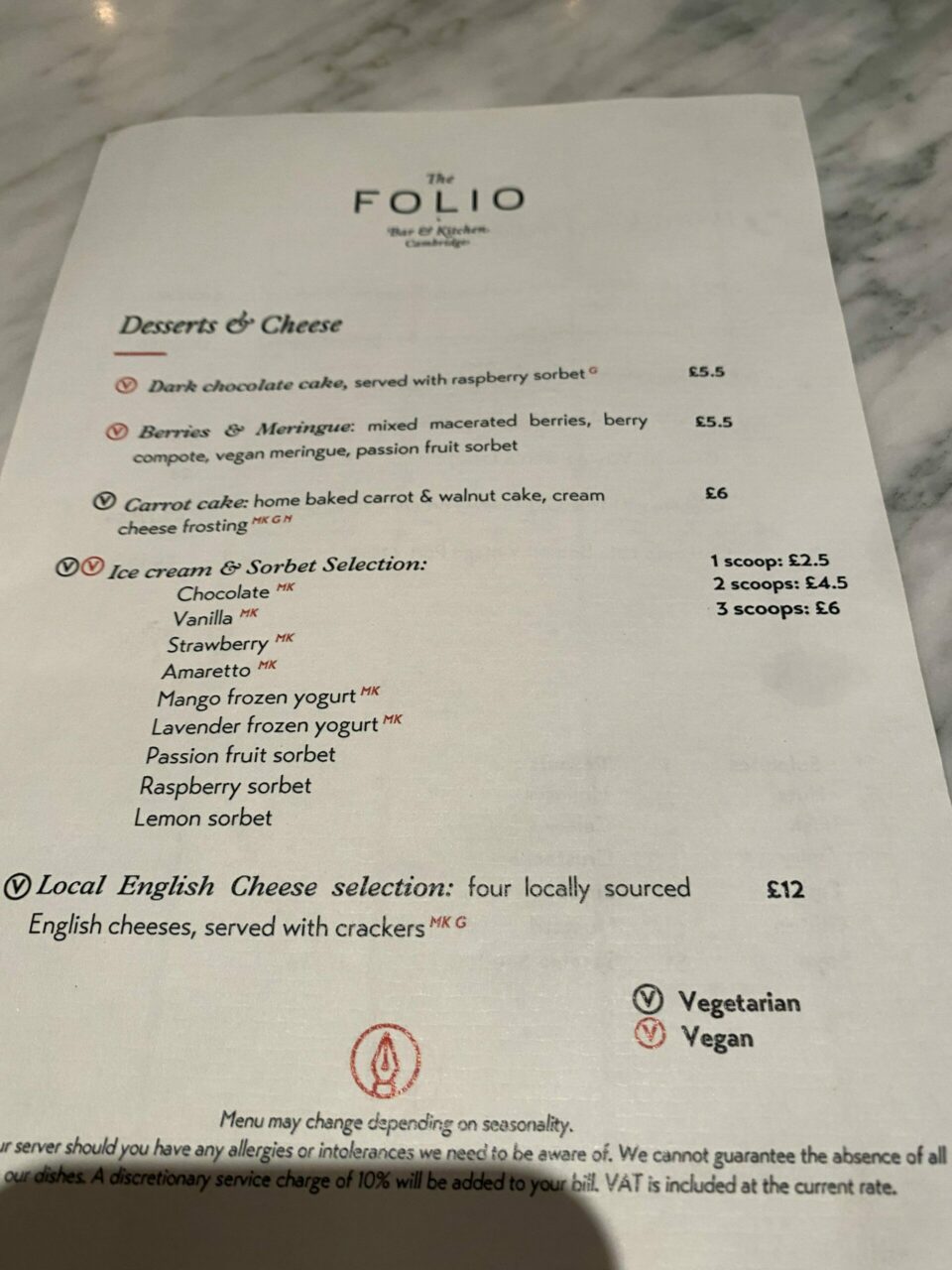 We were very full, so we just went for some ice cream to finish with. It was luscious and packed full of flavour.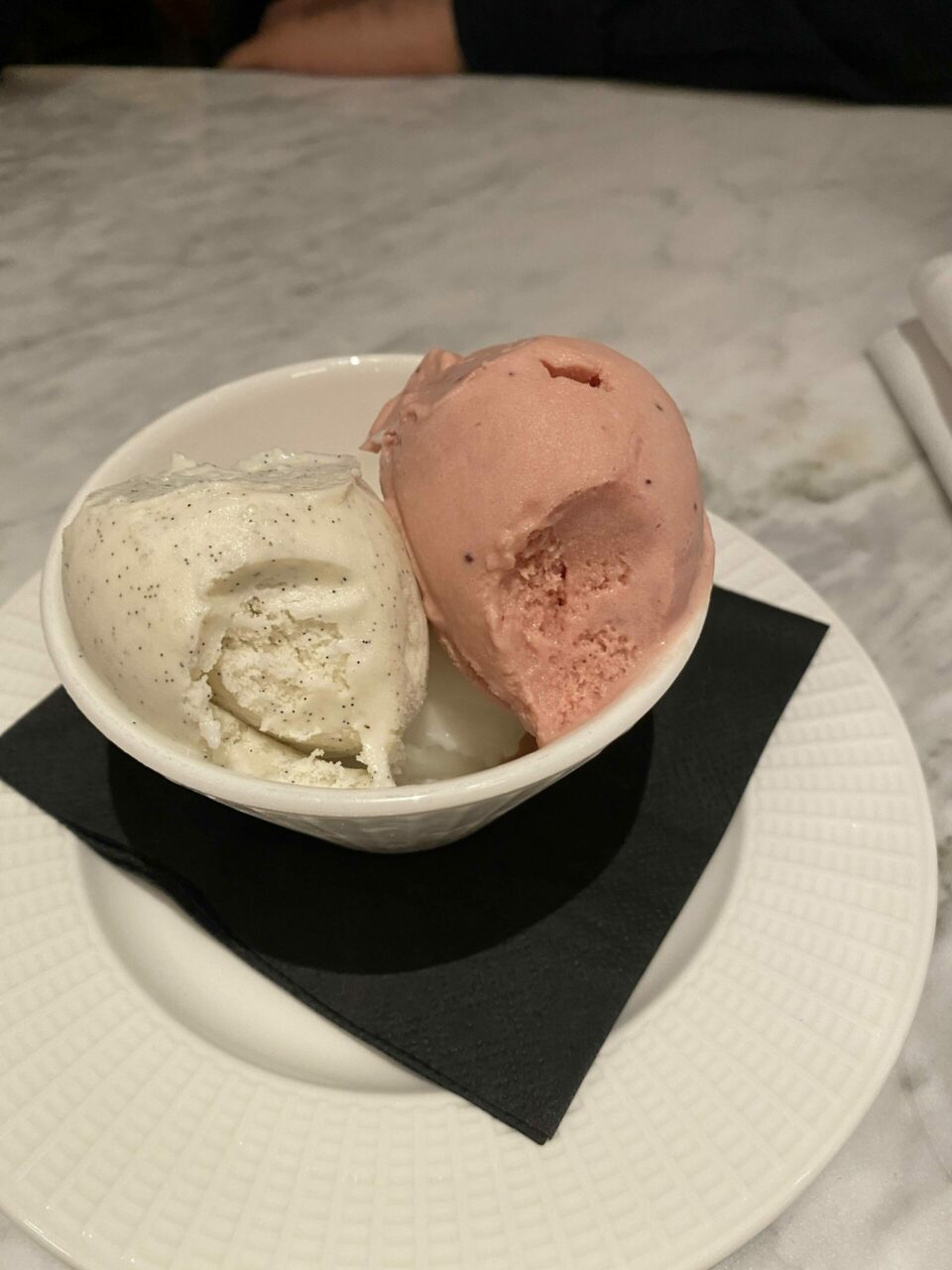 The service was initially a little slow, but they were definitely friendly and keen to help. Then we got a great waiter who was very attentive and friendly. We did ask for a few off-menu items such as bread, and it was no problem for the hotel to supply them.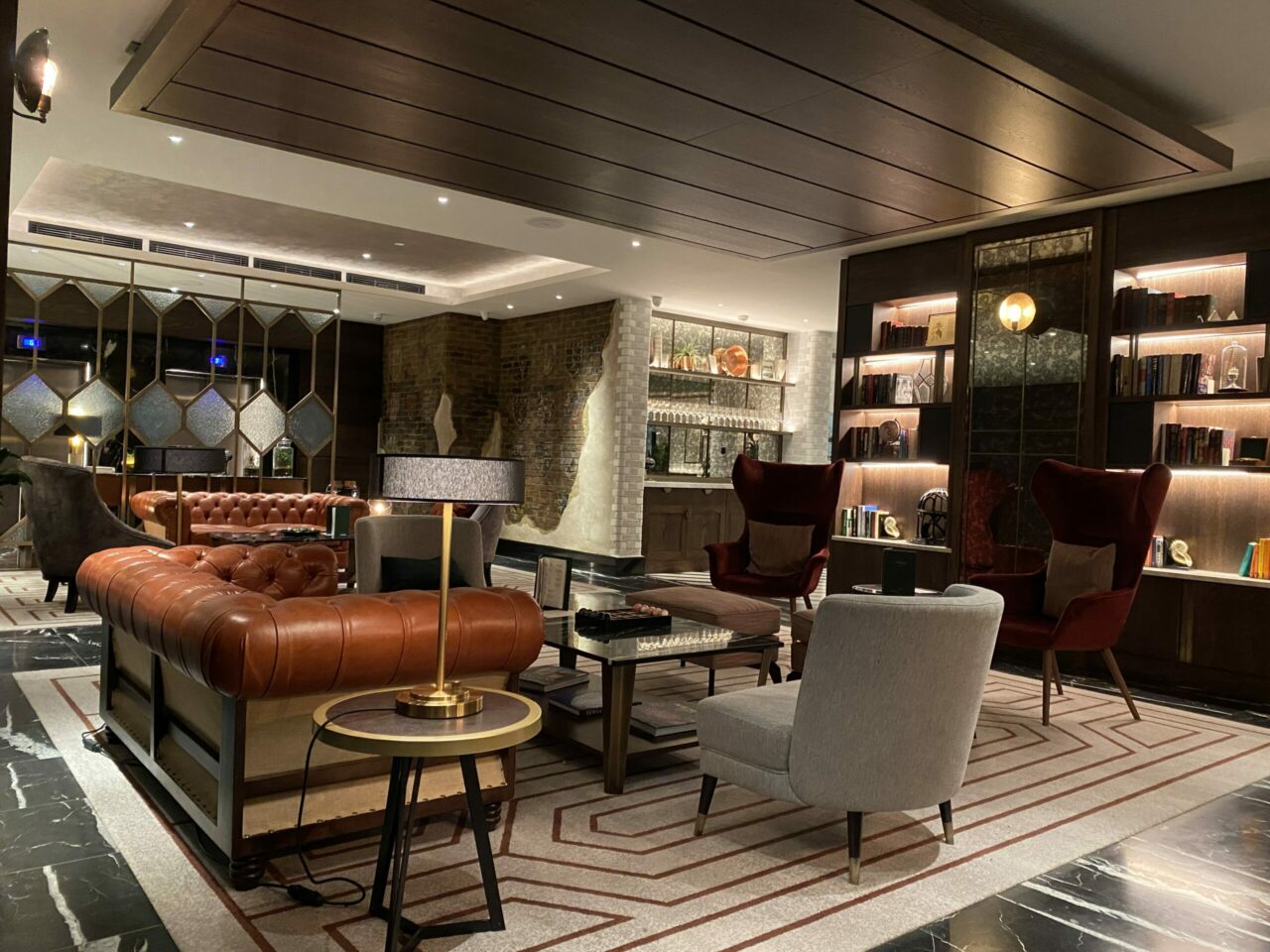 After dinner, we headed to the bar for a drink, which I really enjoyed with the lovely friendly bartender. The bar has lots of cosy sitting areas if you want to just chill out, and there are plenty of games and books if you want some entertainment. There is even a pool table.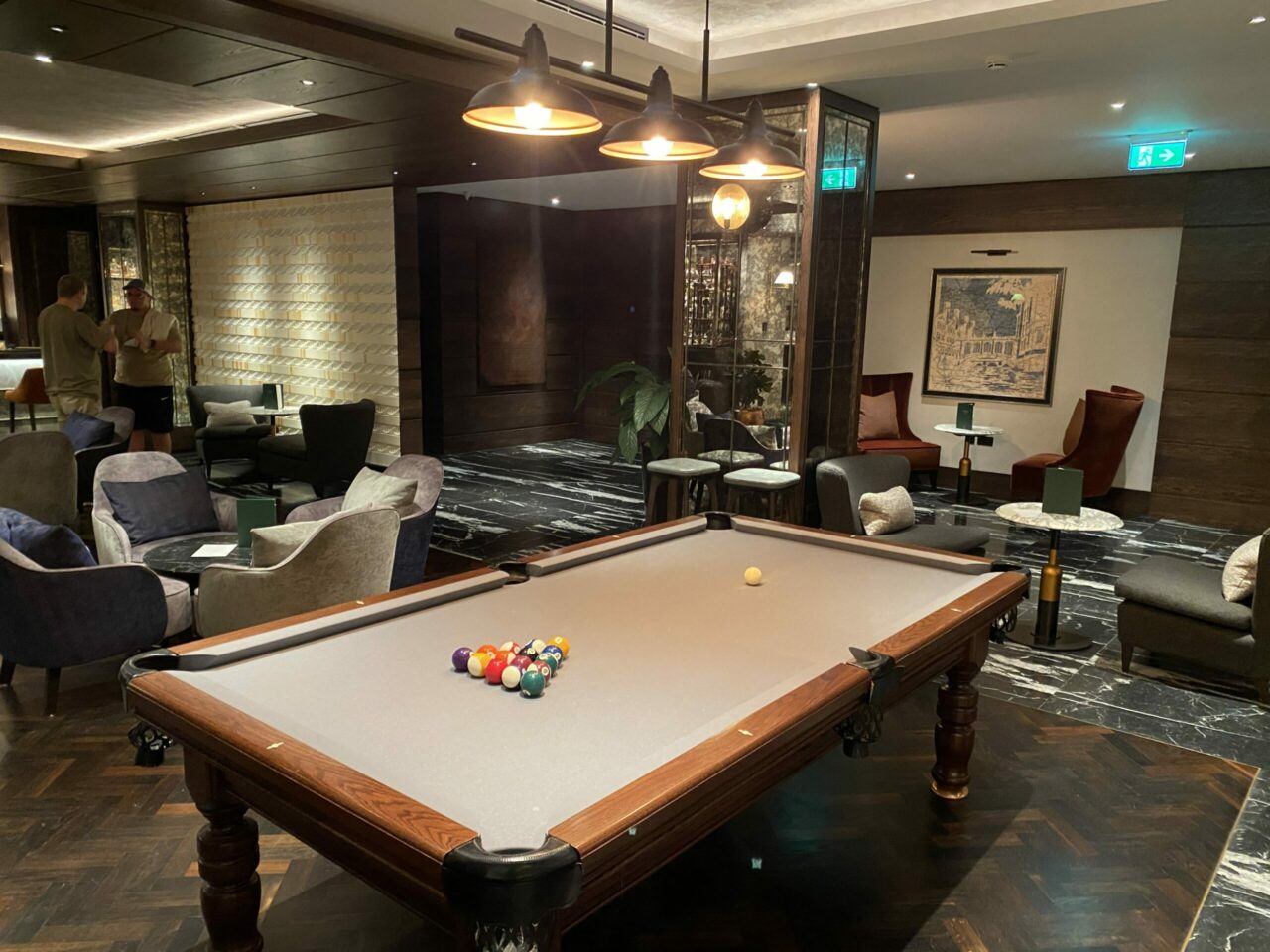 Breakfast in The Folio Kitchen

Breakfast is served buffet style in the Folio restaurant. Everything is self service including the tea/coffee but you can order eggs and waffles from the chef. I would have rather had proper coffee than from a machine personally as it's never as good out of a machine even with ones that grind the beans.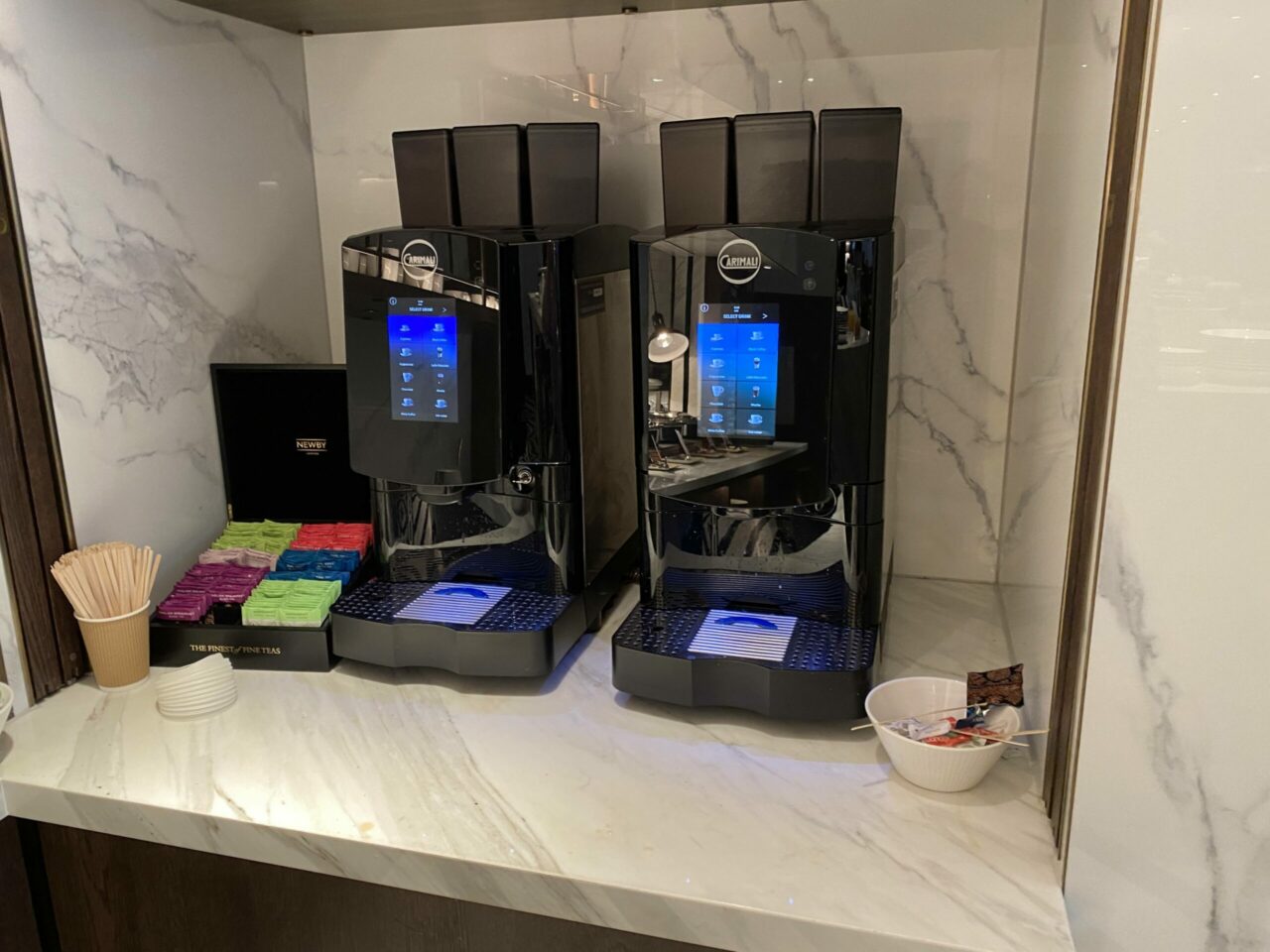 Again there was a lot of focus on those with dietary needs such as a selection of several vegan types of milk. Freshly squeezed orange juice was on offer which is the sign of a quality hotel, as well as a smoothie of the day.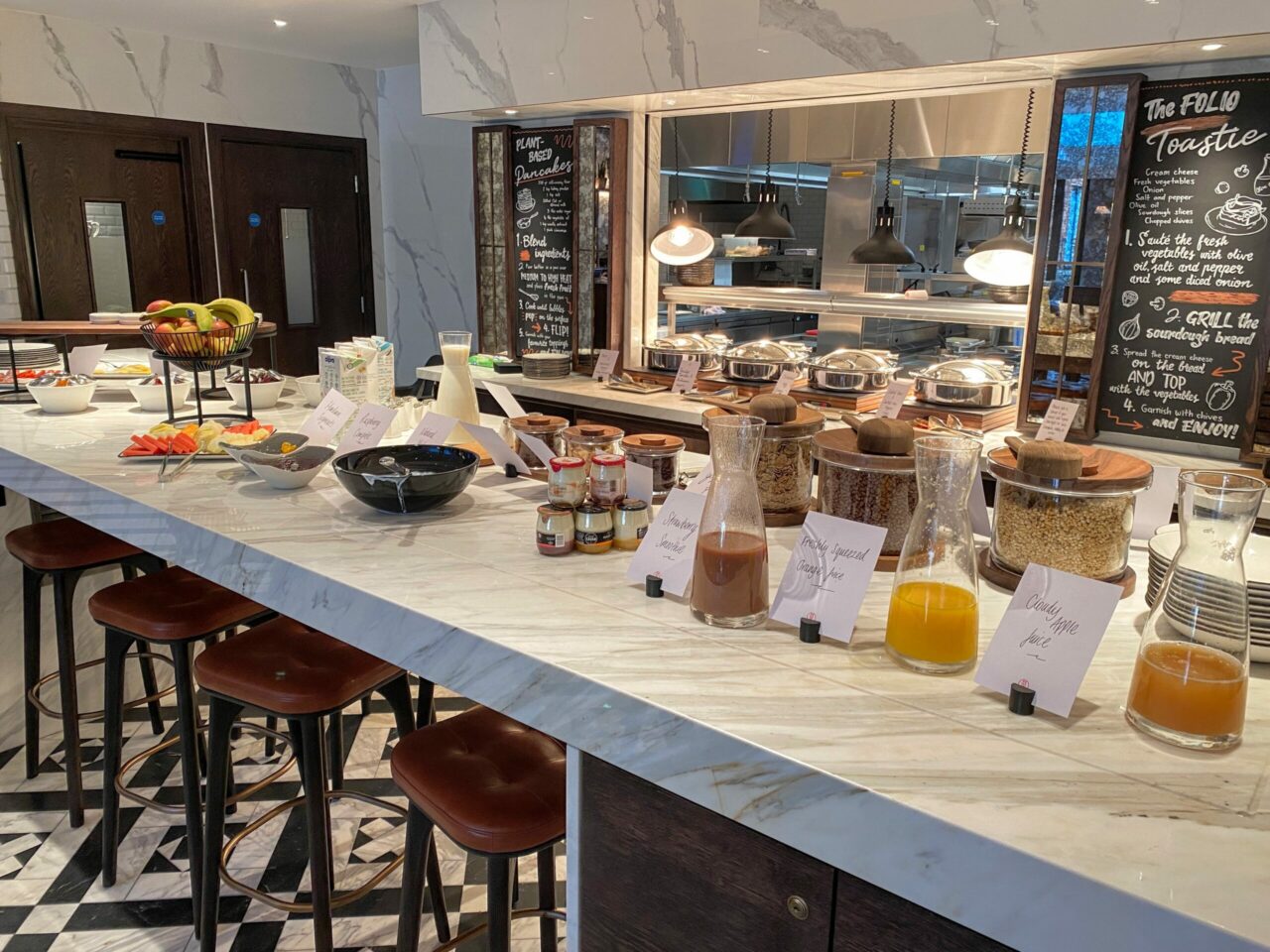 The selection isn't huge at the buffet but it would be more than enough for most people on a short break. I liked that everything was well labelled in case you had an allergy.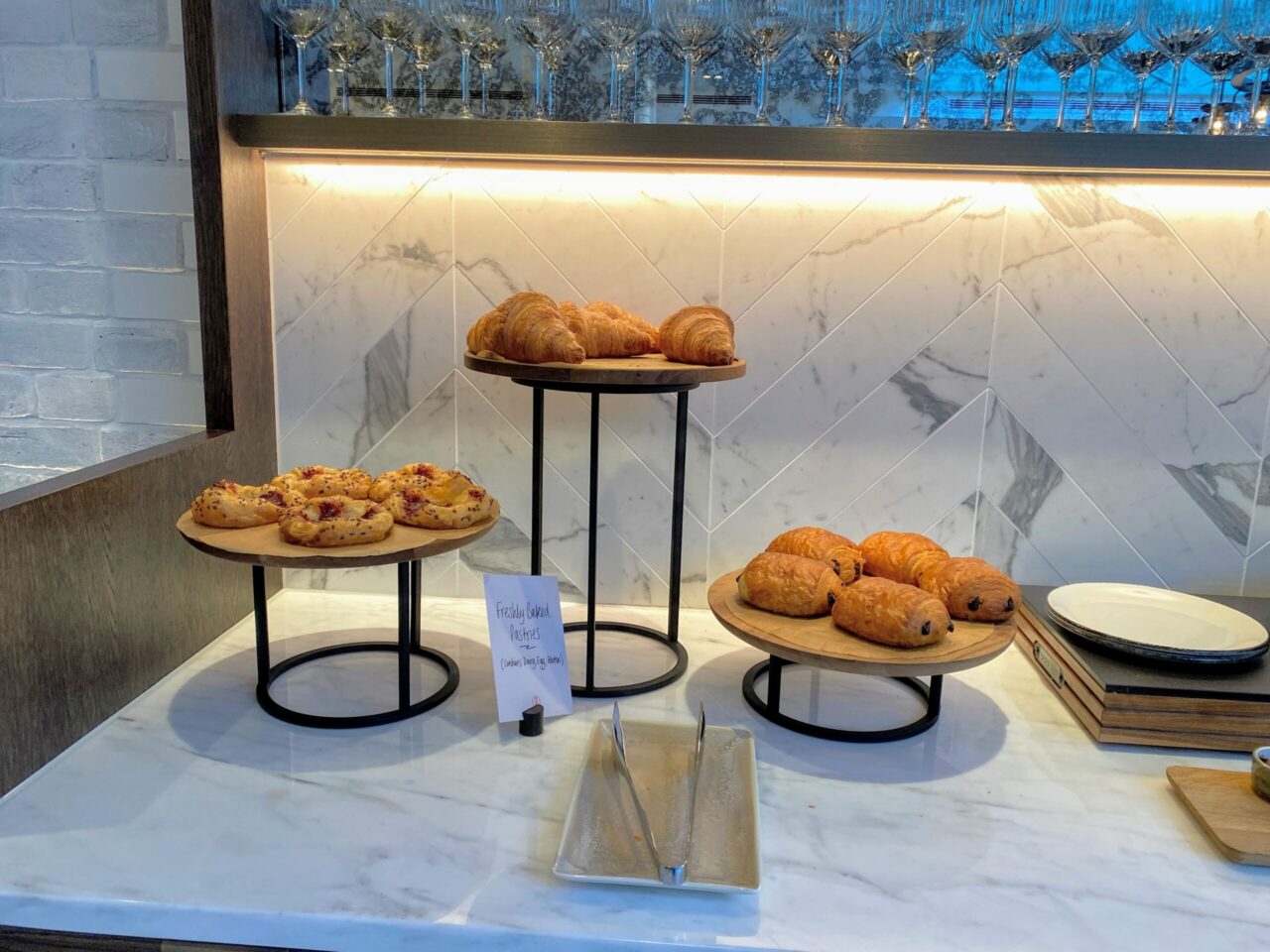 The pastries were freshly baked and huge, so definitely worth a try. There was also a toaster with a selection of bread.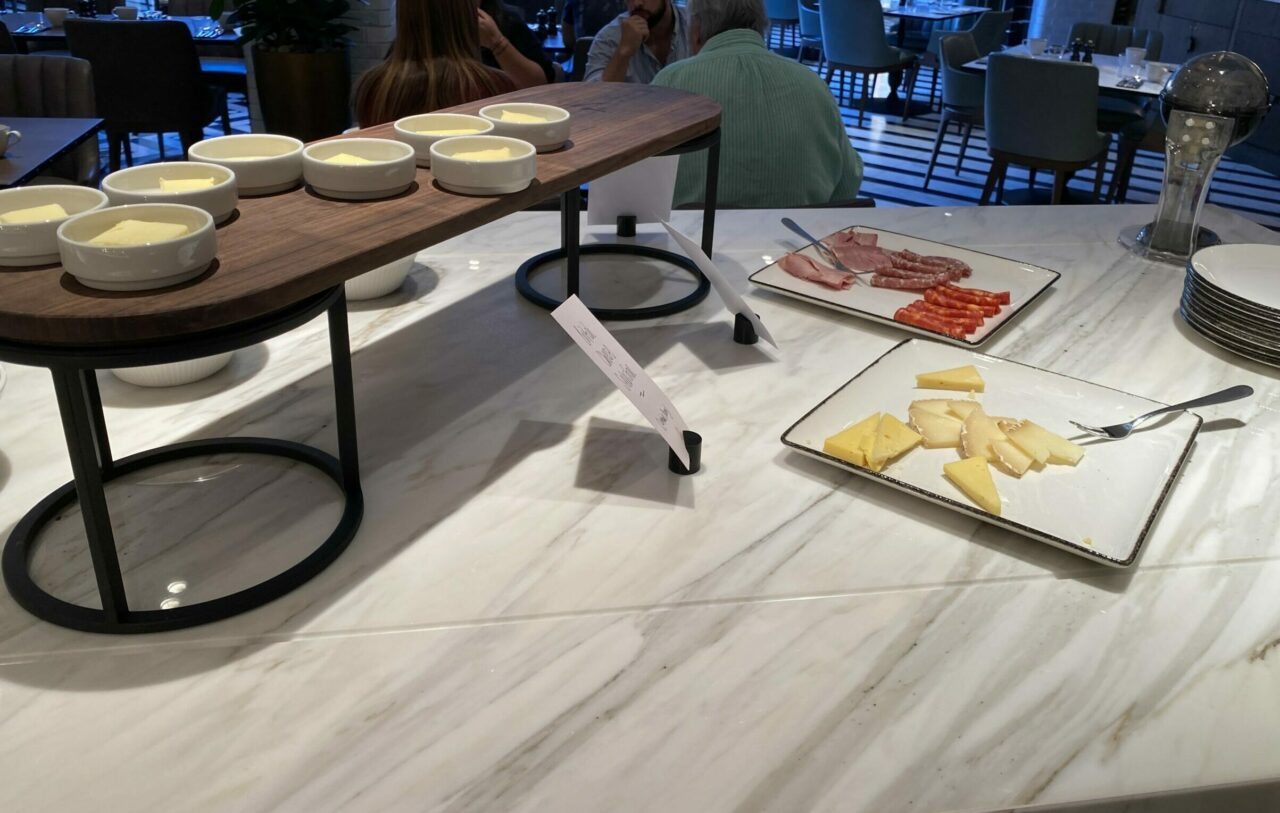 As well as those the cold section had a small meat and cheese selection, luxury yogurts, fruit and cereals. Everything out was high quality.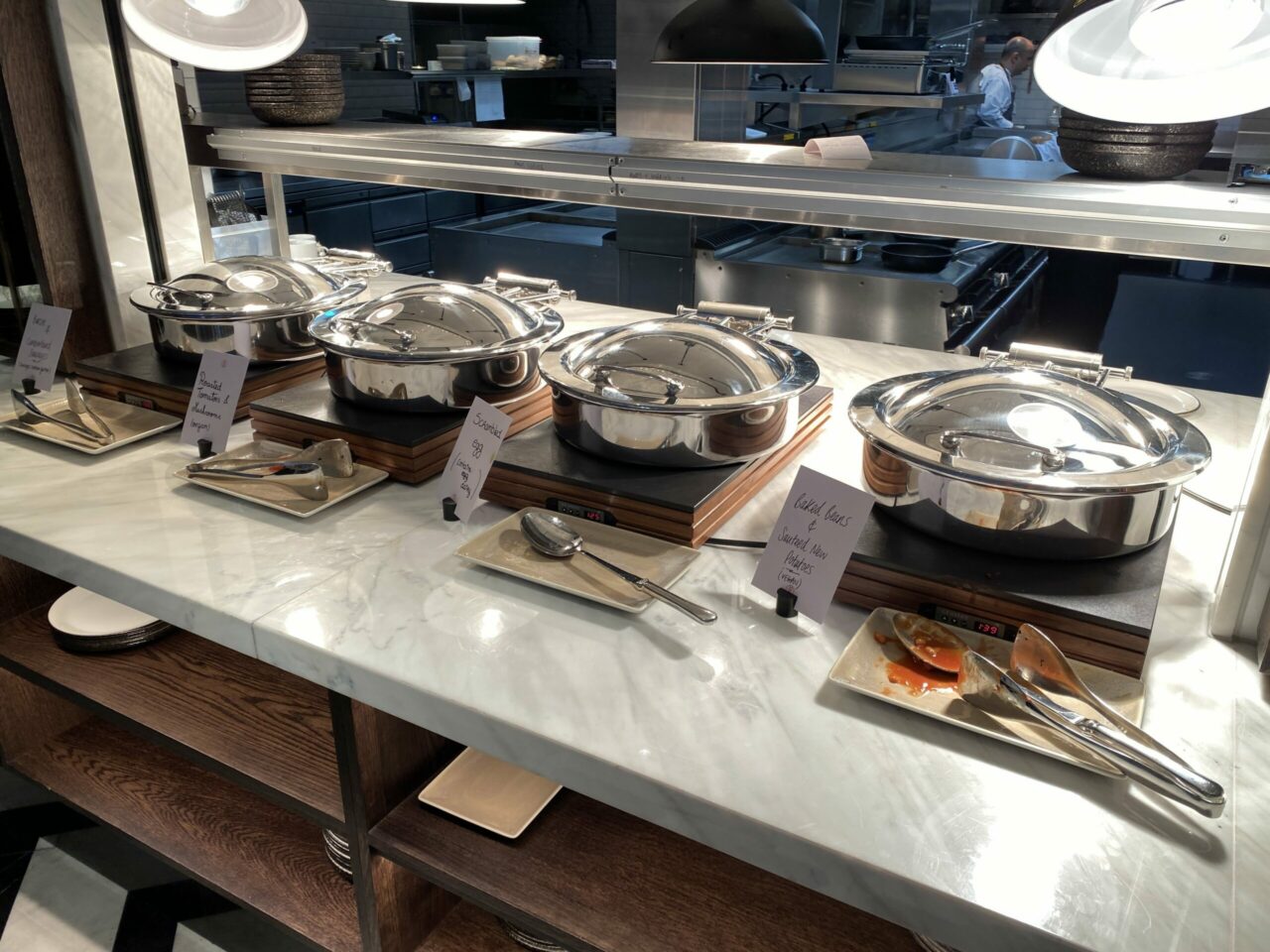 The small cooked section had everything you need for a full English and roasted potatoes as well. In really enjoyed the cooked breakfast. Scrambled eggs are always a tricky area for a buffet but there were very tasty and not at all congealed.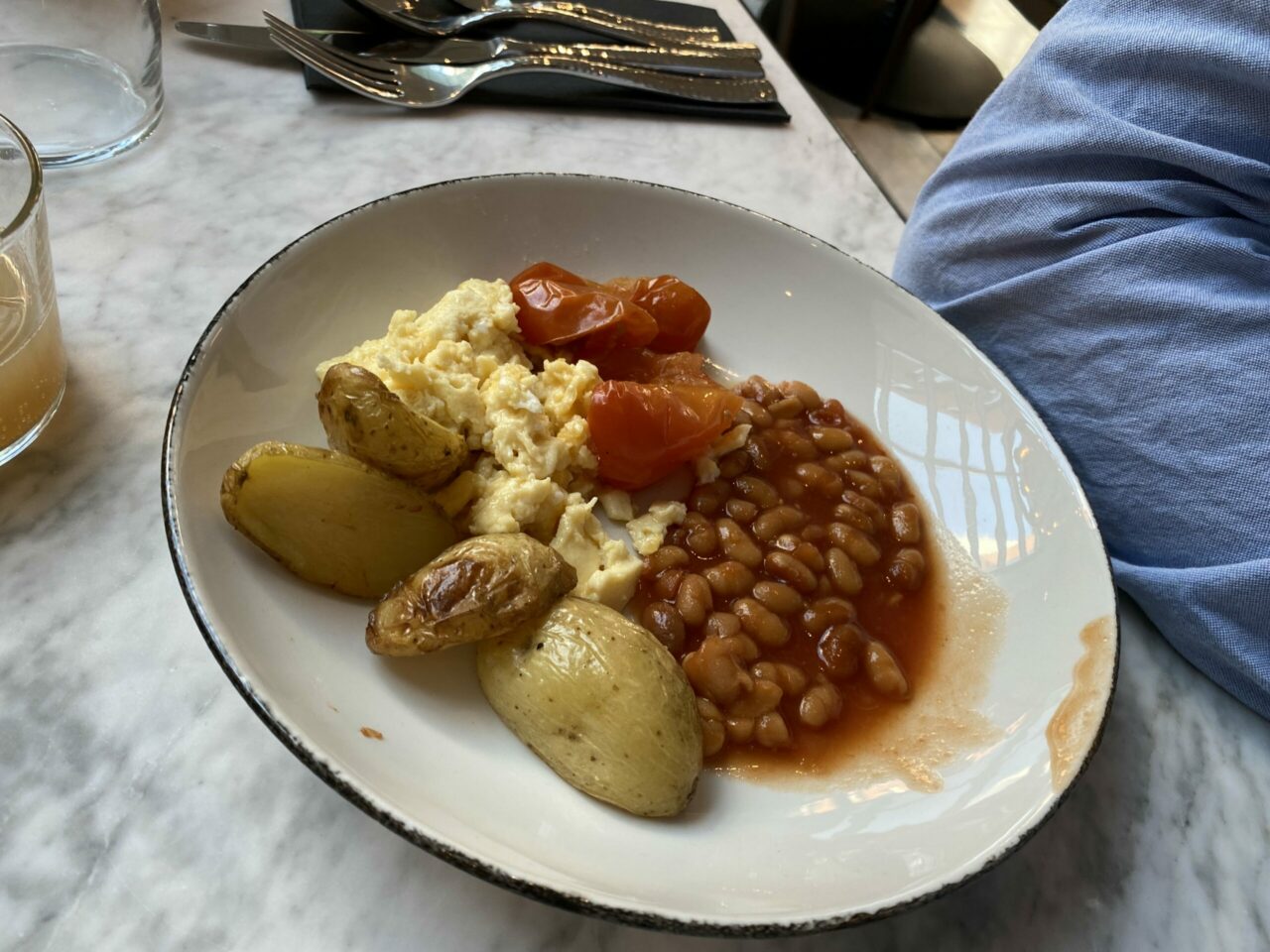 The Sage of Cambridge

The Sage of Cambridge is the hotel's casual coffee shop for the hotel. It had great coffee, fresh food choices, again inspired by plant-based experiments. There were
freshly made paninis, jacket potatoes, salads as well as cakes and treats t
hat are not as naughty as they seem. These include vegan, egg-free, gluten-free, and sugar-free sweet treats for a guilt-free snack (where's the fun in that?!)
The coffee bar transforms into a wine and aperitifs bar after 5 pm at peak times. In the evening it will serve a selection of natural and organic wines from the old and new world, modern aperitifs with respect to seasonality, accompanied by sharing boards.
There's a small outdoor area with tables and chairs or you can head to the main courtyard. My only complaint was that the food choices were a little over-complex for me. While I was there I wanted a fairly plain sandwich as I was a little under the weather, but the only non-veggie sandwich was a flatbread with melted cheese and ham or plant-based. It would have been nice to see a lighter non-vegetarian/vegan option.
Facilties

The other highlight for me was the pool and spa area. We went late at night as it was open until 10 pm, so we had the place to ourselves most of the time.
The pool is really gorgeous, and there is a separate lift that takes you straight there so you can go down in your robe and slippers. They ask you to call reception before going to make sure it doesn't get too busy, but you don't need to book.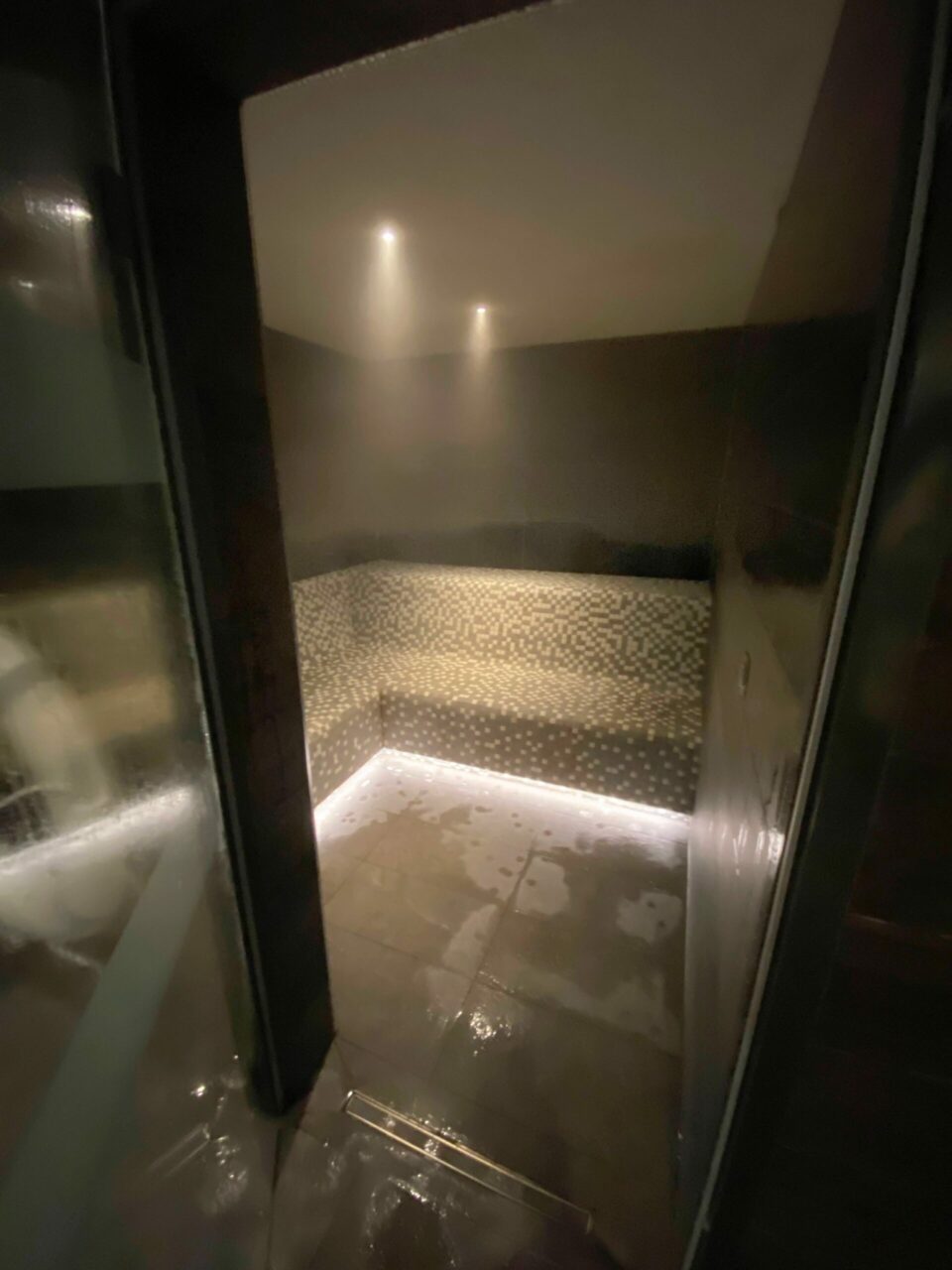 As well as the pool, there was a steam room and sauna with plenty of loungers to relax on. Of course, there were stacks of towels and also water to help yourself too.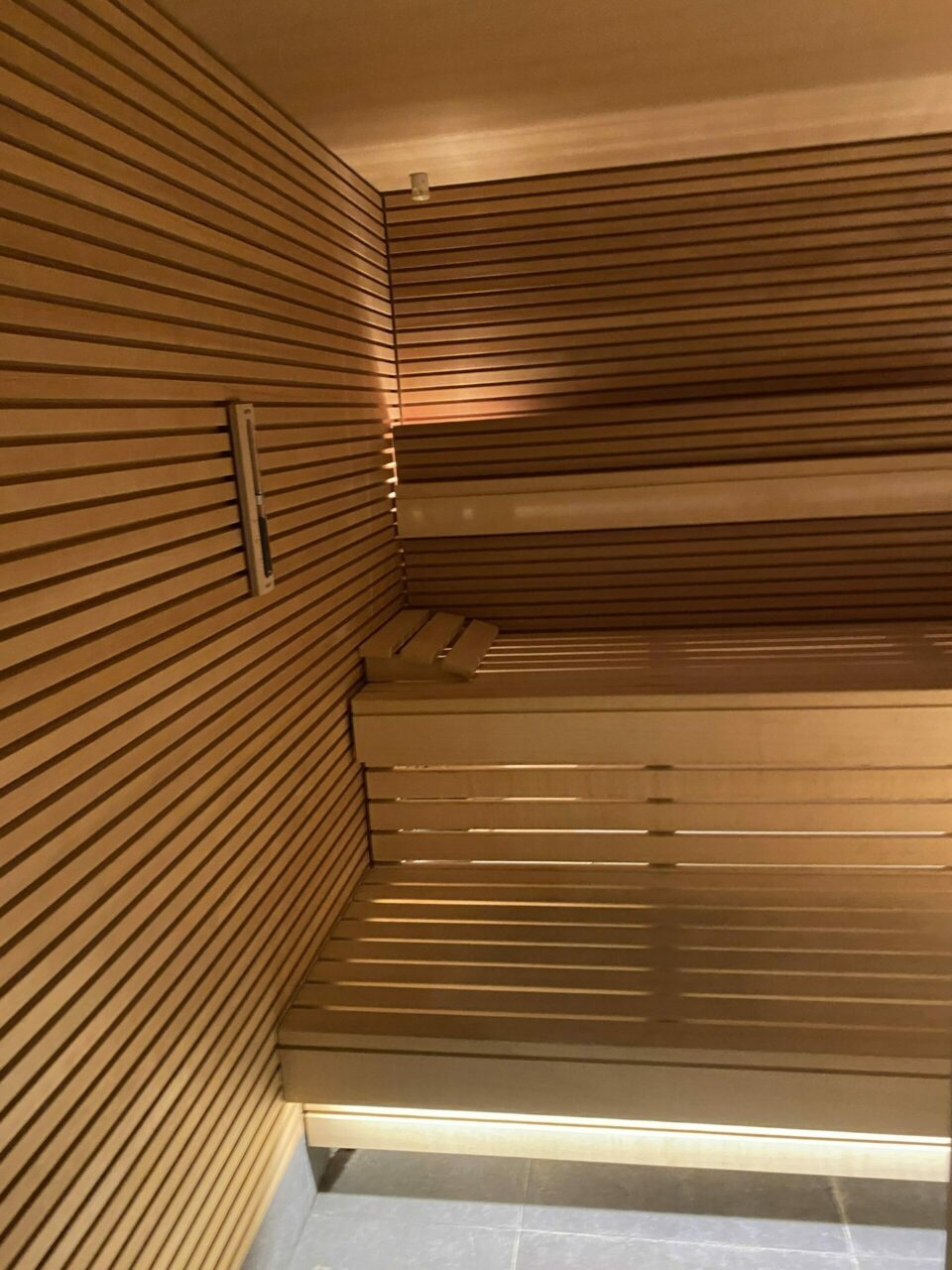 I often find hotel pools too cold, which is fine if you want to do some heavy-duty swimming, but not great if you want to relax. This was the perfect temperature for swimming or lounging around. If you just wanted to chill out, the pool had jets along the side with a seat that ran the length of the pool.
For something more energetic, there is a good-sized well-equipped gym.
If you wanted to host an away day or meeting, the hotel is also well equipped with high tec stylish boardrooms plus you can even rent the outdoor living area for something different!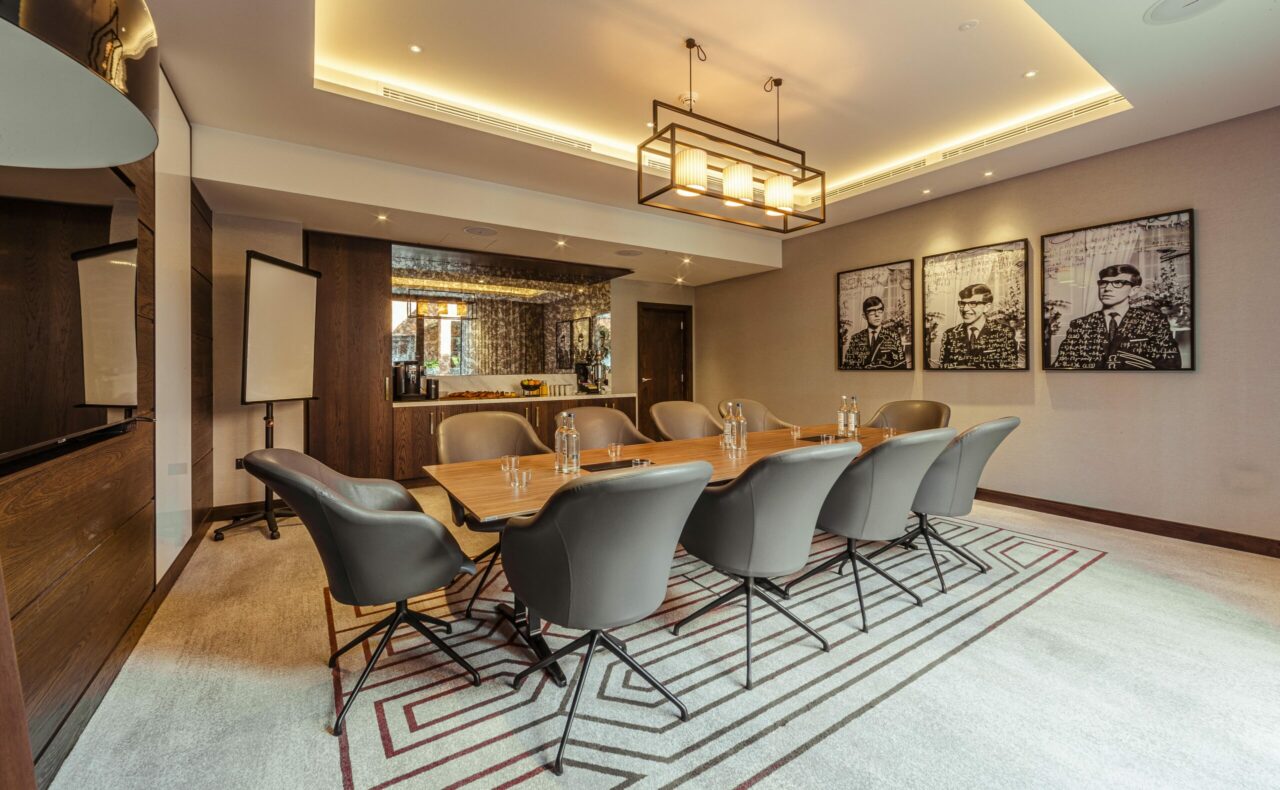 The Fellows House Cambridge Price
At the moment prices are pretty reasonable. A Kipling king room starts at around £155 and a suite apartment from £209. You could of course pay with points which starts from around 57,000 points.
Conclusion
I really enjoyed my stay at the Fellows House. It felt luxurious with plenty on offer in the hotel as well as the delights of Cambridge close by. I enjoyed relaxing with a drink or two in the bar, playing the games provided. Having the pool and spa was a lovely way to relax after a busy day of sightseeing. Most importantly the bed was super comfy and the staff were all friendly and helpful.
The prices seem pretty reasonable at the moment given the standard of the hotel and the amount of space that you get. It would seem that other travellers agree with my assessment as the hotel gets a well-deserved 4.5/5 on TripAdvisor which is not easy with a new hotel.
You can check prices and find more details here.
Like our The Fellows House Cambridge review? You can read more hotel reviews here.