This reader review, The House of Astor, is from Grumpytotheleft. You may remember his somewhat controversial review of the St Regis in New York. This review sees him revisit the hotel.
If you'd like to submit a reader review for consideration, please contact [email protected].
The House of Astor Revisited
Following a surprisingly poor experience at the St. Regis NYC in October 2022, chronicled here, we thought we had left behind an illusion, and our dealings with that family were over.
However, having read the review, the hotel's general manager called to apologize and offered to have us back. A VP from the corporate side had reached out as well. In need of an NYC fix and still in disbelief over a frequent traveller icon falling so short, we recently took the St. Regis up on the offer.
Jumping on the nowadays rare opportunity to confirm American Airlines transcon business class upgrades at the time of booking, we opted for an overnight flight arriving at JFK before 8 am. Stated check-in times are stated check-in times, and in order to be certain of an early check-in, one needs to either stay at a property that allows customers to select a specific check-in time, such as Peninsula hotels with their Peninsula Time offering, book a room for the night prior to one's arrival, or have the property commit to early check-in ahead of time.
St. Regis did not offer anything similar to Peninsula Time and was non-committal, with a representative indicating instead that she would monitor availability on the day of our arrival and email us. Given the 9 am start time of her workday and our time of arrival, that was not ideal. However, at 11:45 PM hotel time on the day prior to our arrival, marriott.com showed at least three rooms available in nearly every category for that day. Emboldened by this knowledge and esperessi from the Chelsea lounge at JFK Terminal 8, we decided to roll the early check-in dice.
With the help of the newly opened Long Island Railroad Eastside extension, we beat rush hour traffic taking the train from Jamaica to Grand Central. Following the 21-minute train ride, the hotel is just a short walk from the 48th Street Madison Ave elevator exit.
Thankfully, the House of Astor was ready, and so was our room. Check-in was swift and preceded by an offer of a complimentary bottle of water. After check-in, the newly (re-) hired, Lausanne-trained front office manager escorted us to our floor. Once outside the elevator, he "handed us off" to the waiting butler. More on the butler service below.
Shortly after the butler left the room, a welcome amenity consisting of a bottle of wine as well as a fruit and cheese plate arrived. Something to look forward to. This is typical for travel agent bookings at Marriot Stars properties, but this was no such booking. (TLFL's partner GTC offer this service) It is also worth noting that the card accompanying the amenity was handwritten and signed in the general manager's name. Many properties these days save time, or rather cut corners, by resorting to pre-printed cards in the name of non-GM team members.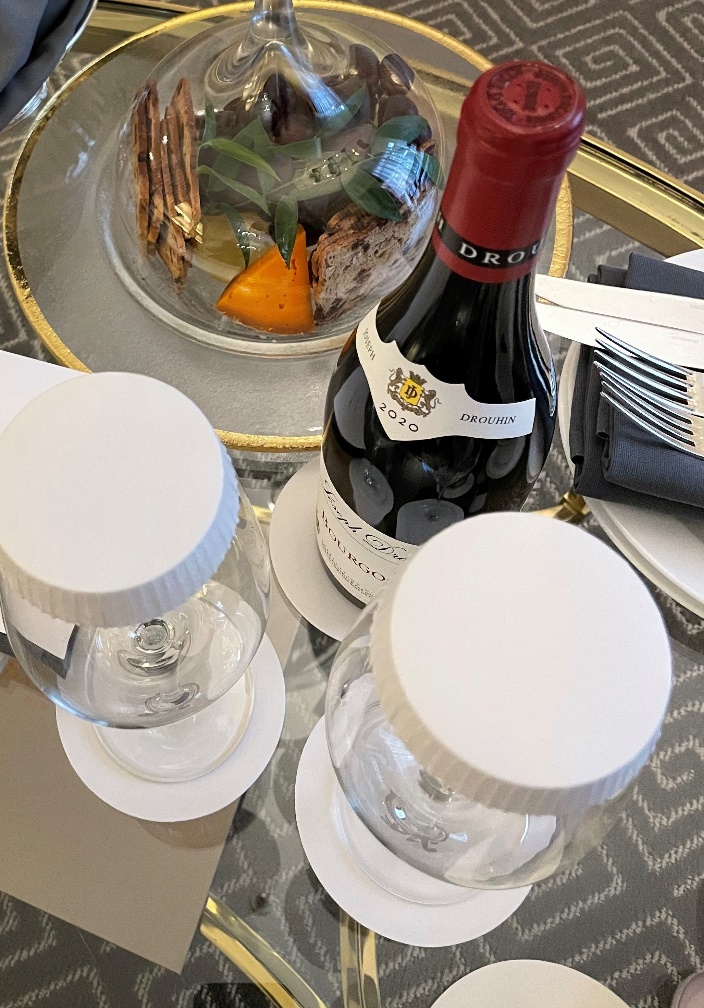 The Room
As mentioned in the previous review, even the entry-level rooms at the St. Regis are large; particularly by NYC standards, and the high ceilings make them feel even larger. NYC real estate agents might use attributes such as outsized and oversized. Linguistics aside, they feel more like a typical junior suite providing a meaningful sitting area consisting of a sofa and armchair, a usable desk, and a large closet.
In line with five-star standards, the bathroom features a separate tub and shower, a separate toilet (a bidet seat would be an exciting addition), his and her sinks with a bathmat even the germophobic Grumpies were comfortable stepping on, and a no-fog mirror with in-mirror TV. A scale was spotted as well, but we stayed well clear of it. Importantly, the rooms are very quiet, which in New York City is a rarity.
A few points of note:
The desk drawer contains a tray with traditional basics such as writing paper, envelopes, St. Regis NYC postcards, a mending kit, and a nail file (interesting location for the file). In addition to that, the tray holds what must be one of the neatest sets of office essentials provided by any hotel. Certainly, a much-appreciated first for the Grumpies.
The bathrobes, one St. Regis branded, the other plain, had the strap looped in before being tied.
Bath products could be an area of improvement. Mrs. Grumpy, a known expert in the field, confirmed that St. Regis opted for a no-name brand. No-name or not, the hand and body lotion especially could benefit from an upgrade.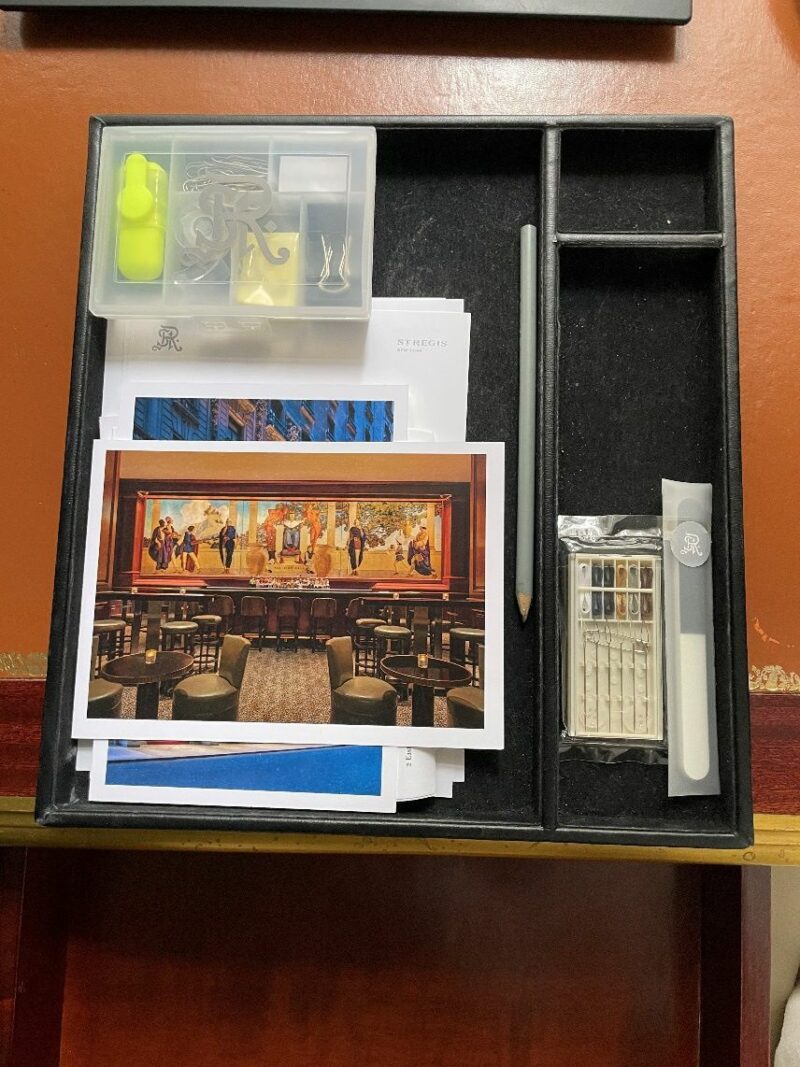 Butler Service
Following the hallway hand-off, the butler customarily offered French press coffee or tea, provided newspapers, unpacked our luggage and took shoes and clothes for the evening for shining and pressing/ steaming.
We were off to a good start and ventured out into the wintery streets of Manhattan. A stop at Eric Ripert's L'Ami Pierre bakery/ café joint venture can save an airfare to Paris. The jambon beurre and plain croissant were highlights. To ensure proper crunch, baguettes are baked throughout the day.
When we returned, by chance, we met the butler in the hallway, and he informed us that he had already placed our clothes in the room. He also had, sua sponte, cleared the coffee tray, and moved the suitcase valet stand with Mr. Grumpy's carry-on from the hallway, where he had placed it when unpacking, to a more discrete location in the room.
Attention to detail to a degree rarely seen at Western properties, seems to be the name of the game at the House of Astor. From the handwritten welcome note to housekeeping (more on that below). Additional highlights worth mentioning include the way the hotel carries out shirt pressing: French cuffs are folded up and held in place with plastic clips. Shirts are hung on plastic rather than wire hangers and protected with paper before being wrapped in foil.
The one pair of shoes that was sent for shining without Grumpy provided shoe trees was returned with a St. Regis issue.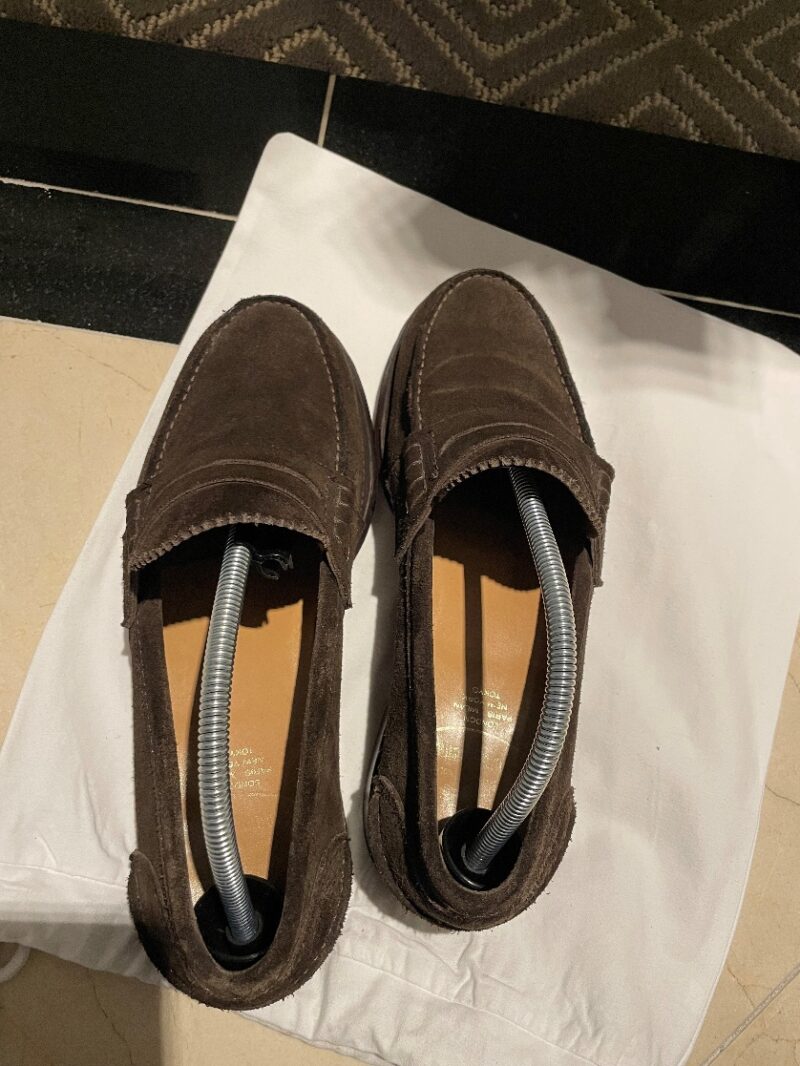 Butler service is a key differentiator for the St. Regis brand and is seemingly unique to St. Regis, at least in Western markets and non-suite accommodation. The Peninsula website mentions a 24-hour valet service. But after speaking about it with several team members at the Peninsula NYC, it describes the hotel's garment pressing service and does not entail packing and unpacking or complimentary coffee service.
This time around, this key differentiator worked as advertised and was better than expected. In addition to the arrival assistance described above, we used the butler service
for morning coffee and newspaper delivery twice
once for coffee in the afternoon
for shoeshines and garment pressing on two nights
for help with packing on departure
On each occasion, a butler phoned within approximately one minute or less after paging the butler service. Coffee requests were carried out in less than ten minutes. Clothes and shoes are returned the following morning unless otherwise specified. Upon arrival, for example, items were prepared in under two hours, well ahead of our dinner time. The butler who packed our luggage on departure arrived 17 minutes after the request was made.
Packing and unpacking assistance is provided lovingly. The butler checked every drawer and cabinet and encouraged us to look in the safe.
Special Shout Out: Housekeeping
Especially when staying at a luxury property, twice-daily housekeeping is an important and often overlooked component of a stay.
Many brands cut costs in this regard, trying to entice guests to forego housekeeping with offers that make Tony Soprano and his crew look like a charity (i.e. 250 to 500 points or 5$ food and beverage credits.)
St. Regis seems to take a different approach, and the St. Regis NYC housekeeping team shone with attention to detail.
Clothes left on the bed were neatly folded and placed on the nightstand. Charging cords were carefully tied together. Slippers tugged into each other and placed inside the closet. Newspapers are placed under the coffee table. Items placed near the sink were placed on a towel, and a toothbrush left by the sink was put on a coaster. Robes hung next to the shower were re-tied, placed on a hanger, and put behind the bathroom door.
In addition to this, turn-down service is traditional and involves the placement of towels by the bedside with slippers on top. Bottles of water are set on the nightstand together with glasses on coasters. Curtains are drawn, lights dimmed, and the in-room speaker is set to classical music. A tray is placed on the bed holding a shoeshine and laundry bags together with a reminder of the hotel's complimentary garment pressing service.
A pillow mist would be a nice touch, as would a pillow chocolate. But a dish with constantly replenished milk and dark chocolate is available in the sitting area as an alternative.
House Car
House cars are a hot commodity at many properties, with availability typically as rare as frequent flier award tickets post-covid or dependent on guests ingratiating themselves to bell staff through tips.
The hotel currently provides a Mercedes Benz S-Class. More importantly, it sports the words "St Regis" as a license plate. Thus there is no funny business as to whether the house car is available. Luckily, we found it parked in front of 2 E 55th St both nights of our stay and were shuttled to dinner saving Mrs. Grumpy a shoe change.
Cynics might point out that the nature of the stay may have resulted in special treatment, but staff briefings and notes can only go so far; especially when a stay exceeds 24 hours. While the property's pricing remains aspirational, we look forward to revisiting the newly rekindled romance with the House of Astor sometime soon.