After a somewhat controversial review recently, here is another TLFL readers' experience with Qatar. Today's Reader Review, Qatar Airways QSuites Business Class, is written by David.
Qatar Airways QSuites Business Class Experience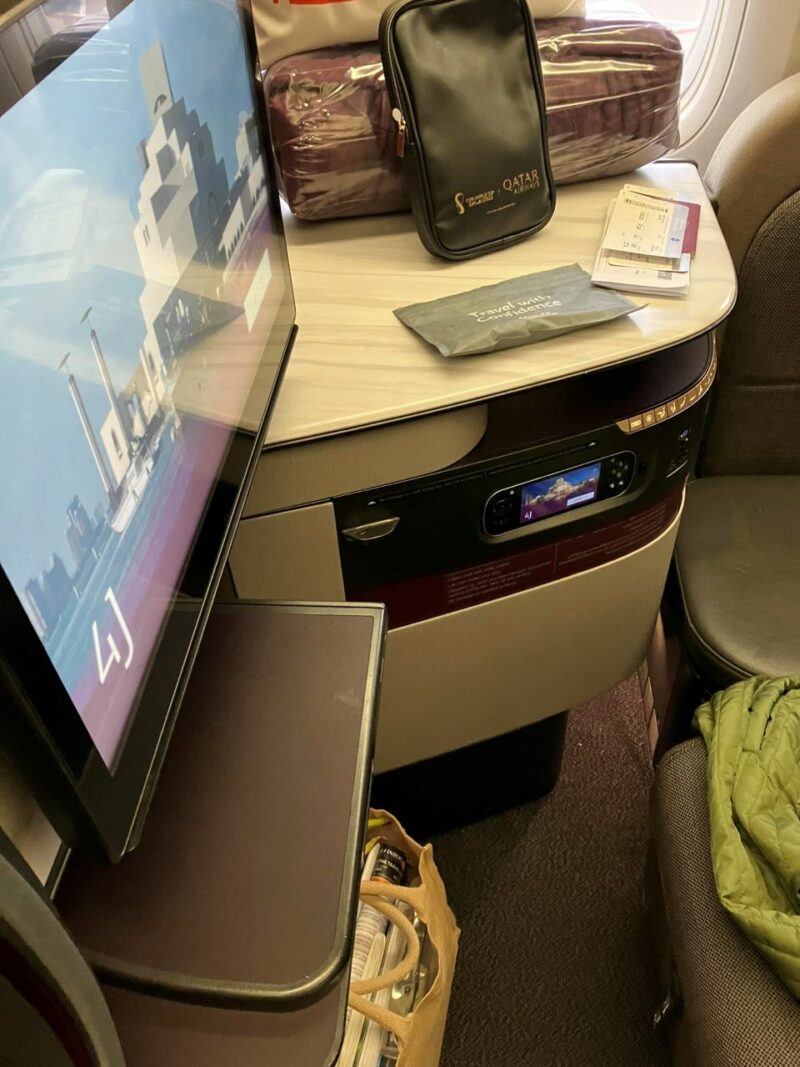 This flight saw QR at the top of its game once the aircraft doors were closed. The personalised welcome both from the cabin crew member who would look after me, and from Ting, the Taiwanese Purser who introduced herself shortly after I boarded, were effusive and seemed sincere, even from behind a mask.
The QSuite is such a civilised environment, as those readers who've experienced it will agree, I hope. I like the fact that you can hang a jacket alongside your seat, that the mini-ottoman lifts up to reveal a decent amount of storage space and a bottle of water, that there's an almost hidden shelf under the ledge that leads to the window (in the foreword facing seats), and that you're permitted to keep a bag in the footwell for take-off and landing.
Boarding was somewhat chaotic, in that my pre-printed boarding pass needed to be re-printed by the staff at the gate. By that stage – there was an issue with the technology – the queue to board was lengthy, and not realising that QR had a separate air bridge to Business Class, I sat down to wait until the last minute. A QR staff member found me, and insisted on escorting me immediately to my seat, as the dedicated air bridge was about to be closed. A 'classy' airline, QR, but we sort of know that . . .
Having said which, QR performed very poorly a couple of months ago when my flight from CPT was diverted via JNB, CPT being 'short' of aviation fuel, and thus I missed my connection in Doha. They had too few staff to deal with an aircraft arriving at DOH in which almost every passenger had missed their onward flight, they put me in a very mediocre 3* hotel and were strangely uncooperative about re-routing me, but all that's another story.
Back to my AMS-DOH flight. I was offered the usual signature lime and mint welcome drink – super-refreshing, for those of you who don't know it – and then got down to the serious matter of studying the menu. The flight departed Amsterdam at 15:15, arriving in Doha shortly before midnight, so eating can very much be part of the five hours+ airborne experience.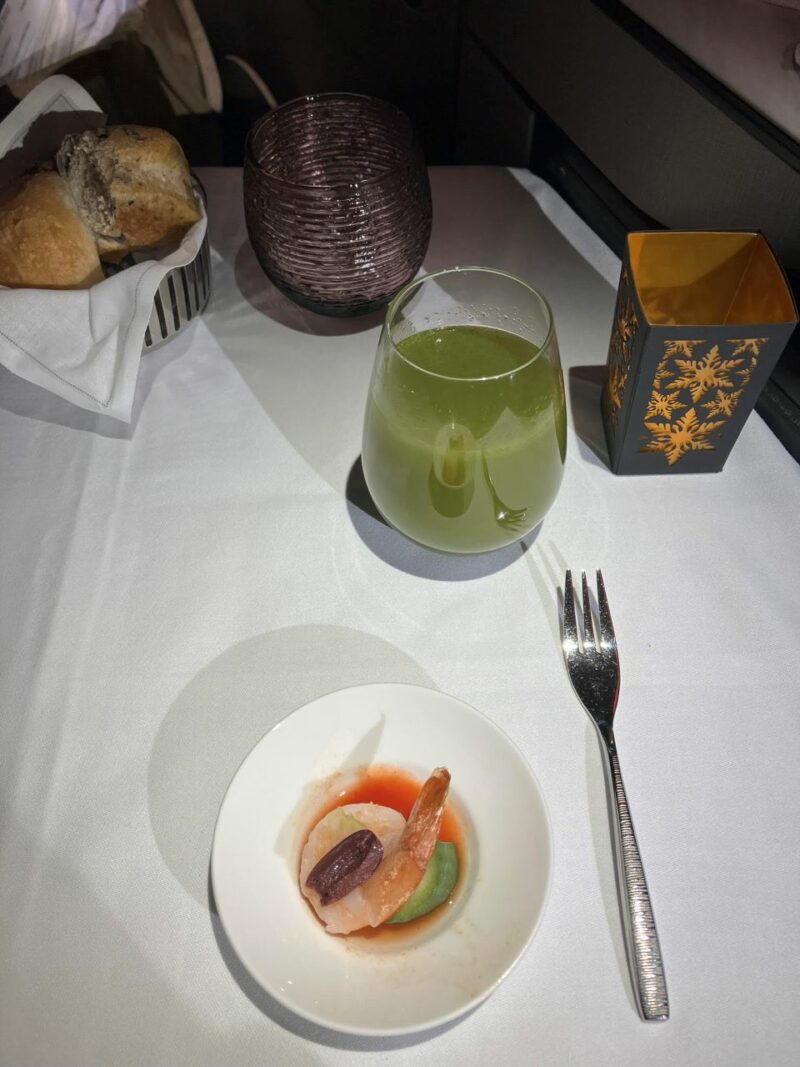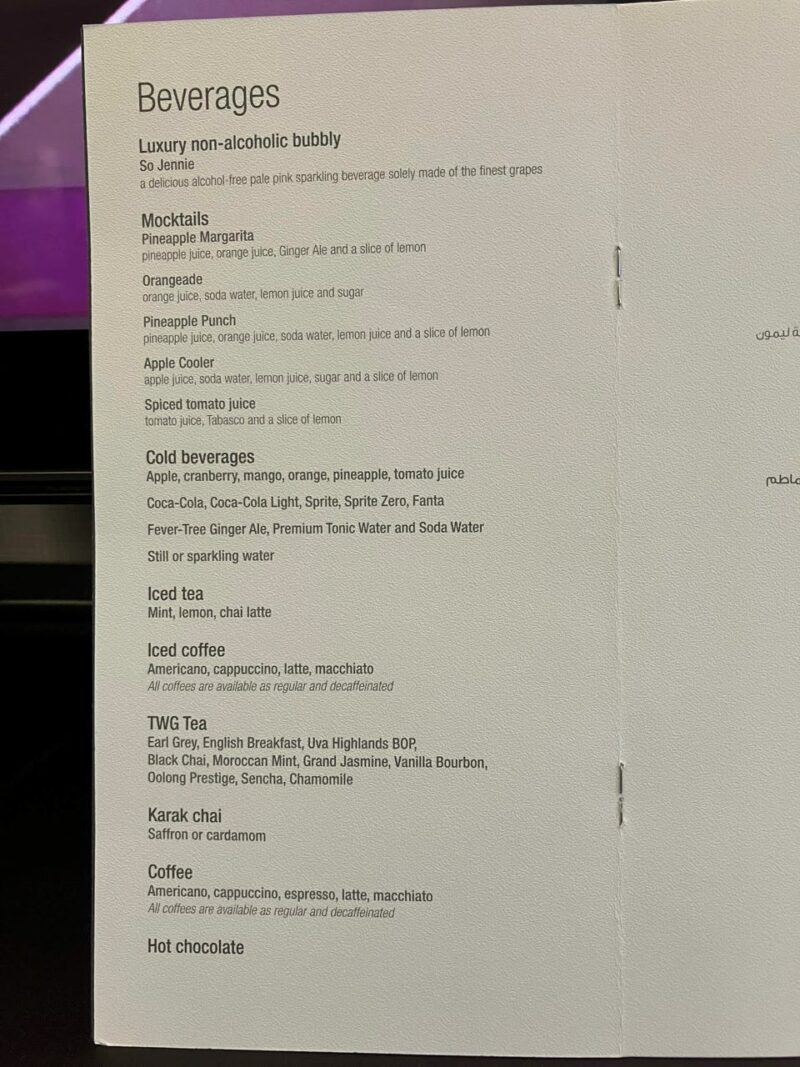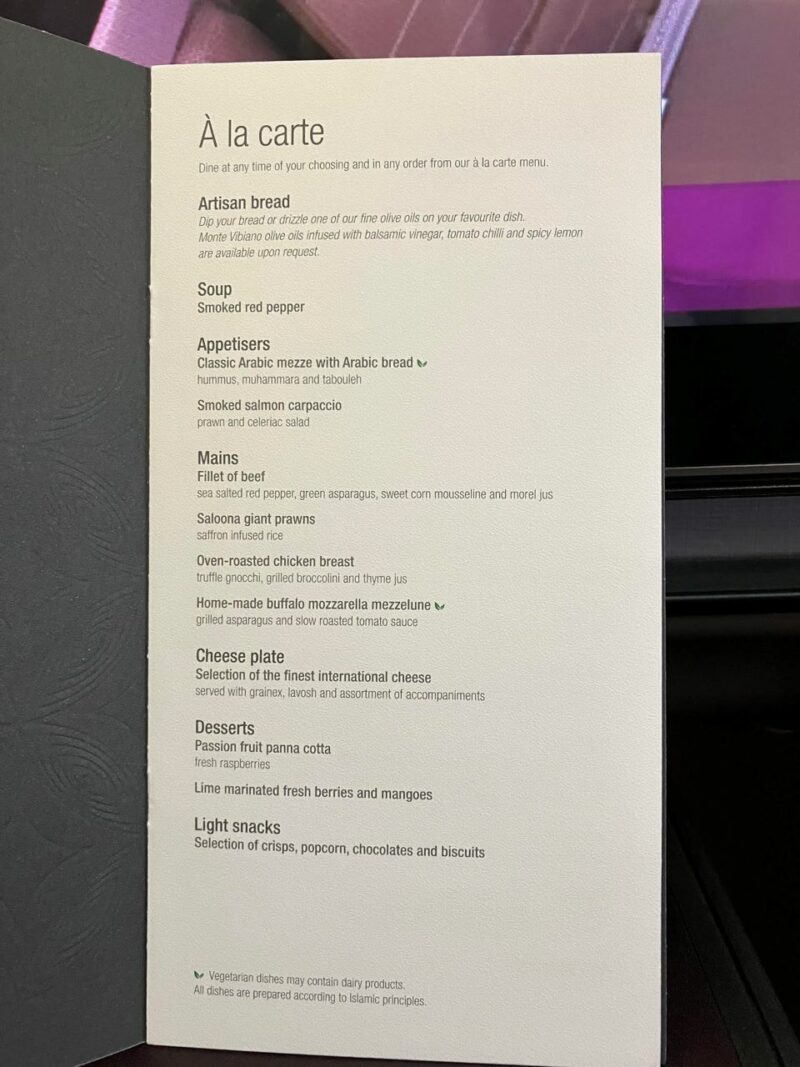 I'm not so keen on the current World Cup amenity kit, but I guess they have considerable quantities of them to use up. It was explained to me that it is designed to be worn over the shoulder and has an elongated strap for this purpose. Very 'alternative', and the nod to the LGBT sisterhood is perhaps a tad unexpected. The slightly too shiny faux leather feel of the thing does it no favours, however, I thought.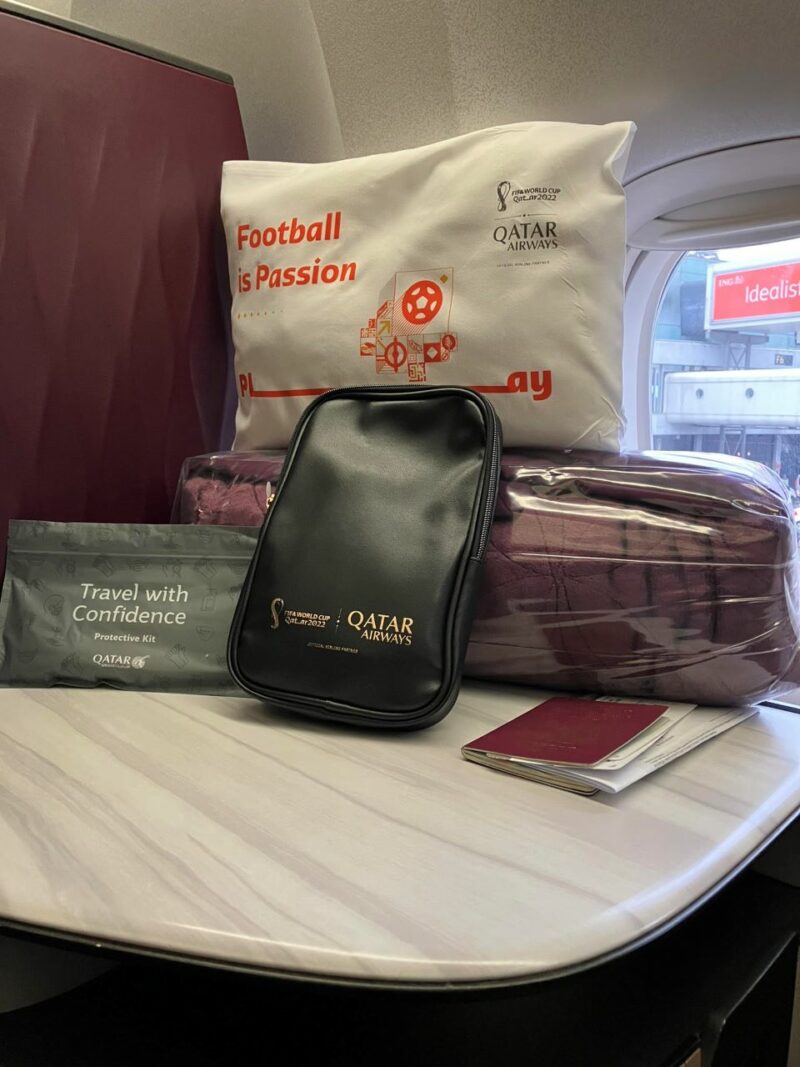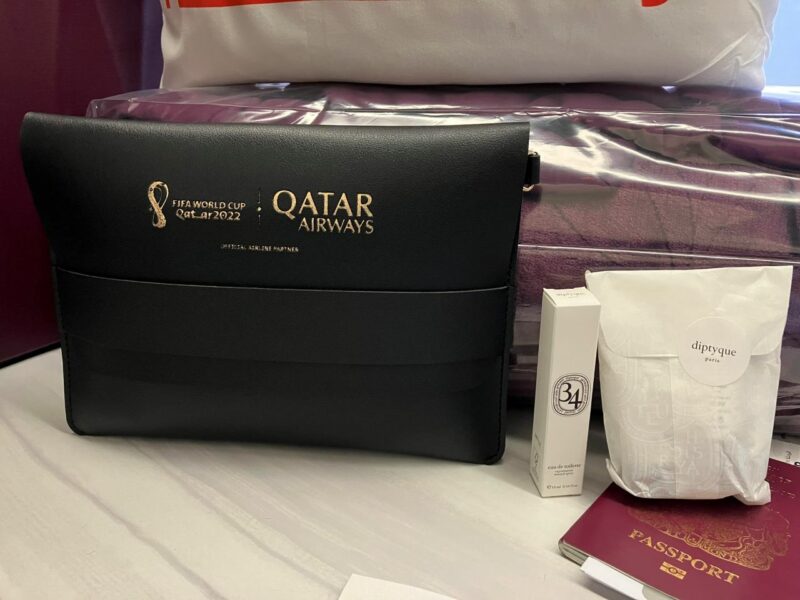 I asked to see the ladies' amenity kit and was brought one, which the Purser insisted I keep. Much better, in my view, rather like a clutch bag, again designed to be worn over the shoulder if appropriate, with a much more elegant strap. And a softer, more nuanced textured leather-like finish. Great for the Diptyque mini-toiletries.
Although not technically an overnight flight, a sleeper suit was offered and accepted. The loos were kept spotless throughout the flight, with 'proper' toothbrushes and toothpaste available in a drawer to the side of the basin. Compare and contrast with BA's puny offering in this regard . . . the toothpaste tube that QR provides is not, however – for those who monitor these things as nerdishly as I do – as generous as EK's.
Service was excellent throughout. We landed on time, and, as nearly always on a Qatar Airways aircraft, I didn't really want to get off.
Here are photos of some of my food choices.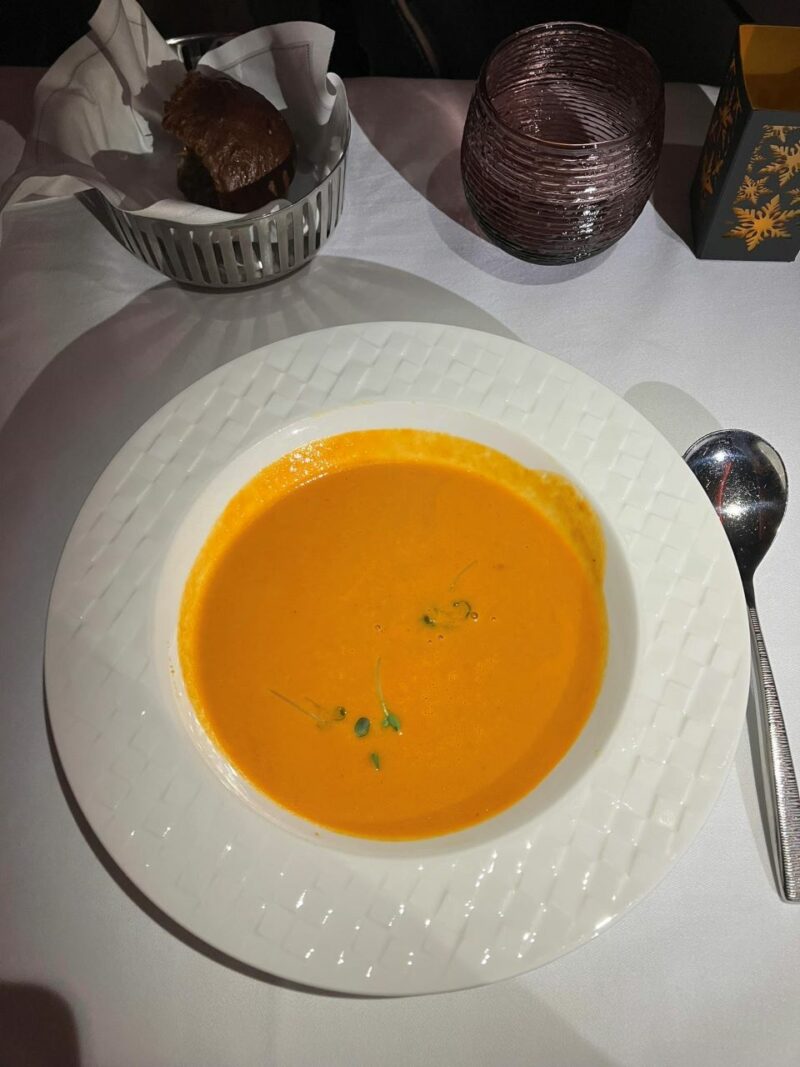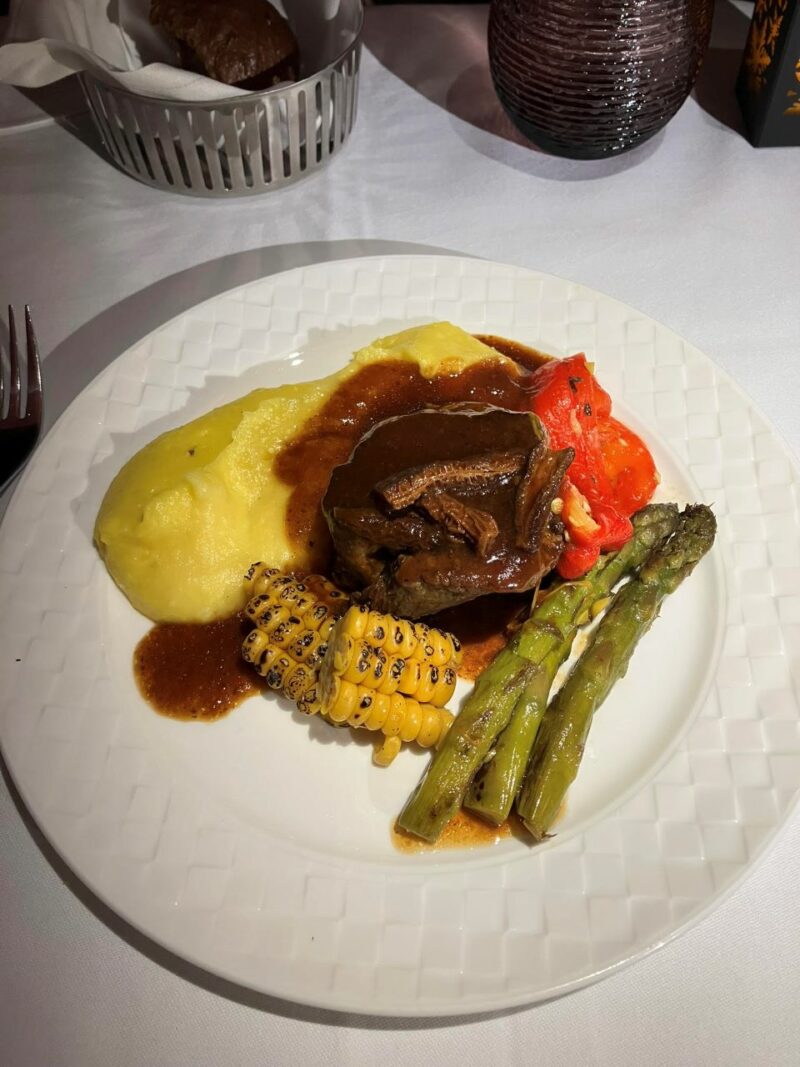 If you are looking for a cheap way to experience Qatar, Oslo to Dubai is one of the best value flights. You can find availability and prices here.
Like our Qatar Airways QSuites Business Class from Amsterdam to Doha review? You can read more flight reviews here, or you can read other Qatar flight reviews such as Qatar Airways Qsuites B777-200lr Business Class Review Doha To Oslo or A Guide To Qatar Airways Business Class Seats – Which Are The Best?