This is part two of readers Richard's report on how he got stranded in New Zealand and his journey home. You can read part one here.
Check-in and terminal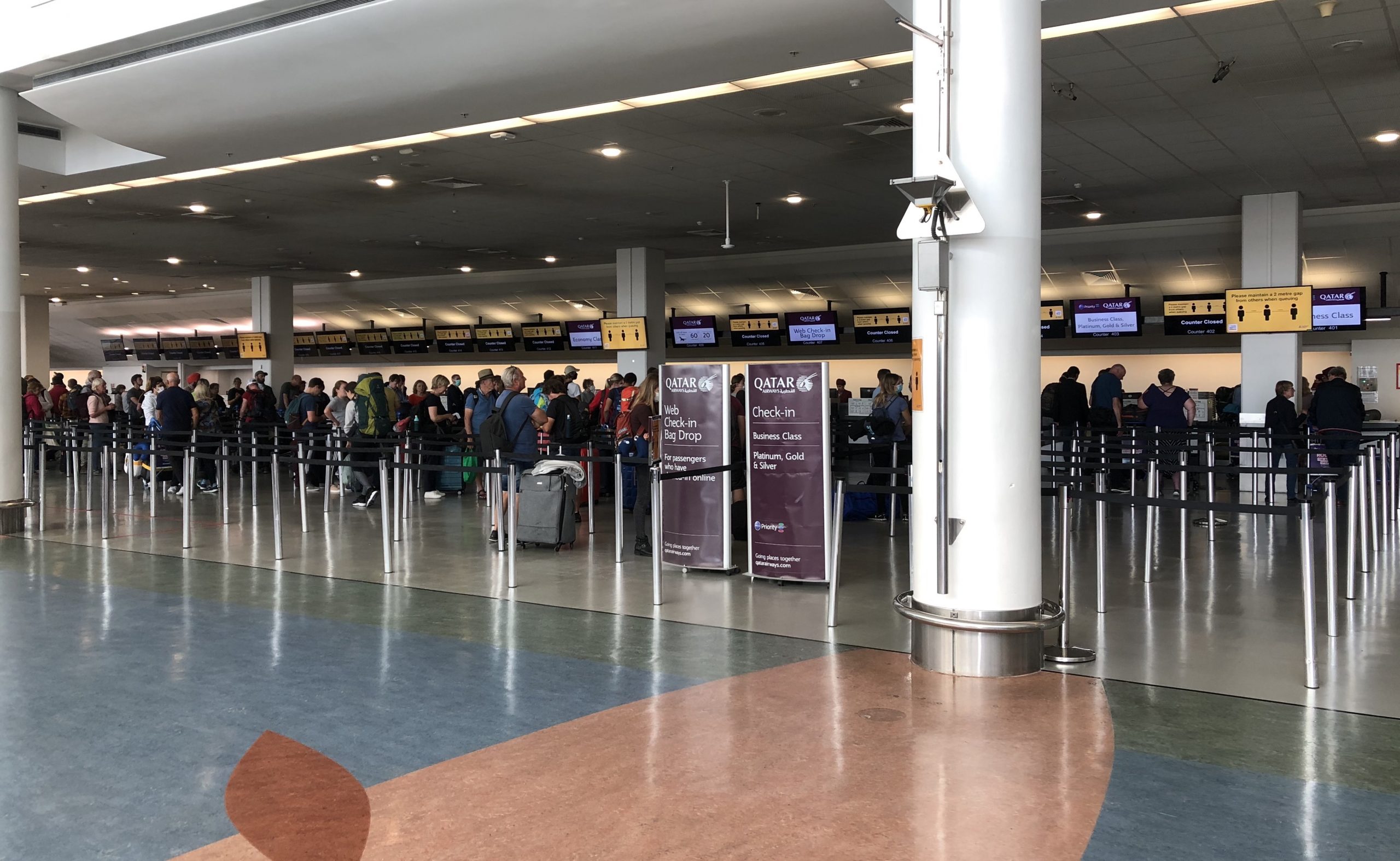 We arrived at the airport 3 hours before departure. Entry to the terminal was restricted to ticket holders only with security and police on all doors checking passports and booking confirmations. The Qatar check-in queue looked huge, however, the airport had implemented social distancing measures in the check-in area, so it was a little deceptive. We took advantage of the business class check-in and only had a few minutes' wait. The check-in staff were great and we were very relieved to finally have boarding passes. We were told that unfortunately, the Qantas lounge was closed, however, we could make use of the express immigration and security lane so we headed towards the gates.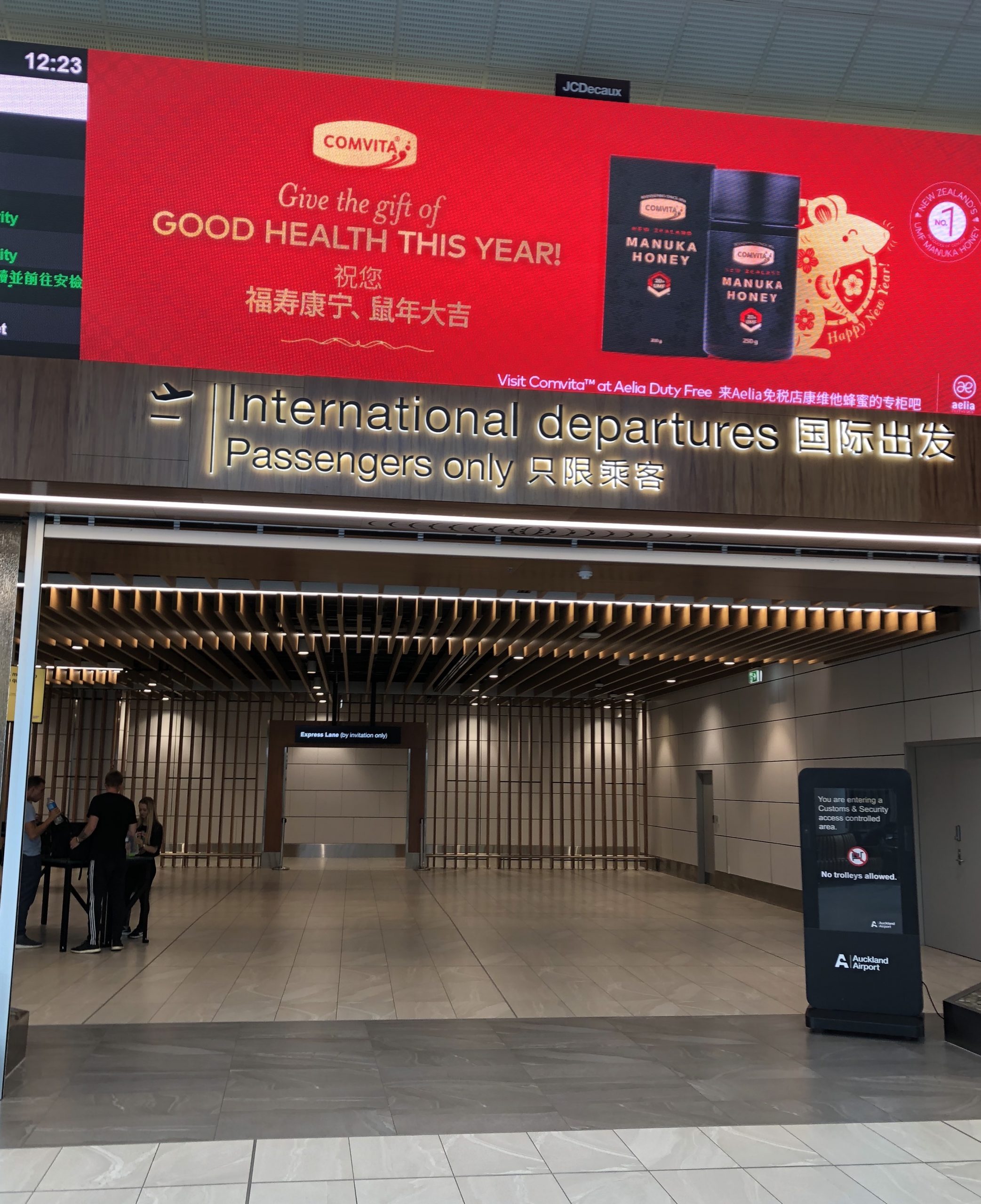 After making our way into the express lane, a member of airport staff politely informed us that it was in fact closed. This didn't make any difference as there was no queue in the main section, and we promptly made our way through security and headed towards the gates.
It was quite surreal being inside the terminal during peak hours with no shops, restaurants or passengers! The duty-free section had even been screened off.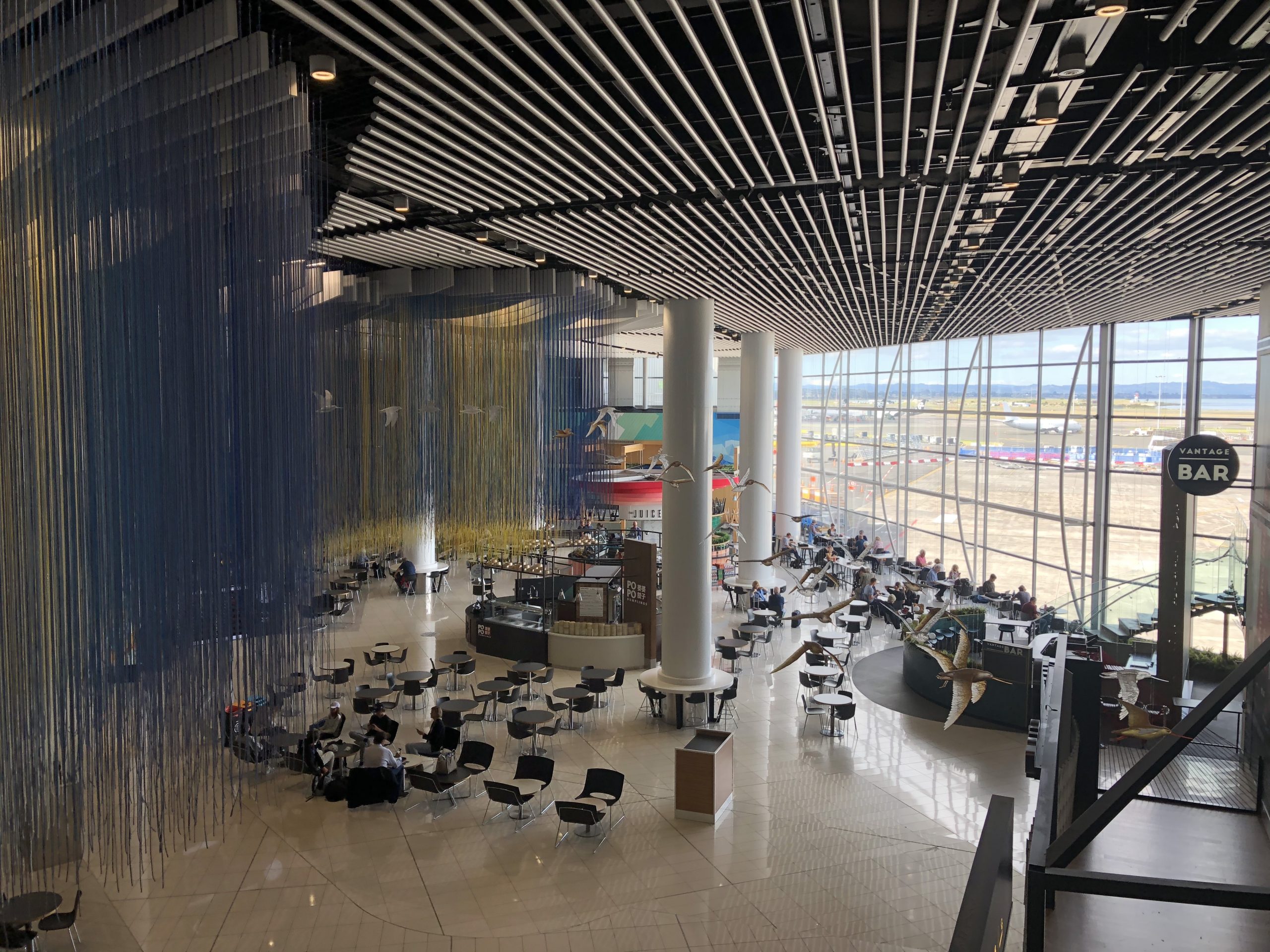 We went up to the lounges to see if any were open, and all were closed. To be honest, I don't understand this policy at all, the airlines are claiming this is for social distancing reasons, but I believe this is purely a financial-based decision to reduce food waste and staffing costs. If the lounges were open, social distancing would be even better as all business class, gold and silver members would be kept away from the gate area. I would prefer to be told this is due to reduced passengers numbers rather than for our own safety.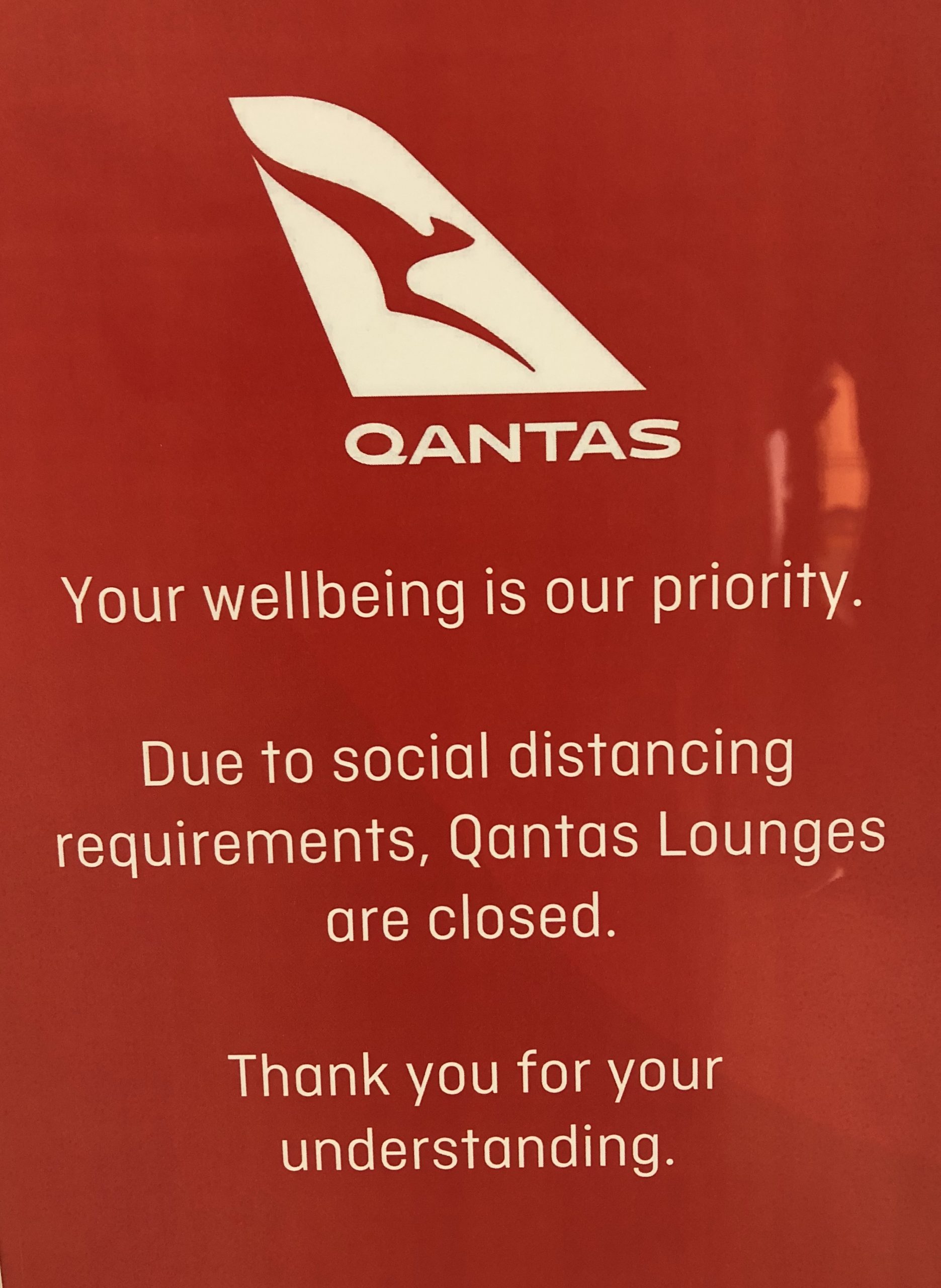 A Lufthansa A380 was on stand waiting to repatriate German citizens, one of 10 aircraft sent to help their citizens.
Boarding
The flight was totally full and overbooked!

Qatar has since increased capacity on selected days with x2 777-200s flying Auckland-Doha. They must be flying in virtually empty as New Zealand imposed a strict citizens only entry policy 4 weeks ago.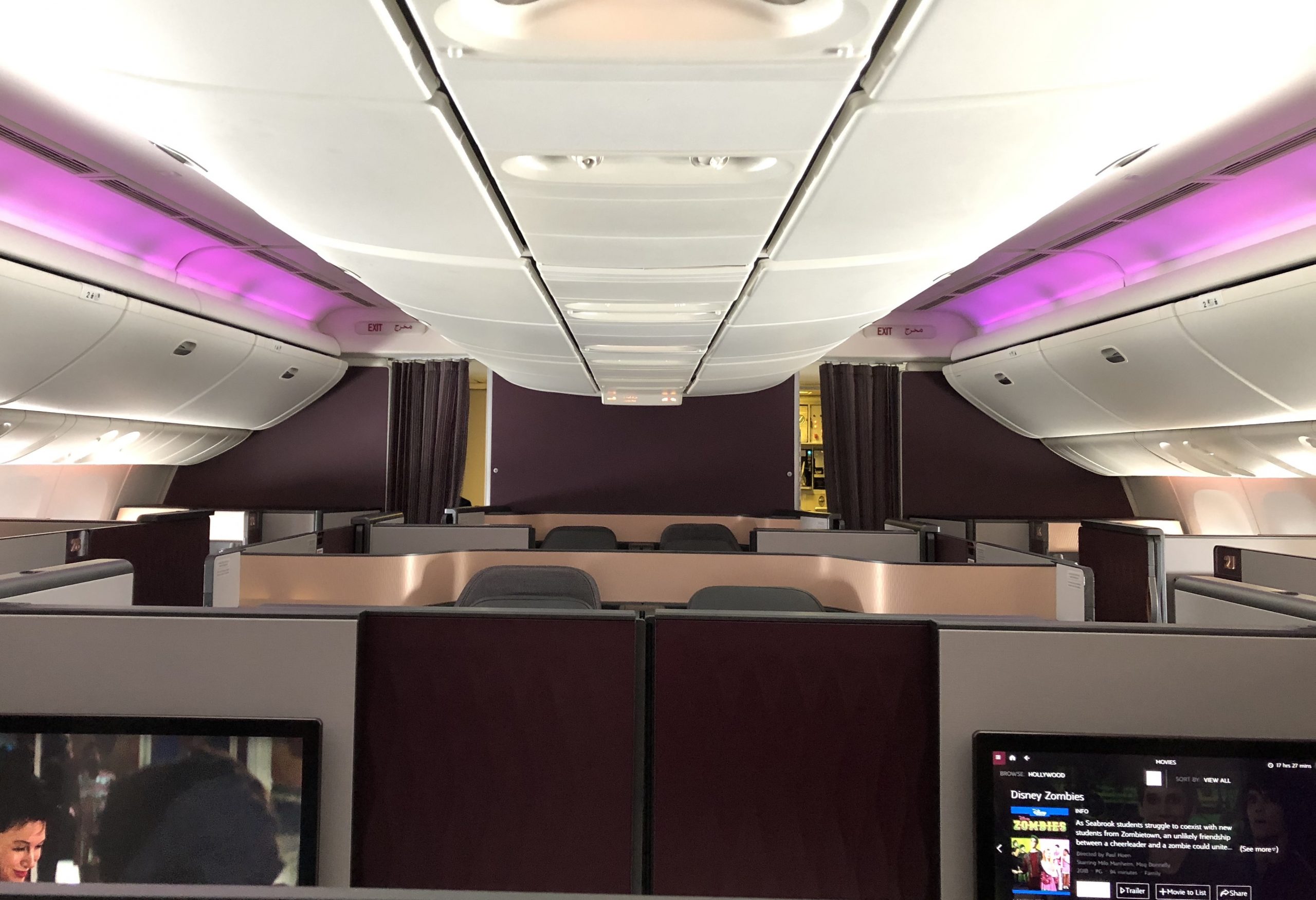 At the gate area, most passengers made a good effort to ensure social distancing, however, as we got closer to boarding, a few passengers started to block up the boarding area, which did make it tricky once business class boarding was called. We boarded early and were made very welcome by the crew. We selected seats 5E & 5F as this suite turns into a double bed (only E&F seats do this, D&G are together, but separated by a side table.) During boarding, the divider was up, however, the crew member later dropped this for us, you had an amazing feeling of space.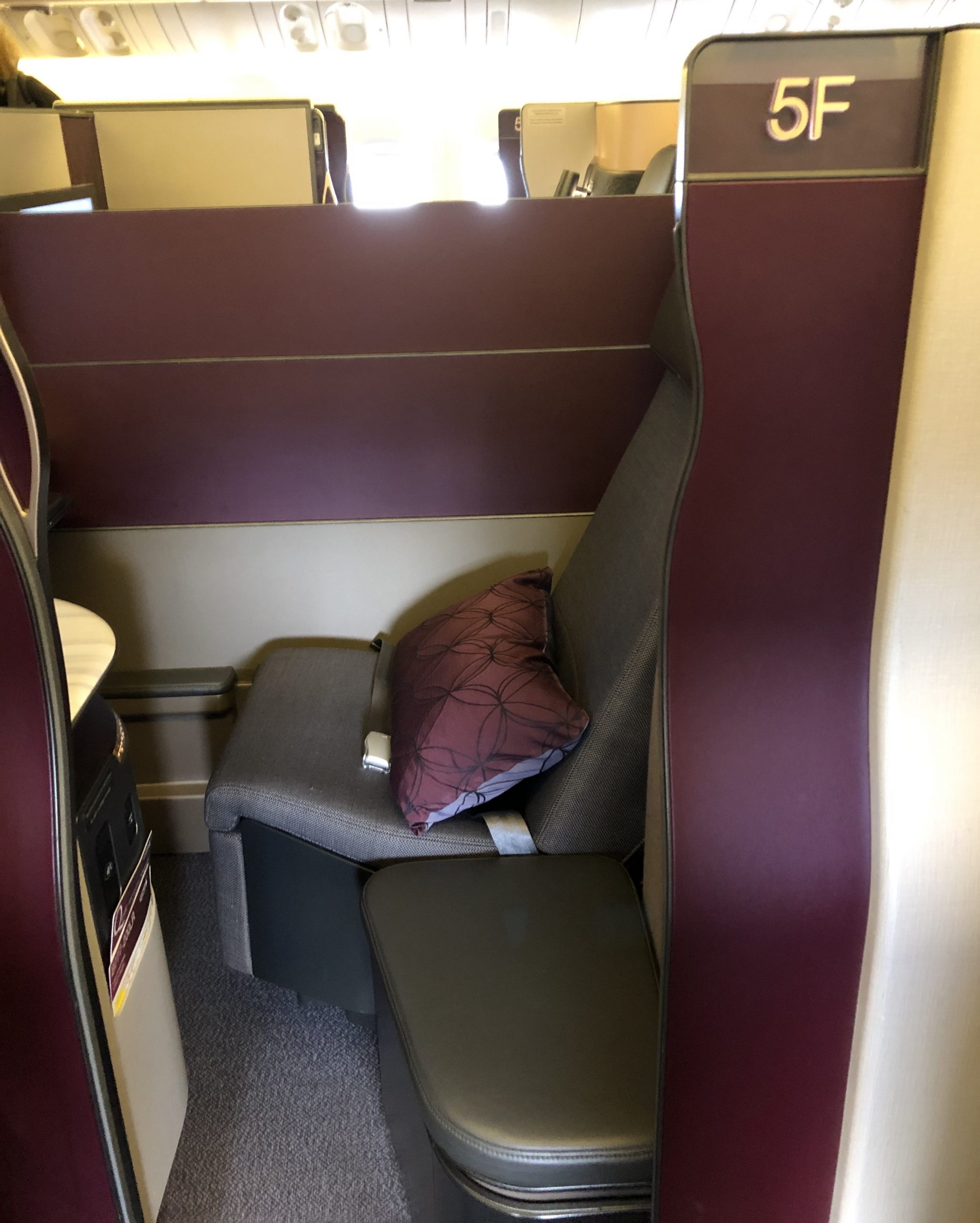 Shortly after boarding, we were offered a welcome drink, hot towel and pyjamas.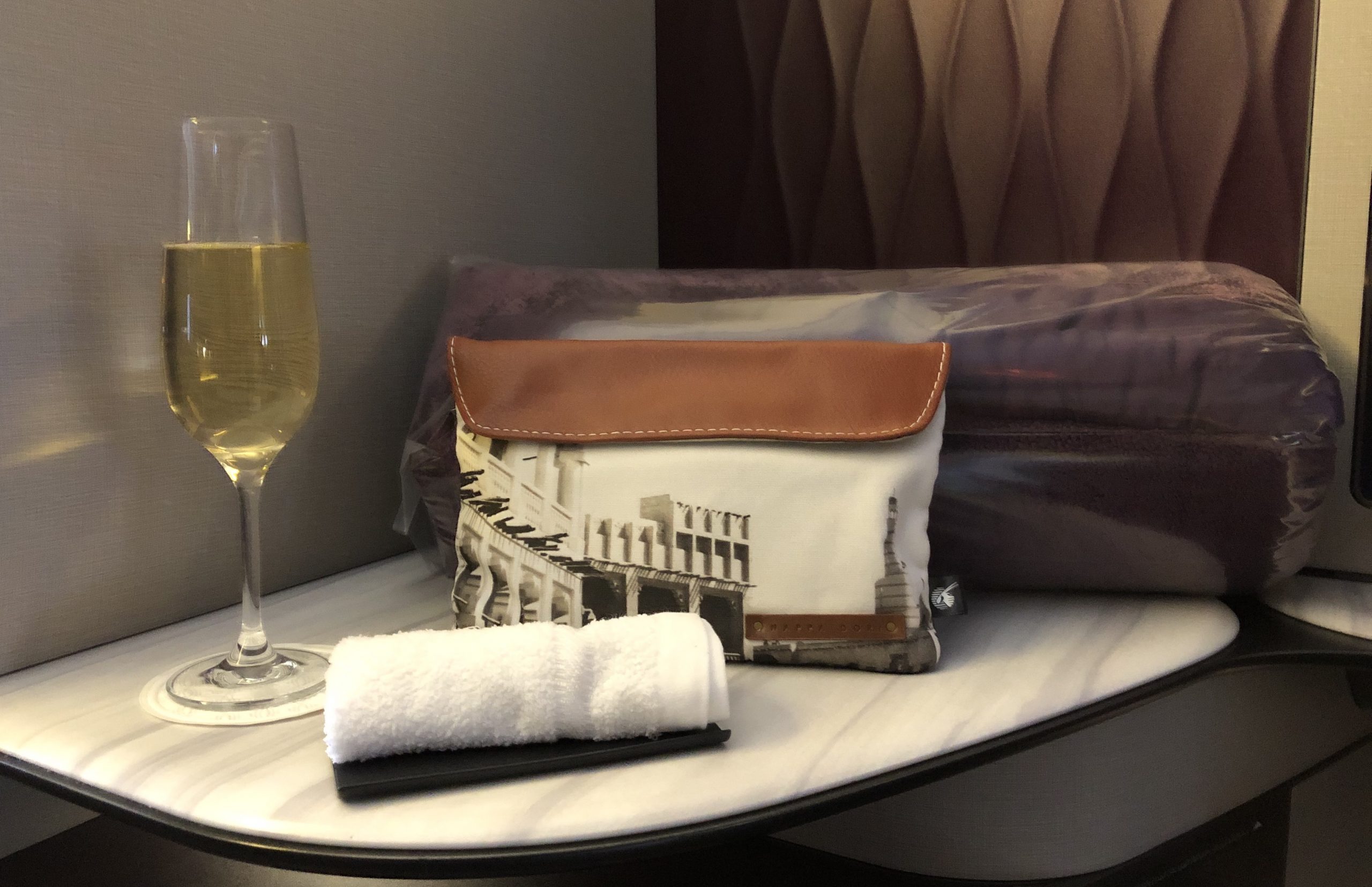 Before take-off, our cabin crew member came round and took food orders. Qatar offers an a la carte menu which I have to say is excellent on this 18-hour flight!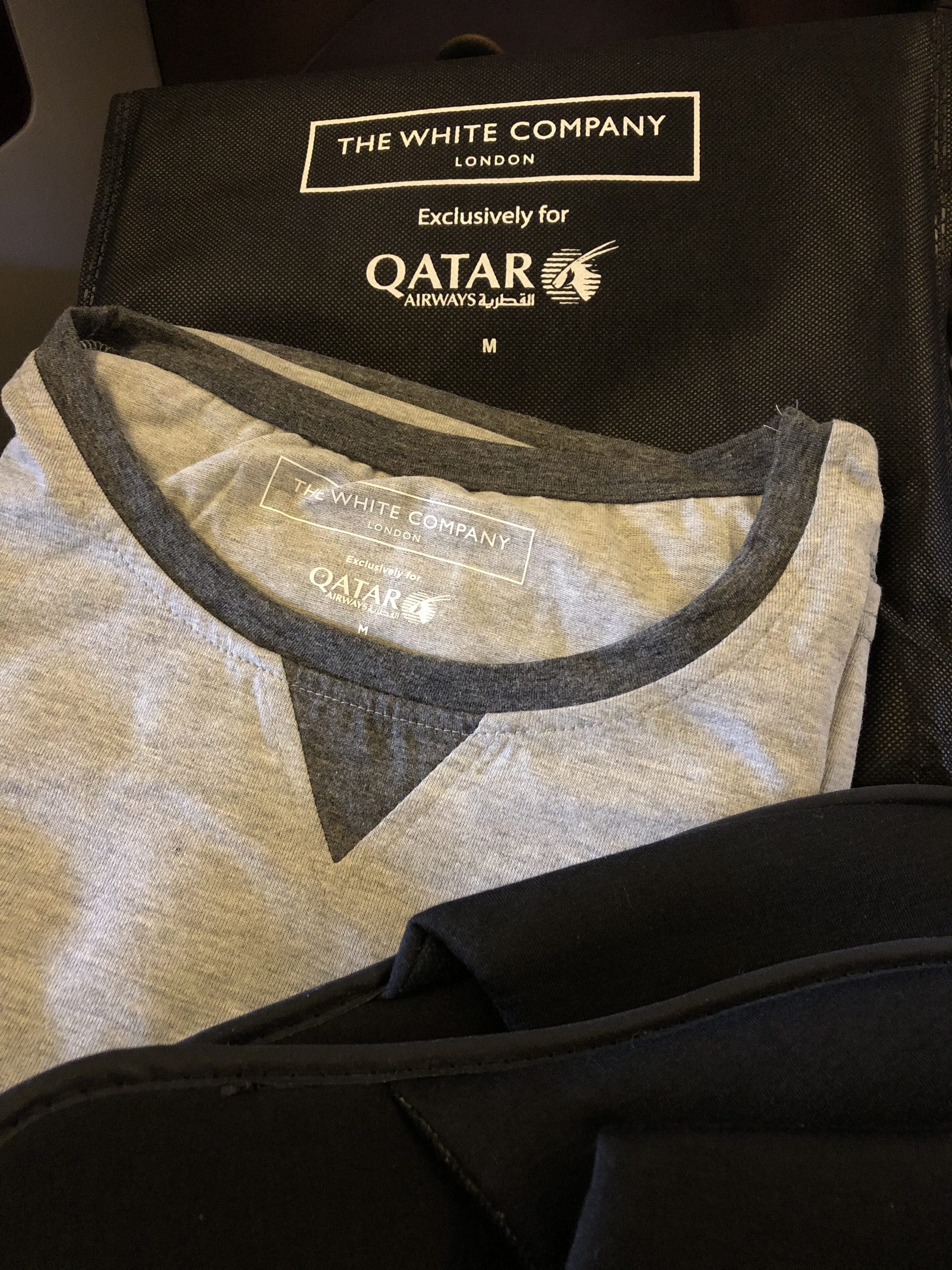 Food and drink
Around one hour after take off, our 'Light Snacks' arrived. Mini sliders and the cheese plate. Both were excellent.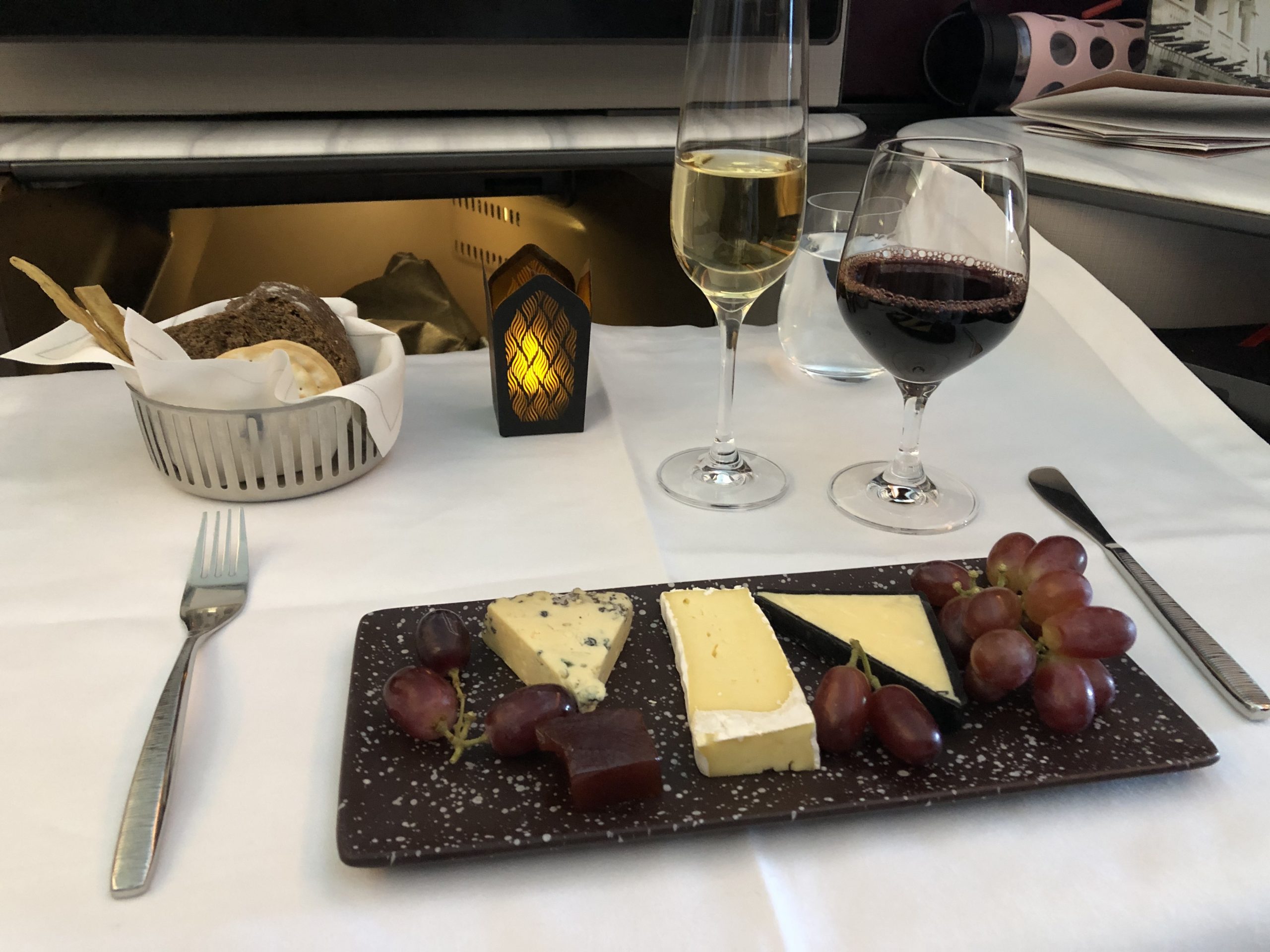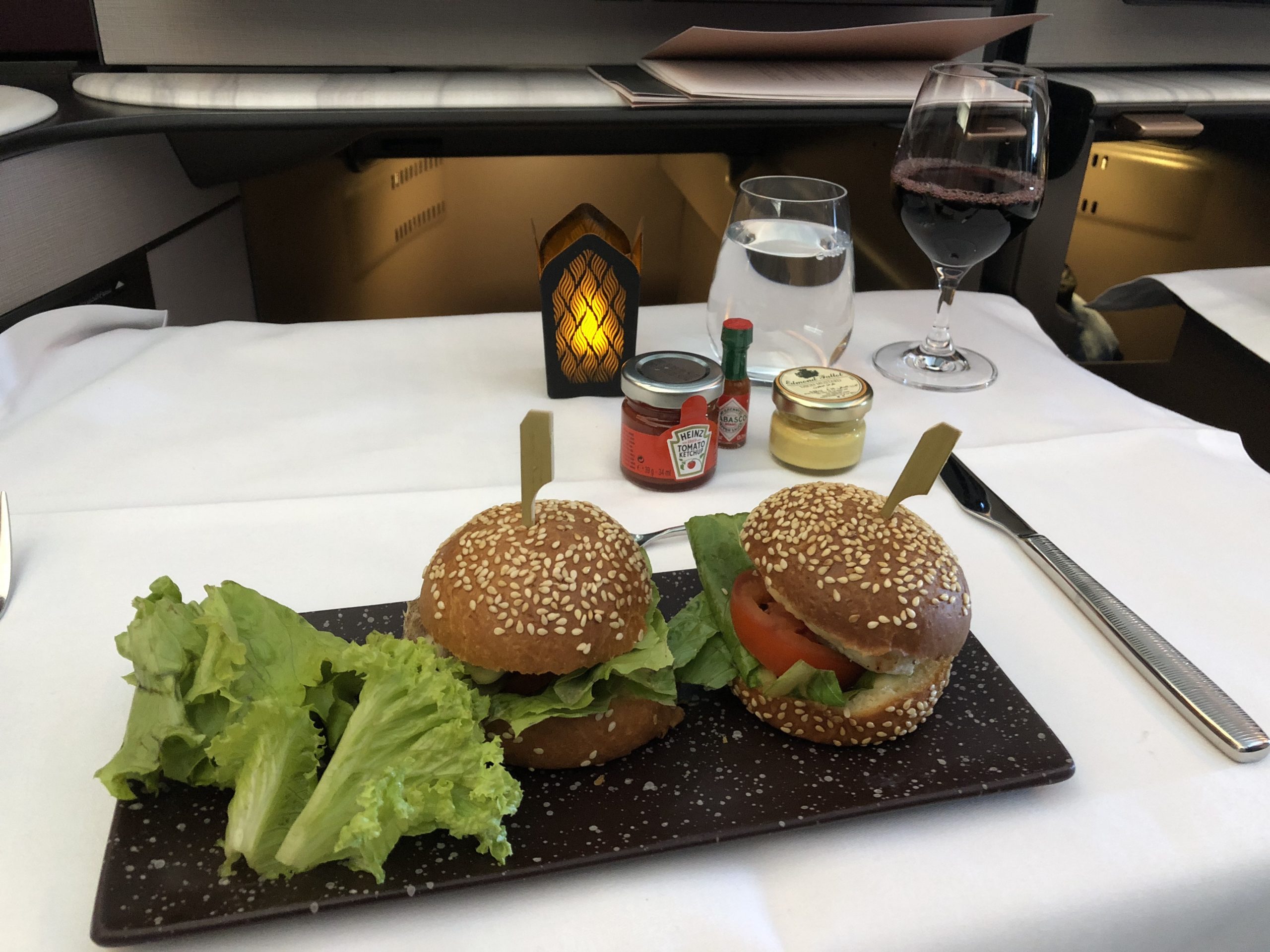 After a few movies, it was time for more food. The Arabic mezze to start.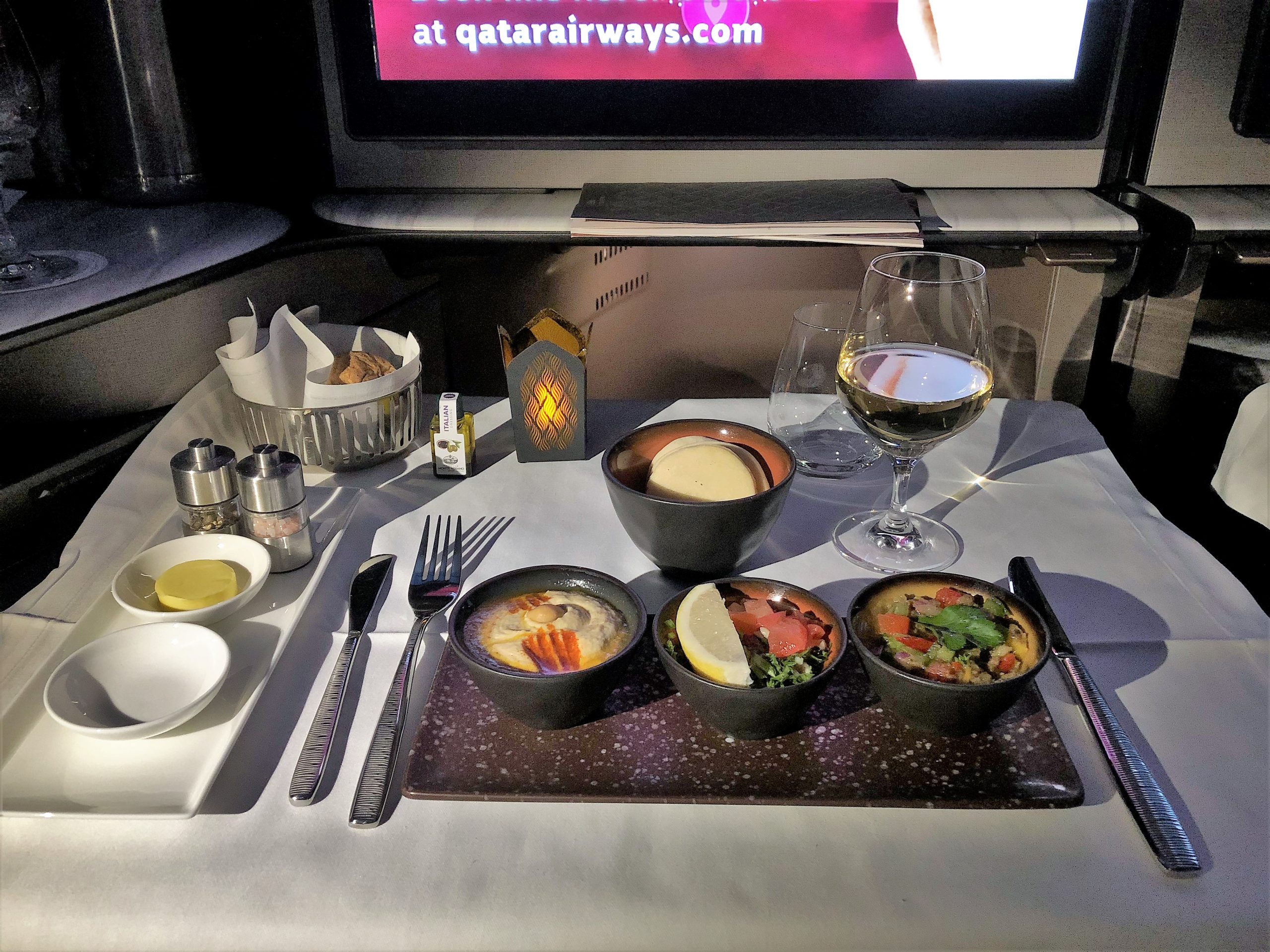 Seared snapper fillet with mussels for mains.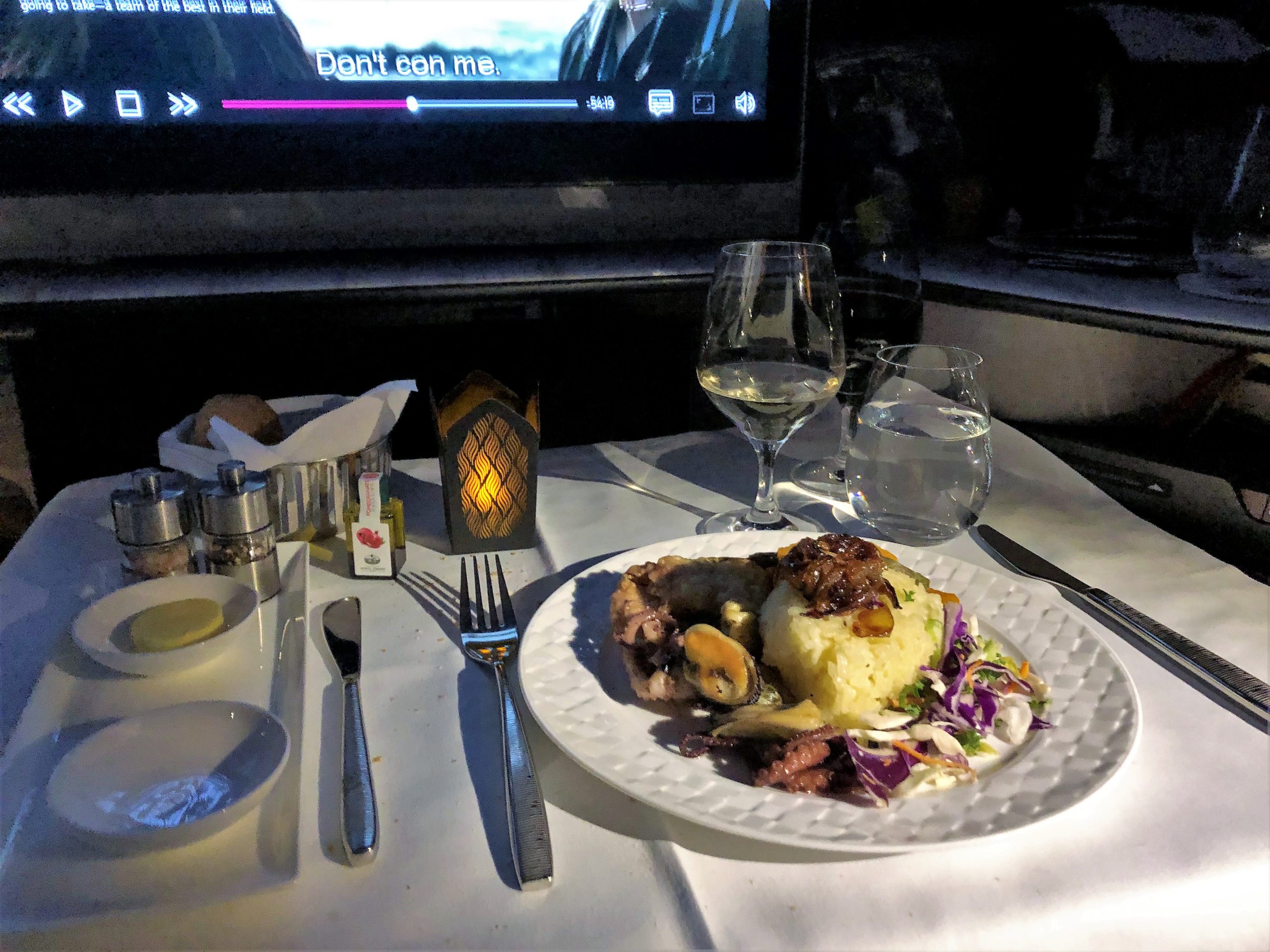 I ordered the lamb, however, unfortunately, they had run out. Our cabin crew member suggested the potato gyoza, which sounded great. Although I actually got served the black olive agnolotti, which was lovely even if it wasn't what I ordered!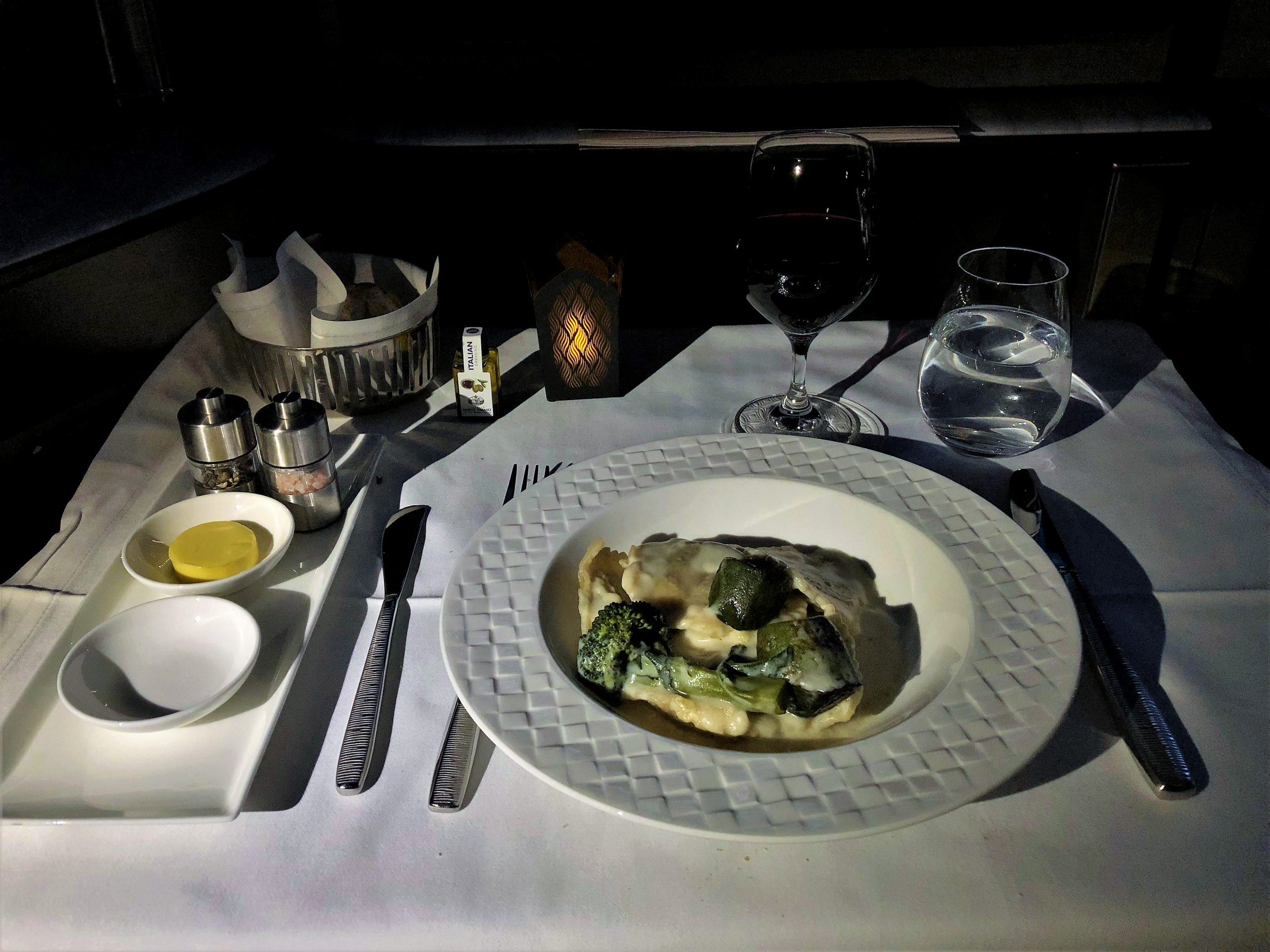 Overall, the food and wine was excellent. The service was slow and they were obviously running low on certain dishes, but with another meal yet to come and plenty of time on our hands, this didn't bother us.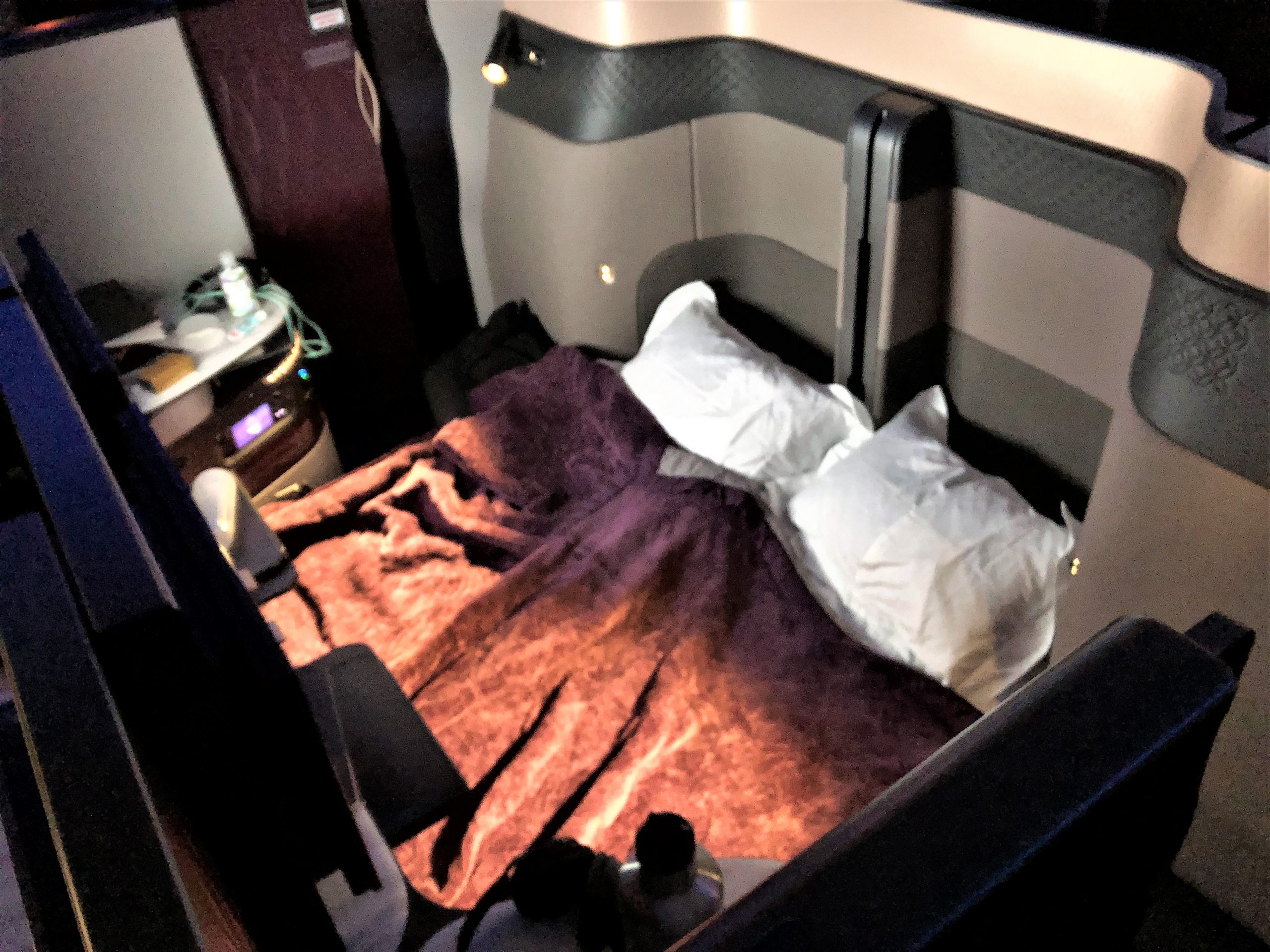 Our crew member offered a turndown service. The bed itself is very comfortable and it feels like you're in own world. Without a doubt the best night's sleep I've ever had on a plane.
We were still quite full from dinner, so opted for the banana bread for breakfast, which was great.
Doha airport transit
We landed in Doha and headed through security. The terminal was deserted and being the middle of the night, it was peak hour for the airport. We headed towards the Al Mourjan Business Lounge, which is huge, no problems social distancing here.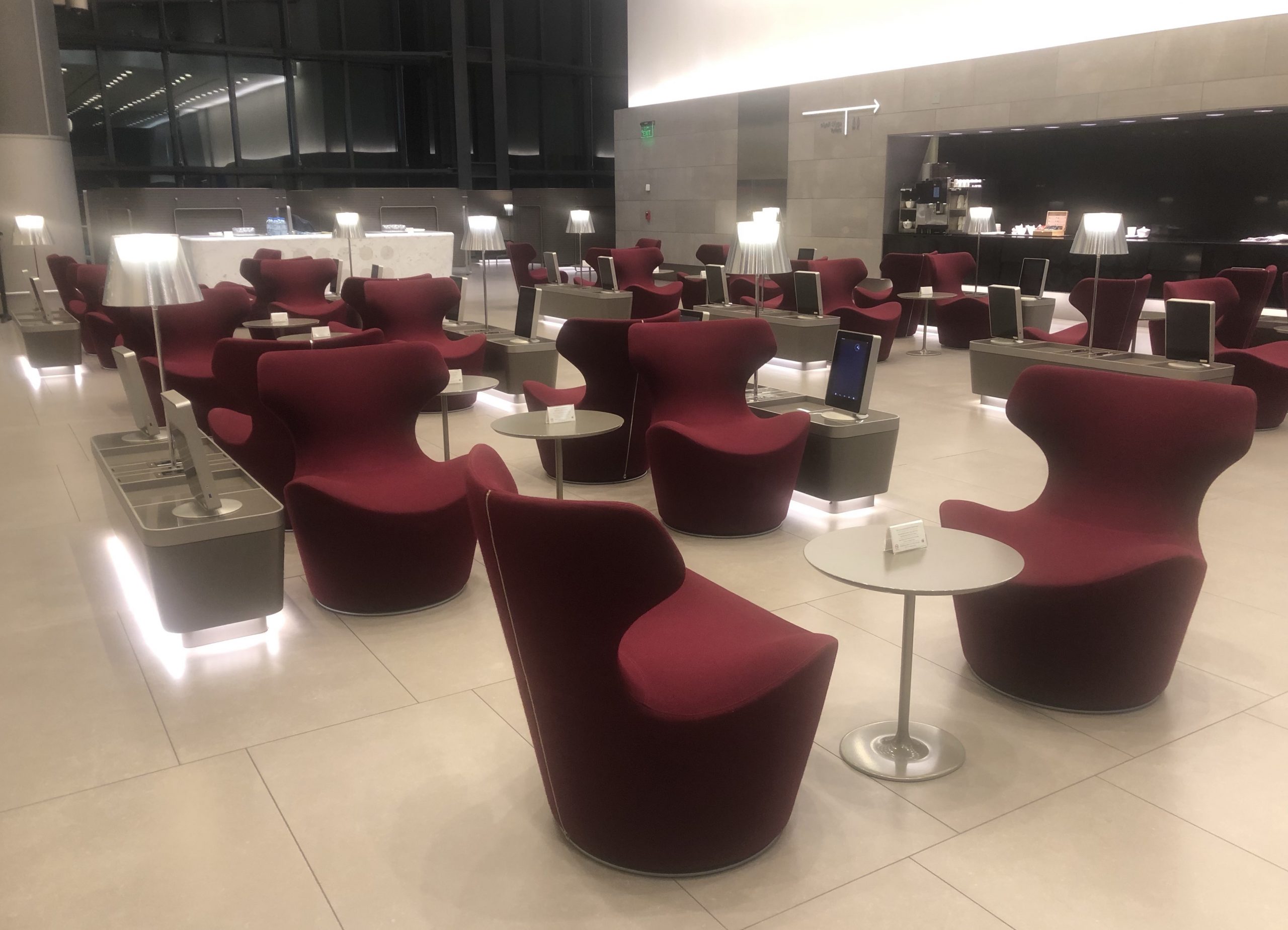 We were able to take a shower straight away, which really helped freshen up.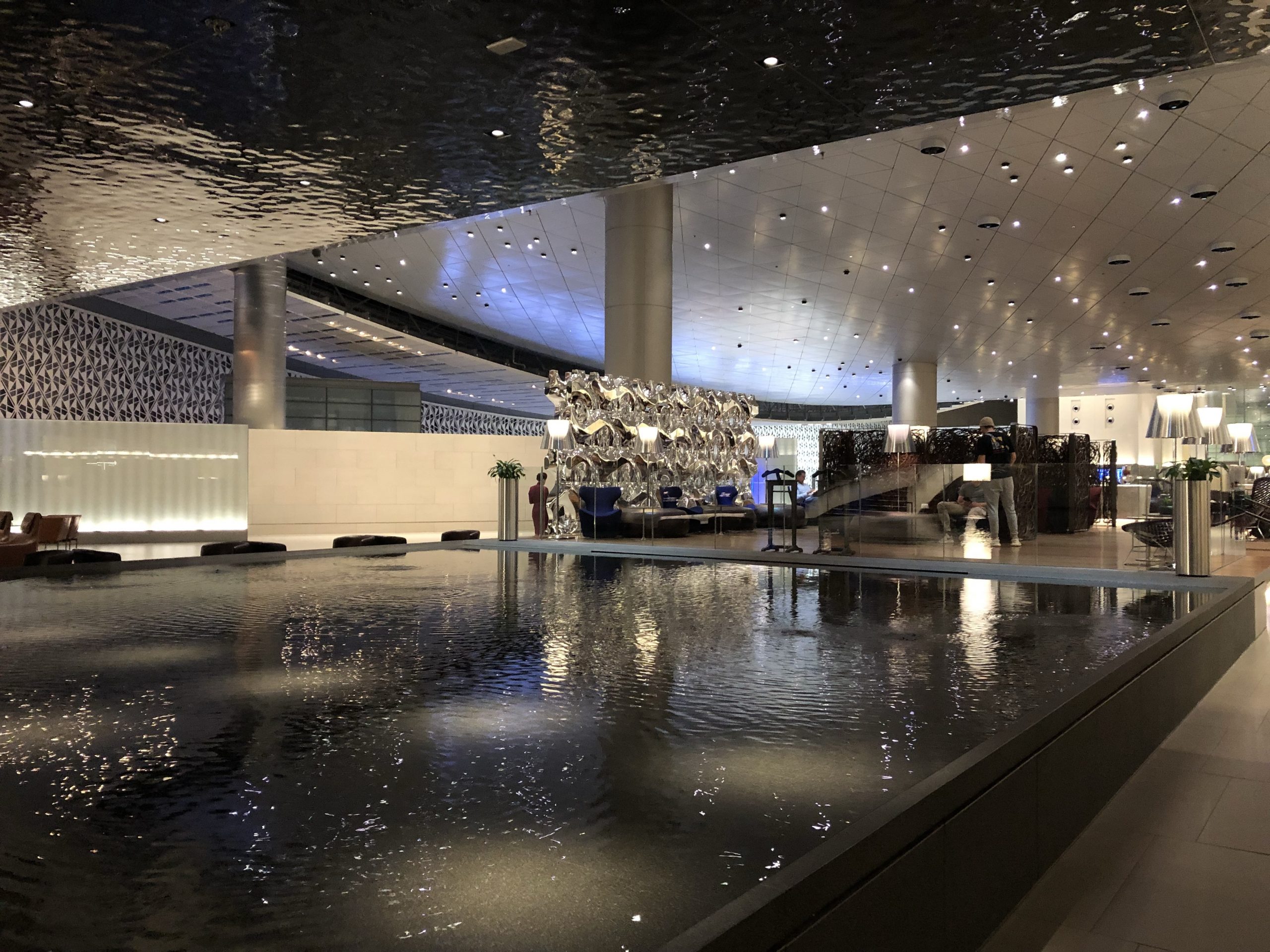 After a few hours, we headed to the gate and started to board.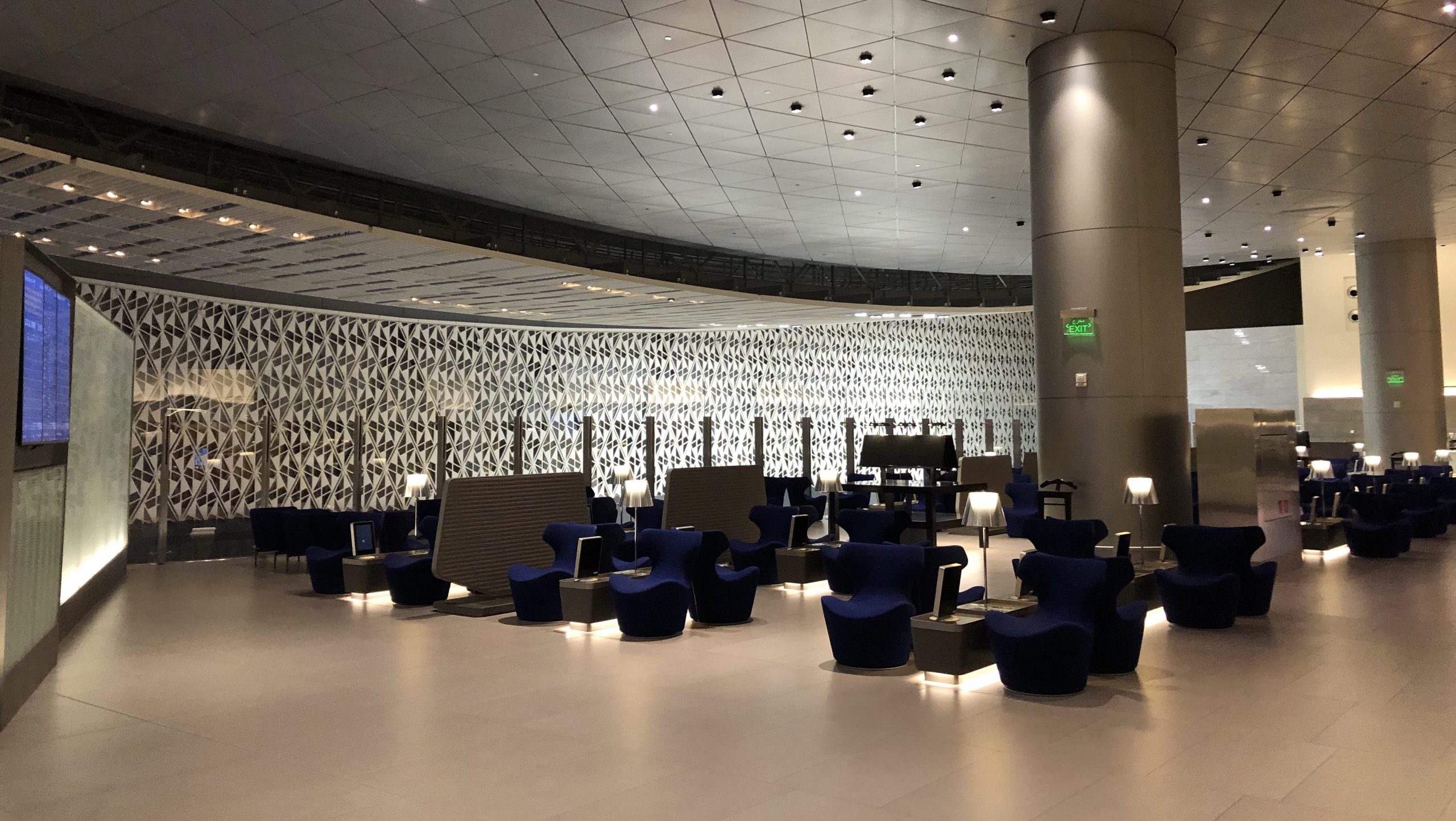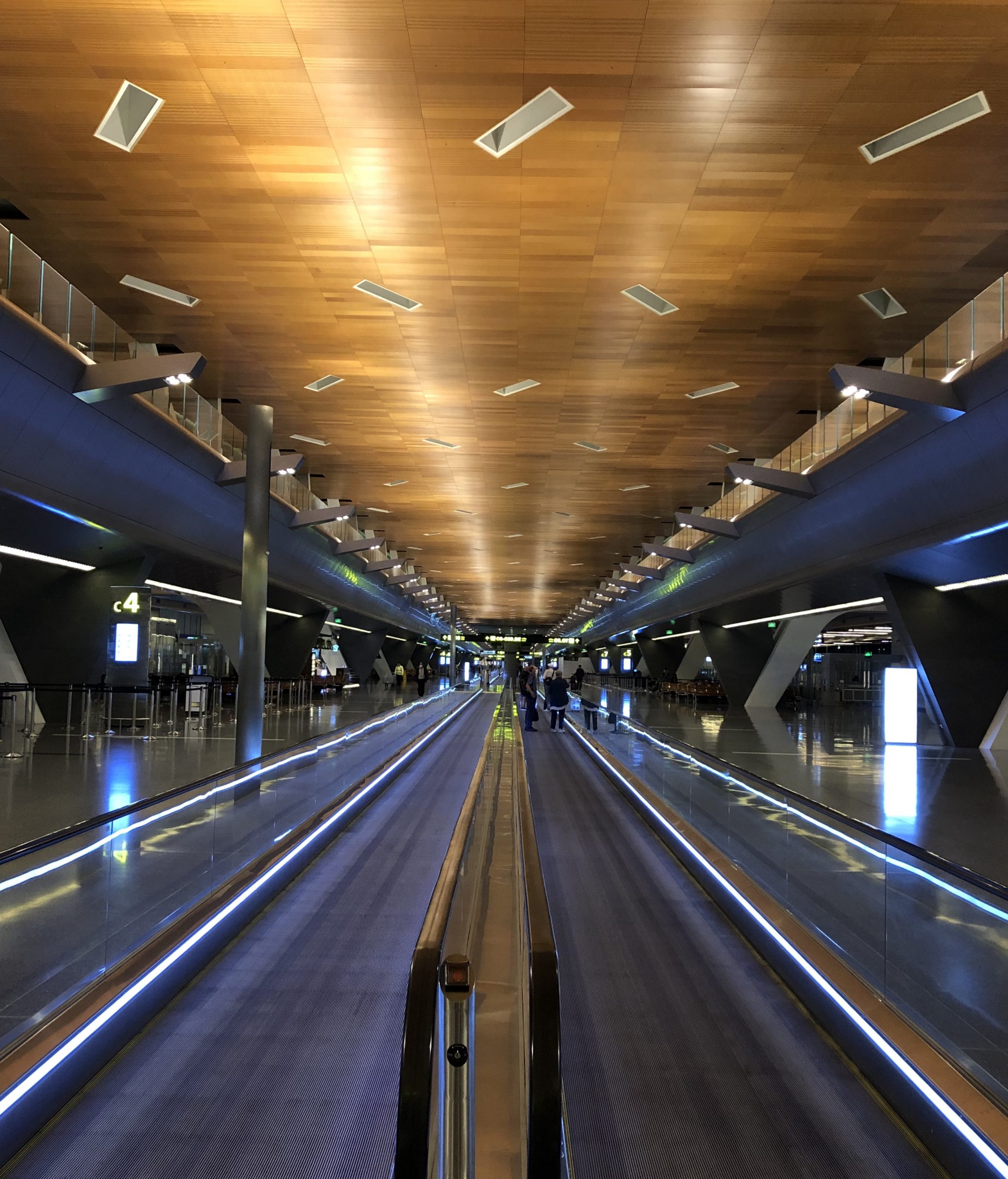 Doha to London A350-1000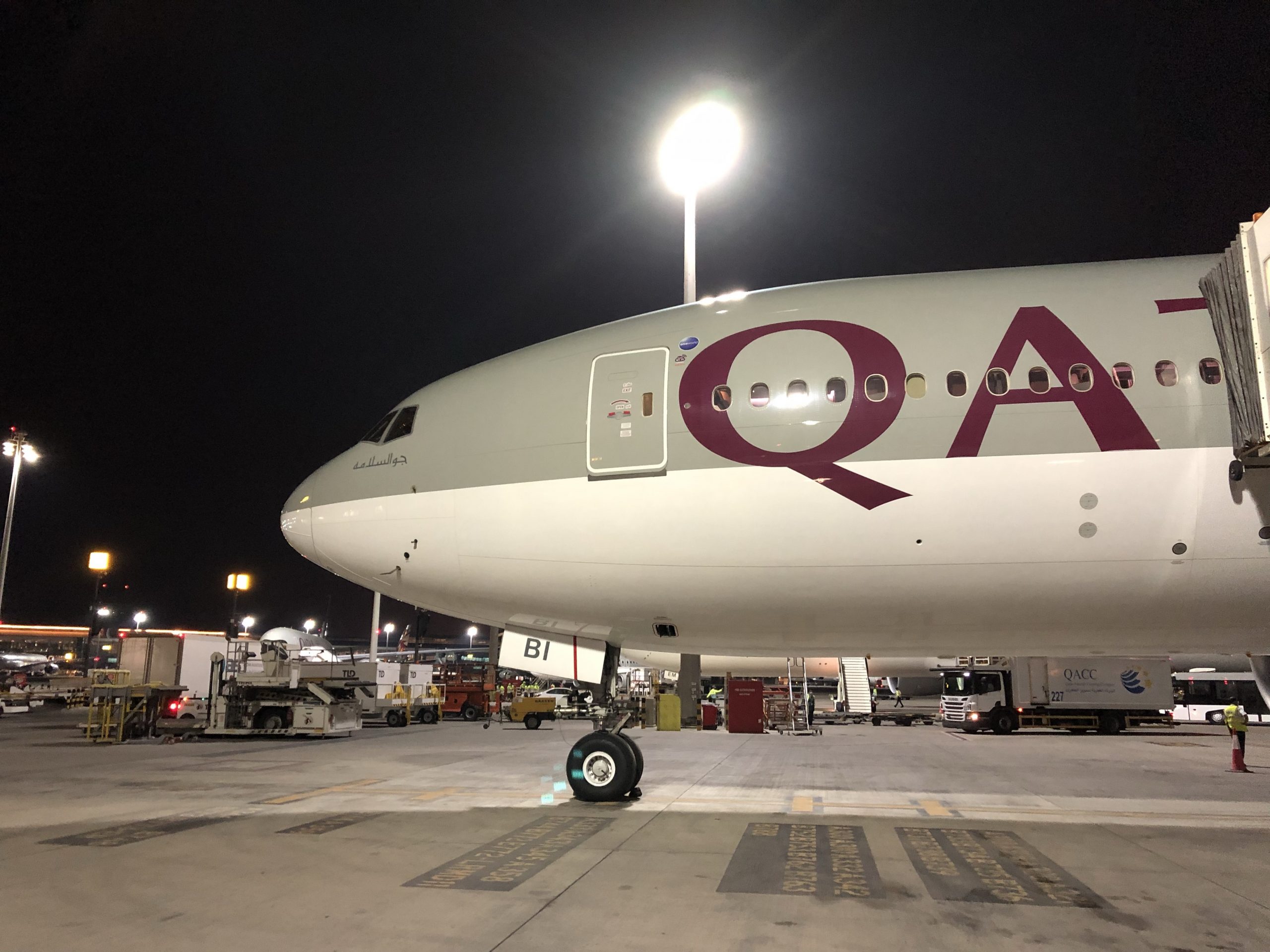 The A350-1000 is an excellent way to try Q-Suites. With no lockers above the middle seats, it felt so spacious!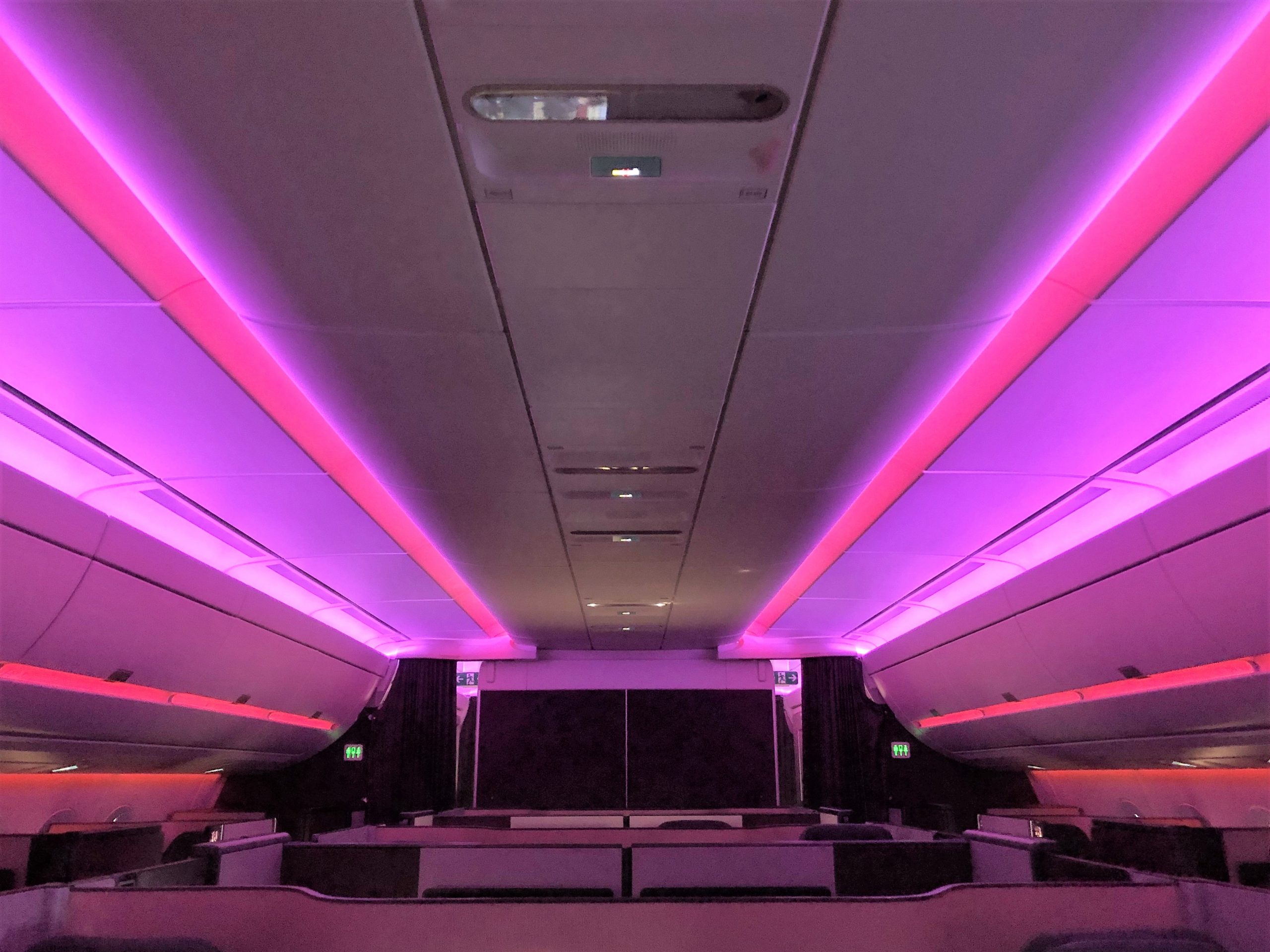 The crew were excellent really made us feel welcome. After the totally full first flight, you could really see how lighter cabin loads makes the service more personal. I asked a crew member how long they were staying in London for and he explained they are coming straight home with just one hour on the ground!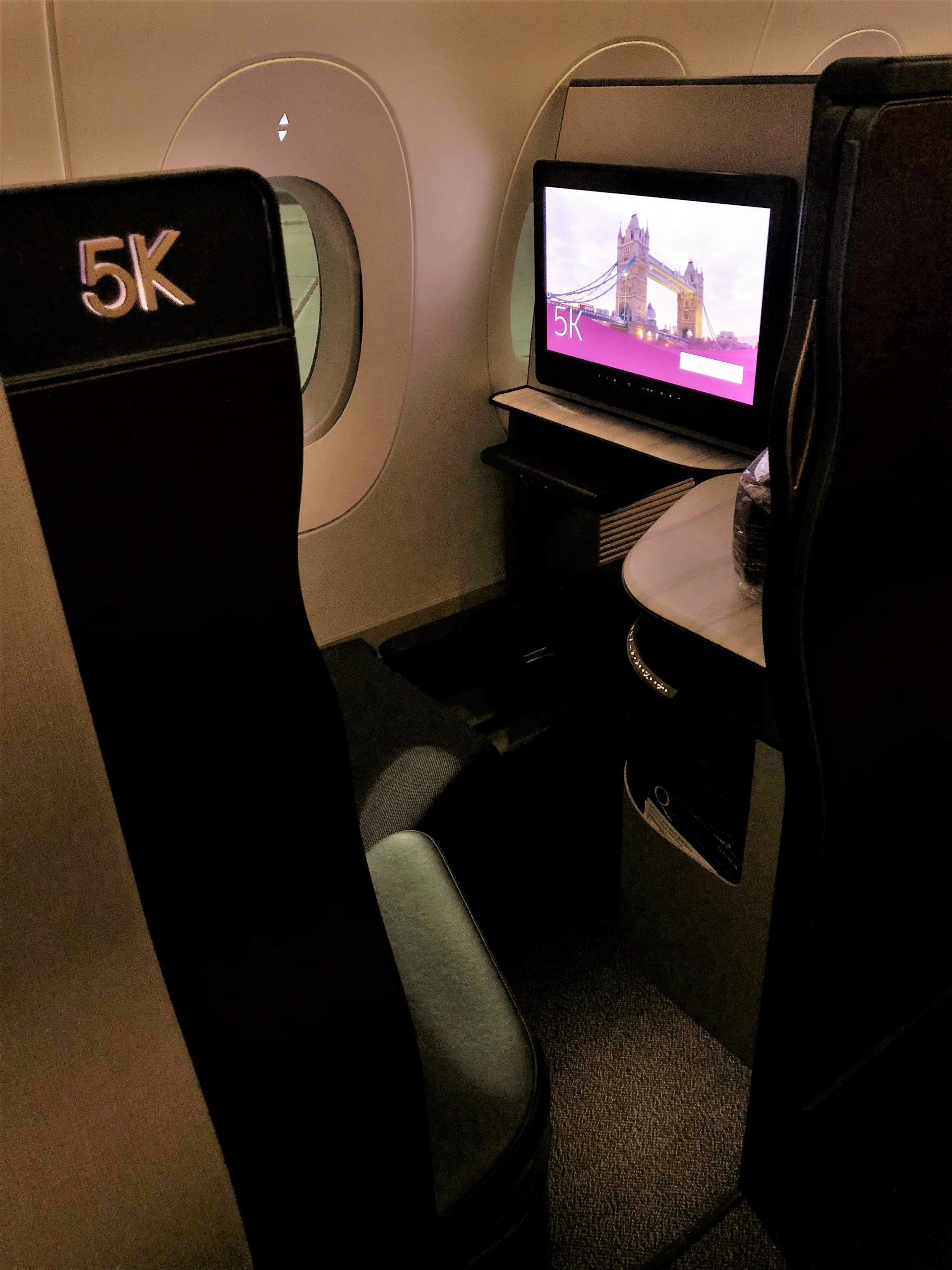 Economy was around 70% full, however, the business class cabin had barely 20% occupancy.
After a long day of travelling, we had started to lose our appetite so we shared the cheese, ham and caviar plate, why not!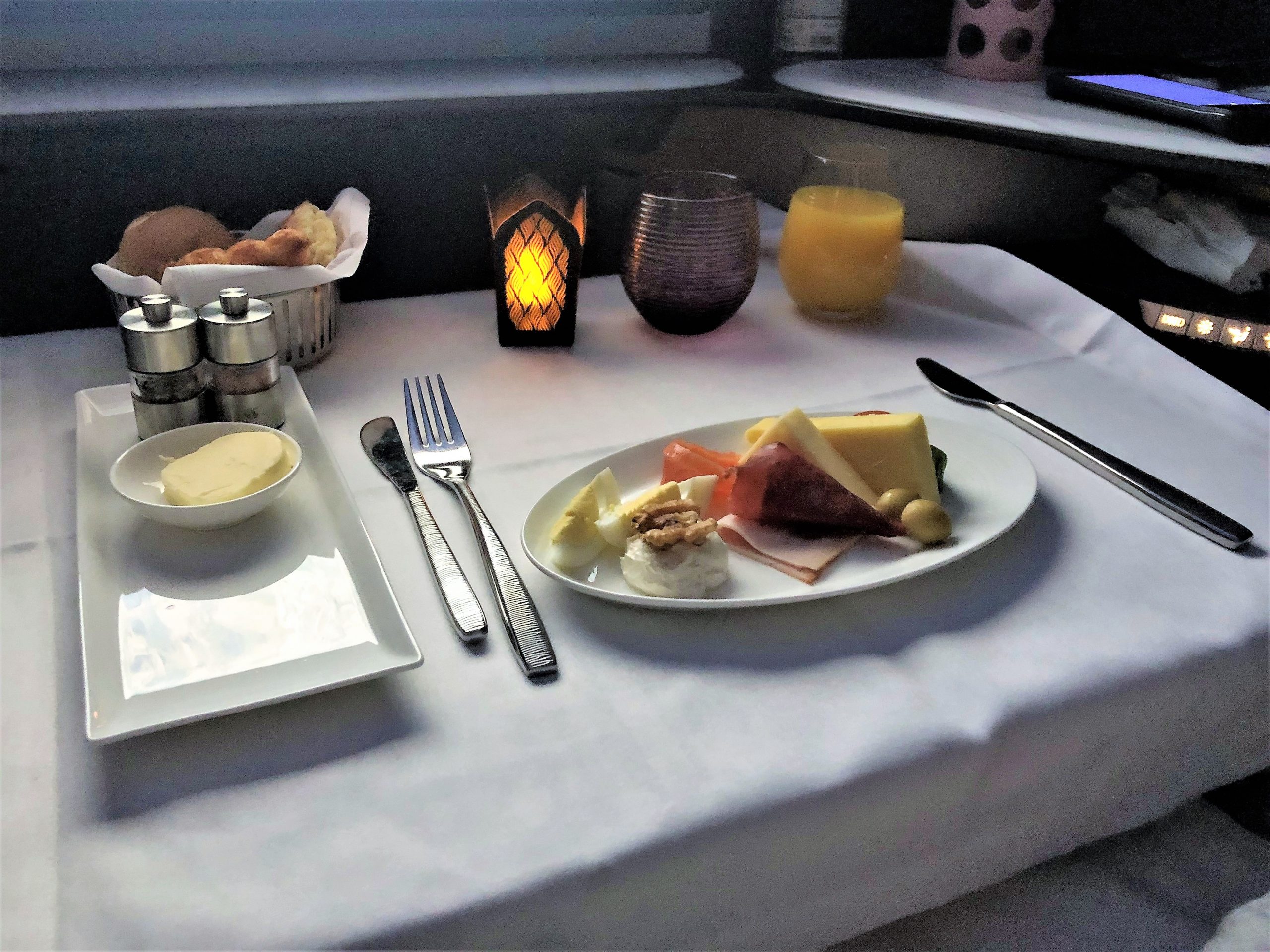 For breakfast, we opted for the Arabic breakfast. This was excellent and out of all the meals, one of the best. This was a welcome surprise as I never rate the breakfast service onboard flights.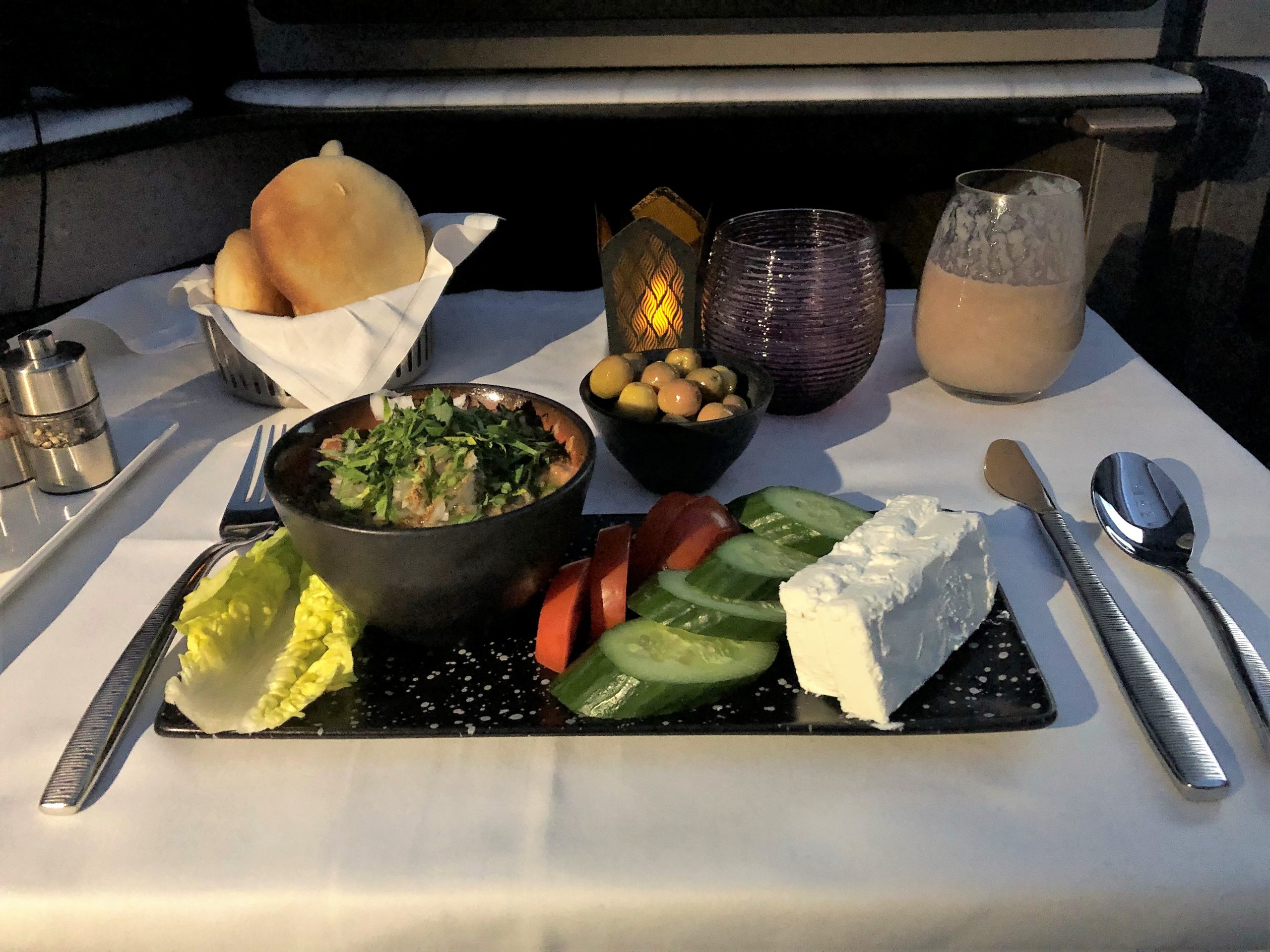 It's probably worth highlighting that this was a totally normal service from Qatar. The only unusual aspects were an abandoned Doha airport and the crew all wore masks.
Arrival at Heathrow
Upon our arrival into Heathrow T4, we were expecting to be met by men in white suits and endless health questions. To our surprise, it was like any normal day at Heathrow, just very quiet. There was a poster about social distancing, but other than that it was business as usual. Customs was unstaffed and we were instructed to use the E-Gates at immigration. This felt quite reckless given the current situation. When we arrived in New Zealand four weeks earlier, we had to answer health questions and provide recent travel information.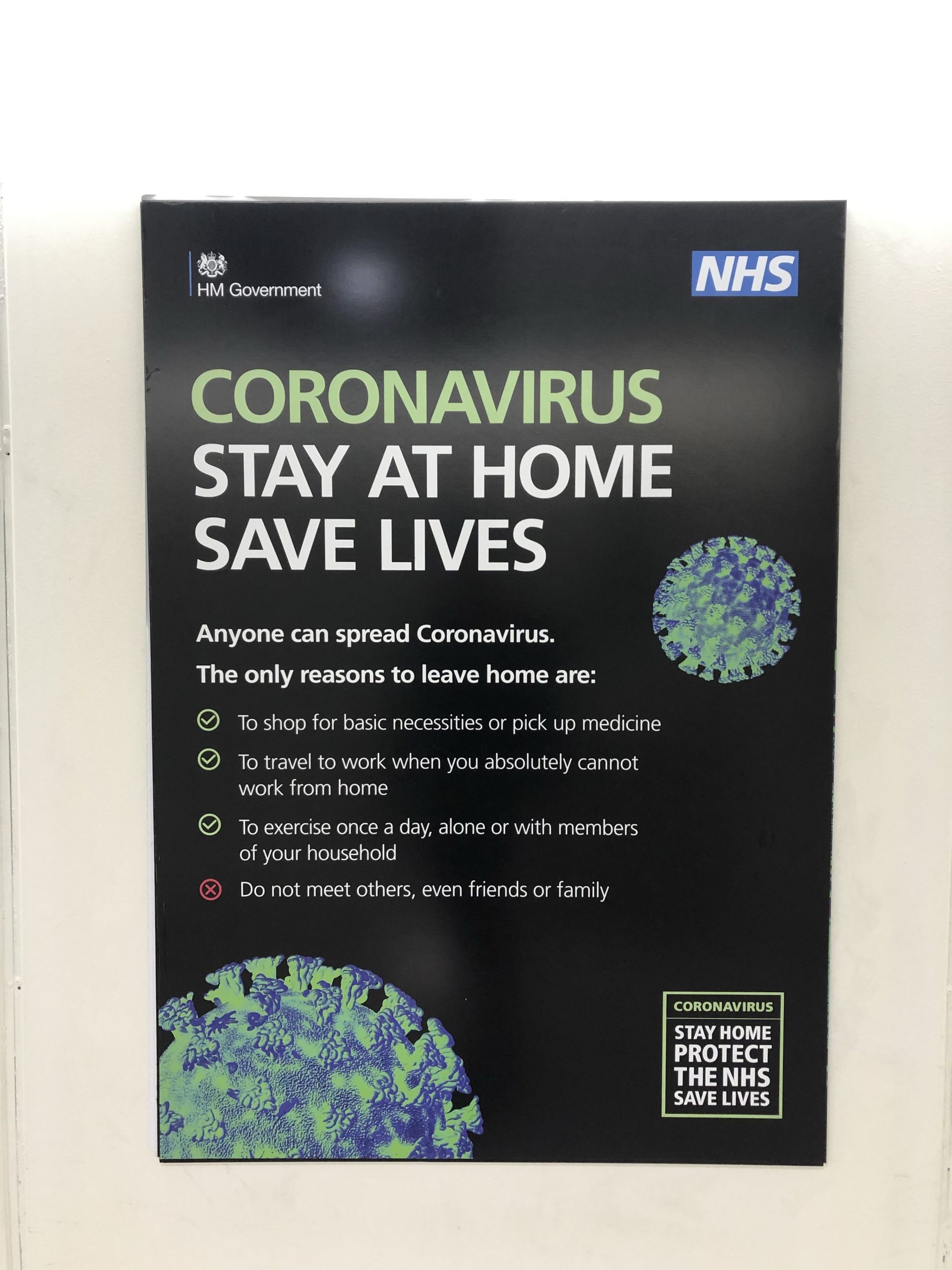 Unfortunately, the airport made no effort to encourage social distancing at baggage reclaim.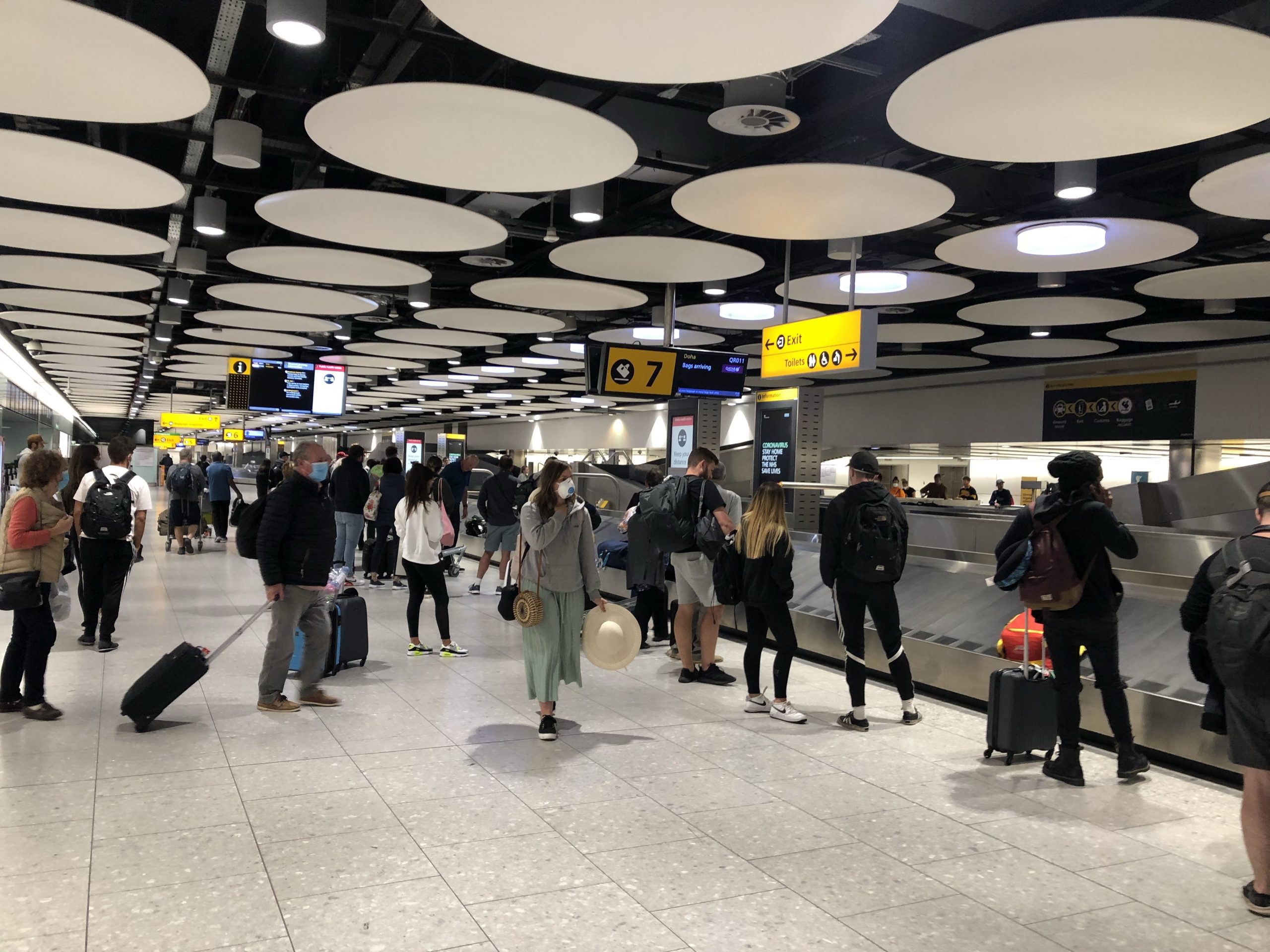 Overall, despite BA's initial failings, we were incredibly thankful to them during this very tricky time. Qatar were excellent in every department and definitely fulfilled their marketing campaign of 'We'll get you home'.