At the end of March 2017, BA introduced new catering on its Club Europe routes. There were winners and losers with the best improvements on the longer routes. Although BA has promosed to review this new catering, nothing has substantially changed since its introduction. I have now sampled most of the meals on board with the exception of afternoon tea and the very short route breakfast. This guide will give plenty of examples of the types of meals you can expect to get on your BA flight. They tend to rotate a set of meals on a monthly basis, so the chances are these meals will come up again.
What can you expect on your Club Europe flight?
The food you were given before was determined by what 'band'  (1-4 ) your flight fell into. This broadly correlated to the length of flight. BA has used the catering changes to alter this arrangement into new categories. London City food is normally better than the meals listed below and can often include hot meals rather than salad. The categories will now be as follows:
Very Short- Leeds Bradford, Manchester and Jersey
Breakfast: hot bacon roll, fruit and yoghurt for breakfast (Jersey gets the hot breakfast as per short)
From 0930: a cold plate  (09.30+ departures). This is currently a continental brunch type plate with meat, cheese and egg but no salad.
Short and Medium
Short includes all other domestics, Biarritz, Billund, Paris, Friedrichshafen, Grenoble, Amsterdam, Basel, Dublin, Brussels, Berlin, Düsseldorf, Munich, Frankfurt, Zürich, Geneva, Genoa, Lyon, Luxembourg, Nantes, Montpellier, Stuttgart, Toulouse and Bordeaux.
Medium includes Oslo, Barcelona, Bergen, Bilbao, Copenhagen, Gothenburg, Limoges, Mahon, Marseilles, Prague, Pisa, Pula, Innsbruck, Nice, Vienna, Zagreb, Porto, Madrid, Palma, Milan, Pisa, Bologna, Stavanger, Venice, Innsbruck, Salzburg, and Verona.
These routes receive:
Breakfast (to 09.29) – hot breakfast including a vegetarian choice with yoghurt or Bircher muesli (no fruit plate). You will also get offered a bread basket including warm croissants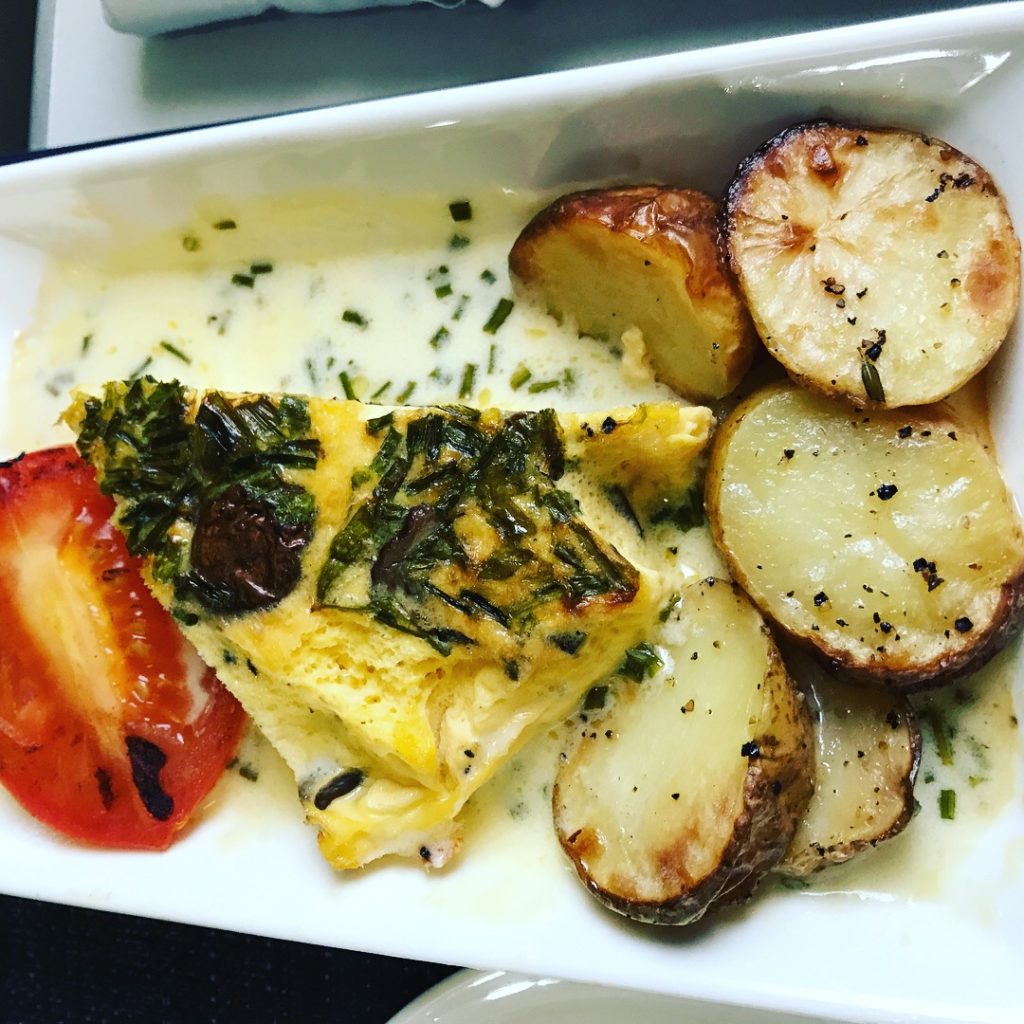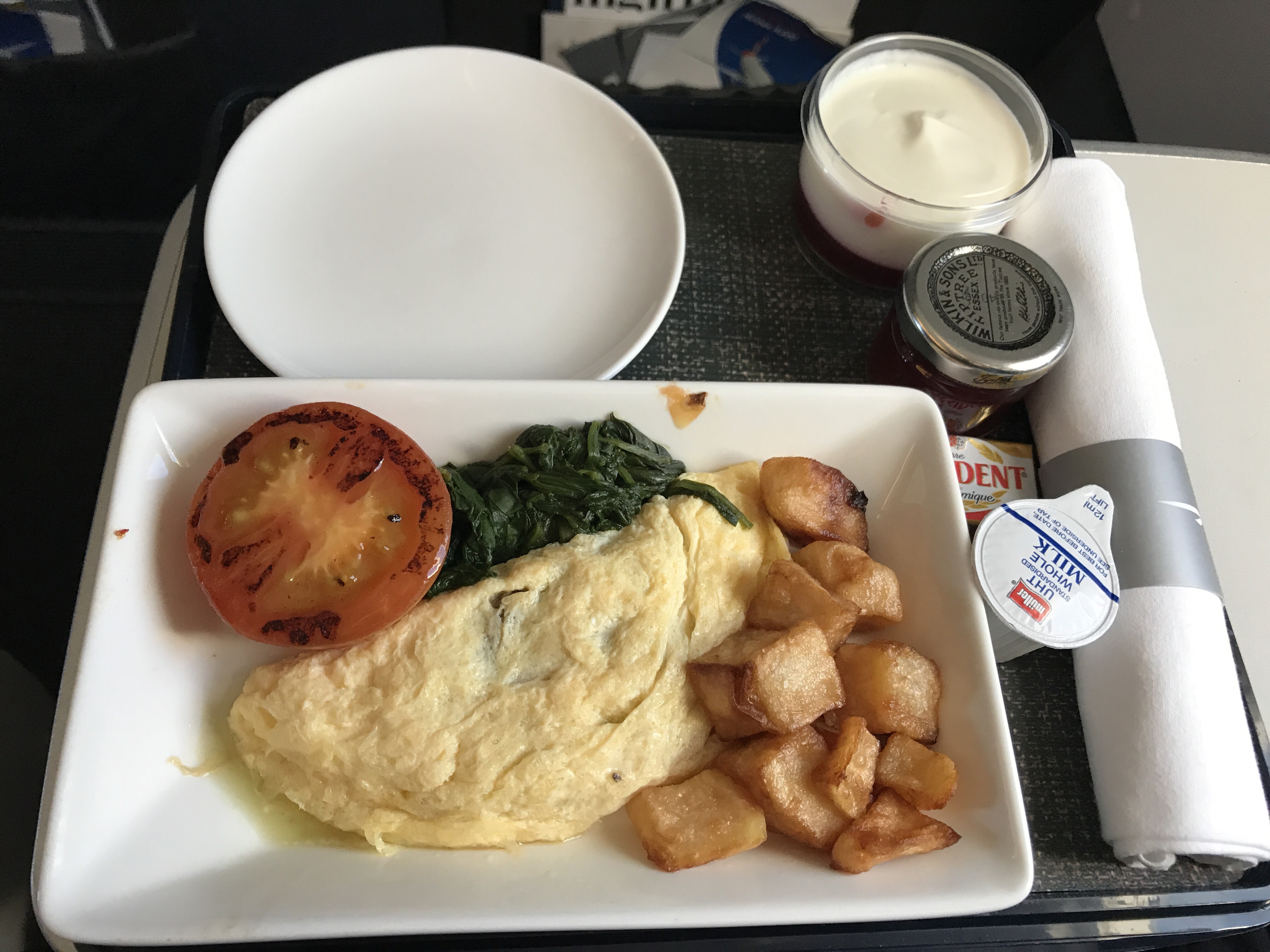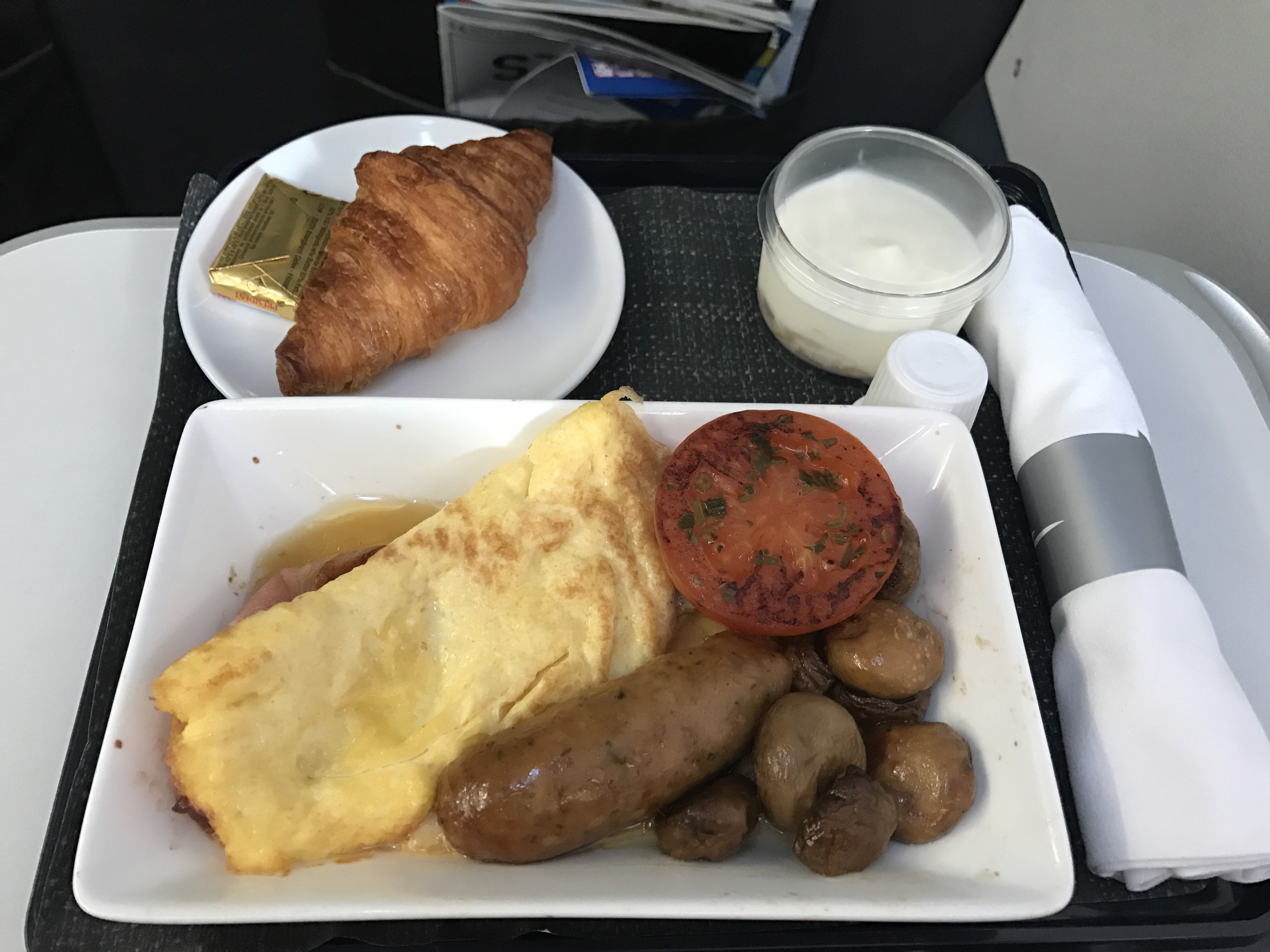 Brunch (09.30 – 10.59) – a large hot sandwich (currently beef, cheese and chilli from/to LHR) or a cold plate as per very short
Lunch (11.00 – 13.59) – salad (currently ex LHR a breaded chicken salad with potato salad) or a large hot sandwich as per brunch plus bread basket and a dessert.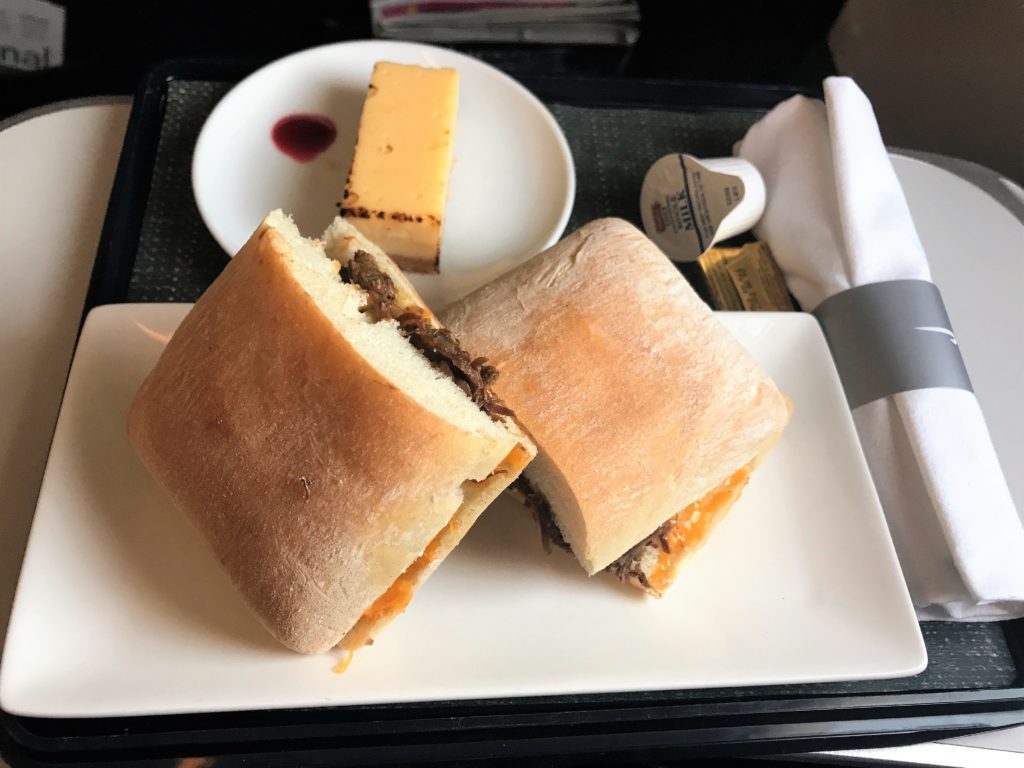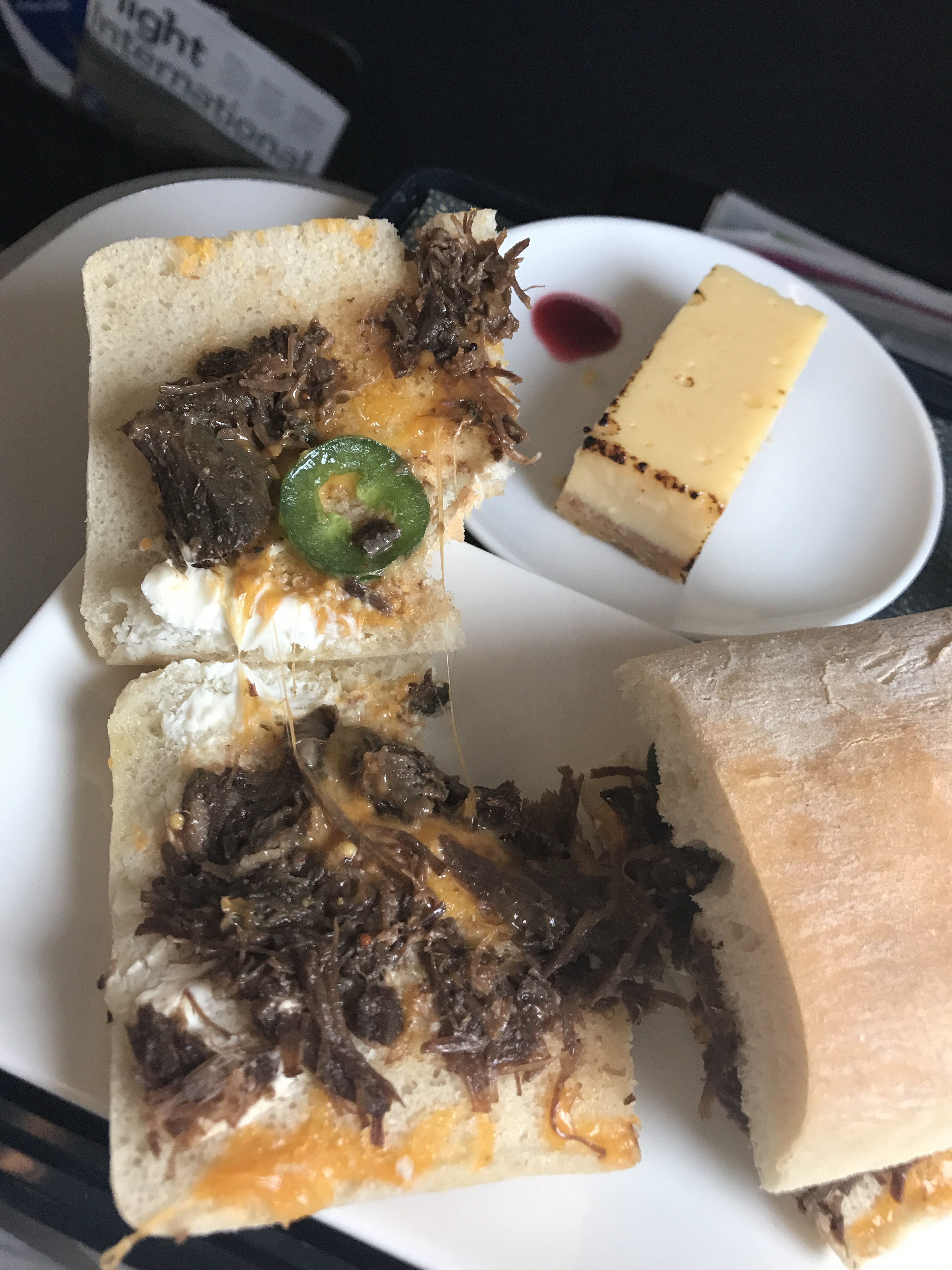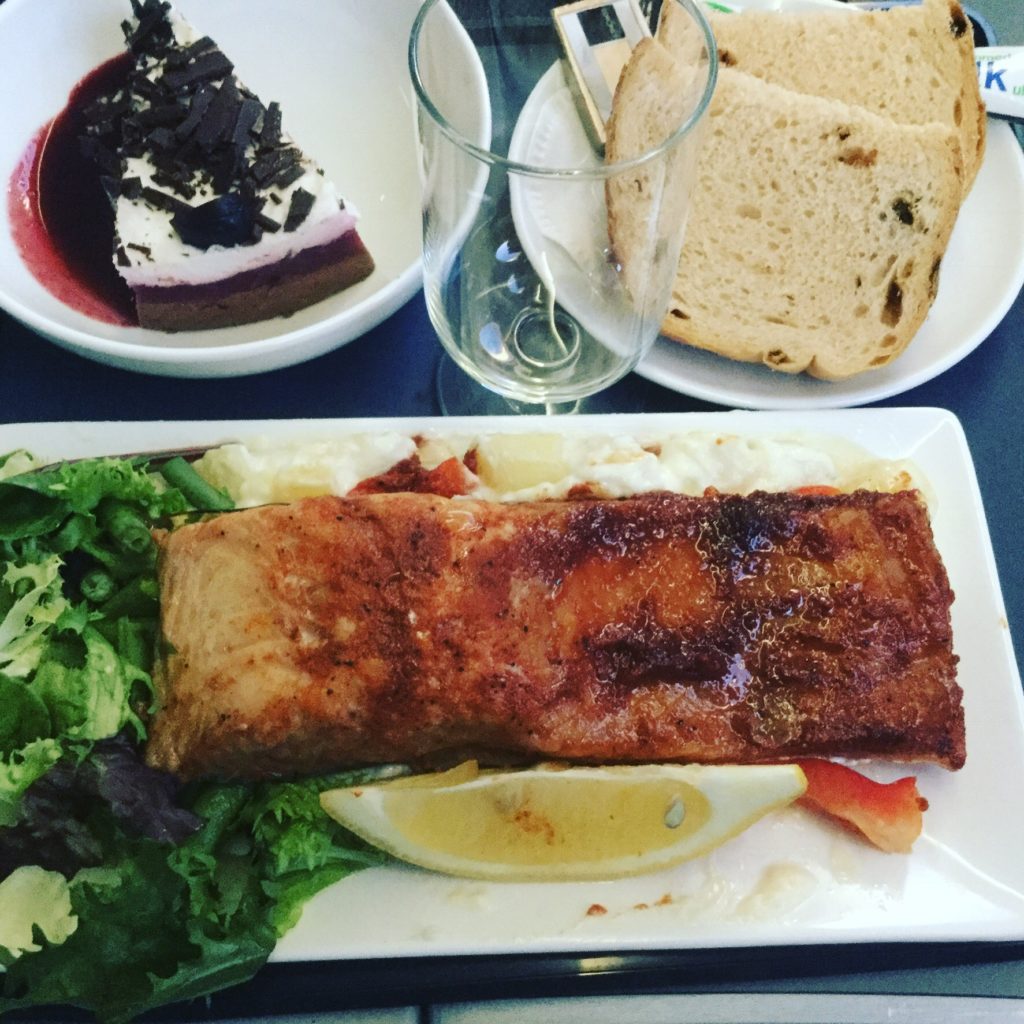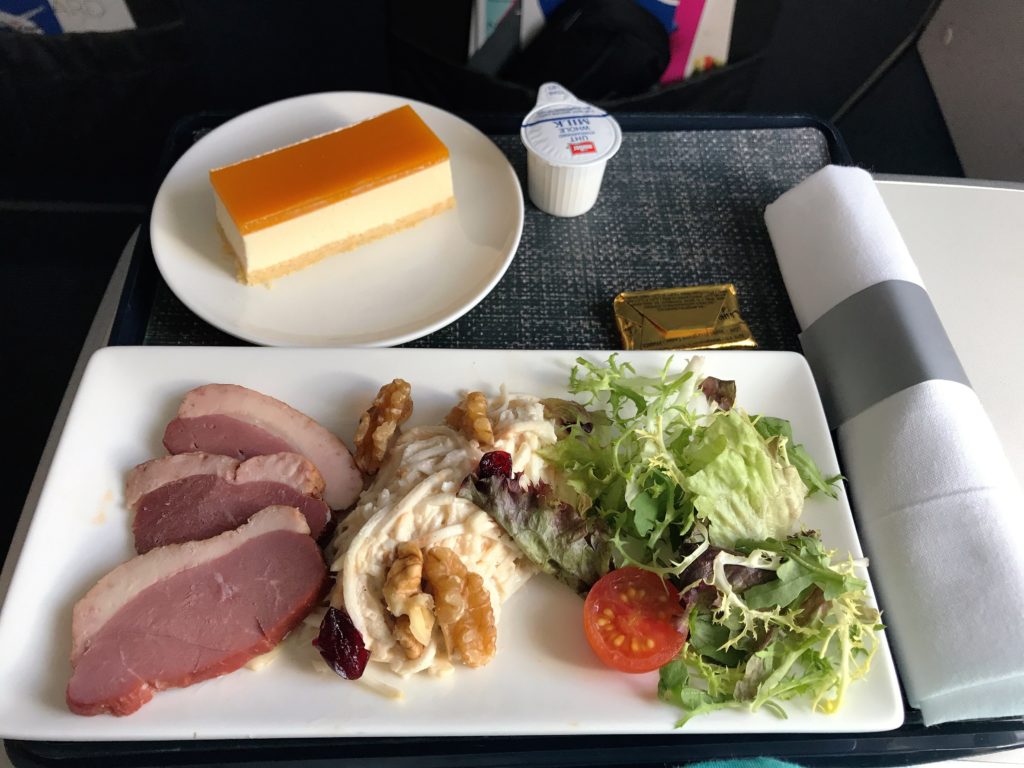 Afternoon tea (14.00 – 16.59) – 3 cold finger sandwiches or a ploughman's salad (meat, scotch egg and cheese selection with bloomer bread) with cake.  Scones have been removed
Dinner (17.00+) – as per lunch
For the Medium routes, there will be nuts and a bar round before lunch and dinner. Wine and champagne are served from full-size bottles.
Long routes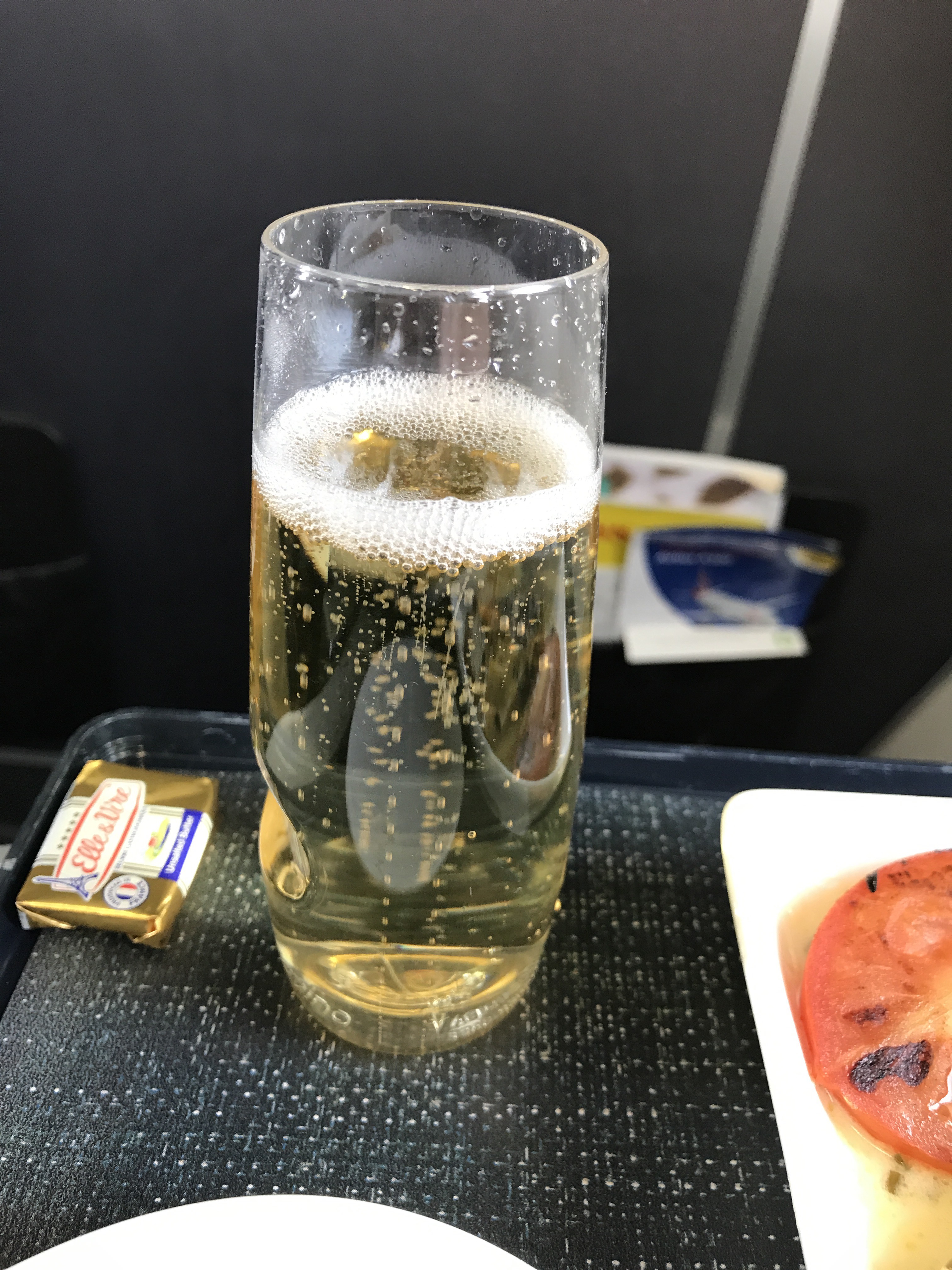 'Long' is everywhere else including Alicante, Athens, Malaga, Helsinki, Dubrovnik, Malta, Gibraltar, Faro, Lisbon, Ibiza, Rome, Budapest, Tallin, Warsaw, Krakow and Stockholm.
Breakfast (departures up to 09.29) – a hot breakfast including yoghurt and an additional Danish pastry (no fruit plate)
Rest of the Day – appetiser, two choices of hot main course plus dessert and cheese plate.
There should be a drinks round before the meal with a packet of mixed nuts. Wine and champagne are served from full size bottles. 2 red wines and 2 white should be offered, usually they are Spanish and poor quality. There will also be a choice of 2 gins, Tanqueray and Gordon's. Unfortunately the  wine glasses are small and if you get a busy flight or a bad crew you may not get much to drink! You could do what I now do and take your own glass. I recommend the Govino stemless flute champagne glasses .
Menus will be given out prior to service. You will get a tray with your starter, dessert and cheese and biscuits on. The main course will be served separately with a choice of 2 options.  On the longer of the Long routes, drinks will be offered with tea and coffee.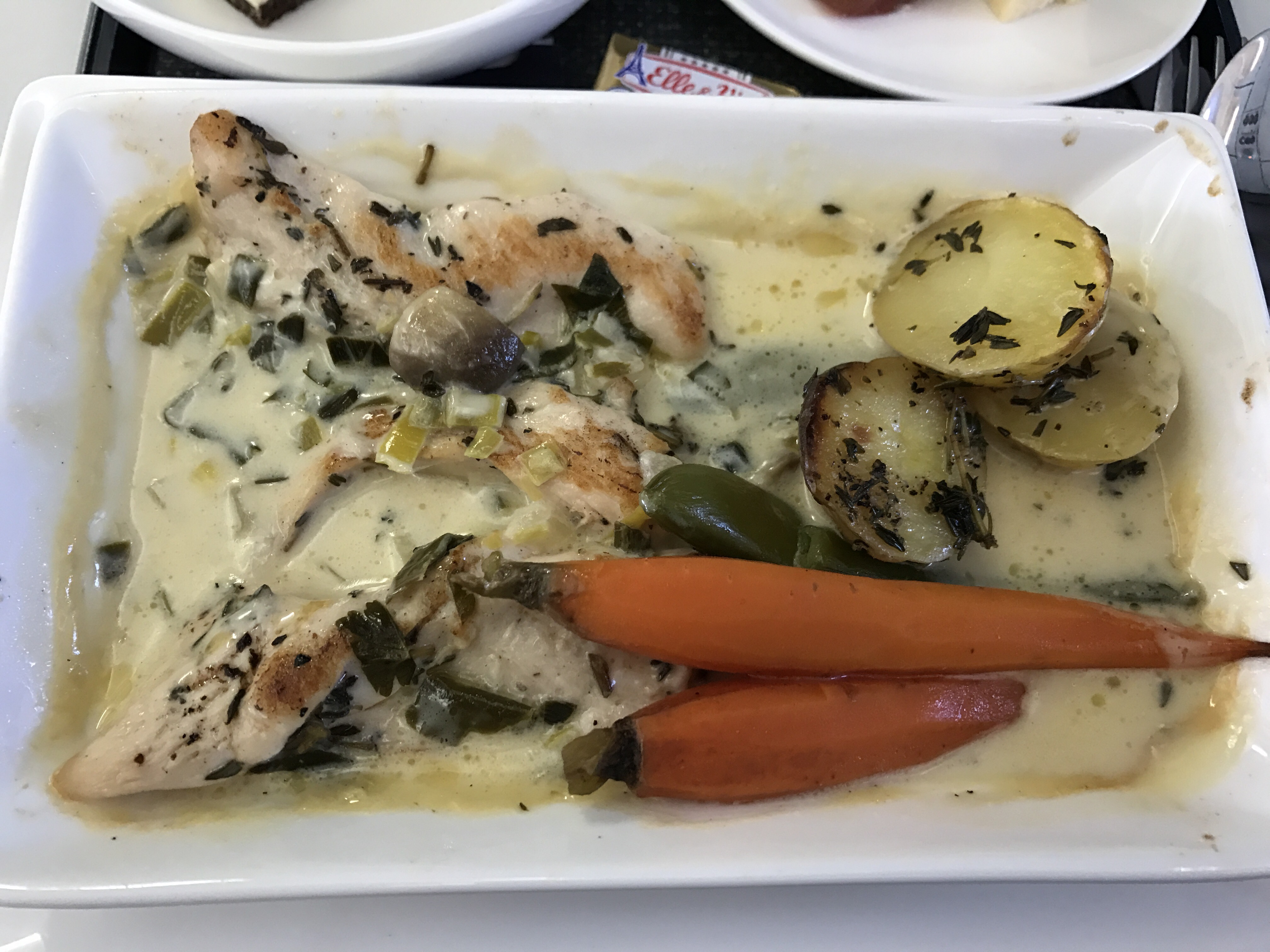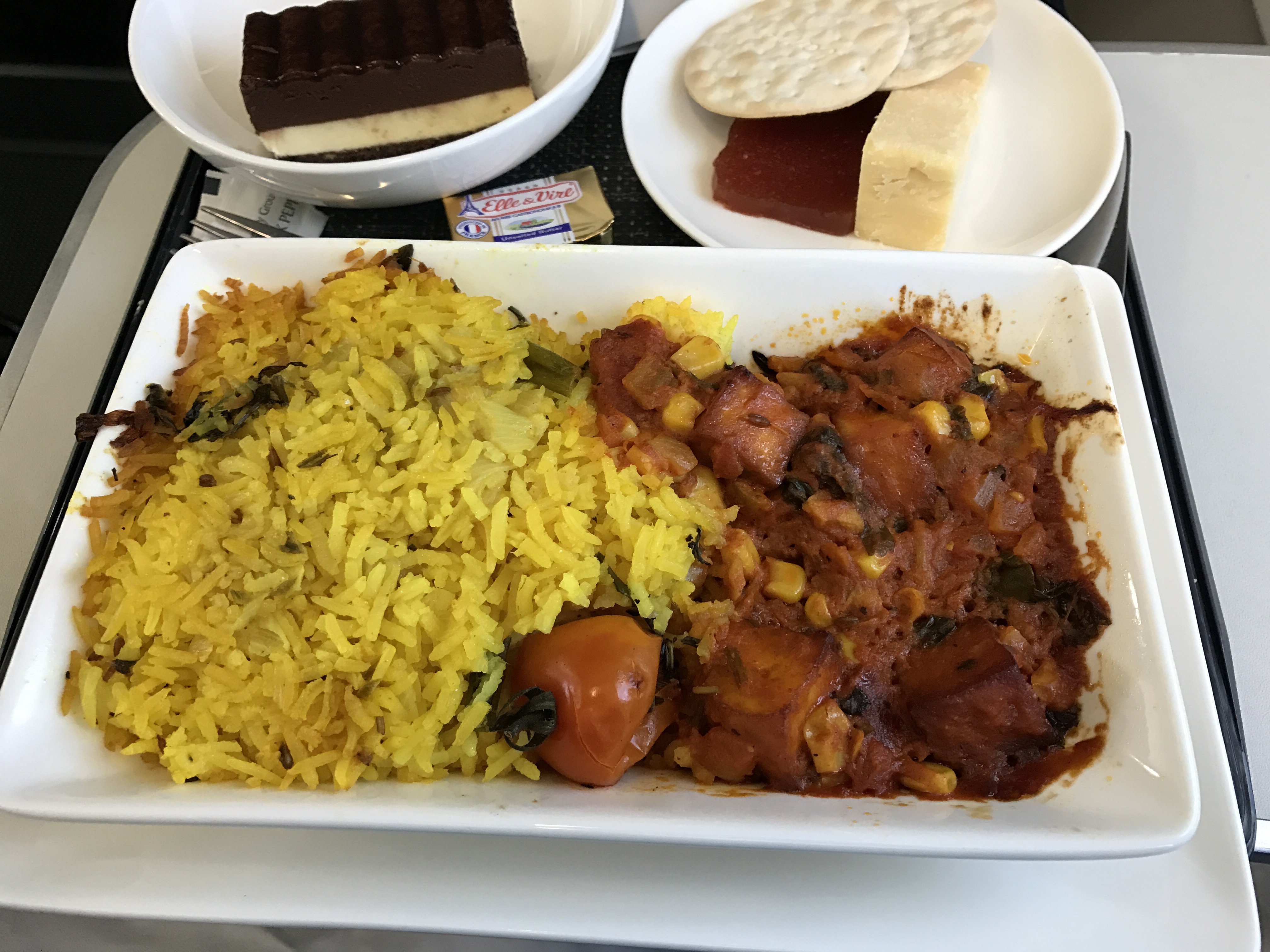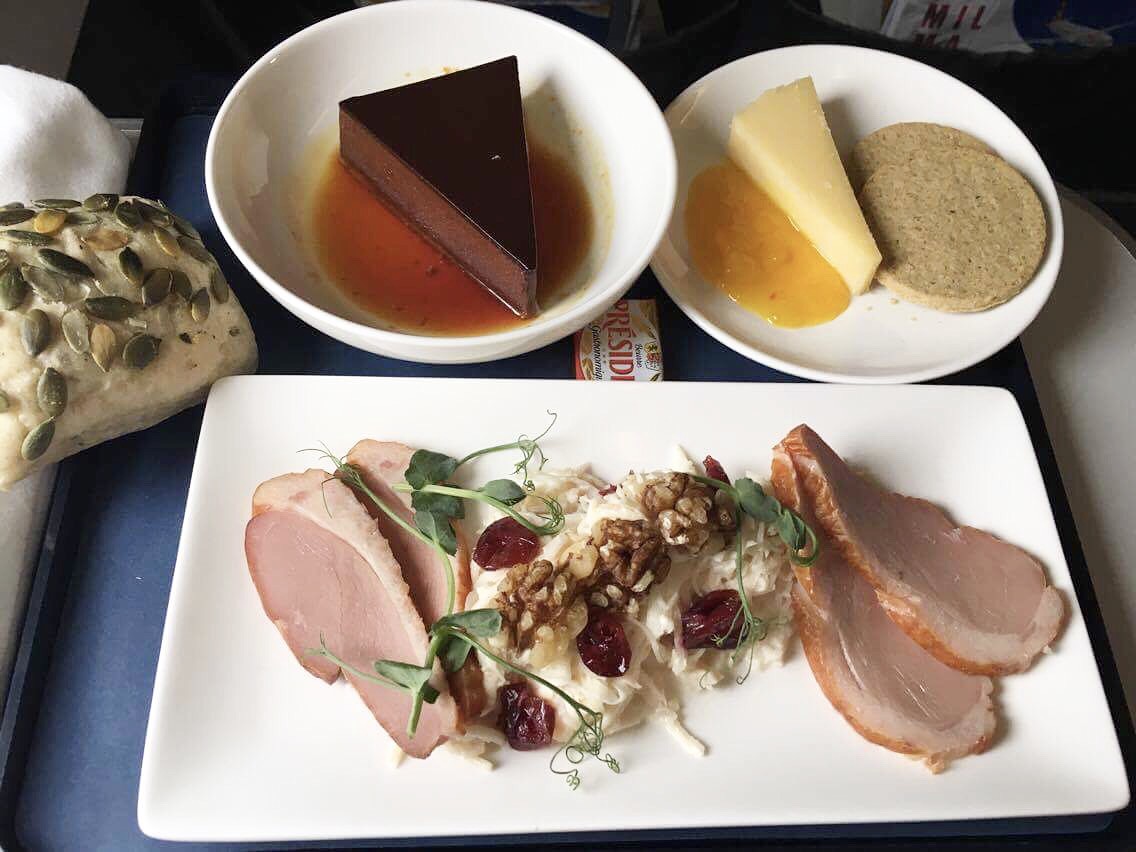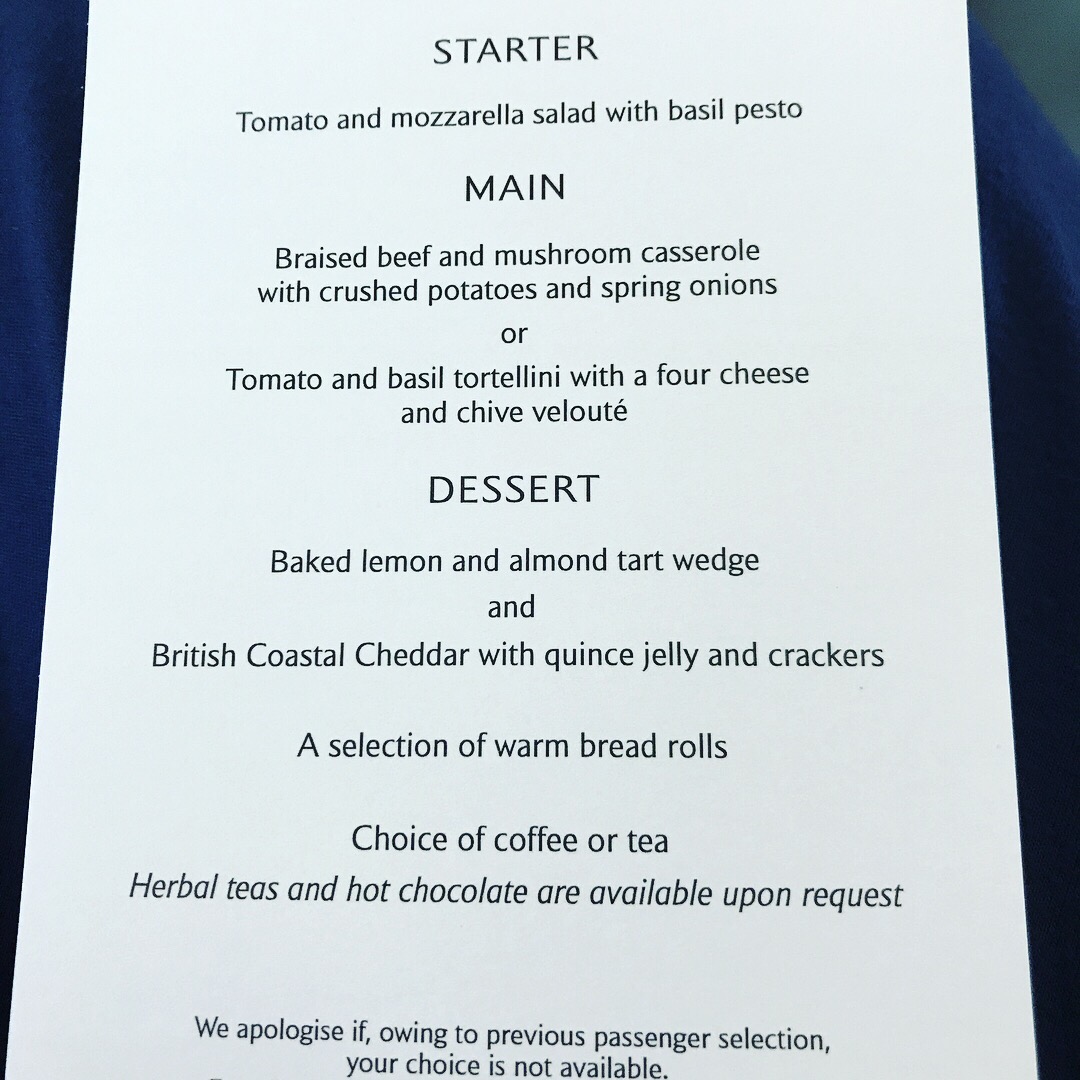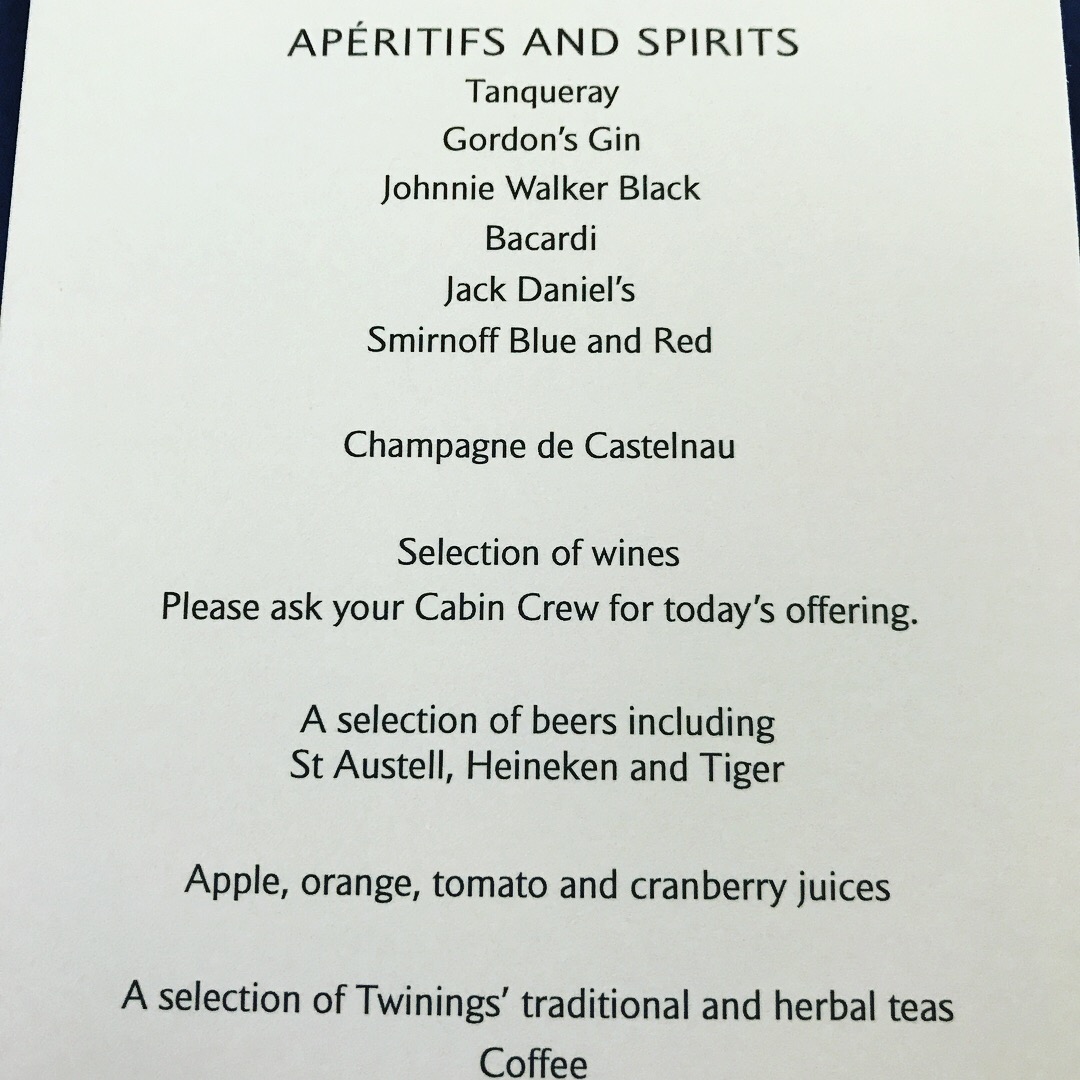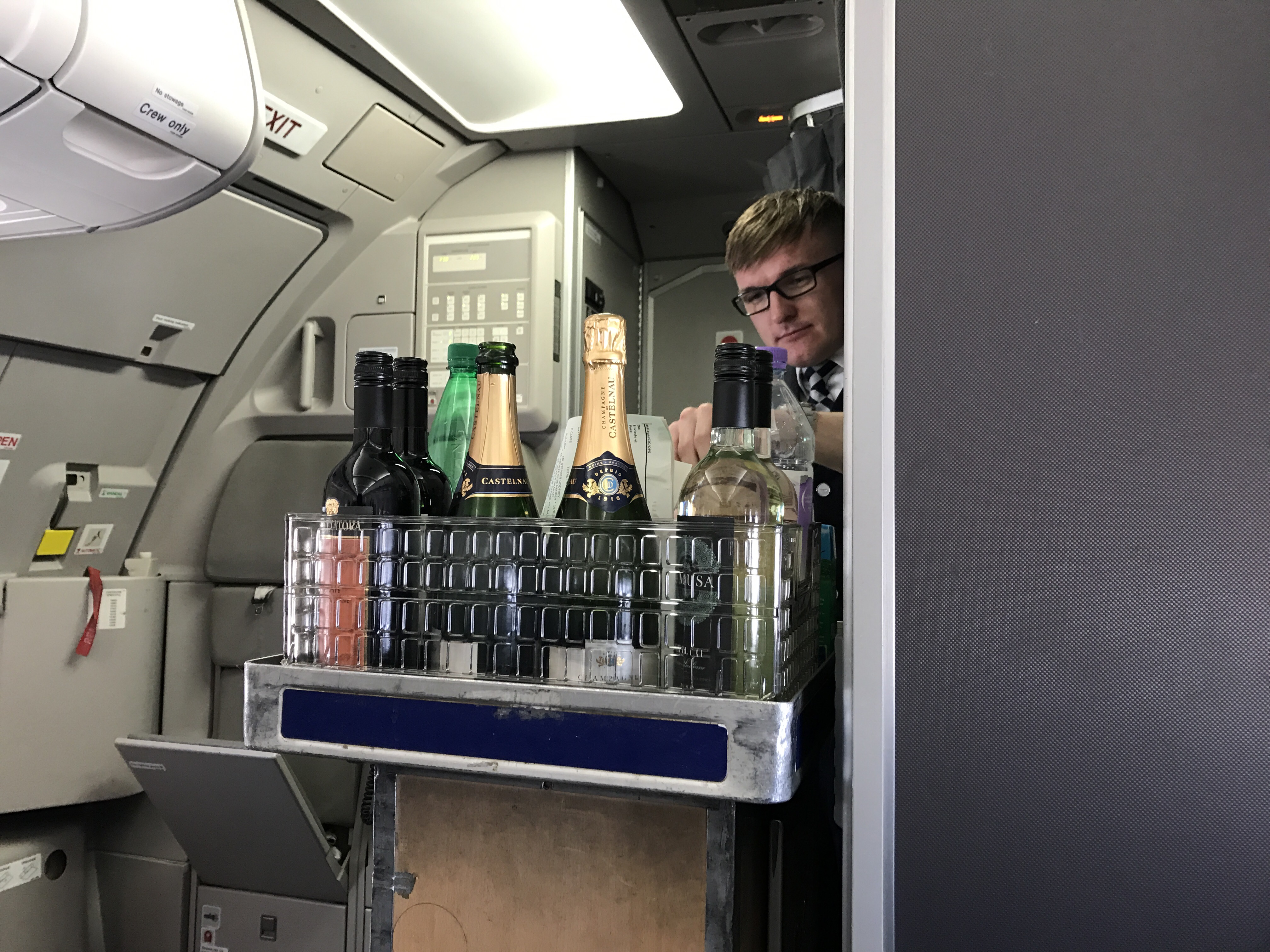 You can read my in depth reviews of Club Europe in these articles:
Club Europe from Malaga to Gatwick