Global aviation data firm Cirium today released its new Airline Insights Review 2020 which reveals the shocking impact on aviation of worldwide Covid-19 travel restrictions. In this article I will have a look at some of the statistics and trends for travel at the moment. Things may seem bleak but there is good news on the horizon.
How bad was travel in 2020 in numbers?
The report shows that the pandemic and its consequences wiped out 21 years of global aviation growth in a matter of months, reducing passenger numbers this year to levels last seen in 1999. Passenger traffic was down 67% in 2020. At the peak of the disruption in April, scheduled passenger flights dropped significantly to just 13,600 globally on April 25, compared to 2020's busiest day on January 3 when Cirium tracked over 95,000 scheduled passenger flights. This marks an extraordinary 86% reduction in flights.
From January to December airlines operated 49% fewer flights in 2020 compared to 2019 – down from 33.2 million flights to just 16.8 million (to December 20). Domestic travel was down 40% this year, from 21.5 million flights in 2019, while international flights suffered an even more precipitous drop as they were 68% below the 11.7 million flights tracked the year before. The trend for domestic travel was much worse than other countries that had closed borders and weathered the pandemic better. In China, domestic flights recovered significantly as did South Korea and Taiwan. Australia and New Zealand also began to revive their domestic travel demand.
Jeremy Bowen, CEO of Cirium, said: "This severe setback shows the true extent of the challenge faced by the struggling aviation sector as it has sought to reset itself in the new post COVID-19 era.

"Whereas this time last year we were celebrating the on-time performance of global carriers, this year is dramatically different. Most global airlines were largely on time in 2020; it's just a shame that the traveling public, airlines and aviation firms worldwide didn't benefit.

"The factors which usually cause delay, such as congested airspace, taxiways and late connecting passengers simply did not exist in 2020."
Which airlines and countries saw the most flights?
Global passenger traffic figures reveal a plunge of over two thirds (67%) versus the previous year, with Asia-Pacific continuing to handle over a third of world passenger traffic.
The majority of the scheduled passenger flights flown this year have been domestic – totalling 13 million (77%) with a mere 3.8 million (23%) flying internationally, due to closed borders and limited business travel.
Cirium data analysis recorded Southwest Airlines operating the most flights globally (and in North America), with 869,800 flights in total. Meanwhile, China Southern Airlines (500,700 flights) topped the tables in the Asia-Pacific, Ryanair in Europe (207,000 flights), Azul in Latin America (138,500 flights) and Qatar Airways (84,100 flights) in the Middle East and Africa.
On the ground, Atlanta was the world's busiest airport, handling over 250,800 arriving flights during 2020, while the world's busiest air route in both directions was within South Korea, between Seoul and the island of Jeju with 71,900 flights operated.
Forward planning for airlines has dramatically contracted from six- to 12-months for flight scheduling to just six- to eight-weeks – forcing carriers to be more nimble and adapt with greater speed to the rapidly changing rules and travel restrictions around the world. This has definitely been the case for those of us with British Airways flights and in fact even closer to departure time in many cases – flights have often changed multiple times up until about 14 days prior to departure.
Changes in airline fleets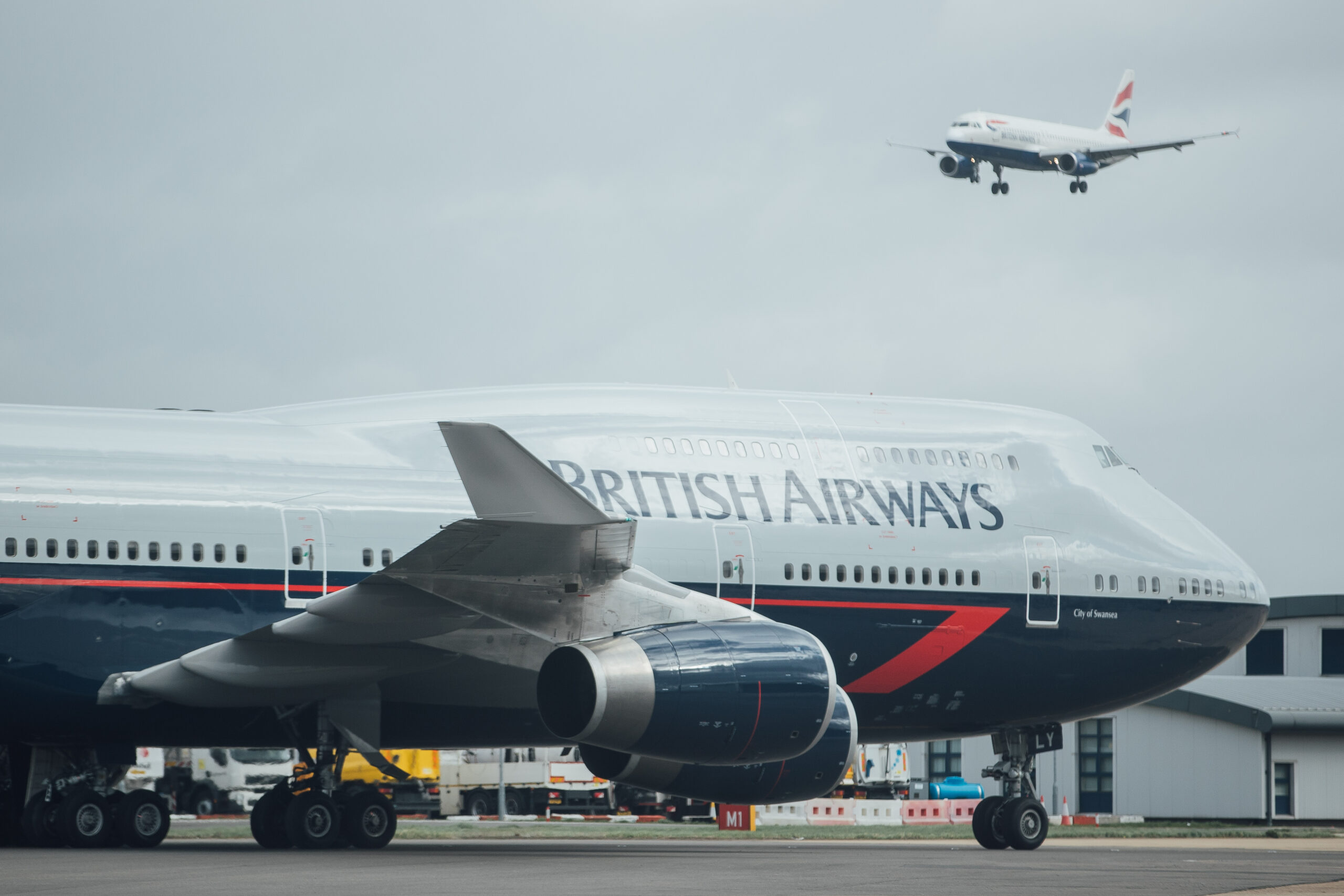 Sadly 2020 saw the end of one of my favorite aircraft the B747 as both Virgin and British Airways got rid of their final B747s. Luckily a few have been preserved for aviation fans.
As airlines have been forced to drastically reduce the number of aircraft still in service, those still flying are operating significantly fewer hours. The A380 was also badly hit as very few airlines could justify flying an aircraft with such massive capacity. Many airlines are retiriting their A380s early or have put them into storage. The only real exception is Emirates who recently revealed their new A380 with enhanced cabins and their first Premium Economy.
While up to 30% of the global passenger fleet remains in storage there are signs of recovery on the horizon, with only 10% of short-haul Airbus A320neo aircraft currently in storage showing narrowbody aircraft leading the revival with domestic and short-haul travel returning first.
With domestic and short-haul services ruling the day in most parts of the world, the world's most used aircraft type was the Airbus A320 with Cirium tracking 6.07 million flights throughout 2020.
Seven trends identified by Cirium
"Airlines will have a long way to go before returning to 2019 levels particularly as international travel is significantly down and showing only slow signs of recovery, mainly in China and Southeast Asia," Jeremy Bowen added.
"But Cirium is confident aviation will weather this difficult and terrible year and emerge in better shape – with younger more fuel-efficient aircraft and right-sized fleets – and will gradually navigate its way to recovery in the years ahead."
The seven key trends for next year include:
Consolidation
There will be greater consolidation of airlines, particularly in Asia-Pacific where more domestic competitors will merge or be acquired.
New generation aircraft
New-generation aircraft like the A320neo, and the return of the 737 MAX, will provide reduced operating costs. In 2020 BA accepted 4 new A350s to add to the previous 4 delivered in 2019. They have 3 already due for January and February 2021. The plan was for the further 7 ordered to be delivered by the end of 2021. All the A350s have the new Club Suites, meaning with the retirement of the B747s, and not many A380s likely to be used, there is a good chance of getting a new suite on many Heathrow routes.
Aircraft retirement and reconfigurations
Surplus aircraft will be retired, such as the Boeing 747 and other, newer aircraft types which are projected to support the rising demand in denser leisure markets. More aircraft will also be reconfigured for carrying cargo only. The loss of first class is also a sad trend with airlines such as British Airways drastically reducing their first-class capacity. Part of this was already planned with aircraft being reconfigured to 8 seats instead of 14 to make way for the Club Suites. The other blow to first class has been the retirement of BA's entire fleet of B747s which had 14 first class seats.
Forecasting demand in new ways
In Q4 we saw a 78% plunge in flight bookings compared to the same period last year – this will naturally change the way the industry forecasts demand. The government's restrictions and travel corridors have definitely led demand with massive rises in searches for fares when popular destinations such as the Canary Islands are added to the corridor list. With so many constantly changing entry requirements and government restrictions it is incredibly difficult to forecast demand.
Last-minute bookings will require airline flexibility
Airlines will need to deploy more dynamic scheduling with the increased volatility of flight scheduling, as the booking window has fallen from between six to 12-months to just six to eight-weeks. I think this trend is here to stay for 2021 and it may change the way many people travel. A lot of people have always booked and planned their holiday months in advance. Those that adapted to the new way of booking within the pandemic may be inclined to stick to this for some time to come as the world will take 12-18 months to fully get back to a normal situation of borders and entry requirements being more stable.
Automated traveller experience
The implementation of AI technology will accelerate to automate the traveller experience and real-time proactive information will become more critical. With the need for contactless journeys, constant flight schedule updates, and changes to border policies, technology will become even more important. Airlines were already trying to automate the passenger's journey as ultimately it saves money. This was massively accelerated in 2020 due to the need to save costs and make consumers more confident in an almost contactless journey. I predict the trend will continue further as airlines need to keep costs low for many years to recover and this is a way to do it without impacting the customer experience negatively (if they do it right!).
Rise of aircraft leasing
Aircraft leasing will push past the 50% becoming the major manner in which aircraft are financed.
Will travel return on 2021?

I talked a little about predictions on travel returning in 2021. It is very much crystal ball time when we look at 2021. It is very certain it definitely won't be returning to normal in 2021. However, I do feel positive about being able to travel again in 2021, albeit with a number of safety features still in place such as masks and testing. By the end of 2021, I predict we will be getting to the point of normality again as vaccinations reach herd immunity levels in many countries.
There are three main areas of travel that need to improve to re-start travel from the UK and that's putting aside consumer confidence and fears about safety:
UK travellers being legally allowed to travel. While we need to stop the spread of the new variant abroad, there are ways that make travel very close to 100% safe, as being demonstrated by many of the major airlines in COVID-free flight trials to the US. Hopefully, this will show 100% COVID free passnegers which could help open up travel again. If passengers are willing to go through multiple tests to prove that they do not have COVID, why should we not allow travel? Some countries have managed to allow inbound travel from major hotspots like the UK and US and still not allow imported cases into the community. Until areas start to come out of tier 4, and even tier 3 or there is a change in government policy, travel at the start of 2021 will be almost as bad as the beginning of the pandemic.
Country borders being opened to the UK. Sadly the new variant of COVID has closed most of the main tourist destinations to UK visitors. This is in combination with countries such as the US and Australia which have been closed to the UK for coming up to a year will need to change. I predict that the US will open by late Spring but Australia is more likely to be summer/autumn and is highly likely to require vaccination.
Less costly COVID tests. Putting aside the hassle of getting tests which can be tricky if you live outside London, the cost of COVID tests was averaging around £150-200 for in-clinic testing a few months ago. Fortunately, with more and more testing centres opening with mass capacity, we are beginning to see prices drop below £100. I predict prices will continue to fall and there will be far more use of rapid tests as accuracy is improved.
Many say consumer confidence in travel is low, but I do believe there is a pent up demand to travel. Surveys such as those by Hilton confirm that is correct.
How we will make up for lost time in 2021

Research conducted by Hilton shows that travel creates some of our most unforgettable, favourite memories, and right now people are feeling that loss more than ever. For me it definitely is true. Understandably prior to this my life revolved around travel. Not just the act of travelling but much of my social life was built around the travel groups I am a member of or run. Chatting to fellow travellers about our journeys has always been one of my favourite ways to spend an evening!
The survey revealed what Brits miss most about travelling; with the chance to create new memories topping the list of the most longed for experiences. Almost two thirds (64 per cent) claim this is the part of travel they yearn for the most, with those in their teens and twenties feeling the most cheated of the chance to create new travel memories in 2020 (73 per cent).
With COVID-19 making international trips more challenging, almost three quarters (71 per cent) of Brits said the pandemic had made them more appreciative of the importance of travel and the life-long memories created as a result. Nearly four in 10 (39 per cent) Britons were more reflective than usual, regularly reminiscing about previous holidays and discussing where they want to go in the future.
I fully identify with the next part of the survey. When I did finally get the chance to travel in 2020, I found myself relishing the tiny rituals of travel that I had missed for so long and normally found tedious. The journey to the airport full of anticipation, going through security with my own personal challenge of being able to put my items in the trays in a matter of seconds! I am obviously not alone as six in ten (61 per cent) admitted they missed the more negative elements of going on holiday. More than a fifth (21 per cent) have longed for the early wake-up call to get to the airport, while 17 per cent have missed waiting around in departures and 15 per cent have even missed the panic-induced moment of having to double and triple-check they had remembered their passport.
The survey showed that there was a pent-up demand to travel. Looking ahead, the average Brit plans to take two foreign trips next year, equating to 132 million potential holidays in 2021. More than two thirds (69 per cent) of under 35-year-olds are already planning holidays for next year, with almost a quarter of all respondents (23 per cent) set to embark on once-in-a-lifetime trips. Europe (31 per cent) and North America (10 per cent) are the top destinations for international travel, but the trend for staycations is set to continue with one in three (28 per cent) planning a UK holiday next year.
What aspects of traveling have you missed most in 2020? From the mundane to the life-affirming moments – let us know in the comments below!