Is BA's new refund policy shooting themselves in the foot?
I wrote in this article how the CAA/CMA are investigating airlines that refuse to give refunds when passengers can't legally travel such as Tier 4 (note: but not if it is legal but against guidance).
British Airways has traditionally offered vouchers for people whose flight was still operating but they did not or could not travel. The other option was to change your dates with any fee waived but you needed to pay the difference in fare. This was a policy that kept the original money paid within BA as well as at least giving options to the consumer.
Now BA has changed their policy for BA Holidays (flight + hotel or car) from 30 December 2020.
If you live within tier 4 and your holiday is within the next 3 weeks you can either:
take a voucher with the usual notice period for taking a voucher on holidays waived
get a full cash refund
or amend your dates with no fees.
Just to be clear, I am not complaining that they are offering refunds – it is the right thing to do. However, what they are not doing is allowing the same people to change to alternative dates completely free. Lots of us got good fares in the sales that BA has promoted over the last six months to get people to buy. Therefore if they try to change dates they will most likely have to pay hundreds of pounds more for the fare difference. So naturally, nobody wants to have to pay hundreds of pounds more to travel when they can now apparently just get a refund. Let's look at two of the most popular destinations that were being offered in the £999 sale – Maldives and Dubai. To fly to Dubai now, the cheapest fare in the next year is £694 more than the sale price and for the Maldives, it is £1695 more. That's with a sale on!!
I am sure with uncertainty about lockdowns and travel restrictions that most people will take a cash refund if it is being offered. Yet probably most people that got a great fare would just change dates to the future if they could do so without paying extra. So rather than trying to keep customer flying with them and keep cash within the business, BA are actively encouraging people to take a refund. This just seems terrible decision making from a business point of view. Particularly if then there is a good offer from another airline and people take their money to someone like Qatar instead! No wonder BA has just had to agree a £2 billion government-guaranteed loan!
However, against the CMA guidance (not law yet) they are not offering the same for flight only. For flight only, you can only have a voucher or a fee-free change where you have to pay any difference. So not only are they shooting themselves in the foot by charging fare differences, BA are also ensuring that anyone who had one of the cheap fares booked on flight only will not be able to take advantage of it if they were due to travel during the tier 4 period or lockdown. The only way to use that money now will be as a voucher, probably ending up spending a lot more. While I have sympathy for BA's situation, allowing people to change to other dates completely free is a fair compromise in my eyes. Customer is happy they keep their bargain price and BA get a happy customer and some loyalty instead of someone who is unlikely to buy another sale fare anytime soon!
Virgin seems to be offering date changes but it also implies that you will have to pay the difference in fare. They also do not appear to be offering cash refunds for flights for those within tier 4, so are worse than BA in that respect.
According to Which, if you couldn't take a flight because of a lawful order not to undertake non-essential travel and any airline refuses to refund you, you should complain to the CMA.
Andrea Coscelli, Chief Executive of the CMA, said: "We will be carefully analyzing all the evidence to see whether any airlines breached consumers' legal rights by refusing people cash refunds for flights they could not lawfully take. We recognize the continued pressure that businesses are currently facing, but they have a responsibility to treat consumers fairly and abide by their legal obligations."
Barbados outbreak and change in protocols
Barbados has consistently been one of the best options for no quarantine on return, low COVID rates in their country and guaranteed heat during the pandemic. Up until now, they have had very few cases for months. Sadly as visitor numbers rose towards Christmas there have been a number of people breaking protocols. The latest one some z list celebrity from Love Island involved their partner testing positive and then both of them trying to leave the island immediately against all the regulations and get on a BA flight home! Sadly they have also discovered an outbreak of at least 45 people with COVID (from zero native cases previously) with so far no links to travel. Sadly there is also a lot of anti-British sentiment among some locals due to the breaches which is both sad and so frustrating that a few idiots have spoiled it for everyone!
This has led to a number of restrictions that may affect your decision to travel to Barbados:
You now need to test within 3 days before arrival and then quarantine until the 5th day after the initial test before you get your second test. This is likely to be the second day after you arrive. Previously it was 4-5 days
Use of a pool at hotels is no longer allowed (private pools in hotels and villas are OK)
There is a curfew from Monday of 9pm-5am
All public events are cancelled
Mass testing is now taking place meaning there will be most likely delays to test results.
Much as I hate to say it, even if I was legally allowed to travel to Barbados right now, I would be looking to postpone my trip until things have calmed down and they have sorted out the outbreak. Luckily Barbados have proved that they are more than capable of stamping out these outbreaks, so I am hopeful in a few weeks things will have calmed down.
Virgin Atlantic devaluation but only for some Delta flights

Virgin have put up the prices of some Delta flights substantially with no notice, but luckily it is unlikely to affect most TLFL readers. I still don't think that putting prices up with no notice is fair to consumers though. If it was a small difference maybe but some of the changes are huge!
Which flights have changed?
US domestic flights on Delta
Delta flights from the US to the EU
So if you were thinking of using Delta for a cheap flight back to Europe (I had actually considered this for a way to try out their A350 Delta One Suite to Amsterdam) then you will have to pay substantially more miles. Fortunately, flights to and from the UK are unaffected.
The new chart for other flights is based on mileage – another thing that I hate as then you have to work out what the mileage between airports is! (although you can do a dummy booking and find out). It is also per sector so if you take a connecting flight that will be an extra charge which is even worse! The only good thing is that taxes and charges are still very low. Previously flights between the US and Europe cost 50,000 miles one way.
Here is the new chart for reference: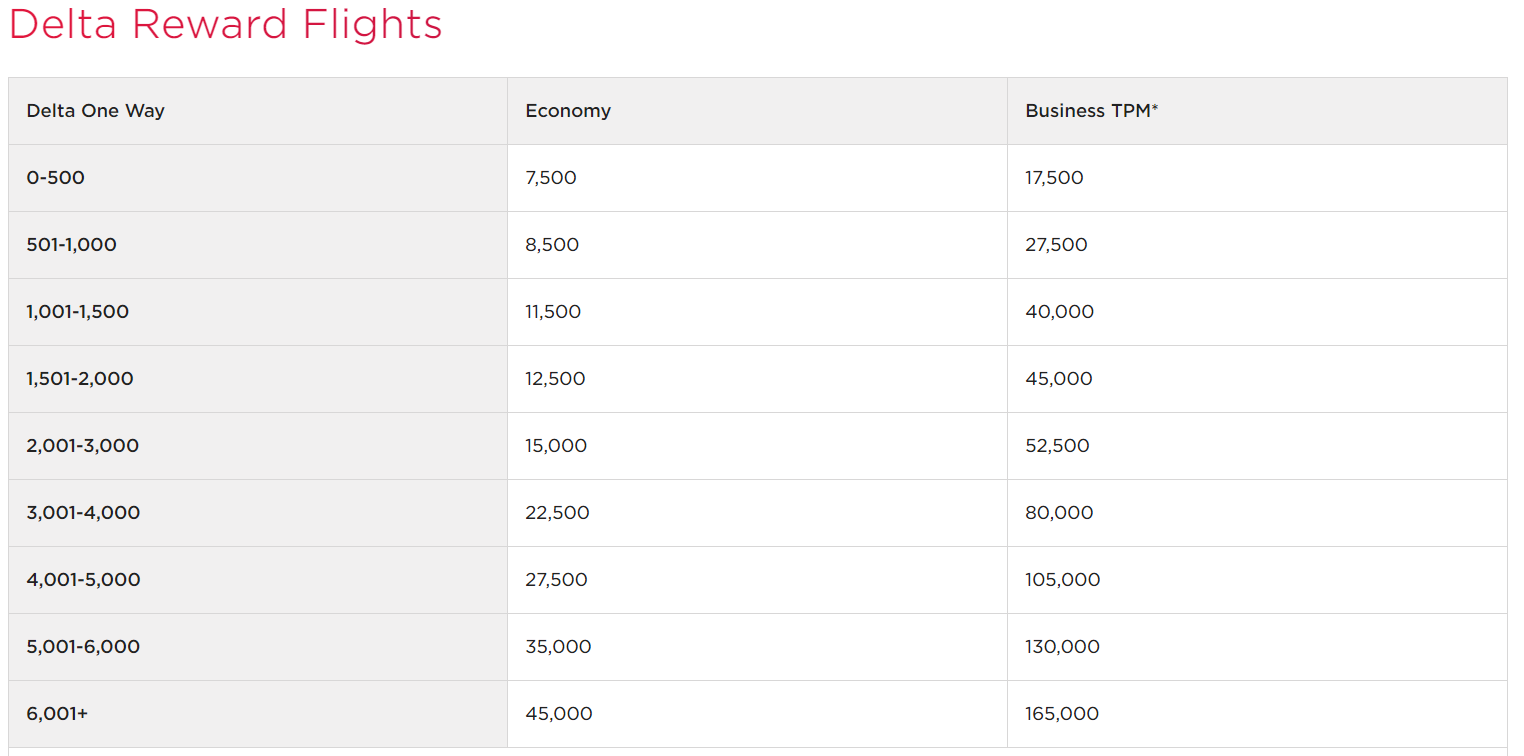 The current miles for flights to and from the UK are:

You can find all the Virgin points rates for Delta flights on this page.