This is a review of my flight from Heathrow to Los Angeles on Virgin Atlantic's B787 in Upper Class. I had started my flight in Dublin as it saved a huge amount of money and meant that the flight was only £1250 plus an additional £100 to have an extended stopover in London. If you are interested in trying an ex-Dublin flight you can read my beginners guide to ex EU here and specifically Dublin ex-EU guide here.
Check-in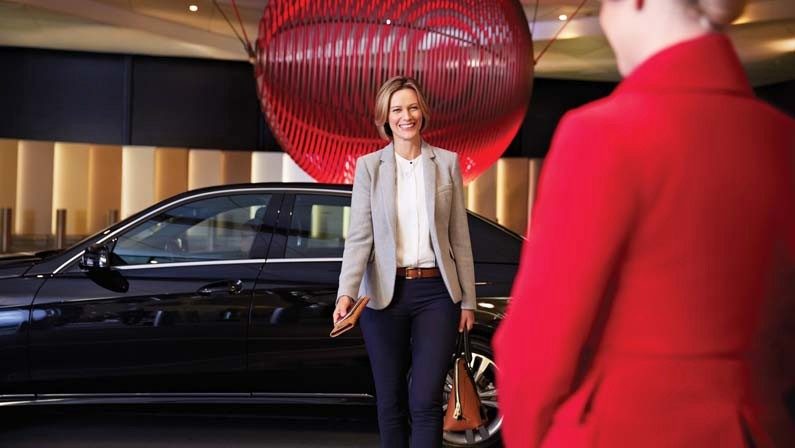 Unfortunately, as I was transferring I didn't get to use the Virgin Upper Class wing although I will be on my next trip in a couple of months when I have used miles to upgrade from Premium Economy. I checked in at the BA desk in Dublin since I was flying BA for the first segment to Heathrow. You can usually choose between Aer Lingus and BA, which considering Aer Lingus don't have a business class, is a no-brainer for me. The transfer desk staff member was very friendly, as I find nearly all Virgin staff, and checked that I just had one bag checked in and that it was in the system. She also reminded me where the lounge was. You can read my review of the Virgin Clubhouse lounge at Heathrow here.
Boarding
As usual, I went to the gate early so I could get on at the start of boarding and get some photos. In the lounge, they have 2 boarding calls – one around 50 minutes before boarding and another towards the end of boarding. This worked well as they called Upper Class before any other Upper Class passengers had arrived from the lounge, so I had the cabin to myself to take photos.
At the seat was an amenity kit, bottle of water and the menu. The bedding was in the locker above my seat in a bag and there was a large pillow behind my seat. Shortly after sitting down I was offered a drink of champagne, orange juice or water. Obviously, I had Champagne which was Canard-Duchene and I enjoyed it. Then a selection of newspapers were offered which I declined. The music for boarding is a very different experience to the sophistication of BA's. On Virgin, they play current pop music which I actually like as it means it's always different. On both flights on this trip the cabin was pretty much full.
The seat and cabin
The Virgin seats have not changed in many years but they are expected to introduce a new seat when they take delivery of their A350-1000s next year.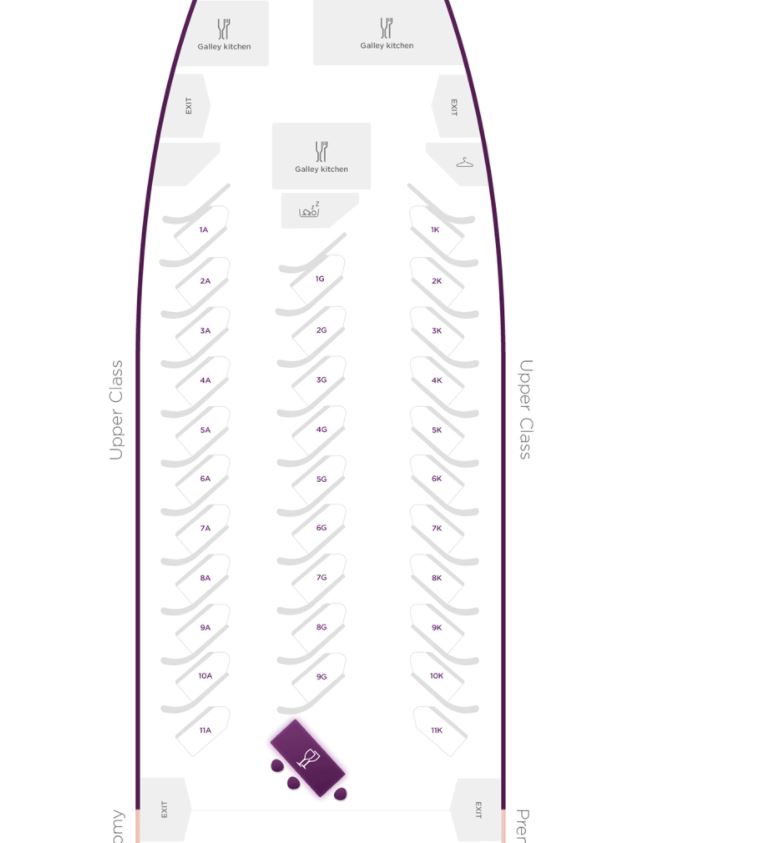 Having flown on the B787 before with Virgin I much prefer the 'A' seats as they are more private because they face the back of the G row rather than face to face as the G and K row are. I normally try to aim for somewhere in the middle of the cabin so I am not too close to the bar or the galley. This time I choose 4A. Unless you don't care about a window, I would not pick 7A as it doesn't have one.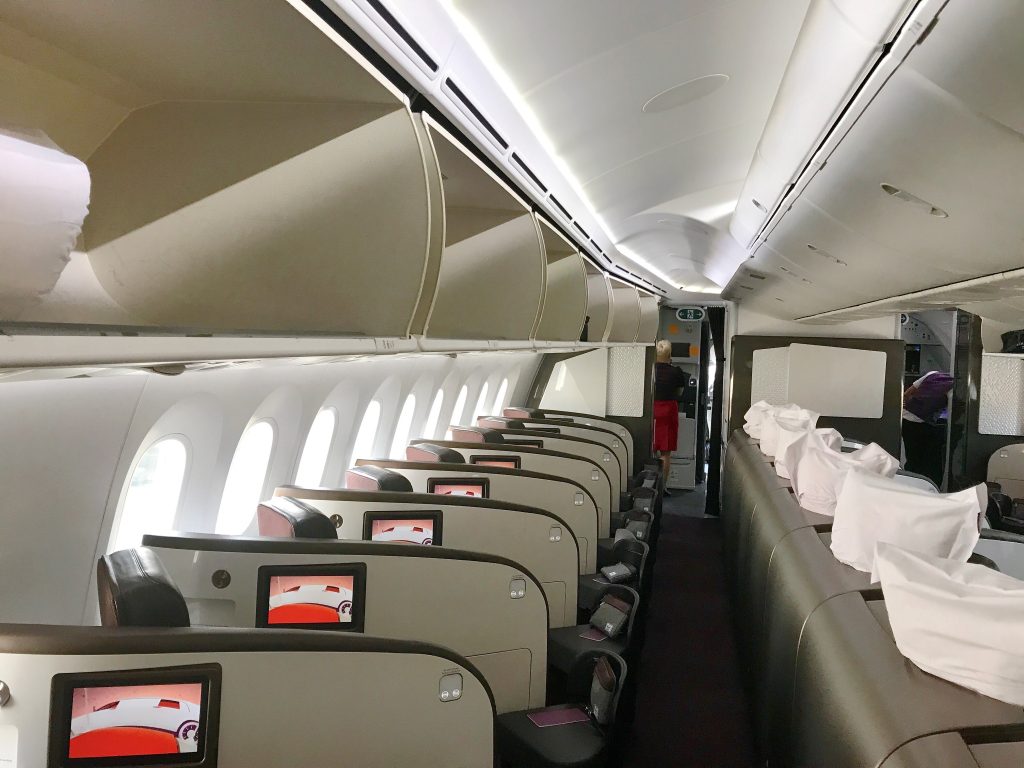 The seats have full aisle access and are pretty comfortable but there are a couple of drawbacks. The first is that the seats don't fully recline as they have to be flipped over to go into bed mode. Having flown Singapore recently that have the same issue I was surprised by how far the Virgin ones did actually recline as for me it felt enough to relax. The only issue for me was when you woke up after a sleep you had to get up to put the bed back into seat mode rather than just pushing a button (yes I know I am being lazy!).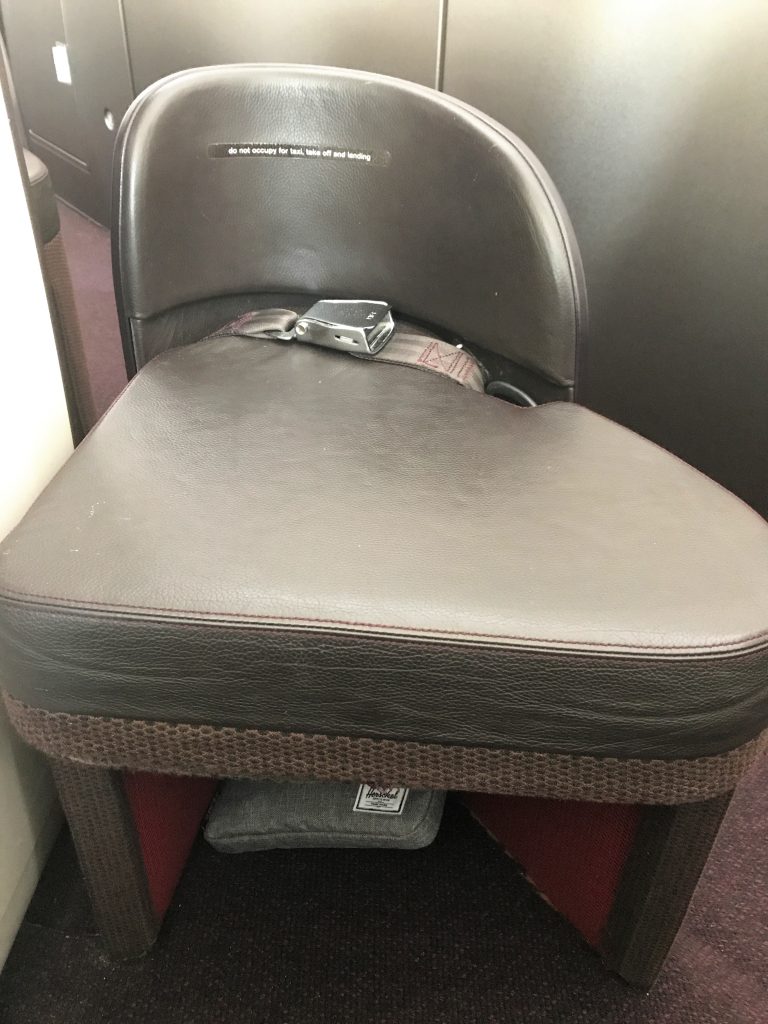 The second drawback is the lack of storage space around the seat during taking off. The seat does have a small space for glasses and a water bottle holder but there is not much space to put anything until after you have taken off and the seat belt signs go off. After take off there is a large space under the ottoman, a flip down drinks holder and space to the side and back of the seat. I would, however, have preferred something like the Qatar ottoman flip top storage where you can keep everything safely in one place.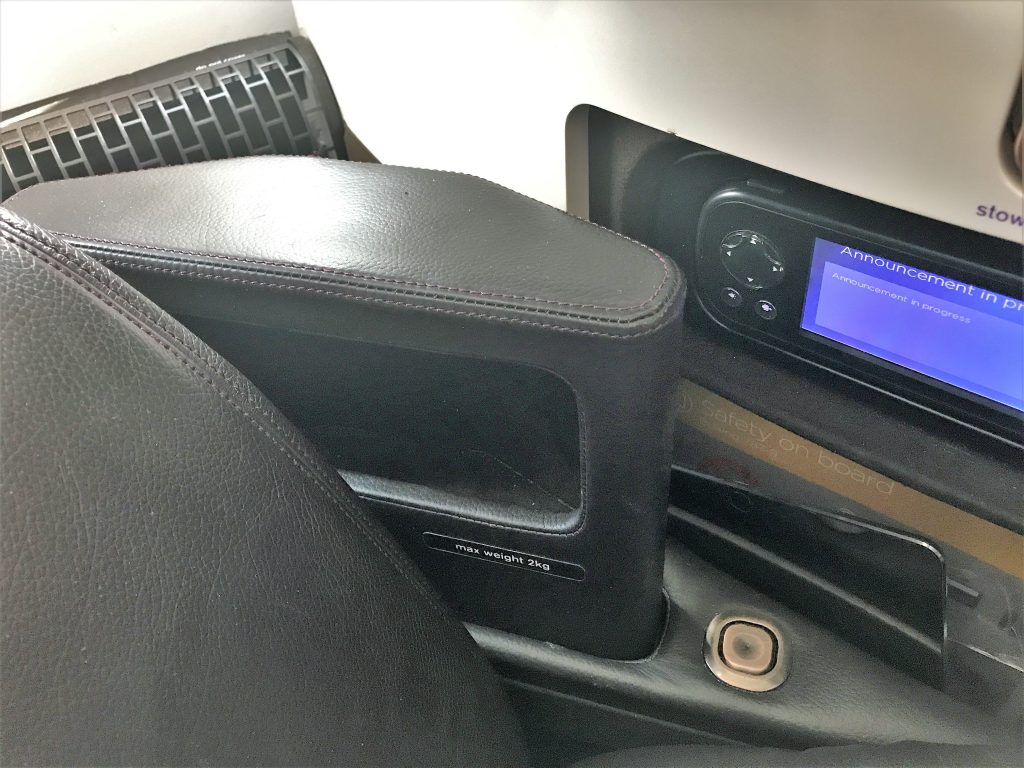 Overall I found the seat comfortable and I liked the fact that the seat was close enough to the ottoman that I could put my feet up without reclining the seat. If you are tall you may find your feet get the occasional knock by people walking past due to the design of the cabin. The windows were the usual B787 ones with the dimmer button. This means that you can dim the window to various levels of dimness but even the darkness one is not a total blackout if it is sunny outside which I find irritating. Although they are good for when you are awake and just want partial dimming. I got some fantastic views of Greenland again on the journey.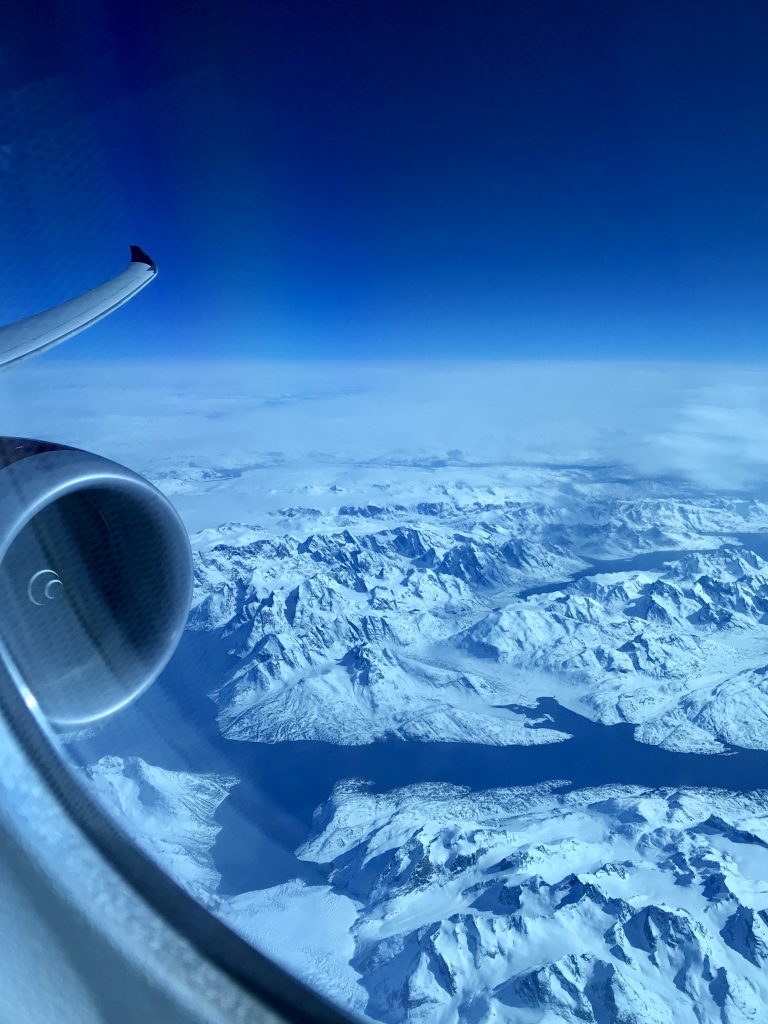 If you want to move around, get a snack or drink or perhaps chat to your fellow passengers there is a staffed bar at the end of the cabin. This has a few lights snacks such as crisps and fruit plus a full selection of drinks. It can get a bit loud in my experience so I would advise against sitting near it.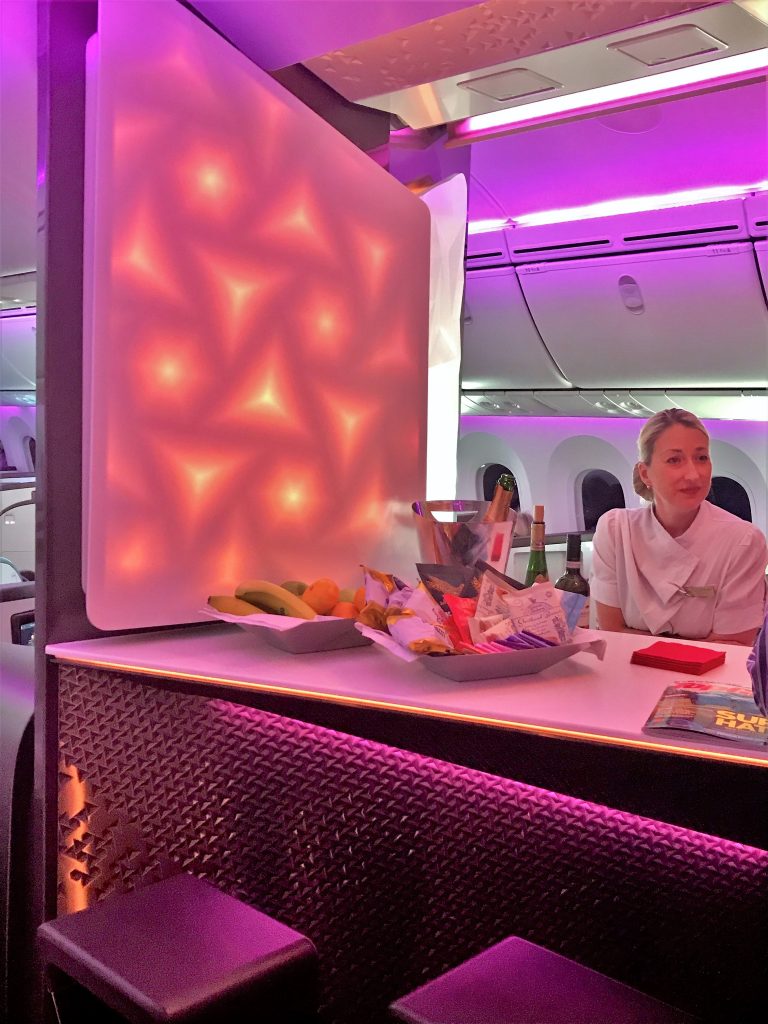 360° view of the seat
Post from RICOH THETA. #theta360 #theta360uk – Spherical Image – RICOH THETA
Sleeping
The crew proactively offer to make up your bed but since it is very simple to do I declined. You have to flip the seat over which you do with a button. There is then a mattress pad, a duvet and a large square pillow. The bedding all felt like good quality, crisp, white cotton but I did find the duvet a little warm. Once the bed was made up it seemed pretty big although a little narrow at the ottoman end if you are a side sleeper. I do like the amount of room at shoulder height though (which you can increase by popping the storage cubby hole down inot the seat) and I didn't feel at all hemmed in. The seat is slightly harder than non-flip over seats but I still found it comfortable and managed to get a couple of hours sleep.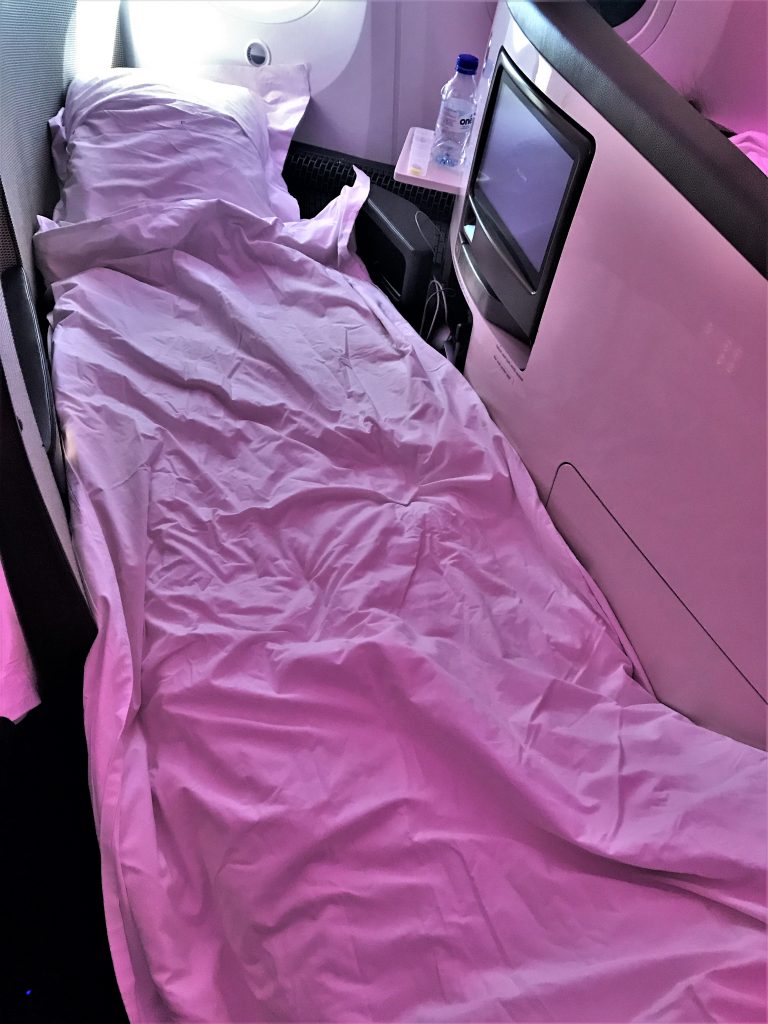 Amenities
The amenity kit was a fairly standard bag but it was a good size that you can use it again and I like that it is quite flat.  In fact, my own homemade amenity kit with my eyemask and earplugs is in one of these bags from a previous trip. The Virgin kit contained: Rituals lip blam, body moisturiser and eye cream in a pouch, pen, socks, toothpaste, toothbrush, eyemask and ear plugs. I liked the kit overall as it had pretty much all the essentials and the large toothpaste is the perfect size for a few nights travelling.
Here is the kit: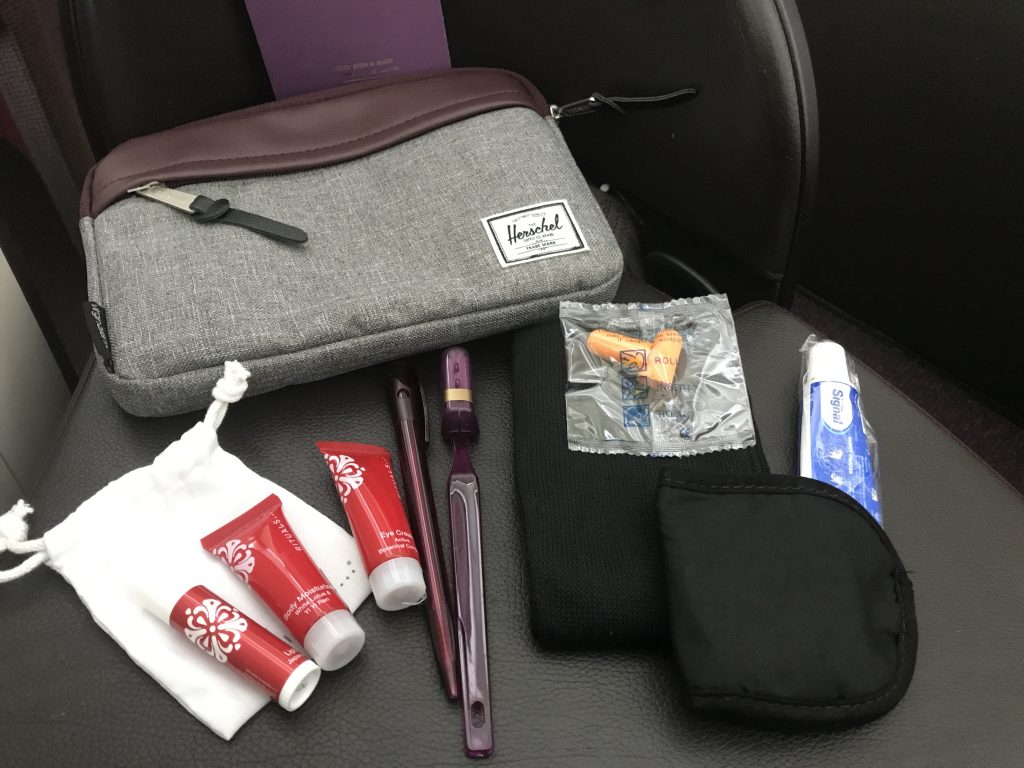 Food, drink and service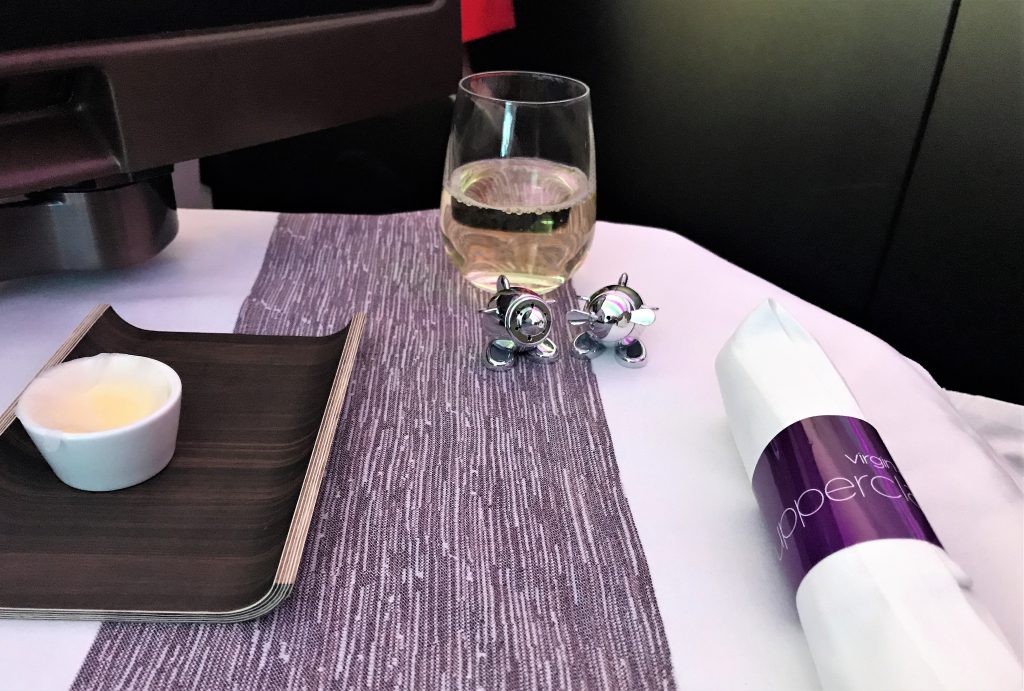 The cabin crew member serving me came over to introduce themselves and also to check that I knew how the seat worked. It was interesting that on neither flight did the cabin crew or CSM acknowledge my fairly new Gold status. It's not something I really care about, I was just very surprised given how spot on their service is in every other aspect. At the same time I was asked what I would like to drink. One of the things I love about Virgin is that they have quite a few onboard cocktails available which change fairly regularly. Here is the full list of drinks:
Having read a recommendation for an 'English Garden' which was elderflower, apple and gin I decided to try that. It was a little sweet for my taste but very enjoyable none the less. The drinks were served with a small dish of crisps.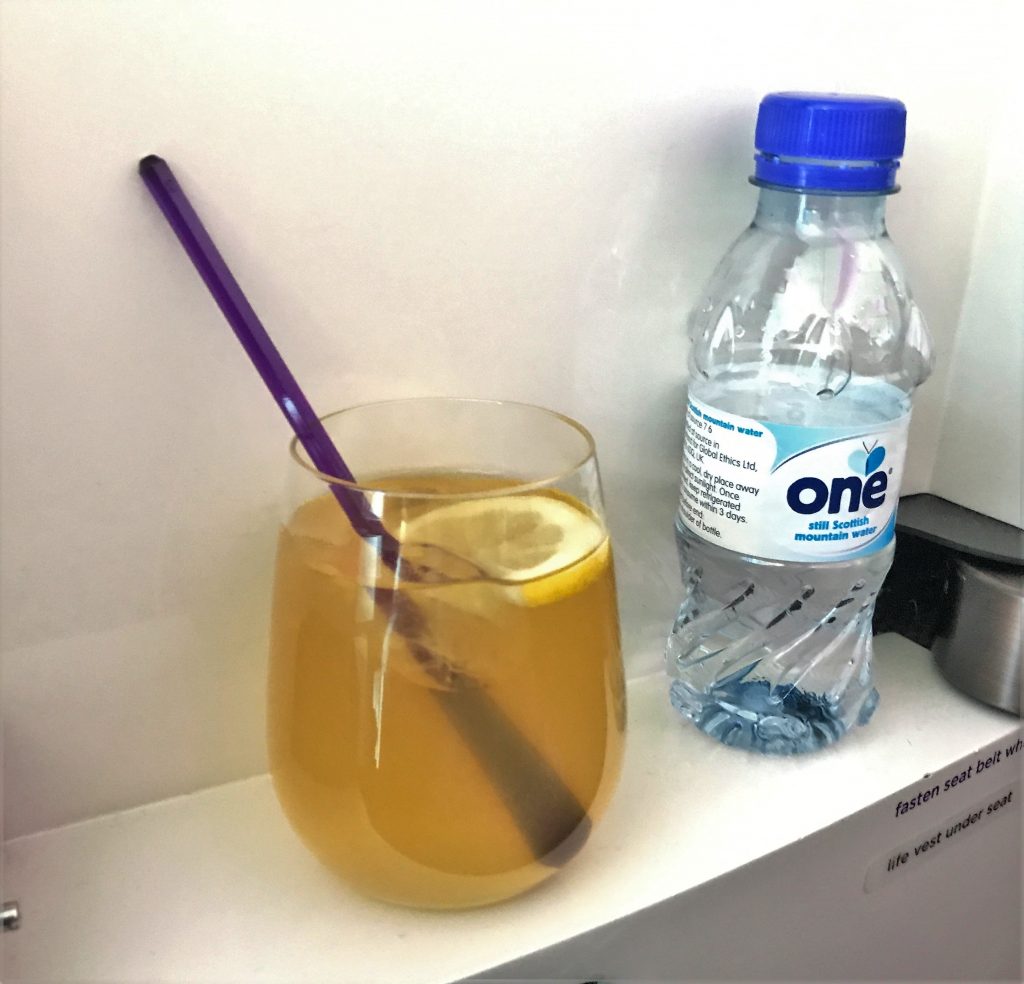 My order for lunch was taken shortly afterwards. Before lunch was served I was offered a top-up of my drink which I declined as I was still finishing it off. The table was laid up with one of my favourite features of flying Virgin – the salt and pepper shakers with the "pinched from Virgin Atlantic on the bottom" (and yes they were – top tip ask the cabin crew to empty them for you or bring a bag unless you want hand luggage full of salt and pepper!)
I liked the Virgin menu. There is a good choice of starters and mains which plenty of light options if you are trying to be healthy or just want a small meal. There is a main meal service and then "snacks"called Extra Bites on demand which are fairly substantial. Here is the menu:
I started with the Roasted fig, parma ham and melon.  I really enjoyed this particularly with the caramelised pecans which added a nice crunch. To accompany the starter I decided to try the 'Discovery' Spanish white wine, a 2016 El Quintanal Blanco from Rueda. I am not normally a big fan of Spanish white but I really enjoyed this aromatic wine which had a hint of fruitiness too it and wasn't overly dry. It was made from 100% Verdejo grapes.  I liked that there were 3 choices for each white as well as 3 red, port and Champagne which are supplied by Berry Bros and Rudd. The cabin crew were extremely attentive with top ups and you could have got quite tipsy with the large glasses that they kept full!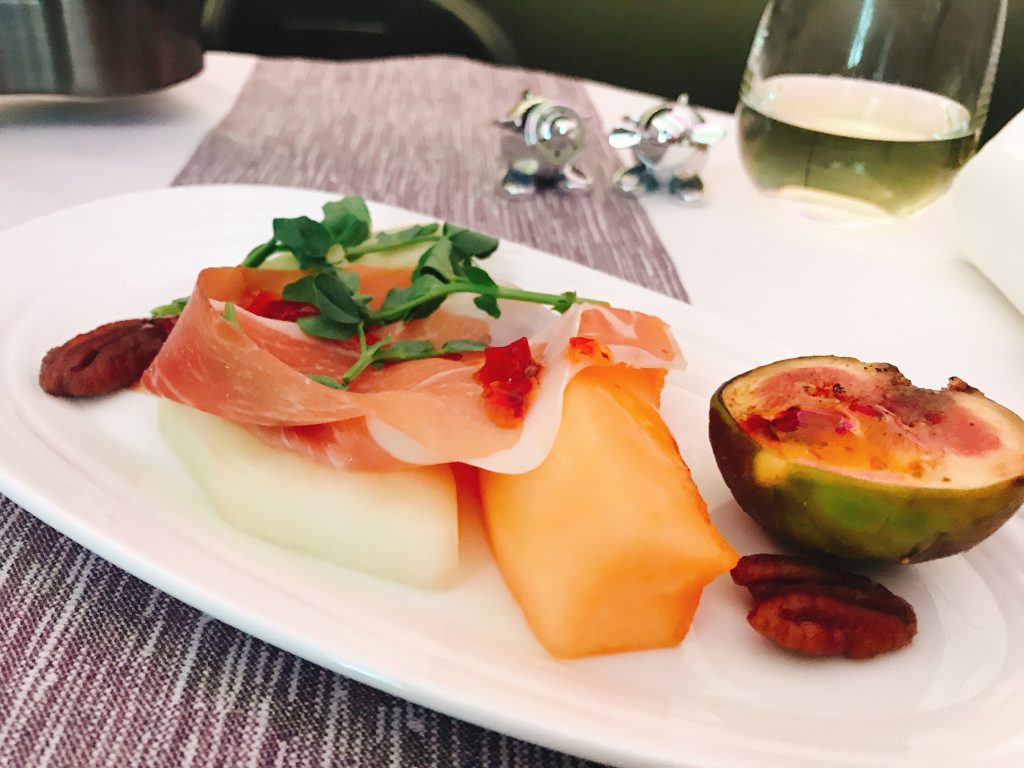 Next, I went for a very healthy main – miso and black sesame roasted salmon – since I had eaten a few bits in the lounge. The salmon was not overcooked and the slices of cucumber added a nice freshness and texture to the dish. There was a little too much samphire for my liking as it made the dish overly salty but this was offset with the orange slices. However, it was good to eat something so light and fresh on a plane.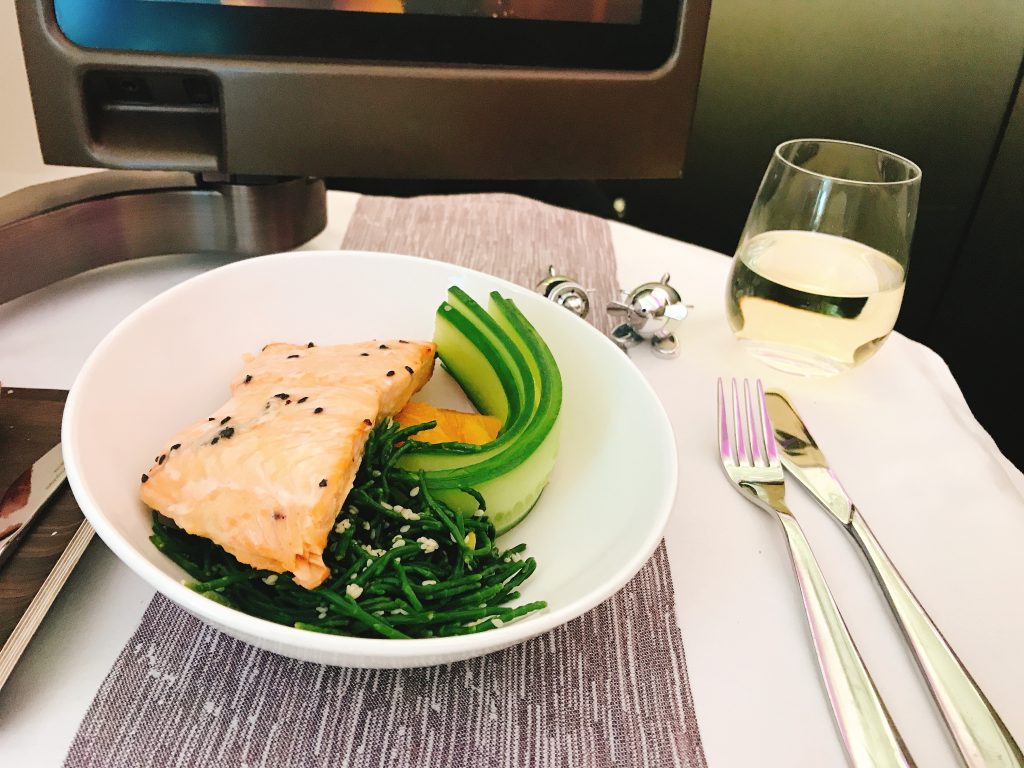 Being something of a sucker for an old school hot pudding, I do always allow myself to indulge in a hot dessert on board with Virgin. In my experience, the Virgin desserts are always absolutely delicious and not too big. They are also usually served with a healthy dose of cream! This time I chose the apple and cinnamon bread and butter pudding which was absolutely to die for! Not too sweet or eggy it had a lovely balance of the creaminess of the custard with the sweetness of the generous serving of apples and a hint of cinnamon. I would have licked the bowl clean if I hadn't been in public!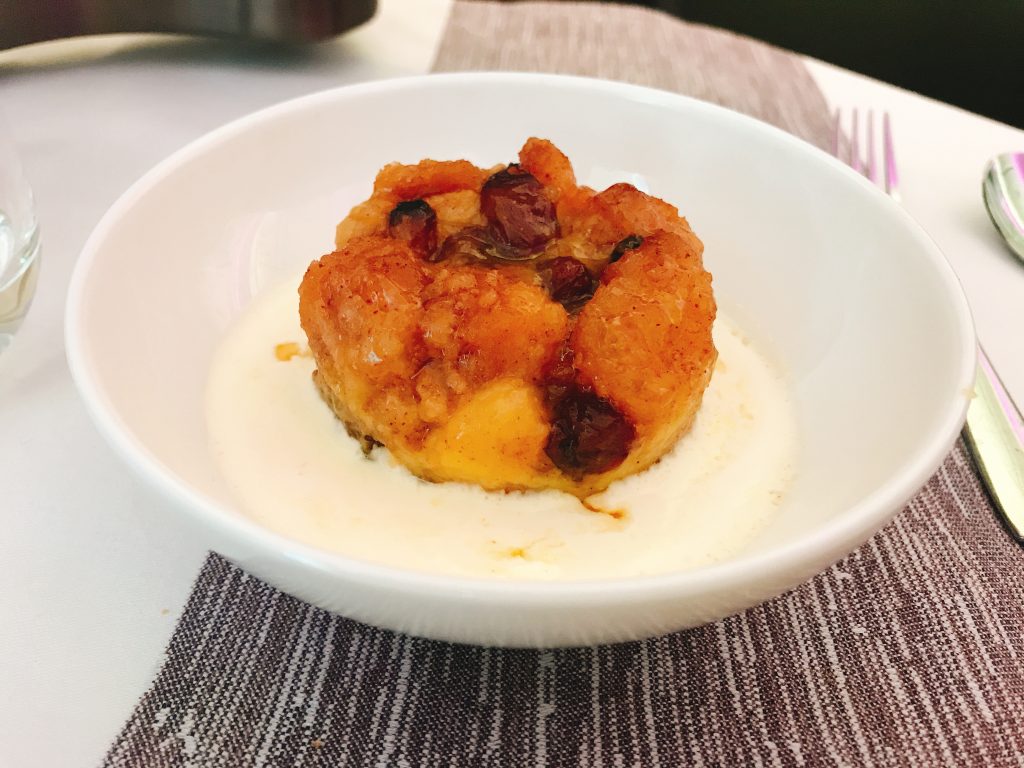 After dessert came the cheese trolley. I don't what it is is but I do like having cheese served from a trolley rather than a selection arriving already done on a plate. Although I was very tempted I declined as I wanted to save myself for one of the tempting sounding snacks later.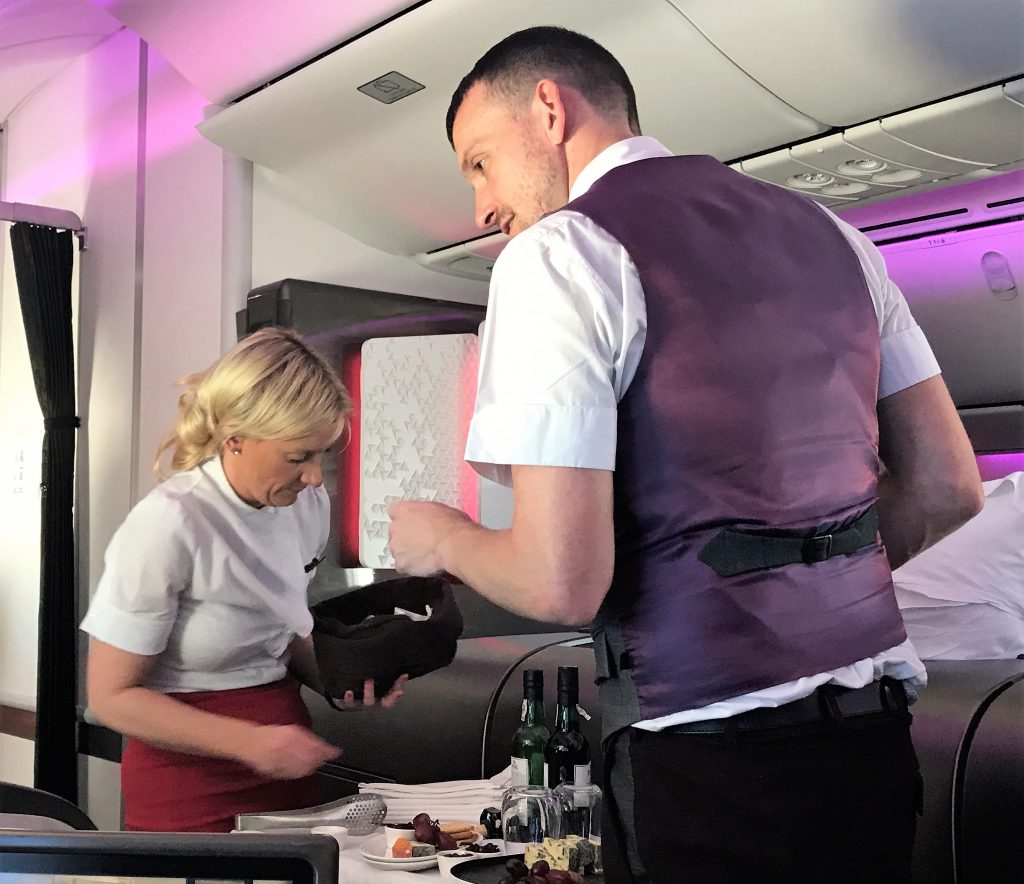 Snacks
There is no second meal service as such but the crew come round to ask if you want anything else a couple of hours before landing. I decided to have the avocado toast before landing. (yes I know I eat it far too often but I have never had it in a plane before!) The avocado toast was a generous serving with 2 prices of toast, an enormous mound of avocado with fresh tomato and a bean salad on the side. Then after the meal, a hot towel was offered.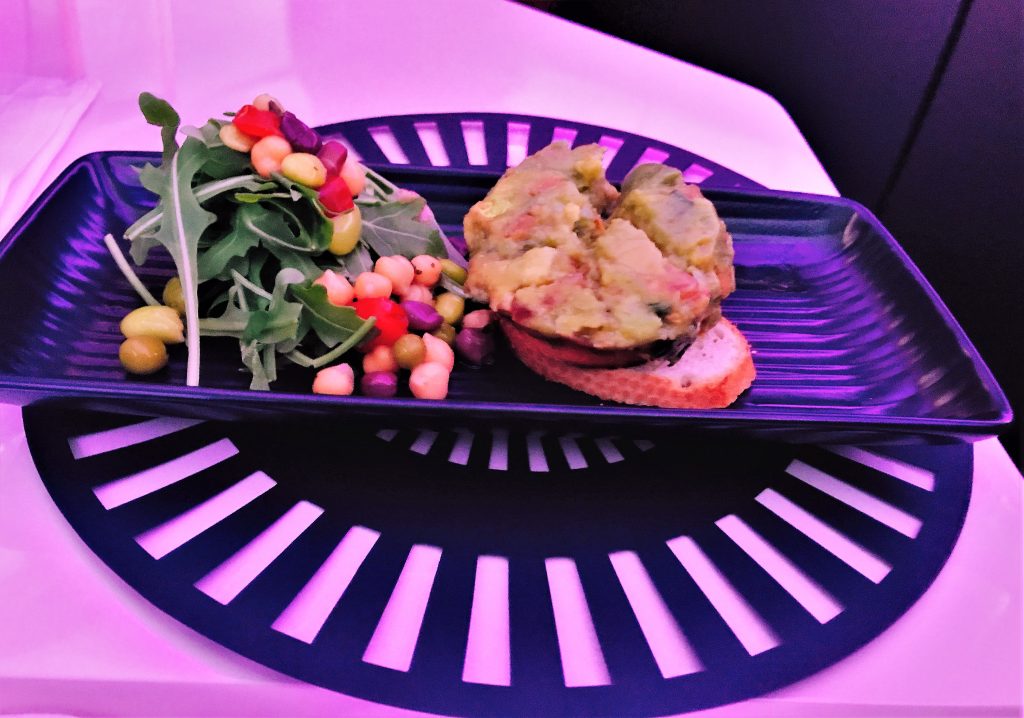 Entertainment and electronics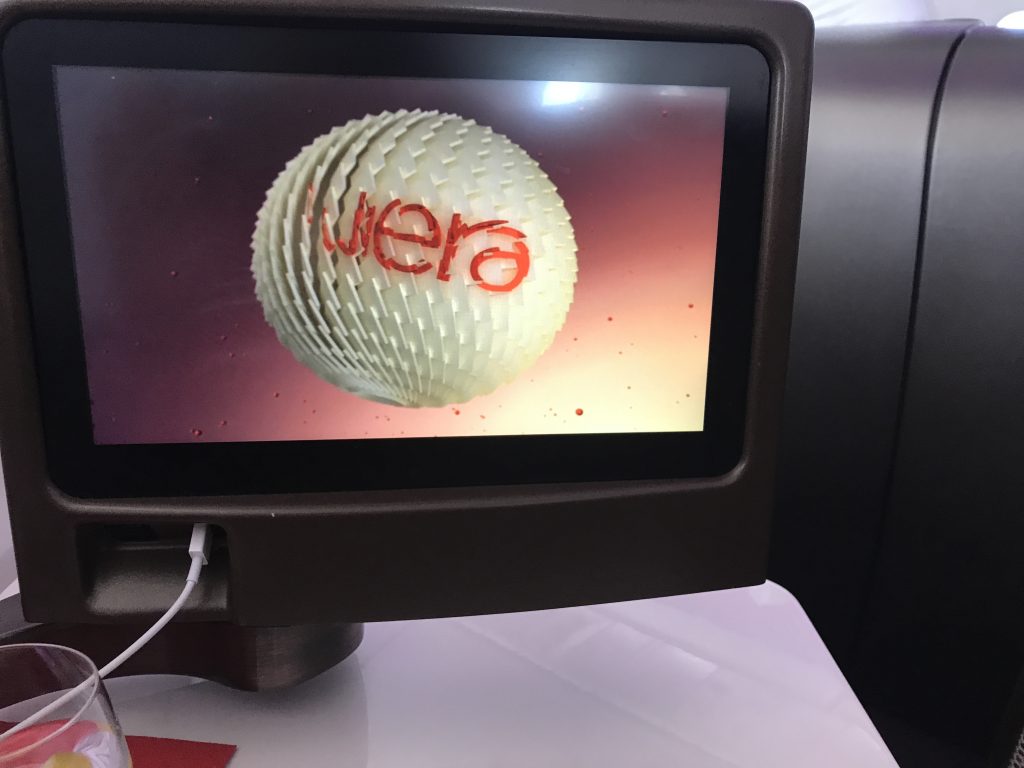 The entertainment system Vera was great for me. The screen was a decent size although not huge but had good definition and was adjustable as to how you wanted to position it. It was a touchscreen with a touchscreen handheld remote which could be used independently if you wanted to have a film on the main screen and the flight map on the handheld remote, I found the system pretty responsive although it occasionally got carried away when I was scrolling through the programmes. I thought there was an excellent selection of films and TV programs and for once it was a struggle to make a choice as there were lots of things I wanted to see.
I started with Ladybird which has been widely acclaimed by critics but after 30 minutes I was bored as it just felt like the usual teen angst/finding yourself type film which I have seen before. Instead, I watched Molly' Game starring Idris Elba, Kevin Costner and Chris O' Dowd. This is the true story of Molly Bloom, an Olympic-class skier who ran the world's most exclusive high-stakes poker game and became an FBI target. I really enjoyed this film and would highly recommend it.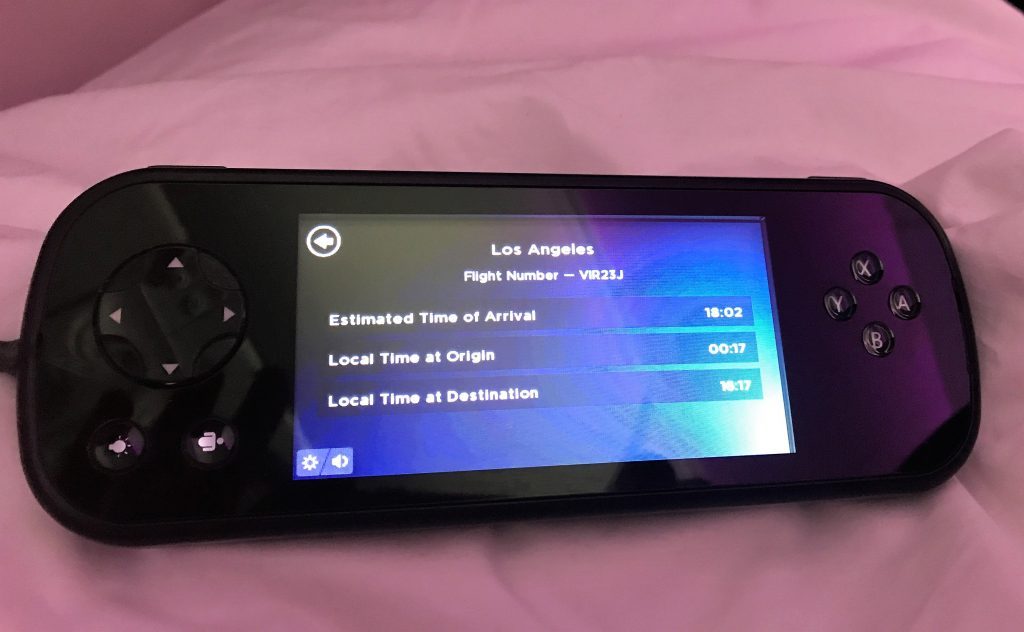 For TV programs there were some box sets of entire series and a good selection of standalone episodes from lots of different genres. I watched 'The Final Year' which follows Barack Obama's Foreign Policy team during their last year in office. I thought this was a well-balanced program which showed the team in both a good and bad light and which I found fascinating.
If you wanted to charge your devices there was a multi-region socket as well as a USB port which was well hidden at an angle under the TV screen. Both worked fine. There was also Wi-Fi available on board starting at £4.99 which I didn't try.
Conclusion
I really enjoyed this flight with Virgin Atlantic. Although the seats may not be the latest model I still find them perfectly acceptable for sleeping and sitting. The crew were fantastic as always and the food was of a high standard. I like the quirky touches on Virgin which make it a little bit different from the pop music on boarding to the funky cocktails and different wines. The slightly more casual style of the service suits me as the crew always feel genuinely enthusiastic and seem to love their jobs. I will definitely be back on Virgin Atlantic again and I look forward to seeing what their new A350 brings.