This is the second part of my flight with Virgin Atlantic Upper Class B787 which was an organised press trip. However, it was a normal flight with regular passengers so we did not get special food or service. You can find part one of the review here I discuss the lounge and seat here.
Virgin Atlantic Upper Class B787 Food and drink
Virgin brought back a fairly normal meal service nearly a year ago, and now it has progressed even further with starters and desserts served separately rather than on a single tray like British Airways.
I was given the menu at my seat when I boarded and my choices were taken shortly after take-off.
Prior to lunch, we were offered a drink and a packet of pretzels.
Here is the drinks menu: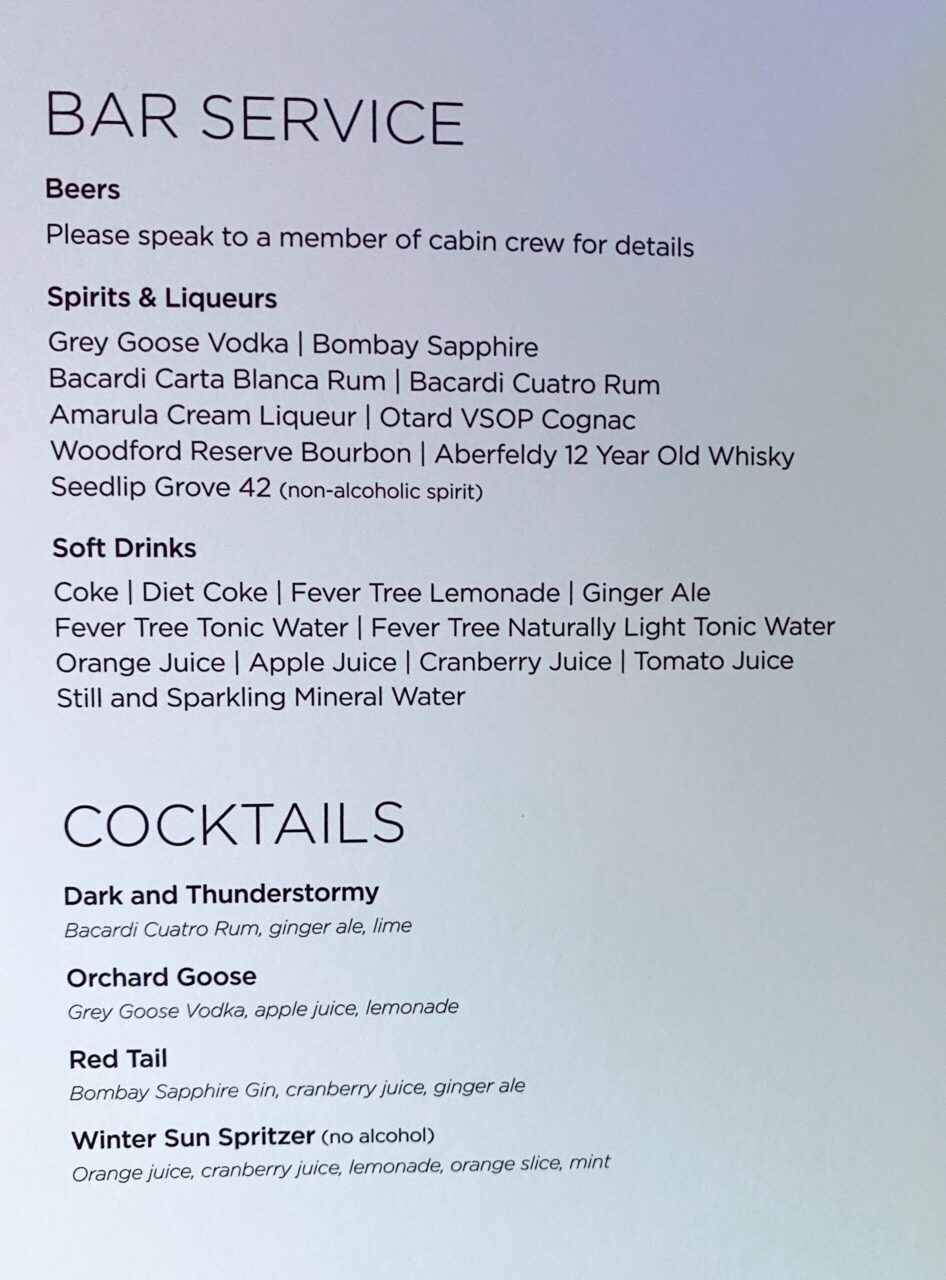 I decided to try one of the cocktails as they are usually pretty good. I went for the Dark and ThundersStormy and it nearly blew my socks off. I think the crew reckoned the best way to keep us quiet was to keep us plied with alcohol!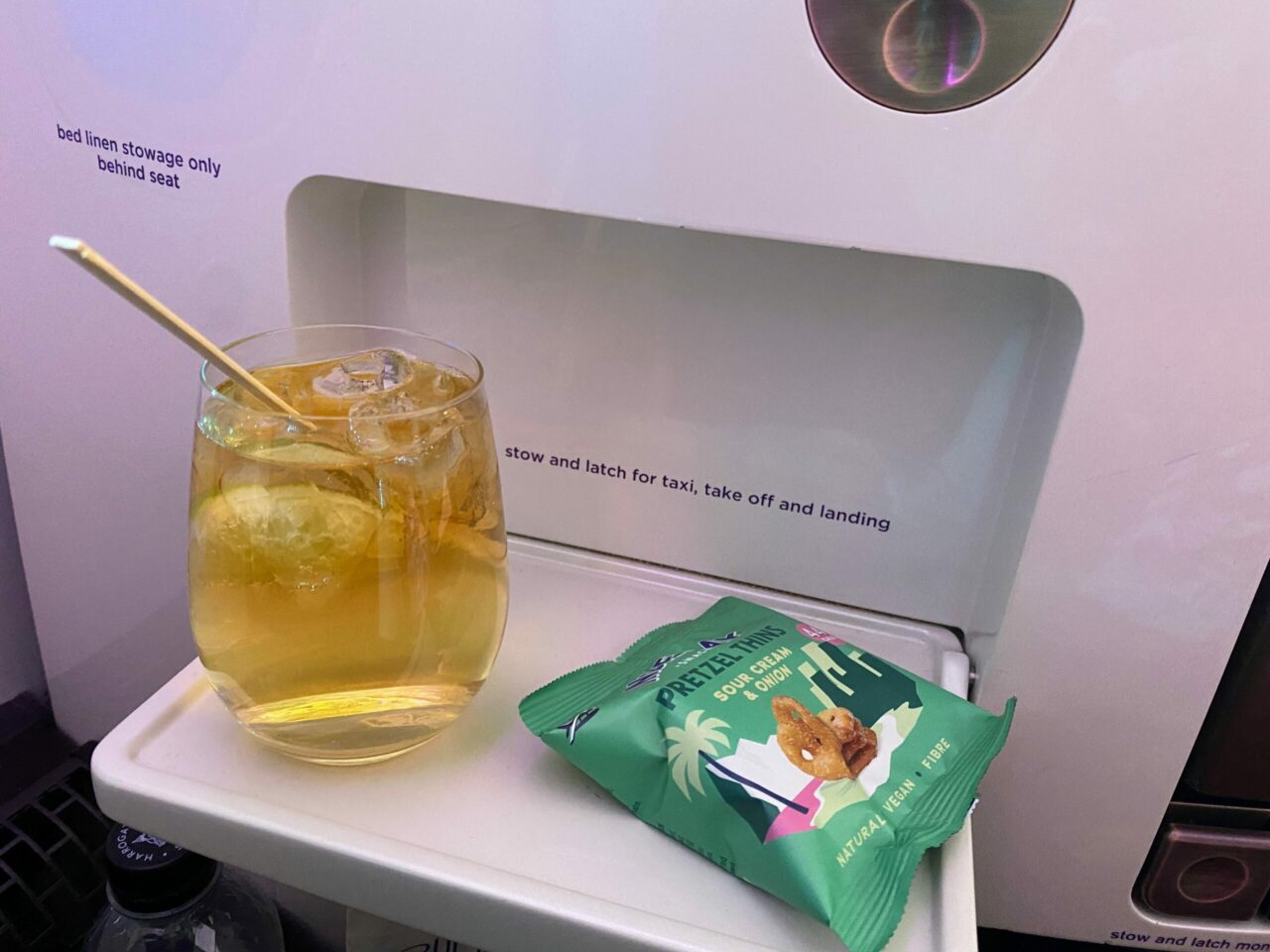 The wine list had some good options on it although they had a lot more than was on the list. It's a bit annoying having to ask what they have when there are several wines they have to run through, but I'm guessing it's due to supply issues.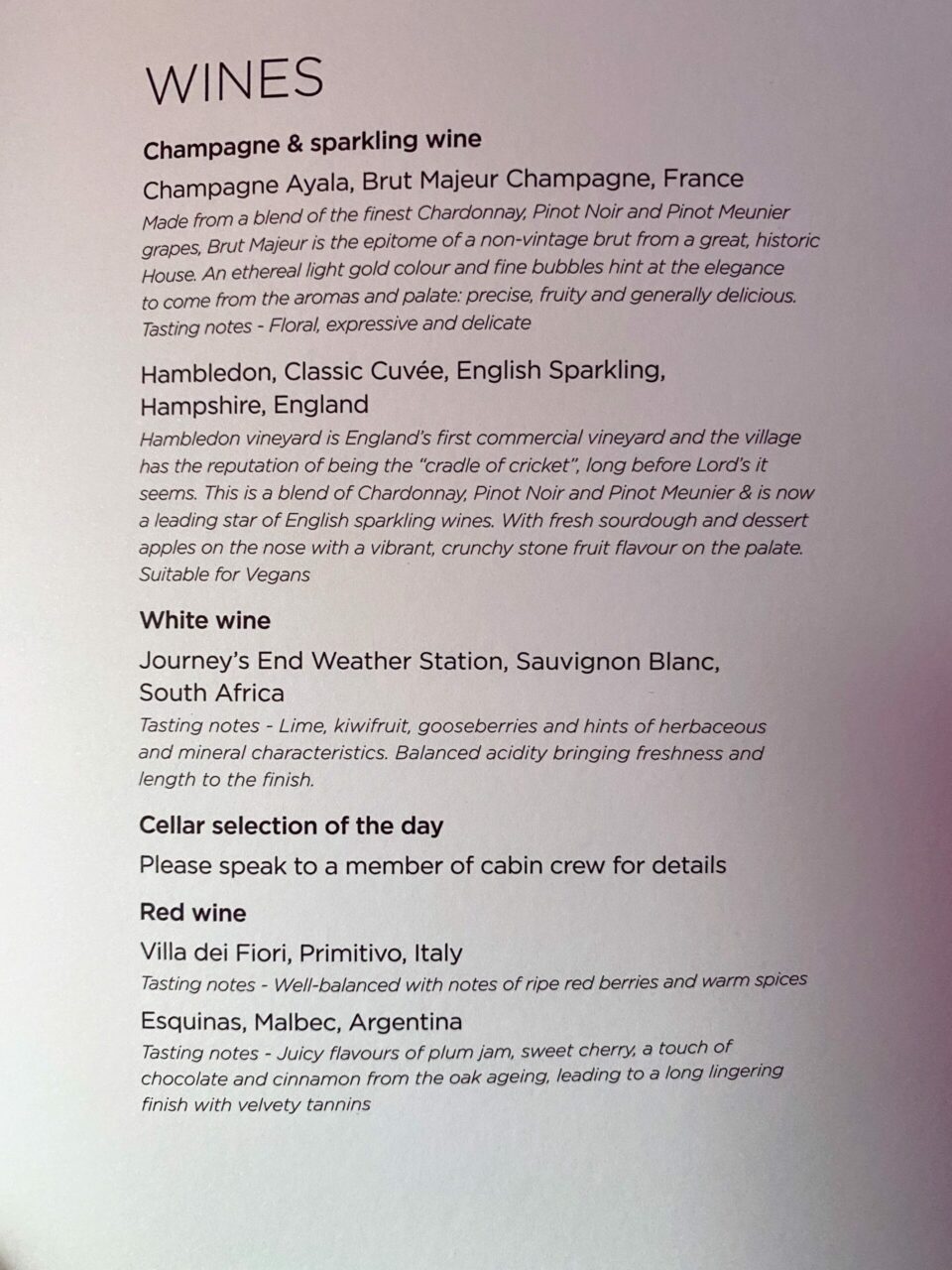 It was good to see the Hambledon Sparkling still on the menu as it's a particularly good English sparkling wine.
There was a choice of starters and your table was laid up for you as well. The tables are large and very stable which I like. Strangely no bread was offered.
Here is the lunch menu: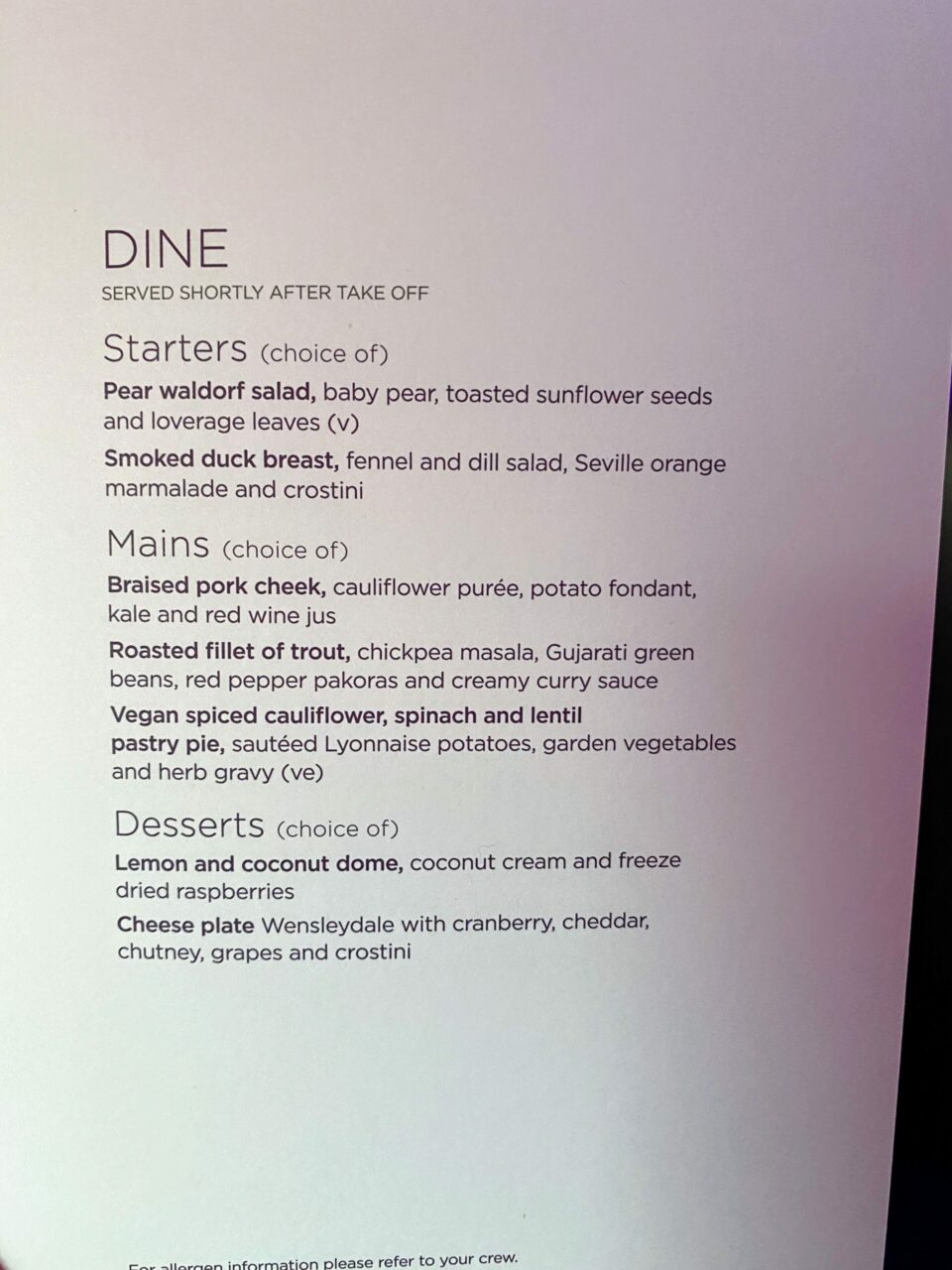 I went for the Waldorf salad which was OK though I think that apple works much better than pear in this dish. It was good to see the airplane salt and peppers shakers are still there. (There will be some in the next TLFL giveaway). You are actively encouraged to take these as one the bottom it says pinched from Virgin Atlantic! If you decide to take them ask the crew to empty them out if you don't have sealable bag to put them in. Otherwise, you may end up with some dubious-looking white grains in your bag as you go through customs!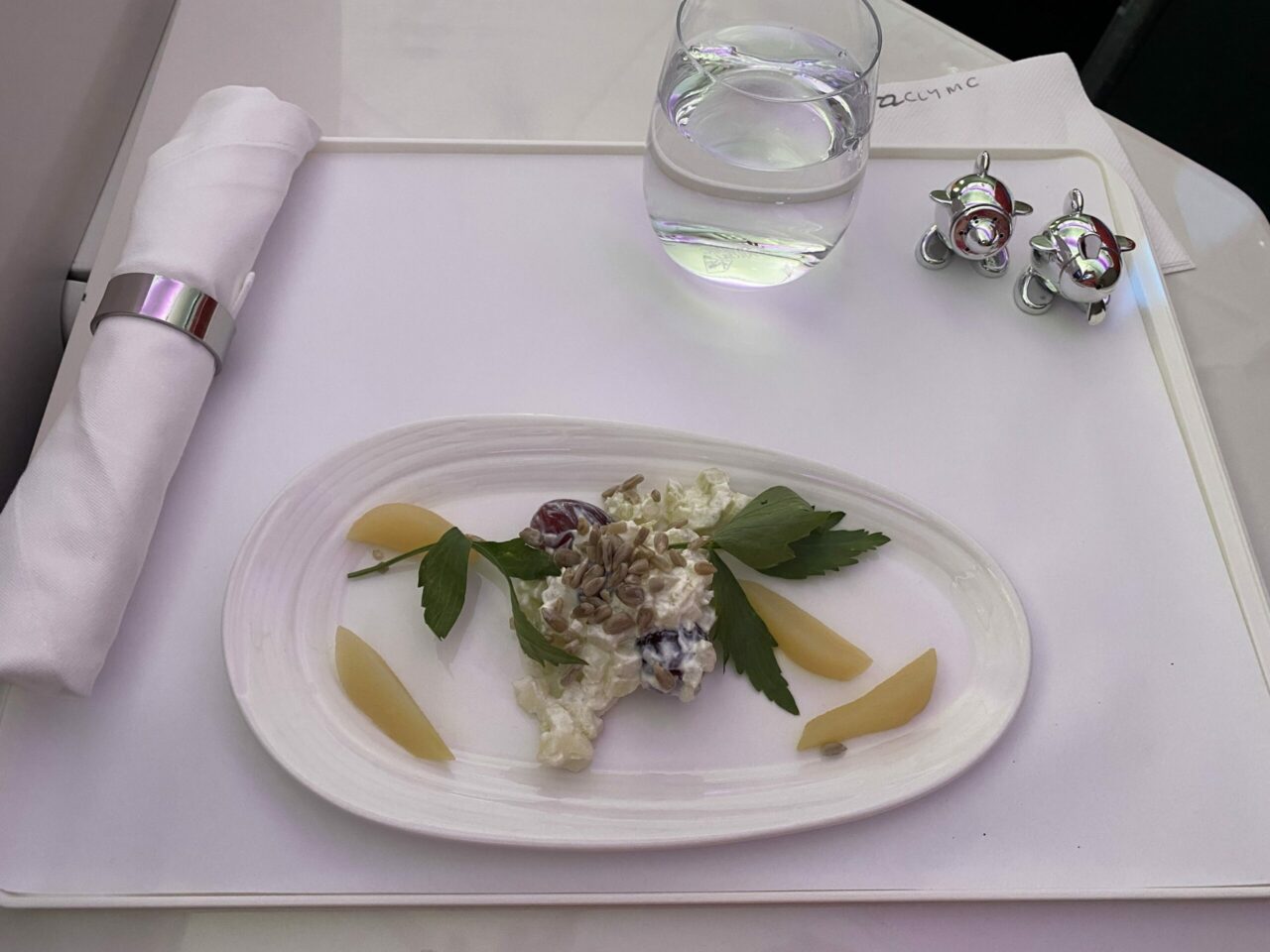 The main courses all sounded good. I think Virgin does a great job of having lots of variety on its menus and they don't feel too "samey". I settled on the pork cheeks and I was very glad that I did. They were meltingly tender with a rich sauce and the fondant was the right level of softness, although it could have been a bit more buttery. Personally, I'd be happy to be served this in a fancy restaurant. I had a glass of the Chardonnay from the daily selection with it which was enjoyable.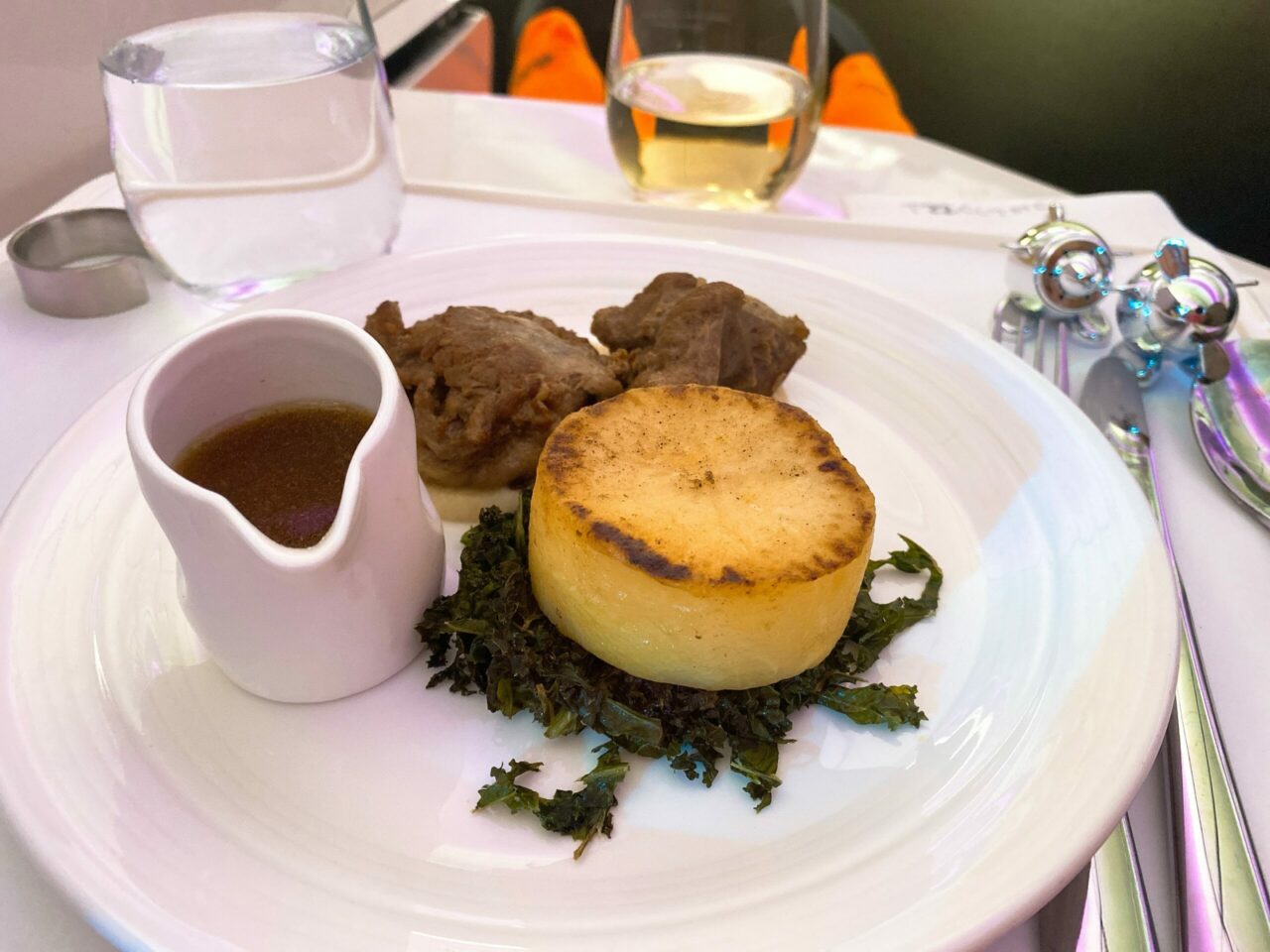 The crew were very attentive and I had plenty of top-ups of my wine.
One of my favourite parts of Virgin's meals was always the hot dessert but sadly this has gone for the moment. However, there was a trolley so you could see the cheese or dessert before making your choice. I went with the cheese. It was a decent-sized portion but it could have done with more crackers for the amount of cheese. I tried the Malbec with the cheese which was rich but slightly fruity with light oak.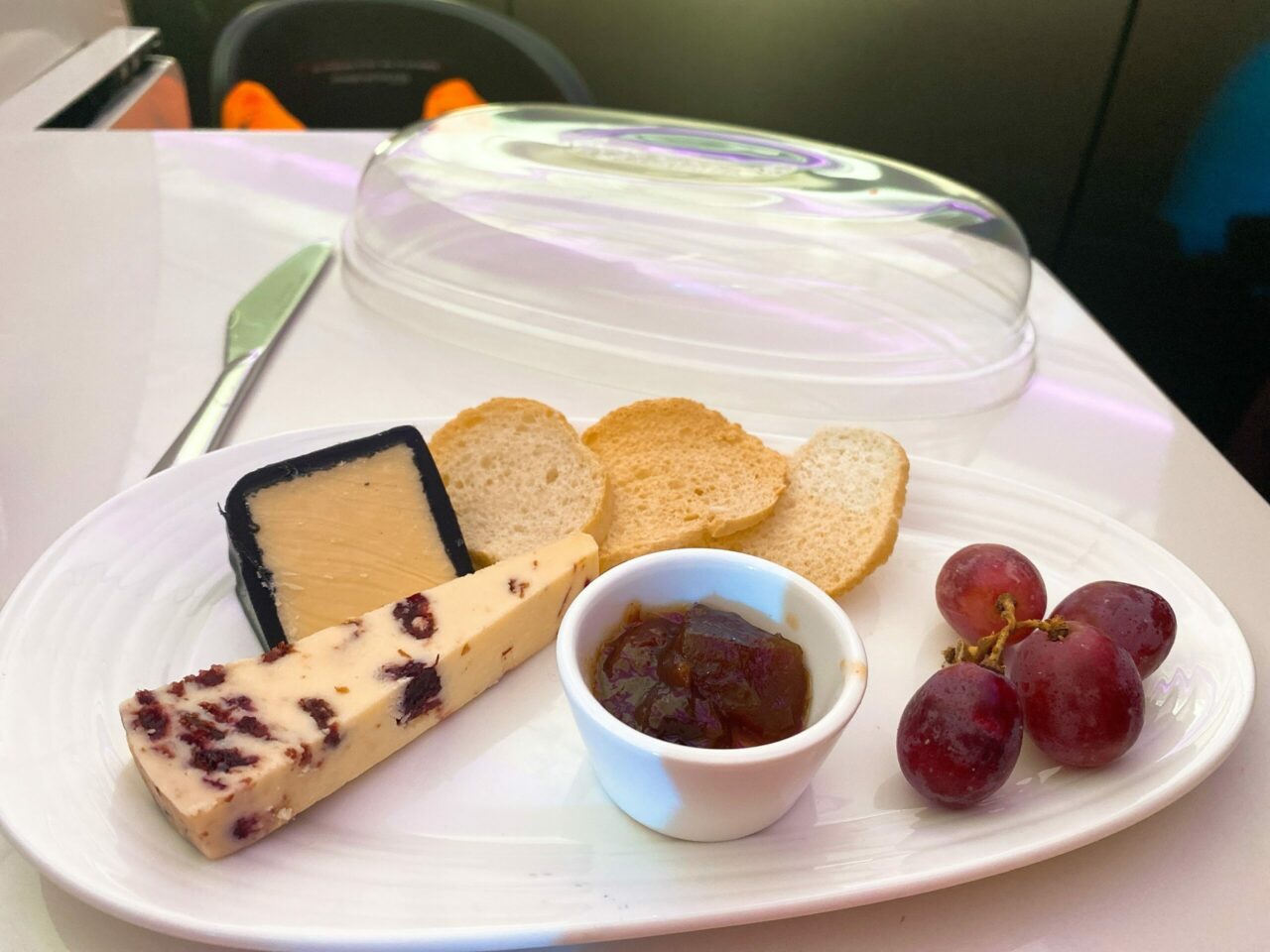 I finished with a rather large brandy which sent me nicely to sleep for a couple of hours.
Second meal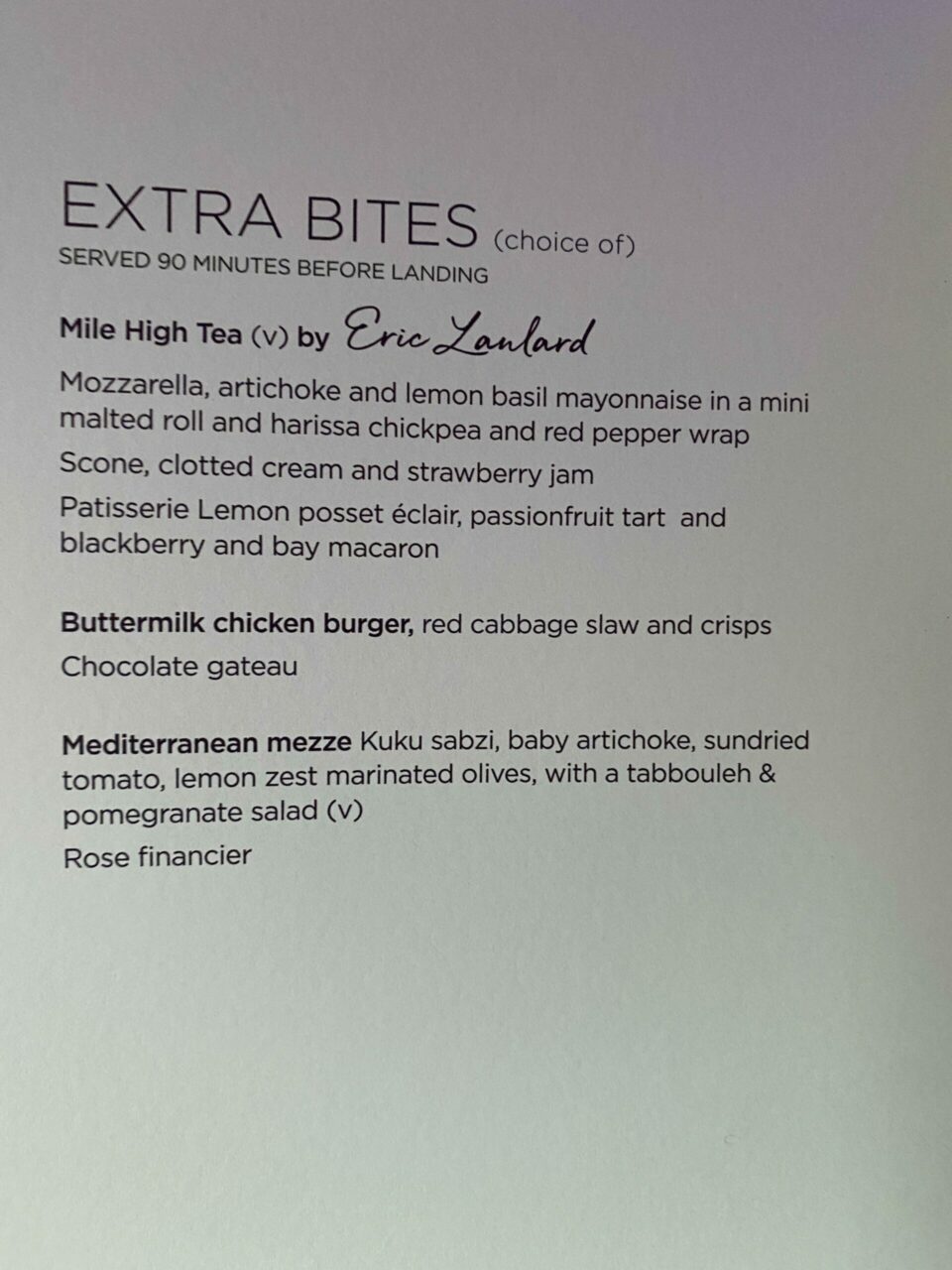 I was tempted by the burgers for the second meal as they looked really good but I decided instead to go for the afternoon tea. The sandwiches were not exactly dainty finger sandwiches but what they lacked in looks they made up for in quantity and flavour.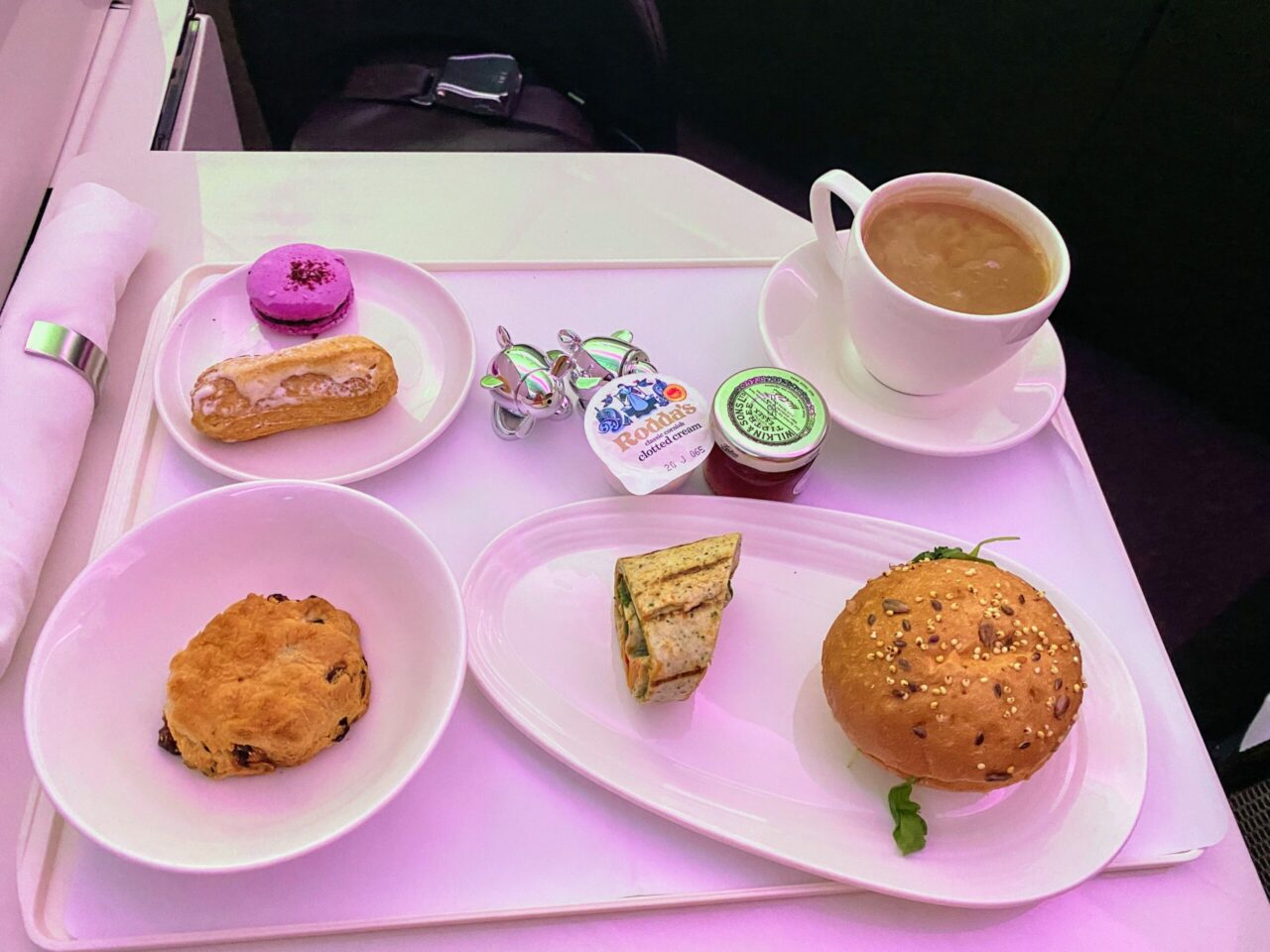 The scone was not quite as good as BA's ones as it was a little heavier but it was still enjoyable. The cakes were particularly good as they were very light and I enjoyed the sharp lemon posset filling. Though for some reason I did seem to be missing the passion fruit tart. Drinks were offered with the meal so you could have had wine but I settled for tea since I had a long night ahead!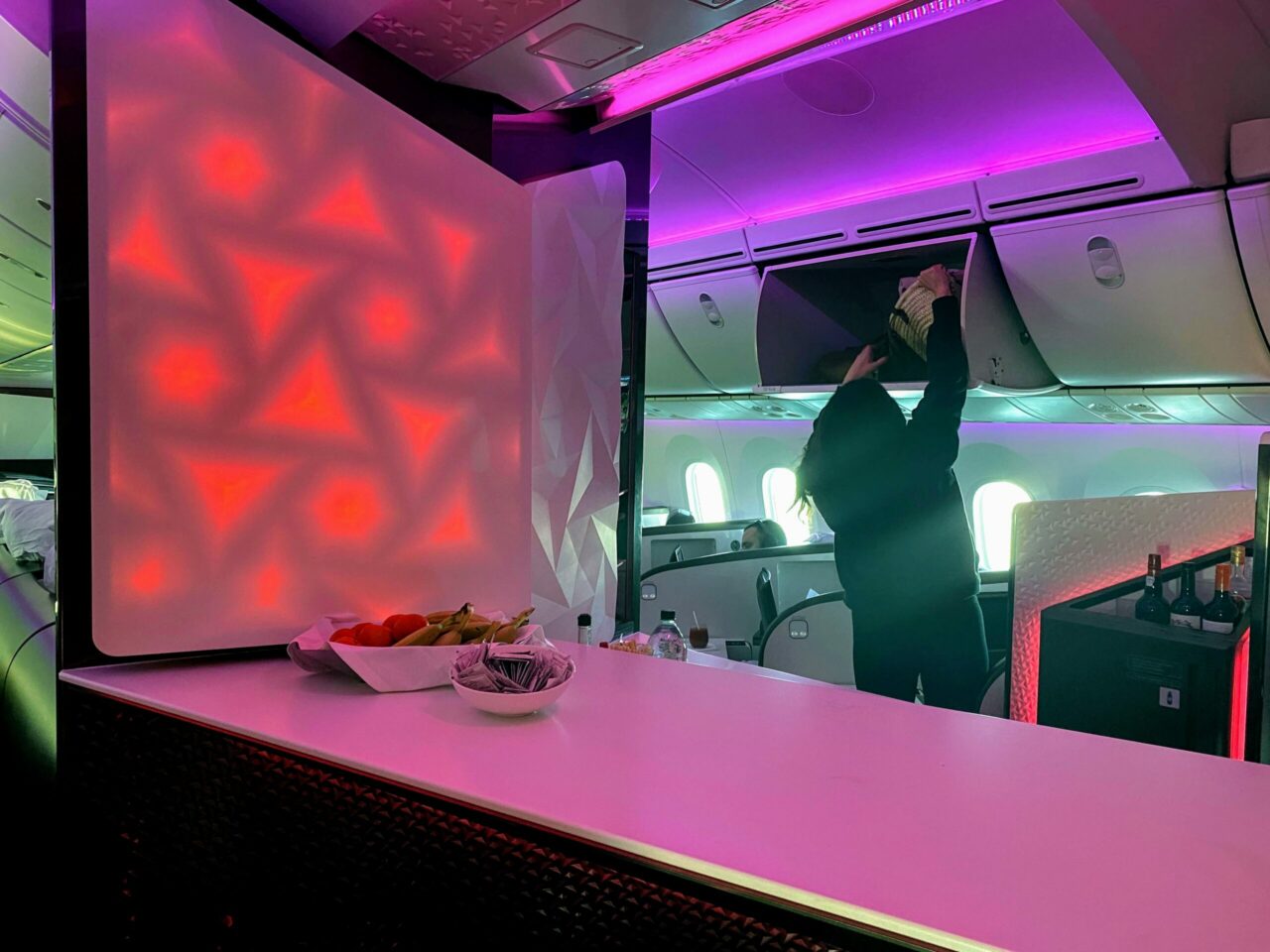 There is also a bar on the B787 at the back of the cabin where you can get a drink or snack. It's a great space to socialise and chat to your fellow passengers too. Behind there is also an area that has help-yourself soft drinks and snacks.
Virgin Atlantic Upper Class B787 Entertainment

The Vera system has screens to the side which you have to pull out but you can actually see them pretty well without moving them which is handy for take-off and landing. I found the controls a little slow, lagging behind when I was trying to get through the choices. In terms of films, I thought they had a better selection than BA but for TV series it was a little lacking in quantity. There were older classic films as well as plenty of new additions.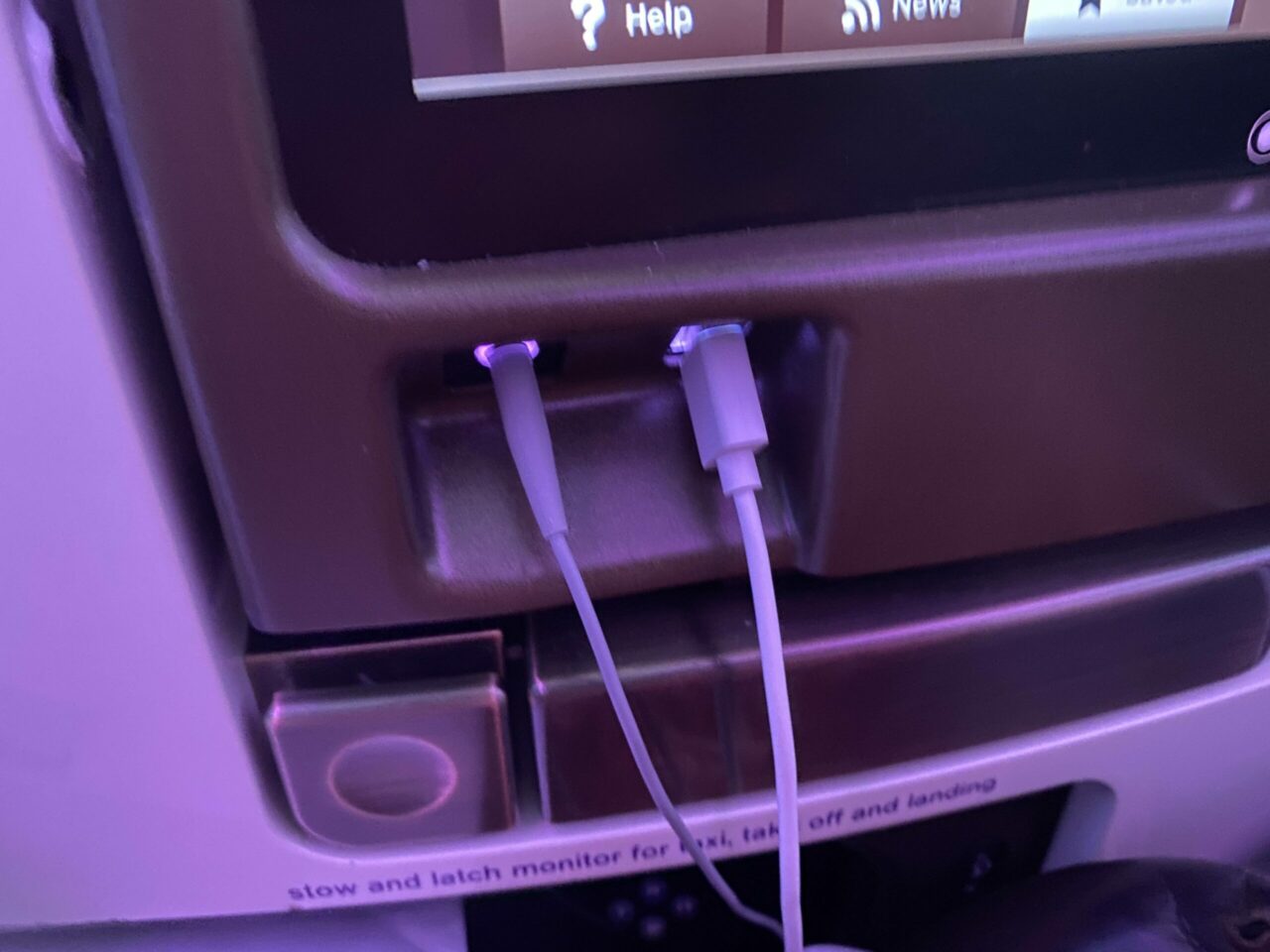 I watched a very dark film called "I care a lot" where you can't actually root for any characters as they are all equally terrible, but I enjoyed the film. The picture is good quality and you can plug your USB charger in underneath the screen; although it is a little fiddly since you can't really see what you are doing due to the angle.
The Wi-fi was a little tricky on this flight but it worked fine on the way home. I think it was due to the fact there were 20 journalists onboard all trying to log in at the same time! You can switch between different devices which is better than some other systems, but you can only use one at a time without paying for a second package. There is a whole flight package which is decent value as well at £12.99. It was a little slow at times and I struggled to connect on my phone but it was fine on my laptop.
Noise-cancelling headphones are provided but I always use my own Bose ones as they are more comfortable. I also like that I can use them wirelessly with my RHA wireless adapter.
Conclusion for Virgin Atlantic Upper Class B787
Overall this was a great flight and it didn't feel like any corners were being cut due to the old "covid excuse" unlike some others. I find the older seats perfectly comfortable although the new Upper Class Suite has more surfaces to keep stuff handy. The bedding was a highlight with a wonderfully padded mattress topper which made for a super comfy bed.
The food was pretty much restaurant quality and I liked that it was served in separate courses. There was a good choice of drinks and the wine was up to standard for business class. As always the crew were spot on and were very friendly and fun as well as being efficient.