Since there is a new offer to cruise using Virgin points, it seemed a good idea to reflect on my cruise on Virgin's newest ship, Virgin Voyages Valiant Lady. It's almost identical to the original Scarlet Lady, but this was the first time I had experienced a cruise properly on a Virgin ship.
I have only featured the things I tried on this cruise – for other restaurants, shows and activities see my review of Scarlet Lady here.
Before the cruise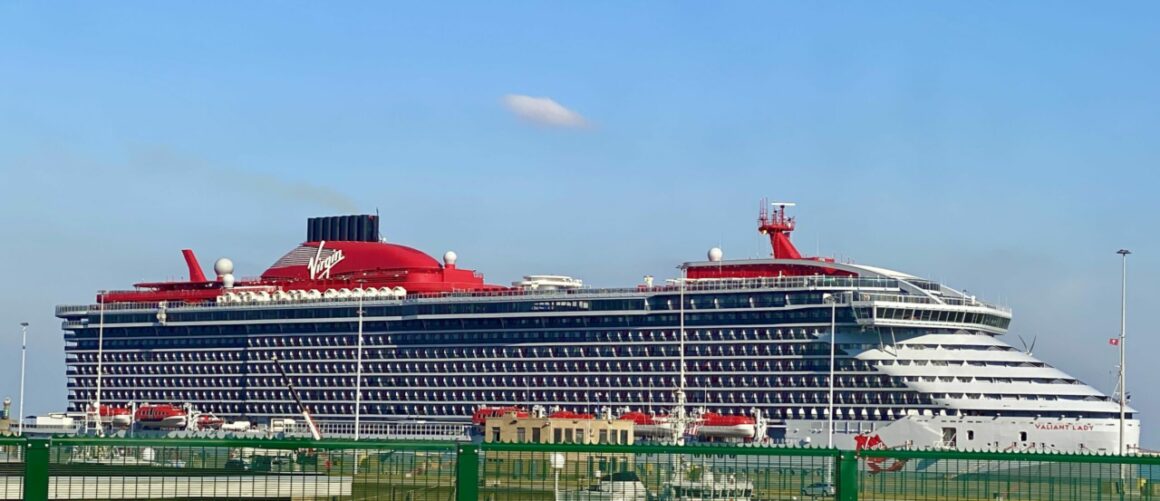 This was a Virgin Friends And Family cruise which they do before letting a new ship and its crew loose on the public so they can iron out any creases. They allow people to cruise for a short time for a nominal fee, but you accept that things may not be quite 100%. I only experienced some minor issues that I expect to be ironed out quickly.
Virgin has now removed the need for Covid testing on most cruises. The pre-departure information could have been better as some of it was quite short notice.
I was encouraged to download the app as this is how you get information and book things onboard. Before boarding, I could see shows and book in advance for some of them and also for some of the restaurants which I thought was a great idea. I was not able to book in advance for the spa.
Boarding from Portsmouth
I had a good experience at Portsmouth apart from the lack of communication regarding a special deal for parking, but luckily I managed to work that out. I could drop my luggage off at the terminal first from my car and then return to check in properly. When I booked, I had chosen a specific check-in time which is designed to spread people's arrivals out so you don't queue too much.
The staff at check-in were very "Virgin" in that they were fun and friendly but efficient too. I needed to show my paperwork for being vaccinated (this could vary depending on where you are cruising too) and was given my sailor bracelet, which doubles as your room key and your charge card for everything onboard. I thought it was a good idea as you are less likely to lose it than a key card, but I struggled to find a way to fasten in a comfortable way that stayed put.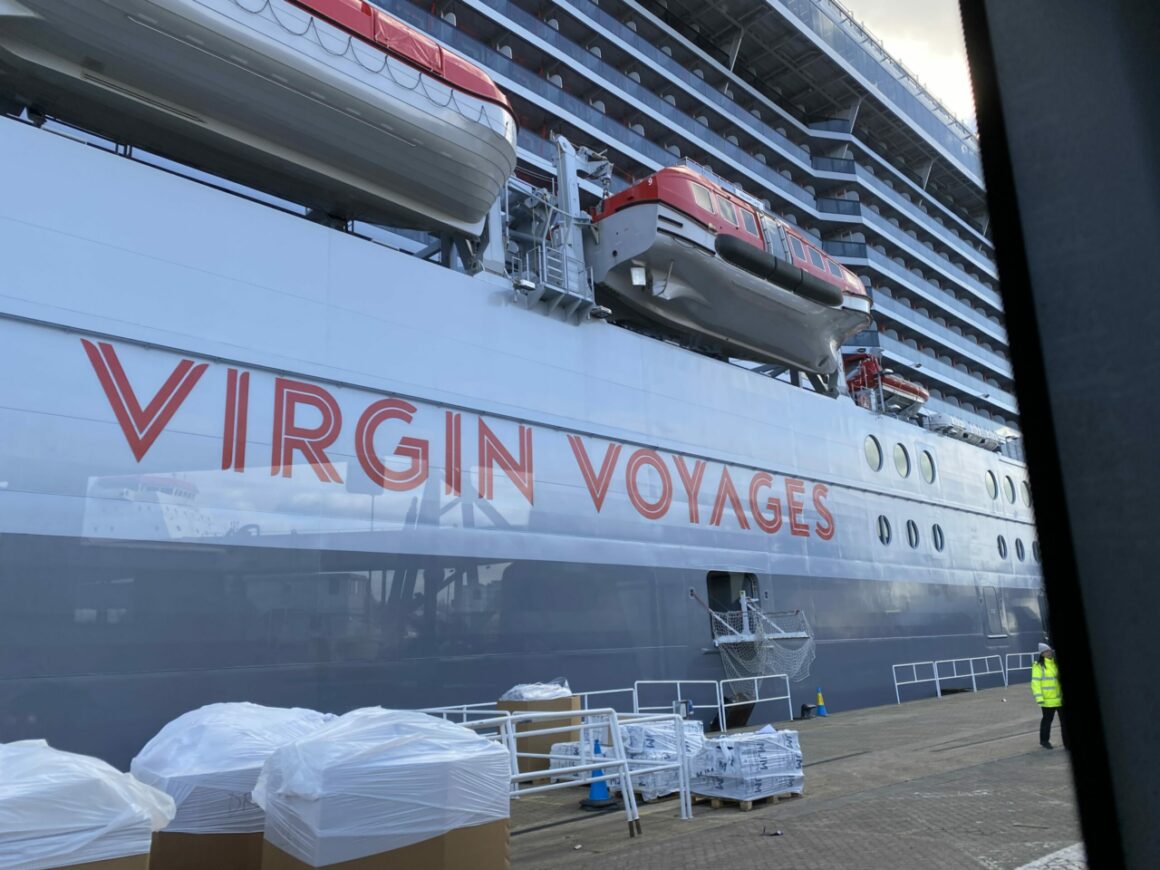 After the initial check-in we were given cards with boarding groups on and then called forward to board via a coach to the ship. It was all very well organised with minimal waiting.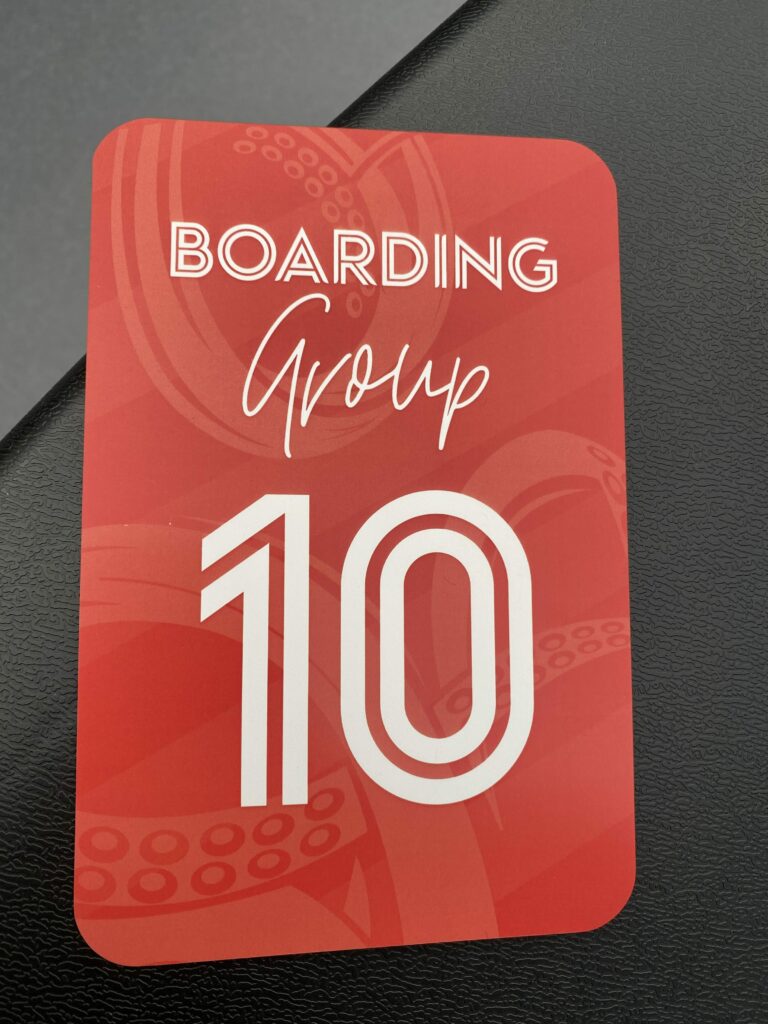 As you entered the ship you were greeted in again a very Virgin way with some exuberant entertainers dancing and rapping in red Virgin outfits – not sure you'd get that on Cunard! The cruise is adults only and aimed at an age group of around 30-55, but a lot would depend on what you enjoy as to whether it is for you.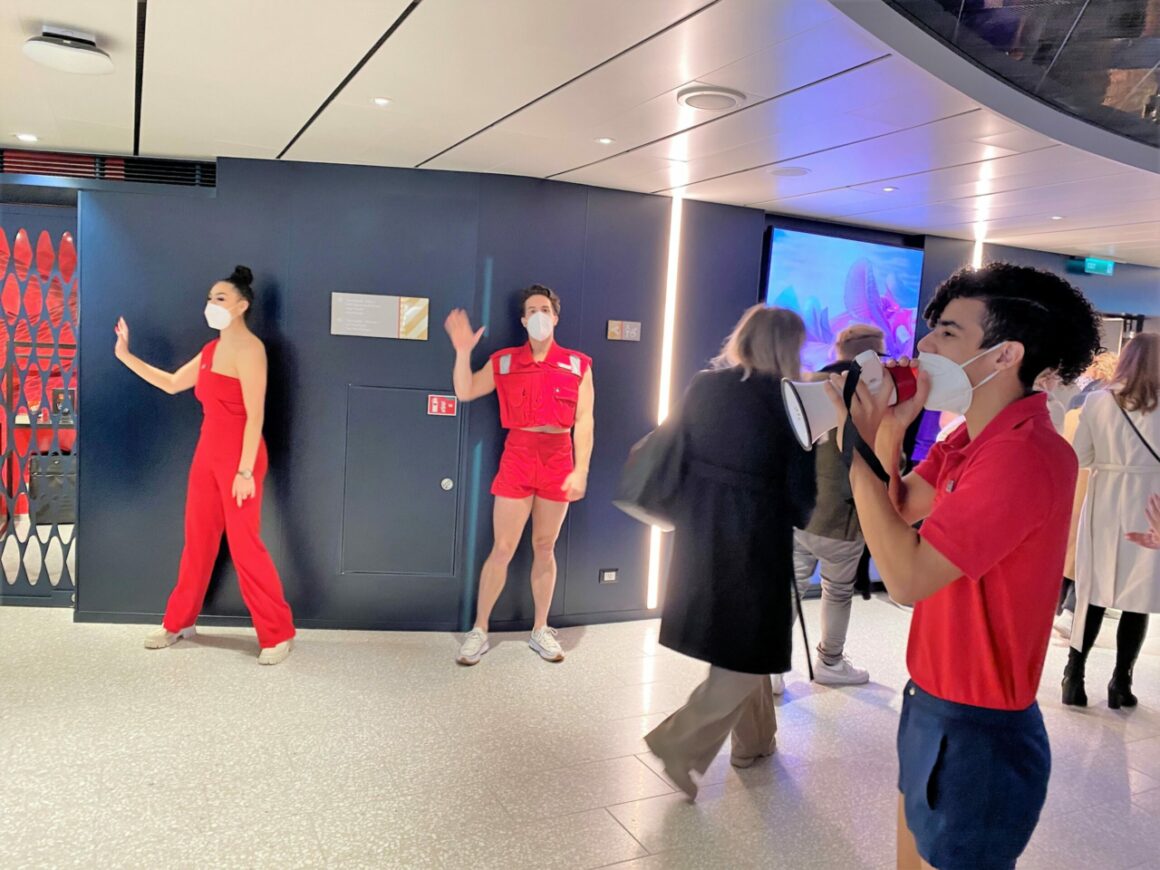 The cabin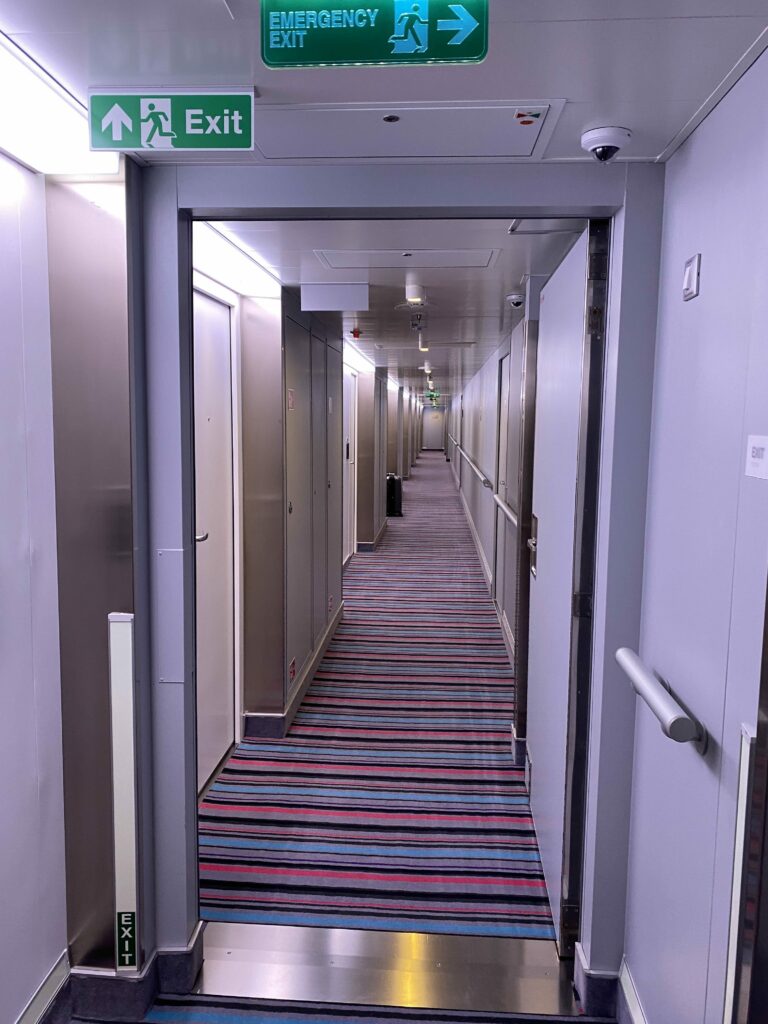 I was pleased to see that the cabin looked a little better than on Scarlet Lady where one reader had commented it looked a little "Ikea". I had an outside cabin with a sea terrace on deck 14. I would not recommend this deck as there was some noise from above, and the protruding deck above meant it was shadier than other cabins. It was a fairly long walk to the cabin as the ships are large, but everything was well signposted, and there were plenty of lifts and stairs at various points that cut down the walking.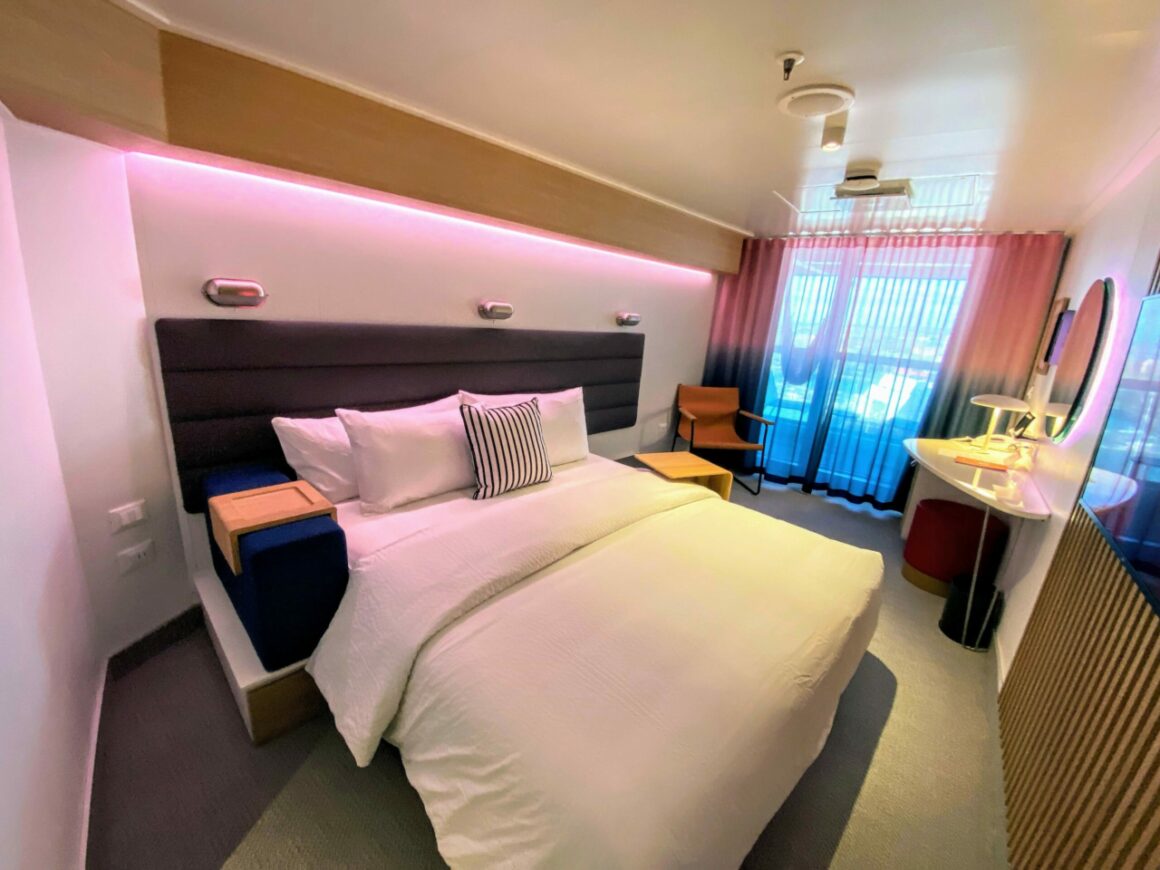 The room felt an adequate size, given that you generally don't spend much time in it during a cruise. There was a large bed which was very comfortable, and this can be converted into a day bed as well if you wish. There was a fridge that you could put your own drinks in, and a carafe of water was provided every day plus, you could order more at any time through the cabin tablet.
If you needed to charge your devices there were plenty of outlets near the bed, although on one side you would need a reasonably long lead. On one side, there was a bedside table, and the other had a table that went over the bed, which was handy for a morning cup of tea or coffee in bed.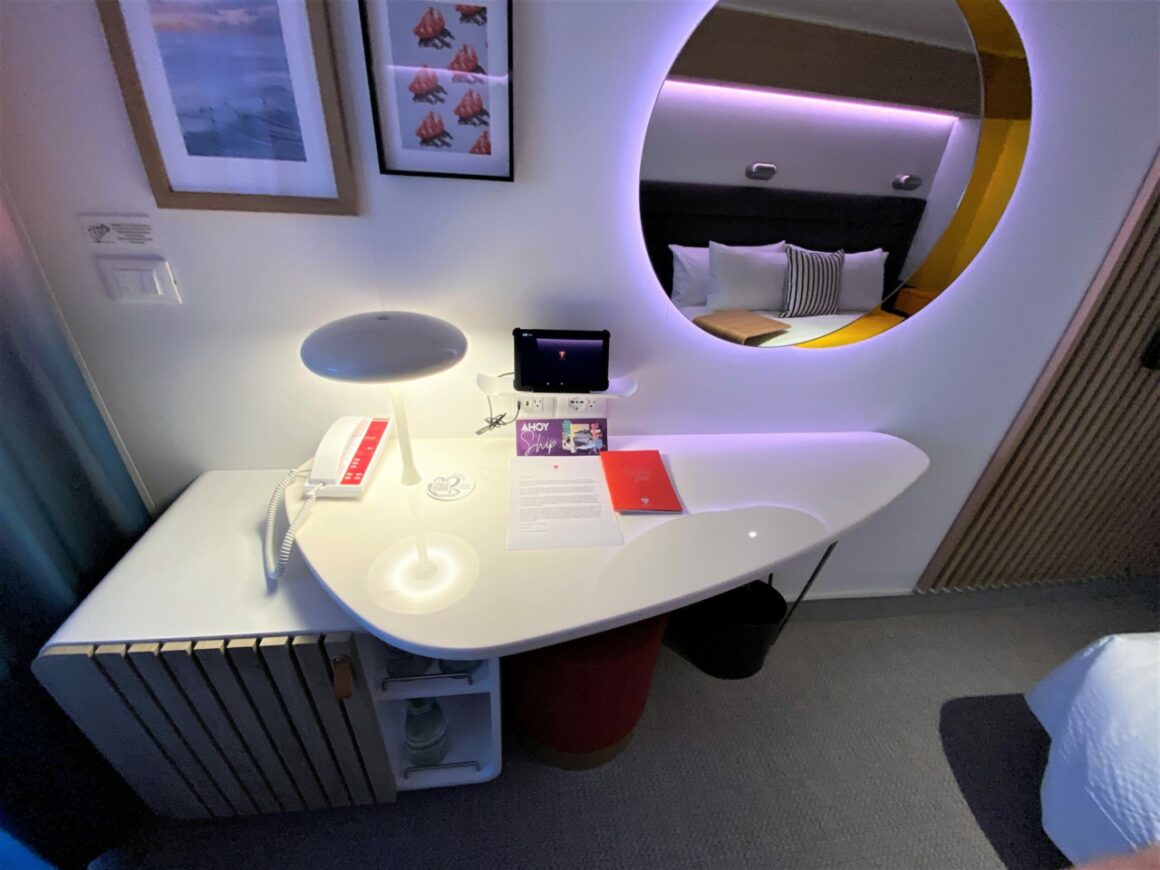 There was a desk that you could use for charging devices, working or doing hair and make-up. This was also where your tablet was kept that you could control the cabin with. This included lighting, curtains, temperature, and the TV. I did find it a bit temperamental and slow to respond at times, but it got there eventually.It was nice to be able to open the curtains from the bed and look at the new view!
Basic Wi-Fi is included but it's very slow and only really suitable for messaging.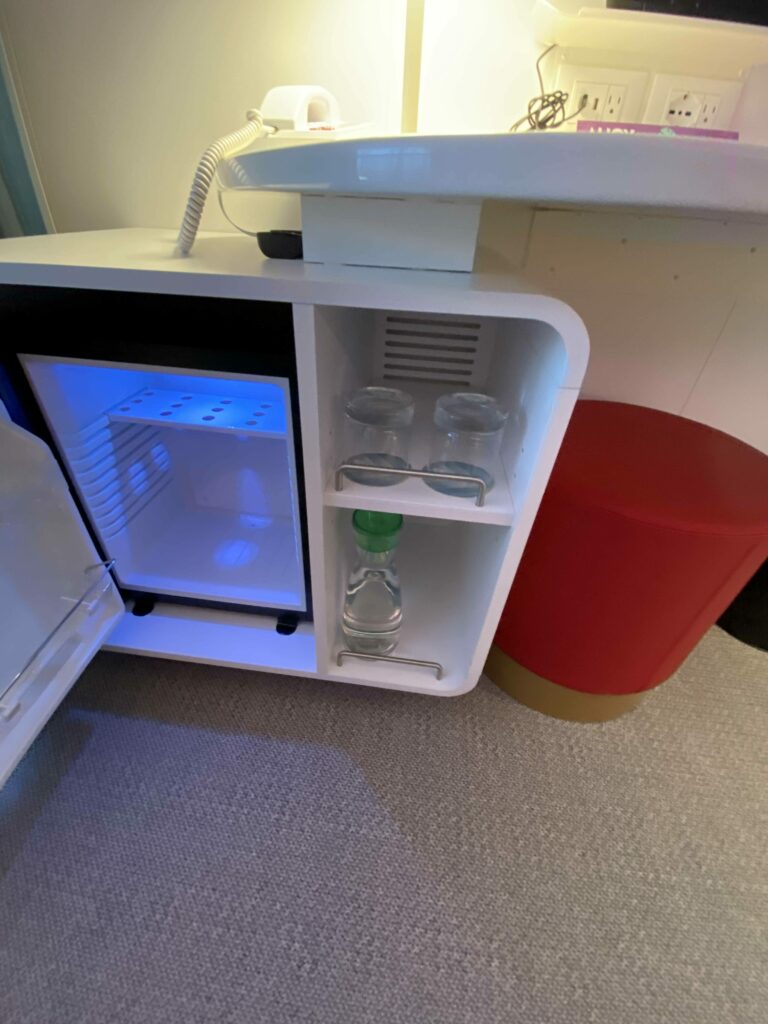 There was a great choice of movies you could watch if you had a bad weather day including recent releases.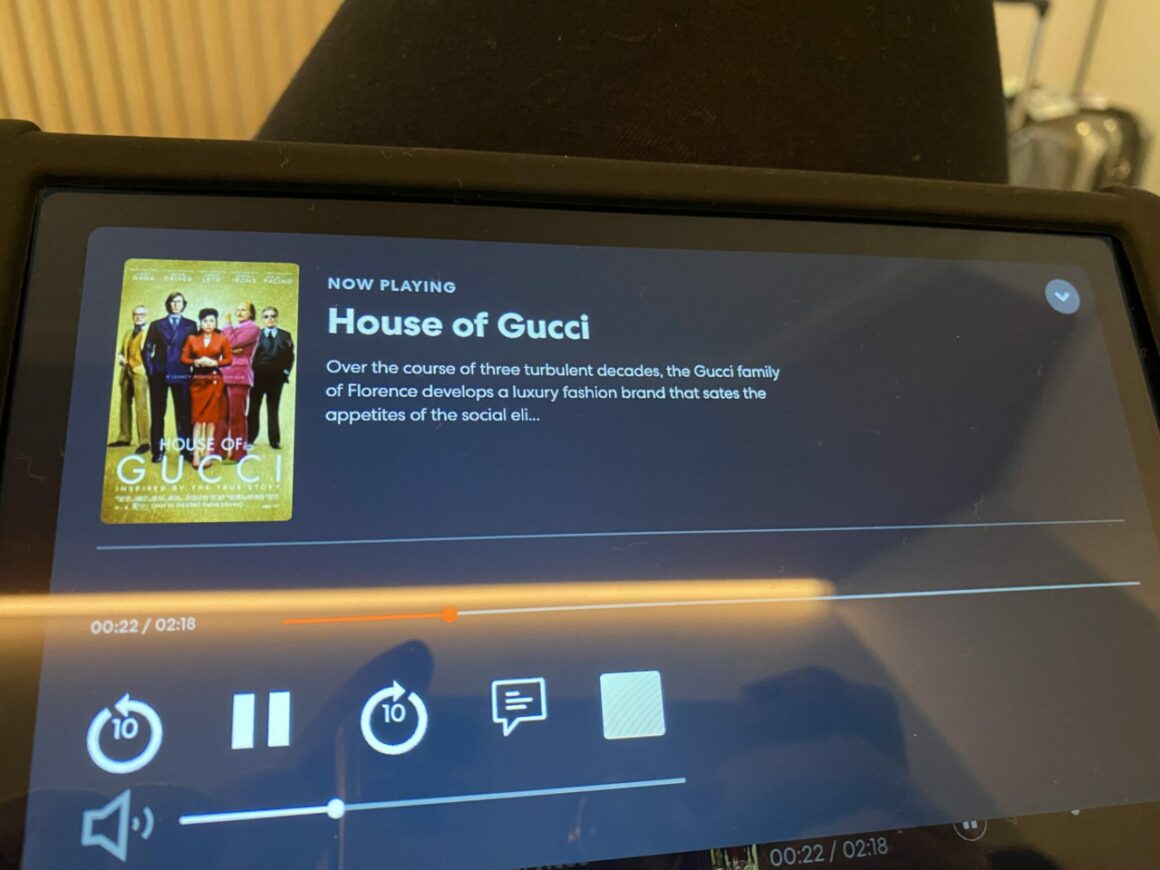 I loved having a hammock seat on the balcony as well as a table and chairs.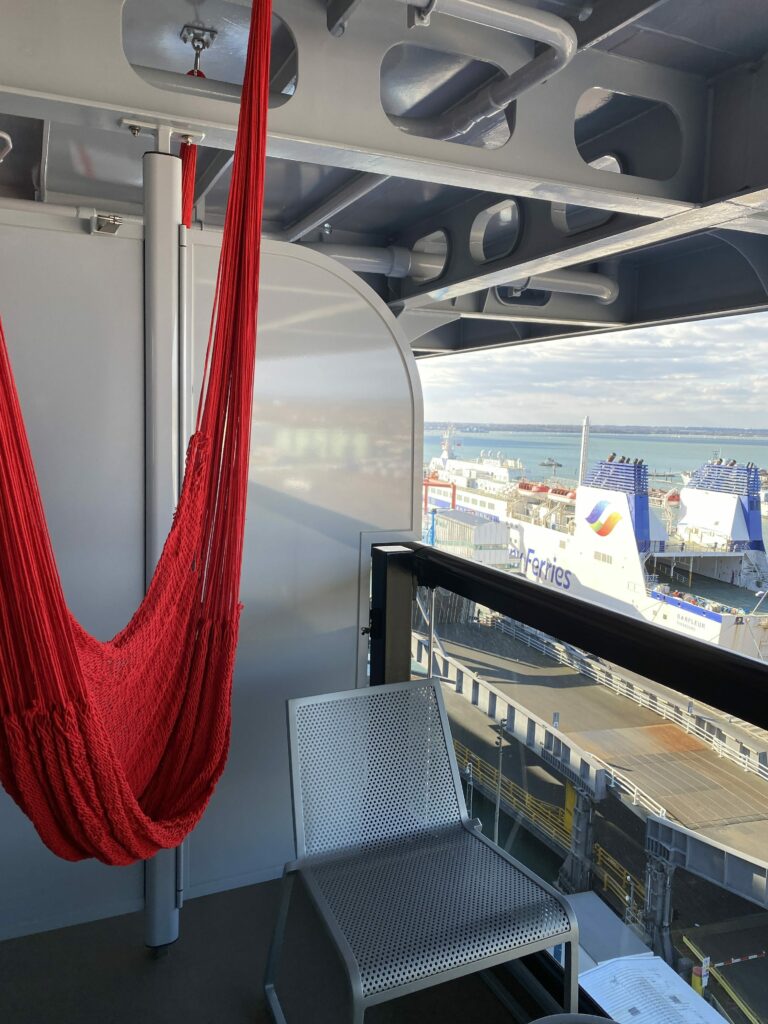 The bathroom was definitely a bit compact but the shower was a decent size and had a rainfall shower head. Toiletries were in large containers in the shower and seemed like good quality. Although I was surprised there was no body lotion in the cabin which I'd expect on most cruise lines. The towels were good quality and fluffy plus you had separate ones for the pool in the cabin as well. There were no bathrobes in my cabin which again surprised me.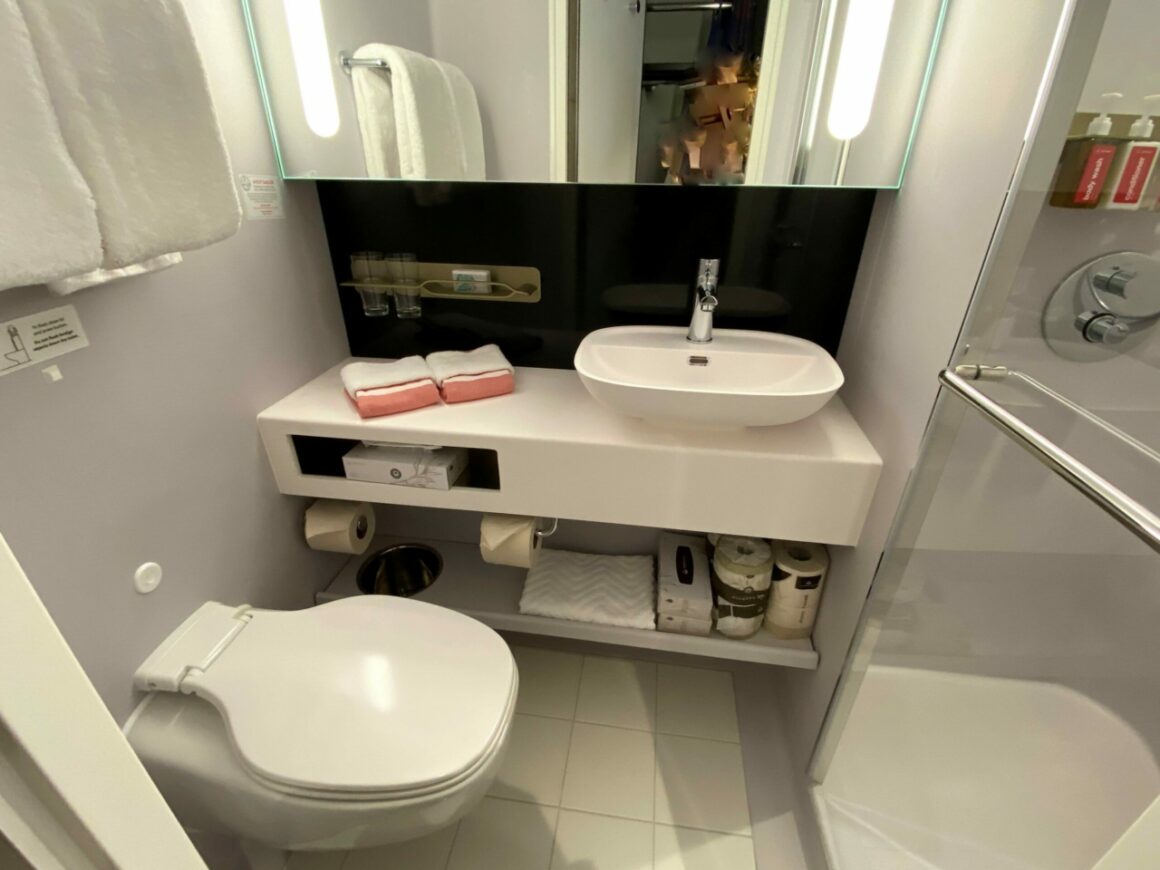 Dining and drinks
This is definitely the ship for foodies with 26 different food outlets. These range from the food court (there is no buffet) to the more sophisticated restaurants. Everything is included except alcohol and fancy hot drinks such as barista coffee. Some items had a supplement, but you wouldn't feel the need to pay extra. Prices varied on the final bill according to whether we were in dock or not as you did not pay tax once we had left UK waters. Tips are also included in the price, (for everything, not just drinks) unlike some US cruise lines.
The Galley
The food court named The Galley has a wide range of choices from patisserie to Mexican tacos, sandwiches, salads, coffee and burgers plus a lot more. You can have these delivered to your table or you can go up to the individual stalls, which is preferable for things like the salad bar where they mix it to order, which I loved.
I thought the cakes were particularly fantastic and tried the Red Lady. At breakfast, they have more pastries and muffins; then, the real temptation starts!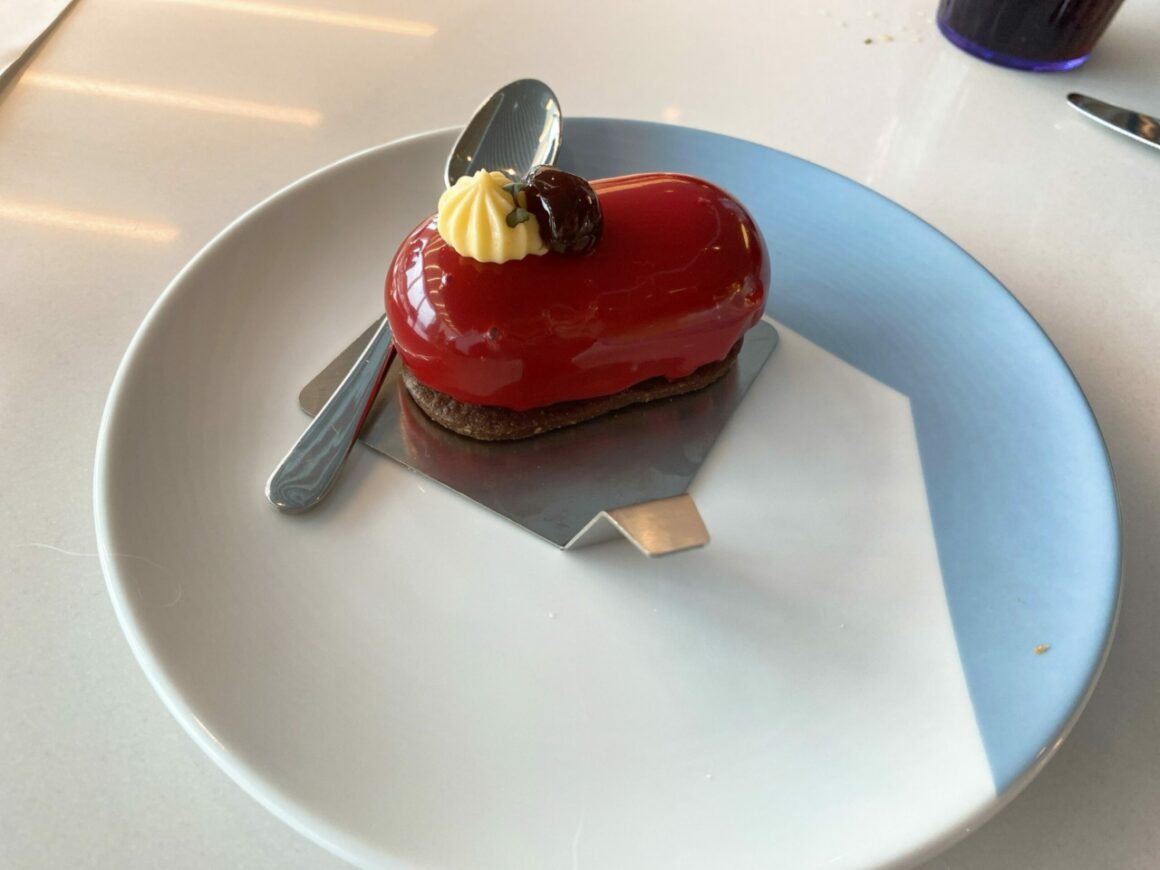 I also had breakfast there twice and enjoyed my breakfast burrito. I loved being able to have different things from different stalls.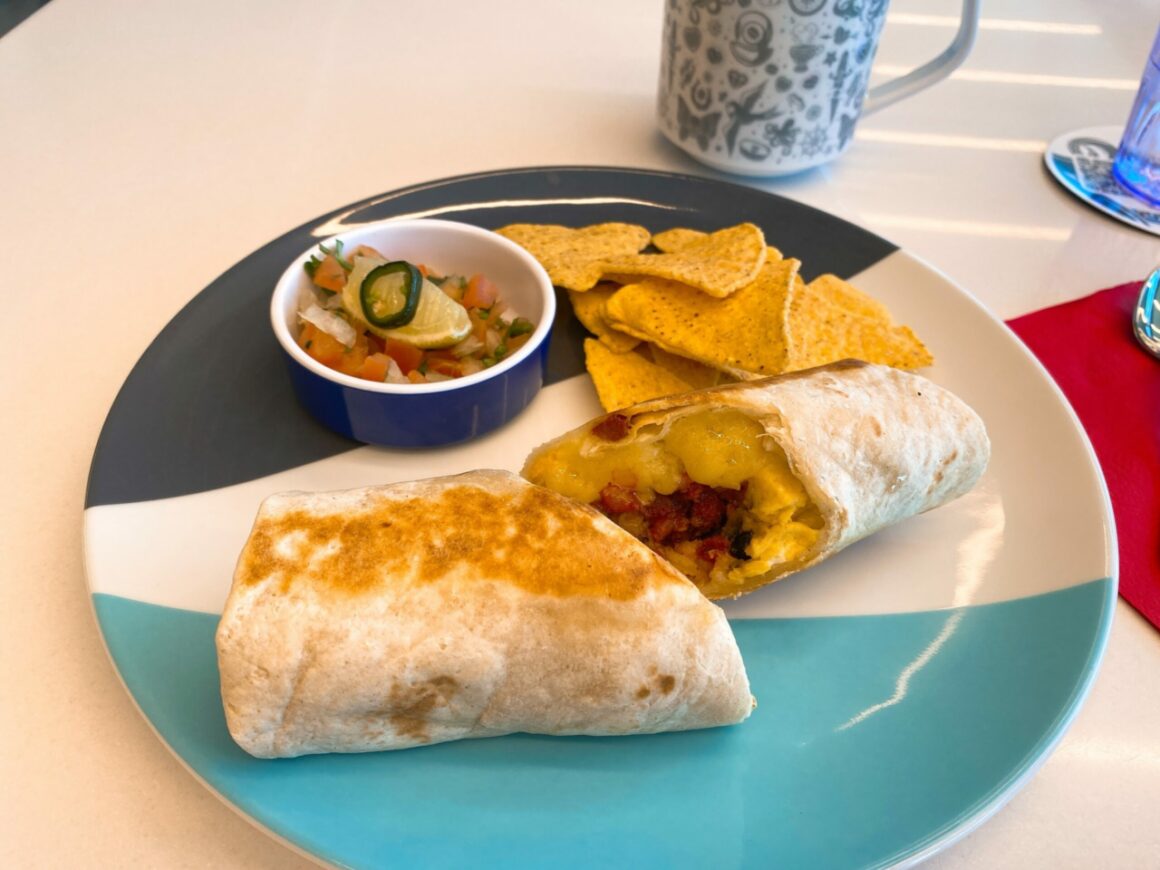 The next day I had a slightly healthier option – the smoked salmon open-faced sandwich and a bento box of fruit (the fruit could have been more generous).
They had a dedicated "foodie" expert onboard who held various events and talks such as the "Apertivo" hour at the Italian restaurant, Extra Virgin.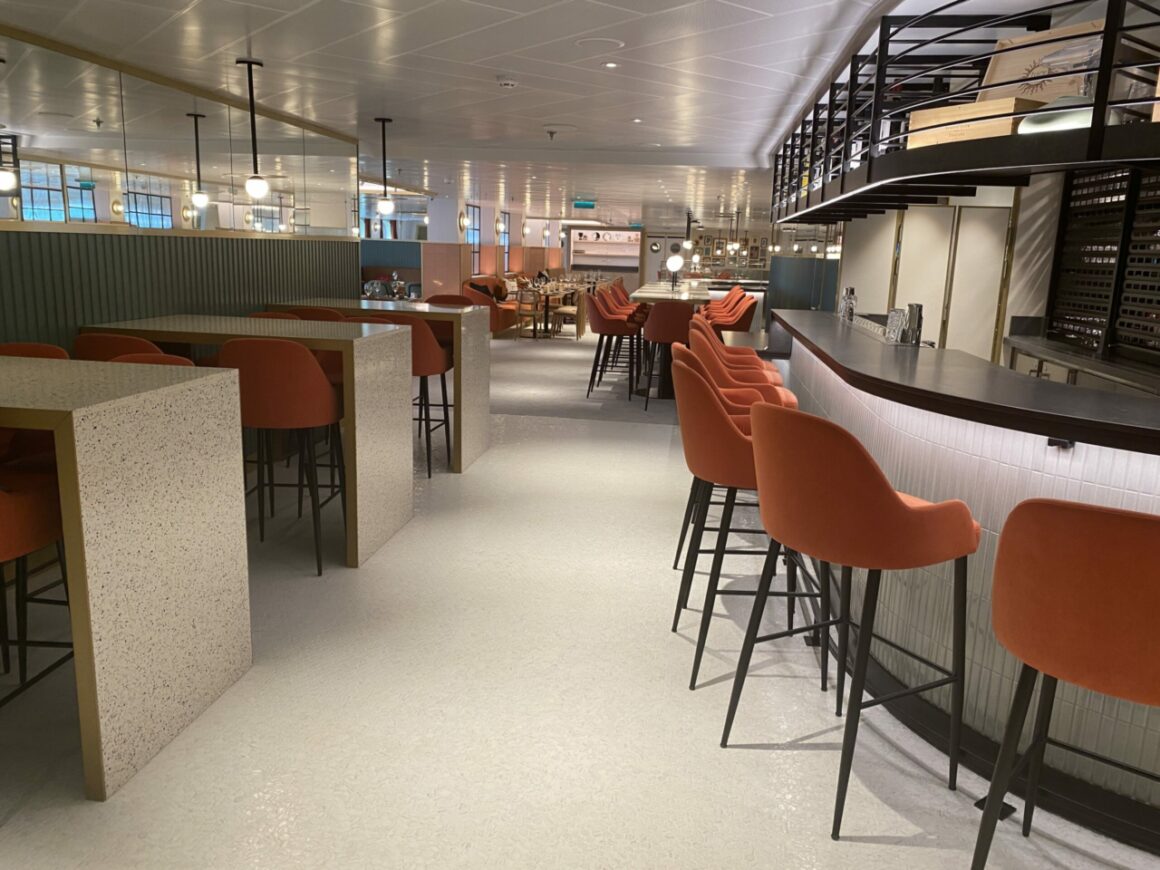 You had to pay extra for the drinks as normal, but it was a great way to start and evening and mingle with your fellow guests at the communal seating.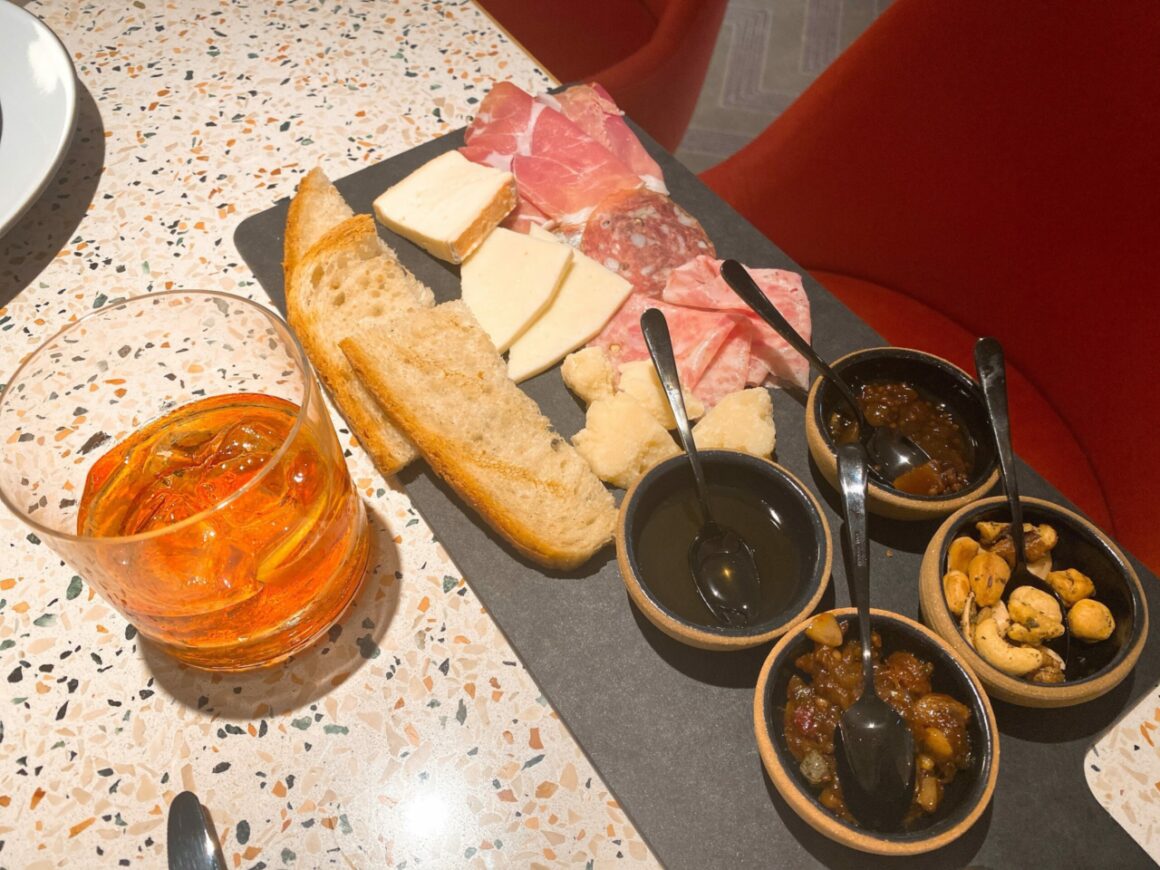 Razzle Dazzle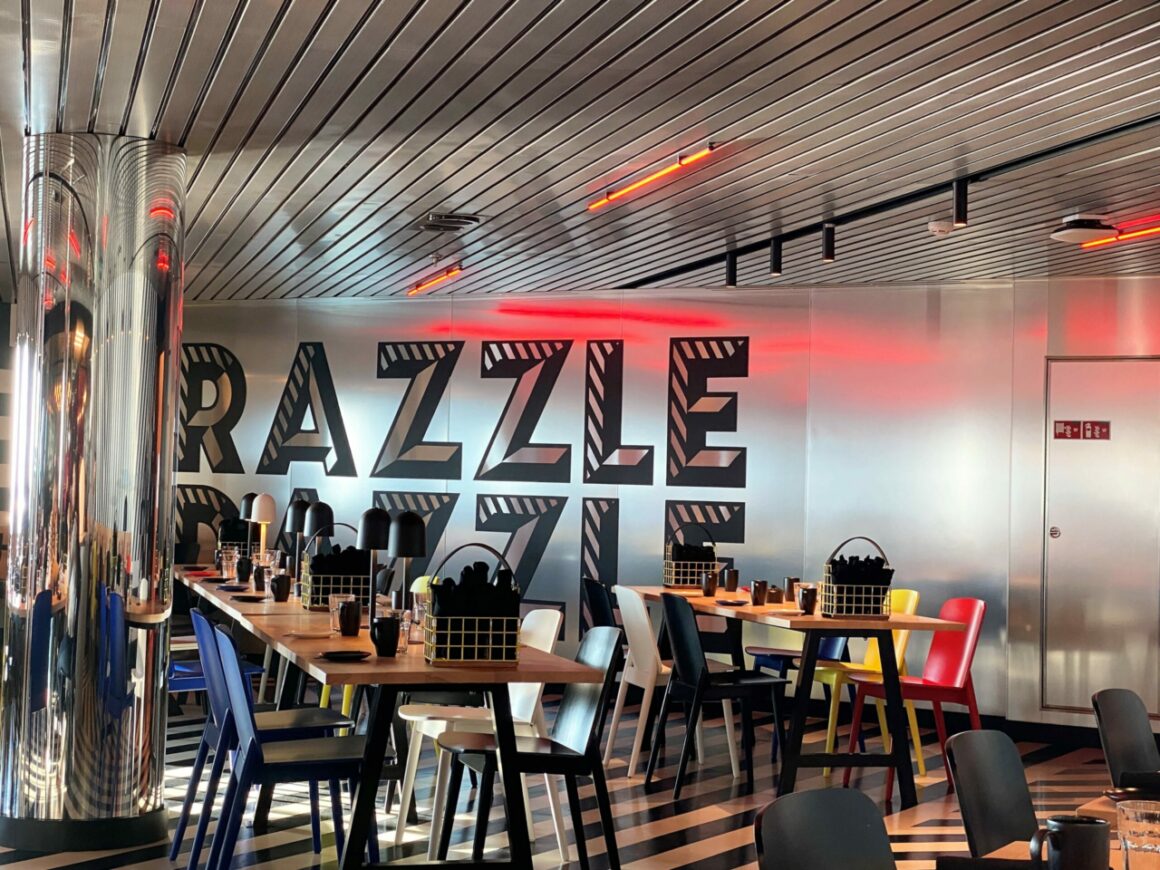 This is the Vegan/Veggie focused restaurants but you can have other things as well. It's quite bright so not really my sort of thing decor wise for an evening meal, but I enjoyed breakfast there with the lovely staff looking after me well.
First I was offered a selection of pastries and then my drinks order taken. The smoked cheese jalapeño croissant was amazing!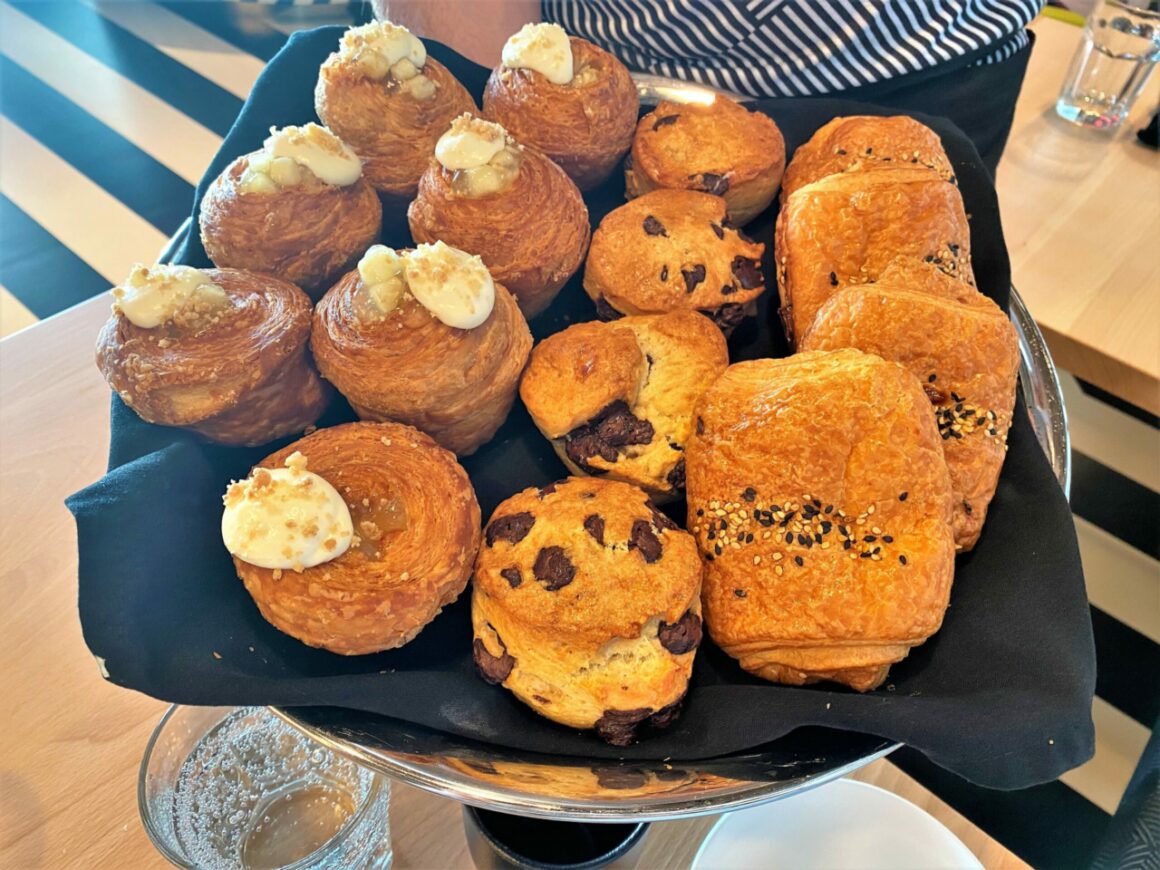 I liked the modern menu and had trouble deciding what to have so I tried two things.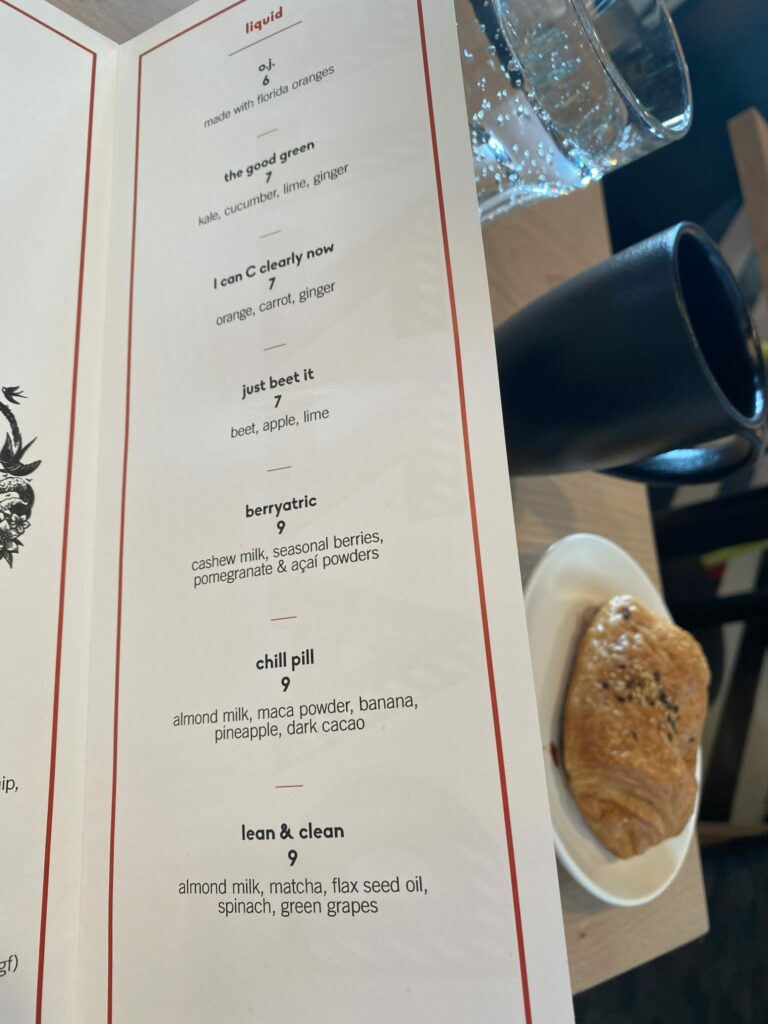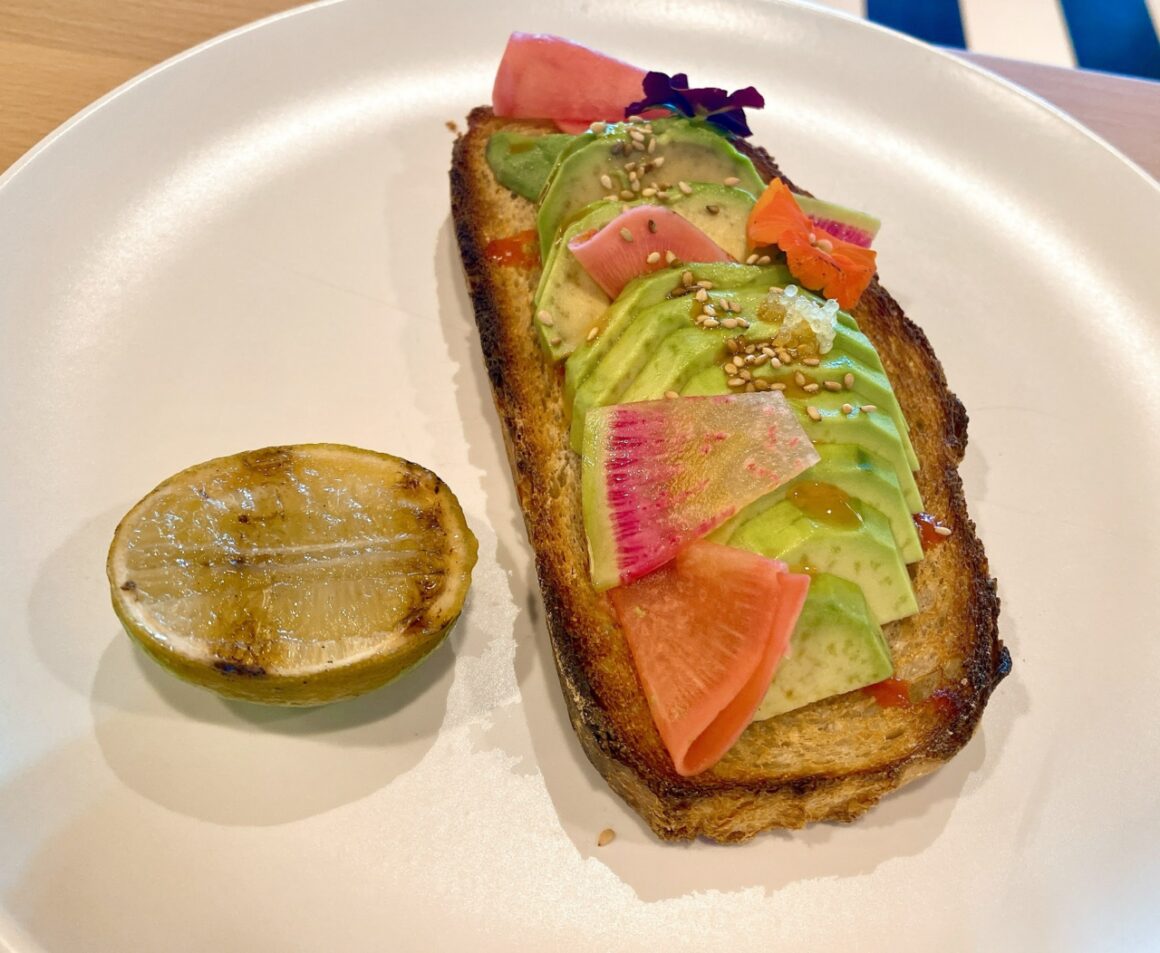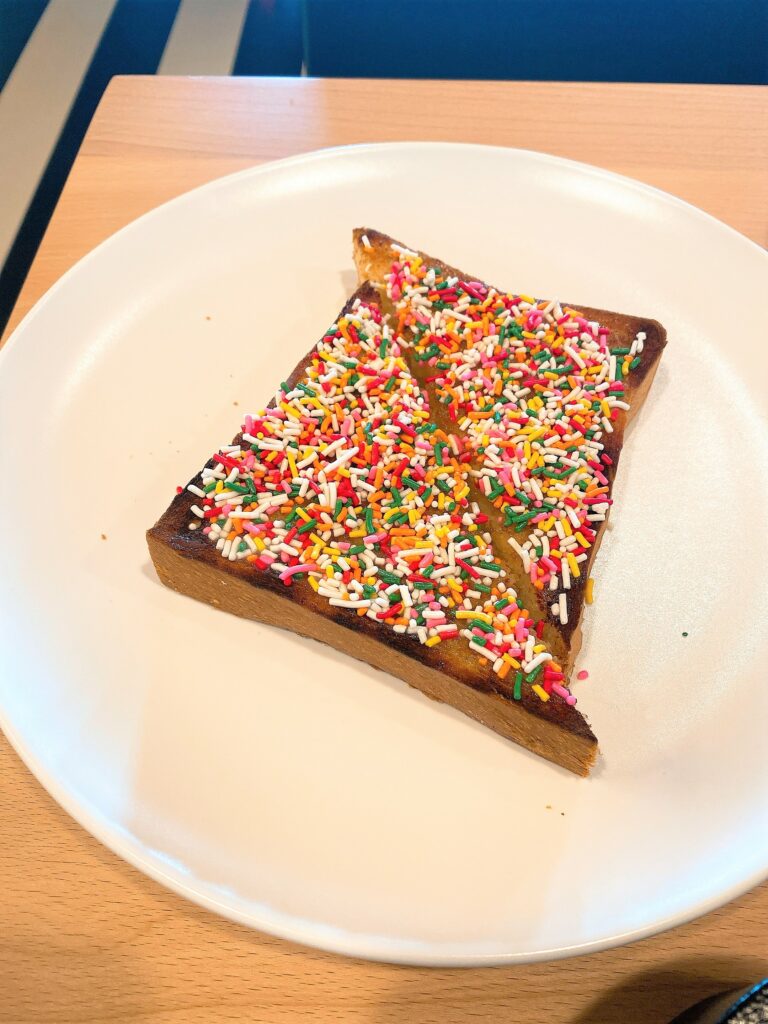 The Wake

This is the second fanciest restaurant after the Test Kitchen and features steak and seafood. It's definitely the most romantic option too for a special night. You enter via the grand staircase into what feels like more of a traditional luxury cruise restaurant.
I really loved the food here and would cruise on Virgin again just for the spinach can steak alone! The fact that it was all included was great. The service was a little slow here and baked Alaska was not baked which was odd, but otherwise it was my favourite restaurant experience on Virgin Voyages.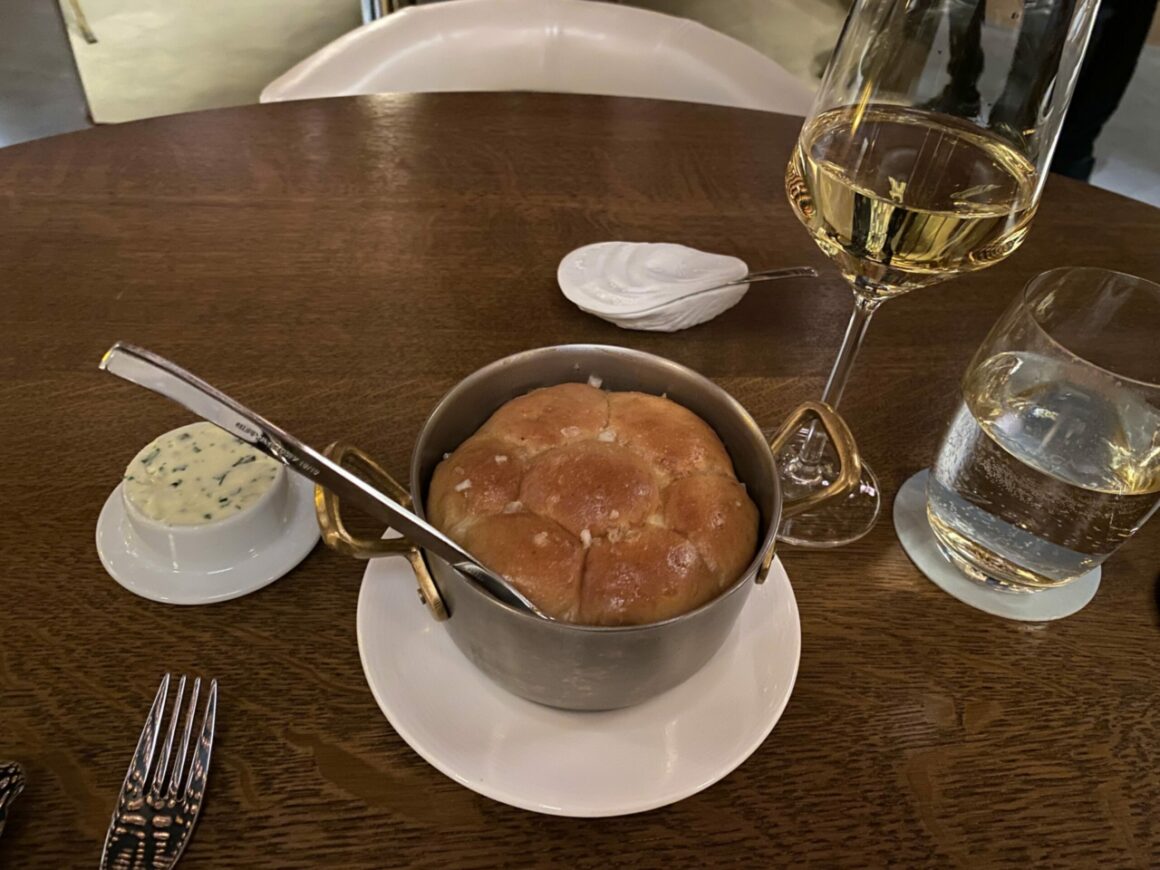 The meal started with some stunning bread and herb butter, and then I had the wedge salad, followed by the steak with spinach and twice-baked potato.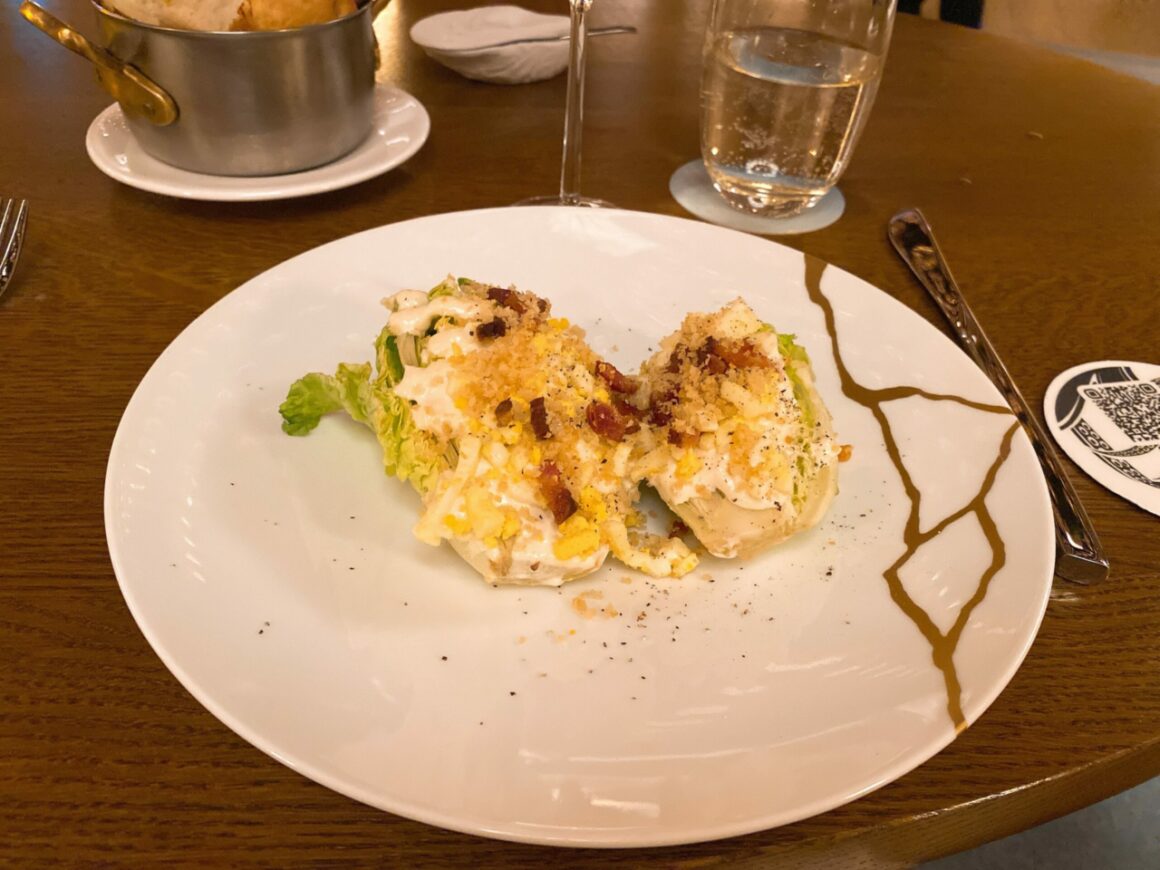 Gun Bae – Korean BBQ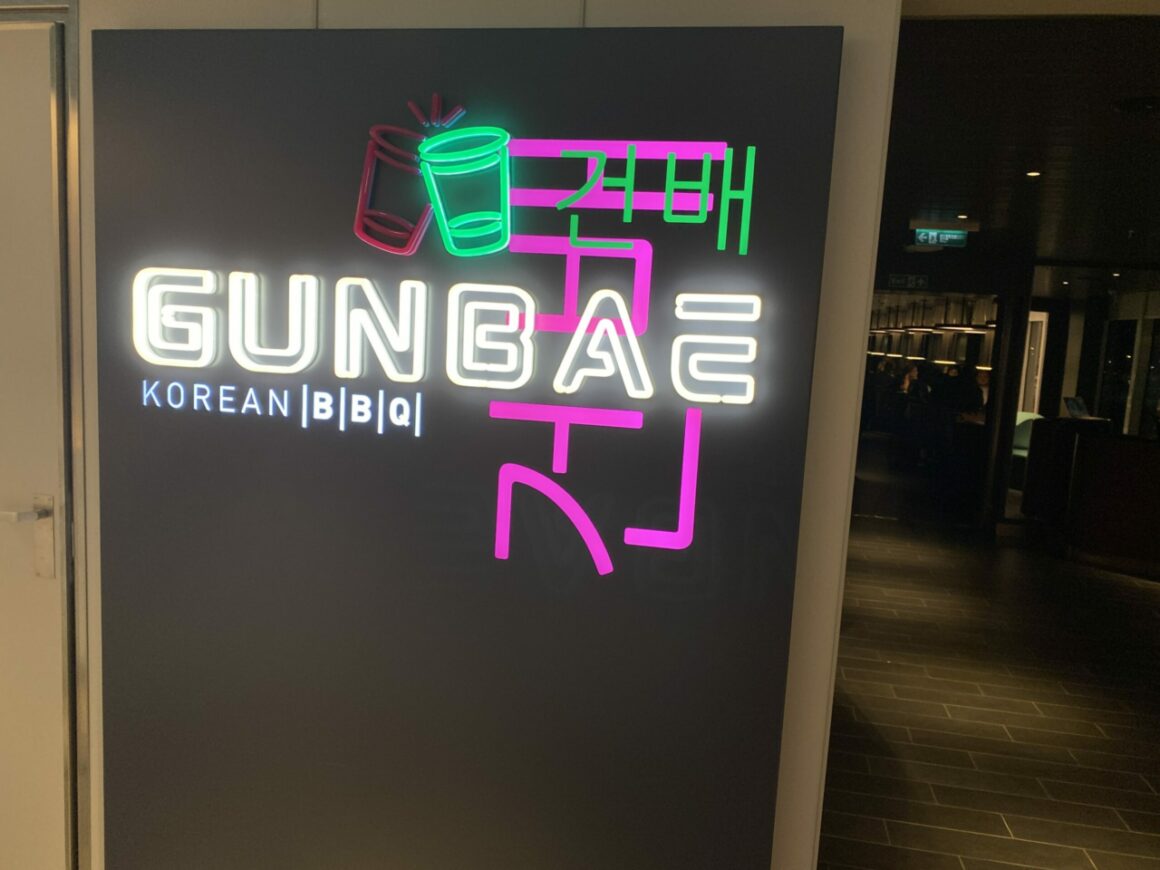 This is an interactive experience as well as a restaurant and is best enjoyed with a group of people.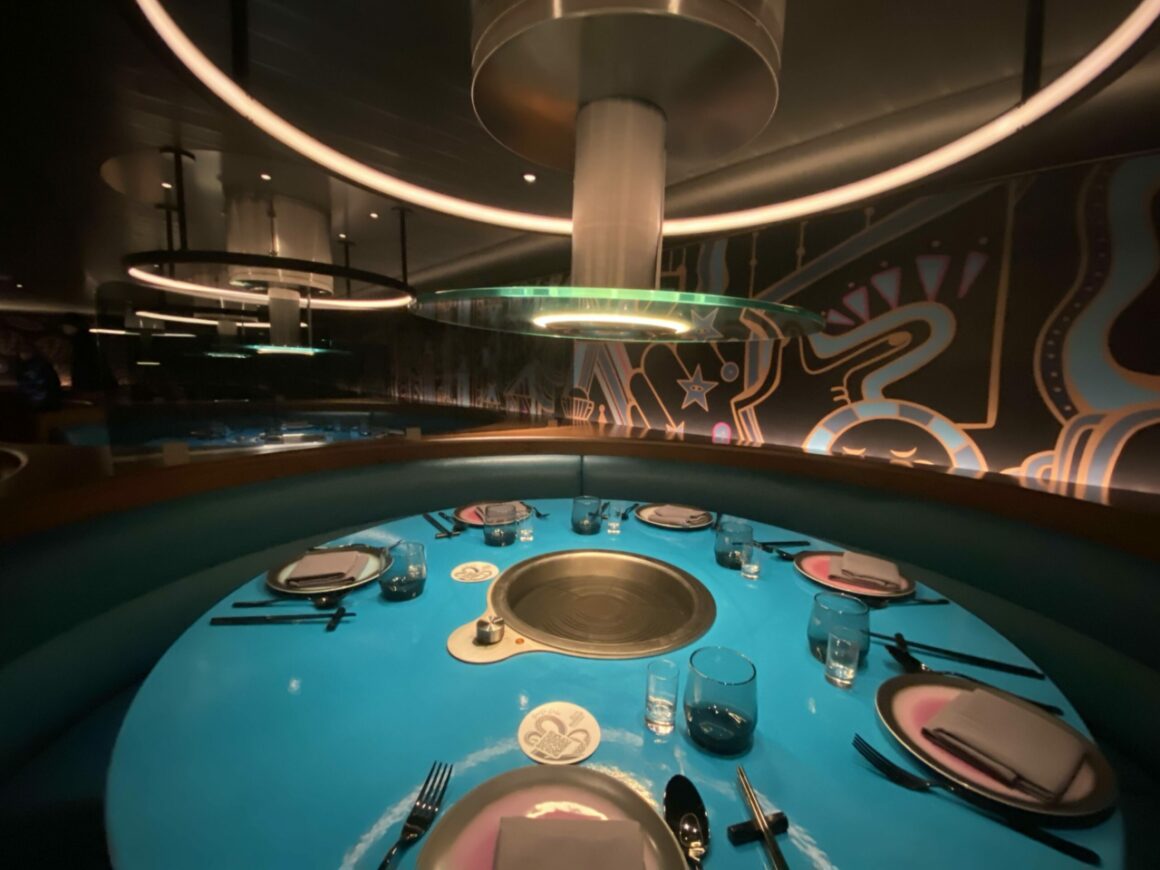 The staff were great fun and encouraged us in a few games to keep us entertained as they cooked the food for us on the BBQ. The drinks selection was very limited though, which we fed back so hopefully, they will fix that.
There was plenty of choice and food came with a selection of sauces for dipping. I particularly enjoyed the black sesame ice cream afterwards which was a bit like an Asian Mr Whippy with lots of toppings!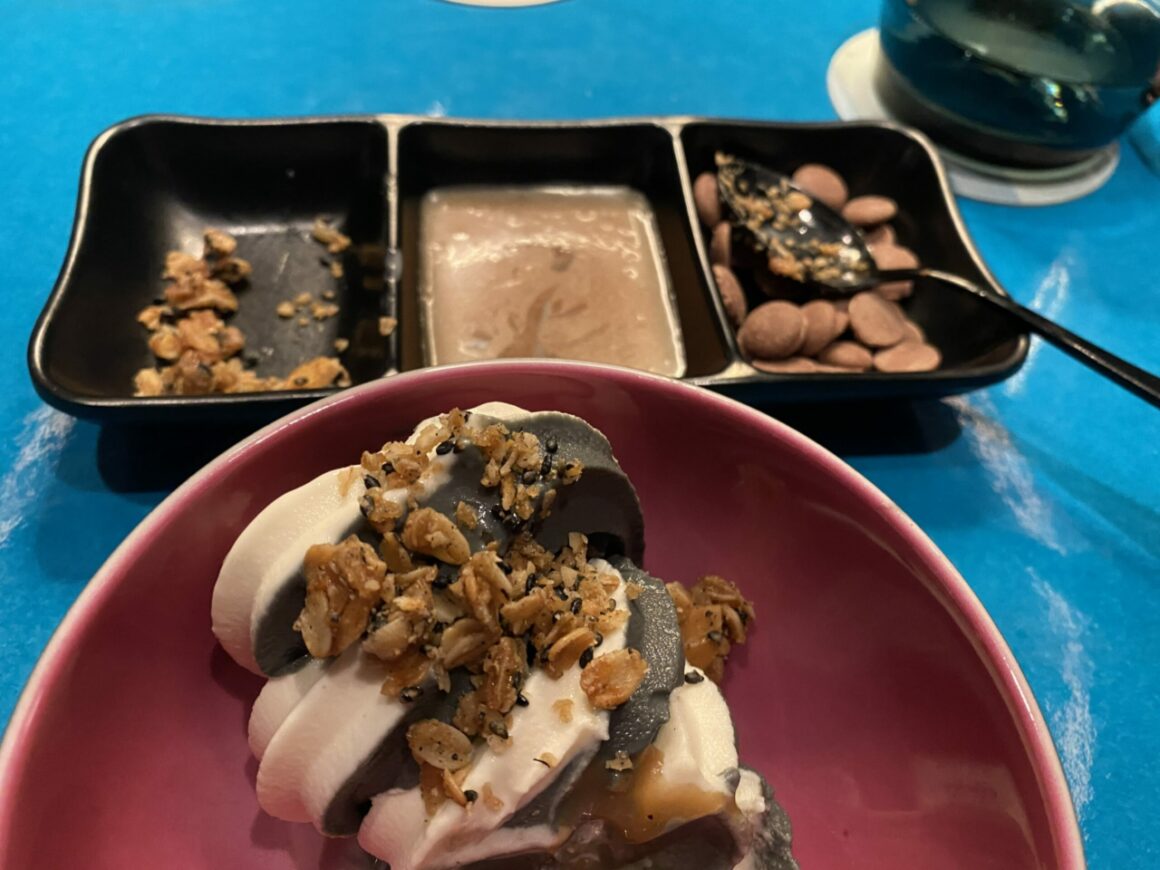 Pink Agave – Modern Mexican
This was also one of the smarter restaurants on the ship. If you have only ever been to Chiquitos, this experience is very different – modern and upmarket.
The menu was really interesting, and the cocktails were also unusual.
I went for guacamole, aguachile, the Pescado and the chocolate taco. I found the dessert a little too sweet but the rest of it was delicious. The fish was cooked perfectly and was beautifully soft and moist. The mole sauce packed a punch in flavour and heat!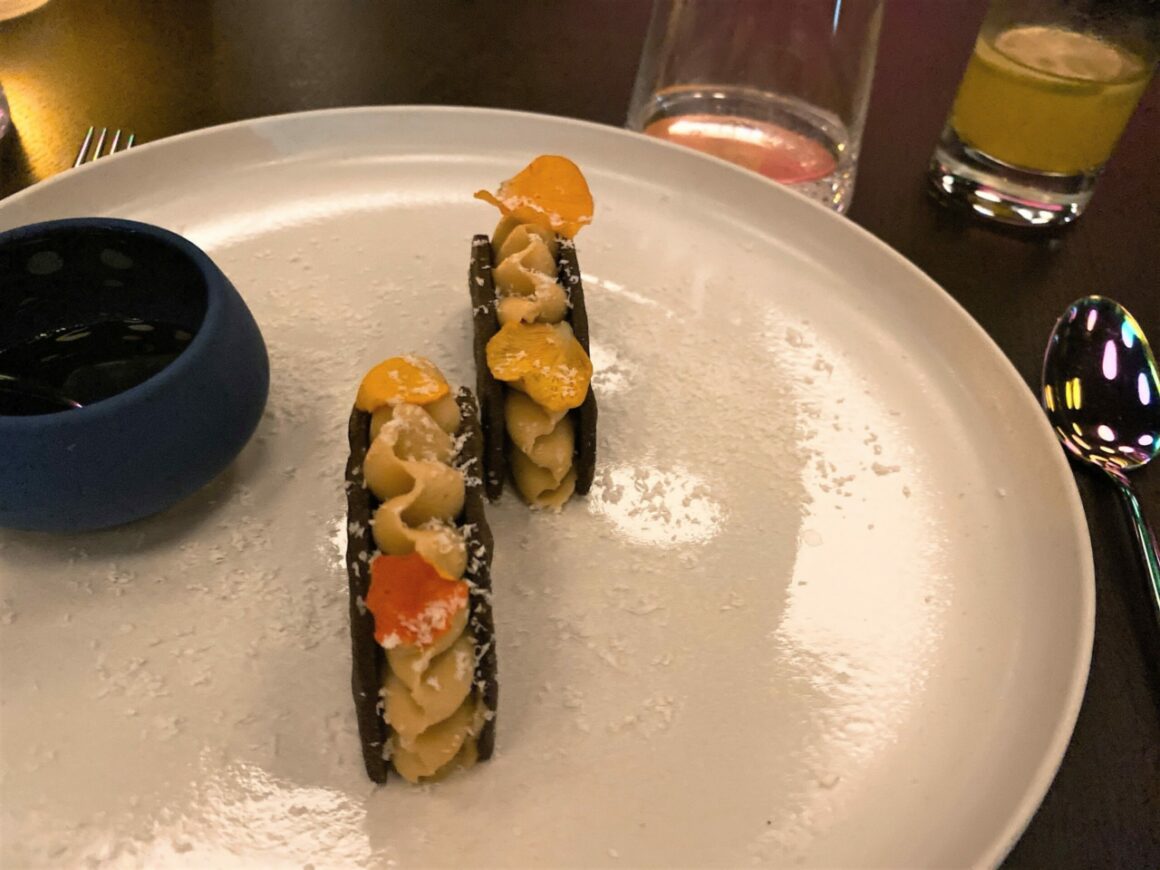 The Dock and Dock House
This was another favourite of mine with its inside/outside area and Mediterranean feel. It serves tapas and drinks with a self-service area if you just want to grab something to take away.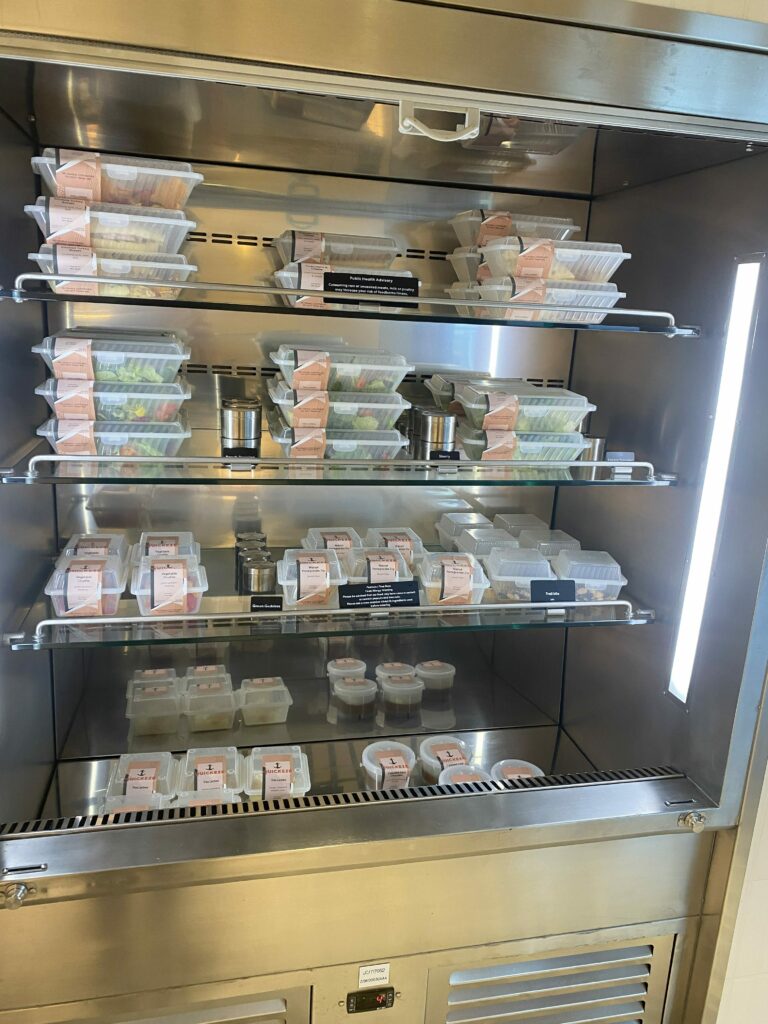 I tried a number of the tapas and enjoyed them all. They were bite size and came quickly, so perfect for a quick lunch or snacks. The cocktails were great here, too, and there was a child vibe in the evening with live guitarists.
Snacks
There are food outlets open 24 hours a day as well as room service to your cabin. The ice cream was particularly amazing with a choice of modern flavours and different flavour waffle cones plus, there is a pizza place and several burger/snack places.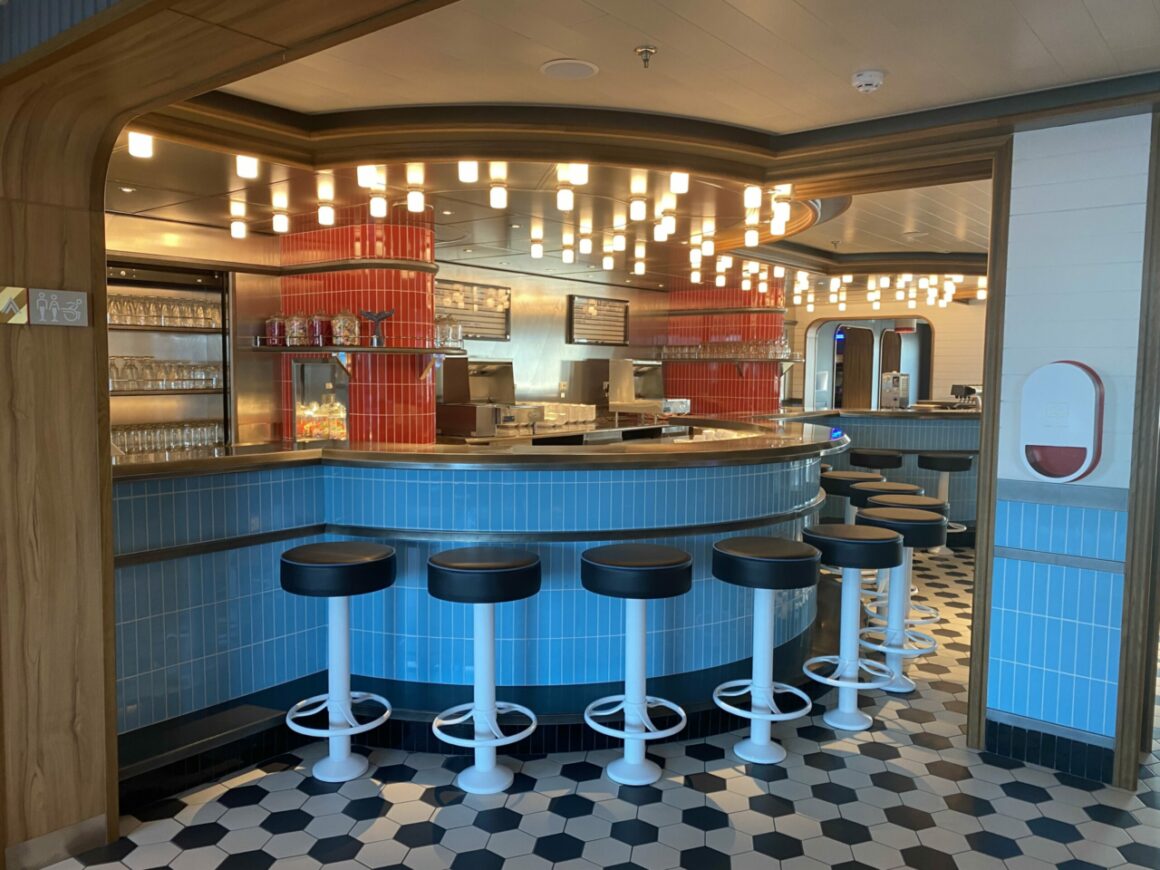 Bars and coffee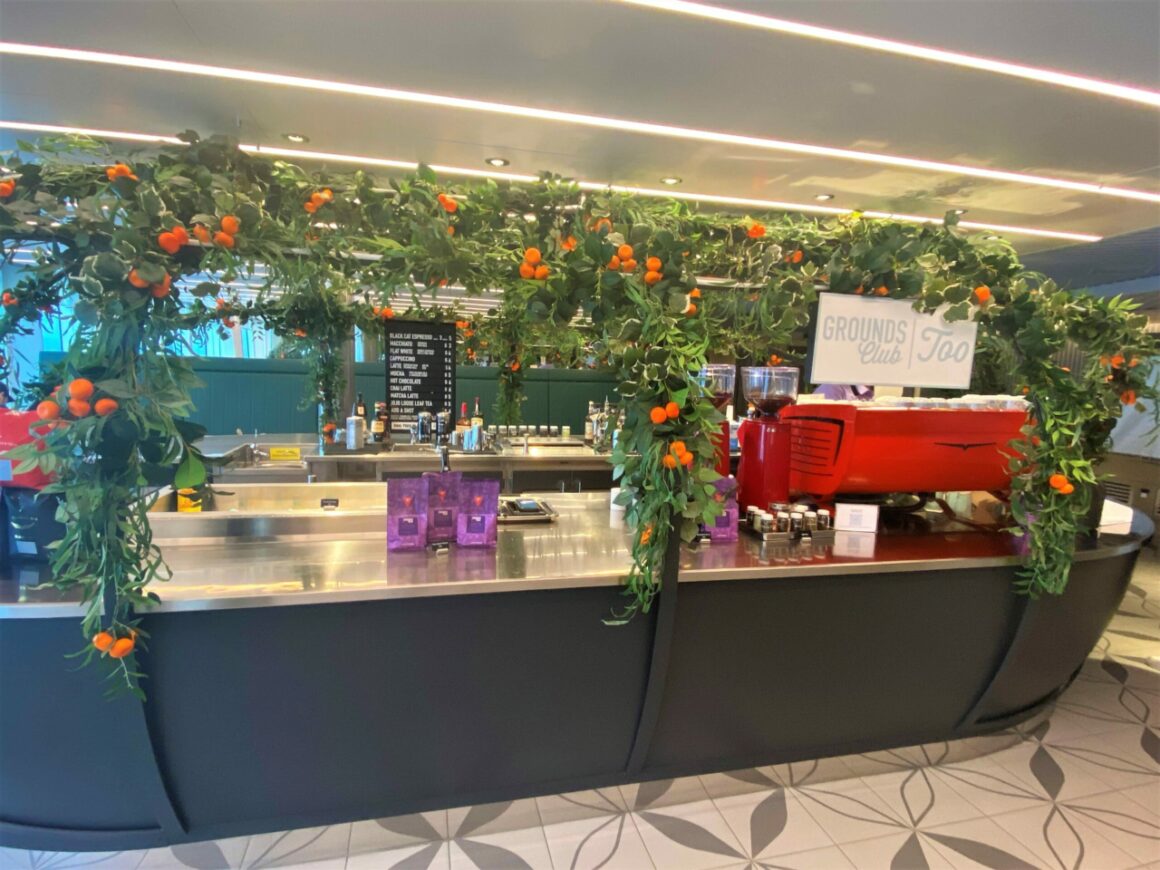 There are two coffee places called the Grounds Club, which serve all the regular coffee drinks you can think of as well as some alcoholic versions too.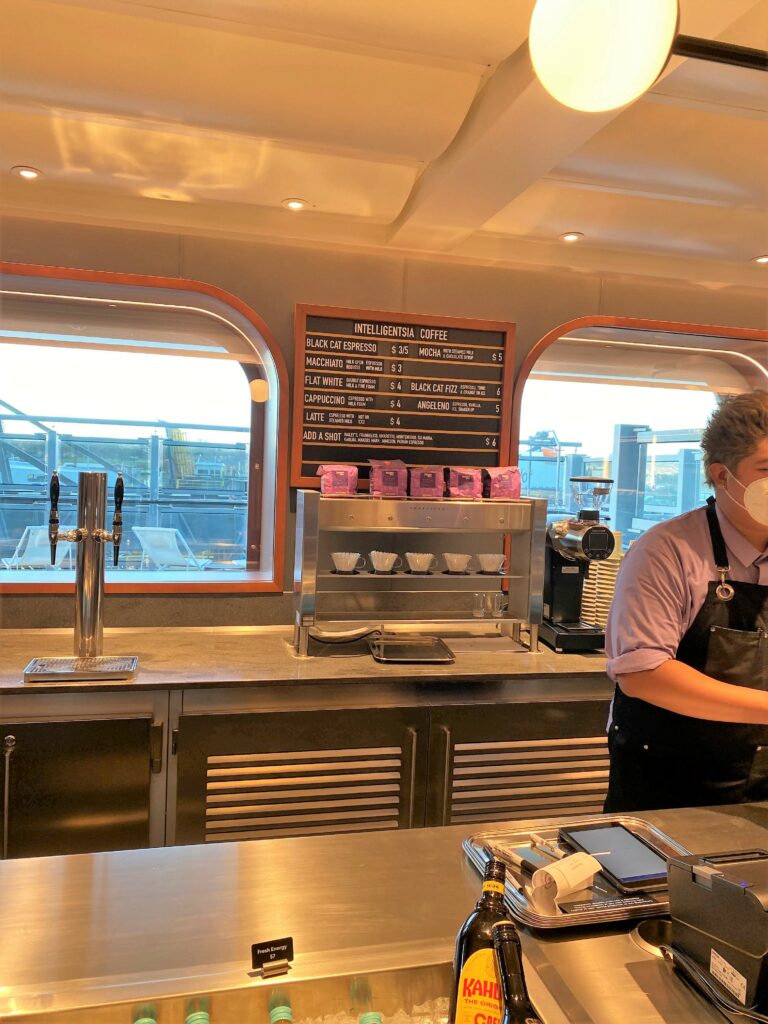 There's a variety of bars and a brew pub, but I liked Sip the champagne bar and the bar on the entrance deck, On The Rocks that had live music in the evening. You can get caviar, afternoon tea, cocktails, and champagne here. Prices are reasonable, with beers from $5, cocktails from $9 and wines by the glass under $10 in many instances.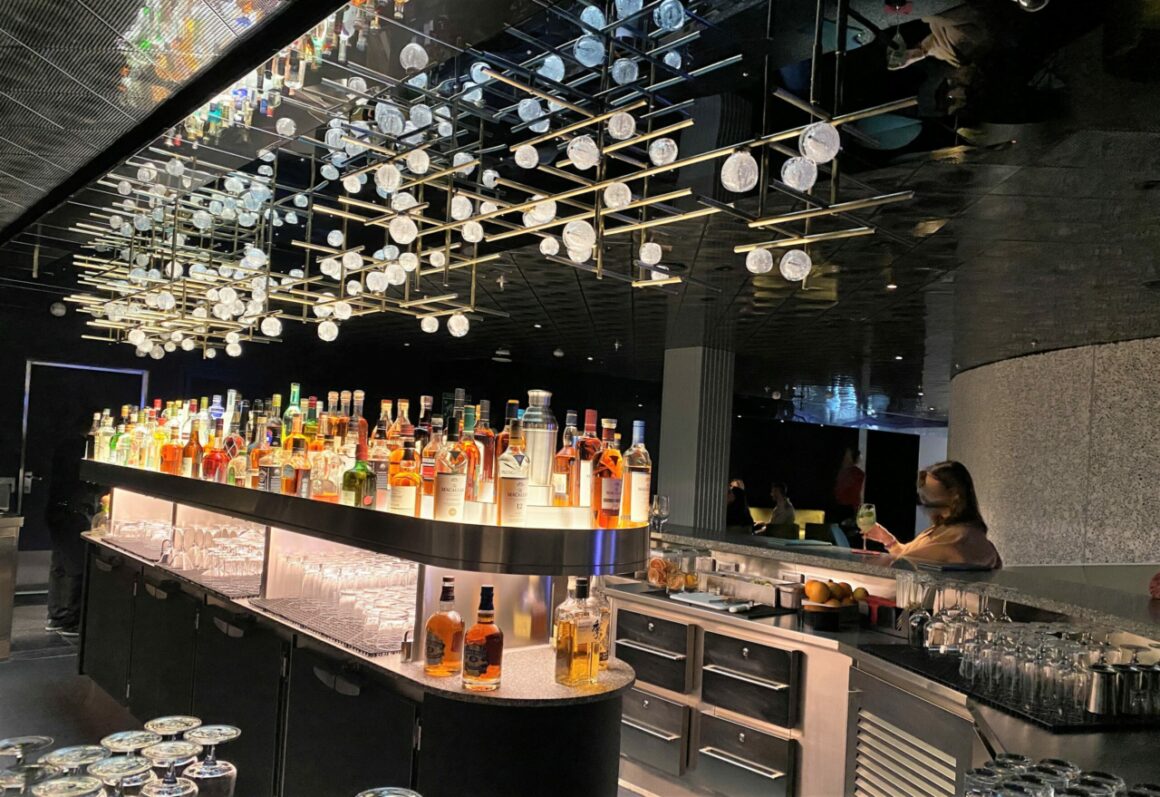 Plus obviously there is the infamous "Shake for champagne" where you shake your phone and you can order champagne to be delivered anywhere on the ship (for a cost of course!)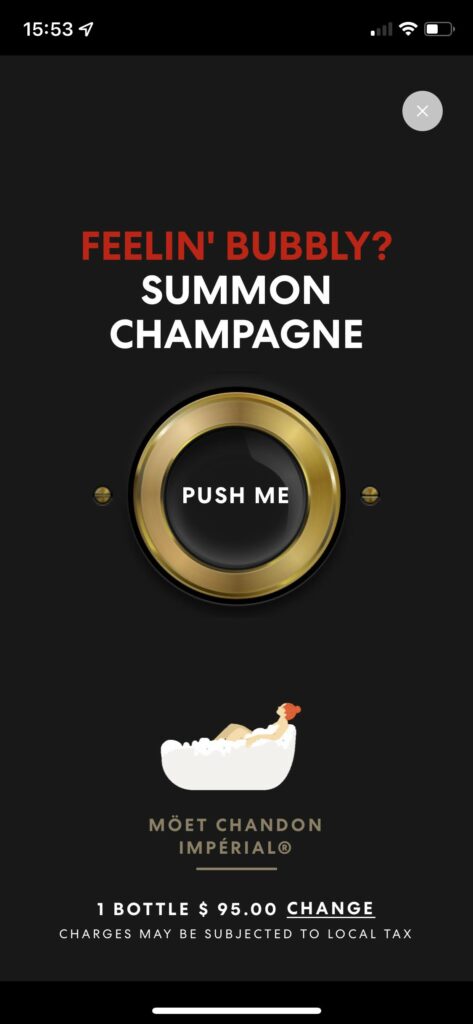 Activities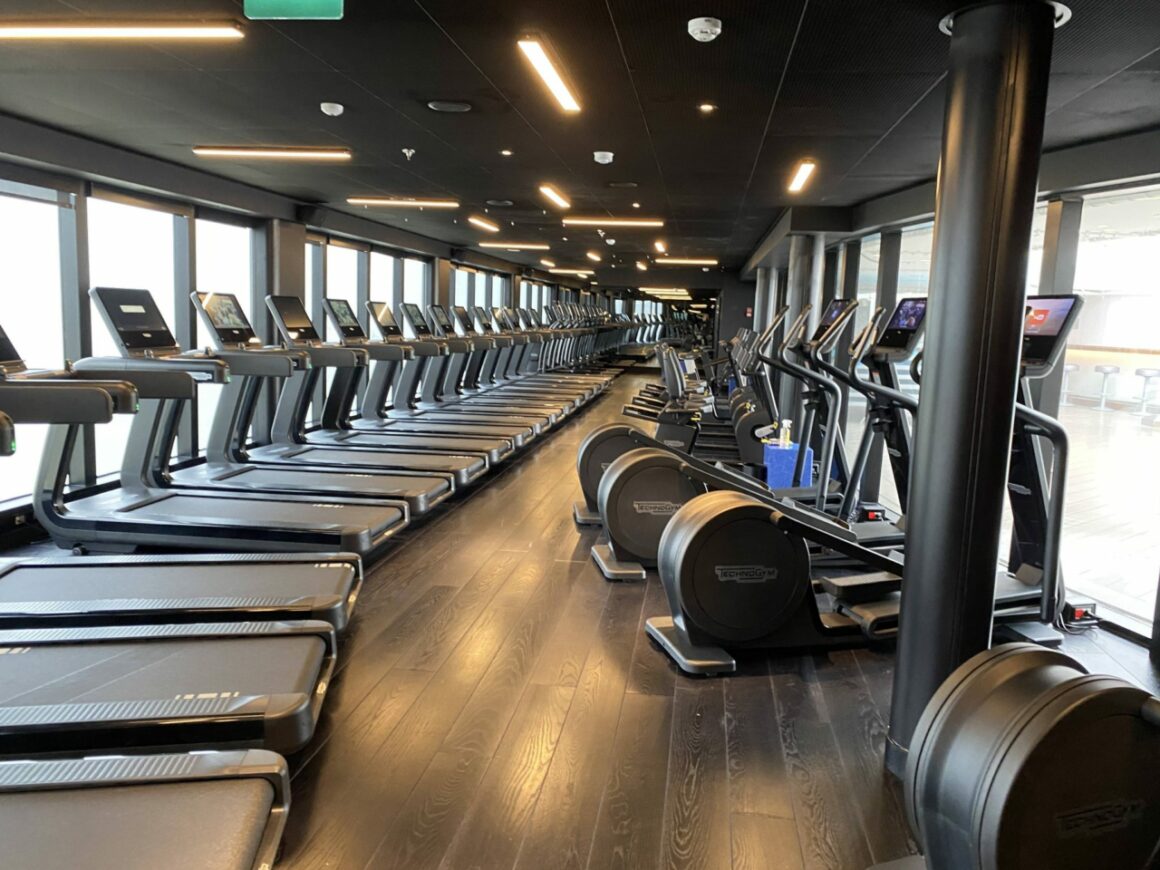 Fitness
There is a big focus on fitness on Virgin Voyages and the facilities are incredibly comprehensive with a fully equipped gym, an area focused on balance and weights, Bike and Burn for running machines, bikes, and rowers, basketball court, adult see-saws and a jogging track.
From sun-rise yoga to outdoor boxing, meditation to HIIT workouts, and even specifically curated hikes at ports, the range of wellness activities is vast (you'll need it after all the food!). The fitness classes are plentiful and have an element of fun such as the 80s class that was on offer when I was there.
Pools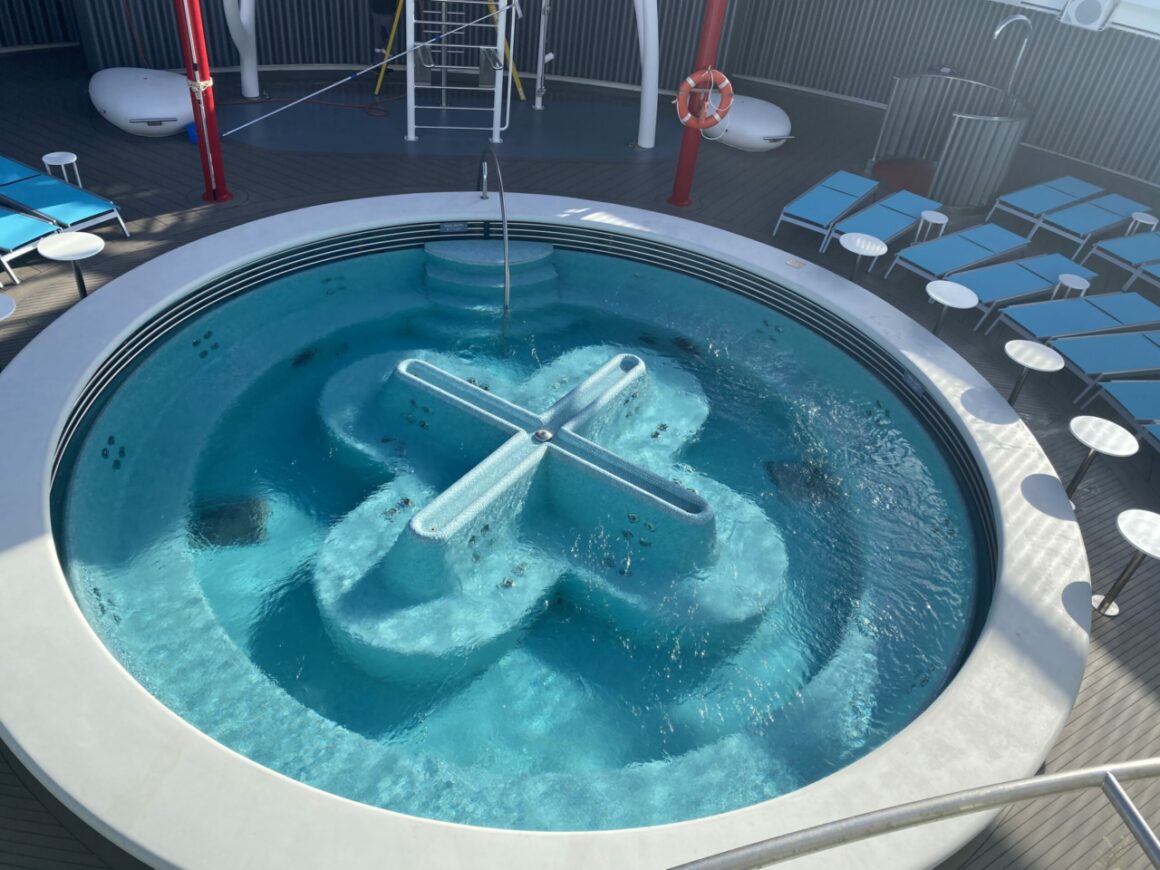 If you didn't want to spend out for the spa there were several pools outside including a hydrotherapy pool and hot tubs.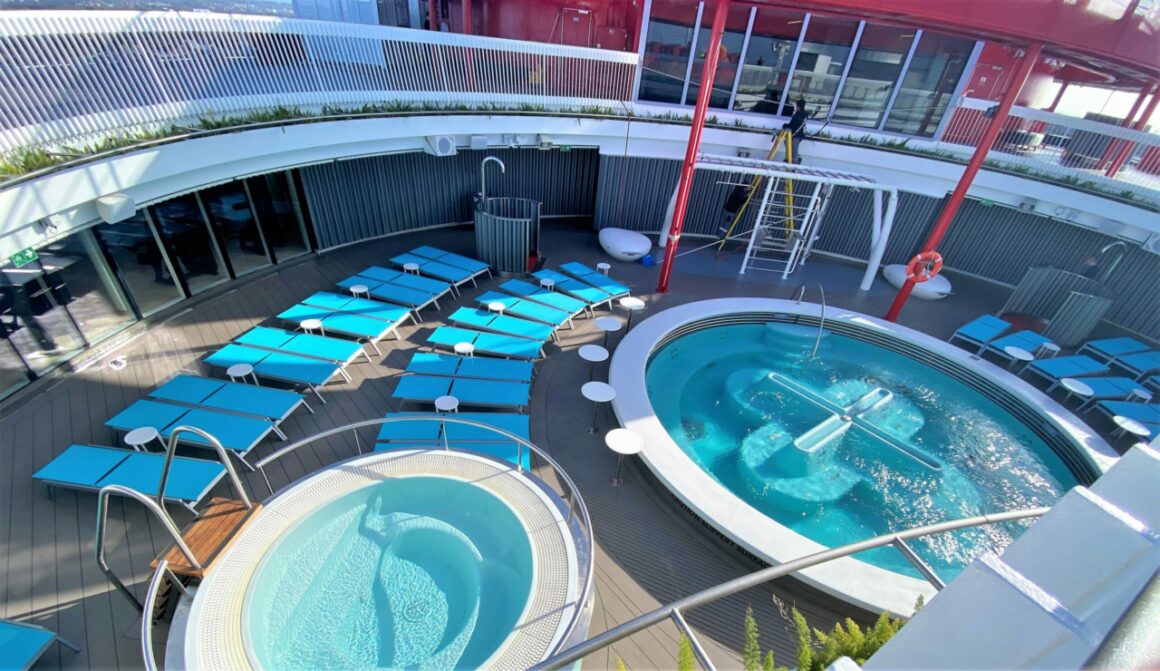 There was also the main pool which is more for lounging than swimming.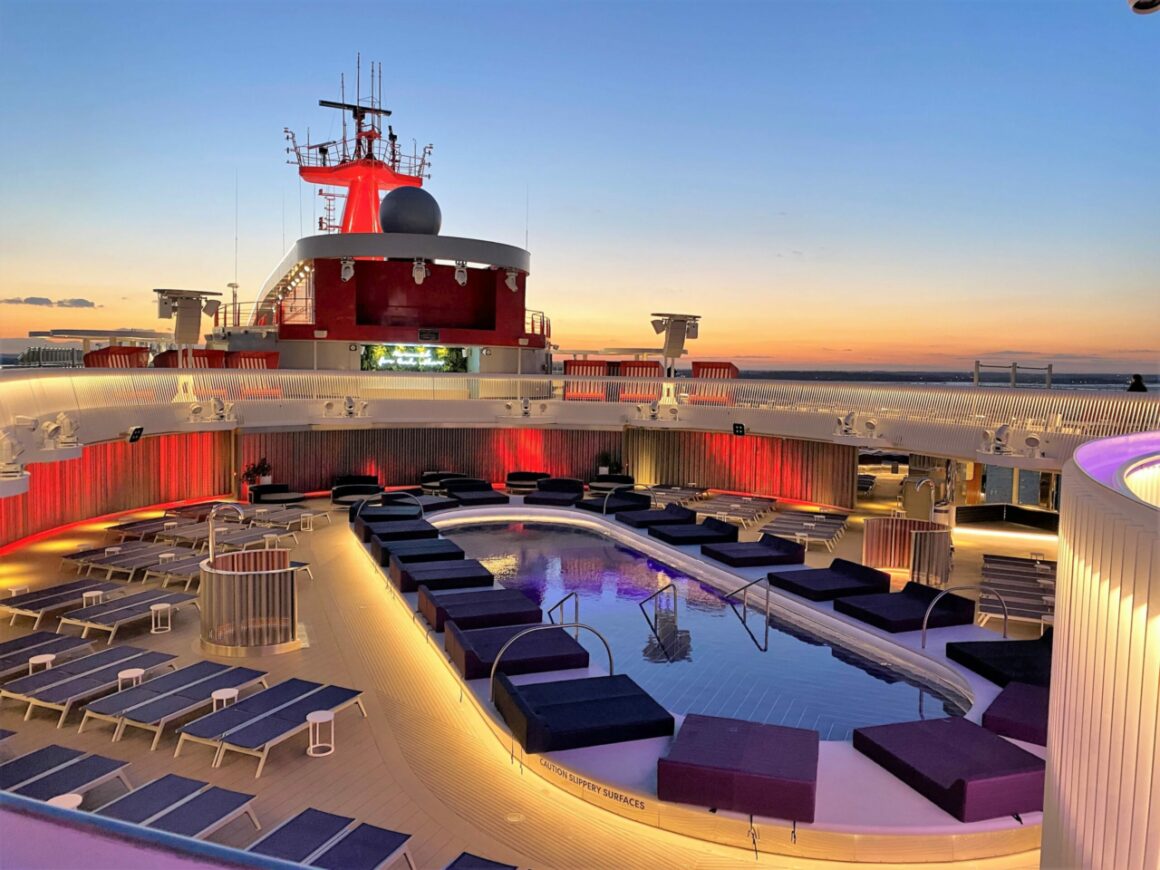 Shopping and services
On the entrance deck is a shopping arcade and a tattoo parlour, mani-pedi station, beauty salon offering "tweakments" and hairdresser/barber. The was a great range of shops which felt different from other cruises I had been on. There was far less focus on duty-free booze and perfume and more emphasis on style. I found the prices started reasonably and ended up with a few pieces of jewellery and some Virgin Voyages memorabilia.
There is also Richard's Records on a different deck.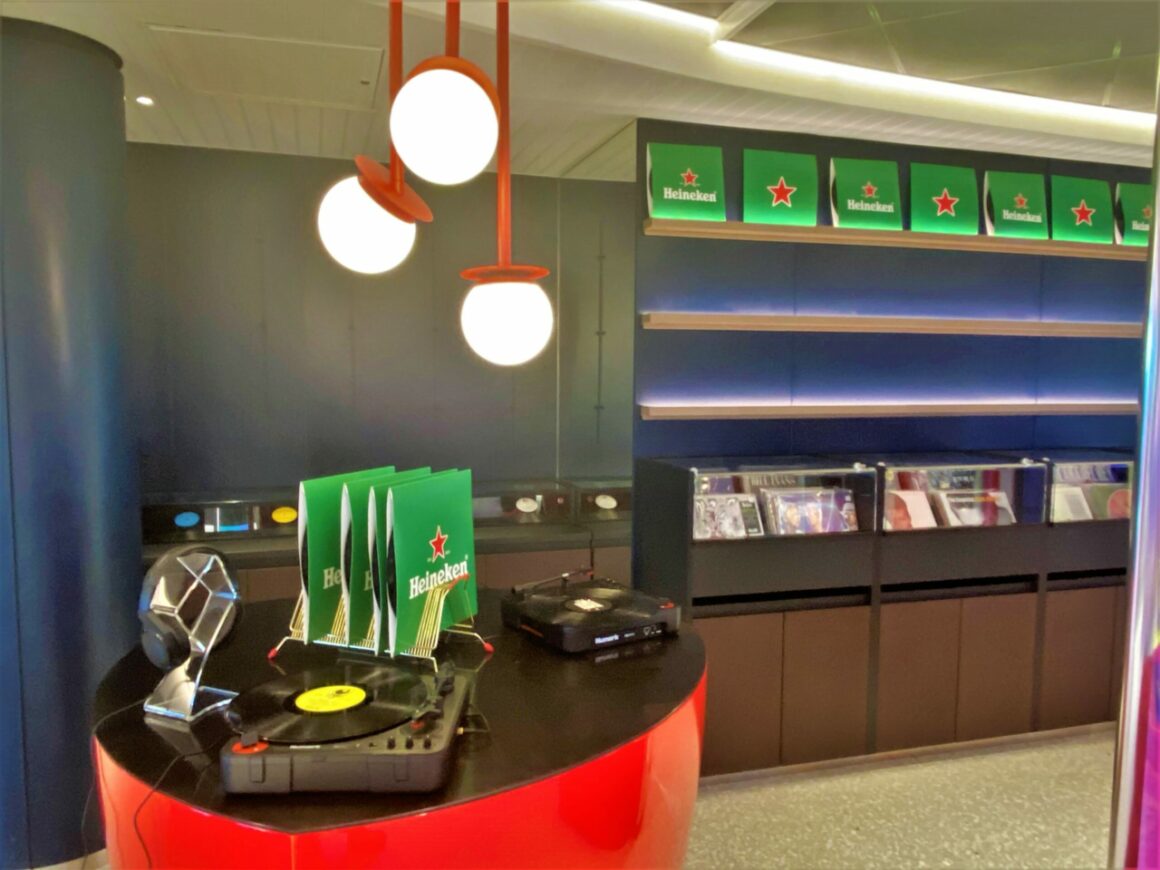 Other
In port, a good range of tours was available from foodie focused to more traditional sightseeing. You could book all these through the app.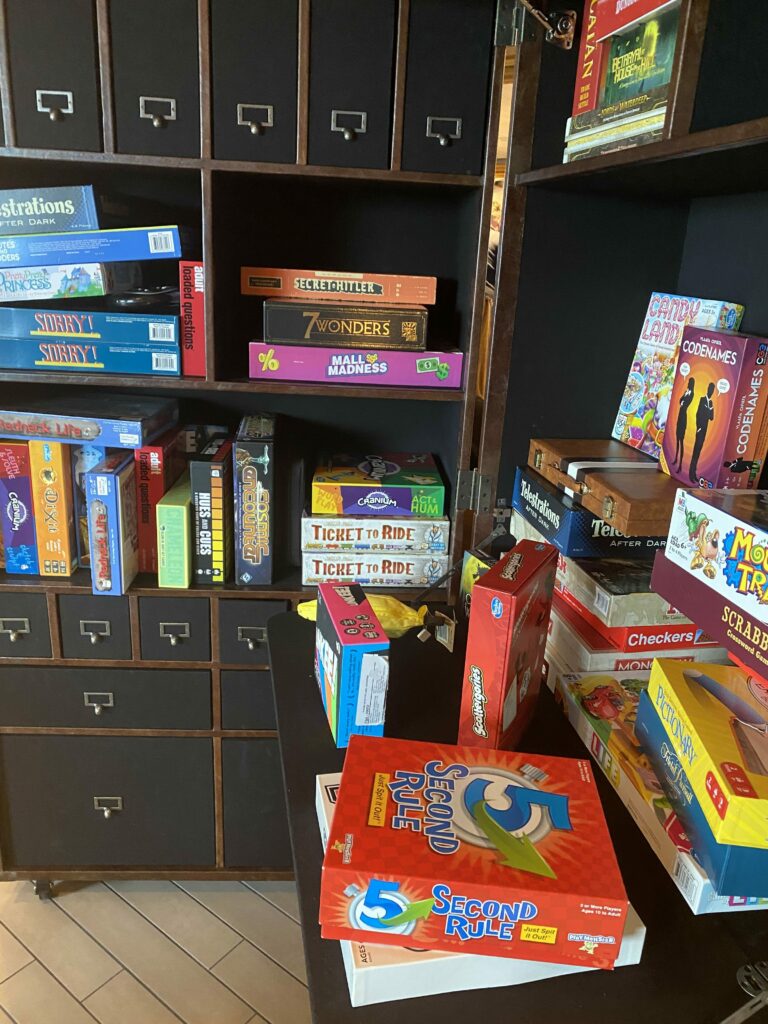 There were also areas with traditional cruise ship games as well as board games you could borrow.
Entertainment
I reviewed the formal shows that are held in their theatre and The Manor nightclub in my previous review. On this trip, I sampled some of the live music in the bars, which I loved from a blues band to a guitar player who was a bit Ed Sheeran, style-wise. I loved relaxing at The Dock, particularly on the day beds with a drink and some live music.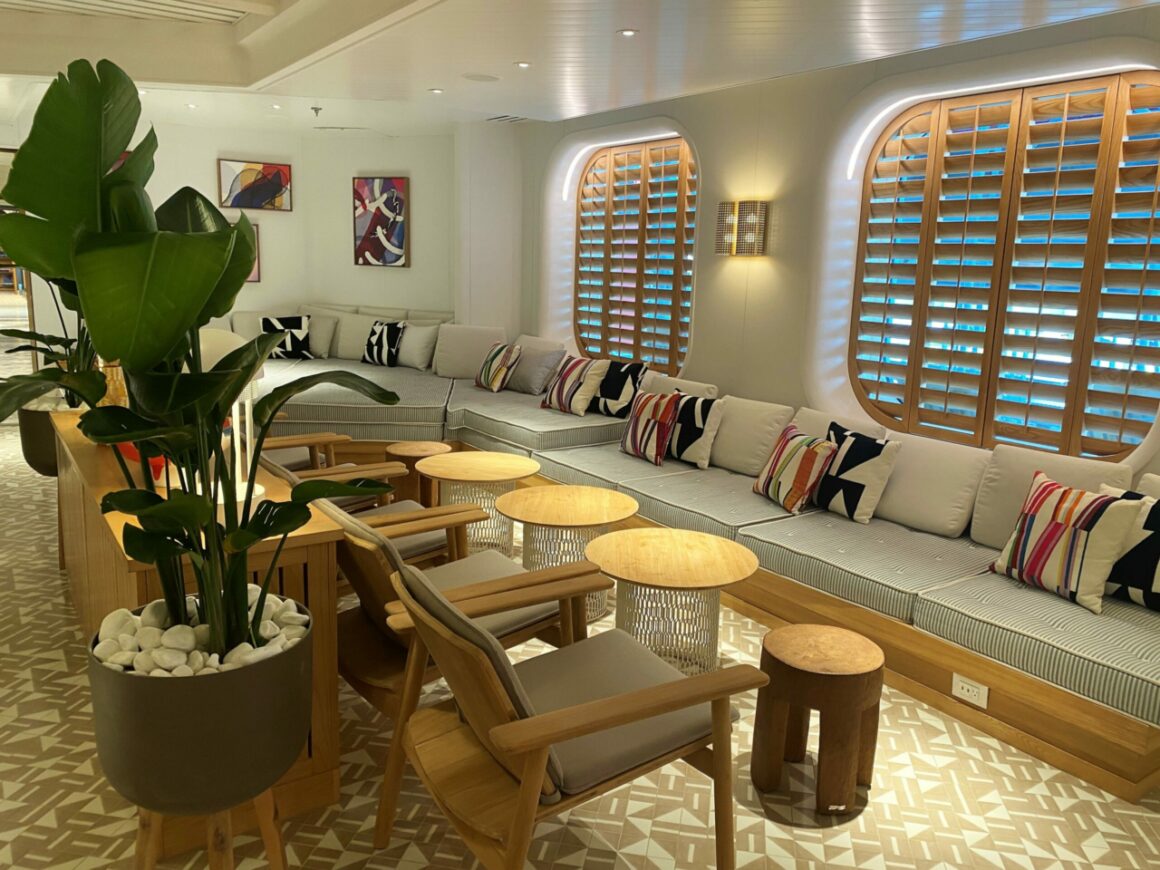 I also attended another show by their resident "Sexpert." Some people loved this, but I hated it. I'm definitely not a prude but I found this childish and gratuitous. It's a shame as the show I saw was fantastic. It had the dreaded "audience participation," which you couldn't really avoid and at one point involved one much older gentleman having to tell me about his first sexual memory which gave me the "ick" in a big way.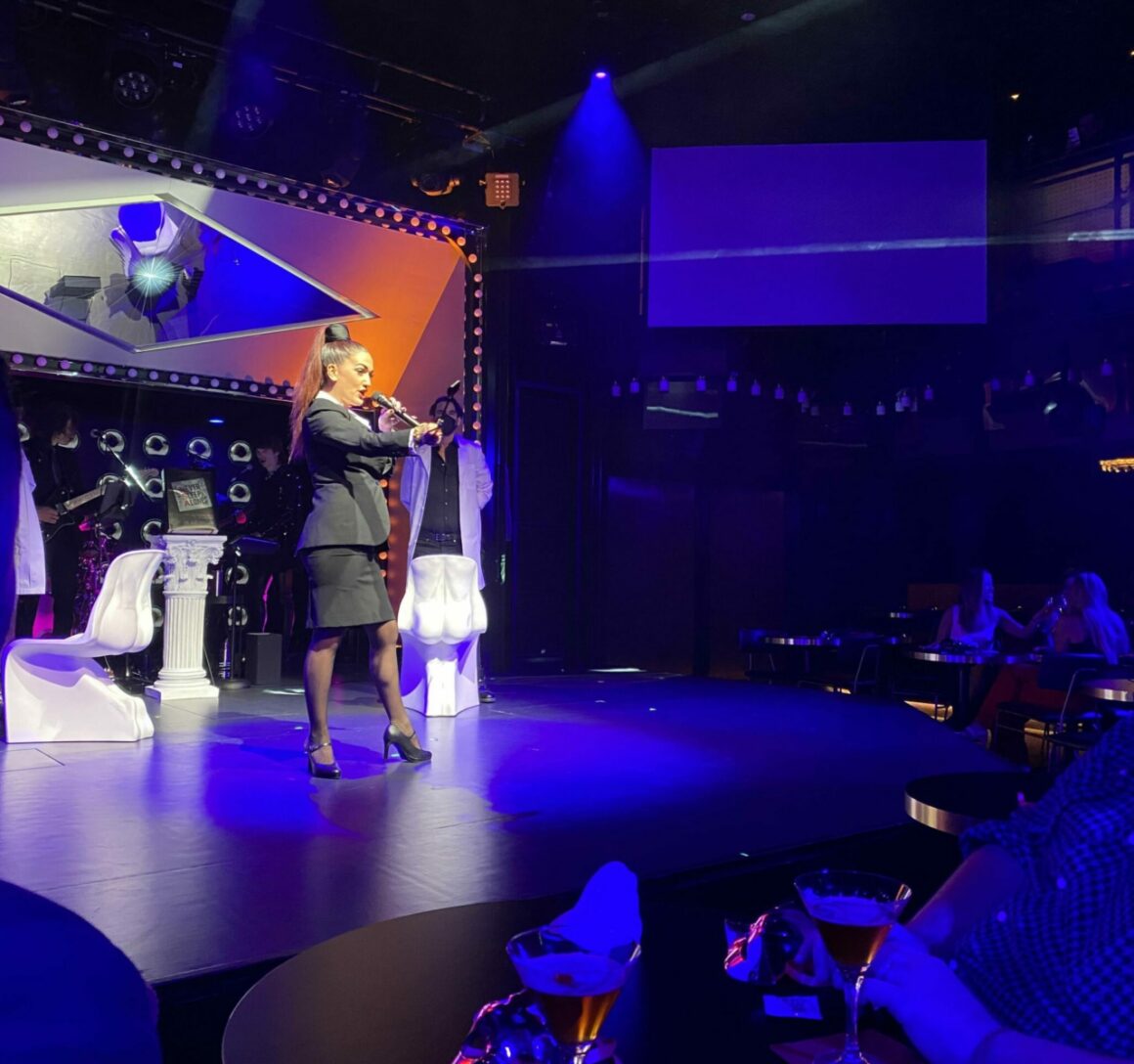 There was also a scene on stage with a banana and a watermelon and some audience volunteers. I am sure you can guess the rest, but this felt very downmarket and unimaginative.
I also didn't really see the need for the woman presenter, who allegedly was a properly qualified doctor to strip off at the end. That felt very tacky and unnecessary in 2022. If it served some sort of a purpose like for a dance or something, then fair enough, but it seemed an odd way to end for what is normally a very inclusive company.
There was also the Virgin Scarlet night, where they dress the ship up, and guests are asked to wear at least one red item. This is their equivalent of a formal night without the formal. They then had a dance party with professional dancers and a DJ. I much preferred the Manor nightclub to this personally as there you can sit and watch the action with a proper drink whereas the party was standing only and had a very limited drinks list.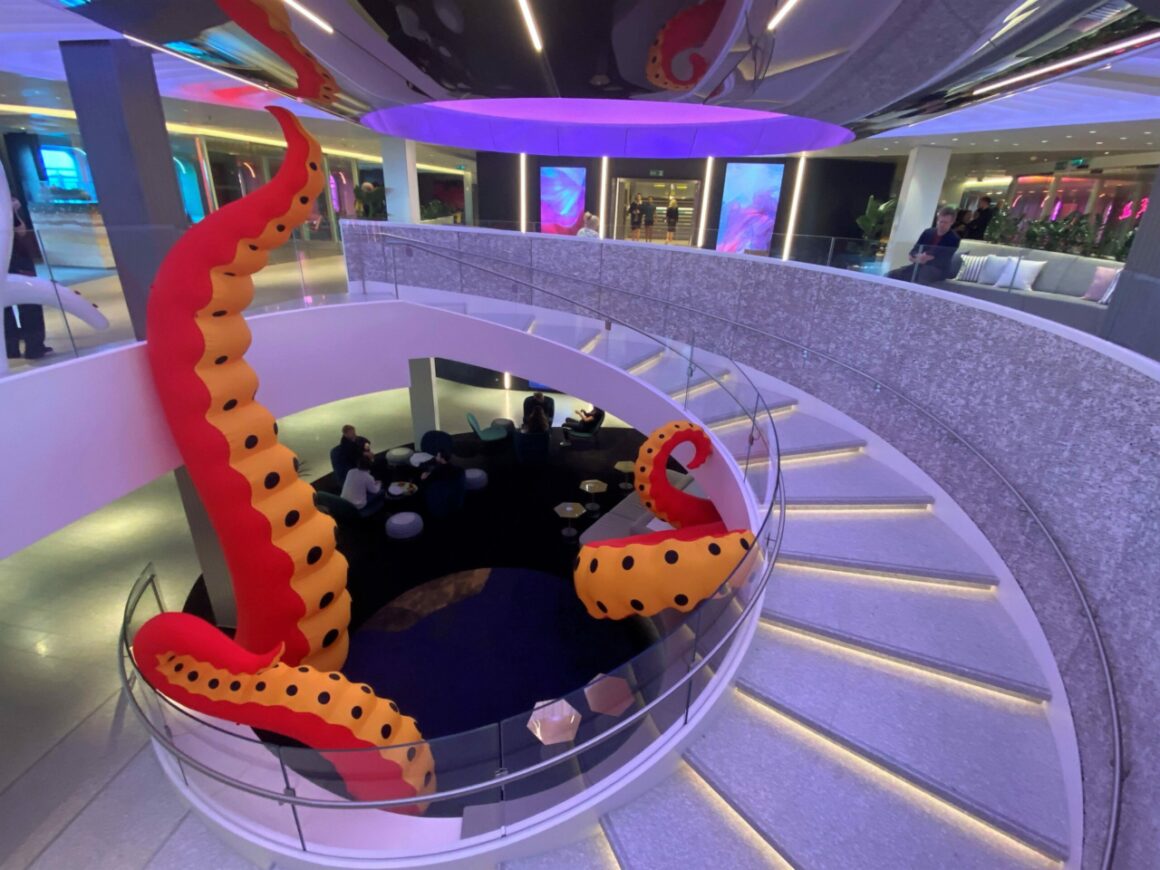 Spa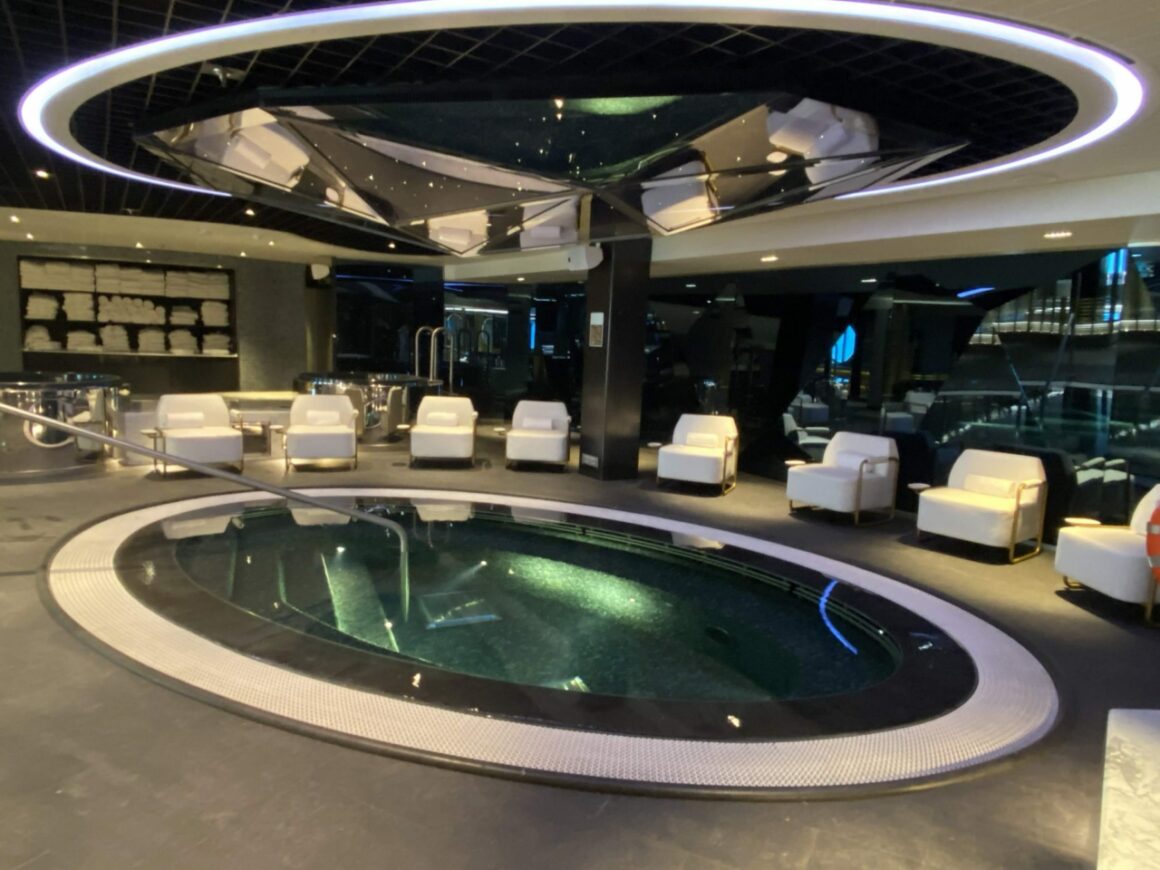 The use of the spa is not included, which is a shame, but given that it is quite small, it's probably necessary. It varies depending on whether you are in port or not and costs from $75 for a day pass. I could secure a 3-hour slot on my cruise since it was only a mini one.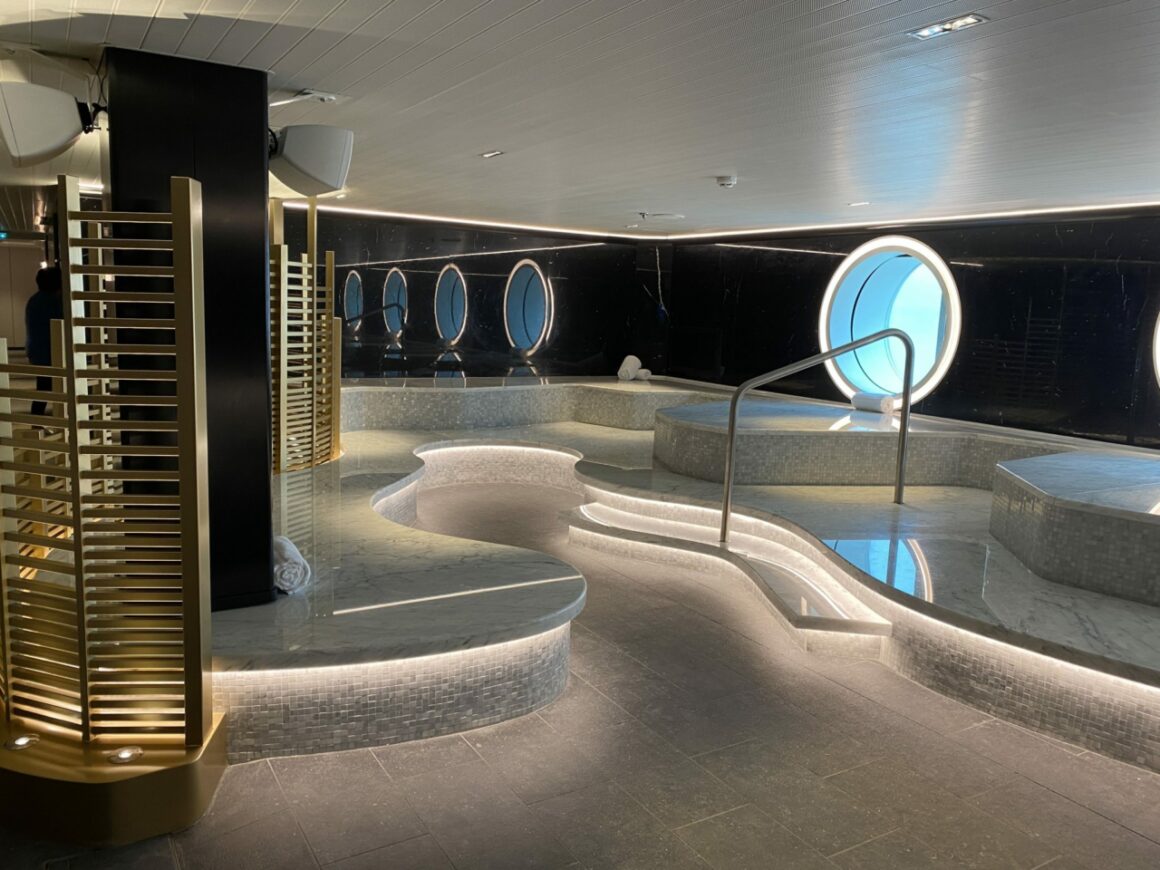 I really enjoyed using the spa as there was plenty of facilities to use and lounging on the heated stones and watching the world go by was very relaxing. We were first handed a cup of mud to use in the steam area, which was fun. There's also the main hydrotherapy pool, salt room, sauna and hot tub, and the heated stones slabs.
The treatments were fairly eye watering as you'd expect from a luxury cruise line.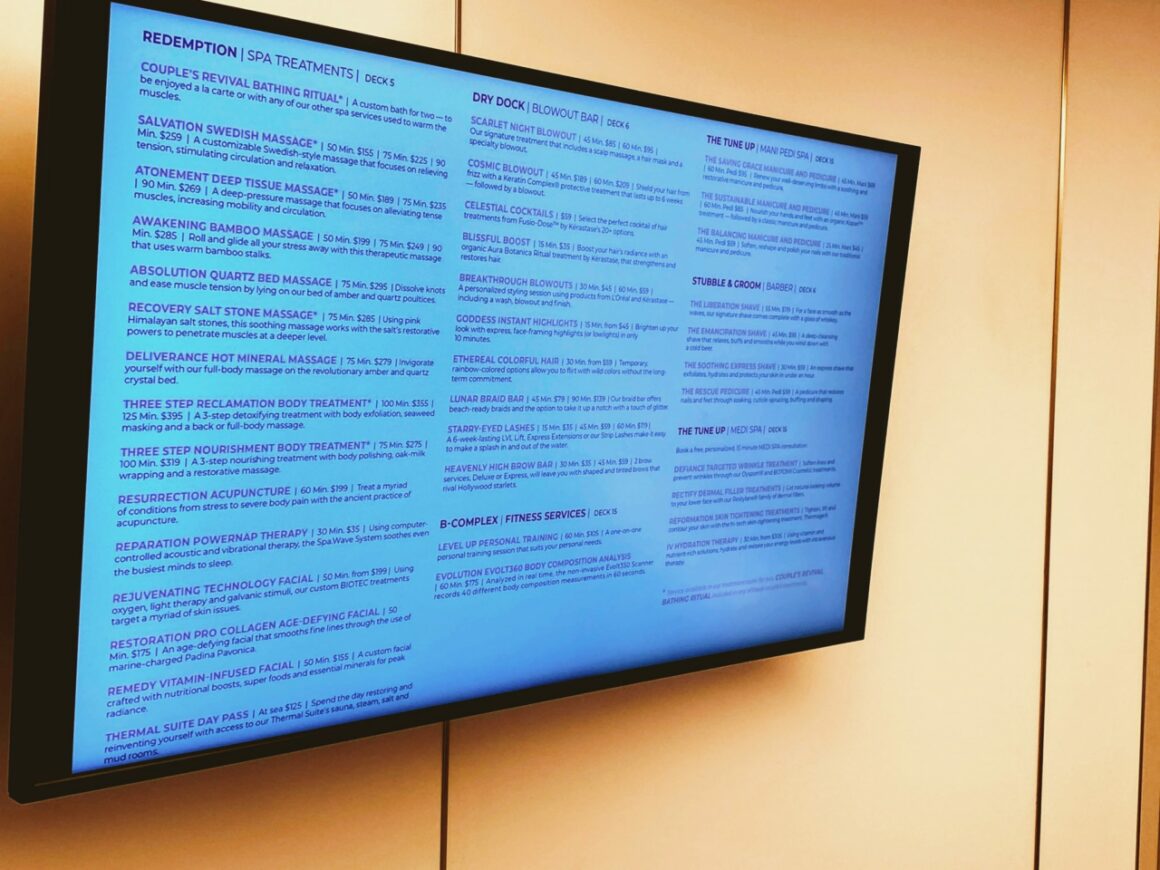 I decided to try the Deliverance hot mineral massage as I was keen to try out their quartz bed as I had never seen anything like it.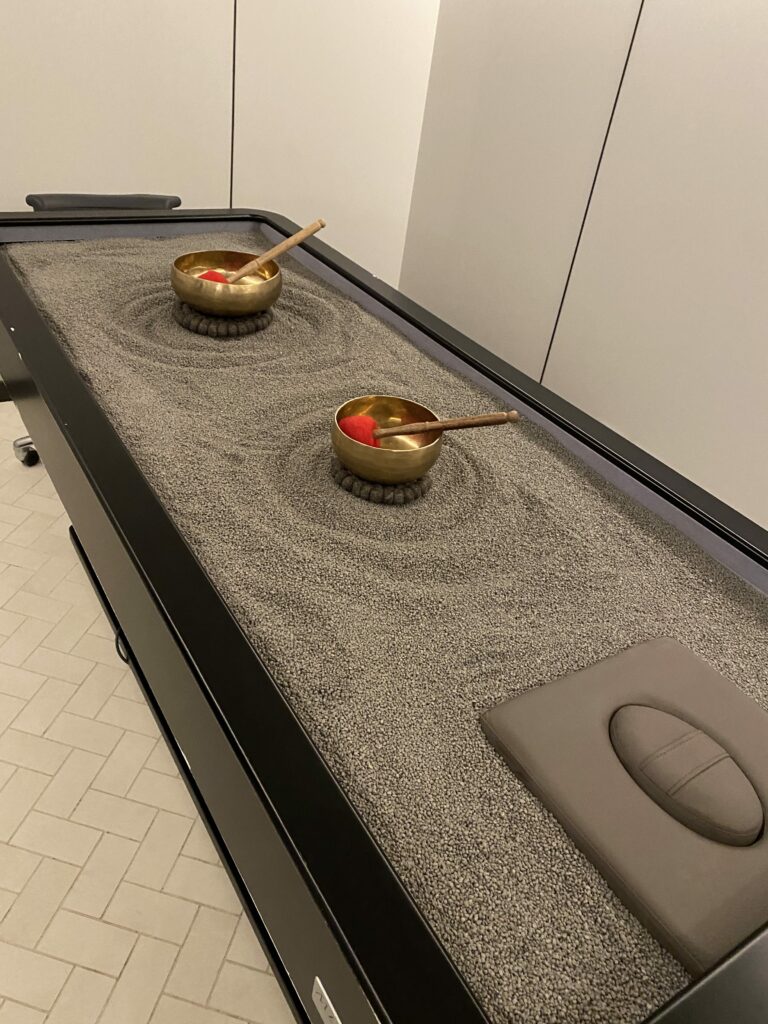 The treatment was pretty amazing with a lovely therapist. It's a bit like lying on heated sand as they mold the warm quartz around your body on the table supporting you, and it also helps any stiff joints with the heat.
Public areas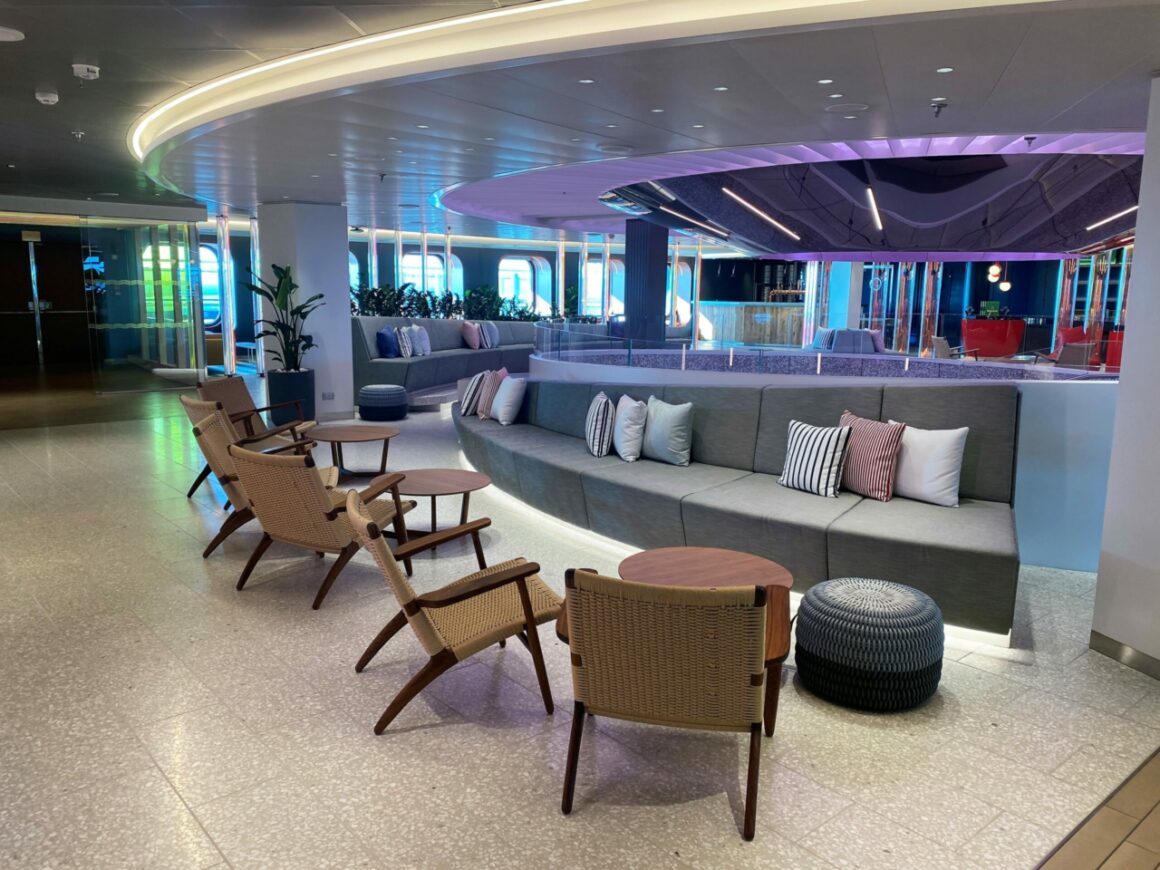 If you wanted to just relax out of the cabin there were plenty of places to sit around the ship both inside and out.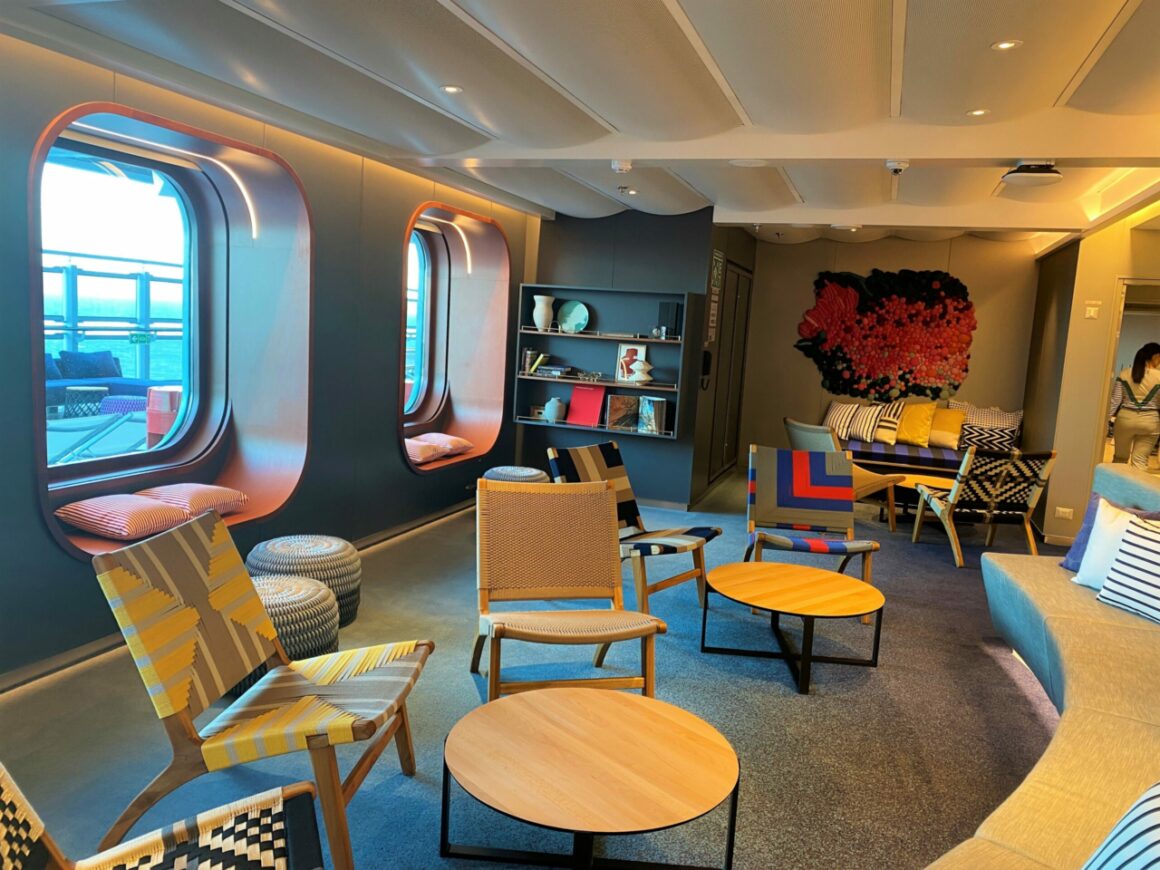 I liked this outdoor area near the Pizza Place for some peace and quiet.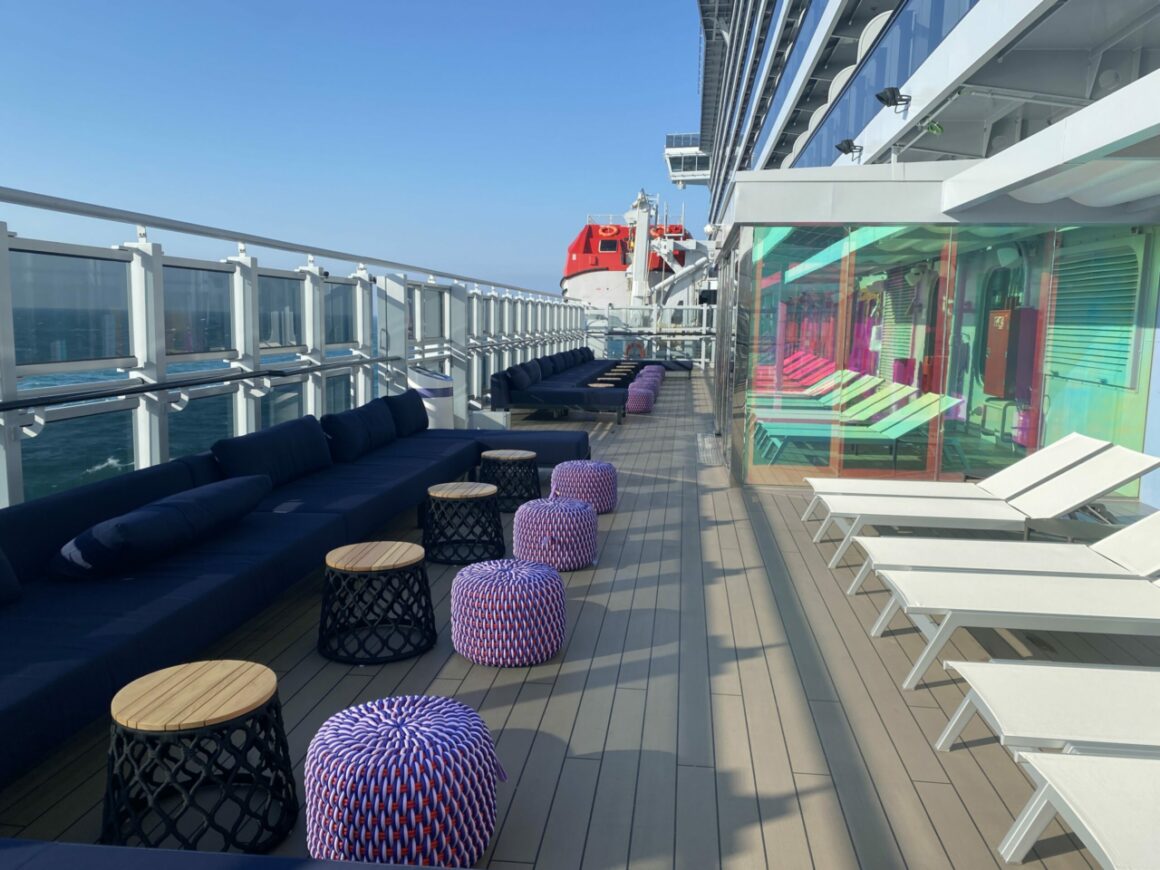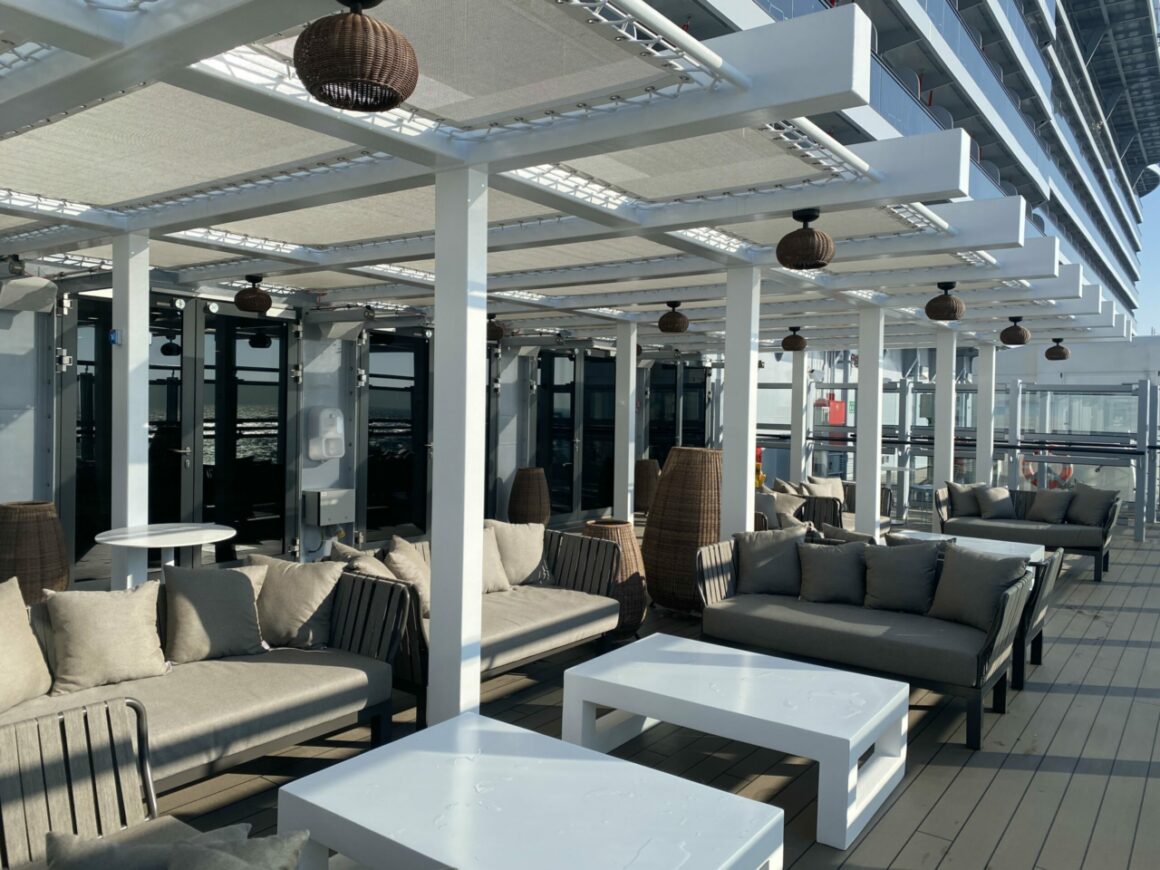 The offer
Virgin Red, Virgin's rewards club, has anchored some extraordinary exclusive deals for its members with sailings from Barcelona or Miami from as little as 110,000 points. If you are a Virgin Flying Club member, you can use your points, but you need a Virgin Red account to book.
You can choose between a seven-night voyage on Valiant Lady from Barcelona; or a four- or five-night sailing on Scarlet Lady from Miami. Virgin Red members can book Sea Terrace cabins for two Sailors on the time-limited reward rates up until 30 September 2022. Departure dates from Barcelona are from now and 16 October 2022, and Miami departures are from now and 31 December 2022. Cabins will either be a Sea Terrace or Limited view sea terrace, so the same as mine inside.
Virgin Red is free to join, so anyone can sign-up and earn points on their everyday spending to put towards future rewards. If you are a Virgin Atlantic Flying Club member, you can also link your account to spend your Virgin Points through Virgin Red.
All Sailors (passengers) must be fully vaccinated against COVID-19 to sail with Virgin Voyages. Proof of vaccination, including brand and dates of doses, is required, and Sailors will need to have completed a government-approved COVID-19 vaccine regime at least two weeks prior to their sailing date.
Miami
Virgin Red members can board Scarlet Lady and enjoy a four-night sailing from Miami for just 110,000 points or a five-night sailing for 120,000 points. Some itineraries also feature a stop at Virgin Voyages' private beach club in Bimini.
Barcelona
For 115,000 Virgin Points, Virgin Red members can book a Sea Terrace cabin for two sailors on board Valiant Lady for a seven-night sailing from the beautiful city of Barcelona and choose from three different itineraries.
To join Virgin Red, download the app here.