If you are unfamiliar with Ras Al Khaimah, you can read my article on why I loved my visit to the Emirate and why it is an excellent alternative to Dubai or Anu Dhabi. This hotel stay was a press visit, but I paid for my spa visit and some meals and drinks myself.
There are some hotels where you instantly feel at home and feel a sense of calm wash over you as you walk in. After my stay at the Movenpick hotel, it was a very different vibe when I arrived at the Waldorf Astoria.
Location of Waldorf Astoria hotel Ras Al Khaimah
Unlike many of the hotels which are situated on Al Marjan island, the Waldorf Astoria is situated on the mainland by a golf course and is walking distance to the Al Hamra Mall. It takes around 50 minutes to reach the hotel from Dubai airport.
Check-in at Waldorf Astoria hotel Ras Al Khaimah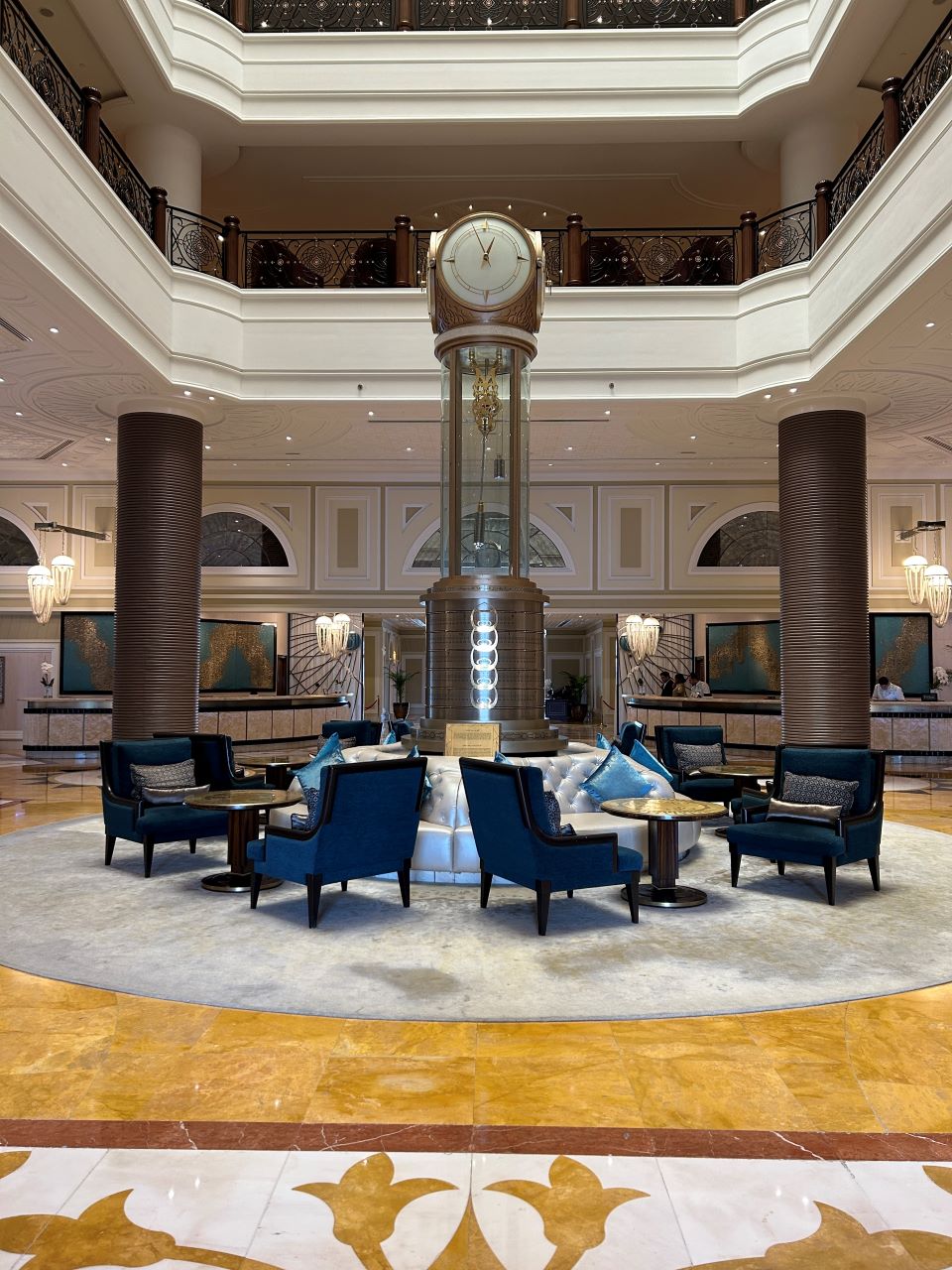 The hotel feels luxurious and quite grand with its clock in the foyer, however, unlike the Waldorf on the Palm, which feels almost intimidating with its marble foyer, this felt welcoming and elegant.
I was greeted at the taxi, and my luggage whisked away before being pointed in the direction of the check-in desk. I was given a lot of information about the hotel including which restaurants were open at what time, what was on that month at the hotel and a map of the resort.
Waldorf Astoria hotel Ras Al Khaimah Room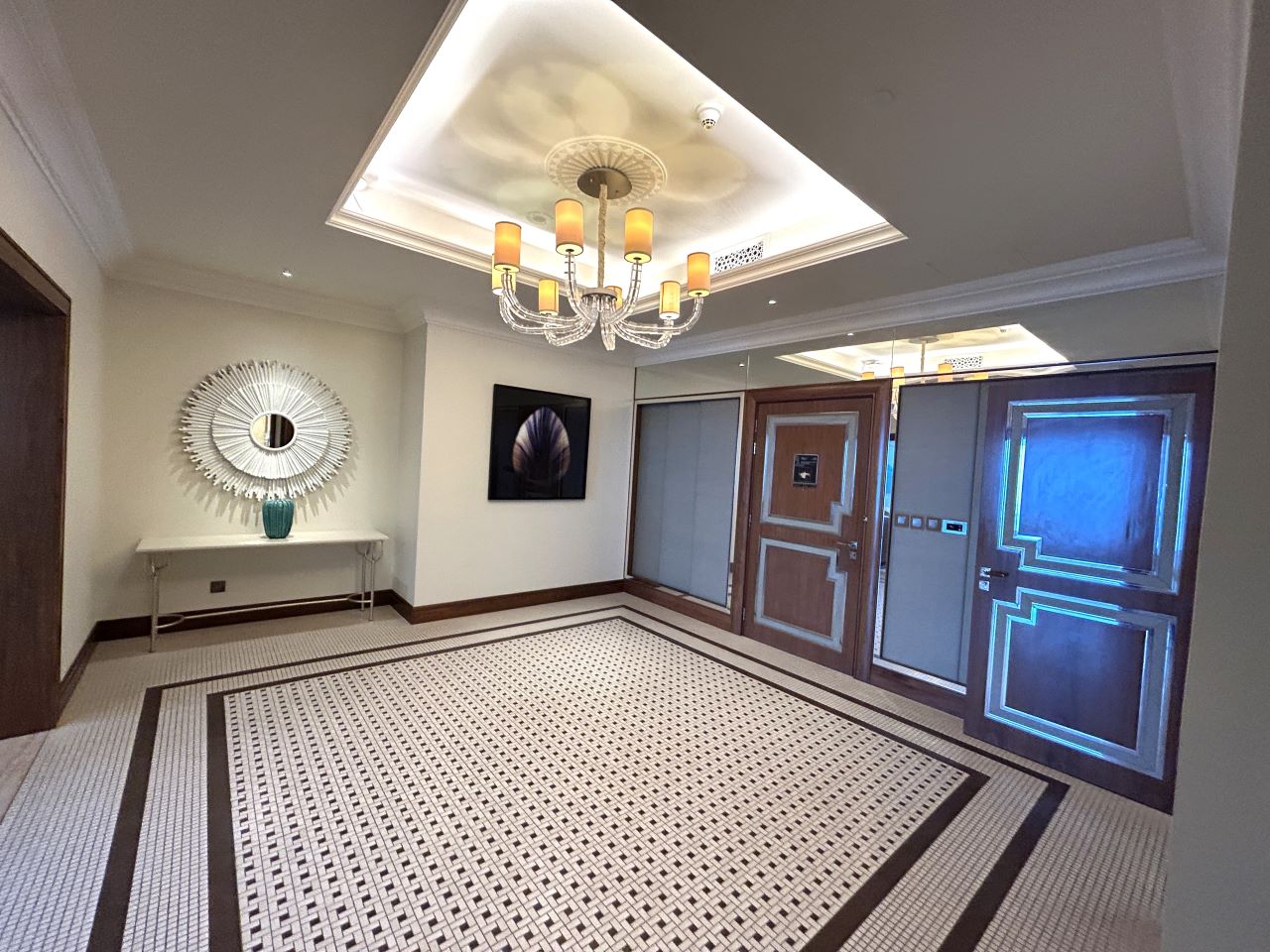 I was upgraded to a Tower Suite, which is the largest hotel room I have ever stayed in! Even the entrance hallway was vast! In fact, the hotel itself is pretty large, which helps give that feeling of being away from other people. Each part of the hotel has a separate elevator which means you are not traipsing miles long a corridor to get to your room. For the tower rooms, there are very few rooms on each floor, so it is very easy to get to your room.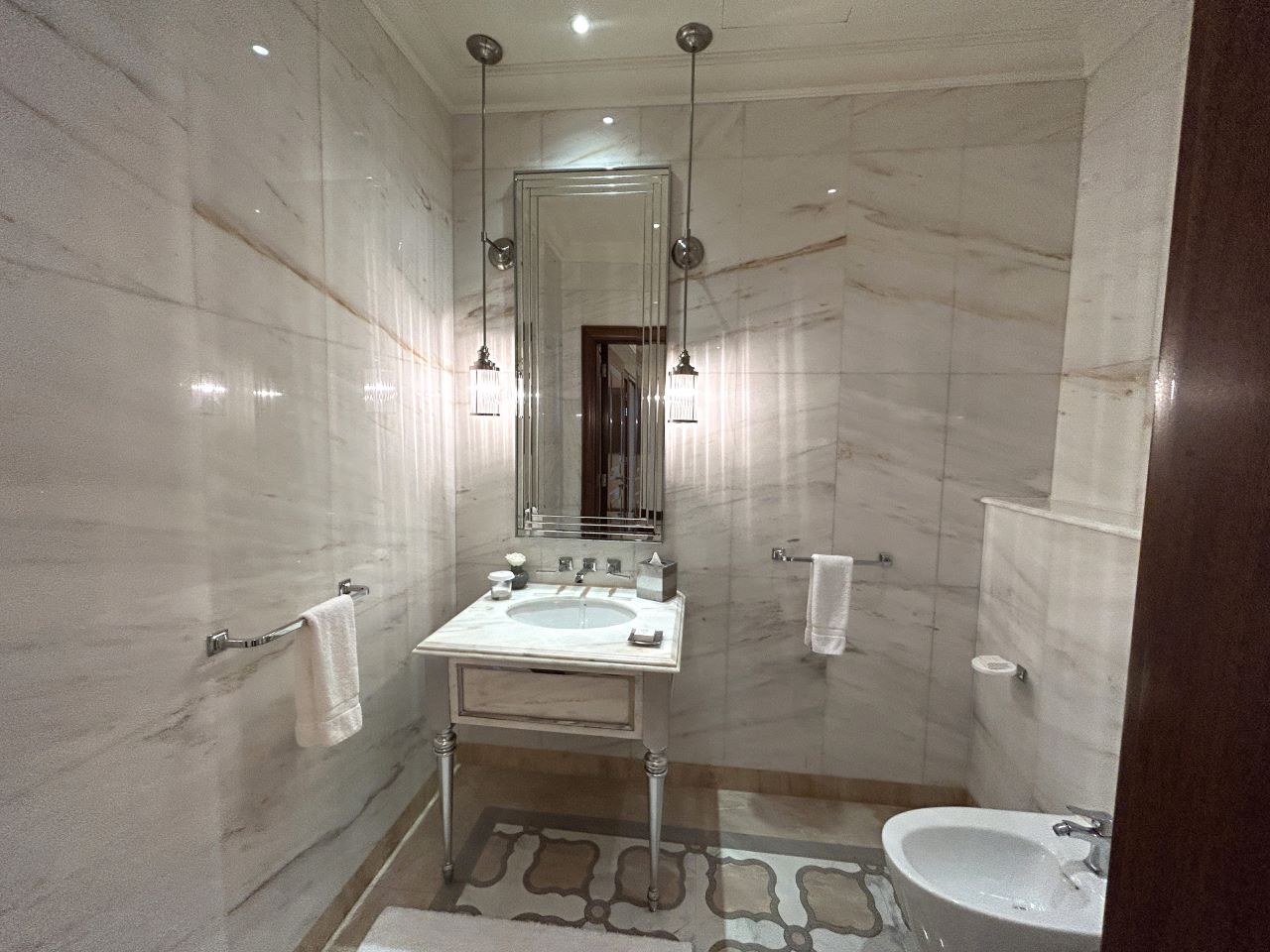 In the hall was a guest toilet with a bidet in marble with an art deco-style mirror and lights.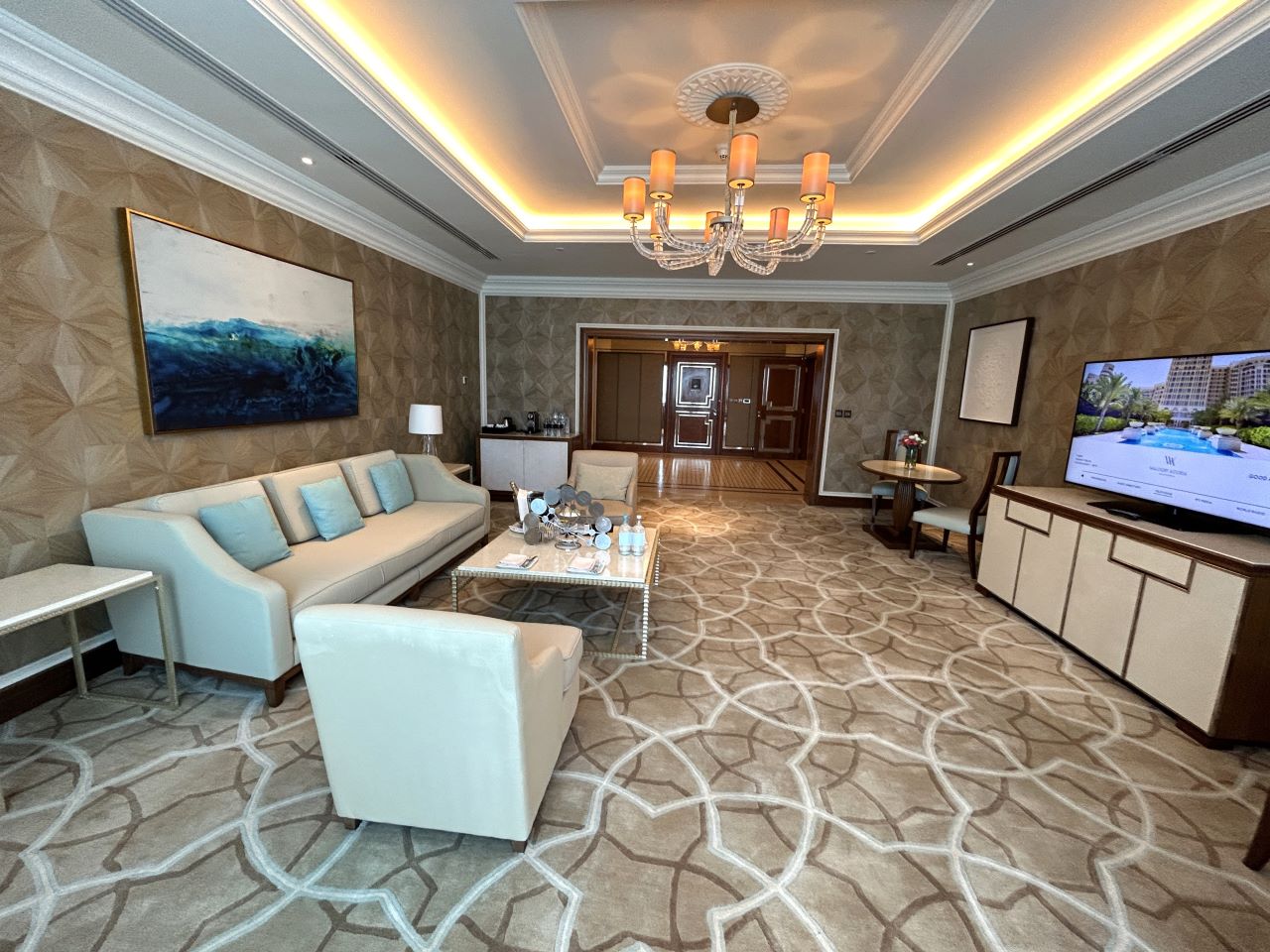 Then a very spacious living room with a desk for working and a coffee machine and kettle. You'd certainly never go thirsty with an abundance of bottled water supplied.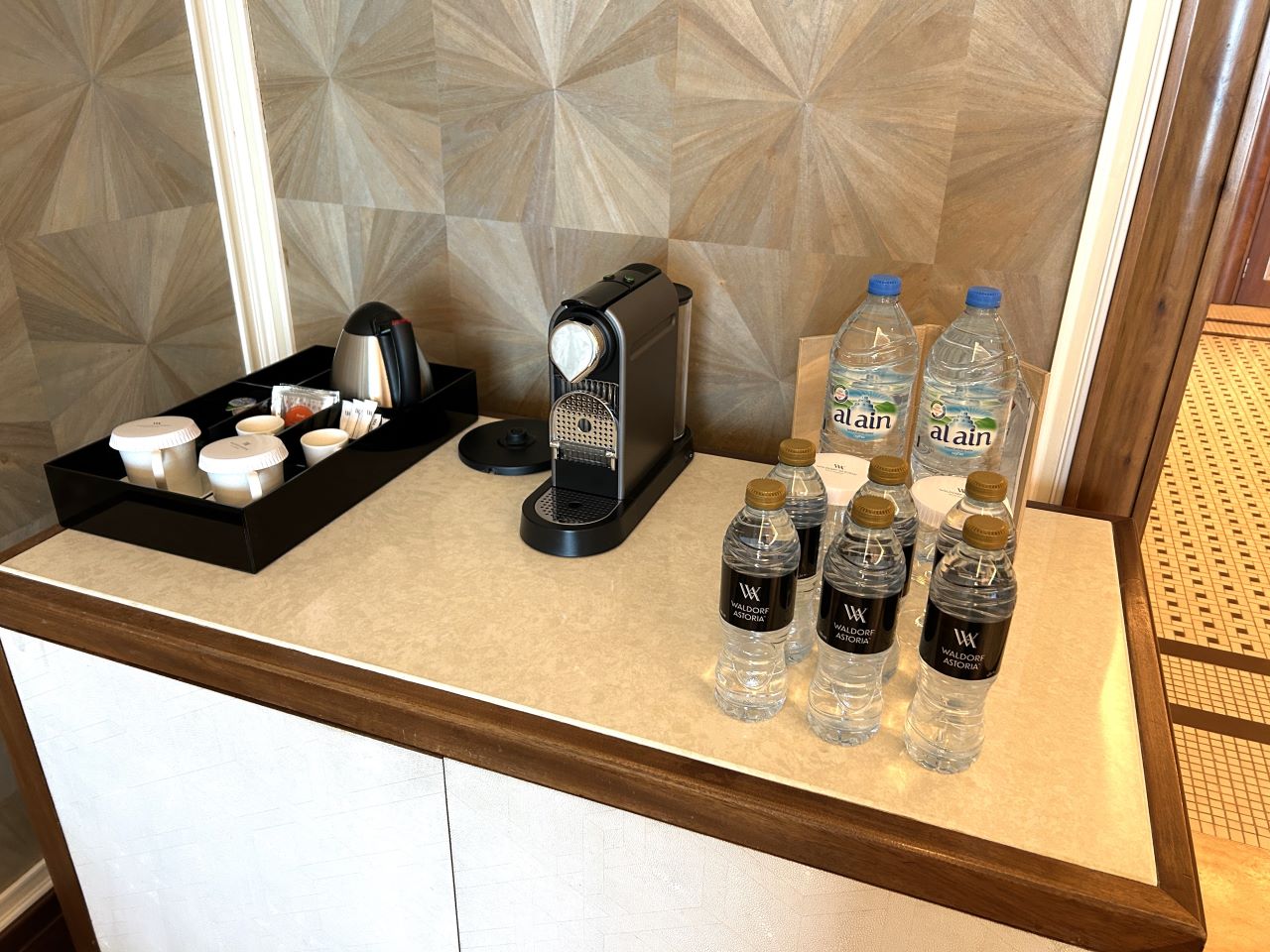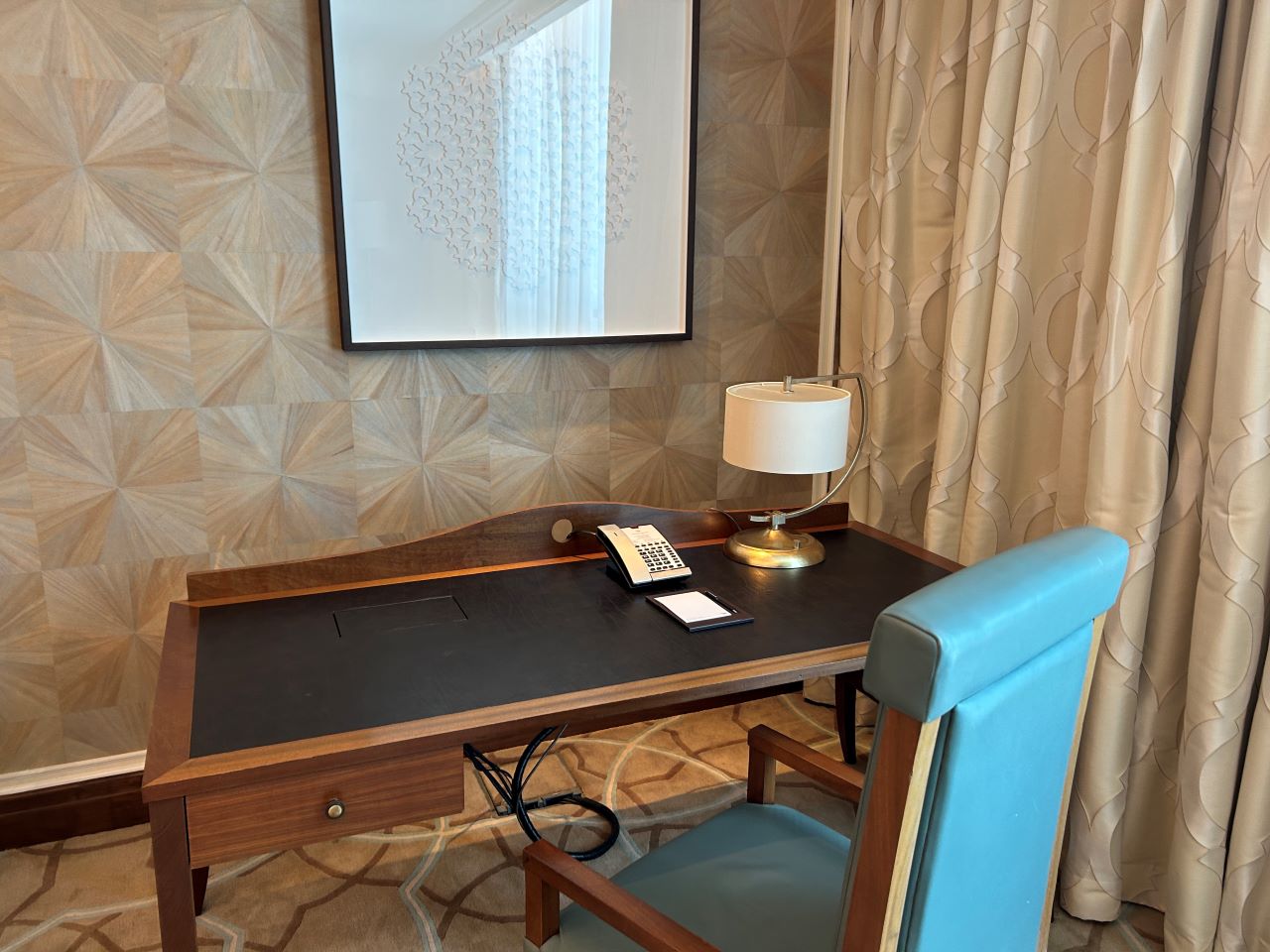 As well as the desk there was a table and two chairs which would be great if you ordered room service.
Then the hallway led to a very generous size walk-in wardrobe, that had plenty of room for a large suitcase to be left open, which I loved. This was also where the safe, iron and ironing board were. There was even a wire-framed mannequin for putting a dress on if you didn't want to hang it up. I would normally expect a hotel at this level to provide some sort of bag or beach bag, but there were none here.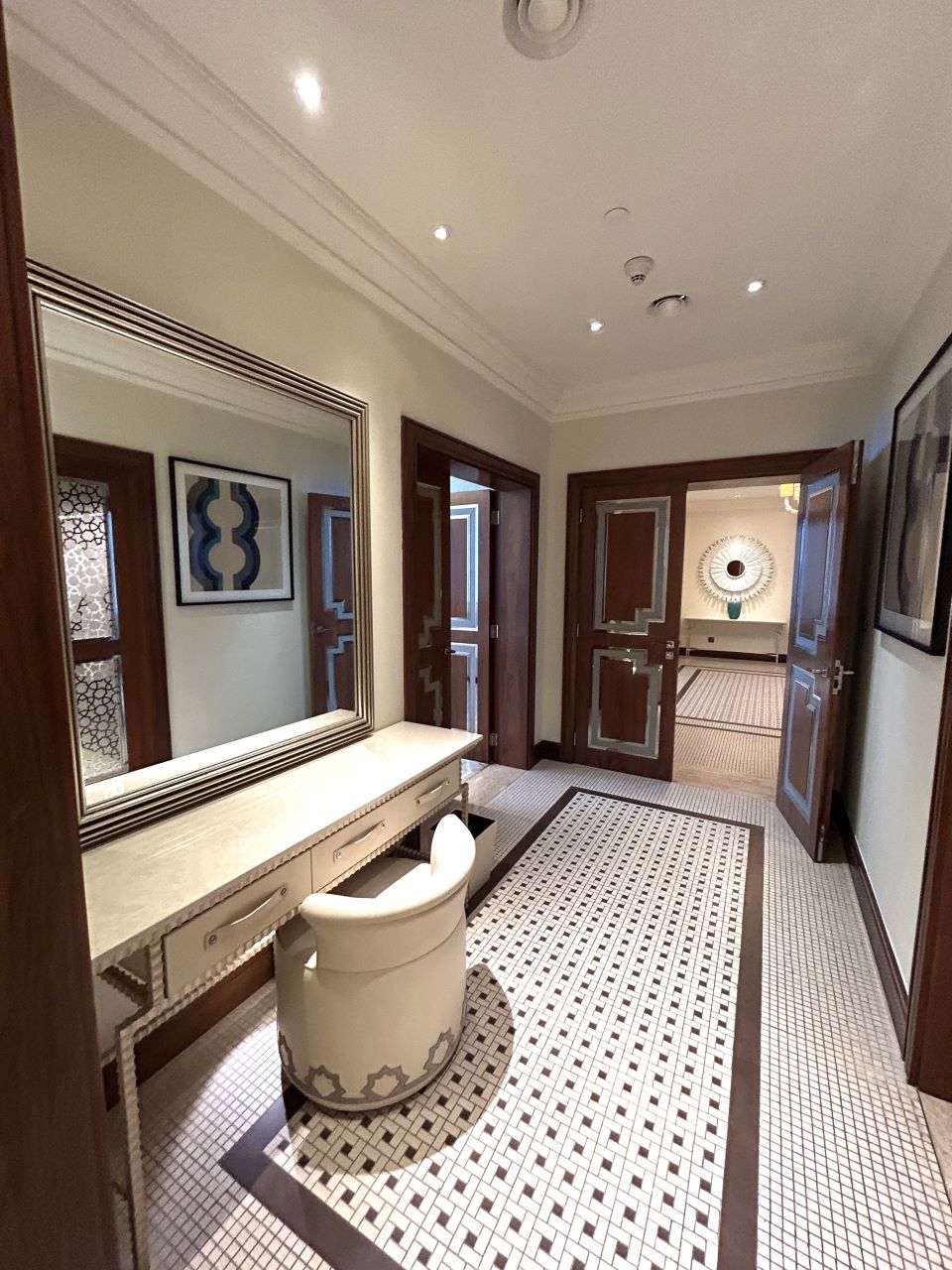 Outside the dressing room was the dressing table area which had a huge mirror and sockets nearby. I also liked the drawers, which were handy for keeping your make-up and toiletries tidied away. However, I would have liked some better lighting as it was only overhead, which, as those of us that are a little more mature know, is rather unflattering as well as being hard to see what you are doing.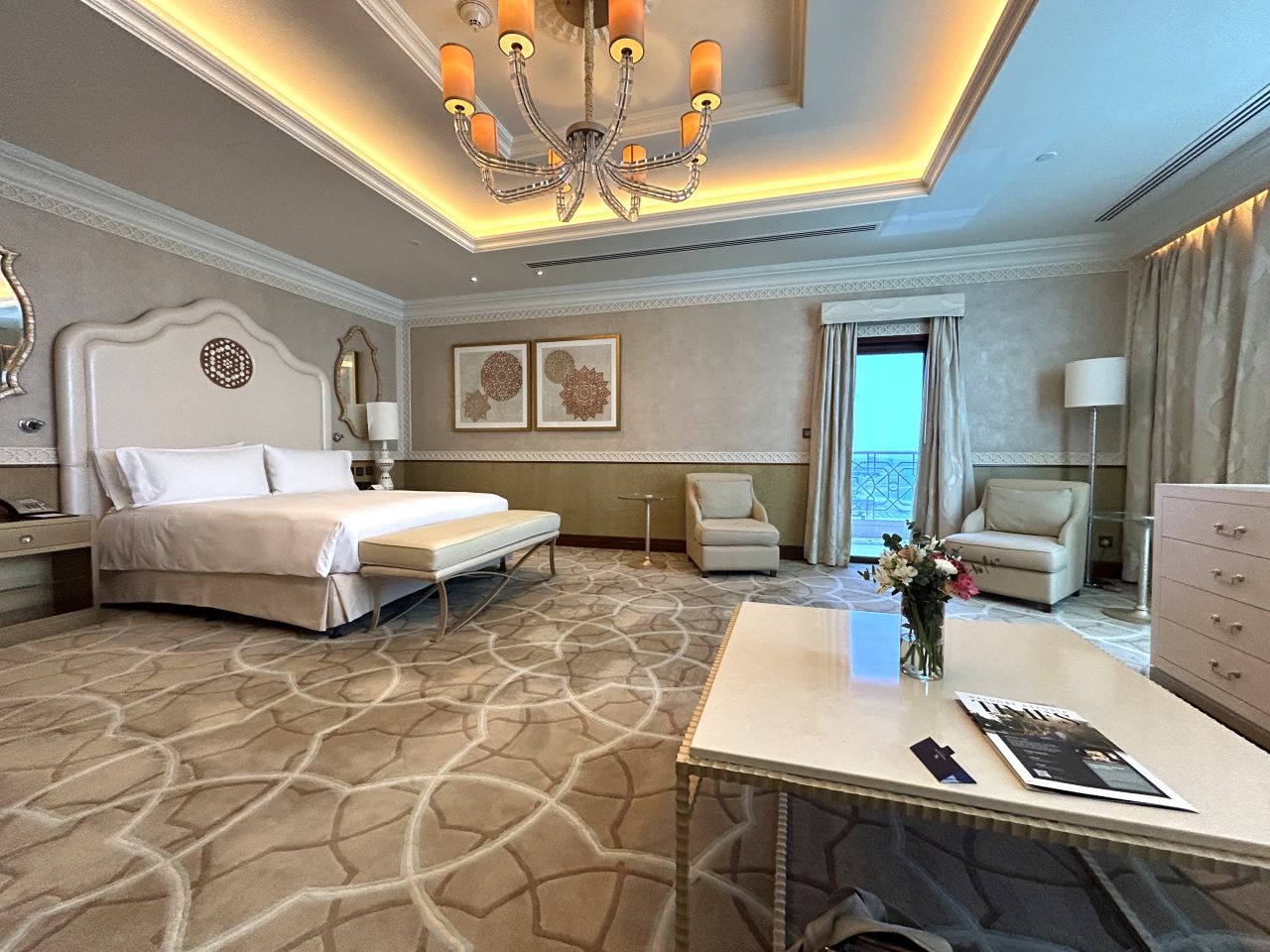 The bedroom itself was also massive with a sitting area and a king-size bed, which was very comfortable and had high-quality bed linen. At night the turndown service included a room refresh, water by the bed and slippers laid out. There was no chocolate or gift.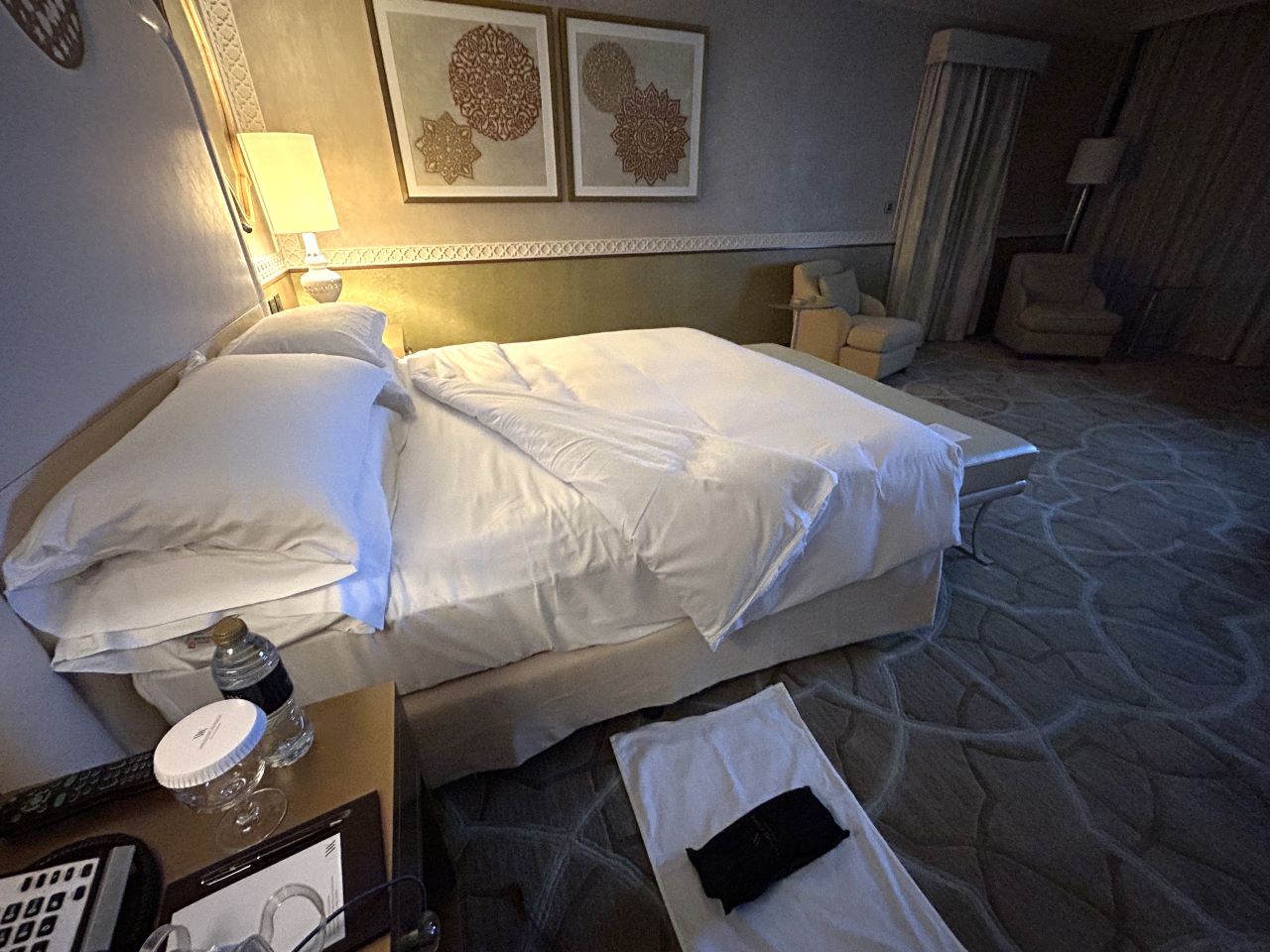 The room was very quiet, which I appreciated, and I slept well. I particularly loved the generous balcony, which led off the bedroom and was great for a morning cup of tea, admiring the view. I was on the side of the main pool and Al Marjan island in the distance, but when I return, I would ask for the marina view for a bit more interest.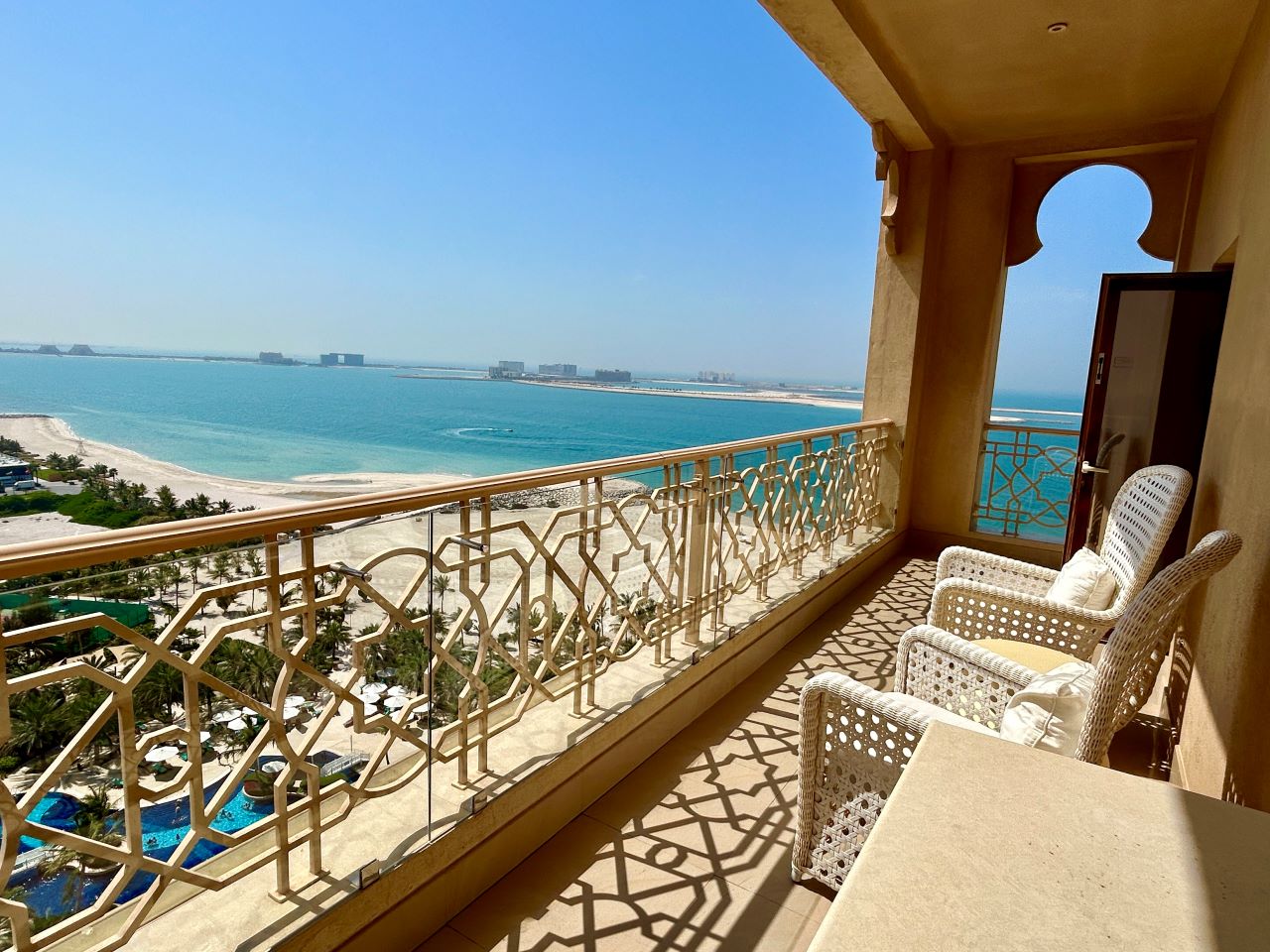 The bathroom felt very luxurious with its large soaking tub, which was the perfect size and not too long. I often find that some of the baths are so big you keep slipping down in the water, but this was perfectly proportioned.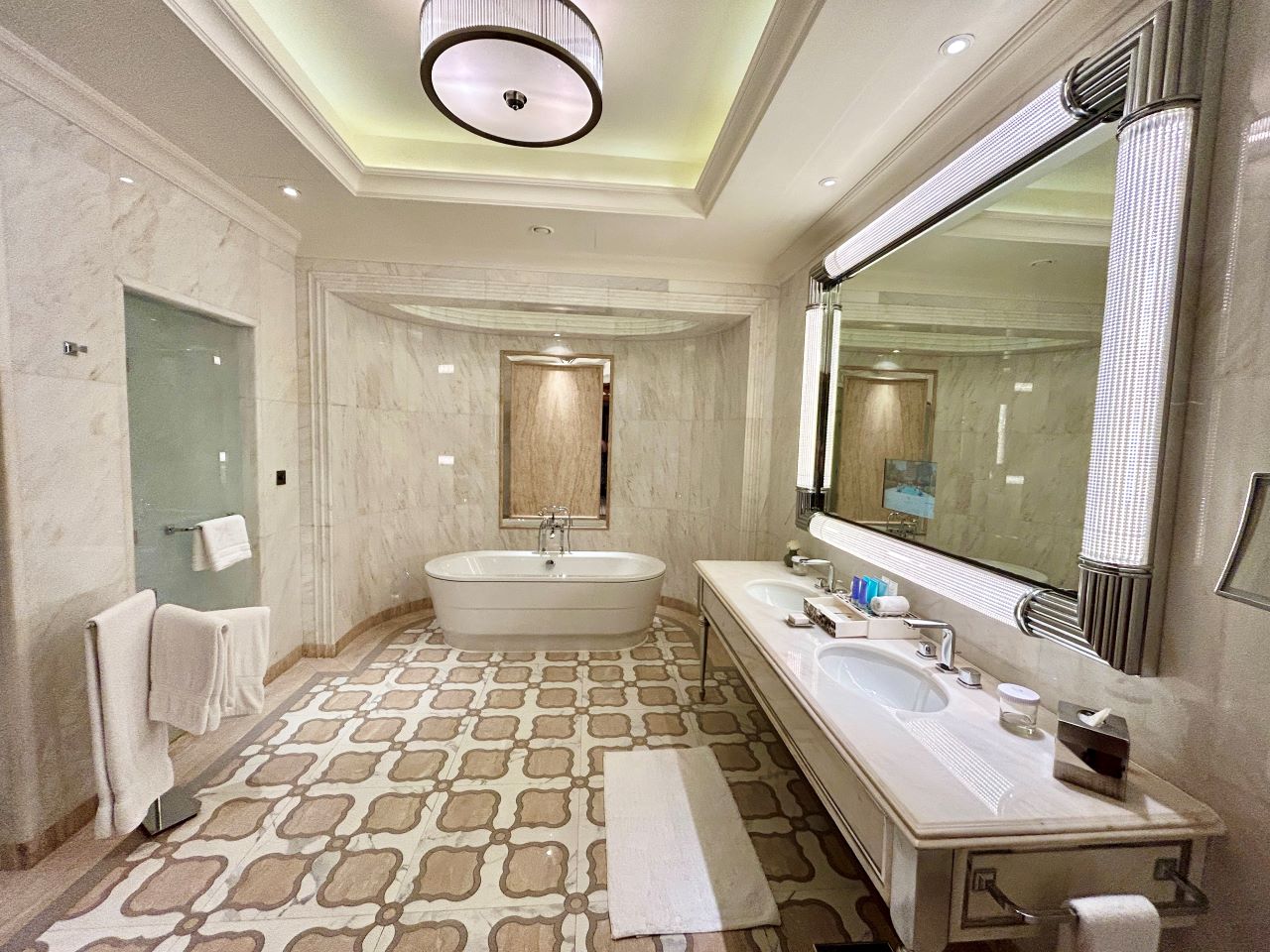 The mirror was very well lit, which I really appreciated, and the toiletries are currently Aromatherapy Associates. However, like all Waldorf Astoria they will be changing to large-size toiletries and will be using Aesop toiletries which is pretty much my favourite brand. There was also a drawer filled with amenities such a shaving kit, dental kit and vanity set.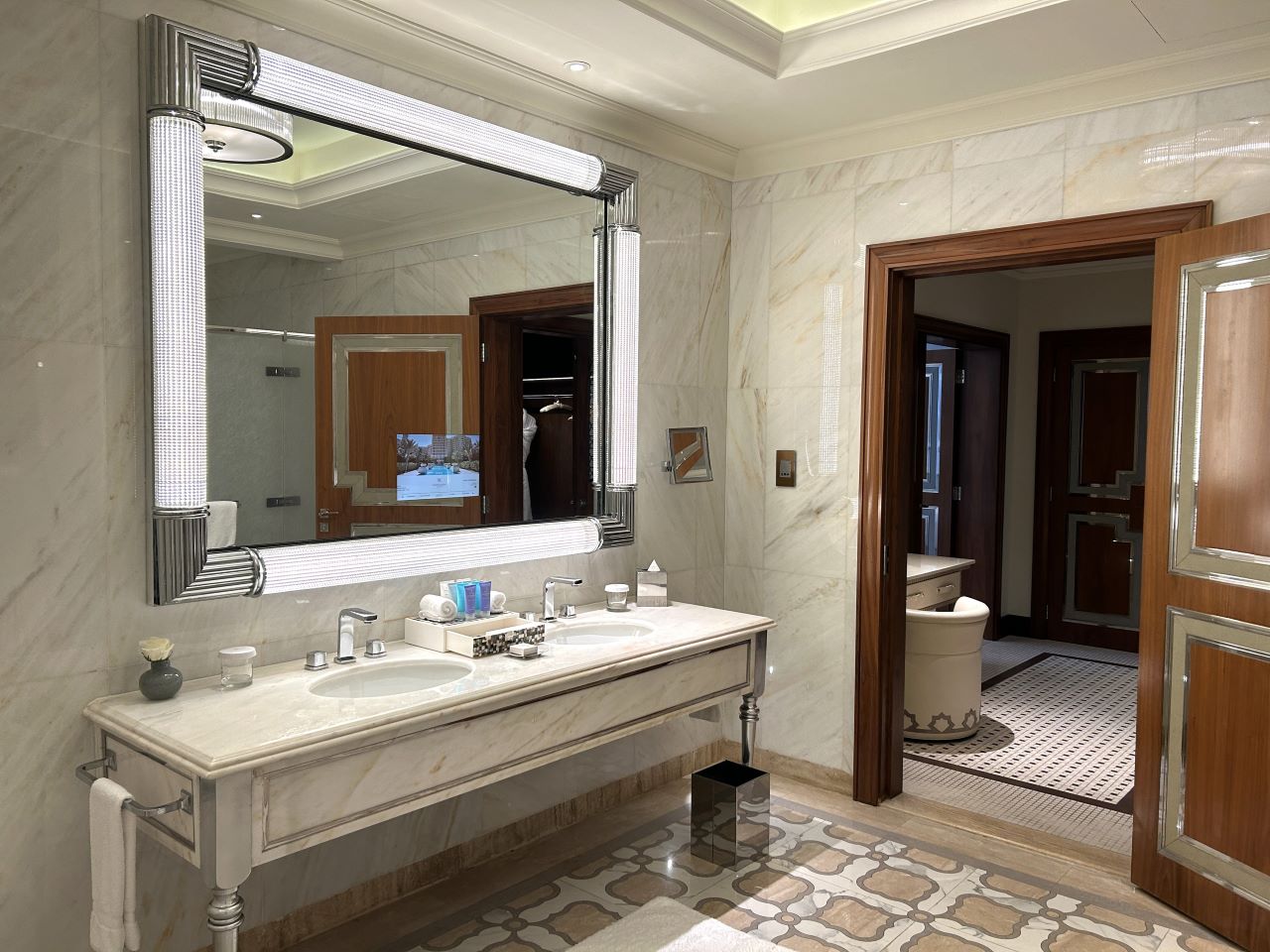 The walk-in shower was also sizeable, with a bench running the length of it. It also had the most comprehensive set of shower options I have seen, with a rainshower head, side jets from both sides and a handheld shower. There's definitely no excuse not be squeaky clean here!
I also liked the fact that the towels were very substantial, which I really noticed when I moved to another hotel and was confronted with some very teeny towels!
Other room categories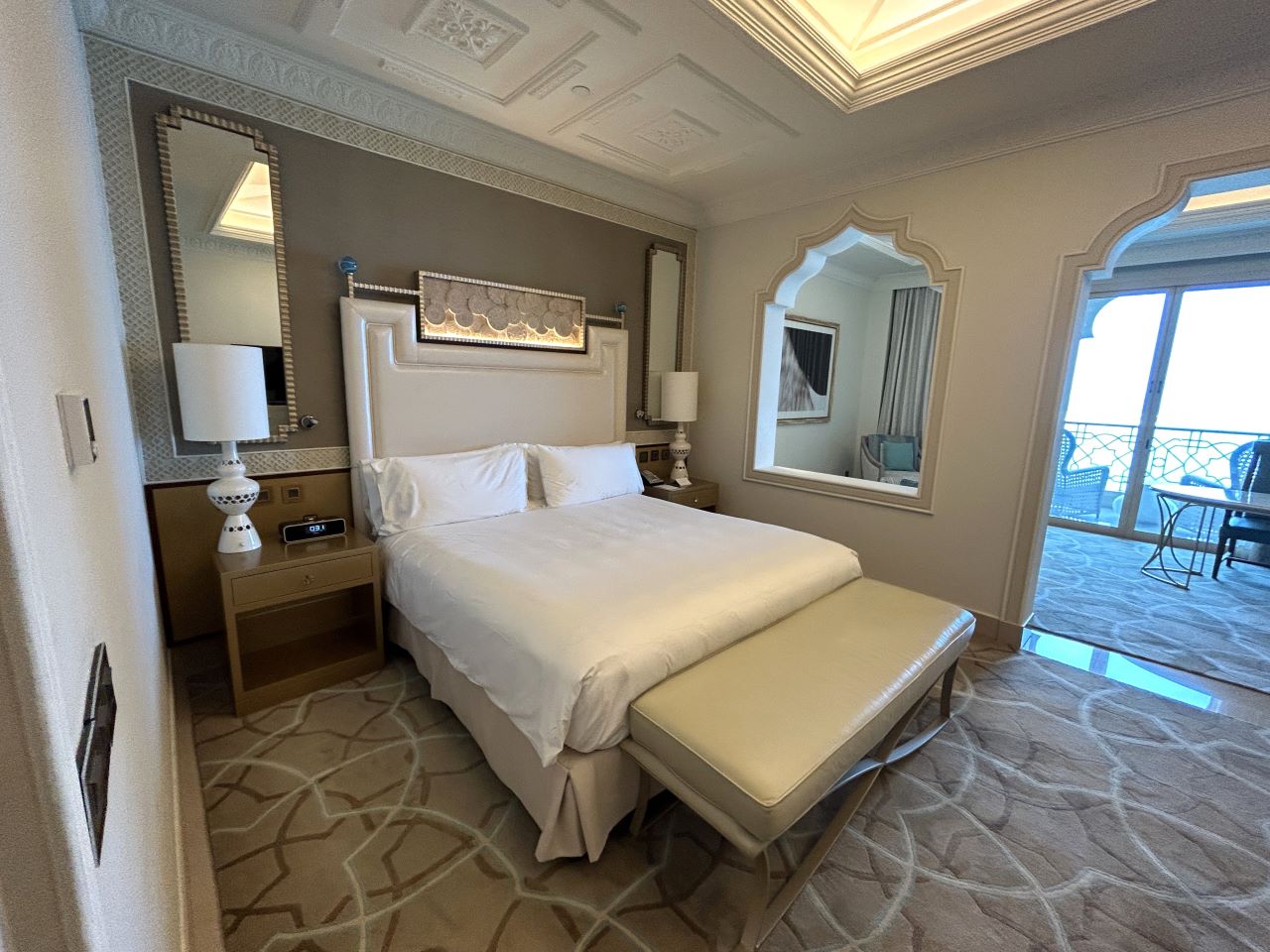 The entry-level room is the King Deluxe room, which is sizeable at 56sqm and has a walk-in closet, marble bathroom with separate bath and a seating area. If you want to splash out a bit more, I'd go for the King Premier Room With Sea View And Balcony, which is a few categories up but very large. If you have status and aren't too bothered about a view, you could go for the king premier room with a golf view and balcony and hope for an upgrade.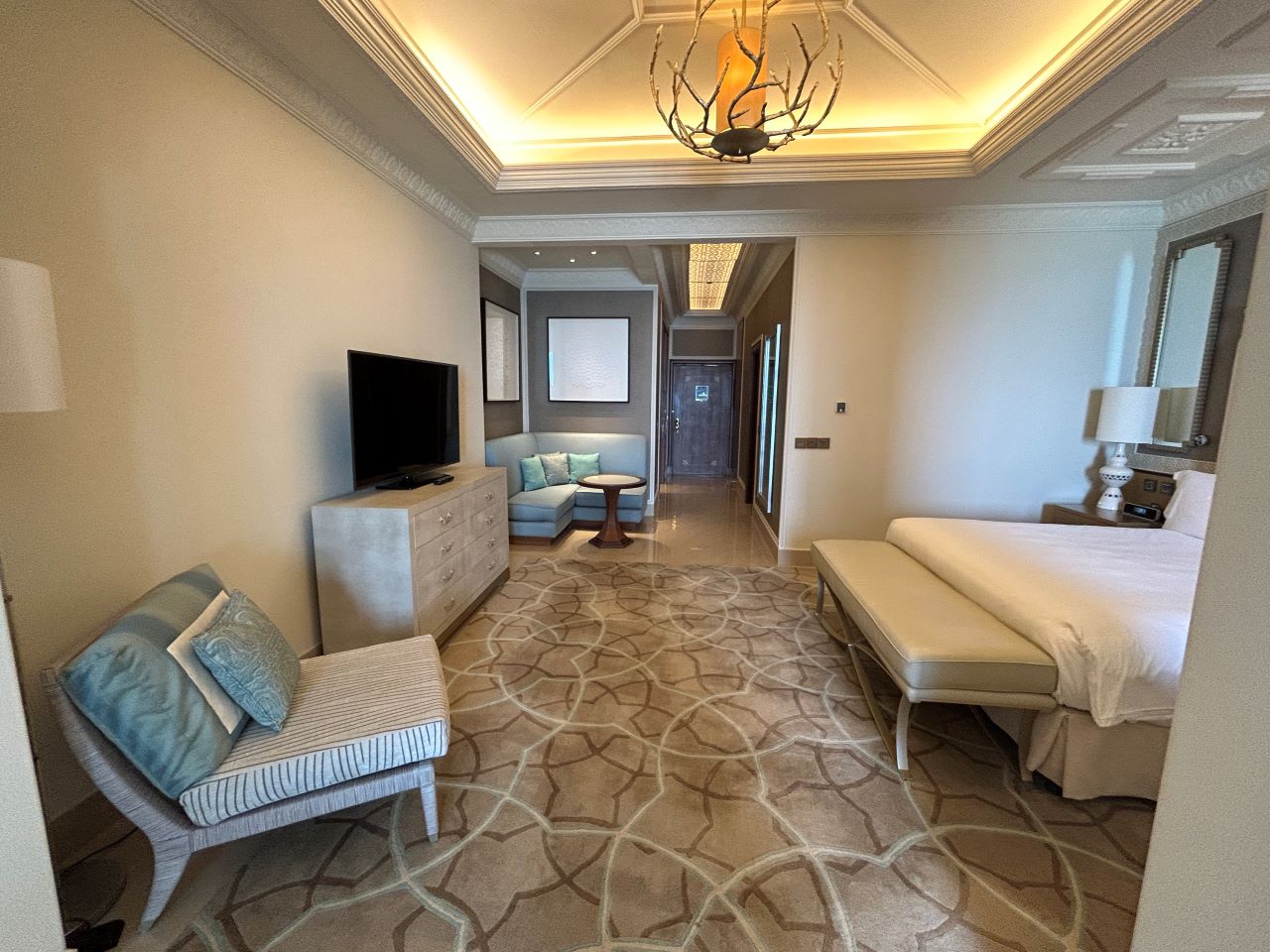 The hotel seems keen to treat its Hilton Honors Diamond and Gold customers well, with an upgrade to a Junior Suite often being on offer. If you wanted something with a bit more room, this would be a great choice too.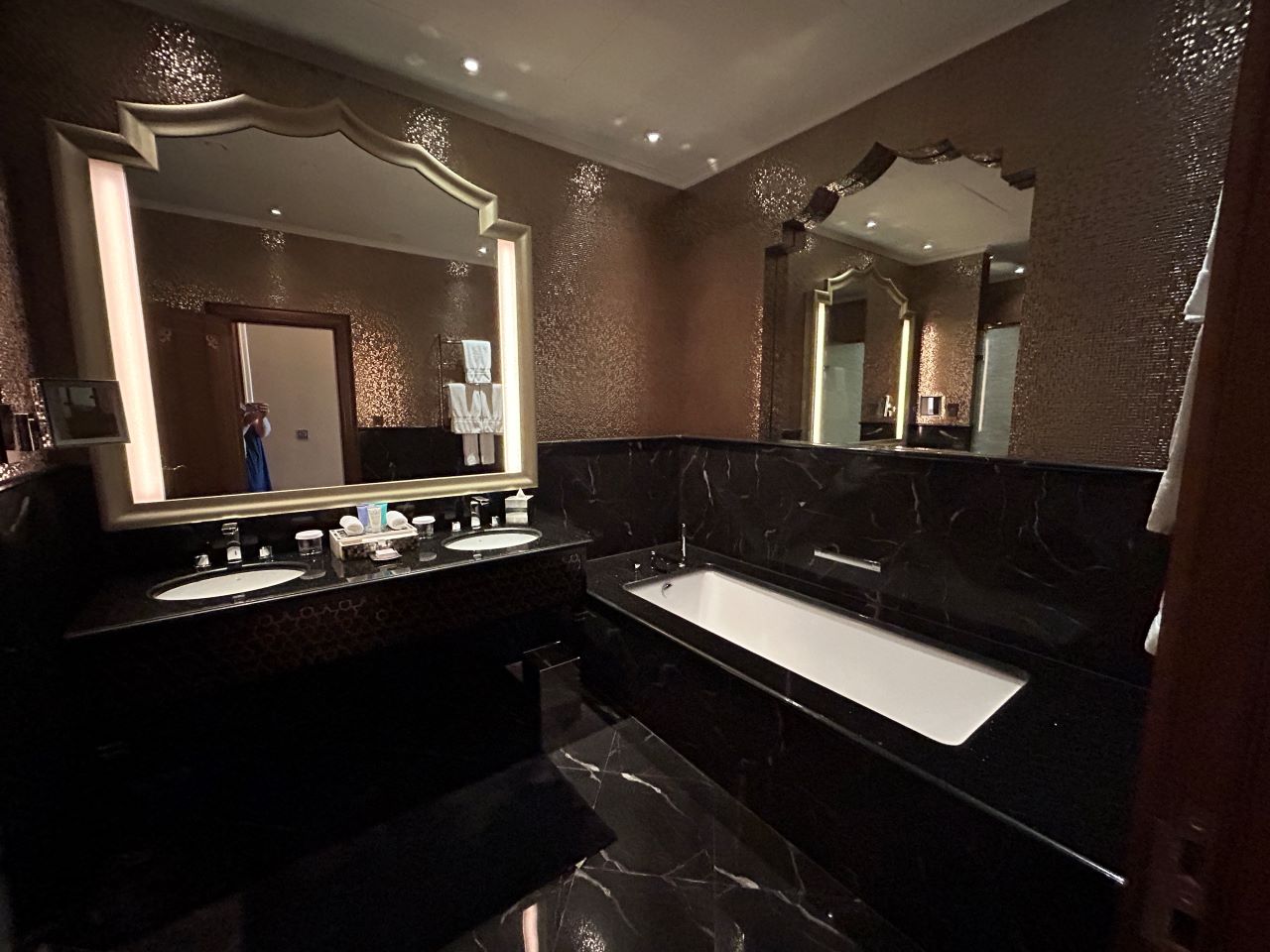 Food and drink
I was impressed with the variety and number of restaurants which meant that you could have a week's holiday and not feel the need to go outside the hotel to eat if you didn't want to.
Breakfast
Breakfast was served buffet style in the all-day dining restaurant Qasr Al Bahar. I found the staff here very helpful, and I was addressed by name at all times after having given my name at the reception. You can either sit inside, which I thought looked elegant for a buffet restaurant, or outside on the terrace.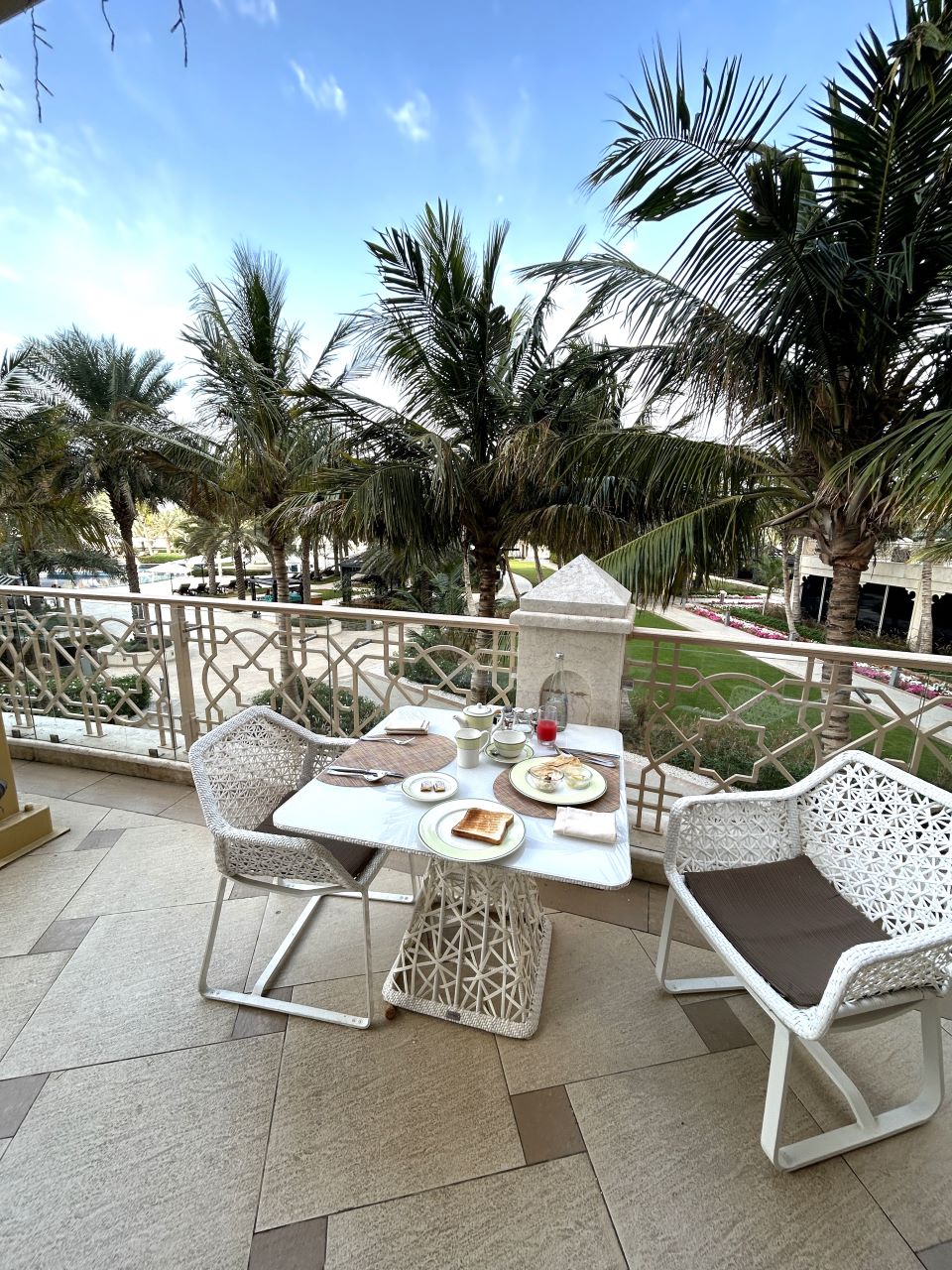 The buffet was incredibly comprehensive with high-quality food. There was everything from local Arabic dishes and Indian bread with curry to a beautiful selection of exotic fruit and juices. I particularly liked that you could order eggs to the table, including various styles of benedict, rather than having to wait around at an egg station. I went for the eggs royale, which were very good.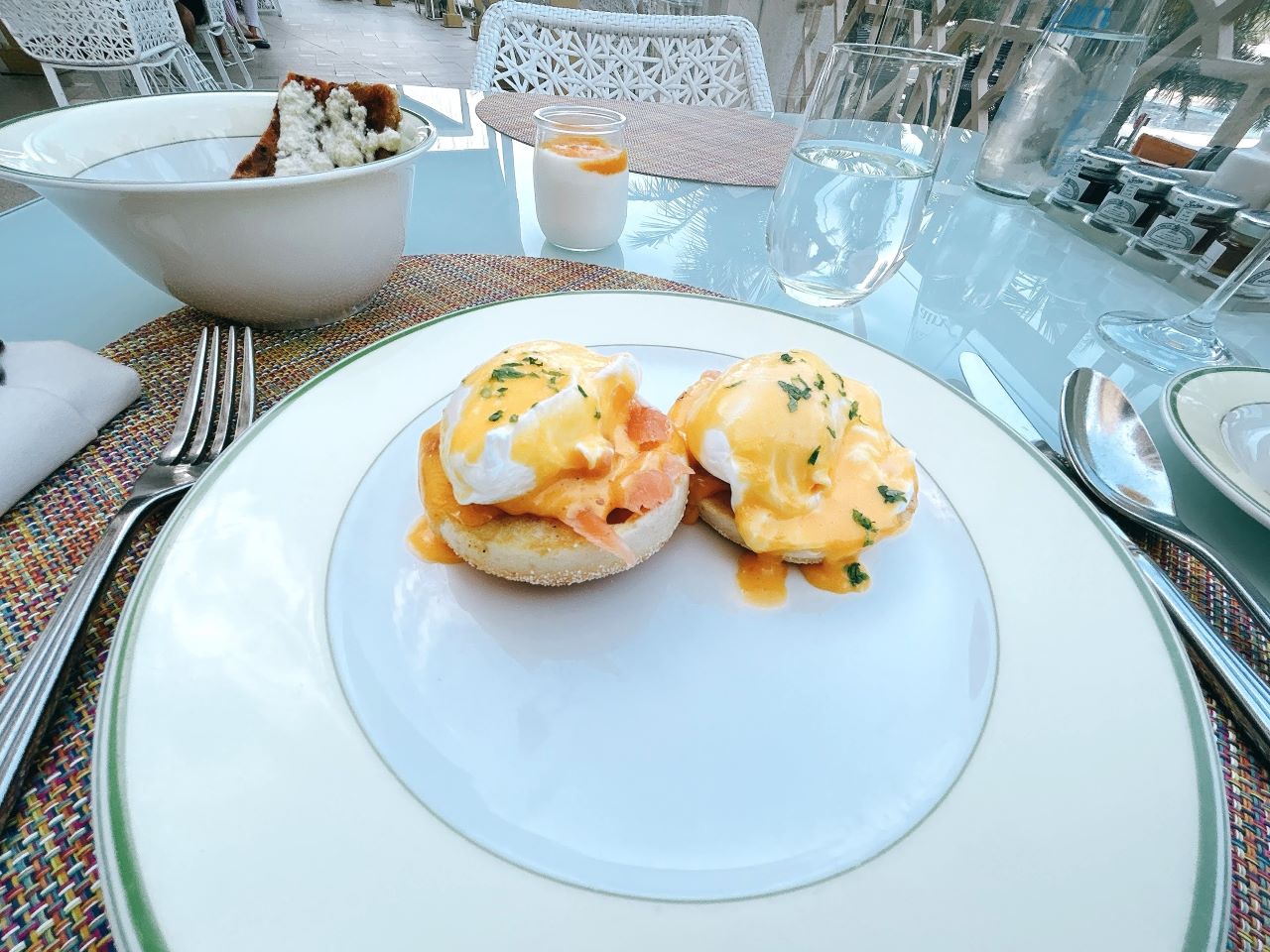 If you fancied a tipple, they had sparkling wine at breakfast or a rather unusual teetotal alternative – sparkling date juice, which I had never seen before. The coffee was also very good. Service was swift and very personal, with staff enquiring if you needed anything on a regular basis.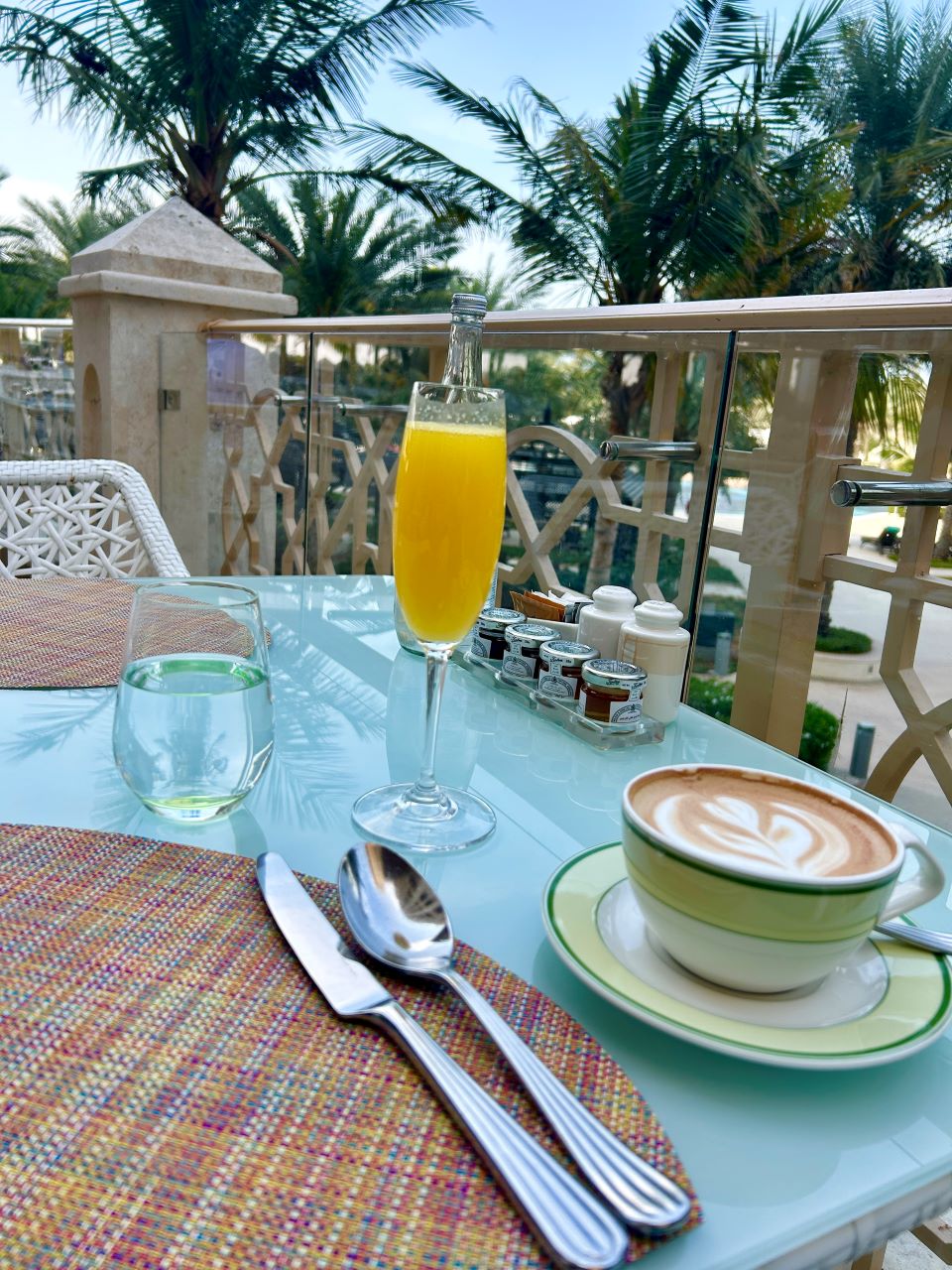 Poolside nibbles and drinks
The two pools had different menus, with the main pool having a much more comprehensive menu which I did point out to the chef, might need balancing up a little. The adult sunset beach club pool had mainly salads and sushi plus more substantial meals with very few local options, whereas the main pool had mezze items and a broader range of options.
I tried a couple of the salads at the Sunset beach club, and they were well-presented and tasty. Prices are similar to Dubai. I liked the fact that all the ordering was done via a QR code and an app, so you did not have to wait for someone to approach.
Lexington Grill & Bar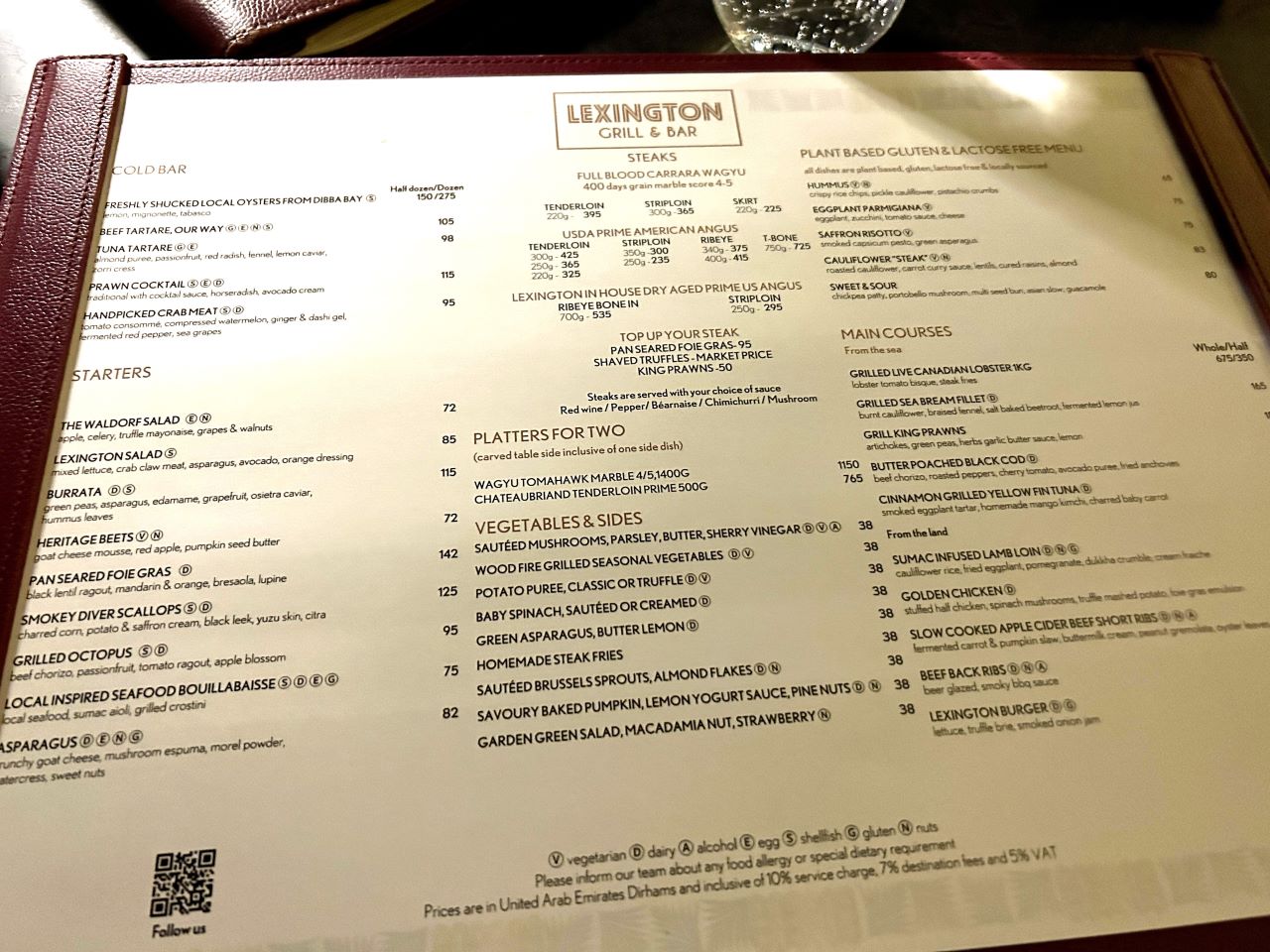 This was the biggest surprise for me as, from the name, you may think it would be a standard steak restaurant, but it was very much more than that. Although they did have steaks, there were also a lot of fine dining dishes that I would be very happy to eat in a Michelin-star restaurant. I spent a bit of time chatting to Executive Chef Christian, and it was obvious he is a very passionate chef who takes real pride in constantly evolving and perfecting his dishes.
I chose to sit on the terrace and enjoy the warm evening. There was live music, but it was very chilled and created a lovely atmosphere rather than interfering with the conversation. The good news is that the Lexington bar has a happy hour every day with buy one get one free on most drinks.
I tried a selection of the starters and they were all beautifully presented and tasted amazing with complex layers of flavours and some techniques and ingredients I have not seen before.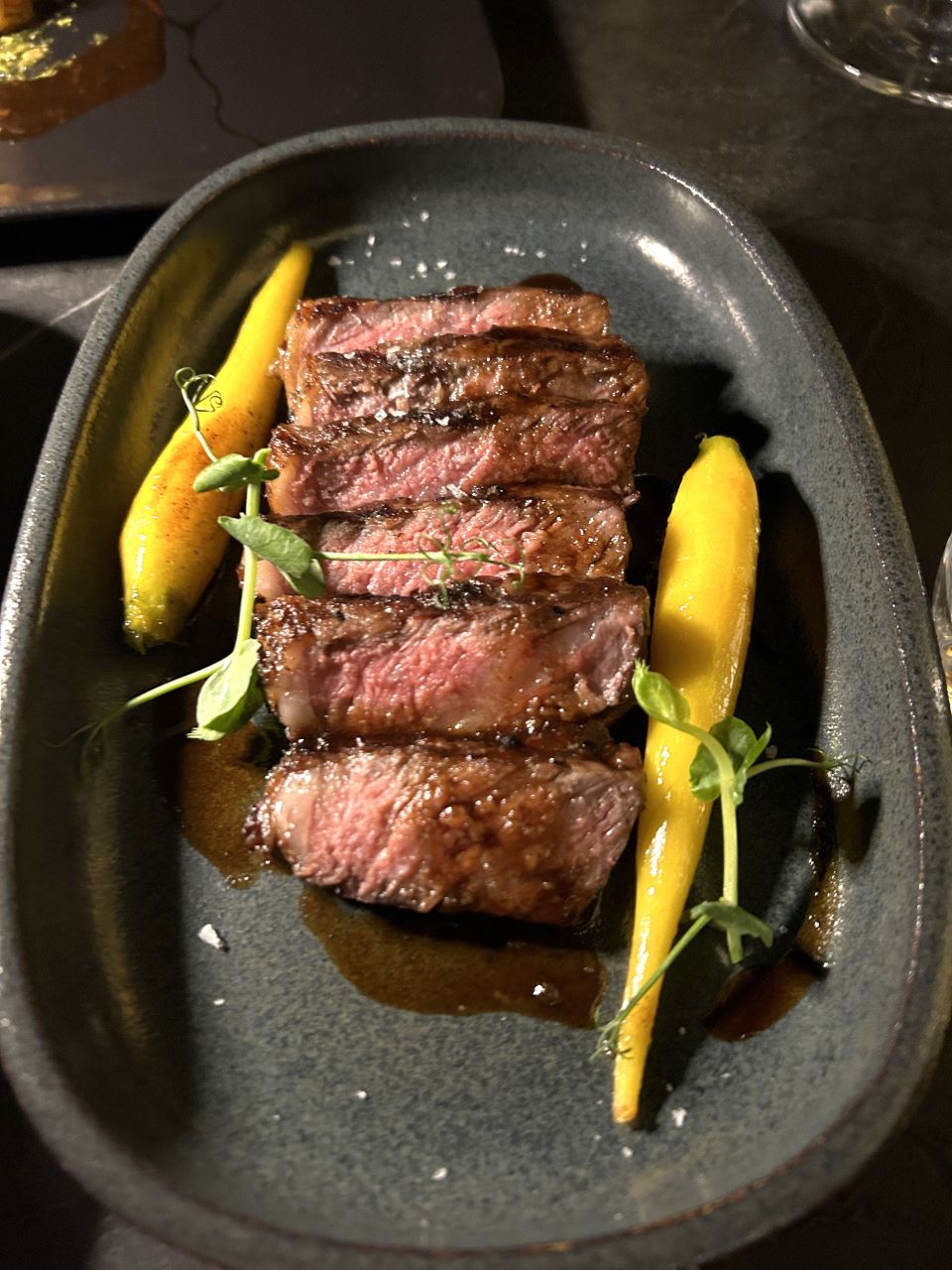 For those that prefer a more simple style of food, the steak was also fantastic, perfectly cooked and with a lovely crust. The short rib was a particular highlight with the slaw perfectly cutting through the richness of the meltingly soft short rib.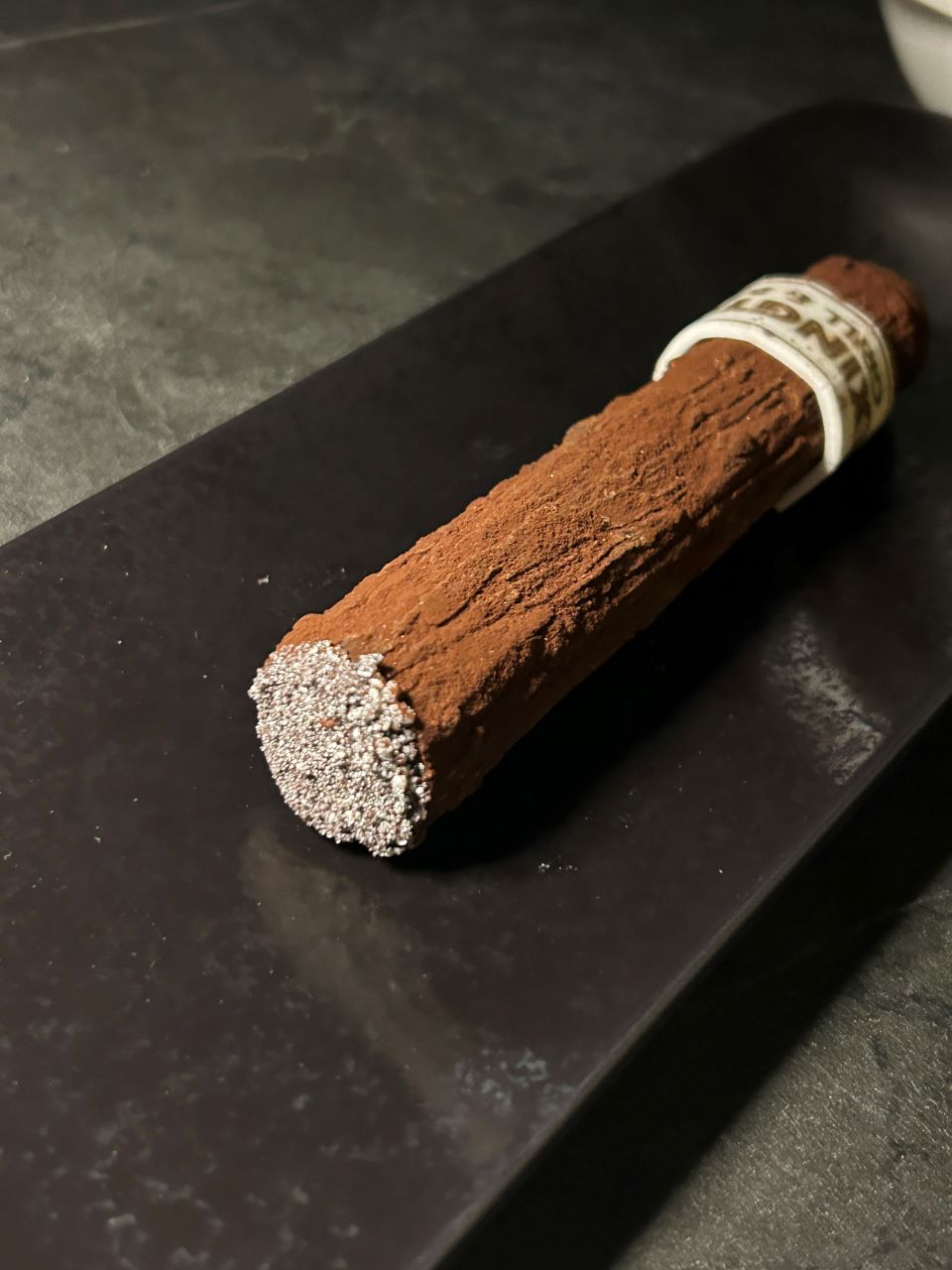 The desserts were fun as well as delicious with one perfectly replicating a cigar although I preferred the lighter option which was a brulee with freeze-dried raspberries and ice cream. The sharpness of the raspberries worked well with the crunchy sweet topping, and the ice cream had a little sourness which also added to the balance of the dish.
Umi – Japanese
Umi is a modern-style Japanese restaurant that has a touch of Nobu about it. I loved the dark ambiance which reminded me of the bar in the Park Hyatt in Lost in Translation. The blossom branches hanging from the ceiling were a beautiful touch, and I also liked their wall of Sake. The restaurant has one of the largest collections of Sake in the UAE. I never thought I was that keen on Sake, but I tried one of the warm ones and was pleasantly surprised.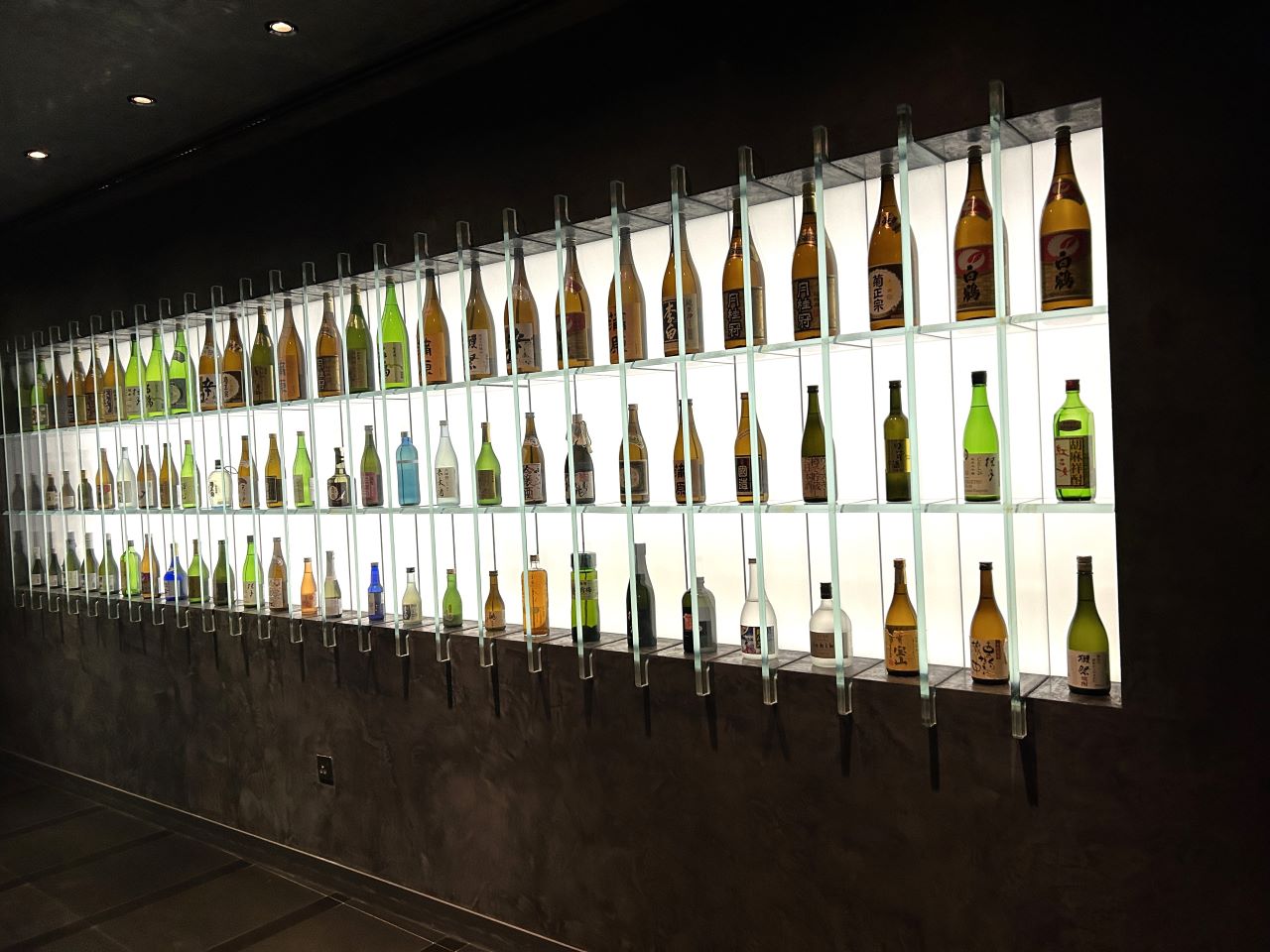 You can either sit at a table or at the teppanyaki grill. It was worth visiting just for the cocktail! They had a Japanese version of a margarita made with milk-washed tequila and edamame beans that was absolutely delicious (in fact, so good I had three!). I love margaritas but sometimes find them quite acidic, whereas this had all the tang of lime of a margarita but had a lovely softness and thicker texture from the additions. It was one of those cocktails that tastes innocuous and leaves you wanting more – but be warned, there is definitely alcohol in there!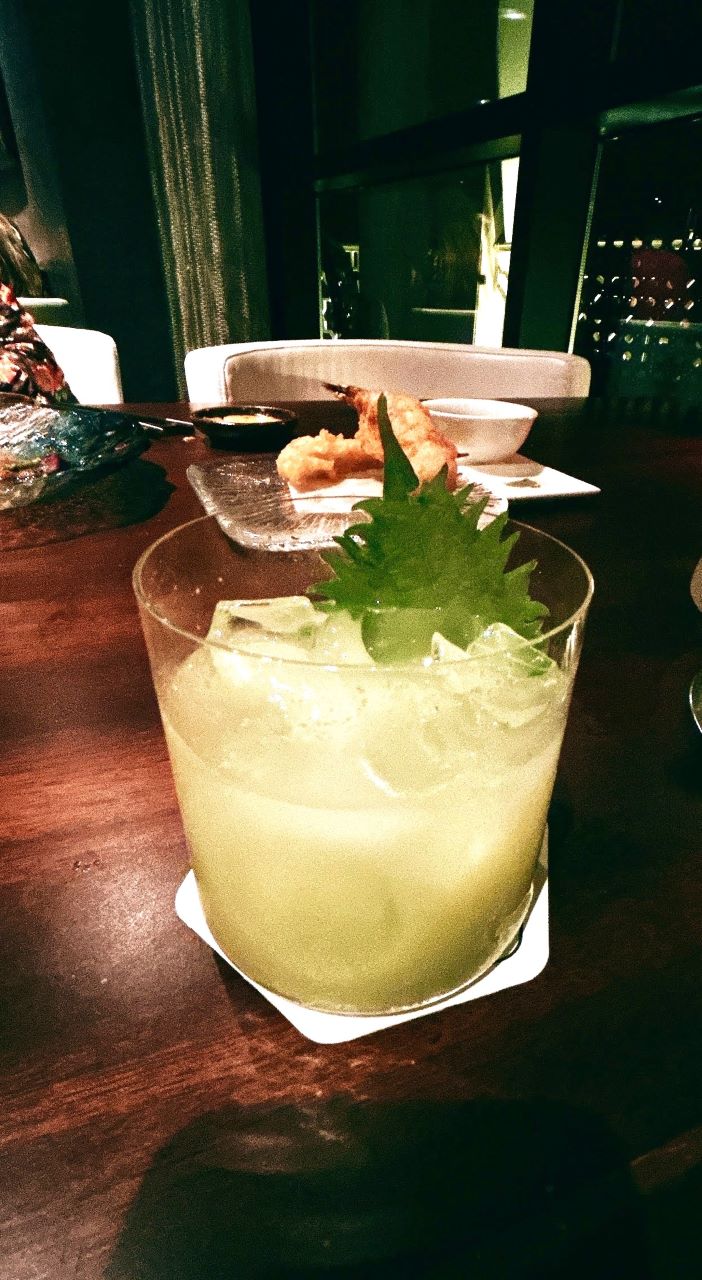 The menu features most Japanese staples but presented in a modern way. I sampled a range of dishes from sashimi to aubergine and steak.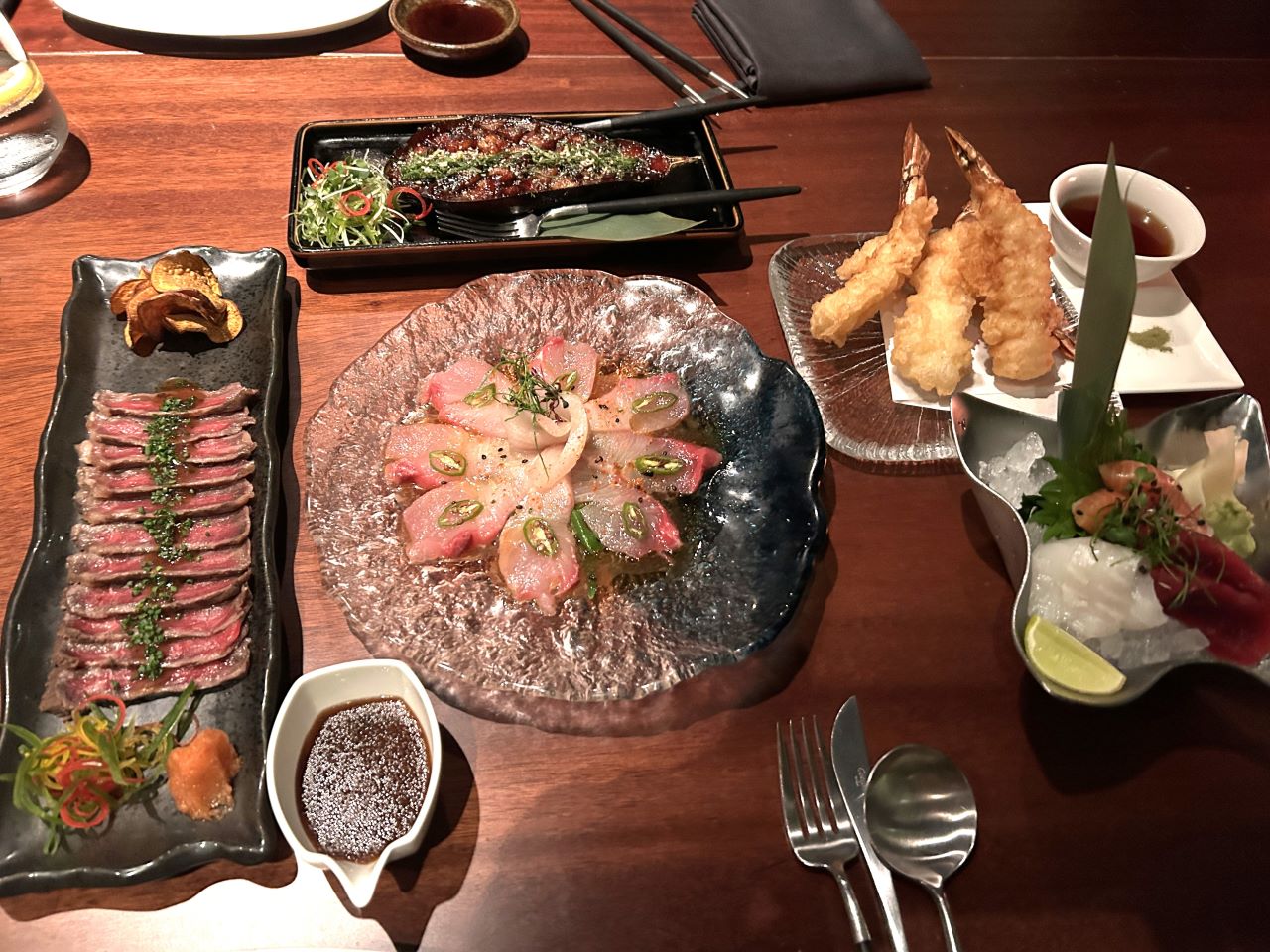 The fish was beautifully fresh and the tempura batter thin and crisp. My favourite was actually the beef tataki with a truffle ponzu sauce. I could have literally drank a pint of the sauce it was so delicious. In fact they brought me a second jug because I loved it so much. I also liked that it came with sweet potato crisps which added some needed crunch among a lot of softly textured dishes.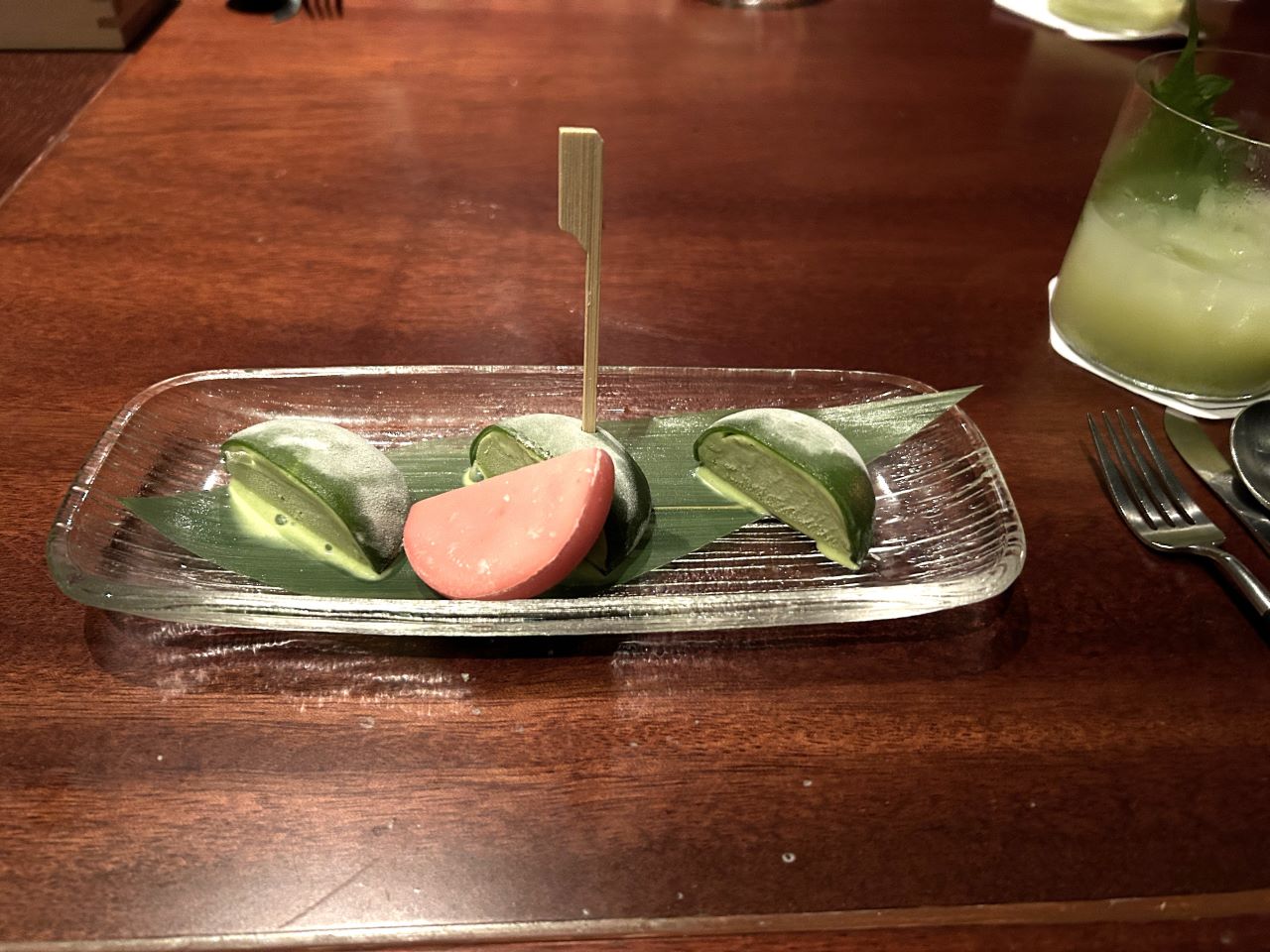 Other restaurants and bars
The other choice for dinner would be the Azure Mediterranean cafe where you can sit outside or indoors. This is the most casual restaurant after the buffet and is also open for lunch. The Azure bar also has a Happy Hour for two hours a day.
If you just want a drink or a coffee, there is the swim up Azure bar at the main pool, Camelia which serves afternoon tea, cakes, pastries and drinks. Plus, there is also Peacock Alley which is open in the afternoon and evening for drinks and light meals.
Waldorf Astoria hotel Ras Al Khaimah Pools and beach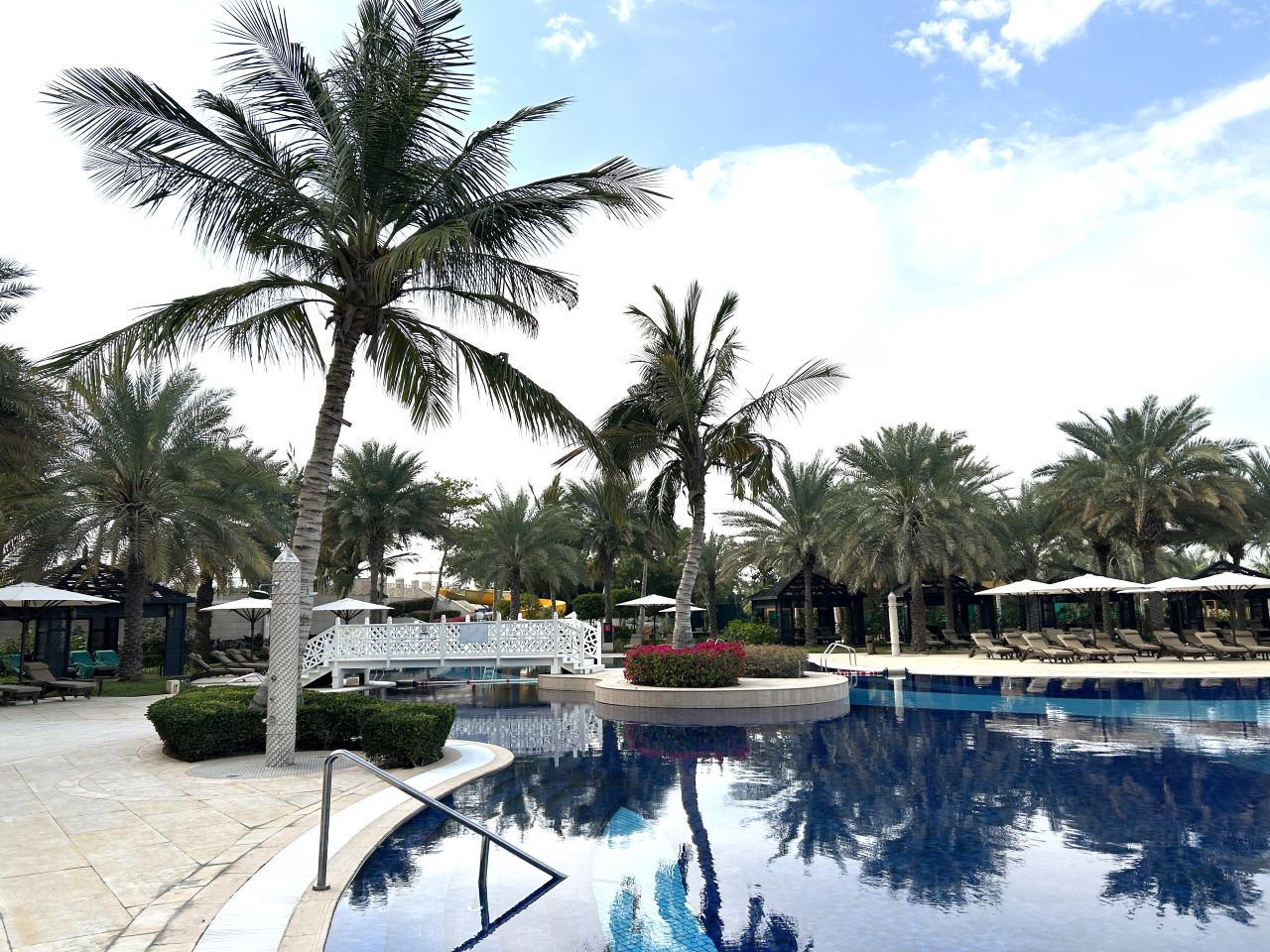 There are three pools – a large main pool, a kids pool and the adults-only Sunset Beach. There was never an issue trying to get a sunbed, although I think at busier times the adults pool could do with a few more loungers, particularly facing the sun for the winter months when it cools off quite early in the afternoon.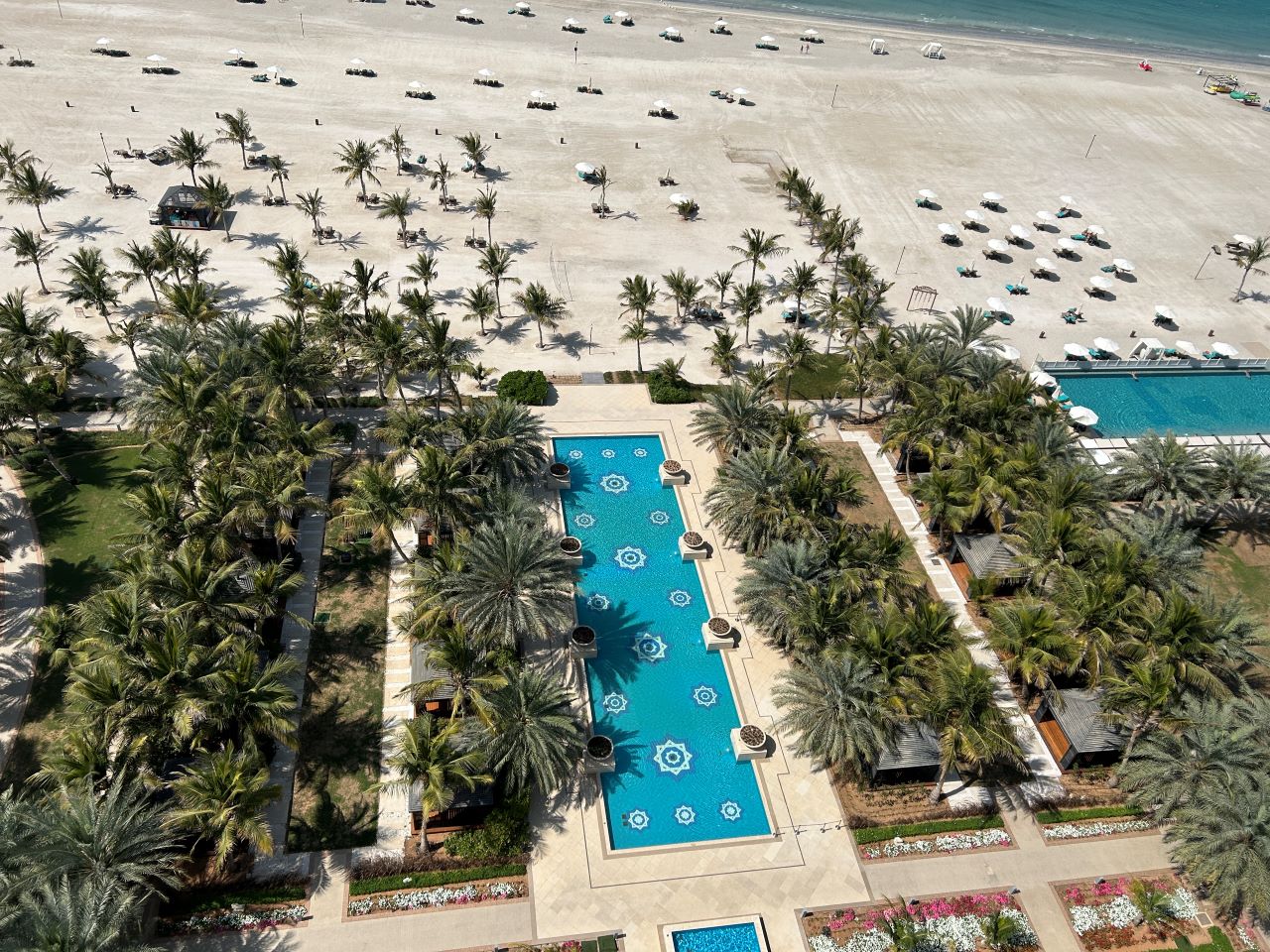 When you arrived at the pool, an attendant would set up your bed and give you a bag of ice with two bottles of water.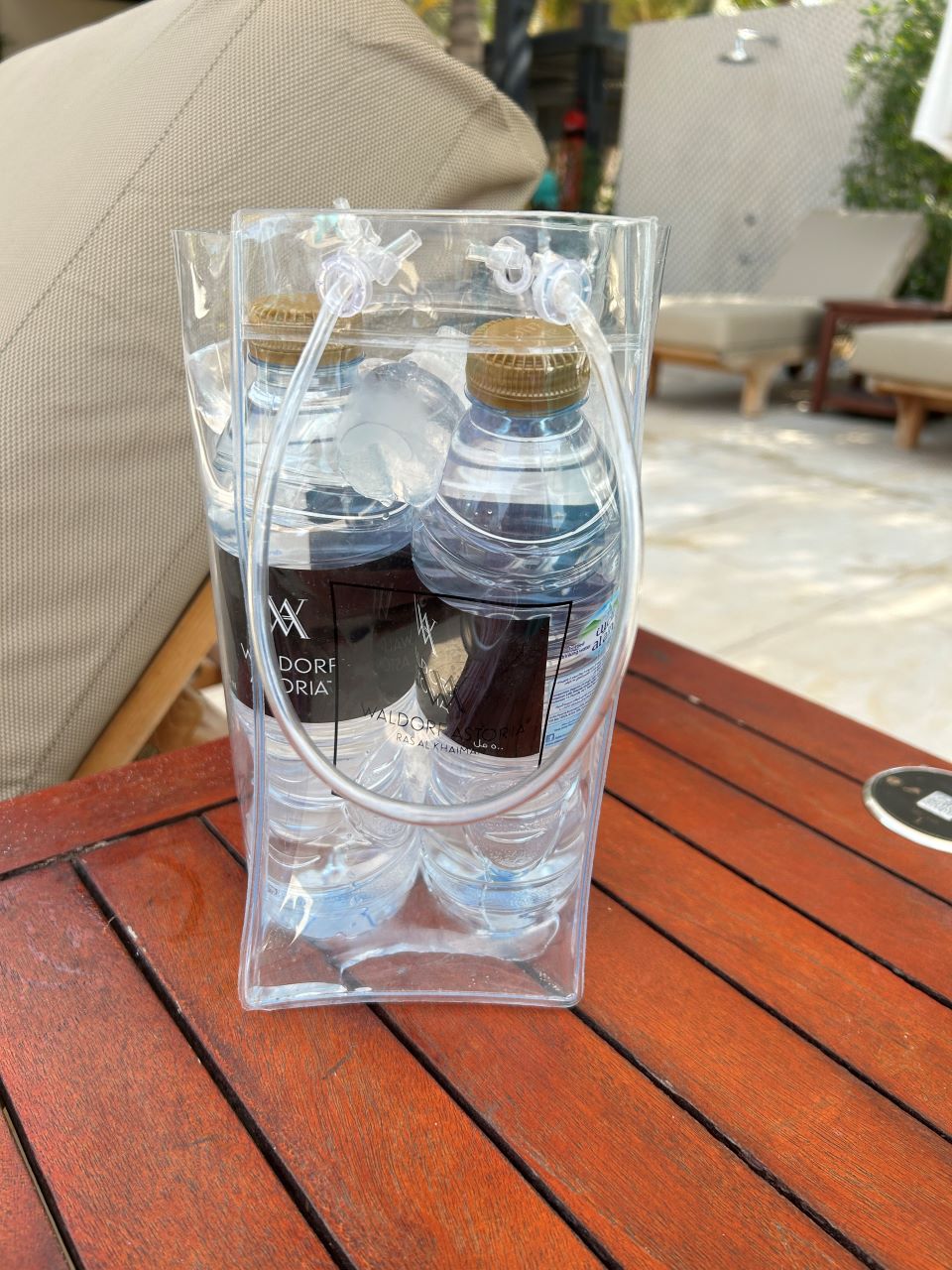 Ice lollies were also handed out at the main pool in the afternoon when I was there.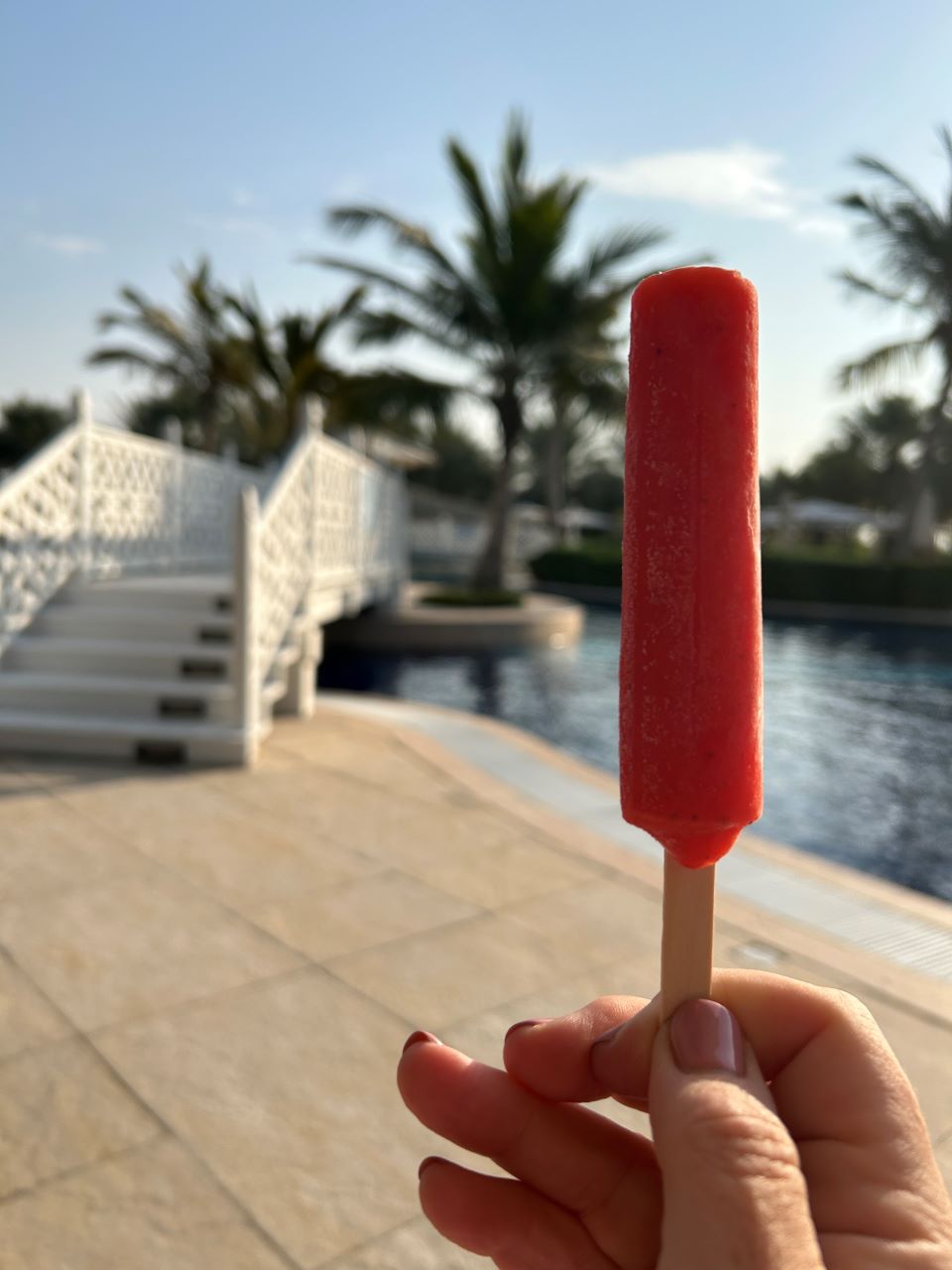 I liked all the Asian style pagodas with sunbeds for when you wanted a bit of shade and peace and quiet. These were dotted around the pools and gardens.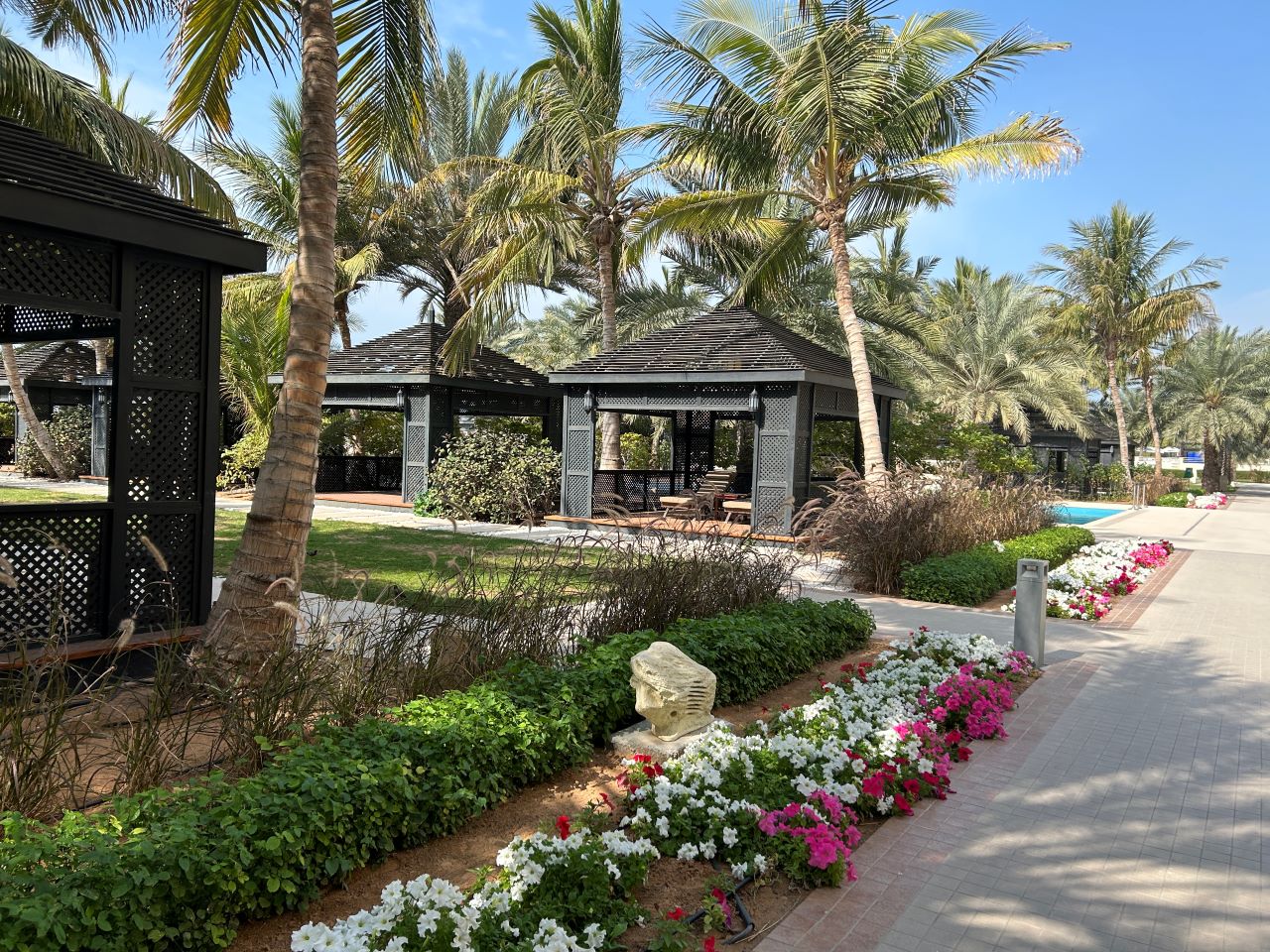 Both pools were a lovely warm temperature around 29-30c, and are temperature controlled, so they don't get too hot in the summer.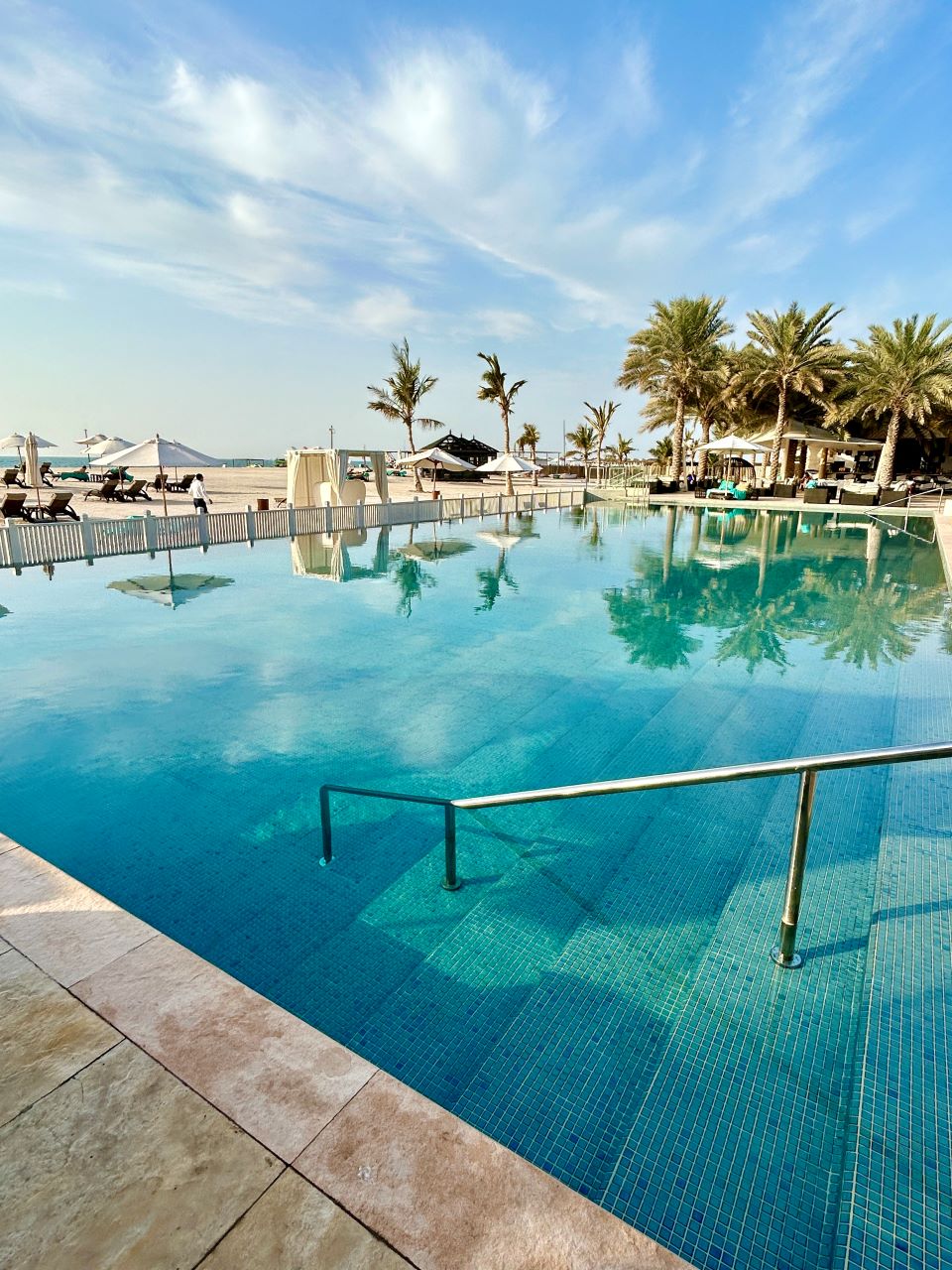 The Sunset pool had the most amazing tranquil feel with chill out music playing in the background. I was definitely in my happy place relaxing on the comfy lounger by this pool. It was also a great place to watch the sunset.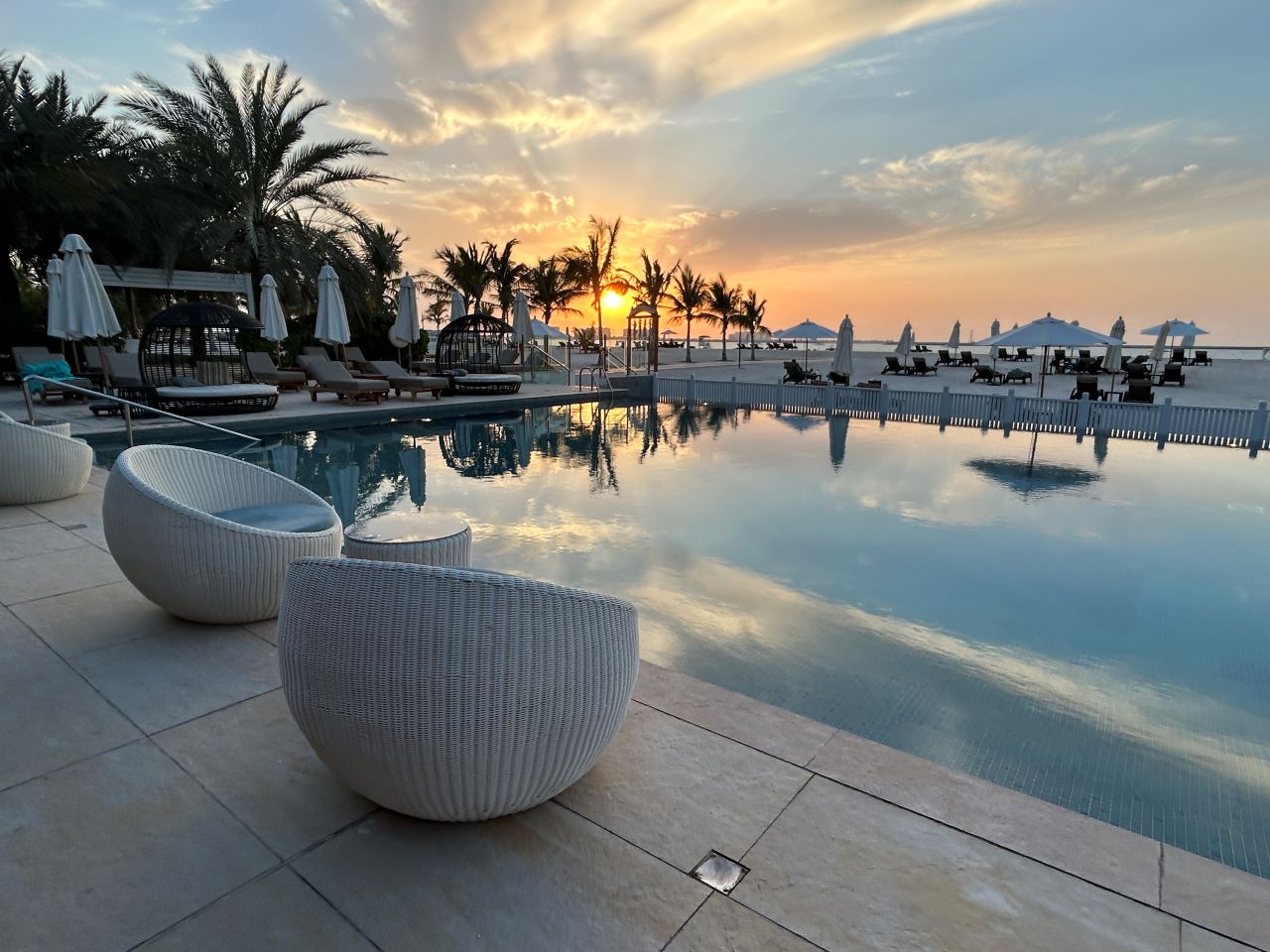 The beach was very extensive with beautiful fine white sand and a gentle slope into the calm sea. However, it is a bit of a walk from your lounger if you sit near the pool!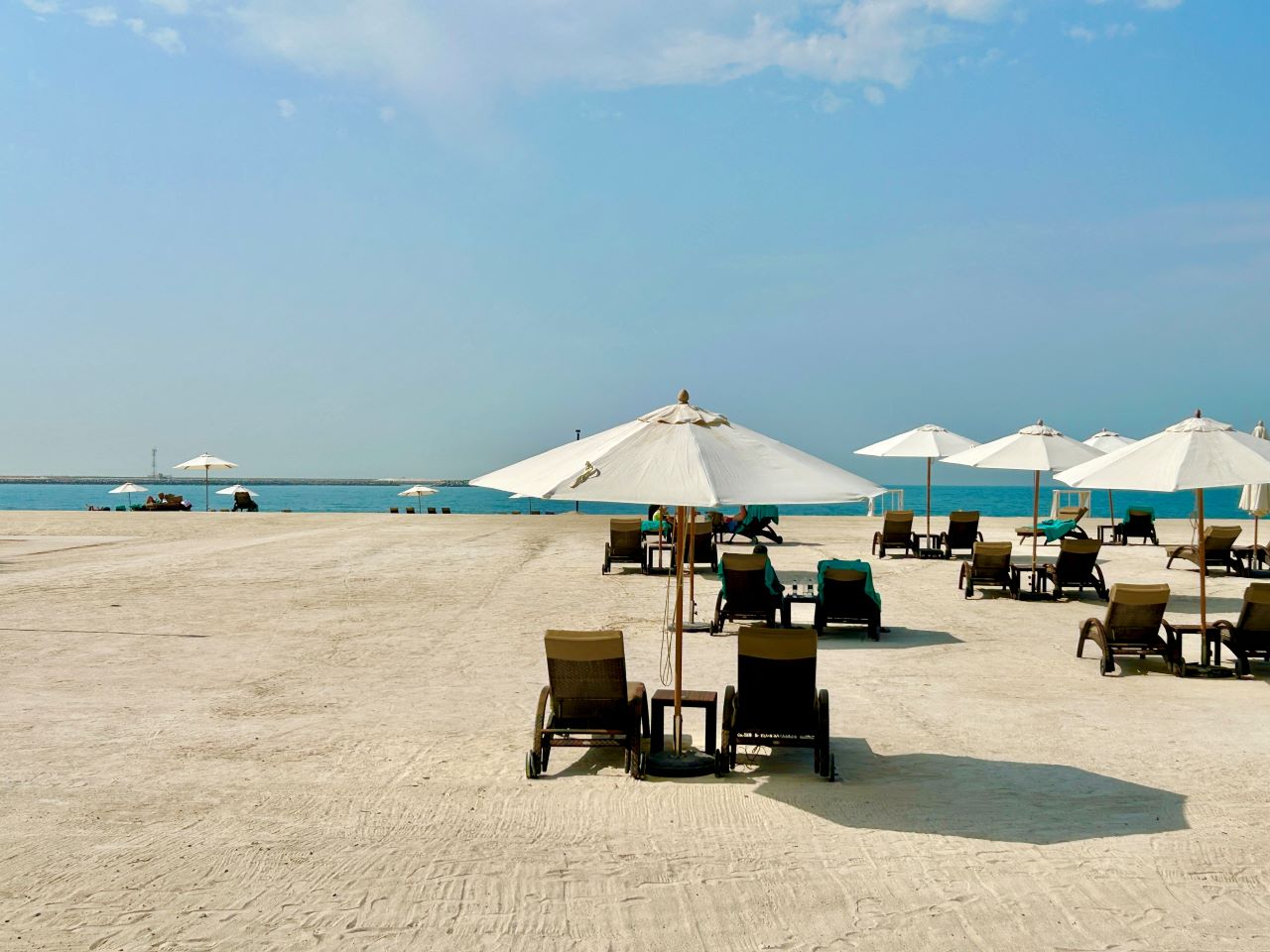 Other facilities and activities at Waldorf Astoria hotel Ras Al Khaimah
If you have kids with you, there is a kids club for ages 4-12 with an outdoor play area and nursery plus a baby sitting service. The hotel also has a Little Hotelier program where children can get a chance to work as a hotelier for the day and learn about the industry. There are also birds of prey on site and a bird show.
If you are feeling sporty, there is a large gym open 24/7, private training including yoga and pilates, tennis courts and a golf club next door. You can also practise your swing with bio-degradable eco-gold balls which contain fish food for you to practise your swing into the sea. Next to the hotel is the Al Hamra Golf Course which has 18 holes and was designed by Peter Harradine.
There are plenty of watersports on offer including deep sea fishing, snorkelling, jet skis and wakeboarding which the hotel can organise for you, with some being available on site.
Spa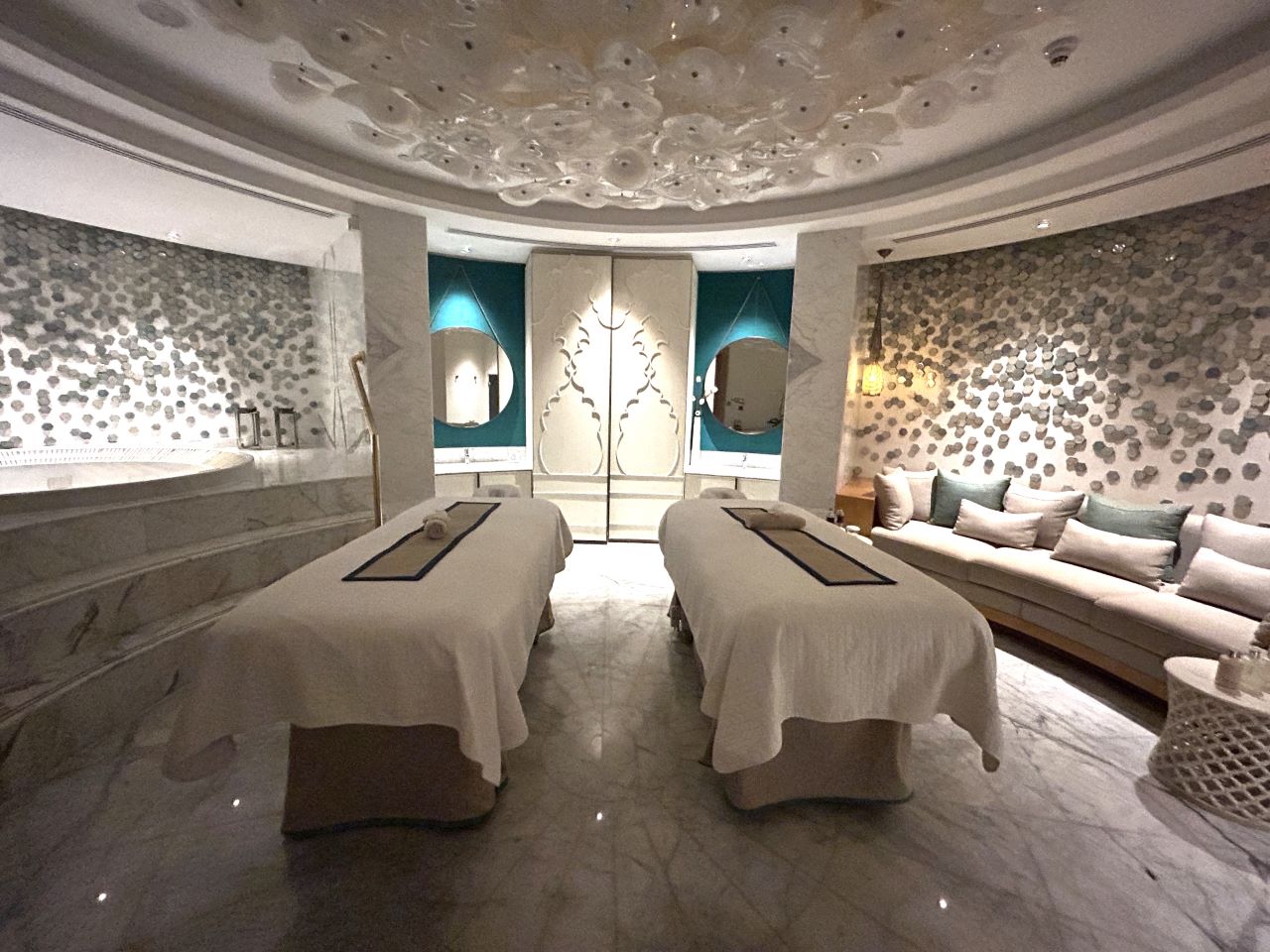 The spa is very sumptuous with its underwater-themed decor. The spa facilities also include male and female steam rooms and Waldorf Astoria's signature herbal sauna. There is a beautiful couples therapy room with a jacuzzi and sauna for the ultimate romantic spa session.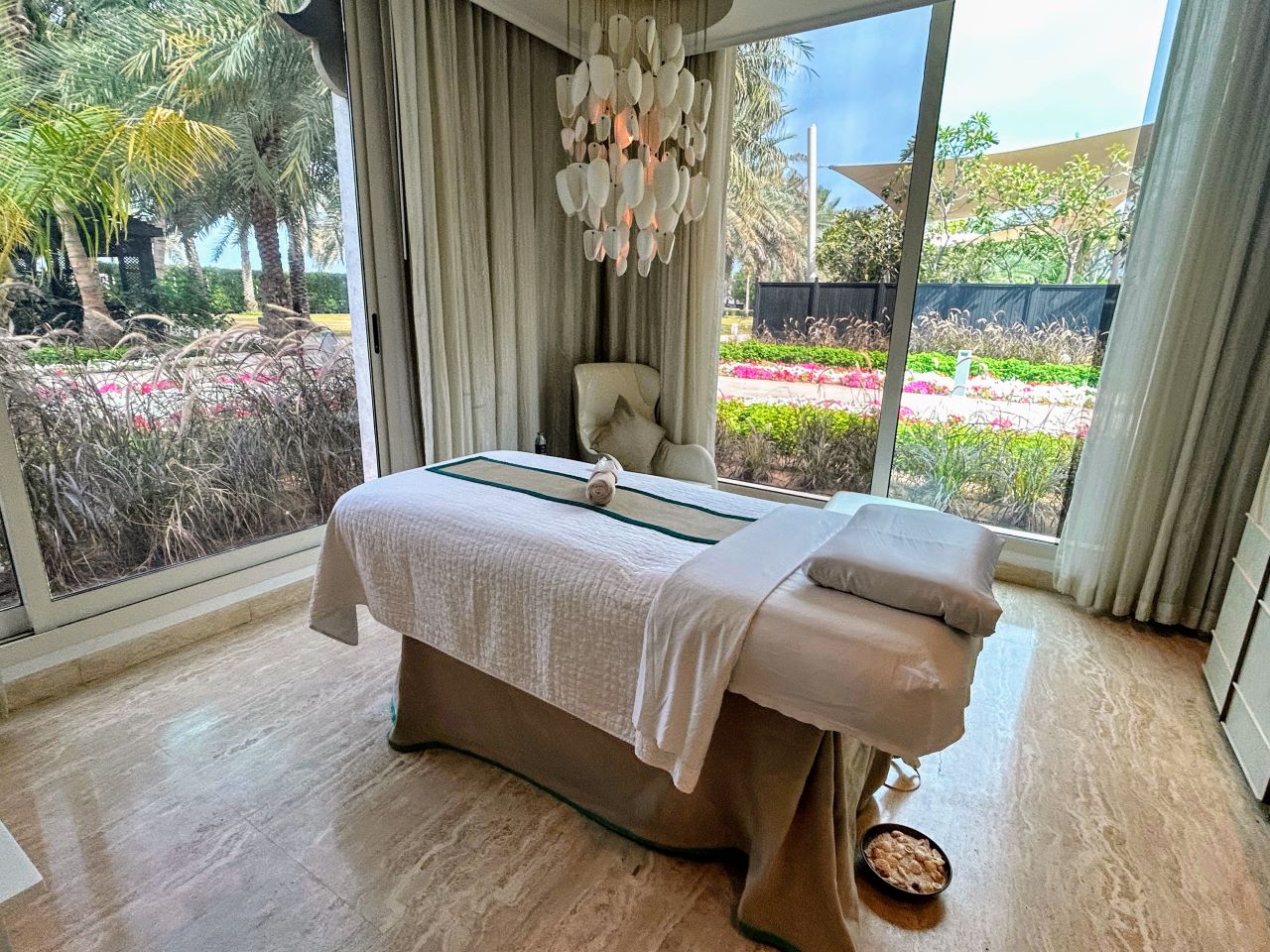 I was pleased to see that the hotel offers Maraget Dabbs treatments (an English foot and hand guru). My room was slightly disconcerting as it had one-way windows so I could see out to the gardens. The treatment was very relaxing and professional, and I definitely had a spring in my step afterwards. Once your treatment is over, you are invited to relax with some water or tea in the lounge.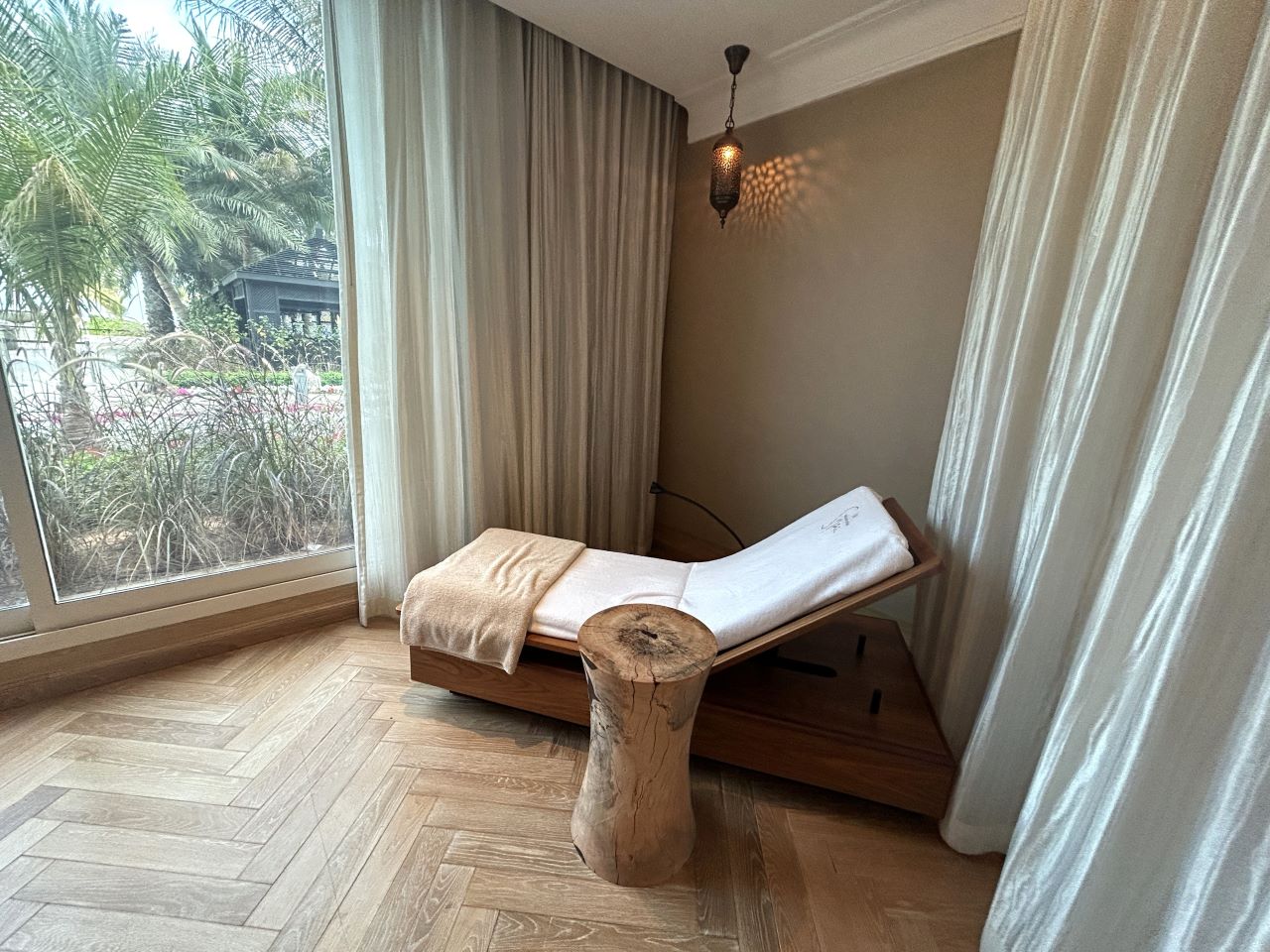 Booking and prices
Prices start from £230 per night in low season. If you plan to stay for a number of nights, it is worth checking with our partner GTC as there is usually a 3 for 2 offer or 3 for 4 on many Waldorf properties. You also get extra perks but collect your points as usual:
Complimentary Breakfast for 2 people
$100 USD hotel credit per stay, or local currency equivalent
Next category upgrade, subject to availability
Double Hilton Honors points
You can check prices and find more information here.
Conclusion for Waldorf Astoria hotel Ras Al Khaimah
I absolutely loved this hotel, particularly the air of calm about it and the luxuriously large rooms. The staff were all excellent, and the food was also exceptional in the two fine dining restaurants. I really didn't want to leave when my stay was up and I am already planning to go back again next winter!
Like our Waldorf Astoria hotel Ras Al Khaimah review? You can read more hotel reviews here.