I had wanted to visit Ras Al Khaimah in the UAE ever since writing about some of the deals on luxury hotels on TLFL. I then attended a presentation by the tourist board and decided I needed to get on with it! I went on a press trip with the Ras Al Khaimah tourist board to see what it had to offer (I paid for my flights, they arranged the hotel and activities).
I have been going to Dubai and Abu Dhabi for around 15 years and have seen huge changes in both places. I find Dubai a bit much sometimes if I want a relaxing winter sun break as it is now so built up. Ras Al Khaimah is completely the opposite end of the spectrum.
After my visit I loved it so much I am already planning a trip there this autumn! The Emirate is far less developed than Dubai and feels so much more authentic. It has more of a sleepy pace than Dubai but has plenty of luxury hotels and restaurants to choose from. However, it still has good infrastructure with roads in good condition and all the essential services you could need.
It would make a great twin-centre break with Dubai. You can party in Dubai and then head to Ras Al Khaimah for relaxation and nature as well as saving money on your hotel compared to Dubai.
It is also worth knowing it is a few degrees cooler than Dubai usually which extends the season with the best weather slightly.
Where is it and how to get there
Ras Al Khaimah is around 50-60 minutes from Dubai airport by car. Currently, you can only get there by car, but Qatar are due to restart service to Ras Al Khaimah this year. It costs around £50 in a taxi from the airport to Ras Al Khaimah. I'd recommend considering hiring a car as it is a straightforward drive, and there is not much traffic in RAK making it a pleasure to drive around.
If you arrive late into Dubai and don't fancy the drive that night, you could do what I did and stay at the airport at the Premier Inn Dubai airport. This is my go-to if I arrive in the early hours and just want to sleep before moving on somewhere else. It costs from around £65.
There is no Uber in RAK, but taxis are easy to come by and very cheap. You can also use Careem app which is similar to Uber if you don't have cash.
Is it dry?
No, it is the same as Dubai with alcohol available in hotels. It does still have the 30% tax on alcohol, so prices are a bit higher than in Dubai but then with hotel prices being cheaper, you will probably end up spending less overall. There is a chance they could remove the tax as well in order to compete with Dubai.
What is there to do?
If you fancy getting out and about there is plenty to do. It is very different to Dubai with activities focused more on nature.
You can find details of all the attractions and all the essential information you need on the Ras Al Khaimah tourist board website here.
Jebel Jais mountain – stunning scenery and adrenalin rides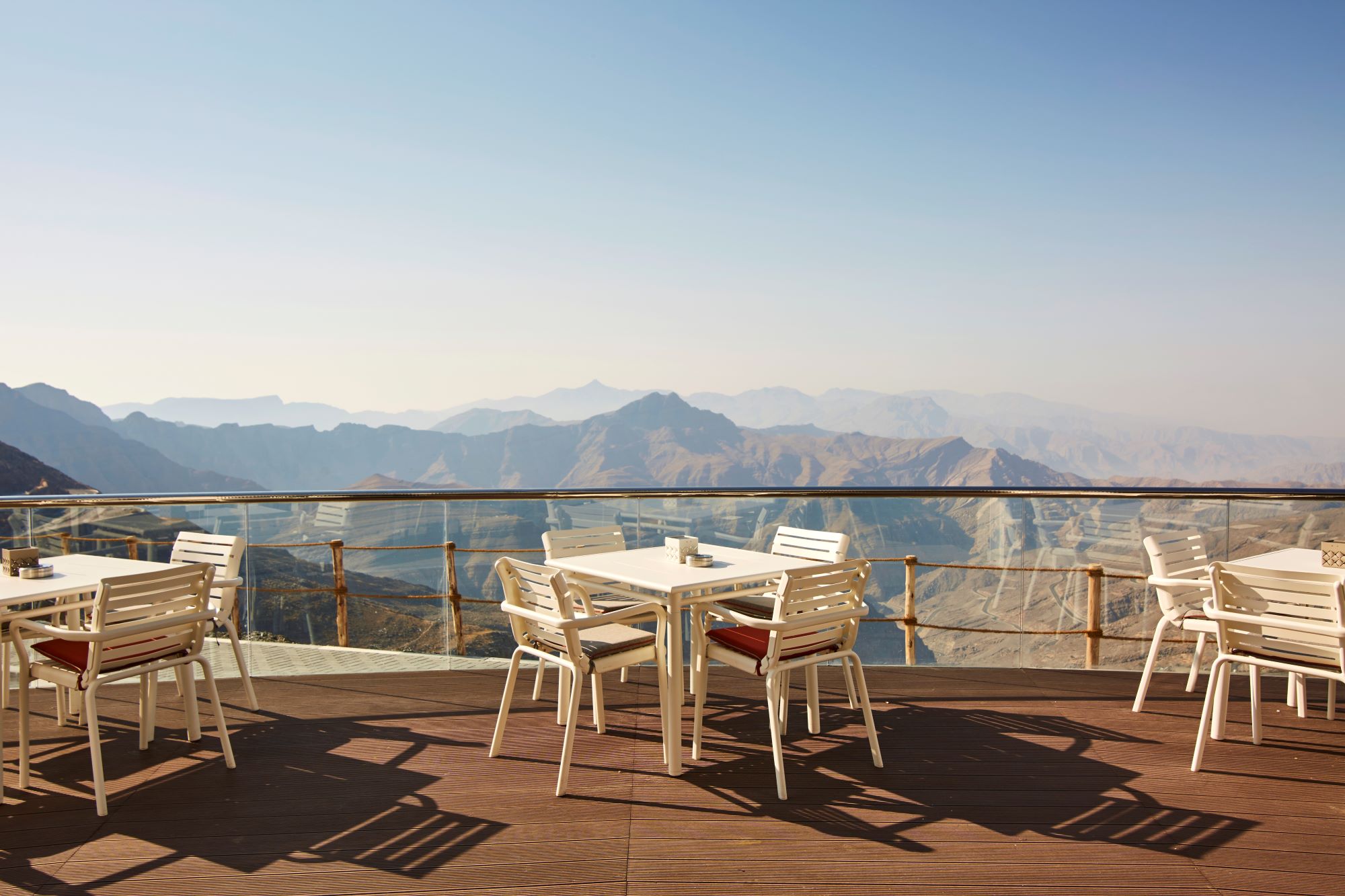 The drive out to Jebel Jais is stunning in itself, even if you just fancy going to the lovely restaurant at the top rather than doing any of the activities. It's a fairly easy drive with the new road that just opened, and it's one road pretty much most of the way. It takes around 1 hour 15 minutes from the beach hotels.
The restaurant at the top, 1484 by Puro does breakfast as well as lunch and dinner, so it could be worth going early at weekends and having breakfast there. You can book a table in advance as it does get crowded.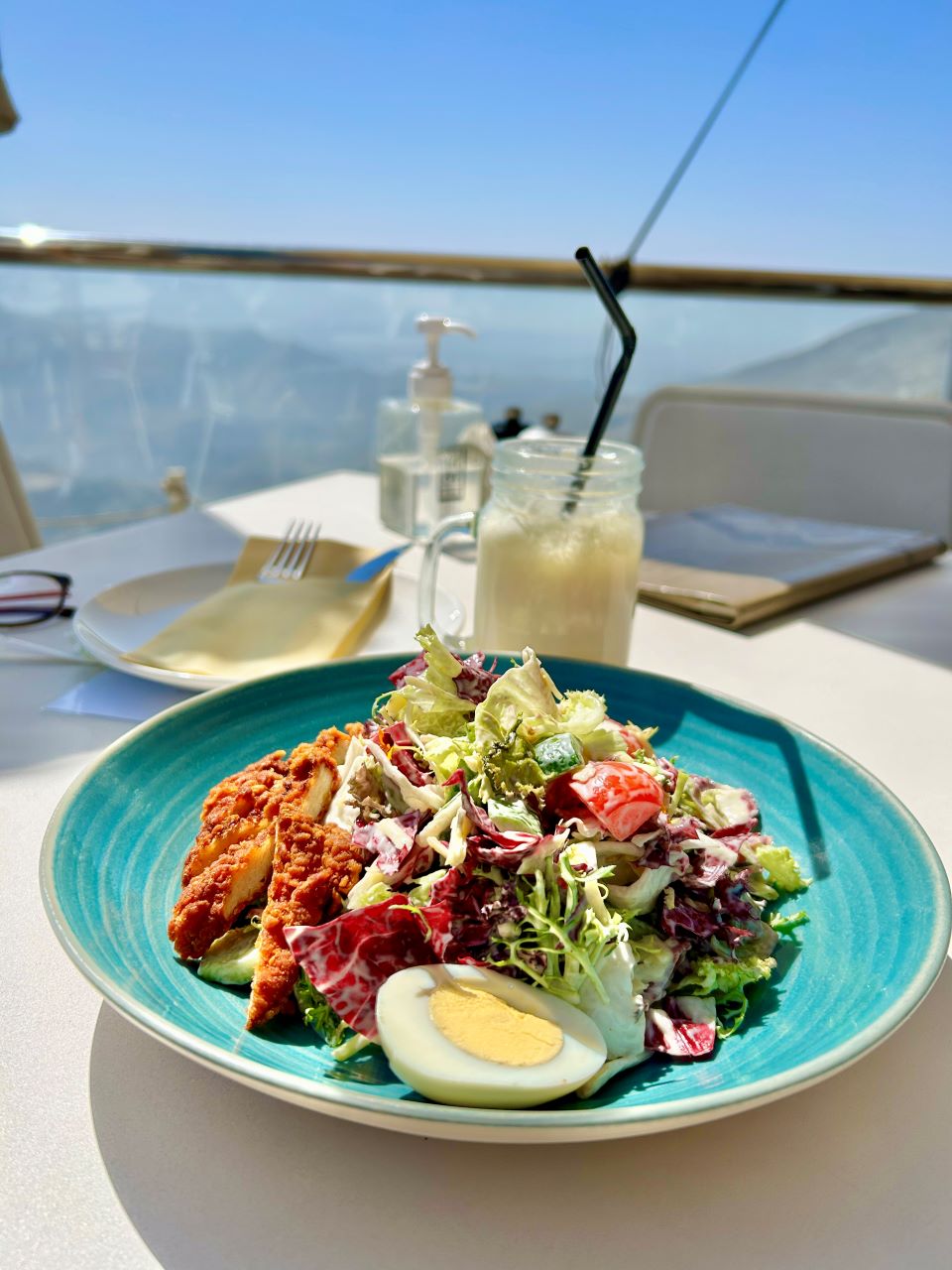 There are multiple activities once you get to the top. These include the world's longest zip line, which is done superman style, a series of 8 ziplines which is done seated and the sledder. Hiking and biking are also popular here. There is even a Bear Grylls Explorer camp. You can find details of the activities here.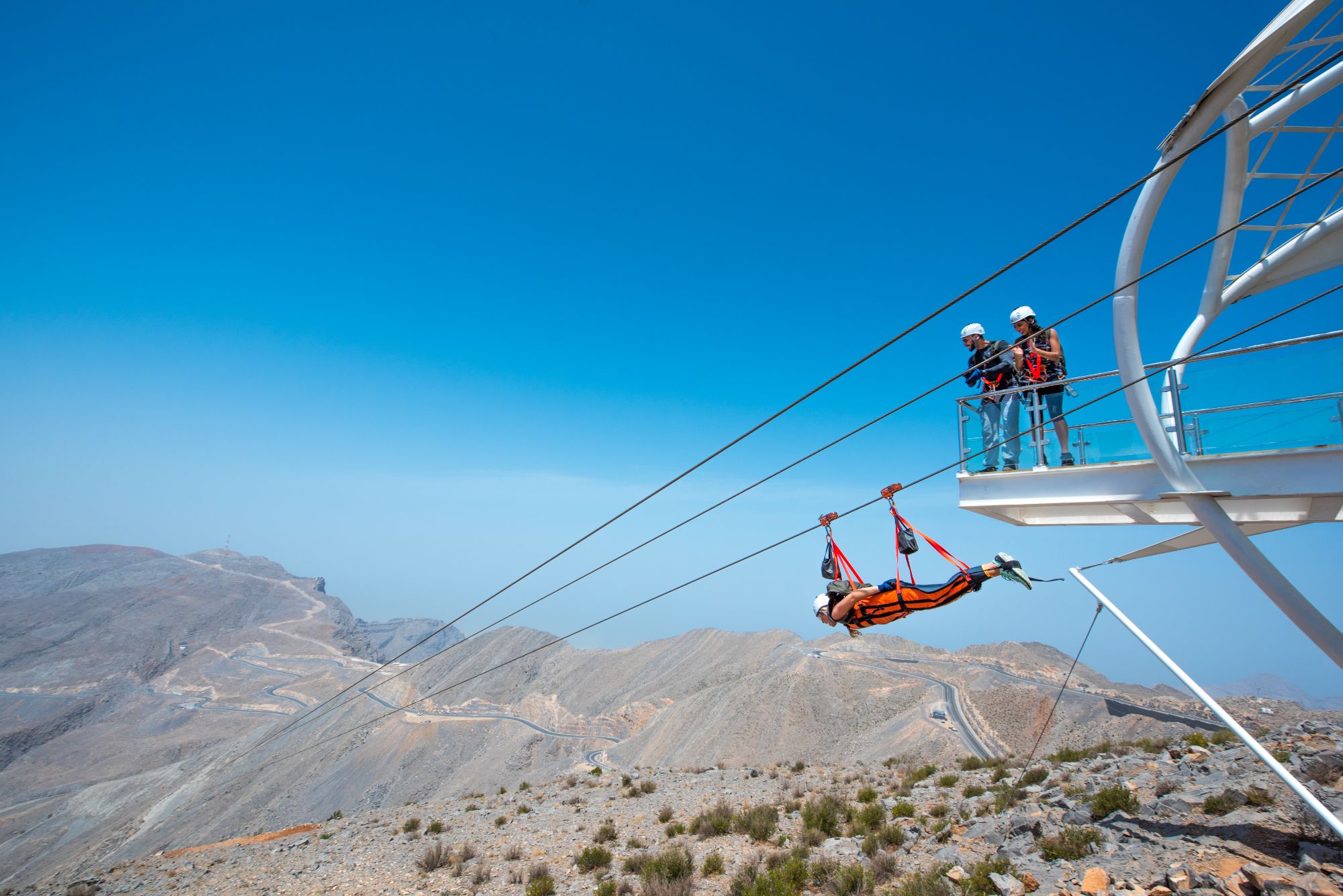 Suwaidi Pearl Farm outing – mangroves, camels and flamingos too!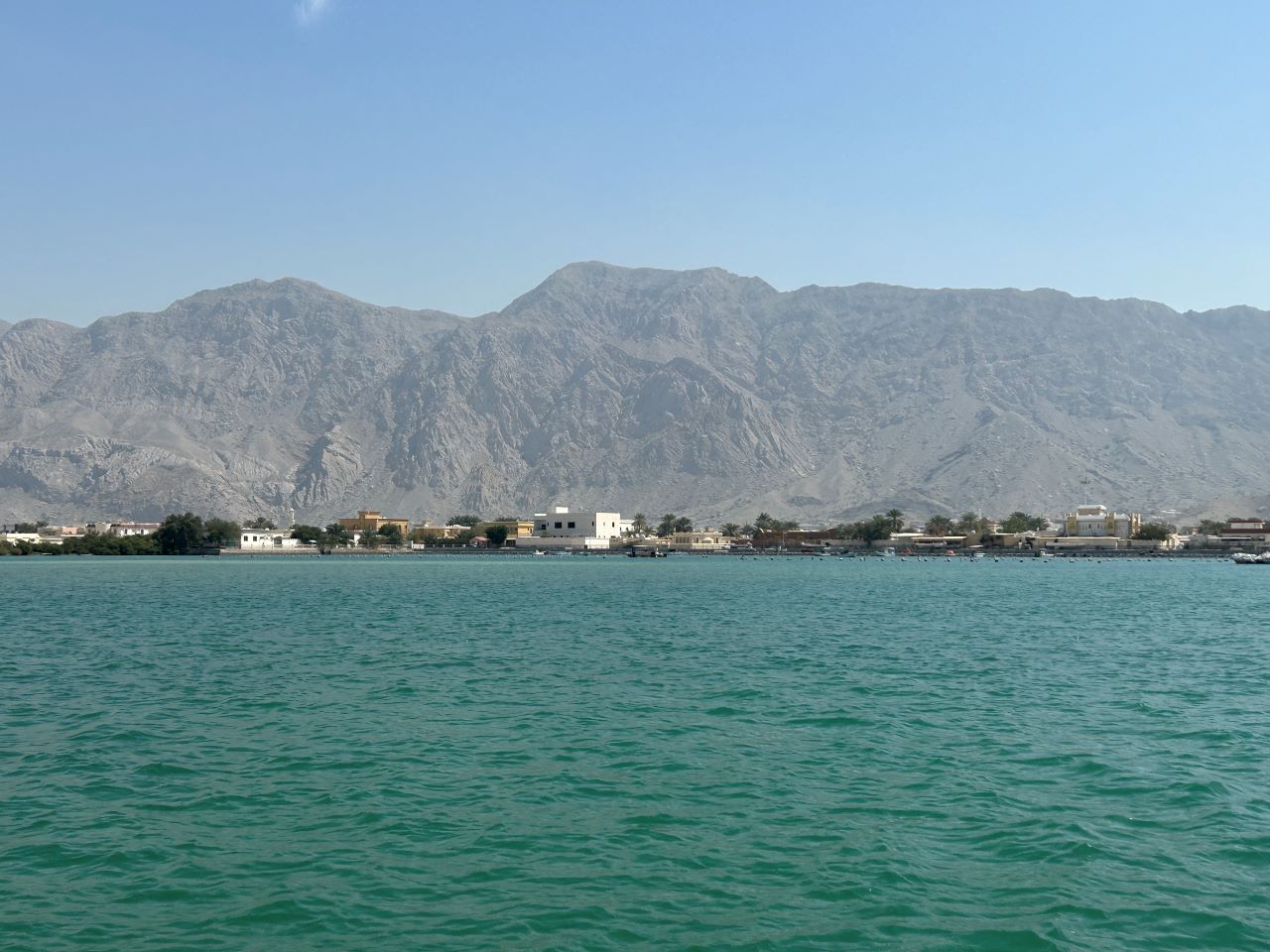 While at first glance you may think that a pearl farm doesn't sound very interesting, this was one of my favourite outings. The journey to the pearl farm allows you to see more of RAK and see the huge differences between the Emirates. The pearl farm is set in a stunning location. You get a traditional boat out to the floating farm and the scenery along the way is beautiful with the mountains set against the clear sea and mangroves. You travel alongside an island where you may spot camels too!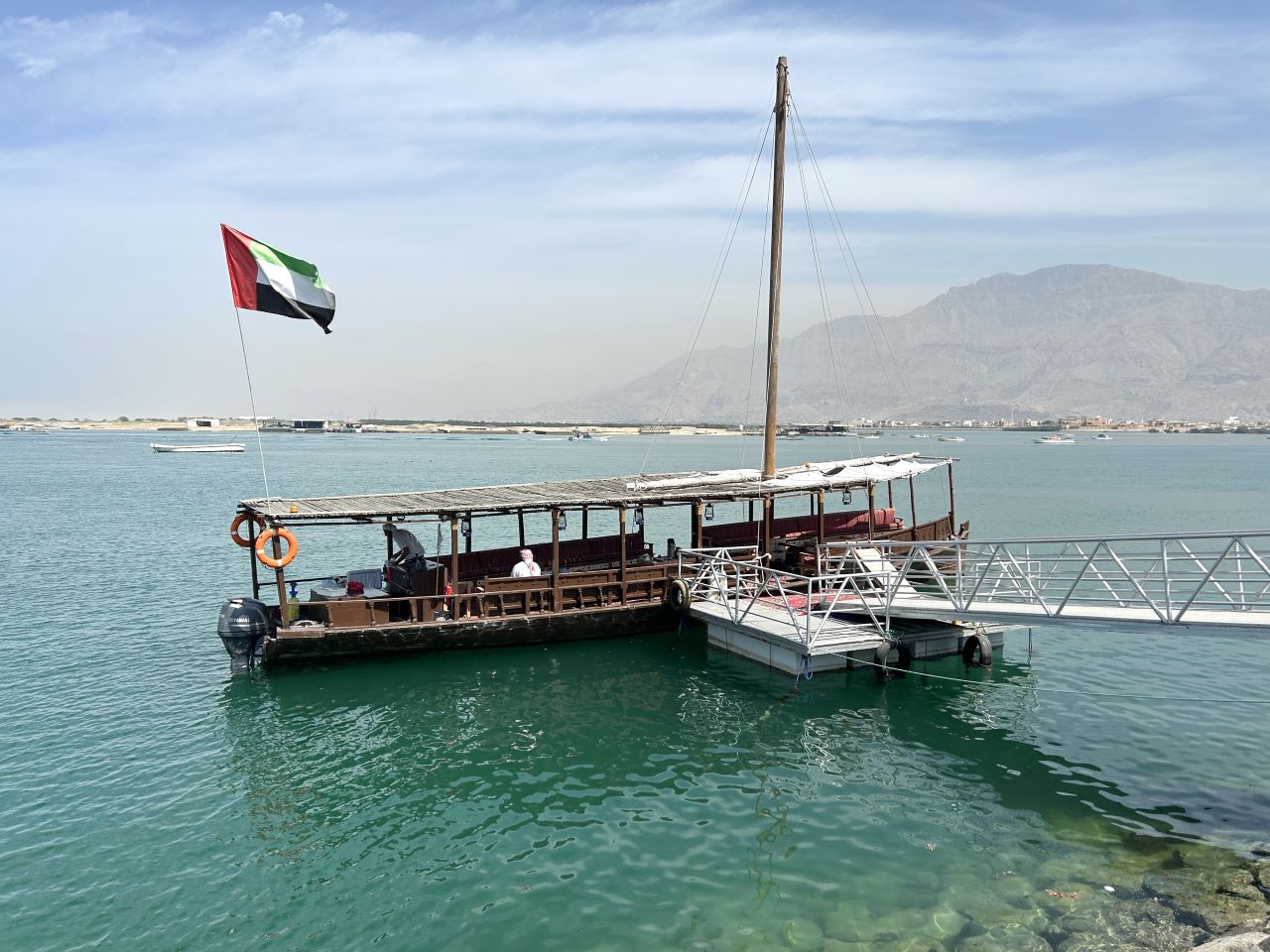 Once onboard, you hear about the difficult conditions that traditional pearl divers (free diving) lived in and how the vocation gradually died out in the UAE. You may also get the chance to try your luck with picking an oyster to see if it has a pearl inside. You may also be lucky and spot the nearby flamingos with the old-school telescope.
A generous traditional lunch is also served while you relax and take in the views. Naturally, there is a shop which has some lovely pieces with both traditional and modern styles available.
You can find more information here.
Sonara Al Wadi luxury desert experience
This evening activity is held next to the Ritz Carlton but is not actually run but the hotel. If you have ever been on one of the Dubai desert experiences, this is in a whole different league. It is a much more classy and upmarket experience with fantastic food and a relaxed vibe.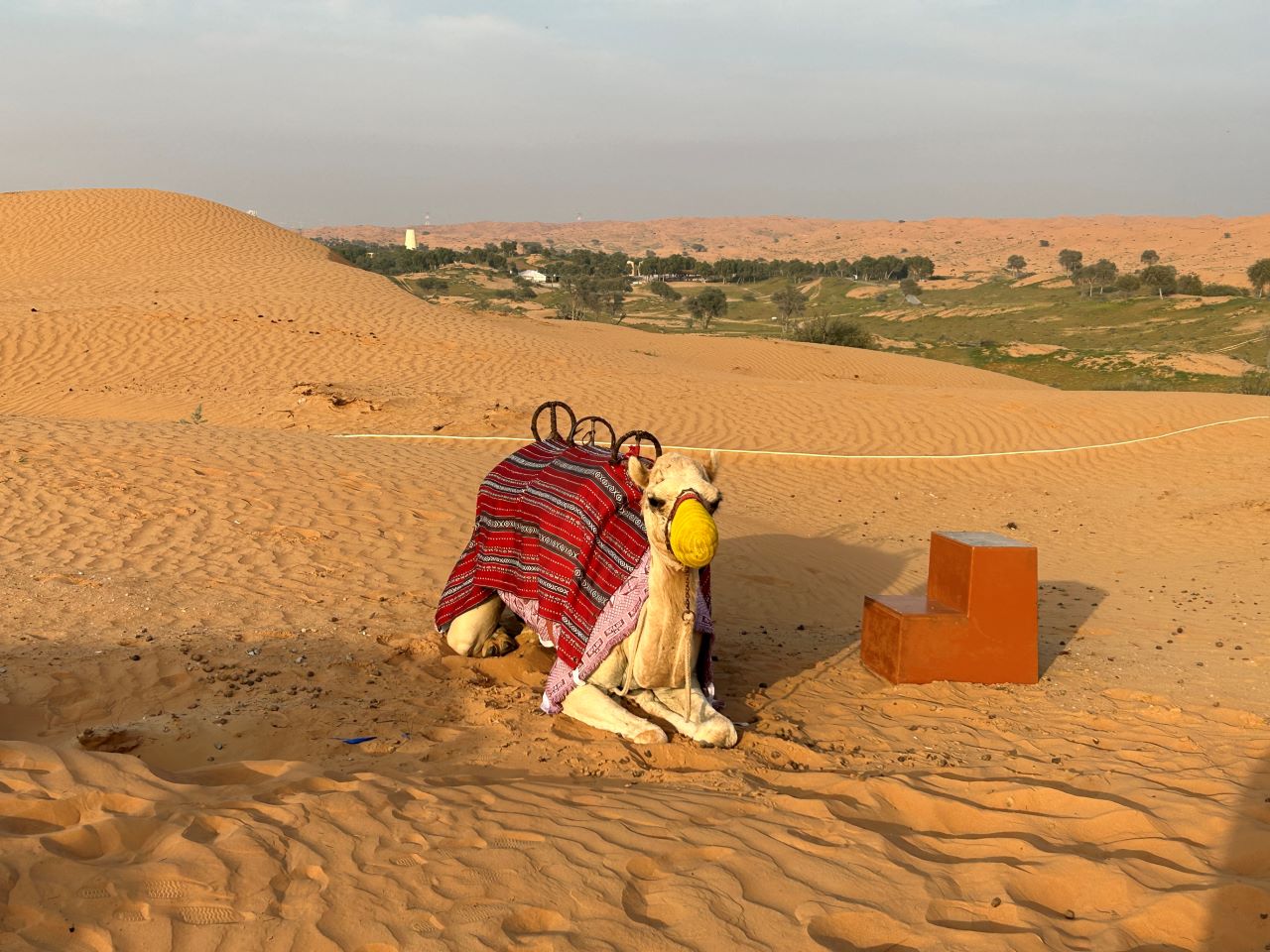 There are plenty of activities included including birds of prey, camel rides, sand dune surfing and entertainment.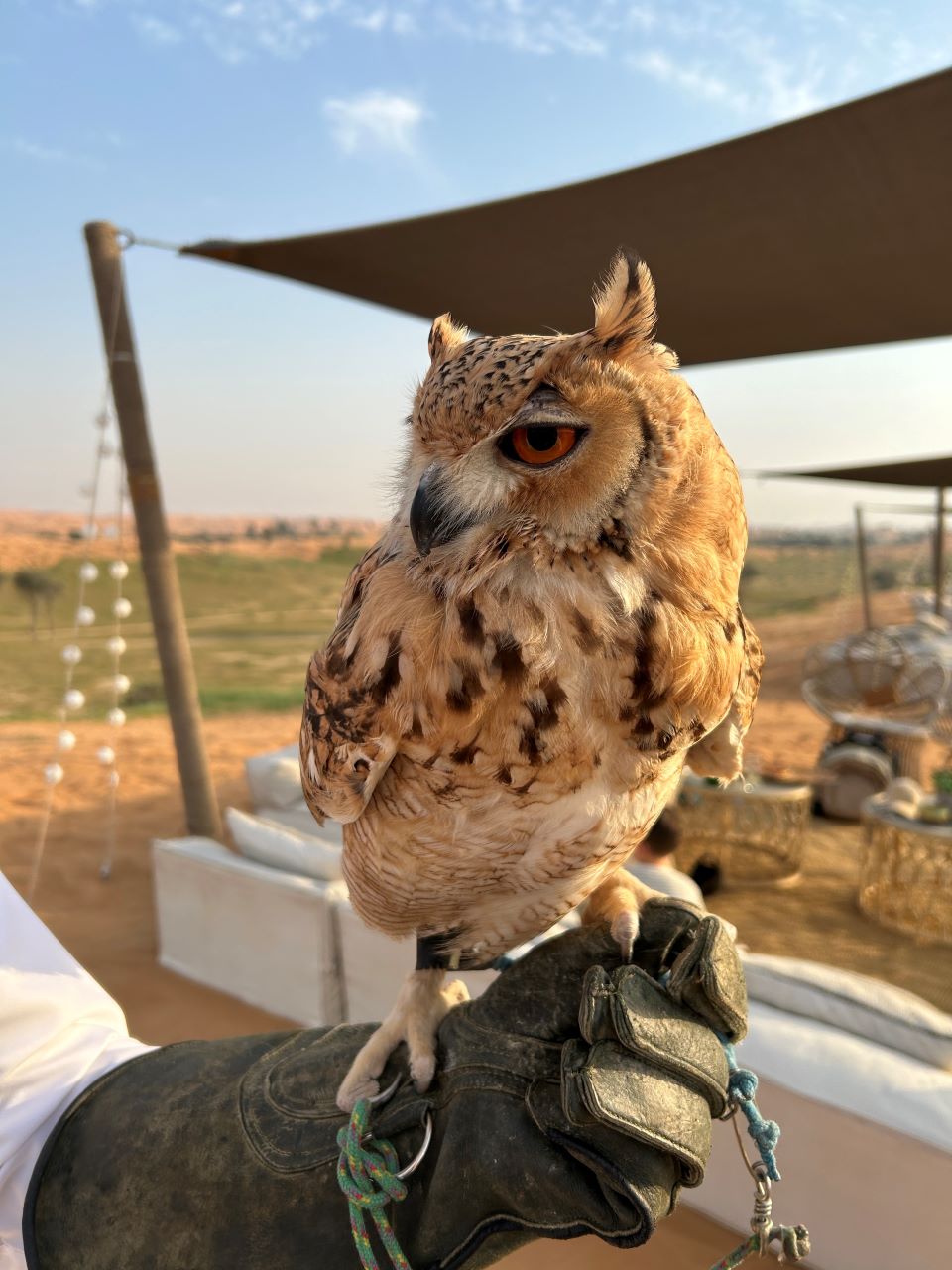 I got to try flying the owl, which was a real highlight to be up close with such a gorgeous creature. It was surprisingly soft to touch!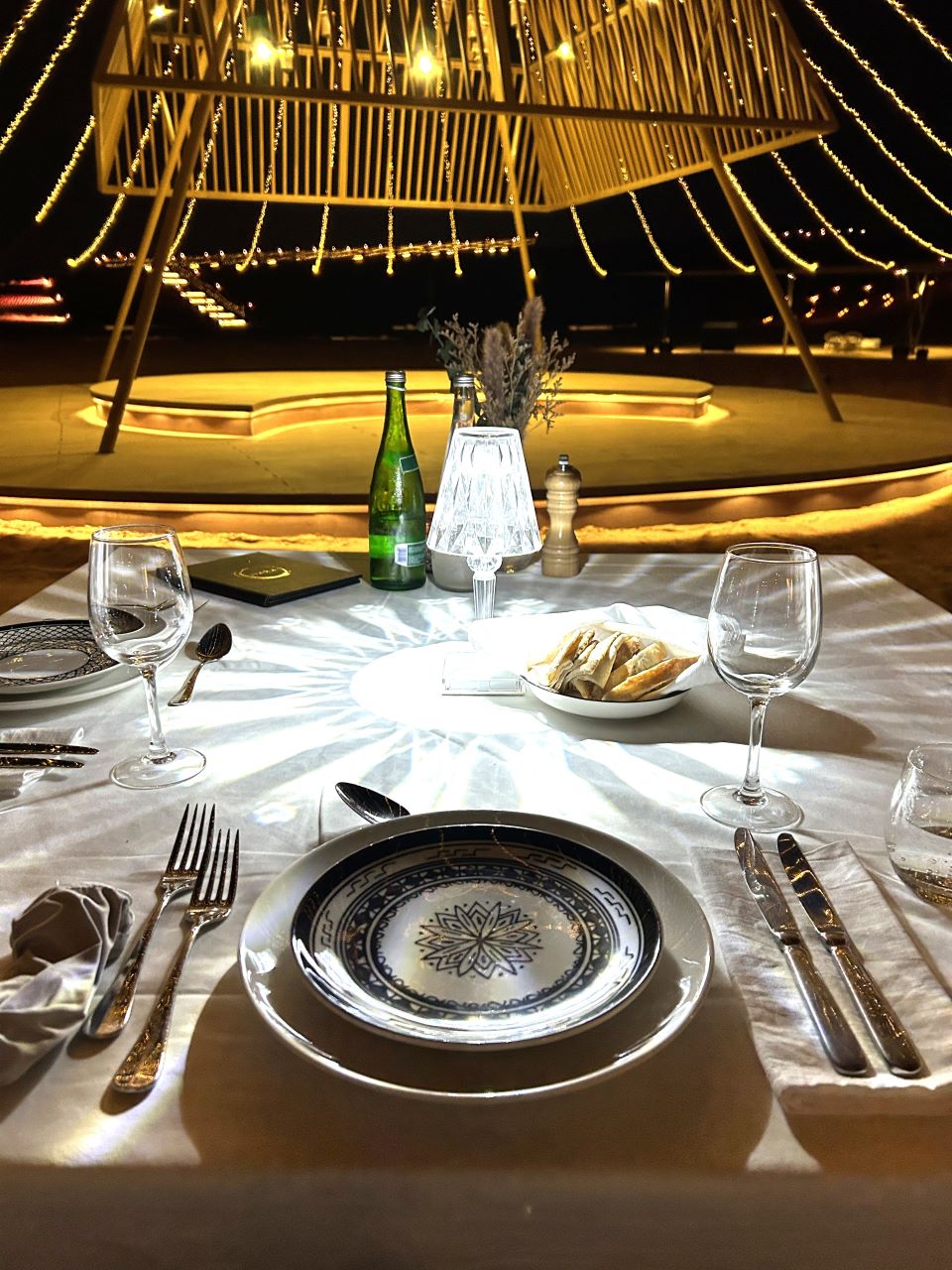 The evening starts with drinks and canapes (alcohol available to purchase) alongside the activities while you watch the sunset. It felt very chilled, and with all the chairs being spread out, it would be great as a special romantic evening, although you get families there as well.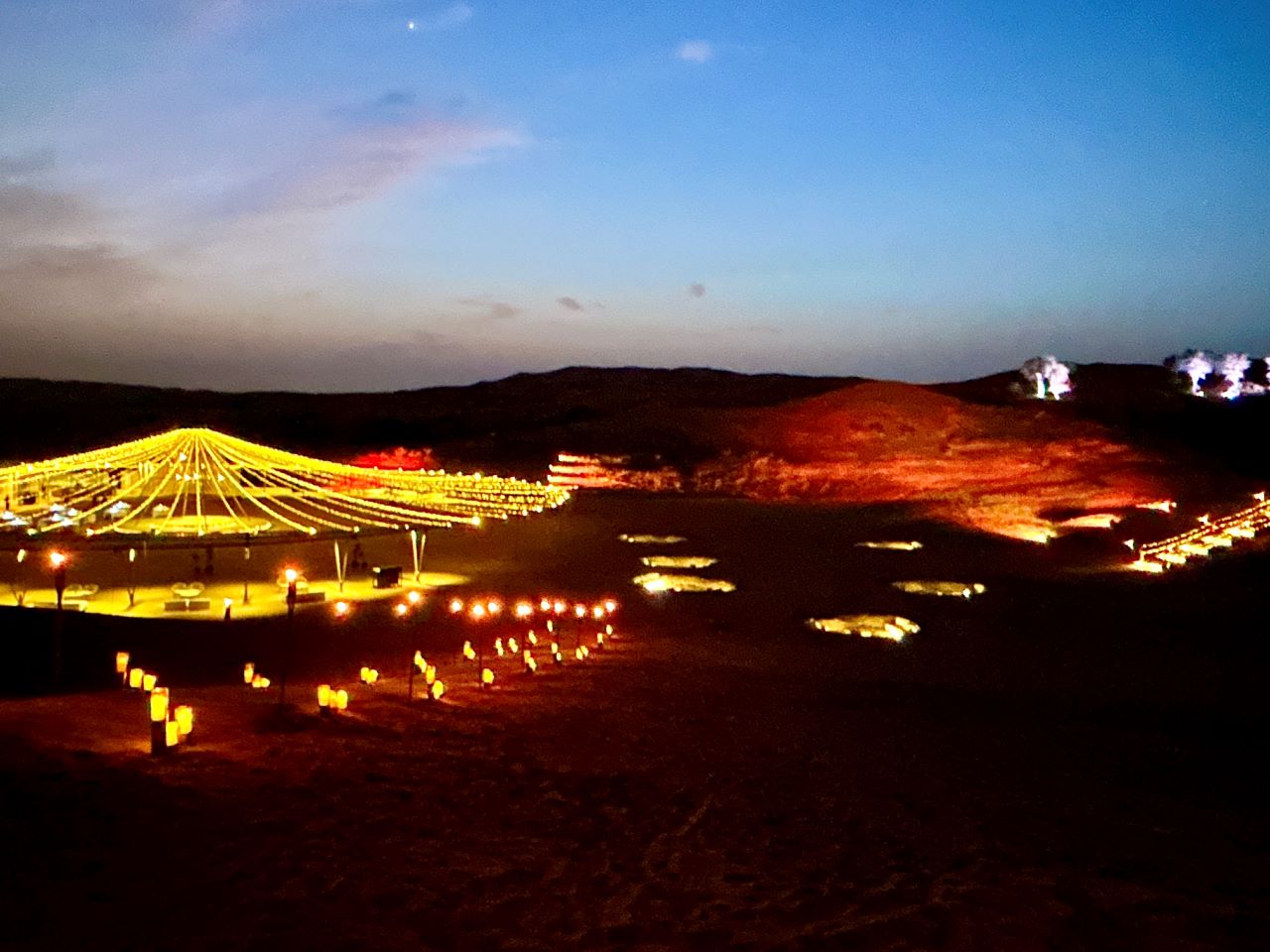 Once the sun sets, you head down to the restaurant for dinner. This is served in three courses with multiple dishes for each course based on local cuisine. It was all delicious and a lot of food, so bring your appetite!
As dinner progresses, there are two acts which are both spectacular. The first is a balance and juggling act, but it is the firebreather that steals the show.
You can find more details about Sonara here.
Al Hamra, Mosques and museums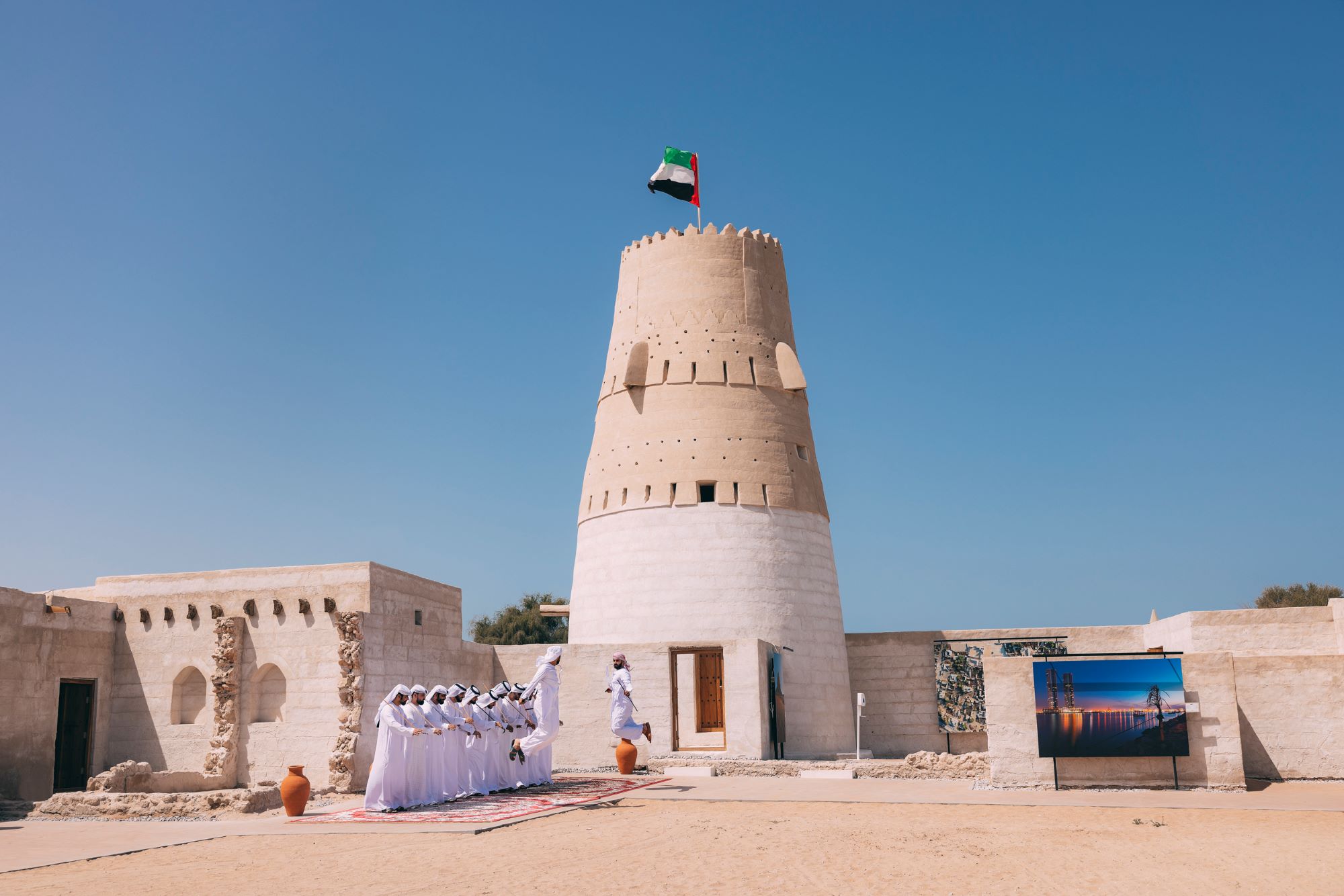 Al Jazeera Al Hamra is the only remaining historical pearling village in the entire Gulf region. It is also the setting for the yearly Fine Arts Festival which is worth visiting even if you are not particularly into art since there are lots of activities during the festival.
Al Jazeera Al Hamra has a fort and watchtowers, mosque, souq and extensive courtyard houses. It is a great place to try some traditional dishes from the souk such as kanafa which is shredded filo with creamy cheese drenched in rosewater syrup. If you like cheesecake, this will be up your street.
You can also do a tour with the Mohammed Bin Salem Mosque which dates back to at least the 18th century, and the National Museum of Ras Al Khaimah. Sheikh Zayed Mosque is possibly one of the oldest places of worship in the United Arab Emirates. The external façade has been restored, but its architecture remains vestiges of the era of Sheikh Saqr bin Rashid Al Qasimi.
Shopping
Some of the hotels run a daily shuttle to Dubai if you want to do some serious shopping, however, there are some malls in RAK itself. I went to the Al Hamra mall, which is walking distance from the Waldorf hotel. It has all many of the shops you'd expect to see in a UK mall such as Boots, H&M, Starbucks, Nandos etc as well as a Sephora and a great beauty salon called Tips and Toes which is fantastic value for a manicure or pedicure, but they offer lots of different services. I just walked in without an appointment.
What luxury hotels are there to stay in?
I have reviewed the two hotels that I stayed in, The Waldorf Astoria Ras Al Khaimah and the Movenpick Al Marjan Island 5 Star Resort, which you can read by clicking them. I will also cover the Intercontinental in more detail in a later article. If anyone has stayed there recently, please feel free to comment below to gather some more information.
Waldorf Astoria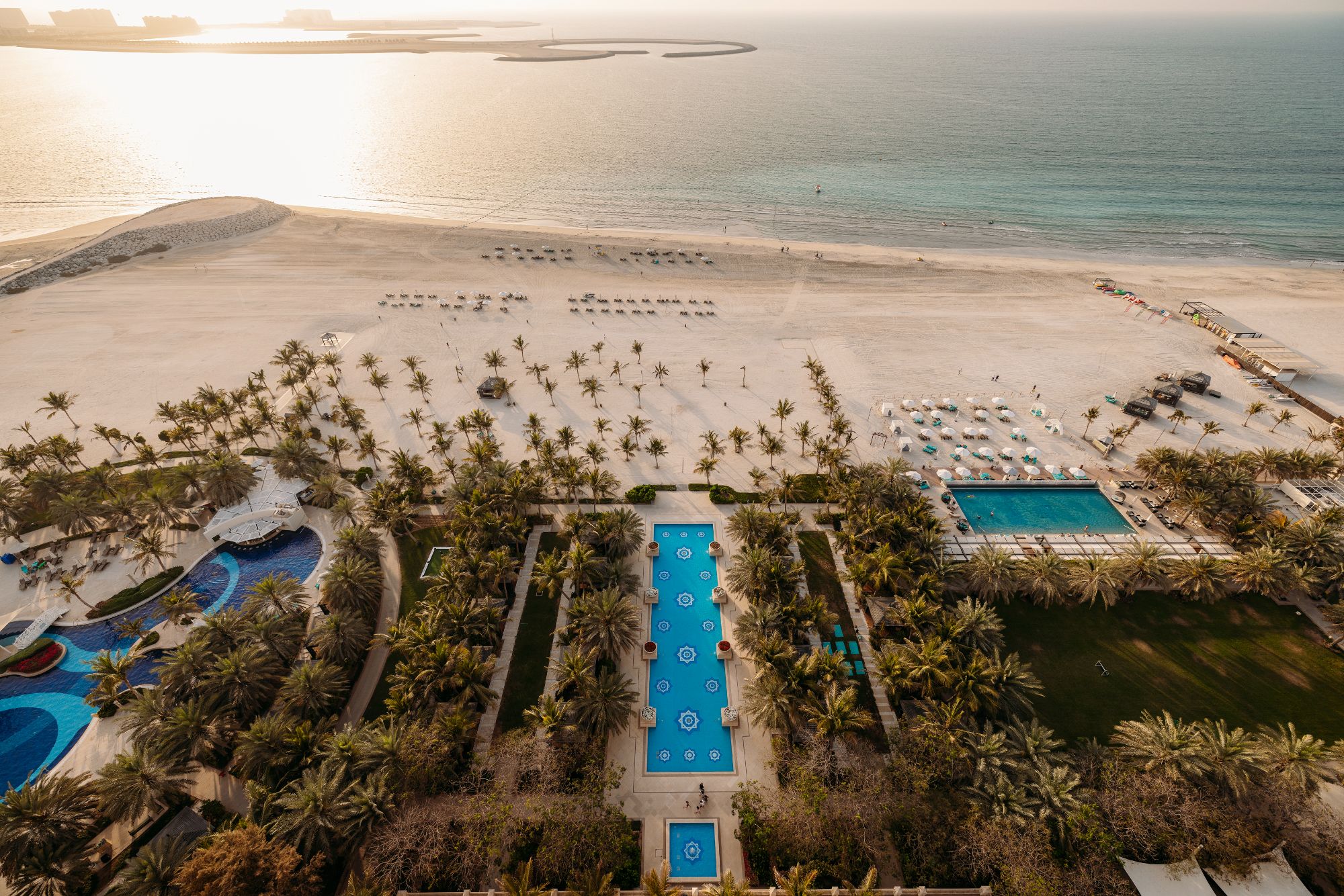 Having visited several hotels, this is the most relaxing for me out of the three as it is spread over a wide area, so it feels very calm. The hotel is the original luxury hotel here but still feels modern with a sense of grandeur. There is an adults-only pool, a huge white sand beach, and two main restaurants. Both restaurants I found exceptionally good. I liked the fact that they had happy hour too to keep the drinks costs down.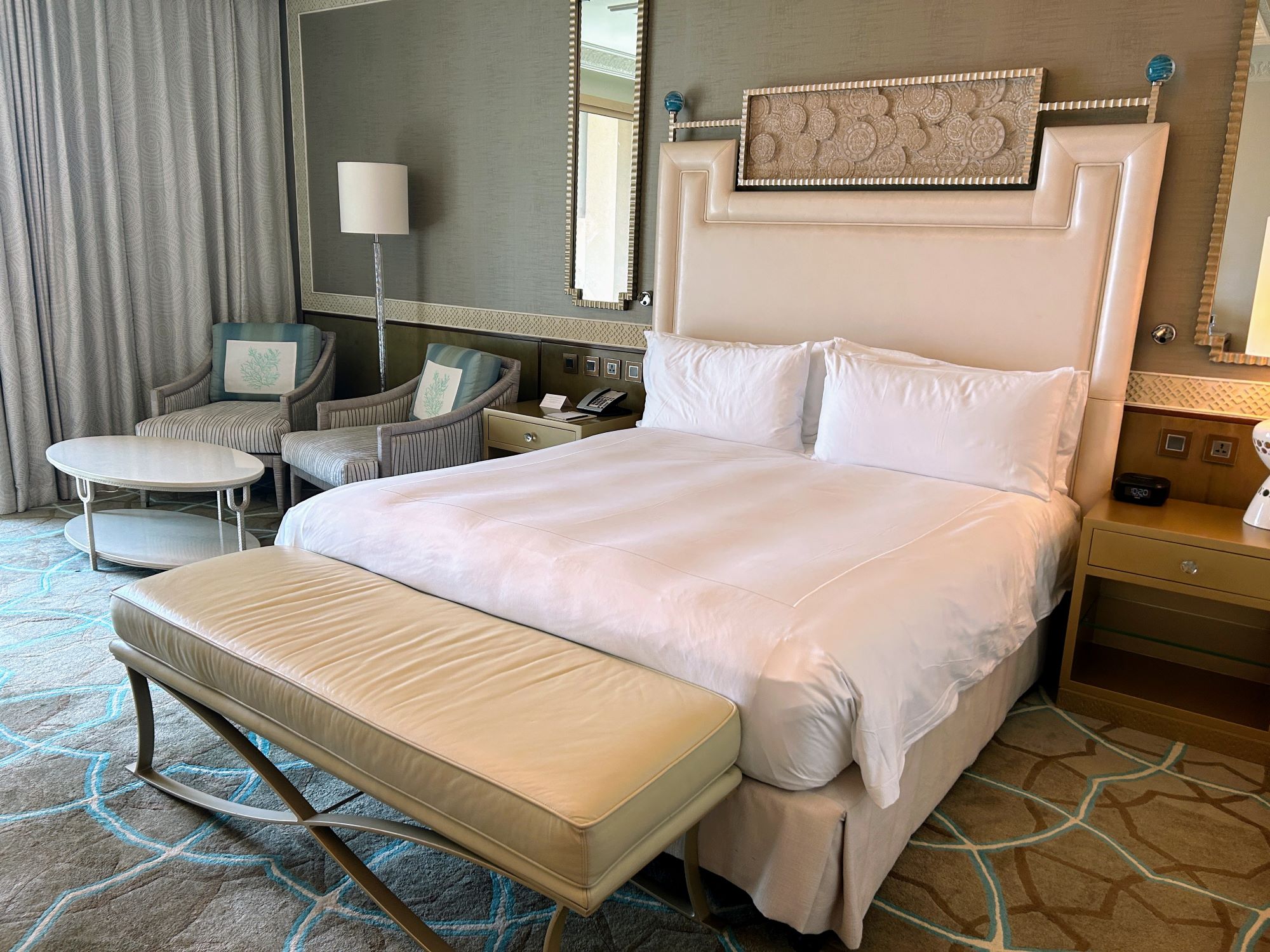 There is a spa here, too which had Margaret Dabbs foot and hand treatments as well as a wide range of massages and facials etc.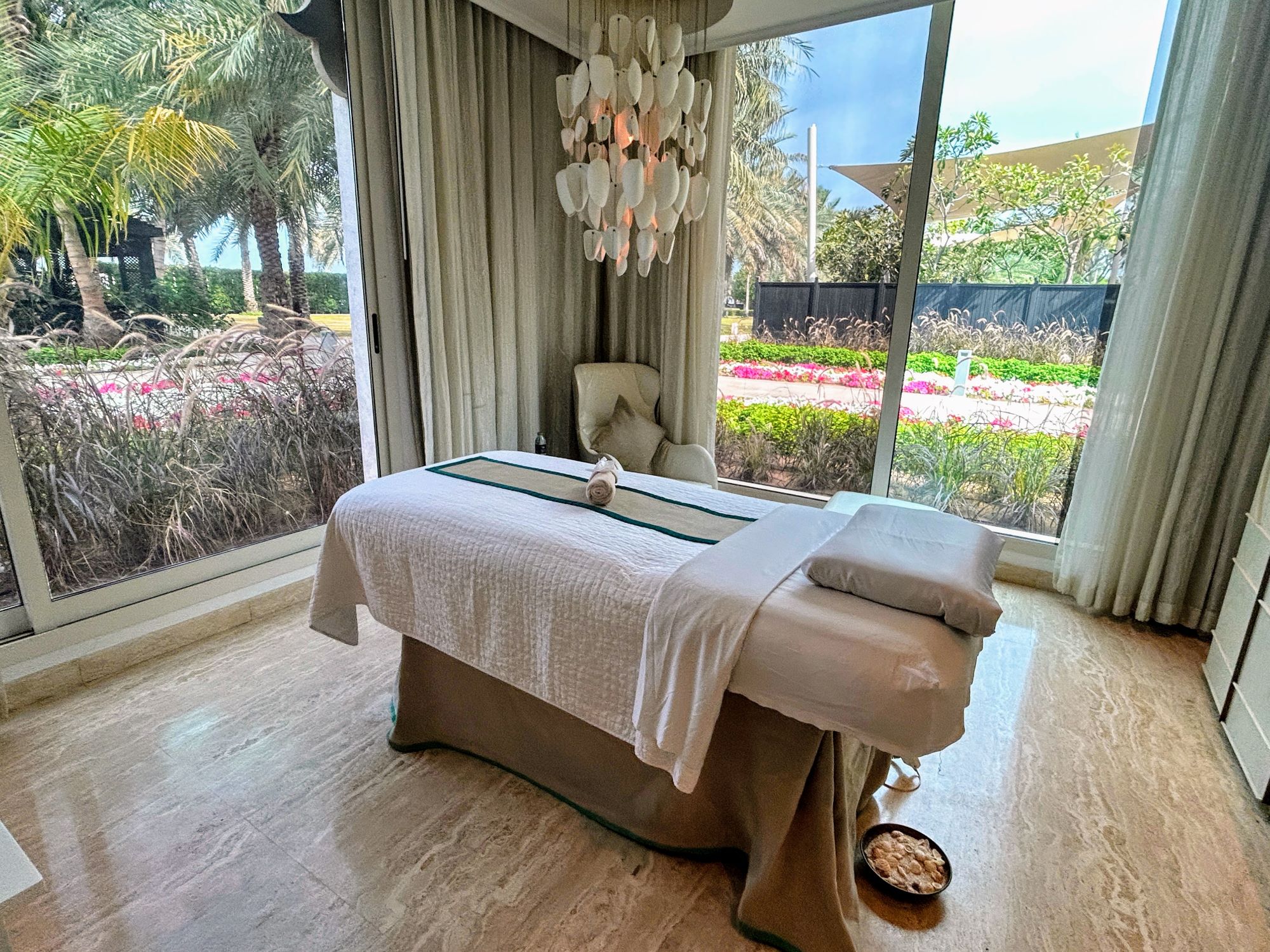 Prices start at around £230 per night in low season.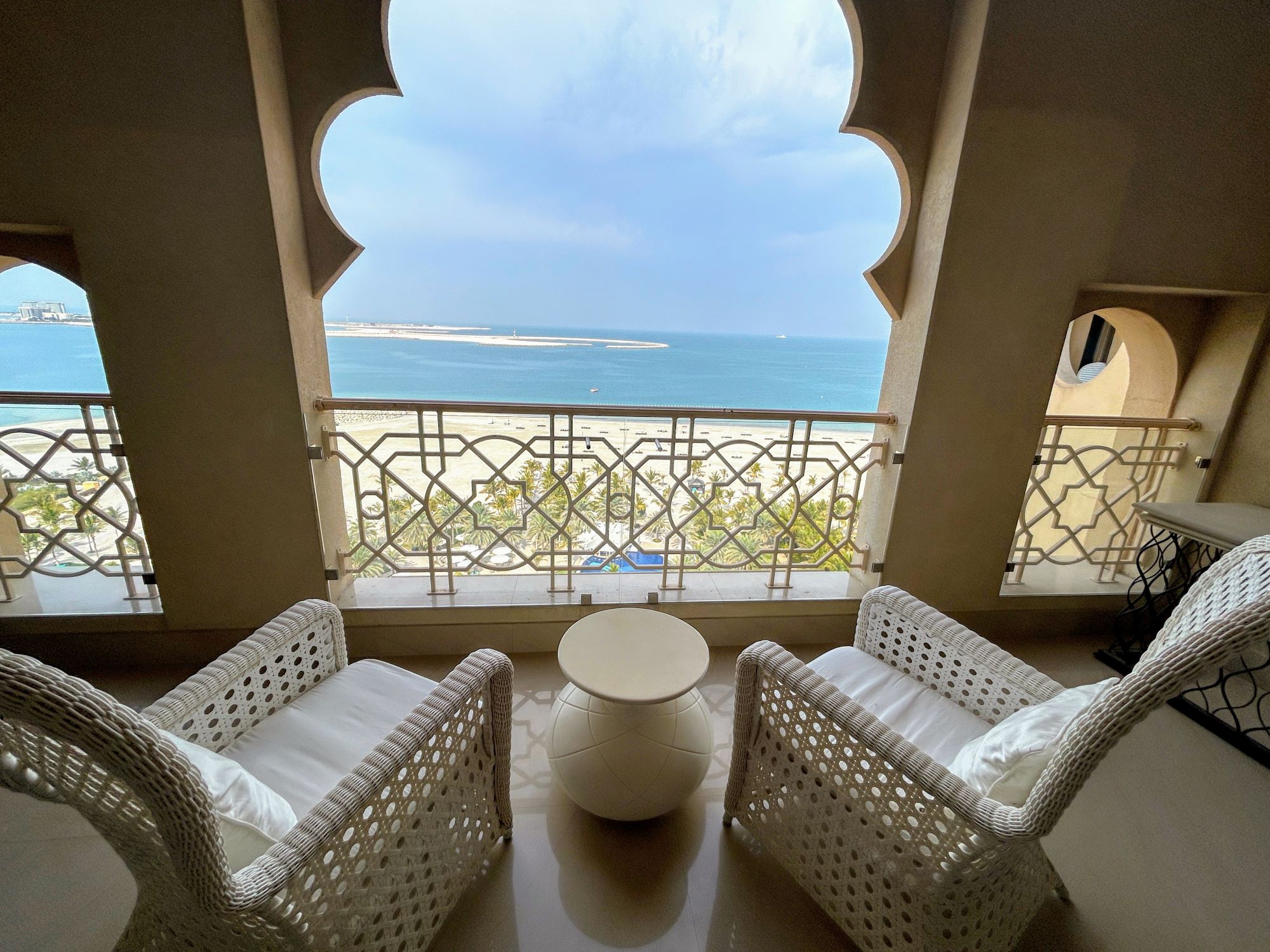 You can check prices and find more information here.
Movenpick 5* featuring beach villas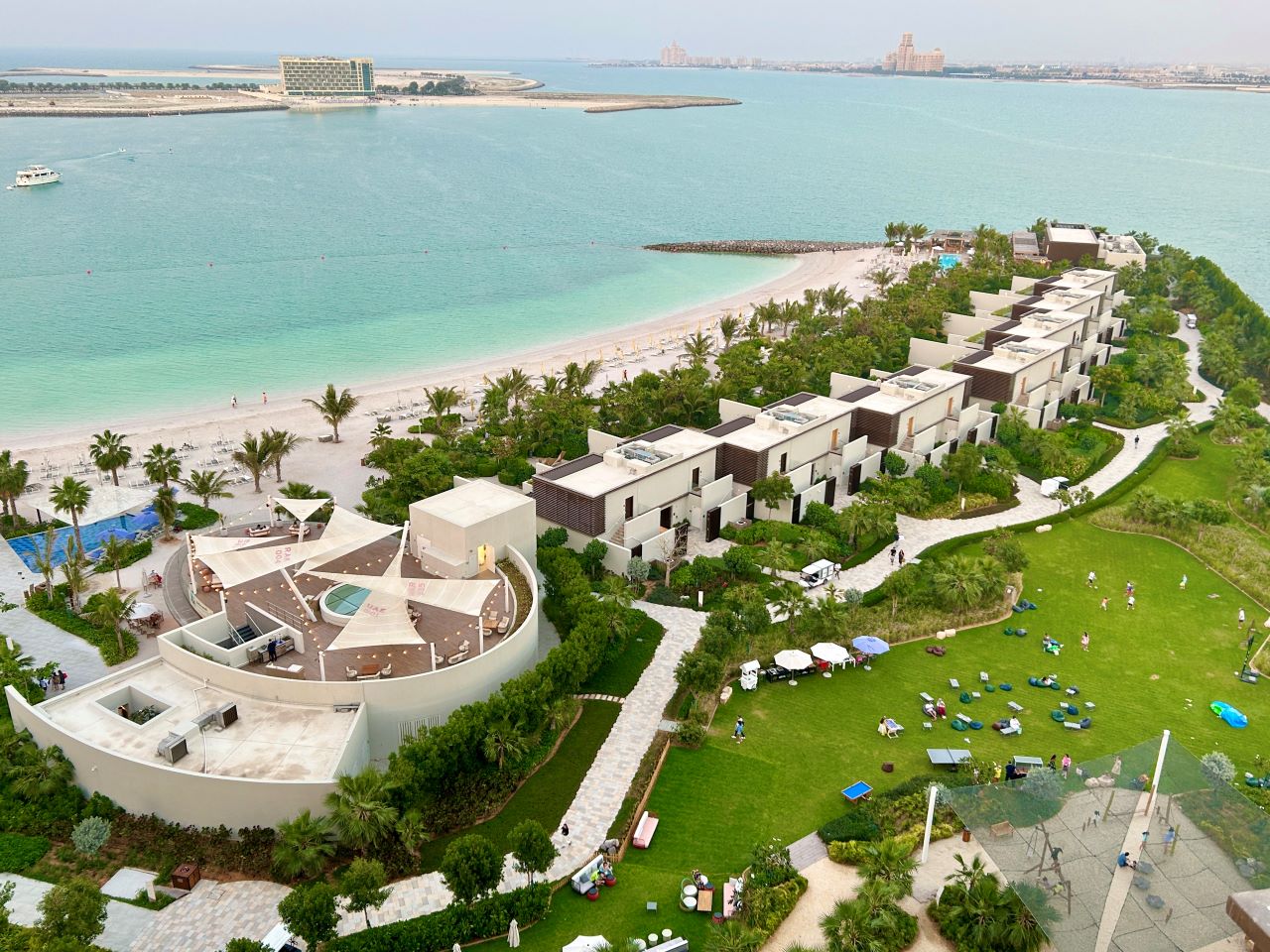 Hotels in the UAE may not conform to the usual standards we would expect from a brand, and the Movenpick is very luxurious compared to some of the hotels from the brand you may have experienced elsewhere. Movenpick is also part of the Accor group, so you can earn your Accor points there.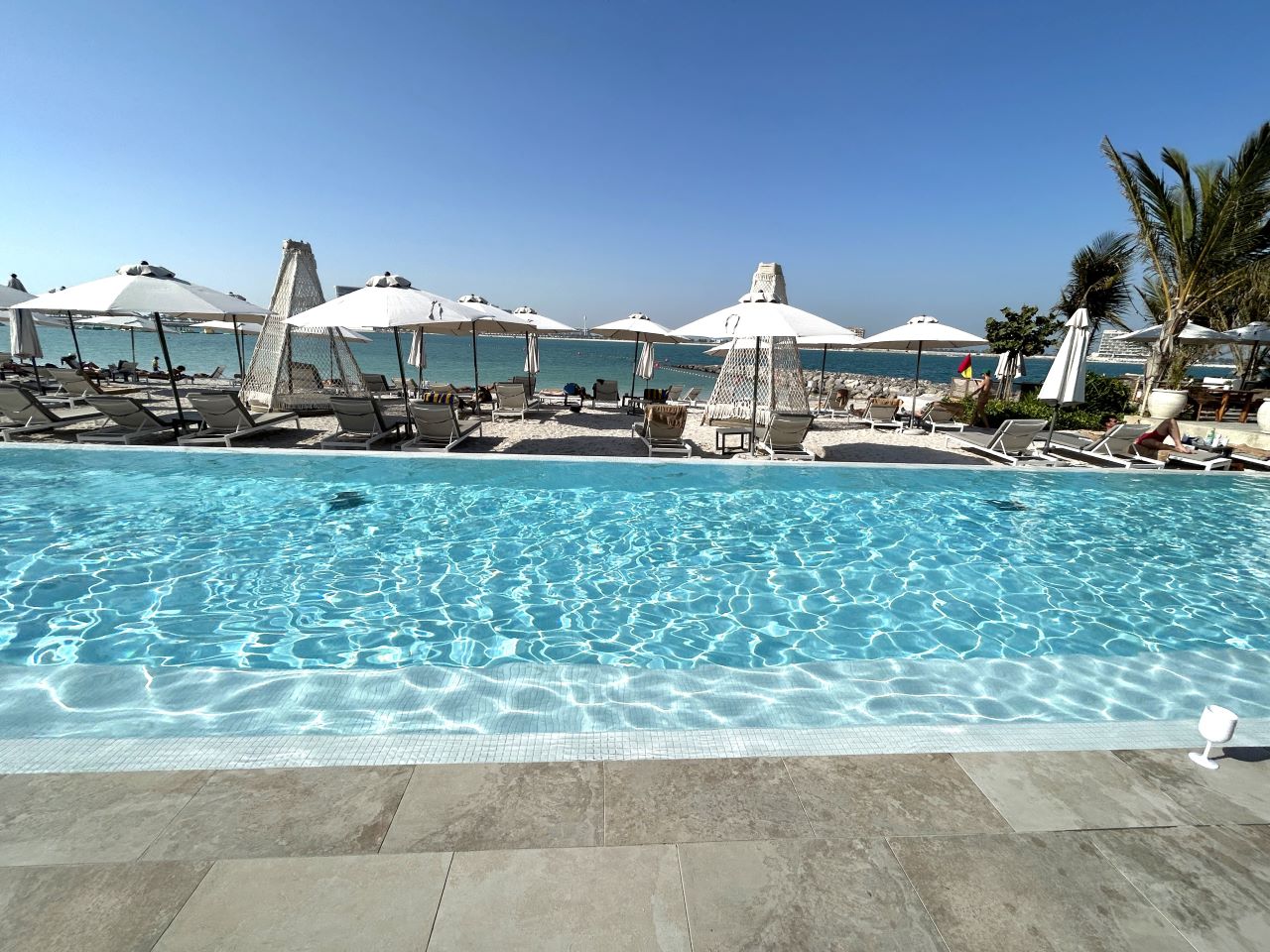 It is very new, having opened in 2022 and has a modern beach vibe. It definitely feels aimed more at a younger crowd from the clientele, but I did not feel out of place there.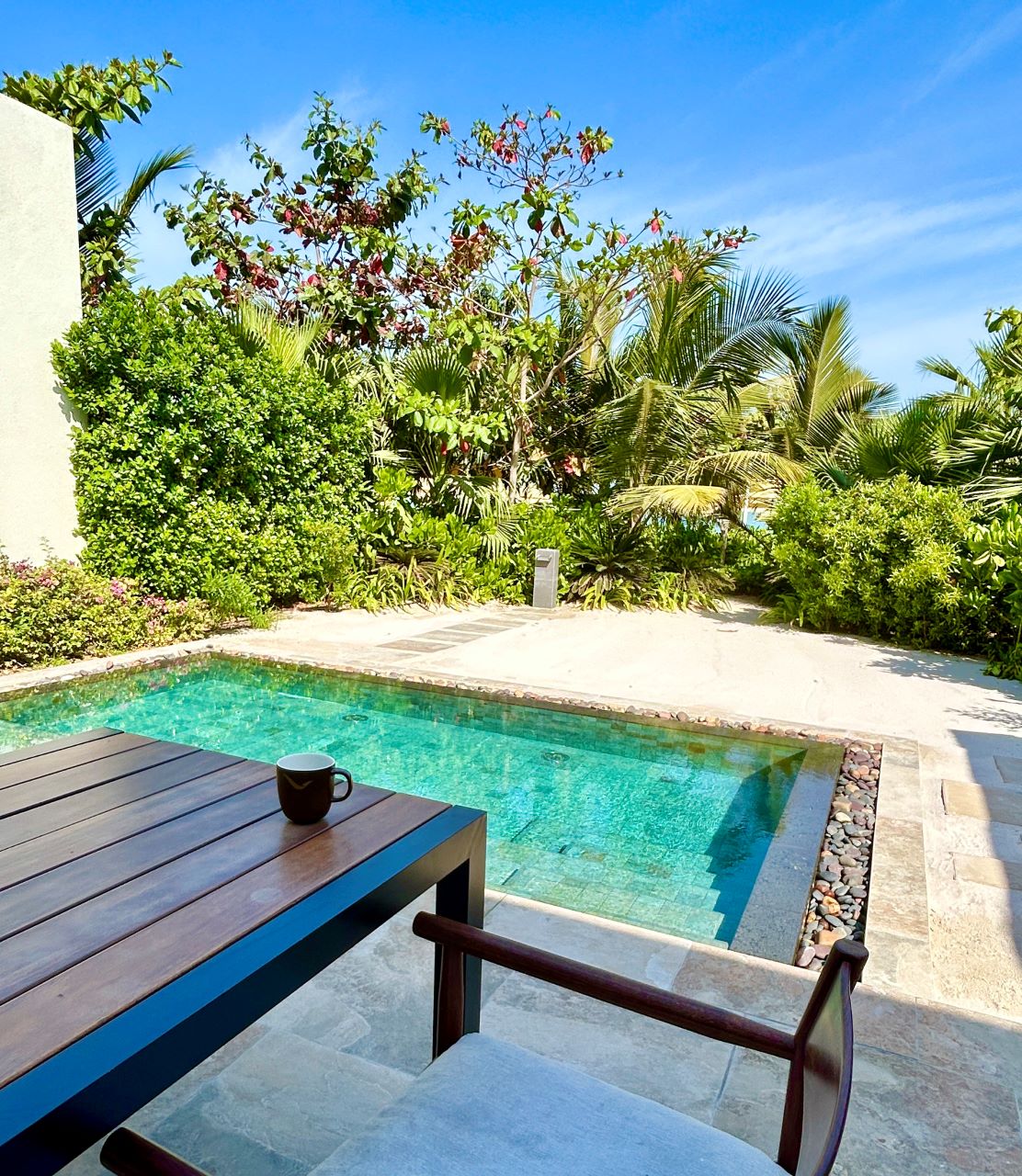 The hotel has a lot to offer for food and drinks with a lively rooftop bar, a beautiful Mediterranean restaurant, Ula, with Santorini vibes, a French bistro and a beachside restaurant, the Beach house.
The beach villas are stunning with a private pool and direct access to the beach. Inside the rooms are spacious and modern.
Entry level rooms start at £133 per night in low season.
You can find more details and prices here.
Intercontinental hotel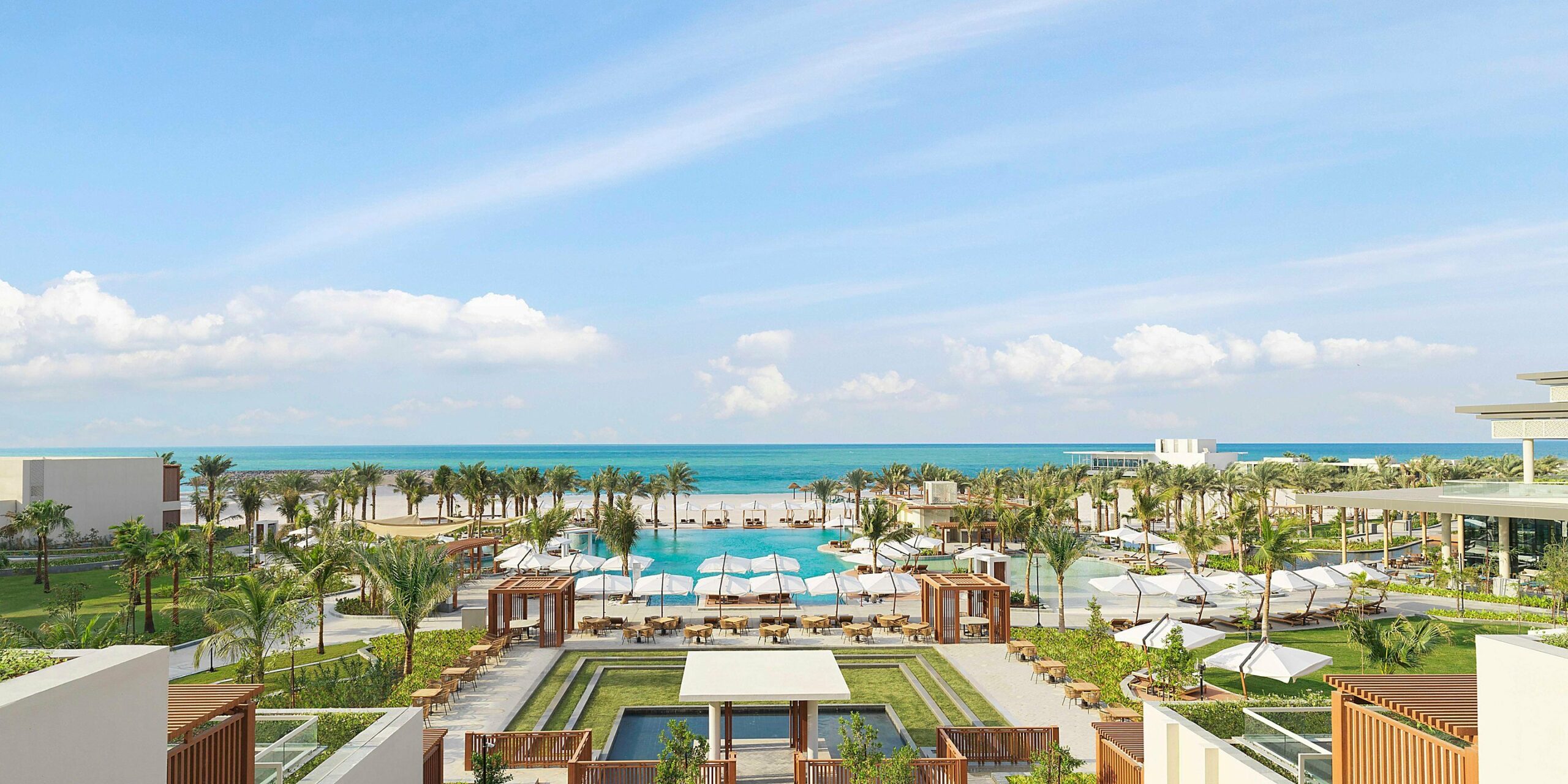 This is also a very new hotel having opened in late 2022. The hotel has six different dining experiences, from 360 degree sea view dining at Levant & Nar, to New York vibes at NoHo.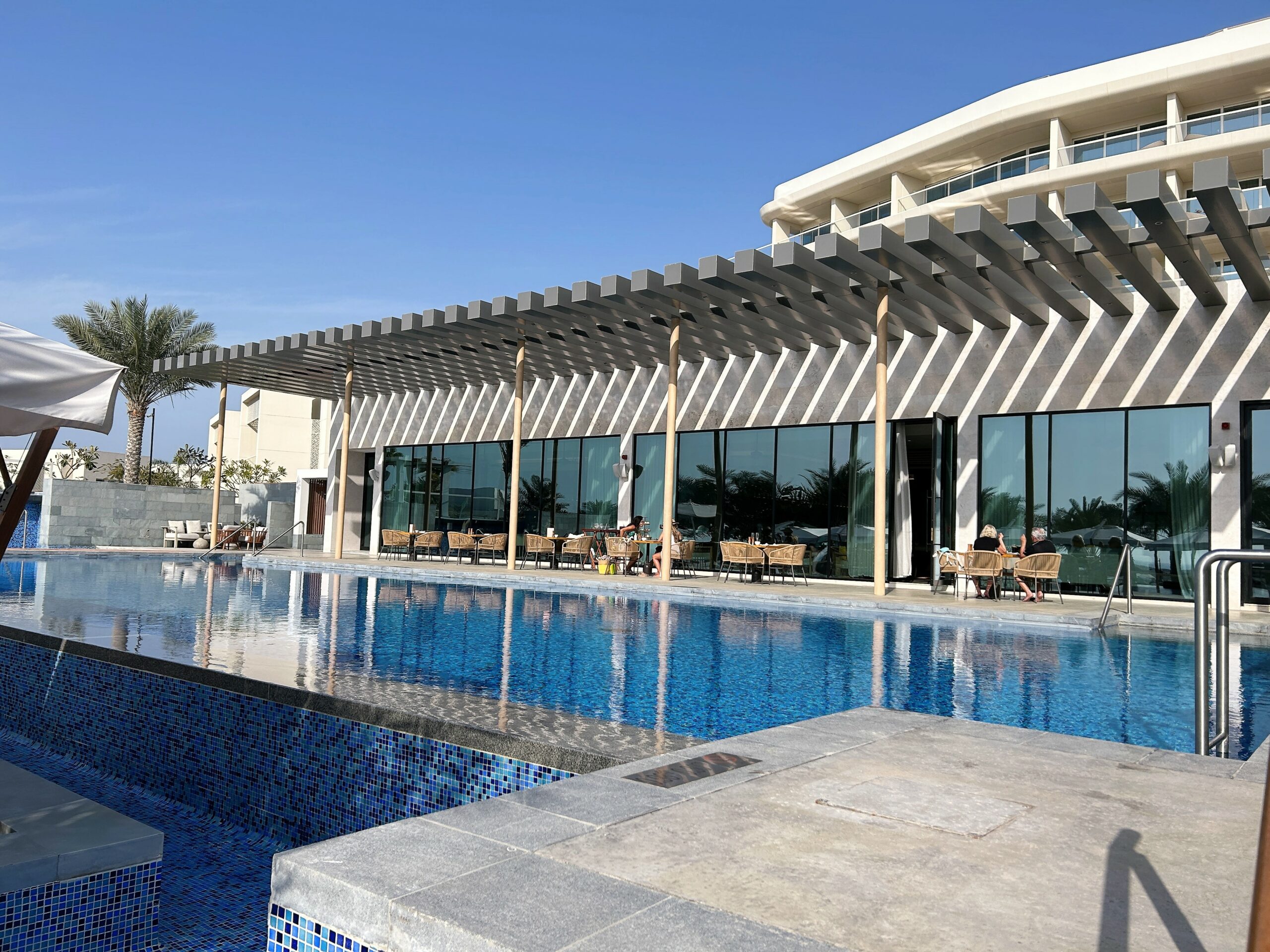 If you are looking for an adults-only experience they have an entire wing of the hotel dedicated to the club rooms and also have a separate pool there as well as the lounge.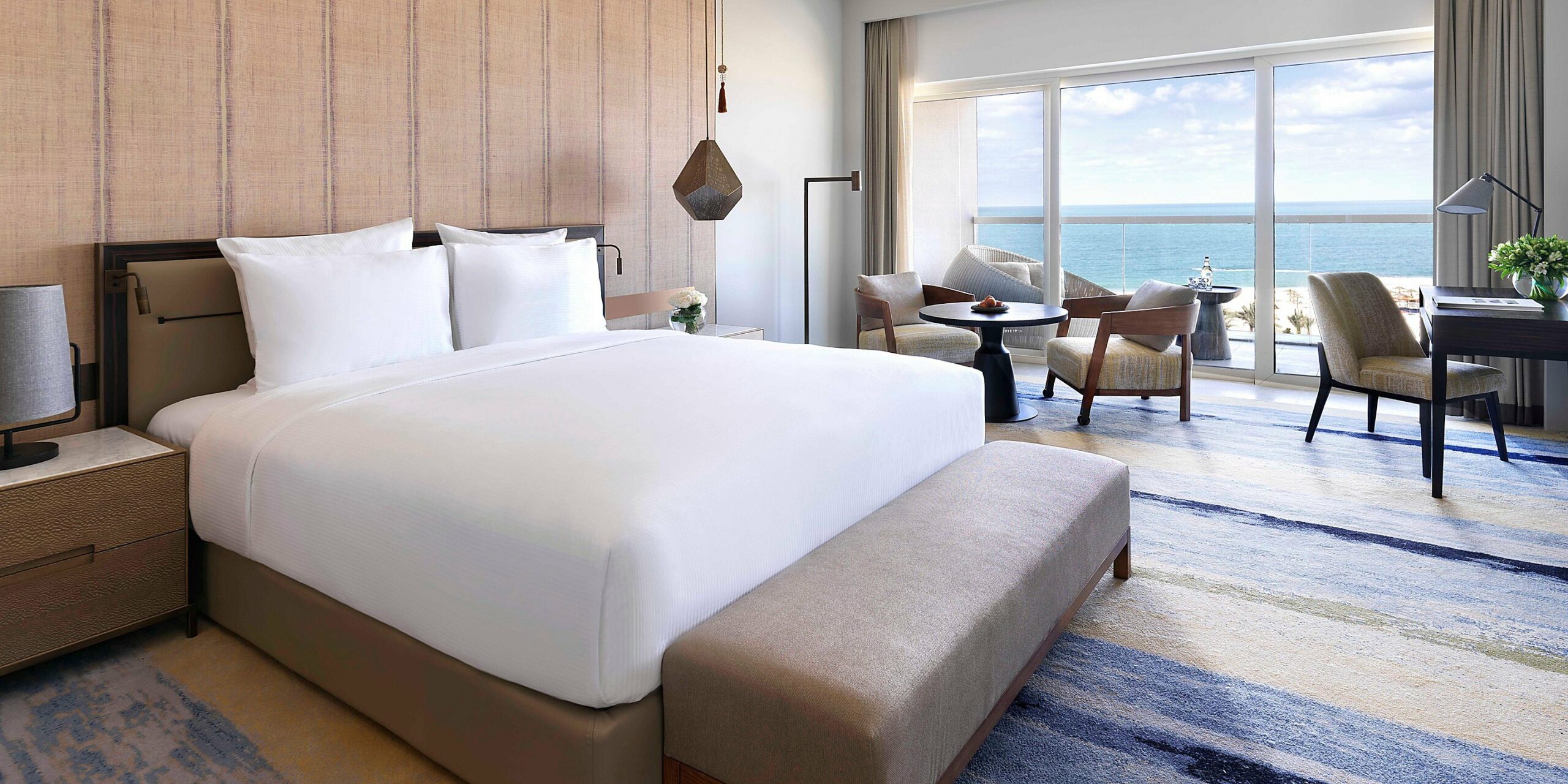 Prices start from around £200 per night.
You can find more details and prices here.
Ritz Carlton – Al Hamra Beach and Al Wadi Desert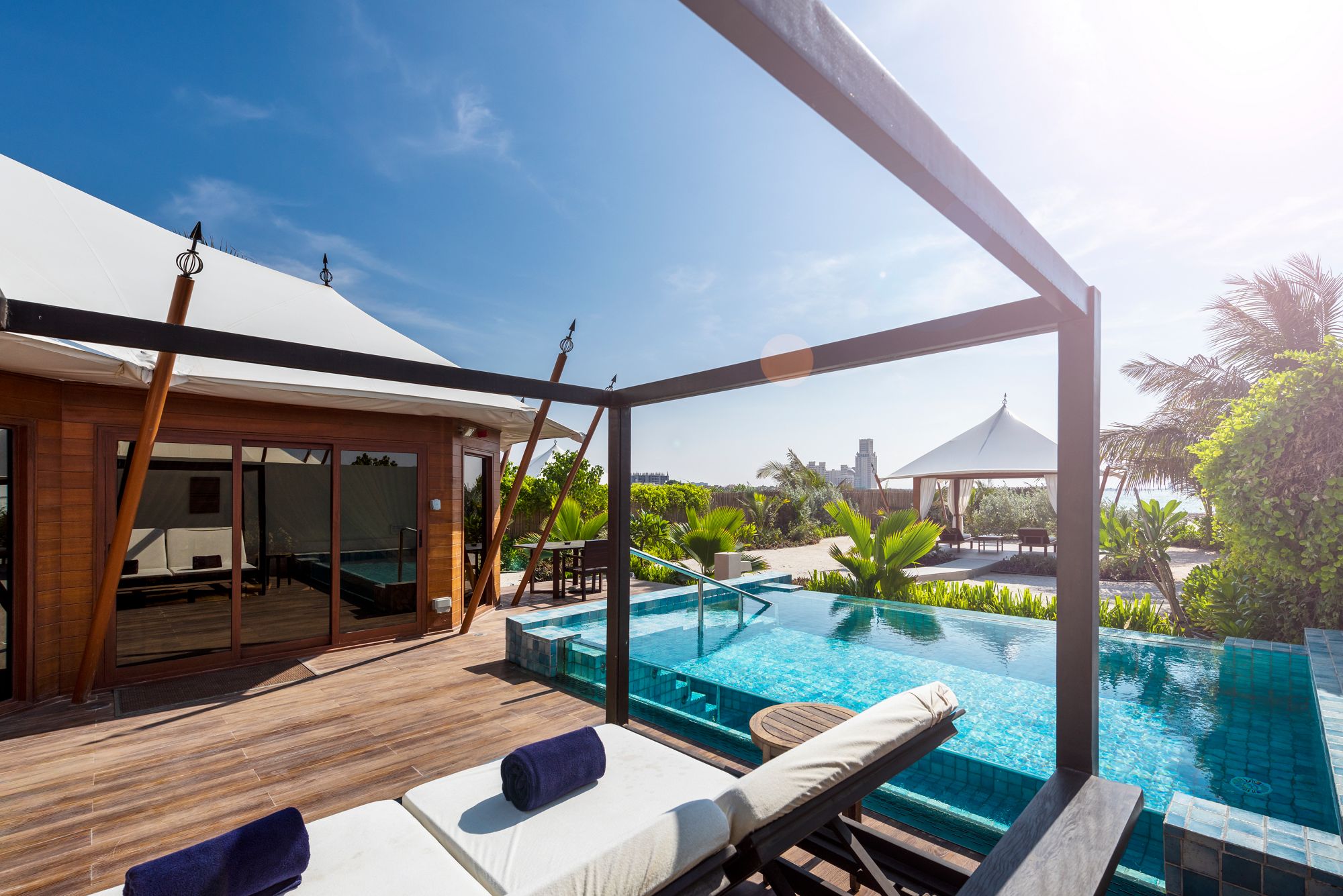 There are two Ritz Carltons in Ras Al Khaimah. One is set in the desert and the other is a beach hotel.
The Al Hamra beach features some gorgeous beach villas with a generous size private pool. However, even the lowest category room starts at £570 a night in low season.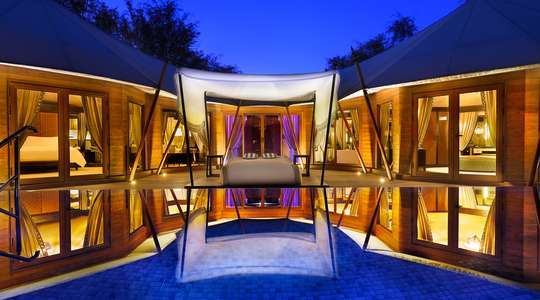 The Al Wadi hotel features Pool villas, a hydrotherapy spa and access to a nearby golf club and beach. Prices start from £369 per night.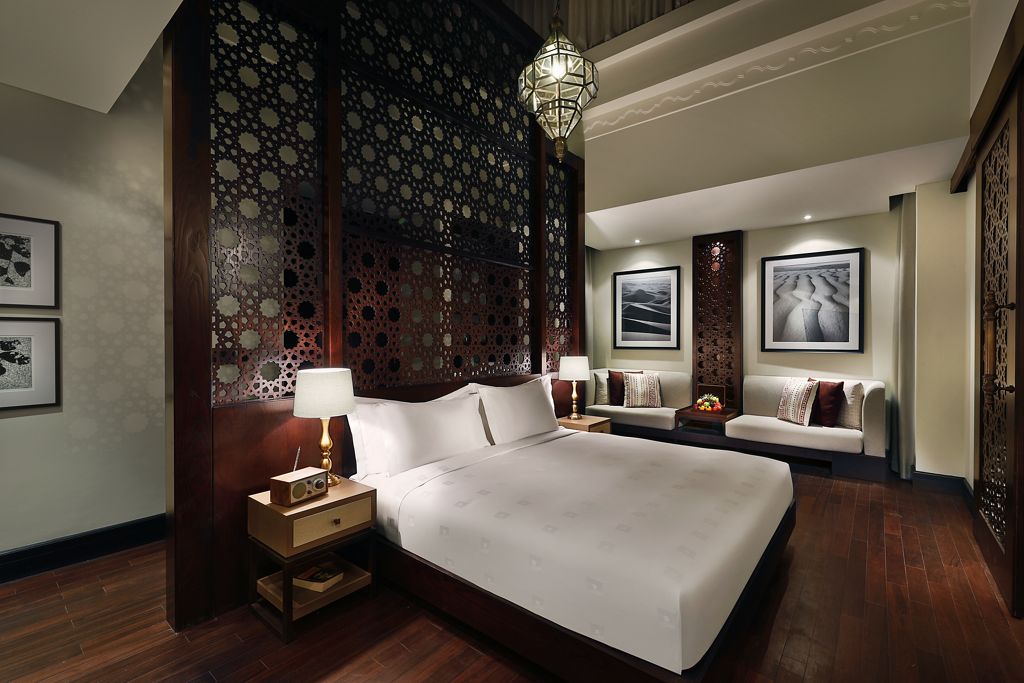 You can check prices for the Al Hamra here and the Al Wadi desert here.