The Hotel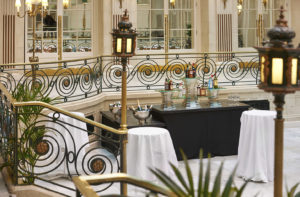 The Waldorf Hilton is a slightly confusing hotel and I was unsure quite what to expect before I arrived. Was it a Waldorf Astoria or a Hilton? Having visited I would say it is above a Hilton in terms of quality but definitely not a 5* Waldorf Astoria. The hotel is officially rated 4* now.
I had considered staying at the hotel a few times before as a Hilton Honors member but had always been put off by the poor reviews on Trip Advisor. Since I needed to spend a night in central London and the reviews have improved recently, I decided to give it a shot.
The Waldorf Hilton, London, is a hotel with a lot of history and it opened in 1908. It was the setting for the first Titanic movie, 'A Night to Remember', in 1958. Many famous faces have stayed at the hotel over the years, from Gracie Fields to the Spice Girls.
The Waldorf is situated in the heart of Theatreland and an easy walk across to Waterloo. It is equidistant from Covent Garden and Temple tube stations, with each being a 7 minute walk. This makes it one of the best placed Hiltons if you are visiting the West End.
Hilton Platinum benefits and check in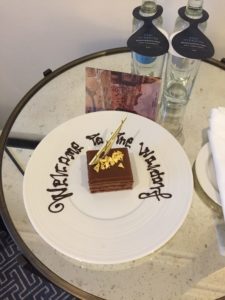 I was impressed when I first arrived at the hotel. A doorman quickly took my luggage and did something I have not seen before. I had a baggage tag with my name on it and he surreptitiously looked at this to give my name to reception, which I thought was a nice touch. Check in was swift and efficient as I had already checked in on the app and received my upgrade.
The staff on reception were welcoming and explained that I would have lounge access. Although I was given a welcome letter it didn't actually explain anything about my Diamond benefits or the times of the service in the lounge. This is something I would normally expect in a Hilton, as otherwise it is easy to mis-time your lounge visit and find nothing available.
Once in my room, I discovered a beautifully crafted welcome cake which was delicious. It made a nice change to have something freshly made as a welcome gift.
Rooms
Queen Deluxe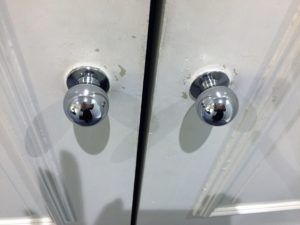 I had booked a Queen room but was upgraded to a Queen Deluxe on the 6th floor. They explained that they were full which is why I had not been given any higher category but it was not an issue. Being an old building, the rooms are all slightly different in layout. Mine was pretty large with a dressing area leading into the bathroom. The rooms were refurbished fairly recently but there were already a signs of wear on the wardrobe shelves and doors.
The colour scheme was in the peacock and duck egg blues being adopted by most Hilton's during their refurbishments. I like this new colour scheme as it is elegant but still modern. I thought that the room had been sympathetically restored to a modern standard whilst still keeping the original feel of the hotel. Inside the wardrobe was a tea tray including biscuits, iron and ironing board plus robes and slippers. The room could have been a bit cleaner dusting wise as there was a fine layer of dust on the desk and phone.
The bed was a standard issue Hilton style bed which I am not overly keen on as they are a little on the firm side. I am surprised that Hilton have not adopted a signature bed standard like their competitors Marriott and Sheraton have. Unfortunately I was staying during storm Doris and as it was an old building the original windows rattled all night.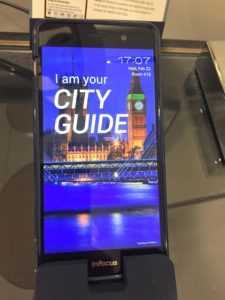 One feature I had not seen before was the Handy phone (pictured right). This was about the size of a smart phone and free to use during your stay. Whilst using it you could get:
Unlimited Local and International Calls
Unlimited Mobile Internet
City Guide
Exclusive Discounts & Offers
Hotel Information & Bookings
Bathroom
I particularly liked the bathrooms which had a modern Victorian style with a hint of art deco in the mirror lights. These were far superior to a normal Hilton bathroom, although they still had the Peter Thomas Roth toiletries that you get in all Hiltons.
Other room categories
There are several queen categories from the basic Queen Hilton, to Executive rooms and Suites. The differences are as follows: Queen room is the smallest and has no robes or water (unless through Honors status), next comes the Queen Superior where you get water and a newspaper, then finally Queen Deluxe where you get a bathrobe as well.
One of the rooms I liked in the same category I had (Queen Deluxe) was the one which had a room with very small windows but a separate living room. This was a good deal as you got a junior suite at a Queen Deluxe price, with the trade off being natural light. If like me, you are rarely in the room during the day, it is not a problem.
If you wanted Executive lounge access you would need to book an Executive room or higher. These were lovely rooms and very spacious.
Astor Suite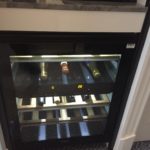 This is the top suite in the hotel and features a wine fridge and a fantastic 'Press for champagne' button. I think my Roving Reporter may already have one at home!
Food and drink
The hotel has the Homage restaurant, the Palm Court for afternoon tea and a bar.
Good Godfrey's Bar And Lounge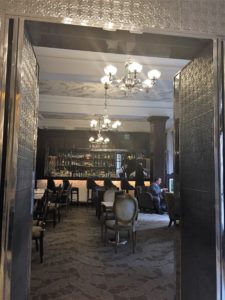 Good Godfrey's takes its name from the former leader of the Waldorf House band, Howard Godfrey.
Howard Godfrey and the Waldorfians enjoyed huge success in the early 1920's, boasting hit records.
Good Godfrey's serves breakfast and lunch during the day. In the evening it serves cocktails and drinks with a variety of food. It has a creative range of signature cocktails such as the Cherry Shakewell. This is a twist on a Cherry Bakewell Tart. It combines cherry liqueur, vodka, almond syrup, fresh lemon juice finished off with a touch of egg white to give it a velvety cake like finish.
I had a quick look at the bar but as it was only 11am, I did not actually have a drink. Good Godfrey's is modern and sophisticated so I would be tempted to pop in here for a cocktail if I was in the area.
Breakfast at Homage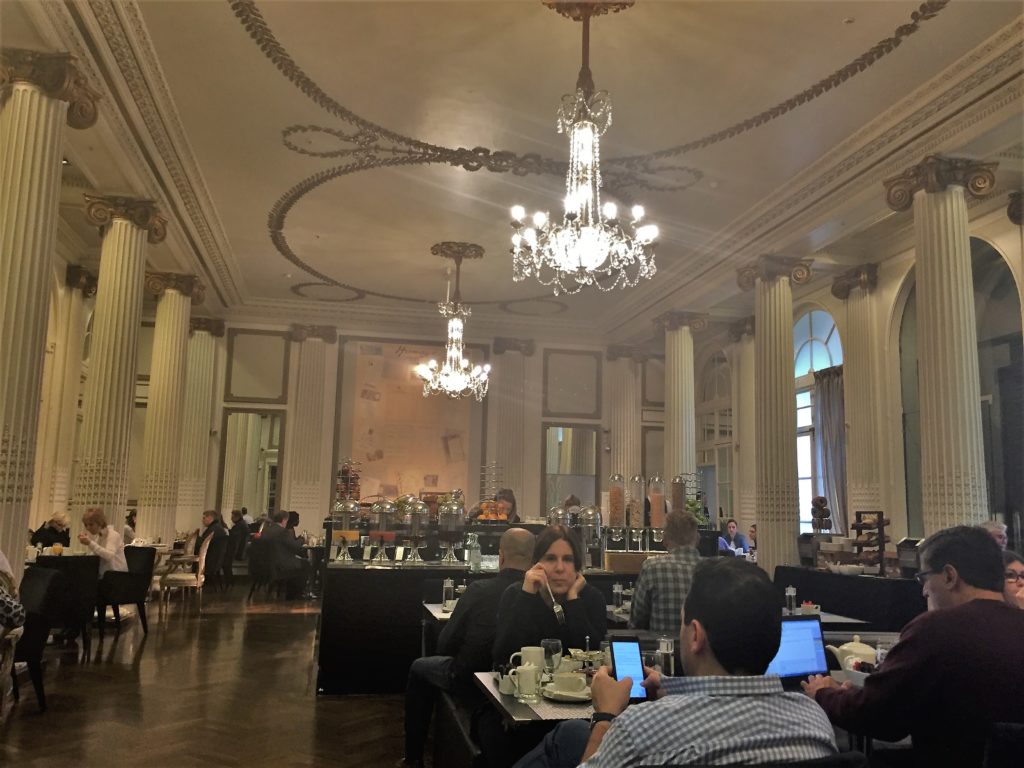 I only ate at the hotel for breakfast and chose to take it in the main restaurant, Homage. This has a grand air with the columns and chandeliers. Overall I was impressed with the breakfast which I felt was above the usual Hilton standards. There was a good range of meats, cheeses, salad and high quality smoked salmon. The hot selection had all the usual items including perfectly cooked fried eggs which is not easy to do on a buffet. The pastries looked tempting as did the bagels but I didn't have room to sample them.
Tea and coffee is bought to your table along with orange juice when you sit down. The service was extremely attentive and I was asked multiple times if everything was OK. My only complaint was the orange juice. Unfortunately it was cheap concentrate and I'm not sure if they hadn't diluted it properly or it was just the bottom of the jug but it was like orange syrup! It was so unpleasant I couldn't actually drink it. To their credit, when I complained, they brought me a glass of freshly squeezed juice on the house. This is one area they need to address. I don't expect freshly squeezed orange juice in a Hilton but there are many other cost effective choices that taste like orange juice rather than Sunny Delight!
Club Lounge
The Club Lounge was very busy when I was there so I would advise arriving early if you are planning to go to the evening canapés and drinks. This may have been due to the high occupancy of the hotel. I liked the lounge design as it was far more elegant than most Hilton lounges. The drinks in the evening were a good standard and variety with the usual selection of spirits, 2 red and 2 white wines plus a very drinkable Prosecco.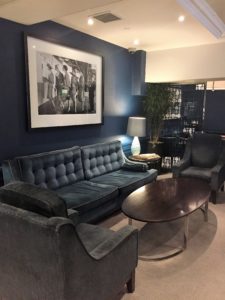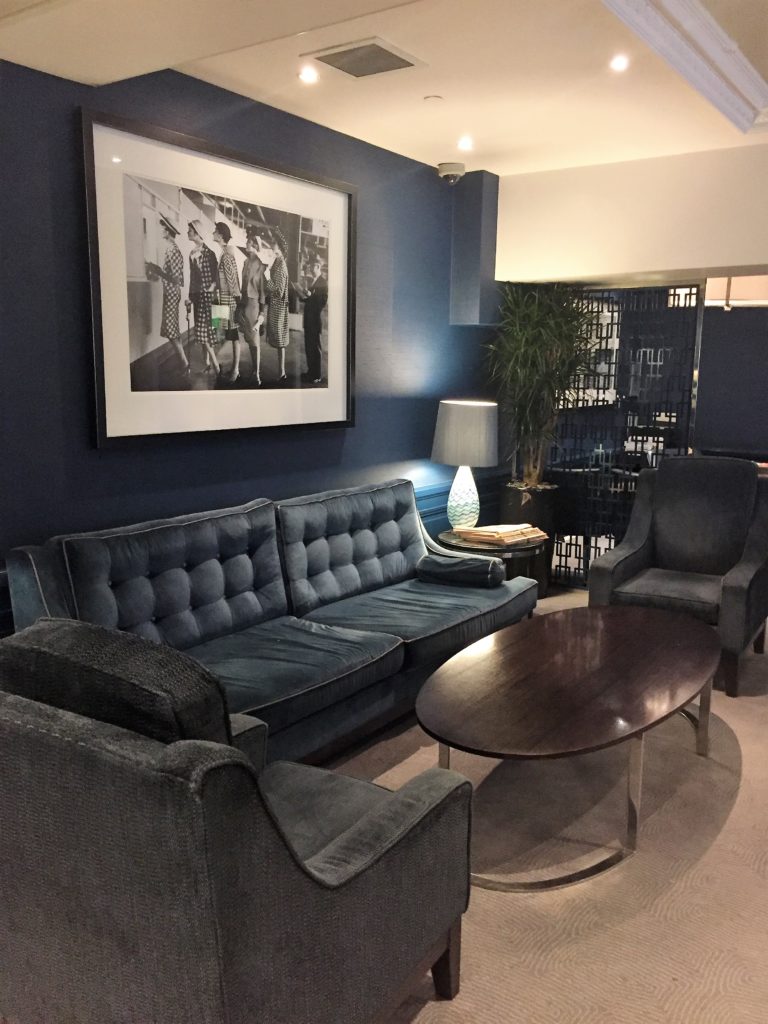 The let down was the food. There were no labels so it was hard to tell what some of the food was. There were 2 small cold dishes which I would guess were salmon and some sort of cheese salad. The hot food had vegetable kebabs and some sort of white minced balls which I still have no idea what they were plus tzatzki and BBQ sauce dips. The cheese selection was quite poor as it mainly consisted of very thinly sliced Cheddar and cubes of what looked like Red Leicester. Service again was friendly and efficient with dirty plates and glasses being cleared almost instantly. If they could improve the food options this would be well worth the extra money for the lounge access.
Breakfast had a decent choice for a lounge with a couple of hot options and smoked salmon plus all the usual continental items. They also serve afternoon tea.
Facilities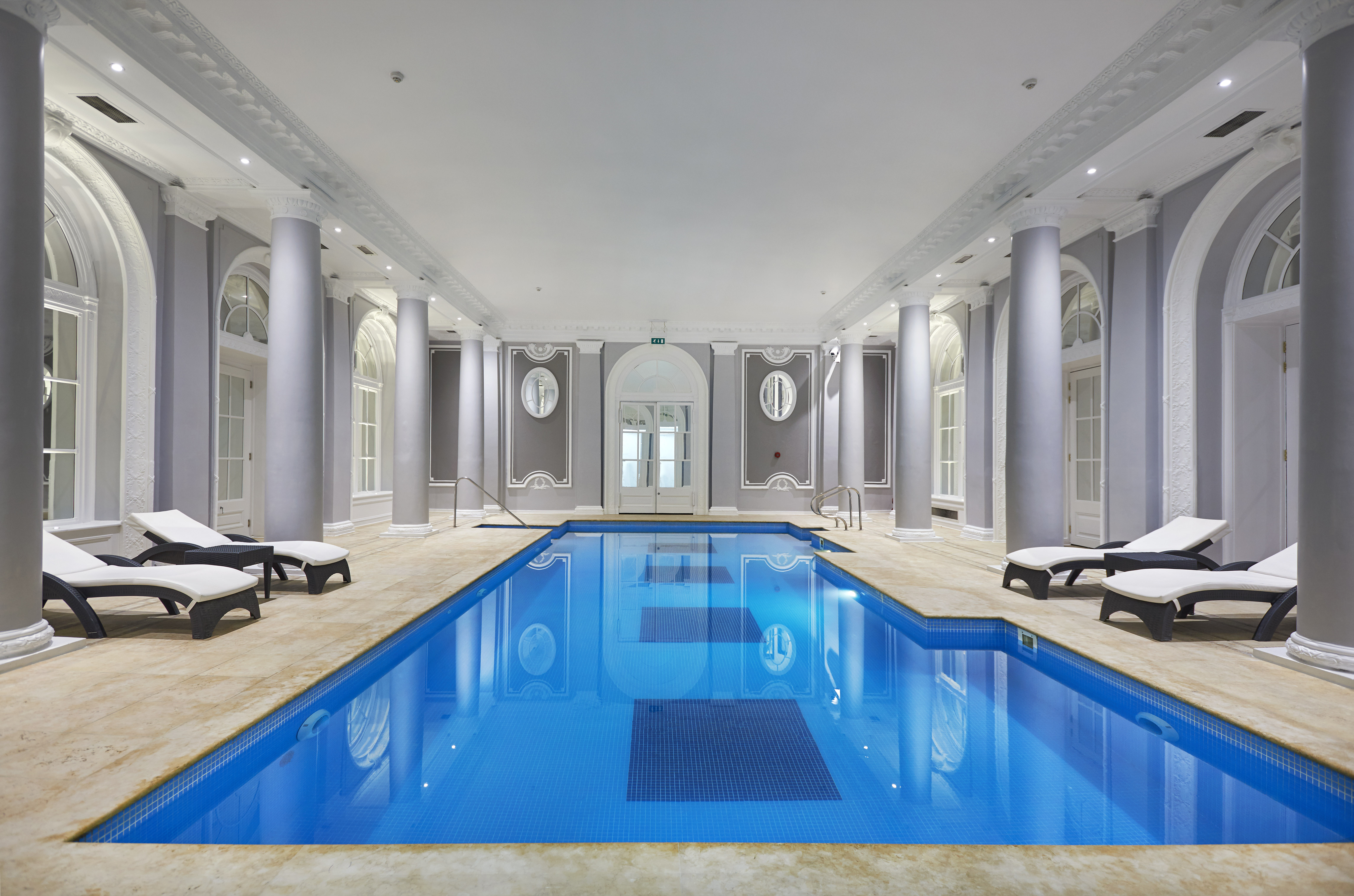 One other major reason to choose this hotel is the facilities. As you may know, there are not that many hotels in central London with a pool. The Waldorf has a nice indoor pool as well as the usual fitness room.
Conclusion, pricing and how to get it for less (or free)
Overall I think the Waldorf has greatly improved in recent months although there are still some minor issues. The staff were pretty much faultless. General maintenance could do with some improvement as there was wear showing in the room in several places. Providing you can get a reasonable price I would be happy to recommend staying here as a more luxurious Hilton hotel choice.
When staying at the Waldorf Hilton there are a number of things you can do to get this hotel cheaper or top up your Avios balance at the same time. I paid £313 via the Hilton on the Avios e store which got me 8 Avios per £ as well. It was a particularly expensive time in London due to London Fashion Week. I then paid with my BA Amex to get the £50 statement credit off Hilton. The cheapest you will find the hotel on a Hilton Honors advance purchase rate is about £185 which I think is good value.
The options to save money are:
Use Top Cashback – if you book through someone like Expedia and time it right you could get around 12% cashback on your booking.
Book direct through Hilton after joining Hilton Honors. If you join their frequent stay program which is free, you will get a discounted rate and free internet access too. Plus with Honors new points and cash program you will soon have enough points to get a discount on your next stay, particularly if you sign up for promotions.
Use your Hilton Honors points. This hotel is fantastic value off peak at around 47,000 points per night. You can now use points and pay as well. Obviously during peak times the prices are much higher.
Stay one night free with Barclaycard Hilton Honors Platinum Visa credit card*. If you don't already have one then you will get 1 free weekend night when you take out the credit card and spend just £750 in 90 days. This is a free weekend night (Friday, Saturday or Sunday) at any hotel in the Hilton group including Conrad hotels.
You can find more information on the Waldorf Hilton website.
*Disclaimer: Turning left for less is a journalistic website. Nothing here should be construed as financial advice, and it is your own responsibility to ensure that any product is right for your circumstances. Reviews are based primarily on the ability to earn miles and points and do not consider interest rates, service levels or any impact on your credit history.