New British Airways eStore and Double Avios
BA announced to shareholders in November that they would be aligning the Avios platforms. This has now begun with the rebranding of Gate365 as the BA Avios eStore. The 2 sites now look very similar and most of the offers are the same. They previously had different promotions and rates of Avios at times. Making them the same seems sensible for consumers who only have to check one website instead of 2. You will still need to go to the separate BA eStore website if you want to credit the Avios to your BA account rather than your Avios.com account.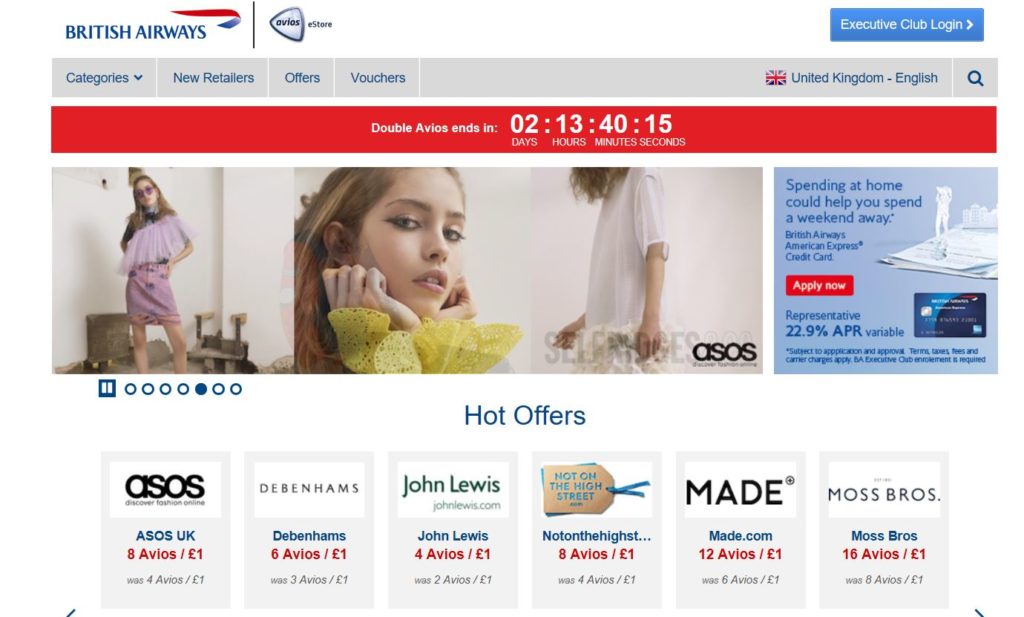 To celebrate, both the BA eStore and Avios eStore are offering Double Avios this weekend. For those familiar with Top Cashback, eStore works in the same way. You just use the eStore link to go to the usual retail website and shop as normal. You will need to consider which is the better deal, Avios or Top Cashback. Currently you can transfer Top cashback into Avios with a 5% bonus. Your decision will be which gives you more Avios or whether you just want hard cash. Be careful with the terms and conditions of each retailer as often things like reserve and collect are often excluded. The offer is between 00:01 Thursday 02 March 2017 and 23:59 Sunday 05 March 2017. The double Avios campaign will override any existing offers running at the same time. Base and bonus Avios will be added to the customer's account within 40 days but in 2 transactions.
Collecting Avios on the high street
One of the key differences currently between the 2 eStores is the ability to collect Avios on the high street with Avios eStore but not on BA yet. The choice of retailers is limited at the moment but when I caught up with the Avios team at Loyalty 2017, they were expecting the range to expand further. Currently, Heals, Habitat, American Golf, Caffe Nero and Earnest Jones are the most well known retailers. You will need to pay with a credit or debit card you have registered with Avios beforehand. Collecting the Avios is easy:
Register your card(s) at this page.
Click the 'Register Now' button, and record your debit or credit card details. You only need to do it once.
Once you've registered, allow 24 hours before making your first purchase.
Spend at any Avios In Store retailer, using one of your registered cards.
Your Avios should show in your Avios eStore account as "Pending" within 7 working days and credit to your account within 35 days.
Bink
I mentioned Bink before in this article. Bink is another way to earn Avios on the high street as well keeping all your loyalty cards electronically in one app. Currently you can earn Avios at Pizza Express using the Bink app. I spent some time with the Bink team at Loyalty 2017 and was really impressed with what I saw. They have big plans for 2017 and we are hoping to do a competition on Turning Left for Less to coincide with one of their new partners being announced. Watch this space!