Hyper-personalisation, immersive virtual realities, 3D printed health solutions, modular aircraft connected to city infrastructure, hypersonic flying and the rise of super-slow "flight cruises", are all part of the future of air travel according to a major global travel report published by British Airways. Today's article looks at the launch of the BA2119 exhibition and the panel discussion on future travel with Alex Cruz and Alison Fitzgerald, Chief Operating Officer, London City Airport amongst others.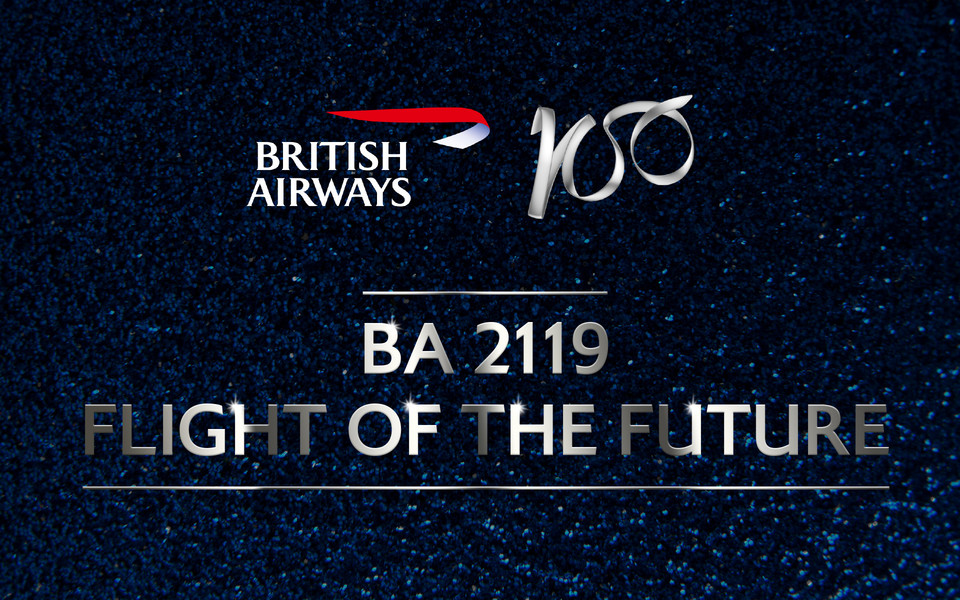 To launch the new report and their BA 2119 exhibition, yesterday I attended a panel discussion hosted by tech-journalist, Georgie Barret. The panellists were Alex Cruz, Chairman and CEO, British Airways; Alison Fitzgerald, Chief Operating Officer, London City Airport; Anab Jain, Director & Co-founder, Superflux; Dupsy Abiola, Head of Global Innovation, IAG and Ian Scoley, Vice President of Safran Cabin Innovation and Design Studio.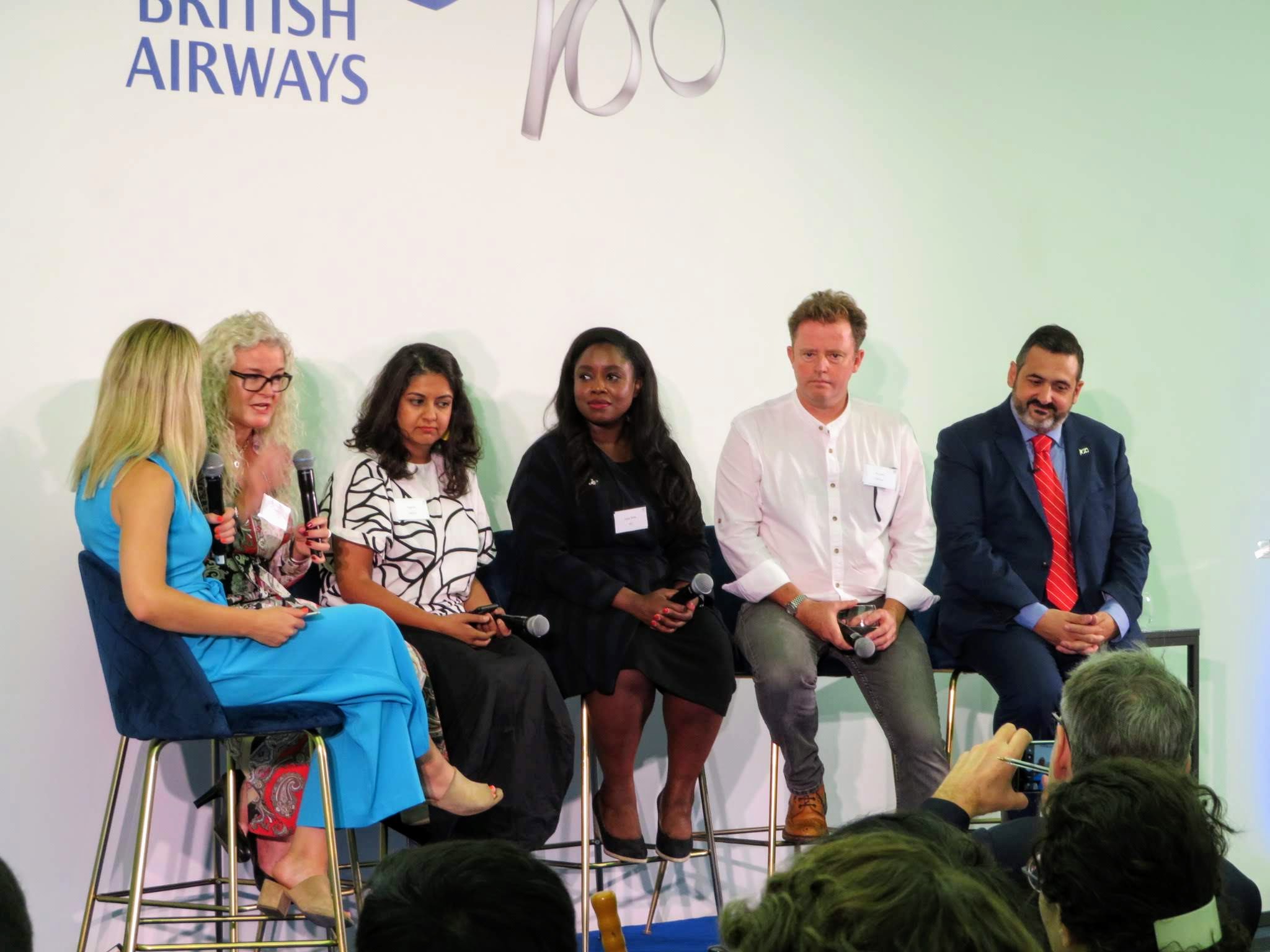 The session started with a speech by Alex Cruz, which took a rather unexpected twist when the stage was stormed by a rather well-spoken protestor with a banner regarding deportation. I thought Alex handled the situation well until someone arrived to escort the protestor off the stage.
Alex spoke about how sustainability was the hottest area for development for the future within BA. He felt they were changing the culture to be less concerned with things like reducing weight on board to save money, instead focussing on CO2 emissions saved. Alex felt that cloud-based personalised entertainment on board was in the not too distant future which is good to hear.
He was asked whether BA may consider the use of solo pilots in the future but Alex was adamant that he did not feel the technology was likely to be able to deliver what was needed and it was not something they would consider. I actually find this quite interesting, as the technology is almost there when you look at military drone piloting. It is not inconceivable for the pilot task to be combined with that of an Air Traffic Controller at a radar position on the ground.
The panel was held at the Saatchi Gallery in London at BA's 2119 Flight exhibition which is open to the public.  The concepts in the BA 2119: Flight of the Future Report have been brought to life by post-graduate students at the Royal College of Art in a special exhibition at the Saatchi Gallery in London which runs throughout August.
The exhibition also includes a one-of-a kind, full-motion, virtual reality experience, Fly. Built by award-winning VR creators and an Oscar-winning practical effects team, Fly enables visitors to become a time-travelling pilot, from the earliest imaginings of Leonard da Vinci and his ornithopter to the Wright Brothers' success on Kitty Hawk, to that first inaugural passenger flight to Paris. Users will experience Concorde, the brand new A350 and the imagined flight of future. It even includes certain smells to set the scene! You can read more about it here.
Alison from London City airport talked about a topic close to my heart – the new virtual ATC system that will come in for the airport next year. Controllers will no longer be sitting in a control tower for London City airport. Instead, they will control virtually from the main air traffic control centre at Swanwick in Hampshire. This is the first of its kind in the UK although it has been done in Sweden for a number of years.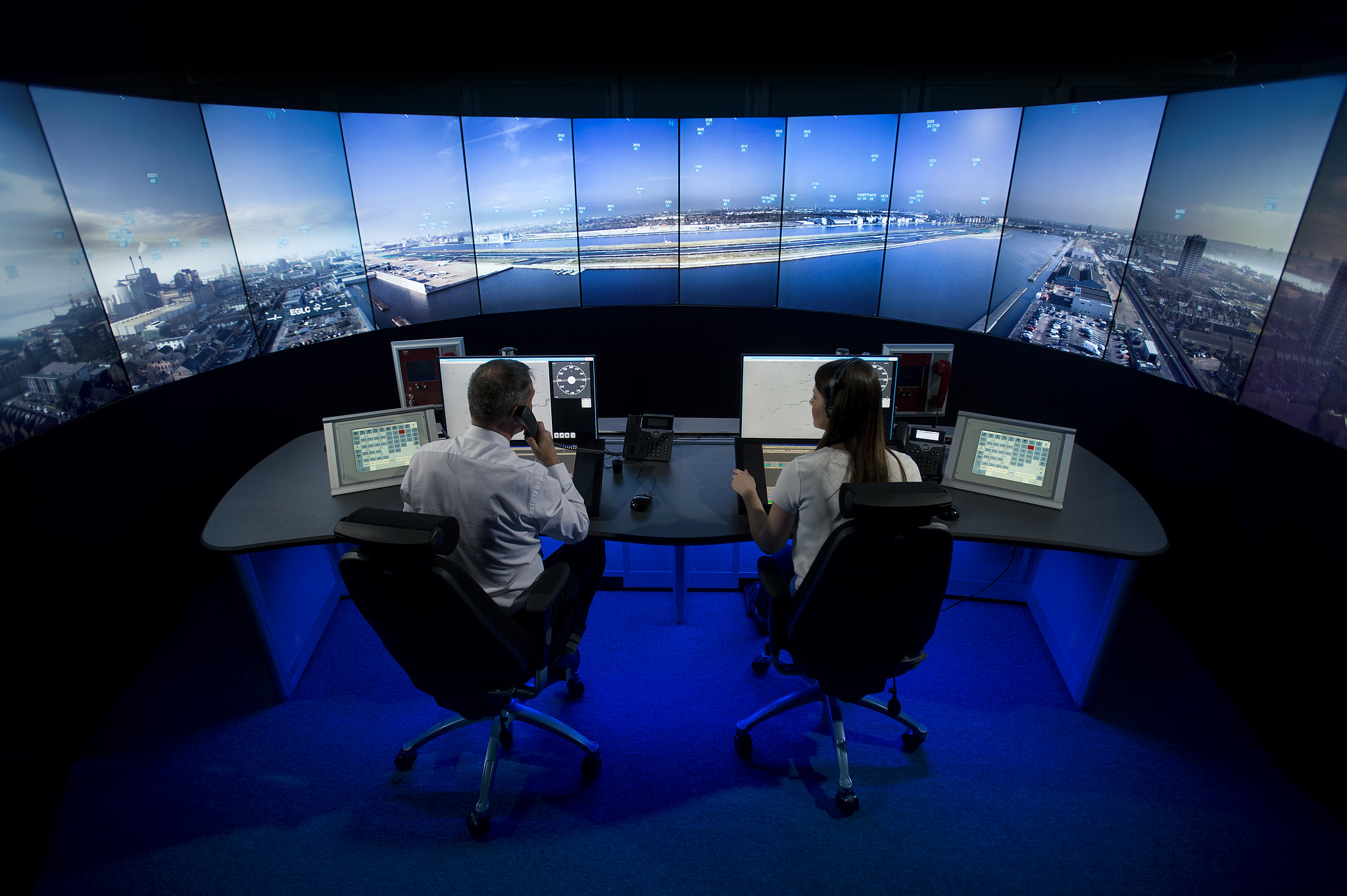 She also mentioned another couple of interesting potential concept. Those of not having to take your luggage to the airport and sending it from your home (Airportr does this already for some airports). London City would like to simplify the arrival experience from the DLR so people move seamlessly through into airport security as they get off the train. The concept of having a walking pace security experience also sounded something really beneficial.
Prizes were awarded to some of the exhibits and item that won the BA Customer Experience category was called Taste Nation. This would use DNA testing and instant body health data to tailor food on the flight individually for optimum well being as well as to help passengers acclimatise for their journey and destination.
The BA 2119: Flight of the Future Report was commissioned by the airline to mark its centenary year, in collaboration with the leading data-led trends agency Foresight Factory. The report is one of the largest global consumer travel studies of its kind – surveying 13,000 consumers across ten countries – and consultations with leading sector experts and futurologists to offers a picture of what flying will look like in 20, 40, 60 and even 100 years into the future.
Key findings and possible outcomes include:
The report found that consumers want far greater personalisation from their flying experience. In the future, greater personalisation could be delivered through aircraft seats that use biological scanners to gather travellers' physiological and nutritional needs. This data will suggest food and drink to meet individual requirements, which can be 3D-printed on board the aircraft. No more not getting your first choice of meal!
Overall 46% of people want a dedicated communal space for socialising, though this was less popular with those in the UK with only 30% wanting to be sociable. I'm with them – flying time is me time!
Acclimatisation to the destination, be that combating jet lag or pre-travel care will be a thing of the past, with 3D printers also used to print personalised health supplements.
AI-powered personalisation will enable passengers to bring cloud-based work and entertainment profiles to their seats, while holographic flight attendants will field basic questions and requests, freeing up cabin crew to have more time to do more valuable tasks.
Overwhelmingly, consumers say that the future will see the end of airline "classes", and the rise of bespoke packages where consumers pay for a customisable experience, based on options for space and entertainment. This also came up in the panel discussion. I'd be interested to know what the readers think of this, given you are probably here as you enjoy business class travel. Let us know in the comments below or on social media.
One thing I can fully identify with is wanting to speed up the experience of travel. The whole faff in airports with security and immigration etc is one of the worst parts of flying passengers especially keen on speeding up their whole travel experience while still on board the plane. For example, 73% of passengers want inflight technology that allows them to self-complete immigration and visa control while they are still in the air. 63% of consumers would like an in-flight concierge to organise a hotel for them when they land, and a further 56% would like to book a taxi from the air to pick them up when they arrive. Personally, I want all of those now! Actually, with WiFi onboard most aircraft in the next year os so, there is no reason why you could not do that fairly soon.
This could lead to an integrated hyperloop-style transit system, which will transport travellers in modules directly to assigned compartments configured to their requirements. As the module passes through the hyperloop tunnel, processes such as check-in, VISA check and preferences around food, drink and entertainment choices are automatically carried out. That sounds amazing to me. Not sure what happens to my lounge experience though!
Although the emergence of next-generation supersonic jets will dramatically cut travel time – with the average flight from New York to London falling from seven hours to three – the report predicts that within 50 years we will see a trend for slow, experiential flights as consumers seek a leisurely start to their holidays. Aircraft that can take off and land vertically was also talked about. This currently exists in military fighter jets but not commercially.
These flights could take the form of "Air cruises", which will see travellers fly slowly over areas of special interest, such as the Pyramids, while interactive VR guides give passengers an immersive running commentary. Other options available to passengers travelling on an air cruise include onboard yoga, meditation or art classes.
British Airways' Chairman and Chief Executive Alex Cruz said: "The findings of the BA 2119: Flight of the Future Report not only offer us unprecedented insight into how consumers across the world feel about flying now, but what they will expect from us, as airlines, in the future. In the last ten years alone, the airline industry and flight experience has changed in so many significant ways, including improved fuel efficiency, noise reduction, in cabin design and luxury. It is therefore not hard to see how, at this rate of progress, these seemingly unreal predictions will come true.

"This is a really exciting way to mark our centenary, which has seen us remember the past, celebrate the present and predict the future in collaboration with fantastic partners from across industry and academia."
What would you like to see happen to your flying experience in the future? Let us know in the comments below or on social media.