Introduction
Like most, my travel has been significantly reduced with my last trip ending on the 8th of March returning from Addis Adaba in Ethiopia. With a holiday allowance from work to try and use up before the end of the year, I decided to visit some friends in Verbier, Switzerland, along with a few days in Italy in the same week.
Flight Booking
For this trip, I used one of the BA Travel Vouchers I had from a previously cancelled booking, which by coincidence was also to Verbier for the end of the ski season that never happened. As has been commented previously, my voucher hadn't been converted for use online and so I had to call BA. I'm lucky to have access to the GGL team and so the booking was taken care of in around 10 minutes – although it does have to be sent off to the ticketing team so I kept an eye on the booking to make sure it was ticketed, and it was quickly and efficiently.
Heathrow Airport

With travel through Heathrow Terminal 5 being covered in a few articles recently, I have not made too much mention to it here. A couple of points that may be worth mentioning…
I arrived at ~06:00 on a Saturday morning and the First check-in area and security was open, with no queue

The Concorde Terrace continues to be table service, as it was in the CCR with ordering drinks through one of the team rather than the QR code
The Food menu looked to match that of the Gold First lounge, but the drinks menu looked to be the usual First menu and I started with a glass Laurent-Perrier Grand Siècle, followed up with a glass of the Hattingley Valley BA Blanc de Noirs 2015.
Club Europe to Geneva
I was booked on BA728 to Geneva and this departed on time, from a remote gate and so boarding was through gate A10. Boarding was still by row, with buses taking row groups to the plane.
Mindful a few short haul flights have been covered recently, service was very similar with drinks in miniatures, using plastic glasses, but with the option of ice and lemon. Food served was in a bag with a clear Do & Co label – contents Ham and cheese croissant, chocolate muffin, and bottle of still water. Excellent attentive crew on this outbound flight, drinks were replenished before needing to ask…made the time fly by!
On landing into Geneva, I was already aware that flights outside the Schengen Zone would be a remote gate, and so buses used to reach immigration and my flight was no exception. Onboard the flight we were handed a form to complete indicating where we sat on the plane – on arrival at immigration I offered this form up but they didn't want it – transpired the crew should have taken this form on board. Other than this, it was the usual immigration experience, although I did have the Swiss contact tracking app installed on my iPhone in case I was asked about this.
Travel to Verbier
Reaching Verbier is easy from Geneva airport as you can get a train from the train station in the airport Le Châble, with a change in Martigny and then a cable car to Verbier. On arrival, I booked this in the SBB app, and was quickly on board – from leaving the plane to being sat on the train heading to Martigny.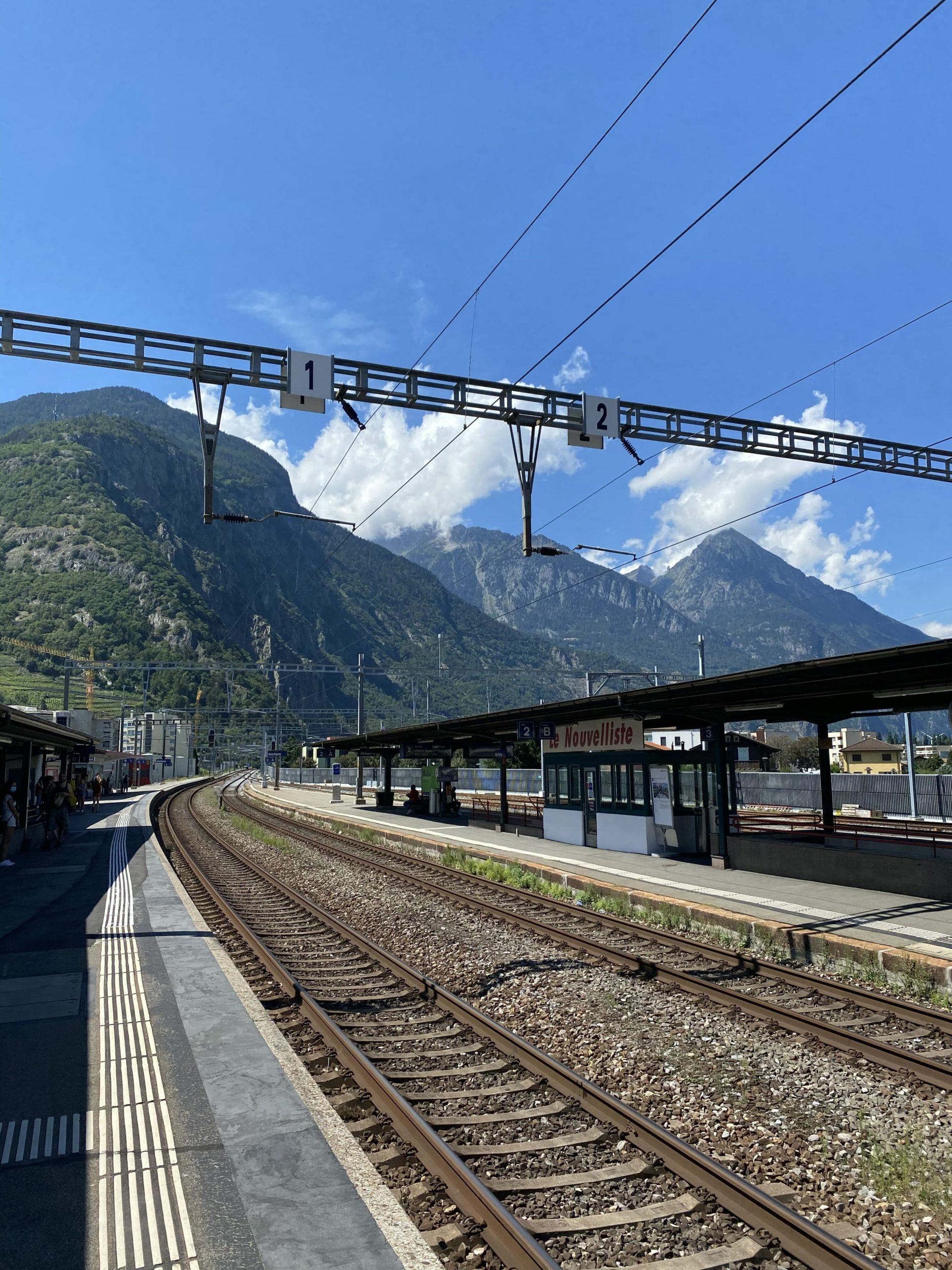 Once reaching La Châble, it's a quick walk to the cable car station, buy a ticket, and then board! This took me directly to the centre of Verbier.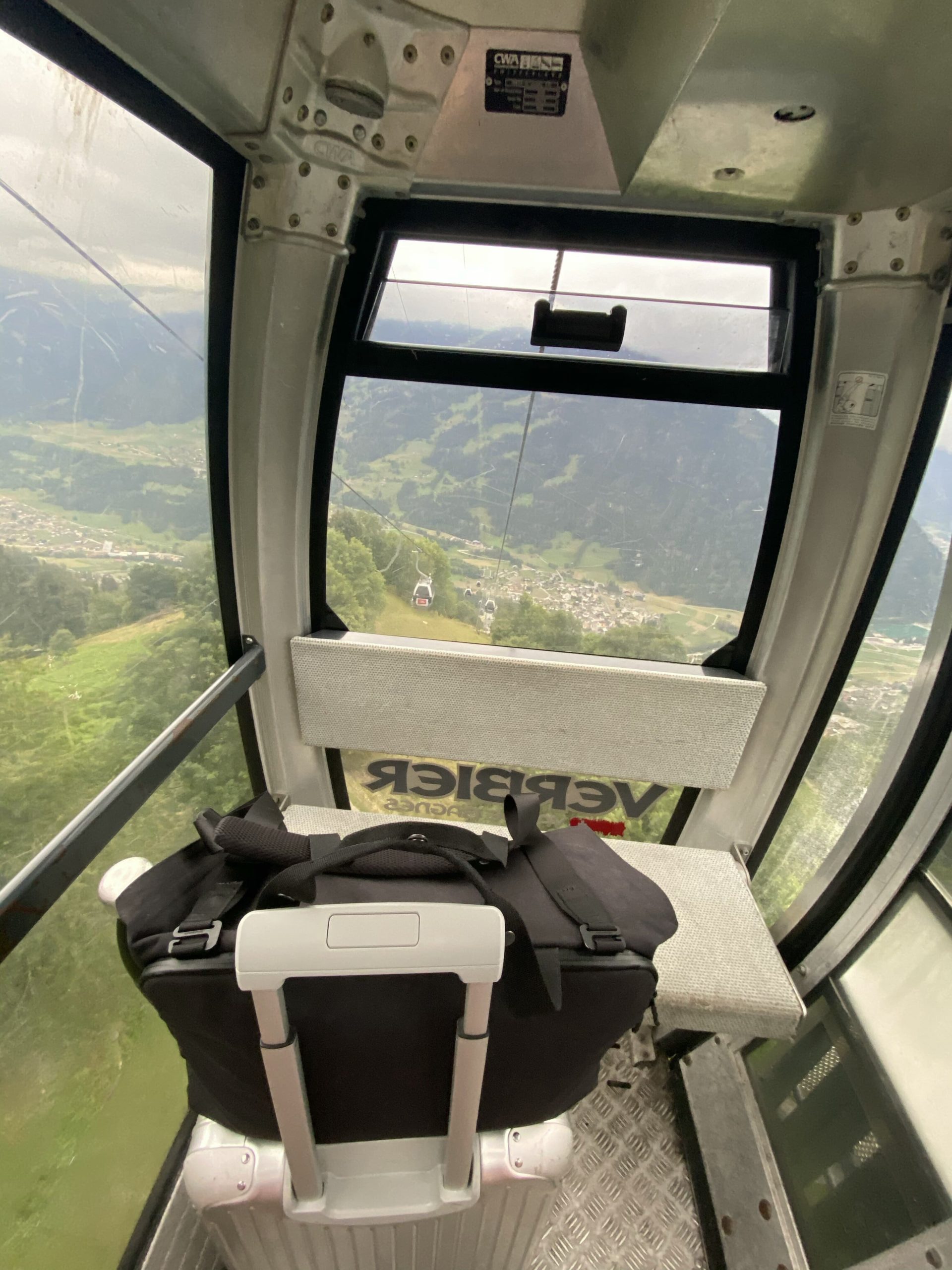 Face masks were required on both the train and cable car – pretty common these days now.
W Verbier
I've stayed at the W in Verbier a few times, always during the ski season but this was my first time in the summer. The hotel was a short 5-minute walk from the cable car station and on arrival I found the familiar reception – with the addition of the common perspex screens. With going to Italy in the middle of the week, I had two bookings, both booked with Marriott directly, taking advantage of the "Welcome back" rate that included 25% off the room and breakfast included.
I hold Ambassador Elite status with Marriott, and despite the W Verbier being a category 8 hotel, I've been lucky with upgrades every time I've stayed. In this instance, I'd booked a Cozy Room type but spotted in the app the rooms for both my stays had been upgraded – to a Cool, Junior Suite on the top floor (room 768) for my first three nights and a Sublime, Penthouse Suite (room 643) for my two-night stay later in the week.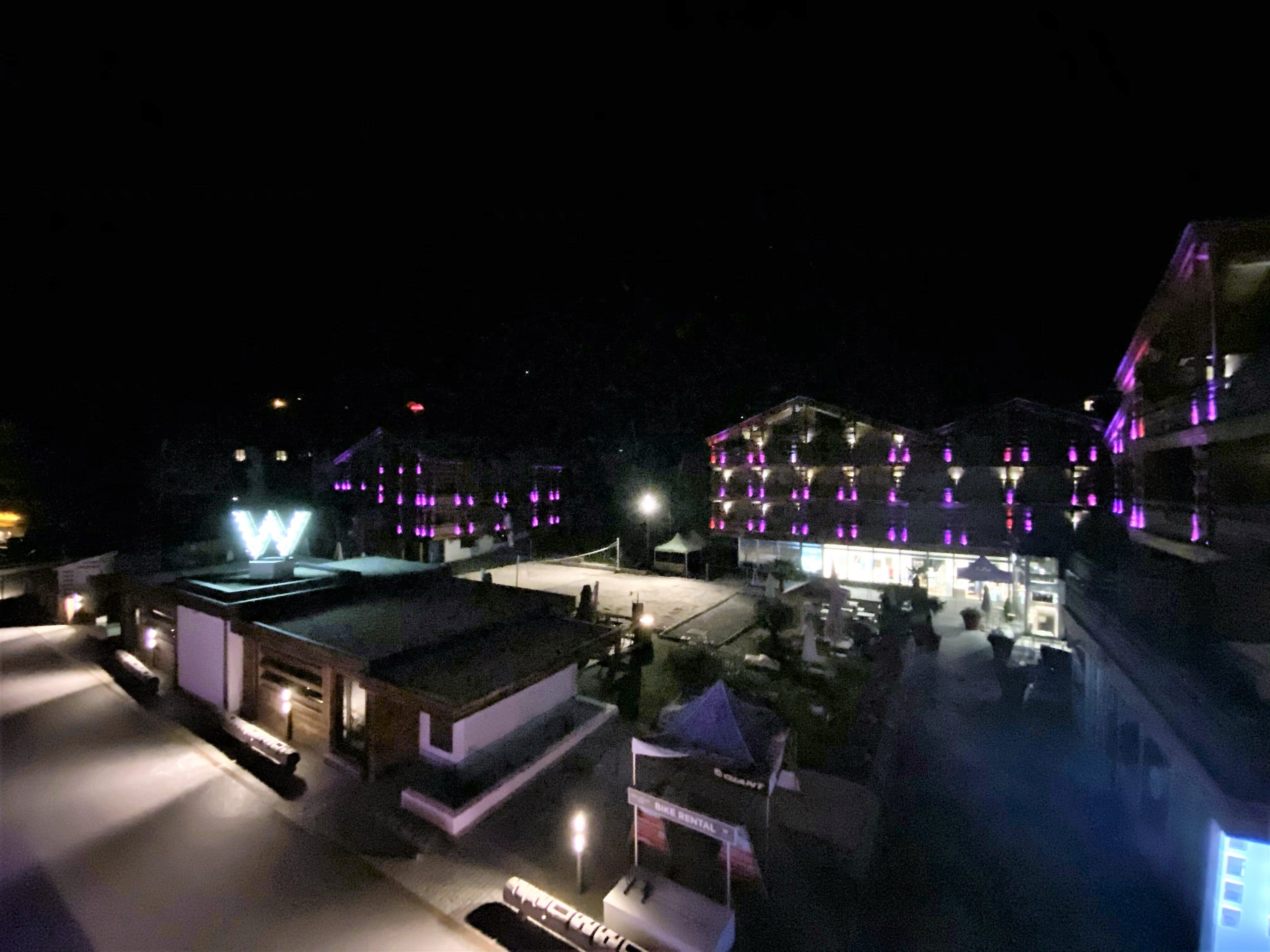 Check-in was quick and efficient and confirmed that breakfast was included so I took the points as a welcome amenity. The hotel explained that the stay also included a lift pass, and 100CHF to spend locally, that was provided by the local government – a lovely surprise!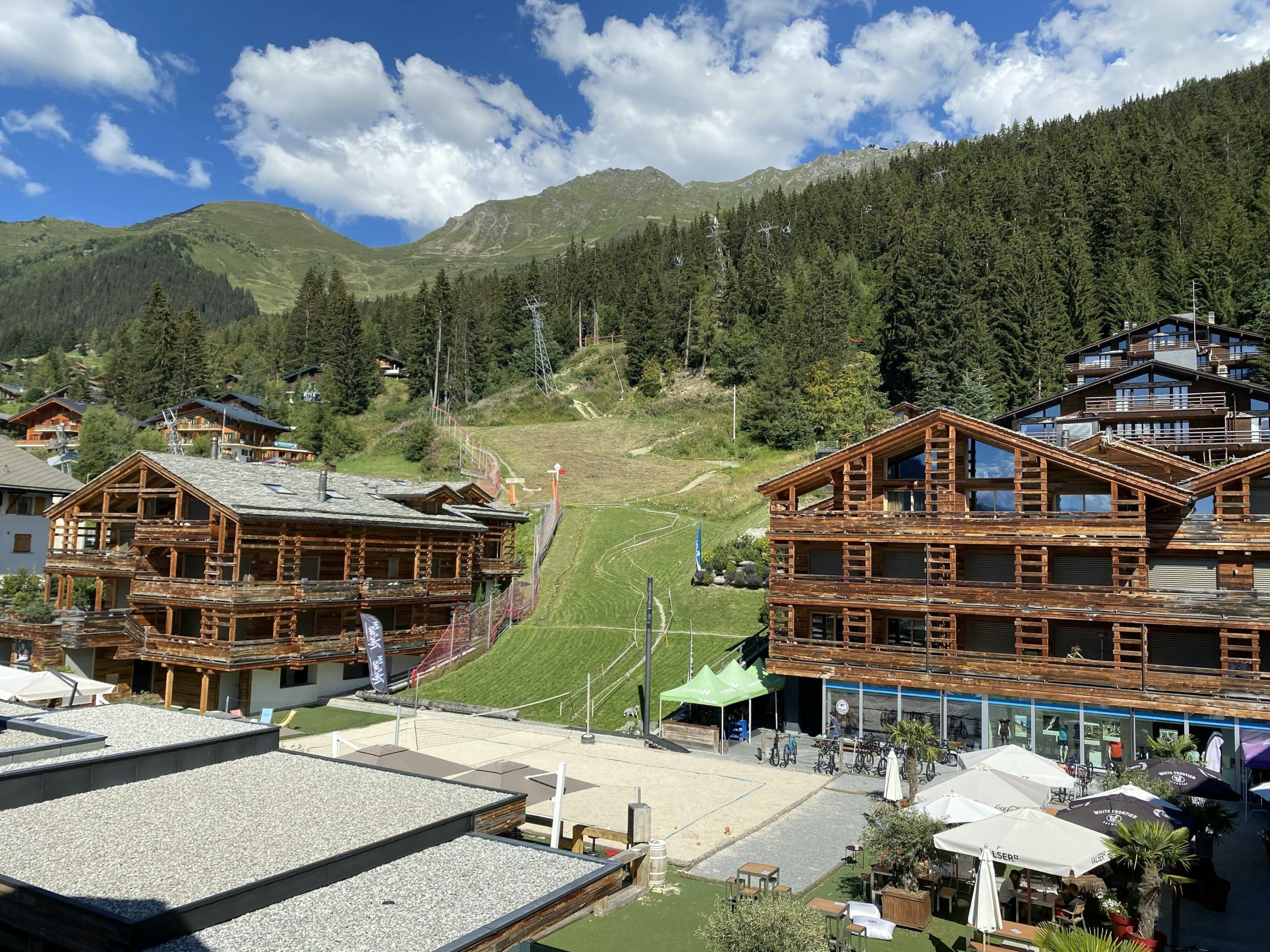 For my second stay, the room wasn't quite ready, and before I could sit down in the bar I was handed a coupon to have a drink on the hotel. Small touches go a long way for me and this property always seems to deliver – in winter, the staff get to know you so when you come down in the morning they get your boots and put your skis outside ready for you to go.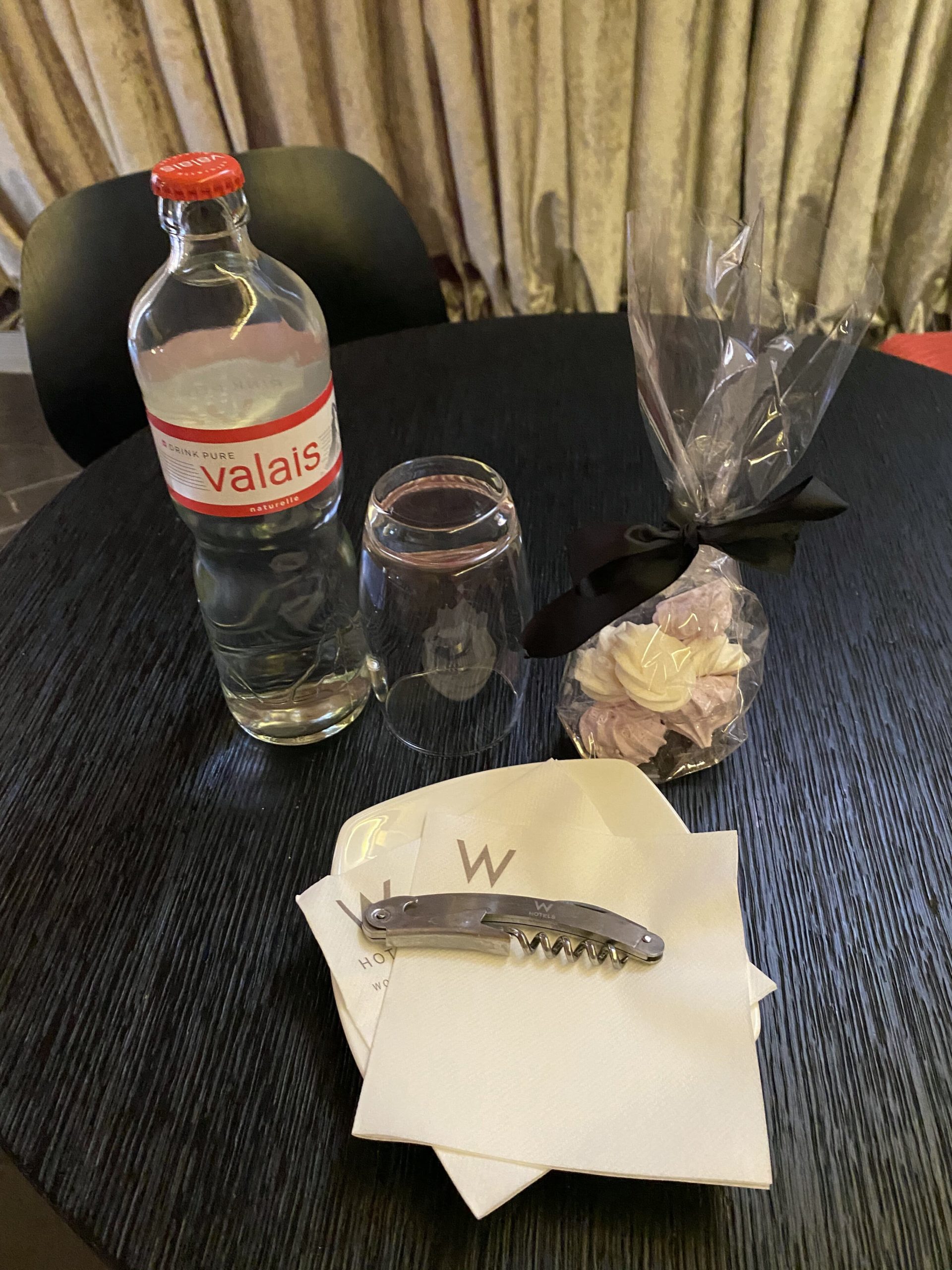 For both stays, on entering the room there was a little card welcome note, along with some water and meringues. As you can see from the photos, both rooms are well equipped and large, with the Penthouse Suite having an upstairs living room area.
Both rooms included balconies, fireplaces, and the usual comfortable W Bed.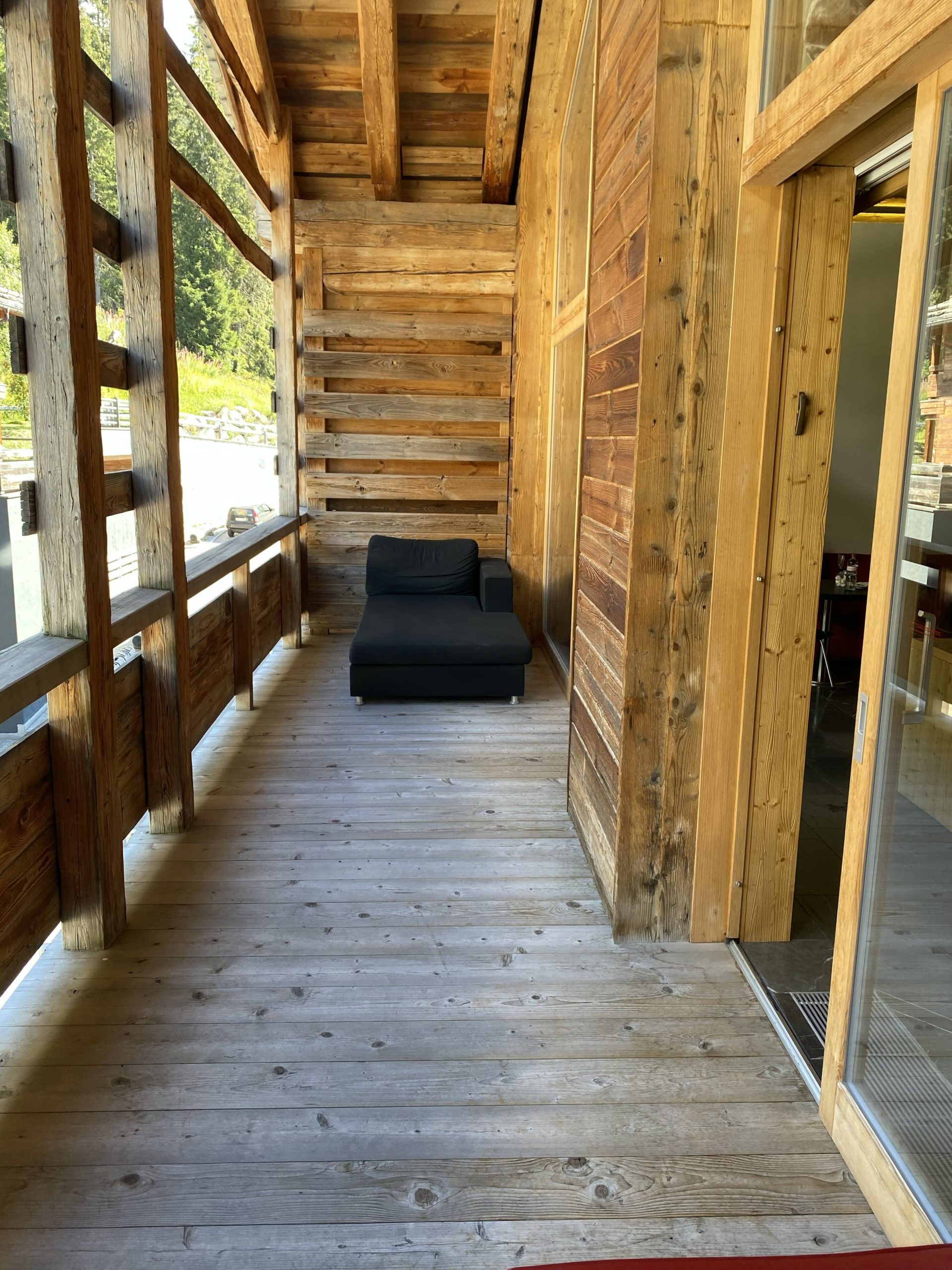 It seems like the hotel is starting to use some of the new toiletries announced with a mix of new and old.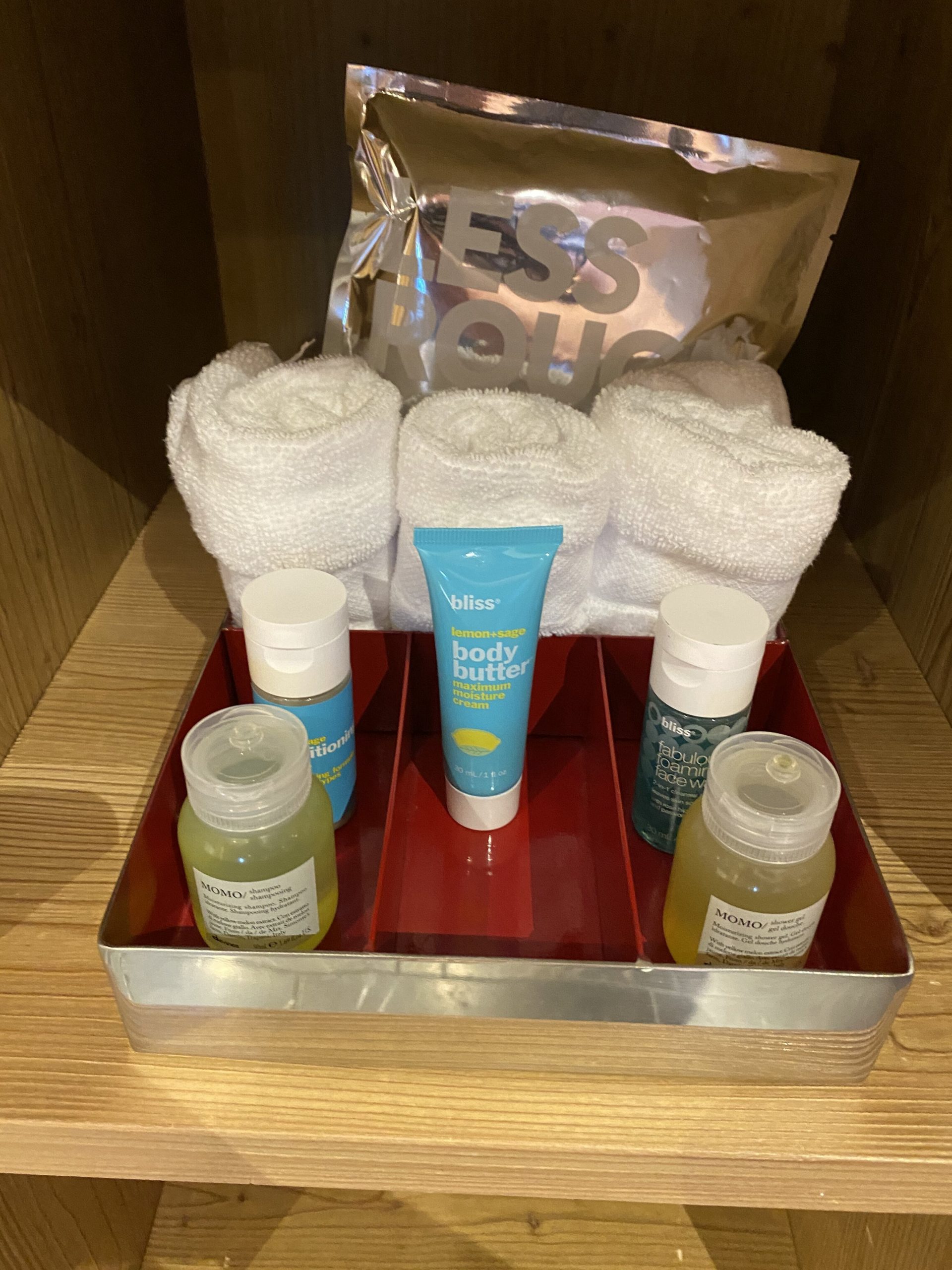 Across the two stays, I had breakfast a number of times, which was still a buffet service but also table service for coffee and eggs from the menu.
I also made use of the pool which is outdoors/indoors and spa facilities that include hot tub, steam and sauna and are excellent.
I also enjoyed a couple of drinks at the W Living Room – great staff and great cocktails.
Verbier
Each canton in Switzerland has slightly different rules with regards to face masks – generally, here social distancing was observed and I ate and drank outside most times. Also took advantage of being able to walk (and run) in the mountains with the lift pass and enjoy much good local wine. We enjoy drinks and food at a few places I really enjoy, and used to seeing in the snow… these include
Asti, Italy
As part of this trip, we'd planned a visit to Italy for a change of scenery and booking two nights at the Relais Sant'Uffizio Wellness & Spa ((https://www.relaissantuffizio.com/en/), near Asti in Italy. The hotel is set in the beautiful rolling hills with plenty of vineyards and is about a 1.5 hour drive from the Milan Malpensa Airport.
Starting from Verbier, we drove which took around 3 hours and went through the Tunnel Du Grand Saint Bernard S.A. on the way there, and stopped in Saint Bernard on the way back – this made the drive a little longer but was well worth the stop – seeing the views and seeing Saint Bernards in the Hospice Museum.
I booked a Prestige Room, one up from the base type as this included unlimited use of the Spa during the stay (the base room includes 3 hours). We arrive just after 15:00 and the room was ready, and after check-in formalities, I was escorted to my room and shown the entrance. In Italy it seemed pretty common to wear your mask whenever you were walking – so for example I'd wear it from my hotel room to the outdoor pool, but take it off when seated at the pool.
The hotel has a number of restaurants onsite, including the Locanda Sant'Uffizio Enrico Bartolini, that holds a Michelin star, a bar, an outdoor pool, and as mentioned above a lovely spa. Expecting the hotel to be busy we'd booked dinner in the bistro on the first night, dinner in the Michelin star restaurant on the second night, and a massage in advance.
This stay was all about stopping, relaxing, and indulging with few plans to move from the hotel property – I did make it for a run one morning and despite the hills was rewarded with the views.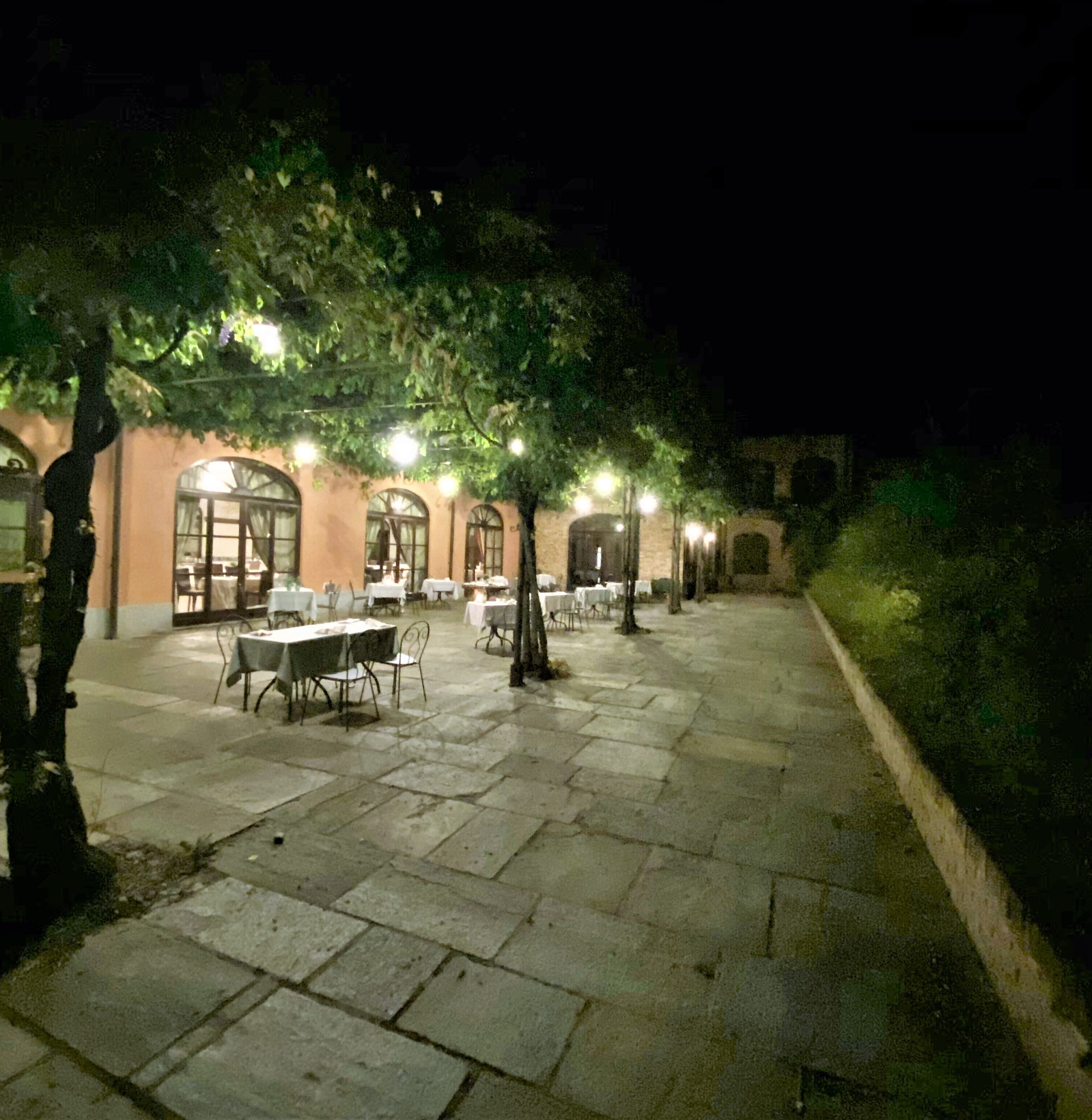 For the first night (and breakfast both mornings) we dined outside the Bistro as the weather was superb. For dinner and, since in Italy, I opted for both Primi and Secondi from the menu (https://www.relaissantuffizio.com/media/Menu-Bistrot-2020-PRANZO.pdf), selecting the salami, Tagliatelle with sausages ragout (something I understand the restaurant is known for), Morbido di manzo and rum ice-cream.
For the second night, from the menu (https://www.relaissantuffizio.com/media/MENU-ESTATE-2020.pdf) we chose the "Progress" menu, along with the wine paring.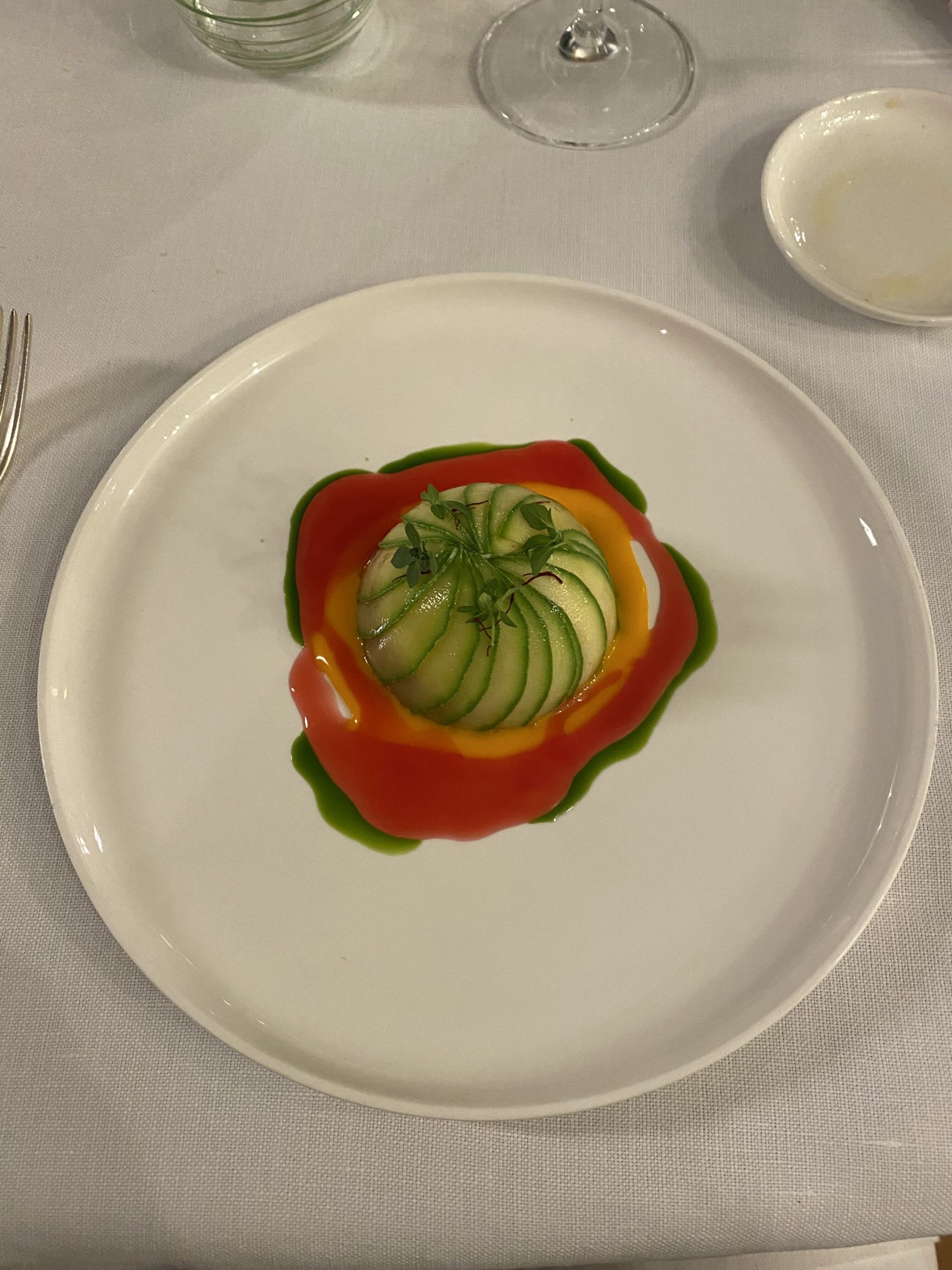 The food and service were excellent, although with enjoying the food and drinks, I didn'\t get many photos – but I would definitely recommend and would return – dining was inside, but given the restaurant, there were only a few tables and these were very well spaced out.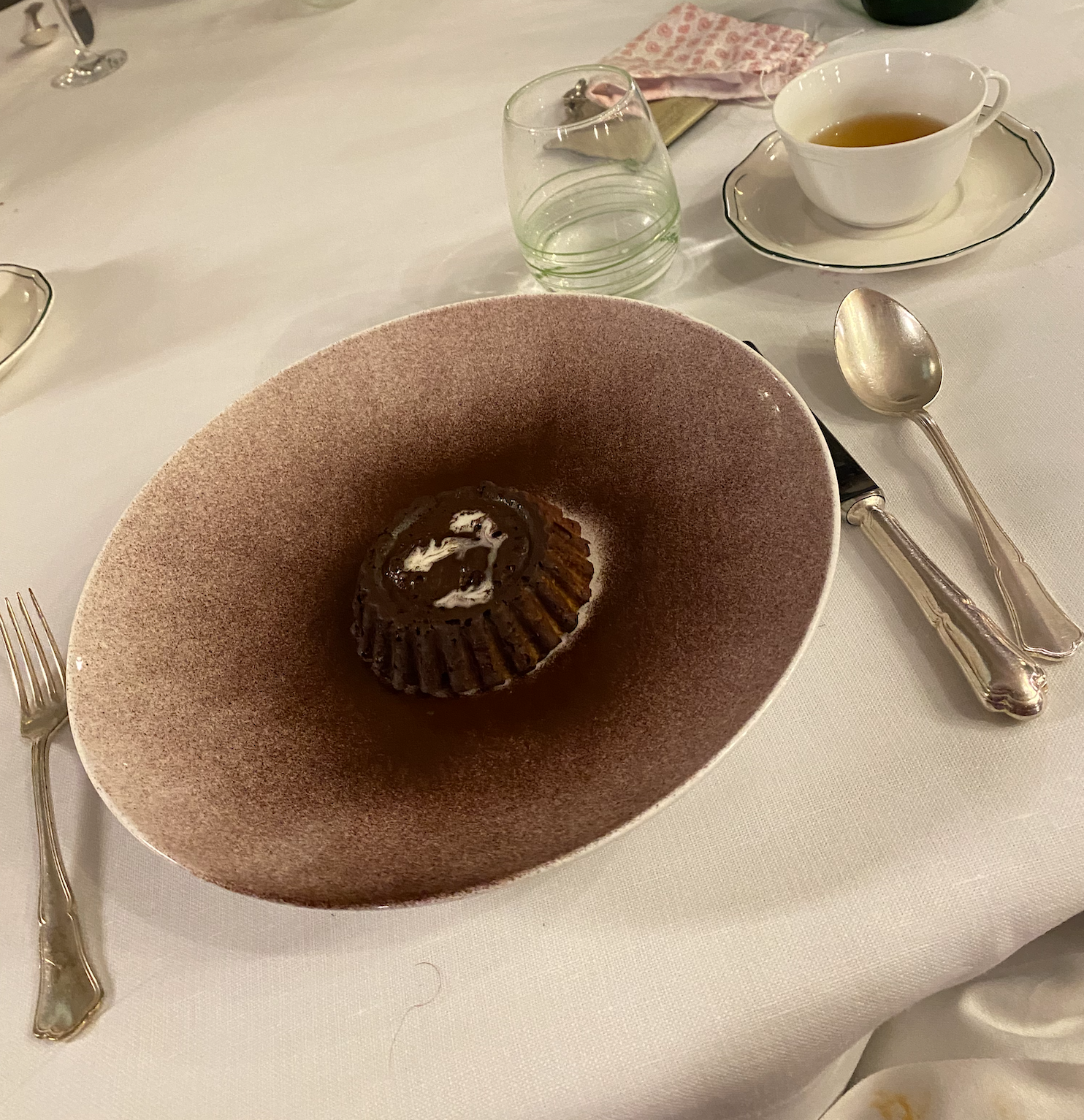 As mentioned above, I had a massage booked and I'd been advised to arrive 10 minutes early. The spa was well appointed and mostly open with some limitations on the number of people in different spaces (pool, sauna, etc) to allow for social distancing. I'd booked a 55-minute massage and this started promptly and was exactly as requested – the time flew by! I didn't use any of the other spa facilities as the weather was so good outside!
Geneva Airport and Club Europe to London
I was booked on BA728 departing at 13:10 – this meant I needed to be on the 08:43 train from Le Châble to give myself just over two hours from arriving at Geneva Airport to departure. I checked out the W at 08:00 and was on the cable car by 08:10 and on the platform at Le Châble for 08:25. The train journey was smooth like on a way out.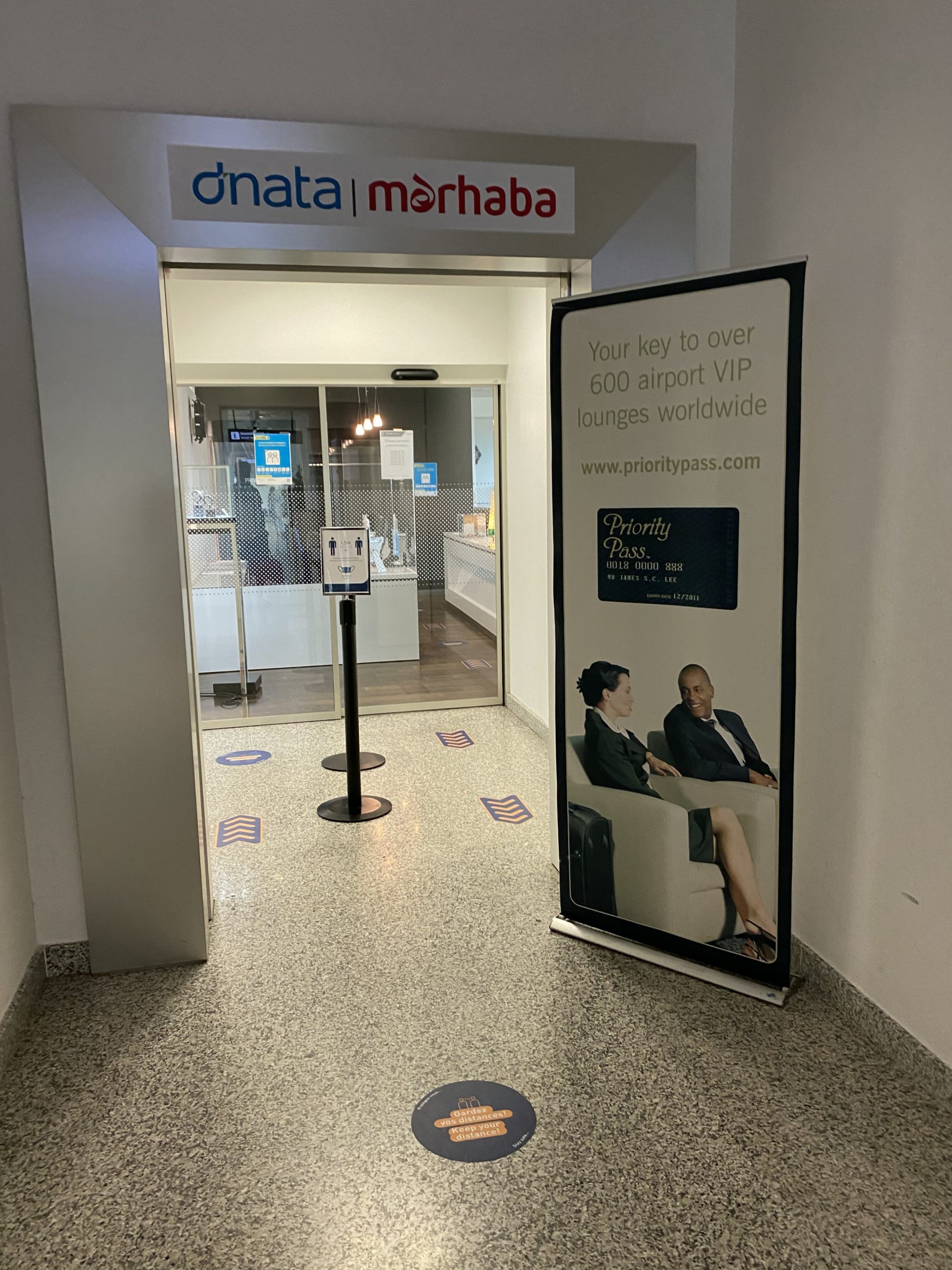 On arriving at Geneva Airport, checking was efficient with a couple of people in front of me and it was explained the lounge was closed. Fast Track security was, and I being the only person passing through it was quick, and efficient. Most, perhaps all, of the lounges are upstairs so I wandered around to see if any were open and found the Dnata lounge was and accepted priority pass. Usual social distancing inside and pre-wrapped food and drink offering including soft drinks, beer, red wine, sandwiches, nuts, crisps and a few other bits.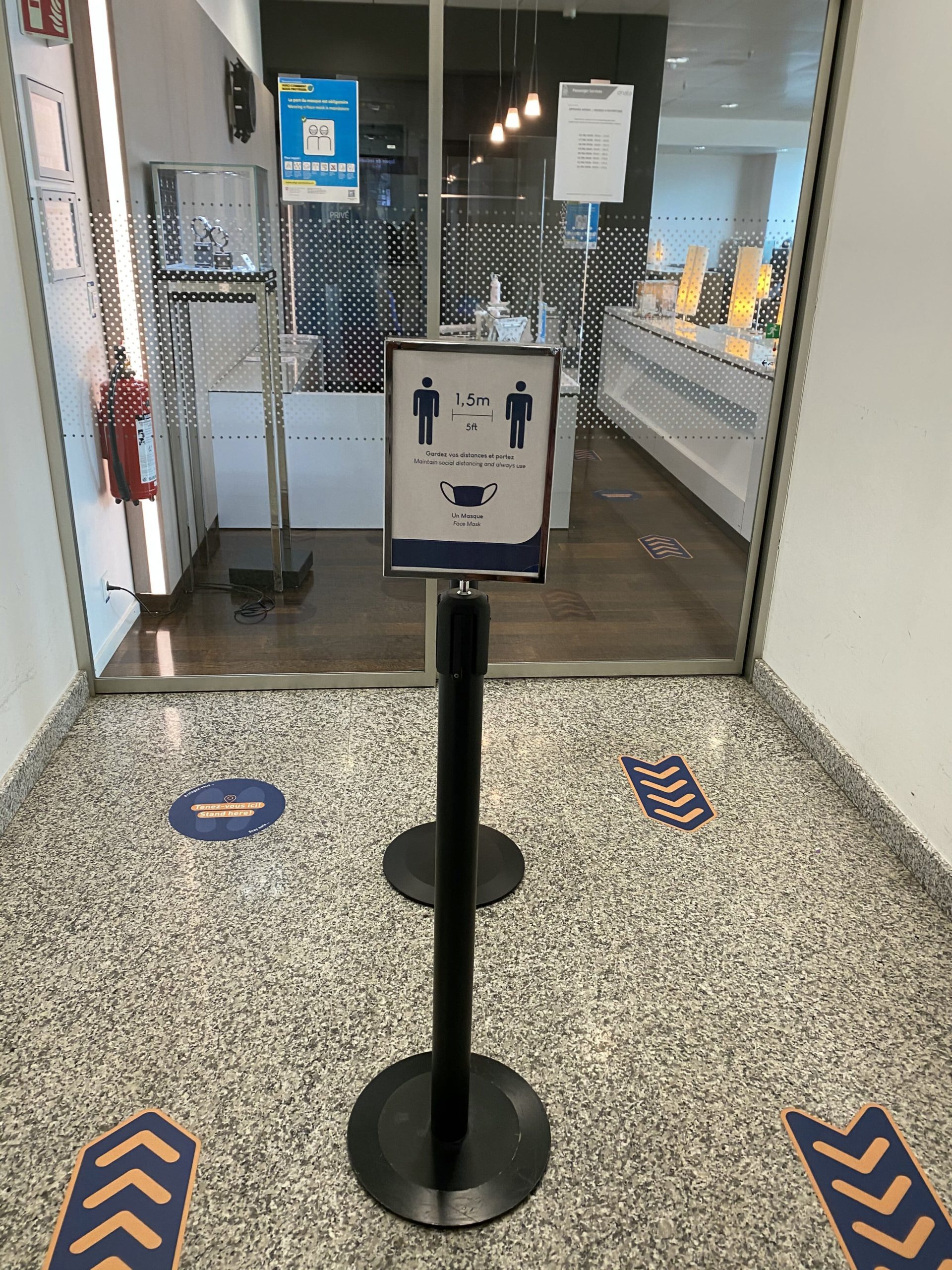 I allowed myself plenty of time to get from the lounge to the gate, knowing that I'd need to clear passport control. This was busy, even with four desks open and took about 15 minutes to clear.
On boarding, another very friendly attentive crew – they introduced themselves and after take off the current usual Club Europe service took place. Sandwiches for lunch, with the choice of coronation chicken or mozzarella and tomato – I went for the chicken which came with one of the signature Do & Co desserts.
Overall, a great trip and loved being back travelling…next stop, Portugal…hopefully!