I am just back from spending a lovely 4 days enjoying the sunshine on the Algarve. Travel seems like a lot of hassle right now, but if you don't mind spending the money on tests, then actually apart from a bit of form filling, it wasn't really much bother.
Portugal – entry requirements
It's always best to check the FCDO for the latest requirements for your country that you are travelling to. I also check the country's main tourist page as well.
For Portugal at the moment it varies by the mainland and then Madeira and the Azores. As I was travelling to the mainland, I'll just concentrate on that.
To travel to Portugal you need:
I was travelling with BA and they allow you to upload both documents online beforehand (as a photo). This should be available in Manage My Booking once online check-in opens and you get a text also with a link to do it. I was trying to do it on my phone and found that the form timed out and then I couldn't get back in. So I'd suggest doing the Portuguese form and taking a photo of that and the Covid test before you start trying to fill it in. You don't have to do it in advance, as I hadn't done mine, the check-in staff just checked the certificate manually.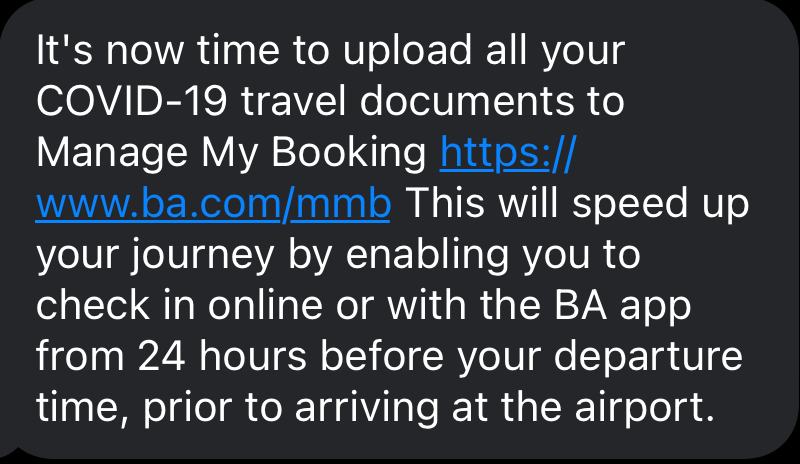 I used Express Test again for my pre-departure Covid test. This costs a reasonable £80 and you get the results back next day by 10pm but usually sooner. You can get tests done much cheaper at around £45. However, anything you do by post is more risky and I'd rather use Express test that have their own labs so are less likely to be overwhelmed by other providers needing capacity. When it comes to day 2/8 tests, I'll take the cheapest. For anything that could cancel your trip, it's worth a little extra.
Check-in Heathrow – The First Wing
My flight was at 8.05am, so I arrived at Heathrow around 5.45am. The terminal understandably was pretty quiet. I headed over to the First Wing which can be used by Gold Cardholders and those travelling in first. Check-in only took a few seconds longer than usual as she had to check my Covid test result. I recommend printing everything as if your phone malfunctions, and you can't produce it, you won't be flying!
Security was empty and I was through in less than 2 minutes.
The lounge and sleep pods
I then went through into the First Lounge before making my way to the Concorde Terrace.
In the First lounge, the current champagne is Baron de Rothschild which used to be served in the Cathay Pacific lounge and is OK. Plus the usual Canard Duchene which is also passable. However, unless you will drink any old fizz, I'd give the Lanson Rose a wide berth!
The sleep pods were added recently so I decided to have a quick try of one. As you approach the area, there is a big screen showing how many are occupied. The pods also have a red or green light to show whether they are in use.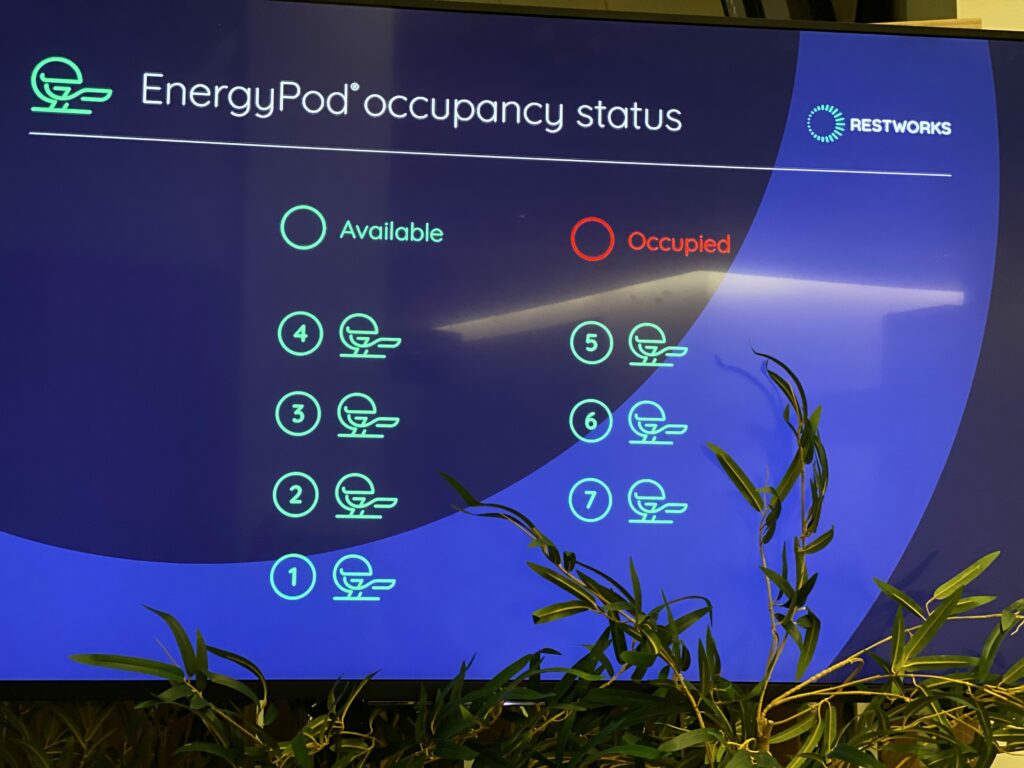 They are designed for a quick nap, not a full-blown sleep. The instructions are also on the screen outside the area.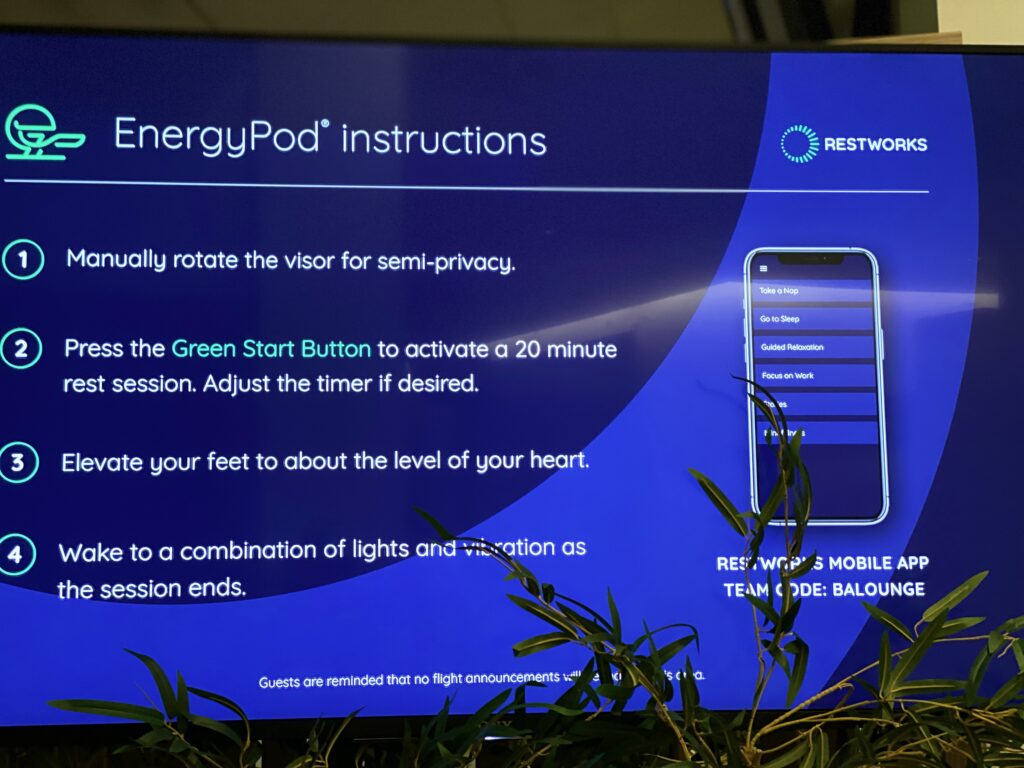 I have to say it's pretty comfortable but being a side sleeper I don't think I could properly sleep very easily. It also feel quite upright still, even after you have moved it into the optimum position. You can set a timer for anything up to 30 minutes. When the time is up the bed vibrates slightly and then a light comes on. It sounded a lot more exciting in the PR blurb than it was in reality! There was no sign of water to wake me up but then it was very early. You can also plug in headphones to listen to soothing sounds. The lights were a bit bright as the shield on tp does not come down far enough to block it if you have a light in your line of sight.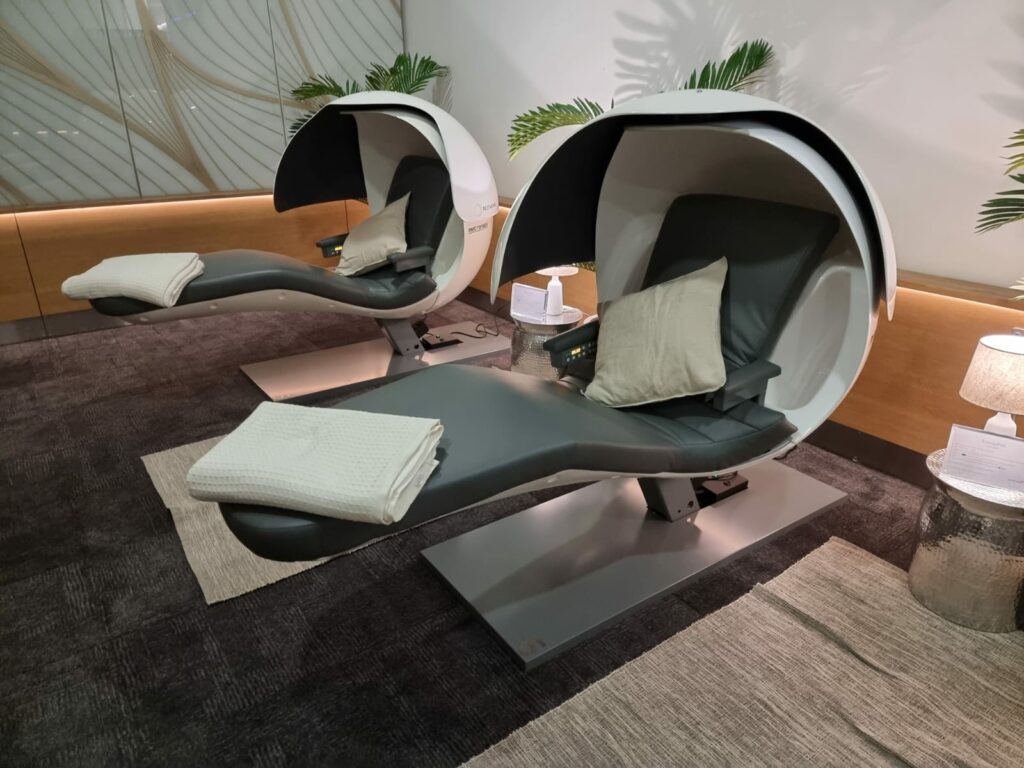 The new sleep pod area is where the business centre used to be. Now if you want to work, there is one shared table and a printer near the door to the terrace. Not ideal really as the table looks very cosy if all the seats were occupied!
Here is the list: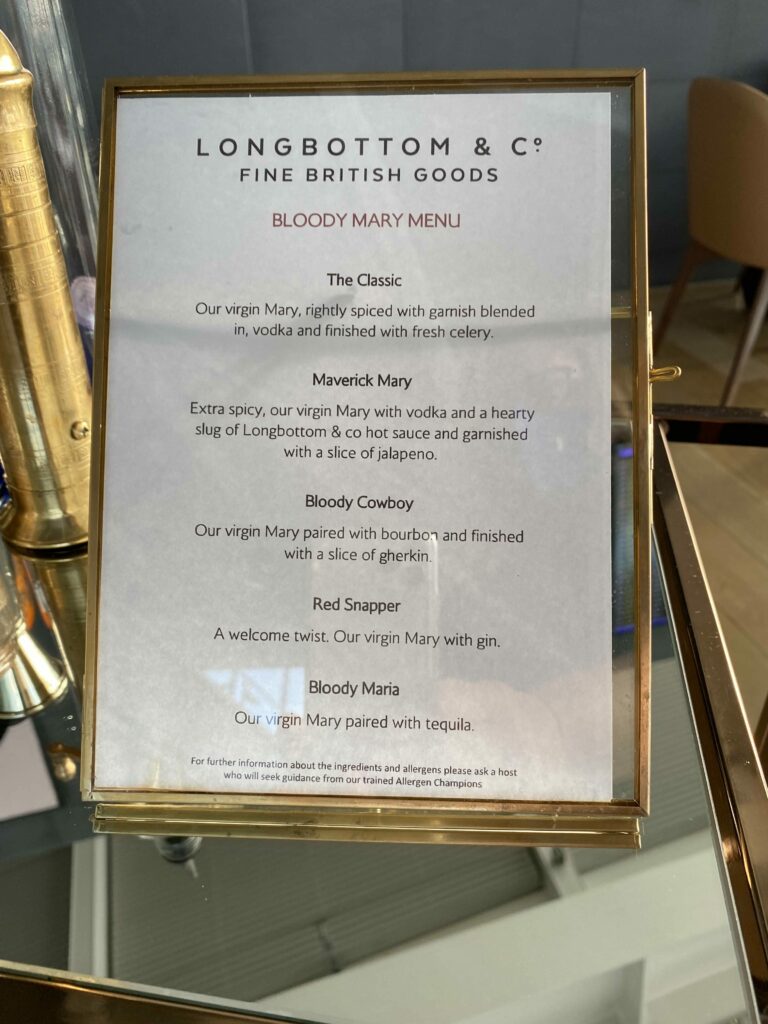 It wasn't too spicy and I enjoyed my drink.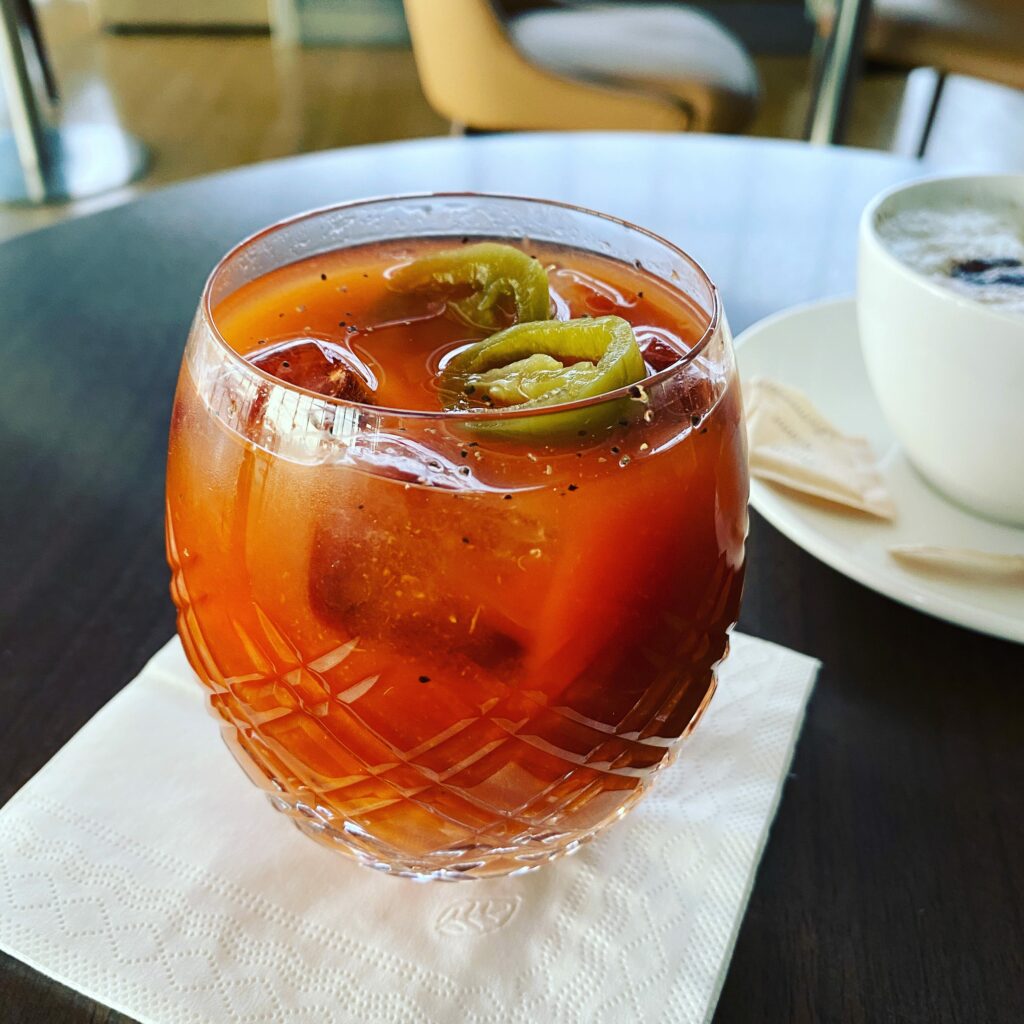 The service was extremely slow for the first 20 minutes even though there was only 3 tables occupied, so it took a while to get anything at all. Next had a look at the breakfast menu which is the same for the First lounge: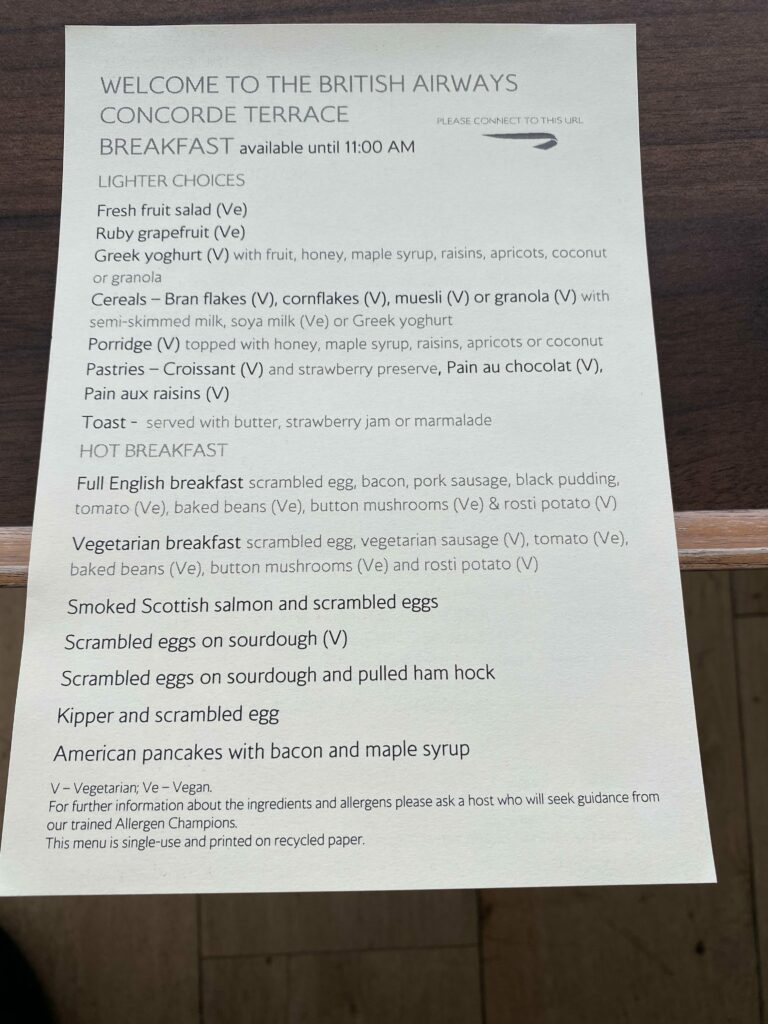 I had tried the eggs with smoked salmon so I thought I would try the scrambled eggs with the ham hock as I didn't fancy anything big. However, it was a fairly substantial portion. Taste-wise the ham made it a little salty for me and I would have preferred larger pieces of ham. There was also some confusion with the order and it was delivered to someone else by mistake. 40 minutes after I entered I eventually got my breakfast and ended up leaving most of it as I had to go to the gate via Travelex to pick up some Euros.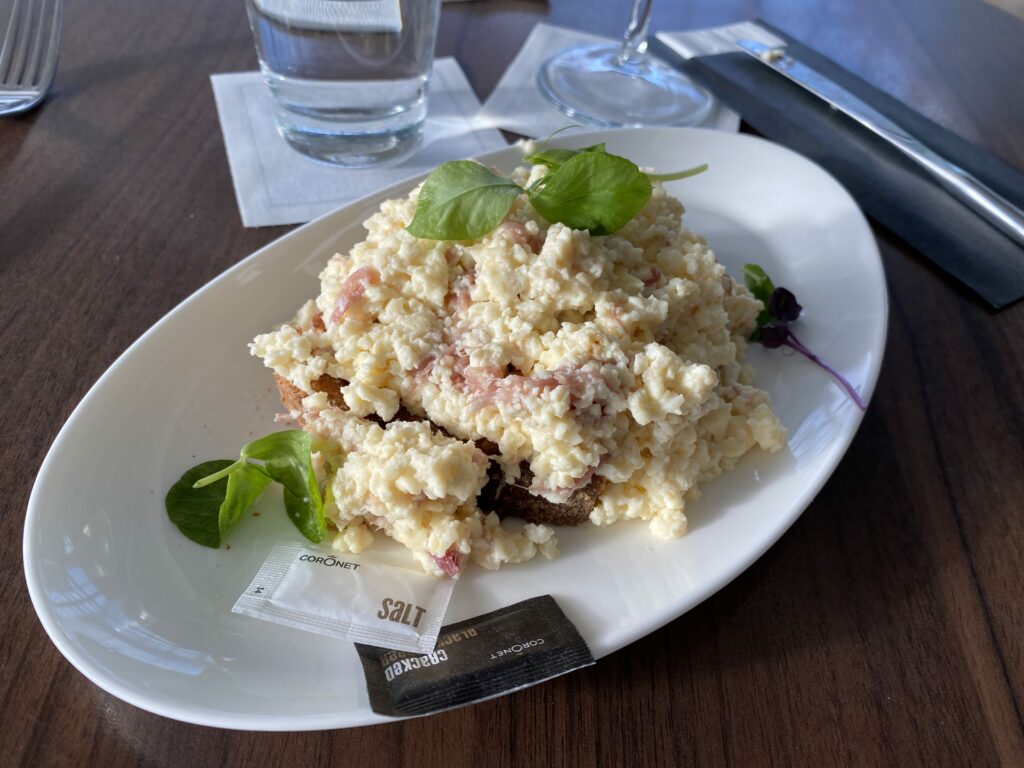 Whilst I waited for the eggs, I consoled myself with a glass of the lovely Laurent Perrier Grand Siecle which tastes as great as always.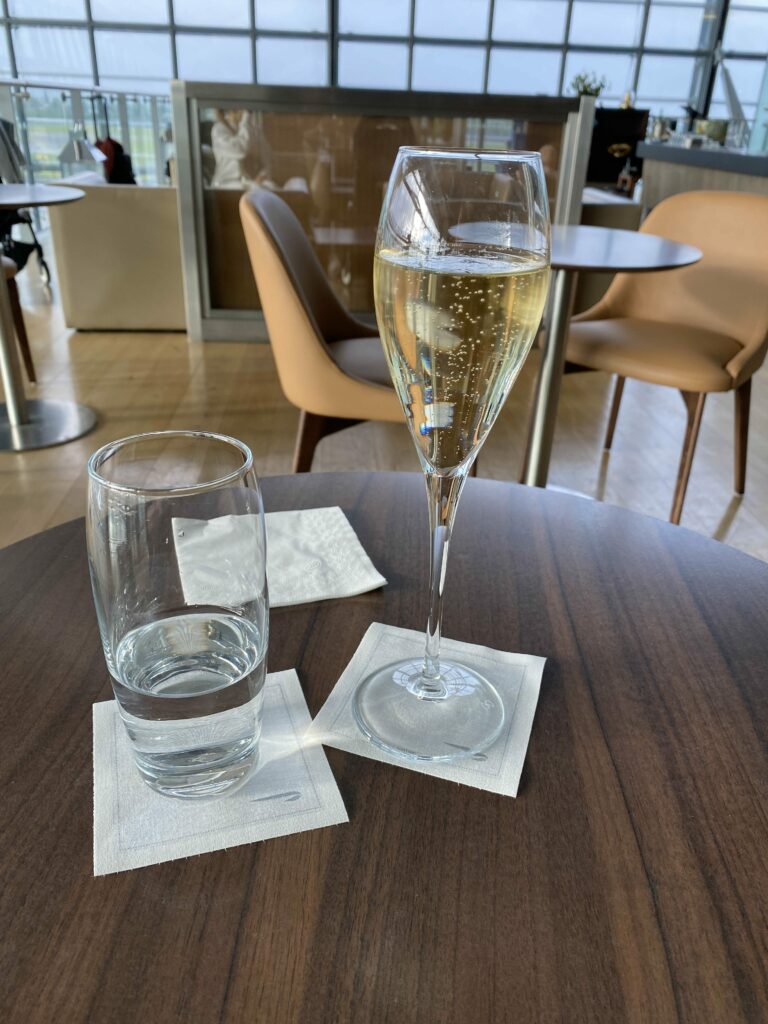 Here is the full drinks list: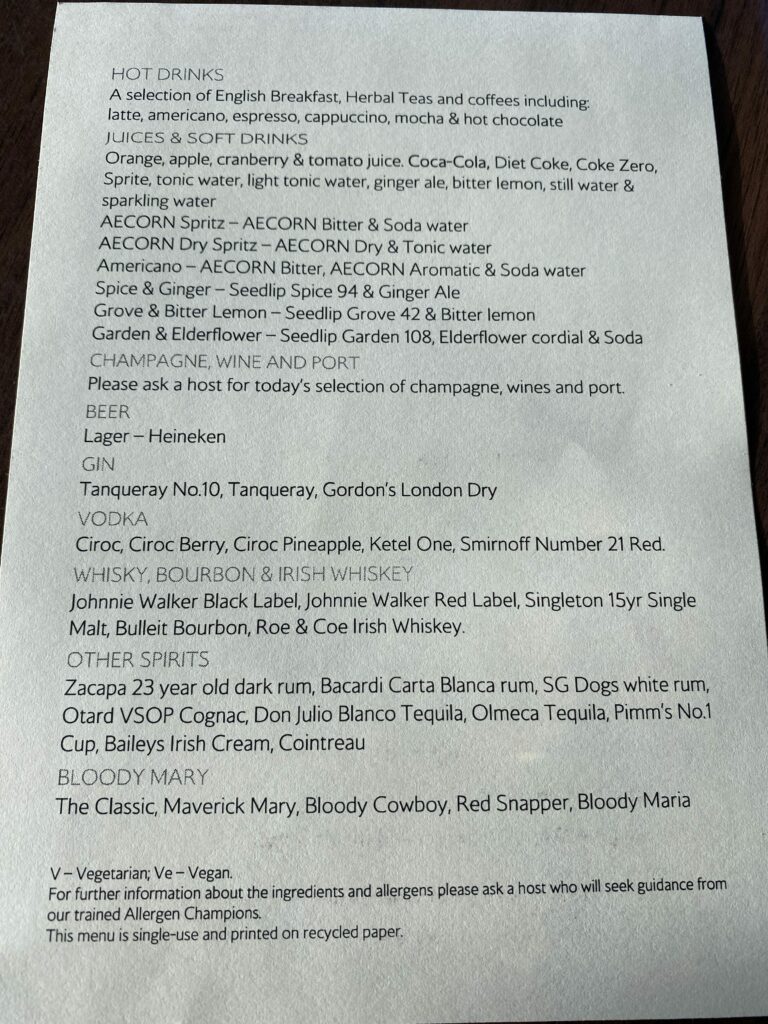 Boarding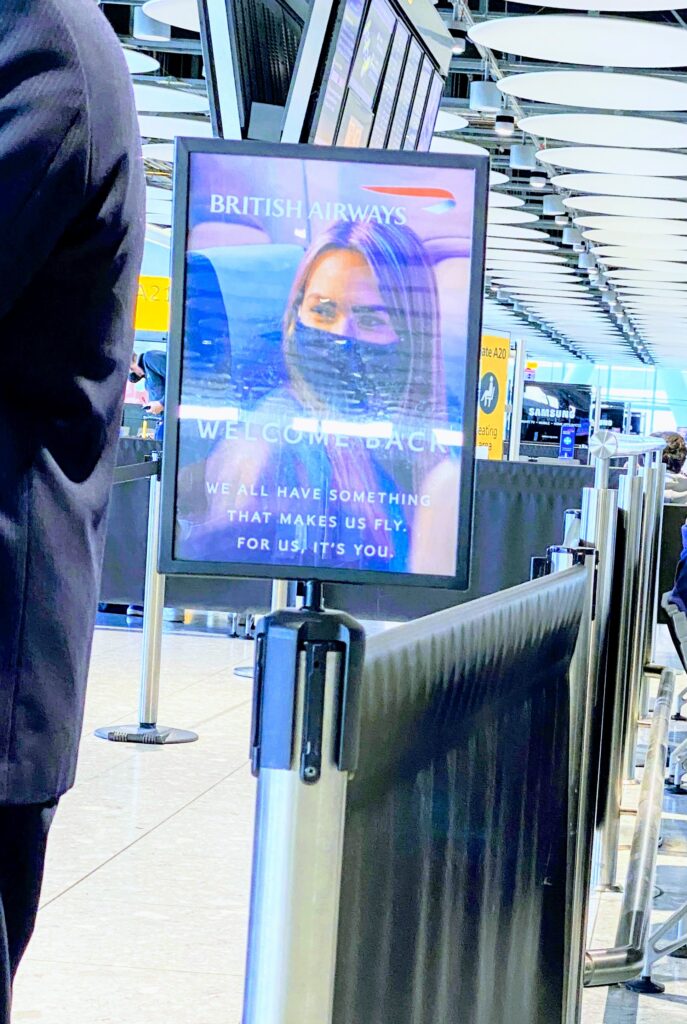 The flight was pretty much full, so the gate was quite busy but I had left it until around 25 minutes before to get there so I managed to find a socially distanced seat and wait. Boarding is done from the back with no priority boarding. Even after waiting quite some time there was still a queue on the jetbridge when I boarded. If you don't need to worry about finding space for hand luggage, you may as well wait until the end. The new BA branding is beginning to appear everywhere "Welcome back" which I think is a great idea.
On boarding I was handed a plastic bag with a Dettol wipe – this is BA's new partnership – but you no longer get hand sanitiser as well. It doesn't worry me as I always take my own one from Aesop.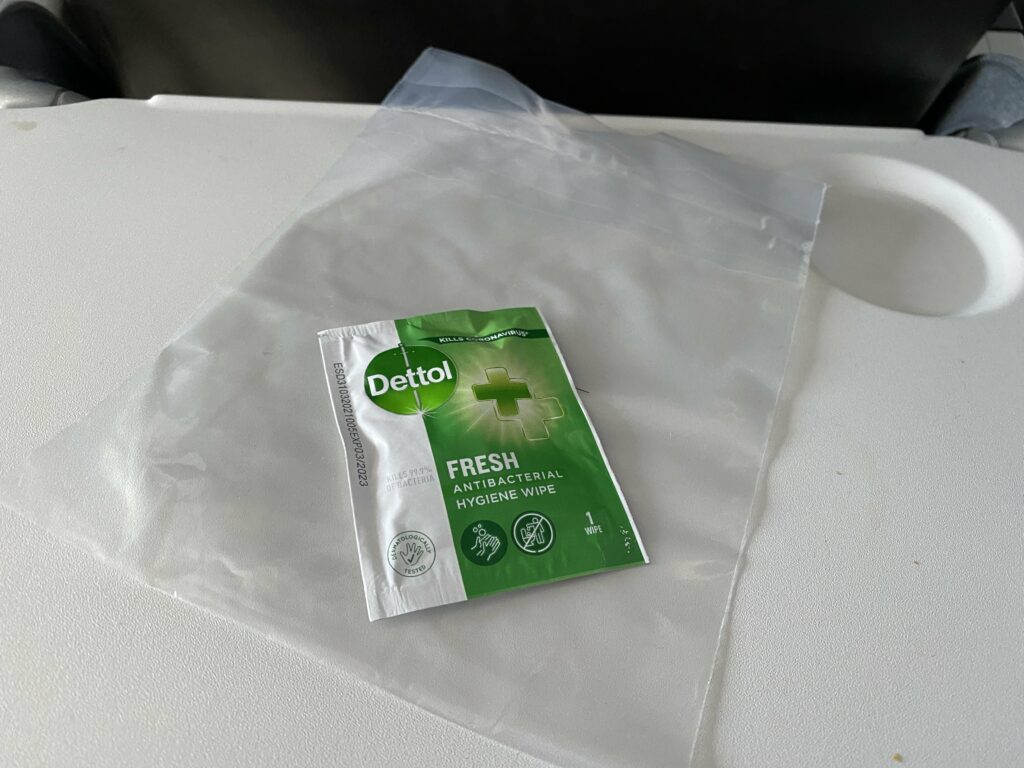 I was in 2A on this flight having been turfed out of my row 1 seat for unknown reasons. There was WiFi and a charging point on this A321 Neo but no centre console table. You can of course fold down the middle tray table but this is backward if the person in the window seat wants to get out.
The WiFi for the whole flight costs £7.99 for the full service, less for messaging only. On both legs of the journey, the WiFi cut out for around 15 minutes of the flight.
The flight
After take-off we were given breakfast which had a choice of the full English, a cheese omelette, or a continental breakfast. Th starter was a plain yogurt with a few bits of fruit and there was also a slightly squashed croissant! The usual range of drinks including champagne was also offered.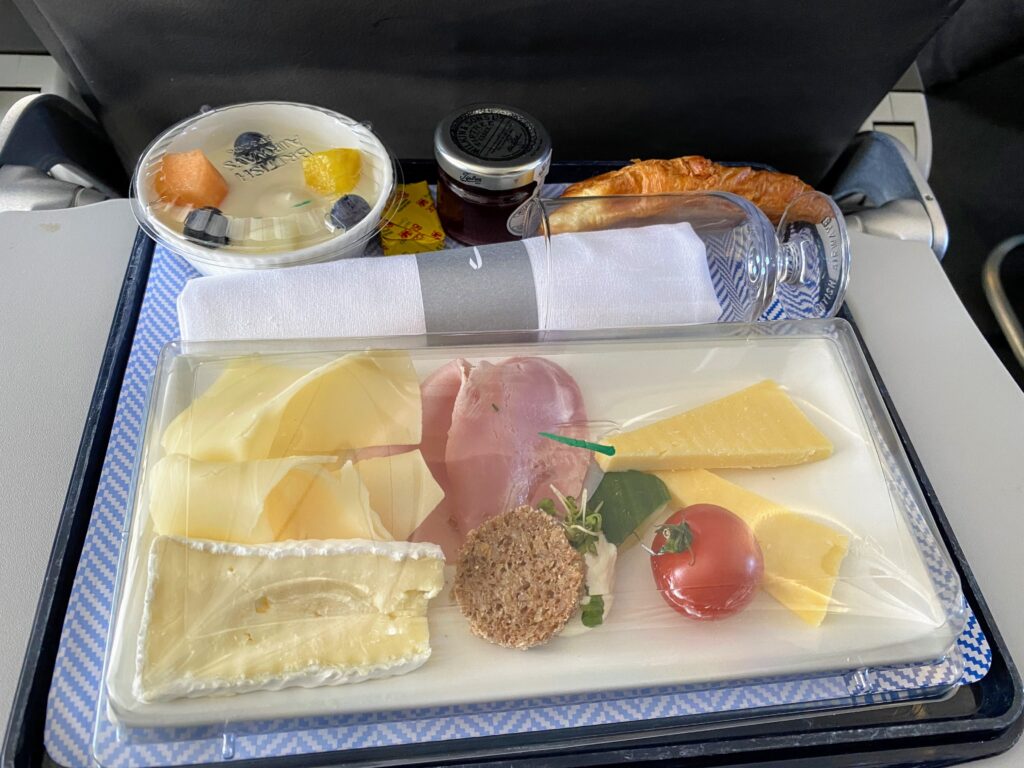 I went for the Continental breakfast which was fine but I was sad to see the hard-boiled egg had gone!
The crew were OK but nothing special and I was offered a top-up of my drinks once during the flight.
Arrival
Being at the front, I made a quick departure into the terminal and was about the 3rd or 4th person to arrive at immigration. They were not interested in the Portuguese form but wanted to see the Covid test. This took around one minute.
Baggage took around 5 minutes to arrive and then I was free to leave the airport. I usually use FATA/Sunline Transfers as they meet you in the terminal and help with luggage. They don't have fancy cars, often it's a minibus. But they are always reasonably priced and ultra-reliable. However, Uber is available and I used Uber Comfort a number of times during the trip. You can use this either when you arrive or by booking in advance.