This is the second article about my trip to Portugal. You can read about my journey to Faro in this article.
There are three major luxury hotels around the main Algarve area – The Conrad which you can read about here, the Pines which I will be reviewing next and the Anantara. Each offers something slightly different.
Booking
I got an absolute bargain by booking through Debbie from our partners GTC As well as only paying €140 a night, I also got:
welcome amenity with water and fruit
early check-in/late check out
upgrade at check-in if available
$100 food and drink credit
breakfast
This is a super cheap price for Anantara which I got by booking a long time in advance as I had anticipated that Portugal would make the green list. Normally it's around £250 per night but I do find the Anantara better value than the other two hotels generally. They currently have offers starting from £100 a night which is crazy cheap!
Location
The Anantara is situated near Vilamoura which has a lively harbour area and plenty of restaurants within a short distance. It's around 30 minutes from Faro airport. Uber is readily available, I recommend Uber Comfort for just a couple more Euros. I went over to Gusto, the Michelin star restaurant at the Conrad during my stay, and that cost around $16 each way in an Uber Comfort. Heading to the Vilamoura area would be around €5-10. If you want to venture out of the hotel, I recommend Passaro Azul for simple fresh fish in a stunning setting and Salmora near the harbour.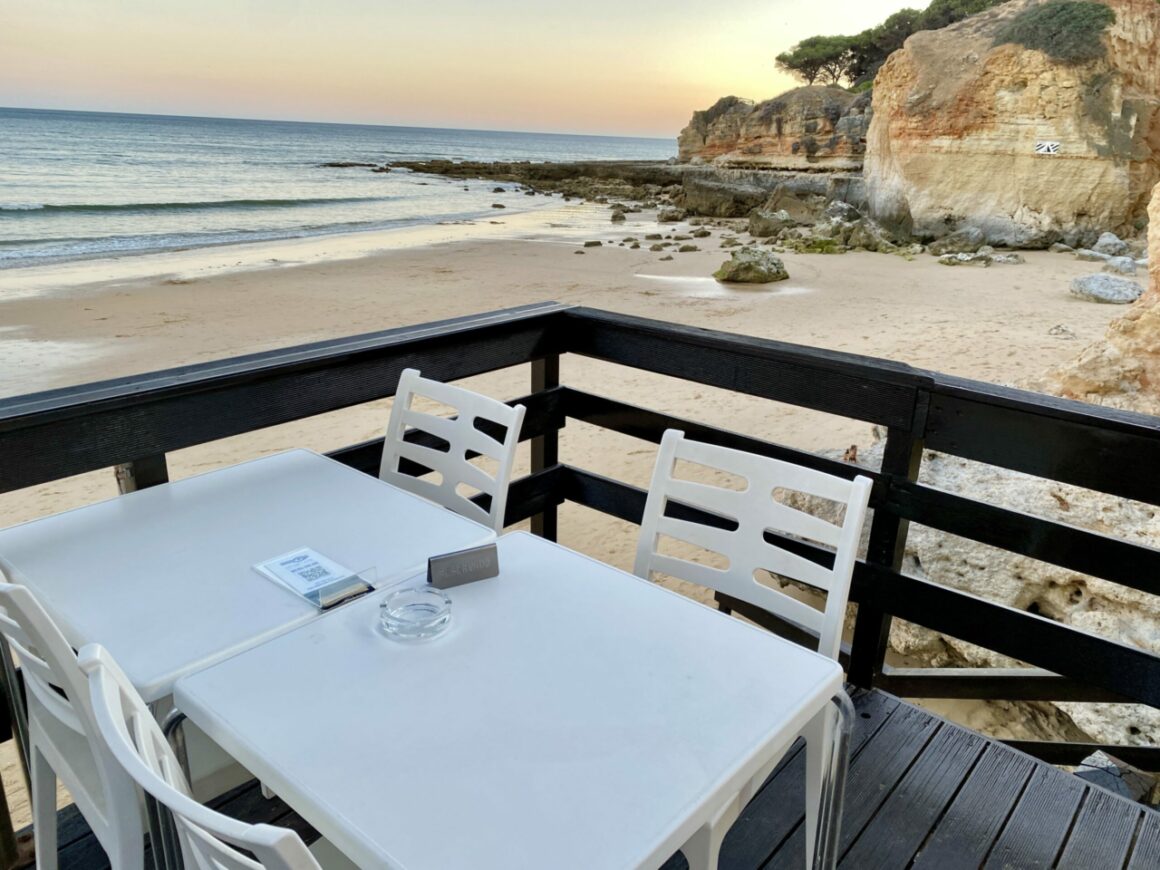 Check-in at Anantara hotel Vilamoura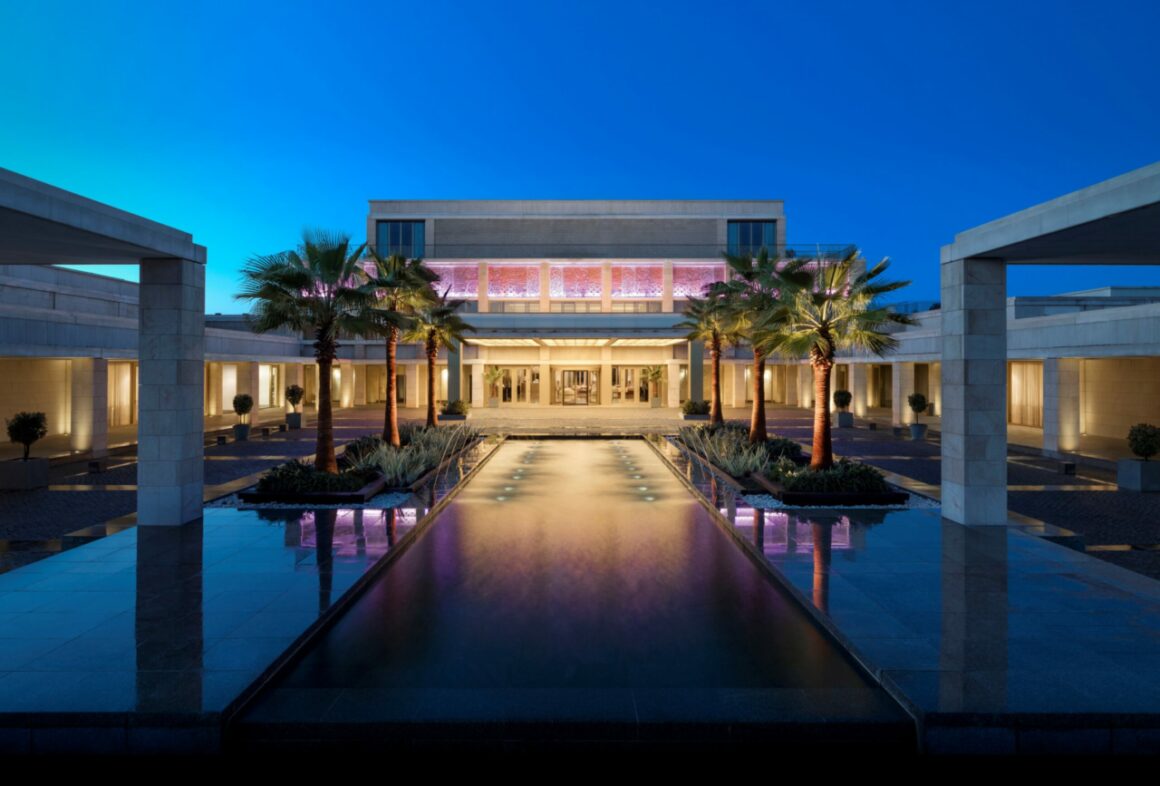 On arrival, I was offered help with my luggage almost immediately after I got out of my transfer car. There was a bit of a wait for check-in as there was only one desk available but once seen, the receptionist was charming and friendly. I headed off to the room with a quick overview on the way and waited for my luggage to be delivered which was on the slow side.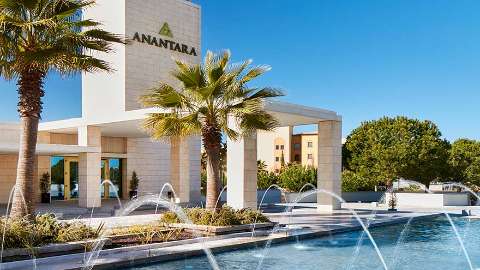 The issue that all the hotels both in Portugal and the UK are facing is trying to ramp up with short notice. Once the green list was announced the hotel received hundreds of bookings overnight. Obviously, I was there only 5 days after travel returned so things were still getting sorted out in both the hotels I stayed in.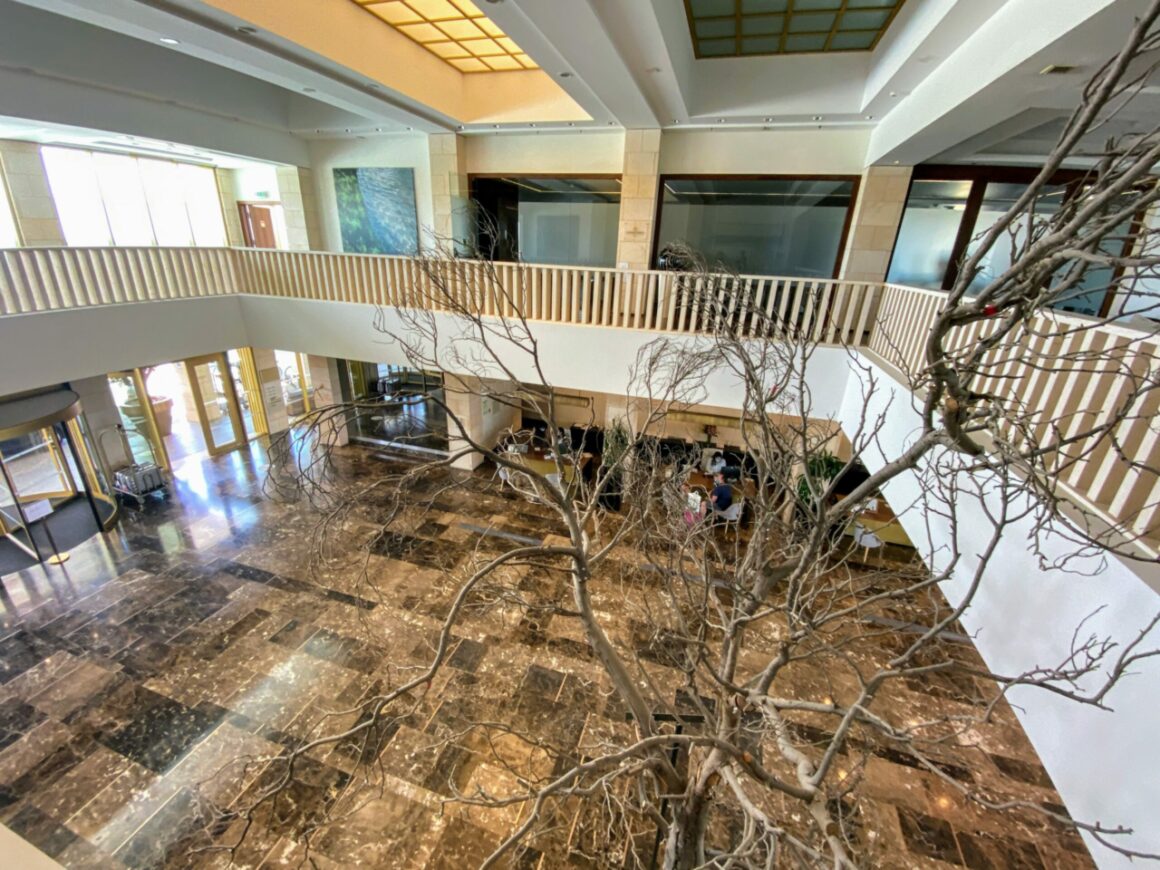 Anantara hotels are all slightly different and try to reflect a sense of the place they are situated. For example, in reception there were tables based on the design of the local fisherman's pots!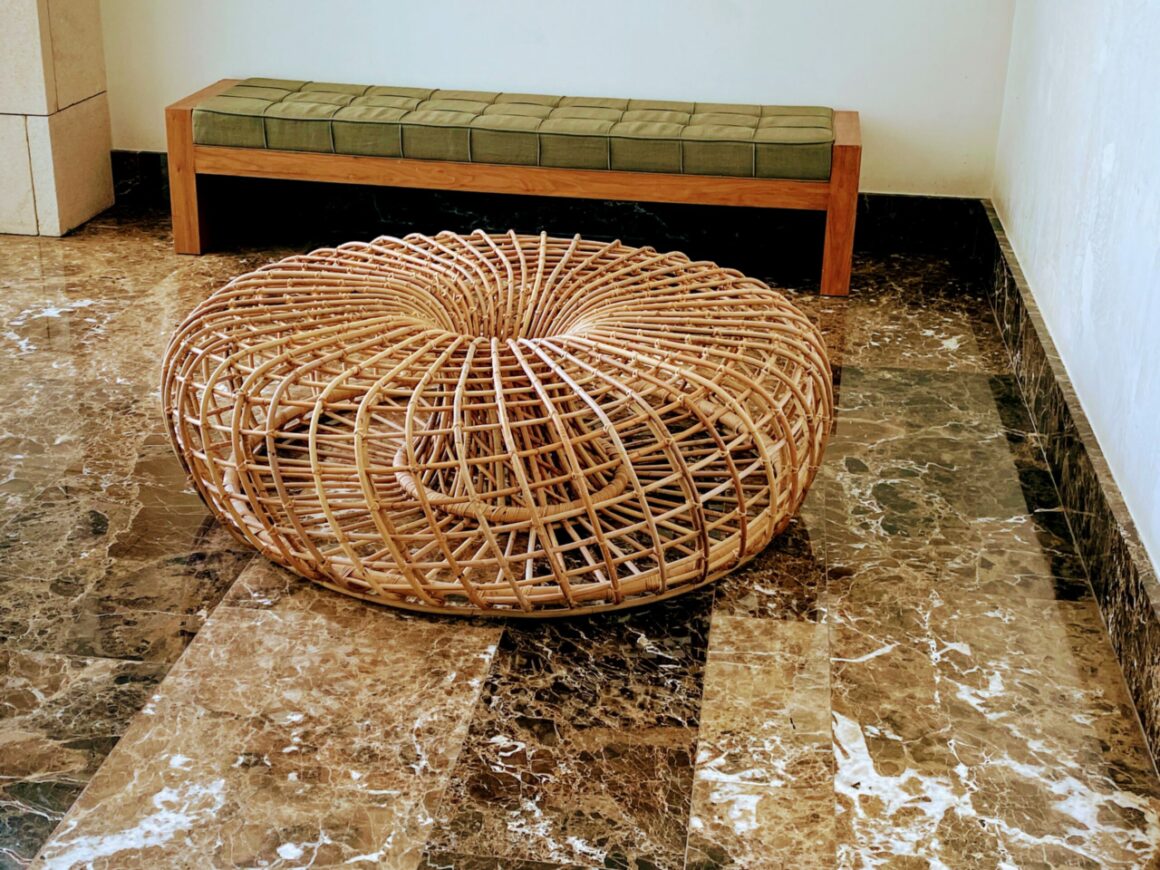 Anantara hotel Vilamoura Room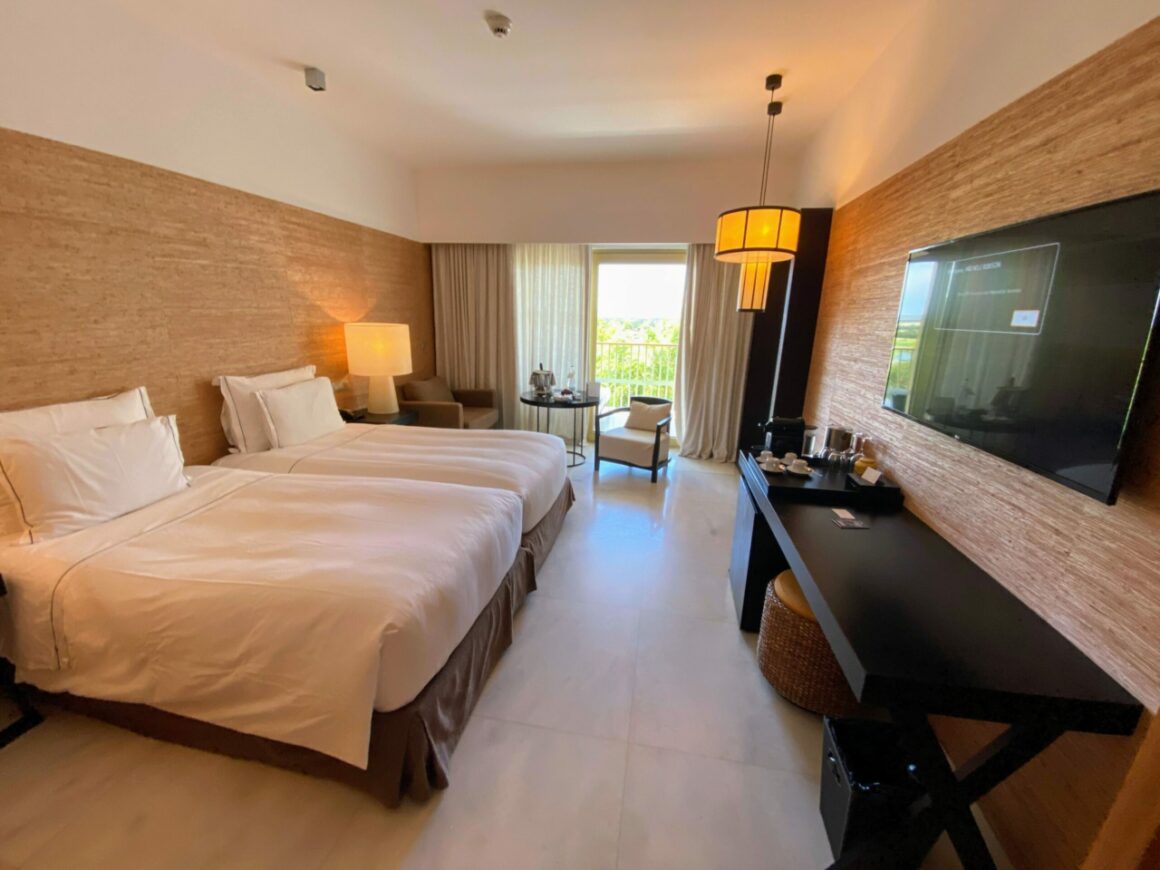 I was impressed with the room straight away. I had booked the Deluxe room and was upgraded to a pool view room. The first few categories of rooms are all the same, just with different views. The decor felt like a mix between Portuguese with a dash of Anantara's Asian heritage. There was air conditioning but it was hard to get it very cold even on the lowest setting but it was probably around 20c in the room which is fine for most people.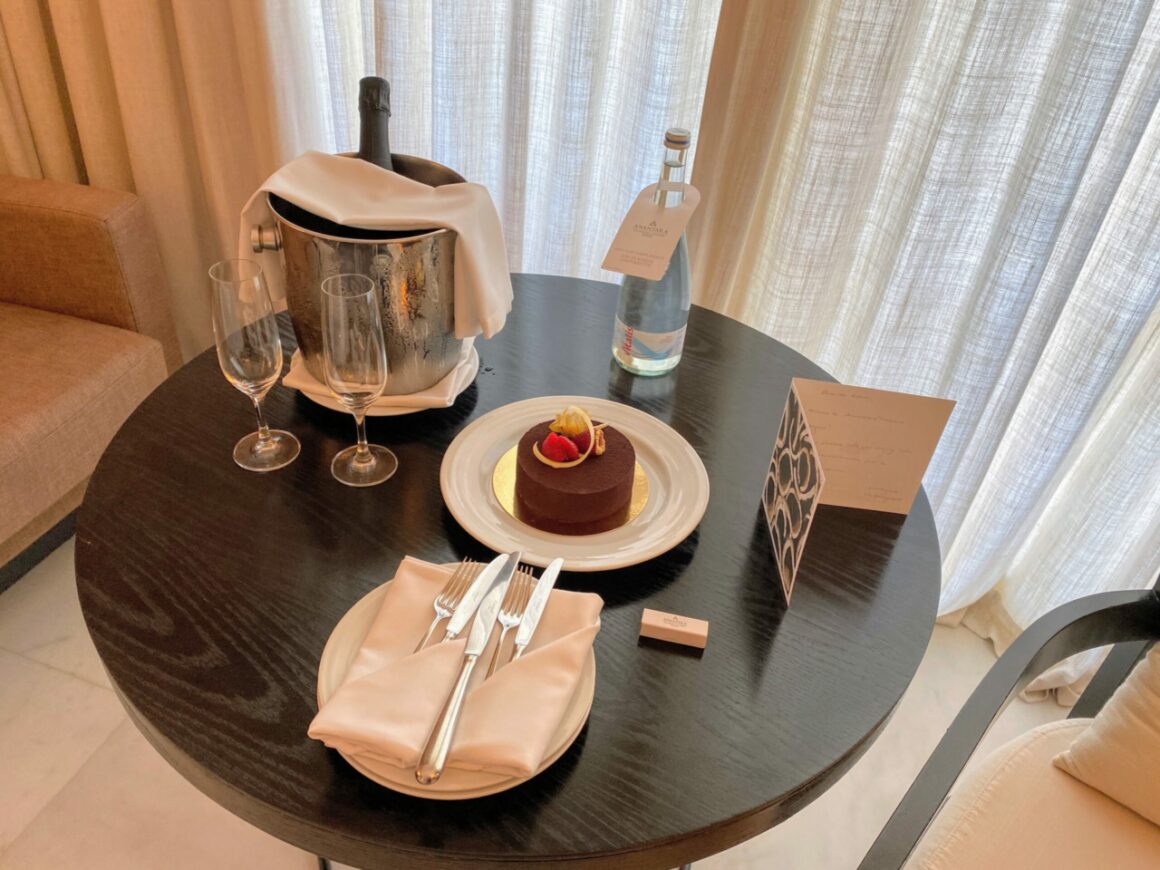 There was pretty much everything you would expect in a 5* room minus the iron and ironing board. Although that seems to be a Portuguese thing as none of the other hotels had them either. I asked for one and it was delivered in under 5 minutes. The Nespresso machine did not have any milk, again I'm guessing a local thing but there was a kettle as well. I'm sure you could ask for milk if you needed it. Underneath was a mini-bar with the usual items to purchase.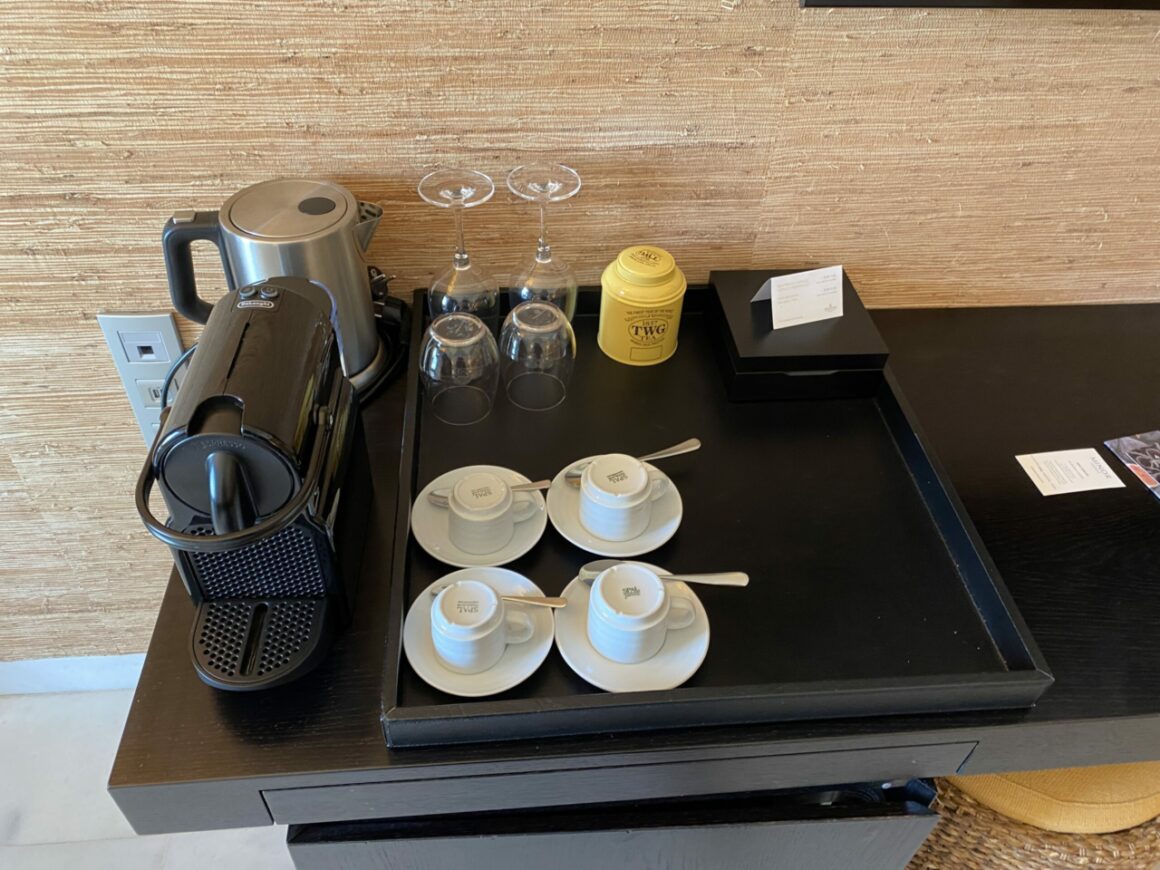 I had twin beds although I hadn't specifically booked that, however, they were more like a small double than a single bed. This bed definitely was the most comfortable bed out of all the Algarve hotels I have stayed in. It was like sinking into a cloud as your head hit the crisp white pillowcase. I could feel that the bed linen was high quality.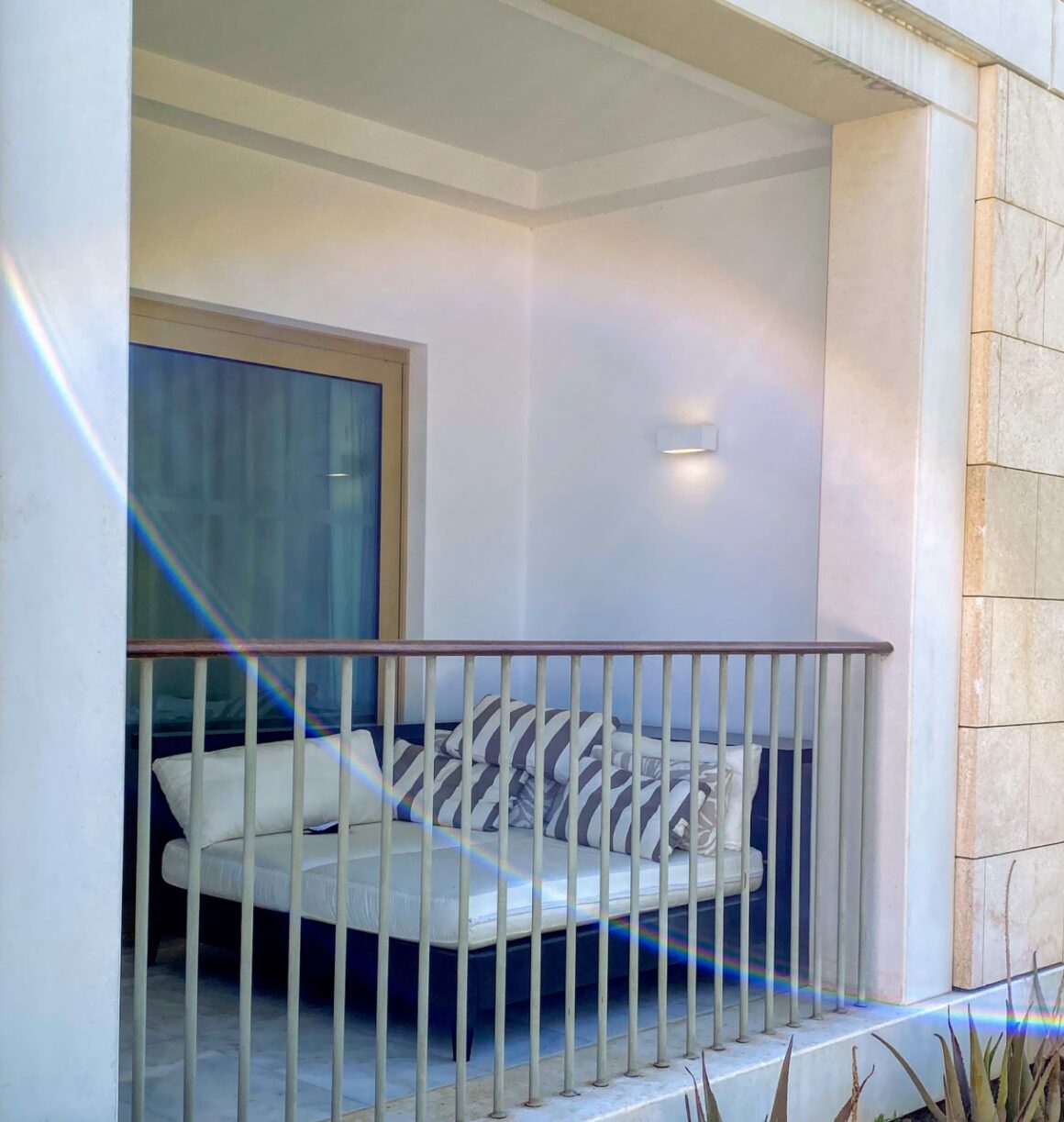 There was a little noise from the hallway but this was really guests just being loud and inconsiderate late at night. Outside was a small balcony with a plump cushioned daybed/sofa to sit outside and admire the view on a balmy warm night.
One thing that really struck me about the room was the amount of storage space with a row of wardrobes with shelves, drawers, and hanging space. Even with all my overpacking, I couldn't make a dent in it!
Anantara hotel Vilamoura Bathroom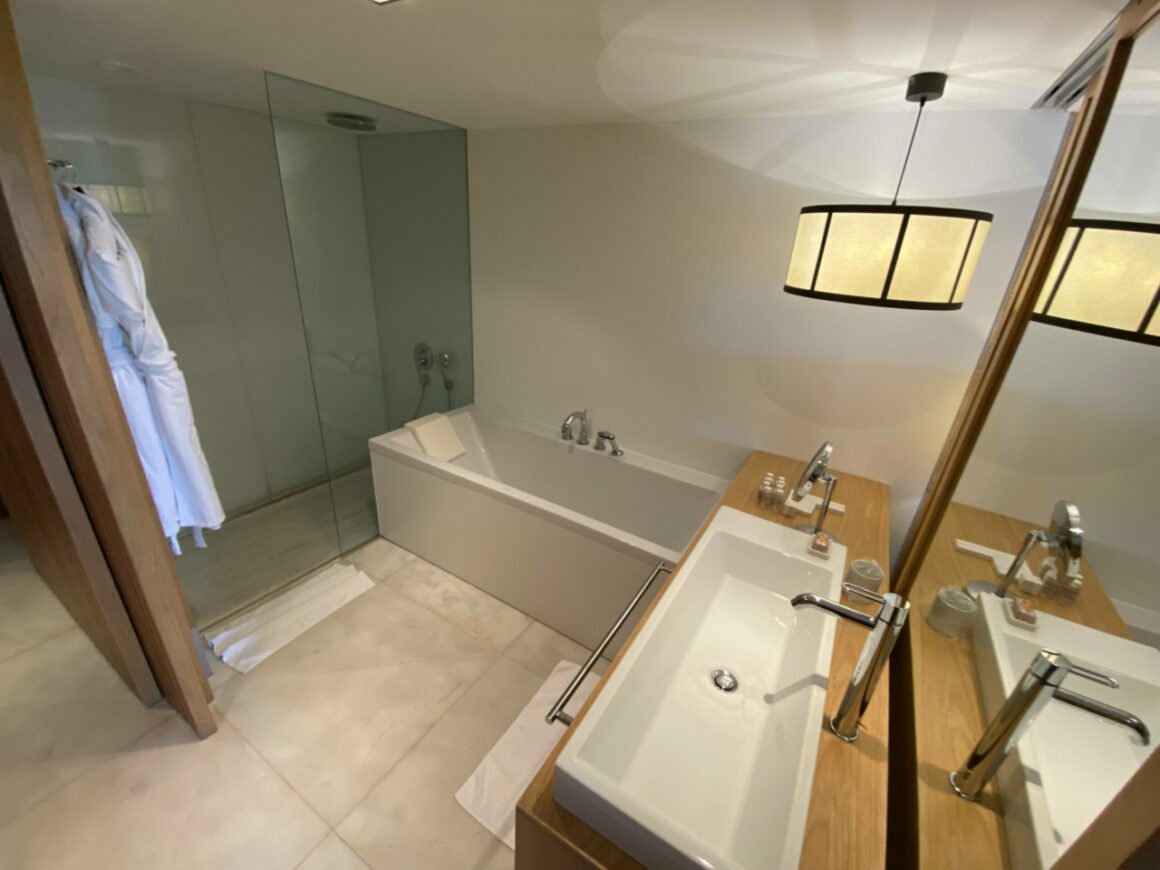 Although I am not generally a fan of open bathrooms, you could close this one off if you wanted to plus there was a separate completely enclosed toilet and bidet which I prefer.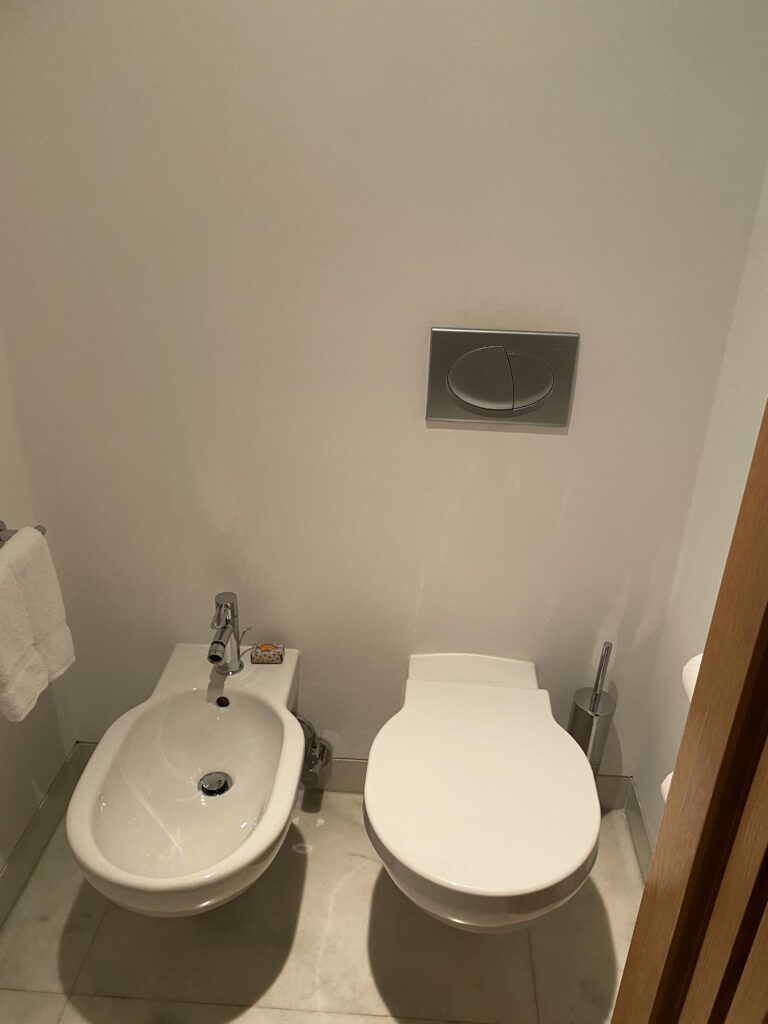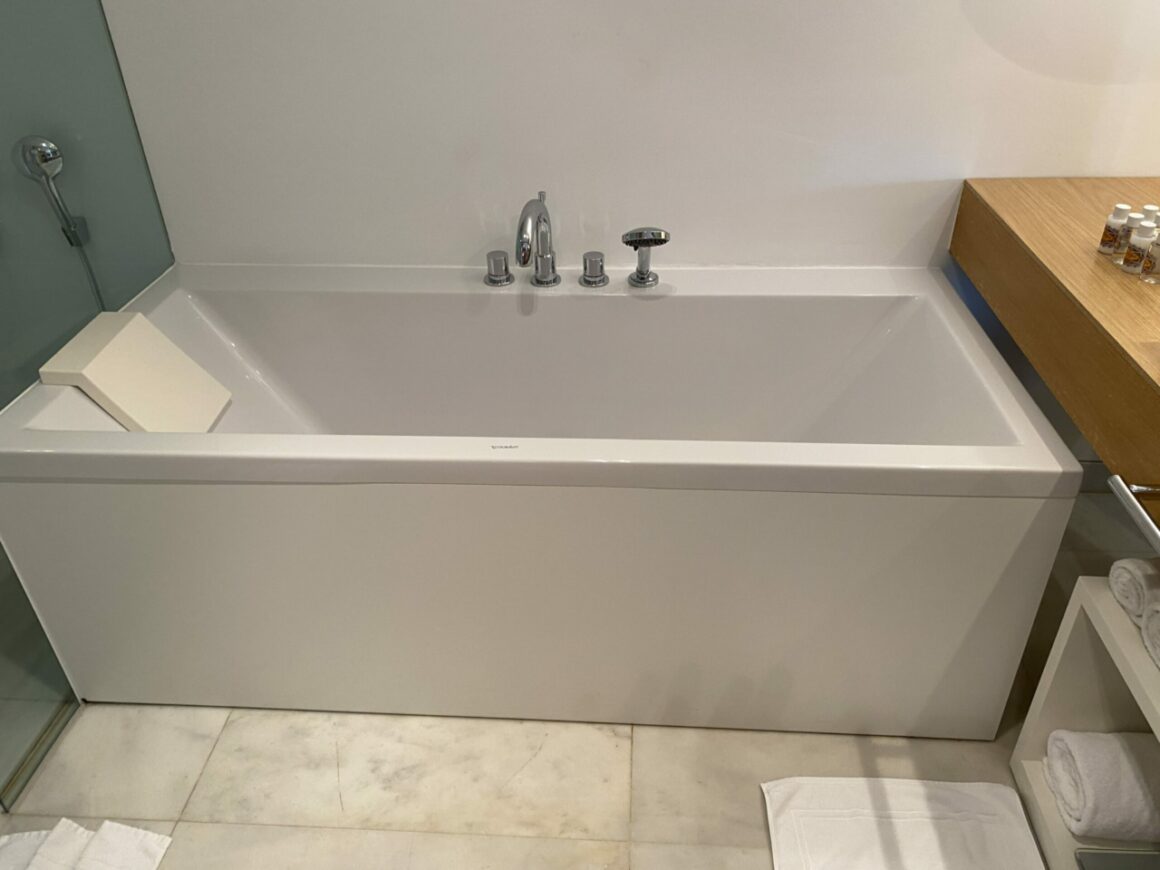 I liked the deep bath with the provided bath pillow which was perfect for an extended soak. A roomy walk-in rain shower provided ample pressure and the fluffy towels had just the right level of absorbency versus softness.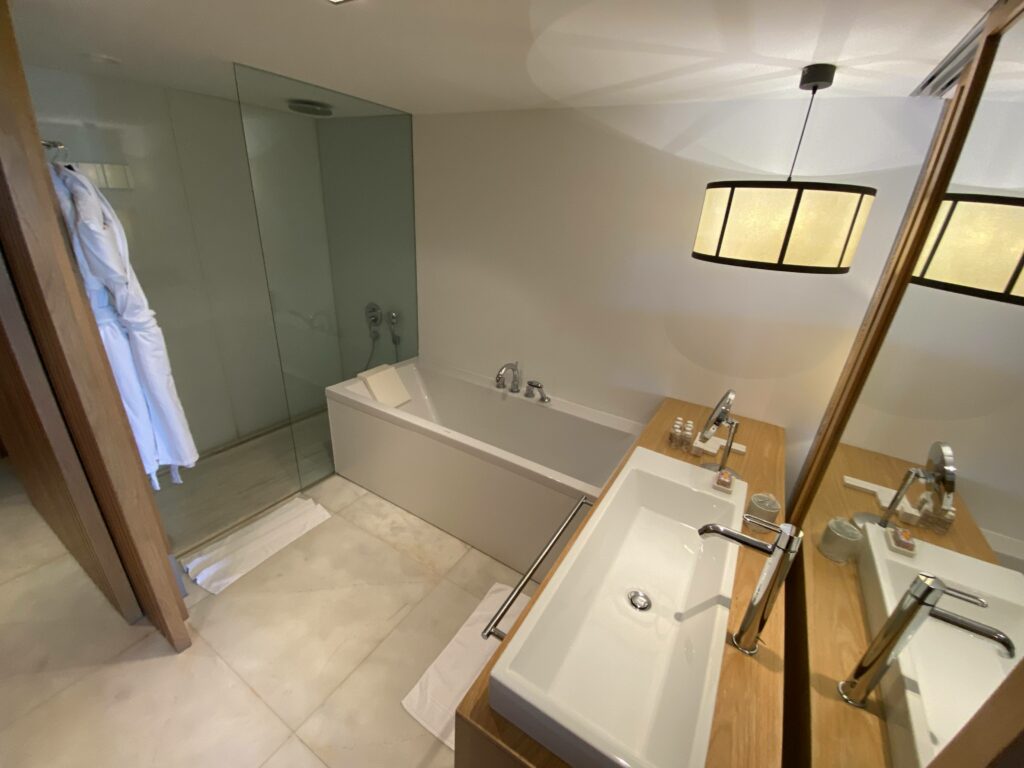 Toiletries were by a local brand that I had not heard of but I liked the fragrance and Portuguese design of the bottles. The only thing I wasn't keen on was the body lotion which had a texture like water which was unexpected and a bit messy. Banho is a high-quality product which is 99% organic and has lemon and verbena which gives it a refreshing scent.
There was also all the usual extras including dental kits but it was odd that there was no box of tissues provided. Maybe something to do with hygiene? I also liked the lit magnifying mirror although you did have to peer down into it as it was fixed to the top.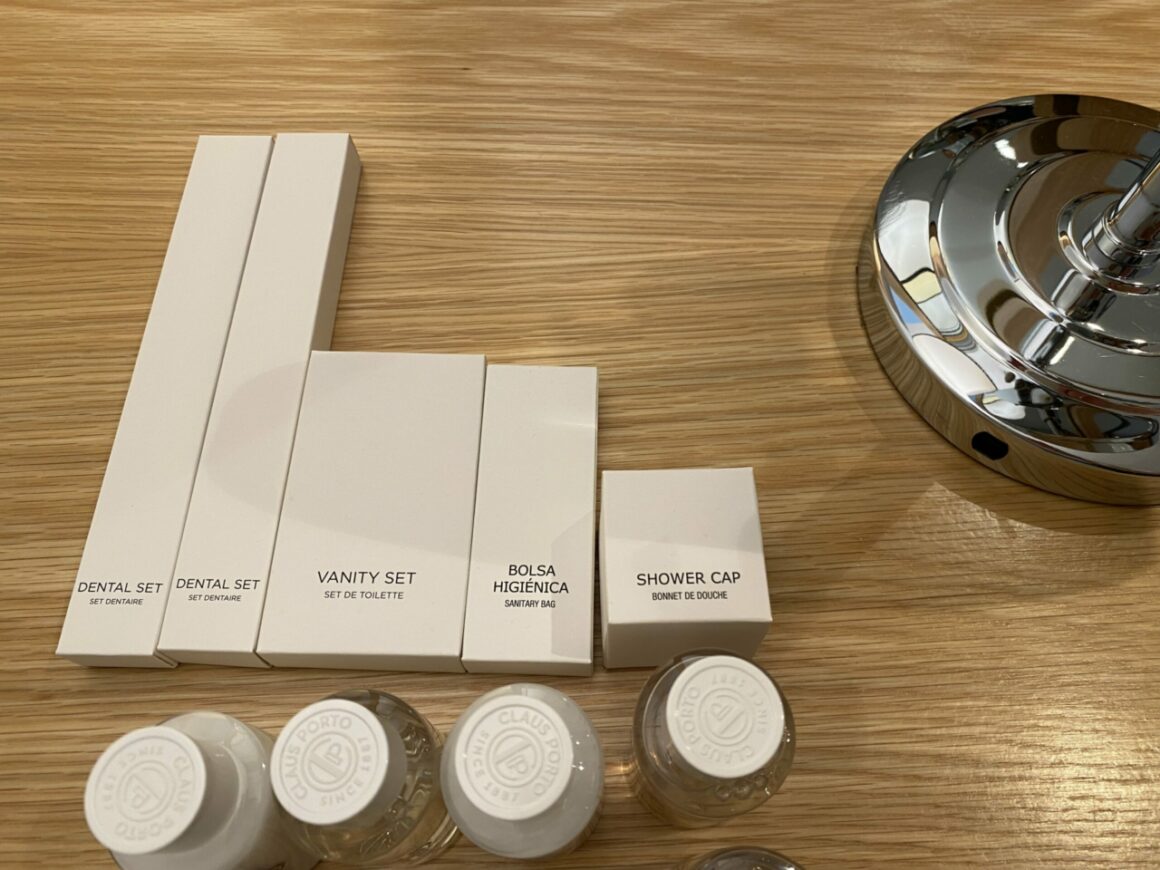 Cleaning in hotels is a controversial issue with some hotels only offering cleaning every three days. Here that's not the case and pretty much the minute I took my do not disturb sign off they were offering to clean the room.
It was nice that they were very generous with the number of toiletries so you don't need to service your room if you don't want to.
Other categories of rooms
If you want something a little larger there are several different suite options. These come with a butler to cater to your every whim. I had a look at the Golf Suite which has a separate living and dining area, larger balcony and even a wine fridge!
The Victoria Suite is much larger and features an outdoor fireplace.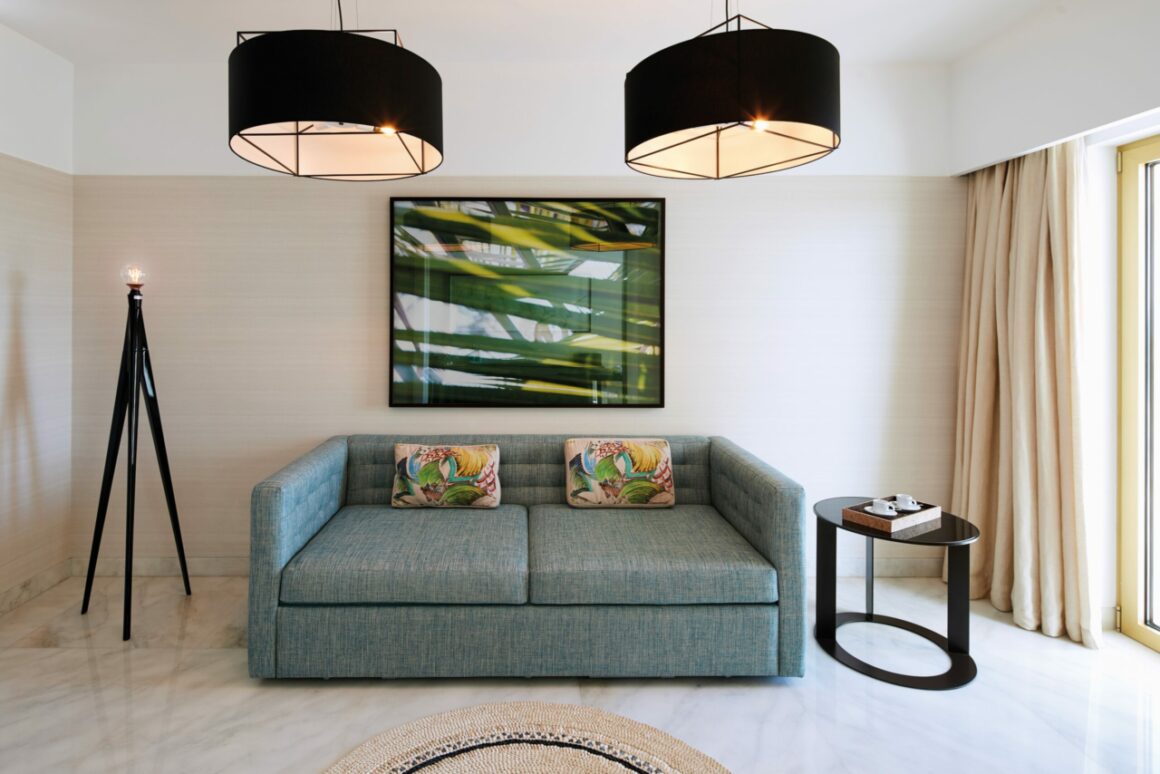 If you really want to splash out, the Presidential suite even has its own jacuzzi…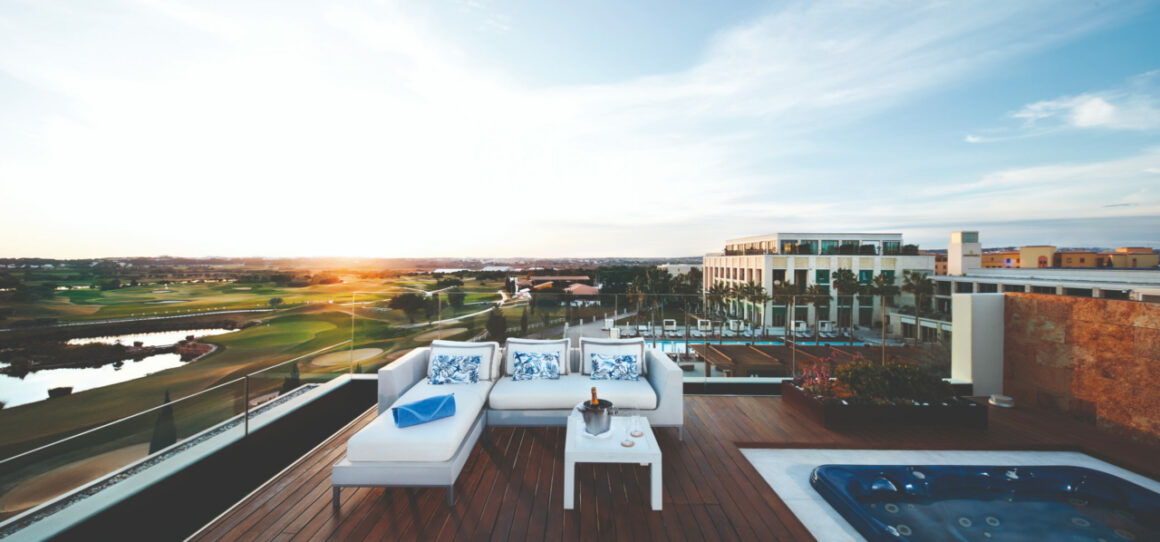 Anantara hotel Vilamoura pools and beach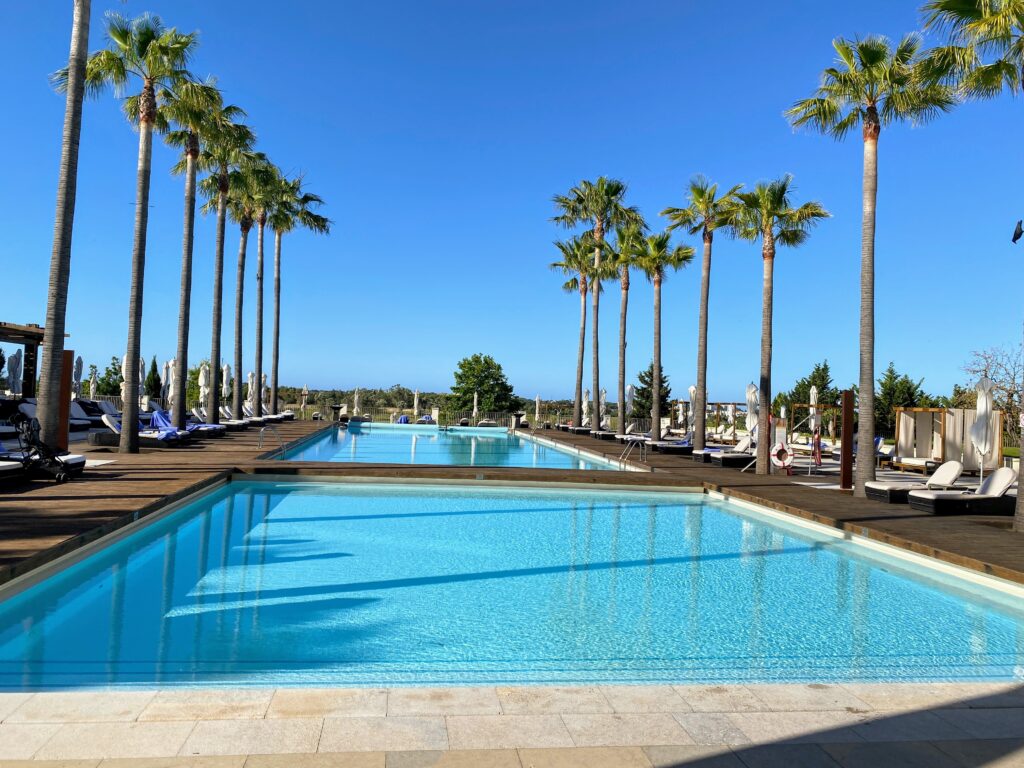 The resort has several different pools which were one of the highlights for me – an impressive main pool that is heated and has a separate children's area, the paddling pool, and the adults-only pool (unheated).
There were plenty of loungers and even with the hotel very busy, I managed to get one every time. They were also very comfortable with well-padded cushions which I always appreciate if you are trying to have a relaxing time by the pool. The pool staff were very helpful and would fetch you towels or there was a towel station by the doors.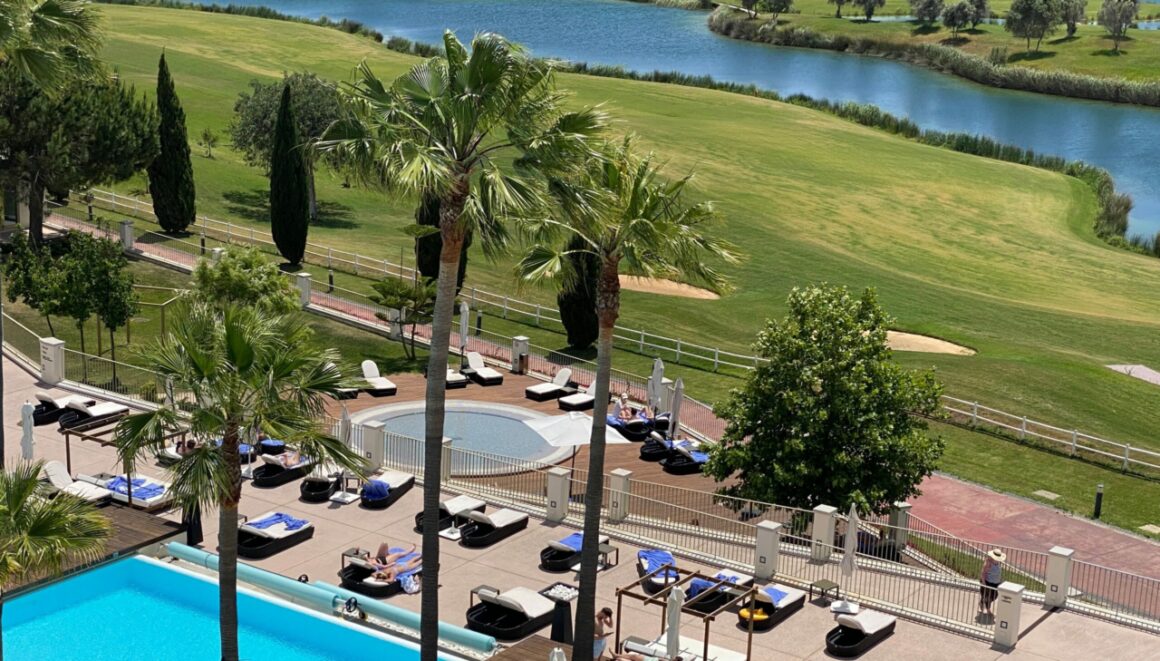 There was a good choice of food and drinks by the pool with everything from pizza to salads. Both cocktails I had were excellent and the service was generally pretty quick.
I really enjoyed my chicken salad too, although it looks a bit dull, it was actually very tasty.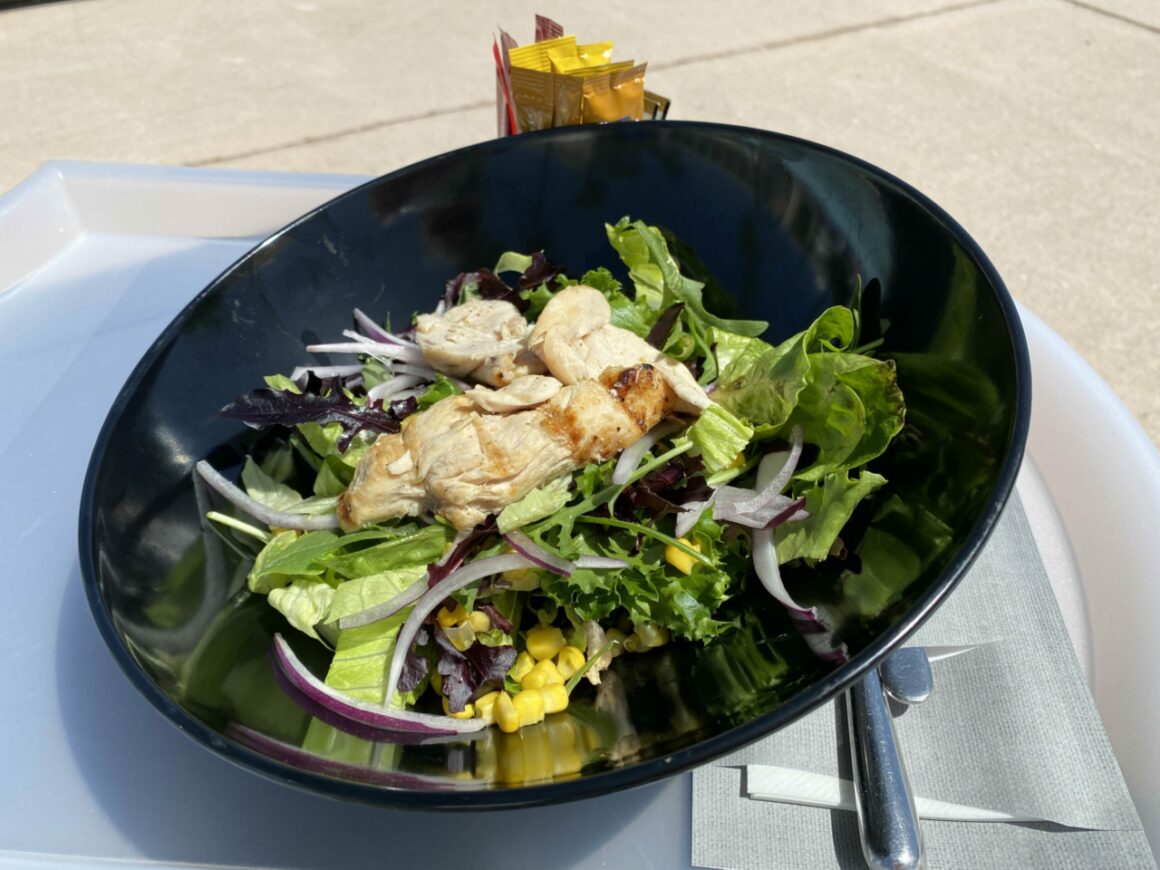 If you prefer the beach, there is a regular shuttle to their sister hotel and the beach club which is around 10 minutes away. This is also right by the harbour, so handy of you just want to head into town. The beach club has plenty of loungers and day beds with DJ playing at weekends. It has a South BeachMiami vibe with crisp white decor, day beds and chill-out music. Beyond that are plenty of normal loungers free to use.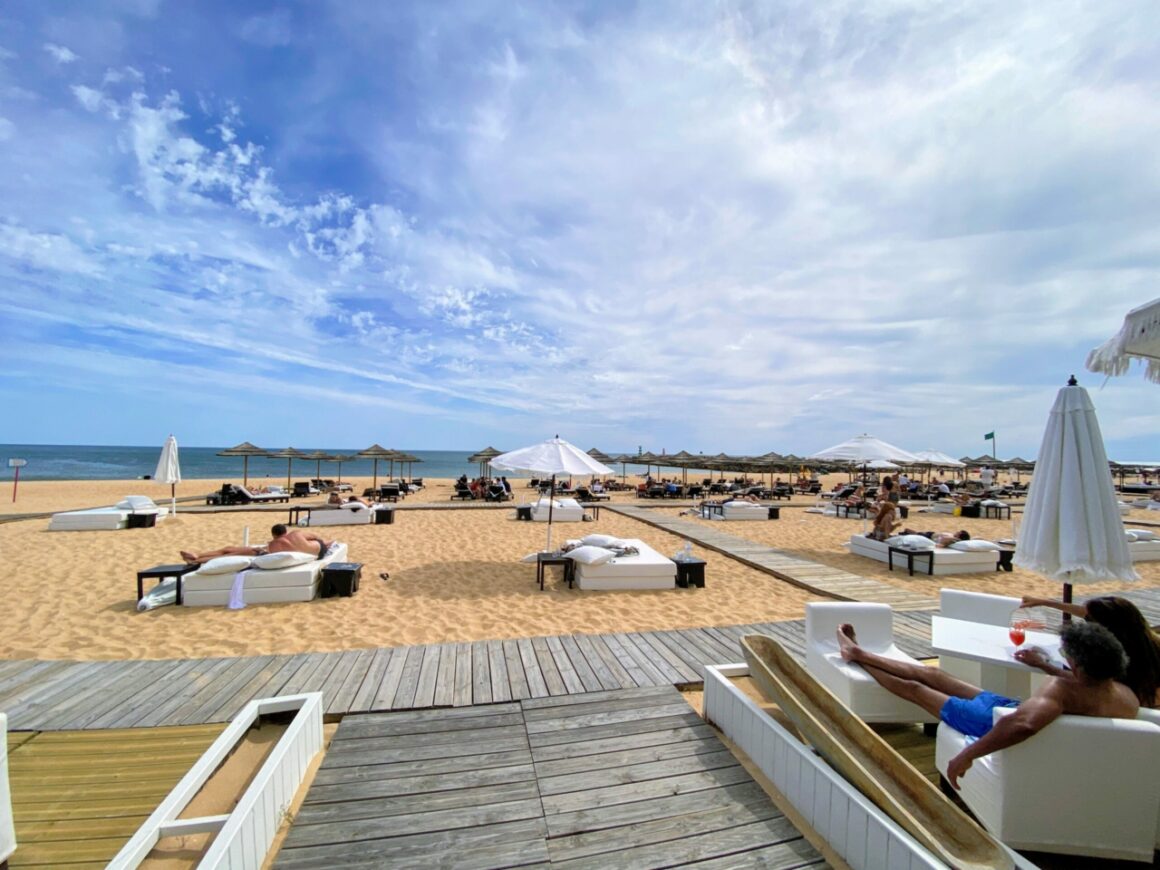 Anantara hotel Vilamoura Food and drink
Breakfast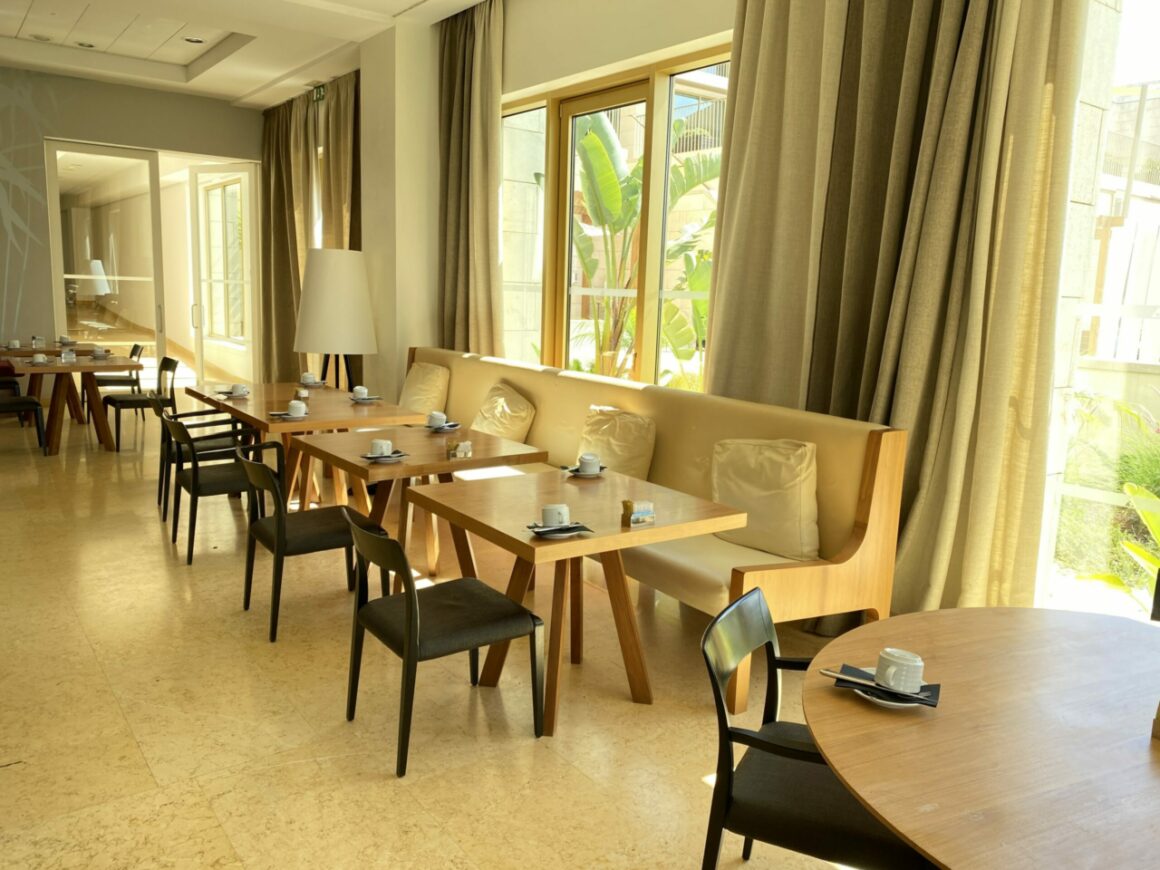 When I was there, breakfast was experiencing a few teething troubles as they have to serve you everything from the buffet which caused the odd queue. It was something the hotel was actively looking at improving Obviously it hard to know how something is going to work until guests come back. However, I had no complaints about the quality or choice of food.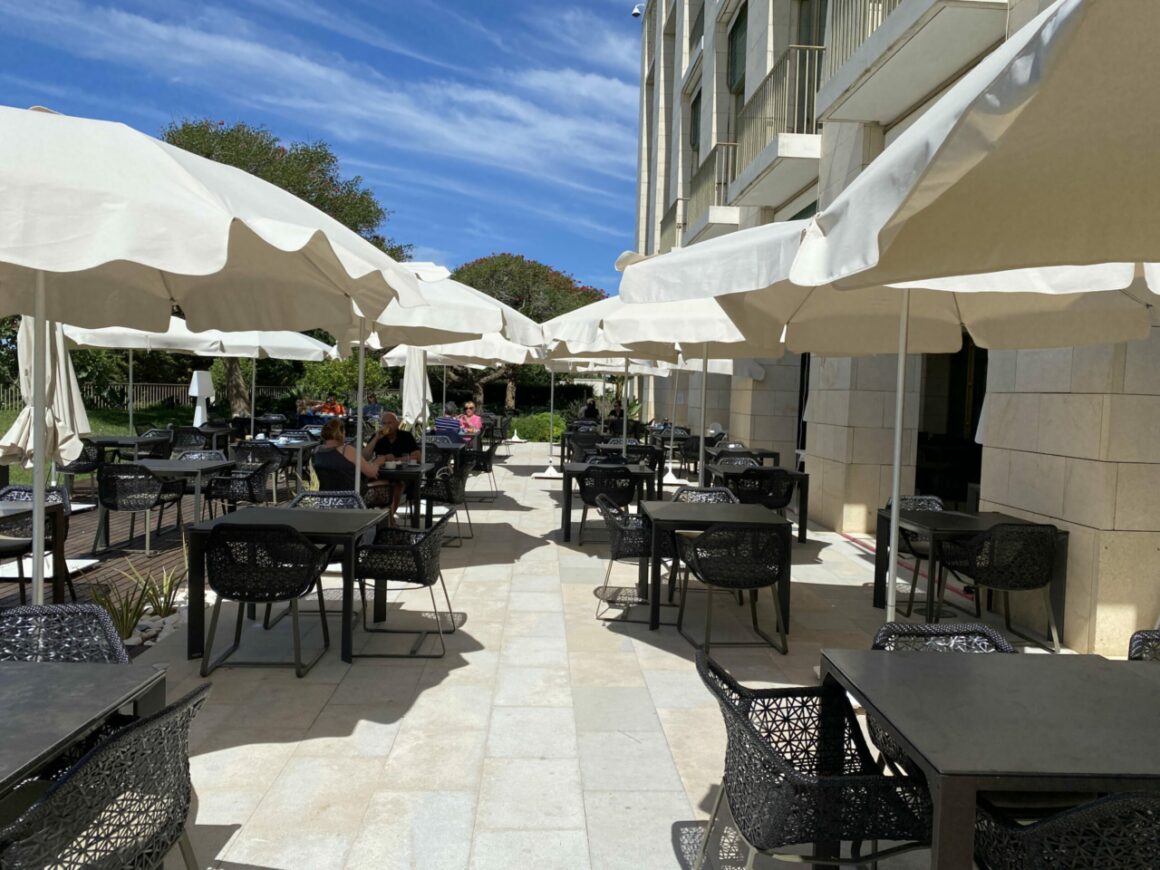 There was a choice of inside or outside seating.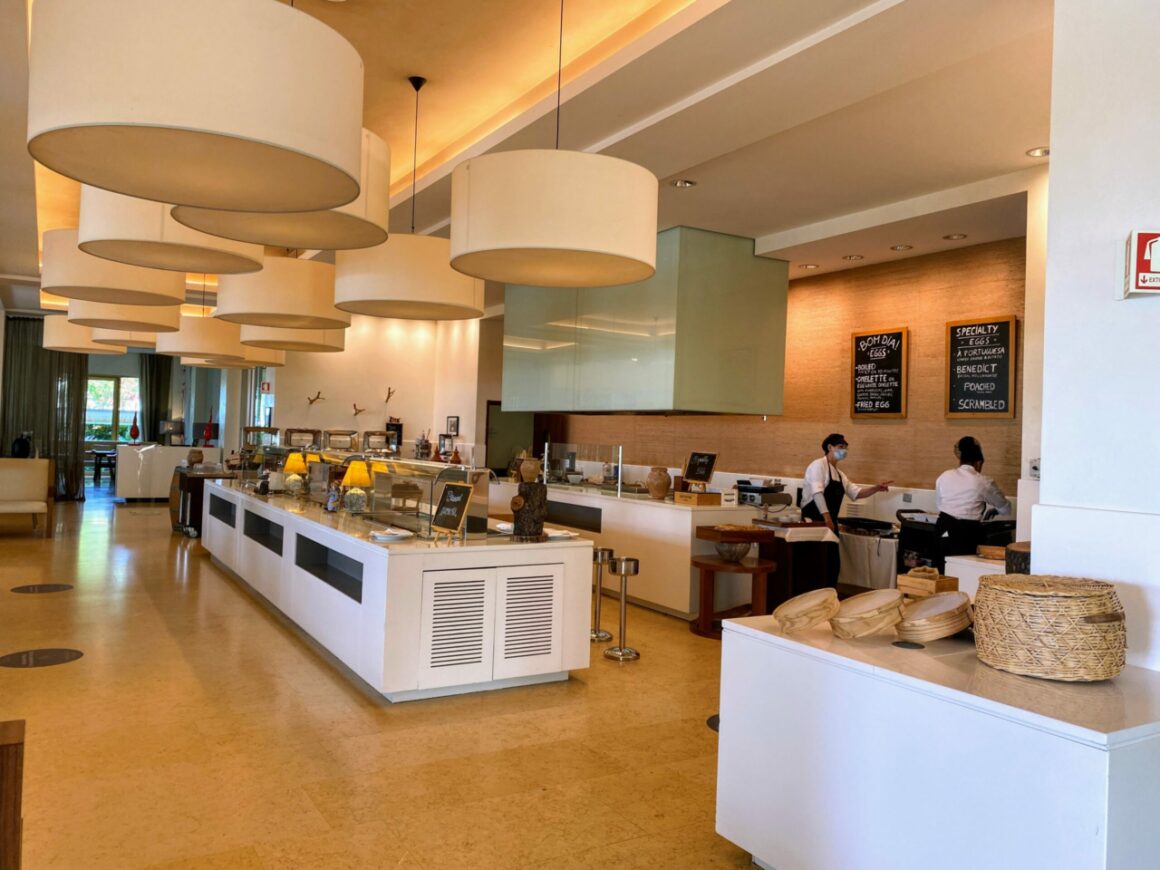 Tea and coffee were brought to your table promptly and then you headed to the buffet.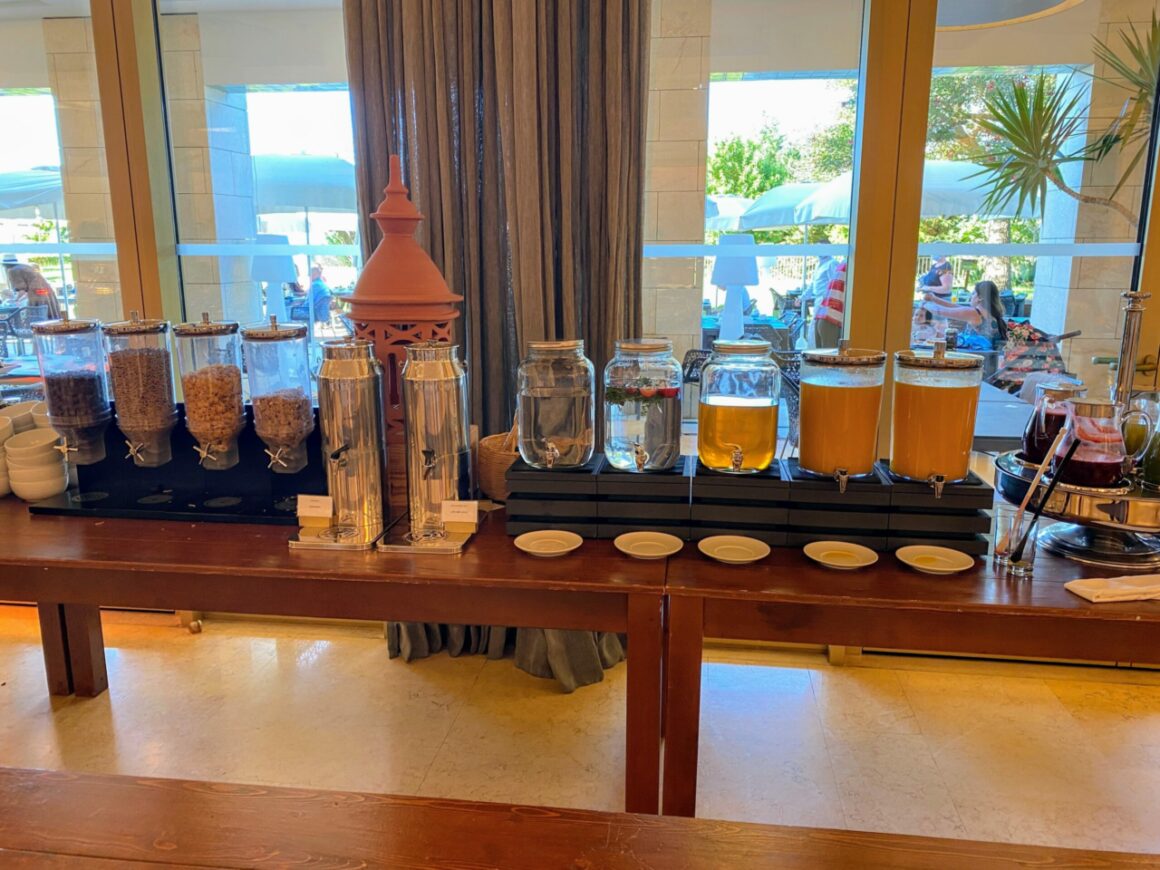 I liked the choice of juices which had some more unusual combinations as well as freshly squeezed orange juice and sparkling wine if you wanted to start your day in style with a bucks fizz.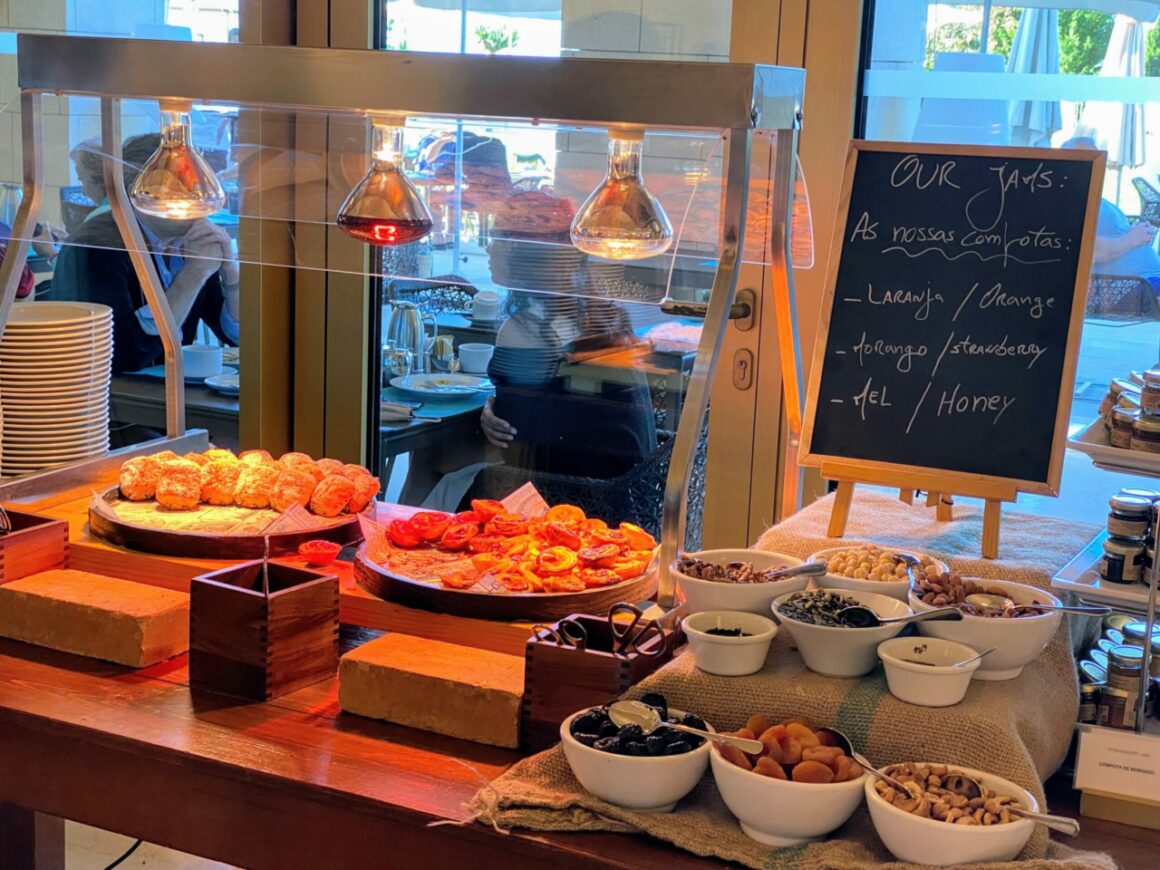 One of the must-try delicacies in Portugal is the pastel de nata or custard tart. These are very different to a British one. They are light, flaky and crisp. The ones at Anantara were particularly good since they were kept warmed.
As well as the cold sections, there was a full array of cooked items with a dedicated egg station that would do everything from an omelette to eggs Benedict to order.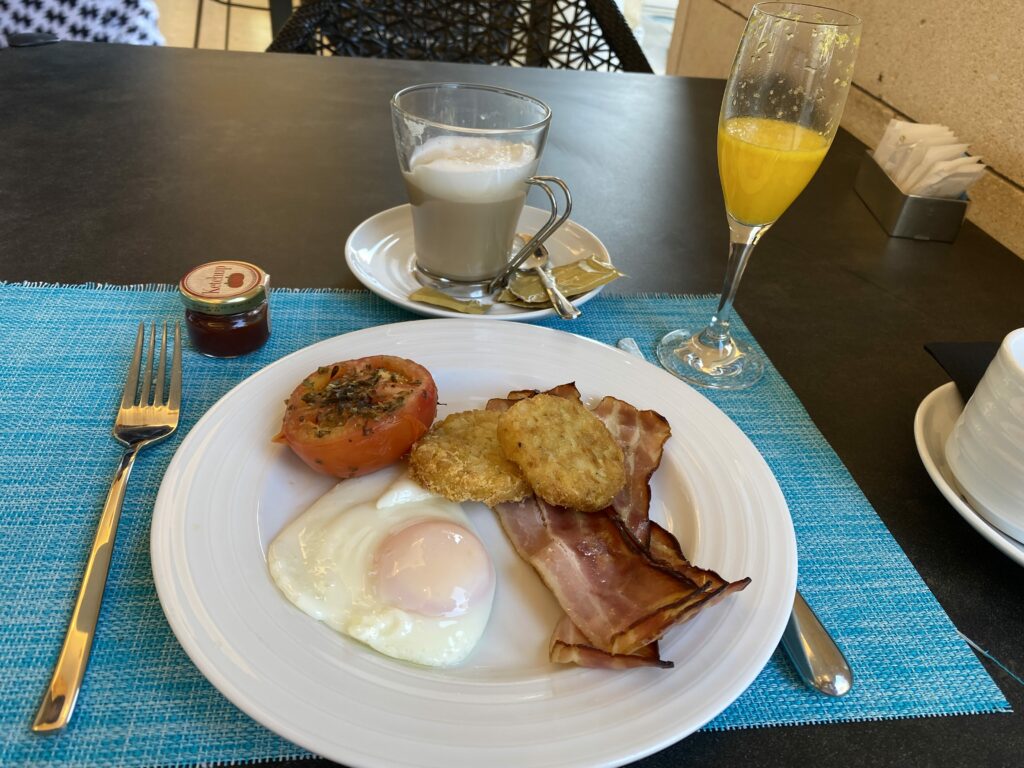 Other dining
While I was there only the main restaurant was open, however now most of the restaurants are open except Ria, the seafood restaurant.
These are:
Victoria Restaurant (buffet) serving breakfast, lunch and dinner.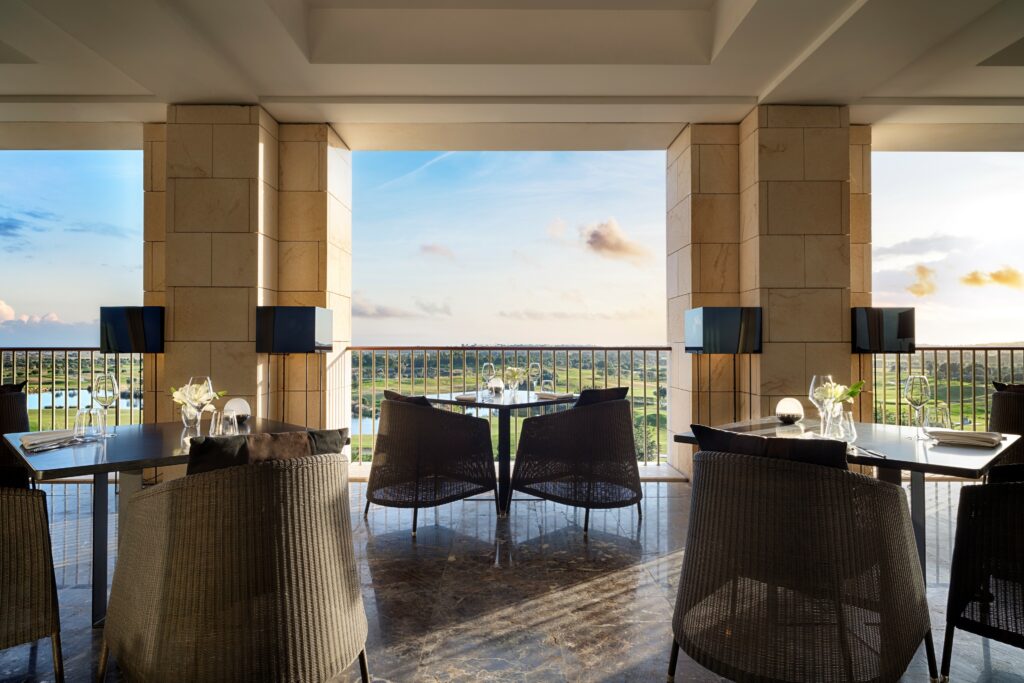 The fine-dining EMO Restaurant (Fine Dining / A la Carte Restaurant) is open for dinner except for Sunday & Monday. This restaurant blends Portuguese cuisine with international influences and has a very strong focus on wine (bit like me!). The menu is created in collaboration with the resident Wine Expert and the restaurant has won several international Wine Spectator magazine awards. A wine expert will help you pair the perfect wine to your dish based on your own preferences and the food. If you want a romantic evening you can dine on the terrace and enjoy panoramic views of the resort with your meal. You can have a great value tasting menu for €75 or go a la carte.
Currently still shut, there is also a seafood restaurant called Ria which is less formal and situated with a terrace overlooking the pool.
Puro Beach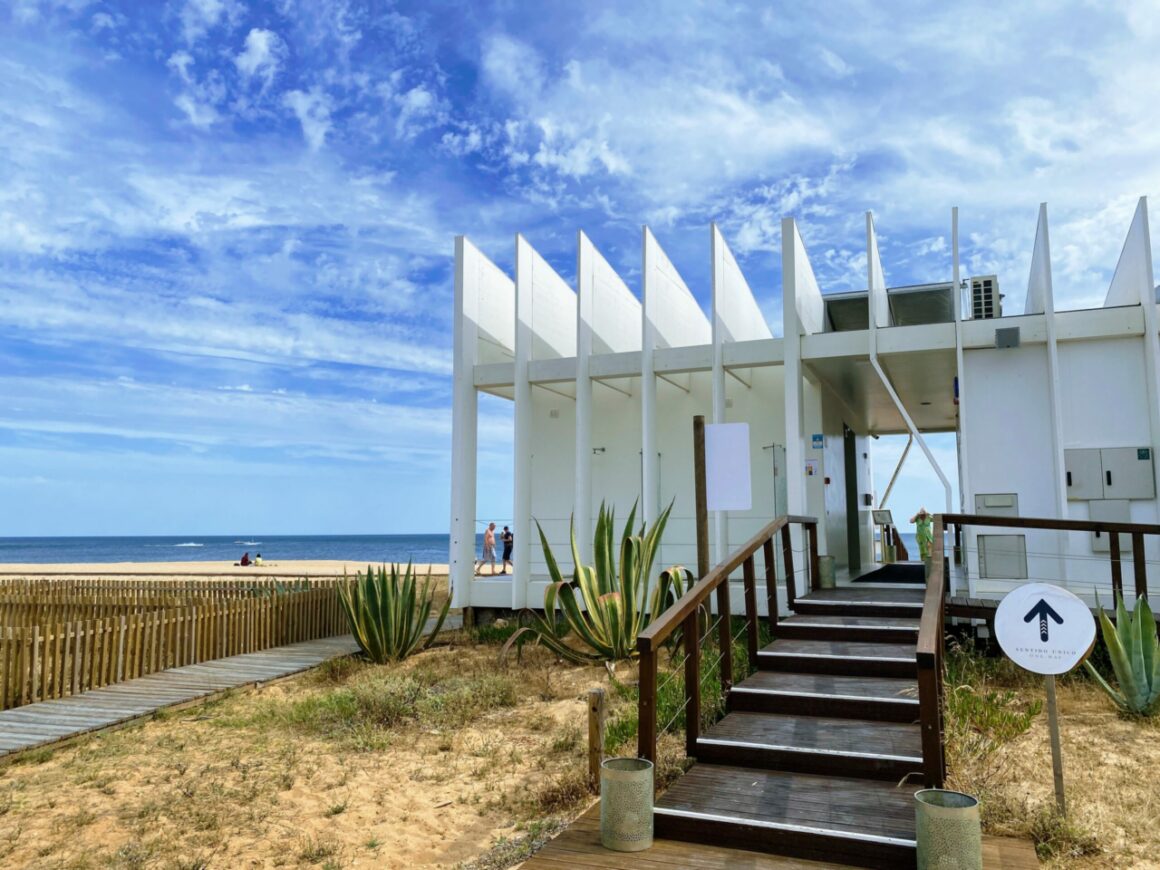 If you want seafood, you can head over to Puro Beach at their sister hotel using the hotel's shuttle if you wish. I was invited to lunch there by the hotel's representative and loved the food. It was definitely generous in portion size so I recommend sharing starters. My French 77 cocktail was perfect for a lunchtime tipple with fresh elderflower and lemon flavours topped up with the obligatory champagne of course!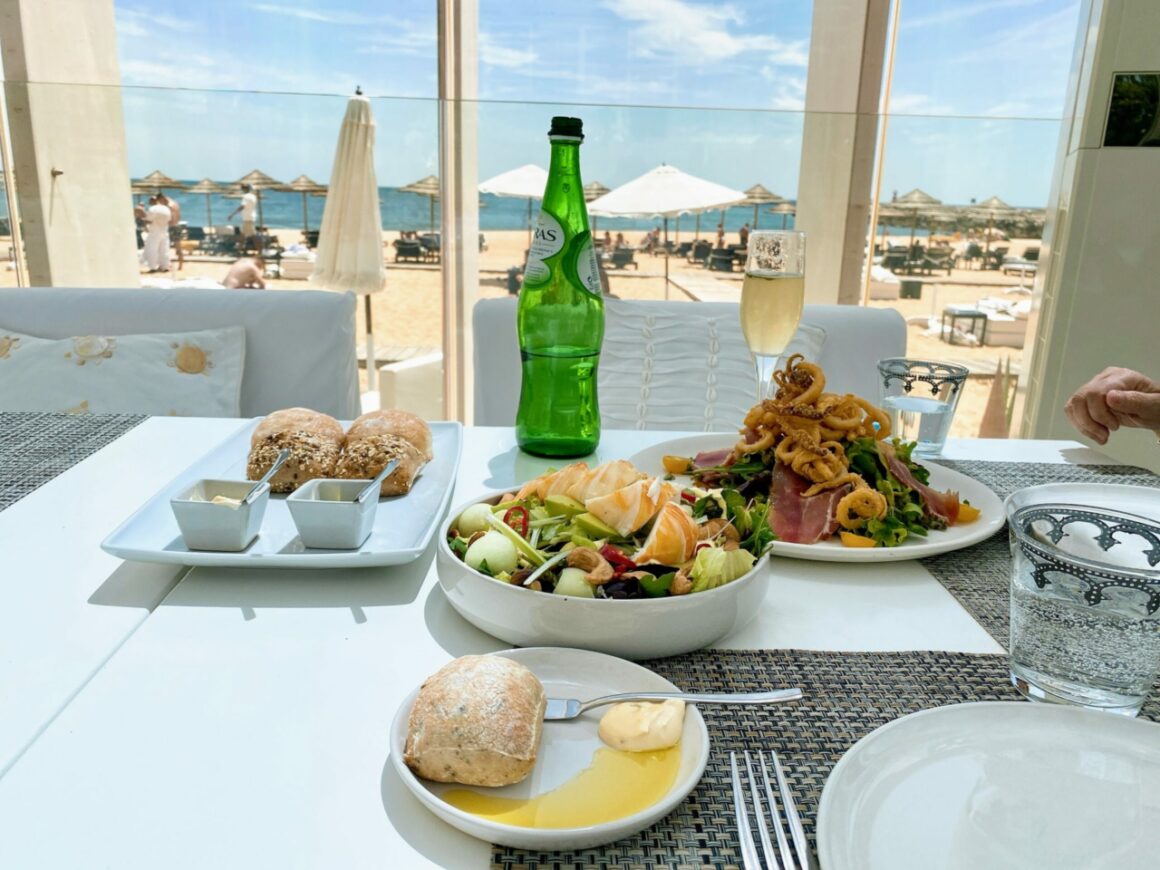 The starters were probably my highlight as they combined multiple flavours such as melon, cashew nut, and chilli with lobster to turn a simple lobster salad into something far more complex and delicious. I also recommend the crispy deep-sea calamari which was a revelation when paired with salty local cured ham and a honey and balsamic dressed salad.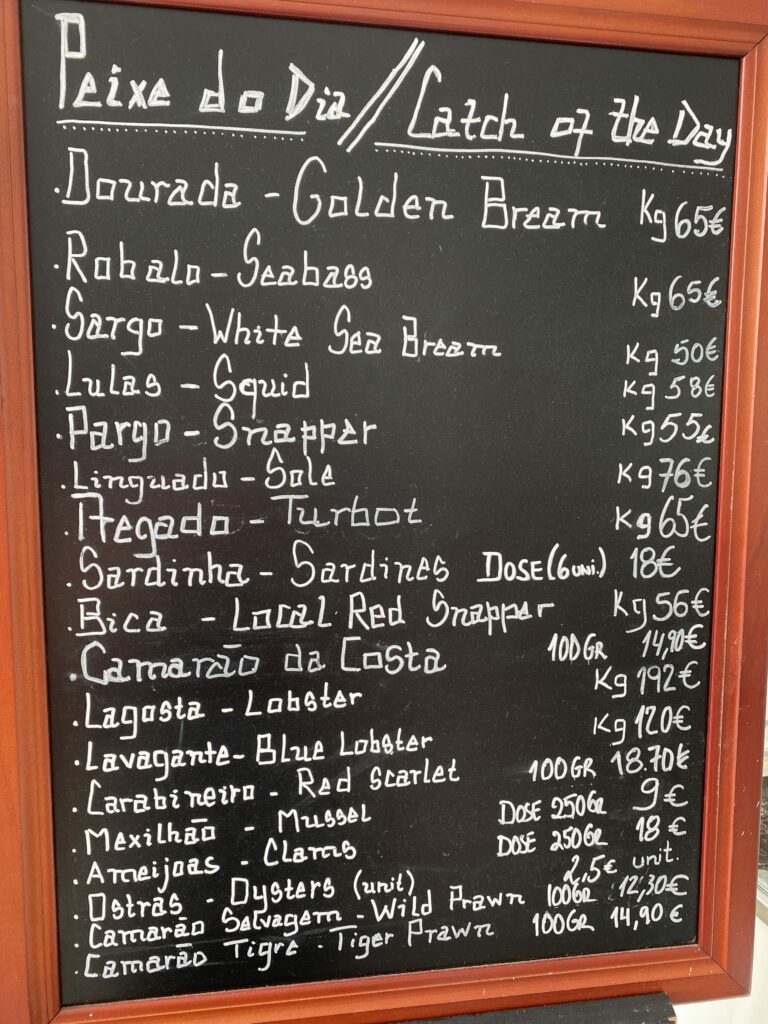 The restaurant specialises in fresh fish which you can order by weight and have cooked to your liking. They also offer cataplana, a traditional A;grave fish stew but I tried the monkfish rice. This may not be to everyone's taste as it features monfish liver but I enjoyed it.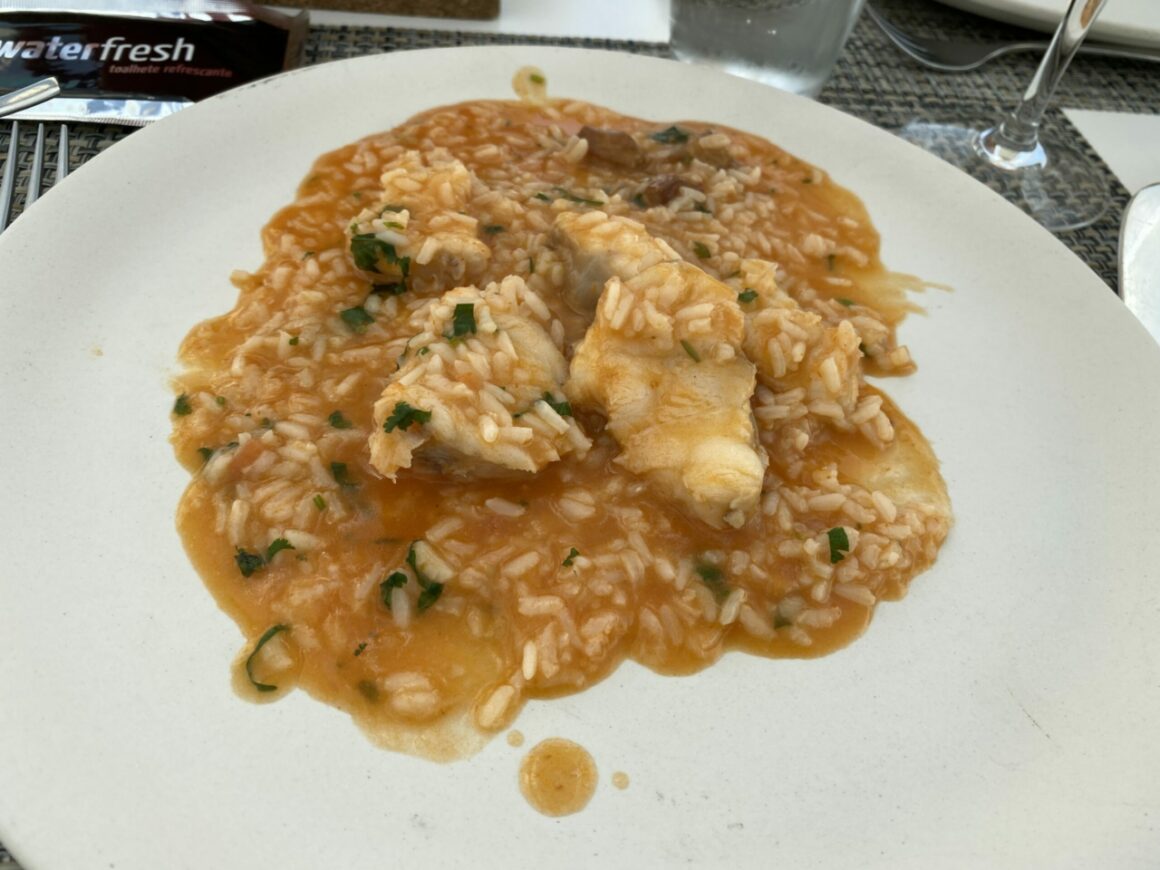 Finally if you have room for dessert, I would definitely recommend trying the Gino. I'm not one for pudding normally but this was the perfect ending to a sunny lunch at the beach. It's basically lots of fresh fruit with a white chocolate topping that has been gratineed.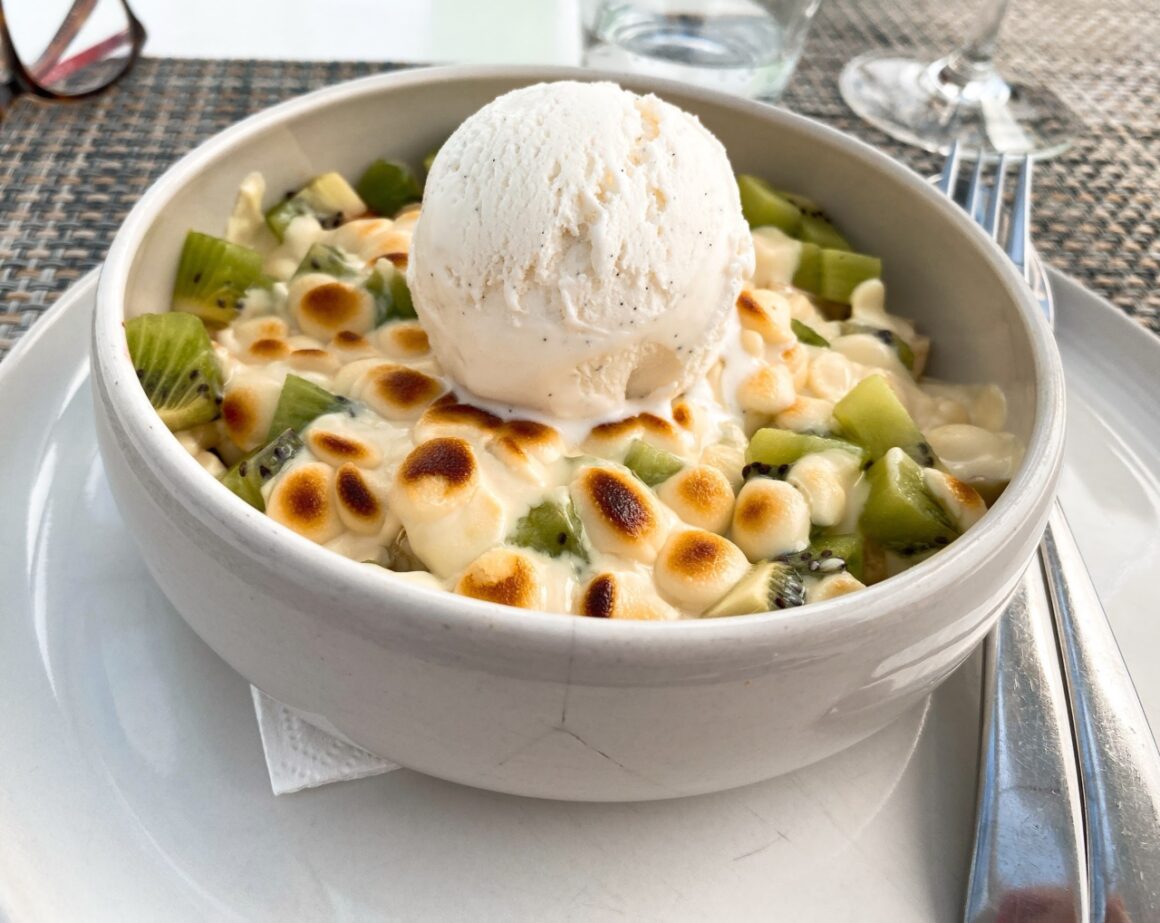 Bars
For drinks, as well as the two pool bars, from the afternoon onwards the Lobby bar and terrace is open for cocktails and drinks.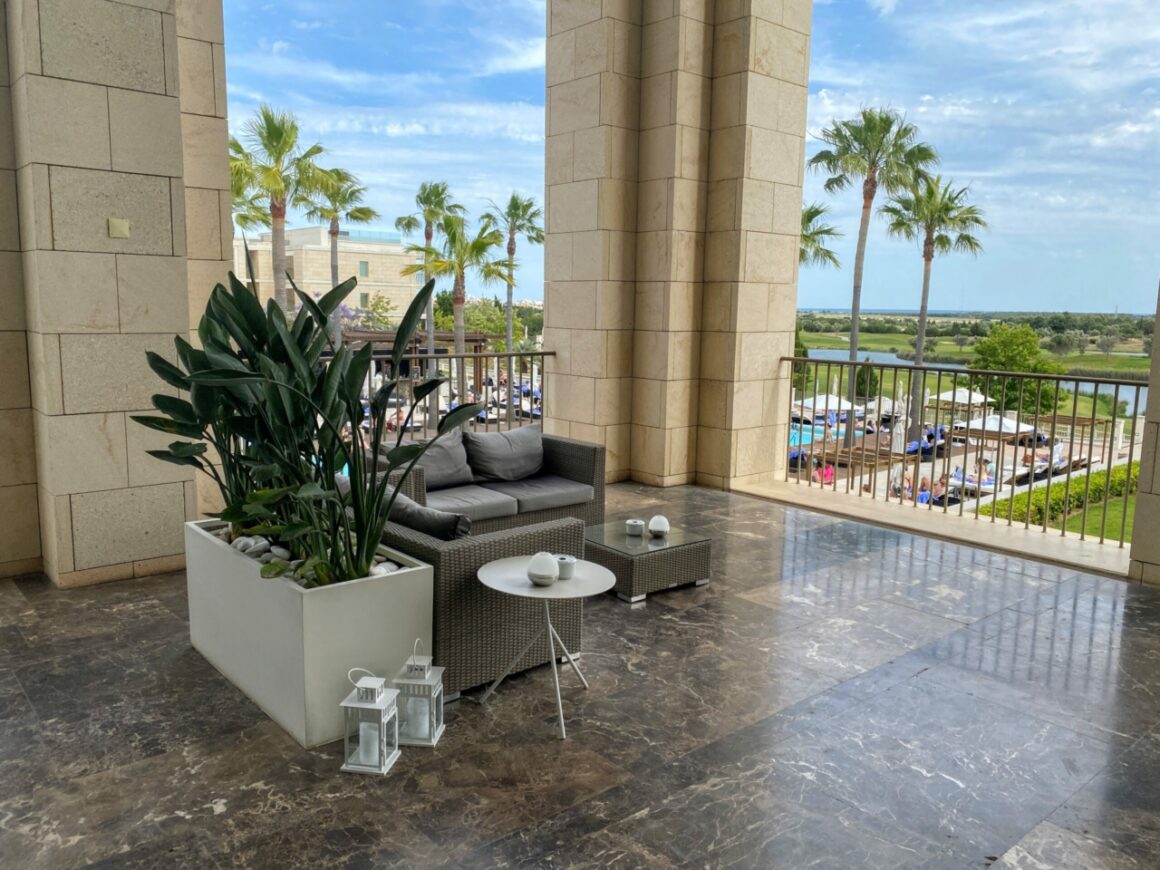 The distinctive circular gold bar and large tree in the atrium make the bar a more enjoyable environment than some bland hotel bars and the views over the resort also add to the experience.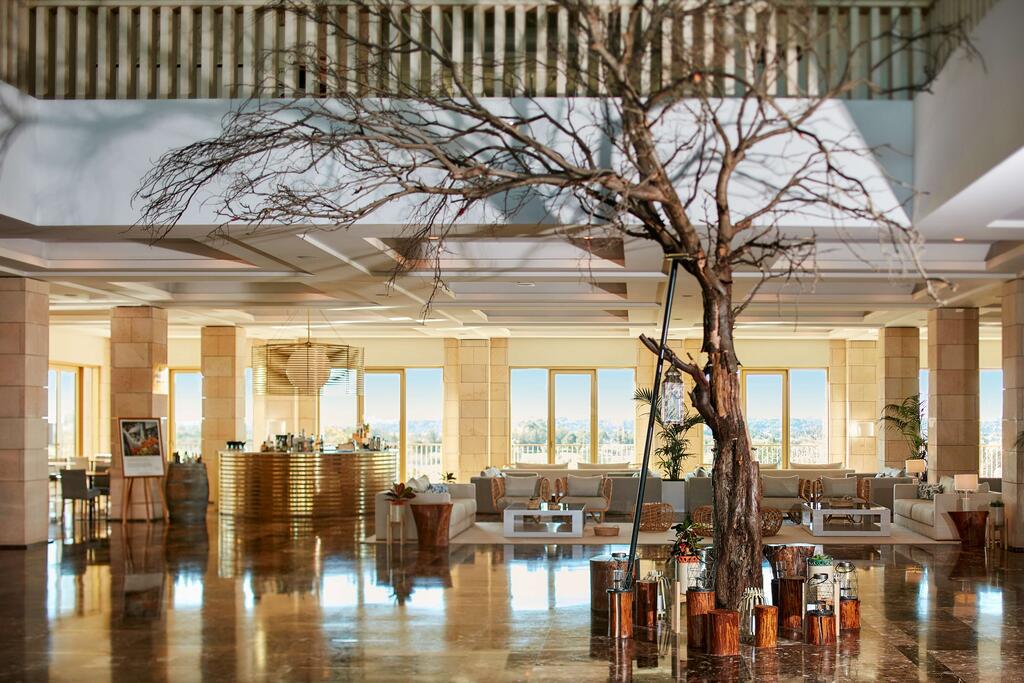 Anantara hotel Vilamoura Activities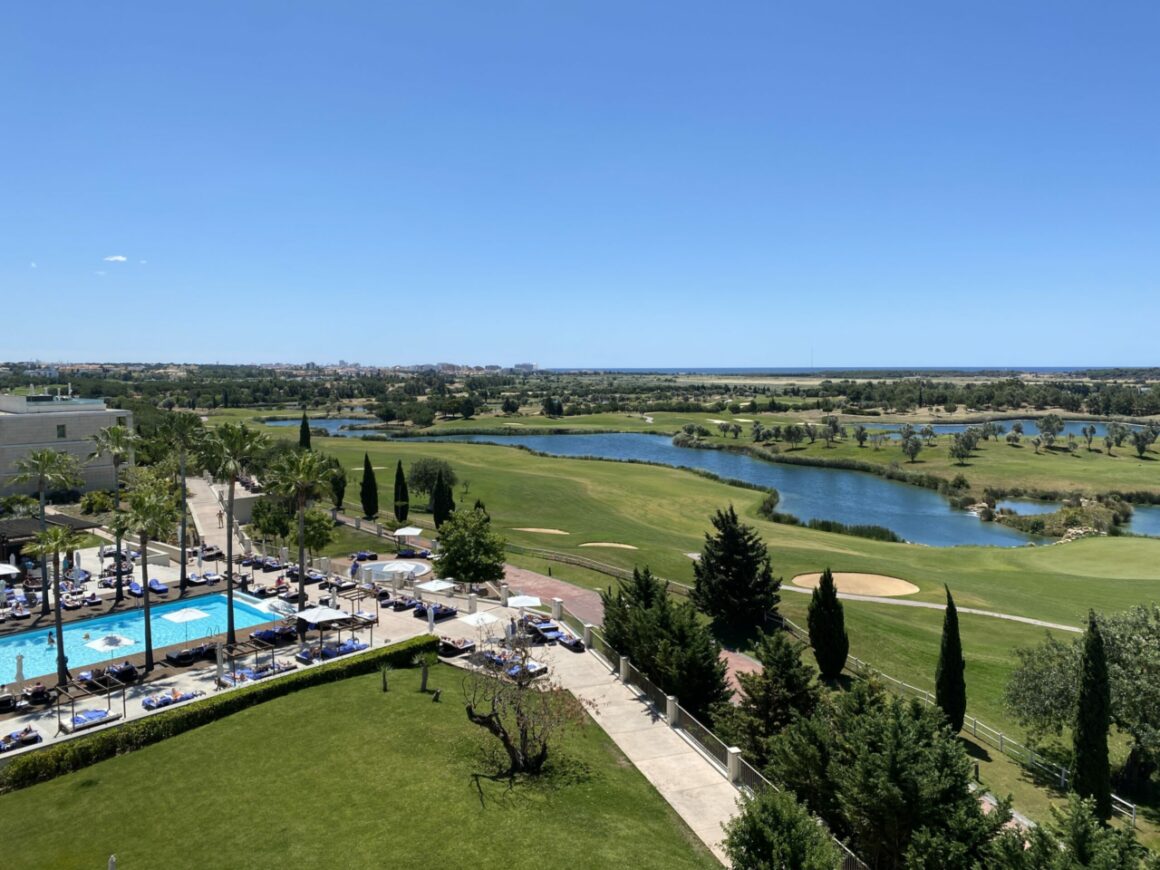 One of the main draws is, of course, the Victoria golf course which is home of Portugal's Masters event. As well as a resident golf guru, the hotel offers private transfers to all the nearby golf courses. You can book special packages that are focused on gold from £162 per night.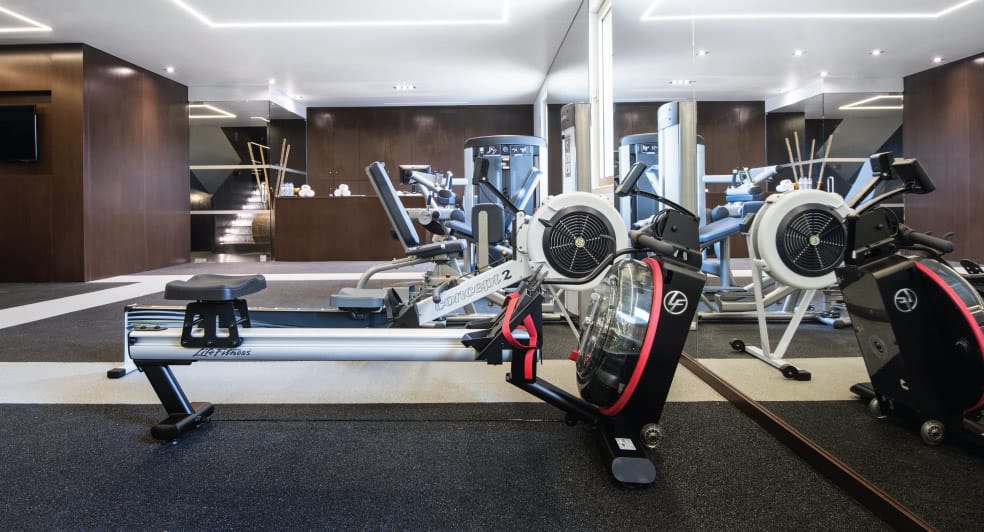 There's a well-equipped gym and the Experience Guru can tailor-make an experience to see the local area. Spices is the onsite cookery school and nearby there is everything from wine tasting and nature reserves to balloon rides.
Anantara hotel Vilamoura Spa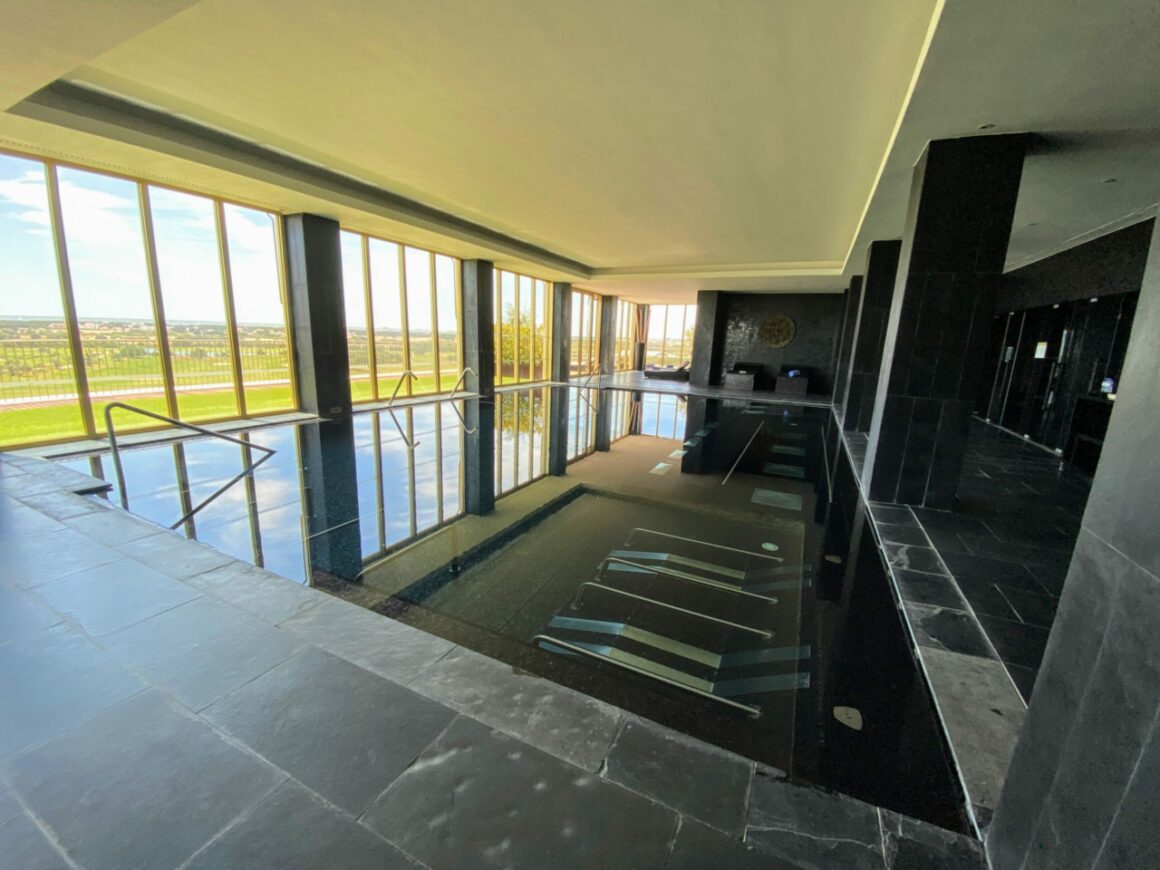 Anantara hotels are known for their spas and when I was offered a free treatment to test the spa, I felt it would be rude not to! The spa has a number of facilities and the hydrotherapy pool was the largest out of the hotels I have visited. It's interesting that the hydrotherapy pool was a rather chilly 28c and the Pines one was even worse. I have only ever gone to the Conrad one in the autumn/winter which was warm but I am not sure if that's a seasonal thing.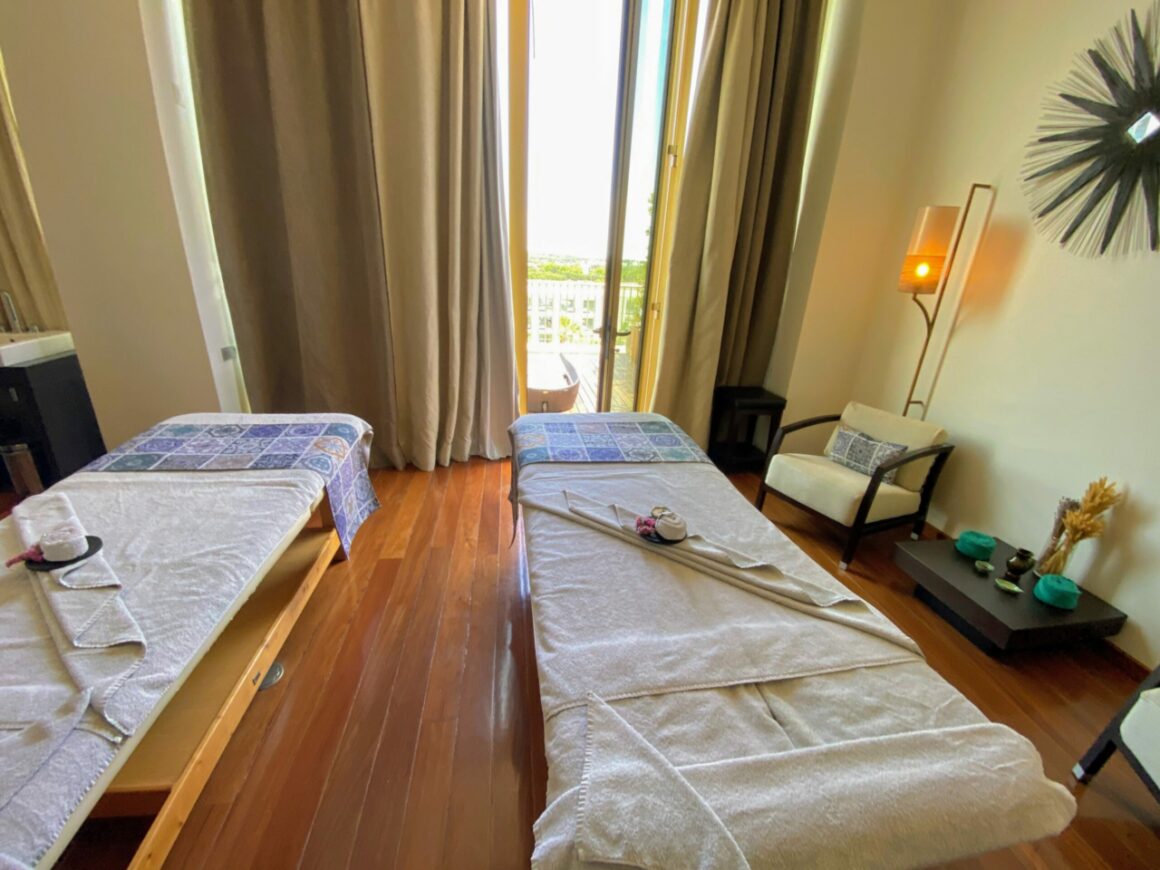 While it may be hot outside, the point of the hydrotherapy pool is to make your muscles relax and be massaged by the water. Hydrotherapy pool water temperature is typically about 33 – 36°C for this reason, so I'm not sure why the pools on the Algarve were much colder.
Putting that aside the spa had an Asian feel to it and a tranquil atmosphere. The massage suites had private terraces and there was also a larger public terrace to enjoy the views which was a unique feature. Inside there were heated stone beds, experience showers, sauna and steam room.
I had their signature massage which always starts with something native to the region in the form of a foot scrub. Mine was made from coffee and orange and was the perfect texture for a scrub. I find some foot scrubs overly harsh and not particularly relaxing. The massage was designed to stimulate circulation and promote deep relaxation. I wouldn't normally choose a male therapist but having someone who also does the sports type golf massage was a blessing as he identified an issue with my neck and did some stretches to help.(probably too much time on my laptop). Some male therapists are overly firm but this was pretty perfect in terms of pressure with the therapist checking how it was and sensing when something was a little sore.
You can either book treatments individually or get a package in your room rate with a focus on specific issues such as better sleep.
Conclusion for Anantara hotel Vilamoura

The Anantara had been on my wish list for a while and I was meant to have visited last September until Portugal got taken off the travel corridor list. Overall, it definitely didn't disappoint and it offers amazing value for money compared with some of the other similar hotels. I chose a bad time to visit in terms of facilities as they were still getting to grips with the reopening and the deluge of Brits descending on them!
Highlights for me included having the Puro beach club a short distance away with a great beach restaurant, the super comfortable beds, and generous sized and well-equipped rooms. Now the hotel is up and running there's plenty of choice for food if you don't want to venture offsite but it's close to Vilamoura for a night out.
I would definitely visit again to try out the restaurants as EMO sounds right up my street!
Don't forget if you book through GTC you can get extra benefits such as $100 credit. You can find more details about the Anantara hotel and the packages they offer here.
Like our Anantara hotel Vilamoura review? You can read more hotel reviews here.