Today's trip report is by Nicholas. If you want to submit a reader review please email [email protected] I was meant to go but my flight got cancelled and I decided to take a refund rather than go due to the crazy price of rooms in Cornwall!
Our trip to Newquay had been moved from September 2020 to February 2021 and then on to finally end of July 2021. Finally, we were off, travelling with 2 friends, a party of 4 in total.
Many years ago I flew Gatwick to Newquay with BA when they still stopped in (now defunct) Plymouth. I still recall the crew handing over a birthday cake to their Plymouth colleagues, before we continued over to Newquay.
Nowadays the flight is scheduled at just over an hour, on an A319.
Pre-Departure and Hilton Garden Inn T2/3

We were booked to stay at the Sofitel but they moved us to the Hilton Garden Inn at T2 after extending their status as a quarantine hotel. We took a car to the airport and the drop-off to the HGI was unceremonious. Accessing the hotel from the ground involves needing to take a lift to the Reception. Check-in was exceedingly slow and the "lobby" is very basic. The waiting room in a surgery comes to mind. The staff were friendly and the room albeit simple had great views.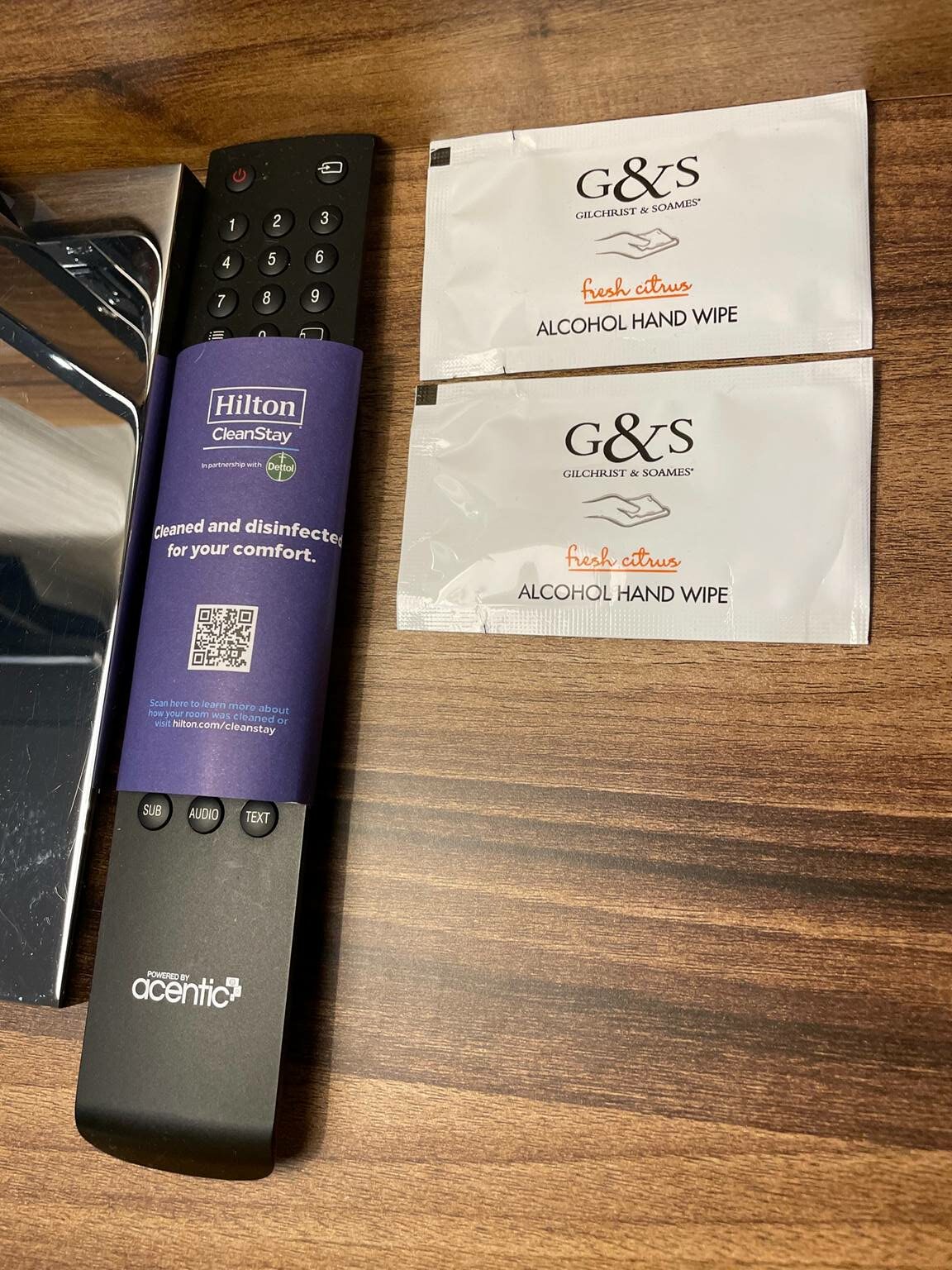 Some of Hilton's Clean Stay measures were still in place in the room and I was given water at Reception as a Gold card holder.
We chose to have a drink on the top floor bar and this was very worth it. As a plane geek I was in 7th Heaven. Above is one of the views from the wrap-around rooftop bar. I was disappointed not to stay at the Sofitel but this made up for it.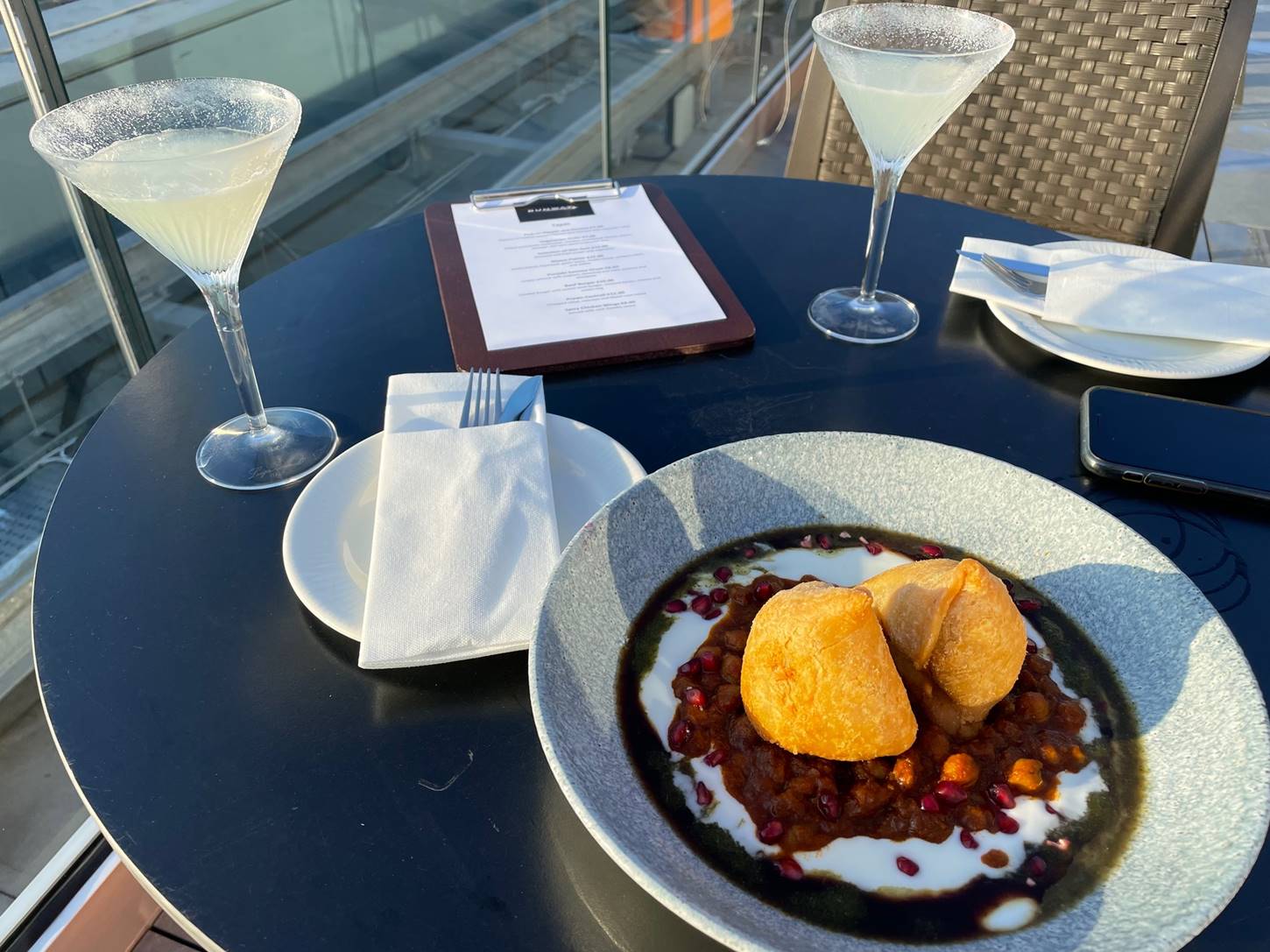 In addition, service was excellent, the drinks (margaritas) spot on, and the starter plate of samosas absolutely knock out. We went on to eat dinner with our friends in the downstairs restaurant and a burgers / salad / fish type meal was OK, our friend disappointed that they couldn't do him a dessert as the clock struck 10 and the restaurant closed to new sittings. I imagine in less trying times the restaurant may be more accommodating.
Check In, Security and Lounge
The next morning we took the not-insubstantial walk to the Heathrow Express for the free transfer to T5. The flight was to leave at 10.20 and land 11.30.
I'm a Gold card holder, the other 3 are Silver. So with everyone on my one booking, we used the First Wing to check-in luggage but could not use the First Lounge. Check-in was efficient and warm and friendly.
We went through Club security which was painful and then we proceeded to Galleries Club. As with many readers I love App Ordering, although had not used it in Club Galleries before. The lounge was very busy on a Friday morning, quite a lot of families seemed to be on the move.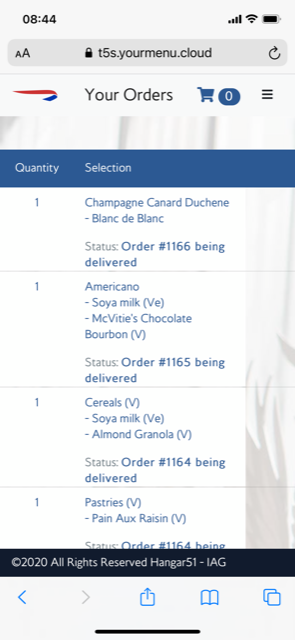 The Flight
We were on a A319 which departed from A Gates. Boarding at this stage was still rear-to-front. This worked out fine. We took up the whole of Row 1. I was in 1A. Club had 6 rows, only 2 seats empty. Euro Traveller seemed full.
Pushback was just after scheduled departure and we landed bang on time. About 15 mins on the ground in Heathrow and then just over 40 minutes in the air.
The plane was equipped with Wifi which I didn't use but I did keep tabs on the journey with the free access.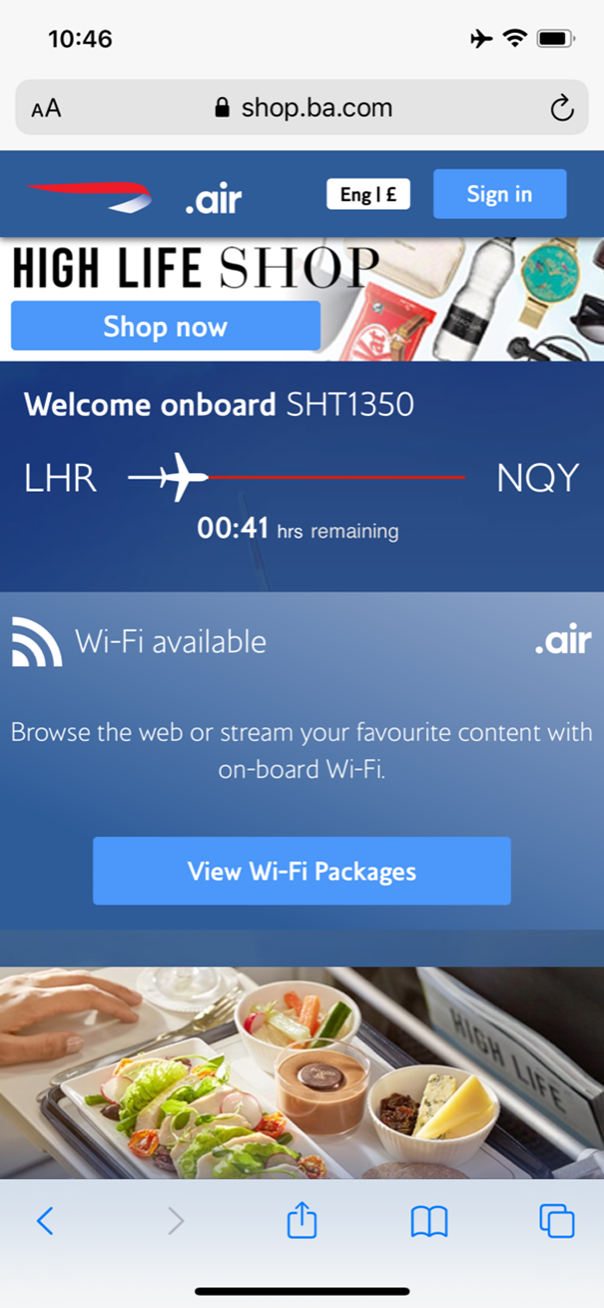 The cockpit and cabin crew were all excellent. I was welcomed on board by name, as was my hubby and our friends. It's a very short sector but they did a sterling job to serve a choice of Ploughman's or Feta Quinoa salad.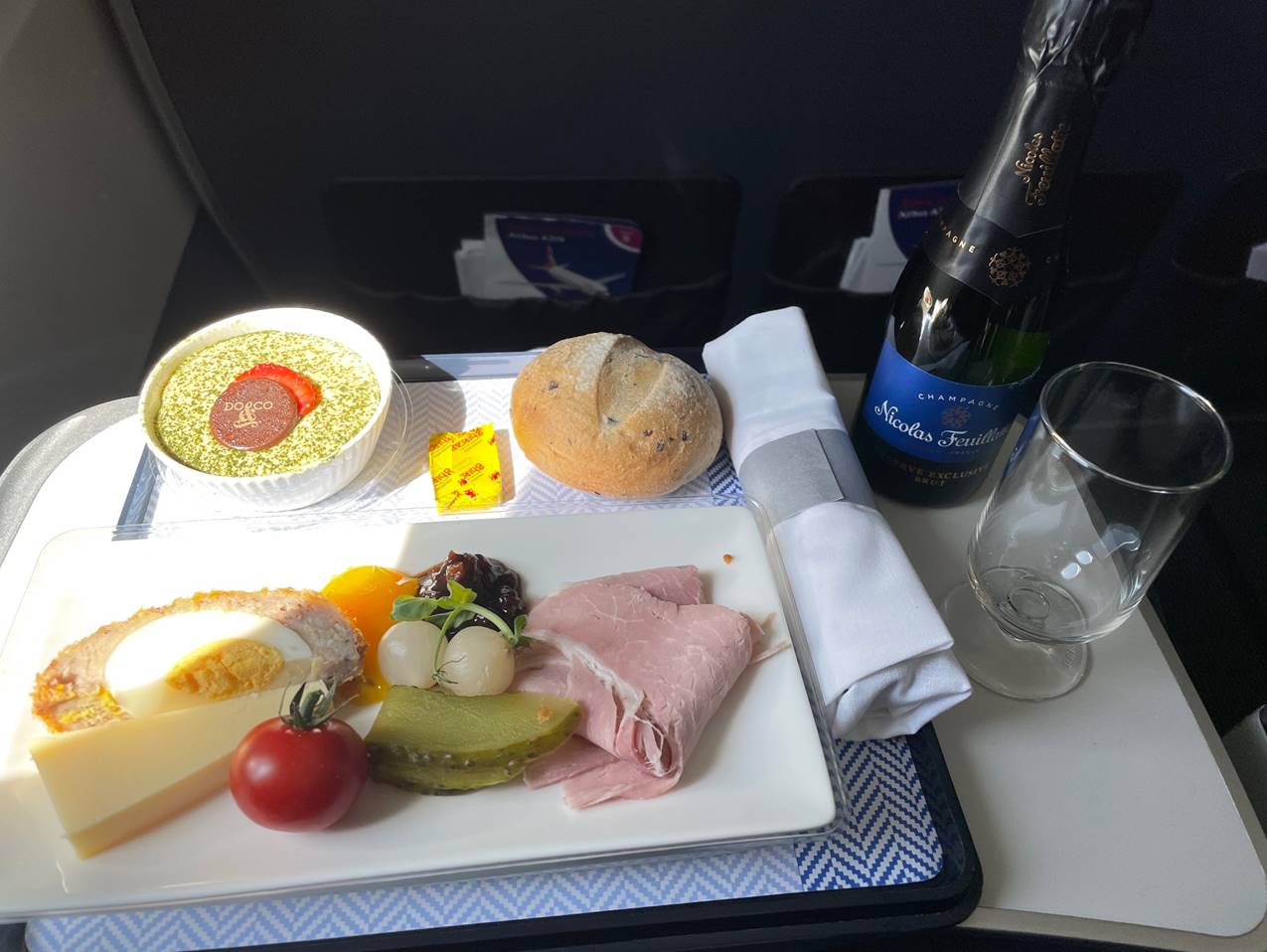 I know this has been a topic of conversation already with Readers but I did ask the crew "is it pistachio?" meaning the dessert. He did get the menu guidance sheets out of the galley and showed me them and advised it was green tea / matcha.
I love both, so this went down very well. We managed 5 champagnes between 4 of us. Not bad going.
We travel with a cuddly mascot who has a Skyflyers book which I always ask the crews to fill in. This is without hesitation done with a smile and always generates conversation. I hesitate sometimes to ask on the very short flights but the crews always do it for me.
On this occasion, the book went in to the cockpit to be completed and as we landed, the cabin crew said the captain wanted to meet me. So as my party deplaned in Newquay, I went in to the cockpit and chatted with the captain and First Officer. They were interested in our travels (as they are laid out to see in the Skyflyers book), were we in Newquay for work?, how did we feel the flight went etc. They were both great ambassadors for BA.
In Padstow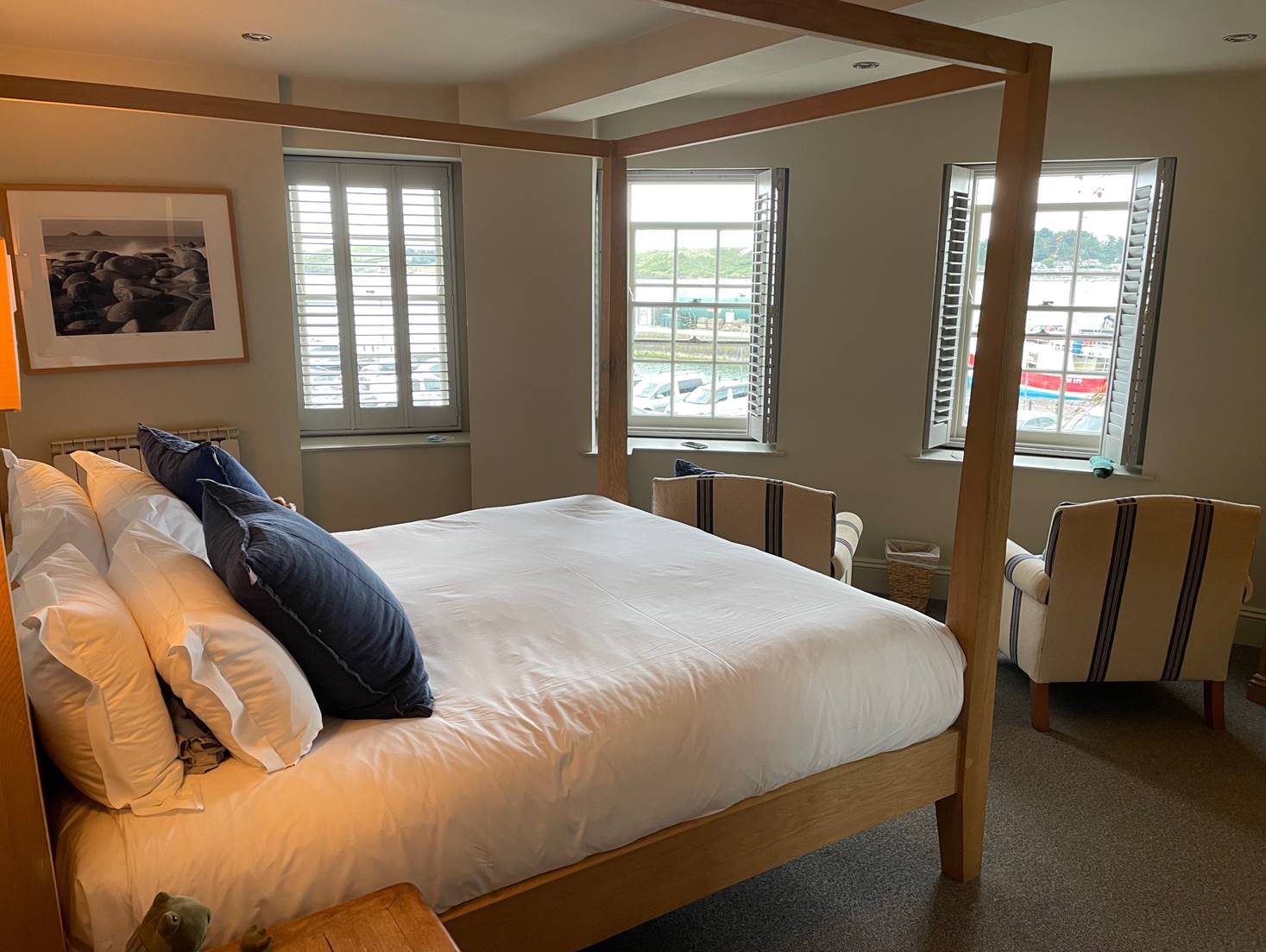 We stayed at the Rick Stein Seafood Restaurant for 2 nights and had a wonderful time. Dinner on Friday at Paul Ainsworth at No 6 and Saturday at the Rick Stein Seafood Restaurant. Such a treat both evenings.
The room was calm and welcoming with a huge bathroom, and views across the harbour.
On the way home
Departure from Newquay was very easy and security quick and painless. The Executive Lounge was not open but peering in , it didn't look as if we were missing much.
The flight was quite similar to on the way out with the novelty of leaving Newquay early since everyone had checked in. I had the feta quinoa on the way back, which was fresh and quite filling.
A much-postponed trip was an absolute pleasure and kudos to BA and the hotels. I hope very much that Newquay is retained year-round. We would definitely go back over the winter.