I recently wrote about some common short-cuts to renewing elite status with your favourite hotel chain(s), even if you don't meet the lower, relaxed criteria in place for 2021. (re-read that article to refresh your memory) If those suggestions don't work, you might be interested in strategies for picking up cheap elite credit, especially if you aren't likely to have much by way of international holidays or work travel in 2021.
A couple of reminders:
You must book directly with the hotel chain to earn elite status credit
A "stay" is defined as one or more consecutive nights at the same hotel, irrespective of the number of times you check in and out (or change rooms) – this is only now relevant to Hilton Honors
Day Use Rooms / Work From Hotel
Hilton Honors has long been the market leader when it comes to offering hotel rooms for daytime use only. You can book these online by simply setting the arrival and departure dates to be the same.

A Day Use Rate works exactly as the name suggests – you can use a room during the daytime, but you cannot stay overnight. Airport hotels often offer these rates because some people just want a quick shower and change of clothes after an overnight flight. Others want somewhere to spend a day working, using the gym, taking a nap, etc.
The precise definition of "day" varies at each hotel, but it usually runs from 9 or 10 am until 5 or 6 pm. Moreover, with Hilton Honors, a "day use rate" room is treated exactly as an overnight stay for elite status purposes – you earn both a night and a stay credit.
Why "day use room" for elite status purposes? Because it's usually much cheaper. You're never going to find an overnight stay in London for £30-40… (and of course Rob over at HeadforPoints likes to emphasise that working from a hotel ought to be tax deductible for the self-employed, making your net cost even cheaper)

For £500-600, you can repeat this 15 times in 2021 and renew your Diamond status without a single "normal" stay. You will also earn many thousands of points. – from your base earnings, your elite status bonus, any promo points, as well as the 1,000 point welcome amenity.
The other major hotel chains have started to emphasise their day use rooms as well, but they are more fiddly to book and I am less certain about how they are treated for elite status purposes. And because those chains don't allow you to renew elite status by accumulating "stays", you will require far more morning trips to the hotel to check in for a few hours.
Staycations Using Points
With a hotel chain such as Marriott, you will receive the fifth night free when using your points. If you are a Platinum member holding the American Express credit card, you will already have 25 + 15 = 40 elite nights in your account.
Although you can of course stay anywhere you like, you might be interested in spending as few points as possible to lock in your Platinum renewal. Luckily, the UK has 33 Marriott hotels in the lowest 3 award categories..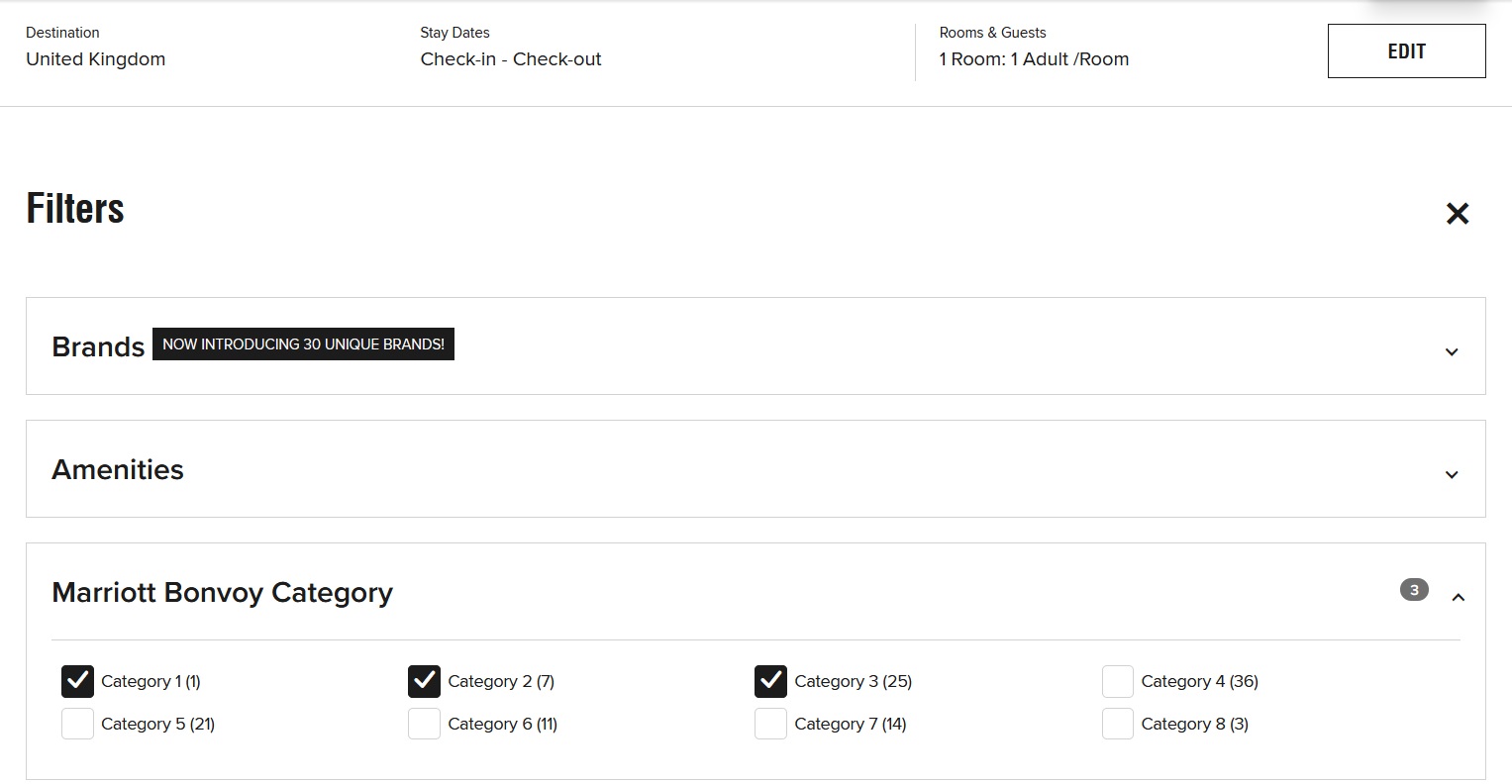 These aren't just hotels in out-of-the-way places such as Aberdeen. I am sure that you would enjoy a 5-night getaway to gems such as: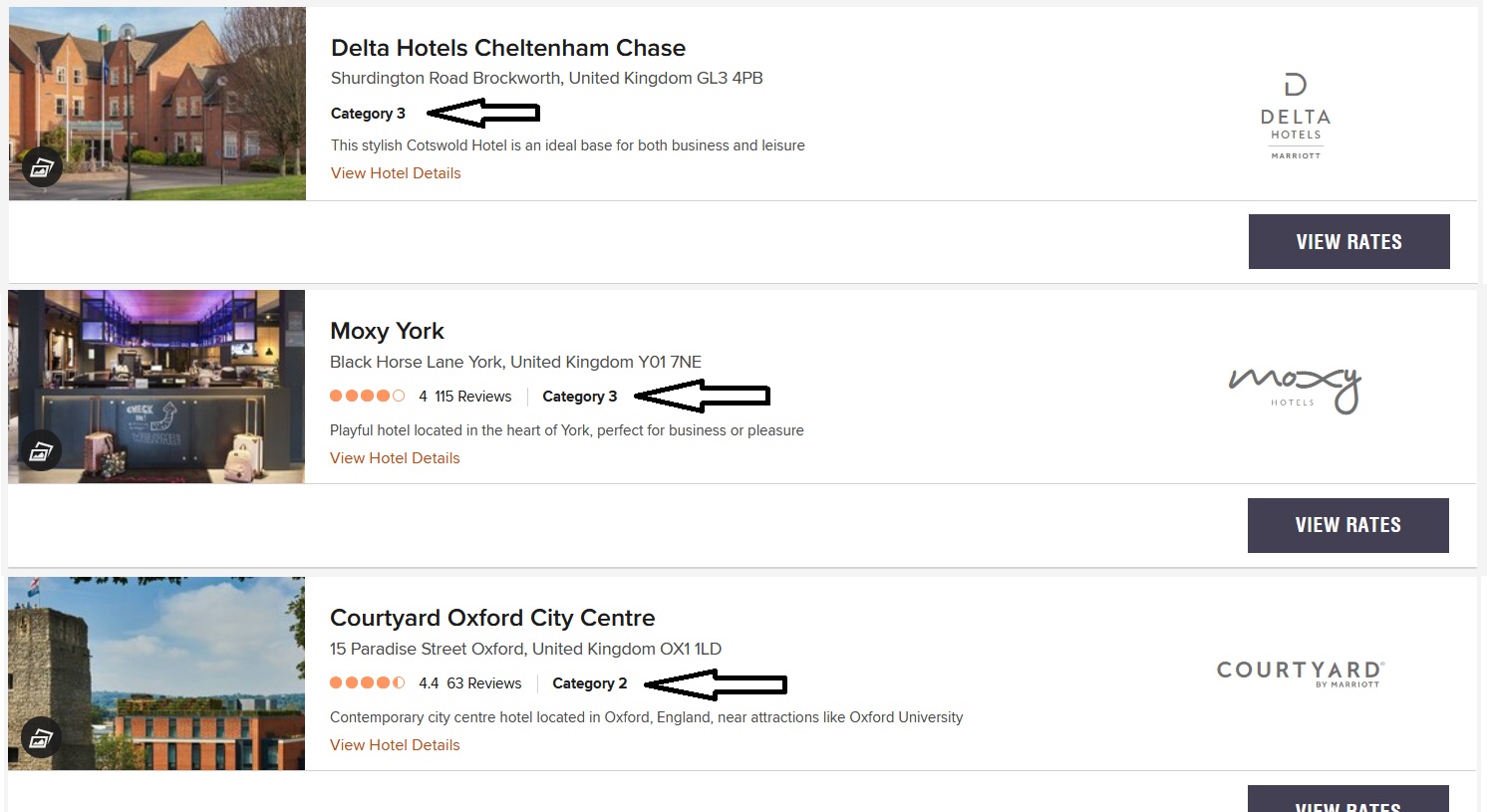 Mattress Runs
A mattress run is essentially a hotel stay that is completely unnecessary, but you do it in order to earn credit for elite status purposes. The most extreme example is checking into a hotel and immediately leaving, although some people stretch the definition to include local staycations where you actually do spend the night (but are only truly staying because you need elite status credit).
Because these hotel stays are completely unnecessary, you want to do them late in the year when you have no other choice to accumulate stays/nights. They can also make sense when you would be taking advantage of a lucrative bonus-point promotion. Or in the case of Marriott Bonvoy and World of Hyatt… when you have managed to make a Best Rate Guarantee claim and have chosen to earn 5,000 points as compensation.
But there are a few pitfalls associated with mattress runs that you must avoid:
Somebody must check-in to the hotel in person. Simply booking a prepaid stay doesn't count. Completing the check-in process on a phone App won't work either. Unless you access the room with your phone, the hotel can consider you as a no-show (and save themselves money).
It doesn't necessarily have to be you checking in, though. Many chains allow for a second person's name to be attached to a reservation. It is a simple matter of calling the hotel (or loyalty programme) a few days in advance to say that my partner/friend/etc. will be sharing my room and will be arriving before me – please allow them to check-in on my behalf. In some cases, the hotel might be strict and might insist that the principal reservation holder (i.e. you) passes by the front desk at some point; many don't really bother. Of course, you won't really be asking a friend to do a mattress run for you. Instead you'll be trying to earn elite status credit from somebody else's hotel stay. (which is a breach of the terms & conditions and could cost you your account)
Don't just leave. When doing a mattress run, I make a point to visit my room briefly to make sure that there is no damage I might be subsequently blamed for. Since I've made the effort to travel to the hotel, I'll usually visit the hotel's executive lounge, gym and/or pool. If there are complimentary items such as bottled water, etc. I'll take them as well.
However, under NO circumstances should you immediately check-out again. This process will undoubtedly mess up the computer systems and you could miss out on the valuable elite status credit you are making the effort to earn. All modern hotels will automatically check out guests on departure day with their credit card details on file – the only reason to pass by a front desk on departure day is to get a print out of your receipt. So just leave whenever you desire, and let the hotel check you out automatically in the morning…
It's best to only mattress run one night stays. The longer the stay, the more likely that housekeeping finds an empty hotel room one morning and informs the front desk that you have left. The hotel may then decide to check you out prematurely. Although housekeeping service is often reduced due to the pandemic, a Do Not Disturb sign is no guarantee that your room won't be occasionally checked to see whether the guest is dead (or is doing something illegal or messy inside). So don't book a long stay and expect that DND sign to stay there for the duration.
Conclusion
Hopefully you will be able to renew your elite status in 2021, even though your usual travel patterns have surely been affected by lockdown. But if you find yourself needing to make a special effort, I hope that my tips have helped you to do it cost (and time) effectively…