Reader J contacted me, asking whether the deal she had seen for £1450 to Cape Town from Dublin was a good deal. She was interested to know what to expect from the flight with Ethiopian Airlines. When I started researching, I actually found some days where the fare was only £1199 return. You may also be interested in this article, where I look at other airlines that offer cheap business class deals.
If you would like to ask a question to be featured on the blog, please feel free to contact me by email at [email protected] or click on the contact us tab above.
Ethiopian Airlines
All I knew about Ethiopian airlines previously, was that they have a very modern fleet. Ethiopian's fleet includes the B787, B777-300ER, B777-200LR and the A350XWB, with an average fleet age of five years. As well as flying out of Dublin, to Addis Abada, they also fly direct to Los Angles from Dublin and Addis Abada from London on the A350XWB. Ethiopian have their own frequent flyer scheme and are also a member of Star Alliance. This would also allow you to use the miles on Virgin if you joined Singapore's KrisFlyer and credited the miles there.
Looking at Skytrax, they are rated 3 out 5 stars. Other airlines in this rating group are American Airlines, EasyJet and Iberia.
Dublin to Cape Town with Ethiopian Airlines
Ethiopian usually use a B787 from Dublin with fully flat seats. Although the B787 were initially delivered with angled lie flat seat, Ethiopian have been refitting them with fully flat seats. The seat are configured in a 2-2-2 layout. This means that the window seats do not have direct aisle access. The journey takes around 17 hours, with a connection of 3 hours in Addis Adaba. The reviews of Addis Adaba airport are very poor, scoring an average of 3/10. You would obviously need to take this into account, when deciding if the deal is for you.
Ethiopian's Cloud Nine Business Class is equipped with personal 15.4 inch IFE screens with 85 channels. They do have some recent films, but not as greater a choice as the Middle East airlines. Ethiopian provides amenity bags for business class which include: tooth brush with cover, tooth paste, lip balm, moisturiser, socks, eye shade, ear plug, shaving kit, shoe horn, comb and perfume.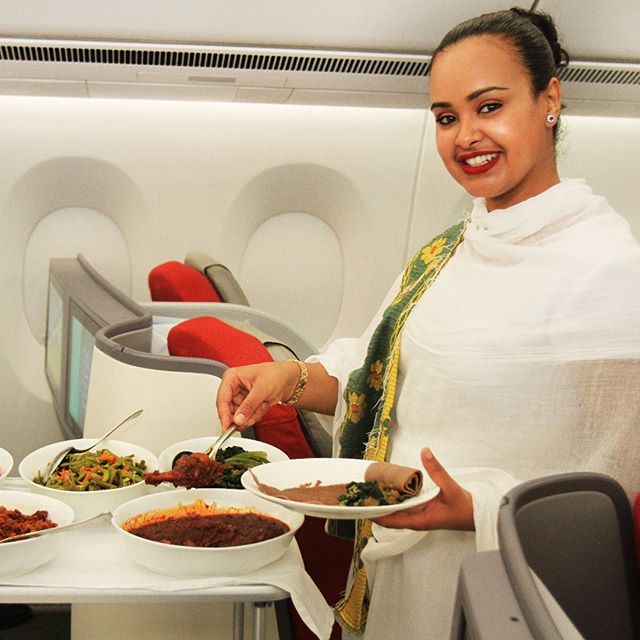 The food and drink on Ethiopian looks interesting. Not only do they have an option of traditional Ethiopian food (which is delicious), they even have some Ethiopian wines! If you are not feeling that adventurous, they have international options and European as well as South African wines. The meal is served in a similar style to BA on one tray with a starter, salad, main and cheese or dessert. Champagne is served before take off and during the flight. The food and wine list looks comparable to AA – good enough but nothing special.
You can see a short video of the Ethiopian Airlines' B787 interior in this video.
Price comparison
Other options for a cheap ticket to Cape Town previously have been with the recent Swiss and Qatar sales. The Swiss deal was from Heathrow to Johannesburg for £1398 in business class. You would then need to buy a connecting flight, but these are relatively cheap. Qatar has also featured good prices to both Cape Town and Johannesburg in recent sales from Europe, at around £1300.
Conclusion
This is an exceptionally cheap deal to Cape Town, but if you don't live near Dublin you would have to factor in the cost to get there. Although the seats are fully flat, the seats and on board service are unsurprisingly nowhere near those of Qatar or Swiss. The poor reviews of Addis Adaba, as well as some for Ethiopian customer service on the ground, would make me consider this deal very carefully before buying.
Personally, I would rather pay slightly more for Qatar, providing there are similar deals as previously in the next sale.
You can find out more about Ethiopian airlines here. Personally I would book through someone like Expedia or Ebookers where you can get some additional loyalty benefits and also potentially have more recourse if something goes wrong. I talked about the benefits in this article. Additionally, you could get around 1% cashback through TopCashback.