I have seen so many pictures of Blanket Bay over the years with its stunning setting that it had always been on my bucket list to go there. So when Roving Reporter and I were visiting nearby Queenstown it seemed the perfect opportunity to try it out. This is hands down the most expensive hotel I have stayed at, so was it worth the money?
Location
Blanket Bay is situated a fairly short and stunningly scenic drive from Queenstown. It takes around 45 minutes to drive around the lake but you may want to allow extra time to stop and admire the scenery. There is not much round Blanket Bay as Glenorchy itself has very little there apart from a General Store and a couple of eateries. The quiet location on a lake surrounded by the majestic Humboldt Mountains was the main draw for me to Blanket Bay.
Check-in
We pulled up outside the seemingly deserted entrance and magically a porter arrived to greet us and unload the car. The car was parked for us in their cunningly hidden car park. We had arrived very early as we were booked on a 10.30am departure for a helicopter trip to see the Milford Sound and land on a glacier.
There is no reception as such so we chatted with the General Manager in the Great Room (complete with antler chandelier) whilst we waited for our helicopter ride. Obviously our room wasn't ready so early which wasn't an issue. Once we returned from the trip we were able to check in at the room and were shown around all the facilities. The staff were all extremely friendly and helpful at the hotel. They generally struck the right balance between friendliness and professionalism. The only thing I wasn't sure about was that each time you met a new staff member they introduced themselves and shook your hand. This was all very nice but it did get a little bit much after the fifth person!
The helicopter trip
This was undoubtedly one of my top travel highlights ever and if you can stretch to the money whilst in Queenstown I highly recommend the trip. It was definitely a once in a lifetime experience (for a start I couldn't afford it twice!). The helicopter was very smart-looking compared to others I have been in. As it flew in to collect us from the lawn right in front of Blanket Bay I did feel like I was starring in my own James Bond movie!
The trip flew us out to the Milford sound skimming along the mountains with breathtaking views of glaciers and the river. Once at Milford Sound we landed for a quick wander round or a coffee. Next stop was a beach landing but not on your traditional white sand beach. This was a beach of beautiful smooth large stones and had a very prehistoric feel to it. It felt like a velociraptor might break through the trees at any moment!
Finally, we flew back over the mountains and just made it to a glacier as the weather began to close in. This area of New Zealand is a difficult area to get the right flying conditions. In fact, I had tried to fly to the Milford Sound on a previous trip and not made it due to the weather.
Standing on the glacier on the top of the mountains was one of the most unique experiences I have had and truly felt you were on top of the world (though I was too scared to look over the edge unlike Roving Reporter).
The rooms
The hotel is very exclusive with only 6 Lodge Rooms and 3 Lodge Suites in the main lodge and then 4 chalets in the grounds plus their newest 4 bedroom lodge called the Villa. We had been upgraded from the basic lodge room to a chalet suite. The chalet suites are in semi-detached cottages but feel very secluded and private. These are a short walk from the main lodge and have truly stunning views, better than the main lodge itself in my opinion.
Chalet Suite
Post from RICOH THETA. #theta360 #theta360uk – Spherical Image – RICOH THETA
The room was huge and had an alpine feel to it with the wooden beams and stone as did most of the hotel. I liked the stone fireplace and high ceilings as well as the attention to detail everywhere. There were two very comfortable armchairs facing the beautiful view which was a lovely place to sit and work or read a book. Outside there was also a seating area if it was warm enough. The room had everything you could possibly want with a Nespresso machine, kettle, free minibar (apart from wine) and fresh milk. If you wanted some freshly baked biscuits or brownies to go with your tea you could just ring for some and they would appear.
It was nice to have a separate walk-in wardrobe/dressing area with plenty of room for suitcases. It was one of the few places where there has actually been room to open up my suitcase flat on the rack. The fact that most suitcases are two-sided nowadays seems to have completely bypassed the hotel industry in most cases! As you would expect slippers and robes were provided too.
We had the super king bed divided into twin beds which were incredibly comfortable with high thread count linens. The room was also very quiet being away from the main lodge (apart from Roving Reporter's snoring!).
If you can tear yourself away from the view there is a hidden TV set with Satellite and Apple TV plus a Bluetooth soundbar. There is a choice of music channels which they had turned onto a relaxing channel at turndown. Unfortunately, we couldn't find the controls to turn it off in our slightly inebriated state!
Post from RICOH THETA. #theta360 #theta360uk – Spherical Image – RICOH THETA
Bathroom
The bathroom was a highlight for me too. Although more a rustic style than modern., I loved that there was a steam shower which is the first one I have had in a hotel suite before. Being a steam room fan it was great to have this on tap whenever I wanted. There was a large bath for soaking and premium toiletries in almost full sizes.
The toiletries were a brand called Serendipity which I had not heard of but they had a lovely fresh natural scent and felt good quality. They were made with high-quality ingredients such as the body balm with macadamia and avocado oils. I particularly appreciated all the little extras such as a free sports water bottle to take home each, hand-made soap and even make-up wipes. Every little thing had been thought of.
The only complaint was that with underfloor heating and heated towel rails the bathroom did get quite hot as the outside temperature was about 23c. Eventually we had to ask them to turn the heating off which they soon did. In the meantime, we opened the windows to keep the temperature down. It's funny how actually being able to open the windows is a perk in a hotel now that so many are sealed or only allow you to open them a fraction!
Lodge rooms
These are the entry level room but still very well equipped with a great view. The lakeside Lodge Rooms each feature their own balcony or terrace, super-kingsize bed, sitting area and armoire. The ensuite bathrooms have granite topped double vanities, separate shower and bathtub.
The next size up is the Lodge Suites which feature much larger sitting areas, steam showers and a fireplace.
The Villa
As I had a chance to be shown round their latest room(s) I thought it would be worth including a few snippets here. The Villa is set on a hill top overlooking Blanket Bay and is designed to be self contained with meals being served in the Villa (though you can go to the lodge if you wish). The style is slightly different to the other rooms with a more modern finish but still with the same stone and wood features.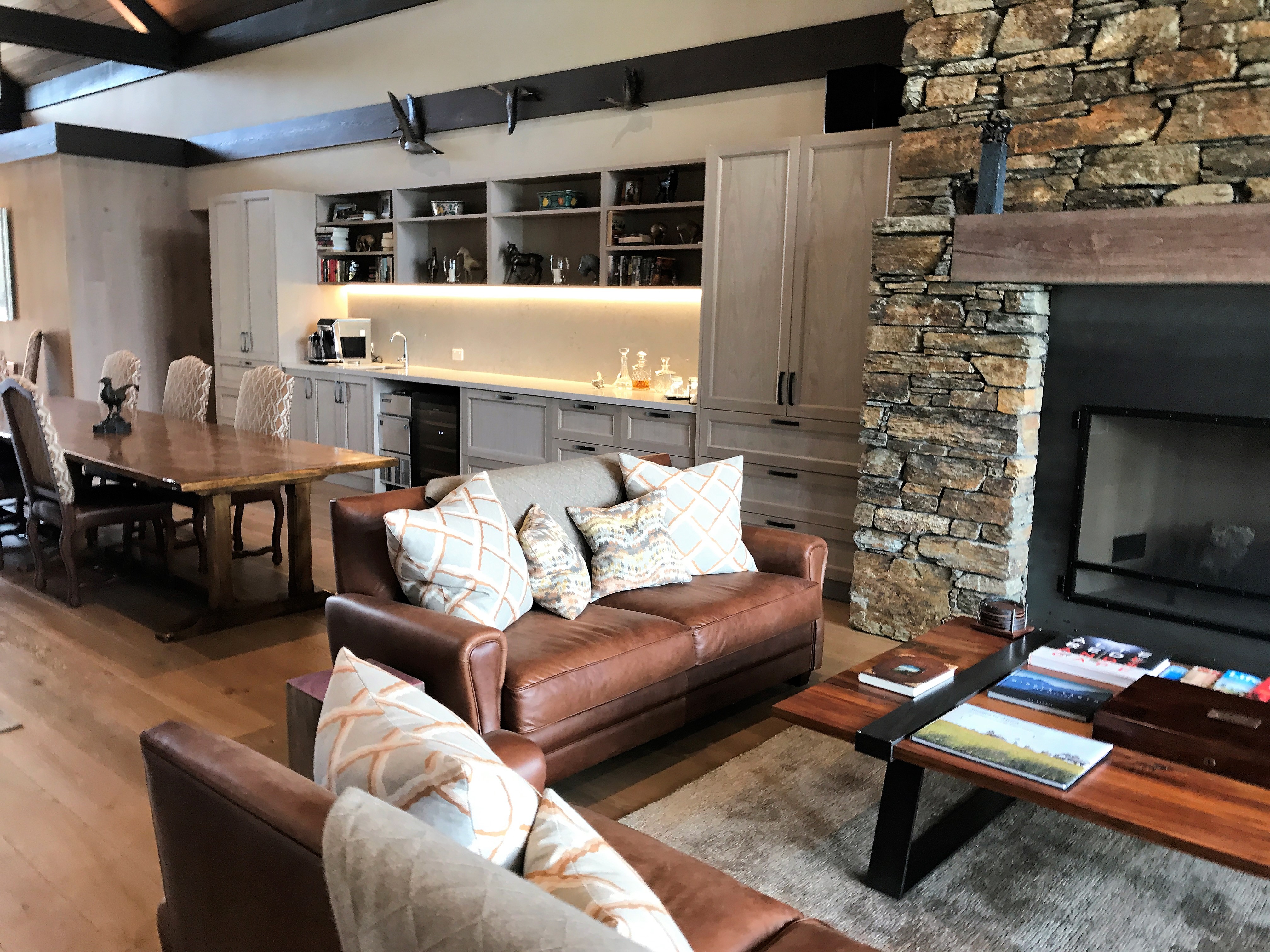 The villa has four king suites comprising bedroom, bathroom, sitting area with individual fireplaces and magnificent views. They can be sold together or divided into 2 units to be sold separately. This would be perfect for an extended family or several couples travelling together.
The shared central space was huge with a separate kitchen where you can watch the chefs cook if you wish, fireplace and wet bar. Outside are two hot tubs to enjoy the views from.
Dining
When landed after our helicopter trip we decided to enjoy some lunch on the terrace. I have to say that given the price of our stay I had thought that it would be very expensive but we were pleasantly surprised. The food cost what I would expect to pay at a normal restaurant and the wines were even what I would call cheap for the quality. A glass of wine was around £7 which for a really great New Zealand wine in a beautiful setting is a bargain. My local pubs charge more than that for some of their "fancier" wines! For lunch, we shared a burger and a Caesar chicken salad both of which were delicious and good portions (as we found most food in New Zealand to be).
Part of the reason for the high room prices is that your stay includes a full multi-course gourmet dinner with evening cocktails too. You are invited to join them for drinks in The Den bar before dinner which is all included in the price. There was a choice of house wines which were all great local wines or French champagne along with beer or cocktails. These were served with a selection of canapes too. The cocktails were quite a social event with both the General Manager and owners present on the evening we were there. There was a mix of nationalities with a high number of Americans so if you are not particularly social you may find yourself having to talk to the chatty Americans anyway!
During the cocktails you are given a choice of times to be seated for dinner, presumably to space things out a bit for the kitchen. We went for reasonably late and enjoyed a few top ups of the champagne!
Fortunately, it was a warm evening and we were able to sit outside and enjoy the view on a light summer's night. This was a truly wonderful place to have dinner with an open fireplace crackling with logs behind us to keep the chill off. We also ended up having a rather late night with a glass or two (!) too much wine as we met some great people at dinner who loved travelling as much as us!
The food was definitely fine dining style and was presented to Michelin star quality. The cooking techniques were also up there with many great restaurants.
Here is our menu for the night: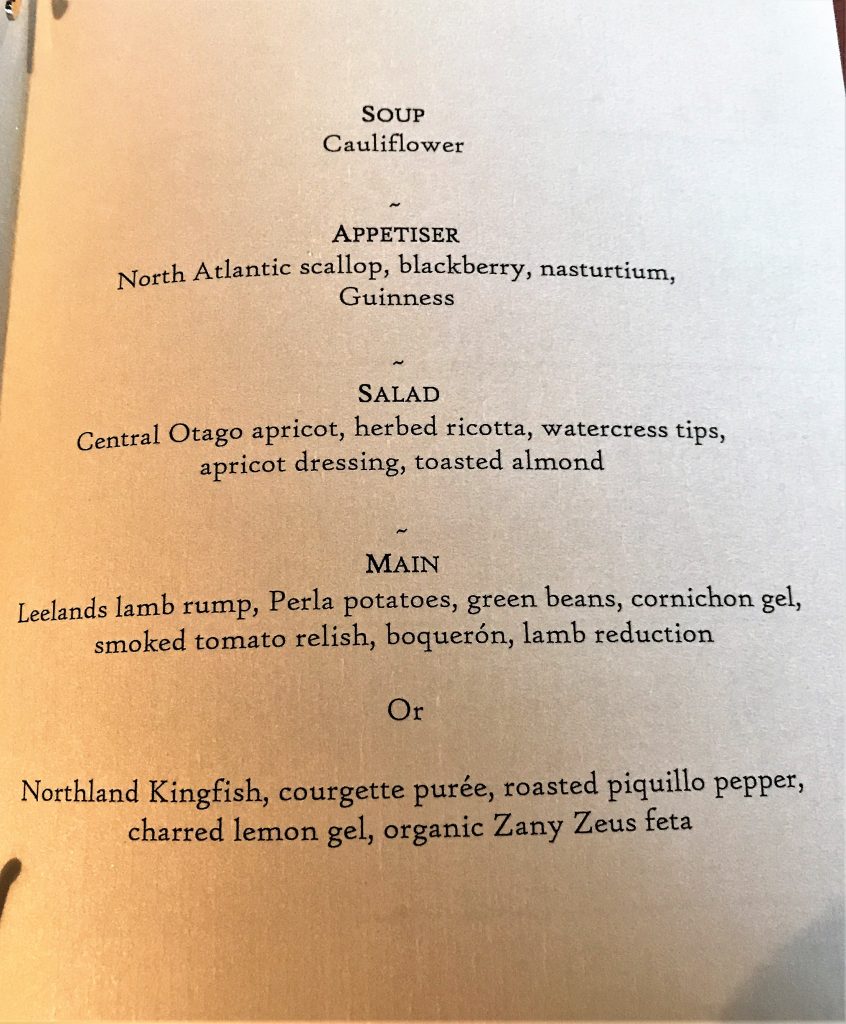 We started with an amuse bouche of mushroom arancini on a parmesan custard. This was delicious with a rich, earthy umami flavour from the mushrooms and cheese.
The next course was a smooth and thick cauliflower soup with a nice contrast of texture from the crumble topping.
The scallop course was my least favourite although still cooked to perfection. I am still not convinced by the pairing of scallops and blackberry. The Guinness was an interesting touch and gave a fairly delicate hint of bitterness in contrast to the sweetness of the scallops and blackberries.
I loved the apricot with an almond that was made to look like an almond stone. The creamy slightly salty ricotta with herbs was matched perfectly with the juicy sweet fruit.
There was a choice for the main course and seeing as we were in New Zealand it had to be the lamb. The smoked tomato relish was the highlight for me along with the cornichon gel. This was something I have never had before and being a pickle fan it hit the spot for me. The lamb was also cooked beautifully pink.
For dessert, there was a choice of chocolate delice or cheese. We had one of each and shared it. There was only one cheese, a Red Leicester which was a pretty big chunk. I think it would have been nicer to have two different pieces of cheese than one big chunk.
The service for the meal was superb from our delightful Chilean waitress Ina. She was so warm and fun that it made our evening. There was a sommelier on hand to help with the extensive wine list and all the wines we had were excellent. There were lots of local wines to try by the glass and even the house wines were very good. The American sommelier was something of an acquired taste for us reserved Brits with his very enthusiastic style but I am sure their Amercian customers appreciated him more.
Overall it was a lovely meal with fantastic service and a wonderful setting.
Breakfast
This consisted of a fairly small buffet and then a range of cooked items to order. On the buffet were local cheeses, smoked salmon and charcuterie plus homemade pastries and the usual fruit, cereals and juices. I thought it was slightly odd there was no freshly squeezed orange juice but there was a good selection of juices to choose from.
Here is the menu:
I had the eggs Benedict with salmon which I enjoyed and Roving Reporter had the rather unusual Potato Rosti with Swiss Raclette, ham and poached egg. He declared it delicious but the portion size defeated him somewhat!
If you were there for more than one night they can do more casual meals such as the lunch menu.
Facilities
If you just want to relax and enjoy the magnificent location there are plenty of ways to do this. One of my favourite features was the indoor/outdoor hot tub. This is a fairly small hot tub but given the small number of rooms, it was never really a problem. Both times we had the jacuzzi to ourselves. We were also asked if we wanted anything to drink whilst we were sitting there which was very civilised. The room has floor to ceiling glass doors that can be opened to make it feel as if you are outside. We enjoyed watching the resident family of ducks arrive and go for a swim in the water just in front of us. You could also have a choice of music channels through the speakers if you wanted to add to your experience.
In this area, there is also a steam room as well as a well-equipped changing room if you had a late flight as we did and wanted to have a shower or change.
On the same level, there is the huge Games room with a free self-service bar with beer and soft drinks. In the room is a pool table, shuffleboard and television lounge with 60″ screen Smart TV and satellite channel access. Backgammon, chess, cards and an extensive DVD library are all available too.
If you want to keep fit the Gym offers a Vectra Multi-station and Life Fitness Cardio Equipment. More to our taste in such lovely summer weather was the outdoor heated lap pool. The pool was heated to a beautiful warm temperature and as usual everything had been thought of. There were plenty of towels by the pool as well as changing rooms and toilets next to the pool. A fridge was available with free soft drinks and there were plenty of comfortable loungers.
Things to do
There is so much to do nearby it is probably hard to know where to start. If you are into golf this has to be one of the most scenic places to play. With a backdrop of the Remarkables mountain range  Jack's Point Golf Course is an 18 hole par 72 championship course near to the lodge. Other leisurely pursuits include fishing (including by helicopter or at the lodge), hiking and cycling. You are also right by the Central Otago wine region, famous for its Pinot Noir and you can do a wine tour from the hotel.
If you fancy something adventurous there is a jet boat trip of the Dart River and Heli-skiing amongst a plethora of adrenaline fuelled activities in Queenstown.
Conclusion and pricing
Overall it was an amazing experience staying at Blanket Bay. It was a major splurge for us (and that's saying something given my expensive tastes) but I felt that it was well worth it. Everything at Blanket Bay is very special from the jaw-dropping scenery and the peace and quiet to the wonderful food and range of activities. It is a unique place and definitely worth the money to experience it if you are in Queenstown. I think with the inclusion of the mini-bar, breakfast, pre-dinner drinks and 5-course dinner it justifies the expense. It was also good that they don't take advantage of the remote location as the in-house food and drinks were surprisingly affordable.
Blanket Bay is a member of Small Luxury Hotels of the World so you could book through them and get some of their perks especially for Amex cardholders which you can read about here. We booked through Hotels.com and took advantage of a flash 20% cashback offer on Topcashback. Rooms start at around £900 per night per room including breakfast, pre-dinner drinks and a 5 course dinner.
You can find out more about Blanket Bay here.
If you want to read reviews of other small luxury hotels check out my reviews of the Sanchaya, WestHouse New York and the Naman Retreat in Vietnam.