This flight was part of my bargain £1500 flight from Bucharest to Phoenix in First. It is always worth adding in a Transcontinental on flights to the west coast of the US as it adds in either 140 or 210 tier points for business or first class each way and is a nice experience with flat-bed seats in both classes. These aircraft have 3 classes unlike most domestic US flights and is more like a traditional long-haul flight. I flew from New York JFK to Los Angeles.
Check-in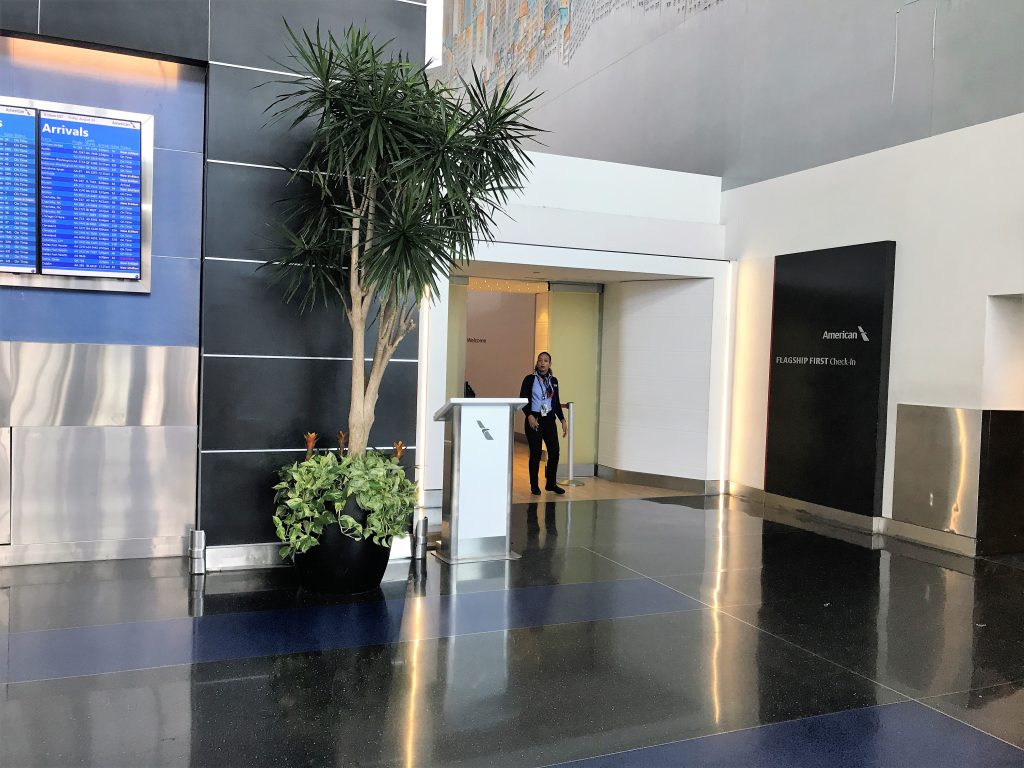 At New York JFK they have a separate check-in area for First class and premium status passengers which is very similar to BA's the First Wing except that it just filters you into the security channel directly rather than the lounge. They have someone on the door to check whether you are allowed in. I didn't appear on her list strangely but was allowed through anyway. The check-in area was pretty quiet at about 8am and there was only one other passenger ahead of me. His check-in appeared complicated so I had to wait a little while as there was only one check-in agent.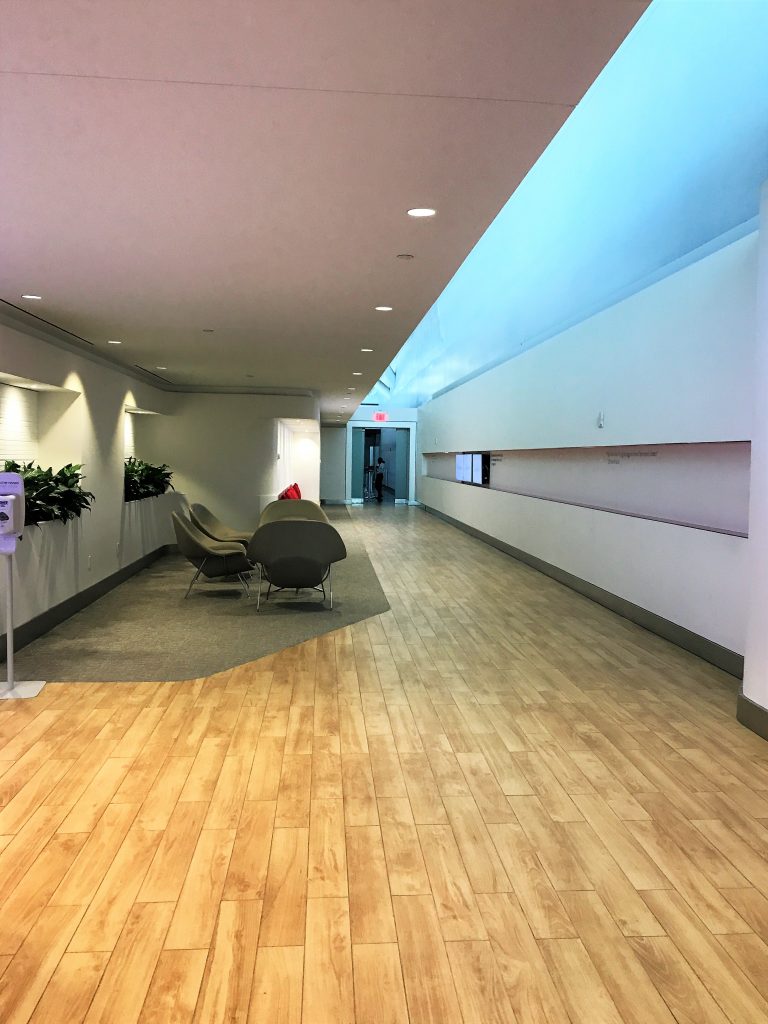 As I have TSA pre-check as part of Global Entry (worth the money alone in my book) I sailed through security in no time. I had a choice of lounges – my gate was nearer the Admirals Club but since I had plenty of time (or at least I thought I did) I wanted to try the Flagship First dining which I had not done before.
The Lounge
The Flagship lounge at JFK terminal 8 is on the mezzanine level after the Concourse B security checkpoint. To be able to use the normal Flagship Lounge you must be travelling in First or Business on a qualifying international or transcontinental flight marketed and operated by American or a oneworld airline. You also get access as BA Silver or Gold which changed last year.
I won't go into the Flagship lounge too much as on this occasion I didn't really use it but I really like the new lounges. They have a bright modern design with a central bar featuring champagne and some good wines including Miraval Rose. There is also a decent range of food which is nicely presented plus their signature Bloody Mary bar. You can read more about the Flagship lounges in this review.
There are also shower suites and business facilities available.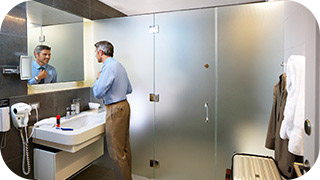 Flagship First Dining
If you are flying in First on the Transcon or International flights you have access to their Flagship First dining area. This was my first time trying it out and I was looking forward to a nice breakfast. I was asked at the lounge reception if I wanted to use the dining and when I replied yes I was walked to the dining room which I thought was a nice touch. I had a seat by the window which had good views of the airfield.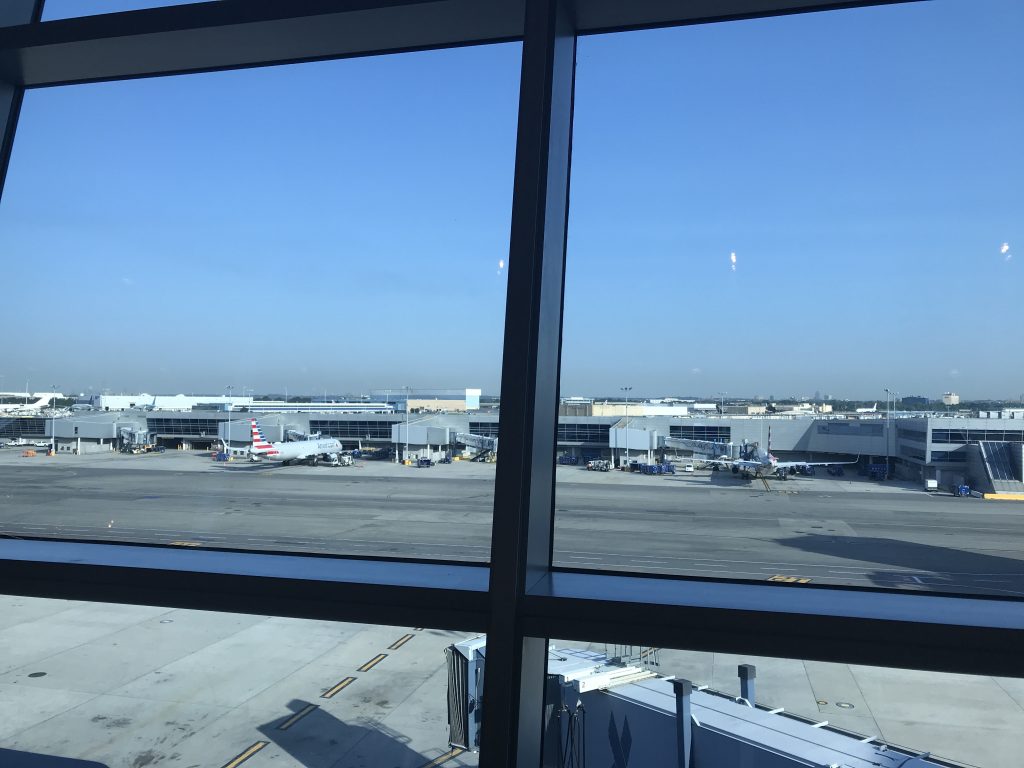 It felt very much like a restaurant with table service and a comprehensive menu: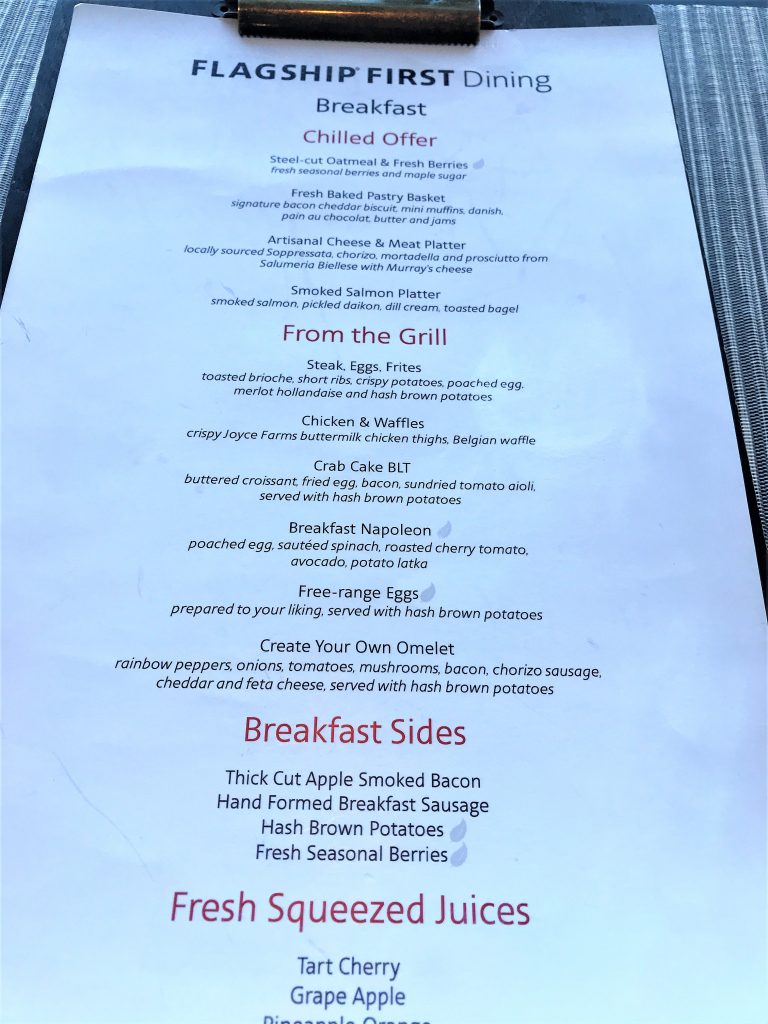 There were also signature cocktails and better wines and spirits than in the main lounge available but it was a bit early for me!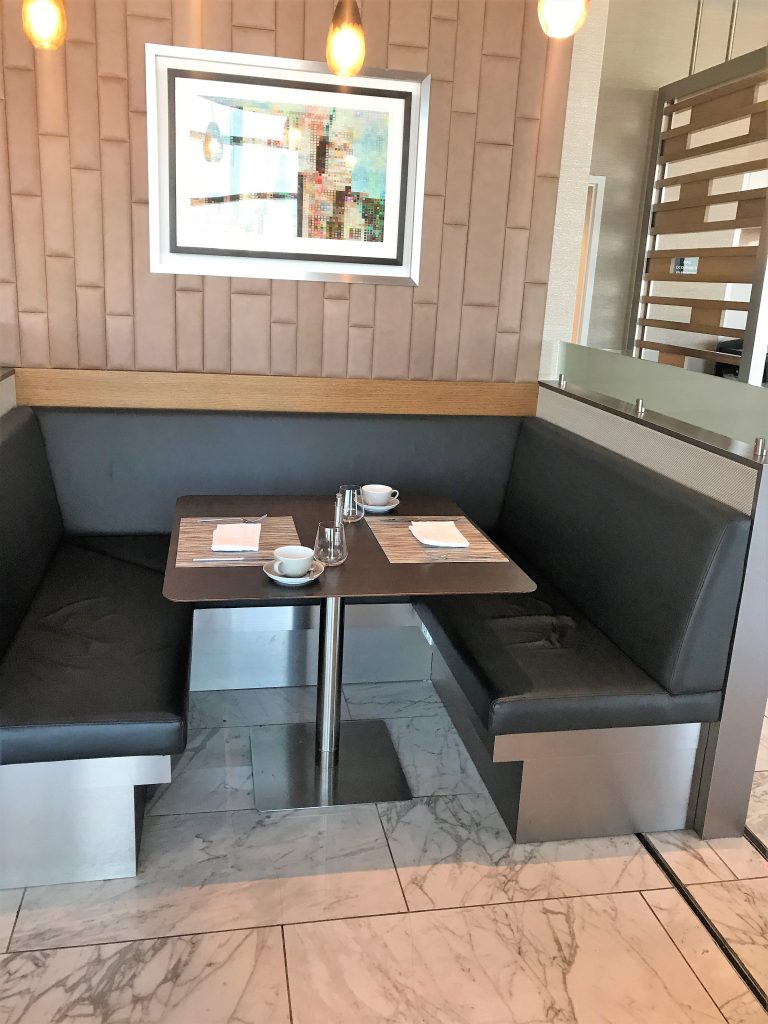 Since I hadn't bothered with dinner I decided to go for the full heart attack on a plate with the steak, eggs and frites balanced with a side of berries! I also tried the tart cherry juice which was new to me and absolutely delicious plus of course a coffee. I was offered still or sparkling water and then I waited quite a while to place my order. My drinks came quickly but the food took forever – around 25 minutes to appear which is ridiculous in an airport when people are in a hurry. It was not particularly busy in the dining area either.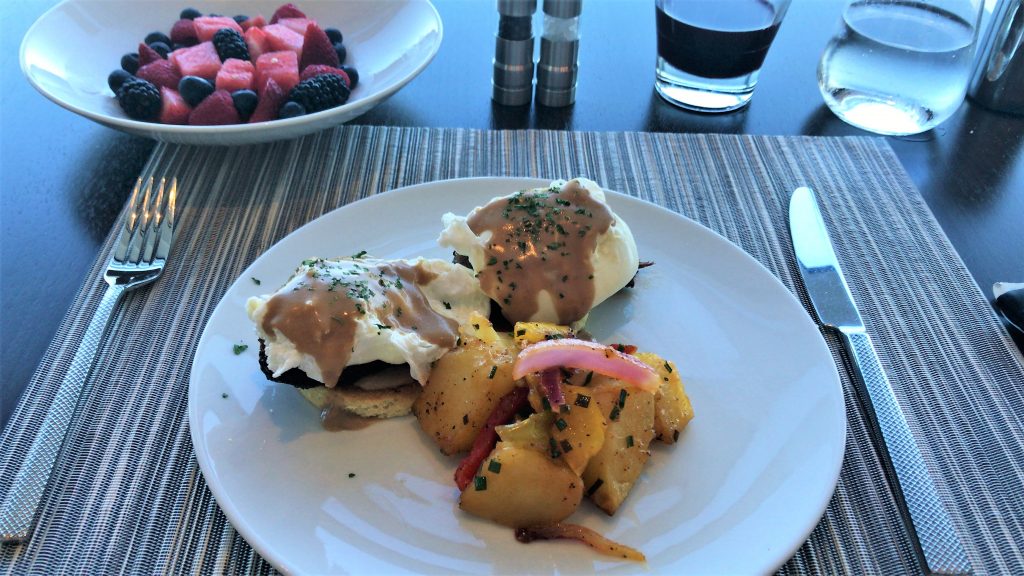 By the time it arrived, I only had around 10 minutes before I wanted to leave for the gate so I had to bolt it down rather quickly. Despite the lateness, it was actually very tasty with melt in the mouth short ribs and a punchy merlot hollandaise to cut through the richness. The eggs were also perfectly poached, something that seems to defeat most restaurants in my experience.
Boarding
Boarding was done by group number and for some reason it always seems to work on American unlike some of my BA experiences. The flight attendant greeted me warmly and offered me a pre-departure drink. Seeing as it was a morning flight and AA champagne is normally pretty dire, I thought a mimosa was a good choice.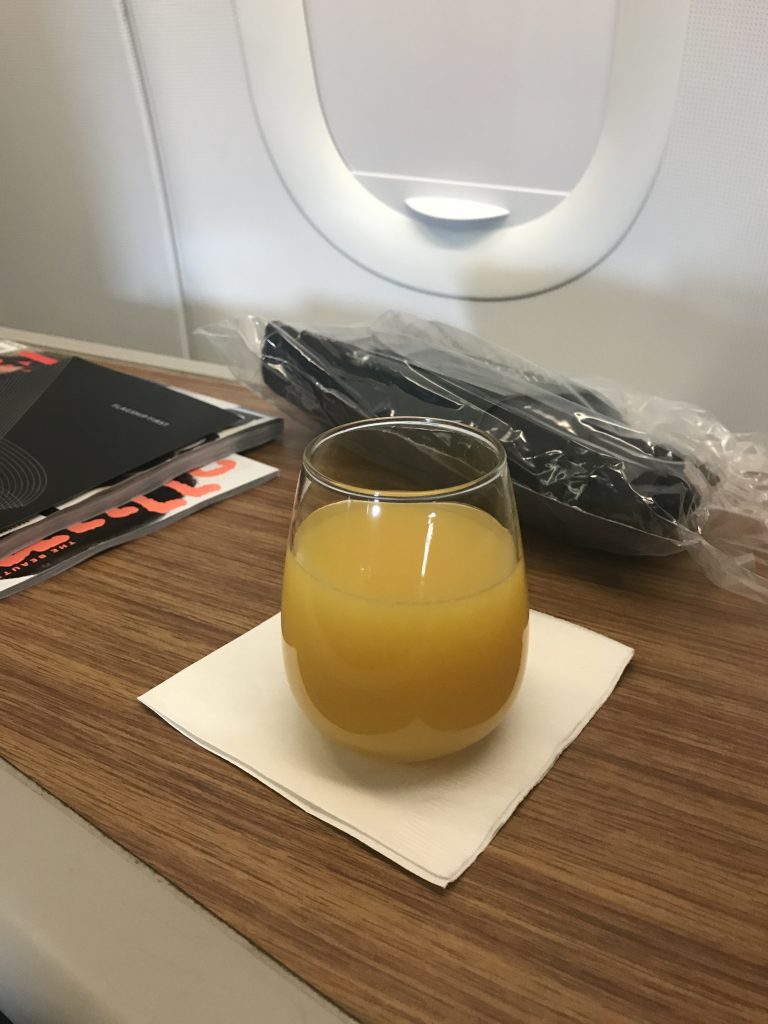 Already at the seat was the menu, an amenity kit, headphones and a bottle of water. I thought the amenity kit was pretty good for a domestic flight.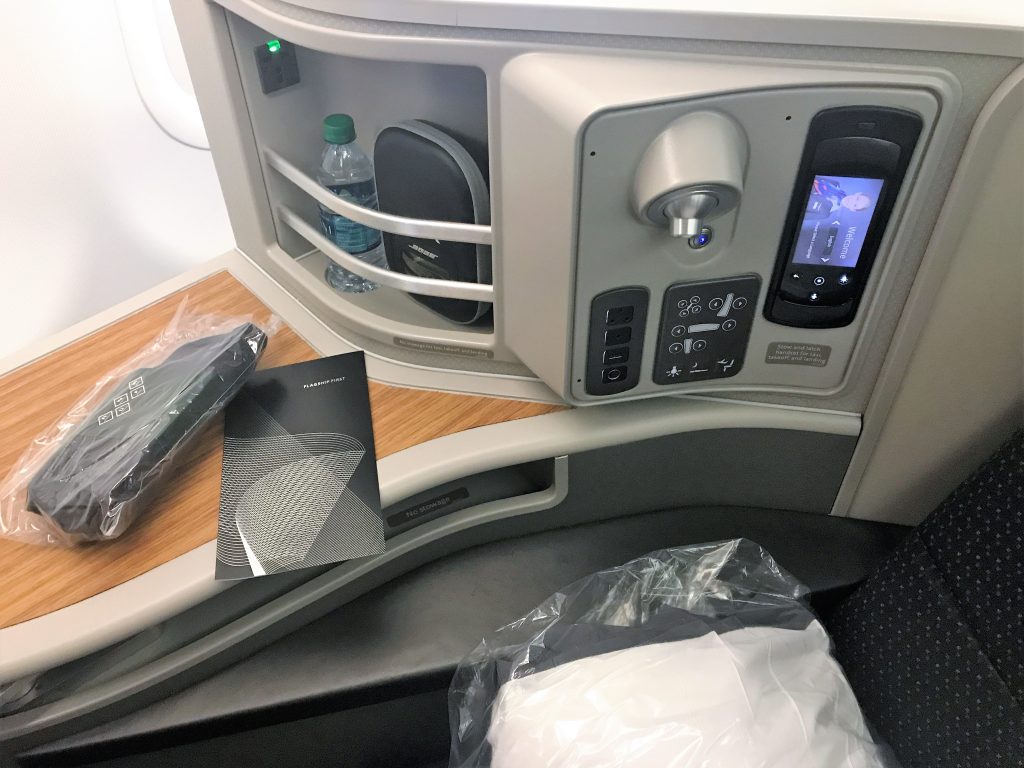 I liked that the amenity kit that came in handy zip bag. I have been using it since to hook over my carry on case handles to out any extra items I buy or want to have to hand when I board.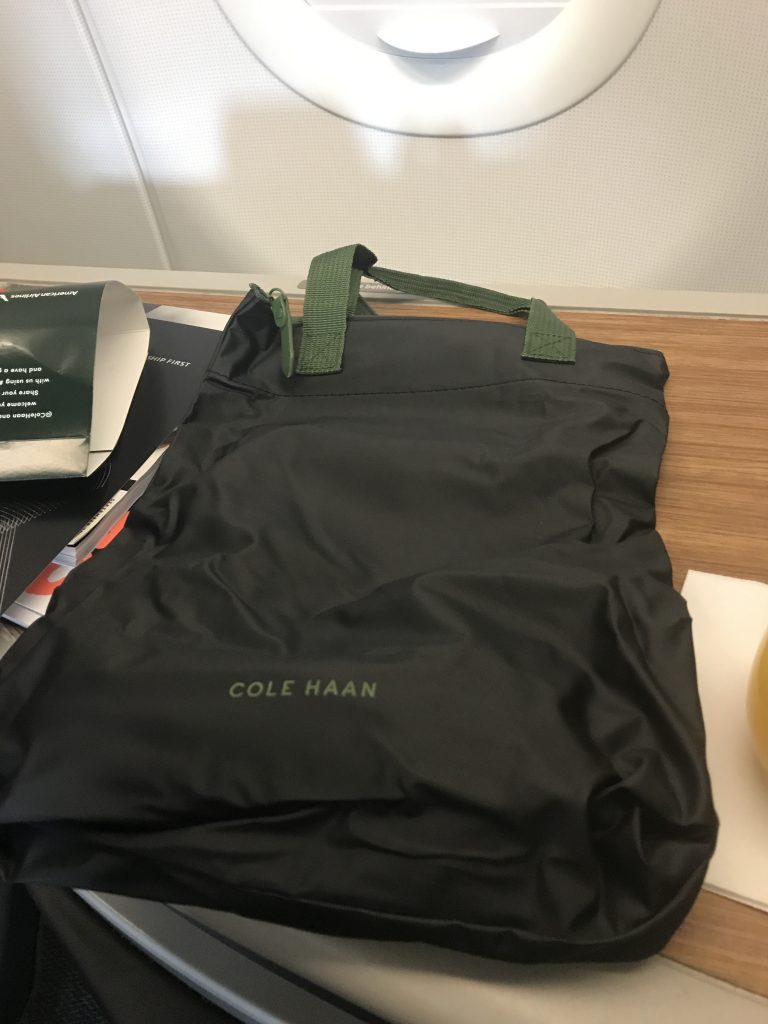 I liked the contents inside the bag that were pretty comprehensive, though I am not sure the stripy socks are really me… It was nice to see some different things such as the stain remover and the gadget cloth. There were lots of things that were really useful for a flight.
Inside the CE Bigelow pouch were the usual 2 miniatures you get in business class plus a face wipe. Although not overly premium I like the CE Bigelow products with their natural ingredients and lovely fragrances.
The seat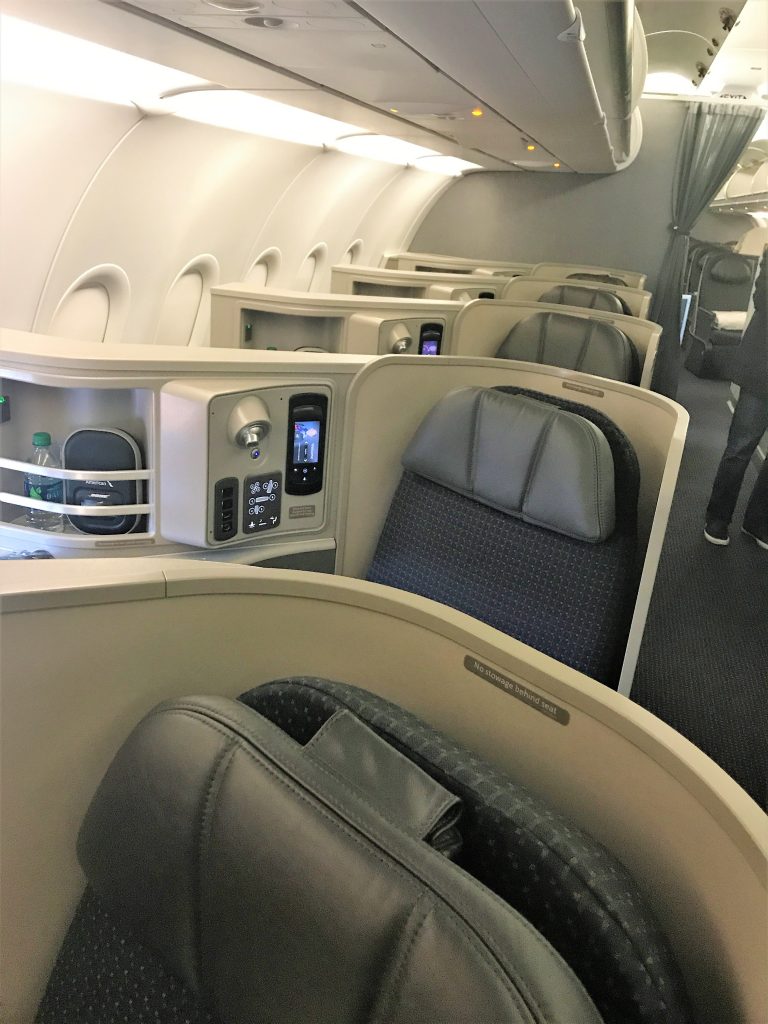 First Class has 10 seats in a 1-1 configuration which makes it feel very exclusive. The seats are angled towards the window but it did feel a little far away from the window if you like cloud gazing as I do.
I liked the fact that there was a small storage area for your water bottle and headset and the window shelf was very large.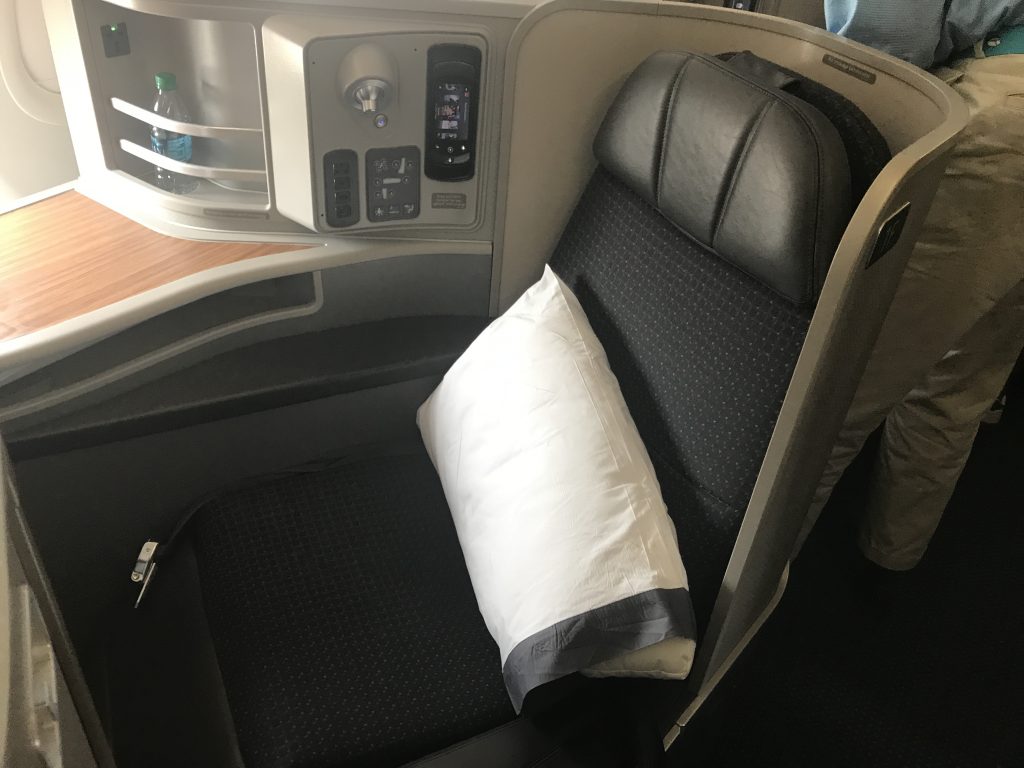 There were further storage areas under the window table but none really suitable for a laptop. The seat had a leg rest which was independently controllable and I found the seat easy to operate. The seat was comfortable for sitting or relaxing too. Even though this was a daylight flight I was still provided with some nice Casper bedding with a large high-quality pillow and a duvet. After lunch, I had a little nap and I found the seat comfortable for sleeping although it felt a touch narrow. Your feet go into the cubby hole under the TV but this actually didn't feel too small.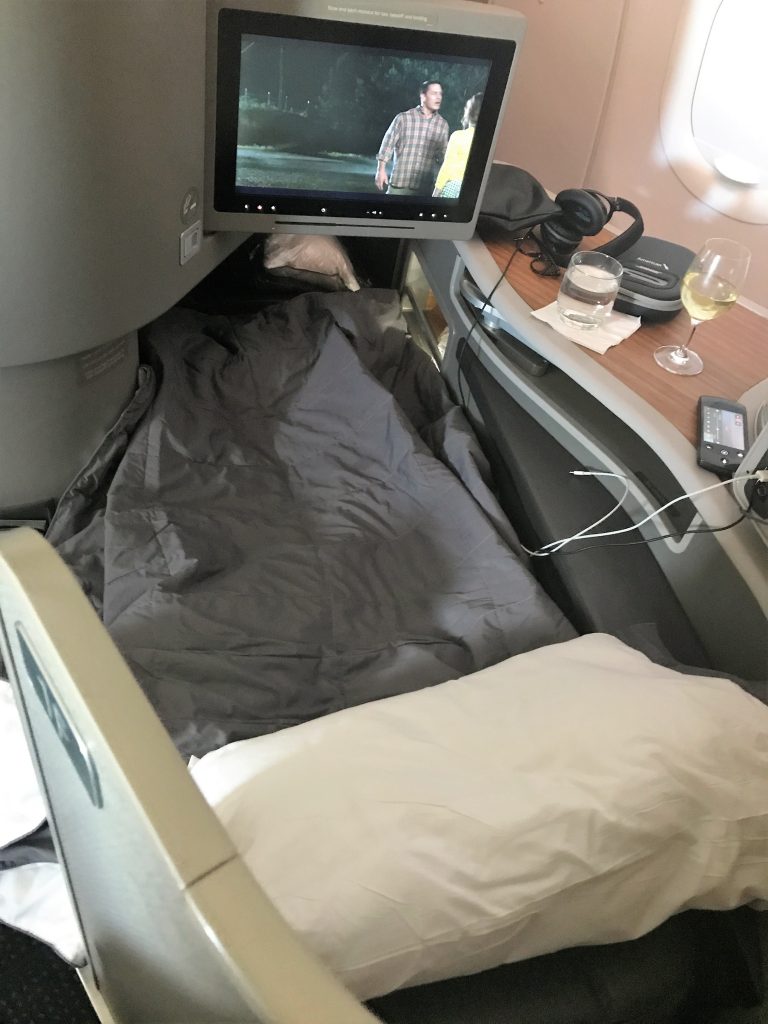 I am a big fan of AA's bedding and as usual, it felt soft and cosy.
Food and drink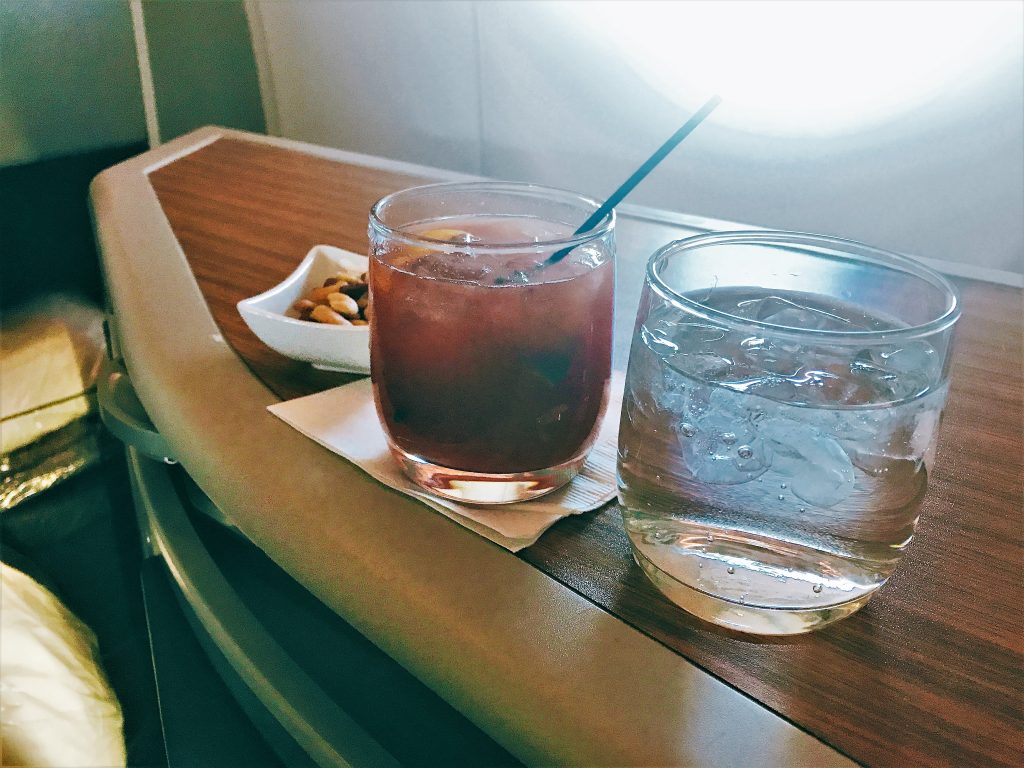 The service on the flight was pretty good compared to many other AA flights where the crew can be rather unfriendly although I do normally find them pretty efficient. My FA was friendly and smiling plus I can't fault her attentiveness during the flight at all. The service started with the usual drink and a bowl of warm nuts. Seeing as it was still early I decided to go for another breakfast favourite, a Bloody Mary. I always enjoy a Bloody Mary on AA as they use Tito's handmade vodka plus a nicely spiced bloody mary mix.
The menu looked good but I had already pre-ordered my main course which you can do on many AA flights in business and first class.
I enjoyed the starter although it felt slightly unbalanced in the amount of rice to crab ratio. It had a nice kick to it though which wasn't too much for the delicate crab. It was also beautifully presented I thought. Bread was offered several times during the service too.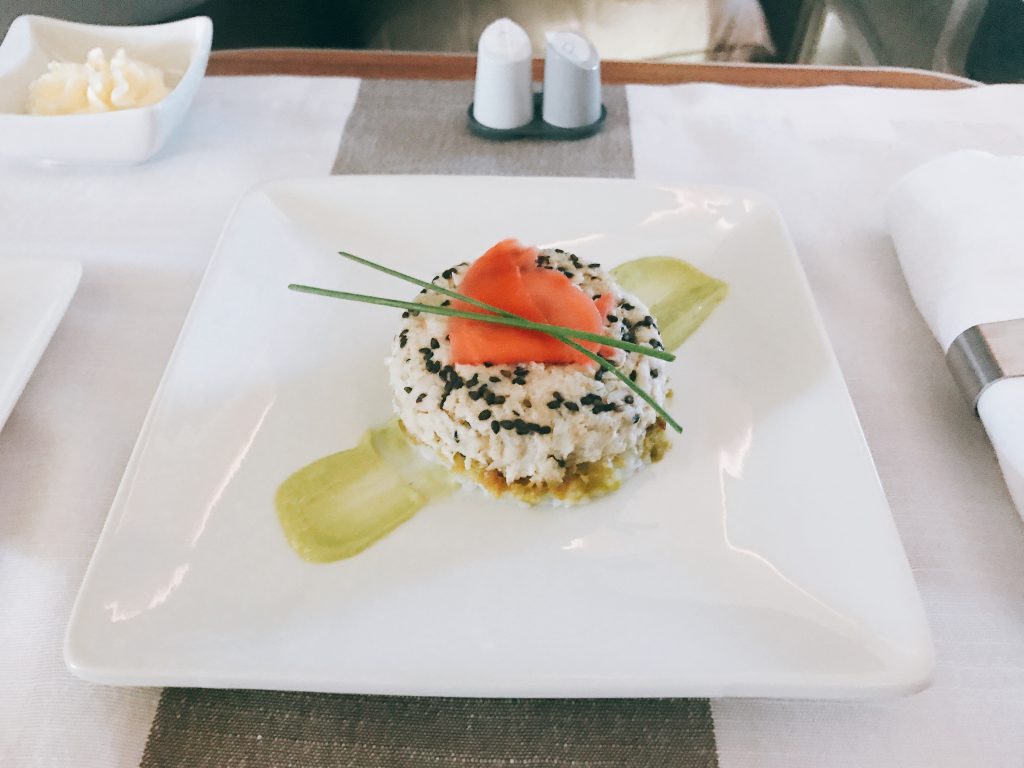 For the main, I had chosen the snapper which tasted OK although it looked a bit of a mess. It was a little overcooked as most fish on aircraft is but overall it was enjoyable.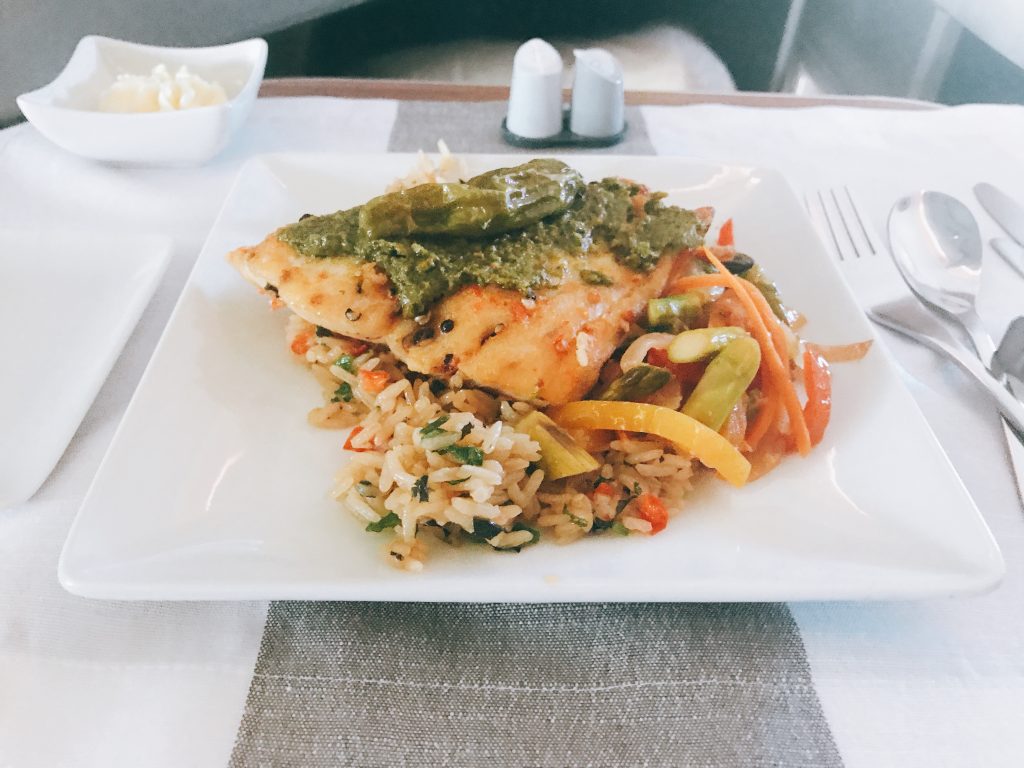 Naturally, I had to finish with the ubiquitous AA ice cream sundae having now recovered from my overdose of them on my last Hawaii TP run! I just went for a simple butterscotch sauce rather than the full monty of toppings and suffice to say it went down well!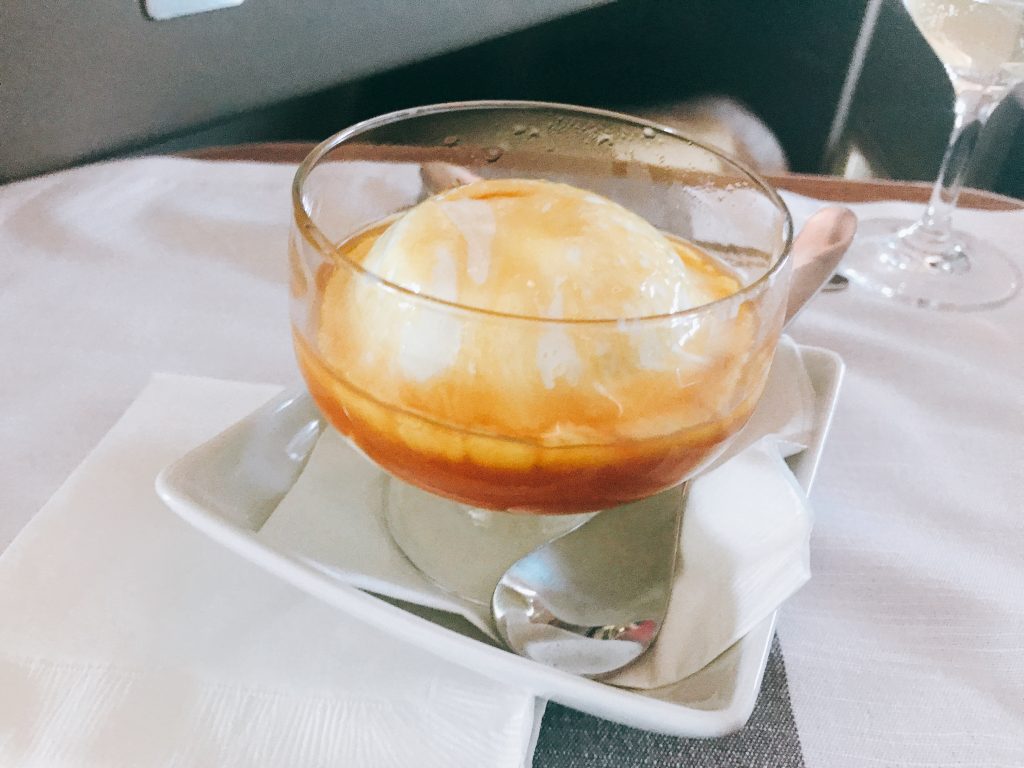 To drink I decided to try a glass of the wine. I normally find the wines on AA a disappointment. The Stag's Leap Chardonnay was actually OK but not particularly memorable.
Entertainment and connectivity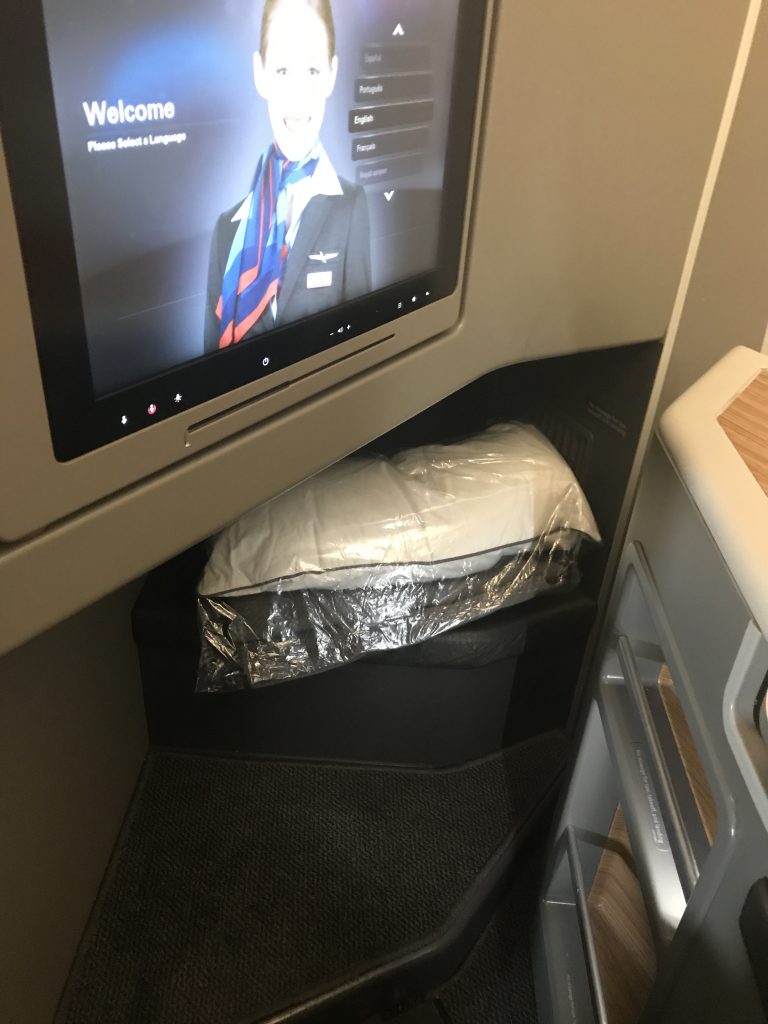 First and business class have 15.4-inch screens offering up to 75 movies, 150 TV programmes, 350 audio choices and 15 games. I watched a few things and found the TV screen had good definition and the Bose headphones were comfortable and effective. Though it always annoys me that they collect the headphones in a long time before landing.
There was plenty of choice of recent TV and films. The remote had a full-colour mini touchscreen and it was simple to understand but at times a bit fiddly as it lagged behind or was unresponsive. I got there eventually though!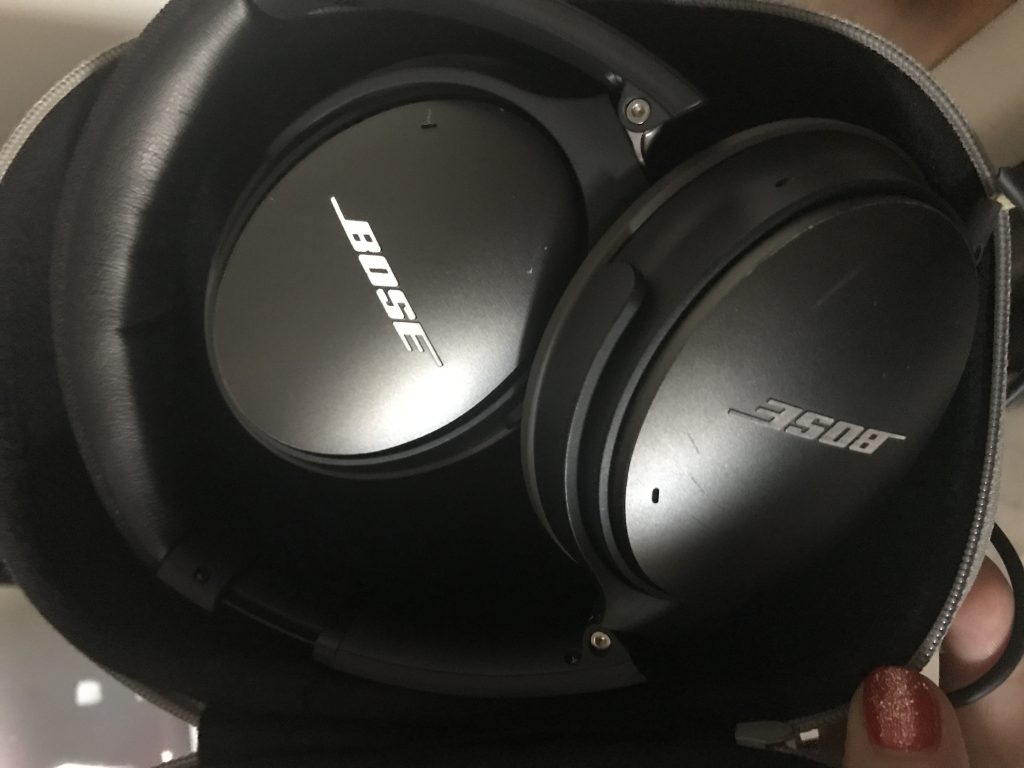 There was Wi-Fi on board which you had to pay for but I like the fact you can get an all-day pass if you have several flights. It worked well and wasn't ridiculously expensive. If you wanted to charge your devices there was both a socket and USB port.
Conclusion
I really enjoyed my AA First Transcon flight and if you can get it included on a First ticket to the West Coast it is worth a try. I would not pay much for it though over the Transcon business class as the only real value for me was in the aisle access and on this length of flight it is not quite so important.
It was good to see such good service from AA too as this is often an area I find them lacking in terms of warmth and friendliness.