There has finally been a half-way decent BA deal to Hawaii and this time direct from the UK. For those that took advantage, this review may be helpful or if you are thinking of any US domestic medium haul flight. If you do a oneworld flight to Hawaii the chances are you may end up on American Airlines from Los Angeles to Honolulu.  There are surprisingly few places you can fly on a flatbed to Hawaii from, despite the flights being around 5 hours long from the US west coast. You can fly with American from Dallas on their B767 or one of the daily flights from Phoenix on an A330 to get a flat bad but that's about it. That would be fine if you wanted to do London-Dallas-Hawaii but if you wanted to add in JFK then you would end up with equally bad seats on JFK to Dallas which is also a fairly long flight.
My advice is to try to break your trip up overnight if possible. I would strongly advise against doing London-Honolulu in one day unless you are able to sleep on a non-flatbed seat. The timings of the flights normally mean you are on the American Airlines domestic flight just as you are most tired. Remember you can put in a stopover on itineraries for free providing it is less than 24 hours. Another thing to remember is that Domestic First on AA only gets business class tier points so either 40 or 140 one way depending on the length of flight. For this flight it was 140. The exception are the 3 class transcontinental flights which get 210 in First class.
Lounges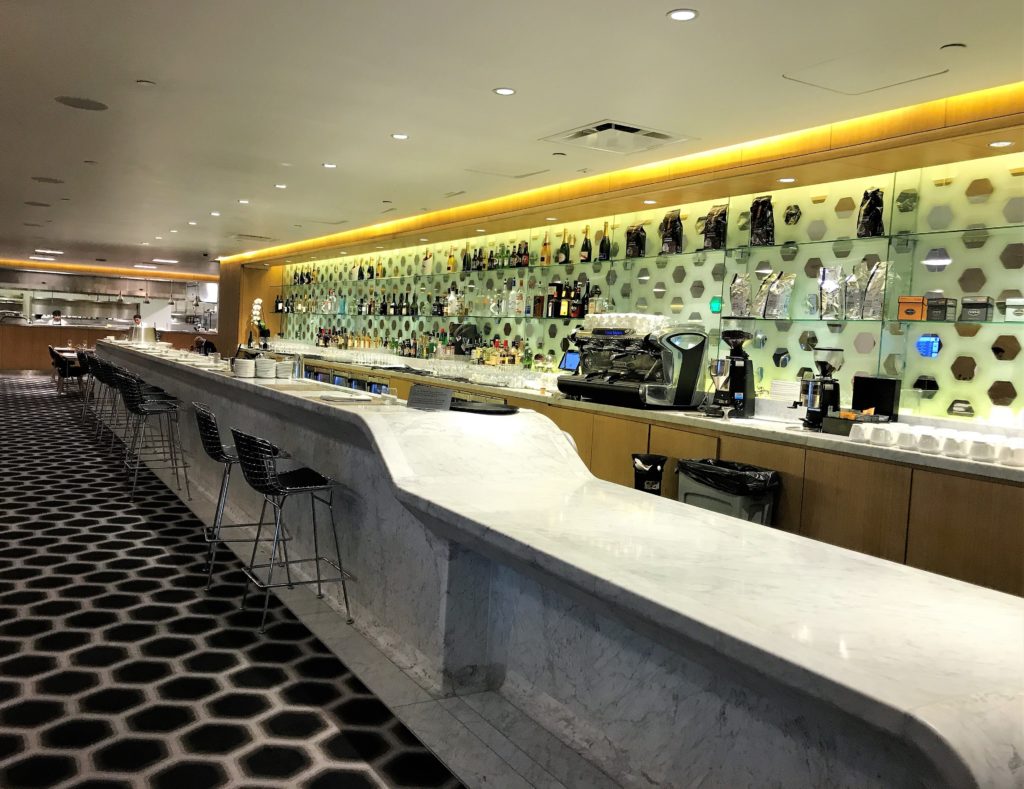 As a domestic First customer, you don't get lounge access unless you have oneworld status. If you have status there is a choice of lounges. American Airlines mainly fly out of Terminal 4 at LAX which is connected to the  Tom Bradley International Terminal by an airside walkway. The walk takes around 10 minutes maximum. This means you can access the oneworld business class lounge and one of my favourite First lounges worldwide, the Qantas First lounge which has a great restaurant and 3 choices of champagne including Perrier Jouet.
Although I went on this particular flight when the AA lounge was being refurbished, I recently visited the newly reopened AA Flagship lounge. I will, therefore, review that instead since I have covered the other lounges in the reviews linked to above.
The new American Airlines lounges are located in Terminal 4, so they are the best option if you only have a limited time. If you are oneworld Emerald or Sapphire (BA Gold or Silver) you can get access to the Flagship lounge on a domestic flight in any class. The lounge is nowhere near the standard of the Qantas lounge but I would say it is equivalent to the BA First lounge at Heathrow. There is a special dining area if you are on an International or Transcontinental First class flight that has à la carte dining.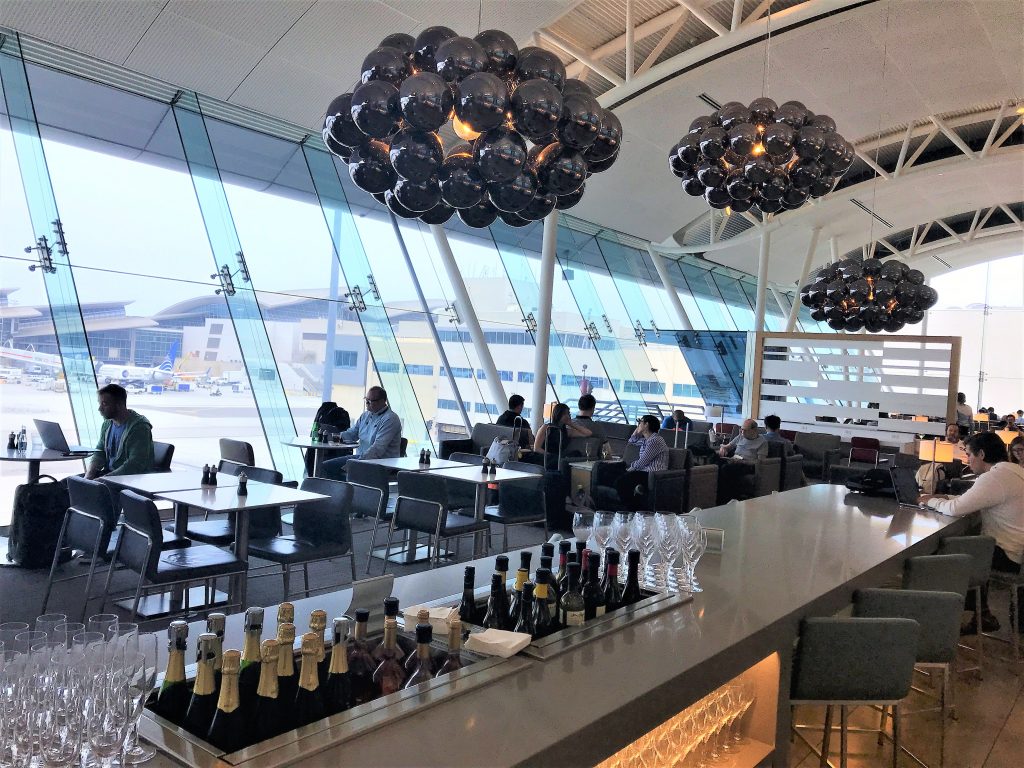 The main area of the lounge has views of the airport, a buffet, self service drinks and a dining area. Elsewhere in the lounge are more seating areas, showers and soft drinks/coffee.
The lounge has help yourself food with a wide variety and it all looked tempting. There were hot and cold options, healthy salads and dips (wouldn't be an AA lounge without some sort of hummus!) and sushi too.
For drinks, there is a champagne and wine bar that looks quite similar to British Airways' ones. This sadly didn't have the Bollinger that I had seen in the JFK Flagship lounge but a brand I hadn't tried, Delamotte, instead. This is a fairly small Champagne house that is part of the Laurent-Perrier group. I am not a huge Bollinger fan so I wasn't too worried. The Champagne was drinkable but nothing special. I was impressed with the wine selection though that had Miraval Rose (by Brad Pitt and Angelina Jolie) which retails at around £15-20 a bottle and a decent Albariño plus a red wine too.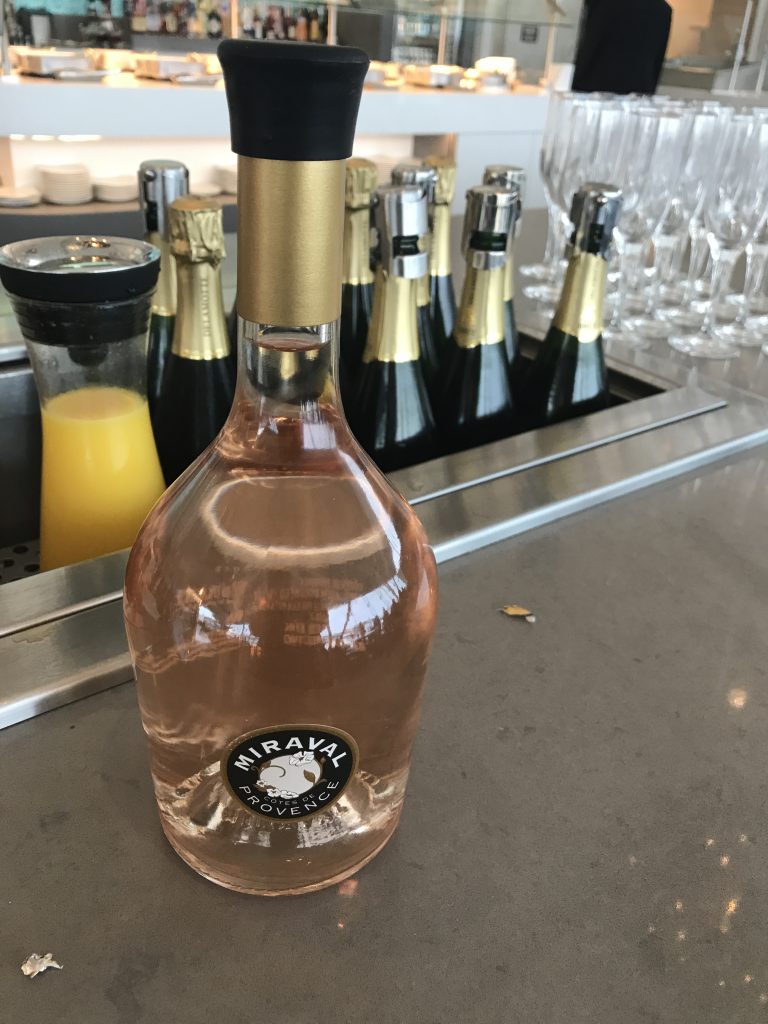 The spirit selection was equally impressive with Hendricks and Bombay Sapphire Gin and some interesting looking vodkas.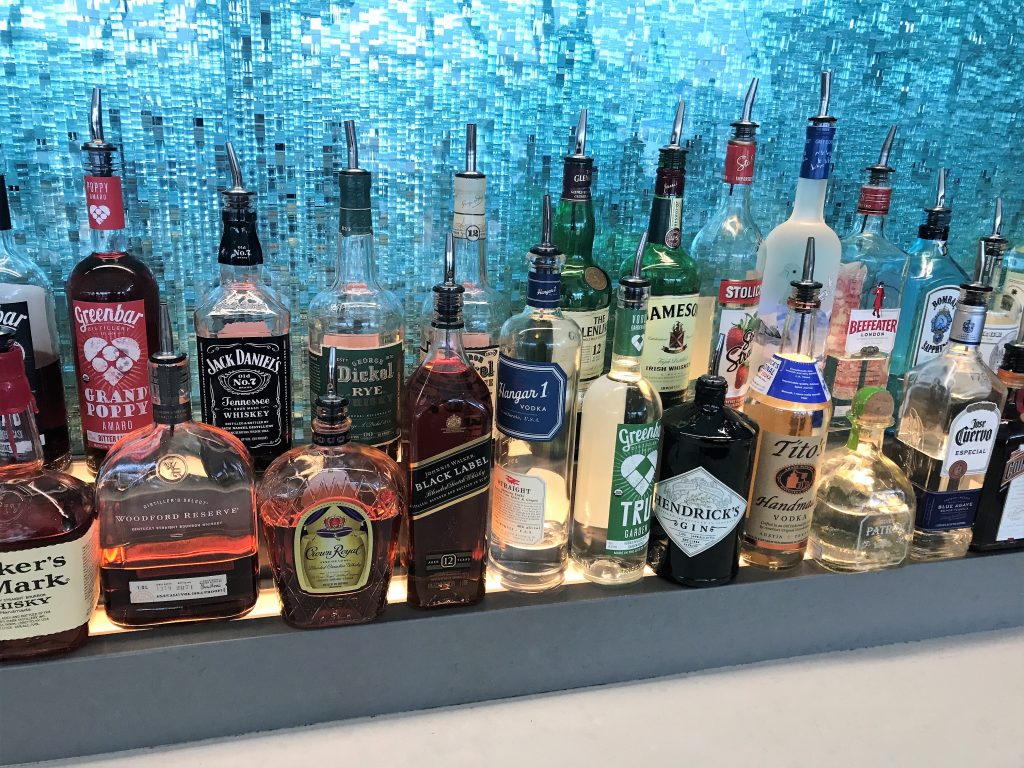 There is also the famous Bloody Mary bar with assorted options to make up the perfect Bloody Mary, including bacon!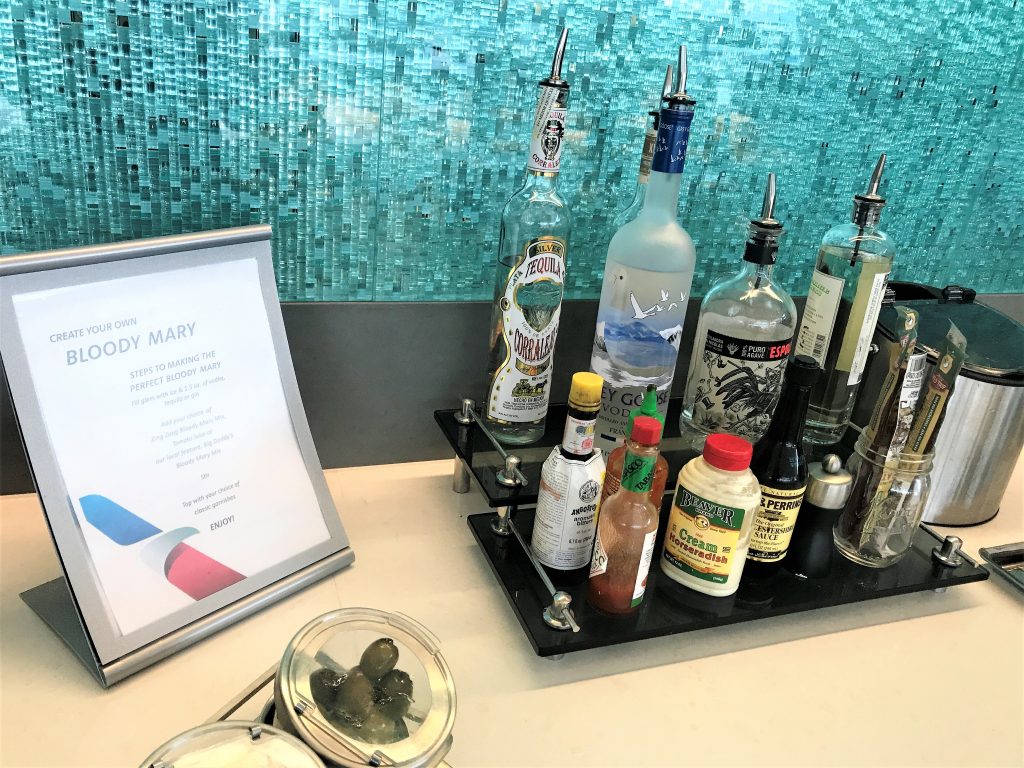 Honolulu lounge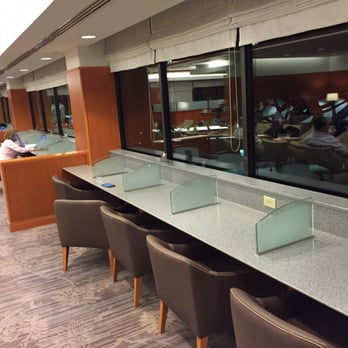 At Honolulu, the American Airlines lounge is the Admirals Club / JAL Sakura Lounge. It is a little tricky to find as you need to find the right set of steps up to it from the departure hall. It is situated in the central lobby of overseas terminal, across from central security checkpoint #3 and the Ralph Lauren store, located on 3rd floor above The Local @ HNL restaurant. It is not worth getting there early. It has been very crowded whenever I have been there and food and drink is pretty basic. The staff are friendly though.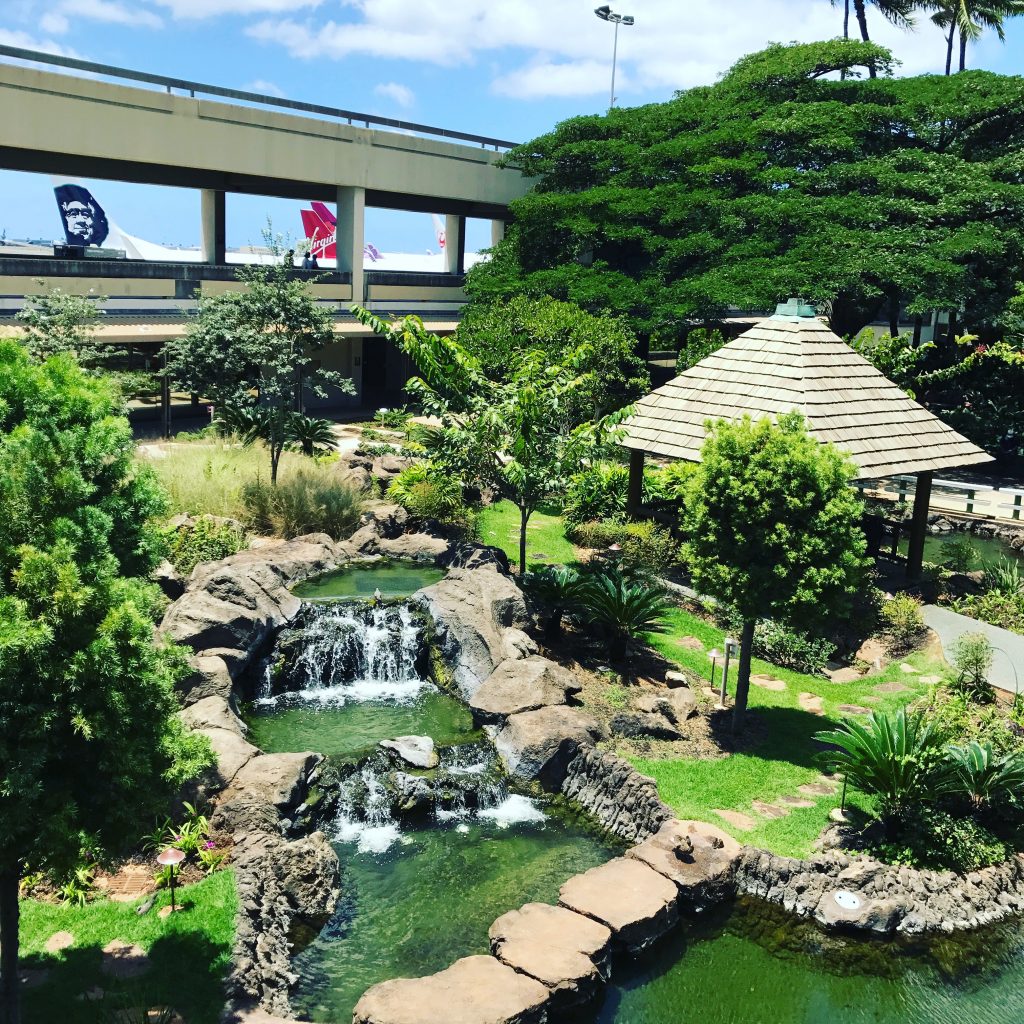 The flights
I will cover both legs of the journey since they were on the same aircraft and the only difference was the food served.
Boarding drinks are meant to be served on American Airlines domestic but it is a complete lottery what you get in my experience. Sometimes you get nothing, sometimes you get a choice of any drink made for you, sometimes you get a bottle of water and sometimes there are pre-poured drinks. And you thought BA was inconsistent!
The seat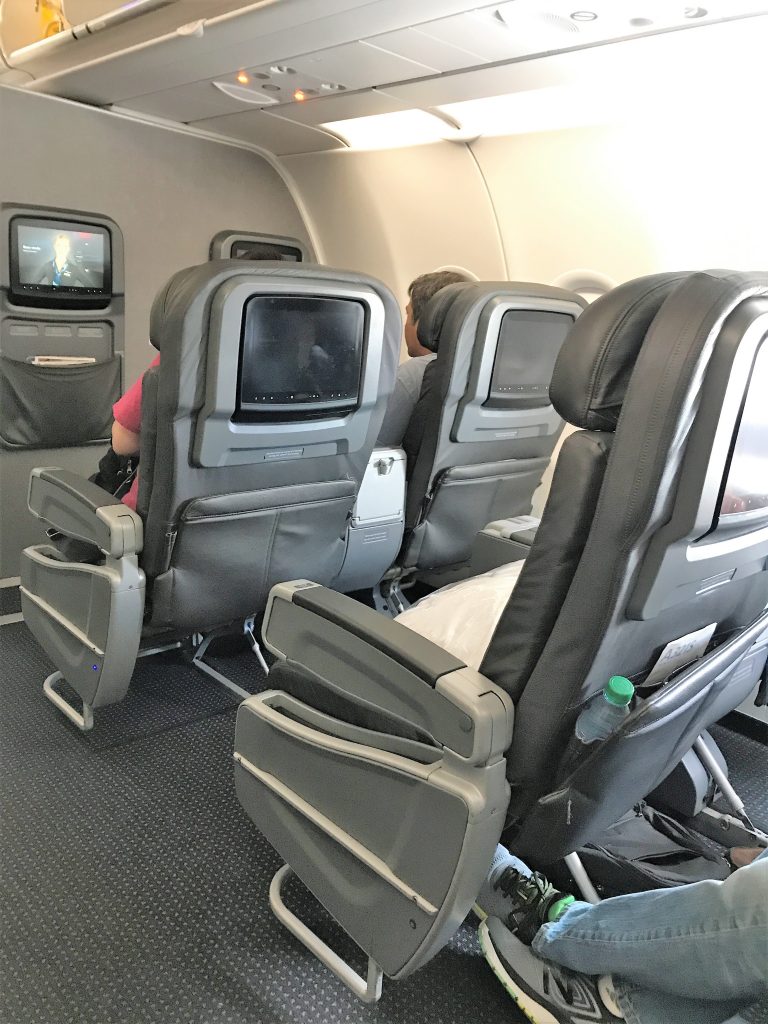 The seats on the A321 feel much thinner than the older seats on American's less modern aircraft. The seats are configured 2-2 in 4 rows in First. As they don't recline too much and there is a reasonable 38" pitch, it is not too bad getting out from the window unless someone is reclined and stretched out.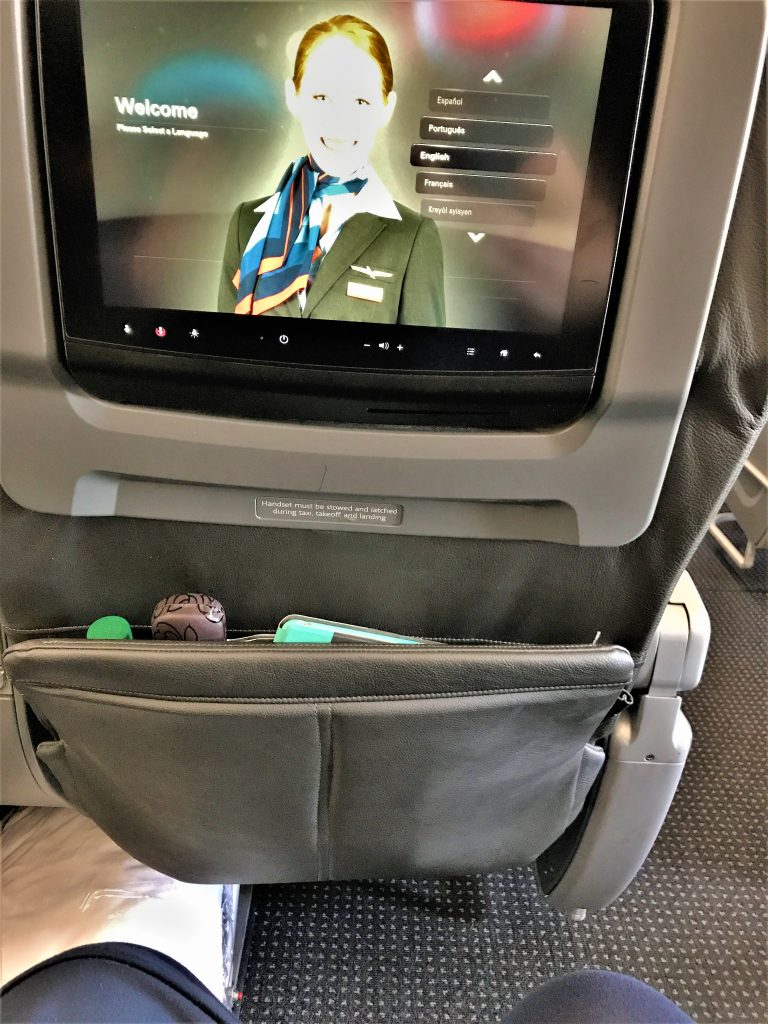 The seat is 21 inches wide and felt comfortable enough for a few hours but by hour 3, it was beginning to feel a bit hard. I prefer the older more padded domestic seats in terms of comfort. We were provided with a pack with a good size pillow and duvet but I couldn't sleep in either direction due to the limited recline seat.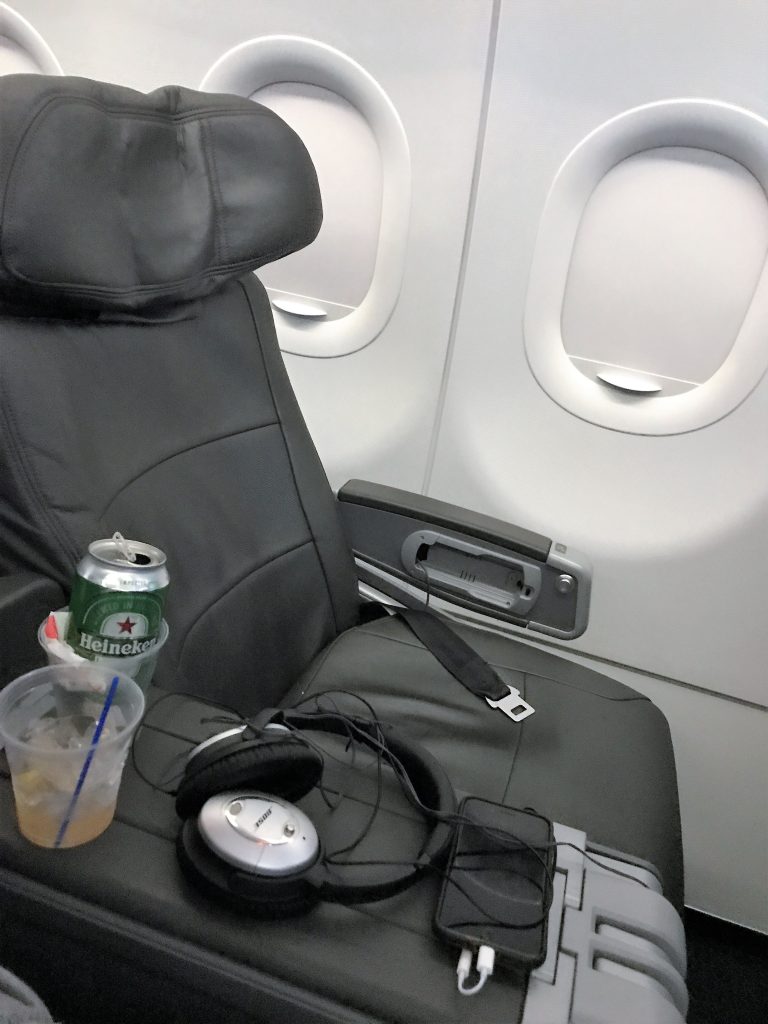 I advise booking your seat as soon as you book your flights. Every Hawaii flight I have been on has been full in First. On this flight I had already missed the front row so I went for 3C, an aisle seat for ease of getting in and out should I have a sleepy neighbour! I liked that there were two places to put drinks and bottles of water (see Bloody Mary photo below). There was a pull-out cocktail tray from the centre console and a flip down shared drinks tray on the back of the seat in front's console. There was also a large seatback pocket but that was it for storage space. It was fine for this length of service though.
Food, drink and service
I always find service on America Airlines (or indeed most US based airline) rather puzzling. Considering that generally, America as a country gives great customer service, the airlines seem unable to do more than the basics (and sometimes not even that). I found most of the crew pretty unfriendly, they weren't rude but they were very perfunctory. They seem to rush about getting the service done as quickly as possible, presumably so they can sit down. I can't fault the efficiency though, everything was delivered correctly (apart from the take-off drinks) and in a timely way.
For the take-off drinks we got bottles of water one way and a full drink service the other. After take-off another drink order was taken with the meal order. There is no choice of starter but you do get a choice of main. You can also pre-order your main course to make sure you get what you want. There is still the same choice as onboard though. You can do this for domestic business and first class flights between 30 days and 24 hours before your flight online. I had pre-ordered and both crews were aware I had pre-ordered and checked that was what I was expecting.
I had a Bloody Mary since I quite like AA's Bloody Mary mix with Tito's handmade vodka. Drinks are served with a bowl of warm nuts which is always a nice touch, although I wonder how much longer this will continue given that many airlines are stopping serving nuts due to allergies.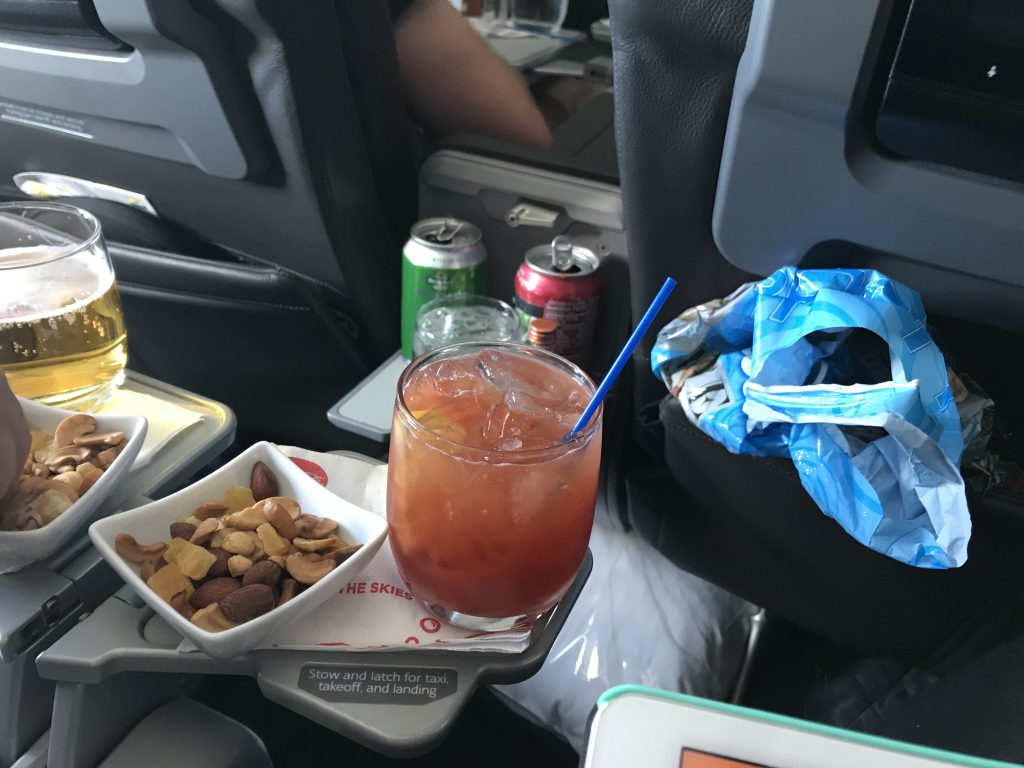 The wine choices are pretty bad – they are just about drinkable but that's as far as it goes. There is usually a new world Chardonnay and then a Merlot or Cabernet Sauvignon. The spirits are a better option with Bombay Sapphire Gin, Tito's vodka and Woodford reserve bourbon. They do also have sparkling wine, usually Prosecco, which is fine as a Bucks Fizz. The meals seemed to be fairly consistent on both legs. A tray with a tablecloth is delivered with your starter and a small side salad. The starter on both legs was basically some sort of mush which could have been a pâté or a dip, it was hard to say. It was green, herby and not unpleasant but pretty unidentifiable. On the way back it was a pink dip which was some sort of fish, probably salmon or trout but hard to say for definite. The crew just said fish when questioned! A selection of bread was also offered with the starter and dressing was offered for your salad to be spooned over your dish for you.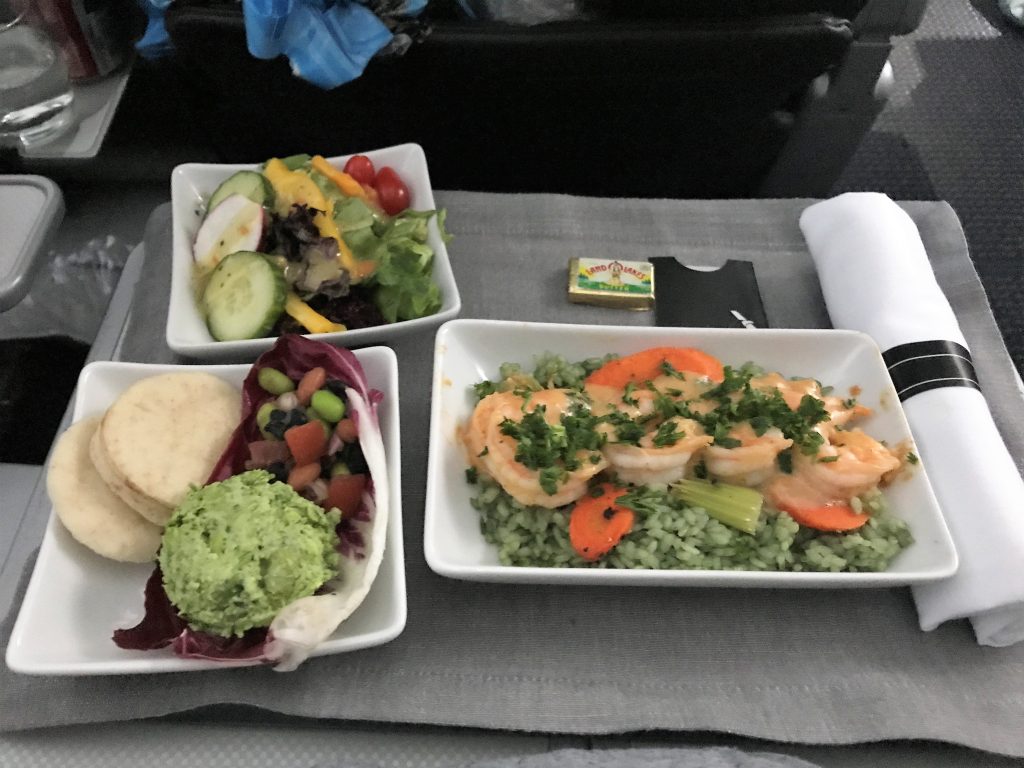 I had pre-ordered the prawns with coriander rice for the main course.  The main course was actually very tasty. The rice was a bit more interesting with the coriander through it and the prawns had not been overcooked either. After the main course, there was a choice of dessert – cheese or ice cream. Being a fan of the ice-cream sundaes I decided to go for one of those with a chocolate crunch topping. Though by the end of this trip that involved 5 flights with AA, I haven't touched one since! Bottles of water were also provided. Prior to landing we were offered a snack from a basket and another drink.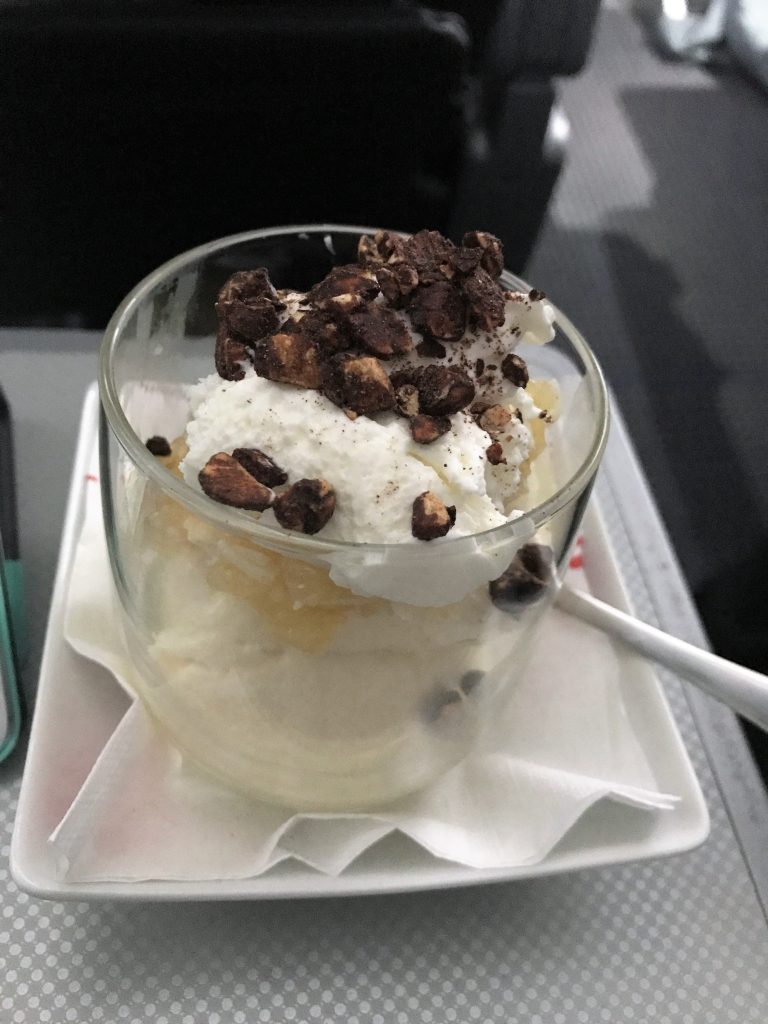 On the way back I had selected the wasabi crusted chicken which was very good apart from the slightly overcooked Pak Choi. The chicken was still pretty moist and had just the right level of kick with the wasabi.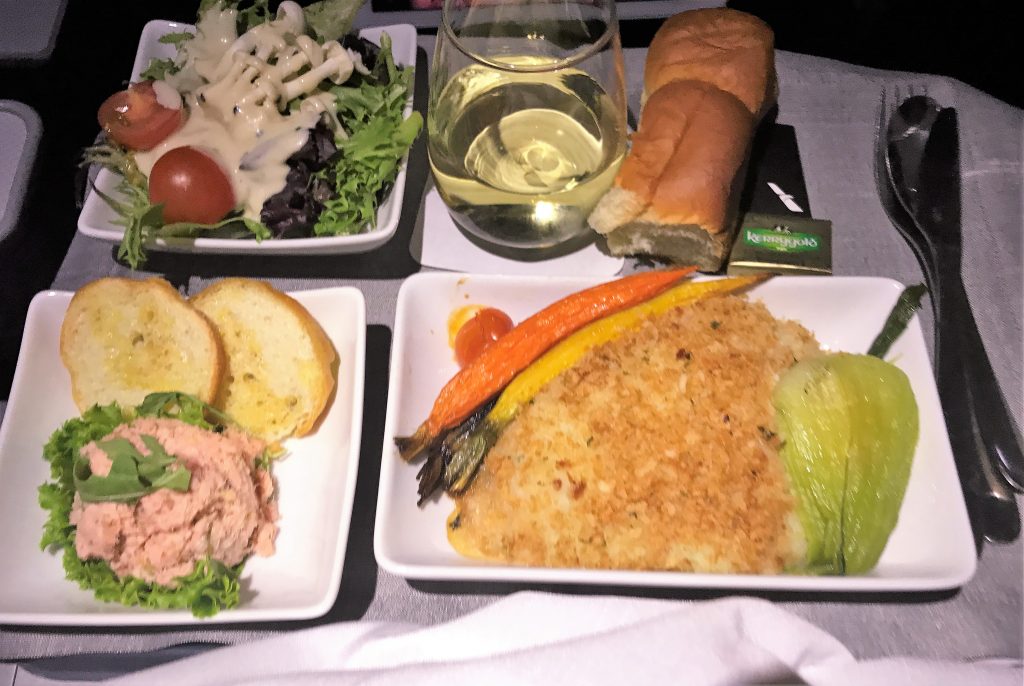 Entertainment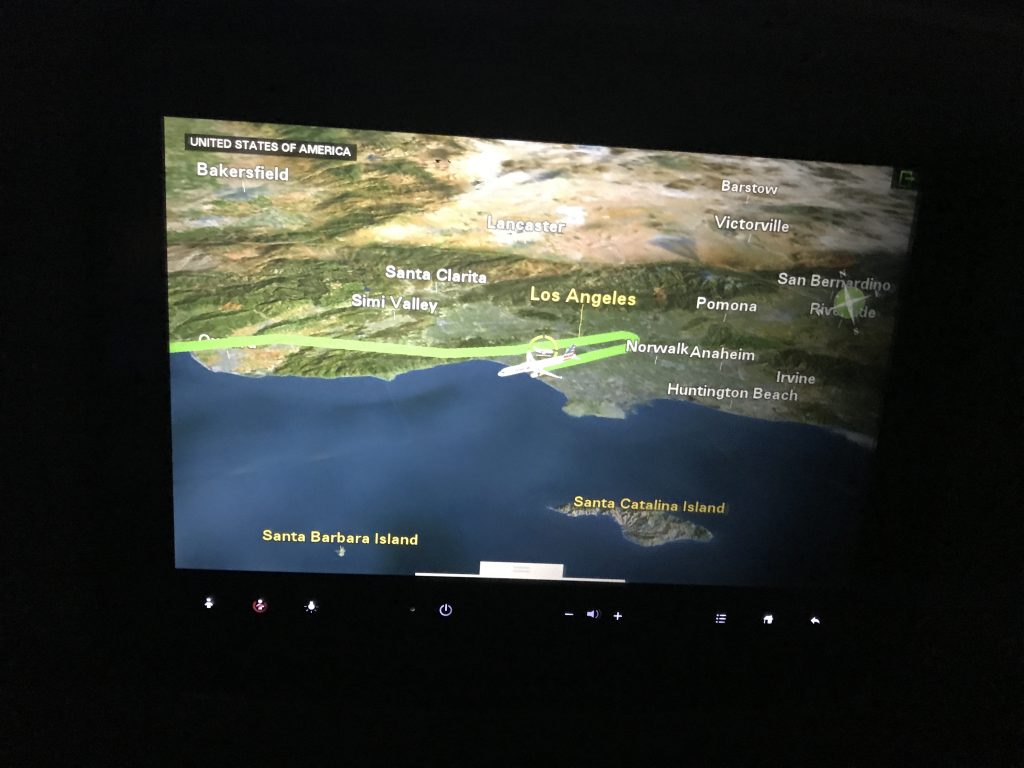 This is one area that American excel in on domestic flights. Their WiFi is pretty good and you can buy a daily pass which means you can use it on more than one flight if you are connecting from a JFK flight for example. Passes start from $7 for an hour and $19 for 24 hours.  I found the WiFi good enough to work with. Although it is not worth buying a pass just for the Hawaii flight as it doesn't work for the majority of the flight until you are close to land.
The seat back entertainment has a large library of entertainment, plus live TV channels like CNN International, CNBC, BBC World News and Sport 24. There were plenty of recent release films and TV series to watch as well as some older classics. The screen was high definition and the controls easy to work either from the screen itself or the handheld remote. On many AA aircraft now you can also stream the entertainment to your own device using the onboard WiFi for free. You need to have the AA app to do this.
Headsets are provided and there is both a universal power socket and a USB socket so you can charge two devices at once.
Conclusion
The seats are not great for such a long flight. I found them comfortable for sitting in for a while but they started to feel a bit hard after a few hours. I also found it almost impossible to sleep with the limited recline. The food was OK overall and the drinks would be fine as long as you aren't worried about decent wine. If you can get the flight from Dallas it would be more comfortable but it is a compromise with earning the extra tier points via New York JFK and then Los Angeles.