This is my review of the American Express New Centurion Lounge at London Heathrow T3.
Yesterday I was lucky enough to have a tour and sample the facilities for American Express' first Centurion lounge in Europe. Heathrow's Terminal 3 has always been a great terminal for lounges and the new Centurion lounge is a worthy opponent to many of the established favourites such as the Qantas and Cathay lounges (both still closed).
The lounge opens for the first time today, 12 October, but I was lucky to get a sneak peek yesterday.
Overview
"We are thrilled to introduce the Centurion Lounge experience to our Card Members traveling through London's Heathrow Airport and make their return to travel even more special," said Pablo Rivero, Vice President & General Manager, Global Lounge Experiences. "From bespoke interior design to signature bites from a Michelin-Star chef, we continue to raise the bar for airport lounges by providing truly unique, top-notch premium experiences."
Spanning over 7,000 square feet (650 square meters), the new lounge has a very British feel with a focus on London in particular. But Centurion fans will be pleased to know it still has all the things you would expect from an Amex lounge. I love visiting Centurion lounges in the States as they are consistently good with modern decor and high-quality food and drinks. London is no exception and I'd say it's the best one I have visited.
The lounge features:
Curated Global Menu by Michelin-Star Chef Assaf Granit: Chef Assaf Granit of Coal Office in London will serve as the Executive Chef. Chef Assaf Granit's menu ties back to London's rich multicultural heritage through signature dishes from his top restaurants across the globe. Dishes include his staple homemade Kubalah bread, fried pita chips with tahini, shakshukit, a beef & lamb dish with confit tomatoes and tahini, and for dessert, a "Oh 'My Baklava" olive oil cake with pistachio anglaise and rose water diplomat.
British-Inspired Tea Cart with Hot and Cold Beverage Selections: Celebrating the nation's tea tradition, the first-ever Centurion Lounge tea cart will host a selection of local hot and cold teas as well as pastries. In the mornings, Card Members can stay energized during their travels with immune booster drinks, mango infused coconut water, peach iced tea and more. The bar will have offerings from legendary mixologist Jim Meehan, whose menu features British cocktails like the Wayne's Collins, a mashup of the Tom Collins and White Negroni, and non-alcoholic mixtures like the Hare of the Fog, a Negroni riff featuring England's own Seedlip spirit and Aecorn aperitifs. The lounge will feature global wines sourced from France, Italy, Argentina, and more, exclusively selected by Wine Director Anthony Giglio.
Seasonal Soapsmith Products by Samantha Jameson: The new lounge will host a collection of award-winning, bespoke scented bath and body care products from London-based Soapsmith. Founder Samantha Jameson's line of six signature scents is inspired by different areas of London and made by a family of highly skilled soapsmiths with local ingredients. The scents will be rotated seasonally in the lounge, starting with "Hackney," a tribute to the borough where Samantha grew up.
British Art and Design: From a moss wall that nods to London's famous Hyde Park to a series of architectural pencil artwork by Minty Sainsbury, the lounge interior will transport guests on a journey to discover London through design. The lounge will feature custom furniture sourced from UK-based producers Konk, Naughtone and Deadgood and an art gallery curated by Art Story, including Norman Parkinson's fashion photography as well as original pieces by Carne Griffiths and Stephen Marshall. Each artwork contains a QR code so Card Members can digitally engage with it and learn more about the piece and artist. The lounge will also feature luxury and modern lighting designs by Lee Broom and Tom Dixon, two of the UK's leading product designers in lighting design.
Location
All the other lounges in the terminal are grouped together in a row. This one is located where lounge A was (no one can remember what it used to be).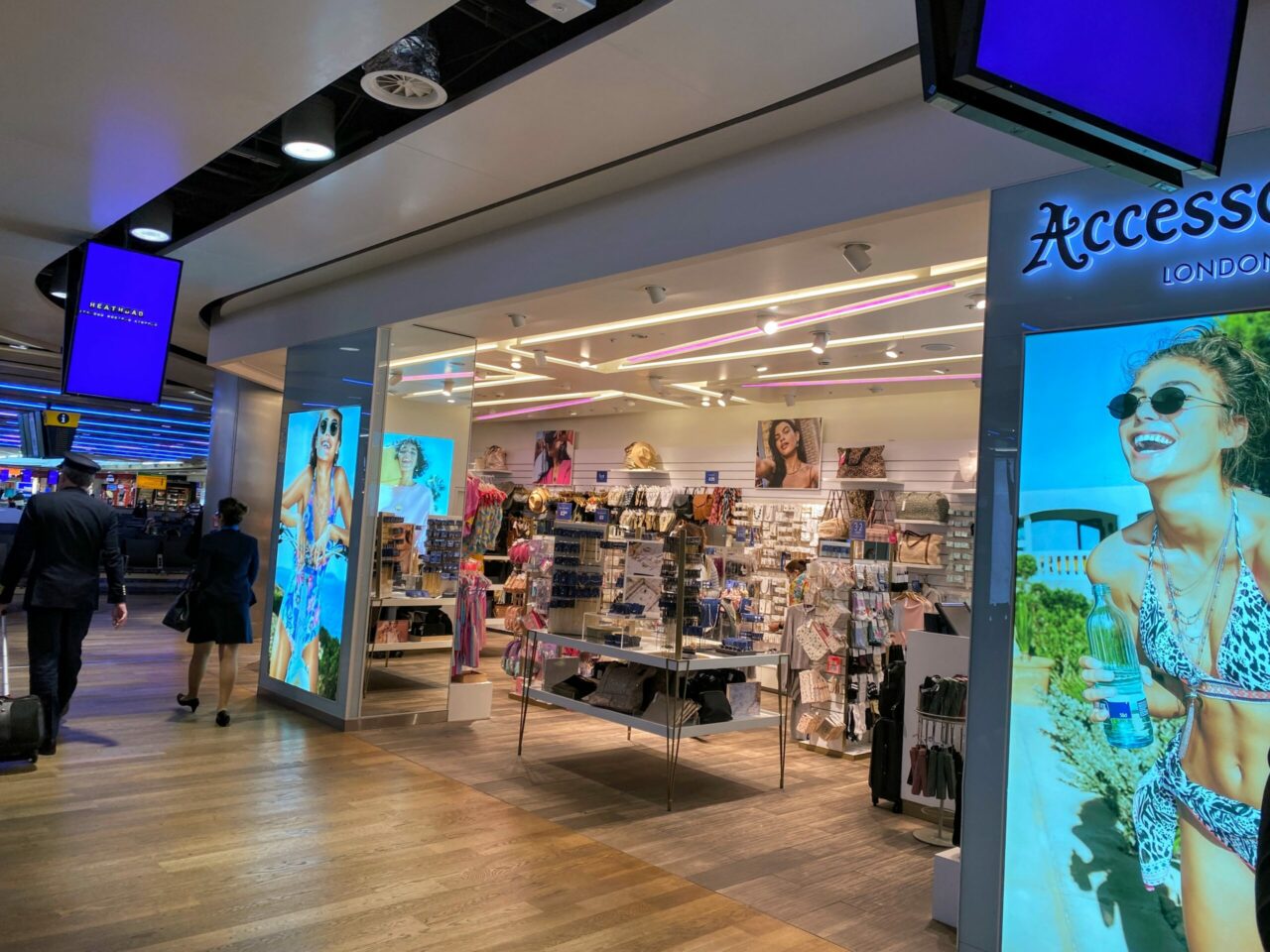 You need to look for Accessorize which is no 20 below on the map and the lift to go to the lounge is right next to it. If you turn right as you come out of security and keep going you should come to it eventually!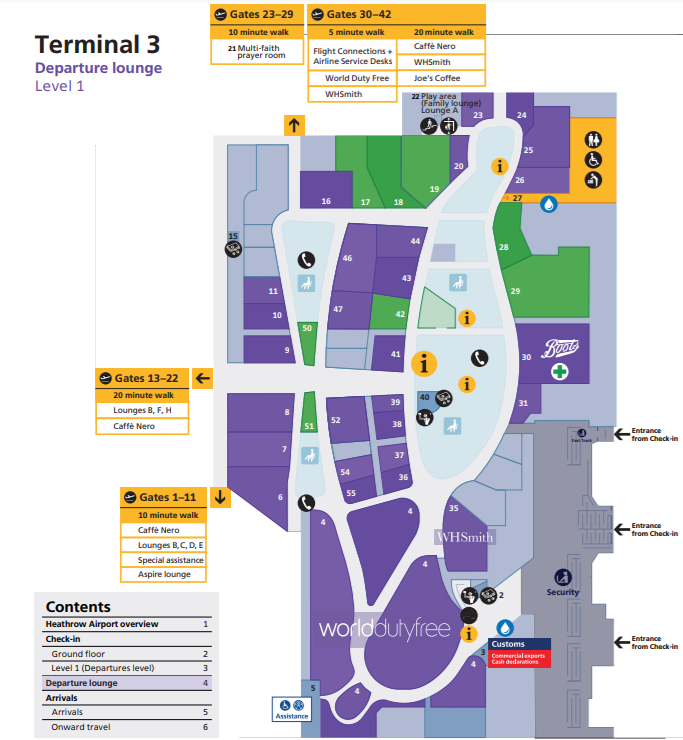 Hours and access
The lounge will be open from 6am to 6pm.
Centurion lounge access is a benefit for Platinum and Centurion America Express Card Members. You can find a lounge at the Global Lounge Collection website or by using the American Express App. You can also check into select Centurion Lounges through the mobile check-in tool within the American Express App.
As well as American Express Centurion Lounges you can also access Escape Lounges – The Centurion Studio Partner, Delta Sky Club for Card Members flying on Delta, Priority Pass Select Lounges upon enrollment, Airspace Lounges, Plaza Premium Lounges, select Lufthansa Lounges when flying Lufthansa Group, and Additional Global Lounge Collection Partner Lounges– with lounges across 140 countries and counting.
The lounge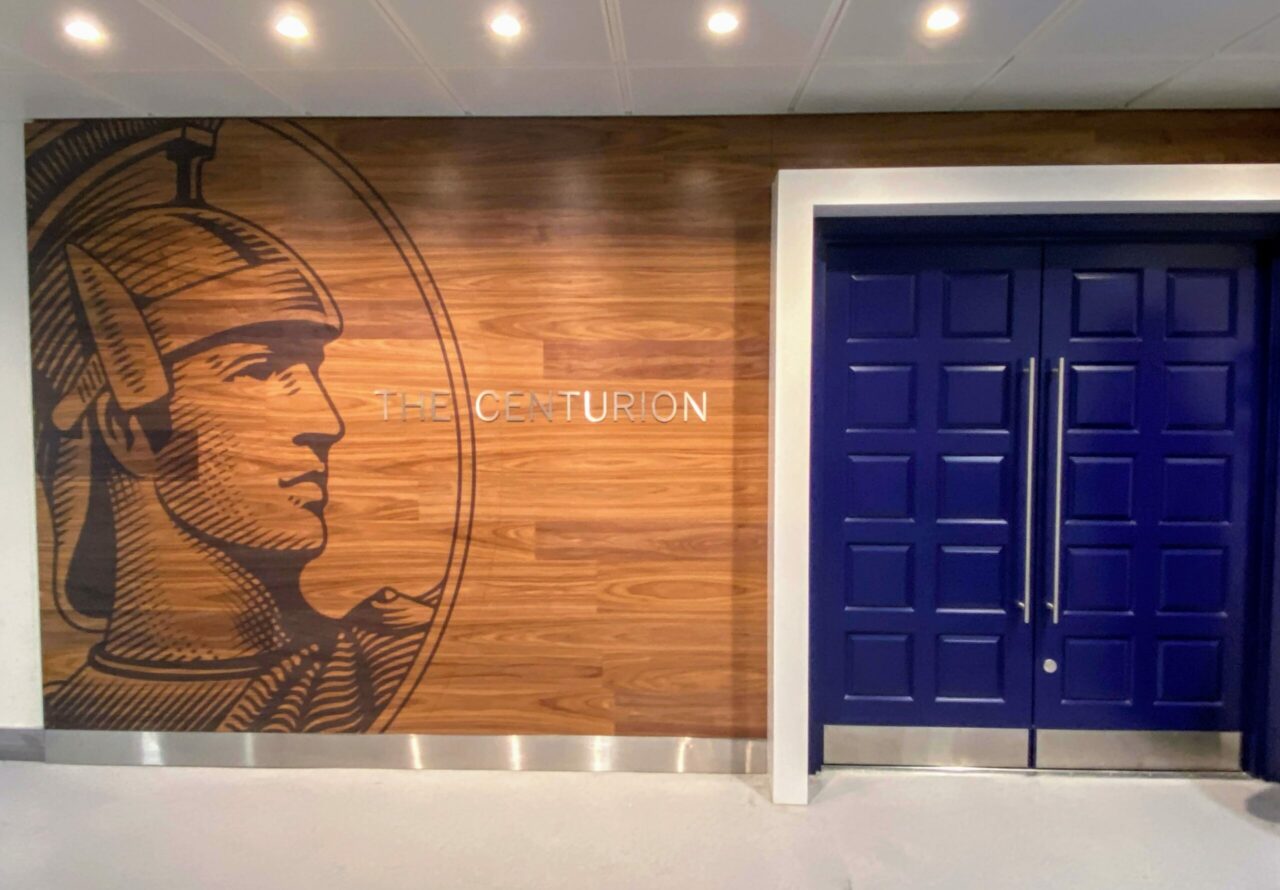 The lounge entrance is fairly typical for a Centurion lounge and you then sign in at the desk before being escorted to a seat due to trying to maintain social distancing. You are still free to move around when in the lounge.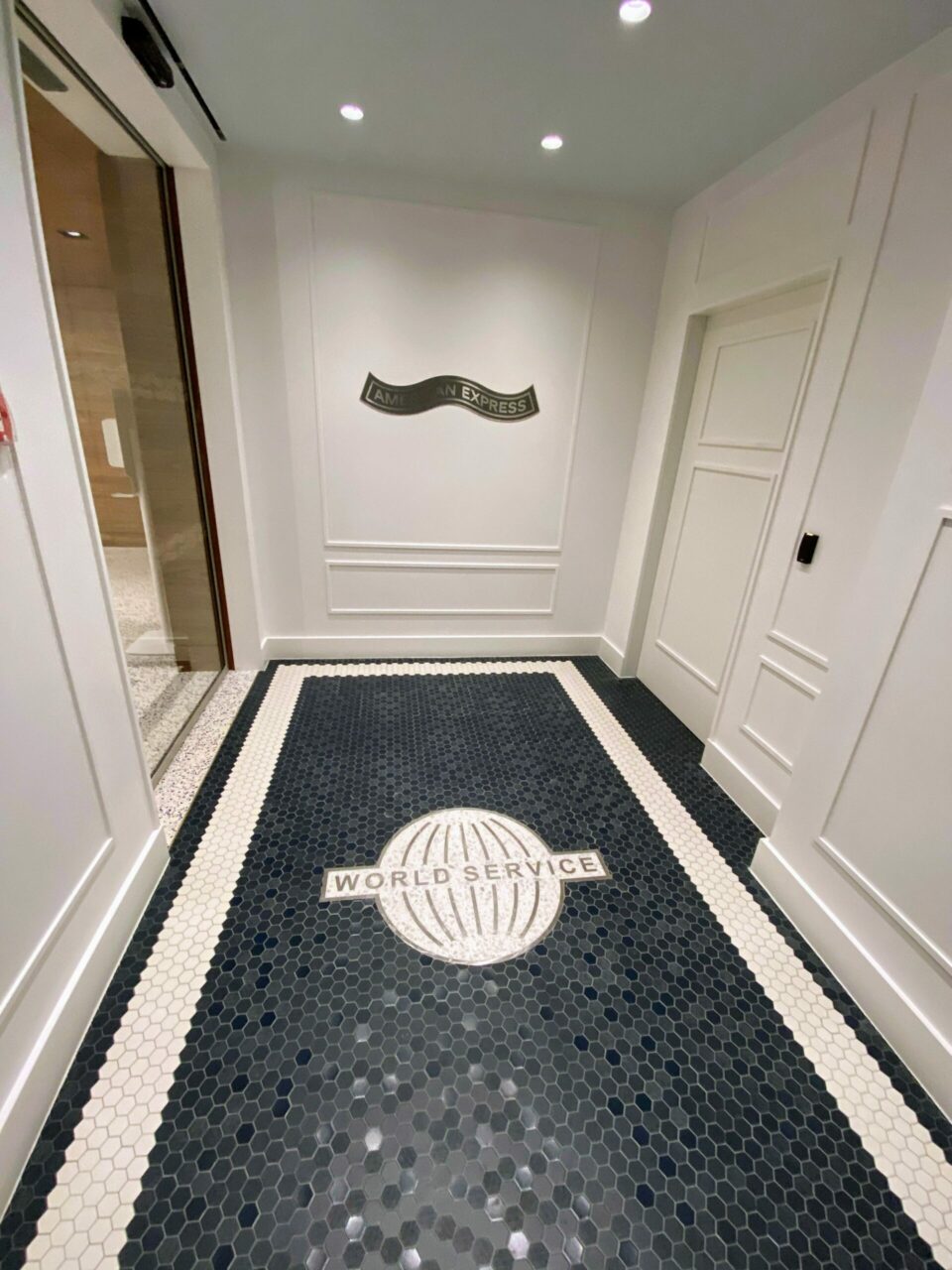 The living wall behind the desk represents Hyde Park.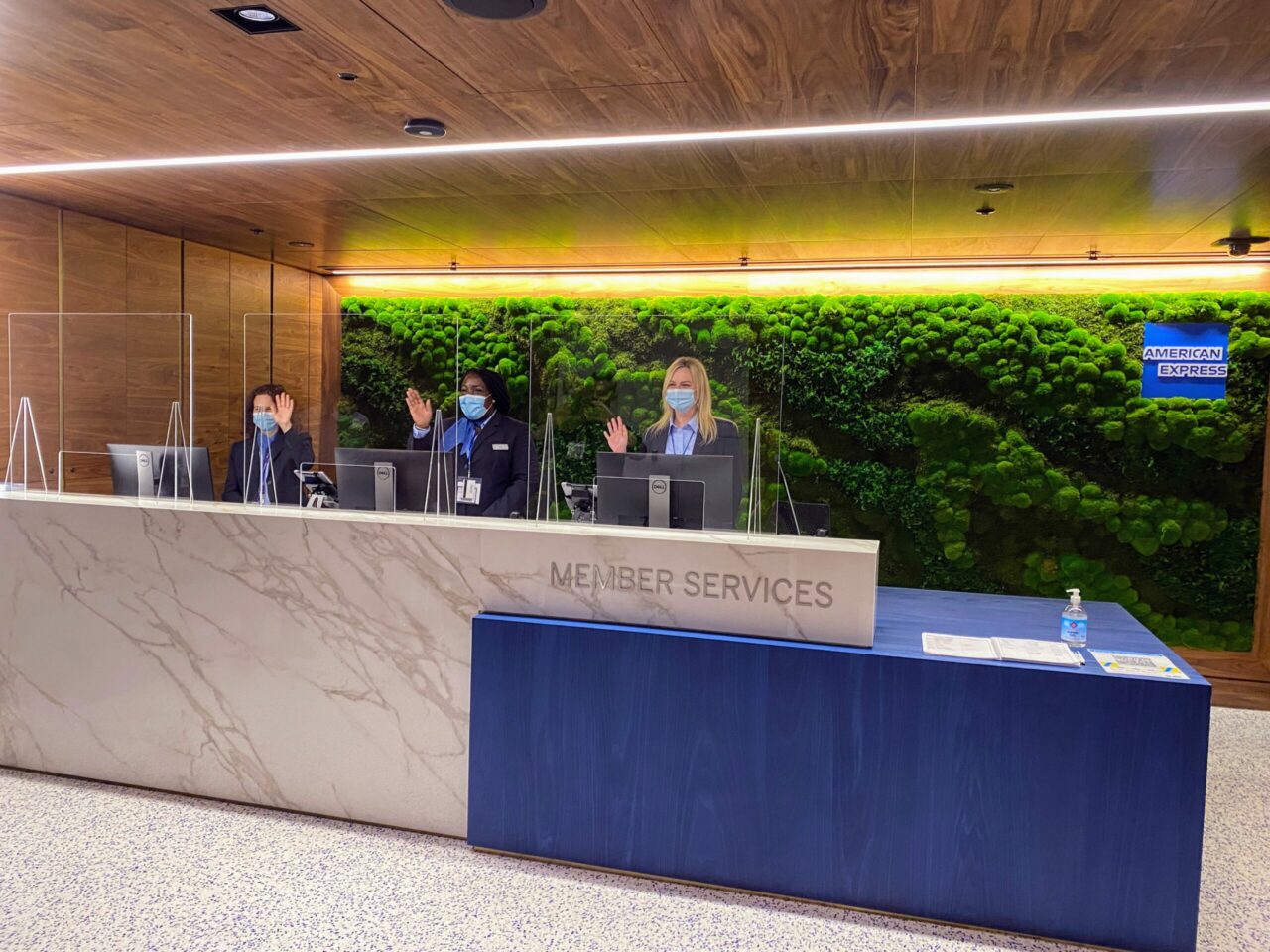 As you walk down the corridor there is an impressive display of art along the wall, which you can scan the QR codes from to learn more.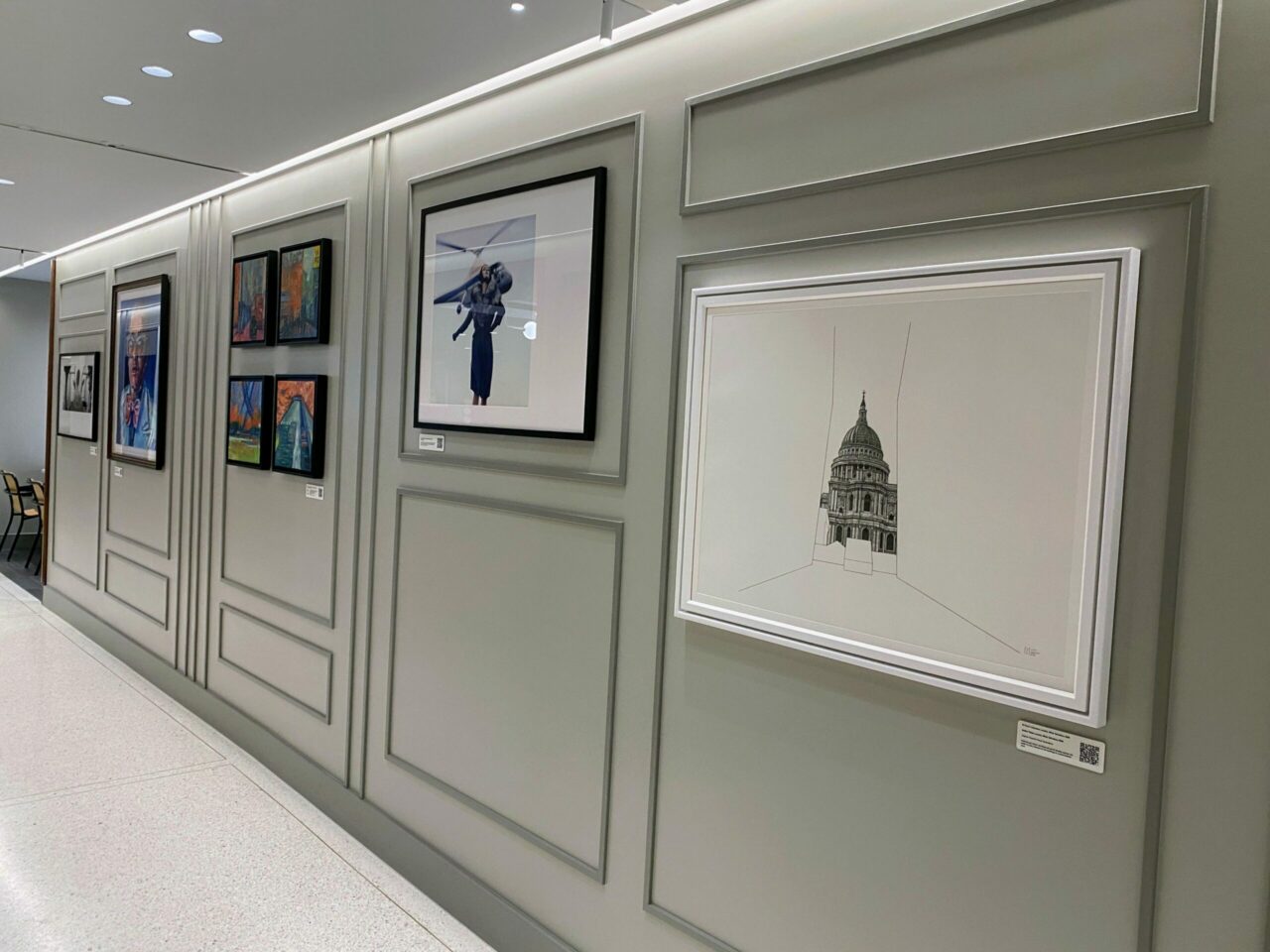 This was my favourite painting.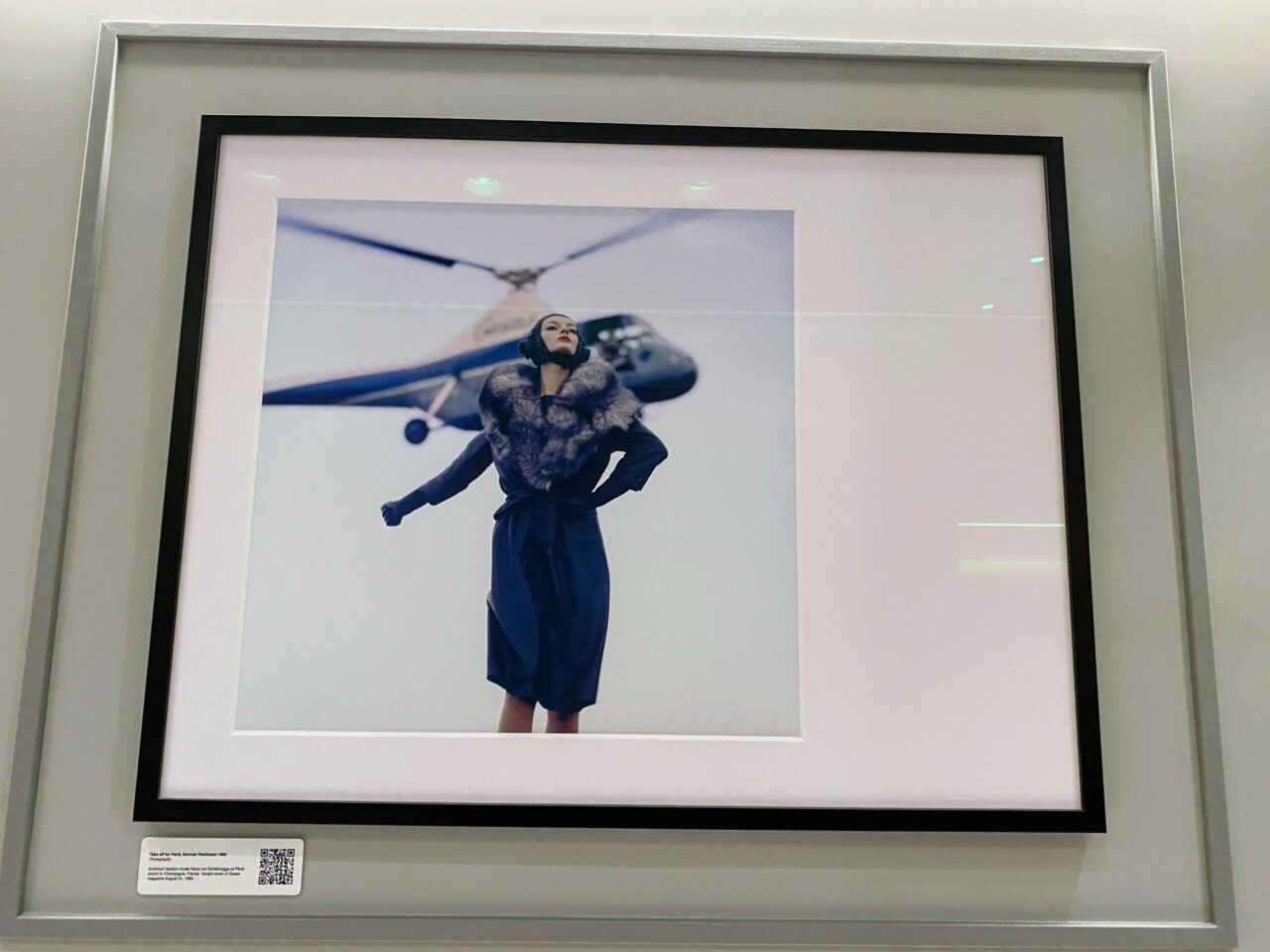 First is a work area with a communal desk which had pop-up power points in the desk. Much of the design and most of the lights in the lounge are by British designer Tom Dixon OBE.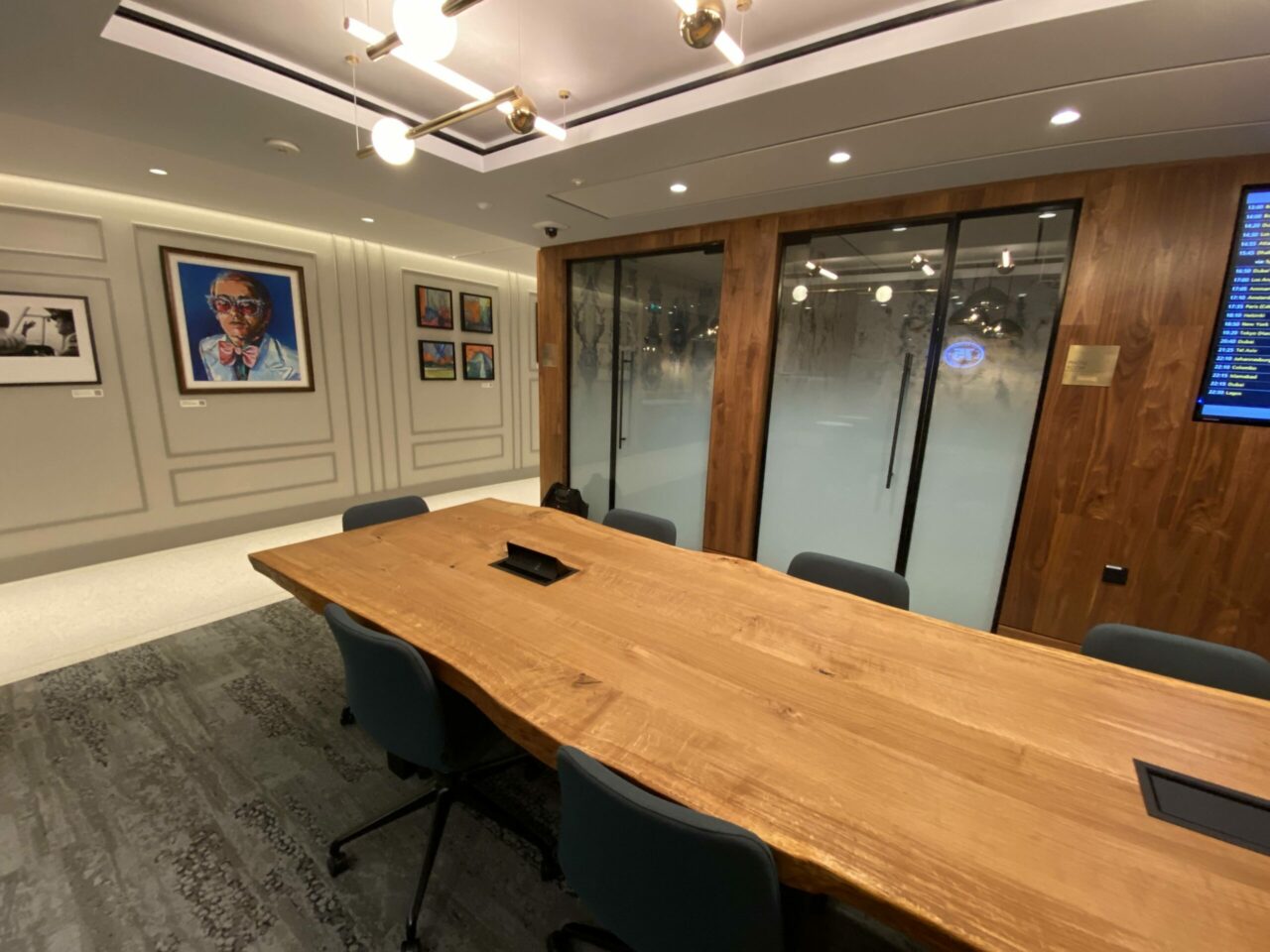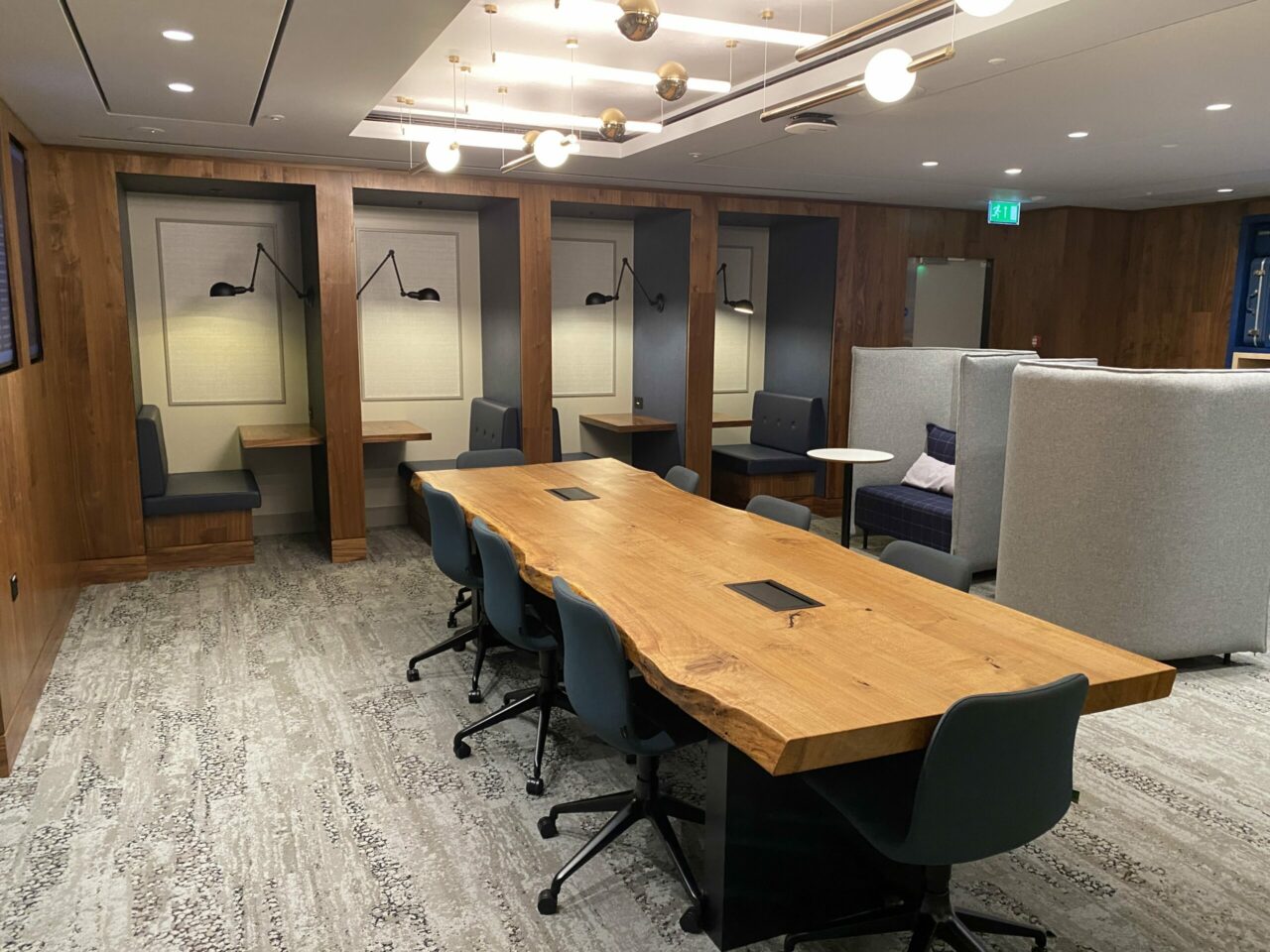 I liked the way the lounge is divided into different areas and functions. It feels like a very substantial lounge and almost every traveller's need has been thought of.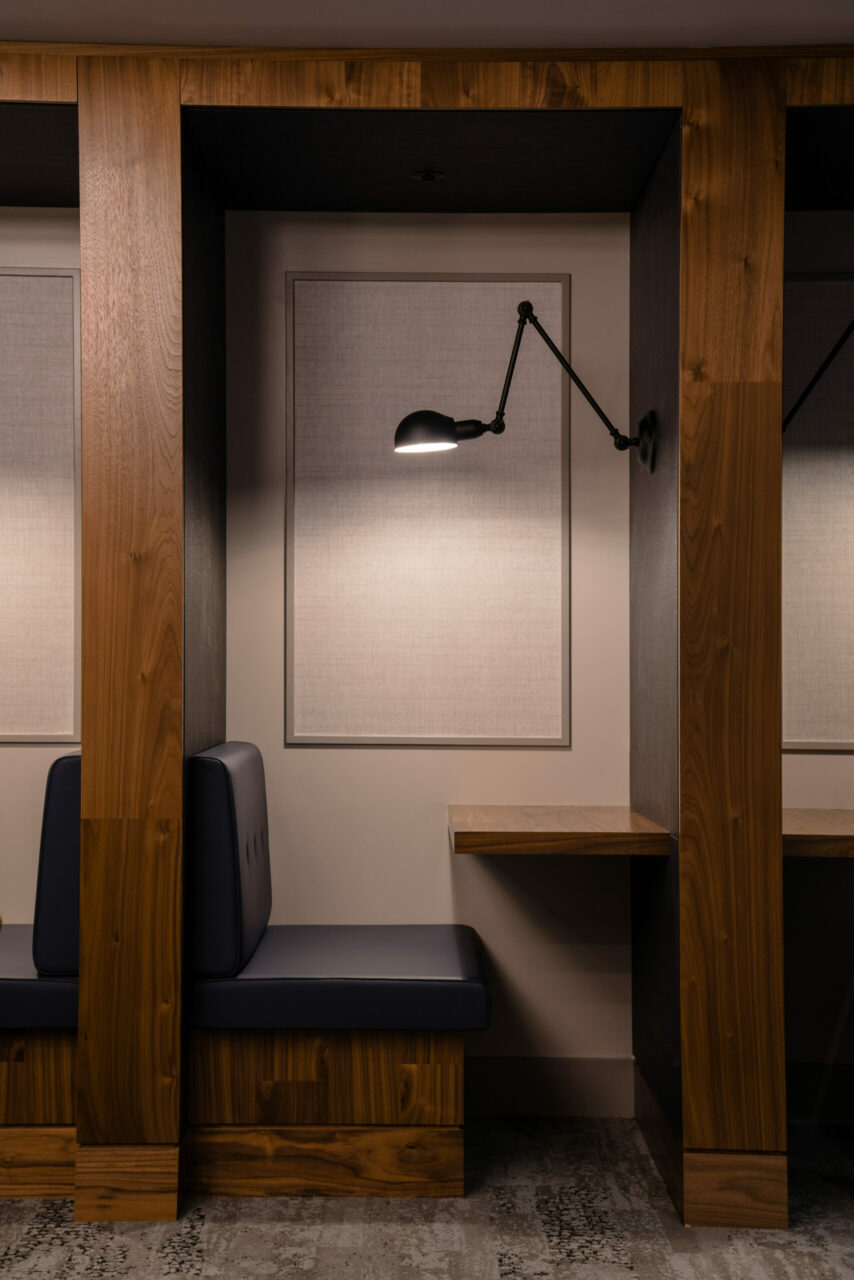 The individual booths in this area are perfect for work in peace and quiet and they even have wireless charging through the wooden desk.
If you want even more privacy there are two rooms with doors that are ideal for phone calls.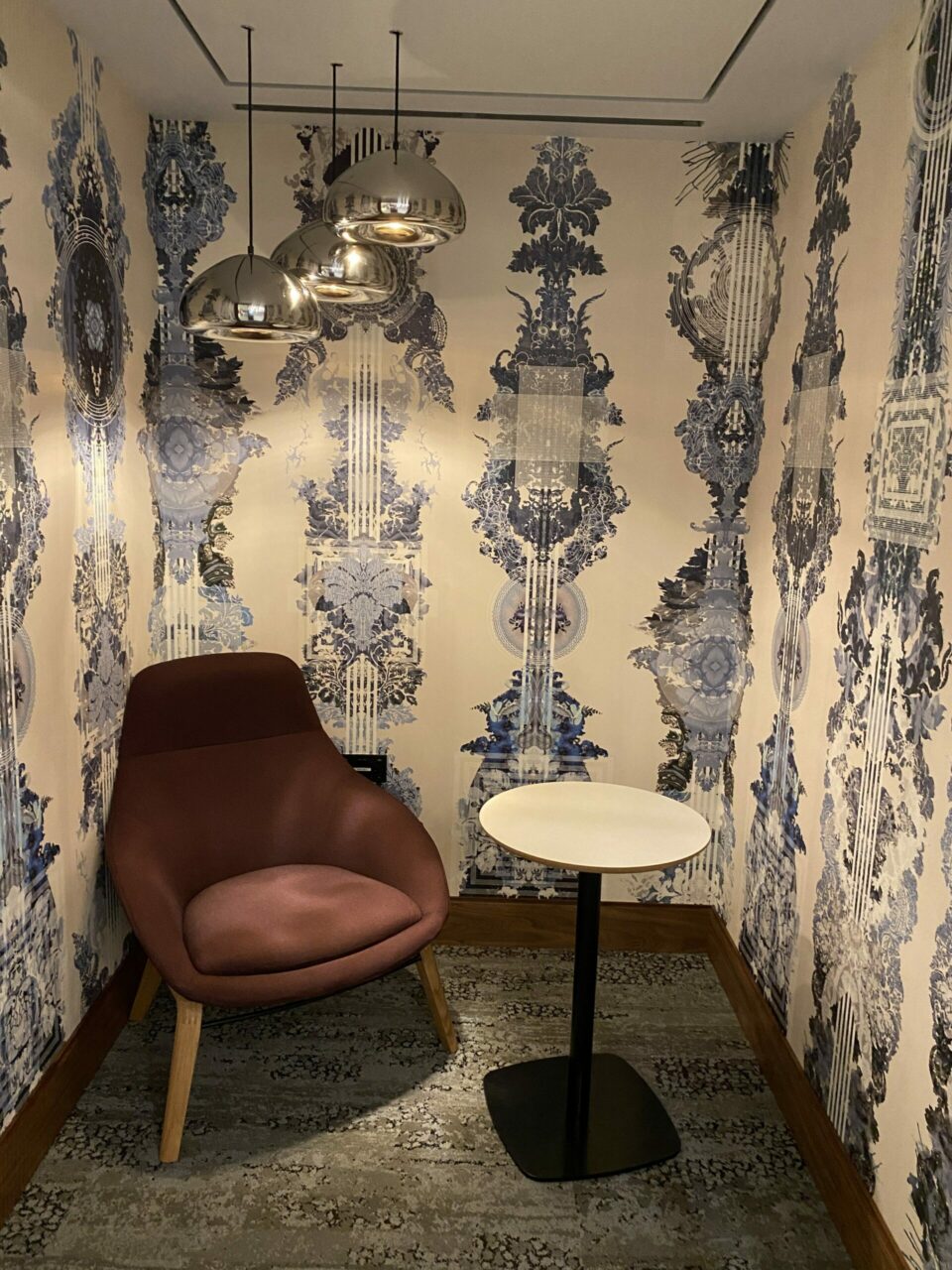 There are several walls that house a TV surrounded by British books and various objects in a quirky wall.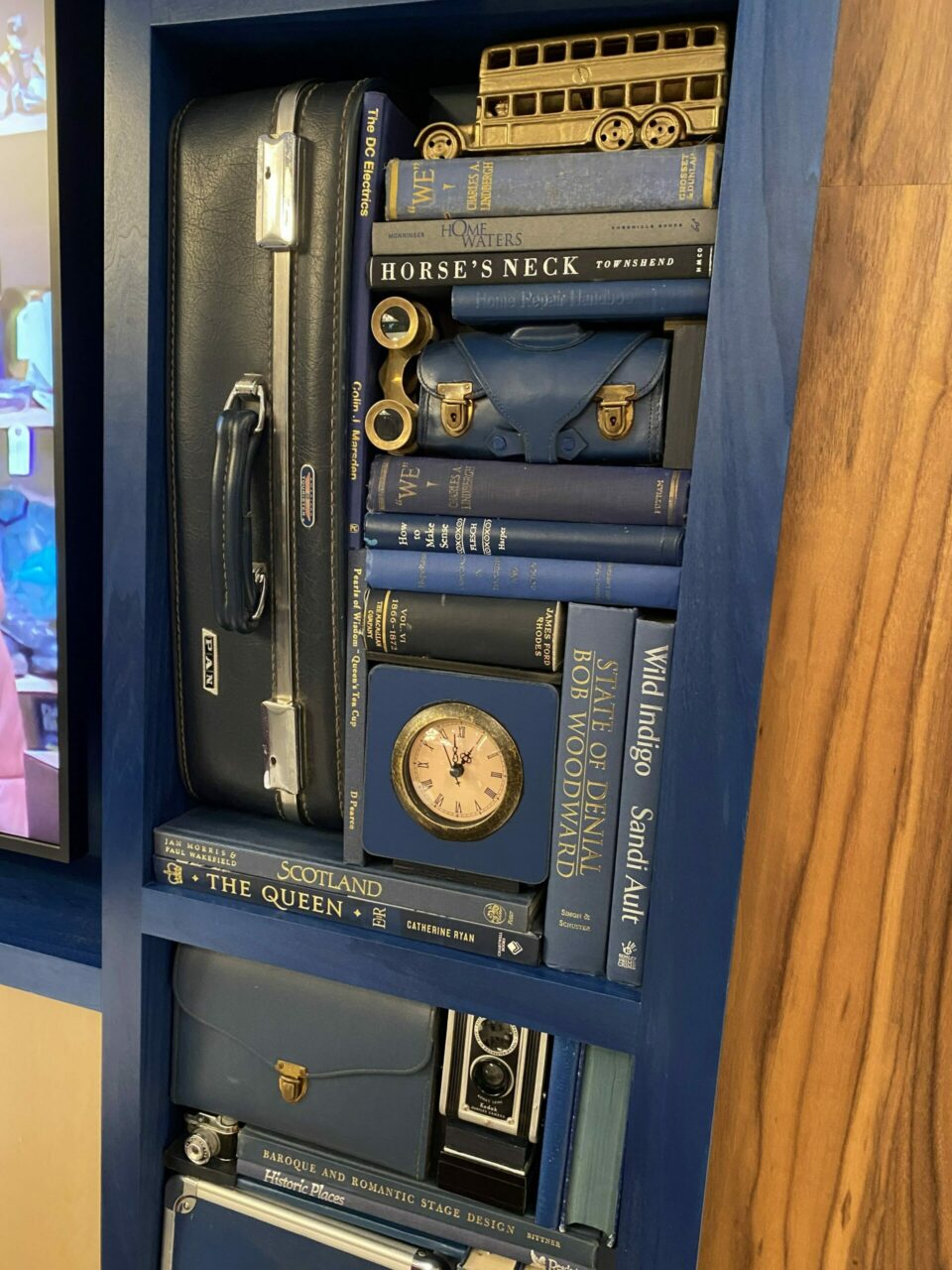 Next you walk through to the bar and restaurant area.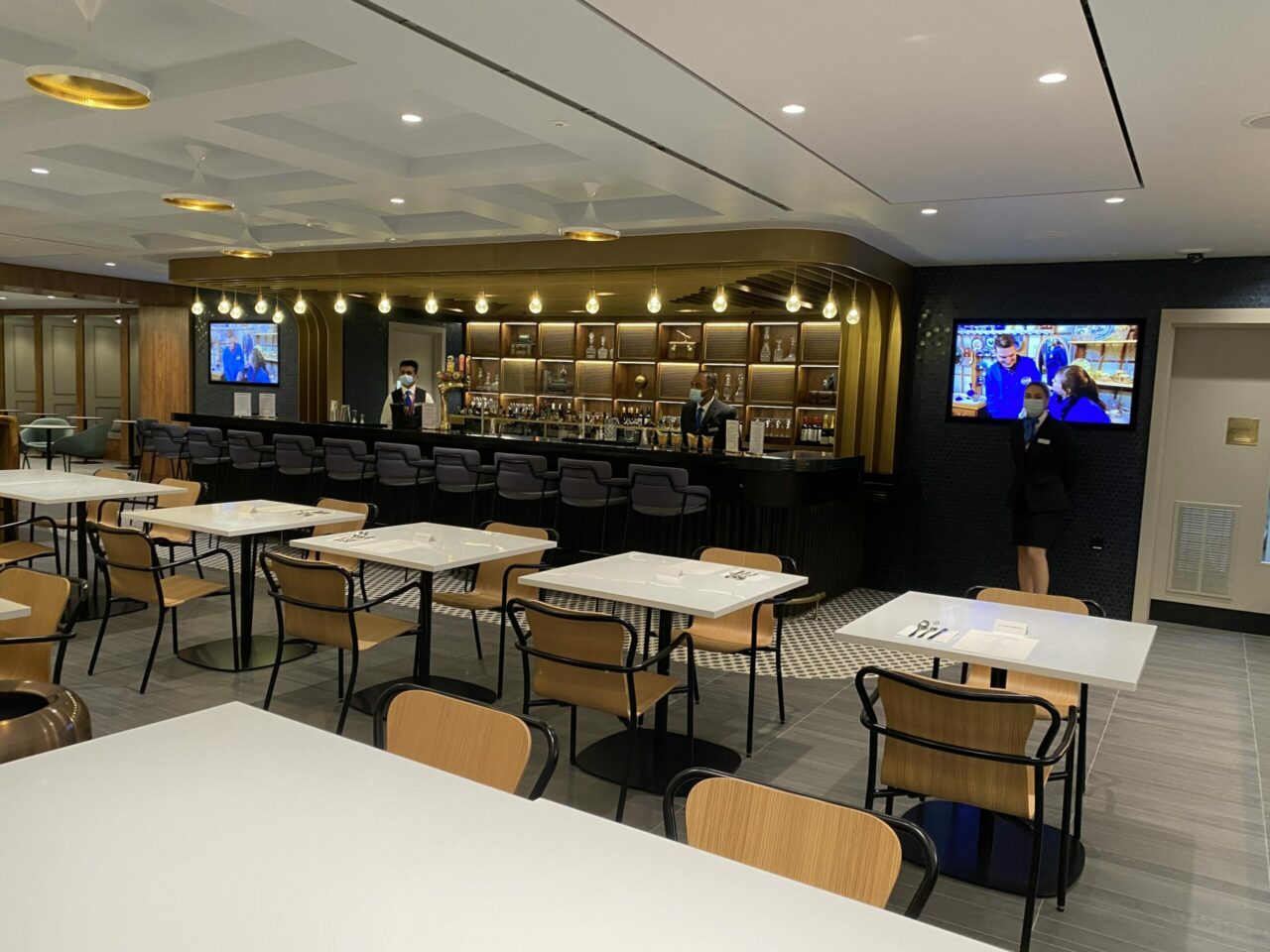 To the left of this is a small area for afternoon tea with a print of a landscape from above which reminds me of Amex with its colour scheme.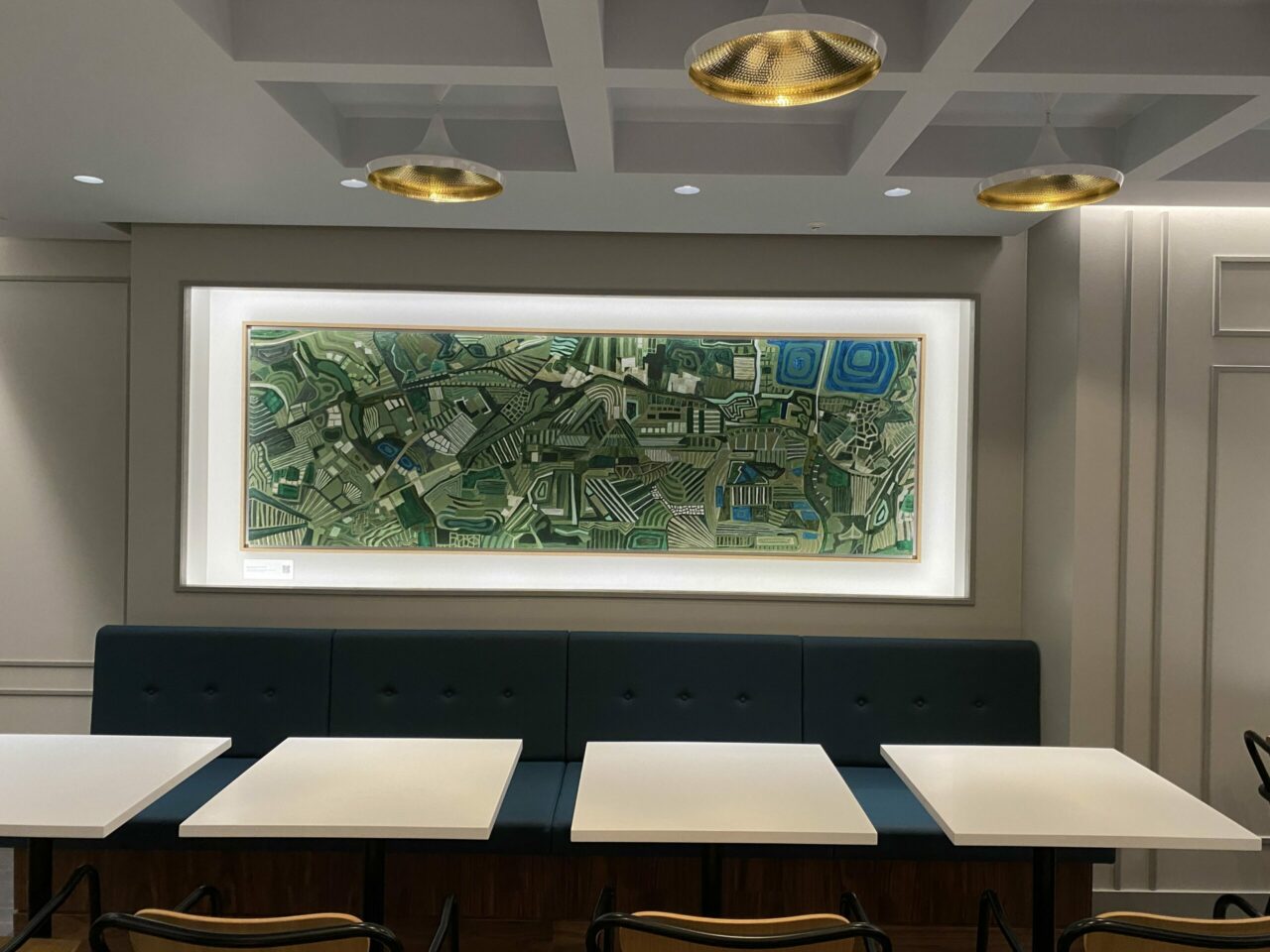 This is followed by another area with comfy chairs and a Thames print.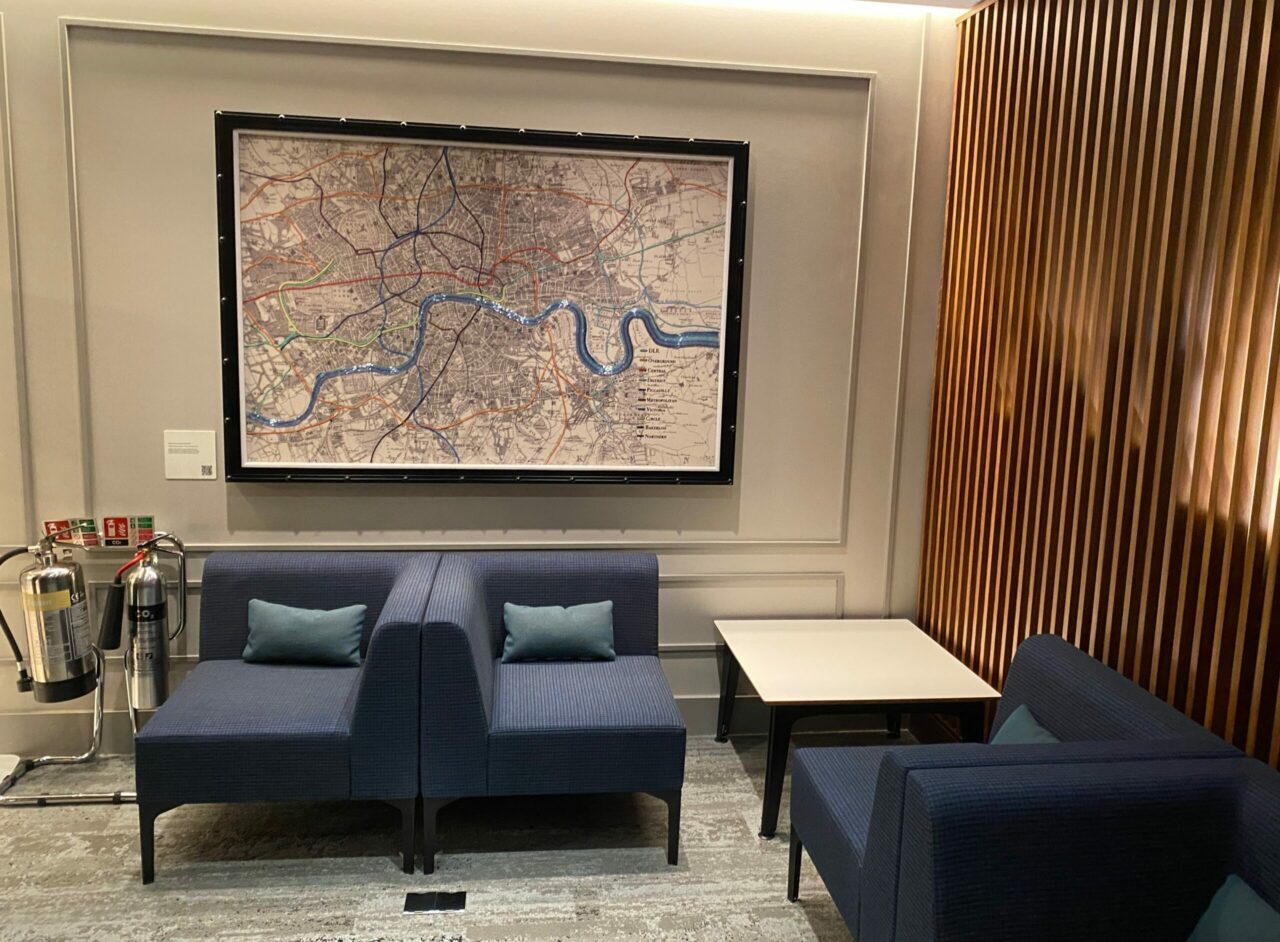 Just past here is a small slightly darker room ideal for just relaxing with a drink. I love the London skyline effect.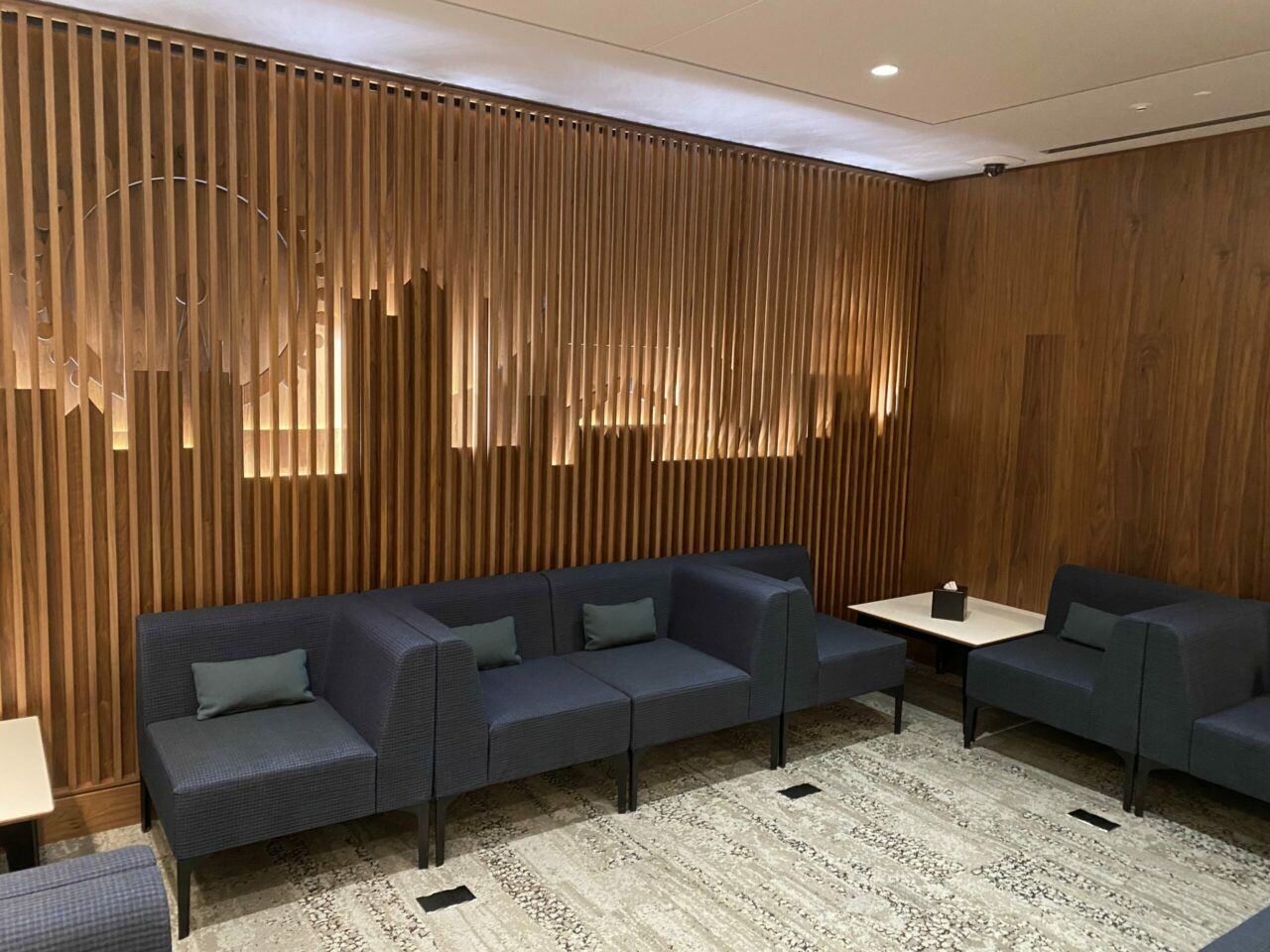 Finally you walk through to a large lounge area with some smaller booths as well.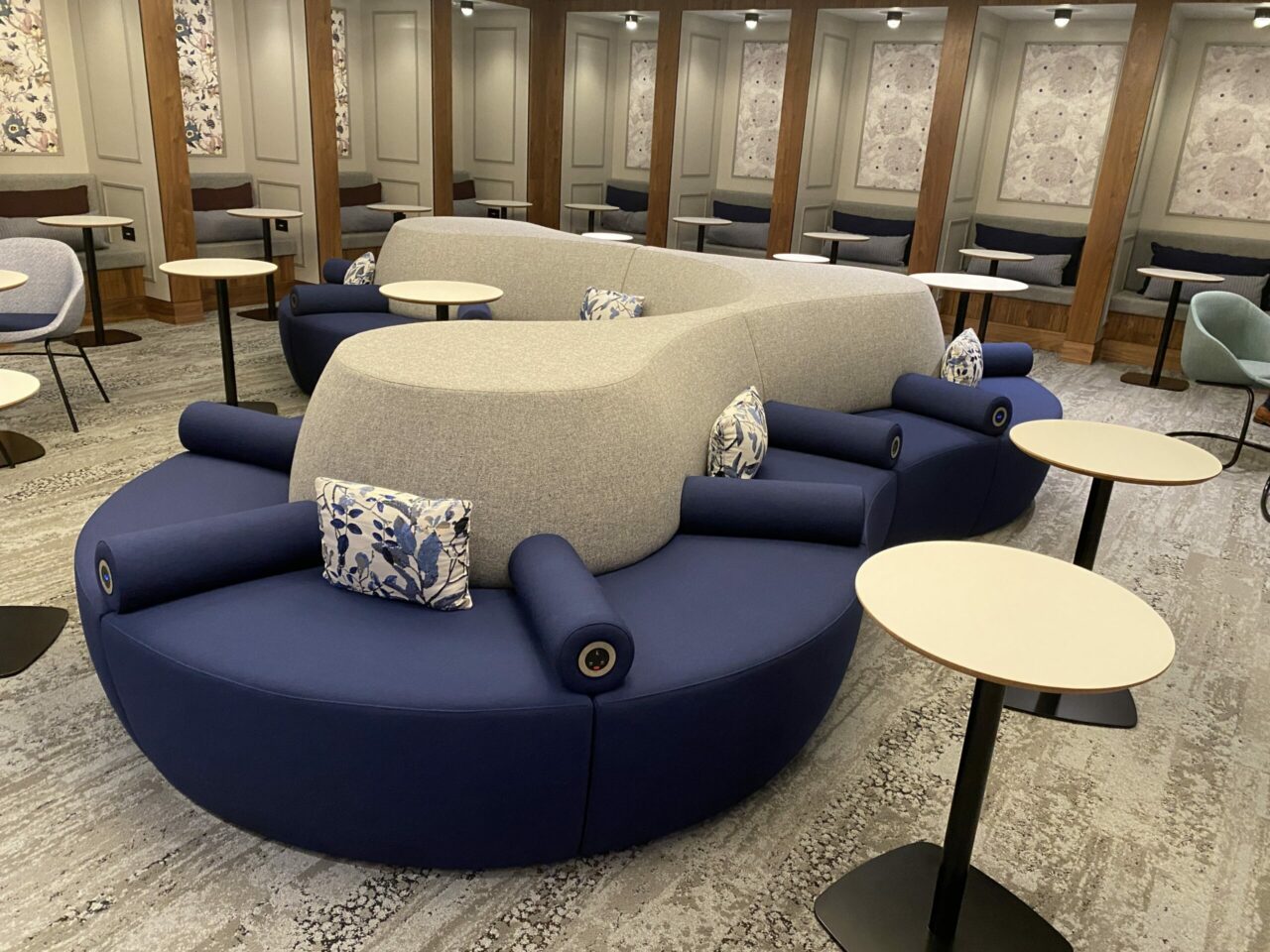 The charging points disguised as bolsters were very clever. You will certainly never have to go hunting for a power point in this lounge!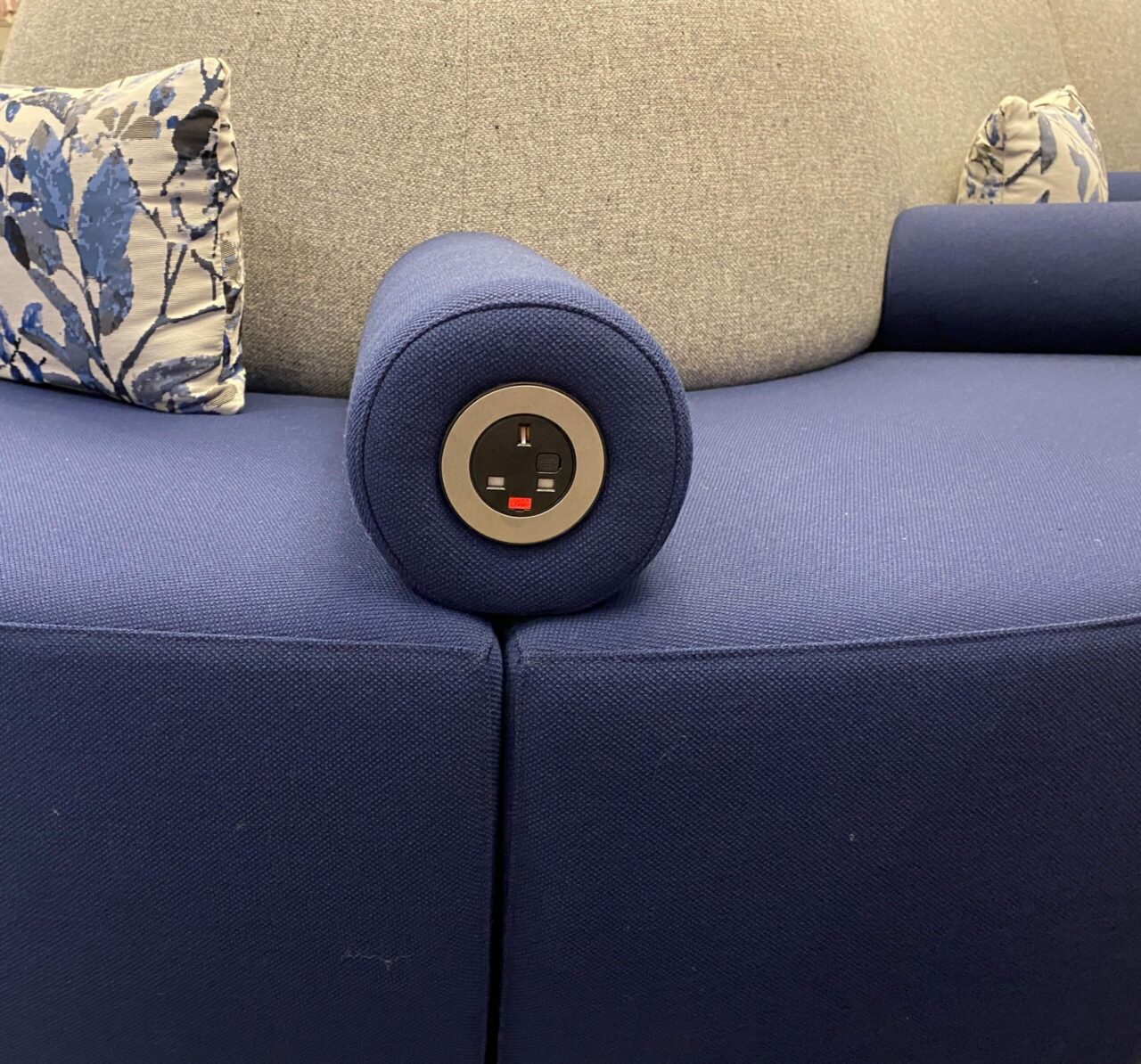 The booths also have power and look very cosy.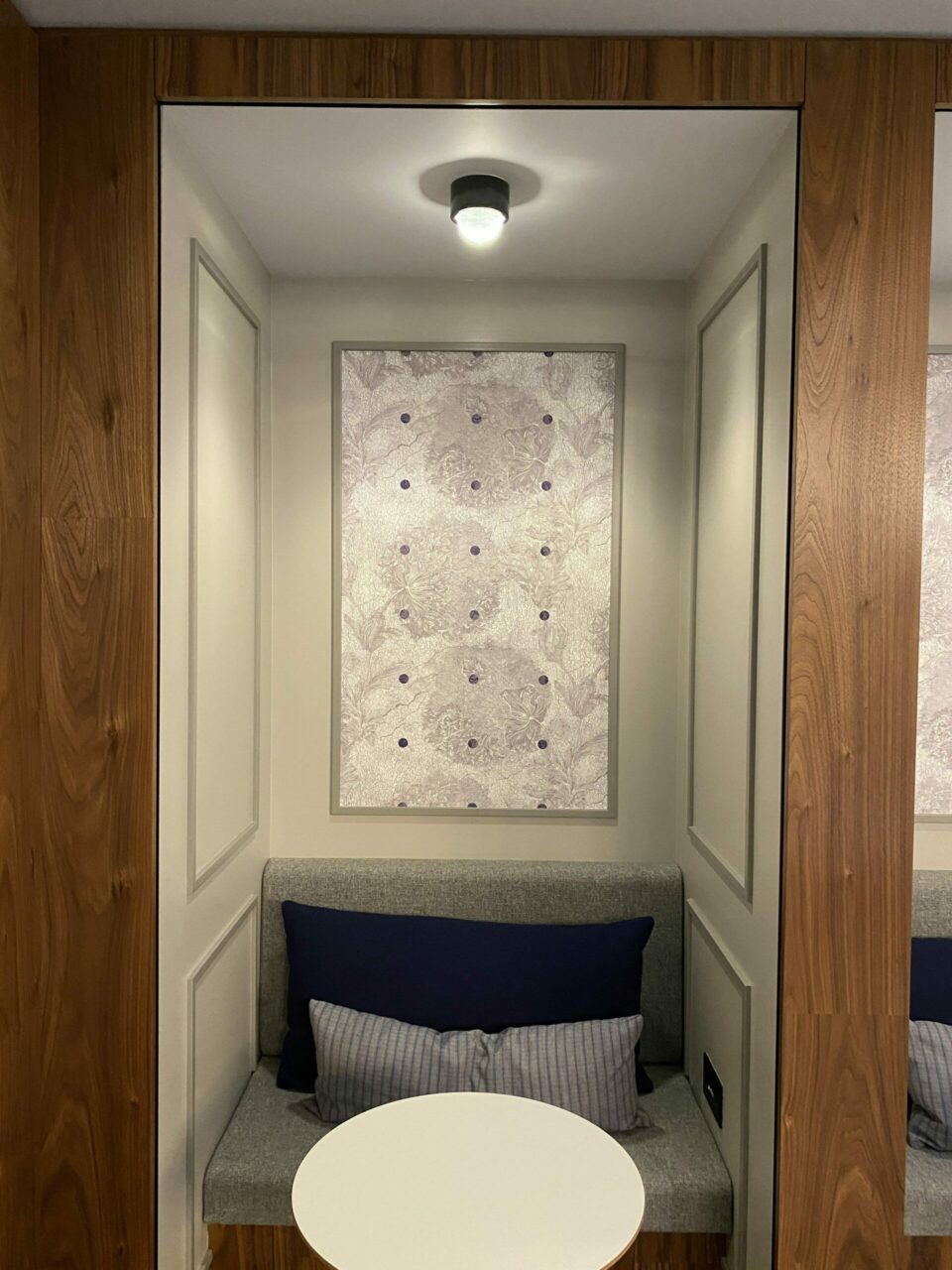 Finally at the end of the lounge are the toilets and showers. There is a so-called Wellness room but really it's more of a changing facility for adults or babies, or those just needing a bit more room and privacy.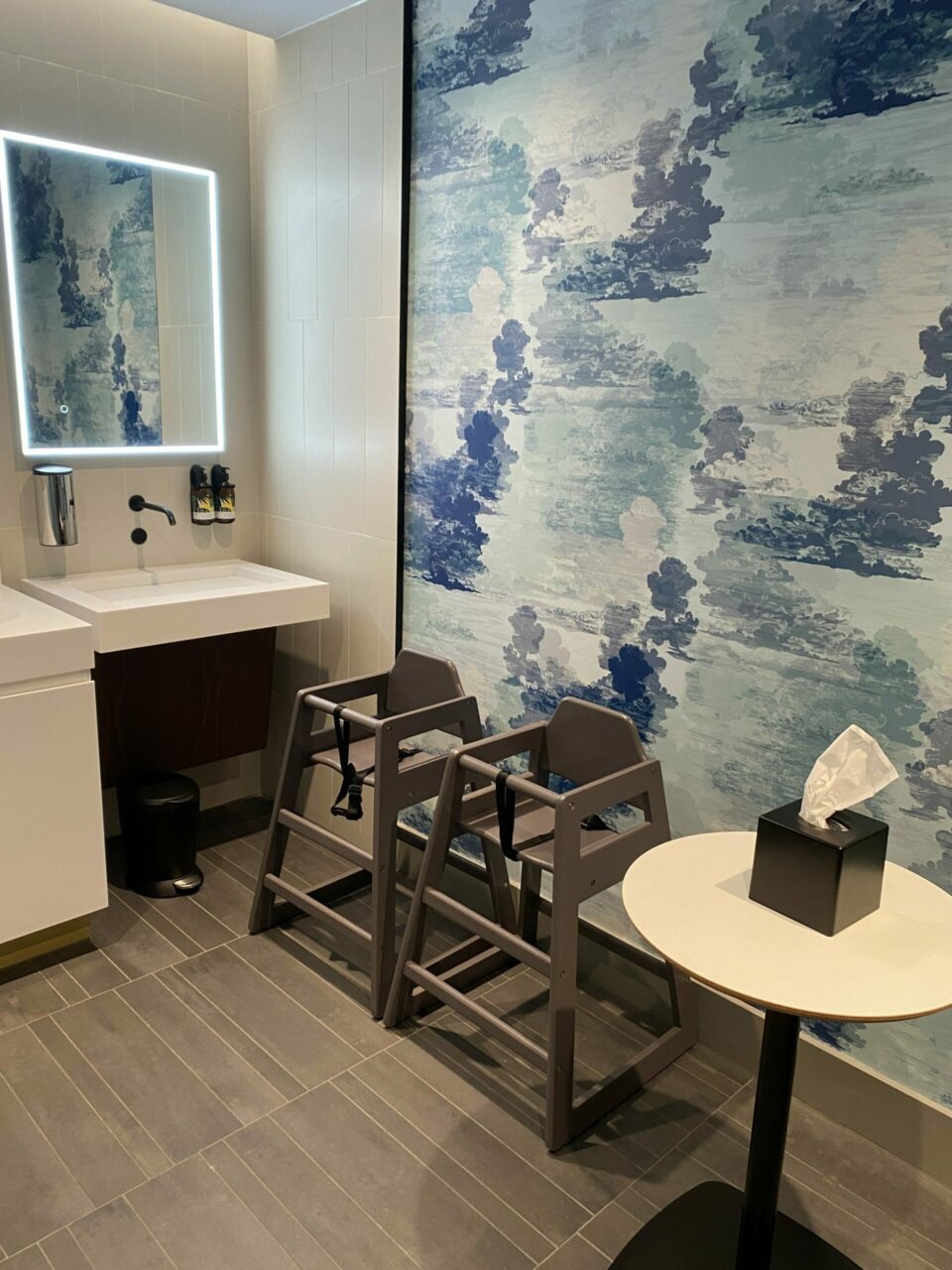 The showers looked great with shampoo, conditioner, shower gel, and body lotion all provided by London brand Soapsmith. Though I was slightly suspicious of the 1970s looking hairdryer!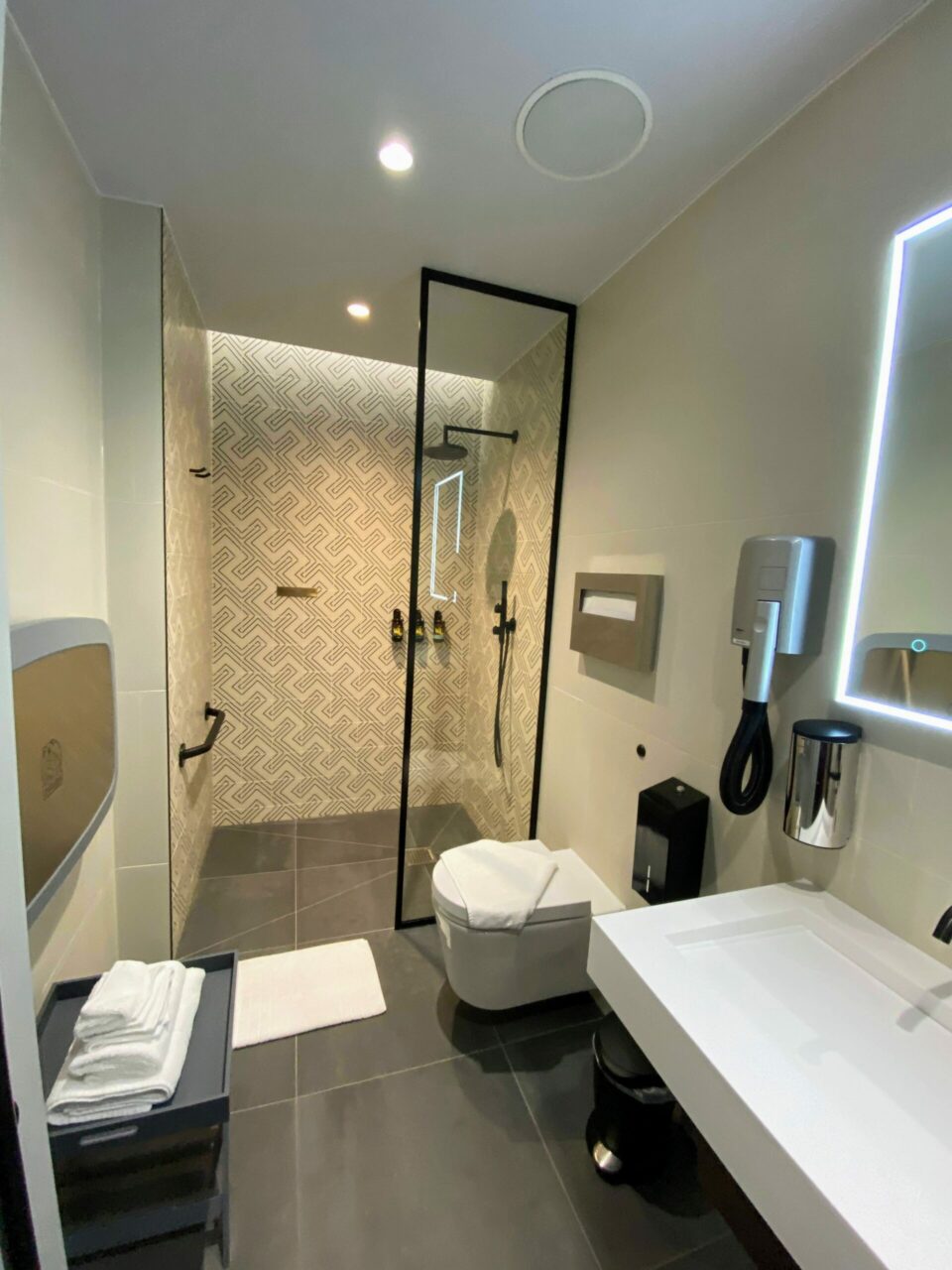 The Ladies toilets were also spacious and had the same hand wash and body lotion which smelt divine. It was one of those fragrances that really lingered and had a lovely fresh citrus scent to it with Bergamot, Sandalwood, Rosemary, and Geranium. Perfect for a long day of travelling!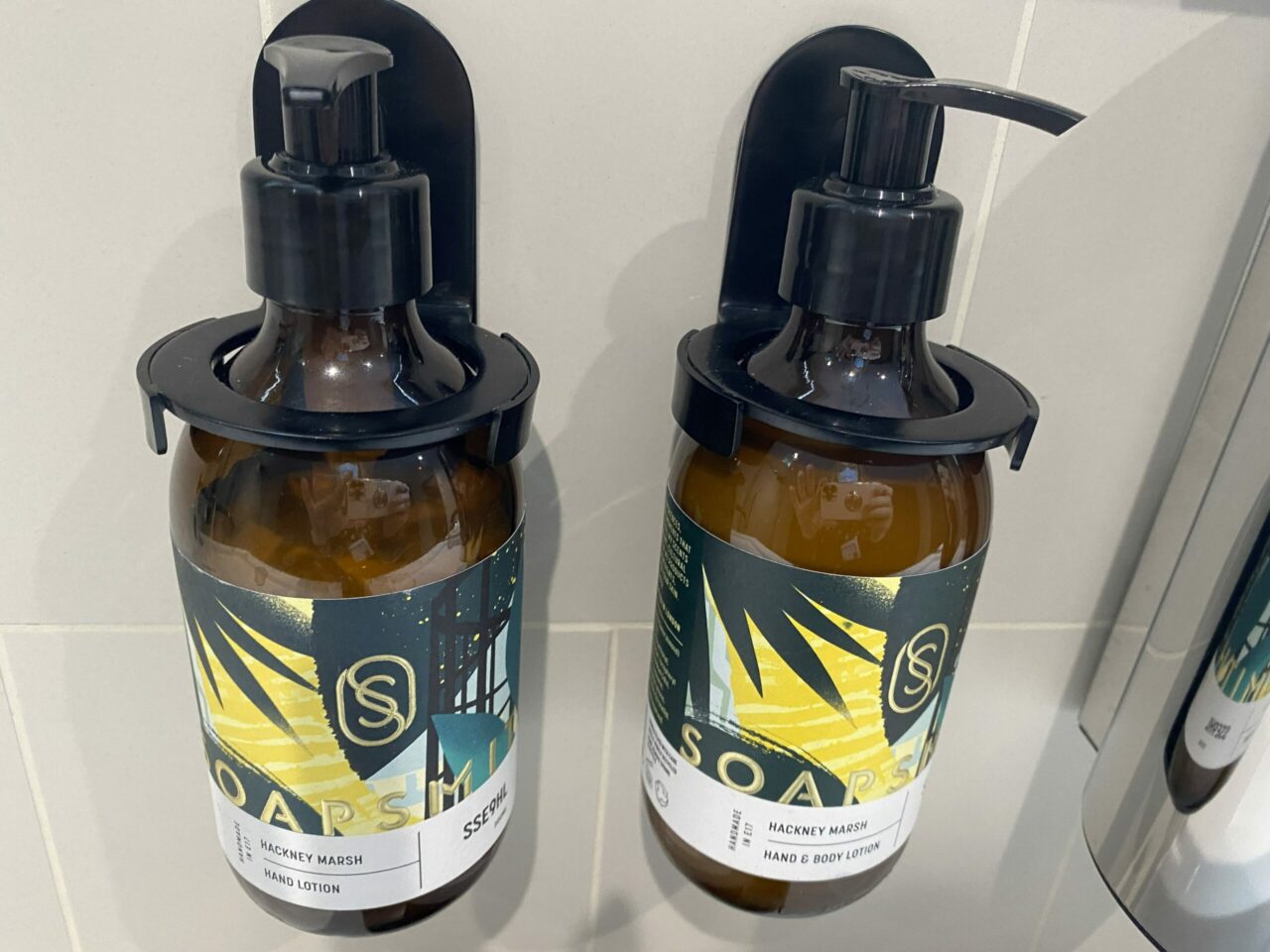 Food and drink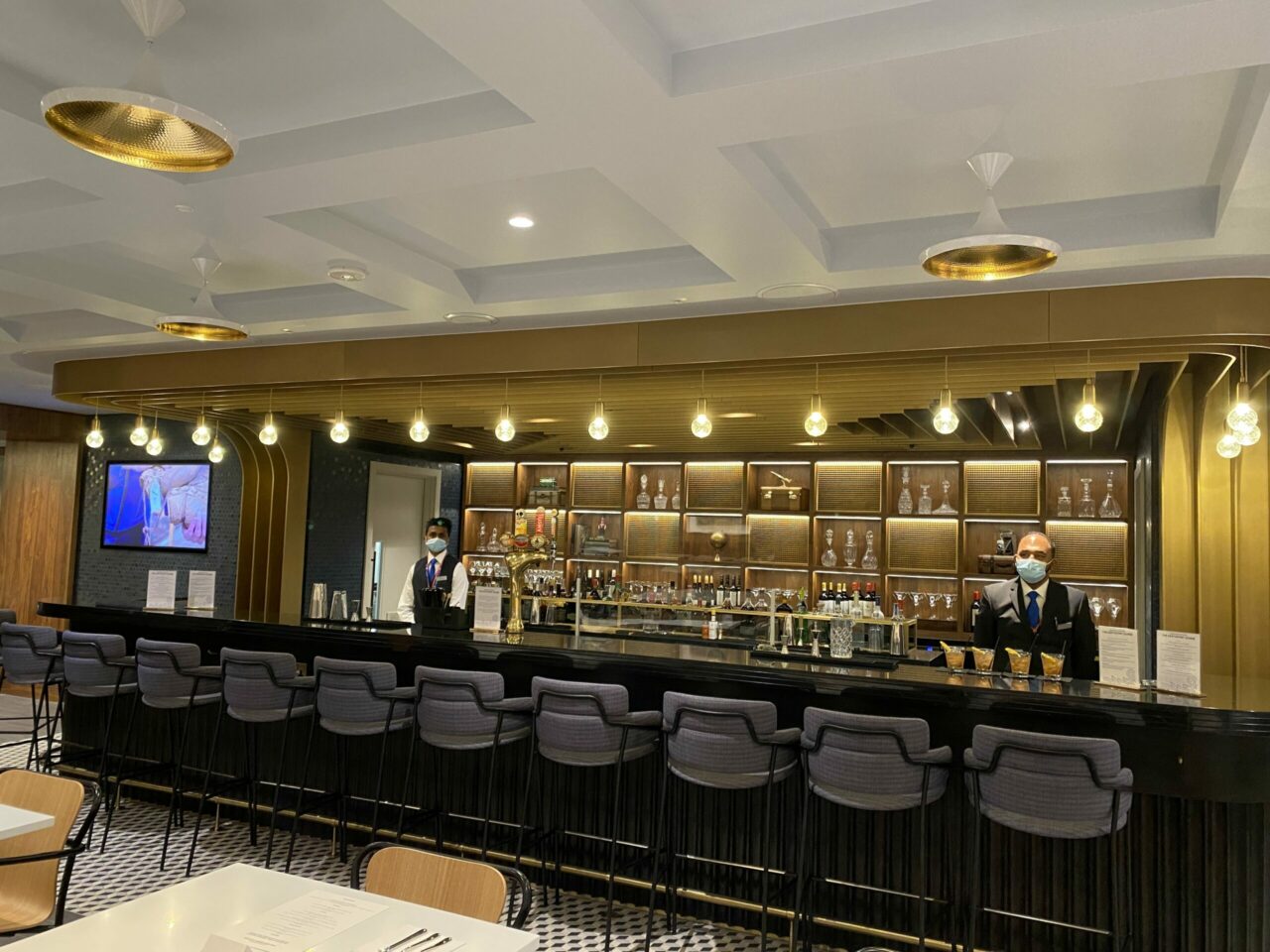 There is a large bar area (most important!) that I found very attractive. Although there is no champagne, there's a good selection of wine including sparkling wine.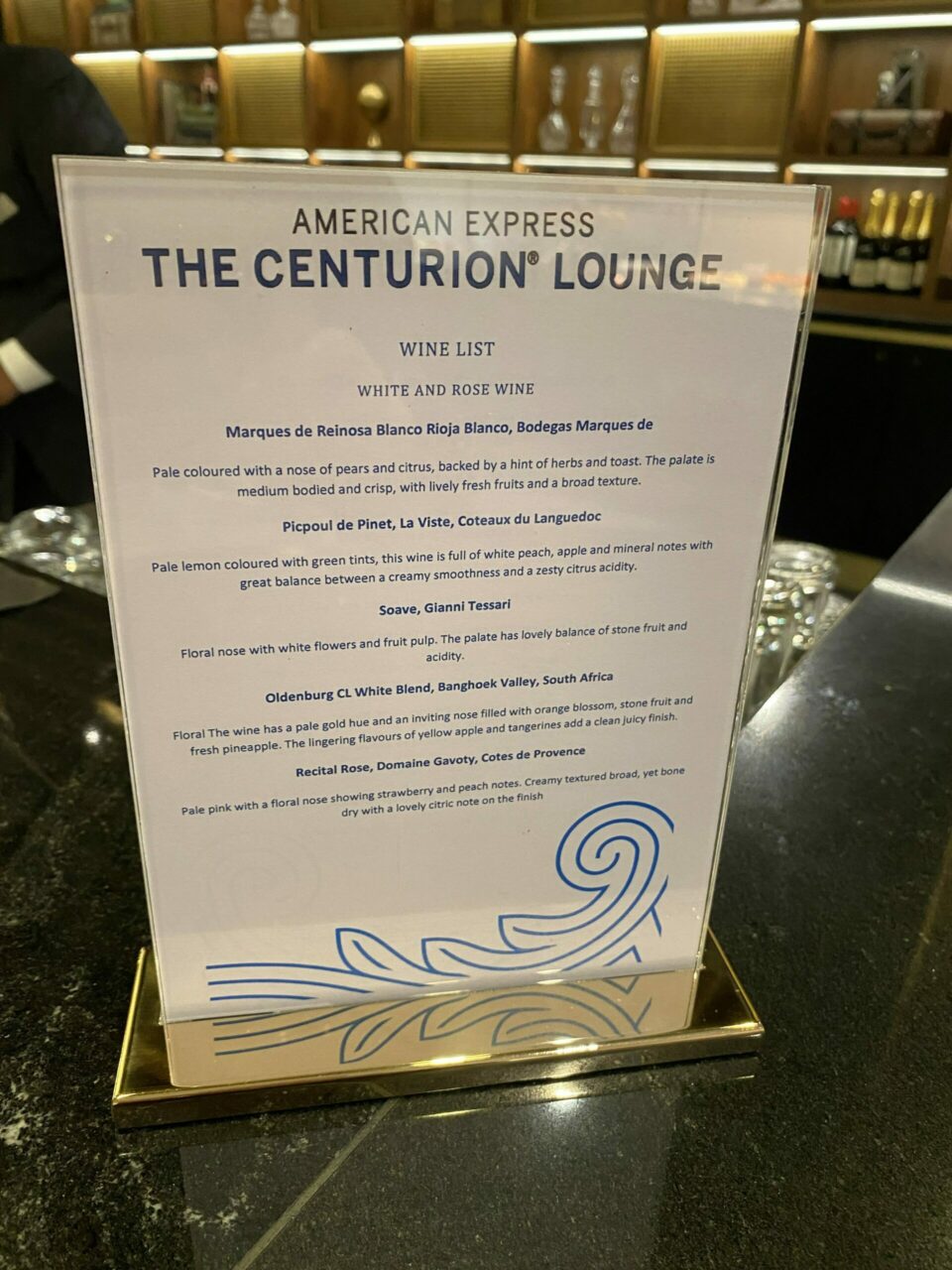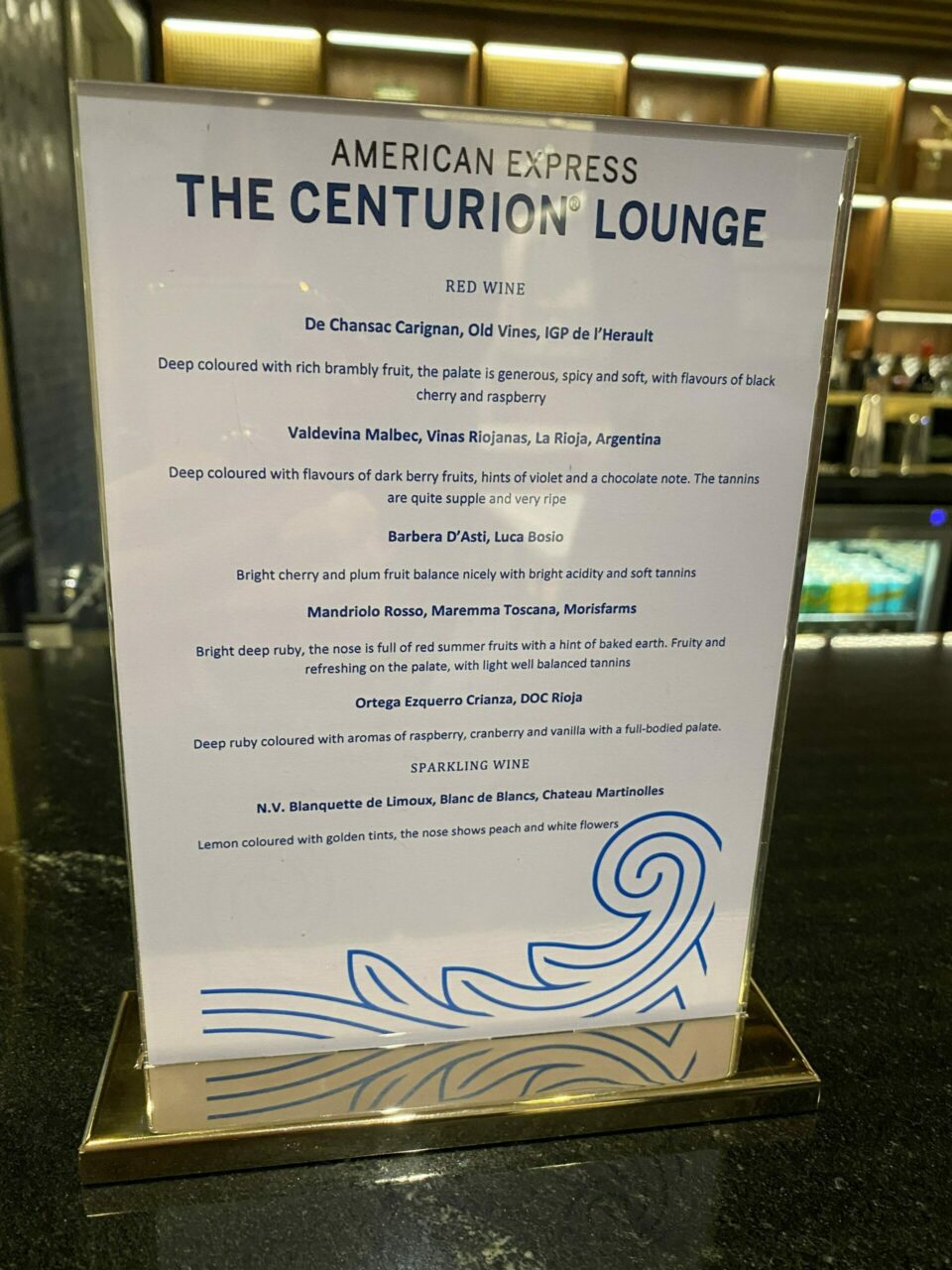 There's a great selection of cocktails designed by Jim Meehan.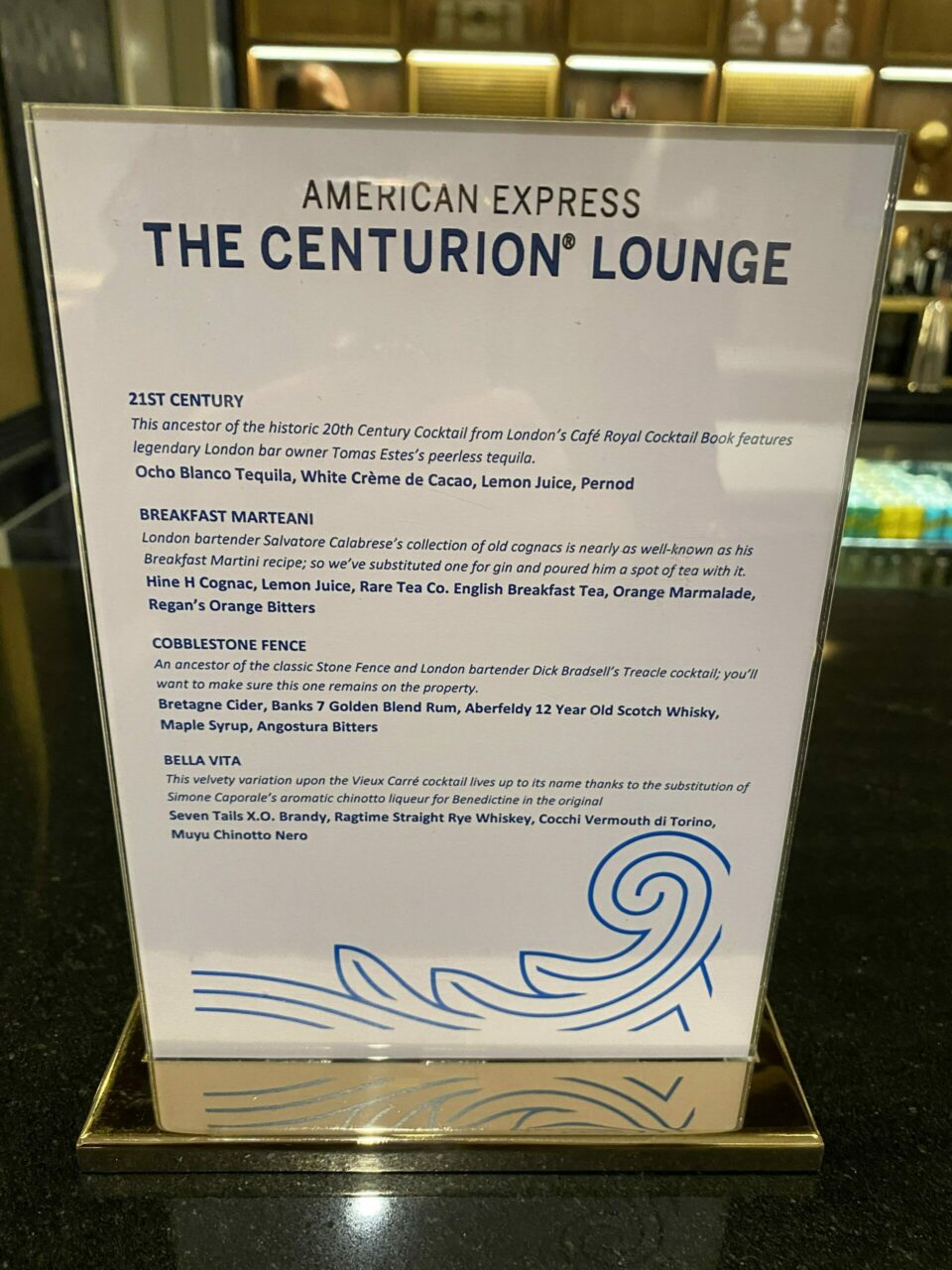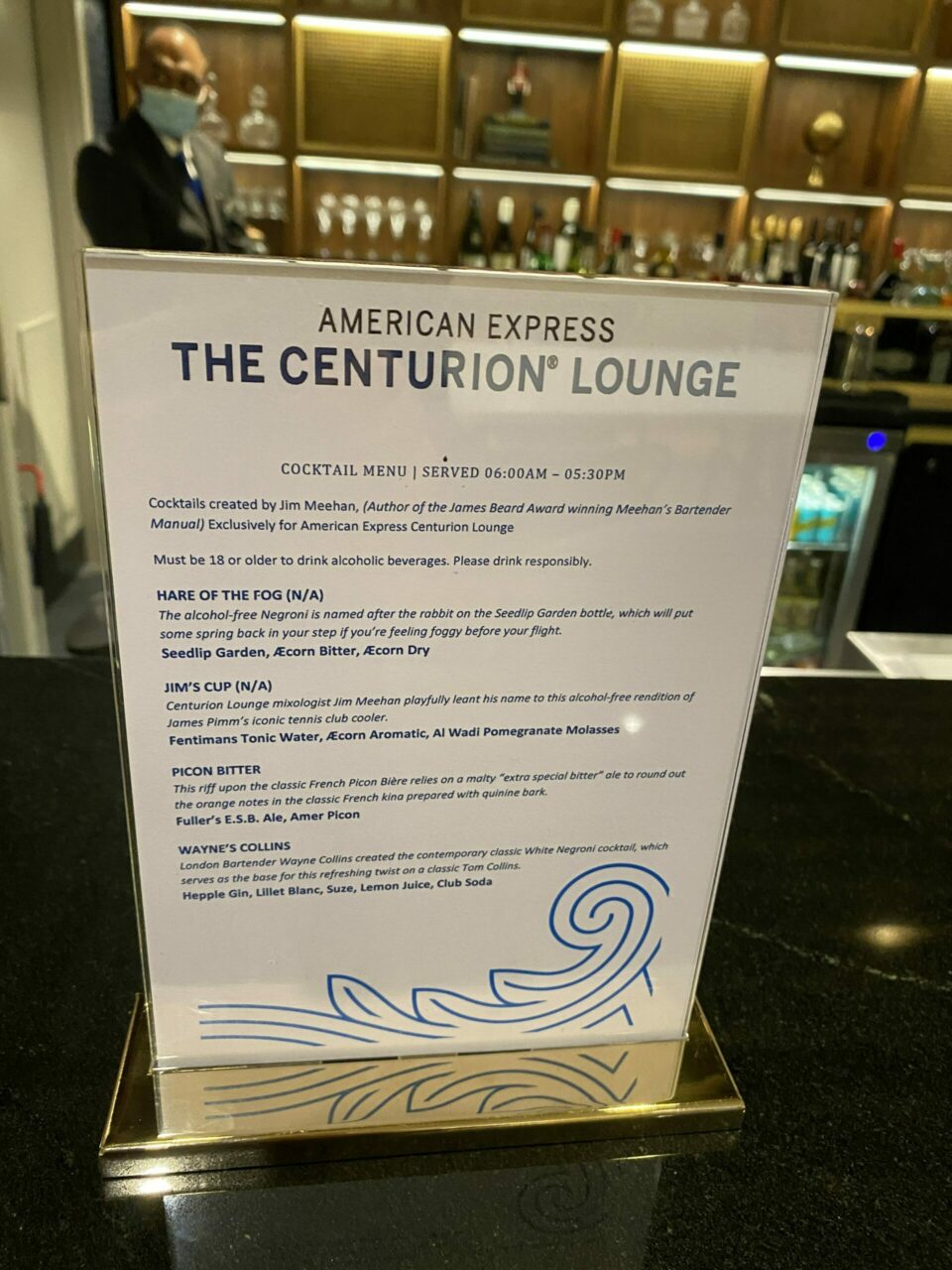 This includes some non-alcoholic cocktails such as the Hare of the Fog which I tried. It was a bit like a non-alcoholic negroni but I found it a little bitter personally. Just give me the alcoholic version!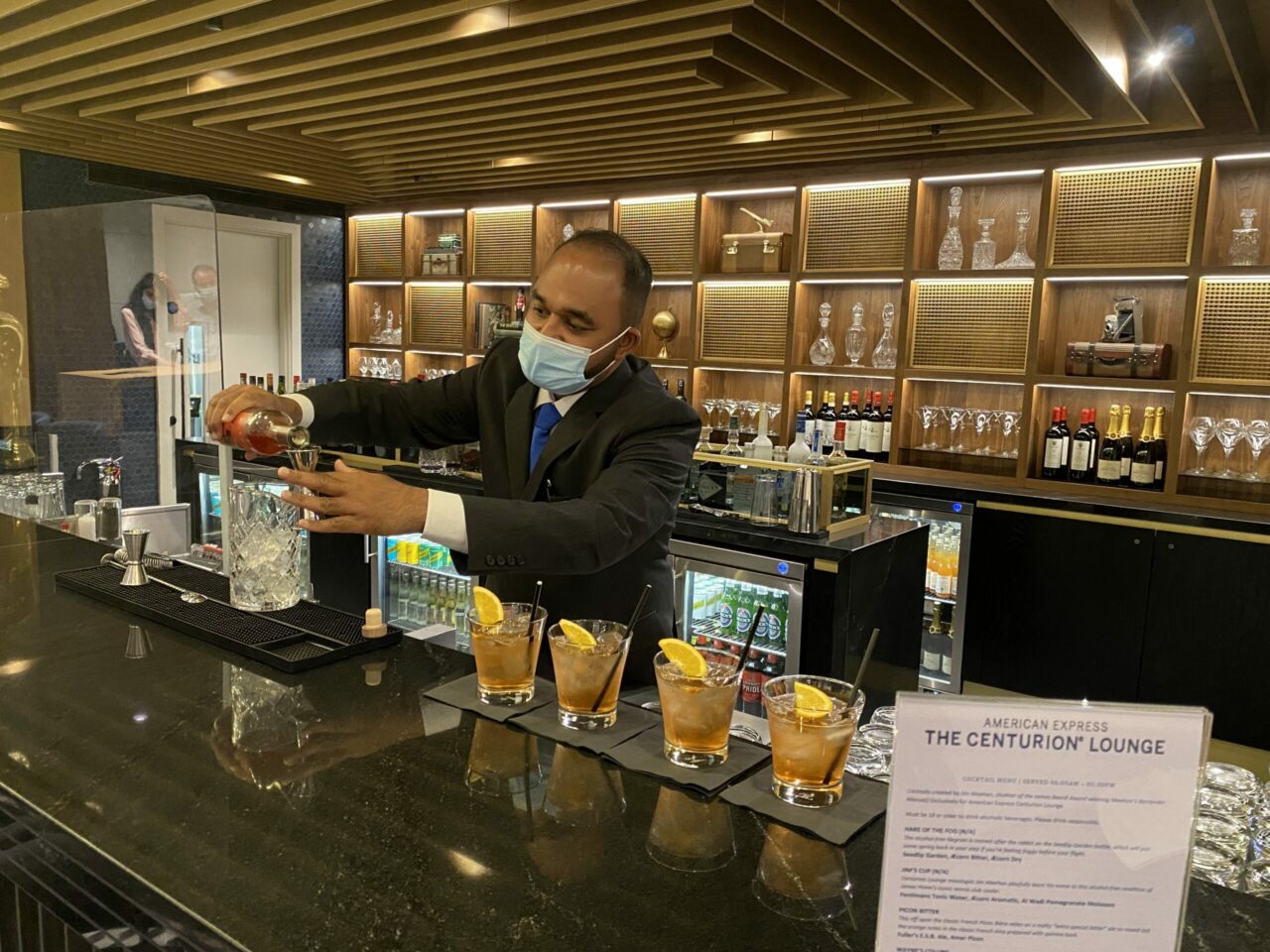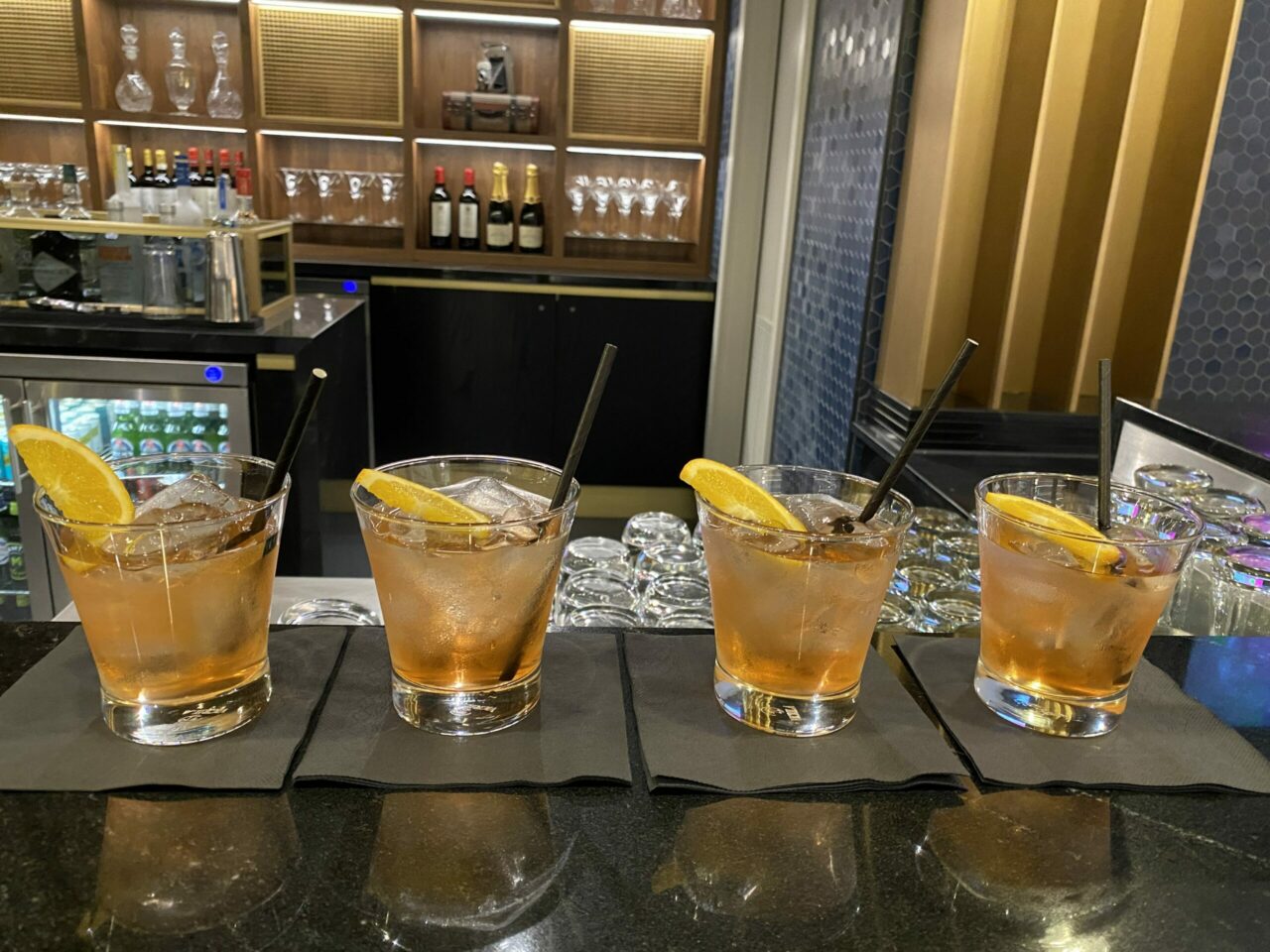 Here is the menu I tried which was a combination of different times of day: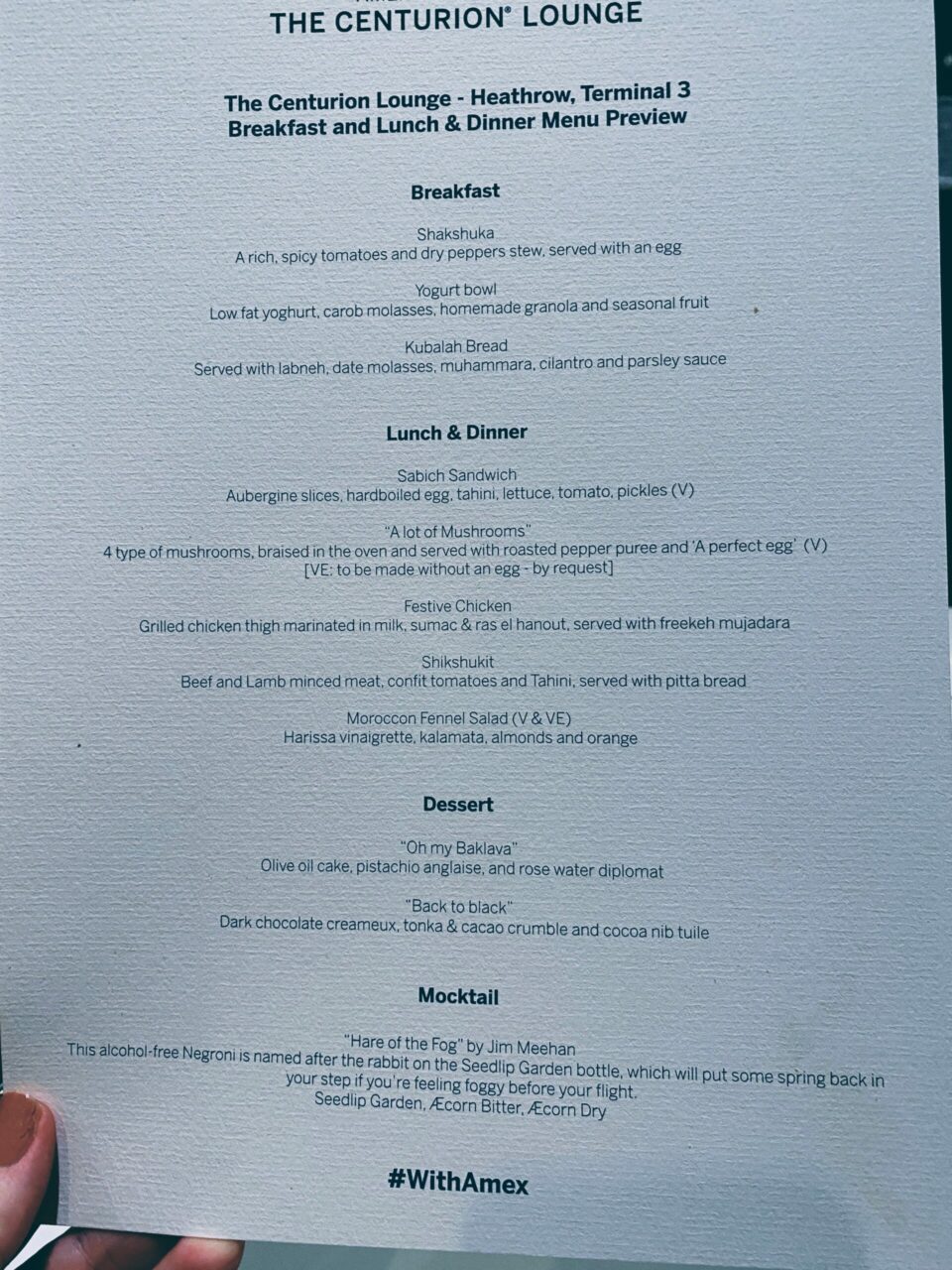 The food is laid out attractively by the side of the bar and it is help yourself. Masks should be worn when going up to the buffet. You would not get all these dishes laid out together, this was just for the long opening.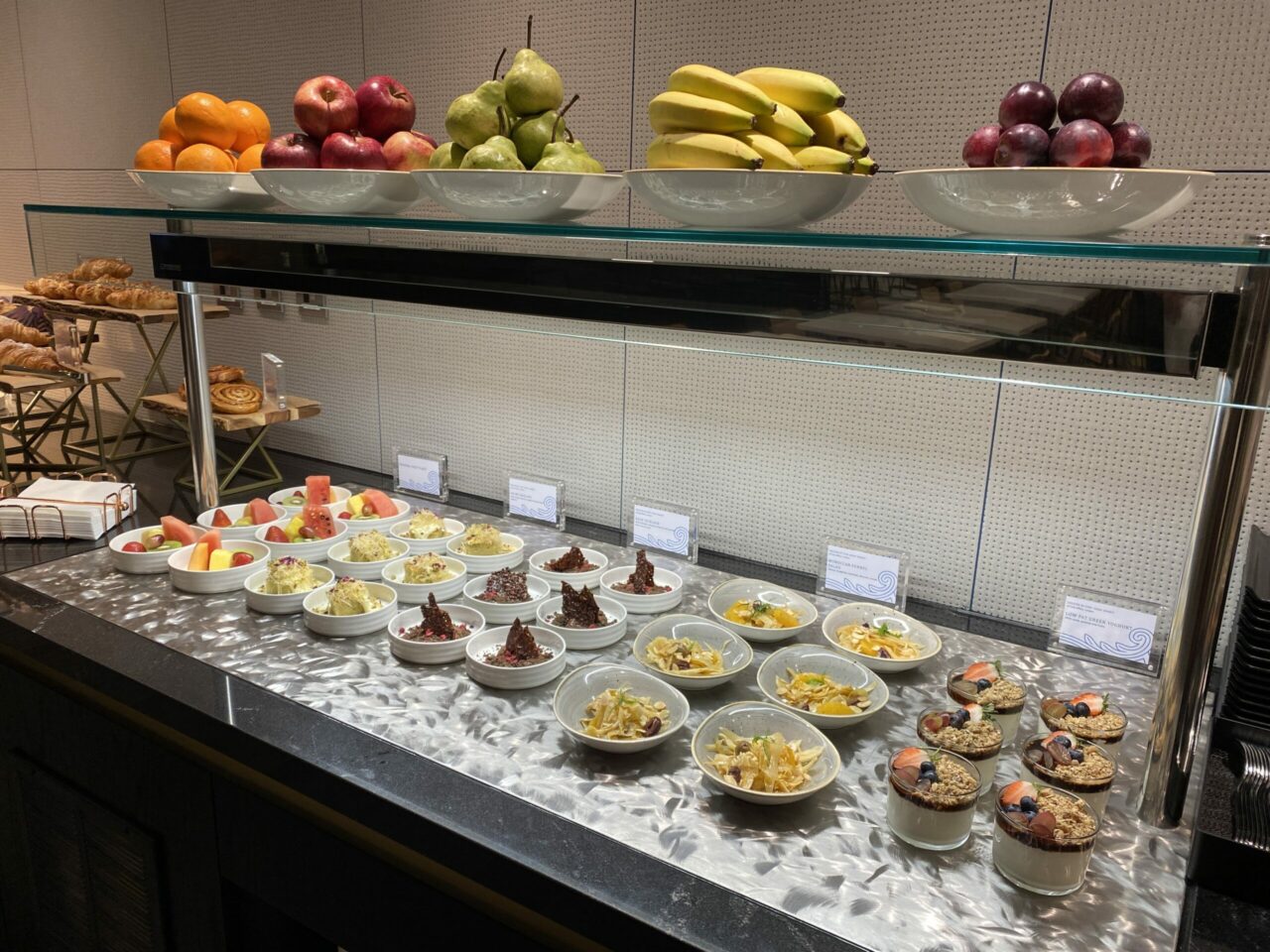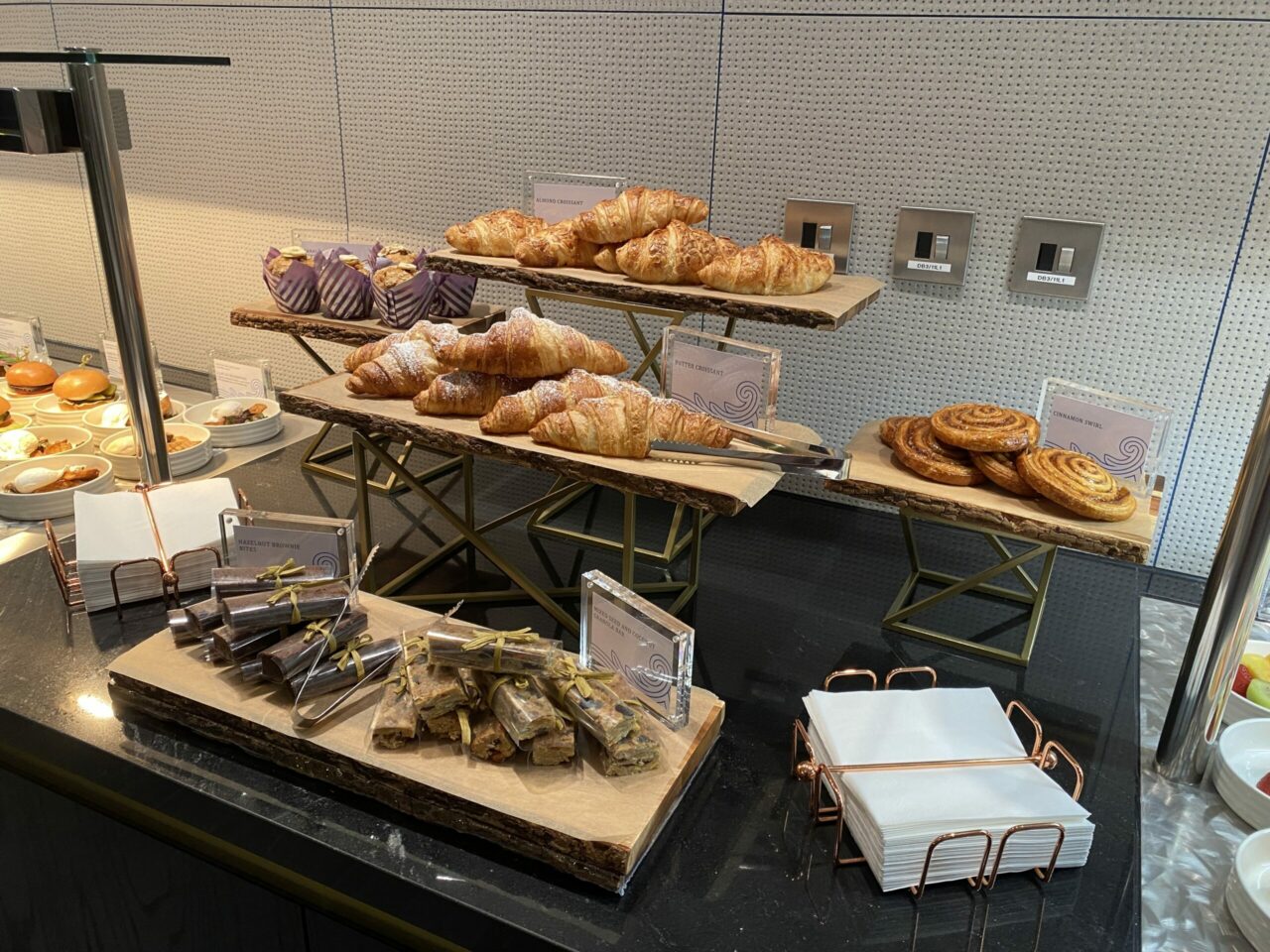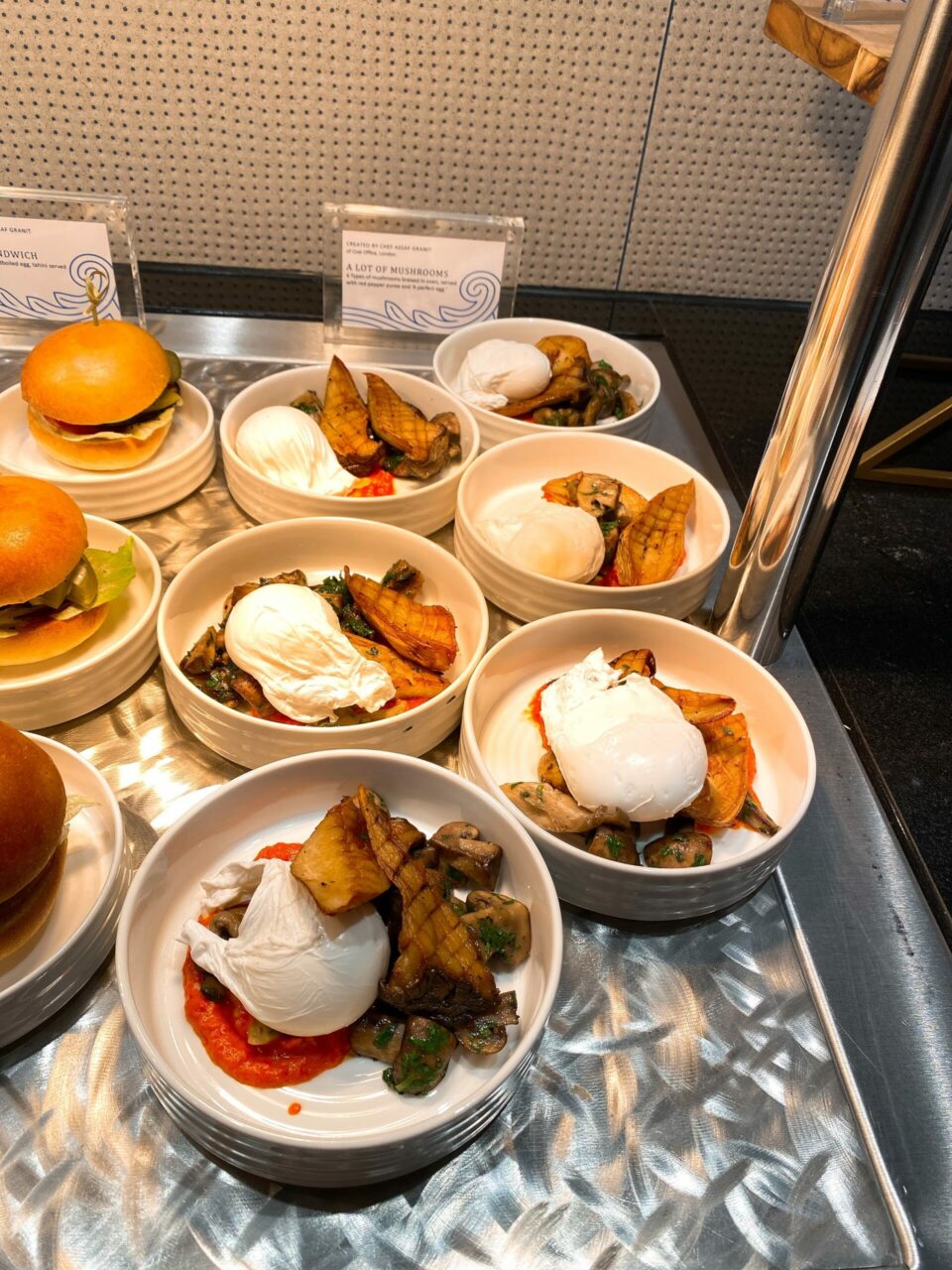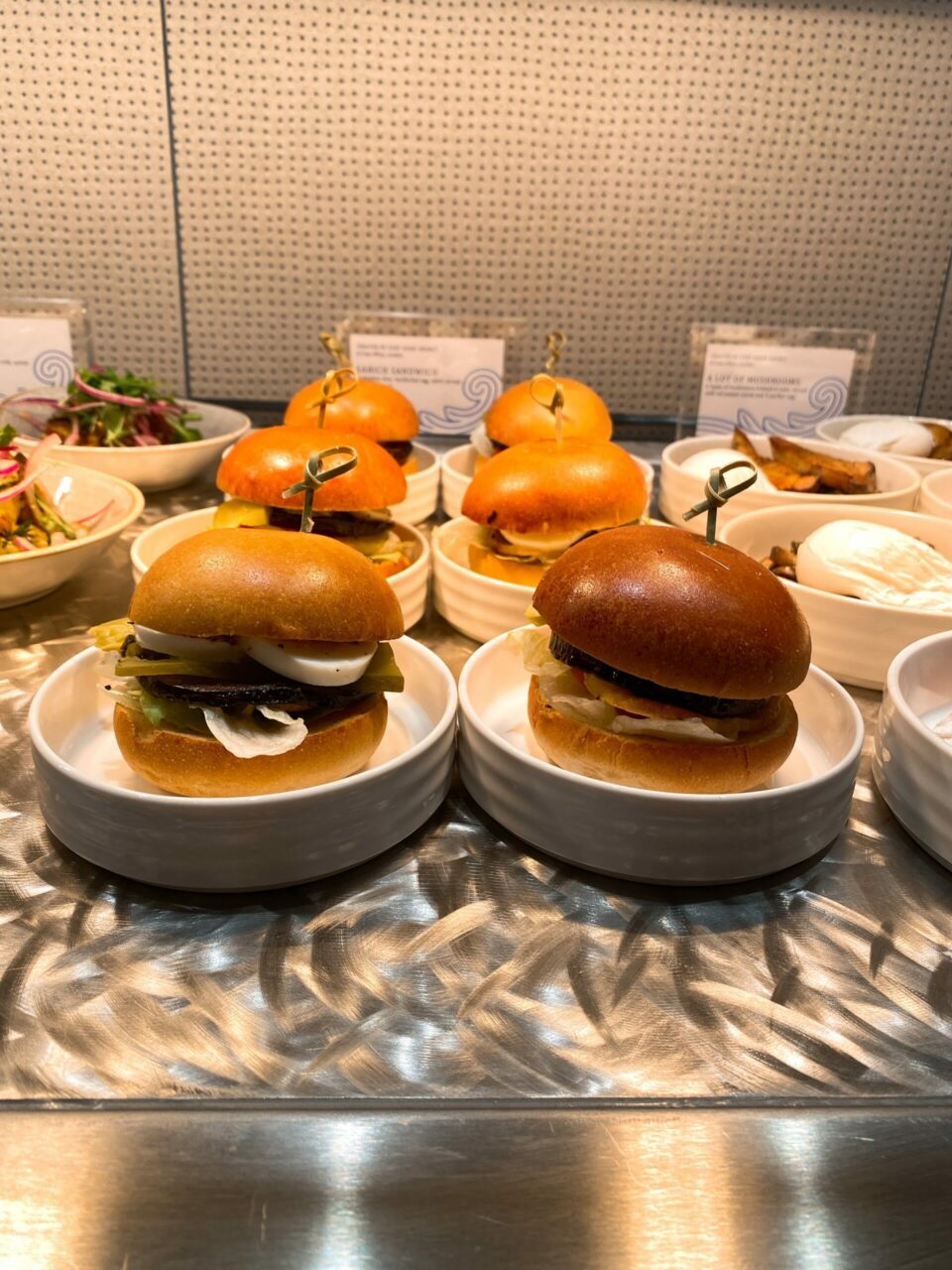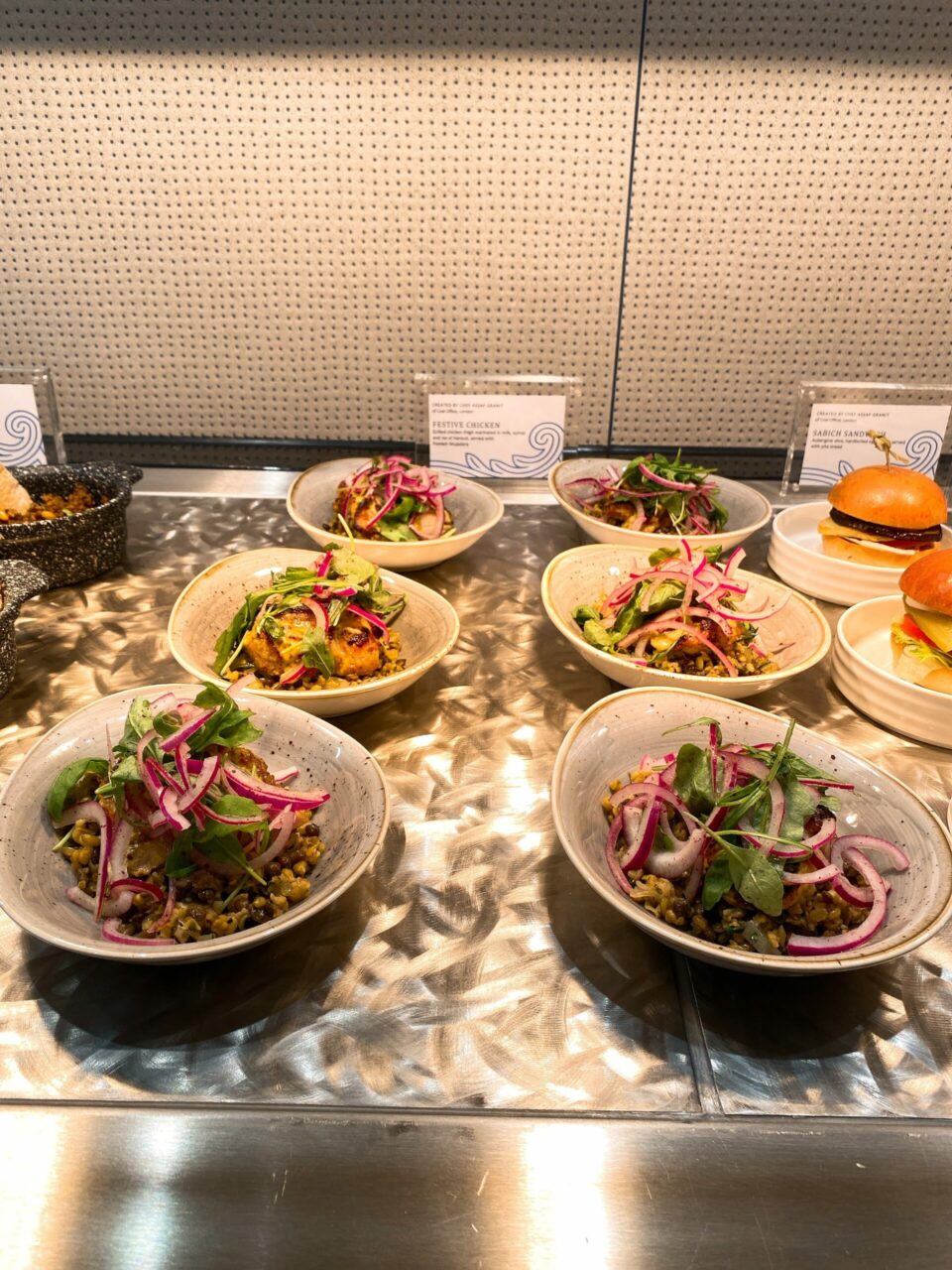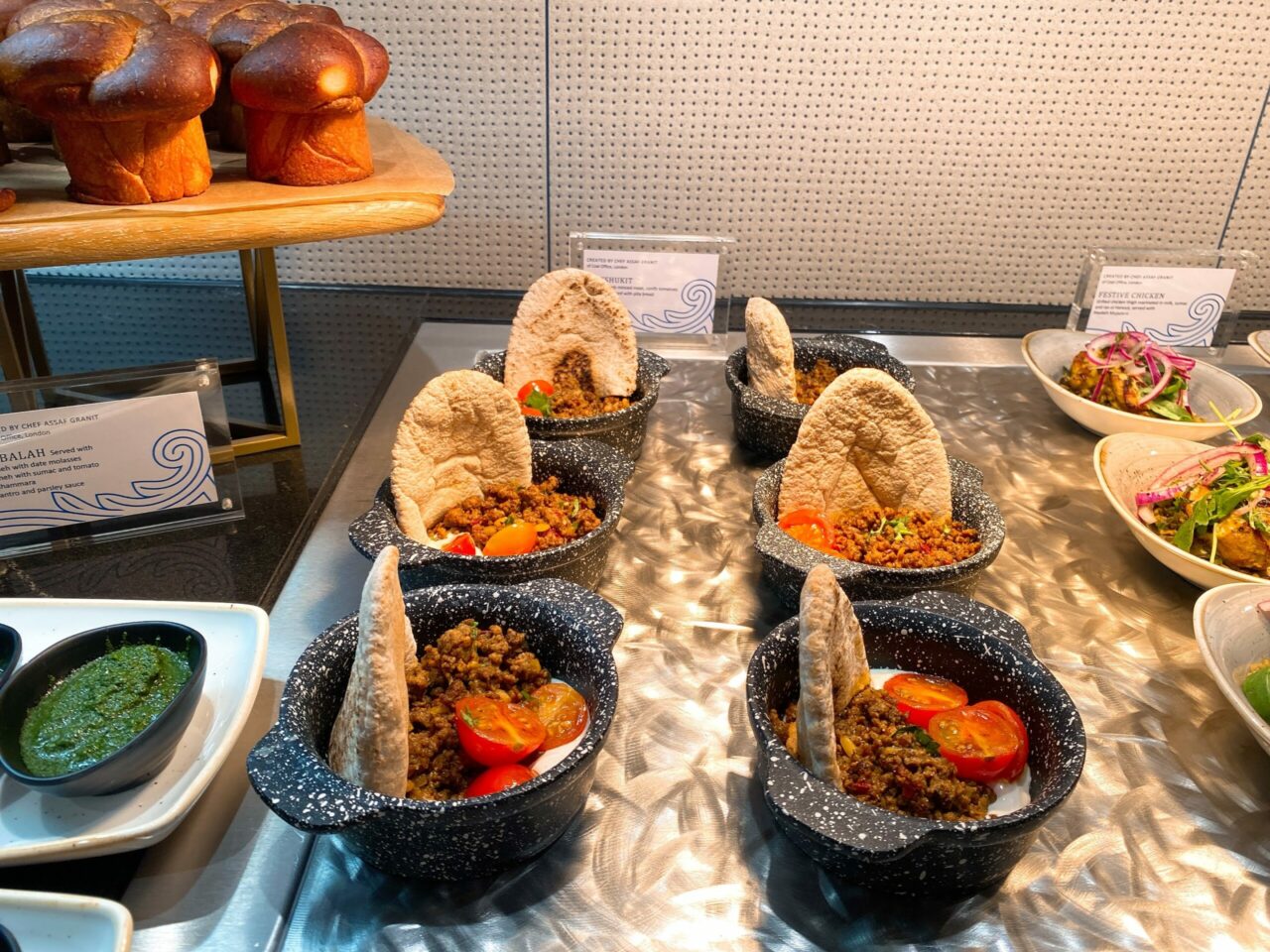 I sampled quite a few dishes: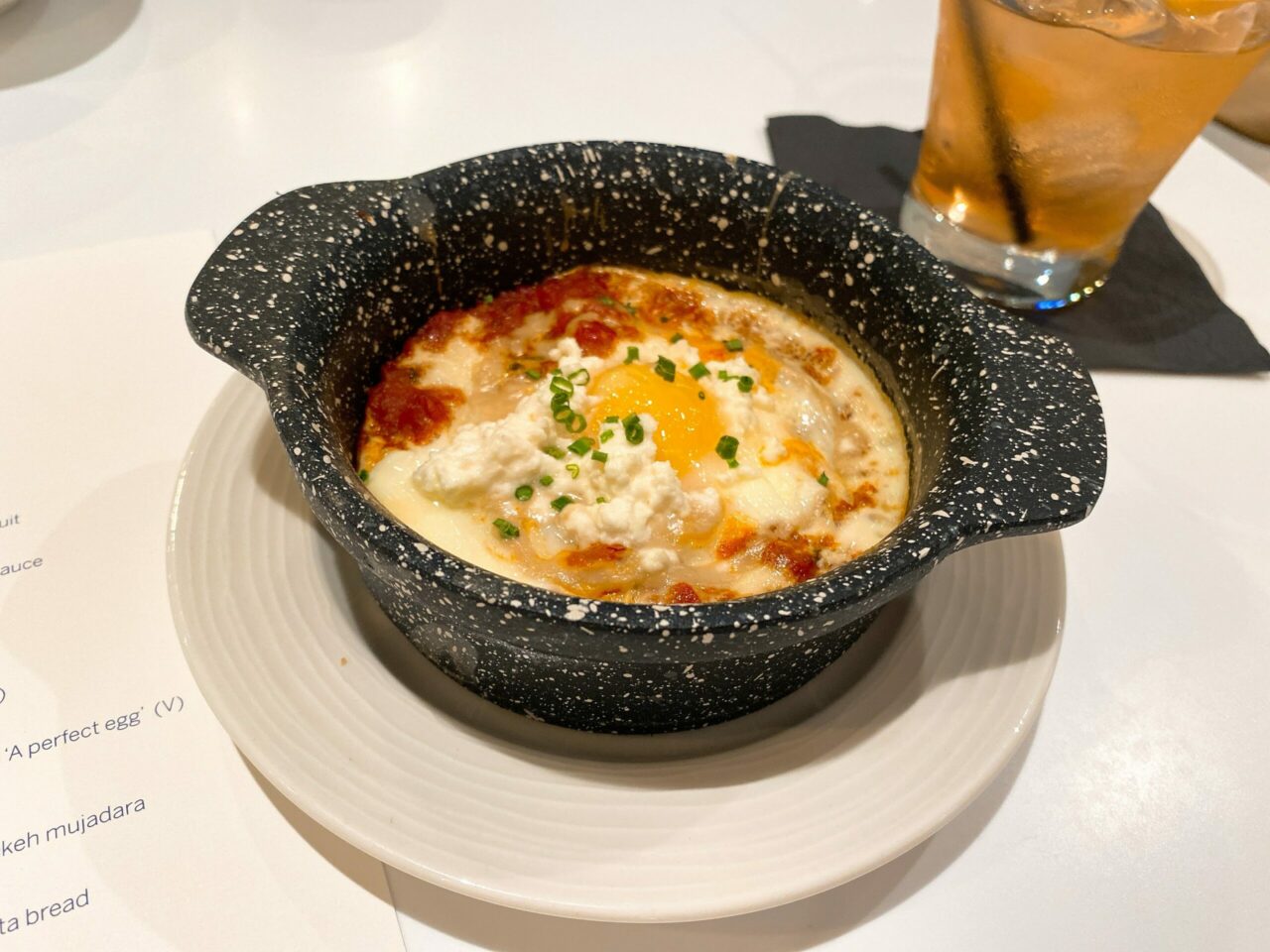 I started with Shakshuka. The dish was not much of a looker but it was great – a real deep richness to the sauce with the smoky peppers and concentrated tomato flavours. Definitely worth a visit for that dish alone!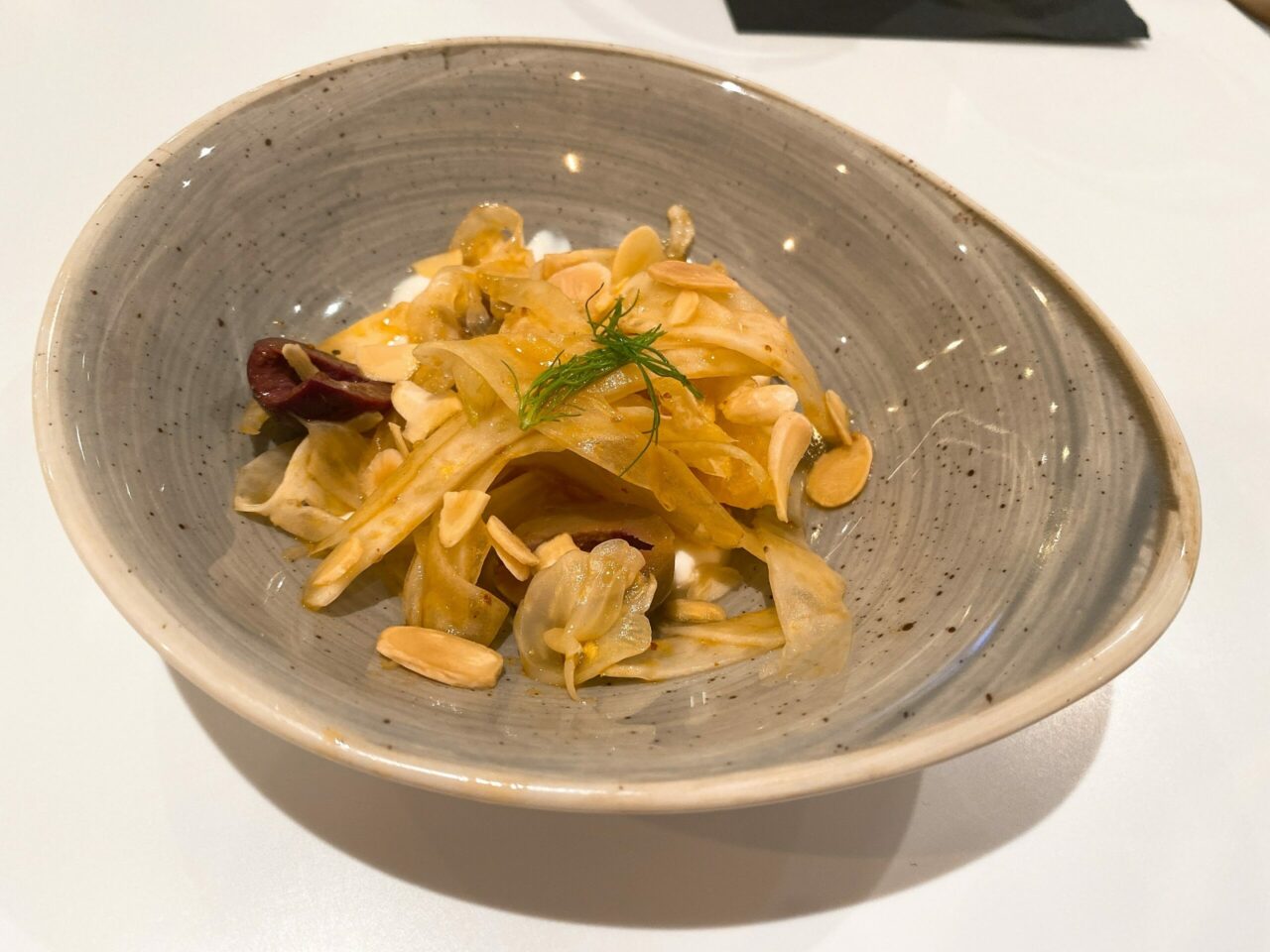 Then I tried a lighter fennel salad which had lots of interest with the crunch of the nuts and salty tang of the olives with a little heat with a harissa dressing. Ideal if you want something fresh.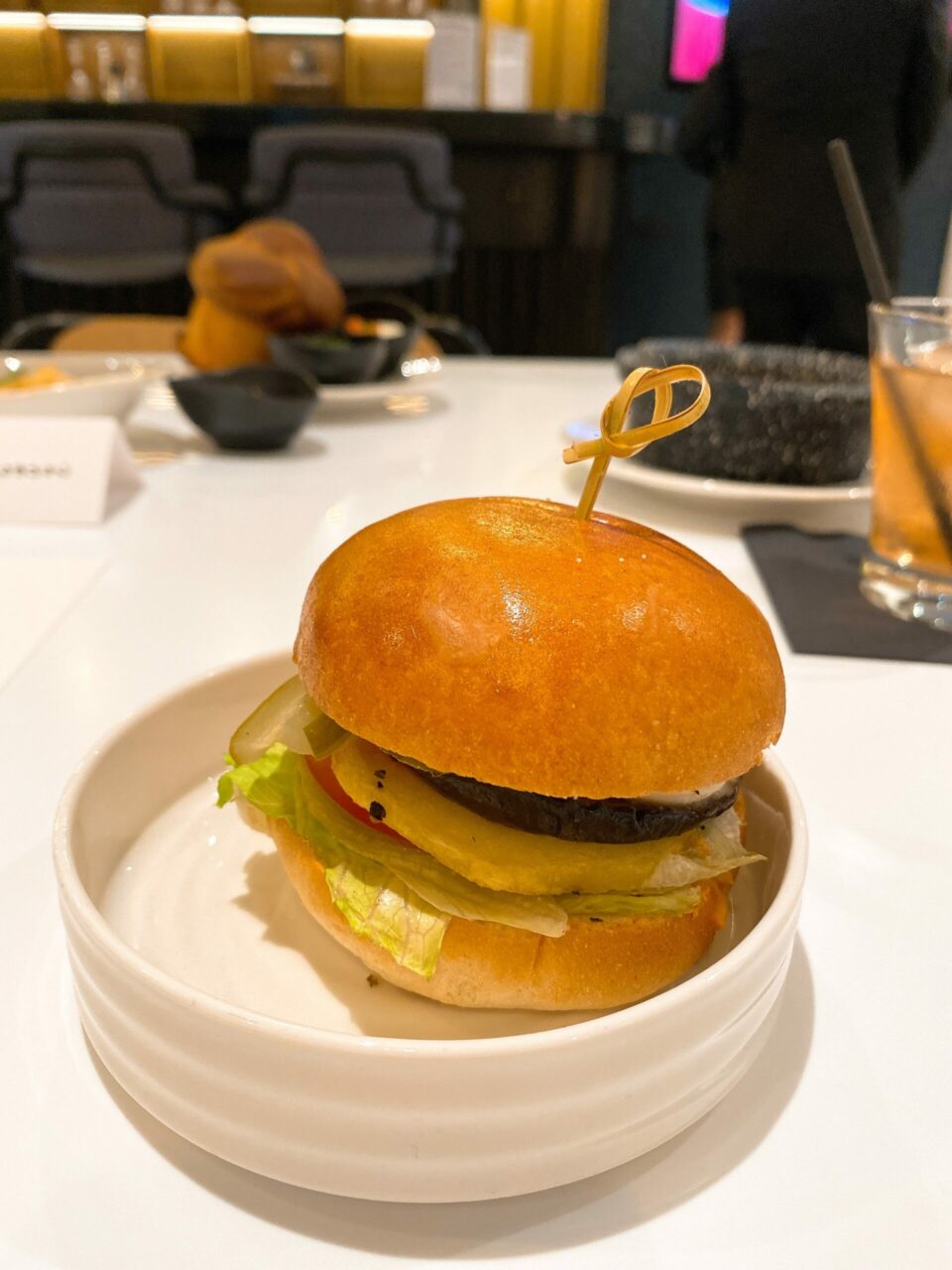 The surprise of the day came with the Sabich sandwich. It looked like a burger but was actually aubergine and bloody delicious! I could eat those all day long and much fresher than a burger – I loved the tangy pickles and melting aubergine slices with tahini.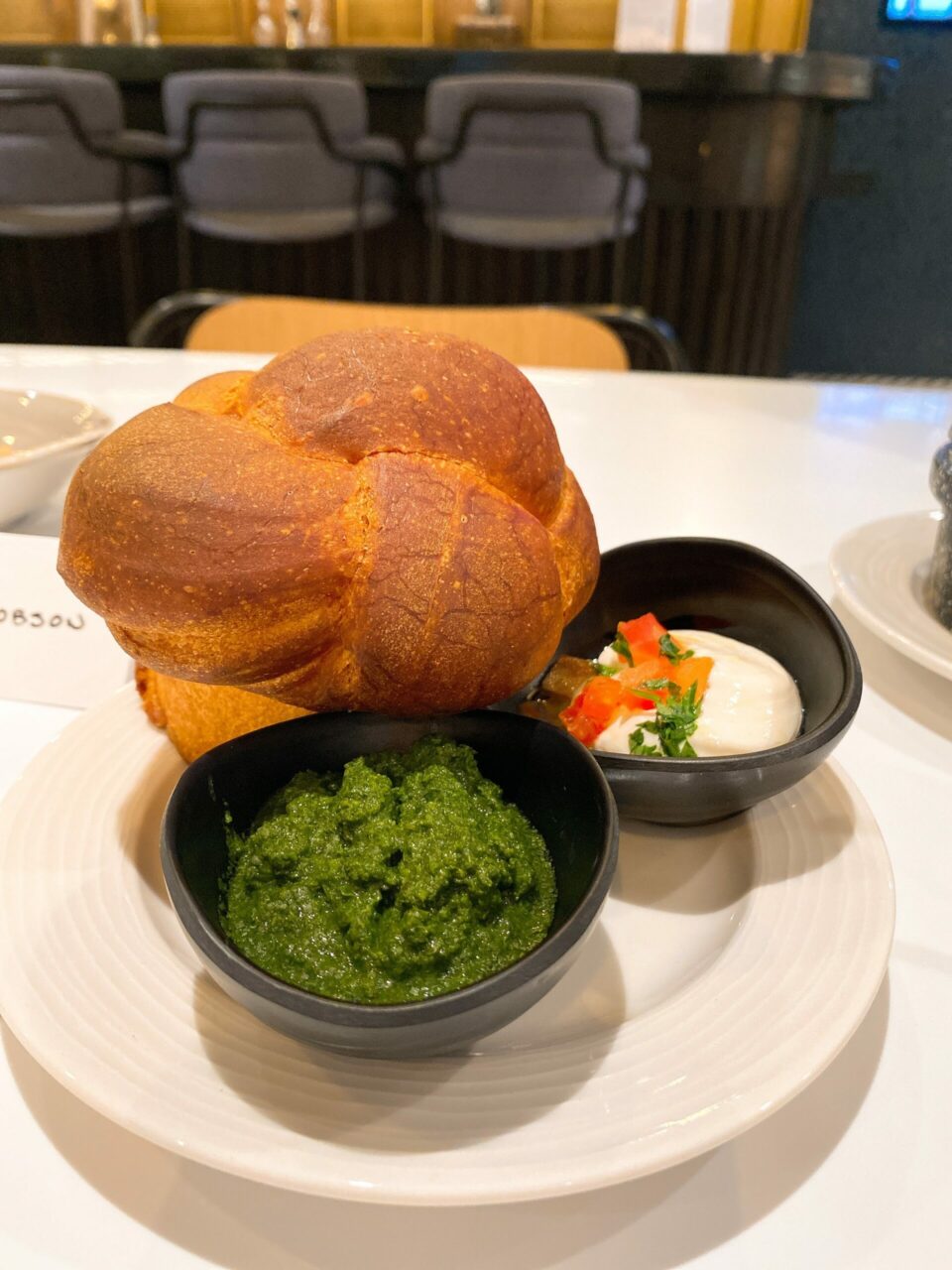 Then I had a quick nibble of the dips with some Kubulah bread. The bread was soft and fluffy inside, perfect for dipping in the flavour-packed spicy muhammara (spicy dip made of walnuts, red bell peppers, pomegranate molasses, and breadcrumbs) and fresh coriander dips. It's good to see a selection of small dishes if you just want something to nibble on rather than a proper meal.
Finally, I tried a yogurt parfait that was finished with carob molasses which I had never heard of. I liked that it added a little extra sweetness and a hint of chocolate but without being overly sweet.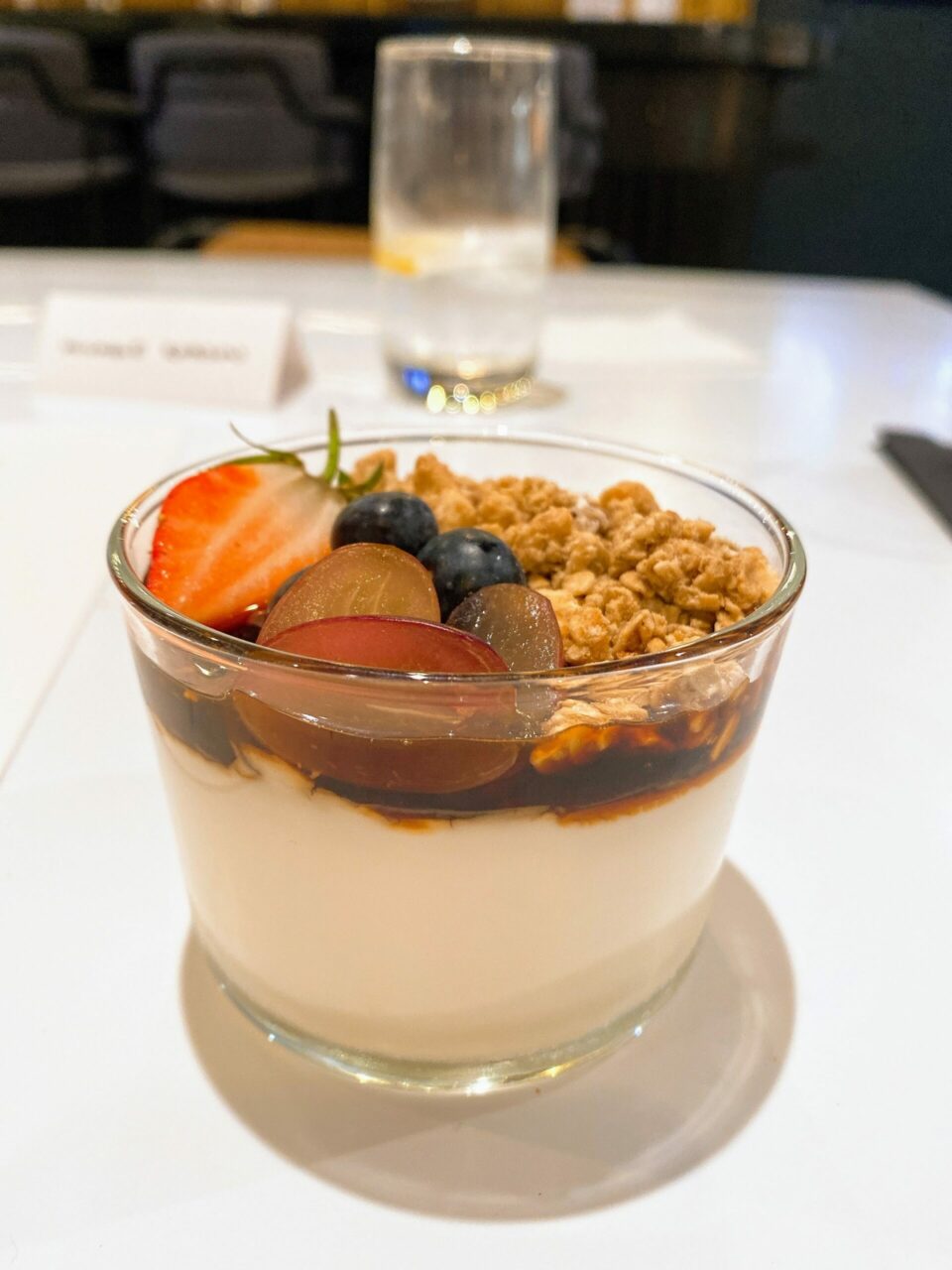 In the afternoon they have a beautiful tea trolley with Tom Dixon-designed accessories such as the gold sugar bowl.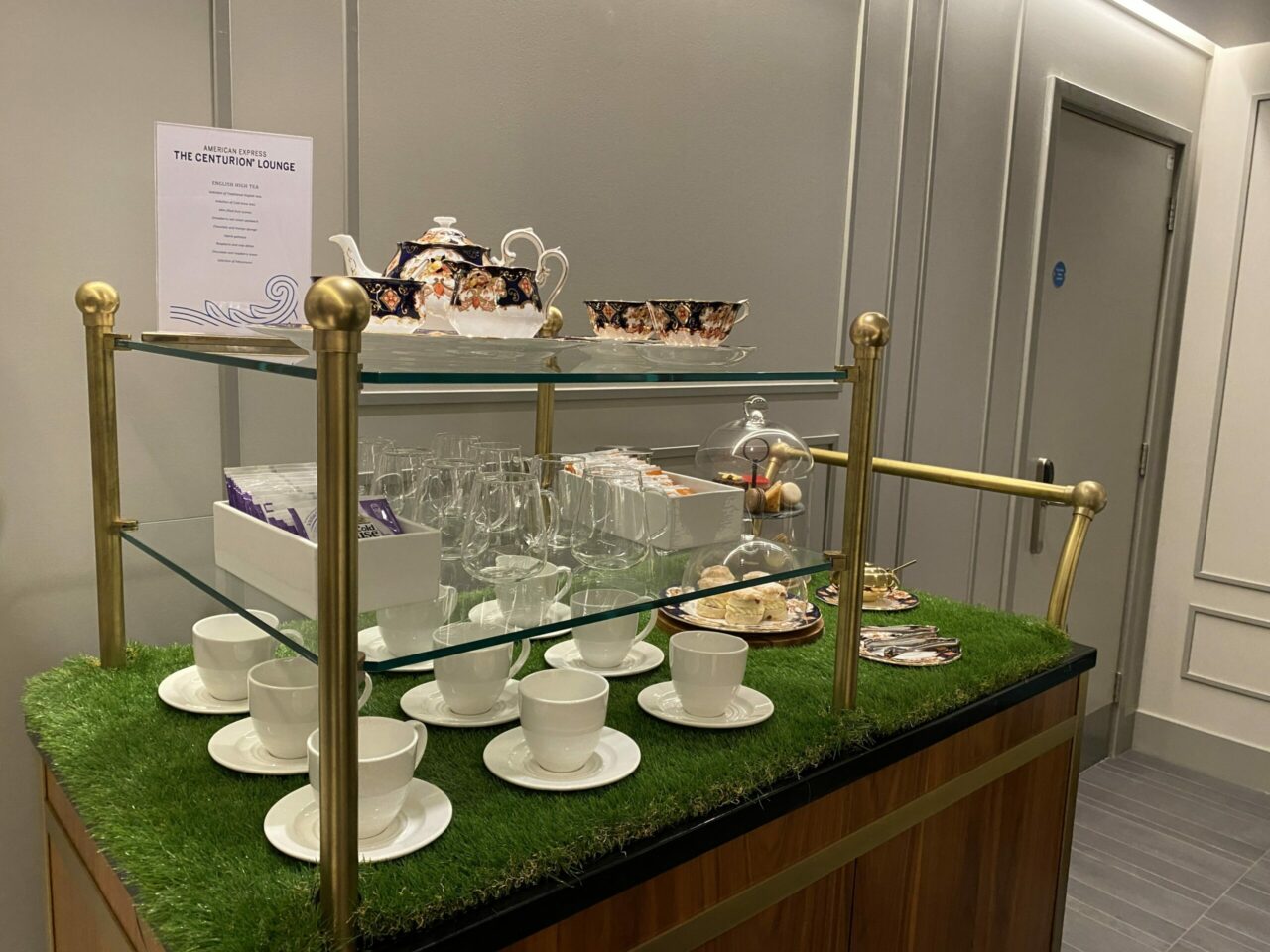 Of course, there are scones available as well as cakes.
As well as the tea trolley and bar there are several self-service areas with coffee machines, still, and sparkling water.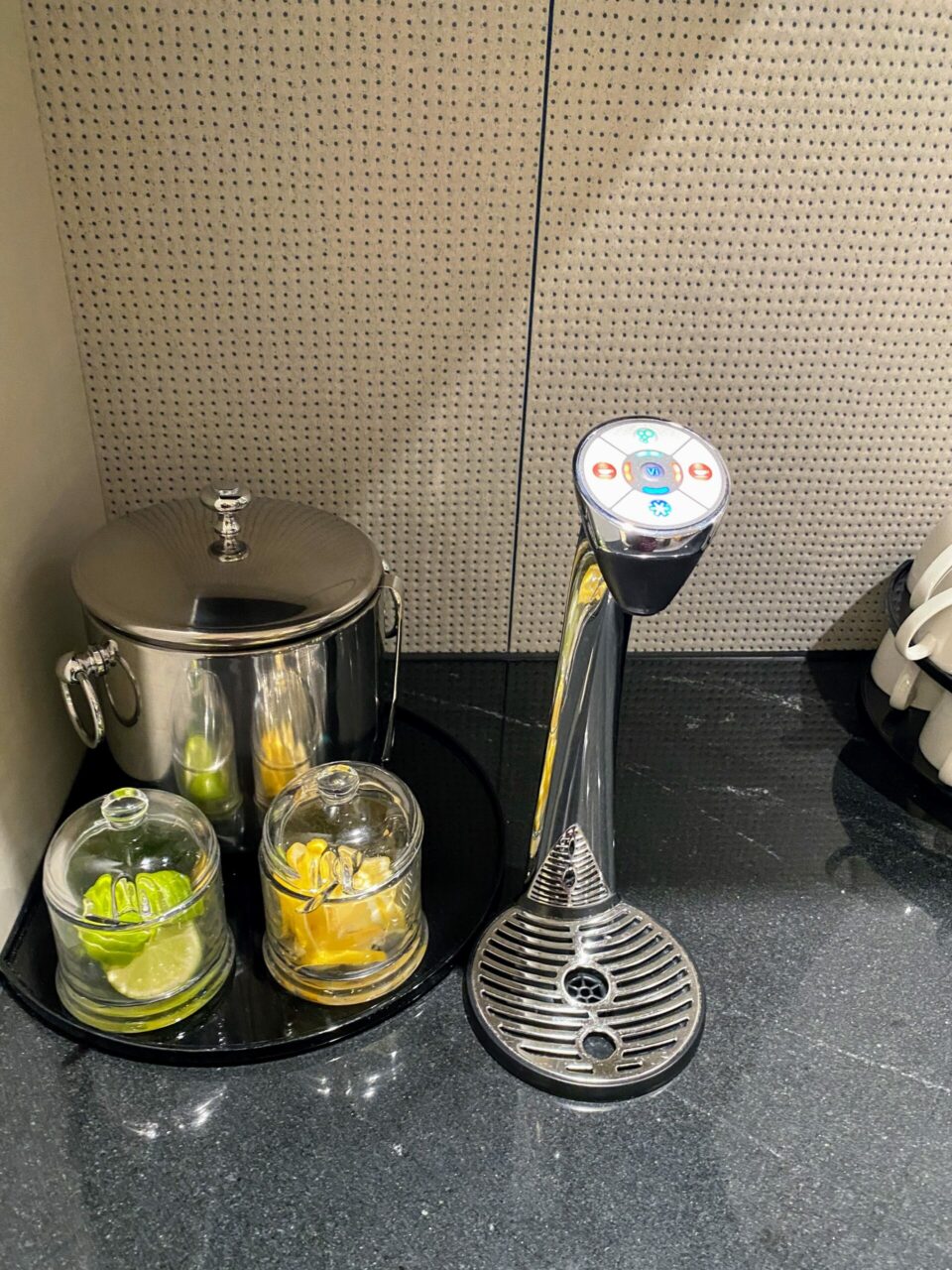 Conclusion
I have to say I absolutely loved the new Centurion lounge. The lounge is perfect for working with plenty of private areas if you want them. Plus the food was restaurant quality and it was nice to have something a bit different. It has been long-awaited and I am almost tempted to book a T5 flight to enjoy it properly with a few of the cocktails (just for my readers to get the full picture of course…).
The Centurion Lounge at LHR will also be the first Centurion Lounge to partially utilize renewable energy through newly installed solar panels. The environmentally conscious design is in line with American Express's 2025 environmental goals to reduce energy use across its managed facilities and its recent announcement to commit to net-zero emissions globally by 2035.
Like our American Express New Centurion Lounge review? You can read more Airline Lounge reviews here.