Today's article, Sheraton Grand Hotel & Spa Edinburgh, is a review by our Marriott Bonvoy expert David Small
Clan Sheraton Grand And Clan Glasshouse
(from left: Maria Seisdedos, Sheraton Grand Manager, David Small and Lisa Small)
Marriott Bonvoy has its own Clans; Clan Glasshouse and Clan Sheraton Grand. Visit Edinburgh (and Scotland) and claim victory – no matter where you stay — by being smitten by the beauty and history of this idyllic Northern destination in the United Kingdom.
Is Scotland the castles? Is Scotland the lochs? Is Scotland the kilts and the bag-pipes, or even the Haggis? No, Scotland is the Scots. The people of Scotland are the warmth and heart of this country. Their pride in their homeland beams through them during any encounter.
Ask a local about any subject and receive a story driven by personality and pride. Step into some of the cleanest cabs in the world and the cabbie will tell you (in our case) about his daughter's desire for him to emigrate to Australia; he would have none of that, vying never to leave his beloved Edinburgh.
Edinburgh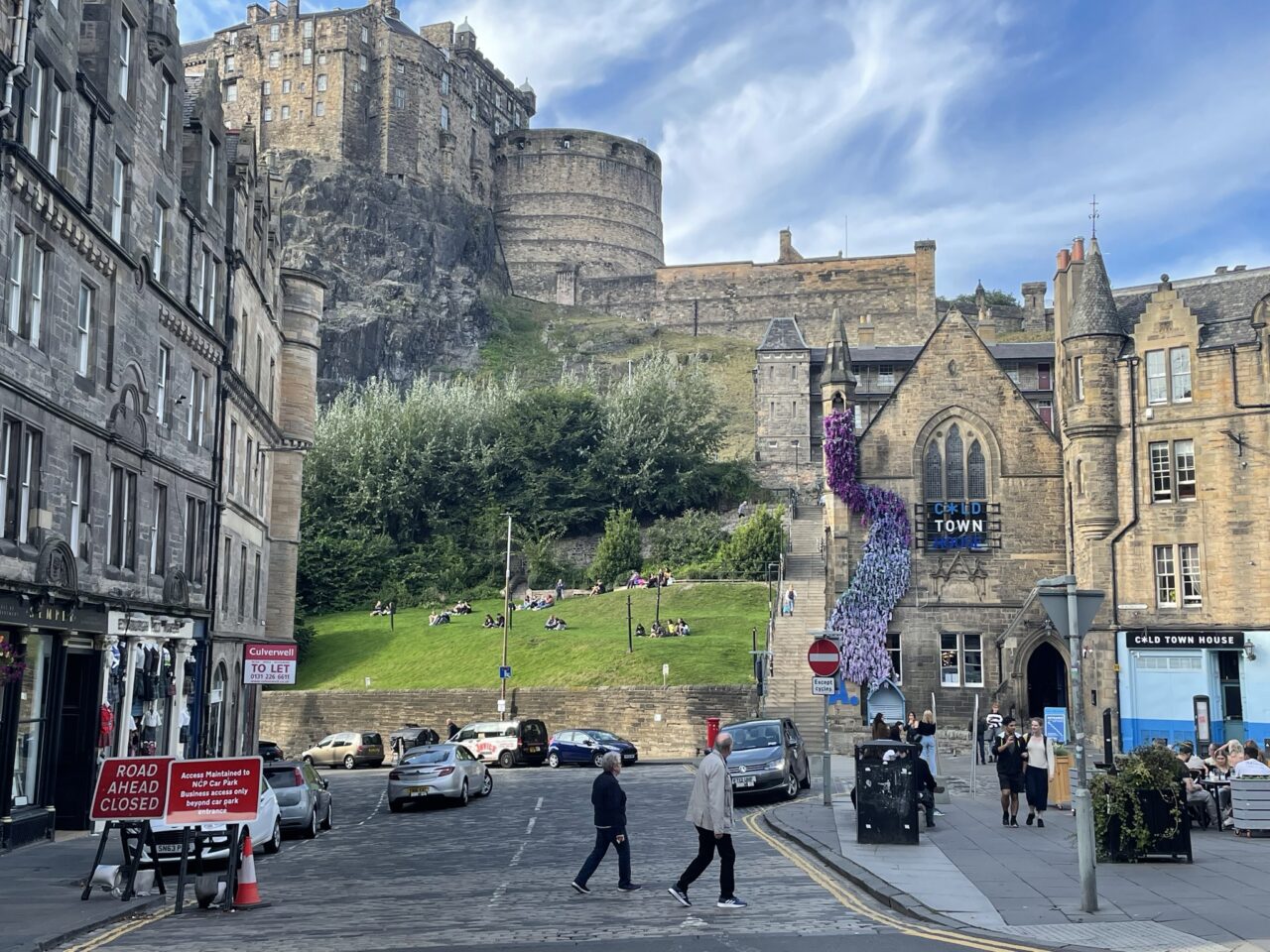 Edinburgh and London differ greatly. Chief amongst the differences is the cost of living, as well as the cost of a visit. London remains one of the most expensive travel sites in the world. Edinburgh, the feisty cousin in the north, offers the history of Old Town, the modern flavor of City Centre, and the fun touristy lure of the Royal Mile.
Epicurean Delights Await in Edinburgh
We dined at one of the most romantic haunts near the Royal Mile and Edinburgh Castle — the Witchery — for less than 100 Pounds Sterling. Savor the perfectly prepared Chateaubriand for two while surrounded by candlelight and flowers in the "secret garden." The locally-sourced beef was so amazing that we were almost in tears, leaving at least a 1/4 of the meal behind upon our departure. (
You can read a review of the Witchery hotel here
)
So, the cab drivers are nice and tell stories, and invite you to love Scotland. It's not just the cabbies, It is everyone. Another evening we dined at Kyloe, a highly rated steakhouse in City Centre, near the iconic Waldorf-Astoria Caledonian. Speaking of the Caledonian and the cost of a visit, visit the Peacock Alley bar at this beautifully appointed hotel and relax in refinement. Order a Hendricks & Tonic and a Frangelica and find a bill with tax and gratuity for only 14 pounds.
Cross the street and find yourself back at Kyloe. Maria Seisdedos, our gracious host from the Sheraton Grand, mentioned Kyloe as her favorite dining recommendation in Edinburgh. We contacted Kyloe for a reservation during our six day stay without any success. Fully booked for over a week out. On our final night in Edinburgh, we walked into the lower level of Kyloe, the more casual sister destination, the Huxley. The host confirmed no cancellations and no availability. We kindly mentioned it was our final evening in the city and Scotland, expecting a polite "no." The host asked us to wait and returned a moment later with "we can't let you leave Edinburgh without trying Kyloe." Again, Scotland is the warmth and kindness of the Scots.
We sauntered past the cowhide pelt chairs and we were seated at a window table overlooking the bustle of City Centre (the new home of the Johnny Walker Experience). Kyloe exuded the charm of the lads and lasses of Edinburgh. The manager, Jordan, treated us with personal recommendations from the menu, including the beef shin Haggis starter wrapped in Yorkshire Pudding. My dining companion, my wife Lisa, runs away from anything that begins with "stomach." I was amazed when she tried and enjoyed Jordan's choice for our table.
Like New York, Edinburgh offers Steak for two. At Kyloe Jordan pointed us toward the Cote de Boeuf, a close relative of our rib-eye. Accompanied by a bone marrow gravy, this Scottish cattle cut rivaled any American steak (from New York or my steak town of Kansas City). The beef was sliced and perfectly cooked to a medium-rare temperature. The texture of the dish was almost like butter; tender experiences of cow heaven with every bite. We gave up again at 1/4 or even 1/3rds of the Cote de Bouef left, staring at us from the wooden butcher block, beckoning us to finish what remained.
While the meal delivered refinement and exquisite preparation and quality, it was Jordan and her colleague Julia (a Scottish transplant from Lithuania) that defined the evening for us. A meal at Kyloe served by Jordan, Julia and James was a meal at a Scottish "home." A dining experience enhanced by the friendship extended by our Edinburgh/City Centre hosts — providing personal courtesies and intimacies we have not found in other cities (including in the United States). Jordan admitted — later in conversation — she almost did not allow us to dine that evening when our downstairs hosts shared there "was a lovely couple downstairs on their last evening in Edinburgh." She just endured a troublesome diner (most likely not a Scot), but she flipped a coin on us, and when we shared with her the evening and the meal was a highlight of our Scottish journey, her eyes lit up with happiness. Julia, who moved to Edinburgh nine years ago, translates her love of Scotland just like Jordan and any other resident or transplant to the magical country.
"Australian Dave," our Sandeman's tour guide, moved to Edinburgh and wed a Scot in the last five years. As he walked us through the Royal Mile and Old Town, his Australian accent faded away as his adopted Scottish brogue enchanted us with stories of historic Scotland during our wonderful walking expedition. Like the architectural and historical tours of New York, a walking tour of Edinburgh is a delight, inviting you to travel back in time as you traverse buildings and streets dating back centuries. Step through 18th-century cemeteries and keep your eyes out for ghosts of ancient Scots.
Another transplant to Edinburgh is Maria Seisdedos, a native of Madrid. Maria was recently appointed acting manager of the Sheraton Grand, and she will extend the same Scottish kindness and welcome to anyone visiting her home. As a member of the Murray Clan, I would swear fealty to Clan Sheraton Grand after our marvelous stay at this centrally located property — offering spectacular Edinburgh Castle views. The Sheraton Grand provides a comfortable luxury feel with a warm-hearted ambiance. The Sheraton Grand Hotel & Spa Edinburgh rooms and the hotel are full of tartans and woods. Enter and be welcomed into a clubby atmosphere allowing a local feel during your stay. Maria has quickly adopted an all-hands attitude with her staff.
At the Sheraton Grand Hotel & Spa Edinburgh everyone knows your name. Each morning and most evenings we frequented the modern club lounge, attended by Alexander. He not only remembers your name, he remembers your favorite drink, and asks you kindly if he can pour another. Prior to our stay, Maria accidentally copied me on an all-staff memo related to our 30th anniversary stay. I note this not for our stay, but to illustrate the attention Maria and the Sheraton Grand offer to their guests.
During your stay ensure you meet Robin Morgan. Although not a Scotsman, Robin will endear you with stories of Wales, his hometown, and his Mom. His humor is top-shelf, and he will not only remember your name, but he will also share unique stories of Edinburgh. My favorite of his anecdotes was learning the founding fathers of Edinburgh did not complete some of their structures because they were too proud to ask for monies from the Irish for completion.
Each morning walk into the first floor Club lounge for the heartiest of Scottish breakfasts. Treat yourself to a complete meal in Sheraton Grand Hotel & Spa Edinburgh that will fill you past lunch, including Scottish smoked salmon, Haggis (one of my favorites, and the Sheraton prepares a "mean Haggis"), eggs, baked tomatoes, sausages, bacon, beans (not sure about that one), mushrooms and potatoes.
The Castle Suite at the Sheraton Grand Hotel & Spa Edinburgh is magnificent and makes you want to don a kilt. The tartans, breathtaking views of the Castle, and pictures of highland cattle, invite you to sit in your living room and feel like a true Scott. The only thing that might be missing is a glass of Scotch. Don't worry. Alexander will kindly pour one for you. Starting in the early evening Alexander (and his lovely colleagues) will deliver to your Club table a daily variety of canapes and desserts.
One fellow Bonvoy member opined the canape service resulted from COVID. I like to think of it as the Sheraton Grand Hotel & Spa Edinburgh "tea service," but with wine, beer, cider, and other favourites.
After all the exploring, there's a great spa with an outdoor hydrotherapy pool to soak your weary limbs.
A must-see while staying at the Sheraton Grand and in Edinburgh is the Palace of Holyrood. The Queen's residential palace in Scotland, this destination at the end of the Royal Mile is a high display of pomp and circumstance. The Palace is immaculately presented and maintained. When in residence in Scotland, Queen Elizabeth II calls Holyrood home and hosts spectacular royal events at the palace.
Holyrood offers visitors a glimpse into the past and present of English and Scottish royalty — including a wonderful chapter about both Mary, Queen of Scots, as well as Bonnie Price Charlie — known to many American audiences through the television series Outlander. The pride the Scottish government takes in presenting Holyrood is evident in the majesty of the Palace as well as the engaging and thought-provoking audio tour narrated by palace staff as well as Prince Charles and Prince Edward. Do not miss the recently-added special exhibit honoring Prince Phillip, the late Duke of Edinburgh.
Our greatest Scotland regret was not enough time and not renting a car. We fell in love with Edinburgh (me, again, after more than 20 years), but also ventured for a day trip to St. Andrews to indulge in the beauty of the Scottish coast and countryside. The town of St. Andrews has a resident population of 20,000 including 10,000 students from St. Andrews University. This year St. Andrews University captured the top ranking for schools in the United Kingdom, besting both Oxford and Cambridge for the first time ever. The town is a journey into a simpler time — save the youth of the students in residence. The pace is leisurely, akin to the pace of its famous Old Course, the birthplace of golf. The walk to the sea is worth every step, revealing crashing waves, surfers, and a palette of colors and sights that beg you not to leave.
The Scots make you feel welcome, at home. I would like to go back home again to Scotland, for the warmth of its people, and to discover even more of this magical country.