Atlantis Bahamas was the original Atlantis resort. Although most people from the UK tend to think of the Atlantis the Palm when you talk about the hotel.
You may not also know that it is affiliated with Marriott so Marriott Bonvoy members can redeem points to stay at the property."
Atlantis Bahamas entire resort offers 2,600 suites and rooms as well as five pools, including the adults-only pool at Cove Atlantis. Within Atlanis Bahamas you can find an aquarium, water park, 27 hole golf course, tennis courts, and much more. Atlantis is situated on Paradise Island which is just outside Nassau. It's about a 15-minute drive from the airport.
When you think of Atlantis, usually what springs to mind is the waterpark and families. However, at Atlantis Bahamas, there is a luxury resort too. The Cove is an all-suite hotel with an adults-only pool as well as access to all the attractions that the entire complex has to offer. I didn't see any children in the hotel during my stay except at the shared pools that were not adults only.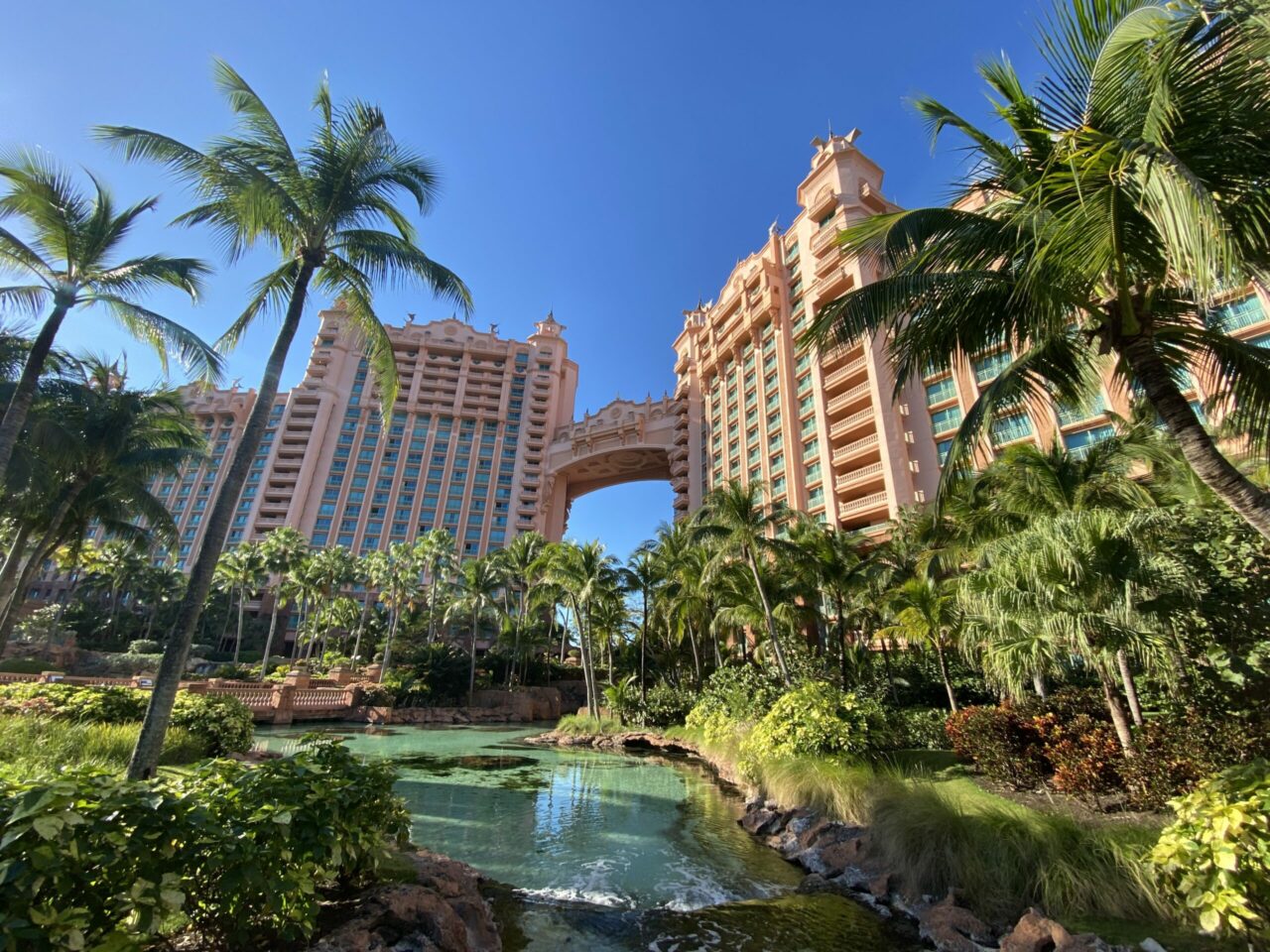 The Cove is the newest resort at Atlantis Bahamas and offers an exclusive setting with its own entrance, reception area, and check-in desk – making this a quieter and more refined than the main hotels.
As well as The Cove, Atlantis Bahamas is made up of The Royal Towers, The Coral, Harbourside Resort, The Reef & the Beach.
Check-in
The area around reception is simply beautiful with a long walkway leading towards spectacular views of the resort and sea.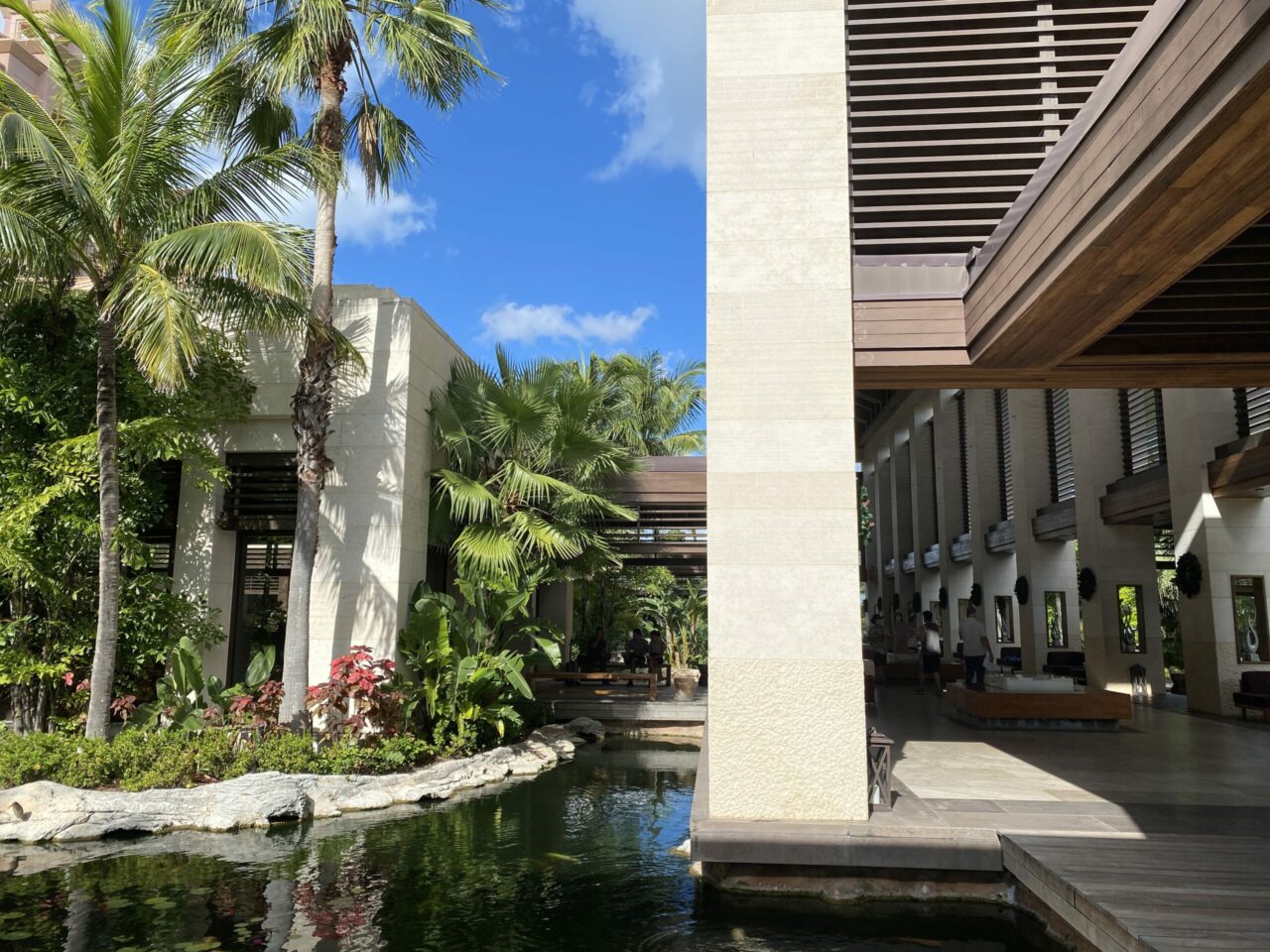 Dotted around the walkway are waterfalls, ponds, and lush planting which give a sense of the Caribbean.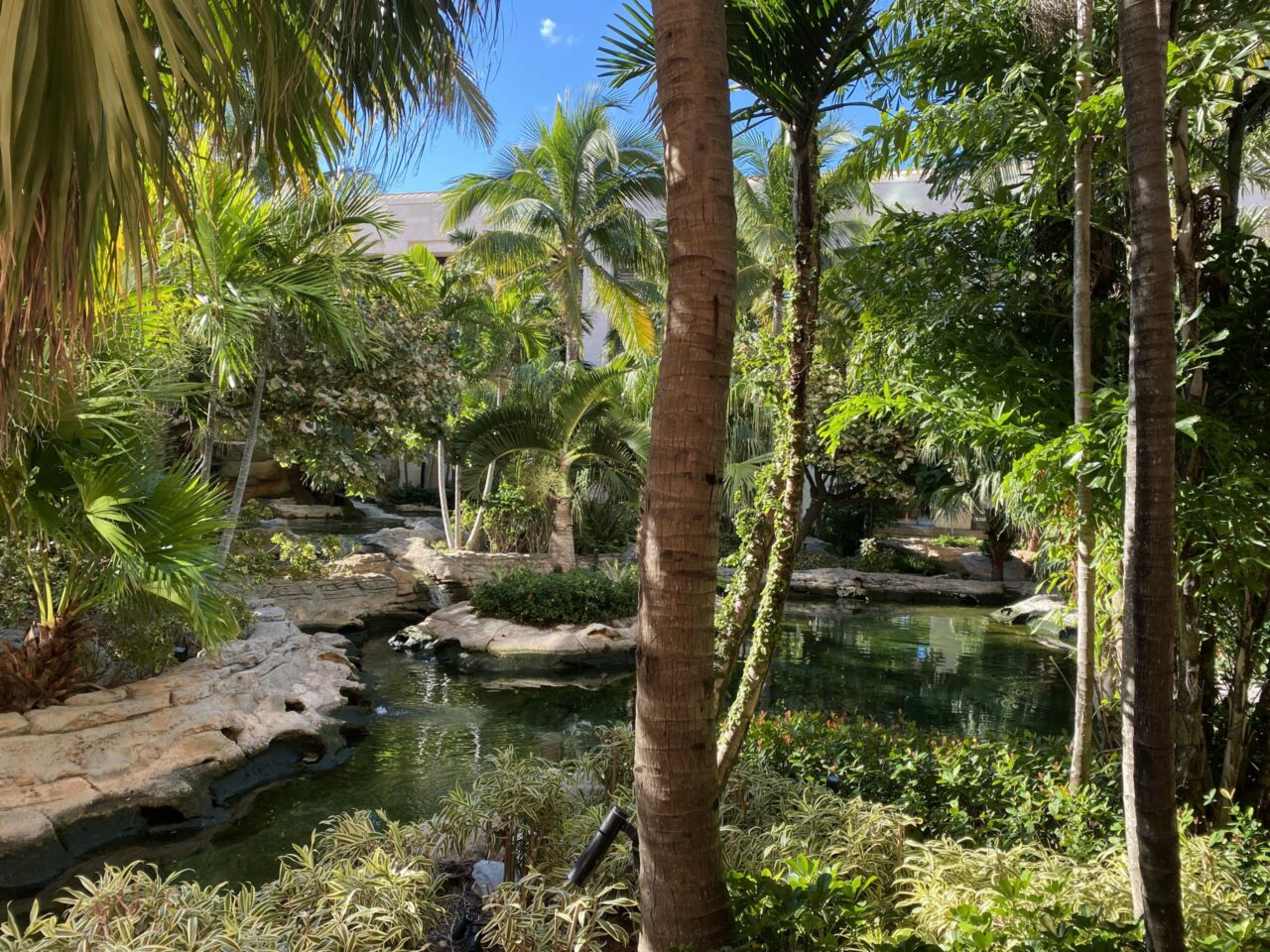 There are several smaller check-in areas that feel luxurious and exclusive, as well as the main area.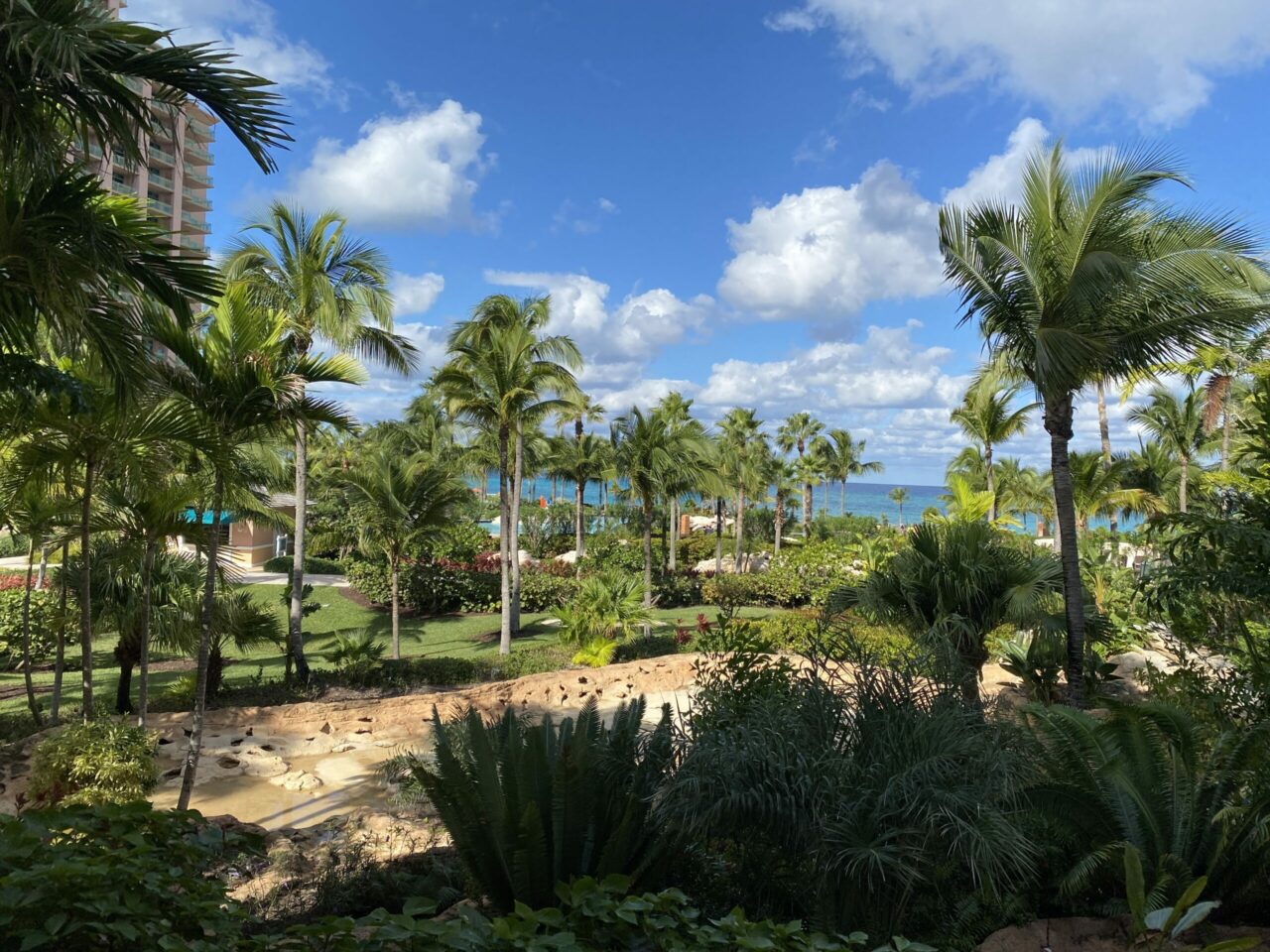 We were offered a welcome cocktail and swiftly checked in. Atlantis is a huge resort so you are given a map of where everything is, which you'll need until you find your bearings.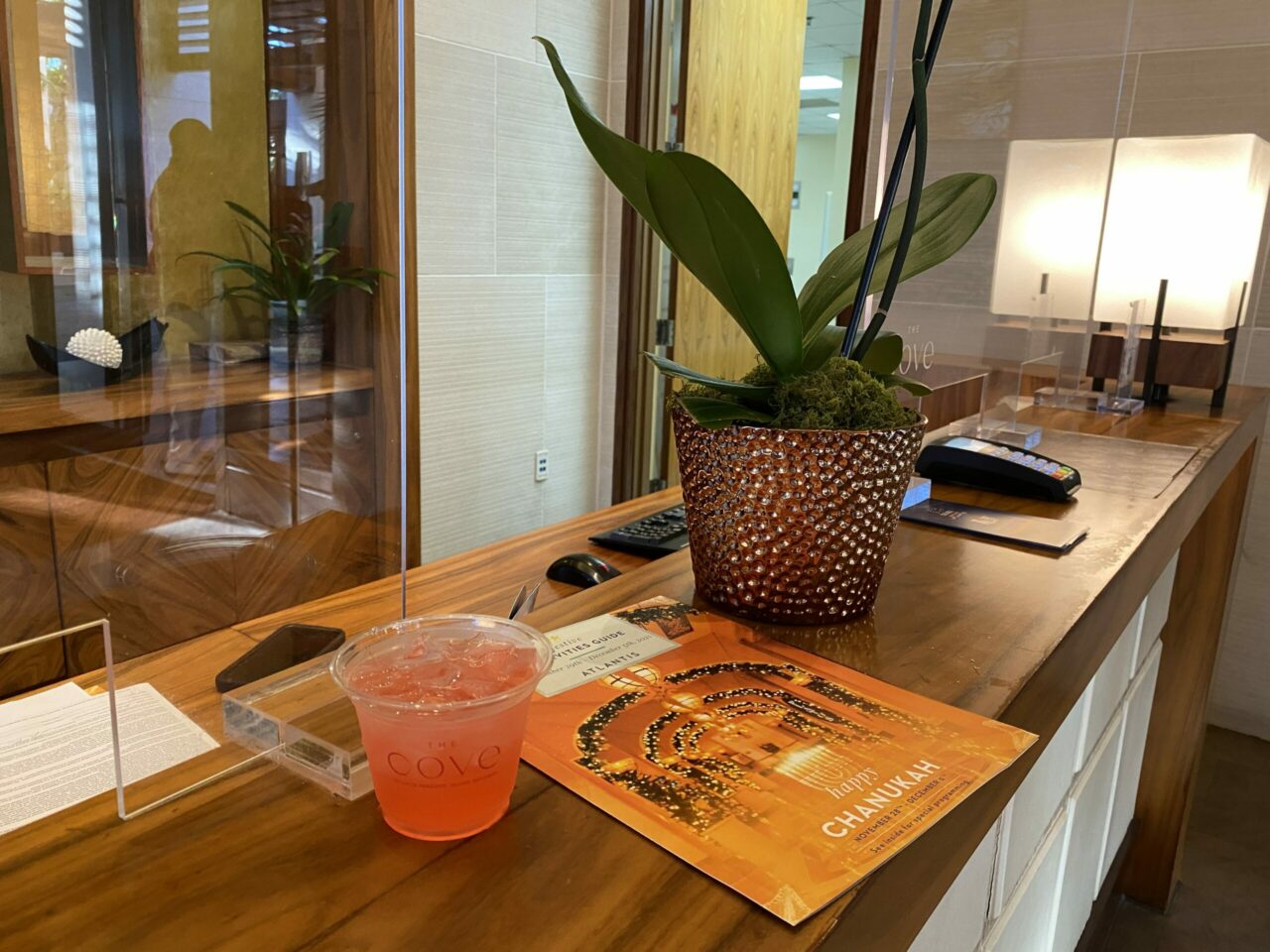 You need to wear a mask indoors and the staff were keen to remind you to sanitise your hands everytime you entered a space.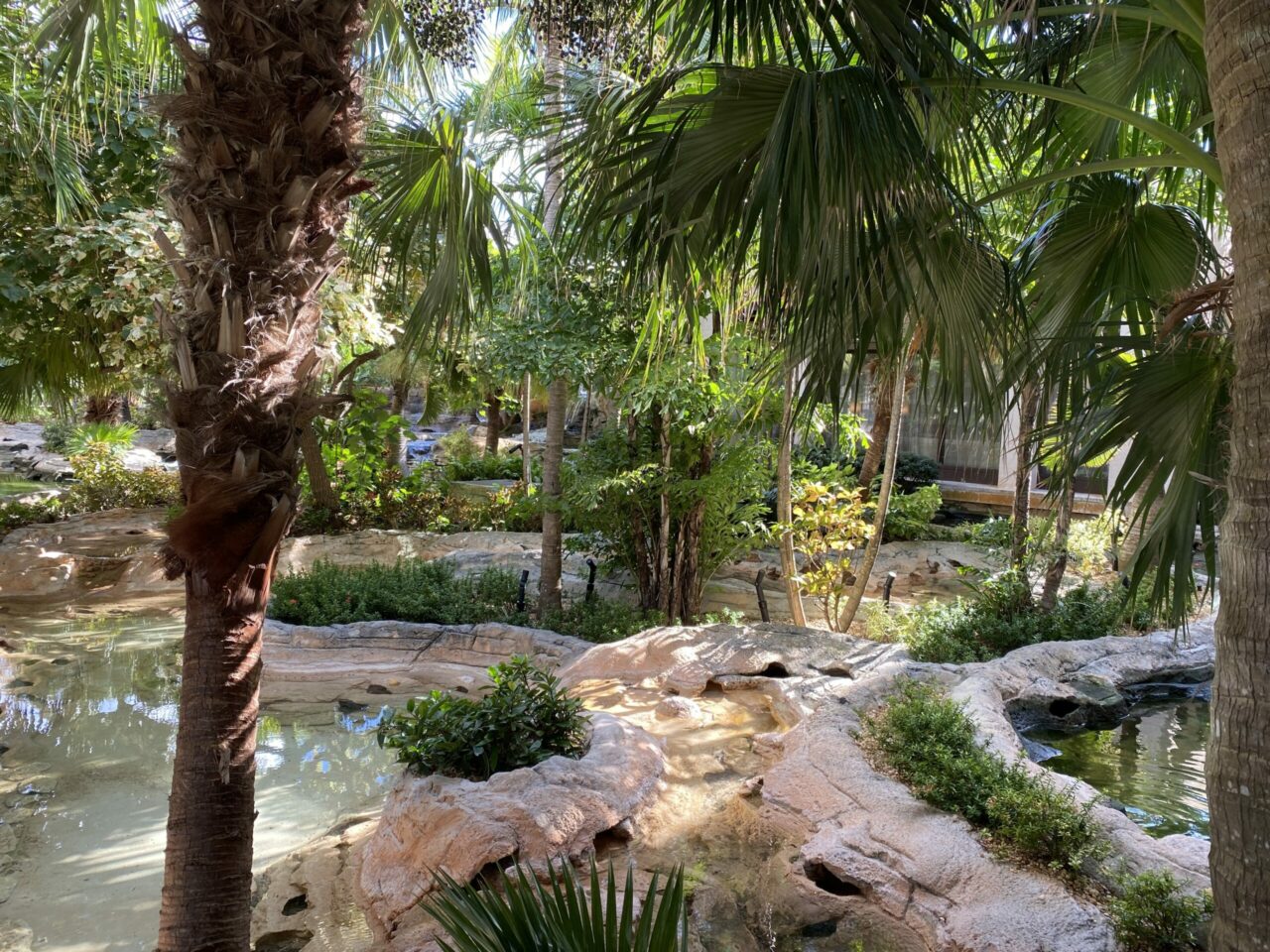 Access to rooms was well secured with security guards by the lifts.
The room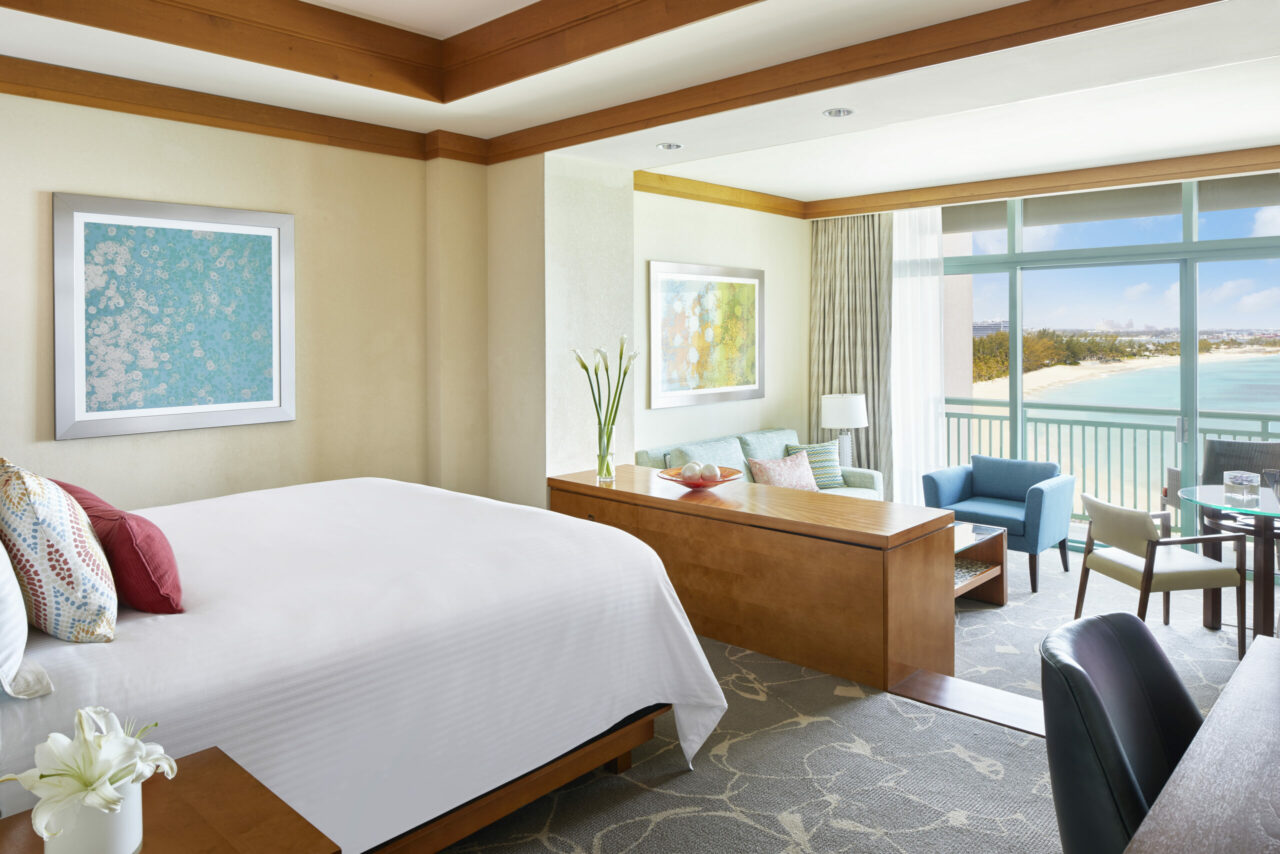 All the rooms are suites, but the entry-level ones such as my Ocean Suite are a junior suite with the lounge on another level.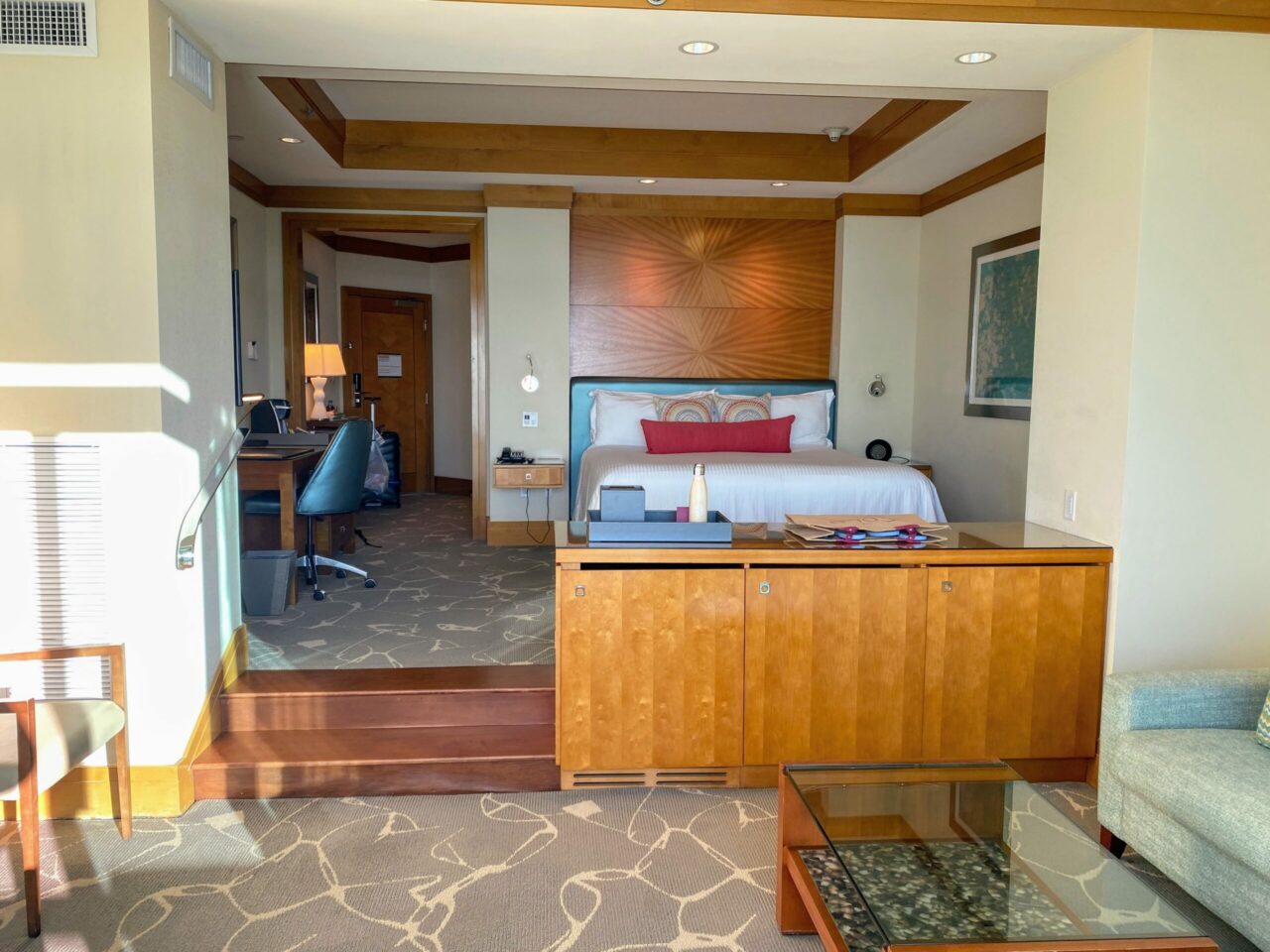 There was a welcome gift waiting for me on the table as I entered.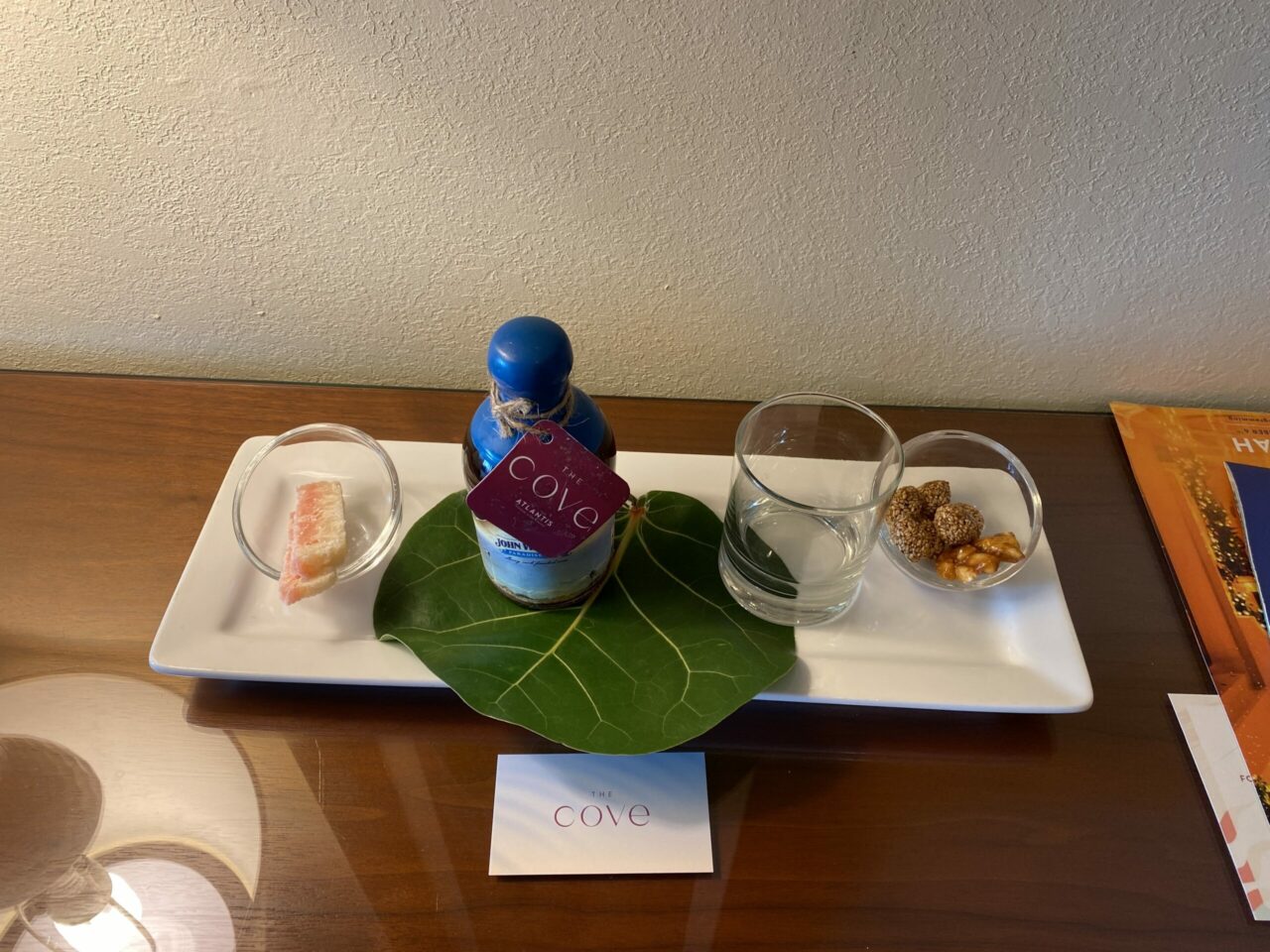 The room felt very spacious with a walk-in closet, bedroom area with a desk and TV as well as a lounge area with another TV and table and chairs.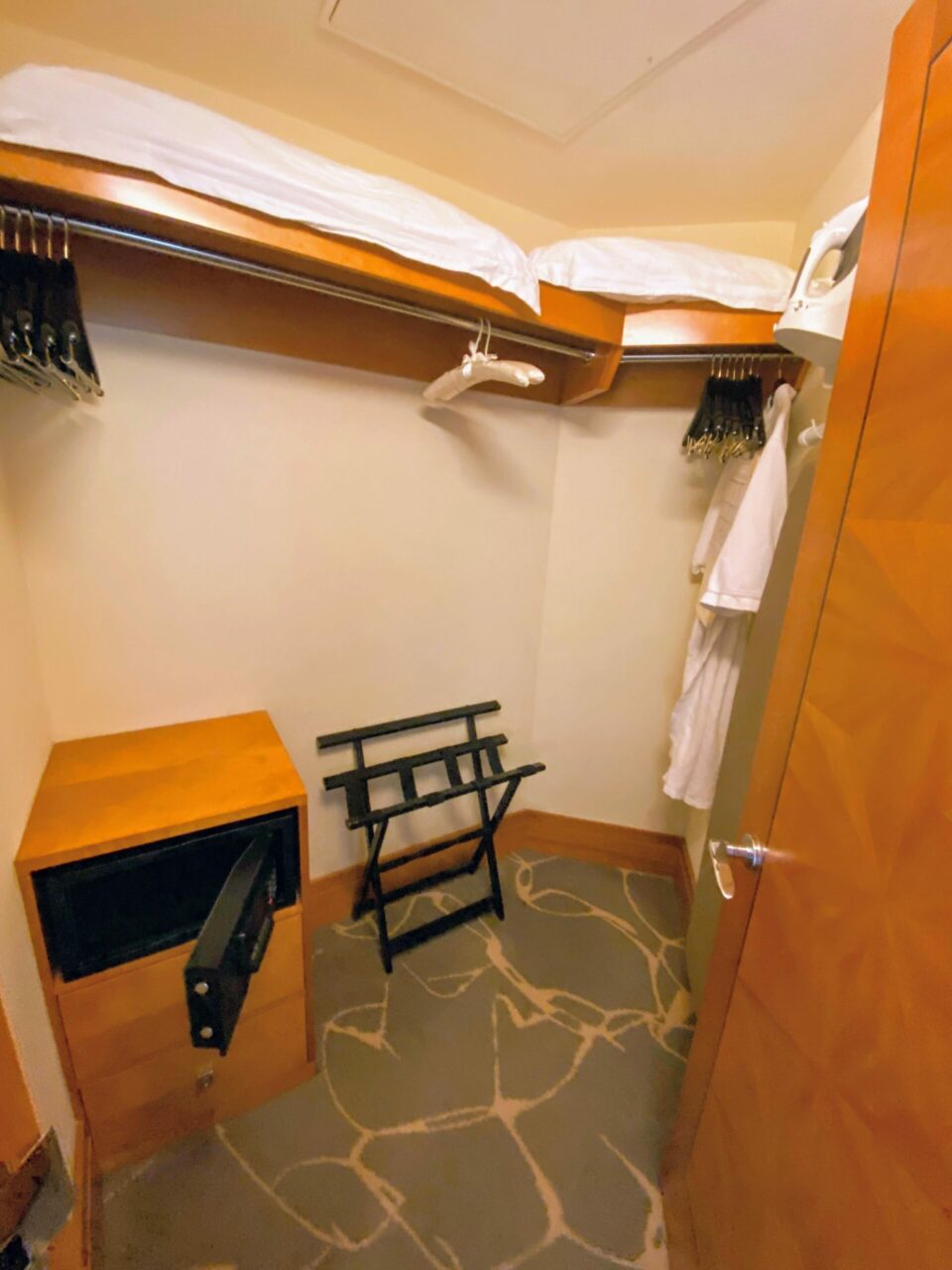 There was a small balcony but it would have been nicer with a proper table and chairs so you could eat your room service breakfast outside. There was a great view of the resort and beach.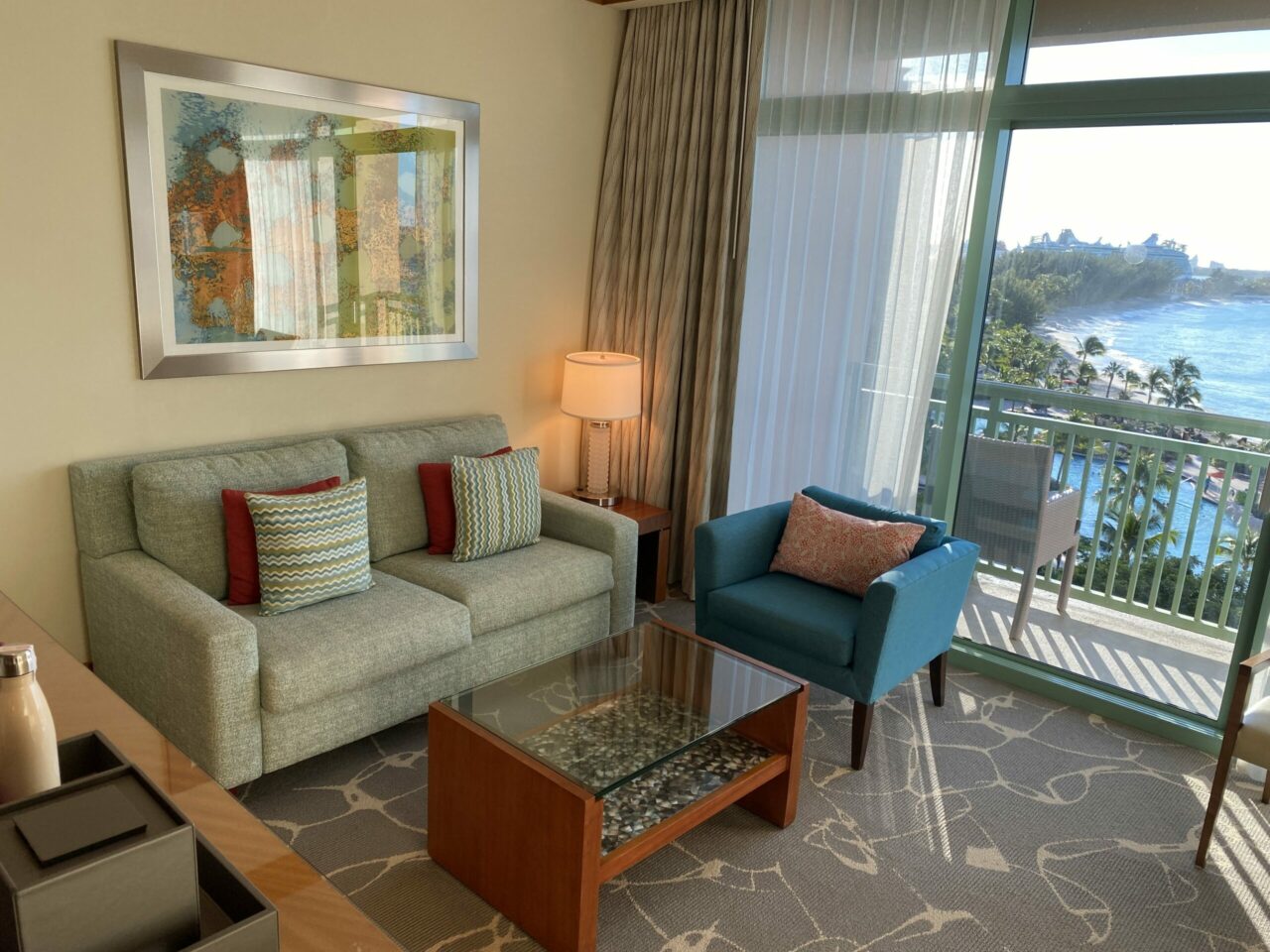 The bathroom was probably the larger one I have ever had with two sinks with a large bath between them, as well as a walk-in shower and separate toilet.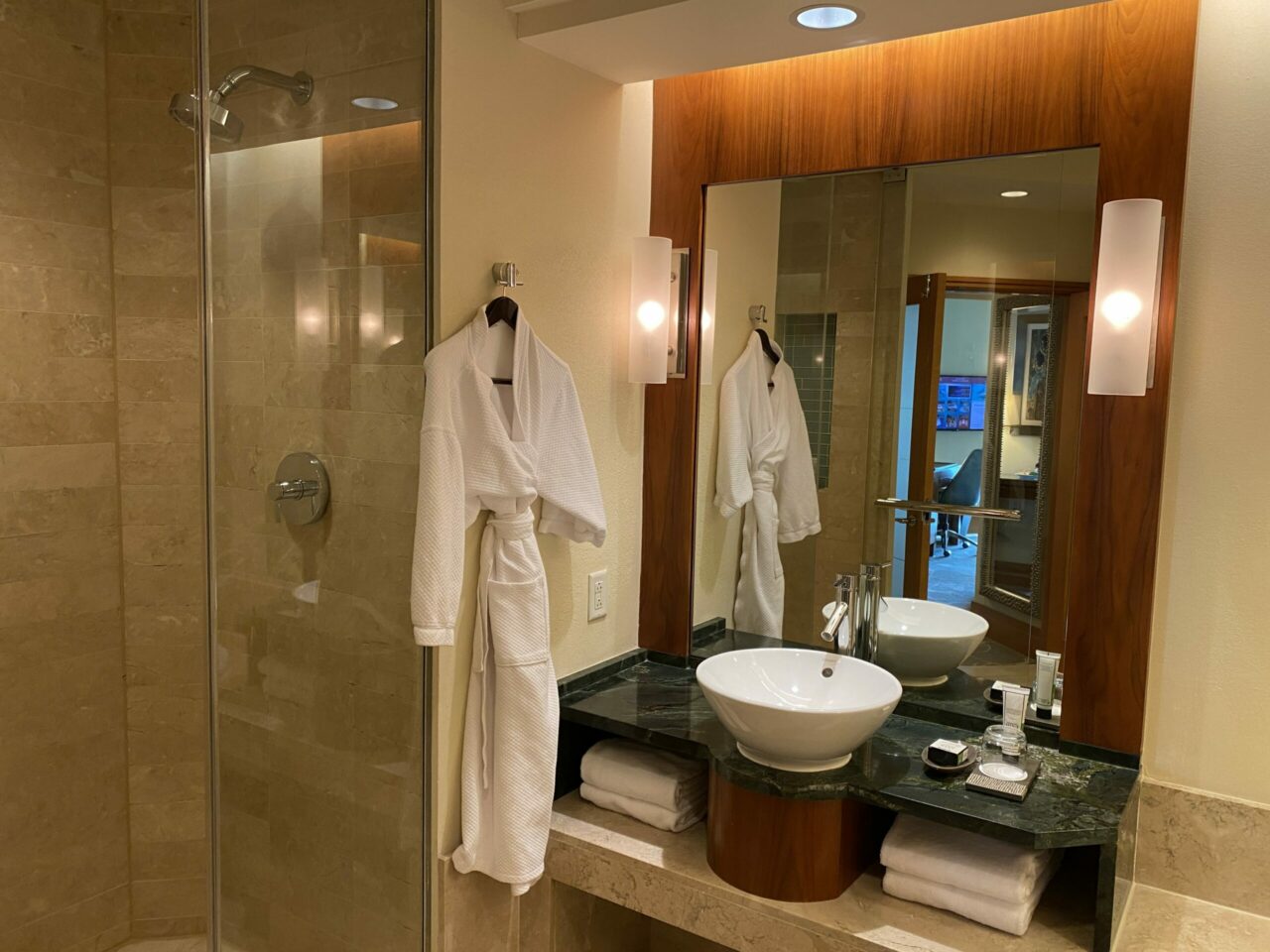 Toiletries were by Archipelago Botanicals in Morning Mint. It's a US brand that I am not overly familiar with. The shower gel was pretty zingy with a mint-citrus fragrance but let's just say it was a bit too minty fresh in some more delicate areas for my liking!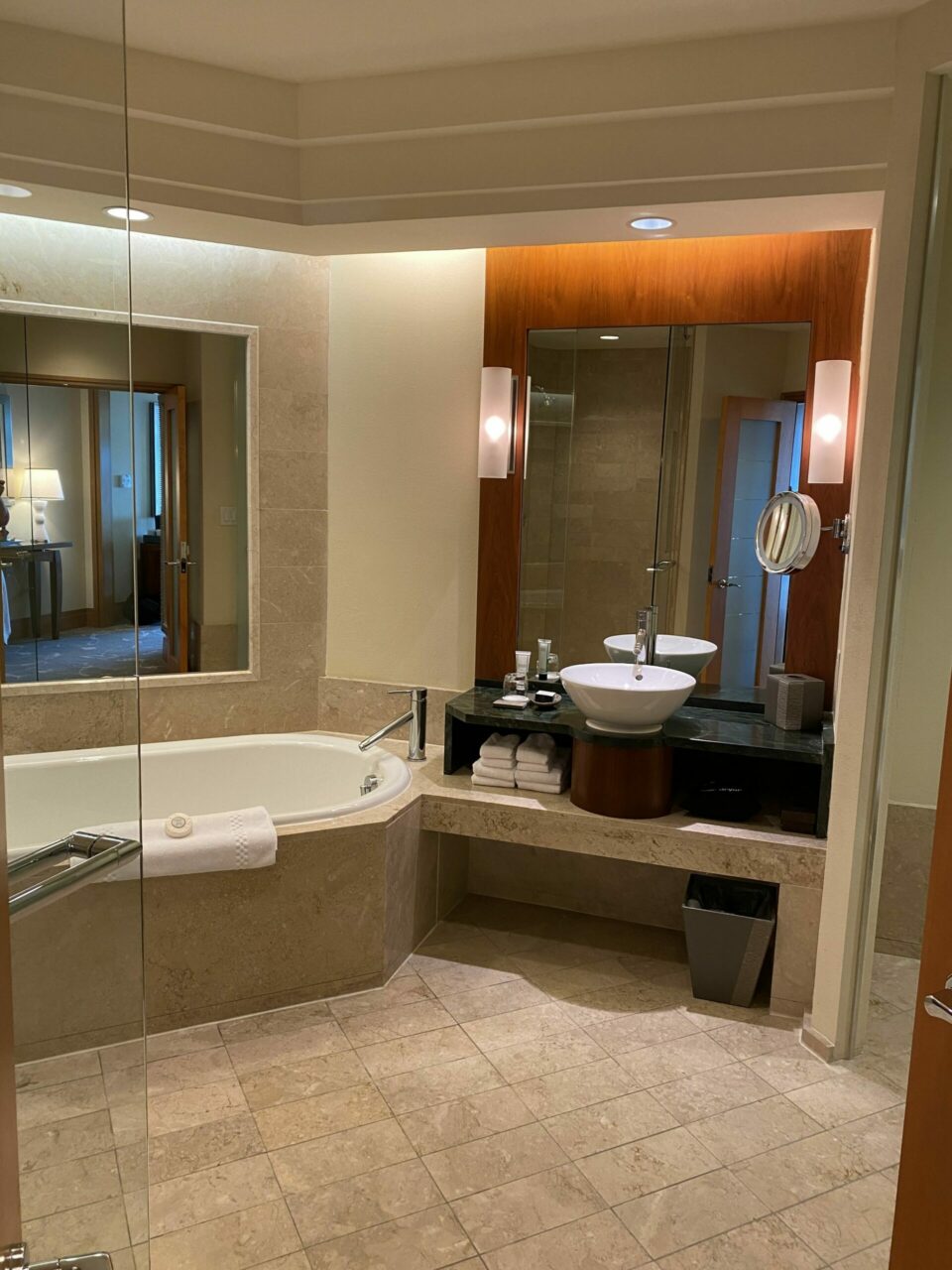 I loved that you can order room service through the TV either for immediately or the next morning. Then room service would call you to double-check your order a few minutes later. Although not cheap, portions were generous and beautifully presented.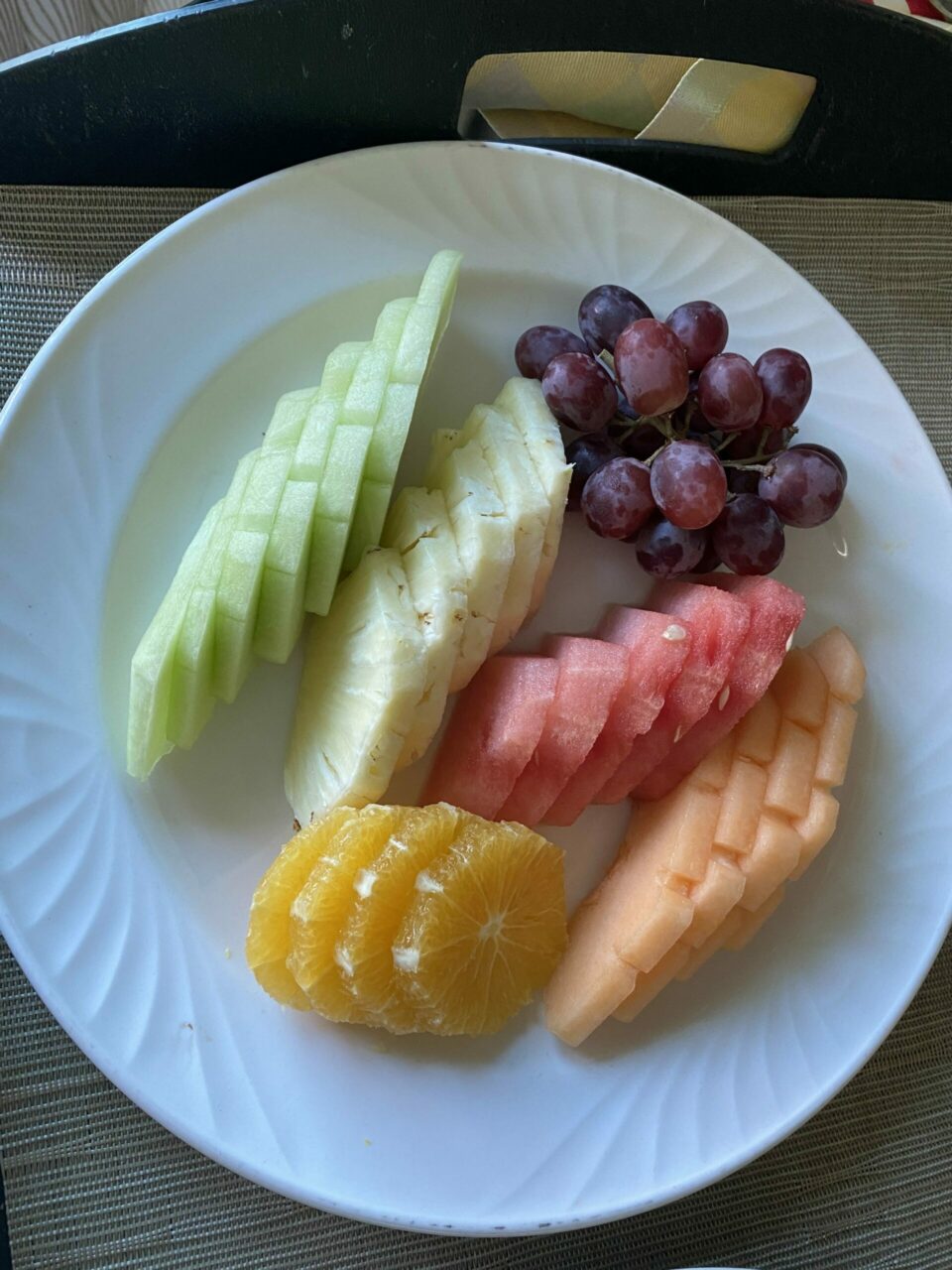 You were provided with Chilly-type water bottles and there was an ice machine with water at the end of the corridor. However, this water still tasted odd to me. Similar to the US where it has a strong chlorine taste so I preferred bottled water.
At turn down you were given environmentally friendly cans of water. As well as the bottles you also got given a lovely woven beach bag and a pair of flip flops. They also set the TV to soft music which was a nice touch.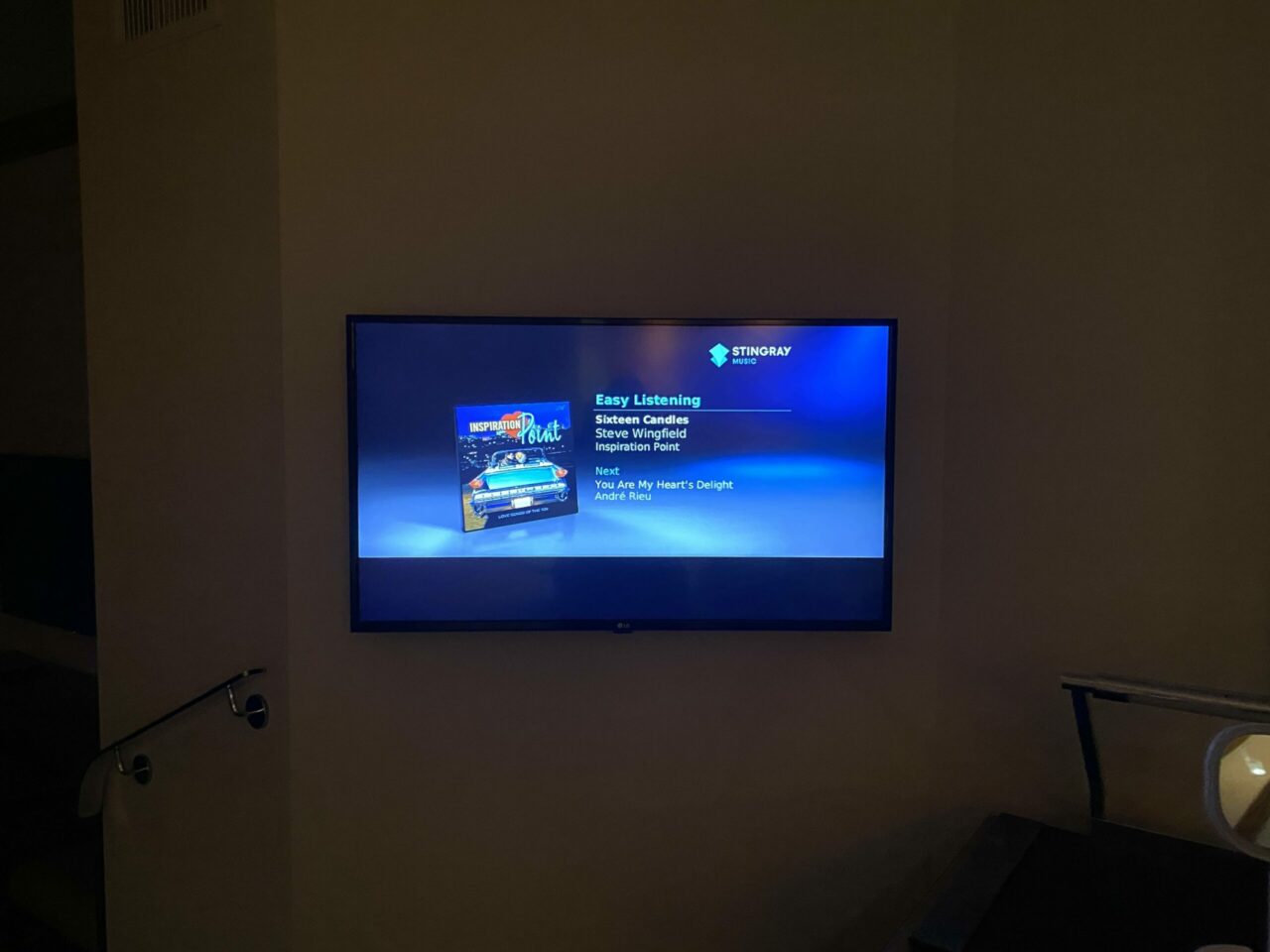 The room had a Keurig coffee machine and plenty of charging points. One clever thing I have noticed in the US and Bahamas recently is the use of clocks that have a USB charger incorporated. Why can't UK hotels (Sofitel Heathrow I am looking at you!) use this as a cheap fix where there are no sockets by the bed?
I found the bed very comfortable and there was not much noise to be heard from surrounding rooms.
Higher category rooms have a butler service.
If you fancy staying at The Royal, entry level rooms are modern and decorated in light blue tones, large and well equipped.
The Cove pools and beach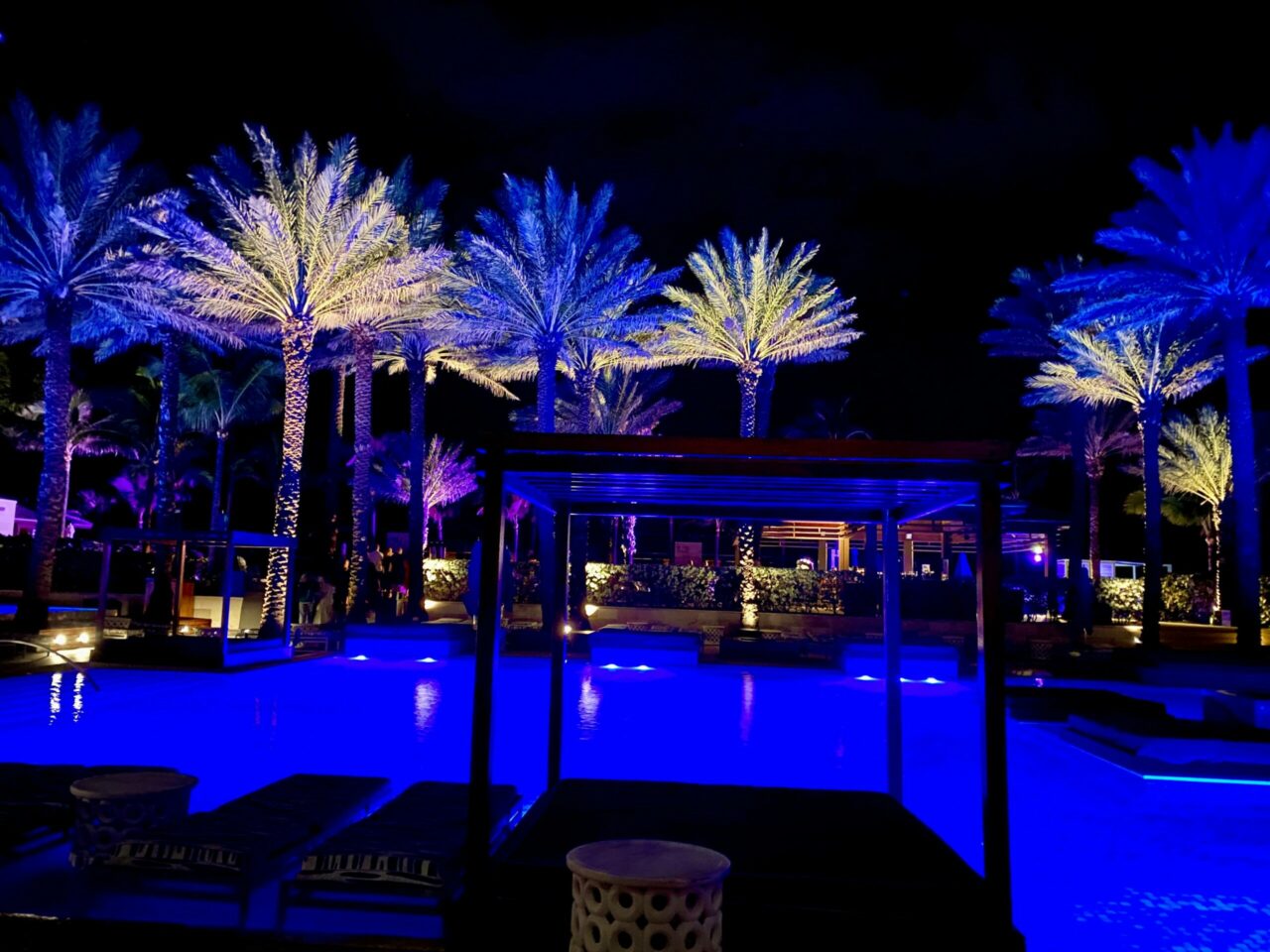 The Cove has a secluded beach tucked away from the main resort, offering plenty of space to bask in the sun and even a bar and grill. Loungers were very comfortable with padding and a copy you could move over for shade. There is also the adults-only pool which has a DJ at times and cabanas. You can pay for a cabana with butler service and they were probably the most luxury cabanas I have seen in terms of size and outlook over the beach.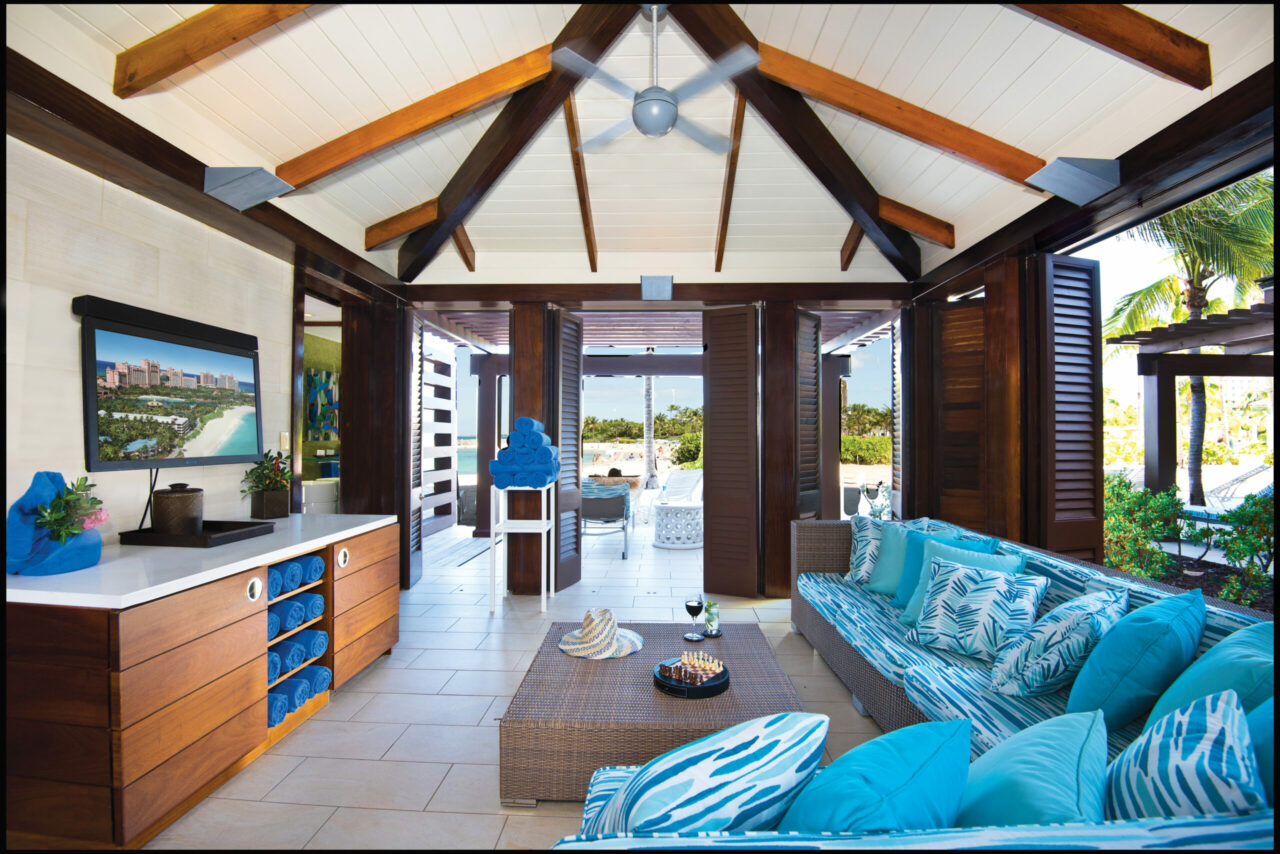 The pool is in the shade quite a lot of the day at this time of year making the water a little chilly, so I tended to use the other pool, Cascades or the beach. Despite being in the Atlantic, the ocean was warm although not as warm as Caribbean sea beaches.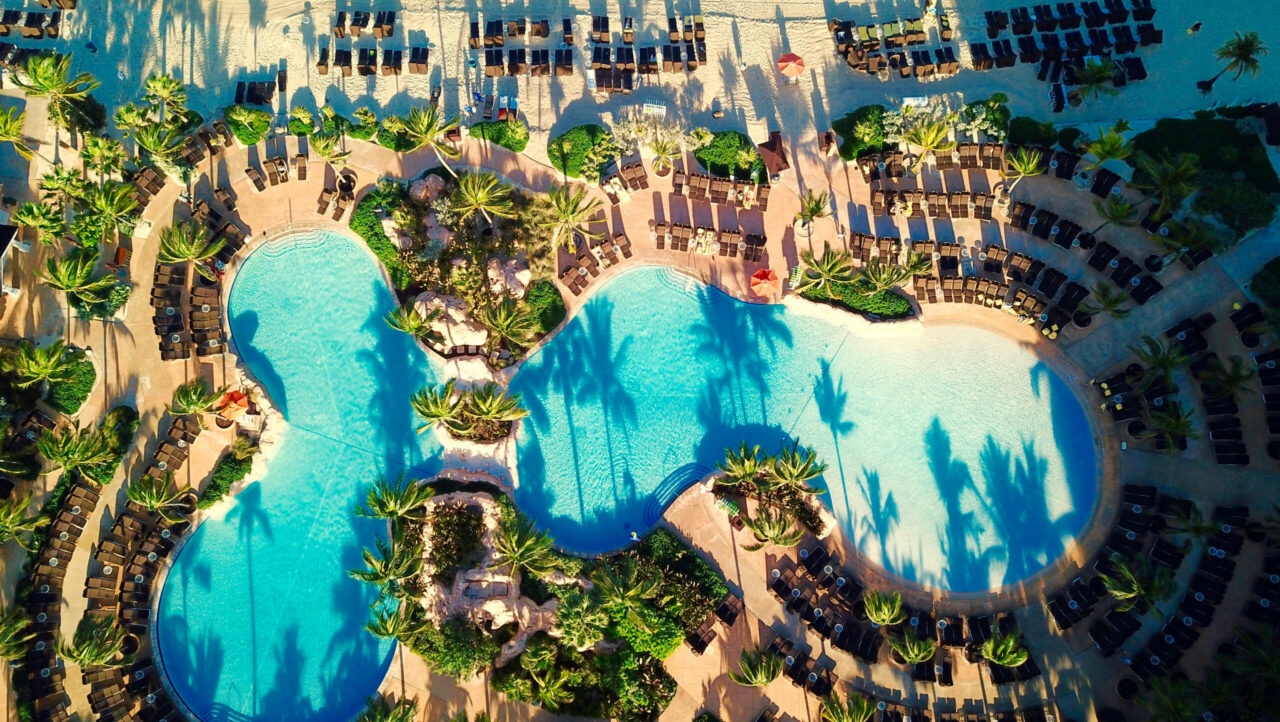 Next to the beach and pool is a bar/restaurant called Sip Sip.
Dining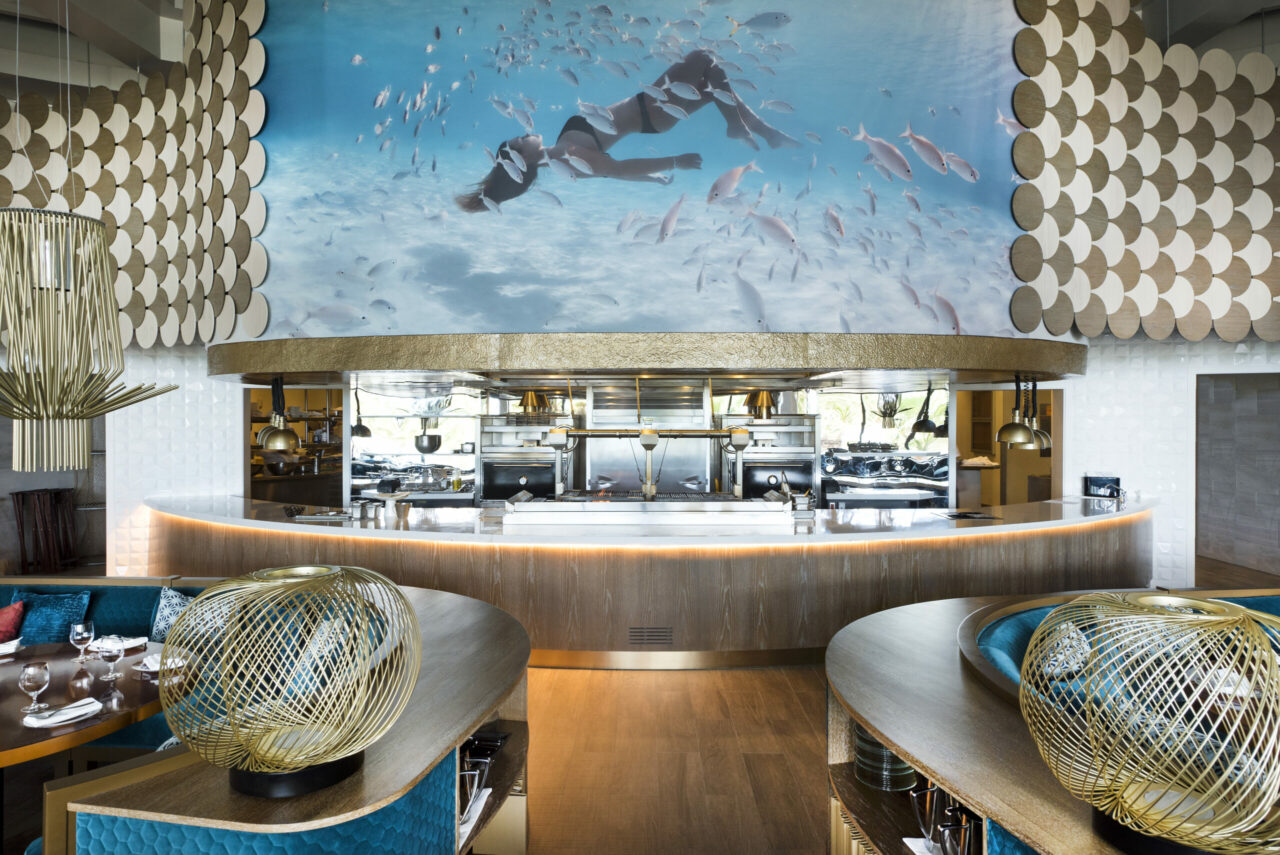 In the Cove itself, there is Fish by celebrity Chef José André featuring the Bahamian seafood. Dishes incorporate a wide variety of ingredients from crustaceans to tuna, lionfish to conch, with simple well-cooked fish as well as more creative dishes
Also at The Cove is Sea Glass bar which serves casual food and drinks. There's a huge array of restraunts across the resort including well known names such as Nobu and Olives by Todd English.
Atlantis Bahamas Breakfast
Breakfast is served in Mosaic at The Cove which is an indoor restaurant. It would have been nice to be able to sit outside for breakfast. The restaurant offers a buffet service and at the moment you need to wear a mask in all public spaces except when eating and drinking. So you need to wear the mask to go up to the buffet.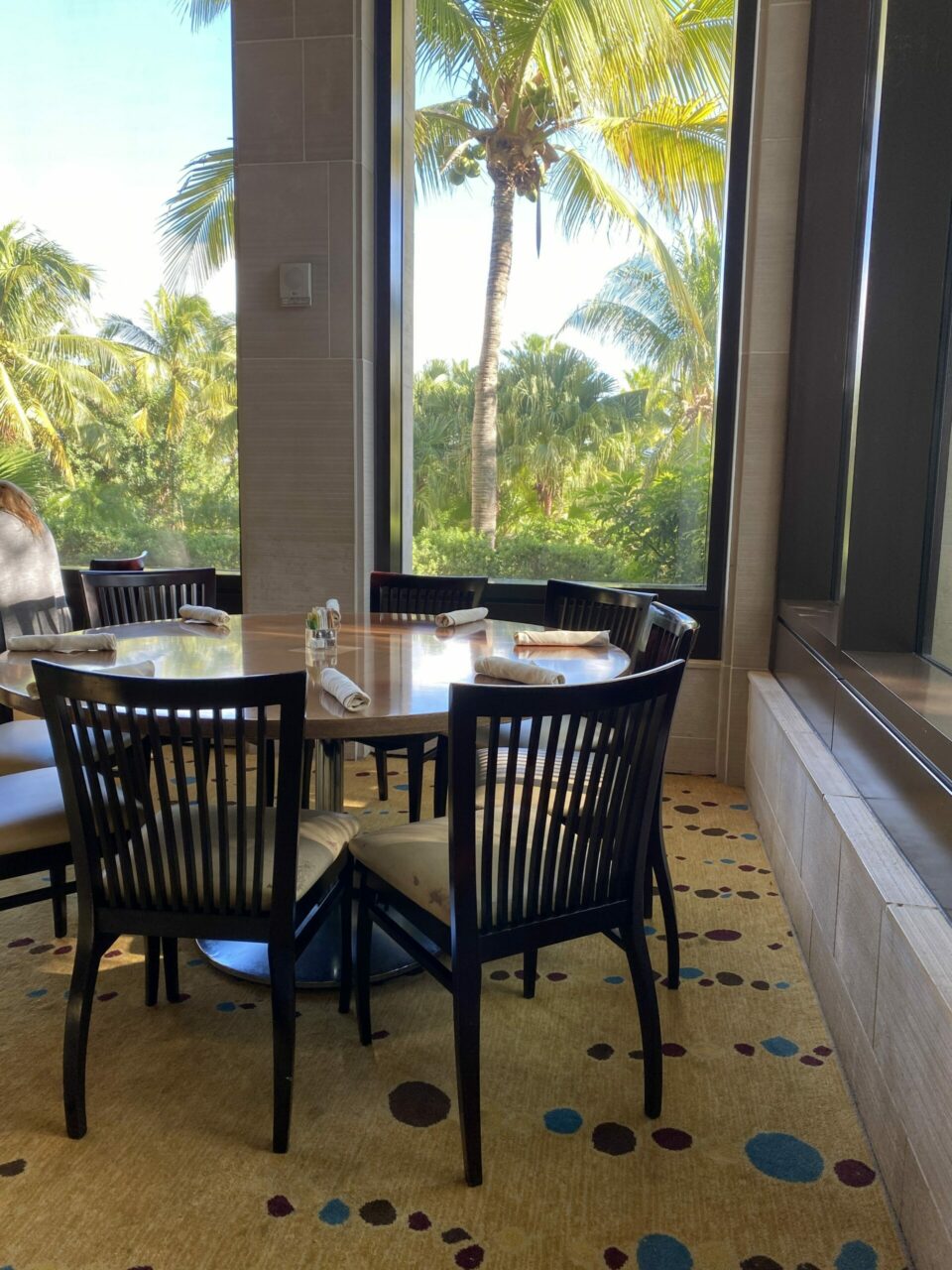 I have to say the buffet was amazing. I have missed a really good breakfast buffet and this had a huge selection. The only thing that I wasn't sure about was bacon sushi – I'm sorry but that is just a no from me! I could hear the sound of many Japanese great sushi chefs who train for years, groaning in despair when I spotted that on the buffet!
The selection ranged from the traditional bacon, eggs and pancakes to more eclectic choices such as local curries and Bahamian dishes, salad, roasted pineapple, and gammon. Tea and coffee were brought to your table and service was very friendly and attentive.
I absolutely loved the coconut french toast with some roasted pineapple.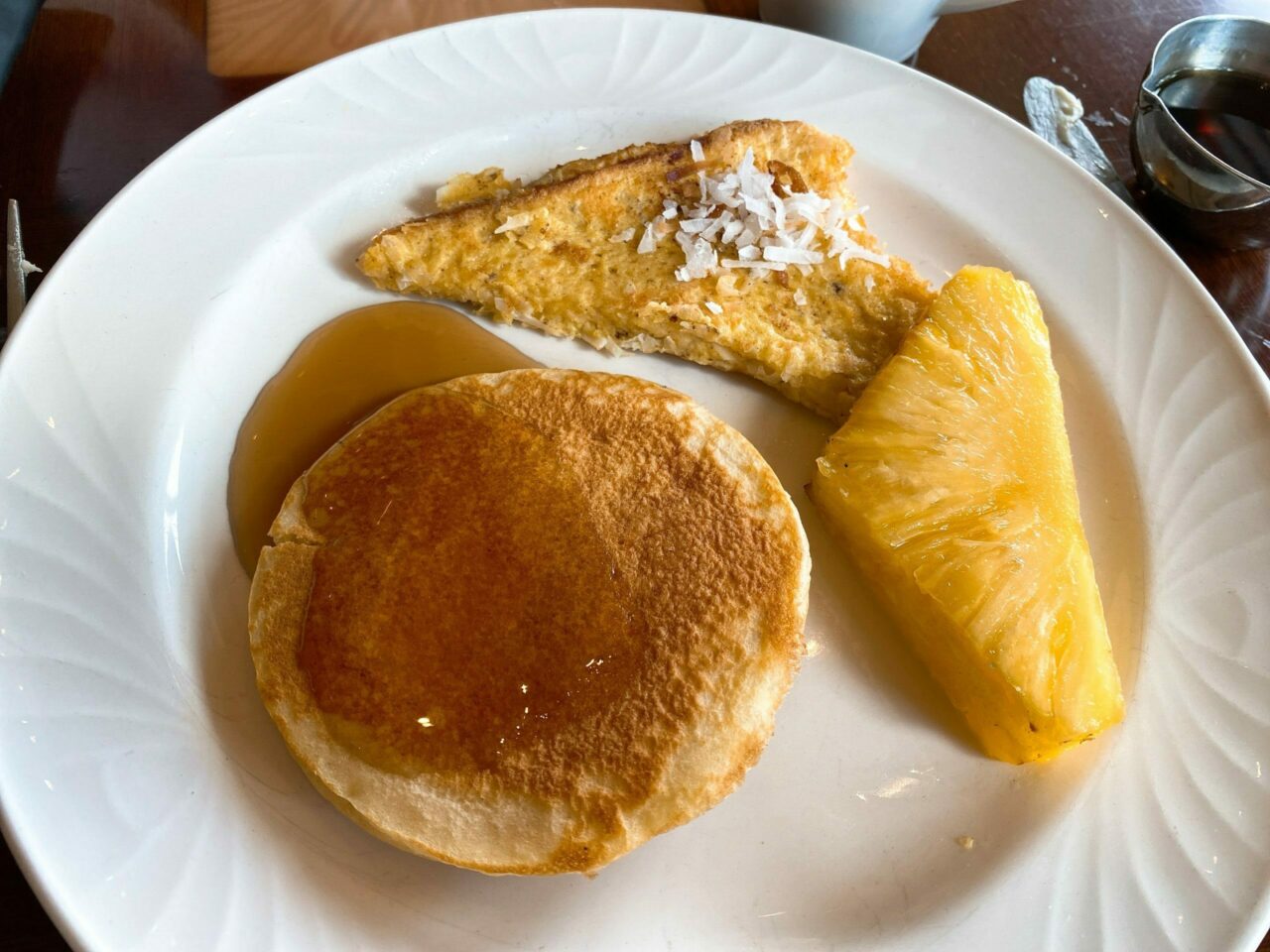 Atlantis Bahamas attractions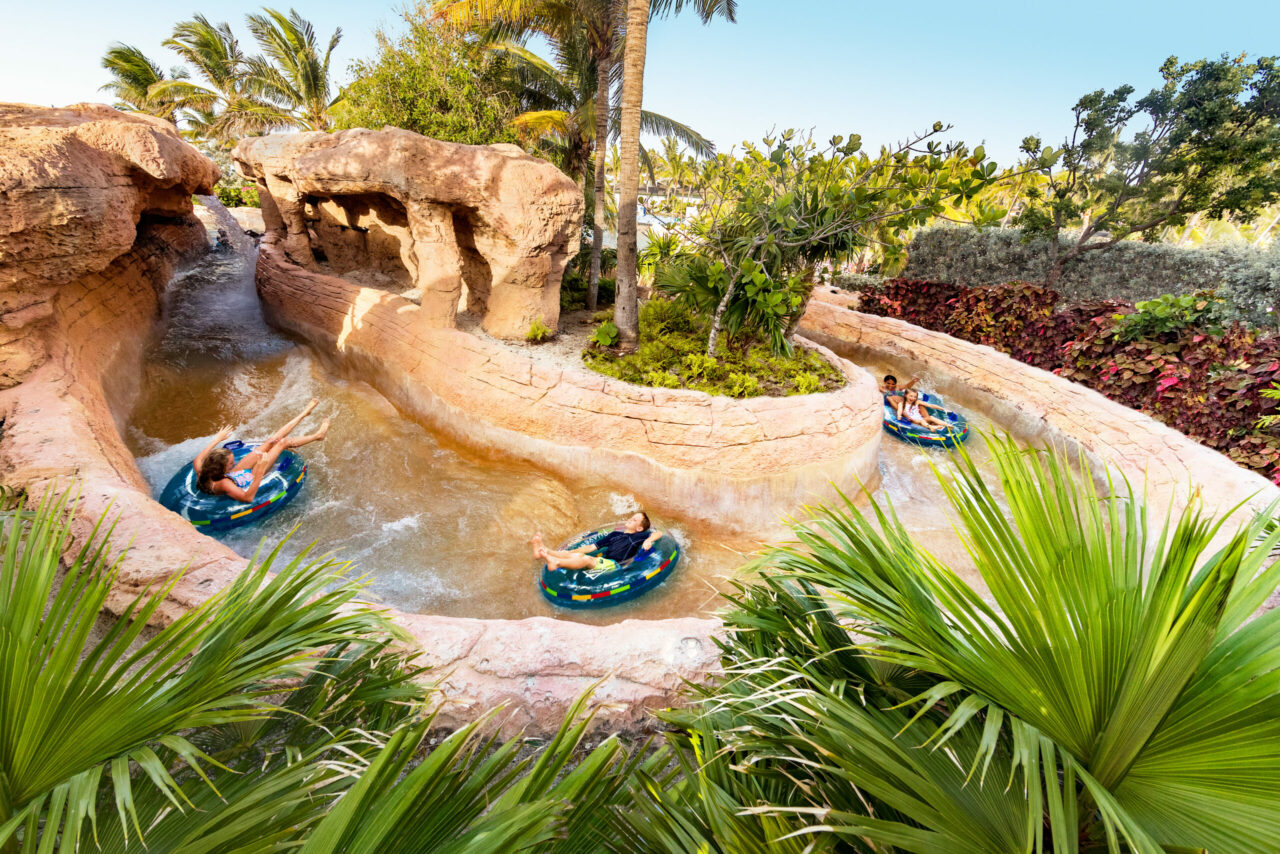 As a guest of The Cove, you can access all the Aquaventure water park attractions for free but you need to collect a wristband from any towel booth. The water park has something for everyone. Aquaventure has 141-acres with Atlantean-themed towers housing high-speed water slides, a mile-long river ride with rolling rapids and wave surges, 20 swimming areas, a kids water-play fort, and 11 swimming pools.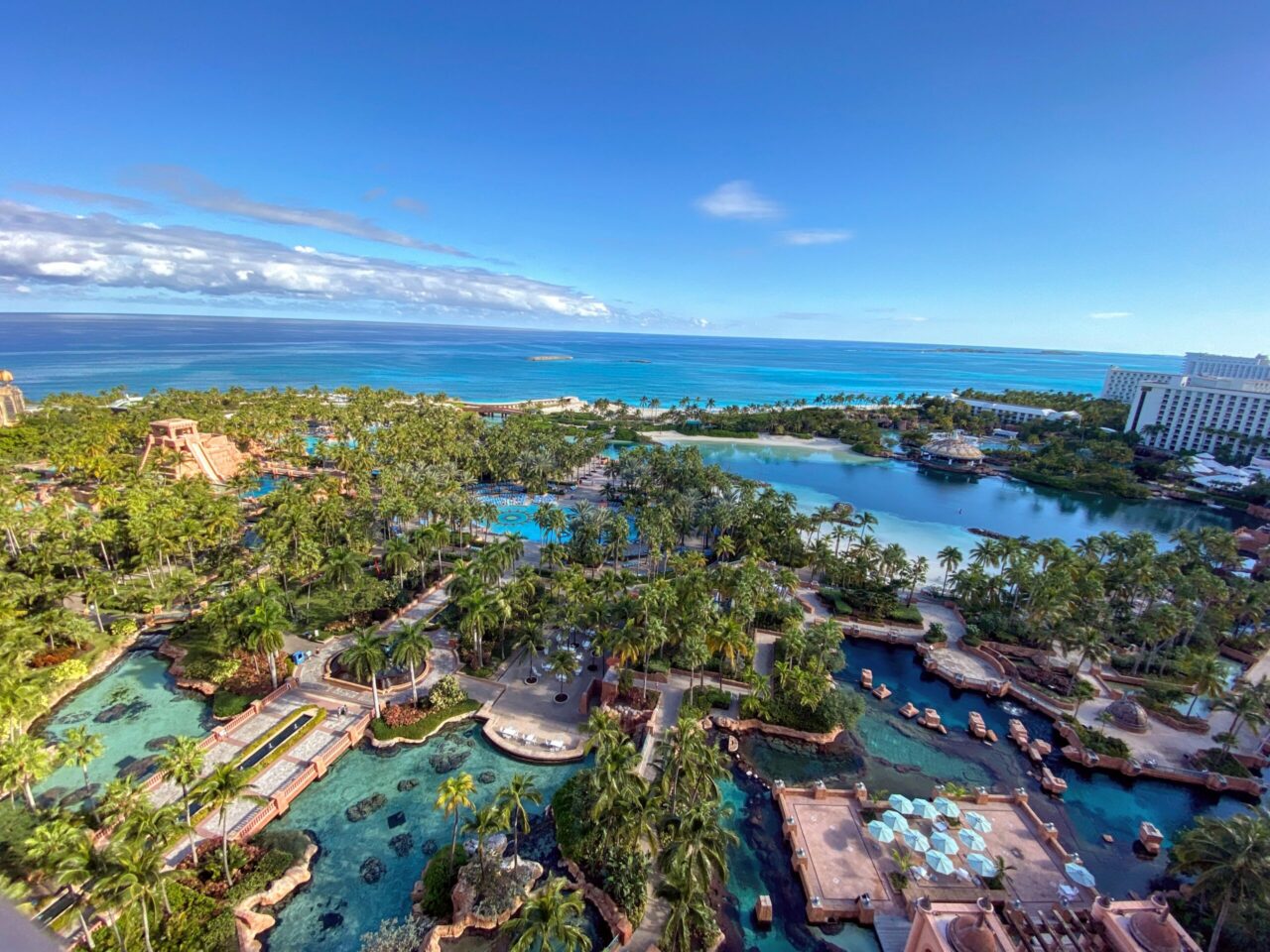 If you love a lazy river there is a choice of two, a more gentle lazy river which covers a quarter-mile loop through a tropical gardens, and for those more adventurous the Rapid River Ride. I tried the Rapid River and I did find it a little bit scary at times as it really throws you around on some bits! It really is like riding the rapids in a rubber ring. However, there are lots of lifeguards at every point making sure everyone is OK. And I am a bit of wuss!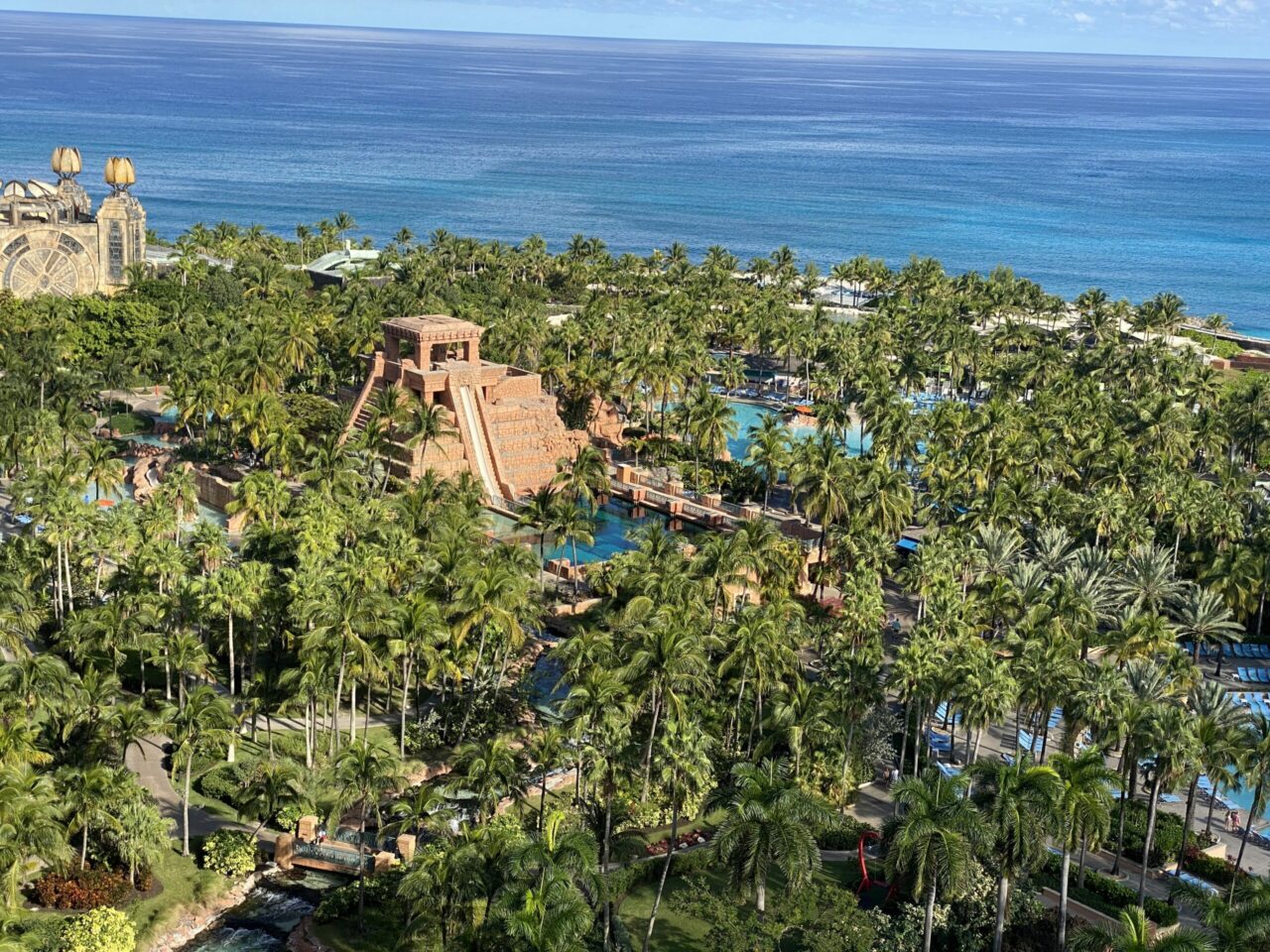 If you want high adrenaline rides there is the Leap Of Faith with an almost-vertical drop from the top of a Mayan Temple. The 60-foot body slide speeds you through a clear acrylic tunnel submerged in a lagoon filled with amazing marine life.
Even more extreme, The Abyss begins with a 50-foot, near-vertical drop through complete darkness within the Power Tower. Totaling 200 feet long, the body slide ends splashing through waterfalls and into The Cenote – an underground cave of prehistoric fish. There are also several rides with inner tubes as well.
If you are more into marine life than water slides there is a lagoon where you can snorkel the underwater world of Atlantis Bahamas with tropical fish and even sharks in the Ruins Lagoon. Diving, snorkelling, and snuba trips can also be booked through the hotel.
You may wish to stay on dry land in which case there are multiple lagoons with exhibits to visit. It's also worth a stroll round the beautifully landscaped resort.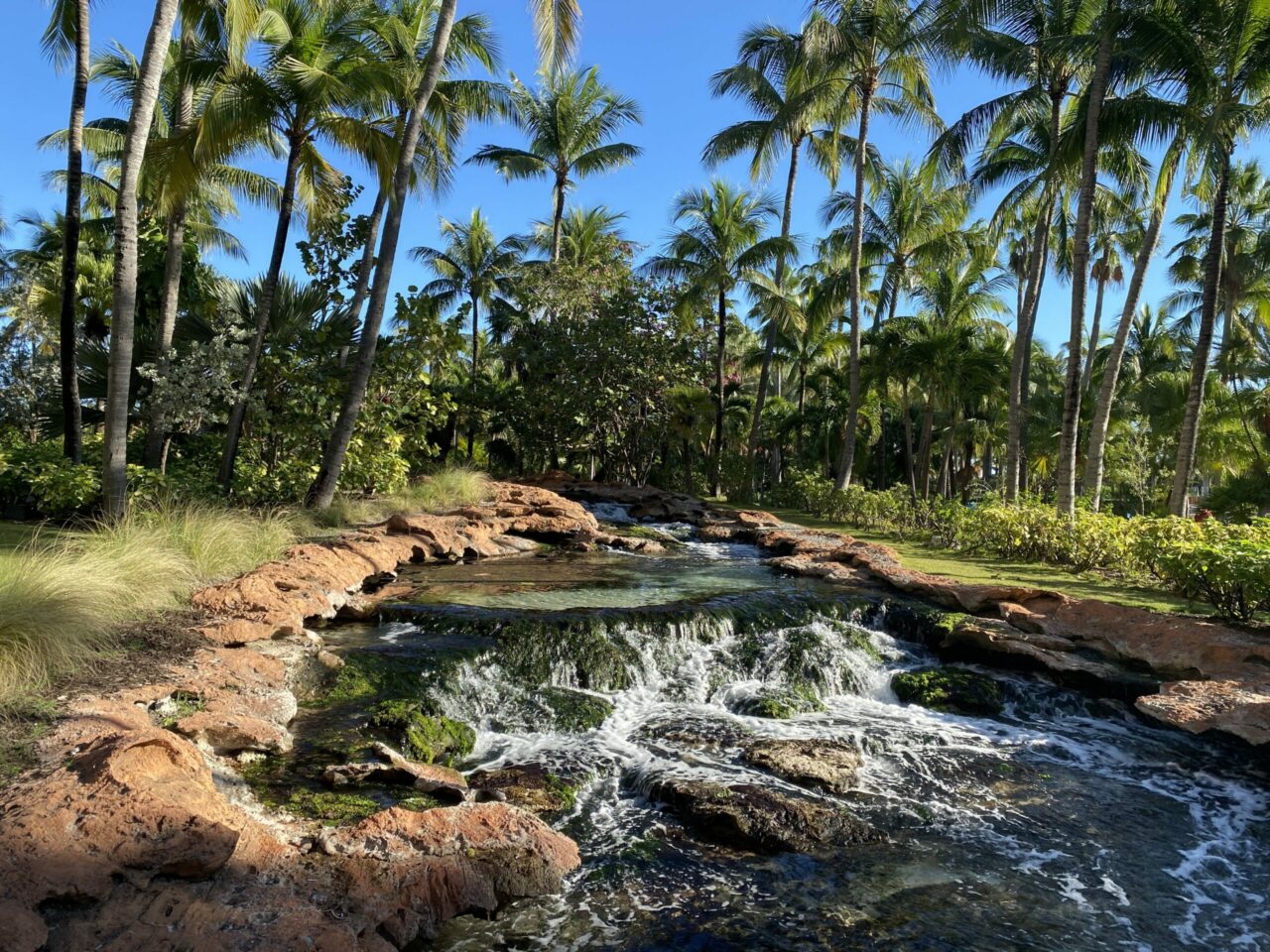 I normally feel I have been to so many aquariums that I am a bit over them, but I really enjoyed my visit here. There was a great selection of exhibits from jellyfish to sharks. There are several designed for younger children too.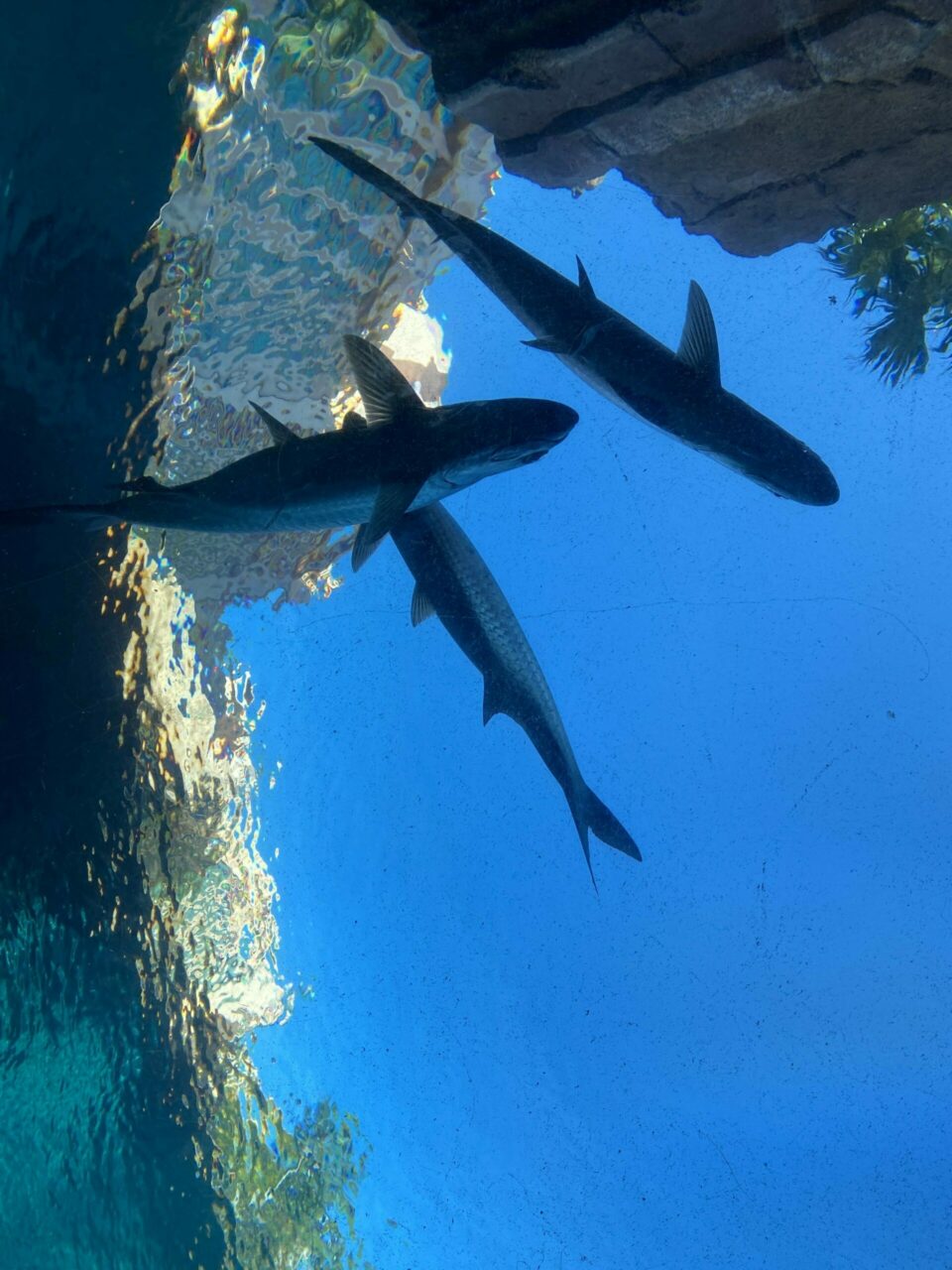 Within the Atlantis Bahamas complex there is also a library, fitness centre, spa, tennis courts, casino and a movie theatre.
Conclusion
I only had a very short stay at the Cove and would love to return to experience it fully. It's in a great location with beautiful beaches and an adults only pool for peace and quiet. I liked being able to retreat back to The Cove while having lots of things on the doorstep. Rooms are large, luxurious and comfortable. Service was also very good throughout the hotel.
Booking
I stayed as a guest of Virgin Holidays which offers seven nights at The Cove at Atlantis from £2106 per person including scheduled Virgin Atlantic flights from London Heathrow direct to Nassau in economy, seven nights accommodation at the Cove at The Atlantis. Price is per person based on 2 adults travelling and sharing a Deluxe Ocean Suite. To book visit: www.virginholidays.co.uk
You can read about my Upper Class flight with Virgin Atlantic here. If you wanted to book the Virgin flights separately you could stay at The Cove on points.
The Cove at Atlantis is also a Category 8 property in Marriott Bonvoy, which translates to a stay for 65,000 to 100,000 points per night.
The other Marriott properties at Atlantis are a bit cheaper:
The Royal at Atlantis (Category 7), with redemption costs of 45,000 to 70,000 points per night.
The Coral at Atlantis (Category 6), with redemption costing 35,000 to 60,000 points per night.
Plus if you use points there is also Marriott Bonvoy's fifth-night free offer. You can find more details on the Marriott The Cove page here.
Another option is to use a luxury travel agent, such as our partners. If you book through a Virtuoso agent you get:
Full breakfast daily for two guests per suite
$100 USD Equivalent Food & Beverage credit, to be utilized during stay (not combinable, no cash value if not redeemed in full)
Early check-in/late check-out, subject to availability
Upgrade on arrival, subject to availability (Room upgrade from Ocean Suite to Deluxe Ocean Suite categories only)
Complimentary Wi-Fi
You can enquire with Debonair for prices here.
If you book direct there is a January sale until 24 January with:
– Up to 30% off and Resort Credits
– Flexible Cancellation & Payment Options
– For travel thru February 28, 2023
– No blackout dates
You can find the sale page here.