I have been wanting to try Atlantis the Palm for a long time, so when a Mastercard offer for 20% off rooms plus food and drink came up, I decided to tag on a night there on my visit to Dubai. I travelled to Dubai on Oman Air in business class, which was very impressive.
Check-in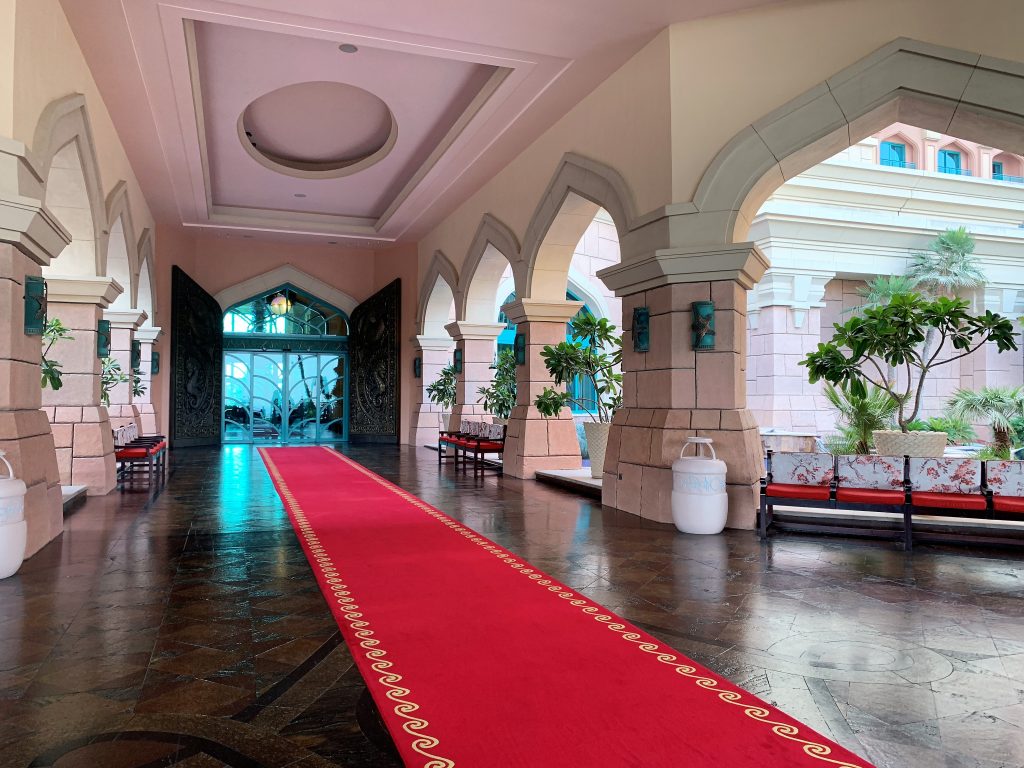 I arrived from my previous hotel in an Uber rather than the complimentary transfers which are available only from the airport. I was greeted at the end of a long red carpet and initially walked over to a small reception area where they checked which tower my Imperial Club room was in. The main reception was definitely an impressive space, although it was a little OTT for me. The resort is very clearly aimed mainly at families with the water park and as a single woman traveller, I am probably not their target audience at all.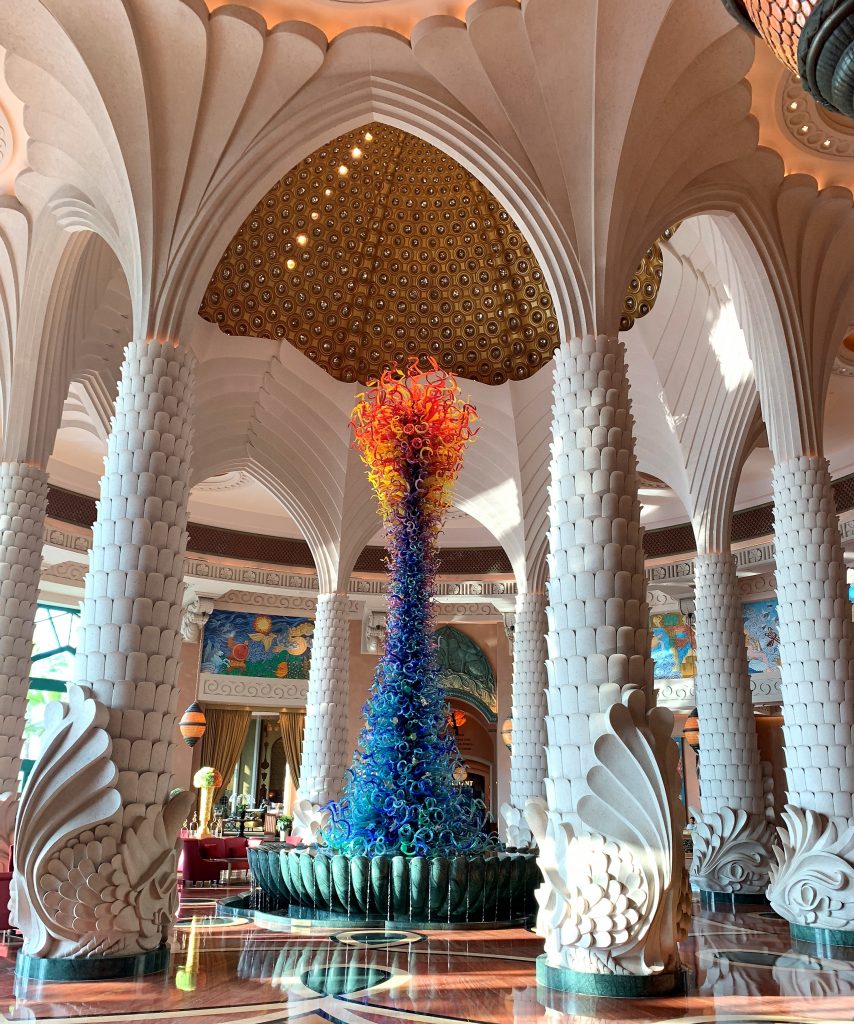 I was then escorted to the Tower's reception area, where I had to wait quite a while to be checked in. During the process, I was given a lot of information about the hotel and the benefits plus a large pack of information. Once checked in, we waited for a porter to reappear for my baggage (I could have done it myself, but they offered). After waiting for ages they told me that no porters were available so could I take it myself. I was slightly annoyed as I could have just done that to start off with!
The Room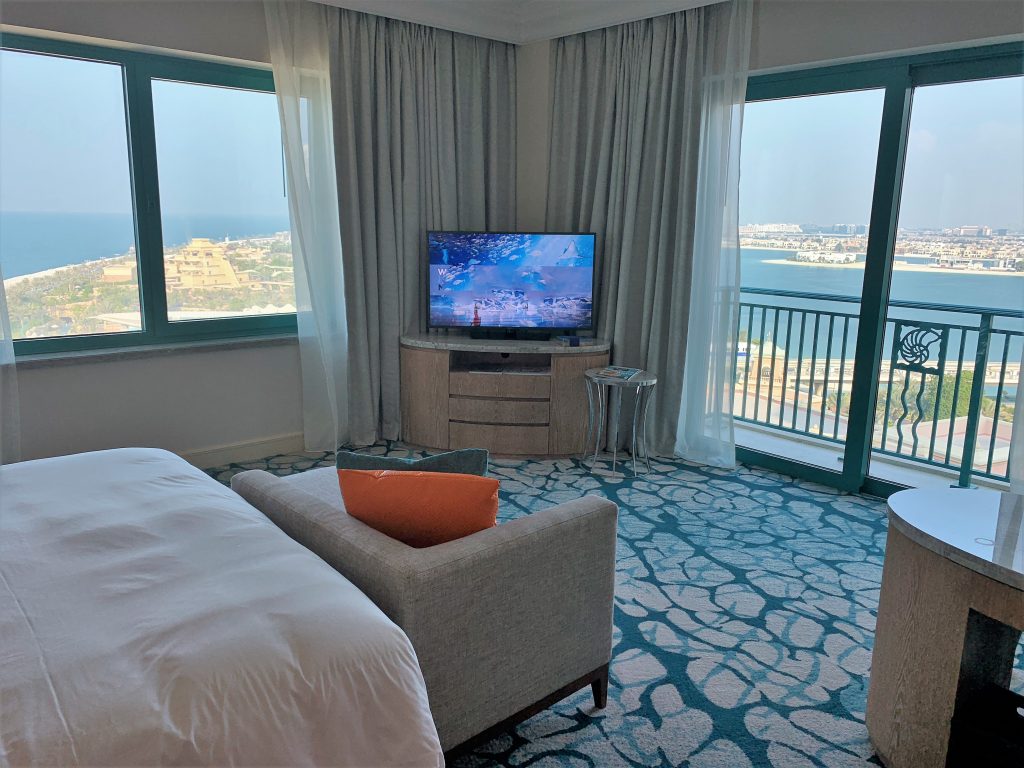 As I had asked for a non-connecting room I was given a slightly larger than usual Club Room on a corner. The room was decorated with a nautical theme and had great views on two sides. If I opened my sliding doors onto the mini balcony I could see down into the tank below, which was fun watching the rays come up to the surface now and again.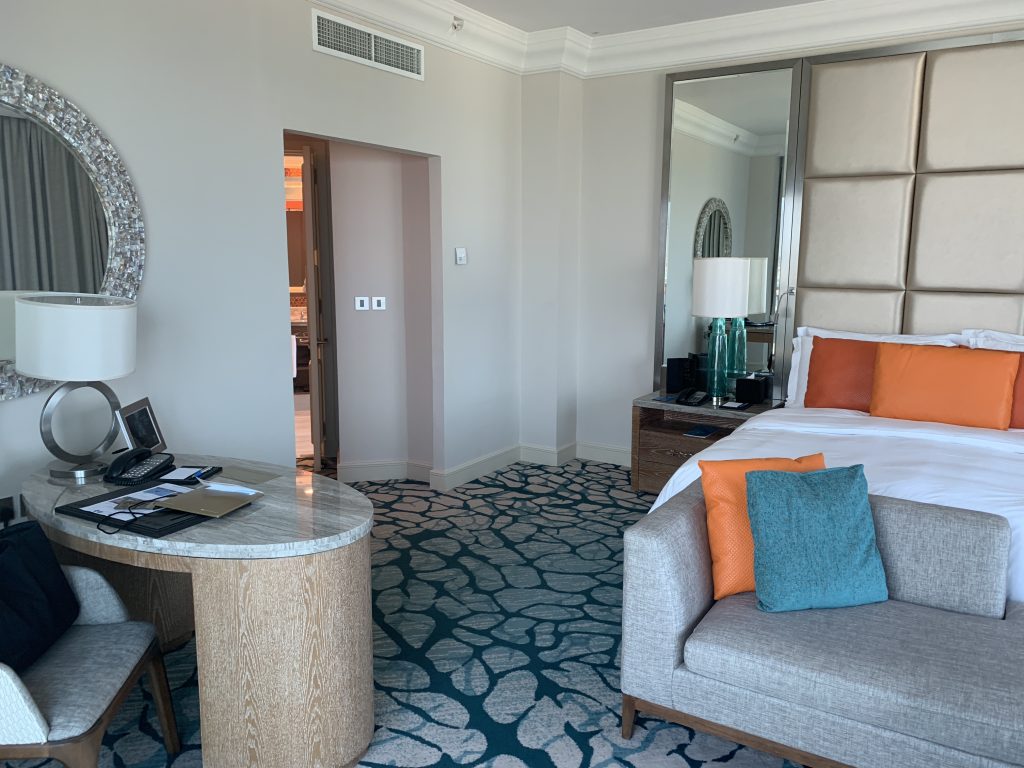 The room had everything you would expect from a luxury hotel room such as bathrobes, slippers, bottled water and fruit. There was no coffee maker, but there was a kettle. It also had a massive walk-in wardrobe, which may have been down to the location of it rather than a standard feature.
The bathroom was particularly impressive with a large soaking tub strategically positioned for an ocean view.
The toiletries were their own ShuiQui spa, and there was a good selection including things like shaving and dentals kits. I quite liked the light fragrance and they seemed like decent quality. There was also a large shower with a rain head, and a good size shelf for your toiletries.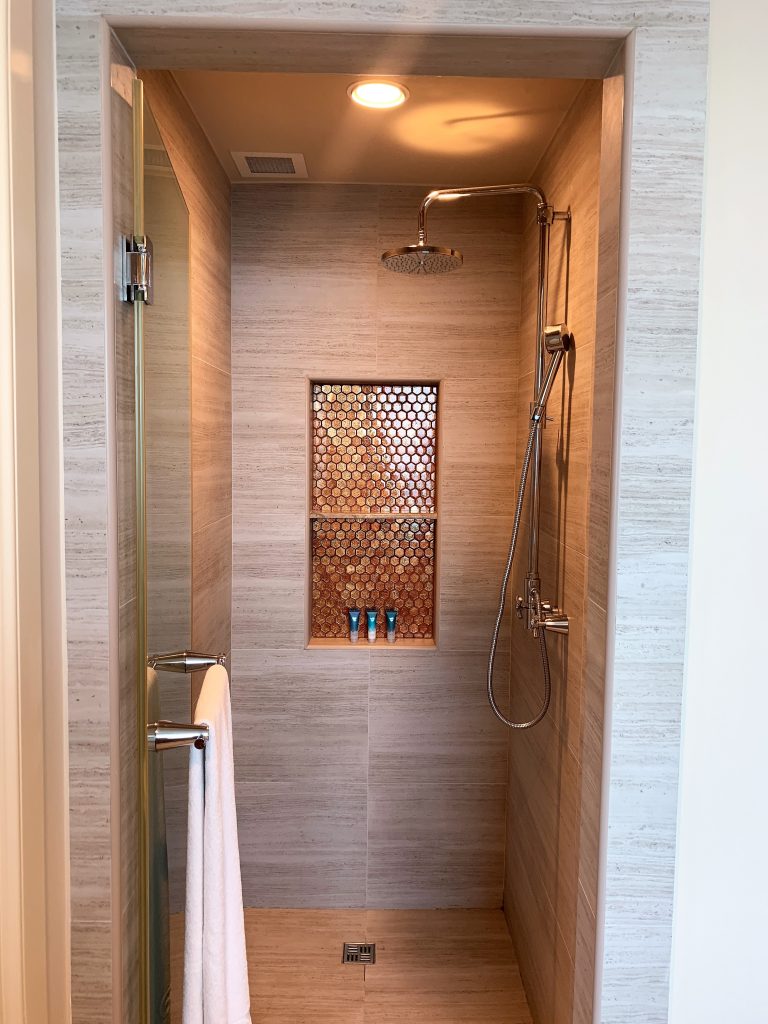 There was only a single sink but the vanity unit around it was large, which I like to be able to store my own toiletries – there would be plenty of room for two people.
Imperial Club
The Imperial Club is pretty much like every other executive lounge, although it does include quite a few extras that you wouldn't normally get, including:
Breakfast in the exclusive Imperial Club Lounge, or in Saffron or Kaleidoscope, between 7:00am – 11:00am daily.
Afternoon tea from 2:30pm – 4.30pm with a selection of light snacks.
5:00pm – 7:00pm for an evening drink served with canapes
The personal Concierge service exclusive for Imperial Club guests
Check-in and check-out at our dedicated private lounge
For our Imperial Club guests with families, children aged 3 – 12 have daily complimentary Morning and Afternoon Adventures at Atlantis Kids Club, whilst teens aged 13 – 17 can use The Zone, the ultimate teen-only hangout from 2:00 pm to 6:00 pm daily.
Imperial Club guests receive return airport transfers in a luxurious Audi A6 or equivalent
Access to the exclusive Imperial Club Beach
Two treatments at ShuiQi Spa for the price of one. Offer applies to treatments of AED 500 or more and excludes Medi-Spa. One offer valid per room, per stay.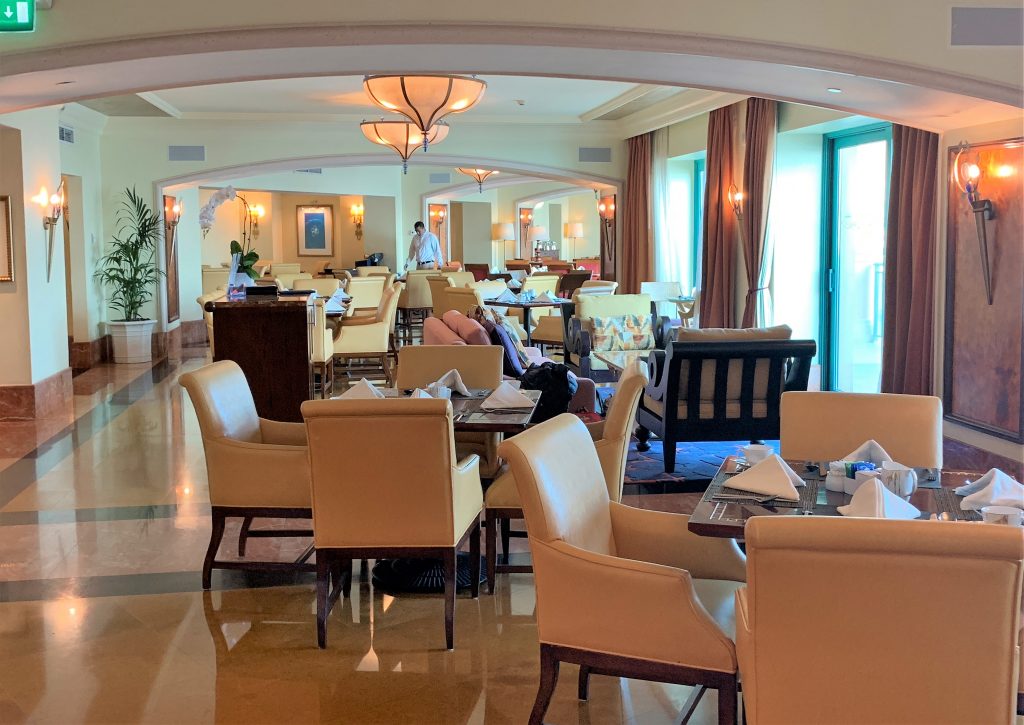 I found the lounge a little underwhelming, but given the price of drinks in Dubai and the other benefits you get, it is probably worth the extra money. The afternoon tea had all the usual items such as sandwiches, scones, cakes and biscuits as well as fresh fruit and it would be more than enough as a substitute for lunch. The evening was a different matter. When I arrived it was absolutely heaving and I had to queue for around 10 minutes to get in, which was a first. In the end, the only choice was to sit outside or wait for longer. I chose outside, which was still around 30c and a bit warm, rather than wait since I had a dinner reservation. The busy atmosphere in the lounge didn't make it feel very relaxing or exclusive and despite the heat, it was a relief to be outside.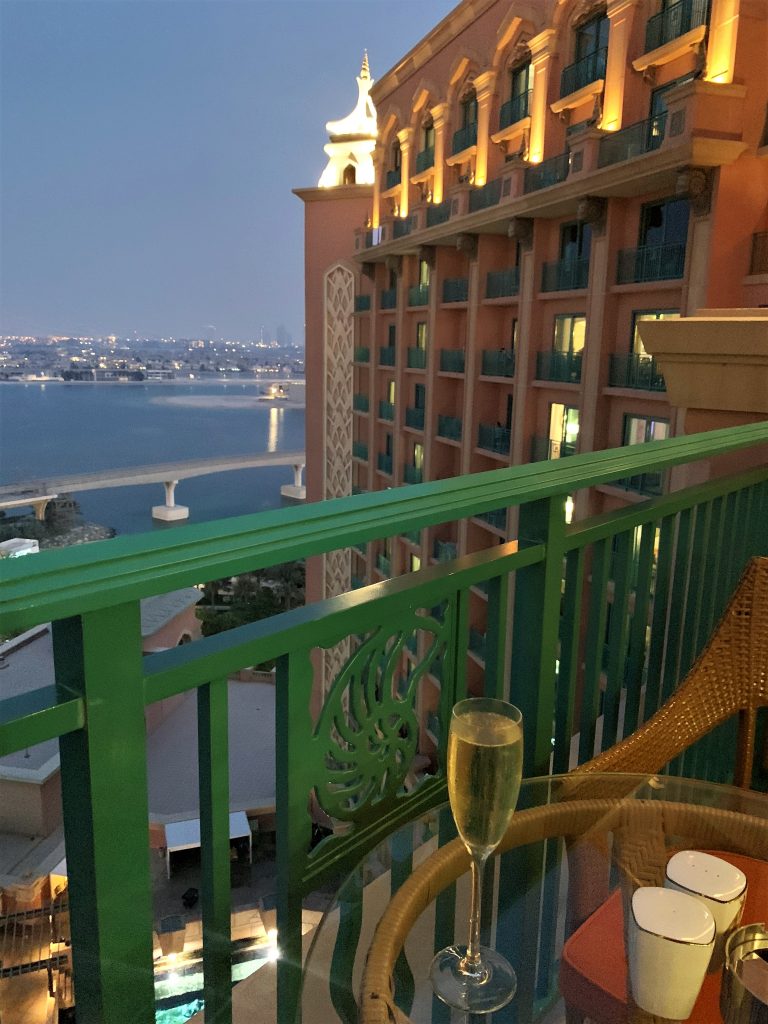 The drinks selection included a few cocktails, Jacobs Creek Sparkling wine and Santa Carolina Red, White and Rose wine. The service was pretty attentive though and they came round with a second glass at last orders, since I still had a lot left in my glass. The food was a little random but there was plenty of choice with salad, sushi, hot items, canapes and desserts or fresh fruit.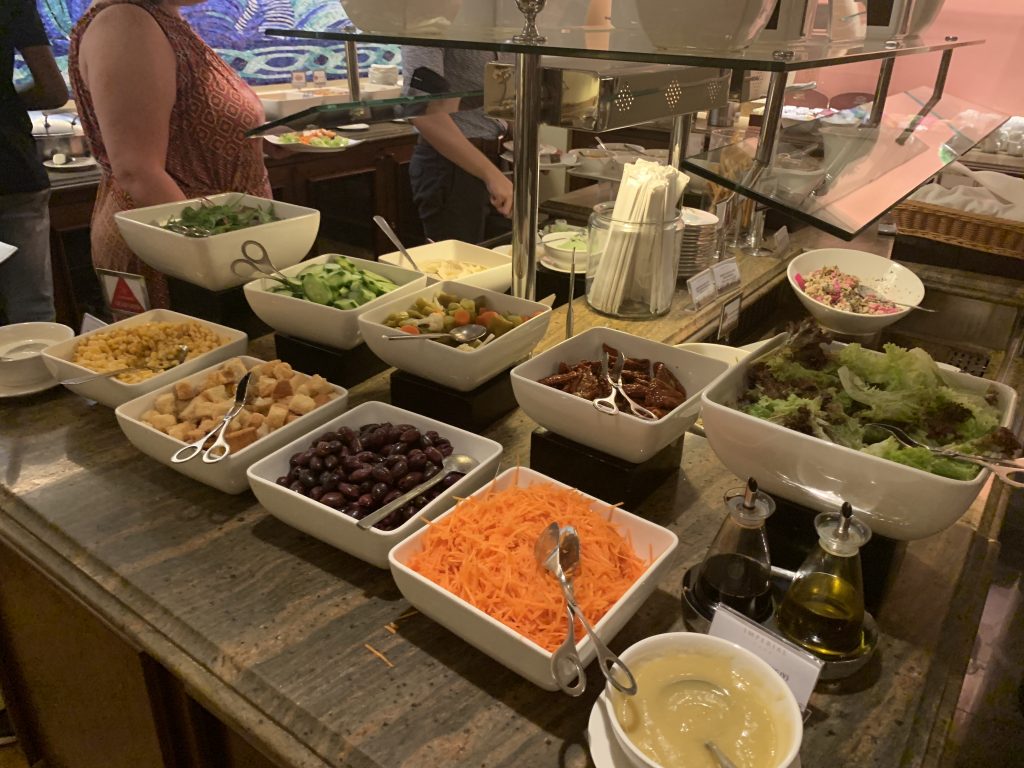 Facilities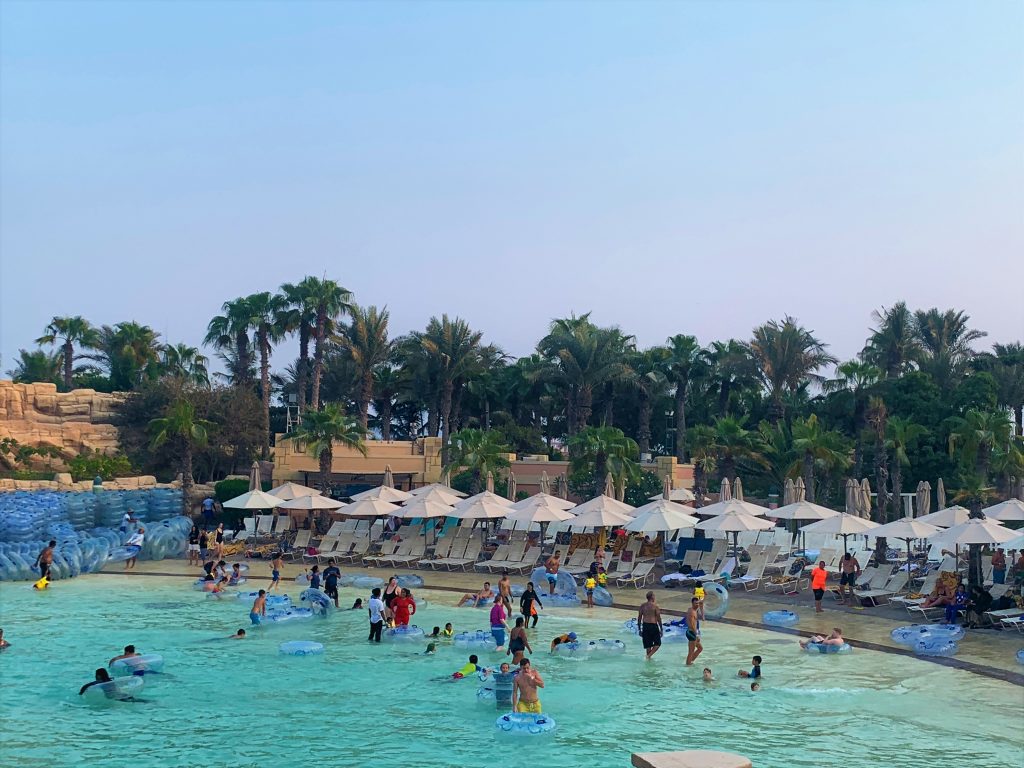 Obviously, the main attraction was the waterpark. Having been to Wild Wadi I didn't personally find that this was significantly better in terms of the rides but there was definitely more for younger children here. Having the ocean themed rides such as the water slide that goes through an aquarium shark (in a sealed see-through tube!) also added something to the normal water park experience.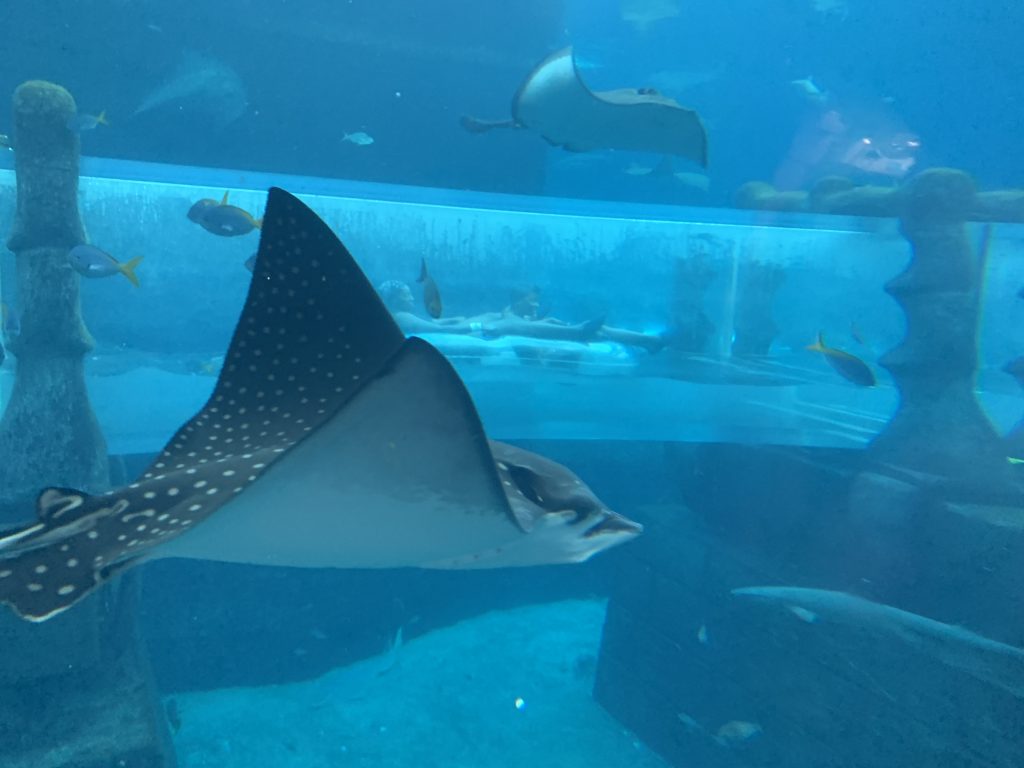 There are also plenty of other water-themed activities such as diving which includes helmet diving for novices and the Lost Chambers Aquarium.
There is a beach including a private area for Imperial Club guests. The beach had soft white sand, but was not particularly scenic.
There is also a pool, which was large but a bit average in my opinion. That being said, you do have a whole waterpark at your disposal.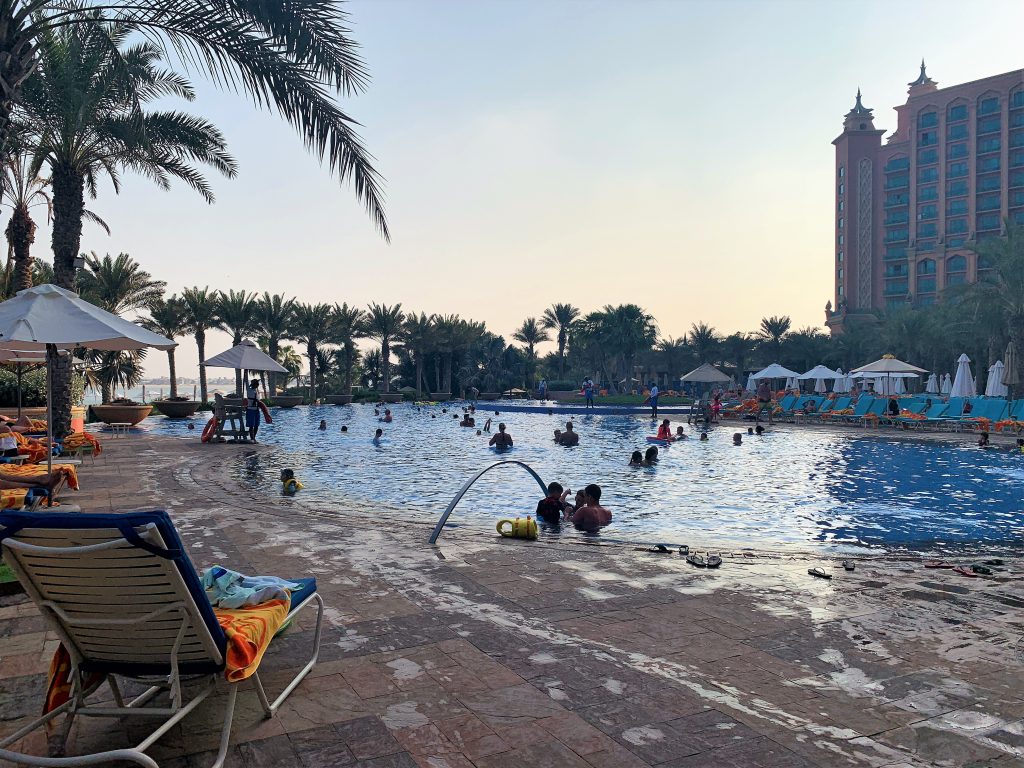 As well as water pursuits, there is a spa which has a wide range of treatments from premium brands such as Aromatherapy Associates, Shisheido and ESPA, as well as a hair salon and Medi Spa. There is also a fitness centre that offers a well-equipped gym, plus unusual classes such as the Hatha yoga by the Lost Chambers Aquarium. Bikes are available to cycle around the resort too.
Dining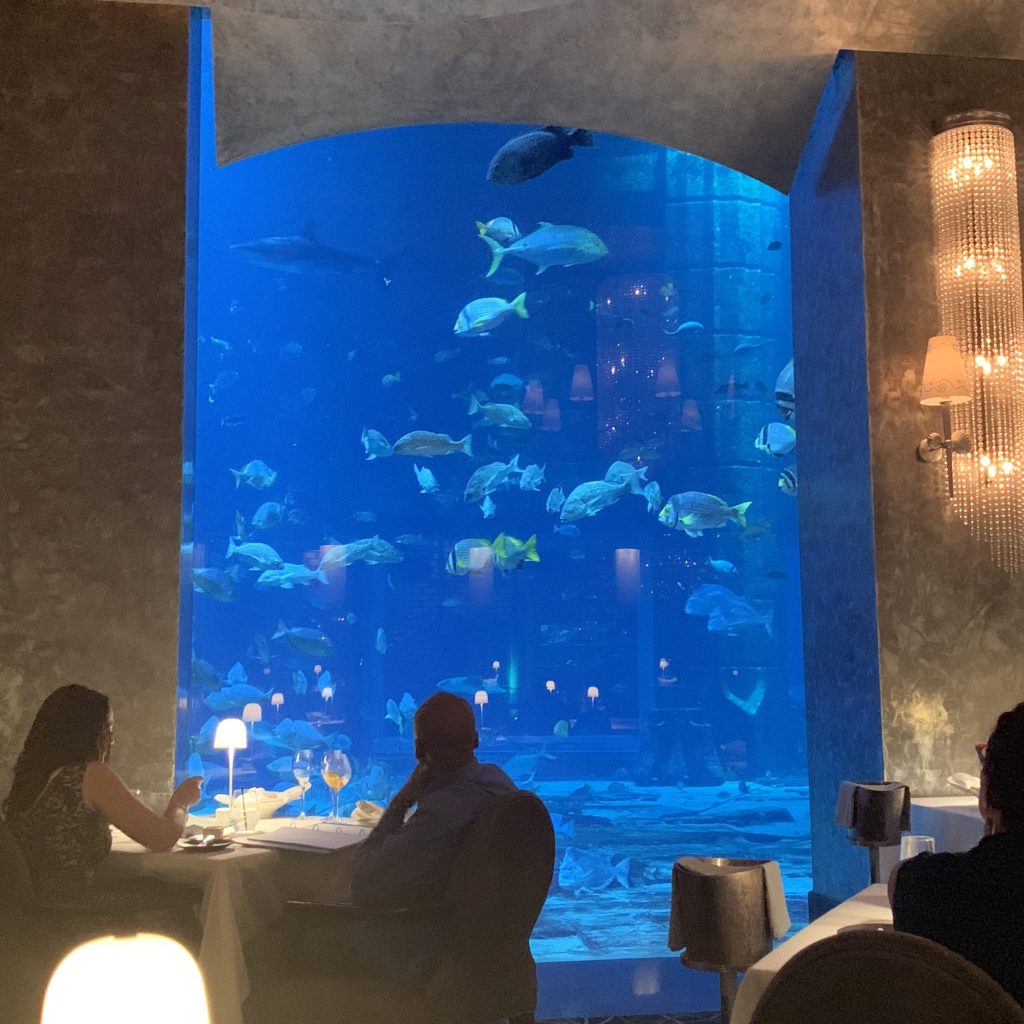 There are a huge number of restaurants to choose from at Atlantis from very casual to fine dining. There are some well-known names as well such as Hakkasan, Nobu and Bread Street Kitchen by Gordon Ramsey. I was on a half board package but although this includes most of the restaurants you only get a small credit towards your meal in some of the more expensive restaurants. I had always wanted to go to Ossiano 'the underwater' restaurant so I decided that I would splash out and go there anyway. (It's not really underwater it just gives the impression of it as you are sat at the base of the aquarium.
The restaurant was definitely Michelin star quality – with a price tag to match! Even with my half board credit, I was left with a big bill which wasn't helped by the crazy prices of a glass of wine (£20+), but that is Dubai for you! Even though it was expensive, it was an amazing experience. My waiter was a real gem – so friendly, attentive and fun. The food all looked wonderful but some of the dishes tasted outstanding too and would definitely get a Michelin star or two in my book.
Conclusion and discounts
If you have kids who love anything to do with water and are going to Dubai, then this is a great, if rather expensive, option. If you are a couple then this may not be for you. I went in October before the main half term, but there were probably more children there than usual due to school holidays, judging by the ages of the UK children so it is hard to judge what it would be like outside peak periods. The dining was one of the best meals I have had, and in a really spectacular setting. If you are in Dubai and not staying there I would still recommend a visit to Ossiano for a meal if you don't mind splashing out.
There property have previously had specials and sales, so if you are keen to visit it might be worth waiting for one of those.
The special sale page is here.
You can find more information about Atlantis the Palm and the latest prices here.