I am sure plenty of my readers have some of their 90,000 Iberia Avios bonus flights coming up soon, so hopefully, this will be a timely review.
I have always heard very mixed reports about Iberia long haul and having only ever flown them short haul I thought it was about time I tried them out. I booked the seats using an Avios redemption from Madrid to New York. This costs a very cheap 34,000 Avios one way so although you have to go to Madrid first, it can be a good use of Avios compared to BA. The taxes were also cheap at £91 one way. To get this price I had to transfer my Avios to Iberia which is relatively easy to do using Combine my Avios providing the details on both accounts matches up. You can find out more about redeeming Avios on Iberia in this article.
Check-in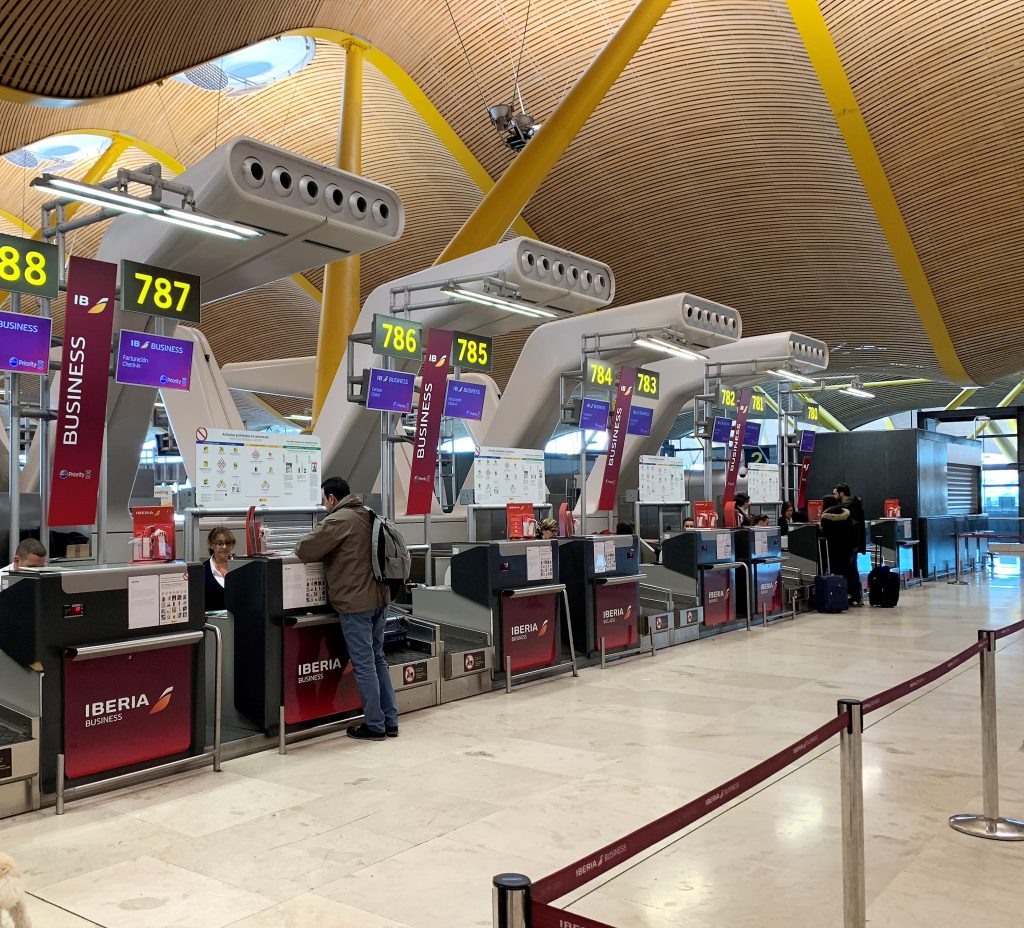 There is a separate business class check-in at Madrid which is pretty unremarkable. There was no wait for a desk and it was fairly swift and efficient since I had checked in online. The agent was fine but nothing like my previous experience at Iberia Madrid where the agent went into a full charm offensive going on about how I was one of their most important customers! (no idea why as I was travelling on my Iberia Plus status – which I am the bottom tier of).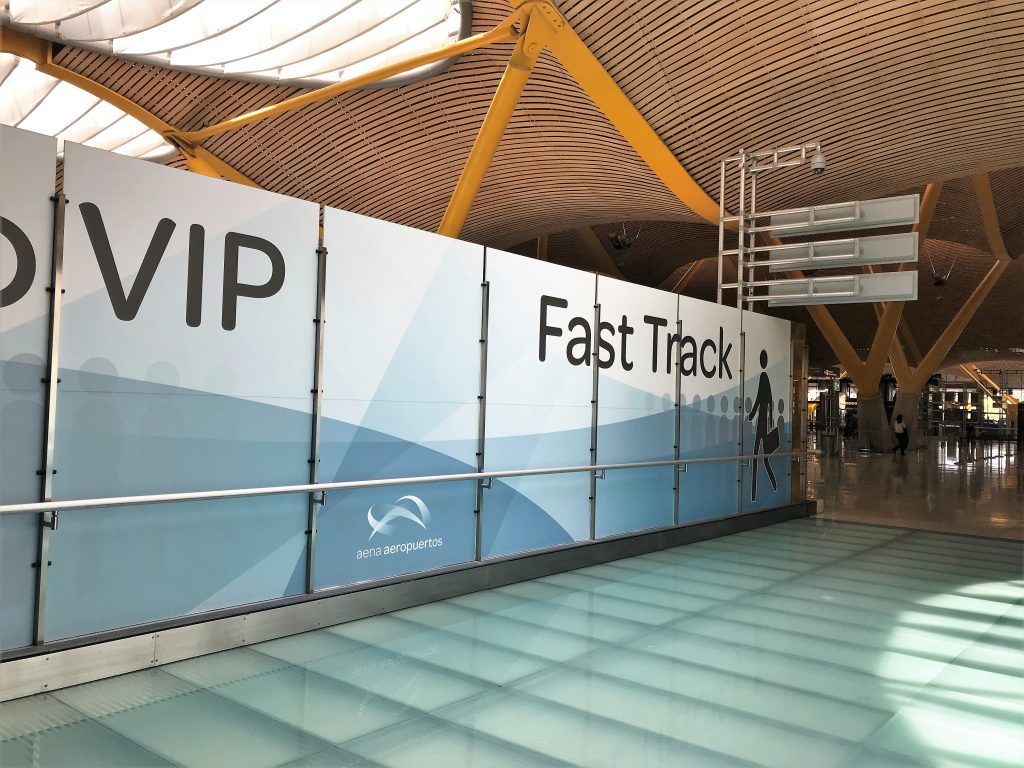 I quite like travelling from Madrid airport as it is usually pretty stress-free and I like the design of the impressive building. There is fast track security which I normally find pretty swift. The only downside of Madrid is that BA and Iberia both use the satellite terminal which is a surprisingly long train journey to what feels like a completely separate terminal rather than a satellite. I always find there is a bit of a wait for the trains too.
Lounge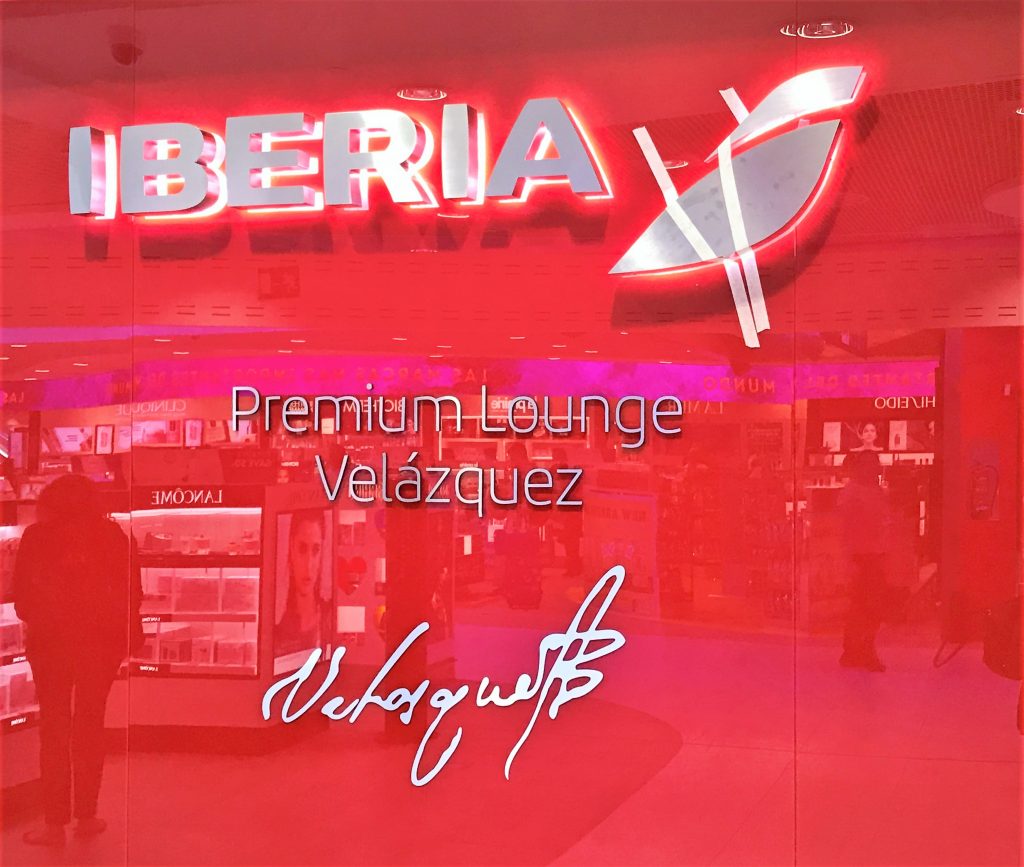 The lounge at the satellite terminal is very new and overall impressive. It has a strange entrance that would be easy to miss as it is in the middle of the duty-free shop!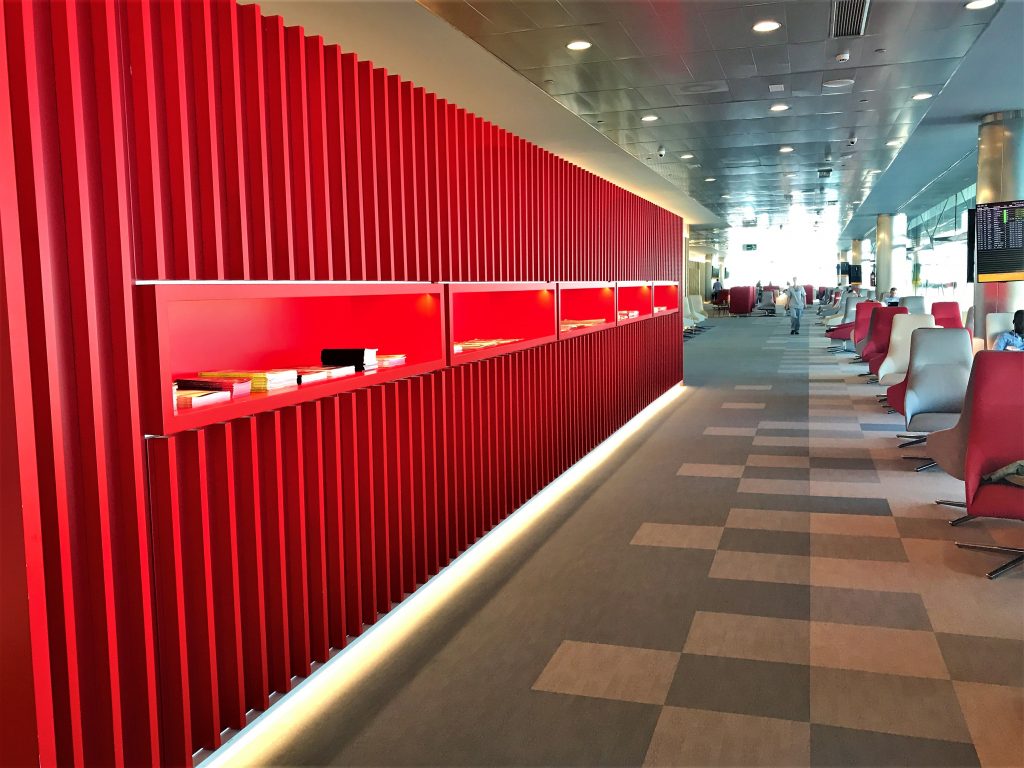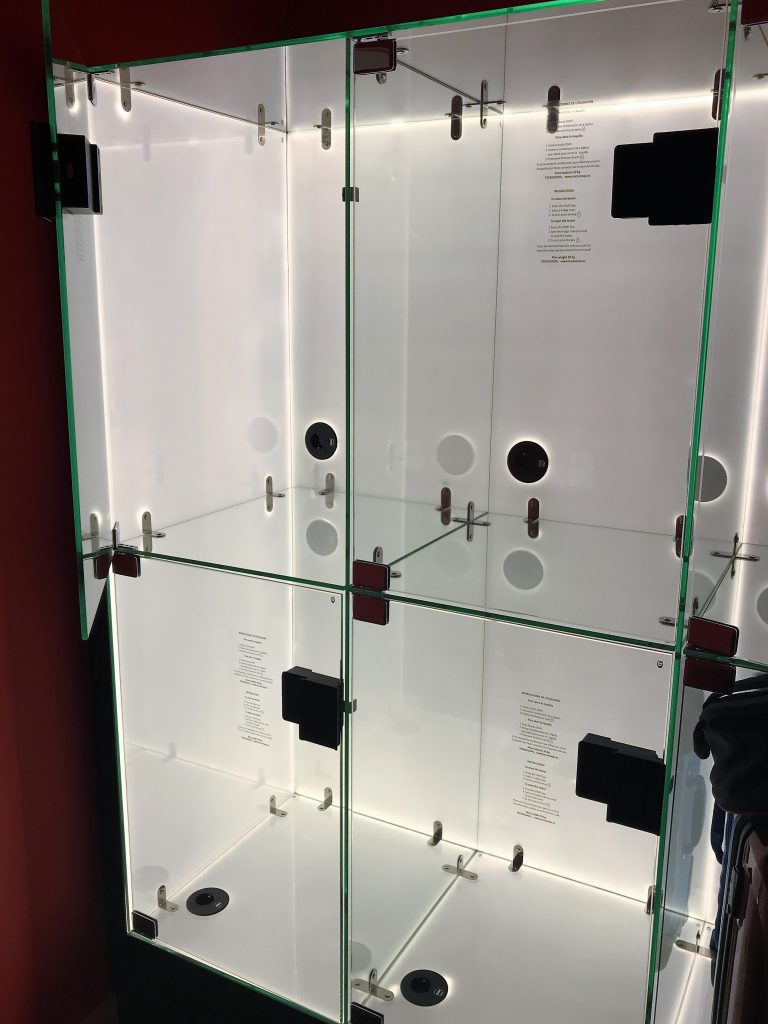 As you enter there is a clever secure storage area for your luggage with a funky modern design. In the lounge, there is also a work area and a kid's space. Pre-flight dining is offered in a separate room in the evening.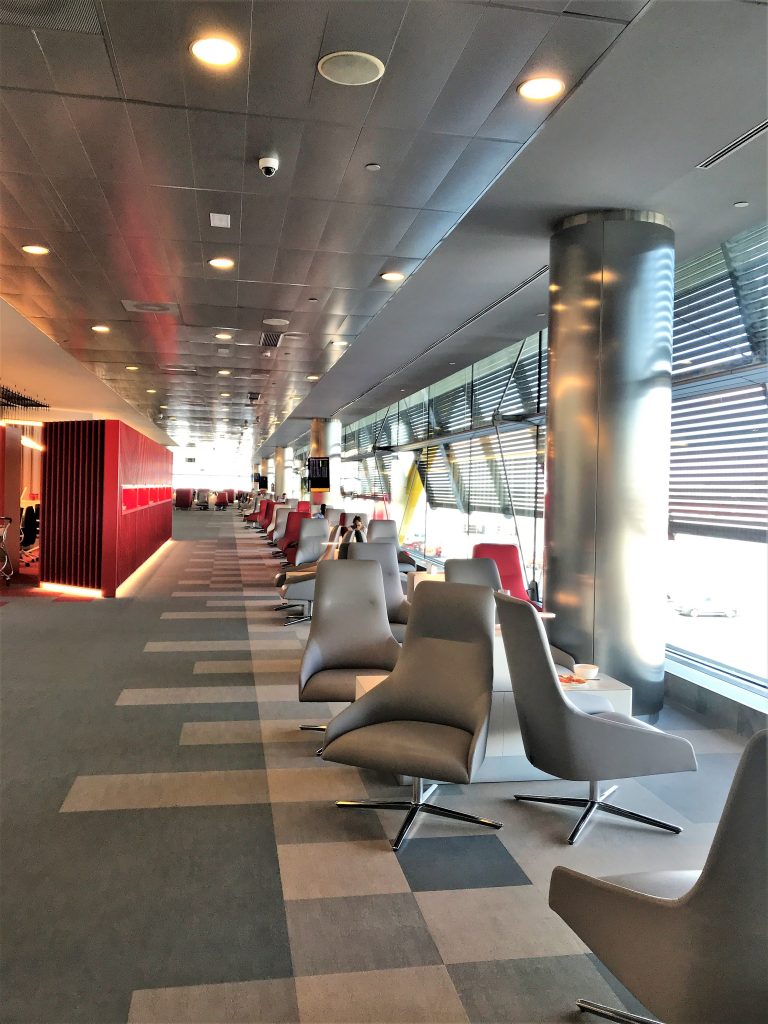 Both ends of the lounge have a dining area with similar food although the left side has a few drinks there as well. On the right side the bar is just around the corner so you get your drinks from there.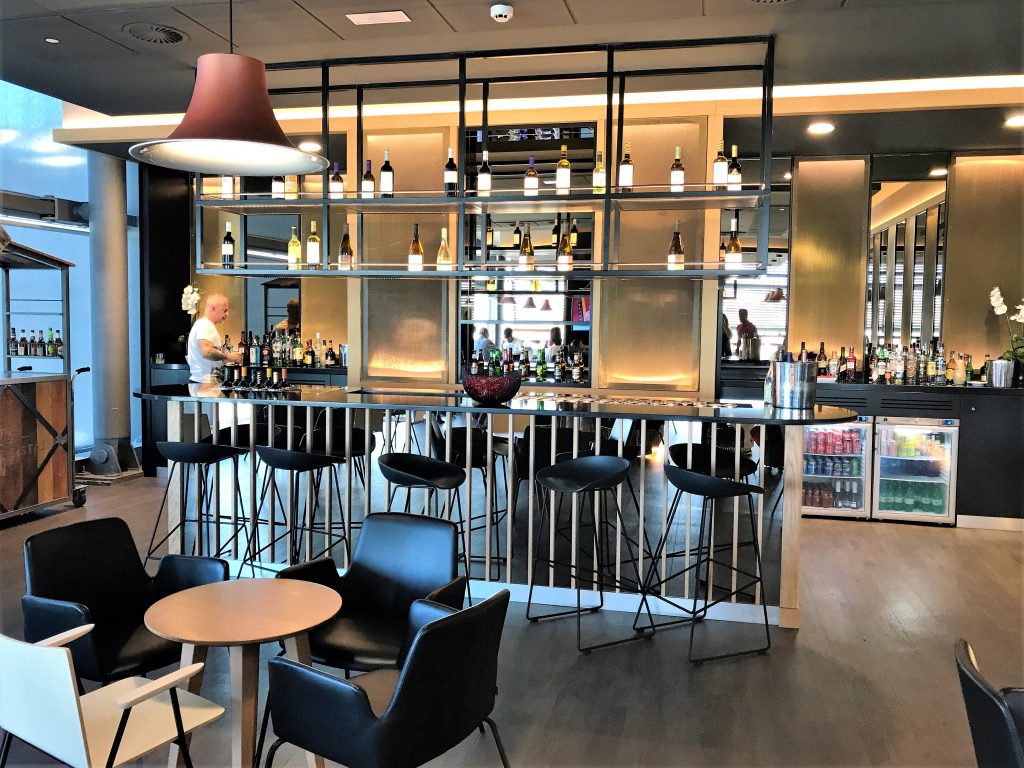 It was mid morning and they had an assortment of breakfast food and snacks such as sandwiches and ice cream. Here is a selection of the food:
Boarding
Boarding never seems to work particularly well with Iberia and despite calling business class first we still ended up queuing on the jetbridge as is often the case.
There was already a package on my seat with a blanket and pillow when I arrived. Once seated I was given headphones and an amenity kit. I thought the amenity kit was actually pretty impressive and I liked the neoprene material. Although it may not feel particularly luxurious it was practical and smart.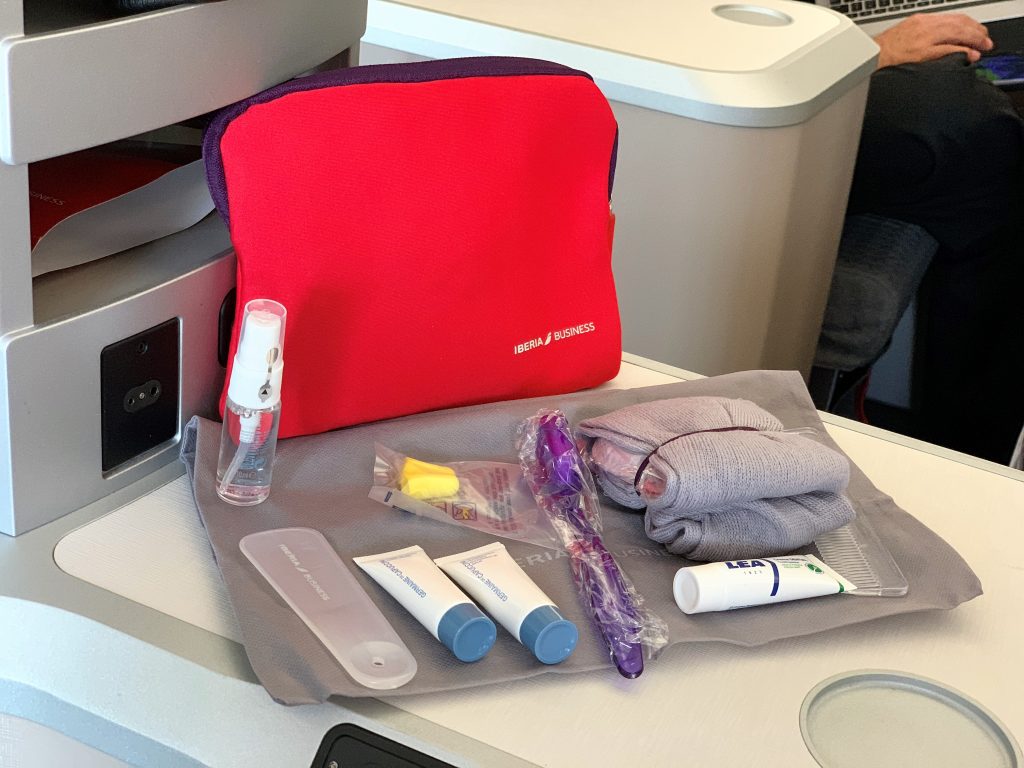 The bag had products by Germaine de Cappucini which not everyone may have heard of but are actually a well respected high-end spa skincare range. The kit had moisturiser, lip balm, facial mist, toothbrush and paste, socks, earplugs, a comb and shoehorn. There was even a hair band which I have never seen in an amenity kit and useful if like me, you look like you have been dragged through a hedge backwards when you wake up on a plane! (or anywhere for that matter…..). There was also a bag which I am guessing you would use as a laundry or shoe bag.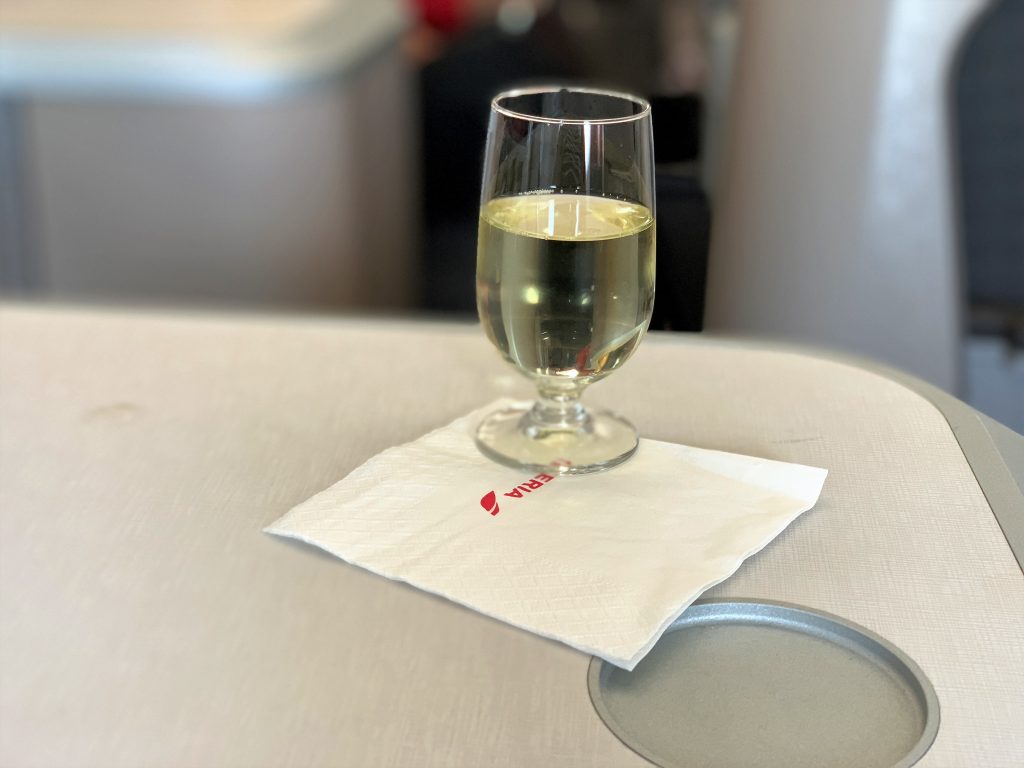 Prior to take off I was offered a welcome drink with the soft drinks on a tray but the Cava poured at my seat which I thought added a bit of class to it. Although it is not champagne I had actually forgotten how good a decent cava can be compared to a bad champagne so I was quite happy with my drink.
The cabin and seat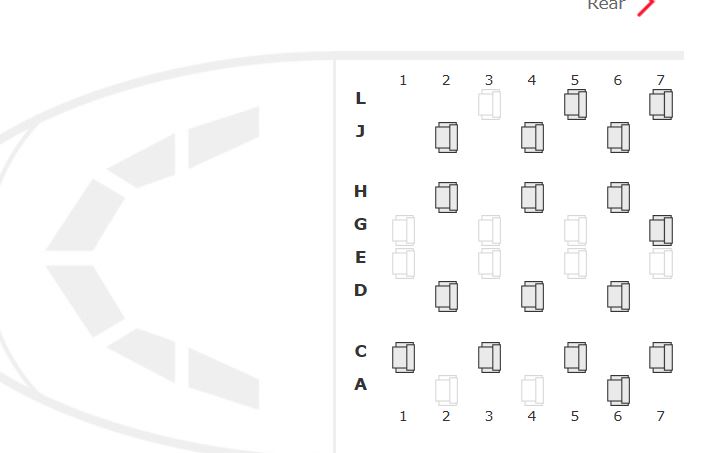 This was the second time I had been on Iberia's A350 but previously I had only flown on it short haul, so this would be the real acid test of the seat.  The cabin is laid out 1-2-1 and has quite a variety of seat options. For me, as a solo traveller, the A and L seats are the best as they have the best window views as well as plenty of privacy. Other seats for solos would be the C or J seats or the alternate middle rows where the seats are further apart.
Rows 1, 3, 5 or 7 are best for couples although I would avoid 1 and 7 on a night flight due to noise.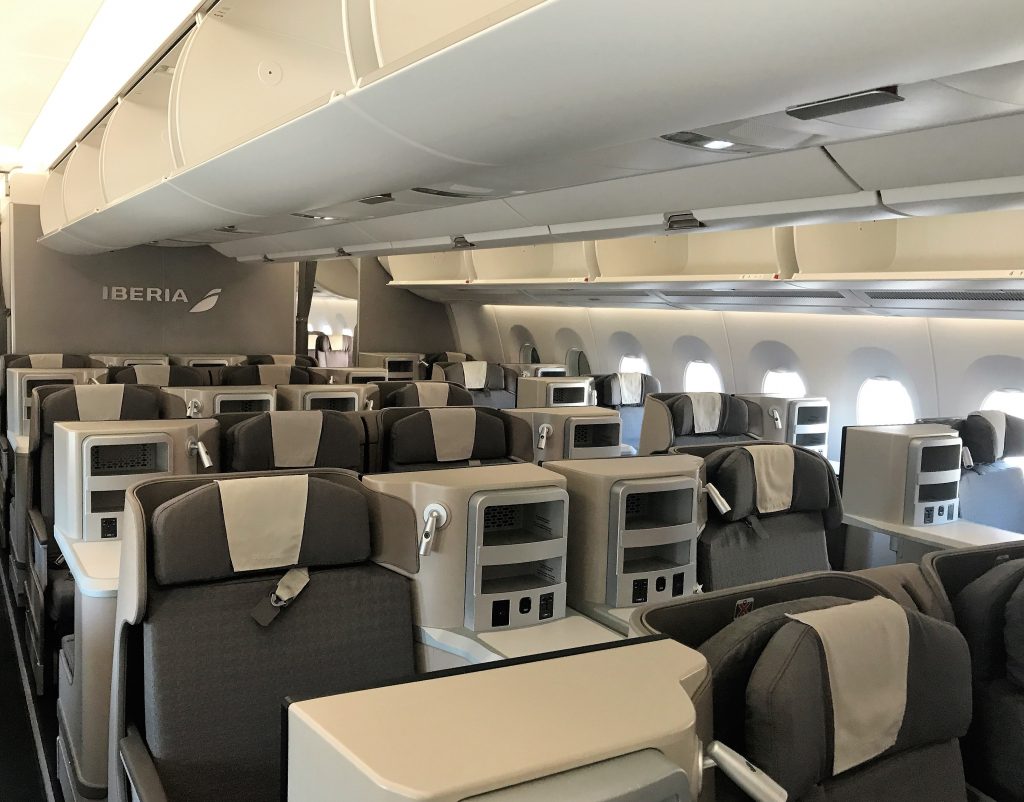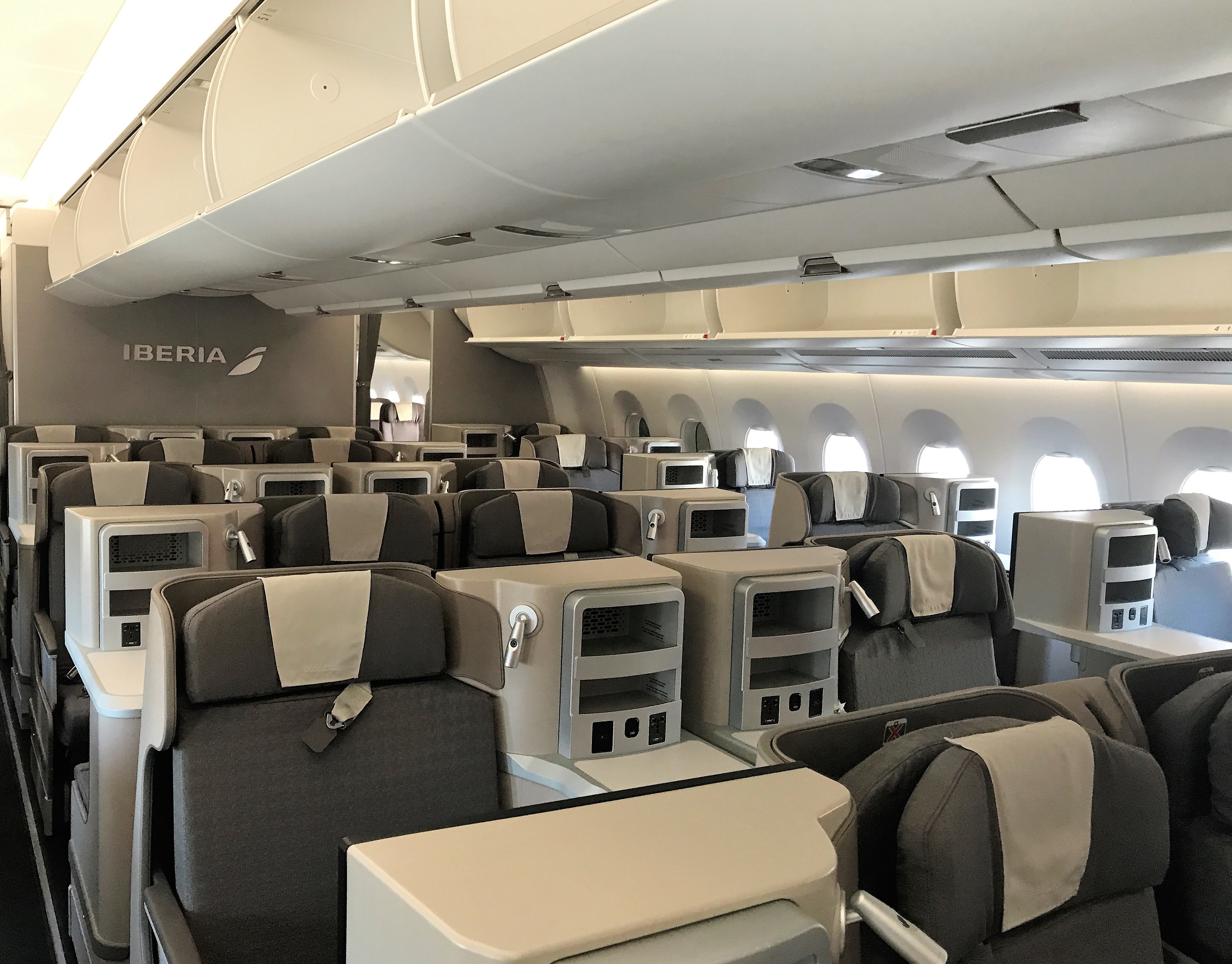 I had seat 5L.  There is plenty of storage space at the seat although not all are meant to be used until after take-off. There were a couple of fairly open shelves that were quite small and after take-off you could put stuff under the footstool and on the table. The main issue I had is that there was nowhere really to store a laptop which is something BA does well with the drawers unless yours is too big for it.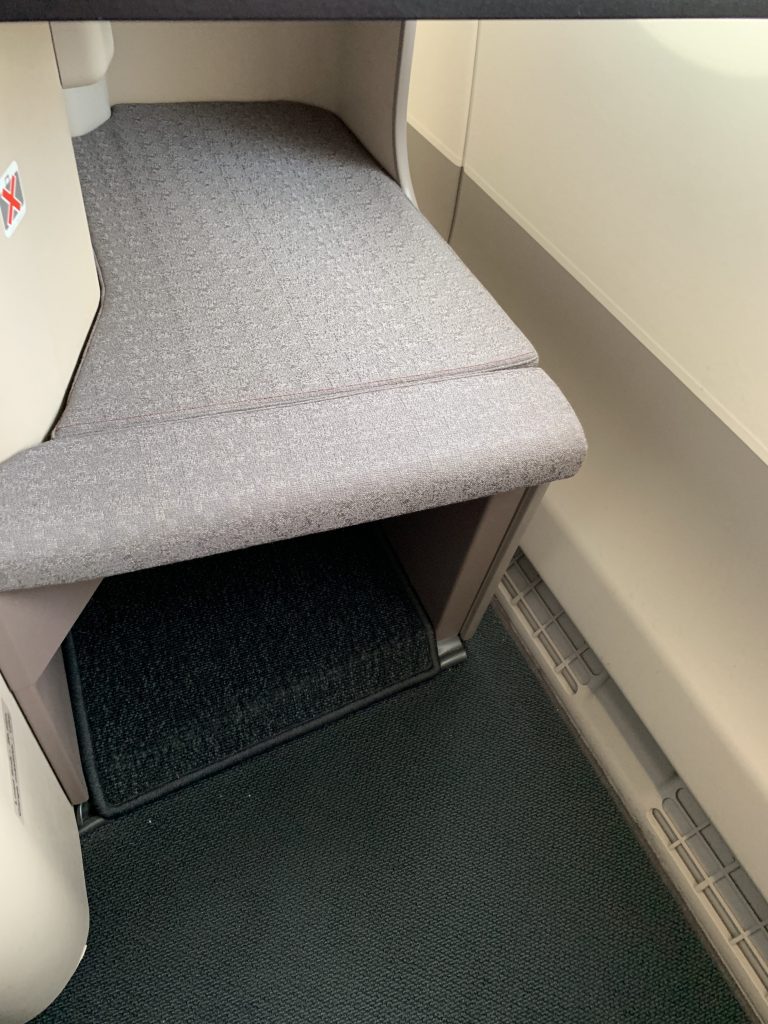 The seat felt extremely wide, probably the widest I have sat in recently apart from Singapore Airlines (it is wider than Iberia's A340 seats) I wasn't keen on the seat belt with the over the shoulder restraint and I certainly wouldn't want to wear that for too long on a bumpy ride. In terms of comfort, the seat felt better than my initial flight on the A350 where I found it a bit hard. At that time it was brand new so it has probably softened up with a bit of use! Once reclined it felt comfortable and I could easily reach the footrest. The controls were simple and you could move the seat forward if you were too far from the footstool.
I had a little snooze after my lunch to test out the seat for sleeping. I found it pretty comfortable and I particularly liked the width lying down.  You could sleep on your side comfortably and didn't feel at all hemmed in as you do on some of the modern seats. The footrest was open sided which also helped the sense of space. The pillow was OK if a little thin with a cotton pillowcase and the blanket was more of a duvet/quilt which again was fine. Overall I had a good doze and would be happy with the seat on a night flight.
Food and drink
Shortly after takeoff, I was given the menu and a hot towel which came on a nice ceramic dish.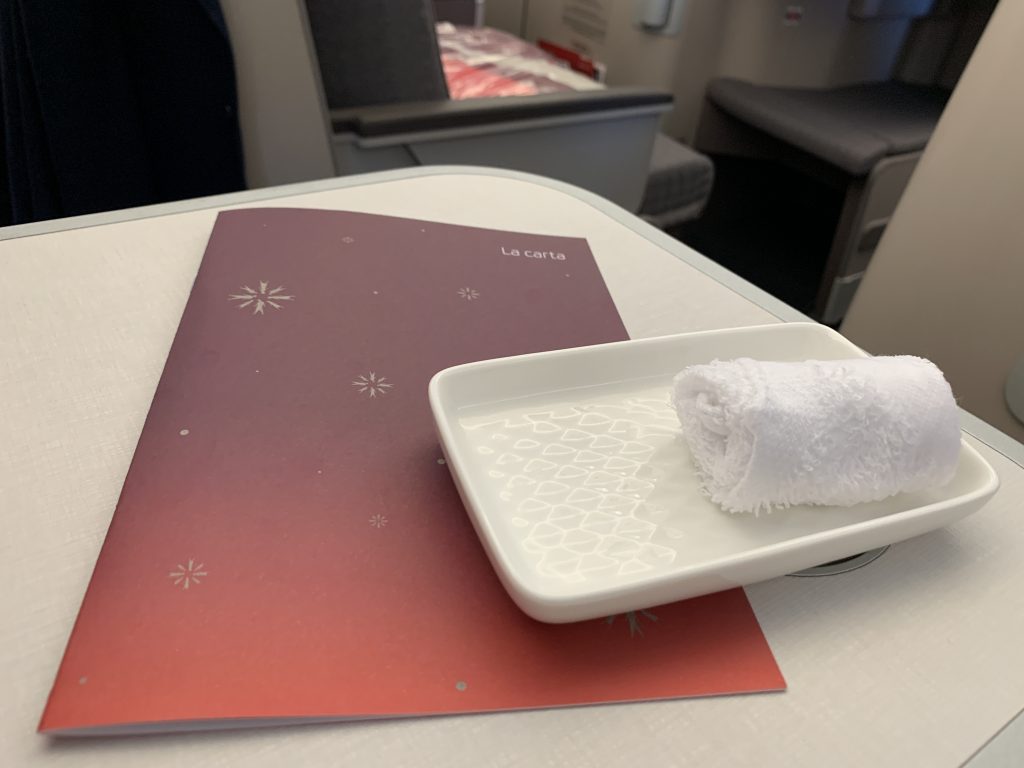 It was then time for an apertif so I took a look at the list of drinks. It was very Spanish feeling but I quite like something that reflects the home country of the airline. I thought the drinks were impressive with my favourite gin, Fifty Pound gin being one of the choices. It is quite a boutique brand and hard to find in bars let alone on a plane. Here is the menu:
With such a selection I was really torn between the gin, cava and a manzanilla sherry which is also a favourite. In the end, I went with the cava as I had really enjoyed it. I was also offered olives or nuts which is also a first on an airline for me.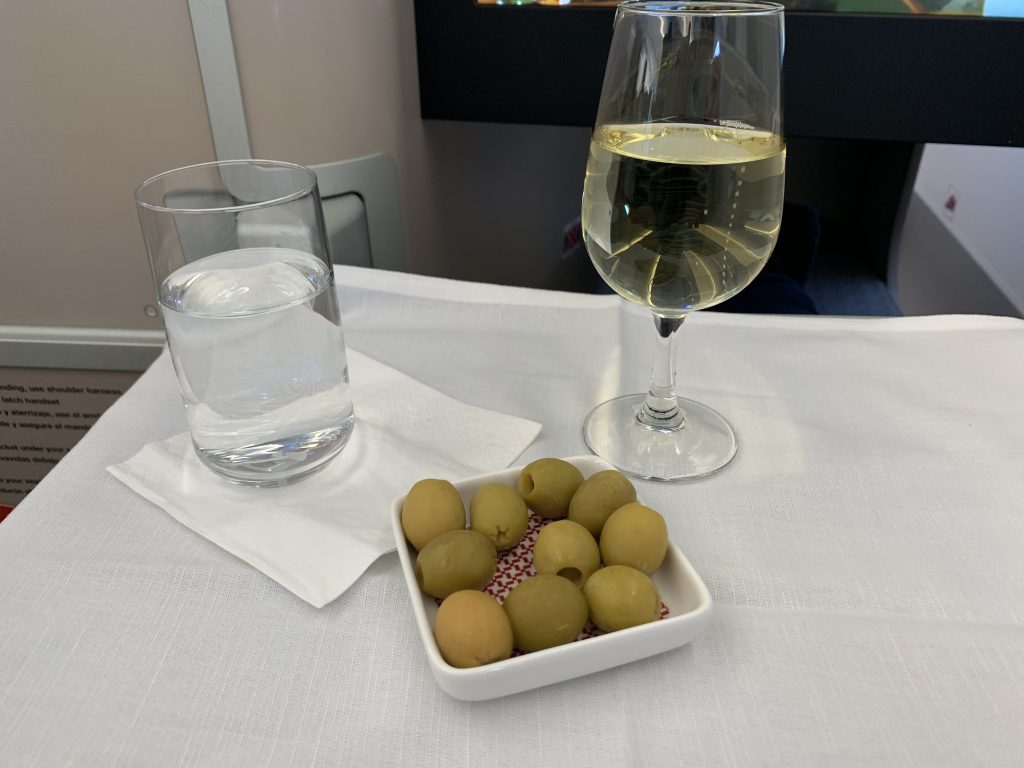 I was also asked for my choice of main course. I thought the menu looked interesting with lots of things that I liked the look of and again I was torn by the choices. Initially, I thought it was a choice of starters: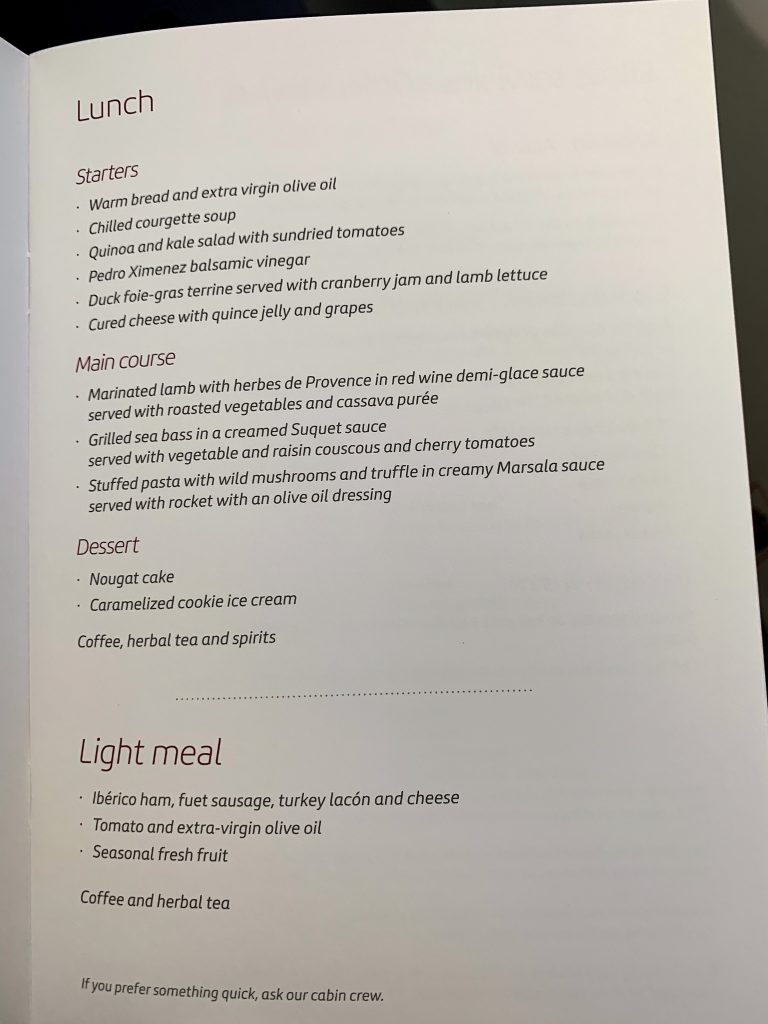 Then without any further interaction, the starter arrived and it was a lot of food! I was asked if I wanted the soup so I thought I would give it a try. I was offered warm bread and it was nice to have a proper crusty baguette type bread with the olive oil for dipping.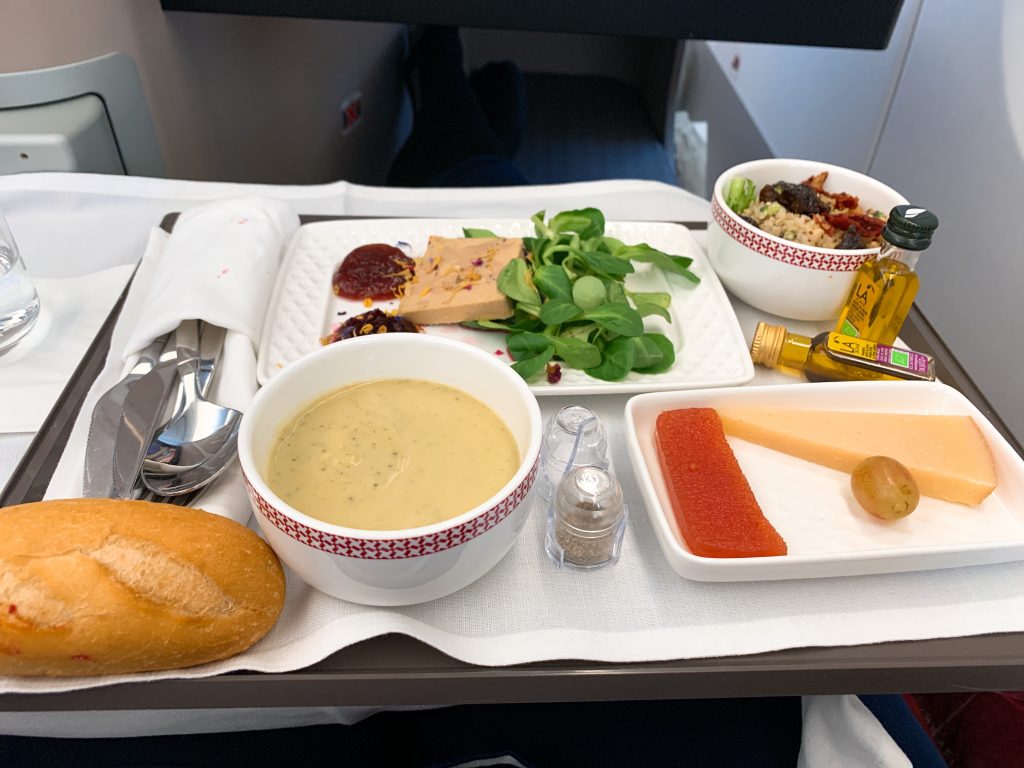 It was all really tasty, particularly the foie-gras with the jam and the soup. The couscous had lots of flavour in it but was a little filling for one part of a big starter, so I left most of that.
Throughout the meal, the cabin crew were extremely attentive backwards and forwards constantly with top ups. The woman serving me was not what I would call friendly but she was very efficient and polite which to be honest is enough for me.
However, the Purser (I'm guessing probably in charge of all the cabin crew onboard) was a delight! She came over at the beginning and end of the flight to introduce herself and chat. She was so warm and friendly it really made you feel very welcome as a customer and to be honest not something I was expecting at all on Iberia. It will be interesting to hear if other people have had the same experience on Iberia or I was just lucky?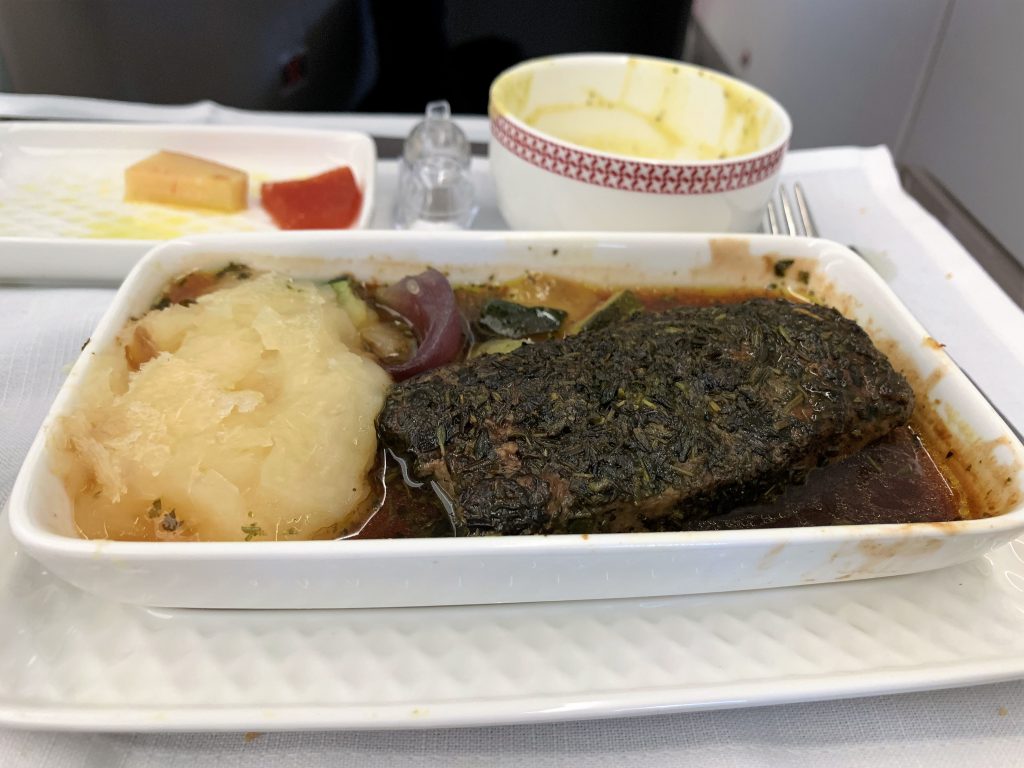 I had decided on the lamb which when it arrived didn't look particularly great. The lamb was reasonably tender and the cassava mash had a nice flavour but was a bit glutinous for my liking. There was nothing wrong with the dish perse but I did find it a little bland and disappointing after the menu description. I had a glass of the Ribera del Duoro Crianza which I really enjoyed. It was full-bodied and oaky which is my style of wine on a plane where you need something more robust I think.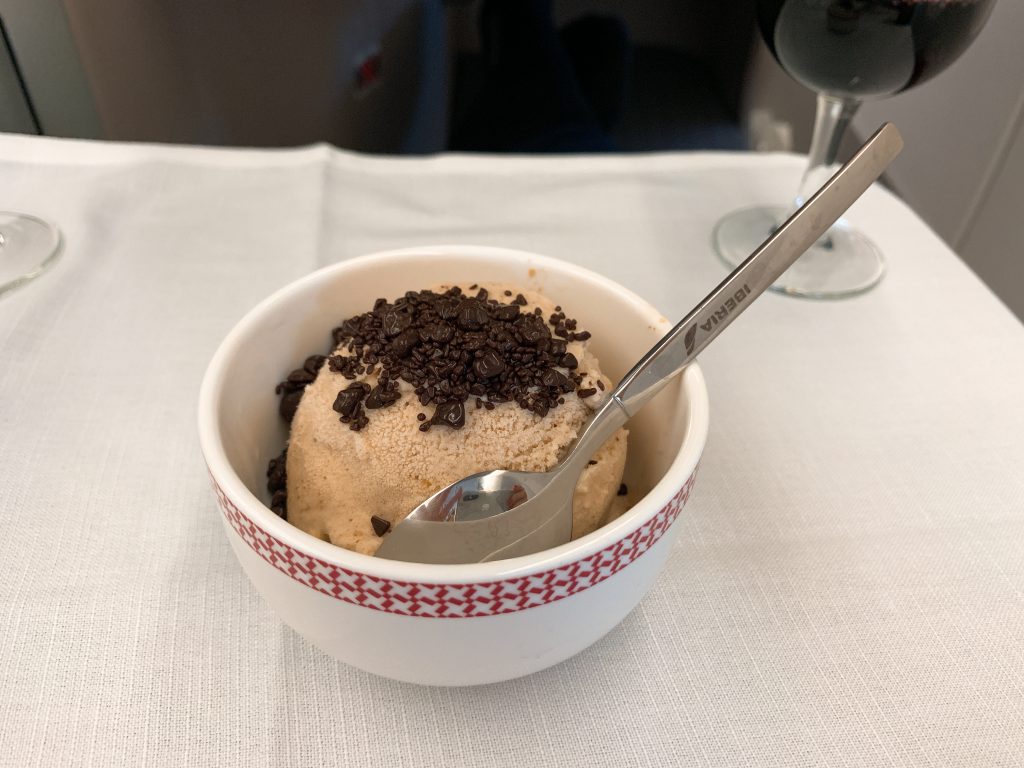 Unusually for business class there was no cheese option for dessert but I guess we had that as part of the starter! I decided to go with the ice cream which was OK but didn't really taste of much. I had to have a glass of the Pedro Ximenez dessert wine though (actually a sherry technically) as it is one of my favourites. If you have never had it it is like drinking liquid alcoholic raisins! It was good to see there was actually a choice of dessert wines.
Finally, they came round with coffee and liqueurs. Being a brandy fan I was intrigued by the Crema de Alba, licor de brandy which I had never heard of. I tried a glass with some ice and it was like a brandy flavoured Baileys with a bit more punch! Definitely something I will be bringing back from Spain next time I visit!
Overall it was a good meal and probably on a par with BA although you did get a lot more food.
A second meal was served prior to landing. Normally I wouldn't bother but since it was small I decided to try it. It was a nice snack and I liked the tomato pulp so you could make your own Spanish style tomato bread with another warm crusty roll.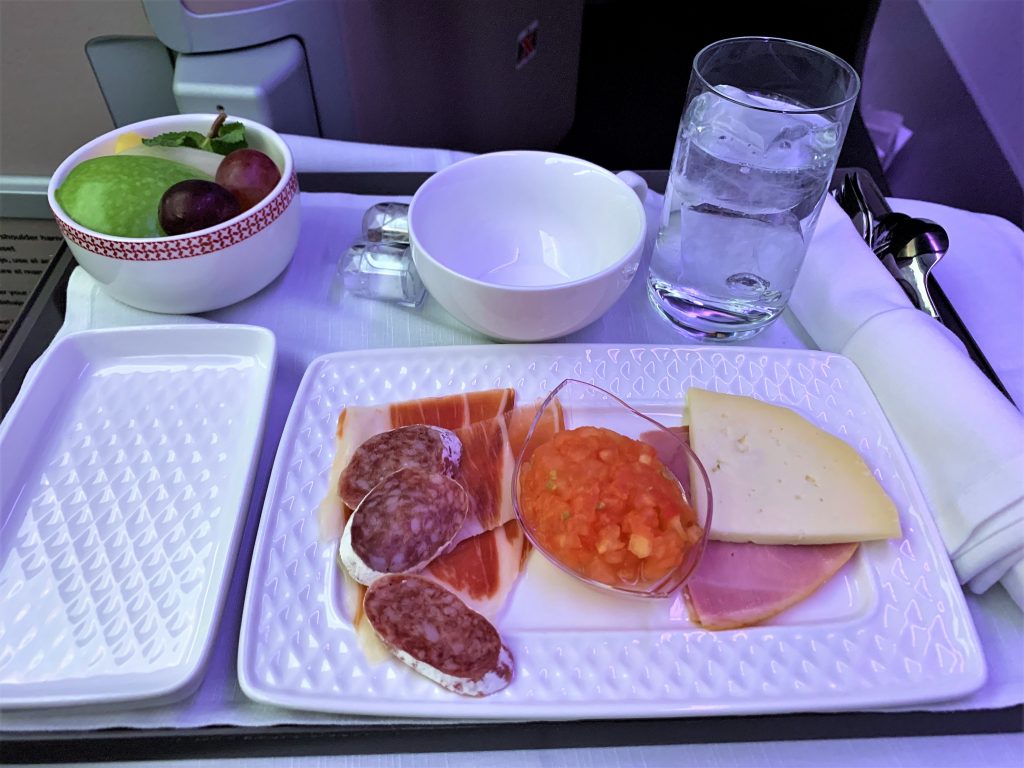 Entertainment and connectivity
The A350 has a large high definition screen and the list of movies and TV programmes was good enough for me. I decided to watch Crazy Rich Asians which was quite funny and didn't require too much concentration. The handheld remote was very responsive and simple to use. It was probably one of the best I have used, plus you could also control things from the main screen which had a touchscreen. Interestingly the noise cancelling headphones had a constant crackling noise which was down to a dodgy cable I think. I also had the same issue on my last Iberia flight so I am guessing they are not very robust.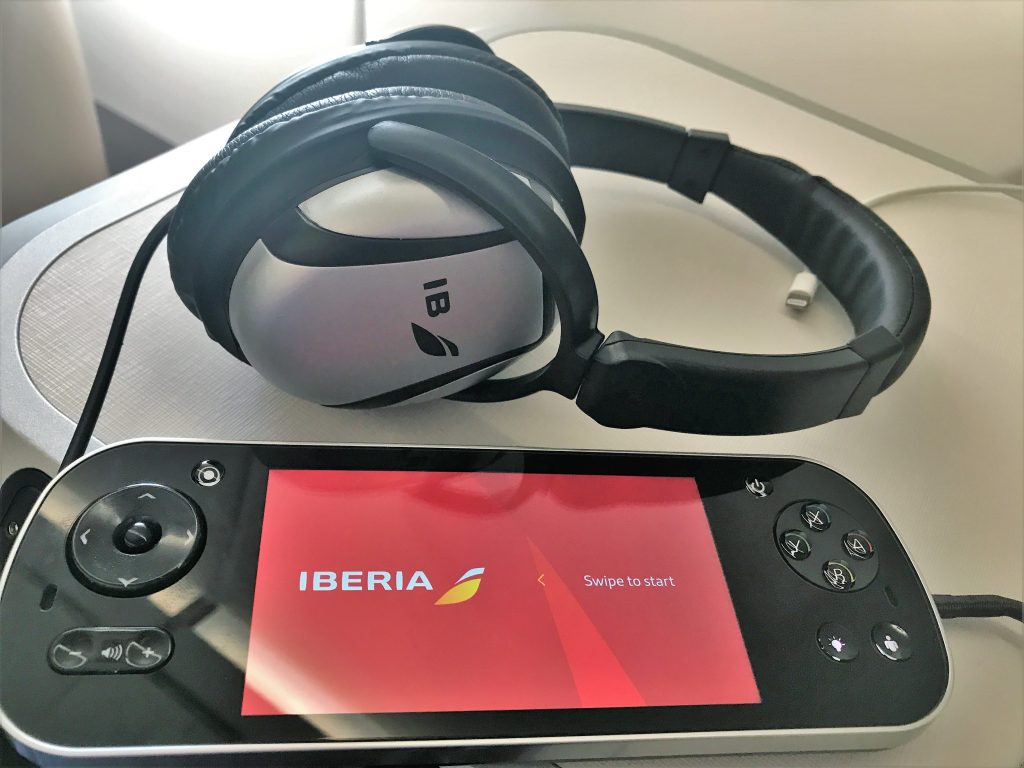 If you needed to charge your devices there was a multi-country socket and two USB ports too.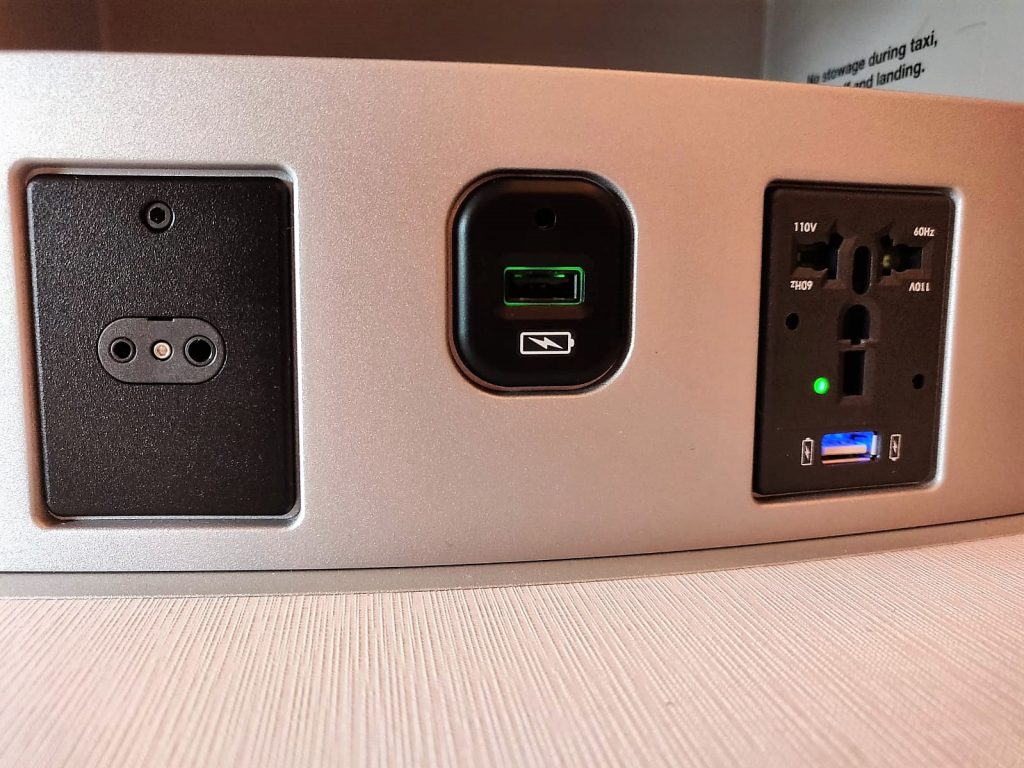 There was Wi-Fi on board but I struggled to use this as it didn't work for quite a long time and then when it did come on it kept failing after about an hour. I had bought a package for 3 hours but it went far more quickly than 3 hours because of the data limit. I was only using social media, email and some blog work so I was surprised at how quickly it went. You could only use it in one device which was annoying unlike Virgin where you can switch between devices. The speed felt fairly average and was good enough for what I wanted to do.
The prices are:
| Time | Price | Data limit |
| --- | --- | --- |
| 1 hour | 8.99 € | 40 MB |
| 3 hours | 19.99 € | 100 MB |
| Full flight | 29.99 € | 200 MB |
Conclusion
I was surprisingly impressed with the Iberia flight. Given the cheap cost of business class redemptions in both money and Avios this was well worth the outlay to get to Madrid, especially since its a city I love visiting. The seats and entertainment were definitely a big step above BA although I think BA's fast option for Wi-Fi is better speed wise than Iberia. I liked the fact that the seats had aisle access but the ones like I had are quite private too. The width of the seat was impressive and overall it was comfortable.
The food was plentiful if a little hit and miss in places but the biggest surprise was the service. I have never heard particularly good things about Iberia's service but I really could not fault it on this flight, especially the charming Purser.
Overall I would view this as superior to BA in terms of the onboard product although BA wins on a wider choice of wines and being able to pre-order food is useful too. There were no spa treatments either which are offered with BA although to be honest the chances of getting one are slim for most people!
You can find more about Iberia business class here.
You can read my Iberia A340 review here.